New Fast Dates.com Calendar Shoot!
Go behind the scenes at the glamorous Gianatsis Design Studios with beautiful new Calendar Kittens Jessica and Kelsey as they shoot for the FastDates.com Motorcycle PinUp Calendars with photographer Jim Gianatsis. And look for the new 2014 Calendars available right here on July 1st. Order the Calendars!
Videographer: Eric Lundmark; Video Editing and Still photography: Jim Gianatsis; Models: Jessica Harbour, Kelsey Silwinski; Make Up: Victoria Rubell, Music: Special thanks to Neil Sedaka for our theme song Calendar Girl; Modeling Agent: Umbrella Girls USA.
---
Double race winner Tom Sykes at Donnington.
2013 FIM Eni World Superbike Championship, Monza Round 4 of 14
Sykes Wins Both Home Races At Donington, Shattering Lap Record!
WSBK, Donington, England, 26 May 2013 - Tom Sykes (Kawasaki Racing Team) scored his first career double at Donington and in doing so moved to within four points of the championship lead after five rounds. Having set a new track best in Superpole on Saturday Sykes rode brilliantly and almost faultlessly in each 23-lap race at Donington to score not only his first double win, but take a new lap record in race two, a 1'28.074, set on lap four. He was a start-to-finish leader on each lap each time around and after a small change to his front suspension settings for race two he went four seconds faster than in race one, despite a rise in track temperatures.
Tom now sits in second place on his own, only four points from the lead and with the third place rider 20 points behind after one third of the season has been completed.Portimao, in Portugal, on June 9th in the venue for the next round.
Tom Sykes: "I have been in World Superbike for a few years now and I got the first double win on home soil is a fairy tale. One click on the front suspension between races made the difference and we could see that in the second race time, which was better than the first one. The Ninja ZX-10R is working well and it has been all weekend so I feel very motivated. We are racing in a World Championship and these guys are as fast as you like and very competitive, so it is not as easy at it looked. Kawasaki is a very close unit and we have worked hard and everybody has seen how much better we are in the races. I got the circuit record yesterday and I got the new lap record in race two so I have the full set. I really enjoyed the support from the crowd and I hope they enjoyed the show. No better place to do my first double than at Donington Park. A good weekend and we are closer in the championship, just four points from the top. We're in a strong situation, we have a good base setting and now we are going to some fantastic circuits."

Preview: WSBK riders set for another epic battle at Donington Park
Rome (Italy), Tuesday 21 May 2013 – The eni FIM Superbike World Championship gets to the heart of England for Round 5 at Donington Park. The British venue was built in the '30s of the last century and saw a new life in the 1970s, becoming one of the most famous tracks for motorcycle racing in the world. Donington Park hosted the first ever World Superbike Round on April 3rd 1988, with pole position scored by local rider Roger Burnett on a Honda.
British riders always had a strong connection to their home round, but rarely got on top step of the podium in recent times. In 2012 Jonathan Rea (Pata Honda World Superbike) was the first rider from the UK to win a race at Donington Park after four years - before him, James Toseland was the last to score a victory (2007, race 1). Rea won one of the most unpredictable races of all time, settled at the very last turn of the race, after a collision with Leon Haslam and a consequent "domino effect" that involved Marco Melandri (BMW Motorrad GoldBet), who had previously tried to overtake Haslam, too – team mate at the time - for the race win.
Local boy Leon Haslam, now back with the Honda family for 2013, is still recovering from the leg injury he sustained at Assen almost a month ago, and he's trying his best in order to take part in his home Round.
Despite the thrilling finale in 2012, Melandri has fond memories of the last weekend out on the Leicestershire circuit, as the Italian managed to give BMW their maiden World Superbike win in race 1. Works BMW rider Chaz Davies seeks redemption at Donington Park, following two difficult rounds at both Assen and Monza.
Aprilia Racing Team duo of Sylvain Guintoli and Eugene Laverty, who currently lie 1st and 2nd in Riders standings, have never scored a top-3 on the East-Midlands track. Laverty crashed in 2 out of his 4 WSBK races there, while Guintoli best result is a 5th place in last year's race 2.
Tom Sykes' (Kawasaki Racing Team) best result dates back to 2008, when he raced as a wildcard from BSB and finished with a sensational 2nd place in the aggregate race 1 results, behind Troy Bayliss. Team mate Loris Baz made his debut in WSBK last year at Donington, as substitute for the unfortunate Joan Lascorz. FIXI Crescent Suzuki Leon Camier scored his only WSBK podium finish at the British venue in 2011 (3rd place, race 2), but won race 1 two years before, in his winning British Superbike season.
Team Ducati Alstare welcomes Niccolò Canepa for a one-event participation. The current Superstock 1000 rider will join full-time riders Carlos Checa and Ayrton Badovini after testing with fellow Italian last week at Mugello. 2011 WSBK Champion Checa is still recovering from an osseus edema in his left shoulder that ruled him out the Monza round.
Standings – provisional*: 1. Guintoli 137; 2. Laverty 124; 3. Sykes 119; 4. Melandri 96; 5. Davies 94; 6. Baz 75; 7. Fabrizio 74; 8. Rea 71; 9. Giugliano 49; 10. Camier 46; 11. Cluzel 41; 12. Neukirchner 39; 13. Badovini 32; 14. Checa 29; 15. Haslam 29; etc. Manufacturers: 1. Aprilia 172; 2. BMW 144; 3. Kawasaki 130; 4. Honda 78; 5. Suzuki 68; 6. Ducati 52.
* Possible updated results could be defined by the International Disciplinary Court which is dealing with the appeal lodged by Aprilia Racing Team and rider Sylvain Guintoli, following the decision taken by the FIM Stewards in Monza (Italian Round, last 12 May) to cancel the drop of position sanction (from third to fourth place in race 2) imposed by the Race Direction on rider Tom Sykes.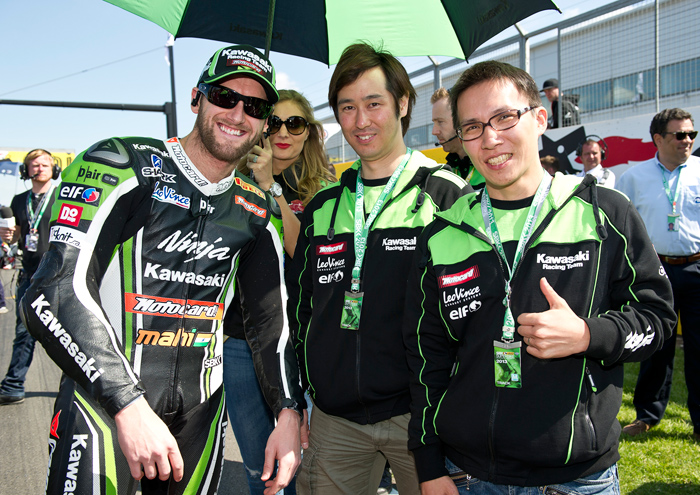 Sykes clocks the new Best Lap for another Tissot-Superpole win
Donington Park (Great Britain), Superpole Saturday 25 May 2013 - The 5th Tissot-Superpole of the season got underway today at Donington Park under an unusual British sunshine and home fans were not surprised to see Tom Sykes (Kawasaki Racing Team) scoring his 15th career pole position. Thanks to his 4th consecutive top slot on the grid, the Huddersfield-born rider equals Colin Edwards at sixth all-time for Superpole wins, one off fellow English Neil Hodgson. The works Kawasaki rider bettered three times the previous Best Lap of the Leicester circuit, up to an unbeatable 1'27.378.

Tom Sykes: "We have worked hard on the race set-up here not just in qualifying. There are a number of factors why I can do well in Superpole but I have always enjoyed riding by myself on the best package we have. Combine that with the 'time-trial' element of Superpole and I just race myself and the tarmac. The refreshing thing is that the Ninja ZX-10R is working well over race distance and now when we start at the top. We should have a fairly consistent package for tomorrow's races. That is the most important thing."
An irony of fate for 2nd place Sylvain Guintoli (Aprilia Racing Team), who matched exactly the previous record set last year by Sykes (1'27.716) to secure a front row start along with team mate Eugene Laverty.
Eugene Laverty: "I'm really happy to be here on the front row because around this circuit there are at least five fast riders with a similar race pace. So it's very important to start from the front row, especially since the characteristics of this track make overtaking quite difficult. I'm also happy to keep up my row 1 streak. It's a great sign of consistency and it is a good indicator of the shape of both my RSV4 and myself."
After coming close to an early elimination in Superpole 2, Jonathan Rea (Pata Honda World Superbike) progressed to an outstanding 4th place, a great result for the Ulsterman on the track that saw him winning the latest WSBK race held on the Leicester circuit.
Encouraging performance for Leon Camier (FIXI Crescent Suzuki) who was 5th at the chequered flag to precede works BMW riders Marco Melandri and Chaz Davies, Davide Giugliano (Althea Racing Aprilia) and Niccolò Canepa. The One Event rider, current Championship leader in the FIM Superstock 1000 Cup, was the only one entry of the Team Ducati Alstare to qualify for Superpole 3, finishing 9th.
Spaniard Carlos Checa ended his charge to the front rows in Superpole 2 and will start from 10th place on the grid, while Ayrton Badovini was 14th behind local man Leon Haslam (Pata Honda World Superbike), who was cleared to ride just before Free Practice 1 on Friday morning.
Tissot-Superpole times: 1. Sykes (Kawasaki) 1'27.378 average 165.749 kph; 2. Guintoli (Aprilia) 1'27.716; 3. Laverty (Aprilia) 1'28.014; 4. Rea (Honda) 1'28.139; 5. Camier (Suzuki) 1'28.252; 6. Melandri (BMW) 1'28.280; 7. Davies (BMW) 1'28.644; 8. Giugliano (Aprilia) 1'28.779; 9. Canepa (Ducati) 1'29.318; 10. Checa (Ducati); 11. Cluzel (Suzuki); 12. Baz (Kawasaki); 13. Haslam (Honda); 14. Badovini (Ducati); 15. Fabrizio (Aprilia).
Sykes finsihed 4 seconds out front in Race One, and 8 seconds out front in Race Two. He had the Kawasaki ZX10 power sliding through every corner with the traction control just keeping it in check, as the rear tire laid down a trail of black shreded rubber.
Tom Sykes accomplishes total domination at Donington Park
Sunday Race Day May 25th 2013 -The 28.546 spectators attending Round 5 had a lot to cheer on today as Great Britain had a key-role in today's races at Donington Park. Tom Sykes (Kawasaki Racing Team) scored an outstanding double-win, his maiden in eni FIM Superbike World Championship, that was icing on the cake of an unbelievable performance by the home rider, who led every single session from Friday's Qualifying 1 on.

Thanks to his 8th race victory, Sykes lies now 2nd in the championship, only 4 points away from Sylvain Guintoli (Aprilia Racing Team), still Championship leader after today's two podium finishes. Marco Melandri (BMW Motorrad GoldBet) made his way to 2nd place in Race 1, while Eugene Laverty scored his first ever top-3 finish on the Leicestershire track in Race 2.
The perfect Sunday for UK fans was completed by Sam Lowes' World Supesport win, the third consecutive for the local boy in 2013. As for Sykes, the Yakhnich Motorsport Yamaha rider has been absolutely unstoppable on his favourite circuit.

Superbike Race 1
Tom Sykes was the winner of Race 1 at Donington Park. The Brit rode a perfect race up front for all the 23 laps, displaying pure class and outstanding race craft, avoiding any risk and at the same time not allowing the following riders to close the gap. Despite a challenging first half of the race, Marco Melandri clawed his way back to 2nd following a successful overtake manoeuvre at the last turn, on lap 16, over third place Sylvain Guintoli.
Following a competitive first part of the race Jonathan Rea (Pata Honda World Superbike), couldn't keep up the pace with Sykes and was forced to ride defensively to a final fourth position. The Ulsterman finished ahead Frenchman Loris Baz (Kawasaki Racing Team) - who had an up and down performance in Race 1 - and Eugene Laverty (Aprilia Racing Team). The works Aprilia rider had a hard time after running off-track during lap 7 at "Fogarty Esses", and continued to struggle as the race went by.
Same type of performance for Chaz Davies (BMW Motorrad GoldBet SBK), able to stay with team mate Melandri in the early stages but finding difficult to push hard later on in the race. An early end of the race for Leon Camier (FIXI Crescent Suzuki), following a crash at "Goddards" on lap 3, while team mate Jules Cluzel ended up 9th in a battle up to the finish line ahead of Michel Fabrizio (Red Devils Roma Aprilia) and Team Ducati Alstare trio of Ayrton Badovini, Carlos Checa and Niccolò Canepa.
After doing his best to line-up his CBR 1000 RR on the grid, Leon Haslam (Pata Honda World Superbike) was forced to withdraw the race due to his fitness conditions.
Race 1 results: 1. Sykes (Kawasaki) 23 Laps/92.529 km in 34'10.881 average 162.420 kph; 2. Melandri (BMW) 2.379; 3. Guintoli (Aprilia) 3.808; 4. Rea (Honda) 6.760; 5. Baz (Kawasaki) 13.649; 6. Giugliano (Aprilia) 15.551; 7. Laverty (Aprilia) 17.453; 8. Davies (BMW) 19.138; 9. Cluzel (Suzuki) 27.738; 10. Fabrizio (Aprilia) 30.817; 11. Badovini (Ducati) 31.611; 12. Checa (Ducati) 31.816; 13. Canepa (Ducati) 31.930; 14. Neukirchner (Ducati) 43.025; 15. Iannuzzo (BMW) 4 Laps; RT. Sandi (Kawasaki); RT. Lundh (Kawasaki); RT. Camier (Suzuki).

Superbike Race 2
Tom Sykes' maiden double-win in the series comes after a total domination in Race 2 for the home rider, who continues his charge to the top now just 4 points away - waiting for the final decision by the FIM International Disciplinary Court on Monza Race 2 results. The last time a Kawasaki rider was able to secure both race victories dated back to 2000.

Sykes pulled away from the chasing pack in the early stages and managed a seven seconds lead up to the chequered flag, finishing ahead of works Aprilia duo of Sylvain Guintoli - still Championship leader - and Eugene Laverty. The 26 year old Irishman, at his first rostrum finish on the Leicester track, had to defend his position from a late charge by Marco Melandri, who ran off track at "Fogarty Esses" following a final attempt of edging out the opponent from 3rd place.
A 4-way battle for 7th saw Niccolò Canepa having the better of Jules Cluzel, Michel Fabrizio and Jonathan Rea. The One Event rider for the round waved Team Ducati Alstare's flag high after Checa's withdrawal from Race 2 (left shoulder issues) and Ayrton Badovini's crash at Turn 2 on lap 19. The "nightmare weekend" of Leon Camier was completed by another low-speed crash at Turn 12, with the Englishman able to get back on track for a final 13th place.
Tom Sykes: "I have been in World Superbike for a few years now and I got the first double win on home soil is a fairy tale. One click on the front suspension between races made the difference and we could see that in the second race time, which was better than the first one. I got the new Best Lap yesterday and I got the new lap record in race two so I have the full set. I really enjoyed the support from the crowd and I hope they enjoyed the show. No better place to do my first double than at Donington Park. We're in a strong situation, we have a good base setting and now we are going to some fantastic circuits."

Eugene Laverty: "At the end of Race 1 I was disappointed. I have always had some hard time on this track, but I could have done better than seventh place. On the other hand Race 2 got off to a better start straight away. A few changes we made to my RSV4 between the two races immediately increased my feeling with it. In fact, I was able to defend third place against Melandri's attacks, and as I said at Monza, it's always nice to end the weekend with a podium. The performance in Race 2 is encouraging for the rest of the championship. It shows that even on shorter, more winding tracks we can keep up with the top riders."

Melandri quickly rejoined to end up 5th behind the competitive Davide Giugliano, who looked at times in the position to have a shot at the top-3 he's missing from June 2012. Slight improvement for official BMW rider Chaz Davies, 6th at the flag ahead of Frenchman Loris Baz.
Points leader Sylvain Guintoli

Superbike Race 2 results: 1. Sykes (Kawasaki) 23 Laps/92.529 km in 34'06.921 average 162.734 kph; 2. Guintoli (Aprilia) 8.035; 3. Laverty (Aprilia) 10.738; 4. Giugliano (Aprilia) 12.257; 5. Melandri (BMW) 15.976; 6. Davies (BMW) 16.475; 7. Baz (Kawasaki) 27.524; 8. Canepa (Ducati) 30.186; 9. Cluzel (Suzuki) 30.501; 10. Fabrizio (Aprilia) 30.885; 11. Rea (Honda) 31.529; 12. Neukirchner (Ducati) 46.782; 13. Camier (Suzuki) 54.509; 14. Sandi (Kawasaki) 1'05.789; 15. Lundh (Kawasaki) 1'20.431; 16. Iannuzzo (BMW) 1'20.719; RT. Badovini (Ducati).

Standings - provisional (round 5 of 15)*: 1. Guintoli 173; 2. Sykes 169; 3. Laverty 149; 4. Melandri 127; 5. Davies 112; 6. Baz 95; 7. Rea 89; 8. Fabrizio 86; 9. Giugliano 72; 10. Cluzel 55; 11. Camier 49; 12. Neukirchner 45; 13. Badovini 37; 14. Checa 33; 15. Haslam 29; etc. Manufacturers: 1. Aprilia 208; 2. Kawasaki 180; 3. BMW 175; 4. Honda 96; 5. Suzuki 82; 6. Ducati 65.

* Possible updated results could be defined by the International Disciplinary Court which is dealing with the appeal lodged by Aprilia Racing Team and rider Sylvain Guintoli, following the decision taken by the FIM Stewards in Monza (Italian Round, last 12 May) to cancel the drop of position sanction (from third to fourth place in race 2) imposed by the Race Direction on rider Tom Sykes.
World Supersport - Sam Lowes wins in perfect fashion
An uncatchable Sam Lowes has won by domination the World Supersport race today at Donington Park. The local rider has put up a supreme performance to finish with an 11 seconds margin over 2nd place Kenan Sofuoglu (Mahi Racing Team India Kawasaki) and delighted the crowd with a spectacular wheelie over the finish line.

Lowes lapped consistently within the 1'31 seconds bracket throughout all the 23 laps - except the final one. Sofuoglu, meanwhile, had to face some tough challenge to get in 2nd place but once he did, the defending Champion could easily pull away for a lonely ride to the chequered flag. The Turkish rider was also involved in a collision with Christian Iddon early in the race at "Melbourne" hairpin (Lap 2) that forced him to run wide and lose some ground.

Roberto Rolfo (Parkingo MV Agusta Corse) scored a sensational 3rd for the Italian brand, that was last seen on a World Championship podium in 1976: at that time Giacomo Agostini was the winner of the 500cc race at Nurburgring. Rolfo put up an outstanding recover from th 15th slot on the grid to give Giuliano Rovelli's squad the first rostrum finish in Supersport since Portimao 2011.

Fourth place for Lorenzo Zanetti (Pata Honda World Supersport) ahead of fellow Italian Luca Scassa (Intermoto Ponyexpres Kawasaki). The two riders battled out in the final lap with the Honda rider able to overtake the former Italian Superbike Champion at the chicane to eventually defend his position up to the flag, despite a fantastic last-turn attempt by Scassa.

The rider from Tuscay had, earlier in the race, a collision at the exit of "Goddards" with team mate Florian Marino, after which the Frenchman crashed out finishing on a bad note a promising race. 6th place for Jack Kennedy (Rivamoto Honda), ahead of Sheridan Morais (PTR Honda) and Andrea Antonelli (Team Goeleven Kawasaki).
Supersport 600cc Race results: 1. Lowes (Yamaha) 22 Laps/88.506 km in 33'37.767 average 157.908 kph; 2. Sofuoglu (Kawasaki) 11.105; 3. Rolfo (MV Agusta) 14.528; 4. Zanetti (Honda) 19.999; 5. Scassa (Kawasaki) 20.120; 6. Kennedy (Honda) 20.385; 7. Morais (Honda) 24.324; 8. Antonelli (Kawasaki) 27.395; 9. Foret (Kawasaki) 28.153; 10. Richards (Triumph) 28.264; 11. Ivanov (Kawasaki) 28.487; 12. Talmacsi (Honda) 29.041; 13. De Rosa (Honda) 29.648; 14. Russo (Kawasaki) 32.602; 15. Baldolini (Suzuki) 38.965; etc.

Standings (round 5 of 14): 1. Lowes 95; 2. Sofuoglu 65; 3. Foret 61; 4. Zanetti 53; 5. Vd Mark 49; 6. Scassa 45; 7. Rolfo 38; 8. Antonelli 37; 9. Kennedy 34; 10. Marino 31; 11. Russo 28; 12. Coghlan 22; 13. Leonov 21; 14. Morais 19; 15. Ivanov 18. Manufacturers: 1. Kawasaki 110; 2. Yamaha 103; 3. Honda 78; 4. MV Agusta 38; 5. Suzuki 9; 6. Triumph 6.
---
Pedrosa signals his win to his team after taking the checkered flag.

2013 FIM MotoGP World Motorcycle Championship, LeMans France Round 4 of 18
Pedrosa wins at Jerez, teammate Marquez dusts of Lorenzo in the final corner
LeMans, France , May 19th 2013 - Dani Pedrosa has become the first rider to win two races in the 2013 MotoGP™ season, coming from sixth position on the grid in mixed conditions at the Monster Energy Grand Prix de France in Le Mans. He now leads the championship from Repsol Honda Team teammate Marc Marquez, who fought to the podium after a poor start as Britain's Cal Crutchlow finished a GP career-best second.
The fourth round of the 2013 campaign started on a soaking track, which slowly dried as the race went on to reveal narrow dry lines here and there, making the task of machine control on worn rain tyres extremely tricky. Pedrosa and Marquez were the masters of the conditions, Pedrosa dominating the race after a tussle with early leader Andrea Dovizioso (Ducati), while Marquez fought back brilliantly after completing the first lap in eighth place. The Spanish pair now hold first and second positions in the points chase.

Pedrosa started from the second row and was up to third at the end of the first lap. He was quickly up to speed, passing reigning World Champion Jorge Lorenzo (Yamaha) on lap three and then attacking Dovizioso for the lead two laps later at the Garage Vert right-hander. Pedrosa quickly built a 1.3 second advantage but ran very wide at the La Chapelle hairpin on lap eight, which put Dovizioso back in front. The Spaniard was ahead again four laps later, then the Italian took over once more at half-distance. Next time round Pedrosa grabbed the lead at the Musee left-hander and that was that.
The second half of the race was all his own, his advantage growing to seven seconds at one point. In the final laps he eased his pace to cross the finish line 4.8 seconds ahead of Cal Crutchlow (Yamaha) who had got the better of Dovizioso in the final laps. It was Pedrosa's second successive win, following his similarly dominant performance at sunny Jerez two weeks ago. The result was also Pedrosa's 24th premier-class victory, which puts him one win behind 1993 500 World Champion Kevin Schwantz.

The weekend was a memorable one for Crutchlow. On Saturday the Englishman sustained a fracture to the top of his shinbone, causing immense pain in the knee, but from fourth on the grid he made the most of the mixed conditions and stormed passed old teammate Dovizioso in the closing stages. The Ducati rider led for a chunk of the race and ultimately just missed out on a rostrum result as Marquez fought back from a poor getaway and a selection of off-track moments. The Spaniard therefore maintained his 100% podium finish record for 2013.

Cal Crutchlow (35) works his way past Hayden and Rossi to finish 2nd. Valentino would fall, but did remount to finsih 18th.

Nicky Hayden confirmed Ducati's strongest day of the campaign to date by finishing fifth from GO&FUN Honda Gresini's Alvaro Bautista, but it was a somewhat disastrous afternoon for Yamaha Factory Racing. Lorenzo struggled to make an impression and slid down the order to seventh with major set-up issues, whereas Valentino Rossi - who had previously battled with his teammate - fell while under pressure from Hayden. The Italian recovered to 12th behind Pramac Racing's Andrea Iannone, whose temporary teammate Michele Pirro rose to eighth ahead of Tech 3's Bradley Smith.

LCR Honda MotoGP's Stefan Bradl finished tenth after suffering a small fall due to issues with his visor and general visibility. Aleix Espargaro again celebrated the top CRT spot in 13th, although the Power Electronics Aspar rider had to fight past Came IodaRacing Project's Danilo Petrucci and took advantage of a crash for teammate and local favourite Randy de Puniet. Gresini's Bryan Staring, NGM Mobile Forward Racing's Claudio Corti, Came IodaRacing Project's Lukas Pesek and PBM's Yonny Hernandez also all retired, but no rider suffered injury.
Dani Pedrosa, Repsol Honda: race winner - "I'm very happy because I have earned an important victory. I've been trying to win at this circuit for many years in MotoGP and it has always been a tough track for me. Today, the moment finally arrived, when I least expected it, and it is immensely satisfying. Conditions here are usually against me, because it is cold and I don't like riding in these temperatures, but today I got the best out of myself. The bike was also good, above all on the opening laps when the track was very wet. I made a few mistakes but I was able to recover from them, maintain the advantage and win the race. I'd like to thank all my team and also my supporters!"
Marc Marquez, Repsol Honda: 3rd - "This podium almost counts as a win as it was my first wet race in MotoGP and I wasn't expecting to finish in the top three. Also, bearing in mind that I had dropped quite far back from the front, third place and 16 points is an important achievement for the World Championship. We can say that this was a very good weekend; we had a good setting for the dry, but when it rained it was up to me to learn from the mistakes that I made at the start of the race. I need to improve, because I was finding it hard to ride with water on the track. It will be difficult to maintain our performance at Mugello, but we will go there and try 100 per cent. I congratulate Dani on a great race and victory and I'd like to thank the whole team!"

Andrea Dovizioso - Ducati Team, 4th - "It's always nice to be at the front of the pack! I'm really happy with my feeling with the bike, and as long as the tyres were decent, I was able to manage the situation well. Dani had more than I did, but I was still able to keep a good pace. We had good grip, which helped us to have a nice race, but as the track dried, the tyres began wearing a lot. I couldn't keep the pace in the last six or seven laps, and unfortunately, I wasn't able to make the podium. I'm sorry for the team about that, but we had a positive weekend in all aspects, even in the dry."
RESULTS MOTOGP RACE: (28 laps = 117.18 Km)
POS / RIDER / NAT. / TEAM / MOTORCYCLE / TIME / KM/H / GAP
1 / Dani PEDROSA / SPA / Repsol Honda Team / HONDA / 49'17.707 / 142.6 /
2 / Cal CRUTCHLOW / GBR / Monster Yamaha Tech 3 / YAMAHA / 49'22.570 / 142.3 / 4.863
3 / Marc MARQUEZ / SPA / Repsol Honda Team / HONDA / 49'24.656 / 142.2 / 6.949
4 / Andrea DOVIZIOSO / ITA / Ducati Team / DUCATI / 49'27.794 / 142.1 / 10.087
5 / Nicky HAYDEN / USA / Ducati Team / DUCATI / 49'36.178 / 141.7 / 18.471
6 / Alvaro BAUTISTA / SPA / GO&FUN Honda Gresini / HONDA / 49'41.268 / 141.4 / 23.561
7 / Jorge LORENZO / SPA / Yamaha Factory Racing / YAMAHA / 49'45.668 / 141.2 / 27.961
8 / Michele PIRRO / ITA / Ignite Pramac Racing / DUCATI / 49'58.482 / 140.6 / 40.775
9 / Bradley SMITH / GBR / Monster Yamaha Tech 3 / YAMAHA / 49'59.114 / 140.6 / 41.407
10 / Stefan BRADL / GER / LCR Honda MotoGP / HONDA / 50'18.702 / 139.7 / 1'00.995
11 / Andrea IANNONE / ITA / Energy T.I. Pramac Racing / DUCATI / 50'22.817 / 139.5 / 1'05.110
12 / Valentino ROSSI / ITA / Yamaha Factory Racing / YAMAHA / 50'34.075 / 139 / 1'16.368
13 / Aleix ESPARGARO / SPA / Power Electronics Aspar / ART / 50'41.907 / 138.6 / 1'24.200
14 / Danilo PETRUCCI / ITA / Came IodaRacing Project / IODA-SUTER / 50'43.433 / 138.6 / 1'25.726
15 / Karel ABRAHAM / CZE / Cardion AB Motoracing / ART / 50'49.818 / 138.3 / 1'32.111
Pole Position: Marc MARQUEZ 1'33.187 161.6 Km/h
Fastest Lap: Dani PEDROSA 1'43.597 145.4 Km/h Lap 15
Circuit Record Lap: Dani PEDROSA 1'33.617 160.9 Km/h 2011
Circuit Best Lap: Dani PEDROSA 1'32.647 162.6 Km/h 2008
CHAMPIONSHIP POSITION TILL DATE:
1 PEDROSA 83, 2 MARQUEZ 77, 3 LORENZO 66, 4 CRUTCHLOW 55, 5 ROSSI 47,
6 DOVIZIOSO 39, 7 BAUTISTA 38, 8 HAYDEN 35, 9 ESPARGARO 20, 10 IANNONE 18,
11 BRADL 17, 12 SMITH 17, 13 PIRRO 13, 14 SPIES 9, 15 BARBERA 7.
---
The Unrideables! - An Incredible 2-Stroke MotoGP Documentry
A fascinating documentary recalling one of the scariest and greatest eras in motorcycle racing history
and the legendary riders that rode the 500cc 2-Stroke Grand Prix bikes.
---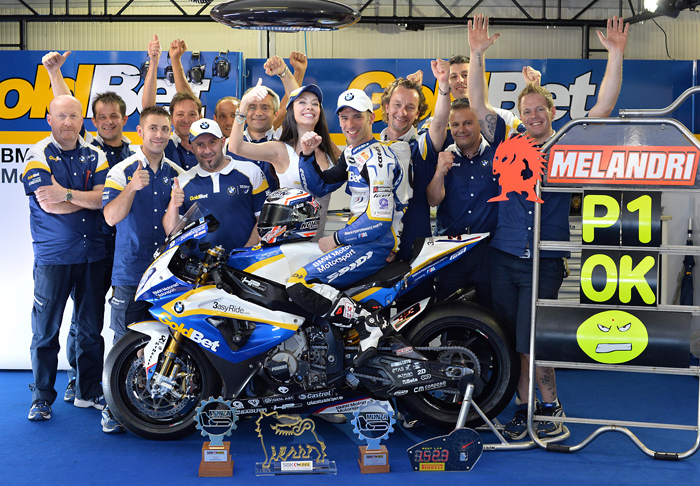 Team Melandri BMW celebrate their Race One victory.
2013 FIM Eni World Superbike Championship, Monza Round 4 of 14
Melandri and Laverty on top of close battles at Monza World Superbike
Monza, Italy, Sunday 12 May 2013 – Round 4 of eni FIM Superbike World Championship drew to its highest point today with two incredible races, won by Marco Melandri (BMW Motorrad GoldBet) and Eugene Laverty (Aprilia Racing Team) respectively. Of the 47,046 overall spectators attending during the three days, the ones who went for the Sunday trip to Monza's Autodromo Nazionale enjoyed an amazing show of talent, close and unpredictable racing until the finish line. Continued Here
This lap it's Laverty out front ahead of Melandri, Sykes and Guintoli.
---
This Month in the Iron & Lace Calendar ...
Our World Superbike Calendar Kitten Taylor Gunnin plays in the rain with a Vance & Hines Harley-Davidson XR1200 AMA Series race bike at the Miller Motorsports Pro Nationals. Calendars are high quality full color 15 x 15" wire spiral bound printed on heavy art stock revealing 16 months beginning with September. $16.95 each -
Click on the Calendar Picture Above or Here to Order Now
---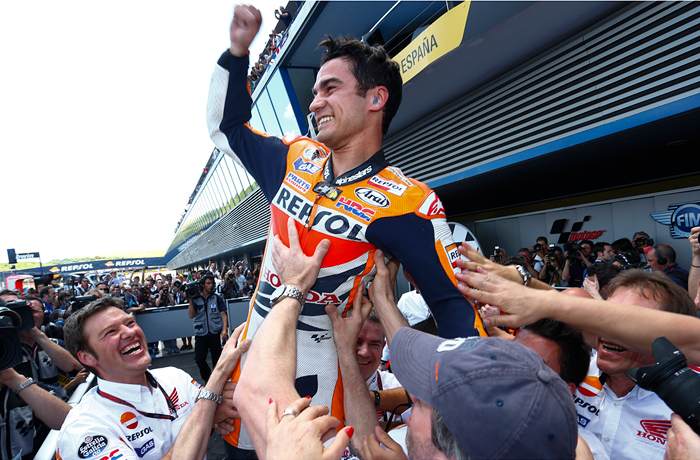 2013 FIM MotoGP World Motorcycle Championship, Jerez, Spain Round 3 of 18
Pedrosa wins at Jerez, teammate Marquez dusts of Lorenzo in the final corner
Jerez, Spain, May 5th 2013 - Dani Pedrosa clinched his maiden victory of this year's MotoGP™ World Championship, winning the Gran Premio bwin de España on Sunday, as teammate Marc Marquez spiced up proceedings by barging past Yamaha Factory Racing's Jorge Lorenzo for second place in the final corner. Lorenzo had been the rider to beat for much of the weekend, comfortably sealing his second pole position of the season on Saturday, yet Pedrosa overtook him at the start of the 27-lap race. The lead was immediately snatched back, but Pedrosa made the move stick as he passed at Dry Sack on Lap 6. As the Yamaha rider dropped into the clutches of Marquez, Pedrosa maintained a steady pace en route to his first win since Valencia last year. Complete Coverage Here

Marc Marquez (93) reeled-in and stalked reigning World Champ Jorge Lorenzo (99) who was riding defensively the last half of the race, until the final corner on the last lap, then Marquez charged up the inside and knock Lorenzo upright and off line , nearly crashing him, in order to pass for 2nd place.
---
Paolo on the left, and brother Marurizo Flamini. Photo curtesy Fabrizio Porrozzi / Giorgio Nada Editore
World Superbike -The First 25 Years
with a Tribute to its Producers Maurizio and Paolo Flammini

and how new management DORNA unceremoniously kicked the Flammini Brothers out the Back Door
of the best motorcycle roadracing championship ever
We all received the shocking Press Release back on September 2nd 2012 stating that the private equity firm of Bridgepoint, who already owned the MotoGP World Championship under DORNA, had just purchased the sports marketing firm InFront Sports & Media AG, who had themselves become the owners of the World Superbike Championship a few years earlier. The WSBK was then celebrating its 25th year of under the direction of brothers Maurizio and Paolo Flammini, who stepped in to save the fledgling production bike Championship started by ex-racer American Steve McLaughlin in 1987.

In 1990 Maurizio came in in to take over full control of World Superbike from McLaughlin's partners and struggling owners, the FG Group, and steered it forward towards world success. Brother Paolo came aboard as the Sales Manager of the Group in 1994, and then in 1999 became President of World Superbike as brother Maurizio stepped back to pursue other business ventures in sports marketing. Under their control the SBK World Championship in the next 20 years would become the most exciting motorcycle roadracing series in the world with the closest racing, most factory and private team involvement. At many European tracks it even rivaled and exceeded the attendance of the more well established FIM prototype roadracing series, MotoGP. - Read the Full Story Here
---
Los Angeles Calendar Motorcycle Show Concours d' Elegance
Returns to the Queen Mary, Long Beach, CA on Sunday July 14th 2013
The 2013 LA Calendar Motorcycle Show continues its now 22-year tradition as the premier outdoor streetbike event in America
with top Celebrity Builders, the Calendar Bike Building Championship & Concours d' Elegance, selected Vendors and Exhibitors, the Calendar Girl Music Show and a return to the exciting Queen Mary venue in Long Beach, CA. The Show marks the world premier of next year's new 2014 FastDates.com Motorcycle PinUp Calendars featuring the world's top roadrace and custom motorcycles with the beautiful Calendar Kittens featured in the Calendars in attendance at the Show. Purchase Advance Tickets, Vendor and Bike Contest Registration online at: www.FastDates.com/BIKESHOW.HTM.
---
There's more! Go to Pit Lane News Previous Week

Also Visit: Fast Dates Calendar News • Iron & Lace Calendar News
Calendar Girl News • Meet the Models • Paddock Garage
Get FastDates.com T-Shirts, Mugs & Photographs from Our Store

MEMBERS CORNER! Calendar Kittens, Paddock Garage, Iron & Lace Garage


Amazon.com Motorcycle Products & Apparel Store



MotorcycleSuperstore.com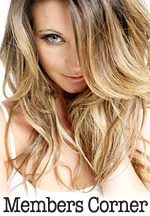 Hot Bikes, Sexy Kittens
Your Exclusive Grid Pass
also includes....
---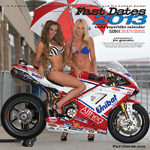 Order the New
2013 Calendars!
with FastDates.com Calendar Kitten, Ducati Corse Grid Girl
and Playboy Playmate
Heather Rae Young!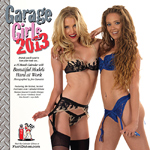 Click for even more Calendars!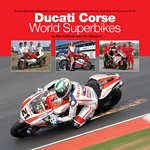 Retail $69.95 ea.
Click to Order from Amazon.com

Ducati Corse
World Superbikes
by Alan Cathcart
& Jim Gianatsis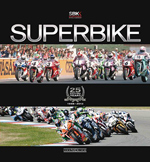 The Official SBK
World Superbikes
1987-2012
25 Year History Book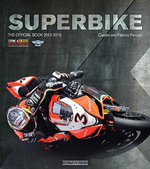 The Official SBK
2012-2013 Yearbook
These SBK Yearbooks are the Best Books Ever about World Superbike. They feature awesome color photography of the riders, bike and racing action. The feature a detailed revue of the past season in pictures and statistics, with a detailed look at the bikes and riders.

Plus a technical look data all the bikes, a preview of the upcoming season's Championship!
We buy this every year ourselves and highly recommend it!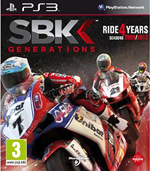 SBK World Superbike Video Game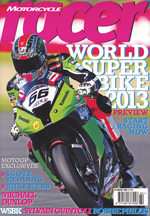 Official Print Media Partner
---
Physical problems for Checa at Donington. Canepa finishes eighth in Race 2.
Donington Park (UK), Sunday 26 May 2013: the fifth round of the World Superbike championship took place today at Donington Park but for Team SBK Ducati Alstare, on track with three riders this weekend, it was a somewhat difficult day; while Canepa brought his 1199 Panigale home in eighth and thirteenth place, Badovini finished race one in eleventh position and Checa, after suffering with severe pain in his shoulder during race one (in which he finished twelfth), decided not to participate in the second race.

Race 1 – Warm and sunny conditions for race 1 today with temperatures of 15?C and a track temperature of 26?C. Starting from ninth on the grid, Canepa was eighth at the end of lap one, followed by Checa and Badovini, placed eleventh and twelfth. Towards mid-race Niccolo' made a small mistake, going long, which relegated him to thirteenth place, immediately behind his two team-mates. Lapping at a similar pace to each other during the second half of the race, Ducati Alstare's three flag bearers were unable to close the gap that had opened ahead of them meaning that they crossed the finish line in eleventh (Badovini), twelfth (Checa) and thirteenth (Canepa) position.

Race 2 – Due to severe pain in his left shoulder both during and after race 1, Checa decided against riding in race 2.
The track temperature had increased to roughly 40?C for race 2. At the end of the opening lap Canepa was in eleventh place, ahead of Badovini, twelfth, and immediately behind Cluzel. On lap seven Badovini unfortunately made a mistake that caused him to lose several positions. From that point on he started to push to make up lost ground but as he entered turn 2 he lost the front which sadly brought his race to a premature end, although fortunately the Italian rider was not hurt in the crash. Canepa, lapping with the same pace as Cluzel immediately ahead of him, finally got past the French rider on lap seventeen, moving into eighth place as a result. He managed the final part of the race well, keeping his closest rival firmly behind him to cross the line in final eighth position.

Carlos Checa: "Seeing how the first race went, and the pain that I had in my shoulder both during and after the race, we decided that it was best not to force things by participating in the second. To tell the truth I thought things might be worse today, at what is one of the most physical tracks but, having said that, I need more time to recuperate and get my strength back as I'm suffering particularly in the changes of direction and when entering left-hand turns, where it's important to have both arms at 100%. Of course it's not an injury that affects me in my day to day life but at 300km/h it really hurts. Now we have two weeks, in which I'll continue with the various treatments in preparation for Portimao where I hope to be stronger. From the next round I'd like to be able to focus more on the sporting side of things and less on health issues."

Ayrton Badovini: "In the first race I lost too much ground in the opening laps and after that there was no way to reach those ahead of me. I felt we made a good step between race 1 and race 2 – in the second I had similar pace to the group ahead of me but unfortunately I lost the front entering turn 2. I didn't hurt myself but it was a pity because I wasn't doing badly. Now I want to continue with our work to better understand what works and what works less well, in order to make less mistakes during the weekend and to be faster in the next races."

Niccolò Canepa: "Considering that these were my first races I'd say that we are coming out of this weekend with a fairly positive outlook. We've worked well and if we'd had more time on track on Friday then I think we could have done better. We're not far off I don't think, with a bit more time to set the bike up for me and my riding style we could probably have done more. I'm just sorry for the mistake in race 1 but these things can happen in racing. I'd like to thank Francis Batta, Ernesto Marinelli and the team for giving me this opportunity and thanks also to Ducati's development team who've worked so hard for me this weekend."
REA UP AND DOWN AS HASLAM IS FORCED OUT OF HOME RACE
Jonathan Rea (Pata Honda World Superbike Team) scored a fourth place in the first of two FIM Superbike World Championship races at Donington Park but after experiencing some issues in race two he dropped to 11th place, after running straight on more than once.
Tom Sykes (Kawasaki) won both races at Donington but Rea was only six seconds behind him in the first 23-lap race, having qualified fourth in Superpole on Saturday. Rea's pace was so fast in the opening race that he set a new lap record at one stage, although Sykes would later beat it in race two.
Jonathan is seventh in the overall rankings after his home round experiences, with 89 points on the board after five rounds and ten races.
Leon Haslam (Pata Honda World Superbike Team) had to withdraw from the Donington races after consultation with his team, despite having qualified 13th after Superpole and having completed morning-warm-up.
Still recovering from a serious leg break suffered at the Assen round of the championship a month ago, Haslam was forced to bow to the inevitable as he realized he could not complete two full race distances in his effort to race at his home round. He is planning to return to action at the next round, at Portimao, Portugal, in two weeks time, and fit enough to move on from his current 15th place in the championship points table.

Jonathan Rea (Pata Honda World Superbike Team)
Race result: 4th / 11th Championship position: 7th
"We were going well until the middle part of the first race and then the electronics were cutting in too aggressively. It was a little bit frustrating because I felt like a sitting duck. I even struggled to compete with Laverty and Guintoli as they came past. When I was behind Tom Sykes early in the race I wanted to go forward but he was doing absolutely nothing wrong. I was happy to know I could follow him at that pace for a time. Race two was a complete disaster. Already, on the sighting lap, I told the guys that we had a sensor problem on the traction control. They said there wasn't enough time to fix it so I went out on a bike that I was really unsure of. In reality it was cutting way, way too much power and I even tried to turn the traction control off, but it wouldn't turn completely off. I'm really frustrated after all the work we've done. We struggled for dry time at the start of the weekend but made some inroads during warm-up this morning and I felt good in race one. I feel like we should have been on the podium twice today."
Leon Haslam (Pata Honda World Superbike Team)
Race result: DNS / DNS Championship position: 15th
"As a rider it is frustrating, I do not think I would have taken that decision to not ride, even though in the long run it may be the right decision. Right now I just wanted to ride. I know any result would not have been great, or where we should have finished if I was fit, but riding around Donington in front of my home crowd is always a special event. Watching is sometimes harder than anything else."
Cycle World owner acquires Motorcyclist, eight other major MC titles
NEW YORK, N.Y. - Bonnier Corp., owner of Cycle World, has acquired nine powersports-related consumer magazines from Source Interlink Media.
Under the May 18 deal, Bonnier acquires Motorcyclist, Sport Rider, Dirt Rider, Motorcycle Cruiser, Hot Bike, Baggers, Super Streetbike, Street Chopper and ATV Rider. Financial terms of the transaction were not disclosed.
"The acquisition supports Bonnier's strategy to be focused in vertical enthusiast interest media," said CEO Dave Freygang. "We believe in going deep into selected verticals, and it's essential that our brands be in a leadership position within those verticals. Since the acquisition of Cycle World in 2011, we've realized that the opportunities within the motorcycle market are significant."
Bonnier will now own the top two motorcycle brands in the industry: Cycle World and Motorcyclist. Along with the other motorcycle titles, the collection will form the Bonnier Motorcycle Group, which is now the largest motorcycle-enthusiast media group in the world.
Eric Zinczenko is Bonnier's executive vice president. "Our new portfolio of motorcycle brands positions us to serve every segment of the motorcycle community and reach the largest aggregate of motorcycle enthusiast consumers possible," he said. "Our unwavering commitment to motorcycles and our industry partners continues.
"The new Bonnier Motorcycle Group's audience demographics complement those of our existing men's titles. This will allow our company to approach our advertising base with even more scale and deeper integrated offerings."
A day after the acquisition, Bonnier promoted Cycle World publisher Andrew Leisner to VP, Group Publisher of the Bonnier Motorcycle Group.
"By having every segment of the motorcycle community under one company, we'll be better able to serve motorcycle-media consumers, fueling their passion and growing the motorcycle industry," Leisner said.
Leisner was named 2012 Sales Manager of the Year for Bonnier Corp. A former professional motorcycle racer, he has worked his entire career in motorcycle media and marketing.
Highlights of the acquired brands, according to Bonnier, include:
Motorcyclist, the flagship title of the group, covers all facets of motorcycling. It includes sportbikes, cruisers, tourers, adventure bikes and standards, with significant details on parts and accessories and the experience of owning and caring for motorcycles.

Sport Rider is the largest brand catering to high-performance sportbikes.

Dirt Rider is the largest off-road motorcycle magazine delivering coverage of all forms of off-road motorcycle recreation.

Motorcycle Cruiser is the only brand dedicated exclusively to real-world cruising.

Hot Bike focuses on the Harley-Davidson experience. Readers get the latest tips and techniques to turn their bikes into customized dream machines.

Baggers covers the hottest custom creations, current-model road tests, in-depth technical installations, theory articles, national rallies and touring stories.

Super Streetbike is the largest brand devoted to the custom sportbike market.

Street Chopper covers the lifestyle of readers living on the road and in the garage.
ATV Rider features the many ways that enthusiasts can enjoy ATV riding.
Meet 2013 Calendar Kitten
Shannon Baucom

MV Agusta M4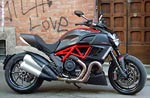 The Devil Made Us Do It!
Testing the Ducati Diavel in Italy
Sudco High Performance & OEM Replacement Parts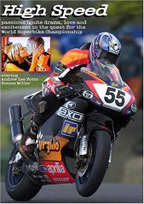 High Speed - the Movie
The best motorcycle racing movie ever made! Filmed on location at the World Superbike races , this an exciting romantic drama staring beautiful British actress Sienna Miller.
---
EDELWEISS OFFERS NEW and AFFORDABLE MOTORCYCLE TOUR ALONG THE DOLOMITES WITH CHALLENGING ROADS, OVERWHELMING MOUNTAIN SCENERY AND ITALIAN CUISINE AT ITS FINEST.
The Dolomites are a must for a passionate biker – come with us on an unforgettable motorcycle tour. The countryside is dominated by mountains, rivers, and gorge-like valleys, which have just space enough for a road and railroad tracks; but there are also bigger towns like Bolzano, where our base hotel is located.

Thinking about Italian culture you will notice quite a big difference from what you may expect; building style, cultures, languages, bilingual road signs and special foods show that varied peoples and ideas peacefully co-exist here. The Sella Ronda is a very good warm-up for the following days and our rides to Penserjoch, Jaufenpass and Timmelsjoch.

Eight more passes are on our schedule for the next day and we will have the opportunity to stop in the nice little town of Cortina d'Ampezzo, well known from the Olympics in 1956. Now it's time to make a decision: go to Venice for sightseeing or collect 10 more passes? Tough call! The last riding day leads us south to the wonderful Lake Garda, with swimming and riding at its best.
Find Out More
THROUGH THE ALPINE WONDERLAND OF AUSTRIA AND SOUTHERN GERMANY – THE ALPS AND LAKES MOTORCYCLE TOUR!
The Alps and Lakes motorcycle tour takes you through a beautiful part of European motorcycle paradise; the Alps. The contrast between the beautiful lakes in southern Germany and Austria and the towering mountains that reach up to more than 10,000 ft is nothing less than breathtaking.
This area is the famous background for the movie "Sound of Music". This vacation offers a little bit of everything: beautiful and relaxing rides through the valleys; some mountain roads and passes; and great vistas and sights, including King Ludwig's castle, Herrenchiemsee, and the historic city of Salzburg. The tour consists of five riding days, one of them is a rest day – which means that you stay two nights at the same hotel.

This is a great opportunity to explore a little bit more, ride around the countryside, walk through town, meet the locals and sample some of the local food. The tour will take you through Germany and Austria, and on the rest day you can even add Italy to your list if you are so inclined.
Find Out More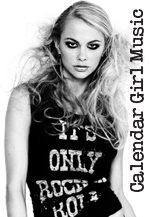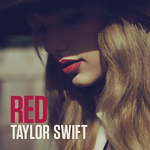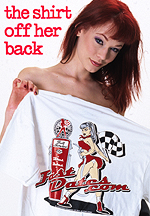 Order the Official
FastDates.com &
LA Calendar Bike Show
T-Shirts!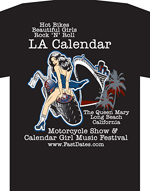 ---
Google Ad