The Unrideables! - An Incredible 2-Stroke MotoGP Documentry
A fascinating documentary recalling one of the scariest and greatest eras in motorcycle racing history
and the legendary riders that rode the 500cc 2-Stroke Grand Prix bikes.
---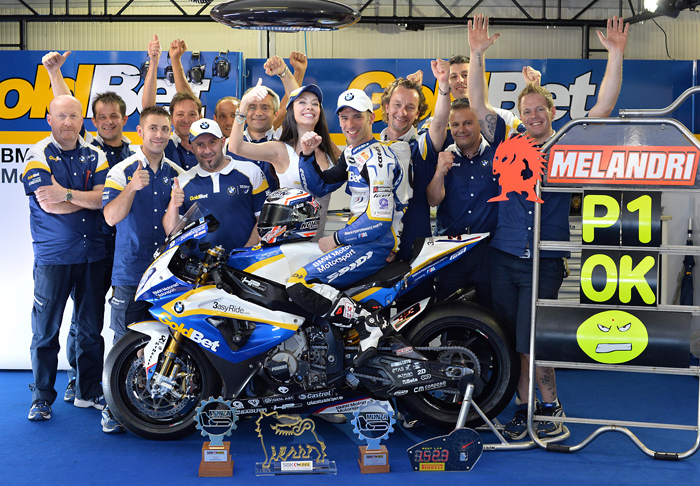 Marco Melandri and his BMW team celebrate their Race One victory.
2013 FIM Eni World Superbike Championship, Monza Round 4 of 14
Melandri and Laverty on top of close battles at Monda World Superbike
Monza, Italy, Sunday 12 May 2013 – Round 4 of eni FIM Superbike World Championship drew to its highest point today with two incredible races, won by Marco Melandri (BMW Motorrad GoldBet) and Eugene Laverty (Aprilia Racing Team) respectively. Of the 47,046 overall spectators attending during the three days, the ones who went for the Sunday trip to Monza's Autodromo Nazionale enjoyed an amazing show of talent, close and unpredictable racing until the finish line.
Protagonists of the round were also Tom Sykes (Kawasaki Racing Team) and Sylvain Guintoli (Aprilia Racing Team), who raced up front to create with the two winners of today a breathtaking 4-way battle for the victory in both races.
Former World Superbike Champion Carlos Checa / Team Alstare Ducati was forced to sit out the weeekend's Superpole and Sunday races with a still difficult shoulder injury.

"I must admit that my shoulder is giving me trouble," said Carlos after Friday Practice. " If it worsens tomorrow I'll find it difficult to complete the races on Sunday. We'll see how things go tomorrow – I'd like to try and make a string of consecutive laps and then, from there, we'll see how I am physically and decide whether it's worth trying to race or whether it's better for me to concentrate on getting fit in time for Donington instead. With regard to the bike, I am losing a few tenths along each of the straights but we knew this would be the case. The chassis set-up is not bad, in the changes of direction etc. the bike's behaved quite well today. We'll continue to work tomorrow and then we'll make a decision."
Then on Saturday Checa had to follow the da 's sessions from the garage but his determination to get back on his 1199 Panigale as soon as possible is strong. "Unfortunately I can only follow the races on the screens tomorrow and I'm very sorry for the Team, the sponsors and the fans that have come to Monza but I've already started to work to get back in shape and I'll continue to work even harder in the coming days to be 100% once more. I'm looking forward to getting back on track at Donington."

Melandri ahead of Fabrizio and Rea in the early laps.

Marco Melandri Takes Race One
Marco Melandri was the winner of a thrilling and ultra-close first race, following a spectacular and highly entertained battle throughout the 18 laps.The 11th race win for the home rider - his maiden on the Italian track - was a perfect display of racecraft, as Melandri entered the final lap in 3rd position and immediately overtook Tom Sykes at Turn 1, then made a successful move on Eugene Laverty for the lead. The works Aprilia Rider regained first position at the "Ascari" chicane, but the eventual winner was not happy with second place and got along the inside of the Irishman at the last turn, while Sykes tried to take advantage to snatch the victory from both rivals.
Race one, which was recorded as the fastest average speed World Superbike race ever, was a breathtaking thriller from the start flag until the finish line. Marco, who started from fifth, pushed forward from the word go and took second position on lap two. Until the chequered flag, he fought an exciting battle with Eugene Laverty (IRL), Sylvain Guintoli (FRA) and Tom Sykes (GBR). Positions between the four changed all the time. On lap 11, Marco took the lead but slipped back to third on lap 15. The battle continued and reached its climax on the final lap. Marco took the lead but lost it a few corners later, however he did not give up the fight. With a brilliant manoeuvre he regained first place with only a few hundred metres to go and defended his lead until the chequered flag. In a photo finish, he had an advantage of just 0.085 seconds to Sykes in second place and 0.107 seconds to Laverty in third. Chaz, who started from ninth, also gained several positions in the early stages of the race. He was involved in a battle with Jonathan Rea (GBR) and Davide Giugliano (ITA) and soon took fifth place, a position he successfully kept until the finish of the race.
The three riders crossed the line side by side, with Melandri winning by 0.085 seconds over Tom Sykes and by 0.107 seconds on Eugene Laverty. Sylvain Guintoli (Aprilia Racing Team) was part of the contention for the win but lost ground in the closing stages to finish 4th.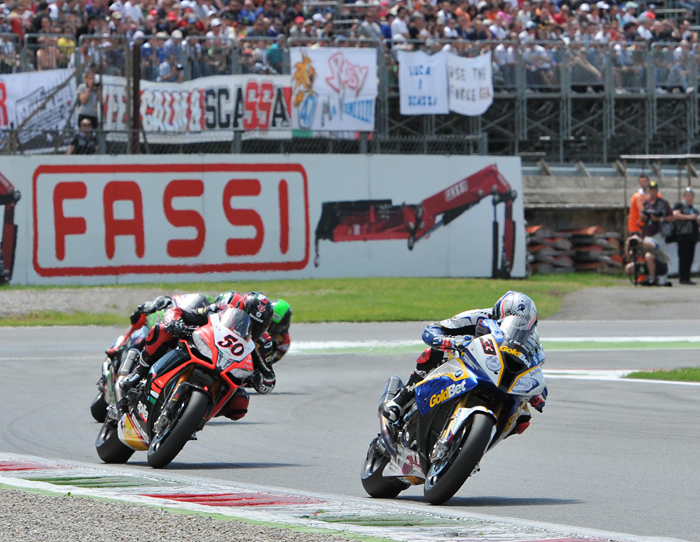 Both Races would see a 4-way battle for the lead nearly every lap between Melandri (33) Guintoli (50), Laverty and Sykes just behind.
Marco Melandri 1st / Fastest Lap Race 1: 1:42.343 min (lap 2): "It was an unbelievable day for me. To finish first and second here in Monza is just awesome and it feels great after we had a difficult start to the season. Race one was unbelievable. I knew that my race pace was quite good, even if we struggled a bit in qualifying. Until the chequered flag, I was talking to my RR, telling her 'go, go, go' – that was incredible. In Race 2 hen Sylvain made a little mistake, I passed him and then tried to catch Eugene, but he was a bit too far away. Anyway, I was also very happy with second place. Now I am confident because I feel that the feeling with the bike is coming back."
5th place for Chaz Davies (BMW Motorrad GoldBet), ahead of Michel Fabrizio (Red Devils Roma Aprilia) - who made his way up to sixth position following a difficult start - and Loris Baz (Kawasaki Racing Team).
Race 1 saw a new average speed record for the Superbike World Championship (201,814 km/h): the previous one was set in 2000 at Hockenheim (Race 1 - 201,330 km/h).
Race 1 results: 1. Melandri (BMW) 18 Laps/103.986 km in 30'54.925 average 201.814 kph; 2. Sykes (Kawasaki) 0.085; 3. Laverty (Aprilia) 0.107; 4. Guintoli (Aprilia) 1.844; 5. Davies (BMW) 7.629; 6. Fabrizio (Aprilia) 8.407; 7. Baz (Kawasaki) 15.555; 8. Rea (Honda) 16.465; 9. Camier (Suzuki) 16.668; 10. Giugliano (Aprilia) 26.820; 11. Badovini (Ducati) 38.908; 12. Neukirchner (Ducati) 38.951; 13. Lai (Kawasaki) 52.788; 14. Akiyoshi (Honda) 55.889; 15. Sandi (Kawasaki) 56.006; 16. Aitchison (Ducati) 56.827; 17. Cluzel (Suzuki) 59.545; RT. Iannuzzo (BMW).
This lap it's Laverty out front ahead of Melandri, Sykes and Guintoli.
Laverty Returns the Favor in Race Two
Eugene Laverty has taken revenge over Marco Melandri after first race defeat for the win to achieve a crucial victory in Race 2. The Irishman grabbed the lead on the penultimate lap and defended the position from a competitive Melandri, who set the fastest lap of the race right before the chequered flag in 1'42.379.
The second, extremely fast race, which ended with an average speed of more than 201 kph, followed the same script with the quartet running away at the front. The Aprilia riders stayed in the lead: first Laverty for seven laps and then Guintoli in the next eight and then Laverty again, taking the lead in the last two laps to then defend down to the wire and win in front of Melandri, Guintoli and Sykes. Sylvain's podium was made official after Aprilia Racing lodged a complaint due to Sykes running straight on in a chicane during the last lap. This is a result that is enriched by the presence of all four RSV4s in the top six places (Fabrizio fifth, Giugliano sixth).
With his 3rd race win of 2013, Laverty equals the same number of victories achieved in the past two seasons to close the gap on the Championship leader Sylvain Guintoli (Aprilia Racing Team) to 13 points, with Tom Sykes third with an 18 points gap from the top.
Their race result is still provisional, as after the chequered flag the Aprilia Racing Team requested the Race Direction to analyse last Tom Sykes' lap, who ran off track, while entering Turn 5 - using the run off area - and rejoined by maintaining his 3rd position and same pace. The appeal by Aprilia was upheld and after Sykes was penalised with one position place penalty, the Kawasaki Racing Team appealed to the FIM Stewards' Panel.

Following an analysis of race footage and sector times by Sykes, preceding rider Melandri and following rider Guintoli, decided to reinstate Tom Sykes third in classification. Therefore, this could not be the final verdict, as a further appeal could be lodged by the works Aprilia Team, this time to the International Disciplinary Court (within 5 days), that will eventually take the final decision on it.

5th place for Michel Fabrizio (Red Devils Roma Aprilia), after a close battle with Davide Giugliano (Althea Racing Aprilia). Both riders had to face a strong Chaz Davies, up until the Welshman lost the front at Turn 5 during lap 12, and a fierce Leon Camier (FIXI Crescent Suzuki), 7th at the flag.
The Kawasaki Racing Team rider completed the podium ahead of Guintoli, as both riders were part of a 4-way battle that characterised most of the 18-lap race.

Eugene Laverty, Aprilia 1st: "This was a great day for me. After the podium in Race 1 it was nice to end the weekend with a victory. Especially since I was a bit disappointed because I had a shot at the top step of the podium in the first race as well if I had managed the end differently. We showed that we can be fast and consistent on two very different tracks like Assen and Monza. My RSV4 did extremely well for me. On this track the speed and balance of the bike in braking are essential. The points situation is excellent if you consider the double dnf in Aragon, but I've already left those difficulties behind and I count on doing well at the next round in Donington as well. Even though it will be an 'almost' home round, it has never been a particularly favourable track for me, but I think this year I've got everything in order to bridge this gap as well".
Marco Melandri, BMW 2nd - "In the middle of race two I was a little bit faster than the two guys in front of me, but I could not try to pass. But when Sylvain made a little mistake, I overtook him and then tried to catch Eugene, but he was a bit too far away. Anyway, I was also very happy with second place. Now I am confident because I feel that the feeling with the bike is coming back. I can brake and go into corners aggressively, it is my riding style. I am sure that from now on we can fight with the top guys at every race. Thanks a lot to my team because they are working so hard and I am sure our championship will start now. And I also want to say 'Grazie' to the many fans who came here today. It was just awesome to see the grandstands."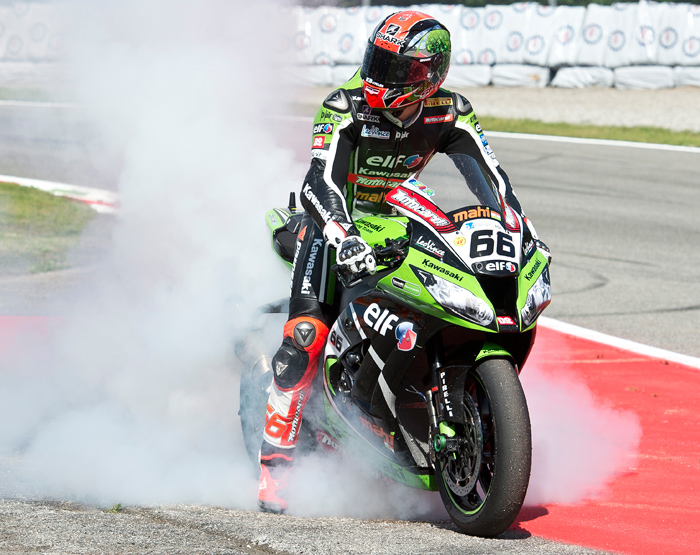 A happy Tom Sykes does a burnout.

Tom Sykes, Kawasaki 3rd: "Today I put it all out there for everybody to see. I could not give any more. Race one was a great race, a great battle although I was like a sitting duck at the back for a time. I was waiting to see where those guys were strong, and they have some speed, so I used that to my advantage and it led to a very exciting last lap. I tried to lead after lap 15 and pull a gap but it was not to be, because they reeled me straight back in. The last lap was great, it was almost a third to first run from the last corner, but I did not want to do anything stupid, so to have the Kawasaki working like that here makes me very motivated. Monza was going to be one of the most challenging circuits we would visit this season but we have come away with pole position, a new circuit record, a lap record and two podiums, so I am happy!"

Sylvain Guintoli, Aprilia 3rd or 4th: "What an exciting weekend! In Race 1 I felt like I was really fast until the halfway point and then my feeling dropped, so the fourth place finish was the most I could get. In the second race I had a better pace. The others were struggling a lot more to overtake me but in the last two laps I wasn't able to keep Eugene and Melandri's pace. The decision that was taken after Sykes' manoeuvre seemed obvious to me immediately. I'm happy with third place even though I missed out on the podium celebration because the Team deserved it after working so hard. For the championship these are really important points".
Badovini was the lone Ducati Panigale rider in Sundays's races.
Race 2 results - provisional: 1. Laverty (Aprilia) 18 Laps/103.986 km in 30'59.653 average 201.301 kph; 2. Melandri (BMW) 0.143; 3. Sykes (Kawasaki) 0.725; 4. Guintoli (Aprilia) 1.619; 5. Fabrizio (Aprilia) 9.965; 6. Giugliano (Aprilia) 10.066; 7. Camier (Suzuki) 12.241; 8. Baz (Kawasaki) 29.771; 9. Badovini (Ducati) 35.005; 10. Neukirchner (Ducati) 41.757; 11. Lai (Kawasaki) 52.579; 12. Iannuzzo (BMW) 1'28.772; 13. Sandi (Kawasaki) 1 Lap; RT. Davies (BMW); RT. Rea (Honda); RT. Akiyoshi (Honda); RT. Aitchison (Ducati); RT. Cluzel (Suzuki).
Standings - provisional (round 4 of 15): 1. Guintoli 137; 2. Laverty 124; 3. Sykes 119; 4. Melandri 96; 5. Davies 94; 6. Baz 75; 7. Fabrizio 74; 8. Rea 71; 9. Giugliano 49; 10. Camier 46; 11. Cluzel 41; 12. Neukirchner 39; 13. Badovini 32; 14. Checa 29; 15. Haslam 29; etc. Manufacturers: 1. Aprilia 172; 2. BMW 144; 3. Kawasaki 130; 4. Honda 78; 5. Suzuki 68; 6. Ducati 52.
World Supersport 600 - Heroic win by Sam Lowes
Sam Lowes (Yakhnich Motorsport Yamaha) did an almost impossible overtaking manoeuvre on the last lap of World Supersport race to get his 2nd win of the season and become the new Championship leader. The 23 year old from Lincoln had a fantastic drive out of Turn 4 to pass all three riders ahead of him at the following chicane.
Lowes got quickly a small margin on the chasing pack to cross the line in 1st place ahead of Florian Marino (Intermoto Ponyexpres Kawasaki), Lorenzo Zanetti (Pata Honda World Supersport) and Riccardo Russo (Puccetti Racing Kawasaki). The top-5 in today's race, completed by Kev Coghlan (DMC-Racing Kawasaki) put up an outstanding battle throughout all 10 laps.
Reigning Champion Kenan Sofuoglu (Mahi Racing Team India Kawasaki) lost the front at Turn 8 during the 4th lap of the race, while he was on the lead. Team mate Fabien Foret didn't take part to the race after being involved in the multiple crash at Turn 1 that brought to a third red flag - and eventually led to the decision of postponing the Supersport race after World Superbike race 2. Similar misfortune for rookie Michael van Der Mark (Pata Honda World Supersport).
Supersport 600cc Race results: 1. Lowes (Yamaha) 10 Laps/57.770 km in 18'09.799 average 190.835 kph; 2. Marino (Kawasaki) 0.798; 3. Zanetti (Honda) 0.989; 4. Russo (Kawasaki) 1.342; 5. Coghlan (Kawasaki) 1.487; 6. Morais (Honda) 8.261; 7. Leonov (Yamaha) 11.044; 8. Scassa (Kawasaki) 11.169; 9. Ivanov (Kawasaki) 11.199; 10. Marconi (Honda) 11.253; 11. Rolfo (MV Agusta) 14.119; 12. Scholtz (Suzuki) 14.522; 13. Iddon (MV Agusta) 14.964; 14. Linortner (Honda) 15.079; 15. De Rosa (Honda) 15.123; etc.
Standings (round 4 of 14): 1. Lowes 70; 2. Foret 54; 3. Vd Mark 49; 4. Sofuoglu 45; 5. Zanetti 40; 6. Scassa 34; 7. Marino 31; 8. Antonelli 29; 9. Russo 26; 10. Kennedy 24; 11. Coghlan 22; 12. Rolfo 22; 13. Leonov 21; 14. Marconi 16; 15. Roccoli 14. Manufacturers: 1. Kawasaki 90; 2. Yamaha 78; 3. Honda 65; 4. MV Agusta 22; 5. Suzuki 8.
---
This Month in the Iron & Lace Calendar ...
Our World Superbike Calendar Kitten Taylor Gunnin plays in the rain with a Vance & Hines Harley-Davidson XR1200 AMA Series race bike at the Miller Motorsports Pro Nationals. Calendars are high quality full color 15 x 15" wire spiral bound printed on heavy art stock revealing 16 months beginning with September. $16.95 each -
Click on the Calendar Picture Above or Here to Order Now
---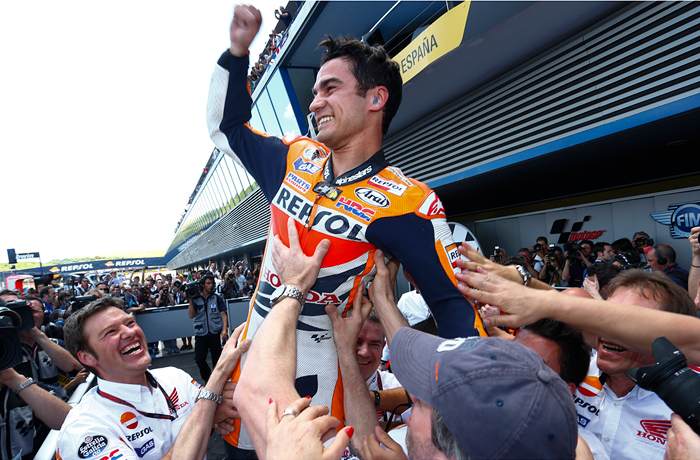 2013 FIM MotoGP World Motorcycle Championship, Jerez, Spain Round 3 of 18
Pedrosa wins at Jerez, teammate Marquez dusts of Lorenzo in the final corner
Jerez, Spain, May 5th 2013 - Dani Pedrosa clinched his maiden victory of this year's MotoGP™ World Championship, winning the Gran Premio bwin de España on Sunday, as teammate Marc Marquez spiced up proceedings by barging past Yamaha Factory Racing's Jorge Lorenzo for second place in the final corner. Lorenzo had been the rider to beat for much of the weekend, comfortably sealing his second pole position of the season on Saturday, yet Pedrosa overtook him at the start of the 27-lap race. The lead was immediately snatched back, but Pedrosa made the move stick as he passed at Dry Sack on Lap 6. As the Yamaha rider dropped into the clutches of Marquez, Pedrosa maintained a steady pace en route to his first win since Valencia last year. Complete Coverage Here

Marc Marquez (93) reeled-in and stalked reigning World Champ Jorge Lorenzo (99) who was riding defensively the last half of the race, until the final corner on the last lap, then Marquez charged up the inside and knock Lorenzo upright and off line , nearly crashing him, in order to pass for 2nd place.
---

Tom Sykes, Eurene Laverty and Loris Baz share the 2nd Race Podium at Assen.
2012 FIM Eni World Superbike Championship, Qatar Round 3 of 14
Sykes and Laverty Take One Win Each at Assen
Assen, The Netherlands, Sunday 28 April 2013 – The eni FIM Superbike World Championship has put in today another great show as riders from four of the five classes battled out for the best positioning in the respective races in front of an enthusiastic crowd (that reached a total of 52.000 spectators over the whole weekend). Blue skies characterised the last day on track for the joy of all riders, starting from Tom Sykes (Kawasaki Racing Team), who was able to set a new lap record for the Superbike class in race 1 and to win by domination ahead of Jonathan Rea (Pata Honda World Superbike) – previous lap record holder from 2010 – and Eugene Laverty.

The Irishman, together with his Aprilia Racing Team crew, found the right set-up adjustments to match Sykes' pace in Race 2 and thanks to a last-lap manoeuvre was able to snatch victory from today's pole-sitter.
Complete Assen WSBK Coverage HERE
---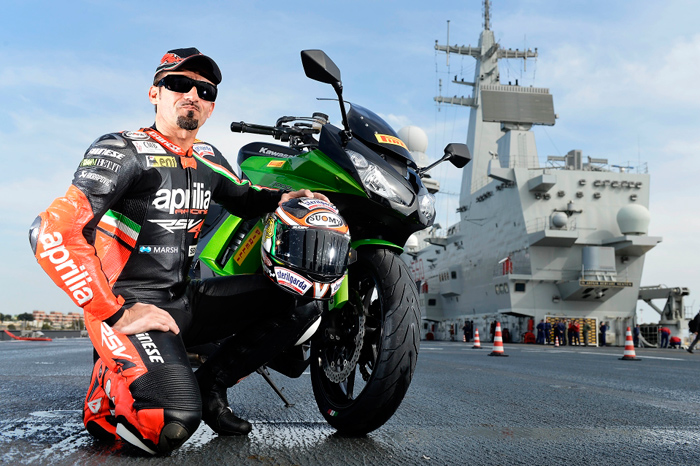 Endorsed and aircraft carrier tested by World Superbike Champion Max Biaggi
NEW PIRELLI ANGEL GT SPORT TOURING TYRE
Milan, 24 April 2013 – After the official unveiling for the international press last week on the flight deck of the Italian Navy's aircraft carrier Cavour and at the Nardò Technical Center, the new Pirelli sport touring tyre, Angel GT, is ready to hit the road and devour miles of asphalt with bikers everywhere, already boasting a first place achievement: in fact, the new Angel GT has been certified as number one for mileage in the Sport Touring segment and it is capable of guaranteeing Pirelli DNA in terms of performance, which is maintained at top levels for the tyre's entire life cycle. These characteristics are joined by typical Pirelli sport spirit and top notch performance on both dry and wet road surfaces thanks to an in depth study of the compounds as well as the geometry and positioning of the tread grooves. Complete Report Here

---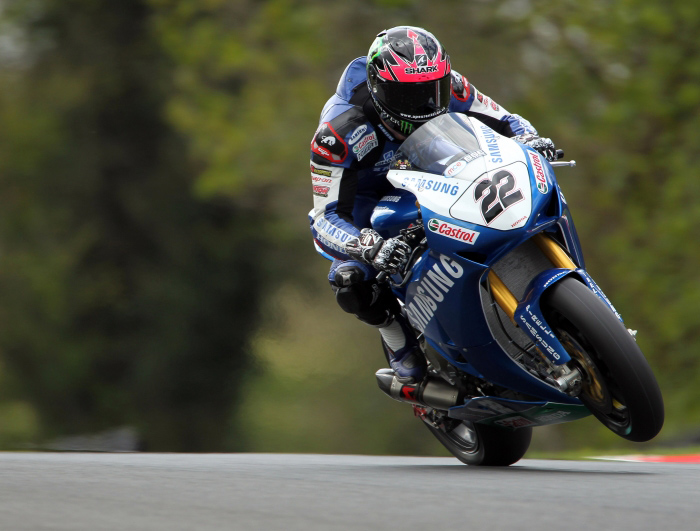 Alex Lowes
MCE Insurance British Superbike Championship, Round 3 of 12
Lowes takes British Superbike 1-Pont Lead over Byrne at Olton Park
Olton Park, Great Britain, May 6th 2013 - Alex Lowes, with his first winning ride of the season in Race One aboard the Samsung Honda and then a determined third place in Race Two behind Rapid Solicitors Kawasaki's reigning MCE British Superbike Champion Shane Byrne, moved him into a single point lead in the chase for the MCE Insurance British Superbike Championship ahead of the reigning title holder Byrne who crashed out of the opening race before bouncing back to win the next. Complete Report Here
---
Radical Ducati Manx
Spanish custom shop Radical Ducati offers this cool looking "Manx" bolt-on fuel tank and solo seat kit that turns a palin jane Ducati Monster into a think of cafe racer beauty. The tank is available in Carbon Fibre or Aluminum. More at RadicalDucati.com
---
Paolo on the left, and brother Marurizo Flamini. Photo curtesy Fabrizio Porrozzi / Giorgio Nada Editore
World Superbike -The First 25 Years
with a Tribute to its Producers Maurizio and Paolo Flammini

and how new management DORNA unceremoniously kicked the Flammini Brothers out the Back Door
of the best motorcycle roadracing championship ever
We all received the shocking Press Release back on September 2nd 2012 stating that the private equity firm of Bridgepoint, who already owned the MotoGP World Championship under DORNA, had just purchased the sports marketing firm InFront Sports & Media AG, who had themselves become the owners of the World Superbike Championship a few years earlier. The WSBK was then celebrating its 25th year of under the direction of brothers Maurizio and Paolo Flammini, who stepped in to save the fledgling production bike Championship started by ex-racer American Steve McLaughlin in 1987.

In 1990 Maurizio came in in to take over full control of World Superbike from McLaughlin's partners and struggling owners, the FG Group, and steered it forward towards world success. Brother Paolo came aboard as the Sales Manager of the Group in 1994, and then in 1999 became President of World Superbike as brother Maurizio stepped back to pursue other business ventures in sports marketing. Under their control the SBK World Championship in the next 20 years would become the most exciting motorcycle roadracing series in the world with the closest racing, most factory and private team involvement. At many European tracks it even rivaled and exceeded the attendance of the more well established FIM prototype roadracing series, MotoGP. - Read the Full Story Here
---
Los Angeles Calendar Motorcycle Show Concours d' Elegance
Returns to the Queen Mary, Long Beach, CA on Sunday July 14th 2013
The 2013 LA Calendar Motorcycle Show continues its now 22-year tradition as the premier outdoor streetbike event in America
with top Celebrity Builders, the Calendar Bike Building Championship & Concours d' Elegance, selected Vendors and Exhibitors, the Calendar Girl Music Show and a return to the exciting Queen Mary venue in Long Beach, CA. The Show marks the world premier of next year's new 2014 FastDates.com Motorcycle PinUp Calendars featuring the world's top roadrace and custom motorcycles with the beautiful Calendar Kittens featured in the Calendars in attendance at the Show. Purchase Advance Tickets, Vendor and Bike Contest Registration online at: www.FastDates.com/BIKESHOW.HTM.
---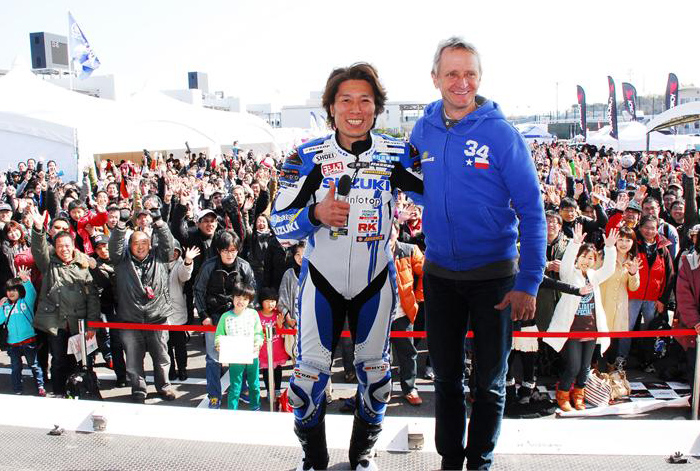 Yukio Kagayama and Kevin Schwantz at Suzuka last year.

Kevin Schwantz to Race Suzuka 8-Hur World Endurance
Team Suzuki Press Office, May 6th 2013- Former 500cc GP World Champion Kevin Schwantz is to make his international racing comeback this year at the Suzuka 8-Hour World Endurance Championship second round in Japan.
The 48-year-old, who clinched the 1993 World Championship aboard his #34 Lucky Strike RGV500 Suzuki, will race a GSX-R1000 in a three-rider Suzuki team set-up by Yukio Kagayama that also includes former MotoGP, WSB and BSB rider Noriyuki Haga.
Kagayama - who has also ridden all three championship classes with Suzuki - has formed the privateer team for the 2013 Coca-Cola Zero Suzuka 8 Hours on July 28th - the biggest and most-prestigious motorcycle race on Japan's motorcycle racing calendar.
Said Schwantz: "I'm looking forward to racing the Suzuka 8-Hour in July with Noriyuki Haga and Yukio Kagayama on a Suzuki GSX-R1000. Suzuka holds a special place in my heart because that is where I won my first 500cc Grand Prix in 1988.
"The last time I raced the 8-Hour was in 1992 with Doug Chandler and we did not finish due to mechanical issues. With only two riders, it used to be a really, really physical race and now with three riders it is still going to be tough but not quite as much. Although eight hours on a 1000cc bike is going to be very physically-demanding, I will need to increase my training program to possibly do two-three hours on the bike.
"I've never have won the 8-Hour and with my team-mates that are as strong as Yukio and Nori, along with our Dunlop tyres, I think we stand a good chance."
Kagayama's World Endurance GSXR1000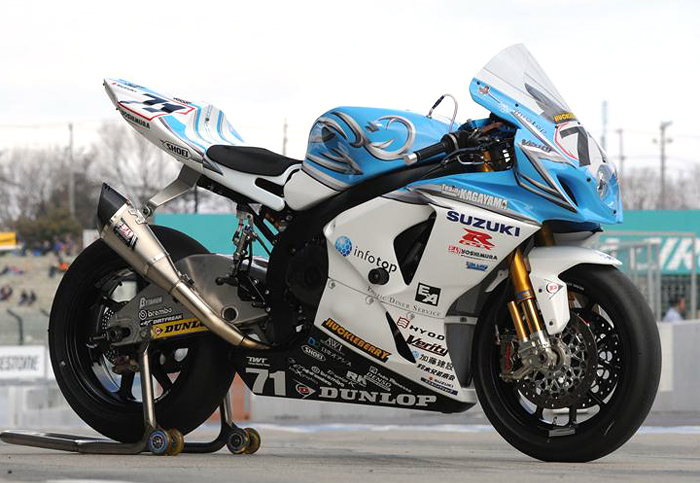 ---
There's more! Go to Pit Lane News Previous Week

Also Visit: Fast Dates Calendar News • Iron & Lace Calendar News
Calendar Girl News • Meet the Models • Paddock Garage
Get FastDates.com T-Shirts, Mugs & Photographs from Our Store

MEMBERS CORNER! Calendar Kittens, Paddock Garage, Iron & Lace Garage


Amazon.com Motorcycle Products & Apparel Store



MotorcycleSuperstore.com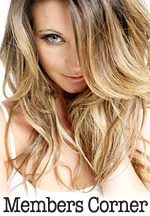 Hot Bikes, Sexy Kittens
Your Exclusive Grid Pass
also includes....
---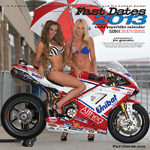 Order the New
2013 Calendars!
with FastDates.com Calendar Kitten, Ducati Corse Grid Girl
and Playboy Playmate
Heather Rae Young!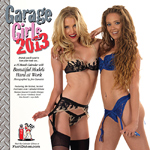 Click for even more Calendars!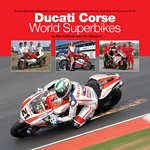 Retail $69.95 ea.
Click to Order from Amazon.com

Ducati Corse
World Superbikes
by Alan Cathcart
& Jim Gianatsis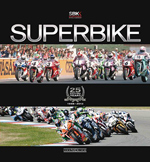 The Official SBK
World Superbikes
1987-2012
25 Year History Book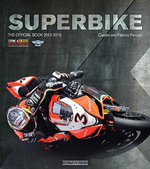 The Official SBK
2012-2013 Yearbook
These SBK Yearbooks are the Best Books Ever about World Superbike. They feature awesome color photography of the riders, bike and racing action. The feature a detailed revue of the past season in pictures and statistics, with a detailed look at the bikes and riders.

Plus a technical look data all the bikes, a preview of the upcoming season's Championship!
We buy this every year ourselves and highly recommend it!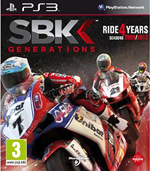 SBK World Superbike Video Game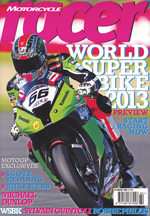 Official Print Media Partner
---
Disappointment for Pata Honda in Monza
May 12th - The Pata Honda World Superbike team endured a difficult fourth-round event at the Autodromo Nationale di Monza in Italy today with only a handful of points to show after some positive development steps with the CBR1000RR Fireblade.

In race one at the historic 5.777km circuit just north of Milan, Jonathan Rea enjoyed a superb start from the second row of the grid but, on the second lap, a missed gear on the exit of Monza's infamous first chicane dropped him down the order.

In a bid to get back on terms, the 26-year-old from Northern Ireland ran on at the same corner eight laps later and clipped a safety bale, for which he was awarded a penalty and ordered to drop two places. Rea made those two places back over the last three laps to finish eighth at the flag.

In race two, clutch problems forced his retirement early in the race as his stand-in team-mate, Kosuke Akiyoshi, who earlier finished 14th in race one, crashed out unhurt at turn eight.

Jonathan Rea – 8th and DNF
It's been a tough day and I don't feel like we got what we deserved today. It was clear I had pace all weekend but, unfortunately, in a race situation, while I had pace by myself, when I tried to capitalise on my strengths in the race, I couldn't run the same corner speed. It made it difficult to pass people and that was upsetting my already good entry speed by braking too late. So in race one I learned a lot but in race two, again I made a good start, but straight away I had some problem with the bike. I thought maybe I should adjust the clutch but, to be honest, the guys are still looking into it and investigating because I don't think that's the only problem. It's hard to say we can leave here with our heads held high. When I'm on my own I'm actually enjoying riding the bike and we've made massive gains, but it's hard to stomach an eighth place from a weekend. But, we move on to Donington – I'll try and keep my head up and remain positive like the rest of the guys and hopefully come back stronger.
FIGHTING PERFORMANCE BY CAMIER AT MONZA
Team Suzuki Press Office - May 12. - FIXI Crescent Suzuki's Leon Camier rode to a determined and extremely impressive seventh place in today's second eni FIM Superbike World Championship race at Monza in Italy.
Starting from eighth on the grid, Camier held that position over the first three laps and kept in contention with the leading group. As the race wore on the Englishman pushed on through the field and was up to sixth by lap-six. He then got involved in a battle with Davide Giugliano and Michel Fabrizio over the rest of the race, before Camier crossed the finishing line seventh to confirm his comeback to fitness, equal his best result of the season so far; and move into the top-10 in the championship. Jules Cluzel had a second race to forget as he crashed on the second lap and ended his weekend early. He was mainly uninjured in the accident - he lost the nail on his little finger - but was very disappointed with the outcome of the race. The victory in the second event was taken by Eugene Laverty on an Aprilia.
Race one saw both Camier and Cluzel get solid starts and maintain positions in the top-10, before a mistake on lap five cost one of the FIXI Suzuki racers dearly. Cluzel missed his braking point going into the first chicane and went straight on and into the run off zone. He quickly re-joined the race - after losing five places - but was then further penalised with a ride-through penalty for not taking the correct line through the run-off area. Cluzel came into the pit-lane two laps later to take his penalty and re-joined the race in last place, fought to try and catch up to the closest riders but was unable to bridge the gap and had to settle for 17th position, his first non-scoring finish of the season so far.
Camier fared better than his team-mate in the first event, as he pushed hard on the demanding and fast 5,777m Italian circuit to bring his Yoshimura-powered Suzuki GSX-R home in ninth place, despite struggling with braking issues for the majority of the race. The race was won by local hero Marco Melandri, after a dramatic final few laps involving the Italian, Tom Sykes and Laverty which saw the trio swap places regularly, before Melandri came out on top with Sykes and Laverty coming home in second and third respectively.
FIXI Crescent Suzuki now heads back to the UK for its first home race of the season, as the European round of the WSBK championship with be held at Donington Park in England on Sunday May 26th.
Leon Camier: - "I had a pretty good start in the second race and got past Jules on the first lap. I then tried to get in a rhythm and not lose the tow. It took me a lap or two to get the feel and confidence in the brakes because we'd made a change to them for the second race. They felt ok, not as good in performance, but more consistent, so at least I could race with them. The set-up of the bike also worked better and let me do a bit more in the race, but I think the results today are what we can expect at this track. Yoshimura and the Crescent team have done a great job and the engine performance is in a different world to last year, but I don't think we could have done much more here."
Badovini and Team SBK Ducati Alstare finish 9th and 11th in today's Monza races
Monza (Italy), Sunday 12 May 2013: Team SBK Ducati Alstare and Ayrton Badovini fought hard during today's fourth round of the World Superbike Championship at the 'Autodromo di Monza', concluding the day's races in ninth and eleventh position. Carlos Checa did not take part due to an ongoing shoulder injury.

Race 1 – starting from twelfth position on the grid, Ayrton lost a few positions through the first chicane but was able to make up two of those lost places before the end of the first lap, positioning himself fourteenth. He then set out to chase down Sandi and Neukirchner immediately ahead of him, passing both of them during the course of the subsequent laps. By lap eight Ducati Alstare's flag bearer was in eleventh position and, by keeping Neukirchner firmly behind him during the second half of the race, he was able to cross the line in that same position, scoring five championship points as a result.

Race 2 – Badovini made a good start to the second race, making up a couple of positions through the first corners and moving into eleventh position during lap two. Once past Neukirchner, Ayrton tried to push to reach Baz a few seconds ahead of him. By mid-race he was in ninth place but unfortunately, due to the gap that had opened up between him and Loris ahead of him, he was unable to further improve on his position and so brought his 1199 Panigale home in final ninth position.

Ayrton Badovini: "Race 1 was difficult as we had chattering issues through the fast sections of the track. We solved this in part for the second race by making some changes, or tests, and we saw that something good came out of it. In the coming days we'll test at Mugello, where the aim will be to focus on what we've found here today and try to refine it in preparation for the next races. I'd like to thank all my sponsors, fans and the many Ducatisti who've come to cheer us on this weekend – I'm always grateful for their support."
Meet 2013 Calendar Kitten
Shannon Baucom

MV Agusta M4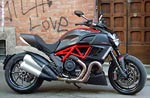 The Devil Made Us Do It!
Testing the Ducati Diavel in Italy
Sudco High Performance & OEM Replacement Parts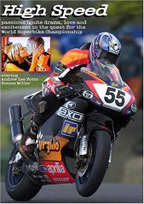 High Speed - the Movie
The best motorcycle racing movie ever made! Filmed on location at the World Superbike races , this an exciting romantic drama staring beautiful British actress Sienna Miller.
---
EDELWEISS OFFERS NEW and AFFORDABLE MOTORCYCLE TOUR ALONG THE DOLOMITES WITH CHALLENGING ROADS, OVERWHELMING MOUNTAIN SCENERY AND ITALIAN CUISINE AT ITS FINEST.
The Dolomites are a must for a passionate biker – come with us on an unforgettable motorcycle tour. The countryside is dominated by mountains, rivers, and gorge-like valleys, which have just space enough for a road and railroad tracks; but there are also bigger towns like Bolzano, where our base hotel is located.

Thinking about Italian culture you will notice quite a big difference from what you may expect; building style, cultures, languages, bilingual road signs and special foods show that varied peoples and ideas peacefully co-exist here. The Sella Ronda is a very good warm-up for the following days and our rides to Penserjoch, Jaufenpass and Timmelsjoch.

Eight more passes are on our schedule for the next day and we will have the opportunity to stop in the nice little town of Cortina d'Ampezzo, well known from the Olympics in 1956. Now it's time to make a decision: go to Venice for sightseeing or collect 10 more passes? Tough call! The last riding day leads us south to the wonderful Lake Garda, with swimming and riding at its best.
Find Out More
THROUGH THE ALPINE WONDERLAND OF AUSTRIA AND SOUTHERN GERMANY – THE ALPS AND LAKES MOTORCYCLE TOUR!
The Alps and Lakes motorcycle tour takes you through a beautiful part of European motorcycle paradise; the Alps. The contrast between the beautiful lakes in southern Germany and Austria and the towering mountains that reach up to more than 10,000 ft is nothing less than breathtaking.
This area is the famous background for the movie "Sound of Music". This vacation offers a little bit of everything: beautiful and relaxing rides through the valleys; some mountain roads and passes; and great vistas and sights, including King Ludwig's castle, Herrenchiemsee, and the historic city of Salzburg. The tour consists of five riding days, one of them is a rest day – which means that you stay two nights at the same hotel.

This is a great opportunity to explore a little bit more, ride around the countryside, walk through town, meet the locals and sample some of the local food. The tour will take you through Germany and Austria, and on the rest day you can even add Italy to your list if you are so inclined.
Find Out More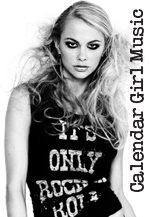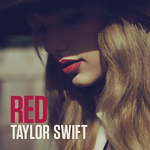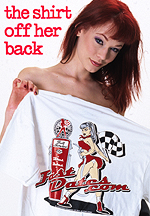 Order the Official
FastDates.com &
LA Calendar Bike Show
T-Shirts!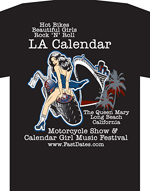 ---
Google Ad