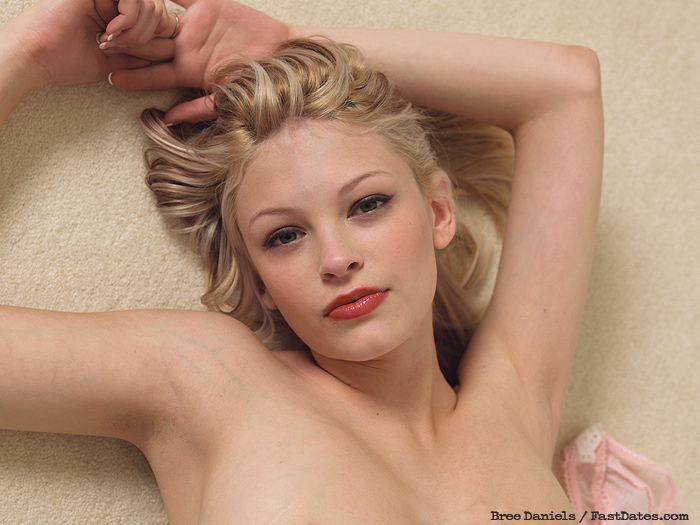 Calendar Kitten News November - December 2010
Bree Daniels does the FastDates.com Calendars
November 1st- You may not know her name yet, but 18 year old barley legal Hustler Honey and film starlet Bree Daniels is ready to rock your world as the newest FastDates.com Calendar Kitten. The minute Bree turned 18 years old this beautiful 5 foot 8 inch baby faced blond with no inhibitions boarded the Greyhound bus from her small Northwestern home town and headed to Los Angeles to make her fame and fortune in the adult magazine and film business.

We still hadn't heard of Bree when her new agent was on the phone asking if they could come by the office for a Go-See. We were between shooting seasons for the Calendars, working hard on production and not really looking for any models at the time, but hey, anything to break up the monotony in the office was always welcome, particularly if it involved a pretty girl. Needless to say when Bree walked in the door she completely blew us away with her fresh new beauty and sweet personality. We booked her then and there for a shoot, and would find some way to use the pictures!

The next week Bree was back with us in the studio to shoot stills for the next edition 2012 FastDates.com Calendars. And because Bree is the type of girl who likes to take her clothes off you can guess we got a lot of great photos of her getting naked for her new Calendar Kitten Gallery in Members Corner. But don't think it stopped there as Bree wanted us to use our video camera to show you guys just how excited she really was to be shooting for the FastDates.com Calendars.

Find more of Bree Daniels in
Meet the Models: Bree Daniels and Members Corner
Bree's Calendar photo shoot - "Stop, Don't" soon changed to "Don't Stop".....
---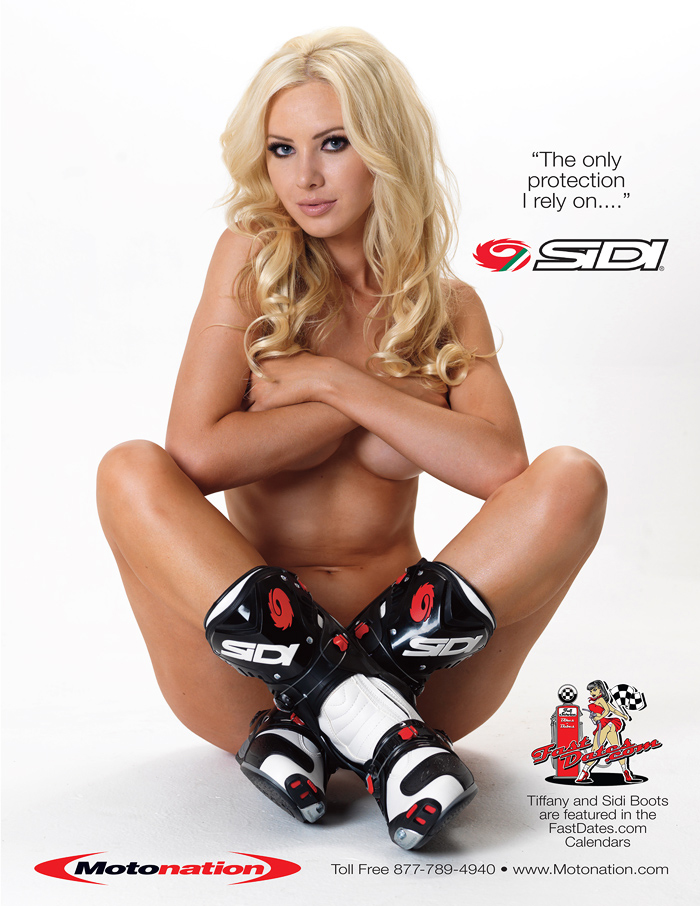 Tiffany is also featured without her boots in Members Corner
---
Caution - This Met-Art Model Galley Contains Full Nudity!


Heather and Jaime's 2012 Fast Dates Calendar Shoot at Miller World Superbike!
See What You Missed in Fast Dates Calendar News June 2010 and in Members Corner
World Premier!
2011 Garage Girls Calendar - Beautiful Models Hard at Work!
"All Killer, No Filler" is the only way to describe each year's of the exciting Garage Girls Calendar photographed by Jim Gianatsis featuring a close-up look at this year's most beautiful FastDates.com Calendar Kittens, but without the bikes getting in the way! This is the perfect calendar for any motorsports enthusiast who appreciates fine bodywork and a hot running engine. And it's the perfect 2nd Calendar to keep up to date in in the Garage or the House if you also have one of the FastDates.com Motorcycle Calendars!
Calendars feature a full 16-months starting in September preceding the cover year for an extended selling season. Full color 15"x15" large format design on high quality art card stock, spiral wire bound with hang hook, clear plastic envelope sealed w/ cardboard insert for protection. UPC and ISBN bar coded.

< Click on Cover to Order Now

You'll also find our Garage Girls in very revealing pictorials in MEMBERS CORNER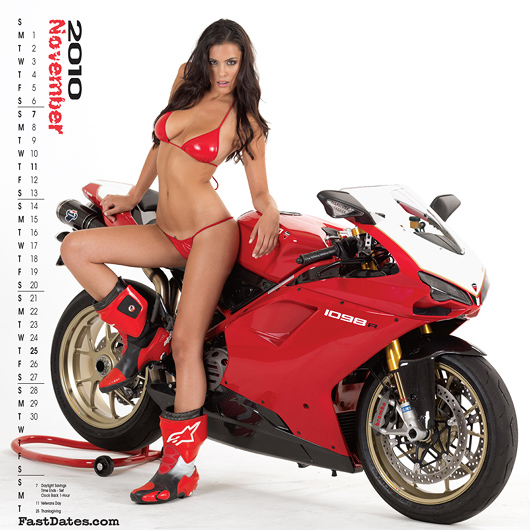 This Month in the 2010 FastDates.com Garage Girls Calendar
Our Wolrd Superbike Calendar Kitten Sabella Shake in the studio with a Ducati Superbike for the 2010 Garage Girls Calendar.
Sabella Kitten is also purr-fect in the 2010 editions of both Fast Dates & Iron & Lace .
---
Magicain Krystan Lambert, Calendar Kitten's Melody Schuster and Candise Lakota with Chris Flechtner's Best of Show winning bike "Bezerker".
2010 LA Calendar Motorcycle Show & Calendar Girl Music Festival
Long Beach, CA, July 18th 2010 - The 19th annual Los Angeles Calendar Motorcycle Show & Calendar Music Festival presented by Motorcycle Attorneys Brown & Koro, America's premier streetbike event marked its returns to the Queen Mary Event Park in Long Beach on Sunday July 18th 2010. The Show's return to it's original 1-day format proved to be a big success, both in reducing production costs for everyone involved from the bike product manufacturers and vendors, to the builders and spectators traveling from out-of-town and having to book hotels. The 1-day format also helped to reduce reduce production costs for producers Jim Gianatsis and the Queen Mary. Visitor attendance was up for this year's new 1-day Show format, higher than the daily totals seen at the Show the last two years.
Complete 2010 LA Calendar Motorcycle Show & Calendar Girl Music Festival Coverge Here
---
The Pretty Reckless

Taylor Momsen gets Pretty Reckless


She's the next big thing. Most of America still knows her as sweet young long legged Jenny Humphry on the prime time TV soap Gossip Girl. But in the last year actress Taylor Momsen turned 15 to 17 years old (going on 25) and emerged from her jail bait caccoon as a catapiller turned vampire bat - the sexiest rock diva ever. Taylor tops Madonna and Avril LaVigne in raunch, sex and beauty with songs like "Going Down" and "Make Me Wanna Die" while perfoming in bra, panties and garters. She also can sing! In interviews she talks about dating older guys, masterbating with her vibrator, and likes to say "fuck" a lot. We got to meet her this past summer when she performed on the Vans Warped Tour, performing at one concert with a Tampon string hanging from her panties the entire show. OMG. Check our her R-rated videos on YouTube.com and order her full 12-song Album "Light Me Up" recently released in England and is now available here in the colonies on Amazon.com by clicking left. Fuck yea! More Pretty Reckless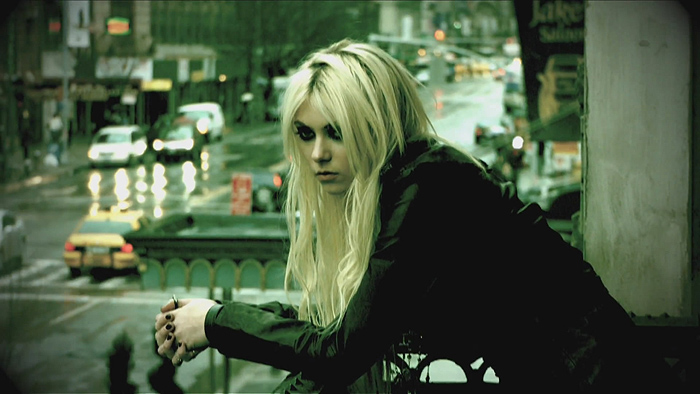 ---
Chicks That KICK ASS! NCAA Women's Volleyball - by Jim Gianatsis
It's an exciting mix of Roller Derby and NBA Pro Basketball, with hot hard bodied 18-21 year old University Co-Eds digging, spiking, diving, fliping and crashing across the gymnasium floor in a 6-girl team's attempt to smash a little leather ball to the floor on the opponent team's side of an 8-foot high net. It's NCAA (National Collegiate Athletic Association) Women's Volleyball, one of the most exciting team sports in the world today. A sport that most people probably don't now much about, and even fewer have seen in person.
Super hot 6-foot 3-inch Amazonian's in super tight spandex short-shorts and shirts, in incredible physical shape. Kicking the ass out of an 8-inch leather ball and the opposing team. Plus these are college girls with brain smarts who could will be ready to financially support their boyfriends in a few years. Charlie Sheen can have his porn stars. These are the girls we love, would want them to abuse us, and then take home to mom. MORE
---
Calendar Kitten Rhian Snugden does 2011 quite well - click to go BIG
Our very own FasDates.com Calendar Kitten Rhian Snudgen, featured in the 2009 SBK Fast Dates World Superbike Calendar which we shot on location in England at Brands Hatch WSB in 2007, has had her own calendar available in Britian the last couple of years. But if you were her friend on www.MySpace.com/RhianMarie you'ld already know that. We just got our own copy of the big new 2011 Rhian 12x17-inch eye popper printed on heavy card stock and have to tell you it is awesome! Order at GlobalCalendars.co.uk
The Making of the FastDates.com Calendars now on DVD!
Sure, we may be slow getting around to some things, one of those being the re mastering of our infamous Making of the FastDates.com Calendars movies to DVD. But now thanks to the help of Amazon.com we've entered the 21st century and you can stuff into your Computer or Big Screen DVD player the fastest, hottest, wettest, sexiest motorcycle movies ever made.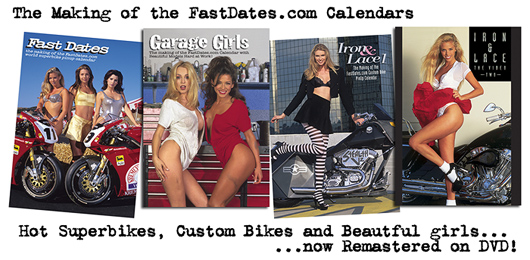 We guarantee you'll be left breathless by the incredible bikes, locations and beautiful girls. But don't wait to get those sticky rental copies of these exciting new FastDates.com Calendar DVD s from your your local rental dive. Be the hero of the next Race Watch or Bachelor's Party by getting your very own DVD copies over night from Amazon.com to hide under your bed from your mom, or download them now directly to your computer. The making of the FasDates.com Calendars DVD movies are available from Amazon.com and in the FastDates.com Video Store.
---
More Calendar Girl News

Visit Members Corner for very sexy Calendar Kitten pictorials....


Click for a Free Met Art Sample Model Gallery Updated Each Day!



Some of our Calendar Kittens can also at Playboy's website...