Custom Bike Pinup Calendar News November - December 2008
Beautiful Playboy cover model Amanda Bently at the classic 1940's Canyon Service Station in Santa Monica, CA, with a Paul Yaffe chopper, this incredible photo was featured on the cover of the 2003 Iron & Lace Calendar.
First Time Ever! FastDates.com Calendar Images Available for Sale!
Photo Prints, Posters, Canvas Wall Murals
Now, for the first time you can have my favorite, most memorable FastDates.com Calendar photos reproduced to museum qualty standards for your home, garage, office or store, thanks to our new partnership with one of America's premier online photo labs. Choose from photo prints on quality photo paper, to huge poster and mural size Giclee' photo prints on archival rag paper or canvas mounted to wooden frames or display boxes.
Now you can enjoy my best photos of the the world's finest motorcycles with beautiful models! - Jim Gianatsis
---



Marisa Miller 2009 Calendar Click to Order!

Sex Sells! Sports illustrated Supermodel Marissa Miller shoots for Harley-Davidson


America's hottest swimsuit model, Califonrnia girl Marissa Miller who has been featured in recent years in the famed Sports Illustated Swimsuit Calendars and Videos, as wel as the Victoria's Secret Lingerie Catalog, recently did a shoot with Harley-Davidson to promote their newly revised V-Rod. Using a known. Using a model endorsement is a big turnaround for Harley who discontinued using a Miss Harley-Davidson spokesmodel to promote their bikes at consumer events back in 2002, their last spokesmodel being our own FastDates.com Calendar Kitten Rockin' Robin Cunningham.
Click on the cover at left to order Marisa's 2009 Calendar
CLICK ABOVE TO GO BIGGER: Turning a Sow's Ear into a Silk Purse? You can get a copy of Marissa's V-Rod Poster at your local Harley-Davidson dealer. It's sure way for Harley to increase dealer floor traffic during these tough economic times as they resort to sex to help sell the V-Rod. We found running as a 2-page ad spread in the December issue of Road & Track magazine as H-D looks for more buyers outside the motorcycle industry. See more at H-D/MUSCLE
We'd like to see a little more of Malissa, though. And ordering her sexy new 2009 Malissa Miller Calendar (above) featuring many almost nude photos is the best way to do that!
---

This Month in the Iron & Lace Calendar ....
FastDates.com Calendar Kitten Carrie Stroup gets ready to ready to rumble with this LA Calendar Bike Show winner from Japanese buiders Hiroyuki Hirata and Toshiyuki Takahashi. You'll find large size screensavers of all our past and present Calendar pages and lots of very revealing pictures of our Calendar Kittens in Members Corner.
Buy the 2009 Iron & Calendar • Download Big Screensaver Photos in Members Corner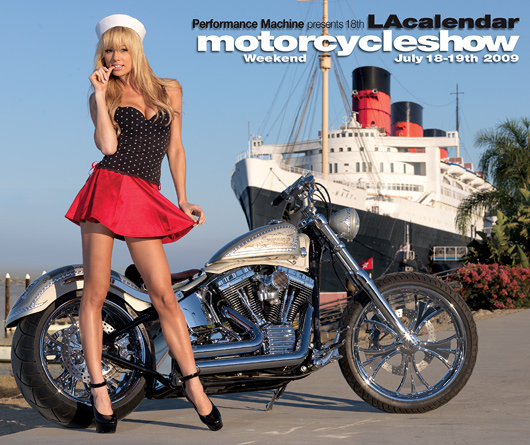 Next LA Calendar Motorcycle Show Weekend set for July 18-19th 2009
Details HERE

2008 LA Calendar Show Winner Bike Pictorials in Iron & Lace Garage
Check out the top winning bikes from the 2008 LA Calendar Motorcycle Show's $86,000 Calendar Bike Building Championship now in the Iron & Lace Garage. Jim Gianatsis has photographed the bikes in detailed pictorials in large screensaver format, together with beautiful models Rachelle Bernsteign Sabella Shake. It;s also your exclusive previrew to the bikes and models which will appear in the next 2010 Iron & Lace Calendar. Sweet! Iron & Lace Garage
Complete coverage of the 2008 LA Calendar Motorcycle Show
and S&S Cycle World Record Dyno Horsepower Shootout HERE
---
The hard hitting moto journalism that Roadracing World, Superbike Planet and Cycle News can't deliver - FastDates.com Calendar publisher Jim Gianatsis at the Leather Meets Lace Party at the Playboy Mansion. All four girls on the right and the 2 behind are fully nude with just body paint and fur trim.

FastDates.com does the Motorcycle Charity Association's annual
Hollywood Charity Ride & Leather Meets Playboy Mansion Lace Party
By Jim Gianatsis
Saturday October 4th - FastDates.com is a sponsor of the Motorcycle Charity Association, providing the organization adverting exposure on the FastDates.com Calendar Website and exhibitor and sponsor presence at the LA Calendar Motorcycle Show Weekend. The organization's premier annual event is the Leather Meets Lace Charity Event, held this year on Saturday October 4th. Calendar photographer and publisher Jim Gianatsis was joined for the day by Calendar sponsor Mikuni American's Lee Chapin, V.P. of Carburetor Sales as we felt theneed to give you a first had report of the industry's most exciting charity event.
Participants onthe Saturday morning Charity Ride line their bes up on Hollywod Bouevard in front of the Kodak Theatre, home of the American Idol Finale. Check outthe retro LAPD police escort!

The day kicked off with the 2nd annual Hollywood Charity Ride starting at the Kodak Theatre next to famed Grumman's Chinese Theatre on the Hollywood Walk of Fame in Hollywood, California. Motorcycle enthusiasts from around the world and celebrities came together for a ride down Hollywood Boulevard and through Beverly Hills, to the Pacific Ocean and up to Malibu for Lunch.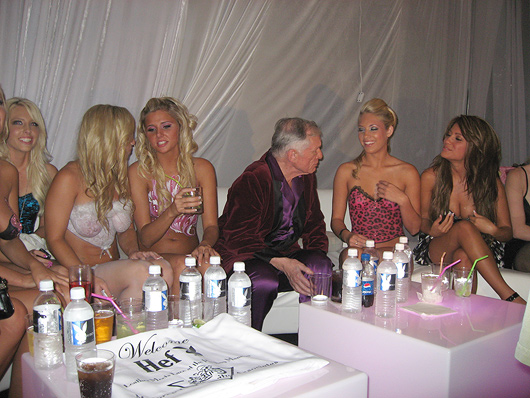 After we were done with our photos, we let Hef take his best shot at entertaining the body paint girls.

Later that evening we arrived at the Playboy Mansion for a night of partying at Leather Meets Lace with 5-star dining and an open bar on the Mansion's expansive back yard next to the famed Playboy Swimming Pool and Grotto. Charity Tickets for the night ranged in price from $1,000 for General Admission, to $5,000 for your own private table staffed with Playmates. Holding court at the party of course, was Playboy founder and house resident Hugh Heffner with his live-in "The Girls Next Door". also joining us were assorted Playboy Playmates and Bunnies, about a dozen nude body painted girls, the Perfect Angeles from our LA Calendar Motorcycle Show performing their sexy dance show, and celebrities including Carmen Electra, Jean Simmons, and top custom bike builders.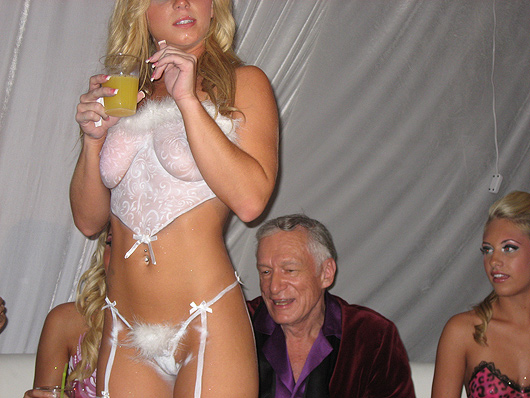 The most amazing thing of the night were the nude body painted girls who actually look, from a distance, like they were clothed in swimsuits and lingerie. It was until you got right next to them and saw their private areas up close, that you realized they were fully naked with just glued on ribbons and fur to add a 3-D effect to the painted-on clothes. It was amazing they could walk around all night among hundreds of people, feeling perfectly comfortable being naked.
All in all, it was an incredible once-in-a-lifetime experience to party at the Playboy Mansion, hang with Hef, get drunk with lots of beautiful naked girls, Playmates, and your motorcycle buddies. I think we'll have to look at doing a FastDates.com Calendar Charity event real soon.
More Leather Meets Lace Photos

FastDates.com Calendars on Burn Notice with Gabrielle Anwar
Sept 1st 2008 - Over the years, the FastDates.com Calendars have served as props in television shows and movies including Melrose Place (co-staring Calendar Kitten Josie Bisset) and Gone In 60- Seconds with Nicholas Cage. Angelina Jolie.

Another TV show "Burn Notice" using our calendars. The episode is titled "Hot Spot" and will air in either January or February 2009. They will either be used as a "prop" in which Gabrielle Anwar's character, who poses as a publisher from a calendar company, shows them to a potential client. OR they will be displayed on the walls of a billiards club or a cigar bar.

"Burn Notice" is on the USA Network and airs Thursday nights at 10pm. The website is www.usanetwork/series/burnnotice

Actress Gabrielle Anwar is the sexy smart co-star on Burn Notice which is crime dramafilmed in Miami Her past credits include many TV shows and movies: The Three Musketeers, For Love or Money, Scent of a Woman, and HBO's The Tudors.
FastDates.com Exclusive
Testing the World's Best Beer - Baltika
You've never heard of it, but it's the possibly best tasting brand of beers in the worldand just 15 years after its introduction it's already the #2 best selling beer in Europe. It's alsoone of the two most popular exports from Russia and its called Baltika Beer. - Click for a FastDates.com Feature Exclusive!
---
With It's Own Barely Legal Medical Attention Standing by...
The Heart Attack Grill, Phoenix, Arizona

Chandler, AZ, Dec 1st - There's nothing closer to a biker's heart than the three Bs - Bikes, Burgers and Babes, with a guy's order of preference depending on what's sandwiched between his legs, lips or hands at the time. If you happen to be riding your bike through Phoenix, Arizona you've now got the three Bs in just one stop!
The Heart Attack Grill® is a hospital themed restaurant in the Phoenix suburb Chandler, which has become internationally famous for embracing and promoting an unhealthy diet of incredibly large hamburgers. Customers are referred to as "patients," orders as "prescriptions," and the waitresses as "nurses."
The menu includes the Single Bypass Burger®, Double Bypass Burger®, Triple Bypass Burger®, and the Quadruple Bypass Burger®, ranging from half a pound to two pounds of beef. Also on the menu are "Flatliner Fries" (cooked in pure lard), no filter cigarettes, hard liquor, beer, and full sugar coke.
The menu names imply coronary artery bypass surgery, and refer to the danger of developing atherosclerosis from the food's high proportion of saturated fat and excessive caloric content. The Quadruple Bypass Burger has been quoted at around 8,000 calories!
One the restaurants most celebrated (and widely publicized) gimmicks is the free wheelchair service provided to those "patients" who successfully finish the Triple or Quadruple Bypass Burger. Amidst a flurry of photography from tourist bystanders the "patients" are pushed in a wheelchair out to their cars by the nurse of their choice.
Founded in December of 2005 by Dr. Jon, a non AMA recognized physician. He has been glorified as the freedom fighting arch enemy of political correctness by some, and demonized as a charlatan "nutritional pornographer" by others, Dr. Jon can be found each day, at the griddle, actually flipping hamburgers in his white doctor's lab coat and stethoscope.
The restaurant has found itself in a continual state of self defense against various activist groups and branches of state government. Most notable was a very public threat closure from the Arizona Attorney General's in late 2006. The controversy hit a crescendo when Dr. Jon was arrested after having attempted to open a live fire hose on a group of picketing nurses. Rush Limbaugh, Geraldo Rivera, and major networks from over sixty countries went live with the story, in a non-stop media frenzy that lasted for months on end.
A compromise was finally reached when Dr. Jon put a disclaimer on his website stating, "The use of the word 'nurse' above is only intended as a parody. None of the women pictured on our website actually have any medical training, nor do they attempt to provide any real medical services. It should be made clear that the Heart Attack Grill and all its employees do not offer any therapeutic treatments".
Despite the obvious animosity between the Heart Attack Grill, and various Nursing Associations, Dr. Jon has always taken time in each and every television interview to point out that we are absolutely in the midst of a severe global nurse shortage. "It's a real crisis!" says Dr. Jon, "Each one of us has a duty to help. I view my part is to draw attention to the problem by playing the role of the villain".
One may question whether Dr. Jon's kind words are sincere, considering the underlying motive that everyone can plainly see... money! No matter which side of the debate the general public finds itself, one thing is certain, upon visiting Arizona they all seem to make the pilgrimage for a burger and fries at what is perhaps the worlds most politically incorrect restaurant!
The future of the restaurant, according to Dr. Jon, lies in its ability to successfully transition into a diet center. With sights set firmly upon competing head to head with established weight loss giants such as Jenny Craig, Nutri-System, and Weight Watchers, he pays little attention to nay saying critics.
According to Dr. Jon, "The new Heart Attack Grill Diet Centers will offer the American public something that no other program has ever been able to do... a diet program that you actually enjoy and can stick with for a lifetime!" He did though conveniently fail to mention just how long the "lifetime" of the clients might be.
Dr. Jon's most recent fitness book, the Heart Attack Grill Diet, which teaches readers how to "Eat, Drink, and Smoke their way to Better Health", has not been well received due to its actual advocating of cigarettes, hard liquor, and fornication with girls of a barely legal age.
The Heart Attack Grill, located in the Phoenix Metro area at 6185 W Chandler Blvd. in Chandler, Arizona.
http://www.heartattackgrill.com
---
There's more! Go to Iron & Lace News Previous Page
Return to Iron & Lace Calendar News Front Page

Also Visit:
Fast Dates Calendar News • Pit Lane News • Calendar Girl News • Meet the Models
See much more of our all our beautiful calendar girls
in their sexy pictorials in FastDates.com Members Corner...


Some of our Calendar Girls can also be seen at Playboy's website...



BikerKiss.com - the largest biker personals site!