Calendar Kitten & Garage Girls News November - December 2012
...and Last Month's Garage Girls News HERE
This Month in the 2012 Garage Girls Calendar... Sara Balint
Adorable Calendar Kitten Sara Balint likes to help us clean up around the studio. When she's not sweeping us off our feet,
she a harding working model and actress based in Los Angeles. Order the Garage Girls Calendars HERE
Below, Sara shows us how a bikini should be worn....


Order the 2012 Garage Girls Calendar now, and see your favorite Calendar Kittens in revealing pictorials in Members Corner.
---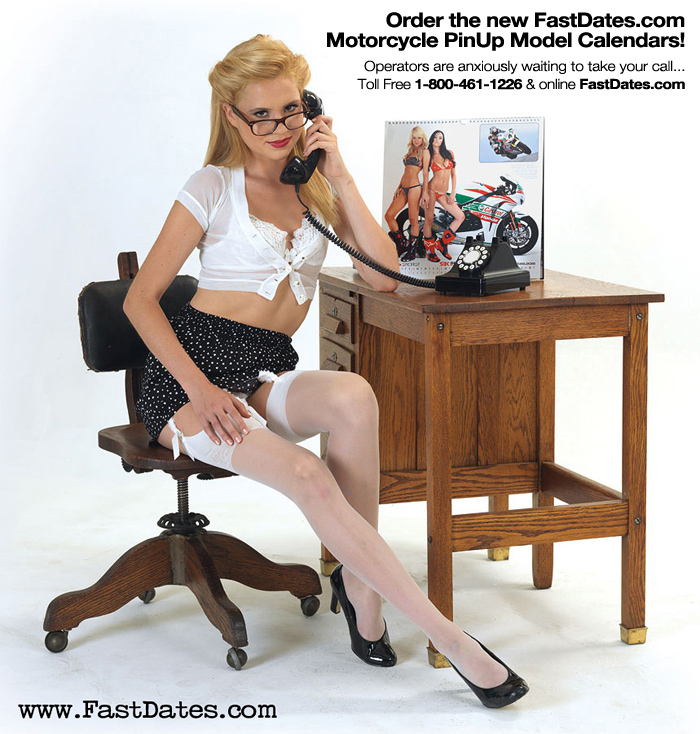 Meet FastDates.com Webite cover model Halle who wants to remind you it time to order your new 2013 Calendars.
Weekdays 8am - 5pm Pacific Cost Time phone Van Leeuwen Distributing at 1-800-461-1226, or ORDER ONLINE HERE.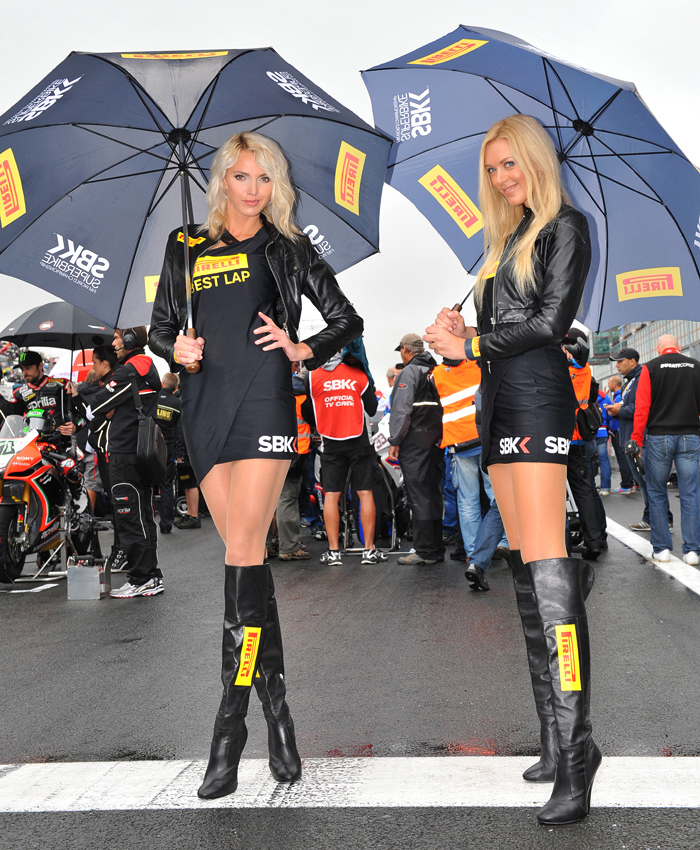 FastDates.com Calendar Kittens and SBK Grid Girls Jitka and Petra strut the grid for Pirelli at Magny-Cours. Look for them in the next 2014 FastDates.com Calendars. Photo by Max Olina.
---
Supermodel Claudia Schiffer helps Guess Celebrate 30 Sexy Years!
To celebrate 30 years of Guess, the denim brand has hired back one of its most iconic faces, German supermodel Claudia Schiffer, as well as photographer Ellen Von Unwerth, for a nostalgic black & white ad campaign that recalls those from the early '90s which helped launch Schiffer's career. Since Guess ads are some of the most memorable and iconic around–perhaps more so than the clothes–the brand is wisely making their 30th anniversary all about those supermodel stars with a capsule collection inspired by Schiffer and fellow Guess girls.
Just as she did in her six campaigns shot between 1989 and 1991, Schiffer posed for photographer Ellen von Unwerth.
"[Schiffer] was a turning point of Guess, she was a turning point of Ellen's career, Guess was a turning point of a life for Claudia," Guess CEO Paul Marciano. "In 1989, Schiffer had only recently been discovered and Guess as a company was only about eight years old.
But Ellen's photographs, particularly one showing Claudia with upswept hair wearing nothing but a black lace bustier, made everyone take notice. At the time, she was just around 19 years old.


Now Claudia, 41, is a married mother of three who spends more time behind the scenes designing knitwear than modeling. And yet in front of the camera, she doesn't seem to have aged at all since 1989. If not for the "30 Sexy years!" scrawled across the new ads, we wouldn't be able to tell which were the vintage spots and which were shot this year.

The whole '90s nostalgia thing shows no signs of slowing down and is mysteriously relevant even to those too young to have experienced the '90s the first time around, so we think this campaign couldn't have come at a better time. We don't even need to mention the fact that, at 41, Schiffer still looks amazing. And, with that teased hair and dark eye makeup, perhaps more Brigitte Bardot-esque than ever?
---
This Month in the 2012 Garage Girls Calendar...
Heather Rae Young
What a great way to end the year! Calendar Kitten and Playboy Playmate Heather Rae Young is featured in all three editions of the 2012 FastDates.com Calendars. And of course you'll find nude pictorials of beautiful Heather in our Members Corner and at Playboy.com.

.
Order the 2012 and 2013 Garage Girls Calendars now, and see our Kittens very revealing sexy pictorials in Members Corner.
---
More Calendar Girl News

Visit Members Corner for very sexy Calendar Kitten pictorials....