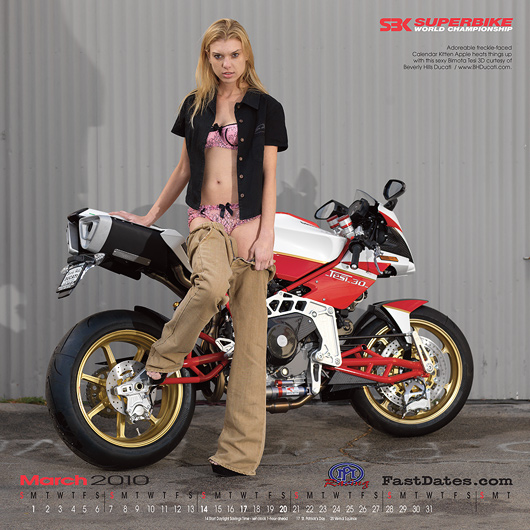 Apple Kitten strips down to her lingerie in a Bevely Hills back alley with a sexy Bimota Tesi 3D.
March - April 2010
This Month in the 2010 Fast Dates World Superbike Calendar...
Freckle Faced Calendar Kitten Apple and the Exotic Bimota Test 3D
Calendar photographer Jim Gianatsis shot this month's March 2010 Fast Dates Calendar page of beautiful model Apple Price with the excotic Bimota Tesi D3. The picture was taken in the back alley behind Beverly Hills Ducati / Bimota in Beverly Hills, CA, who kindly supplied the bike for our Calendar shoot. The shop's customer list includes such Hollywood celebrities as Brad Pitt and Tom Cruise.
The principal characteristics of the TESI 3D 1100 are the unique billet machined "Omega" pside plates which also supports and utilizes the engine as a stressed member of the chassis. Both front and rear wheels are suspended with the unique Bimota trellis swingarms, now a trademark of Bimota.
The front wheel operates in with a hub center steering system. The benefits of hub center steering include the absence of frontend dive under braking. Front suspension remains fully functional in these conditions and allows unparalleled corner entrance stability and mid-turn control. An additional benefit is the resulting ability to use softer front suspension settings, adding an uncommon level of comfort and control in lower speeds too.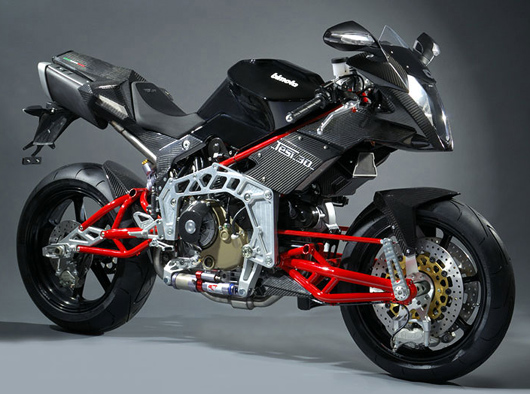 The TESI 3D is equipped with a braking system created by Bimota and is characterized by the radial calipers put on the lowest point of the hub. The lightweight wheels are in forged aluminium alloy and are produced by the MARVIC exclusively for the Tesi 3D.
The 3D is powered by Ducat's workhorse 1100DS aircooled 2-Valve 1180cc V-twin rated at around 100hp. The power is not exceptional, but housed in this super lightweight chassis with a wet curb weight of just 370 lbs. (168kg), this sexy girl is a rocket ship on twisty roads.
The design of the TESI 3D project was created by Bimota's Enrico Borghesan, who has dressed it in carbon fiber to dramatically reduce the weight of the bike. The distinctive rear section is formed of structural carbon fiber. Lightweight, function and elegant design combine beautifully. The bike is available in Red / White like our Calendar bike, and with it Carbon Fiber bodywork unpainted. Retail is $36,000.
See more Bimotas in New Bikes
Bite this Apple!
Apple Kitten is not just a cuddly baby cat with a pretty face. When she is not modeling, she is an aspiring Fine Artist in paint and mixed media, and an Event / Club Promoter. In fact, Apple and her model girlfriends have started a business called FeedAModel.com to feed starving models like themselves and to donate to their favorite charities.

"We want to inspire you! We want to inspire you to tap into everything that you know and feel, and turn it into art. We want you to spread the word, and have the same beautiful experience with your friends and loved ones as we do every time we paint together. We also want you to buy our art! We're "hungry" and have expenses, after all, and despite what you've heard, models need to eat too!! A portion of all proceeds will be donated to the following charities":

Changing the Present
www.changingthepresent.org
Operation Smile
www.operationsmile.org
The Boys and Girls Clubs of America
www.bgca.org
The American Society for the Prevention of Cruelty to Animals
www.aspca.org
One of Apple's girlfriends at FeedAModel.com is another cute new Calendar Kitten, Melody Schuster.
We first met Melody when she worked with Apple at the 2009 LA Calendar Motorcycle Show Weekend. Then the next day we photographed Melody with some of the winning bikes from the Show's $64,0000 Calendar Bike Building Championship for the upcoming 2011 Fast Dates Calendars with Apple.
That's Apple and Melody in the below picture (far right) with the Show's Sport bike Class winner Ray Roth / Eye Candy Cycle Design, Kawasaki ZX14 Stage I engine w/ turbo & nitrous, extended swingarm. The blue dressed blond in the middle is our Show's hostess, incredible singer songwriter and actress Elizabeth Nicole, and on the far left is Ted Sands from Performance Machine.
---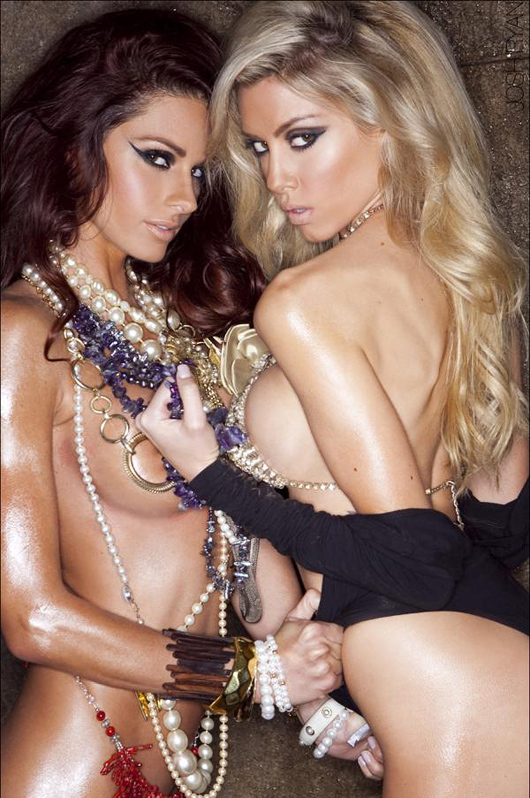 Playboy's hottest new Playmates become Calendar Kittens to to rock 2010's Miller USA World Superbike and LA Calendar Motorcycle Show Weekends!
Los Angeles, CA, Feb 1st, 2010 - Playboy magazine's hottest new Playmates of the year 2010, Miss January Jamie Faith Edmonson (profile below), and Miss February Heather Rae Young (pictured above and below) have been confirmed by producer Jim Gianatsis to be our official SBK World Superbike Fast Dates Calendar Kittens at the Miller Motorsports USA World Superbike round May 29-31st 2010 to photograph the next Fast Dates Calendar with all the top factory team race bikes. The Kittens will also be hosting the LA Calendar Motorcycle Show at the Queen Mary Event Park in Long Beach July 18th.




Heather Rae (above) has already been shooting with us since last fall and will be featured on the cover and inside of all three editions 2011 Fast Dates.com Calendars which will be premiering at these events, and are now available to see with Heather posing on Ben Spies's factory Yamaha World Superbike and Casey Stoner;s Ducati GP09 bike in Members Corner.

Heather is good friends with Jaime Faith and it didn't take much effort for Heather to convince us that Jaime needed to join us for both these exciting event weekends, both as Calendar models and hostesses. You can also see Heather's February Playboy pictorial in Members Corner.

Subscribe to Playboy at 75% discount off the cover price!
Jaime Faith Edmonson (at right) recently was the fourteenth-season contestant on TV's "Amazing Race" who finished in second place with girlfriend Cara Rosenthal.

The 30-year-old former St. Petersburg, Florida, police officer and Miami Dolphins cheerleader from Ft. Lauderdale, FL said both she and Rosenthal were approached to appear in Playboy after The Amazing Race's fourteenth-season finale aired in May 2009.

"Cara had to say say "No". She's in law school and hopes to be governor someday," Edmondson said about Rosenthal before adding she "never saw this coming" for herself. "Here I find myself going to be on newsstands on my 31st birthday,"as Playboy's Miss January 2010.

Jaime spent last summer living at the Playboy Mansion to work on her photo shoot and participate in E!'s The Girls Next Door reality TV series.
Heather Rae Young, Playboy Playmate February 2010 warms up our like new $7,200 Ebay special Ducati 888SPO. Click to go BIG
The Editor completes his 4 Generation Ducati Superbike Collection
by Jim Gianatsis, FastDates.com editor, photographer
I really never thought much of the quirky, temperamental and underpowered Ducati sportbikes of that era. I did have the chance to ride the first generation Ducati 851/888 street sportbikes around 1990, but just wasn't impressed with their slow steering and not very exciting powerbands. Then one Sunday morning ride in 1993 my buddy Scott Reif, who worked at Honda HRC and had new bike brands for testing, let me ride the new Ducati 916 Superbike. The first corner I lean it into the bike took control and did everything for me...it was so much better handling than anything I'd ridden before, and with the broad torquey power band, I was a converted Ducati believer for life.

Within a few months I had purchased my own 916, but felt it was still in need of a little more power. A call to my friend Eraldo Ferracci, who then ran the Ducati AMA Superbike team, my 916 soon had a 955cc big bore kit, full Termignoni race exhaust system, cams, reprogrammed computer chip and Jerry Branch ported heads. Definitely the best sport bike of the era.

Jim in the 2002 Ducati World Superbike pits with the Fast Dates Calendar Kittens, and World Champion Troy Bayliss with his first title winner, the 998 Testastretta Superbike.
In subsequent years my Ducati Superbike collection grew with the new 998R Testastretta engined Superbike of 2001, a 999R generation in 2005, and now the current generation 1198R model. Then to complete my collection with all four generations of Ducati Superbikes, I found on Ebay and immaculate like-new 1994 last production 888SPO limited edition model.
The latest generation 1098/1198 Testastretta engined models are the best yet, and make more power than one could ever use on the street. With the Full-race Termignoni exhaust and CPU the 1198R model is making around 200hp, close to what the intake restricted 1198F factory Corse bikes are currently running in World Superbike.
The production 1098/1198 and S model Superbikes with Ohlins suspension is the best value, with this one exception. To lower production costs on the latest generation 1098/1198 Superbikes, Ducati eliminated the adjustable 24.5° / 23.5° rake steering provided as standard on previous generation models, and still provided on the 1198R chassis required for racing homologation. The current base model 1098/1198 frames' steering angle is fixed at 24.5° just like the first generation 955/988 Superbikes and at this rake the bike is just too slow turning for the track or twisty canyon riding. Like the Ducati Corse factory teams I run my bikes at there quicker 23.5° where the handling is really flawless. When I asked Ducati why they eliminated the adjustable steering head from the base 1098/1198s they told me that 90% of their Superbike model owners never changed the adjustable steering head from the 24.5° degree setting they came with as stock from the factory, so they saw no need to continue it (those owners obviously weren't riding their bikes hard enough to know better). Note that other popular production superbikes like the GSXR and CBR do come standard with their frame steering head angles fixed at the quicker, better handling 23.5° setting.
The editor and his four generations of the ultimate Ducati Superbikes. From left the 888SPO, 996/998R, 999R and 1098/1198R. Click to go BIG.
My professional duties these days include running my motorsports ad agency Gianatsis Design Associates and producing the World Superbike endorsed Fast Dates Racebike Swimsuit Model Calendars and FastDates.com Website. I shoot the Fast Dates Calendar at one of the World Superbike rounds each year, where the Calendar Kittens also serve as the official team Ducati Corse umbrella girls on race day for the Ducat team. The Calendars since 1990 have featured every generation Ducati World Superbike Championship winning bike from Doug Polen's 888 to Troy Corser, Carl Fogarty and Troy Bayliss 916/955/998 bikes, to Troy Bayliss' 999 and 1198 winners.


Above: Jim Gianatsis photographed Doug Polen's 1993 AMA Superbike Championship winning Fast by Ferracci Ducati 888 at Sears Point Raceway that year with beautiful Paula Narez in Doug's race leathers for the 1995 Fast Dates Calendar. Doug raced the same and similar Ferracci 888 Superbikes to take the 1991 and 1992 World Superbike Championships.
1991-1992 World Superbike and 1993 AMA Superbike Champions Doug Polen and Eraldo Ferracci. Photo courtesy
SBK World Superbike.
Legendary Ducati pairing get together for a super Superbike day for Ducati 1098 Buyers
Fast By Ferracci Ducati and Doug Polen Reunite for their 20th Anniversary
Willow Grove, PA Feb 4th, 2010– Twenty years ago in 1991 Doug Polen and tuner Eraldo Ferracci took the racing world by storm with their first of 2 World Superbike Championship wins, followed by the 1993 AMA Superbike title, and to celebrate the anniversary the pair are offering a taste of what made them so successful to Ducatisti.
In celebration of his long and successful history with Ducati, renowned race manager and tuner Eraldo Ferracci is offering 20 fans a unique and exciting opportunity. The first twenty individuals to purchase a new 2010 Ducati Superbike from Fast By Ferracci from now until March 31, 2010 will not only enjoy a free track day on August 16th at New Jersey Motorsports Park, but will receive VIP treatment including having the legendary tuner and Ducati Hall of Fame member as their personal technician for the day.

During this event, Ferracci will be reunited with three-time Superbike Champion and fellow Ducati Hall of Fame member Doug Polen, who will be the riding coach for the Fast By Ferracci VIP's. In their time Ferracci and Polen proved to be a virtually unbeatable combination in Superbike racing. Twenty individuals will have the rare opportunity to benefit first-hand from their expertise. The VIP's will also enjoy dinner with these two legends on the evening before the track day. Those familiar with Ferracci know that the menu will include entertaining stories, bench racing, and technical insight.

To purchase a 2010 Ducati Superbike and take part in this track day of legends, visit Fast by Ferracci in Willow Grove, PA. by March 31st. Fast by Ferracci is open Tuesday through Friday from 9:00 am to 6:00 pm and Saturday from 9:00 am to 3:00 pm. For more information and directions, call us at (215) 657-1276 or visit us online at www.ferracci.com.
---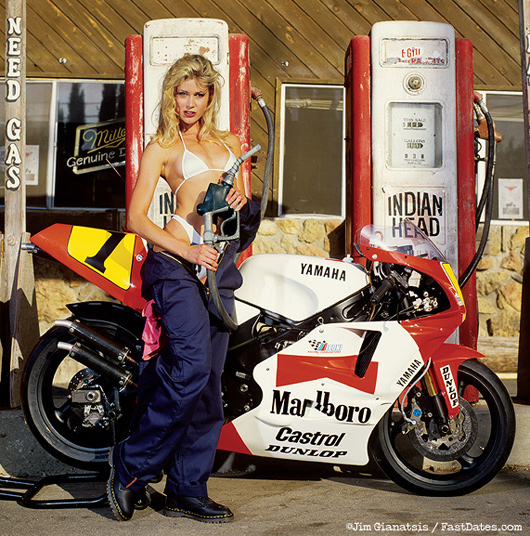 Ginger Schweizer gasses up Wayne Rainey's 1993 GP World Championship winning
Yamaha YZR500 at the Rock Store, the photo featured on the cover of the 1994 Fast Dates Calendar.
FastDates.com Calendar Images Available for Sale!
Photo Prints, Posters, Canvas Wall Murals
Now, for the first time you can have my favorite, most memorable FastDates.com Calendar photos reproduced to museum quality standards for your home, garage, office or store, thanks to our new partnership with one of America's premier online photo labs. Choose from photo prints on quality photo paper, to huge poster and mural size Giclee' photo prints on archival rag paper or canvas mounted to wooden frames or display boxes.
Now you can enjoy my best photos of the the world's finest motorcycles with beautiful models! - Jim Gianatsis
---
There's more! Go to Fast Dates Calendar News NEXT PAGE

Hot Calendar Girl and Bike News! Go to: Fast Dates • Garage Girls • Iron & Lace

Click to see even more of our sexy Fast Dates Calendar Kittens...


And visit these great Fast Dates recommended affiliate websites...

FREE! New Met-Art Model Galley Updated Daily - Stop Back Each Day




Some of our Calendar Kittens can also at Playboy's website...





MotorcycleSuperstore.com