Custom Bike Pinup Calendar News January - February 2009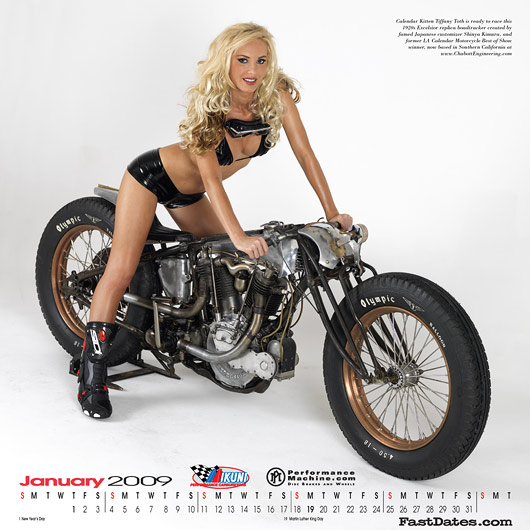 This Month in the Iron & Lace Calendar ....
FastDates.com Calendar Kitten Tiffany Toth gets ready to ready to race this 1920s Excelsior replica board track racer created by famed Japanese customizer and LA Calendar Motorcycle Best of Show winner Shinya Kimura / ChabottEngineering.com.You'll find large size screensavers of all our past and present Calendar pages and lots of very revealing pictures of our Calendar Kittens including Tiffany in Members Corner.
Bill Clinton Presidential Library Center Hosts "Art of the Chopper"
with Shinya Kimura's Iron & Lace Calendar Bike
Through Feb. 8, the Clinton Presidential Center in Little Rock, Ark hosts "Art of the Chopper" an exhibit of 30 gleaming handcrafted motorcycles from around the country, including Shinya Kimura's Excelsior Board Track racer (above0 featured in the 2009 Iron & Lace Calendar.
Clinton center director Terri Garner says "Just as Bill Clinton defines the end of the 20th century, so does the chopper". These custom motorcycles (with portraits of the builders) are already featured in Tom Zimberoff' 2 hard cover books "Art Of The Chopper I & II'. The exhibit is included in the museum's regular admission price. Tickets: $7, adults; $5, seniors (62 and older)
Oh, and did we forget to mention that Tiffany was recently photographed by Playboy to be a new upcoming Playboy Playamte centerfold! You'll find large size screensavers of all our past and present Calendar pages and lots of very revealing pictures of our Calendar Kittens including Tiffany in Members Corner.
Buy the 2009 Iron & Calendar • Download Big Screensaver Photos in Members Corner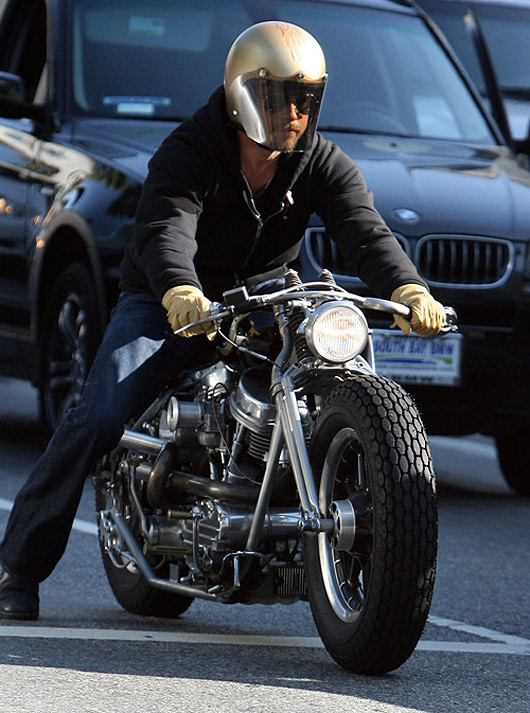 Brad on the Best of Show winning Calendar bike.

Brad Pitt Buys Shinya Kimura's LA Calendar Motorcycle Best of Show
Winner, Ad Campaign and Iron & Lace Calendar Featured Bike
Los Angeles, CA, Jan 9th - The paparazzi in Hollywood snapped actor Brad Pitt riding one of his cool motorcycles from his home in Beverly Hills, down to the studios for work. The bike just happens to be the unique retro V-Twin custom sportbike built by famed Japanese builder Shinya Kimura, formerly with Zero Engineering and now ChabottEngineering.com
This bike along with builder Shinya made their first ever appearance in America at the July 2004 LA Calendar Motorcycle Show where they clinched Best of Show in the Calendar Bike Building Championship. A few months later this winning bike was photographed by FastDates.com Calendar photographer Jim Gianatsis with beautiful Calendar Kitten, former Miss Harley-Davidson and Miss Texas, Robin Cunningham. Pictures from that shoot were used both in the ad campaign for the 2005 LA Calendar Motorcycle Show Weekend (seen below) and in the 2006 Iron & Lace Calendar.
Like many of the top male actors in Hollywood,including Tom Cruise and George Clooney,Brad owns a huge collection of exotic custom and sportbikes, including the Ducati Desmosedicci RR. And when they work together on film's like Oceans 11, they hold a competition each day to see who can ride the coolest bike to the studio where they ballpark together in one spot. With Brad's purchase of Shinya Kimura's LA Calendar Motorcycle Best of Show winner, you get a good idea of where a lot of celebrity buyers look to find their next ride.
Buy the 2009 Iron & Calendar • Download Big Screensaver Photos in Members Corne
---
Meet Rachel B!
2009 LA Calendar Bike Show Hostess and new 2010 Calendar Kitten

January 1st, 2009 - She's our newest and one of the most beautiful FastDates.com Calendar Kittens ever!
Southrn California based supermodel and makeup artist Rachel Bernstein has been shooting with Calendar photographer Jim Gianatsis since this past summer of '08 for our upcoming 2010 FastDates.com Calendars where she'll appear in all 3 editions: Fast Dates, Iron & Lace and Garage Girls with some just as beautiful girlfriends including sexy brunette Sabella Shake and red haired adult film star and Hustler centerfold Jayme Langford. We promise you are in for a real treat!
The above Calendar shoot with Rachel, taken dockside at the Queen Mary historic ocean liner in Long Beach, CA, and featuring a Performance Machine customized Haley Softail, is also being featured in July 18-19th 2009 LA Calendar Motorcycle Show Weekend marketing campaign. Rachel will be at the Show all weekend to assist us with on-stage hosting duties and to meet with fans to autograph all 3 of her 2010 FastDates.com Calendars making their World Permier at the Show. We hope you will join us there!
Next LA Calendar Motorcycle Show Weekend set for July 18-19th 2009
Details HERE
We party at the Playboy Mansion with twins, Rachel B and Paris Hilton!

---

CLICK TO ENLARGE
And now for something really different.....
Roehr Turbo Harley V-Rod Superbike
Walter Roehrich is a roadracing enthusiast from Gurnee, Illinois, who dreamed to build his ultimate street bike. It needed to be light weight, powerful and above all handle like a current GP bike. The desire to take on this challenging project grew from Walter Roehrich's love and passion for sportbikes and a desire to express his ideas and build a unique bike that was not available from current manufacturers. That uniqueness including using an American Harley-Davidson supplied power plant.
The final finished result shown here, the Roehr 1250SC Turbo, is now in limited production for customer ordering. The bike is certainly beautiful, and is equipped with the best components like a high-ed MV Agusta or Ducati 1098R Superbike and priced accordingly at $49,999.
The turbo mounts above the engine in the space normally reserved for the airbox. CLICK TO ENLARGE
The Engine
The Roehr 1250sc is powered by a 180hp, specially developed version of the Harley-Davidson* V-Rod* engine. The engine was designed by Harley Davidson back in the 1990's with assistance with Porsche AG. It is loosely based on the Harley-Davidson VR1000 superbike engine. The design goal 15 years ago was to create a new engine that was modern, powerful and reliable providing HD with an engine for the future. The result was an 1130cc (since increased to 1250cc) liquid cooled, DOHC, eight valve, 60 degree, V-Twin engine with a performance like large bore short stroke architecture. This engine was named the "revolution" engine.
Roehr Motorcycles has applied its Roehr Supercharging System (RSS) technology to enhance this engine's power output without changing the character of it's power delivery, resulting in a truly thrilling riding experience. The result is the most powerful American production motorcycle engine available. But, just as important as outright power is the way the power is delivered. RSS provides smooth controllable power responding to the riders commands.

At the heart of RSS lies the patented Rotrex (C15-60) centrifugal supercharger unit. This supercharger provides the highest levels of efficiency and performance in a compact, light weight unit. This unit weights only 6.4 lbs. and is no larger than a typical small car alternator. Combined are a high efficiency, highly developed "Turbo" centrifugal compressor section, mated to a patented planetary roller drive mechanism. This drive mechanism provides an extremely high step-up ratio of 12.7/1 as well as very low noise output, low wear and excellent reliability.

RSS is designed to provide boost upon rider demand. A special bypass valve is employed to re circulate unneeded air back into the compressor during certain operating ranges such as idle, cruise and deceleration, this effectively disconnects and unloads the supercharger, thus reducing parasitic drag and increasing engine efficiency. In this mode, the engine operates as it's stock normally aspirated self.

Under acceleration the bypass valve closes allowing compressor air to pressurize the intake plenum. The Rotrex supercharger delivers air in proportion to it's driven speed. As engine speed increases the supercharger air output increases proportionally. This strategy is responsible for the extraordinarily smooth and linear power delivery. Power increases in proportion to engine RPM all the way to redline.

RSS enables efficient engine operation with stock emission output levels. Due to the relatively low boost levels of the RSS and low intake charge temperature increase relative to other supercharger types, an intake charge intercooler is eliminated, contributing to a lighter and more compact system.

CLICK TO ENLARGE
The Chassis
The Roehr 1250sc features a unique Bi-Metal beam frame. The frame is constructed of 4130 Chrome-Moly steel and 6061 T6 Aluminum. This method allows each material to be used in areas of the frame that their material characteristics are best suited.

A motorcycle frame needs to be strong, stiff and light weight, but also needs to flex just enough under certain conditions. This controlled flex provides essential information, providing the rider with added confidence near the limits of tire grip. Additionally, this flex also adds a level of dampening which is especially beneficial when the motorcycle is leaned over on the edges of the tires. Under these conditions the motorcycle's suspension effectiveness is dramatically reduced due to road forces no longer acting on the suspension at parallel angles.
The Roehr 1250sc boasts high-spec running gear – Ohlins suspension, Marchesini alloy wheels, Brembo brakes with radial-mount calipers at the front, composite bodywork The single sided rear swingarm and rear wheel hub / brake / sprocket assembly was obviously sourced from a Ducati Superbike.
CLICK TO ENLARGE
Is the Roehr 1250SC a serious sport or racebike? Not really. It doesn't fit in any race class with its oversized engine and turbo charging. And it's some 50 pounds heavier than the competition, thanks to the cruiser based Harley V-Rod engine. The most disconcerting thing for us, though, is the shallow wet sump oil pan on the street touring bike engine that isn't designed to pick up splashed about oil under high G-loads from braking, acceleration, cornering, and least of all wheelies.
Where the Roehr will find a nice though, is among wealthy high end collectors (Jay Leno and Tom Cruise to name a few) who own a stable of unique high end bikes, machines like the American V-Twin powered Ecosse and Confederate, or the Italian Bimota with their similar unique chassis and components. In this respect the Roehr sits right in as a cruise night or Rock Store attention getter. It's marketing drawbacks include the unique turbo engine unit that is hidden from view behind the full fairing and under gas tank. And the MotoGP clip-on handlebar riding position that no longer is practical for middle age millionaires. Marketing wise, it might be a good idea to also offer a high handlebar naked bike version of the Roehr, similar to the Aprilia Tuono and Ducati Streetfighter.
More V-Twin Exotica
Here's some more cool exotic V-Twins we'd love to fnd next to the the tree on Christmas morning! Hopefully Calendar Kitten Rachel knows we've been good?
Above, the Ecosse Titanium Limited Edition features a turbo charged American V-twin in a hand made titanium frame with Ohlins race spec Superbike suspenion and ISR 6-piston brakes and controls. Get 9 more for your best friends frm Ecosse's exclusive 10-bike production run at just $275,000 each. And we thought $72,000 Ducati Desmosedicci RRs were a little pricey.
---
Beautiful Playboy cover model Amanda Bently at the classic 1940's Canyon Service Station in Santa Monica, CA, with a Paul Yaffe chopper, this incredible photo was featured on the cover of the 2003 Iron & Lace Calendar.
First Time Ever! FastDates.com Calendar Images Available for Sale!
Photo Prints, Posters, Canvas Wall Murals
Now, for the first time you can have my favorite, most memorable FastDates.com Calendar photos reproduced to museum qualty standards for your home, garage, office or store, thanks to our new partnership with one of America's premier online photo labs. Choose from photo prints on quality photo paper, to huge poster and mural size Giclee' photo prints on archival rag paper or canvas mounted to wooden frames or display boxes.
Now you can enjoy my best photos of the the world's finest motorcycles with beautiful models! - Jim Gianatsis
---



Marisa Miller 2009 Calendar Click to Order!

Sex Sells! Sports illustrated Supermodel Marissa Miller shoots for Harley-Davidson


America's hottest swimsuit model, Califonrnia girl Marissa Miller who has been featured in recent years in the famed Sports Illustated Swimsuit Calendars and Videos, as wel as the Victoria's Secret Lingerie Catalog, recently did a shoot with Harley-Davidson to promote their newly revised V-Rod. Using a known. Using a model endorsement is a big turnaround for Harley who discontinued using a Miss Harley-Davidson spokesmodel to promote their bikes at consumer events back in 2002, their last spokesmodel being our own FastDates.com Calendar Kitten Rockin' Robin Cunningham.
Click on the cover at left to order Marisa's 2009 Calendar
CLICK ABOVE TO GO BIGGER: Turning a Sow's Ear into a Silk Purse? You can get a copy of Marissa's V-Rod Poster at your local Harley-Davidson dealer. It's sure way for Harley to increase dealer floor traffic during these tough economic times as they resort to sex to help sell the V-Rod. We found running as a 2-page ad spread in the December issue of Road & Track magazine as H-D looks for more buyers outside the motorcycle industry. See more at H-D/MUSCLE
We'd like to see a little more of Malissa, though. And ordering her sexy new 2009 Malissa Miller Calendar (above) featuring many almost nude photos is the best way to do that!
---
FastDates.com Calendars on Burn Notice with Gabrielle Anwar
Sept 1st 2008 - Over the years, the FastDates.com Calendars have served as props in television shows and movies including Melrose Place (co-staring Calendar Kitten Josie Bisset) and Gone In 60- Seconds with Nicholas Cage. Angelina Jolie.

Another TV show "Burn Notice" using our calendars. The episode is titled "Hot Spot" and will air in either January or February 2009. They will either be used as a "prop" in which Gabrielle Anwar's character, who poses as a publisher from a calendar company, shows them to a potential client. OR they will be displayed on the walls of a billiards club or a cigar bar.

"Burn Notice" is on the USA Network and airs Thursday nights at 10pm. The website is www.usanetwork/series/burnnotice

Actress Gabrielle Anwar is the sexy smart co-star on Burn Notice which is crime dramafilmed in Miami Her past credits include many TV shows and movies: The Three Musketeers, For Love or Money, Scent of a Woman, and HBO's The Tudors.
---
There's more! Go to Iron & Lace News Previous Page
Return to Iron & Lace Calendar News Front Page

Also Visit:
Fast Dates Calendar News • Pit Lane News • Calendar Girl News • Meet the Models
See much more of our all our beautiful calendar girls
in their sexy pictorials in FastDates.com Members Corner...


Some of our Calendar Girls can also be seen at Playboy's website...



BikerKiss.com - the largest biker personals site!