World Premier of the new 2014 FastDates.com Calendars!
The new 2014 FastDates.com Calendars, the world's premier line of motorcycle pinup calendars photographed and produced by Jim Gianatsis / Gianatsis Design returns for its 24th year with World Superbikes, Cafe Bikes, V-Twin Customs and the most beautiful Calendar Kittens ever including Jitunka and Petra, the 6'2" blond twin starting line grid girls from SBK World Superbike! Click on the Calendars above to Order Now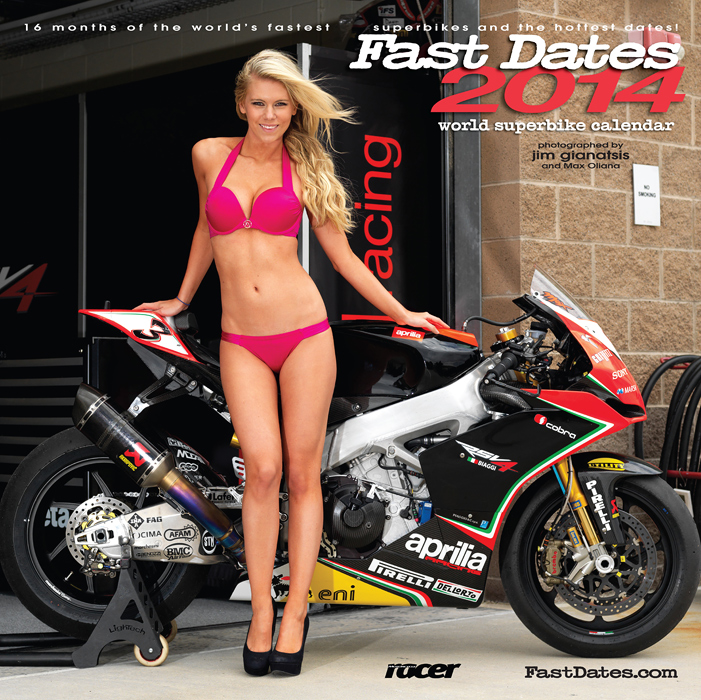 2014 FAST DATES World Superbike Calendar
World Superbikes, Cafe Racers and Official SBK Umbrella Girls SBK World Superbikes with World Champion Max Biaggi's Aprilia RSV4, Tom Sykes' Kawasaki ZX10, Carlos Checa's Ducati 1198RS, Johnathan Rea's Ten Kate Honda, Leon Haslam's' Crescent Suzuki, Marco Melandri's BMW 1000RR, and AMA Champion Josh Hayes' Yamaha R1. Plus incredible cafe bikes from Shinya Kimura, Richard Pollock, Chris Redwing. Together with beautiful SBK Calendar Kittens Chrissy Blair, Jitunka and Petra, Caitlin O'Conner, Halle Arbough, Kinsey Ray, Sabella Shake and Lizzie.
The 2014 FastDates.com Calendars reveal a full 16 months beginning with September 2013 preceding the cover year. These are premium quality printed in full color on 15x15-inch dull coated heavy art board and wire spiral bound with a hang clip for easy wall display and page turning, sealed in a clear plastic envelope with cardboard stiffer for protection. FastDates.com Calendars are available online at FastDates.com, Amazon.com, Calendars.com, at you favorite motorcycle dealer from leading parts distributors worldwide, and in the USA phone toll-free weekdays from Van Leeuwen 1-800-461-1226.
Suggested USA Retail $17.95 ea.
The 2014 FastDates.com Calendars and the FAST 2014 Calendar Magazine Yearbook feature
the official SBK World Superbike grid girls Jitunka & Petra from the Czech Republic!
NEW! FAST 2014 Digital Calendar Magazine Yearbook
The Bikes, the Builders, the Riders, the Kittens,the Calendar Bike Show, the World Superbike races all the 2014 Calendar Pictures, and Special Features... For the first time every we take you around the world in 120 exclusive pages for the making of the 2014 FastDates.com Calendars! Now in Members Corner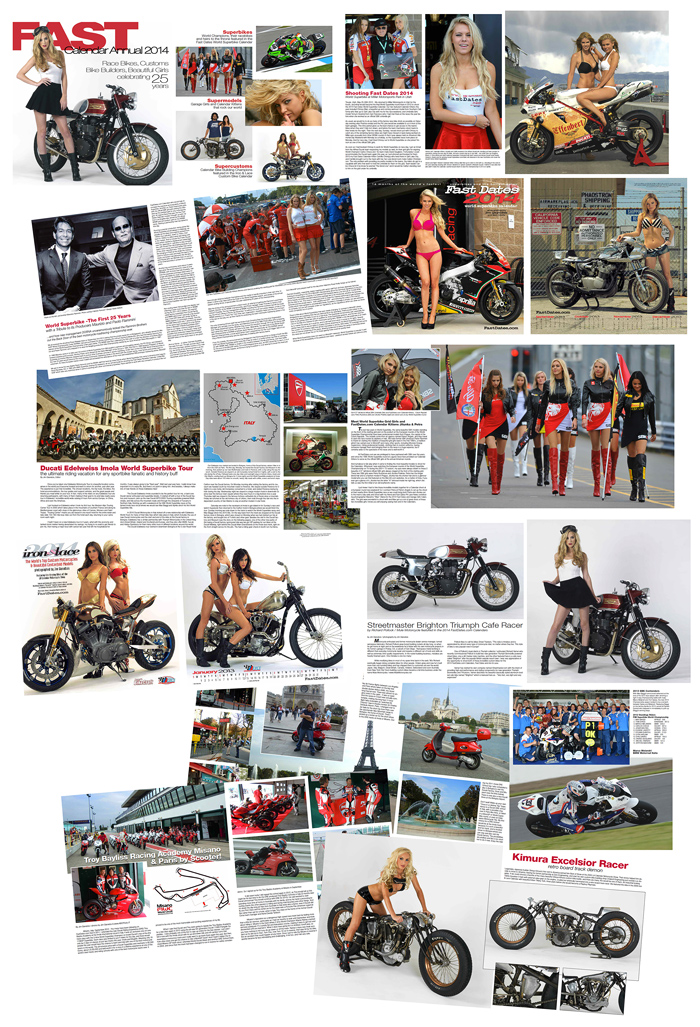 ---
2013 MotoGP World Championship, IVECO TT Assen, The Netherlands, Round 7 of 18
Lorenzo Returns to Assen to Try and Race!
Assen, The Netherlands, 28th June 2013- Jorge Lorenzo has successfully undergone surgery at the Hospital General de Catalunya in Barcelona, Spain last night to repair his fractured left collarbone. The injury was sustained when he crashed in Free Practice nr. 2 for the Dutch Grand Prix at Assen yesterday afternoon. He was operated on by Dr. Joaquin Rodriguez of the Hospital General de Catalunya, assisted by Dr. Ana Carreras, Dr. Marcos Cots and Dr. Michele Zasa of the Clinica Mobile. Dr. Zasa made the following statement following the two hours operation:
"The duration of the surgery was approximately two hours; the clinical course of post-operative has been regular. Jorge sustained a displaced, complex fracture to the third medial of the left collarbone. It's been a challenging operation, apparently successful. We inserted a titanium plate and eight screws to secure the fragments of the collarbone. Jorge has just woken up from the anesthesia. In the next few hours we will evaluate the progress of the patient and then we will be able to estimate how long the post-surgery rehabilitation will take."
Wilco Zeelenberg, Yamaha Team Manager - "Following the medical check at the Circuit's Medical Centre first and at the Assen Hospital later, yesterday Jorge decided to be operated as soon as possible. Unfortunately no operation room was available in Assen due to some other very urgent life threatening operations that had much higher priority than Jorge's collarbone and therefore we flew to Barcelona, where a surgery room was made available at the Hospital General de Catalunya. The surgery, that started at 2.00am and finished at 4.00am has had good results and now Jorge is sleeping, exhausted from such a long and tough day. We have to wait till he wakes up before making any further evaluation of Jorge's physical conditions and how long his recovery will take".
UPDATE : Yamaha Factory Racing rider Jorge Lorenzo returned to the Assen circuit at 6.15pm today to be reunited with his team. The World Champion flew directly from Barcelona following surgery last night to repair a broken left collarbone sustained in Thursday's second free practice.
Lorenzo is in positive mood following the operation but is understandably tired after an exhaustive day so will now rest before attending a medical check tomorrow morning to be cleared for the MotoGP Warm Up session. Should he be cleared to ride he will then attend a further medical check following the session along with a team consultation before making a decision on whether to participate in the afternoon's race. A further update will be released following tomorrow morning's medical check to confirm Lorenzo's participation in the MotoGP Warm Up session.
Fastest Lap and Broken Collarbone for MotoGP Champ Lorenzo
IVECO TT Assen, NL, June 27th, 2013 - Yamaha Factory Racing's Jorge Lorenzo was both the fastest and unluckiest man on the first day of practice at the Iveco TT Assen, as he set the pace in the early dry session, before breaking his collarbone in the wet afternoon practice. The World Champion's day was brought to an abrupt end when he suffered a high-speed accident and broke his left collarbone in the rain-affected afternoon session. Lorenzo registered a best lap time of 1'53.263 in the morning period, leading the way from Monster Yamaha Tech 3's Cal Crutchlow and Repsol Honda Team's Marc Marquez in what would prove to be the only all-dry MotoGP™ session of the day. Marquez would go on to top the second session, but was 14 seconds off Lorenzo's earlier best as the forecast showers finally struck the historic Dutch venue.

The crash for Lorenzo came at the rapid Hoge Heide section running up to Ramshoek, which precedes the Geert Timmer chicane at the end of the lap. The Mallorcan was taken to the circuit's medical centre and provided with painkillers, having been caught out by standing water before landing heavily on his left shoulder. The fractured collarbone was confirmed less than ten minutes after the session ended. He will now remain under observation in a Dutch hospital where a CT scan will be carried out, and his situation further assessed.
Going into this weekend's race, reigning Champion Lorenzo sat in 2nd place in series points behind Pedrosa with 123, to Lorenzo's 116.

Behind the leading trio, Lorenzo's teammate Valentino Rossi finished fourth quickest, ahead of Repsol's Dani Pedrosa, an impressive Aleix Espargaro for the Power Electronics Aspar squad, LCR Honda MotoGP's Stefan Bradl, GO&FUN Gresini's Alvaro Bautista, Pramac Racing stand-in rider Michele Pirro and Tech 3's Bradley Smith. Bradl was running Brembo front brakes instead of Nissin, in what is going to be an extended testing phase with the Italian brake manufacturer.

Wet form was tough to gauge in the afternoon as the track was drying at a rapid pace in the final few minutes, with the likes of Crutchlow sitting out the final bit in a bid to avoid any potential crashes. It did however propel some lesser-known names into the top ten, with Came IodaRacing Project's Danilo Petrucci, as well as PBM's Yonny Hernandez and Michael Laverty finishing from eighth upwards.
Dr. Xavier Mir - Chief of Hand Surgery at the Dexeus Hospital (Barcelona) and MotoGP Team Medical Doctor - "Jorge has a high inertia trauma but results are normal from initial neurological examination. We will move to Assen to make head and chest scans and also an abdominal exploration. Our first diagnosis revealed that there is a left clavicle fracture with a slight shift that will need surgery to repair the bone. This injury is in the background while we rule out any other major injury that may become apparent within 24 hours. These kind of impacts at more than 200 km/h need some time for the body to recover to be able to discard any other major injuries. In principle tomorrow he can travel and within 48 hours he will be operable."
Valentino Rossi has won the Iveco TT Assen, picking up his 80th victory in the MotoGP™ premier class and his first since the Malaysian Grand Prix of 2010. The nine-time World Champion shared the podium with Marc Marquez and pole-sitter Cal Crutchlow, with Jorge Lorenzo finishing fifth despite a broken collarbone.
The Doctor delivered at Assen for his huge grandstand of fans

The Doctor Delivers His 80th Premier Class Win at Assen
MotoGP Race, Assen, June 29th - Valentino Rossi delivered a faultless performance today to win the Grand Prix of The Netherlands, his 80th Premier class victory and his first win since 2010. Having shown race winning pace all weekend in all conditions 'The Doctor' was faultless in today's TT race. The nine-time World Champion held his fourth position from the grid into the first turn then started looking for a way past Stefan Bradl for third. By the second lap he was past and with just 22 laps to go he moved past Marc Marquez into the first corner for second, beginning the hunt for Dani Pedrosa and victory. It took just one lap more and Rossi was able to dive past Pedrosa into the final chicane for a race lead he would hold to the flag, crossing the line to a sea of yellow flags and a well deserved return to form. The win puts Rossi on 85 points, now just two behind Cal Crutchlow in fourth place.
Valentino blew by and pulled away from Honda's Pedrosa and Marquez for the first time this year.
While his teammate rightly deserved the honours for an amazing victory, Jorge Lorenzo also shone today. The World Champion gave everything he had and more, defying the pain from collarbone surgery just 36 hours ago in a heroic effort to race. Lorenzo had started from 12th on the grid but had risen to eighth by turn three. By the second lap he had climbed to fifth and was chasing down satellite Yamaha rider Cal Crutchlow in fourth. With 23 laps to go he had passed Crutchlow and began to close the gap to Marquez in third. As the laps wound down exhaustion set in and with 11 to go Lorenzo was re-passed by Crutchlow. With grim determination he managed to maintain pace for fifth position and rolled into the Yamaha pits to an applauding team. The remarkable feat means Lorenzo holds second in the Championship and is just nine points behind Pedrosa as they head to Sachsenring in two weeks time.
Lorenzo generated many of the headlines before the race, having been cleared to race less than four hours before the start and having travelled back from an operation in Barcelona. Rossi's afternoon started from fourth on the grid. A decisive pass on LCR Honda MotoGP's Stefan Bradl saw the Yamaha rise to third in a very strong move at the chicane as the first lap came to a close. The Italian then proceeded to hunt down the Hondas, dispatching of Marquez on Lap 4 and Pedrosa on Lap 6 in what was a similar move to that of 2007. He would go on to take an emotional victory by 2.1 seconds.

Marquez's second place boosts his championship situation, finishing ahead of both Pedrosa and Lorenzo. Having sealed his first front row starting position since Le Mans, the 20-year-old rookie ran third but caught Pedrosa on the 18th lap; his first attempt to overtake failed, but the reigning Moto2™ champion made the most of his next opportunity and seized second spot on the drag to the first corner.
Pedrosa would fall back one more place before the chequered flag, losing out to Monster Yamaha Tech 3's Crutchlow who was fortunate to avoid a crash when he touched Marquez's rear wheel on the final lap. Although fourth is Pedrosa's worst result since Round 1 in Qatar, he still extends his championship lead by two points.

Lorenzo was mightily relieved to have scored 11 points, having suffered a heavy crash on Thursday before being operated on in the early hours of Friday morning. He arrived back at Assen on Friday afternoon and was given the green light to race after 11 o'clock this morning. Having risen to the top five from 12th on the grid by only the second lap, he ran as high as fourth but fell back as pain began to kick in.
Sixth place went to Bradl, who, from his first ever MotoGP front row, had briefly snatched second at the start, whereas GO&FUN Honda Gresini's Alvaro Bautista overhauled leading CRT rider, Power Electronics Aspar's Aleix Espargaro, for seventh with six laps to go. On the final lap Ducati Team's Nicky Hayden lost two places and fell to 11th, dropping behind Tech 3's Bradley Smith and his own teammate Andrea Dovizioso. Avintia Blusens' Ivan Silva finished 23rd covering for the injured Hiroshi Aoyama, whereas Came IodaRacing Project's Lukas Pesek was the sole retirement.


Valentino Rossi's success is his first since returning to Yamaha and, as well as being his 80th win in the top tier, is his 106th career victory and eighth at Assen.
Valentino Rossi, Team Yamaha - 1st / 41'25.202 / 26 Laps - "Today was something special, this is one of the best victories in my career because it is one of the most wanted and expected for such a lot of time. I'm so happy because I won a real race where all my opponents were very strong and very fast, apart from Jorge with his injury. It was great from the beginning, I had a good feeling, I could overtake on braking and I felt good on the bike. It was difficult but the finish line was calling me so I had to arrive as fast as possible. We have made a step with the bike, I can ride in a better way so we have to try and stay with the top guys every weekend. Jorge rode an incredible race, we have to say a special great congratulations because he had great courage to do this and also he made an important step for his Championship."
Marc Marquez, Repsol Honda: 2nd - "Overall the pace was faster than I had expected. At the start and throughout the race both Dani and Valentino were very strong. In fact, Valentino was simply faster than us today. I could only pass Dani towards the end because at first I had a lot of trouble. Once I was ahead of Dani, I tried to catch Valentino, but my arm began to affect me and I couldn't brake in my normal way, due to my injured finger. In the end we took 20 points after a good battle with Cal, and I think I defended pretty well against him. In general, we can say we've done a good job all weekend. I would also like to congratulate Valentino, as it's always good for motorcycle racing when he is up at the front."

Dani Pedrosa, Repsol Honda: 4th - "Today I started well, saving a crash at the very beginning with cold tyres, and I was able to continue and put in some good laps. Then I had problems with the tyres, both in the front and the rear. Still, I tried to hold on for as long as possible, because I don't want it to be an excuse. I sat behind Rossi for several laps, then as the race progressed it was more and more difficult to keep up, especially when Marc and Crutchlow caught me. I guess everyone was sliding around behind us, but I found I couldn't control the bike on entry to some corners and that made me lose touch, especially in the closing laps. Overall this weekend we had very negative feelings and in the end we managed an okay race. Now it is time to move on, relax and get ready for the next round. Finally, congratulations to Jorge, because what he did today and how he did it was very impressive. I take my hat off to him."
Jorge Lorenzo, Team Yamaha, 5th / +15.510 / 26 Laps - "It would have been impossible to believe some minutes after my crash that this could happen. We were brave to make the operation the same day, if I had waited to Friday the doctors would not have let me race. We made the race today and I was very brave in the first laps because passing the riders with a collarbone like this under braking was really hard. I felt quite good physically at the beginning of the race but after lap seven every lap was worse; it was more difficult to change direction, to brake and to accelerate so I couldn't do more than fifth position. We only lost two points to Dani who is leading the Championship. This fifth position is better than any victory I have had in my career. I hope to have a good recovery for Germany, I will not be 100% but I hope to be better than here. The victory for Valentino and the third for Crutchlow are good for the Championship, I would have preferred Cal to finish in front of Marc but you can't always have perfection! I am happy for Valentino, more than two years without winning has been hard for him so I'm happy for my box partner. After Aragon I think he made some improvements and here he took profit from the opportunity. Lets see what happens in Sachsenring as last year we had some issues and the Hondas were strong but I think if I can improve my physical condition I can be more competitive than this race."
MOTOGP RACE RESULTS: (26 laps = 118.092 Km)
POS / RIDER / NAT. / TEAM / MOTORCYCLE / TIME / KM/H / GAP
1 / Valentino ROSSI / ITA / Yamaha Factory Racing / YAMAHA / 41'25.202 / 171 /
2 / Marc MARQUEZ / SPA / Repsol Honda Team / HONDA / 41'27.372 / 170.9 / 2.17
3 / Cal CRUTCHLOW / GBR / Monster Yamaha Tech 3 / YAMAHA / 41'29.275 / 170.7 / 4.073
4 / Dani PEDROSA / SPA / Repsol Honda Team / HONDA / 41'33.034 / 170.5 / 7.832
5 / Jorge LORENZO / SPA / Yamaha Factory Racing / YAMAHA / 41'40.712 / 170 / 15.51
6 / Stefan BRADL / GER / LCR Honda MotoGP / HONDA / 41'52.721 / 169.1 / 27.519
7 / Alvaro BAUTISTA / SPA / GO&FUN Honda Gresini / HONDA / 41'56.800 / 168.9 / 31.598
8 / Aleix ESPARGARO / SPA / Power Electronics Aspar / ART / 41'57.607 / 168.8 / 32.405
9 / Bradley SMITH / GBR / Monster Yamaha Tech 3 / YAMAHA / 41'58.953 / 168.7 / 33.751
10 / Andrea DOVIZIOSO / ITA / Ducati Team / DUCATI / 41'59.003 / 168.7 / 33.801
11 / Nicky HAYDEN / USA / Ducati Team / DUCATI / 41'59.573 / 168.7 / 34.371
12 / Randy DE PUNIET / FRA / Power Electronics Aspar / ART / 42'22.876 / 167.1 / 57.674
13 / Andrea IANNONE / ITA / Energy T.I. Pramac Racing / DUCATI / 42'26.626 / 166.9 / 1'01.424
14 / Michele PIRRO / ITA / Ignite Pramac Racing / DUCATI / 42'26.763 / 166.9 / 1'01.561
15 / Karel ABRAHAM / CZE / Cardion AB Motoracing / ART / 42'29.628 / 166.7 / 1'04.426
Pole Position: Cal CRUTCHLOW 1'34.398 173.2 Km/h
Fastest Lap: Valentino ROSSI 1'34.894 172.3 Km/h Lap 5
Circuit Record Lap: Dani PEDROSA 1'34.548 172.9 Km/h 2012
Circuit Best Lap: Casey STONER 1'33.713 174.4 Km/h 2012
CHAMPIONSHIP POSITION TILL DATE:
1 PEDROSA 136, 2 LORENZO 127, 3 MARQUEZ 113, 4 CRUTCHLOW 87, 5 ROSSI 85,
6 DOVIZIOSO 65, 7 BRADL 51, 8 HAYDEN 50, 9 BAUTISTA 47, 10 ESPARGARO 44,
11 SMITH 41, 12 PIRRO 30, 13 IANNONE 24, 14 DE PUNIET 15, 15 BARBERA 13.
---
New Fast Dates.com Calendar Shoot!
Go behind the scenes at the glamorous Gianatsis Design Studios with beautiful new Calendar Kittens Jessica and Kelsey as they shoot for the FastDates.com Motorcycle PinUp Calendars with photographer Jim Gianatsis. And look for the new 2014 Calendars available right here on July 1st. Order the Calendars!
Videographer: Eric Lundmark; Video Editing and Still photography: Jim Gianatsis; Models: Jessica Harbour, Kelsey Silwinski; Make Up: Victoria Rubell, Music: Special thanks to Neil Sedaka for our theme song Calendar Girl; Modeling Agent: Umbrella Girls USA.
---
Tom Sykes charges to another SuperPole win and race win at Imola.
2013 FIM Eni World Superbike Championship, Omola, Italy Round 7 of 14
Imola World Superbike - 6th Superpole Win for Tom Sykes / Kawasaki,
a Double Race Win, New Lap Record and News World Championship Points Lead
Portimao, Portugal, June 28-30th 2013 - Tom Sykes,Kawasaki Racing Team, continued his untouchable form from qualifying into both 21-lap SBK races at Imola and in taking his second 'double' of the year also he took the championship lead. This was Tom's second such double win in three rounds and with previous championship leader Sylvain Guintoli finally finding bad luck with a DNF in race one, and finishing third behind Tom in race two, Sykes now leads by six points after 7 of 15 rounds have been completed.
Sykes once more put in a perfect weekend, as he took both race wins, his sixth Superpole of the year, a new fastest lap in qualifying and a new lap record of 1'47.274 in race one. He has now scored five wins in 2013, more than any other individual rider. He also took his career total of SBK wins into double digits, with ten in total. In the championship table Tom leads Guintoli by 235 points to 229.
Sykes makes it six in a row with Imola Tissot-Superpole win
Imola (Italy), Saturday 29 June 2013 – Tom Sykes (Kawasaki Racing Team) has clocked another outstanding lap-time to grab his 6th consecutive Tissot-Superpole out of 7 held so far in 2013 – the 17th of his career – that brings the English rider up to 4th in the all-time pole position winners list, tied with former WSBK Champion Doug Polen. After seeing his time deleted as it was completed under a Red Flag situation, Sykes went back on track and broke into the 1'45s by setting the new best lap for the track in 1'45.981.
The Red Flag was waved following the heavy crash by Sykes' team mate Loriz Baz, who fell at the downhill section leading to Turn 18 while his ZX-10R tumbled the grass, and over the air-fence, to eventually land back on track, with a good amount of oil and fuel laid down.
Jonathan Rea (Pata Honda World Superbike) has again showed a very good synergy with his CBR1000RR at Imola by finishing second ahead of an impressive Davide Giugliano (Althea Racing Aprilia), who stormed to third place in his last quick-lap attempt. Works Aprilia riders Sylvain Guintoli and Eugene Laverty finished 4th and 5th respectively, followed by Leon Camier (FIXI Crescent Suzuki), Marco Melandri (BMW Motorrad GoldBet) and Ayrton Badovini (Team Ducati Alstare).
2011 World Superbike Champion Carlos Checa (Team Ducati Alstare) had a difficult time in Tissot-Superpole, as the Spaniard crashed in the opening stages of the first session at Turn 2. Checa will move off from the 13th slot on the grid in tomorrow's races.
Tissot-Superpole times: 1. Sykes (Kawasaki) 1'45.981 average 167.668 kph; 2. Rea (Honda) 1'46.556; 3. Giugliano (Aprilia) 1'46.713; 4. Guintoli (Aprilia) 1'46.857; 5. Laverty (Aprilia) 1'46.931; 6. Camier (Suzuki) 1'47.165; 7. Melandri (BMW) 1'47.221; 8. Badovini (Ducati) 1'47.396; 9. Baz (Kawasaki) 1'47.597; 10. Davies (BMW); 11. Haslam (Honda); 12. Fabrizio (Aprilia); 13. Checa (Ducati); 14. Cluzel (Suzuki); 15. Neukirchner (Ducati); 16. Sandi (Kawasaki); 17. Iannuzzo (BMW); 18. Haga (BMW); 19. Lundh (Kawasaki).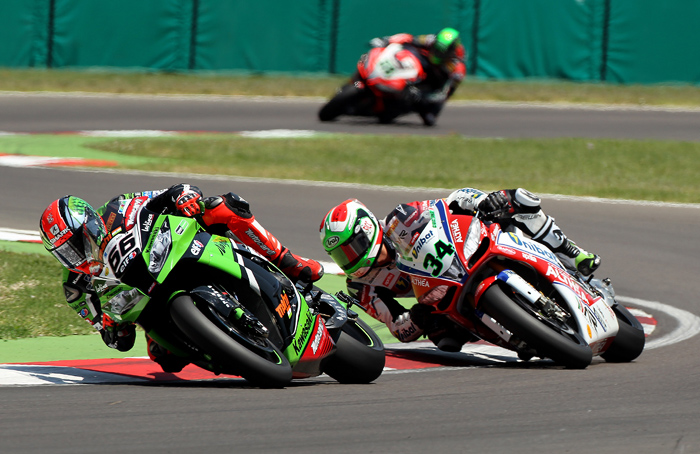 Davide Giuliano (34) pressured Sykes (56) hard during the first half of Race One.

Sykes wins Race One to close up on Championship lead
Race Day , Sunday June 30th - Tom Sykes (Kawasaki Racing Team) dominated Race 1 at Imola to score his 9th career win, the 4th this year. Today's pole-sitter managed to pull away from 2nd place Davide Giugliano (Althea Racing Aprilia) halfway through the race, keeping a strong pace that only the young Italian was able to match, in the first part.
Sykes had a controlled approach in the early laps, making his way up from 4th to the lead, then started making the difference as the race progressed. Giugliano did all he could to stay with the winner, eventually finishing a lonely second, that means his first podium since 2012 Race 1 at Misano.
Eugene Laverty (Aprilia Racing Team) achieved a solid 3rd place ahead Marco Melandri (BWM Motorrad GoldBet), as the home rider lapped really close to his former team mate, but couldn't get in contention for the podium. The two riders saw a recovering Jonathan Rea (Pata Honda World Superbike) getting in the mix until the Ulsterman crashed out of Turn 19, during the nineteenth lap, not long after he moved up to 4th place. Rea got the hole-shot at the start, before running wide at Turn 6 and rejoining in 11th position.
Michel Fabrizio (Red Devils Aprilia) finished 5th after a good battle with Chaz Davies (BMW Motorrad GoldBet) and Leon Camier (FIXI Crescent Suzuki).
The Championship standings situation is now tighter than ever on top, following Sykes' win and the unlucky withdrawal of Sylvain Guintoli (Aprilia Racing Team), due to a technical problem on Lap 6: the Frenchman keeps the lead, but Sykes is now just 3 points behind.

Race 1 results: 1. Sykes (Kawasaki) 21 Laps/103.656 km in 37'52.860 average 164.182 kph; 2. Giugliano (Aprilia) 7.198; 3. Laverty (Aprilia) 9.484; 4. Melandri (BMW) 10.323; 5. Fabrizio (Aprilia) 18.697; 6. Davies (BMW) 19.531; 7. Camier (Suzuki) 22.412; 8. Badovini (Ducati) 29.142; 9. Baz (Kawasaki) 36.828; 10. Haslam (Honda) 37.507; 11. Checa (Ducati) 39.239; 12. Neukirchner (Ducati) 43.334; 13. Sandi (Kawasaki) 1'12.069; 14. Iannuzzo (BMW) 1'30.685; 15. Haga (BMW) 1'30.773; RT. Rea (Honda); RT. Cluzel (Suzuki); RT. Guintoli (Aprilia).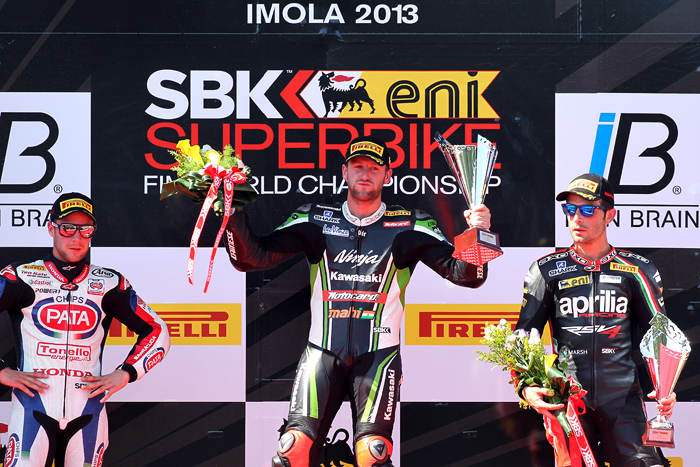 Jonthan Rea, Tom Sykes, and Sylvain Guintoli ont he podium for Race Two.

Sykes new Championship leader after Race Two win
Race Day, Sunday June 30th - Tom Sykes (Kawasaki Racing Team) completed a fantastic double-win at Imola, his second in 2013, to become the new Championship leader. The Hudderfield-born rider has led every single lap of Race 2 to cross the line as the winner for the 10th time in his WSBK career and, thanks to his 5th first place finish of the year, to equal the number of individual wins he was able to achieve in the last two seasons combined. After the disappointment of the first race, Jonathan Rea (Pata Honda World Superbike) redeemed himself to end up a lonely second ahead of works Aprilia rider Sylvain Guintoli.
Fourth place Marco Melandri (BMW Motorrad GoldBet) edged his team mate Chaz Davies for fourth place at the very last lap, while Loris Baz (Kawasaki Racing Team) won the battle for sixth ahead of Leon Camier (FIXI Crescent Suzuki). Michel Fabrizio (Red Devils Aprilia) managed to pulled away in the end for from a still recuperating Leon Haslam (Pata Honda World Superbike) and fellow Italian Ayrton Badovini (Team Ducati Alstare) for 8th.
Today's second race saw two potential protagonists out of contention in the early stages, as Davide Giugliano (Althea Racing Aprilia) crashed at Turn 7 during the second lap, while trying to keep Sykes' pace, and Eugene Laverty fell off his bike at Turn 18, on lap number six.
Tom Sykes: "I have had two perfect weekends out of the last three events and for this I am truly happy. It is a special weekend for many reasons and also the incident last year with my 2012 team-mate Joan Lascorz. There was not one time on any lap when I have exited turn six and not thought about his accident. I hope that this is a small, small tribute to him. I have every single individual member of the Kawasaki staff and teams to thank, and our great technical sponsors. Hopefully now this is a beginning of a challenge but we will see how we go."

Jonathan Rea: "Really mixed emotions today. I made a mistake on the first lap of race one, but made a lot of ground up and then unfortunately crashed when I was pushing for the podium with a couple of laps to go. In race two I couldn't go with the two guys ahead, so they gapped me and by half distance, Tom had eked out a lead tenth by tenth. I need to work with my crew to make the bike better with a full fuel load and fresh tyres, but we can leave Imola with our heads held high and we look forward now to Moscow."
Race 2 results: 1. Sykes (Kawasaki) 21 Laps/103.656 km in 37'51.947 average 164.247 kph; 2. Rea (Honda) 5.032; 3. Guintoli (Aprilia) 10.201; 4. Melandri (BMW) 13.120; 5. Davies (BMW) 13.630; 6. Baz (Kawasaki) 23.949; 7. Camier (Suzuki) 25.420; 8. Fabrizio (Aprilia) 36.511; 9. Haslam (Honda) 40.184; 10. Badovini (Ducati) 41.100; 11. Cluzel (Suzuki) 42.888; 12. Checa (Ducati) 52.182; 13. Neukirchner (Ducati) 56.352; 14. Sandi (Kawasaki) 1'15.992; 15. Haga (BMW) 1'25.210; etc.

Standings - provisional (round 7 of 15)*: 1. Sykes 235; 2. Guintoli 229; 3. Laverty 190; 4. Melandri 182; 5. Davies 154; 6. Baz 136; 7. Rea 125; 8. Fabrizio 120; 9. Giugliano 99; 10. Camier 80; 11. Cluzel 77; 12. Neukirchner 60; 13. Checa 59; 14. Badovini 59; 15. Haslam 42. Manufacturers: 1. Aprilia 289; 2. Kawasaki 259; 3. BMW 237; 4. Honda 138; 5. Suzuki 122; 6. Ducati 96.

* Possible updated results could be defined by the International Disciplinary Court which is dealing with the appeal lodged by Aprilia Racing Team and rider Sylvain Guintoli, following the decision taken by the FIM Stewards in Monza (Italian Round, last 12 May) to cancel the drop of position sanction (from third to fourth place in race 2) imposed by the Race Direction on rider Tom Sykes.
Superstock 1000 - Barrier gets the win
Sylvain Barrier (BMW Motorrad GoldBet) has won his third race of the season today at Imola. The defending Champion took the lead on Lap 4 and began to dictate the pace, as he tried to pull away from the chasing pack, to eventually cross the finish line 2.7 seconds ahead of Niccolò Canepa (read more)
Race results: 1. Barrier (BMW) 12 Laps/59.232 km in 22'11.090 average 160.196 kph; 2. Canepa (Ducati) 2.719; 3. Jezek (Ducati) 13.869; 4. Savadori (Kawasaki) 17.103; 5. Mercado (Kawasaki) 19.679; 6. Guarnoni (Kawasaki) 21.951; 7. Massei (Honda) 23.037; 8. Andreozzi (Kawasaki) 23.220; 9. Bussolotti (BMW) 23.539; 10. Gildenhuys (BMW) 31.330; 11. Ponsson (Kawasaki) 36.363; 12. Grotzkyj G. (Kawasaki) 37.015; 13. Lanusse (Kawasaki) 41.953; 14. Pagaud (Kawasaki) 42.070; 15. Parziani (BMW) 42.282; etc.

Standings (round 5 of 10): 1. Barrier 95; 2. Canepa 83; 3. Guarnoni 70; 4. La Marra 69; 5. Mercado 60; 6. Savadori 46; 7. Jezek 45; 8. Bussolotti 33; 9. Lanusse 32; 10. Lussiana 25; 11. Andreozzi 23; 12. Gildenhuys 16; 13. Massei 15; 14. Bergman 15; 15. McFadden 13; etc. Manufacturers: 1. BMW 106; 2. Ducati 101; 3. Kawasaki 83; 4. Honda 17; 5. Suzuki 5.

World Supersport - Sofuoglu wins, Lowes recovers to 2nd
Kenan Sofuoglu (Mahi Racing Team India Kawasaki) is back on the top step of the podium following a superb performance in the World Supersport race at Imola. The defending Champion led the entire, that was shortened to 14 laps after the technical problem occurred to Valentin Debise… (read more)
Race results: 1. Sofuoglu (Kawasaki) 14 Laps/69.104 km in 26'11.297 average 158.324 kph; 2. Lowes (Yamaha) 3.957; 3. Leonov (Yamaha) 4.409; 4. Zanetti (Honda) 6.435; 5. Vd Mark (Honda) 9.967; 6. Scassa (Kawasaki) 13.437; 7. Antonelli (Kawasaki) 14.112; 8. Marino (Kawasaki) 28.194; 9. Baldolini (Suzuki) 29.018; 10. Morais (Honda) 29.137; 11. De Rosa (Honda) 29.592; 12. Foret (Kawasaki) 29.763; 13. Kennedy (Honda) 29.957; 14. Rolfo (MV Agusta) 30.831; 15. Menghi (Yamaha) 39.902; etc.

Standings (round 7 of 14): 1. Lowes 140; 2. Sofuoglu 106; 3. Foret 85; 4. Vd Mark 73; 5. Zanetti 68; 6. Scassa 63; 7. Antonelli 55; 8. Kennedy 47; 9. Leonov 42; 10. Rolfo 40; 11. Marino 39; 12. Morais 36; 13. Russo 28; 14. Coghlan 22; 15. Ivanov 18. Manufacturers: 1. Kawasaki 155; 2. Yamaha 148; 3. Honda 104; 4. MV Agusta 46; 5. Suzuki 19; 6. Triumph 6
MV Agusta Premiers New 2014 F3 800cc Superbike
June 1st, 2013 - The exhilaration of a 1000cc Superbike with the handling of a 600cc Supersport. The torque of a v-twin and the rev limit of a four-cylinder. The MV Agusta F3 800 is the new performance frontier, the avantgarde three-cylinder motorcycle proudly Made in Italy. For those of us who grew up in the 1980s on 750cc Japanese sportbikes which were the perfect blend of handling and power, the new F3 800 marks the return of the sensible, usable Superbike. MORE INFORMATION & PICTURES
---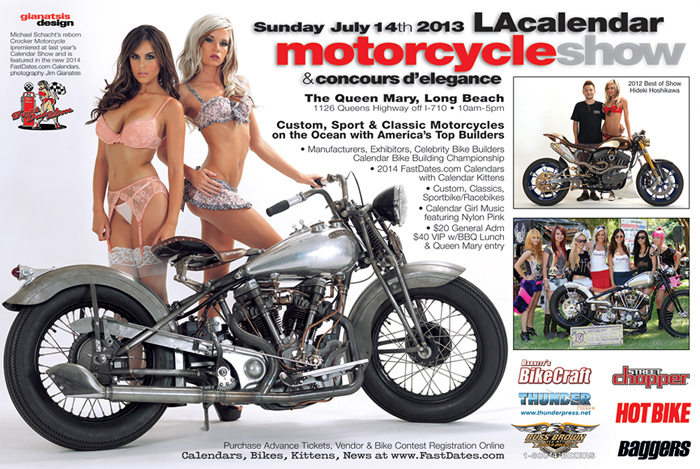 Los Angeles Calendar Motorcycle Show Concours d' Elegance
Returns to the Queen Mary, Long Beach, CA on Sunday July 14th 2013
The 2013 LA Calendar Motorcycle Show continues its now 22-year tradition as the premier outdoor streetbike event in America
with top Celebrity Builders, the Calendar Bike Building Championship & Concours d' Elegance, selected Vendors and Exhibitors, the Calendar Girl Music Show and a return to the exciting Queen Mary venue in Long Beach, CA. The Show marks the world premier of next year's new 2014 FastDates.com Motorcycle PinUp Calendars featuring the world's top roadrace and custom motorcycles with the beautiful Calendar Kittens featured in the Calendars in attendance at the Show. Purchase Advance Tickets, Vendor and Bike Contest Registration online at: www.FastDates.com/BIKESHOW.HTM.
Hollywood, CA, June 21st - We had a great time hanging out with the incredible talented and beautiful Lily Elise, featured finalist on NBC TV's The Voice Season One, and her 7-piece band as they rocked out the Hard Rock Cafe Hollywood on a Friday night in preparation for their big performance at the LA Calendar Motorcycle Show on Sunday July 14th at the Queen Mary in Long Beach. More Here
---
This Month in the Fast Dates World Superbike Calendar ....
Calendar Kittens and SBK World Superbike umbrella girls Taylor McGunnin and Camilla Chiniquy keep the rain off Carlos Checa's Althea Ducati 1199RS World Superbike at 2011 Miller US World Superbike round. You'll find Calendar bikes like this with beautiful Kittens featured in the Calendar Bike Garage with full specifications and screensaver size pictures.

Order the 2013 Fast Dates Calendar
Calendar Bike Photo Features, Paddock Garage Tuning, Pictorials of our Calendar Kittens in Members Corner
---
There's more! Go to Pit Lane News Previous Week

Also Visit: Fast Dates Calendar News • Iron & Lace Calendar News
Calendar Girl News • Meet the Models • Paddock Garage
Get FastDates.com T-Shirts, Mugs & Photographs from Our Store

MEMBERS CORNER! Calendar Kittens, Paddock Garage, Iron & Lace Garage


Amazon.com Motorcycle Products & Apparel Store



MotorcycleSuperstore.com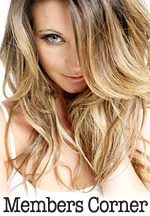 Hot Bikes, Sexy Kittens
Your Exclusive Grid Pass
also includes....
---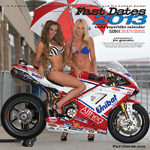 Order the New
2014 / 2013 Calendars!
with FastDates.com Calendar Kitten, Ducati Corse Grid Girl
and Playboy Playmate
Heather Rae Young!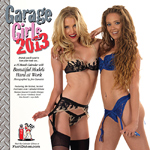 Click for even more Calendars!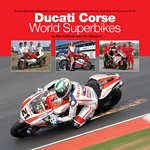 Retail $69.95 ea.
Click to Order from Amazon.com

Ducati Corse
World Superbikes
by Alan Cathcart
& Jim Gianatsis
Kevin Cameron, from a post of Facebook, Jun 15th - "Years ago, I read a description of the difference between a dirt-track car with a flexible stock chassis and a car with a much stiffer, braced chassis. The flexi-chassis car was easy to set up and easy to drive, while the stiff car, with most of its wheel movement in its suspension, was quite sensitive to small setup changes.
The difference is that in the flexi car, if the suspension's a little off, the bendiness of the chassis takes up the slack. In the stiff car, when the suspension isn't right, it gets no help from the chassis, so its shortcomings are magnified and stand out.
The very same is true of roadrace motorcycle chassis: The stiffer they are made, the more critical small setup adjustments become. No place does this seem more true than in MotoGP!"
So how does this relate to motorcycles, and in particular, the new Ducati Panigale Supebike and MotoGP race bikes?
The Ducati 'Monocoque Steering Head' on the previous Ducati MotoGp bike and the current 1199 Panigale Superbike is really too small / short / boxy to offer any sort of flex for compliant handling, be the monocoque made of carbon fiber or aluminum.
Formula One race cars actually employ carbon fibre suspension arms designed to flex, to serve as the race car's only movable suspension. The same idea of flex is found in carbon fibre shaft golf clubs and tennis rackets.
Ducati's too stiff chassis problem in MotoGP application was EXASPERATED because the spec MotoGP Bridgestone tires being used are very stiff and heavy at 20 lbs to prevent sidewalls flex and increase tire reliability on those high horsepower bikes. While in World Superbike the spec Pirelli tires are similar to sportbike street tires and are much lighter at around 12 pounds, and are designed to flex at the sidewall for a more compliant ride.
So the frameless Ducati stressd engine with monocoque steering head design pioneered by Ducati does work well, it just needs a more conventional compliant tire which MotoGP does not allow.
The Ducati 1199S Panigale currently leads in the 2013 World Superstock Championship on Pirelli Superstock tires. The Ducati Corse Panigale is struggling in the World Superbike Class however, because its stock 68mm throttle bodies have been restricted down to 50mm limiting the 1200cc engine to just 195hp, while the unrestricted 4-cylinder 1000cc bikes are make making 220-240hp and have a 10-15 mph higher top speed advantage on the Ducati." - Jim Gianatsis Editor, FastDates.com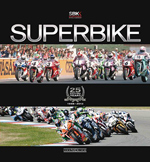 The Official SBK
World Superbikes
1987-2012
25 Year History Book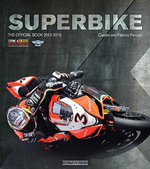 The Official SBK
2012-2013 Yearbook
These SBK Yearbooks are the Best Books Ever about World Superbike. They feature awesome color photography of the riders, bike and racing action. The feature a detailed revue of the past season in pictures and statistics, with a detailed look at the bikes and riders.

Plus a technical look data all the bikes, a preview of the upcoming season's Championship!
We buy this every year ourselves and highly recommend it!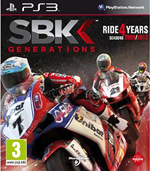 SBK World Superbike Video Game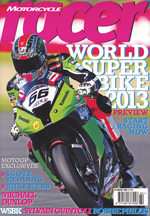 Official Print Media Partner
---
Erik Buell Sells 49.2% Of Erik Buell Racing Inc for
$25 Million!
July 1st, 2013- It looks like now as it was a very good operation for Erik Buell that 3 years ago Harley-Davidson shut down the former Buell Motorcycle Company. After Harley severed its ties with Erik Buell, he started the Erik Buell Racing inc. firm, launching the EBR's 1190RS flagship model, a limited-edition high-power sports motorcycle. In a very sweet deal for Erik, Bain Capital backed Hero MotoCorp Ltd from India is buying 48.2% stake in Erik Buell Racing Inc (EBR) for 25 million. 15 million in EBR and the remaining $10 million will be invested within the next nine months.

For Hero MotoCorp the objective is to build up a line of better powered sporty motorcycles than its competitors in India, including its former partner and now competitor Honda. Hero MotoCorp is already the largest motorcycle maker in the world by volumes. The Indian motorcycle market of sporty motorcycles is still a low-volume segment, but a high-margin one with rapid expansion. Hero Motocorp will bank on new models from Erik Buell Racing to dominate this market.
Tucker Rocky Case Settles for $500,000 with California Air Resources Board
SACRAMENTO, CA – June 28, 2013 – In 2011, the Air Resources Board (ARB) determined that motorcycle parts distributor Ed Tucker Distributor, Inc., dba Biker's Choice and Tucker Rocky Distributing (Tucker Rocky) was advertising, offering for sale, and/or selling aftermarket critical emission control parts that were not exempted from California's anti-tampering laws. Such motorcycle aftermarket critical parts replace vital original emission components such as catalytic converters, and thus must be evaluated by ARB to demonstrate continued emissions compliance.
Tucker Rocky provided ARB with all needed information during the agency's investigation of the matter, and has further agreed to institute a voluntary compliance plan that will inform its dealers and customers of which motorcycle aftermarket parts are legal for sale in the state. The case was settled in June 2013 with the civil penalty of $500,000 being applied to about 1,356 part violations at a rate of approximately $369 per unit.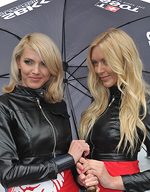 Meet 2013 Calendar Kitten
Jitunka & Petra!

MV Agusta F3 800cc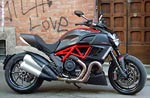 The Devil Made Us Do It!
Testing the Ducati Diavel in Italy
Sudco High Performance & OEM Replacement Parts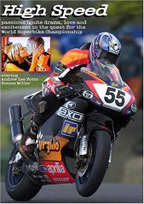 High Speed - the Movie
The best motorcycle racing movie ever made! Filmed on location at the World Superbike races , this an exciting romantic drama staring beautiful British actress Sienna Miller.
---
EDELWEISS OFFERS NEW and AFFORDABLE MOTORCYCLE TOUR ALONG THE DOLOMITES WITH CHALLENGING ROADS, OVERWHELMING MOUNTAIN SCENERY AND ITALIAN CUISINE AT ITS FINEST.
The Dolomites are a must for a passionate biker – come with us on an unforgettable motorcycle tour. The countryside is dominated by mountains, rivers, and gorge-like valleys, which have just space enough for a road and railroad tracks; but there are also bigger towns like Bolzano, where our base hotel is located.

Thinking about Italian culture you will notice quite a big difference from what you may expect; building style, cultures, languages, bilingual road signs and special foods show that varied peoples and ideas peacefully co-exist here. The Sella Ronda is a very good warm-up for the following days and our rides to Penserjoch, Jaufenpass and Timmelsjoch.

Eight more passes are on our schedule for the next day and we will have the opportunity to stop in the nice little town of Cortina d'Ampezzo, well known from the Olympics in 1956. Now it's time to make a decision: go to Venice for sightseeing or collect 10 more passes? Tough call! The last riding day leads us south to the wonderful Lake Garda, with swimming and riding at its best.
Find Out More
THROUGH THE ALPINE WONDERLAND OF AUSTRIA AND SOUTHERN GERMANY – THE ALPS AND LAKES MOTORCYCLE TOUR!
The Alps and Lakes motorcycle tour takes you through a beautiful part of European motorcycle paradise; the Alps. The contrast between the beautiful lakes in southern Germany and Austria and the towering mountains that reach up to more than 10,000 ft is nothing less than breathtaking.
This area is the famous background for the movie "Sound of Music". This vacation offers a little bit of everything: beautiful and relaxing rides through the valleys; some mountain roads and passes; and great vistas and sights, including King Ludwig's castle, Herrenchiemsee, and the historic city of Salzburg. The tour consists of five riding days, one of them is a rest day – which means that you stay two nights at the same hotel.

This is a great opportunity to explore a little bit more, ride around the countryside, walk through town, meet the locals and sample some of the local food. The tour will take you through Germany and Austria, and on the rest day you can even add Italy to your list if you are so inclined.
Find Out More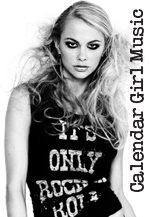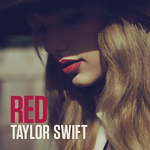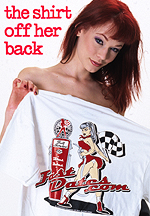 Order the Official
FastDates.com &
LA Calendar Bike Show
T-Shirts!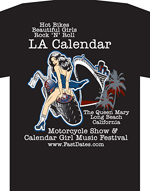 Team Althea Racing
A crash for Giugliano in Race Two doesn't take away from his fantastic podium finish in race one
Imola, June 30th - The seventh round of the 2013 World Superbike championship took place today at the Imola circuit in Italy. Thanks to his great performance over the last days Davide Giugliano started today's races from the front row of the grid thanks to the third fastest time that he obtained in yesterday's Superpole. In race one the Althea Racing rider made a very strong start and led the race for a time before being passed by Sykes. Davide didn't back down and stuck with the Kawasaki until the end, to score a fantastic second
place finish.
This marks the first podium of the season for him and for Althea Racing. Based on the results of race one, a strong second race was certainly on the cards. Giugliano made another fast start and was again able to stay with Sykes who immediately took the lead. Unfortunately however, during the
course of the third lap, Davide had a fall at the Tosa turn, ending up in the gravel; he was unable to rejoin the race. A bitter end but it doesn't take away from the fact that the team were consistently frontrunners throughout the weekend, which will be remembered for Giugliano's performance in Superpole and race one. The results are thanks to a maturity and competiveness that both the rider and technical staff of team Althea Racing have built up. The next round of the World Superbike championship will take place from 19 to 21 July at the Moscow circuit.

Davide Giugliano: "In race one we achieved a podium finish that really pleased us, also because it comes after the difficult Portimao weekend. It's our first podium of the season and has really topped off three
days in which we've been consistently among the first placed riders in the practices and in Superpole. In race two I wasn't really pushing and was right behind Sykes when my bike suddenly lost traction at the Tosa turn and I found myself in the gravel, unable to continue. A real disappointment but this is racing and so we turn the page and look ahead, with more faith in our abilities."

Genesio Bevilacqua: "It's been a positive weekend. We proved that we've got a great set-up, that Davide
has been able to really exploit in the best possible way. Our team has now reached the point of being able to get the best out of the RSV4. In race one we were extremely happy to score a podium finish while in the second Davide was again the only rider to be able to keep pace with Sykes. He wasn't forcing things but nevertheless crashed and we haven't yet understood why. Despite the crash, our rider has put on a great performance, and was able to not only fight against the factory riders but also aim for the win."
BMW Struggles in Superbike at Imila, Dominates in Superstock
Imola Sunday, 30th June 2013 -The BMW Motorrad GoldBet SBK Team concludes its home round at Imola (ITA) with both factory riders claiming their best results at the Italian track to date. Local hero, Marco Melandri (ITA) finished both of today's races at the "Autodromo Enzo e Dino Ferrari" in fourth on his BMW S 1000 RR. His team-mate Chaz Davies (GBR) claimed sixth and fifth respectively. After seven rounds of the 2013 FIM Superbike World Championship, Marco is fourth in the riders' championship with 182 points, directly followed by Chaz with 154 points. In the Manufacturers' classification, BMW is currently third with 237 points. Both races today were won by Tom Sykes (GBR). The BMW Motorrad GoldBet SBK Team will stay at Imola and attend tomorrow's official Dorna test.

At the start of race one, both BMW factory riders gained positions. Marco improved from seventh to fifth, Chaz from tenth to seventh. In the early stages of the race, both kept in touch with the front. When Sylvain Guintoli (FRA) had to retire on lap six, Marco took fourth, Chaz sixth. Until lap 18, Marco stayed close behind third placed Eugene Laverty (ROI), but the opportunity to overtake the Irishman did not arise. Then Marco was passed by the catching up Jonathan Rea (GBR) and slipped back to fifth, only to regain fourth after Rea crashed on lap 19. Marco then tried to overtake Laverty for third but went wide and ended up crossing the line in fourth. Chaz in the meantime was fighting quite a few battles over the course of the race, mainly with his fellow Brit Leon Camier. Chaz slipped back to eighth when Rea and Michel Fabrizio (ITA) overtook him, but on lap 14 the Welshman started to make his way back forwards and overtook Camier for seventh. After Rea's crash, Chaz was sixth, defending this position until the chequered flag.

At the start of race two both riders improved from their grid positions again. After the first lap, Marco and Chaz were lying in sixth and seventh respectively. After five laps, they had climbed up to fourth and fifth after Davide Giugliano (ITA) and Laverty had crashed. Until half way through the race, Marco stayed close behind third placed Guintoli, followed by Chaz. Marco's gap to the front started to increase a bit, with Chaz coming closer and closer from behind. On the penultimate lap, Chaz overtook Marco to take fourth but on the final lap, positions between them changed again. The two BMW factory riders fought a close battle for fourth until the final corner, with Marco having a slight advantage in the end.

In the race of the 2013 FIM Superstock 1000 Cup, it was once again Sylvain Barrier on the BMW HP4 of the BMW Motorrad GoldBet STK Team to take the win. The Frenchman rode a clever and controlled race to celebrate his third victory of the season. In the riders' classification, Sylvain has now 95 points and has extended his lead to 12 points. His team-mate Greg Gildenhuys (RSA) - who contested his first ever race in Imola - also put in a strong performance. Coming from 17th, he defied the pain in his fractured left heel to finish 10th, scoring important points.


Marco Melandri: "On this track unfortunately our bike struggled. I don't think that we had a chance to win today, so this result is the best possible. Race one has been very hard. I struggled a lot to change direction by shortly opening the gas which I normally do and, unfortunately, I couldn't do better. While in the previous races I had issues with new tyres, here in Imola we struggled a lot with used tyres instead. The race was physically very demanding and at the end of the race I was really tired.

In race two we tried to solve the issue with some changes to the front suspension but the situation did not improve. The bike remained nervous and when I tried to push harder the bike moved more and more. In the last part of the race Chaz passed me and it was very difficult to get the fourth place back. If he had not made a mistake he probably would have been in front in the end. The positive point is that as a result of today I have reduced the gap to the Aprilia riders."


Chaz Davies: "Race one was difficult. I was not able to exit the corners as I wanted to. Everywhere else the bike seemed to be working okay but I could not get the bike under control as much as I would like on the corner exit. I either slided and then found grip what upset the bike or the acceleration was just not good enough. That cost me one bike length each time and I always had to push on the straights to catch that up again – until the next corner. In the end, the bike was easier to ride than in the middle of the race, the grip level was more consistent. It seemed as with the longer the race went on, the bike became better.

We used that knowledge to improve the bike for the second race. The bike was better and I was able to at least fight in a good group with Marco and at the end of the race I still had the guys on the podium positions in sight. The battle with Marco in the closing stages was fun. I passed him with two laps to go and held him off for one lap but then racing up the hill he got a really good drive and he passed back at the top of 'Piratella'. Then in the last corner he went in a little bit too deep and I tried to cut back on the inside but I lost the rear unfortunately when I tried to pass him which was a bit of a shame but it was fun anyway. The only thing I am disappointed about is that I still lost too much time on the exit of slow corners. For some reason, I lost the grip earlier and could not open the gas as hard as I would have liked. It cost me some time on the straights so we really need to work on that tomorrow. At the test we will focus on that and I am confident that we will find something."


Andrea Buzzoni (General Manager BMW Motorrad WSBK): "This Sunday started very well with the victory in the Superstock class. Sylvain rode a perfect race, managing it cleverly. With this result he further increased his lead at the top of the ranking. It was also the first time we raced in Imola with the new HP4 with electronic damping system. This result shows the excellent work done by the team.

In the Superbike class it was a difficult weekend. The result achieved is not what we aim for, even if, on a track which is not favourable for the characteristics of our bike, we limited the damage. In the riders' ranking, thanks to today's result we reduced the gap to the Aprilia' riders both with Marco as well as Chaz. Tomorrow we have a day of testing which we will use to try several new solutions. We have many ideas and the chance to test on a difficult track will be helpful to improve for the next round in Moscow."
---
Google Ad