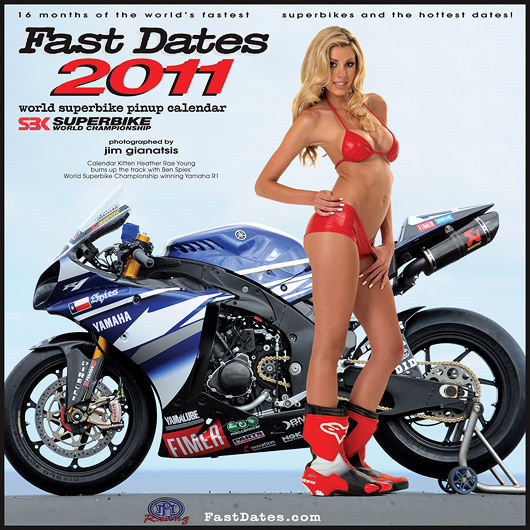 September - October 2010 Fast Dates Calendar News
World Premier!
2011 Fast Dates Racebike Pinup Calendar
July 1st, 2010 - The SBK World Superbike endorsed 2011 Fast Dates Race Bike Swimsuit Pinup Calendar photographed by Jim Gianatsis always features the word's top sport and roadracing bikes. This year's cover features American racer Ben Spies' World Superbike Championship winning Yamaha YZF R1 with beautiful Calendar Kitten & Playboy Playmate Heather Rae Young.
This Official Calendar of SBK World Superbike Championship also features Nori Haga's' Ducati 1198RS, Carlos Checa's Ten Kate Honda CBR1000RR, Yukio Kagayama's Alstare Suzuki GSXR1000, Broc Parke's Kawasaki ZX-10, Troy Corser's BMW S1000RR, Max Biaggi's Aprilia RSV4 and the supercharged Roehr 1250cc V-R Superbike. Also included are the top MotoGP bikes of World Champion Valentino Rossi's Yamaha M1, along with former champ Casey Stoner's radical new frameless Ducati GP10.
The race bikes are shot on location at Miller USA World Superbike last year 2009 with the beautiful Ducati Corse Fast Dates Calendar Kittens Sabella Shake and Leanna Pareja, and in other locations with Playboy Playmate Heather Rae Young and models Apple Price and Tarah Tobiason.
Calendars are highest quality full color 15 x 15" wire spiral bound printed on heavy art stock
revealing 16 months beginning with September. $16.95 each - Order Here
---
This Month in the 2010 Fast Dates World Superbike Calendar...
Tiger Wood's girlfriend Jamie, and a back alley liason with Apple!
Pictured above for the month of September 2010, official SBK Pirelli grid girl, Vegas party girl and celebrity golfer Tiger Wood's girlfriend #3, Jamie Jungers gets turned around on Max Biaggi's 2008 World Superbike Ducati 1198RS 08 featured in the SBK 2010 Fast Dates World Superbike Calendar.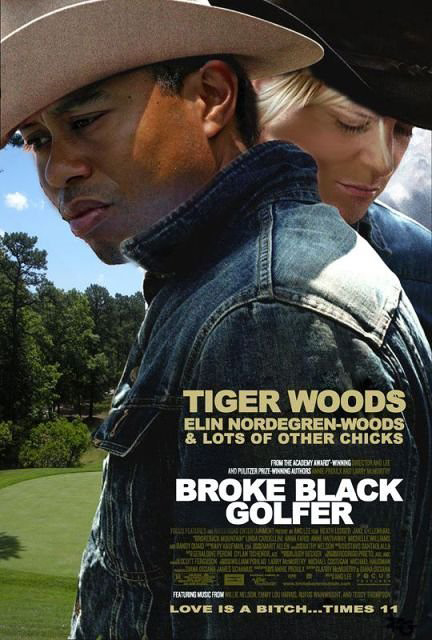 Below, for October 2010 Calendar Kitten Apple Price gets rain soaked in Hollywood back alley and strips down to her Victoria's Secrets. Her sexy companion is the exotic Ecosse Iconoclast American V-twin powered naked superbike. All photography by Jim Gianatsis.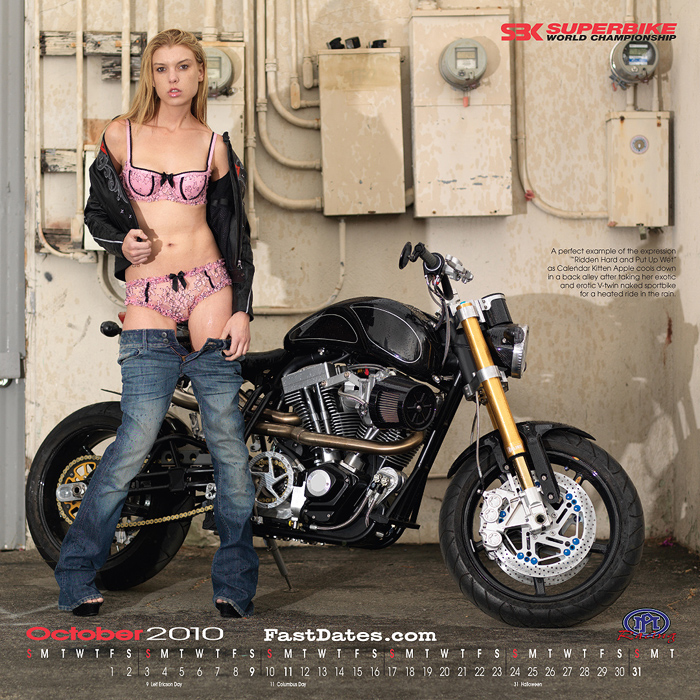 Order past edition Fast Dates.com Calendars: Collector's Corner
---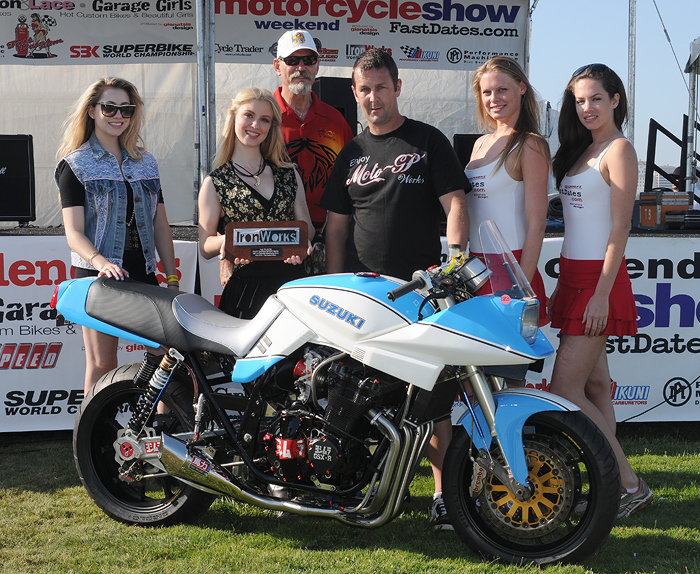 Click to GO BIG
Chris Redpath's 1st Place Sportbike
"Katana Wes Cooley" from MotoGP Werks.com at the 2010 LA Calendar Motorcycle Show
to be featured in the 2012 Fast Dates Calendar
by Jim Gianatsis / photography by Jim Gianatsis
The 19th annual edition of Calendar Bike Building Championship of the 2010 LA Calendar Motorcycle Show Weekend again features many of the world's top Pro and Amateur street bike builders in attendance to compete in the Calendar Show Bike Building Championship with a bulging purse of $86,000 in cash and awards. There were a lot of cool custom built modern turbo Suzuki Hayabusa's at this year's Show in the Sportbike Class, but the winner turned out to be a 30 year old beauty that could probably still best them on a roadrace course!
Chris Redpath, owner of MotoGPwerks In nearby Orange, CA, a sportbike tuning and repair shop, made his first visit as a competitor at the Calendar Show with this incredible 1981 Suzuki Katana that has been restored and retro mod ed to the max and went home a winner. You have to look closely at the bike to realize that Chris had used his involvement and contacts in World and National Championship motorcycle roadracing to upgrade this Katana well past what it was capable of some 30 years ago when it was first introduced as the best Superbike for its time.
The modified Katana "Wes Cooley" is named after Yoshimura Suzuki's Wes Cooley who rode a Katana to the 1981 AMA Superbike Championship. And coincidently enough, I worked at Moto-X Fox/Fox Shox at the time and developed and tuned the Fox Shox on Cooley's Championship winning Katana!
Now the Katana boasts White Power GP forks from a 1993 Yamaha YSR500, Harris triple clamps and swingarm, mono block 4-piston Brembo brakes, and current technology Works Performance twin shocks (unfortunately the incredible performing Fox Piggyback Twin Shox went out of production nearly 20 years ago when dual shock sportbikes changed to monoshock systems). What really brings it up into the 21st Century though, is it's modern day MotoGP telemetry with wheel speed sensors, suspension travel sensors and traction control.
The engine is also pure race history, given to Chris by Don Sakakura, now President of Yoshimura R&D USA, the contracted National Superbike team for American Suzuki. Rather than the Katana's original GS 1100cc Big Block motor, this is a left over 1990s Kevin Schwantz era GSXR750 Superbike engine bored to 836cc with all the goodies including Yoshimura Cams and a Dry Clutch. Chris added modern Keihin FCR41 flatslide racing carburetors (the original magnesium Mikuni flatslides were long gone) and his own shop brewed MotoGPwerks Exhaust System.
More of Chris Redpath's "Katana Wes Cooley" in Calendar Bike Garage
Join Us! The 2010 LA Calendar Motorcycle Show & Calendar Girl Music Festival July 18th
The Queen Mary Event Park, Long Beach, California. Detals HERE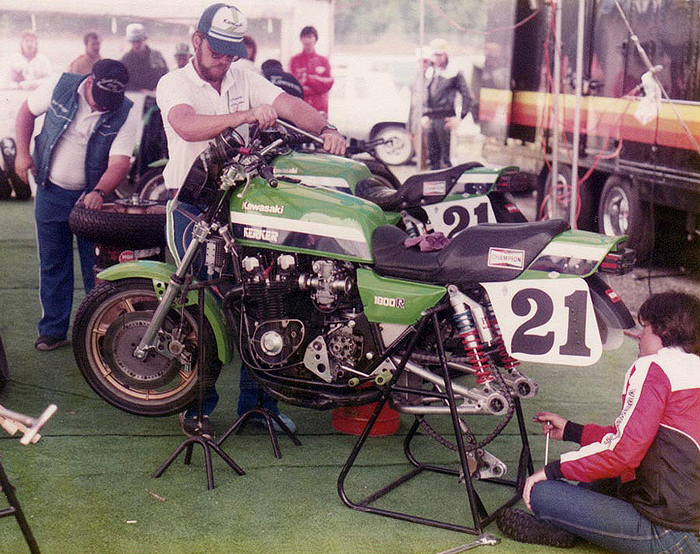 Here's a rare picture of me (sitting on the ground at right) from 1982 setting up the Fox Shox rear suspension of Eddie Lawson's AMA National Superbike Championship winning Kawasaki KZ1000R . Jim was marketing director and product development engineer at Moto-X Fox for 1979-2003 and had all the factory bikes during the 1982 season racing on Fox Shox which Jim set up and tuned at every National. Jim and Fox also sponsored Team Yoshimura Suzuki's Wes Cooley, 1981 Superbike Champions, hence the Yoshimua jacket. Team manager Rob Muzzy checks the wheel.
Above, Wes Cooley in 1984 on the new Fox Shox equipped monoshock Yoshimura Suzuki GS750E
Below, you can just see the Fox Shox on the factory Honda Superbikes. Despite the CB750F side covers the bikes were full 1000cc engines.
If I remember correctly, Honda had a big 4 rider team in 1982 with Mike Baldwin, Roberto Pietri, Steve Wise and Freddie Spenser.
---
| | |
| --- | --- |
| | Available Exclusively on DVD from FastDates.com through Amazon.com |
HIGH SPEED staring beautiful Sienna Miller
The Most Exciting Motorcycle Roadracing Movie Ever Made!
"High Speed" directed by Jeff Jensen, the best major motoion picture drama about motorcycle roadracing ever made, is now available for the first time on DVD from FastDates.com through Amazon.com. It's a realistic Hollywood style romance drama set within the battle for the World Superbike Championship that reflects real lives.
---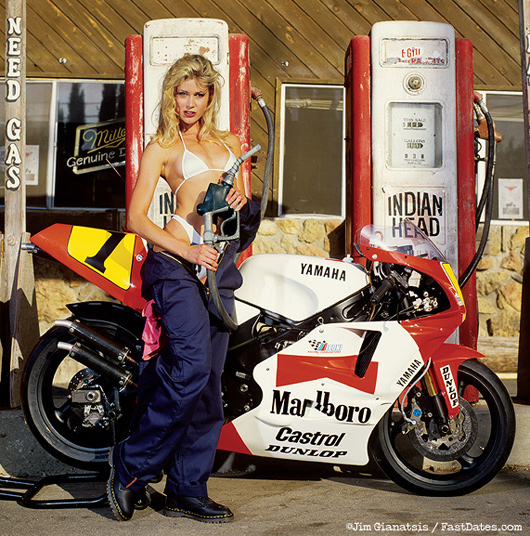 Ginger Schweizer gasses up Wayne Rainey's 1993 GP World Championship winning
Yamaha YZR500 at the Rock Store, the photo featured on the cover of the 1994 Fast Dates Calendar.
FastDates.com Calendar Images Available for Sale!
Photo Prints, Posters, Canvas Wall Murals
Now, for the first time you can have my favorite, most memorable FastDates.com Calendar photos reproduced to museum quality standards for your home, garage, office or store, thanks to our new partnership with one of America's premier online photo labs. Choose from photo prints on quality photo paper, to huge poster and mural size Giclee' photo prints on archival rag paper or canvas mounted to wooden frames or display boxes.
Now you can enjoy my best photos of the the world's finest motorcycles with beautiful models! - Jim Gianatsis
---
There's more! Go to Fast Dates Calendar News NEXT PAGE

Hot Calendar Girl and Bike News! Go to: Fast Dates • Garage Girls • Iron & Lace

Click to see even more of our sexy Fast Dates Calendar Kittens...


And visit these great Fast Dates recommended partner websites...
Some of our Calendar Kittens can also at Playboy's website...

FREE! New Met-Art Model Galley Updated Daily - Stop Back Each Day





MotorcycleSuperstore.com