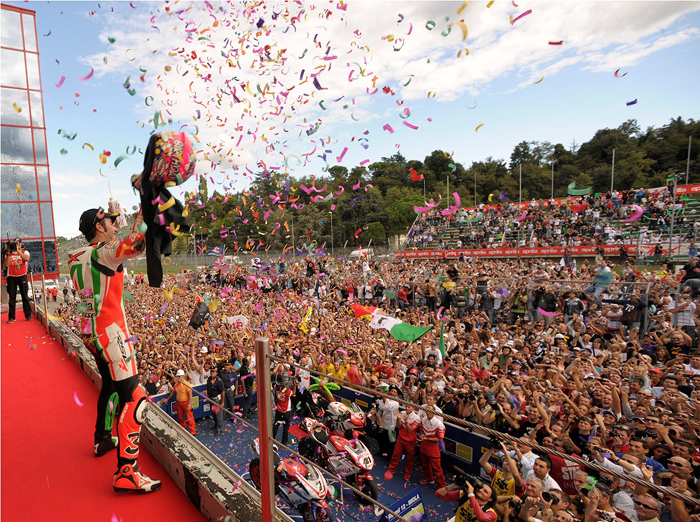 November - December 2010 Fast Dates Calendar News
The perfect trip for any sportbike fanatic as
Max Biaggi clinches the 2010Superbike Championship for Aprilia
The Ducati Edelweiss Imola Superbike Tour - Italy, the Factory & Museum, Imola WSBK!
By Jim Gianatsis, Editor
Bologna Italy, September 2010 -We love the Edelweiss Motorcycle Tours, especially across Europe. Their new Ducati sponsored Edelweiss Imola tour this year across beautiful Tuscany in Northern Italy, starts off with a visit to the Ducati factory in Bologna to pick up new Multitstrada 1200s, and ends the following weekend at the Imola World Superbike races. This was a must-do working vacation for any hardcore sportbike enthusiast! We had never been to Imola before, and were excited to find it was another classic european race circuit like Monza, Le Mans and Nuremberg Ring, set in a beautiful forest in the middle of the city. We picked up our Media Credentials in the middle of town at the local town hall, then crossed a nearby bridge half a block away over a river right into the track's Paddock Area.
There' a lot more HERE: Part 1 The Trip • Part 2 The Ducati Factory / Museum • Part 3 Imola World Superbike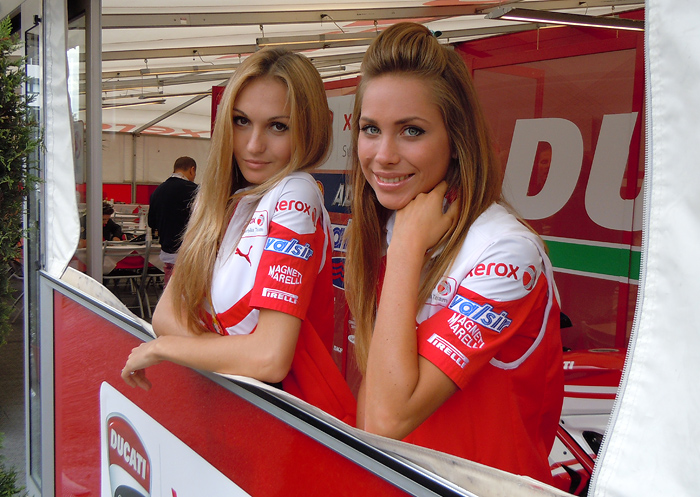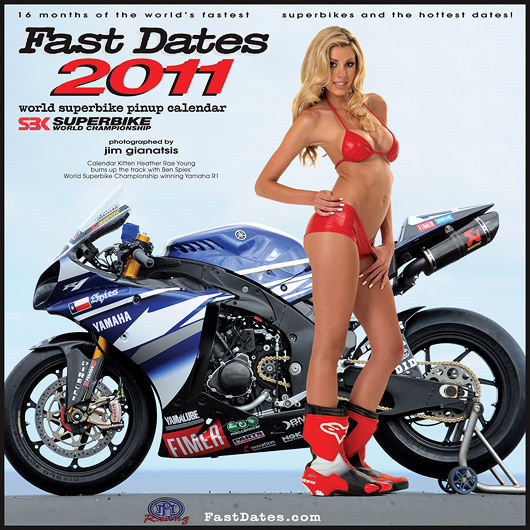 2011 Fast Dates Racebike Pinup Calendar!
The SBK World Superbike endorsed 2011 Fast Dates Race Bike Swimsuit Pinup Calendar photographed by Jim Gianatsis always features the word's top sport and roadracing bikes. This year's cover features American racer Ben Spies' World Superbike Championship winning Yamaha YZF R1 with beautiful Calendar Kitten & Playboy Playmate Heather Rae Young. $16.95 each - Order Here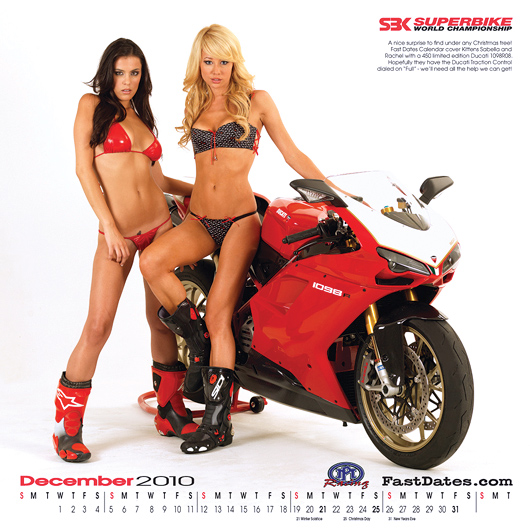 This Month in the 2010 Fast Dates World Superbike Calendar...
Cover Kittens Sabella and Rachel with our Ducati 1198R
Pictured above for the month of December 2010, official Ducati Corse World Superbike team grid girls Sabella Shake and Rachel Bernstein twist the throttle on photographer Jim Gianatsis' Ducati 1198R Superbike featured in the SBK 2010 Fast Dates World Superbike Calendar. Both Kittens are also featured in the 2010 Iron & Lace and Garage Girls Calendars with just a few copies left in Collectors Corner.
---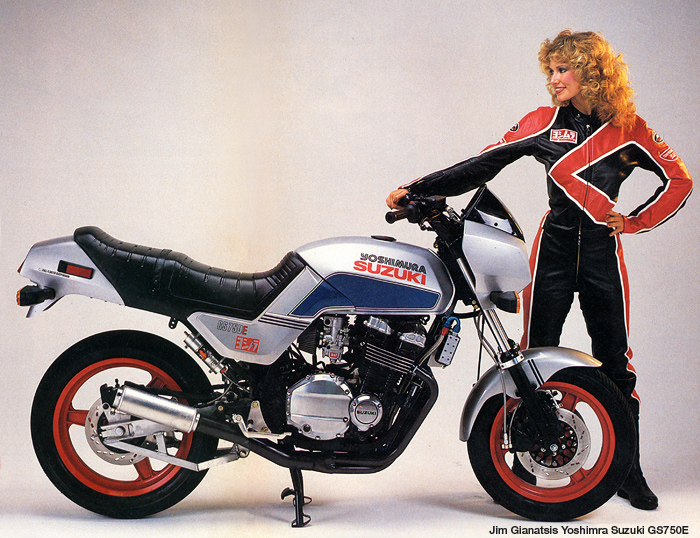 1983 Yoshimura Suzuki GS750E Street Superbike
By Jim Gianatsis
During the early 1980s I had just moved out to California to work at Moto-X Fox in San Jose, California. I was responsible for adverting and product design and marketing, which at the time also included Fox Shox. Fox was primarily a motocross product company up to then, but in 1980 I started to get turned on to streetbikes and bought a 1981 Suzuki GS750 D model as my personal bike to ride on the beautiful Santa Cruz Mountain roads above the city, and used it for development of a new line of Fox Streetbike Apparel and Fox Street Shox. CONTINUED HERE
Heather and Jaime's 2012 Fast Dates Calendar Shoot at Miller World Superbike!
See What You Missed in Fast Dates Calendar News June 2010 and in Members Corner
---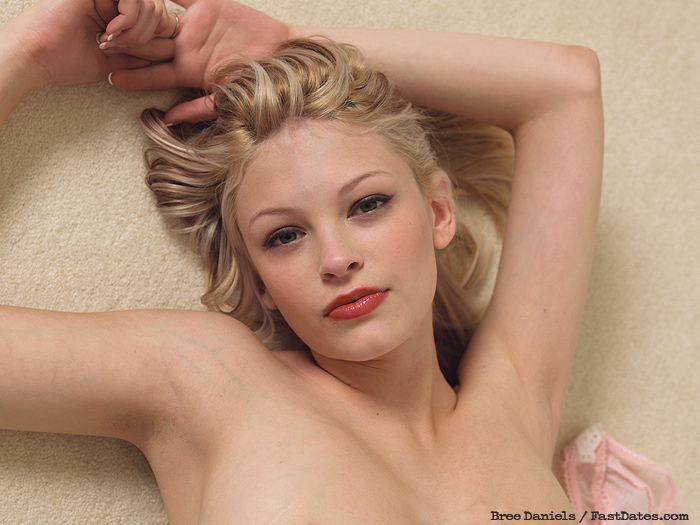 Bree Daniels does the FastDates.com Calendars
November 1st- You may not know her name yet, but 18 year old barley legal Hustler Honey and film starlet Bree Daniels is ready to rock your world as the newest FastDates.com Calendar Kitten. The minute Bree turned 18 years old this beautiful 5 foot 8 inch baby faced blond with no inhibitions boarded the Greyhound bus from her small Northwestern home town and headed to Los Angeles to make her fame and fortune in the adult magazine and film business.

We still hadn't heard of Bree when her new agent was on the phone asking if they could come by the office for a Go-See. We were between shooting seasons for the Calendars, working hard on production and not really looking for any models at the time, but hey, anything to break up the monotony in the office was always welcome, particularly if it involved a pretty girl. Needless to say when Bree walked in the door she completely blew us away with her fresh new beauty and sweet personality. We booked her then and there for a shoot, and would find some way to use the pictures!

The next week Bree was back with us in the studio to shoot stills for the next edition 2012 FastDates.com Calendars. And because Bree is the type of girl who likes to take her clothes off you can guess we got a lot of great photos of her getting naked for her new Calendar Kitten Gallery in Members Corner. But don't think it stopped there as Bree wanted us to use our video camera to show you guys just how excited she really was to be shooting for the FastDates.com Calendars.

Look for more of Bree Daniels in
Meet the Models and Members Corner.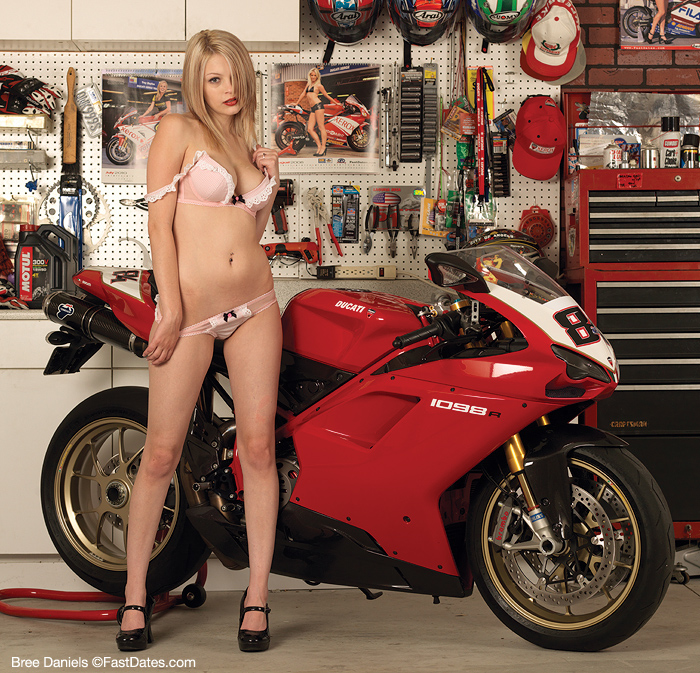 Bree's photo shoot - "Stop, Don't" soon changed to "Don't Stop".....
---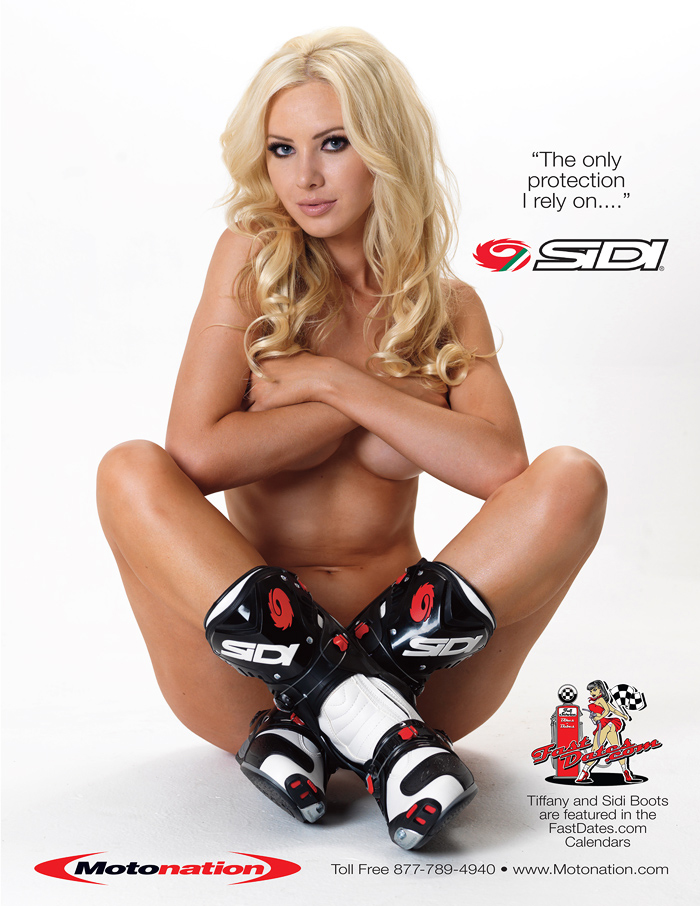 Tiffany is also featured without her boots in Members Corner
---
Chicks That KICK ASS! NCAA Women's Volleyball - by Jim Gianatsis
It's an exciting mix of Roller Derby and NBA Pro Basketball, with hot hard bodied 18-21 year old University Co-Eds digging, spiking, diving, fliping and crashing across the gymnasium floor in a 6-girl team's attempt to smash a little leather ball to the floor on the opponent team's side of an 8-foot high net. It's NCAA (National Collegiate Athletic Association) Women's Volleyball, one of the most exciting team sports in the world today. A sport that most people probably don't now much about, and even fewer have seen in person.
Super hot 6-foot 3-inch Amazonian's in super tight spandex short-shorts and shirts, in incredible physical shape. Kicking the ass out of an 8-inch leather ball and the opposing team. Plus these are college girls with brain smarts who could will be ready to financially support their boyfriends in a few years. Charlie Sheen can have his porn stars. These are the girls we love, would want them to abuse us, and then take home to mom. MORE
Calendar Kitten Rhian Snugden does 2011 quite well - click to go BIG
Our very own FasDates.com Calendar Kitten Rhian Snudgen, featured in the 2009 SBK Fast Dates World Superbike Calendar which we shot on location in England at Brands Hatch WSB in 2007, has had her own calendar available in Britian the last couple of years. But if you were her friend on www.MySpace.com/RhianMarie you'ld already know that. We just got our own copy of the big new 2011 Rhian 12x17-inch eye popper printed on heavy card stock and have to tell you it is awesome! Order at GlobalCalendars.co.uk
---
Caution - This Met-Art Model Galley Contains Full Nudity!


There's more! Go to Fast Dates Calendar News NEXT PAGE

Hot Calendar Girl and Bike News! Go to: Fast Dates • Garage Girls • Iron & Lace

Click to see even more of our sexy Fast Dates Calendar Kittens...


And visit these great Fast Dates recommended partner websites...
Some of our Calendar Kittens can also at Playboy's website...

FREE! New Met-Art Model Galley Updated Daily - Stop Back Each Day






MotorcycleSuperstore.com