Custom Bike Pinup Calendar News July - August 2009


World Premier!
2010 Iron & Lace Custom Motorcycle PinUp Calendar
Los Angeles, CA,July 1st 2009 - The new 2010 Iron & Lace Custom Bike and Centerfold Model Calendar sponsored by Mikuni Carburetors and Performance Machine features the world's top custom bikes together with sexy centerfold models in revealing lingerie. Photographed by Jim Gianatsis, Iron & Lace offers a 16-month look at the top winning bikes from the 2008 LA Calendar Motorcycle Show's Calendar Bike Building Championship and the AMD World Championship of Custom Bike building including the Best of Show(s) and Metric V-Twin winner Jim Guffra's "Er Head", and Roger Goldammer's Land Speed Record Turbo Bike.
Also featured are incredible customs from past and present LA Calendar Show winners including legendary builder Shinya Kimua of Zero and now Chabbott Engineering fame, Kenji Nagal / Ken's Factory of Japan, Todd Silicato, Roland Sands, Russell Mitchell, along with AMD World Championship of Custom Bike Building show winners Roger Goldammer, JP Persitza of Cooks Customs and Tobias Guckel of TGS Motorcycles in Germany.
The Iron & Lace Calendar Kittens photographed with the bikes are beautiful cover models Rachel Bernstein and Sabella Shake, along with very sexy Cora Skinner, Apple, Playboy Playmates Athena Lundburg and Tiffany Toth, and adult film star Jayme Langford.
Order the 2010 Iron & Lace Calendar Here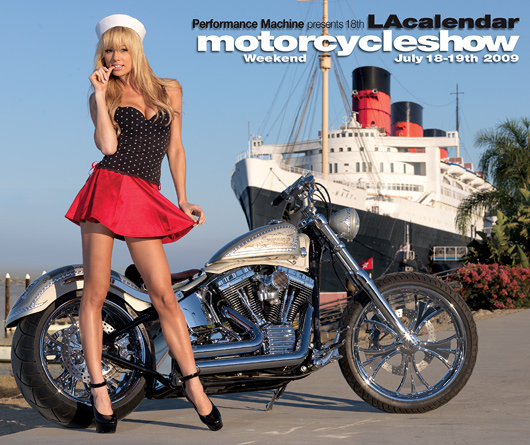 Beautiful new 2010 FastDates.com Calendar Kitten Rachel Bernstein is featured in the ad campain for the 2009 LA Calendar Motorcycle Show Weekend July 18-19th for the World Premier of the 2010 FastDates.com Calendars.


World Premier of the 2010 FastDates.com Calendars
Kenji Nagai Wins 2009 Best of Show!
Plus the all girl built AFT Metric Customs bike "LoLA" wins Best Metric Custom!
July 18-19th 2009, Queen Mary Event Park, Long Beach, CA - At this year's LA Calendar Motorcycle Show Weekend Kenji Nagai / Ken's Factory, Japan took home the Performance Machine Best of Show trophy and the lion's share of $86,000 in cash and awards is from left: Ted Sands / Performance Machine, Elizabeth Nicole / singer songwriter actress and host, Kenji, and FastDates.com Calendar Kittens Apple and Melody. Additional 2009 LA Calendar Show coverage and photos HERE
18th Annual Los Angeles Calendar Motorcycle Show Weekend
America's Premier Custom & Performance Street Motorcycle Show
July 18-19th 2009, Queen Mary Event Park, Long Beach
The 18th annual Los Angeles Calendar Motorcycle Show Weekend presented by Performance Machine, America's premier custom, cruiser, performance and sportbike weekend returns to the Queen Mary Event Park in Long Beach on July 18-19th, 2009. Join 25,000 street bike motorcycle and music enthusiasts for the world's most exciting 2-day motorcycle event weekend in the beautiful Queen Mary Event Park on the grass alongside the Pacific Ocean in Long Beach! This is the world's premier motorcycle show weekend featuring some 200 major motorcycle and parts manufacturers, top name builders, selected exhibitors, product and apparel vendors.
AUTOGRAPHED AFT MODELS POSTER!
The World Premier of "LoLA" built by AFT Metric Custom's AFT Model Agency Girls just for the
LA Calendar Show. Meet all the girls and company director Jim Guiffra, last year's Best of Show winner, and get an autograhed poster of this picture!
The weekend features many of the world's top Pro and Amateur custom street bike builders in attendance with their newest 2-wheeled creations of rolling art to compete in the Performance Machine Calendar Show Bike Building Championship with a bulging purse of $86,000 in cash and awards including the coveted Performance Machine Best of Show Trophy. There are 11 Calendar Bike Building Championship Classes including the premier Radical Pro Builder Class sponsored by Iron Works magazine as well as 10 other classes for American V-Twin Customs, Vintage Bikes, as well as Metric Sportbikes and Cruisers.
Other exciting activities during the weekend include the Calendar Motorcycle Show World Championship Horsepower Dyno Shoot Out, Calendar Bike Building Seminars, the Calendar Girl Model Search Pageant, and the world premier of the new 2010 FastDates.com Motorcycle PinUp Calendars with the beautiful Calendar Kittens.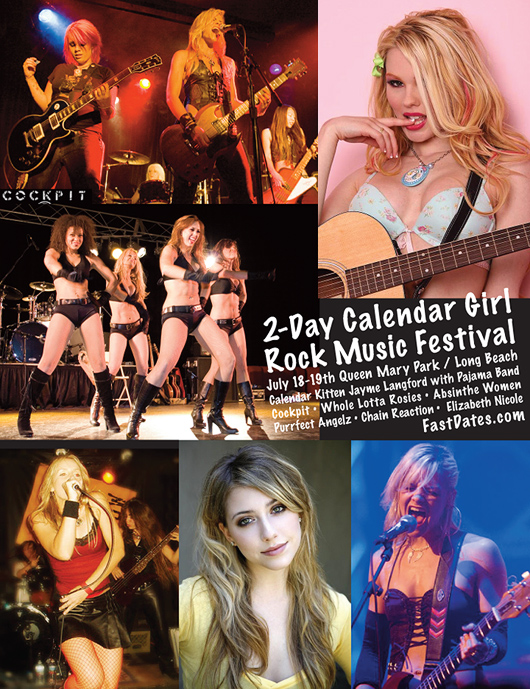 Calendar Kitten & AVN Best New Actress Nominee Jayme Langford's
Pajama Band Joins the LA Calendar Bike Show / Music Festival Weekend!
May 15th 2009 - The Los Angeles Calendar Motorcycle Show, in our never ending quest to provide wholesome family entertainment while enhancing the quality of artistic and cultural experience for our visitors, is excited to announce the addition of Pajama Band to our performance lineup with the Calendar Girl Music Festival which is included with July 18-19th 2009 event weekend at the Queen Mary Event Park in Long Beach, CA.
We're in LOVE! Jayme shows what she'd like to do to us!

A unique entertainment experience, Pajama Band features the vocal talents of beautiful new 2010 FastDates.com Calendar Sex Kitten, Hustler Honey and AVN Starlet Jayme Langford / JaymeLangford.com. Between her extensive modeling and acting career, being a pre-Med University student and exhibiting precision Hula-Hoop skills, Jayme figured she also has what it takes to be an accomplished lead singer, guitarist and trumpeter in time for this year's Calendar Bike Show Weekend.
Jayme is not new to music, having taken music and pianno lessons all her life. But after picking up a new pink guitar and plastic trumpet from Guitar Center on Hollywood Boulevard just a few months ago she thought, "Damn, I'm not busy enough, why don't I start a girl porn star rock band as well!" Who were we to talk her out of it?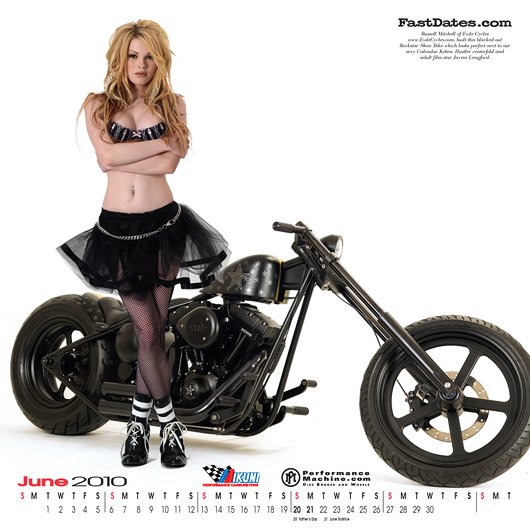 Jayme Langford and celebrity builder Russell Mitchell will rock your world by personaly autographing for you their new 2010 Iron & Lace Calendar featuring Jayme and Russell's Exile Rockstar custom available at the 2009 LA Calendar Motorcycle Show and Calendar Girl Muisc Festival Weekend July 18-19th. Jayme's PajamaBand will be performing on Sunday, with Russell holding a Calendar Bike Building Seminar.
Performing with Jayme in Pajama Band are her famous adult starlet girlfriends, Jana Jordan / ClubJannaJordan.com also a Hustler Honey and Penthouse Pet, and Louisa Lanewood / LouisaLanewood.com. The band will be making its professional world premier debut at the 2009 LA Calendar Show Weekend on Sunday the 19th performing their exciting new hit "Fuck You Until You Die" which has music critics raving, in what can only be described as pornicopia of visual and audio excitement guaranteed to leave their many new found fans breathless on the verge of cardiac arrest. Music critics are already raving that these girls have given new meaning to the genre "Hard Rock"!
For Jayme's Calendar Kitten profile go to Meet the Models - Jayme Langford
For more about PajamaBand visit MySpace.com/PajamaBandMusic
For more about the LA Calendar Motorcycle Show
Below: Jayme's girlfriend Janna Joran beats the drums in PajamaBand which makes its world premier at the 2009 Calendar Show . On Mondy after the Show, Jayame and Janna will shoot with the wiing Calendar Bike Building Championship bikes for the next FatDates.com Calendar.
Brown & Koro Motorcycle Attorneys to Sponsor
LA Calendar Show's new DynoJet Factory Superbike Dyno
Los Angeles, July 6, 2009 - The Los Angeles Calendar Motorcycle Show, America's premier custom and performance streetbike event weekend, is excited to announce that Brown and Koro Attorneys, the well known National legal firm firm dedicated to protecting motorcyclists in the event of an accident, have signed a four year agreement to be the Title Sponsor of the Calendar Show's exciting World Record Dyno Horsepower Shootout.
Founding by attorney and long time motorcycle rider Russ Brown, and now partnered with another riding attorney Chuck Koro, Russ was one of the first attorneys on the National scene to dedicate his firm to protecting biker's rights, particularly when involved in accidents with automobiles drivers who are responsible for 70% of all motorcycle accidents in America. Brown also founded BAM, a national based motorcycle breakdown and assistance organization where member bikers can dial 1-800-4BIKERS to get assistance from other members who are near them geographically, if they are stranded on the road. For additional information visit http://www.russbrown.com
This year's World Record Dyno Shootout is being produced by DynoJet Research, Inc, based in Las Vergas, NV, , who are bringing their official factory superbike dyno truck from their headquarters in Arizona, just for the Calendar Show.For a minimum cost of just $20 per run, Bike Show attendees can have their motorcycles run on the factory DynoJet dynometer by DynoJet Technical Support Manager Dustin Schaller. At the end of their run they'll receive a printout record of their bikes torque and horsepower figures after the run. http://www.DynoJet.com
The hours of Dyno operation at the Calendar Show are 10am - 6pm on Saturday the 18th, and 10am - 4:30 pm on Sunday the 19th. Contestants will need to enter the Show first as a paid spectator, then sigh up at the DynoJet truck for a scheduled run, after which they can bring their bikes into the Show through the Dyno Entry Gate for their scheduled run.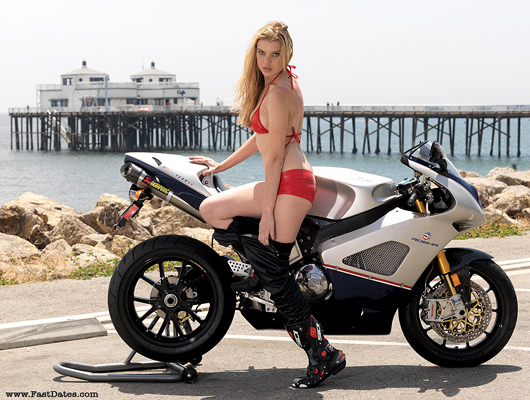 And now for something a completely different...
Apple Kitten shoots for Iron & Lace with the $60,000
Roehr Superchargd 180 Hp Harley V-Rod engined Superbike
Los Angeles, CA, May 1st - Don't think we've been relaxing indoors here during the bitter cold of our Southern Californian winter here, just waiting for our printer in China to ship us the new 2010 FastDates.com Calendars so sleezy perverts like you can gum up the pages.... hell no! We've already been hard at work shooting the next 2011 FastDates.com Calendars!
Like this latest shoot above taken at the Malibu Beach Pier on Pacific Coast Highway in beautiful Malibu featuring beautiful Calendar Kitten Apple Price, who also happens to be in the new 2010 Calendars which premier at our big LA Calendar Bike Show on July 18-19th. Apple's ride is the new $60,000 Roehr Superbike, powered by a Harley-Davidson 1260cc V-Rod engine that is supercharged by a belt run off the end of the crankshaft and producing 180 hp! By the end of the shoot, Apple seemed really heated up (damn these SoCal winters!) and asked us to take her for a ride.... Read the Road Test in New Sportbikes Roehr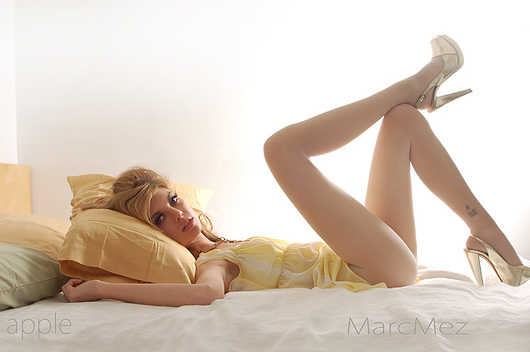 Beautiful Apple Price is one of the Calendar Kittens featured in all three of the 2010 FastDates.com Calendars including Garage Girls. Apple and the exotic Roehr Superbike will be appearing both days at this year's Calendar Show. Apple willalso be serving as Main Stage Hostrs, as well as meeting with fans and autographing the new calendars.
---
AFT Custom's Jim Guiffra goes over build details for LowLa with model Sukhee.
AFT Model Agency Girls Hard at Work on new AFT Metric Custom "LowLA"
to premier at the LA Calendar Motorcycle Show Weekend July 18-19th
Martell, CA, Feb 15th - In a follow-up to his prestigious Best of Show win in 2009 at the Los Angles Calendar Motorcycle Show Weekend, and 1st Place Metric Class at the AMD Word Championship of Custom Bike Building, renown custom metric bike builder Jim Guiffra of AFTCustoms.com, Martell, California, is well under way (with a little help from some friends.) with his next custom which will make its world premier at the 2009 LA Calendar Motorcycle Show July 18-19th.
AFT's newest custom making its premier at the LA Calendar show is aptly called "LowLA" and it is being fully constructed by the beautiful girls of the AFT Modeling Agency - girls who are knowledgeable and specializing working Motorsports Trade Shows and Events. The custom bike, based on a Honda VTX13PS and running a Mikuni HSR Carburetor, is being designed and constructed under the guidance of Guiffra, but all the bike's actual disassembly, special fabrication and construction, and reassembly is being carried out by the AFT Model Agency Girls: Andrea, Melanie, Sara, Sukhee, Kylie, Jeanine, Elaina. You can see and find out more about the girls and the Agency at AF TCustoms.com.
The premier of "LowLA" at the LA Calendar Show in July will see the bike featured in the AFT Customs both on Saturday, then on Sunday being entered in the $64,000 Calendar Bike Building Championship. Also at the Show, "LowLA" and the AFT Models will be photographed and interviewed by Heather of Riders Review Magazine who will be doing a feature article on both them and the sexy Motorcycle PinUp Calendar theme Show On Monday after the Show weekend, LowLA will be photographed by Jim Gianatsis for the next Mikuni and Performance Machine sponsored Iron & Lace Calendar Motorcycle Cruiser Magazine will also be doing an editorial feature on the bike. And after that it travels on to Sturgis Bike Week for this year's AMD World Championship of Custom Bike Building.
More about the: LA Calendar Motorcycle Show • AFT Customs & Model Agency
The AFT girls hard at work grinding, cutting, bending, welding, and breaking a few fingernails!
---
Beautiful Playboy cover model Amanda Bently at the classic 1940's Canyon Service Station in Santa Monica, CA, with a Paul Yaffe chopper, this incredible photo was featured on the cover of the 2003 Iron & Lace Calendar.
First Time Ever! FastDates.com Calendar Images Available for Sale!
Photo Prints, Posters, Canvas Wall Murals
Now, for the first time you can have my favorite, most memorable FastDates.com Calendar photos reproduced to museum qualty standards for your home, garage, office or store, thanks to our new partnership with one of America's premier online photo labs. Choose from photo prints on quality photo paper, to huge poster and mural size Giclee' photo prints on archival rag paper or canvas mounted to wooden frames or display boxes.
Now you can enjoy my best photos of the the world's finest motorcycles with beautiful models! - Jim Gianatsis
---
There's more! Go to Iron & Lace News Previous Page
Return to Iron & Lace Calendar News Front Page

Also Visit:
Fast Dates Calendar News • Pit Lane News • Calendar Girl News • Meet the Models
See much more of our all our beautiful calendar girls
in their sexy pictorials in FastDates.com Members Corner...


Some of our Calendar Girls can also be seen at Playboy's website...



MotorcycleSuperstore.com