Calendar Bike Builder Chris Redpath / MotoGPwerks.com took 1st Place Sportbike again this year with this Suzuki VL1000 V-Twin Superbike engine powered streetfighter which featured a custom made tube frame, swingarm and bodywork. Jim Giuffra and the AFT Spokesmodel also pressnted Chris with their special annual AFT Metric Customs Visionary Award for the builder at the Calendar Show who is setting the trend for the future of custom bike building. Joining them for the trophy presentation are Calendar Kittens Sara Horvath and Jessic Harbour who will be accompanying us this September 26-28th to Laguna Seca World Superbike to shoot the next edition of the Fast Dates World Superbike Calendar and will serve as official SBK grid girls on race day.
2013 LA Calendar Motorcycle Show & Calendar Girl Music Festival
Los Angeles, July 14th, 2013 - The 22nd edition of the annual LA Calendar Motorcycle Show marked its return to the Queen Mary Seawalk Village in Long Beach, CA with Southern California's Sam Baldi continuing his domination of 2013 season West Coast bike event by taking the Calendar Bike Building Championship's Best of Show and one of the coveted Mikuni Carburetor Trophies with his latest Jimmy Todorovith / Profile Cycles built Big Twin custom named "Lost Angel".
This year's Calendar Motorcycle Show continued it's long standing tradition of showcasing top Celebrity Builders in the Calendar Bike Building Championship, selected Vendors and Exhibitors, together with Calendar Girl Music live performances. And as always, this year's Show celebrated the world premier of the new 2014 FastDates.com Motorcycle PinUp Calendars photographed by Show producer Jim Gianatsis featuring the world's top SBK World Superbikes, sport and cafe bikes, and custom motorcycles with the beautiful Calendar Kittens. On hand throughout the day to meet with fans and pose for pictures were Calendar Kittens Apple Price, together with official SBK World Superbike grid girls, Jessica Harbour and singer songwriter Sarah Horvath.

Sara also performed her music throughout the day and and served as stage hostess for the Calendar Girl Music Festival. Headlining the entertainment this year was Lily Elise, a native Southern Californian, recently featured on NBC TV's The Voice, Season One. With an incredible vocal range voice in the style of Christina Aguilera, Lily performed two incredible sets with her full 7-person band. And retiring by popular demand for the second year was the all-girl Japanese rock band Nylon Pink, just having returned from a world music tour.

Sam Baldi first premiered his Calendar Best of Show winner at the 2013 Grand National Roadster Show at Pomona earlier this year, where he took top prize for the 3rd year in a row with different builds. "This bike took about a year and a half to build. Jimmy Todorovitch at profile Cycles built the entire bike in his garage as he did with our other two bikes. He did all design and fab work and did everything by hand while some of the machine parts were done in my shop. The bike was supposed to be unveiled at Sturgis last year, but at the time I really had no direction on what to do about the paint job. Then we had a tragedy in the family. My daughter lost her first unborn child, so I conceived the bike's paint design with a dedication it to our family's "Lost Angel".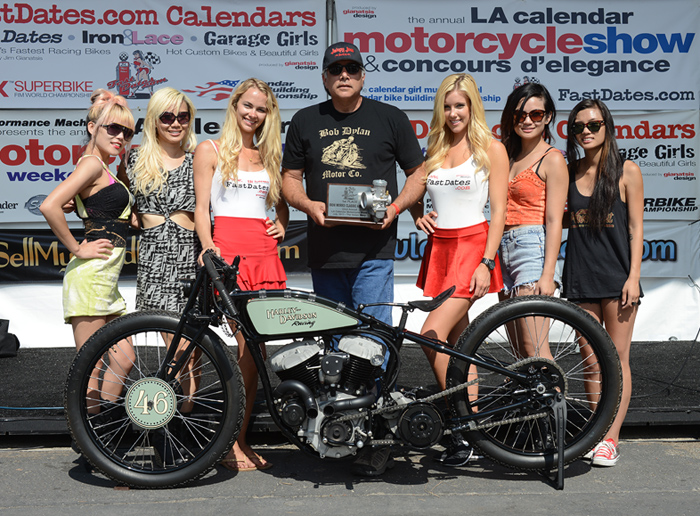 Ron Boldonado and his Classic American Class winning replica Board Track race with girls from the band Nylon Pink
and Calendar Kittens Sara and Jessica.

Another notable build in contention for Best of Show at this year's Calendar Bike Building Championship was former Bobber Class winner Ron Baldonado / Rock Bottom Customs, Thousand Oaks, CA with a brand new ground up custom fabrication of a 1920's style board tracker racer that took 1st Place in this year's Classic American Class. "I build my bikes specifically to premier and win at the LA Calendar Motorcycle Show each year", he told us. "The frame is a 1930 Harley VL design, mated to a 1920 Girder style front end, rolling early on 1923 Harley JD wheels. The front headlight lantern houses a modern carbonate bulb, the grips are wooden as from bicycles in the 1900's, and the saddle comes from an 1800's blacksmith shop where he sat at his grinding stone."

Judges for this years Calendar Bike Building Championship included Dave Edwards, editor / Bike Craft Magazine, Jim Giuffra, builder / AFT Customs, Craig Boone / Collector, and Jim Gianatsis / Show Producer and FastDates.com Calendar Photographer. On Monday following the Calendar Show, producer Jim got to photograph these two incredible custom bikes at his Gianatsis Design Studio, along with four other class winners, together with 3 beautiful Calendar Kittens, for the next editions of the FastDates.com Calendars.

Exciting attractions at this year's Show included the new Yamaha Star Bolt Motorcycle Road Tour to showcase the Japanese manufacture's new affordable $7,999 list price Bolt V-twin custom in a cafe/bobber style that is easy to ride and designed for easy and affordable customizing. The Bolt Tour display included product giveaways and the opportunity to register to win a free Bolt motorcycle.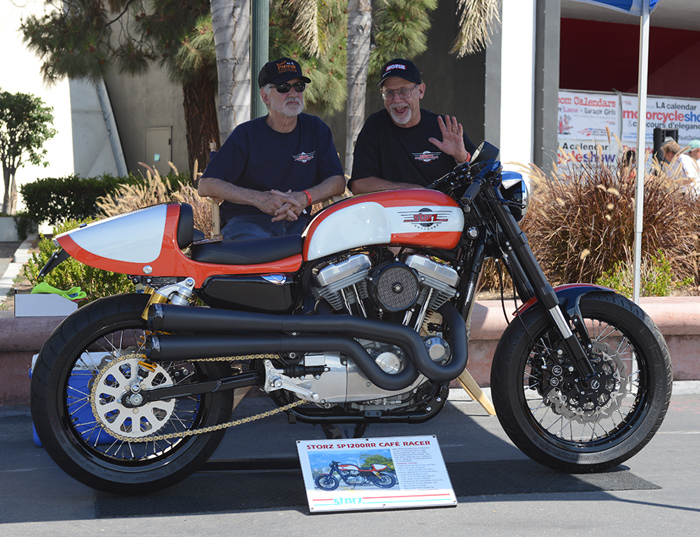 Steve Storz premiered his new Storz SP1200RR Cafe Racer which retails for $28,000 or you can buy the parts individually to modify your own Sportster donor bike.

Other major Show attractions included the return of legendary West Coast builder Ron Simms / RonSimms.com with his big rig truck display back on the road for the first time in years to unloaded a baker's dozen of beautiful new customs and rare museum quality V-Twins from his personal collection. Keith Ball of Bikernet.com fame showing off his latest V-twin custom project bike and a new line of Bikernet Apparel. Tom Hicks of Southern California Motorcycles, the biggest supporter over the years of many local bike events, together with his sales staff and pretty models to showcase their great line of Triumph, Ducati, Victory and Royal Enfield motorcycles.

Calendar Kittens Sara and Jessica were at the Show this year to greet spectators and premier the new 2014 FastDates.com Calednars. They will accompany photographer Jim Ginatsis to Laguna Seca World Superbike September 26-28th to shoot the next edition of the Fast Dates World Superbike Calendar, and serve as offical SBK Umbrella Girls on the starting grid for Sunday's races.
Also in attendance were former Bike Show winners Jim Giuffra of AFTcustoms with his beautiful AFT bike building spokes models Shelby and Lalani to present the AFT Customs Visionary Award Trophy for the most innovative and exciting bike at the event. That award would go to Chris Redpath / MotoGPwerks.com who premiered a custom built Suzuki TL1000 V-Twin naked streetfighter that would take the Sportbike Class win. Richard Pollock / Mule Motorcycles with latest Triumph Streetmaster build. And Steve Storz / Storz Performance premiering his beautiful new Storz SP1200RR Cafe Racer that is all the bike and more that Harley's now discontinued XR1200 streetbike should have been.

The selected partners for the 2013 LA Calendar Motorcycle Show included Russ Brown Motorcycle Attorneys, Barnett's Bike Craft Magazine featuring retro and cafe bikes, and the regional bike events newspaper Thunder Press, one of the Show's longest running supporters. Joining the Show this year as an Associate Sponsor is Ghost Rider Cycles with their new companies KevlarRiding Jeans.com and SellMyUsedHDparts.com.

For additional coverage and photos of the 2013 LA Calendar Motorcycle Shows go to to: Calendar Bike Show 2013
Best of Show winner Sam Baldi. An electronic switch operated rear airshock suspension lowers the bike to the ground for parking!
---
The 2014 FastDates.com Calendars and the FAST 2014 Calendar Magazine Yearbook feature
the official SBK World Superbike grid girls Jitunka & Petra from the Czech Republic!
NEW! FAST 2014 Digital Calendar Magazine Yearbook
The Bikes, the Builders, the Riders, the Kittens,the Calendar Bike Show, the World Superbike races all the 2014 Calendar Pictures, and Special Features... For the first time every we take you around the world in 120 exclusive pages for the making of the 2014 FastDates.com Calendars! Now in Members Corner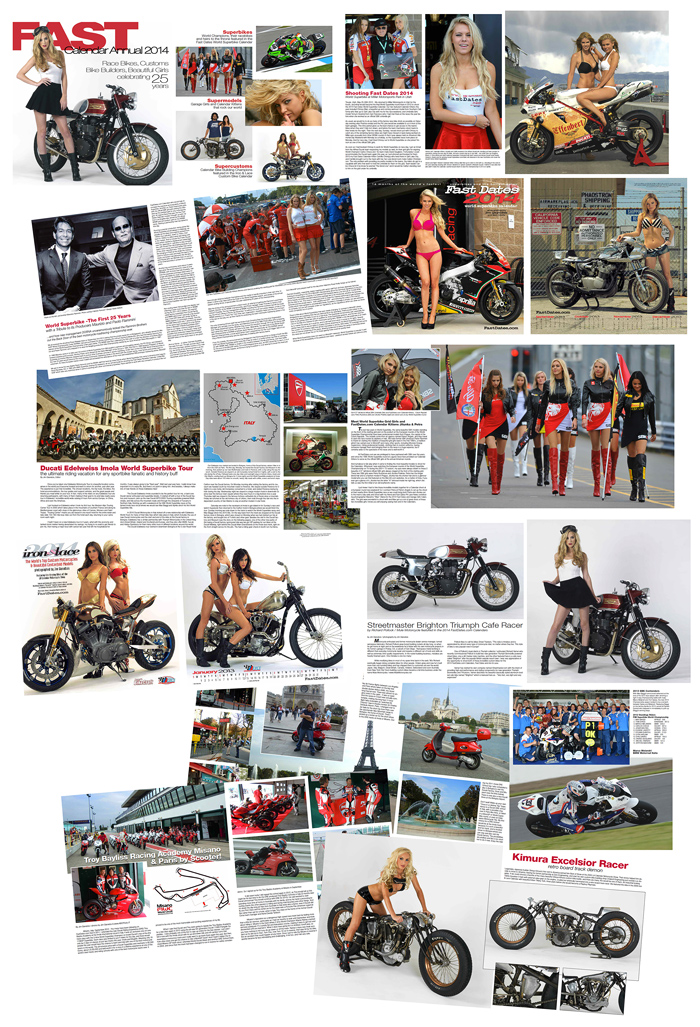 ---
MV Agusta Premiers Sexy New 2014 Brutale Corsa
July 8th, 2013 - a talk about sexy eye candy! Adrenaline, power, performance, all hand-built in small numbers, the exclusive Brutale Corsa pushes back the boundaries even further to venture into previously unexplored territory. With 158 HP of power and 100 Nm of torque, the Brutale Corsa is instantly recognizable at first sight for the outstanding quality of its components, extreme attention to detail and spectacular bespoke livery.

The benefits of the ultra-light specific forged wheels and fully adjustable Öhlins front fork in terms of riding dynamics are instantly perceptible, as are those of the billet steering head created specifically for this unique version. There are plenty of new styling touches too: from the frame finished in gloss black paint and the hand-stitched rider and passenger saddles to brake levers, rider foot pegs and brake and clutch fluid reservoir caps machined from solid billet. The tank guard has been created specifically for this bike, while the sports license plate mount and the carbon fiber rear mudguard and front mudguard spoiler are branded with the MV Agusta Corse logo. Price in Europe with VAT included €20.990 - so hopefully USA price will be close to that same number in US Dollars without VAT.
ENGINE


Type Four cylinder, 4 stroke, 16 valve
Timing system "D.O.H.C", radial valve
Total displacement 1078 cm3 (65.78 cu. in.)
Compression ratio 13:1
Starting Electric
Bore x stroke 79 mm x 55 mm (3.1 in. x 2.2 in.)
Max. power - r.p.m. (at the crankshaft)** 116.5 kW (158 hp) at 11900 r.p.m.
Max. torque - r.p.m. 100 Nm (10.2 kgm) at 10100 r.p.m.
Cooling system Cooling with separated liquid and oil
radiators
Engine management system Magneti Marelli IAW 5SM ignition - injection
integrated system with Mikuni throttle
body; induction discharge electronic ignition;
sequential timed "Multipoint" electronic
injection
Clutch Wet, multi-disc with mechanical antisurging
device
Transmission Cassette style; six speed, constant mesh
Primary drive 50/79
Gear ratio
First gear: Speed 13/38
Second gear: Speed 16/34
Third gear: Speed 18/32
Fourth gear: Speed 20/30
Fifth gear: Speed 22/29
Sixth gear: Speed 19/23
Final drive ratio 15/43



ELECTRICAL EQUIPMENT


Voltage 12 V
Alternator 350 W at 5000 r.p.m.
Battery 12 V - 8.6 Ah
DIMENSIONS AND WEIGHT
Wheelbase 1438 mm (56.61 in.)
Overall length 2100 mm (82.68 in.)
Overall width 780 mm (30.71 in.)
Saddle height 830 mm (32.68 in.)
Min. ground clearance 150 mm (5.91 in.)
Trail 103,5 mm (4.07 in.)
Dry weight 183 kg (403.5 lbs)
Fuel tank capacity 23 l (6.07 U.S. gal.)

PERFORMANCE


Maximum speed* 265.0 km/h (164.5 mph)



FRAME


Type CrMo Steel tubular trellis ALS
Rear swing arm pivot plates material Aluminium alloy



FRONT SUSPENSION


Type UPSIDE - DOWN" Öhlins Nix telescopic
hydraulic fork with adjustable reboundcompression
damping and external
spring preload
Fork dia. 43 mm (1.69 in.)
Fork travel 120 mm (4.72 in.)



REAR SUSPENSION


Type Progressive, Sachs single shock
absorber with rebound and compression
(High speed/Low speed) damping and
spring preload adjustment
Single sided swing arm material Aluminium alloy
Wheel travel 120 mm (4.72 in.)



BRAKES


Front brake Double floating disc with Ø 320 mm
(Ø 12.6 in.) diameter, with steel braking
disc and aluminium flange
Front brake caliper Brembo Radial-type, monobloc with
4 pistons Ø 34 mm (Ø 1.34 in.)
Rear brake Single steel disc with Ø 210 mm
(Ø 8.27 in.) dia.
Rear brake caliper Nissin with 4 pistons - Ø 25.4 mm
(Ø 1.00 in.)



WHEELS


Front: Material/size Forged aluminium alloy 3,50 " x 17 "
Rear: Material/size Forged aluminium alloy 6,00 " x 17 "
TYRES
Front 120/70 - ZR 17 M/C (58 W)
Rear 190/55 - ZR 17 M/C (75 W)
FAIRING
Material Thermoplastic



RETAIL PRICE


AVAILABLE ONLY IN ABS RACE MODE VERSION
Price VAT included € 20.990
---
Sam Lowes, Shayne Byrne and Alex Lowes share the Race Two Podium

British Superike Championship, Snetterton Round 5 of 12

Lowes and Byrne Scorch To Snetterton BSB Victory
Snettern, England, July 6-7th, 2013 - Reigning MCE British Superbike Champion Shane 'Shakey' Byrne endured the toughest weekend of the 2013 season so far at Snetterton in round five of the series but the Rapid Solicitors Kawasaki rider still ended up victorious taking his seventh win out of the ten races held to date. Honda's Alex Lowes fought back from a problematic time in free practice to enjoy a rich points haul, with a second victory of the season and then a hard earned second place to regain his second place in the MCE Insurance British Superbike Championship in the sun-drenched fifth round at Snetterton. Adding to a highly positive weekend for the Samsung Honda team, Lowes' team-mate, the former three times champion Ryuichi Kiyonari maintained the improvements he had shown in the previous round at Knockhill as he took fifth and fourth places to move into fifth place in the standings. Complete Coverage HERE
---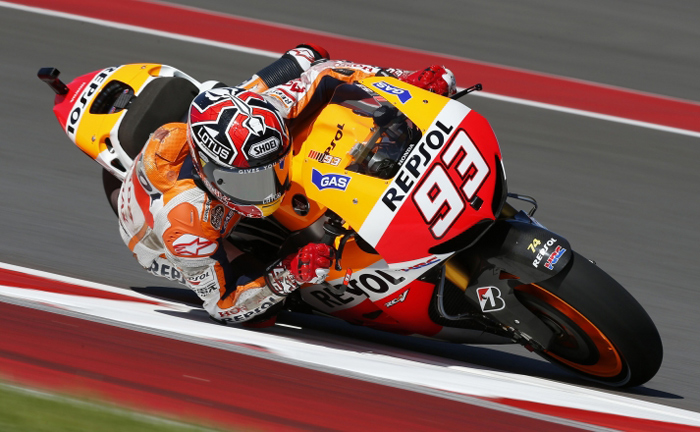 2013 MotoGP World Championship, Sachsenring, Germany, Round 8 of 18
Marquez Wins at the 'RING to Retake MotoGP Championship Lead
Lorenzo Retires Following Sachsenring Free Practice Crash
Sachsenring, Practice July 12th - Yamaha Factory Racing and reigning World Champion rider Jorge Lorenzo will not continue to participate in this weekend's Motorrad Grand Prix Deutschland following a high speed crash this afternoon in the second of the day's free practice sessions. Reigning World Champion Lorenzo had been the fastest rider of the morning session, despite still recovering from surgery just two weeks ago on a collarbone injury sustained in practice for the Assen TT.
The afternoon session had started well with the Mallorcan flying straight into the top of the time sheets with a 1'22.047 second lap. The success was to be short-lived however as less than ten minutes in Lorenzo suffered a huge high-side crash, falling heavily onto the injured shoulder. He was taken immediately to the medical centre for x-rays where it was revealed he had damaged the plate inserted in surgery just two weeks ago. As a result the decision has been made to withdraw from this weekend's Grand Prix. Lorenzo will fly home to Barcelona this evening and will undergo surgery tomorrow to repair any damage.
Team mate Valentino Rossi carried his confidence from his race win in Assen two weeks ago to the morning session and was quickly up to pace and a serious contender in the top group of riders, wrapping in third just 0.194 seconds from Lorenzo in first. The afternoon saw a more complex session for the Italian as the team worked through a number of different settings and tyre choices to get the best out of the YZR-M1 as the track temperature increased. Rossi completed the first day in fourth position in the combined times just 0.2 of a second from the front.
Jorge Lorenzo 2nd / 1'22.047 / 22 laps - "I have decided to go home and recover after today's crash at Sachsenring. I prefer to focus on surgery to fix the plate that was unfortunately bent during the crash. I will try to recover and be back as soon as possible."
Marquez Wins at Sachsenring, Crutchlow is 2nd
Sachsenring, Germany, July 14th 2013 - Marc Marquez (Repsol Honda RC213V) won a brilliant victory in today's German Grand Prix at the Sachsenring, resisting a determined charge from Cal Crutchlow (Yamaha) during the final stages. Marquez's second MotoGP win puts the 20-year-old rookie back into the World Championship lead, two points ahead of Dani Pedrosa (Repsol Honda RC213V) who sat out the race following a heavy tumble yesterday. Local hero Stefan Bradl (LCR Honda RC213V) entertained the huge German crowd by leading the early laps and equalling his best premier-class result with a fourth-place finish.
Marquez started from pole position for the third time this year but was content to ease into the race at a track which is notorious for catching out riders when the tyres aren't fully up to their optimum operating temperature. He was fourth for the first two laps, while Bradl led. On lap three he started pushing forward, moving into third place and then into second two laps later. The following lap, lap six, he grabbed the lead from Bradl, cutting inside the German at the final turn, repeating the move he had put on Valentino Rossi (Yamaha) the previous lap.
Once ahead, Marquez immediately opened a gap of four tenths and by lap 15, half distance, he was 2.3 seconds ahead of Crutchlow who had also moved passed Rossi. Marquez was riding superbly and managing his advantage, which hovered just above the two-second mark for several laps. But then in the last five laps Crutchlow started nibbling away at the gap, taking a tenth here and a tenth there. The final few laps were full of tension as the Briton edged closer still, until halfway through the final lap he was just 1.3 seconds behind. Of course, Marquez had managed the gap to perfection and wheelied across the finish line 1.559 seconds in front.
Marc Marquez, Repsol Honda: race winner - "I am very happy with this victory. It was important to have a good race under the circumstances this weekend, without Dani and Jorge on track. I wish them a speedy recovery, because winning is important but without them the triumph isn't quite the same. Even so, it is a good result, since we have taken the maximum points available and ridden a completely different race to those that we've had before. We led the race and maintained the gap to second place. It was good experience, although I perhaps prefer races that are a little more of a battle! We should be happy, and we have also held up well physically at a circuit where there is no time to rest on the bike. We'll see how it goes in Laguna Seca, which will be a hard GP for me because I've never ridden there. We'll take it step by step and remain calm whilst we get up to speed."
Dani Pedrosa, Repsol Honda: Did not start - "This morning I had my check up in the medical centre and I felt okay. My shoulder was painful but otherwise I felt fine. The doctors declared me fit to take part in warm-up. Then shortly before the session I began to feel dizzy again and my blood pressure dropped. The doctors came to see me in my truck and we decided I shouldn't take part in the session. I returned to my motorhome to rest and still felt dizzy and sick. The doctors arrived at my motorhome and informed me that they did not consider I was okay to race and would therefore declare me unfit."
RESULTS MOTOGP RACE: (30 laps = 110.13 Km)
POS / RIDER / NAT. / TEAM / MOTORCYCLE / TIME / KM/H / GAP
1 / Marc MARQUEZ / SPA / Repsol Honda Team / HONDA / 41'14.653 / 160.2 /
2 / Cal CRUTCHLOW / GBR / Monster Yamaha Tech 3 / YAMAHA / 41'16.212 / 160.1 / 1.559
3 / Valentino ROSSI / ITA / Yamaha Factory Racing / YAMAHA / 41'24.273 / 159.5 / 9.62
4 / Stefan BRADL / GER / LCR Honda MotoGP / HONDA / 41'28.645 / 159.3 / 13.992
5 / Alvaro BAUTISTA / SPA / GO&FUN Honda Gresini / HONDA / 41'36.428 / 158.8 / 21.775
6 / Bradley SMITH / GBR / Monster Yamaha Tech 3 / YAMAHA / 41'39.733 / 158.6 / 25.08
7 / Andrea DOVIZIOSO / ITA / Ducati Team / DUCATI / 41'44.680 / 158.2 / 30.027
8 / Aleix ESPARGARO / SPA / Power Electronics Aspar / ART / 41'44.977 / 158.2 / 30.324
9 / Nicky HAYDEN / USA / Ducati Team / DUCATI / 42'00.008 / 157.3 / 45.355
10 / Michele PIRRO / ITA / Ignite Pramac Racing / DUCATI / 42'01.795 / 157.2 / 47.142
11 / Hector BARBERA / SPA / Avintia Blusens / FTR / 42'02.477 / 157.1 / 47.824
12 / Randy DE PUNIET / FRA / Power Electronics Aspar / ART / 42'03.176 / 157.1 / 48.523
13 / Colin EDWARDS / USA / NGM Mobile Forward Racing / FTR KAWASAKI / 42'09.081 / 156.7 / 54.428
14 / Danilo PETRUCCI / ITA / Came IodaRacing Project / IODA-SUTER / 42'14.976 / 156.3 / 1'00.323
15 / Claudio CORTI / ITA / NGM Mobile Forward Racing / FTR KAWASAKI / 42'20.183 / 156 / 1'05.530
Pole Position: Marc MARQUEZ 1'21.311 162.5 Km/h
Fastest Lap: Marc MARQUEZ 1'22.066 161.0 Km/h Lap 16
Circuit Record Lap: Dani PEDROSA 1'21.846 161.4 Km/h 2011
Circuit Best Lap: Casey STONER 1'21.067 163.0 Km/h 2008
CHAMPIONSHIP POSITION TILL DATE:
1 MARQUEZ 138, 2 PEDROSA 136, 3 LORENZO 127, 4 CRUTCHLOW 107, 5 ROSSI 101,
6 DOVIZIOSO 74, 7 BRADL 64, 8 BAUTISTA 58, 9 HAYDEN 57, 10 ESPARGARO 52,
11 SMITH 51, 12 PIRRO 36, 13 IANNONE 24, 14 DE PUNIET 19, 15 BARBERA 18.
---
The Doctor delivered at Assen for his huge grandstand of fans
2013 MotoGP World Championship, IVECO TT Assen, The Netherlands, Round 7 of 18

The Doctor Delivers His 80th Premier Class Win at Assen!
MotoGP Race, Assen, June 29th - Valentino Rossi delivered a faultless performance today to win the Grand Prix of The Netherlands, his 80th Premier class victory and his first win since 2010. Having shown race winning pace all weekend in all conditions 'The Doctor' was faultless in today's TT race. The nine-time World Champion held his fourth position from the grid into the first turn then started looking for a way past Stefan Bradl for third. By the second lap he was past and with just 22 laps to go he moved past Marc Marquez into the first corner for second, beginning the hunt for Dani Pedrosa and victory. It took just one lap more and Rossi was able to dive past Pedrosa into the final chicane for a race lead he would hold to the flag, crossing the line to a sea of yellow flags and a well deserved return to form. The win puts Rossi on 85 points, now just two behind Cal Crutchlow in fourth place. Complete Coverage Here
Valentino blew by and pulled away from Honda's Pedrosa and Marquez for the first time this year.
---
New Fast Dates.com Calendar Shoot!
Go behind the scenes at the glamorous Gianatsis Design Studios with beautiful new Calendar Kittens Jessica and Kelsey as they shoot for the FastDates.com Motorcycle PinUp Calendars with photographer Jim Gianatsis. And look for the new 2014 Calendars available right here on July 1st. Order the Calendars!
Videographer: Eric Lundmark; Video Editing and Still photography: Jim Gianatsis; Models: Jessica Harbour, Kelsey Silwinski; Make Up: Victoria Rubell, Music: Special thanks to Neil Sedaka for our theme song Calendar Girl; Modeling Agent: Umbrella Girls USA.
---
Tom Sykes charges to another SuperPole win and race win at Imola.
2013 FIM Eni World Superbike Championship, Omola, Italy Round 7 of 14
Imola World Superbike - 6th Superpole Win for Tom Sykes / Kawasaki,
a Double Race Win, New Lap Record and News World Championship Points Lead
Portimao, Portugal, June 28-30th 2013 - Tom Sykes,Kawasaki Racing Team, continued his untouchable form from qualifying into both 21-lap SBK races at Imola and in taking his second 'double' of the year also he took the championship lead. This was Tom's second such double win in three rounds and with previous championship leader Sylvain Guintoli finally finding bad luck with a DNF in race one, and finishing third behind Tom in race two, Sykes now leads by six points after 7 of 15 rounds have been completed. Complete Coverage Here
---
This Month in the Fast Dates World Superbike Calendar ....
Calendar Kittens and SBK World Superbike umbrella girls Taylor McGunnin and Camilla Chiniquy keep the rain off Carlos Checa's Althea Ducati 1199RS World Superbike at 2011 Miller US World Superbike round. You'll find Calendar bikes like this with beautiful Kittens featured in the Calendar Bike Garage with full specifications and screensaver size pictures.

Order the 2013 Fast Dates Calendar
Calendar Bike Photo Features, Paddock Garage Tuning, Pictorials of our Calendar Kittens in Members Corner
---
There's more! Go to Pit Lane News Previous Week

Also Visit: Fast Dates Calendar News • Iron & Lace Calendar News
Calendar Girl News • Meet the Models • Paddock Garage
Get FastDates.com T-Shirts, Mugs & Photographs from Our Store

MEMBERS CORNER! Calendar Kittens, Paddock Garage, Iron & Lace Garage


Amazon.com Motorcycle Products & Apparel Store



MotorcycleSuperstore.com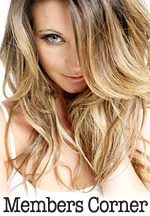 Hot Bikes, Sexy Kittens
Your Exclusive Grid Pass
also includes....
---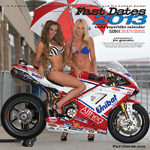 Order the New
2014 / 2013 Calendars!
with FastDates.com Calendar Kitten, Ducati Corse Grid Girl
and Playboy Playmate
Heather Rae Young!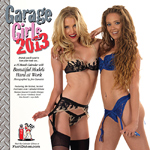 Click for even more Calendars!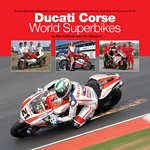 Retail $69.95 ea.
Click to Order from Amazon.com

Ducati Corse
World Superbikes
by Alan Cathcart
& Jim Gianatsis
Kevin Cameron, from a post of Facebook, Jun 15th - "Years ago, I read a description of the difference between a dirt-track car with a flexible stock chassis and a car with a much stiffer, braced chassis. The flexi-chassis car was easy to set up and easy to drive, while the stiff car, with most of its wheel movement in its suspension, was quite sensitive to small setup changes.
The difference is that in the flexi car, if the suspension's a little off, the bendiness of the chassis takes up the slack. In the stiff car, when the suspension isn't right, it gets no help from the chassis, so its shortcomings are magnified and stand out.
The very same is true of roadrace motorcycle chassis: The stiffer they are made, the more critical small setup adjustments become. No place does this seem more true than in MotoGP!"
So how does this relate to motorcycles, and in particular, the new Ducati Panigale Supebike and MotoGP race bikes?
The Ducati 'Monocoque Steering Head' on the previous Ducati MotoGp bike and the current 1199 Panigale Superbike is really too small / short / boxy to offer any sort of flex for compliant handling, be the monocoque made of carbon fiber or aluminum.
Formula One race cars actually employ carbon fibre suspension arms designed to flex, to serve as the race car's only movable suspension. The same idea of flex is found in carbon fibre shaft golf clubs and tennis rackets.
Ducati's too stiff chassis problem in MotoGP application was EXASPERATED because the spec MotoGP Bridgestone tires being used are very stiff and heavy at 20 lbs to prevent sidewalls flex and increase tire reliability on those high horsepower bikes. While in World Superbike the spec Pirelli tires are similar to sportbike street tires and are much lighter at around 12 pounds, and are designed to flex at the sidewall for a more compliant ride.
So the frameless Ducati stressd engine with monocoque steering head design pioneered by Ducati does work well, it just needs a more conventional compliant tire which MotoGP does not allow.
The Ducati 1199S Panigale currently leads in the 2013 World Superstock Championship on Pirelli Superstock tires. The Ducati Corse Panigale is struggling in the World Superbike Class however, because its stock 68mm throttle bodies have been restricted down to 50mm limiting the 1200cc engine to just 195hp, while the unrestricted 4-cylinder 1000cc bikes are make making 220-240hp and have a 10-15 mph higher top speed advantage on the Ducati." - Jim Gianatsis Editor, FastDates.com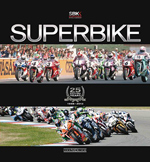 The Official SBK
World Superbikes
1987-2012
25 Year History Book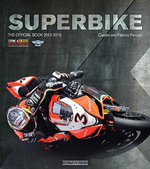 The Official SBK
2012-2013 Yearbook
These SBK Yearbooks are the Best Books Ever about World Superbike. They feature awesome color photography of the riders, bike and racing action. The feature a detailed revue of the past season in pictures and statistics, with a detailed look at the bikes and riders.

Plus a technical look data all the bikes, a preview of the upcoming season's Championship!
We buy this every year ourselves and highly recommend it!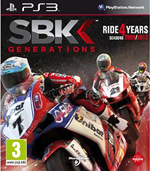 SBK World Superbike Video Game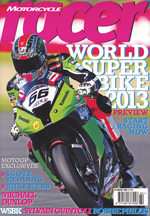 Official Print Media Partner
---
Argentina to host MotoGP™ until 2016 from next year
Thursday, 4 July 2013 -
MotoGP™ is officially returning to Argentina from next season to the newly built Termas de Rio Hondo circuit, which is currently hosting a preliminary MotoGP™ and Moto2™ test.
National Tourism Minister Enrique Meyer was present alongside Dorna Managing Director Events Area, Javier Alonso, to finalize the contract, which will see the premier class of motorcycle racing return to Argentina for the first time since 1999 on a three-year deal.
Meyer commented: "It is a great honour to receive this championship in Argentina in addition to other sporting events that take place in our country such as the Dakar Rally. We hope that the Argentine public can enjoy the top class of motorcycle racing, which hasn't come to our country since 1999, and we will do our best to make sure MotoGP stays in our country for a long time."
During his visit to the track today, Meyer was accompanied by the Governor of the Province of Santiago del Estero, Gerardo Zamora, and the Executive Secretary of the National Institute of Tourism, Leonardo Boto. Together they toured the circuit facilities and greeted the riders of both categories.

Meyer added: "We are getting very good reviews from the riders in relation to the circuit, due to the high speed corners in which competitors test their abilities. We are excited to host this event [the test], which serves as preparation for the Grand Prix in 2014."
"Seeing all the motorcycle enthusiasts that have come to witness the MotoGP and Moto2 test is the most concrete proof that sporting events and tourism are two tools that go together and should be exploited for the better to maximize the benefits for each of the provinces of Argentina."
Erik Buell Sells 49.2% Of Erik Buell Racing Inc for
$25 Million!
July 1st, 2013- It looks like now as it was a very good operation for Erik Buell that 3 years ago Harley-Davidson shut down the former Buell Motorcycle Company. After Harley severed its ties with Erik Buell, he started the Erik Buell Racing inc. firm, launching the EBR's 1190RS flagship model, a limited-edition high-power sports motorcycle. In a very sweet deal for Erik, Bain Capital backed Hero MotoCorp Ltd from India is buying 48.2% stake in Erik Buell Racing Inc (EBR) for 25 million. 15 million in EBR and the remaining $10 million will be invested within the next nine months.

For Hero MotoCorp the objective is to build up a line of better powered sporty motorcycles than its competitors in India, including its former partner and now competitor Honda. Hero MotoCorp is already the largest motorcycle maker in the world by volumes. The Indian motorcycle market of sporty motorcycles is still a low-volume segment, but a high-margin one with rapid expansion. Hero Motocorp will bank on new models from Erik Buell Racing to dominate this market.
Tucker Rocky Case Settles for $500,000 with California Air Resources Board
SACRAMENTO, CA – June 28, 2013 – In 2011, the Air Resources Board (ARB) determined that motorcycle parts distributor Ed Tucker Distributor, Inc., dba Biker's Choice and Tucker Rocky Distributing (Tucker Rocky) was advertising, offering for sale, and/or selling aftermarket critical emission control parts that were not exempted from California's anti-tampering laws. Such motorcycle aftermarket critical parts replace vital original emission components such as catalytic converters, and thus must be evaluated by ARB to demonstrate continued emissions compliance.
Tucker Rocky provided ARB with all needed information during the agency's investigation of the matter, and has further agreed to institute a voluntary compliance plan that will inform its dealers and customers of which motorcycle aftermarket parts are legal for sale in the state. The case was settled in June 2013 with the civil penalty of $500,000 being applied to about 1,356 part violations at a rate of approximately $369 per unit.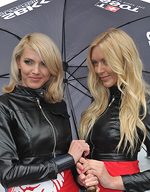 Meet 2013 Calendar Kitten
Jitunka & Petra!

MV Agusta F3 800cc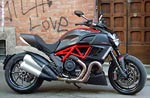 The Devil Made Us Do It!
Testing the Ducati Diavel in Italy
Sudco High Performance & OEM Replacement Parts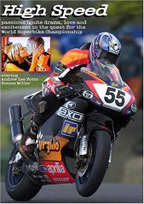 High Speed - the Movie
The best motorcycle racing movie ever made! Filmed on location at the World Superbike races , this an exciting romantic drama staring beautiful British actress Sienna Miller.
---
EDELWEISS OFFERS NEW and AFFORDABLE MOTORCYCLE TOUR ALONG THE DOLOMITES WITH CHALLENGING ROADS, OVERWHELMING MOUNTAIN SCENERY AND ITALIAN CUISINE AT ITS FINEST.
The Dolomites are a must for a passionate biker – come with us on an unforgettable motorcycle tour. The countryside is dominated by mountains, rivers, and gorge-like valleys, which have just space enough for a road and railroad tracks; but there are also bigger towns like Bolzano, where our base hotel is located.

Thinking about Italian culture you will notice quite a big difference from what you may expect; building style, cultures, languages, bilingual road signs and special foods show that varied peoples and ideas peacefully co-exist here. The Sella Ronda is a very good warm-up for the following days and our rides to Penserjoch, Jaufenpass and Timmelsjoch.

Eight more passes are on our schedule for the next day and we will have the opportunity to stop in the nice little town of Cortina d'Ampezzo, well known from the Olympics in 1956. Now it's time to make a decision: go to Venice for sightseeing or collect 10 more passes? Tough call! The last riding day leads us south to the wonderful Lake Garda, with swimming and riding at its best.
Find Out More
THROUGH THE ALPINE WONDERLAND OF AUSTRIA AND SOUTHERN GERMANY – THE ALPS AND LAKES MOTORCYCLE TOUR!
The Alps and Lakes motorcycle tour takes you through a beautiful part of European motorcycle paradise; the Alps. The contrast between the beautiful lakes in southern Germany and Austria and the towering mountains that reach up to more than 10,000 ft is nothing less than breathtaking.
This area is the famous background for the movie "Sound of Music". This vacation offers a little bit of everything: beautiful and relaxing rides through the valleys; some mountain roads and passes; and great vistas and sights, including King Ludwig's castle, Herrenchiemsee, and the historic city of Salzburg. The tour consists of five riding days, one of them is a rest day – which means that you stay two nights at the same hotel.

This is a great opportunity to explore a little bit more, ride around the countryside, walk through town, meet the locals and sample some of the local food. The tour will take you through Germany and Austria, and on the rest day you can even add Italy to your list if you are so inclined.
Find Out More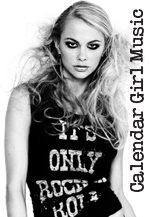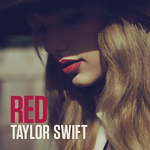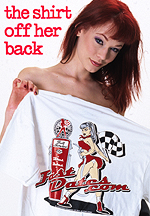 Order the Official
FastDates.com &
LA Calendar Bike Show
T-Shirts!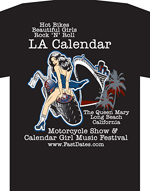 ---
Google Ad