Calendar of the World Superbike Championship
Home of the Official SBK Fast Dates Calendar Kittens

May 2016 Page 2
World Superbike 2016 at Imola
Lorenzo Dominates Grand Prix de France
New 2016 Suzuki, Ducati Kawasaki Triumph
Preview! - 2016 LA Calendar Motorcycle Show
Fast Dates SBK Podium Kittens at Laguna Seca WSBK

Previous Week - More: Pit Lane News
New Model Sportbikes • Editorial Features: Pit Board

• 2016 Aragon SBK World Superbike Davies Ducati Double
• 2016 SBK World Superbike Season Opener Phillip Island
• 2015-2016 IMS International Motorcycle Shows
• 2016 Suzuki GSXR1000
• 2016 Ducati New Models
• 2016 MV Agusta 1000cc FV RC Homologation Superbike
• Jorge Lorenzo - MotoGP World Champion Biography
• Jonathan Rae - 2016 SBK World Superbike Champion
• New 2016 Kawasaki ZX10 - New Bike for the SBK Champ
• New 2016 Triumph Bonnevilles - More Watercooled Power
• 2015 MotoGP Valencia Season Finale - Lorenzo Crowned
• 2015 SBK World Superbike Qatar Season Final & Standings
• Meet 2015 SBK World Superbike Champ Jonthan Rea
• 2015 MotoAmerica Superbike Season Finale
• 2015 LA Calendar Motorcycle Show - Complere Coverage
• Fast Dates SBK Calendar Kittens at Laguna Seca 2015
• Laguna Seca SBK World and AMA Superbike
• Ducati 1199R15 FastDates Review, Seup and Test
• Honda RC213V Moto GP Streetbike Replica goes on sale
• Victory Motorcycles Buys Brammo Electic - Races Isle of Man
• Corsa Motoclassica 2015 Willow Springs Racway
• SBK Superbike 2105 Media Guide - The Bikes, The Riders
• MotoGP 2015 Season Preview - The Bikes and Riders
• Ducati 1199R15 Homologation Superbike
• Is a New Organizer for AMA Pro Roadracing Enough?
• Dirt Track Girl! AMA Dirt Track Season Final with Shaya Texter
• On Any Sunday - The Next Chapter - Movie Review
• Polais Slingshot 3-Wheeler - Is it a Motorcycle or a Car?
• MotoAmerica Group Takes Over AMA Pro Roadracing
• Fast Dates Edelweiss Tour of the Pyreness Spain & France!
• Fast Dates Shoot with Jitka & Petra at Laguna Seca WSBK
• New 2015 SBK World Superbike Technical Rules Released
• Suzuki MotoGP Bike Preview and Test
• Meet the SBK World Superbike Girls! - Photo Pictorial
• Venice Vintage Motorcycle Rally
• FastDates.com Calendar Video Shoot - Kelsey and Jessica
• World Superbike 25 Years -Maurizio and Paolo Flammini
• Troy Bayliss Race Academy School Misano & Paris 2012!
• Ducati Corse World Superbike Book Cathcart & Gianatsis
• NCR / Poggopolini The Exotic Ducati Custom Bike Shop
• DRE Troy Bayliss Racing Academy - Exclusive at 180mph!
• John Britten Motorcycling's Most Creative Innovator
• High Speed World Superbike Movie with Sienna Miller


NEW! FAST 2016, 2015, 2014 ...
Digital Calendar Magazine Yearbooks
the Bikes, the Builders, the Riders, the Kittens,
the Calendar Bike Show, the World Superbike races
all the 2015 Calendar Pictures, and Special Features...
we take you around the world for the making of the
2015 FastDates.com Calendars
Now in Members Corner

SBK Fast Dates Calendar Kittens
Jitka and Petra On Location
at Lagunga Seca World Superbike &
The LA Calendar Motorcycle Show!

Fast Dates does the Edelweiss
Tour of the Pyreness!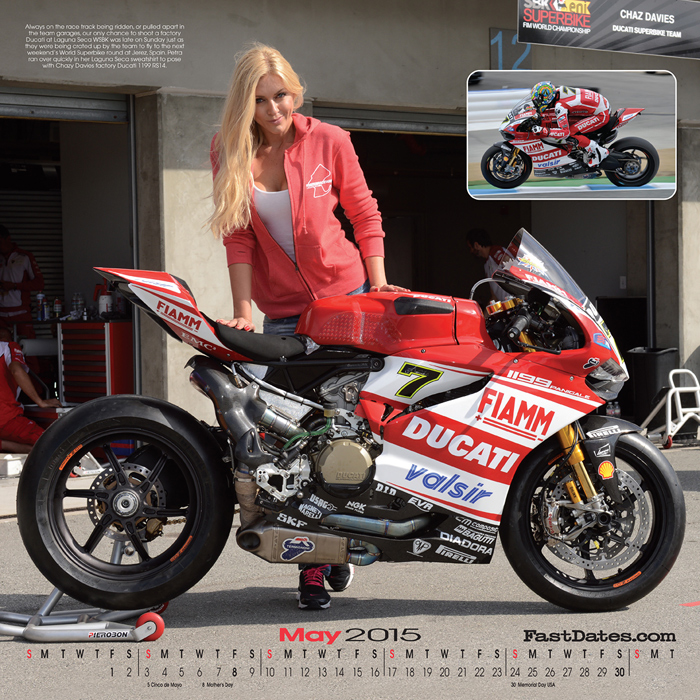 This Month in the Fast Dates Calendar ...
The month in the FAST DATES World Superbike Calendar - our Official SBK World Superbike Podium Kitten Petra Ruzickova gets up close and personal with Chaz Davies' factory Ducati 1199RS Panigale at Laguna Seca USA World Superbike. FastDates.com Calendars are highest quality full color 15 x 15" wire spiral bound printed on heavy art stock revealing 16 months beginning with September.




Order the New 2016 FastDates.com Calendars...


Click on the Calendar Picture Above or Here to Order

See More of the Bikes and Beautiful Calendar Kittens in -

Calendar Bike Garage
and in
Members Corner.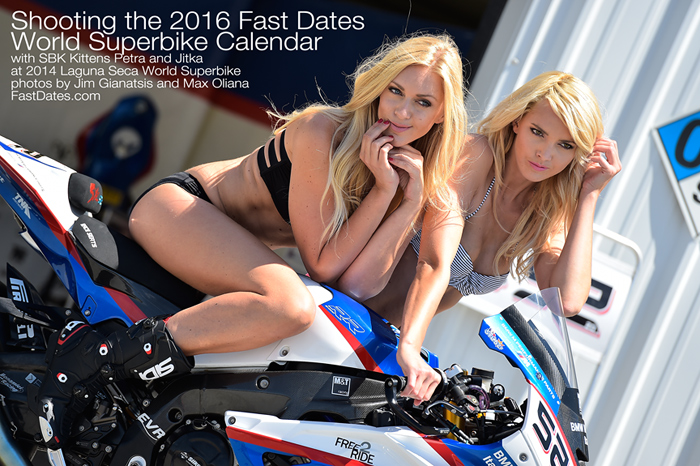 All three Editions of this new 2016 FastDates.com Calendars feature our official SBK Fast Dates World Superbike Calendar Kittens Jitka Pralinka and Petra Ruzickova from the Czech Republic, who spent the summer in America with Calendar photographer Jim Gianatsis to shoot and work at Mazda Raceway Laguna Seca USA World and AMA Superbike, and the LA Calendar Motorcycle Show.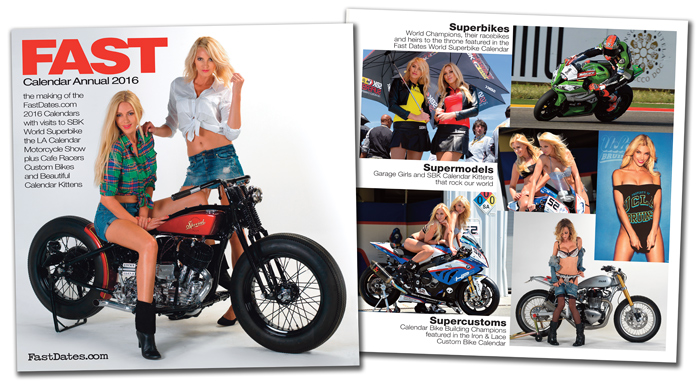 FAST 2016, 2015, 2014 Digital Calendar Magazines


Go Behind the Scenes for the Making of the FastDates.com Calendars!
Each year's FastDates.com Calendar Digital Yearbook features 120 pages of exciting hi-resolution digital photography that takes you with us behind the scenes to our photo shoots at SBK World and AMA Superbike, the LA Calendar Motorcyle Show, and in our photo studio. You'll meet the beautiful Calendar Kitttens in sexy biography pictorials, the top Factory Racers and Custom Bike Builders,and see detailed photo features on the top calendar and race bikes. Take a track day with World Superbike Champion Troy Bayliss at Misano, take an Edelsweiss Ducati World Superbike tour of the Ducati Factory & Museum and across Italy, ride a Vespa scooter around Paris and party at the Crazy Horse and the Moulon Rouge. Hang with beautiful teen rock star Taylor Momsen of the Pretty Reckless. Did we forget anything?

Oh yes, and you'll see every page in the new Fast Dates, Garage Girls, Iron & Lace Calendars!
| | |
| --- | --- |
| | |
Meet beautiful Alissa Bourne & Blake Eden,
our newest SBK Fast Dates Calendar Kittens for Laguna Seca World Superbike and the LA Calendar Motoryce Show this July 2016

May 1st 2016 - Beautiful New York based model Alissa Bourne and Los Angeles based Blake Eden have been selected as the newest FastDates.com Calendar Kittens by Calendar producer and photographer Jim Gianatsis to shoot the next 2018 edition FastDates.com Calendars this July 2016.

Allisea Bourne is as athletic as she is beautiful, first going from high school to attend the University of Maryland on a Soccer scholorship,and graduating with a with a degree in Accounting. But before settling down to aboting corporate office job as an account, this beautiful 5'9" blond who resembles the legendary Marilyn Monroe, thought she'd give modeling and acting a try and made the move to New York where she has found success in both comercial and fashion modeling, and acting. Her credits include an appearance on the TV show "Younger" and the very interesting short story video we've posted below.
Blake Eden is from Phoenix, Arizona, and is a huge motorsports enthusiast. She grew up working in her father's business of buying, repairing and selling cars and motorcyles. Having motorcycles parked in the house was just part of the norm for her, and she was always rebuilding car motors with her dad. Blake rode a KTM dirt bike in the desert, and got heavily into building up and driving cars in Drifting competition. But after destroying her Nissan drift car into a wall, and totaling her new 2012 BMW M3 while drifting on the street, She tell us she's taking a break from owning cars for a while to "settle down". We hope she doesn't settle down too much, but will take her driving passion to the track where the concequences aren't as serious or expensive.

Blake moved to Los Angeles just a year ago to get into glamour and fashion modeling. One of her biggest credits include Penthouse magazine cover Pet and centerfold for March 2016.

The girls' exciting and busy month of FastDates.com Calendar shoots begin with a drive from Los Angeles up the California Coast on Highway 1 to Montery California for the 2016 Laguna Seca USA World SBK & AMA Superbike round July 8-10th to shoot the Fast Dates World Superbike Calendar and serve as official SBK Podium and Gird Girls at Mazda Raceway Laguna Seca.
Following the Laguna Seca Superbike weekend, Alissa and Blake will return to Los Angeles to stay at the Fast Dates Calendar Mansion and Studio and enjoy the sights and shoot with Jim for the Garage Girl Calendar. Then on the weekend of July 23-24th they will be in attendance at the Saturay July 23rd LA Calendar Motorcycle Show at the Sagebrush Cantina in Calabasas to help Jim premier the new 2017 FastDates.com Calendars and help with the Calendar Bike Building Championship awards. Then the following day Sunday the 24th, the Kittens will be at Jim's home and studio to shoot with all the the top custom motorcycles from the Show for the next 2018 Iron & Lace Custom Motorcycle Calendars, and host a house party and concert with the winning bike builders and Show staff. Tickets for the Bike Show and the Private mansion House Party are avaible on the Calendar Show web page here - http://www.FastDates.com/BIKESHOW.HTM

Below is a short freature movie which Alissa recently starred in. Is this Kitten talented or what!
---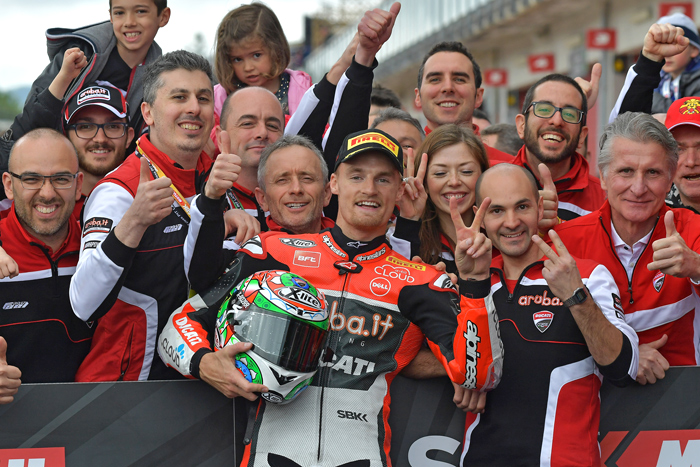 2015 FIM SBK Motul World Superbike Championship, Round 5 of 14 Imola

Chaz Davies' Double Home Victory for Ducati at Imola
Imola, Italy, April 29-30, May 1st, 2016 -The Ducati factory Aruba.it team enjoyed an unforgettable weekend in Imola. After taking the Panigale R to a historic first win on Italian soil in Race 1, Chaz Davies did the double in Race 2. The Welshman's tally also includes Superpole and the fastest lap in both races.

Thanks to another 'holeshot' at the start, Davies managed to impose his rhythm and quickly pulled away from the rest of the field, posting the race's fastest lap with a 1:42.240 in lap 6 and then increasing his lead to five seconds, a margin he administered until the finish line, preceding Jonathan Rea and Tom Sykes.
Playing the brides maid both days, Team Kawasaki's Jonathan Rea and his KRT team-mate Tom Sykes stood on the podium for the second time in two days at Imola, with Rea once more secondon Sunday and Sykes again a close third on their all-new Ninja ZX-10Rs. Jonathan now has a championship lead of 35 points while Tom is third, 32 points from overall second place.

Rea and Sykes rode in tandem at times in the second race of the Imola weekend, which was finally held in dry conditions after heavy overnight rain. Neither KRT rider could get into contention with double race winner Chaz Davies today, despite each making changes for the second race that indicated a positive direction in overall set-up.

Like the first race of the weekend, held on Saturday 30 April, Sykes was just too far back at the end to make a challenge on Rea. Jonathan had to overcome an issue with his electronics cutting out and also almost falling as he ran wide when exiting the slow final chicane in his early pursuit of Davies.

For Rea his two runner-up places keep him in a clear championship lead, 35 points ahead of Davies. Jonathan also maintained his 100% podium record today, having scored ten from ten (including five wins) as he defends his reigning champion status. Rea has now scored 75 podiums in his WorldSBK career.

With two third place finishes at Imola Sykes has now scored seven podiums from ten starts in 2016 and 71 podiums over his career, which includes a world championship win with Kawasaki in 2013. Sykes extended his lead over fourth place in the championship to 48 points today – equivalent to almost two full race wins.

The weekend at Imola was spiked with rumors that Tom Sykes might be moving to Ducati next season. The former 2014 Kawasaki mounted World Superbike Champion certainly hasn't likde playing second fiddle to team mate Jonthan Rea who took the title from Tom last year when Jonthan joined the team, and who leads again in points this season. The change to a new team and a now very competitive Panigalle 1199RS just might be the ticket to return to Sykes winning ways. While over at Ducati Aruba.it, Chaz Davies' current teammate Davide Guigliano, has been very inconsistant and injury prone both last season and so far this year. Ducati would certainly like to bring in a more consistand front runner to parter on their team with Chaz Davies. Team changes in World Superbike aren't usually announced until September, but with Yamaha's Jorge Lorenzo already announced as signed to Ducati's 2017 MotoGP team, there could come an early announcement of Sykes to the Ducati Superbike team as well.

The next round of the championship takes place at the Sepang International Circuit in Malaysia, with racedays on May 14 and 15.

Ducati's Chaz Davies (7) lead the pack from Pole both races this weekend Assen with Kawasaki's team mates Jonthan Rae (1) and Tom Sykes (66) having to play bride's maids.

Jonathan Rea stated: "Chaz made a very good first lap and broke me a little bit but then I felt like I was managing the same pace and maybe even faster. Then I had a huge moment on the exit of the last chicane. I ran onto the Astroturf, which had held moisture from last night's rain. A few laps later, when I was in fifth gear and on full gas, my bike just cut out on the straight. I lost two or three seconds in one lap. It fired into life again but it took me a few corners to relax again. It feels like when we can't win we should finish second and we did that at Imola. It is clear now that there are three guys now at the top of the championship. Every dog has his day and today was not ours."

Tom Sykes stated: "We made some improvements from yesterday but we suffered after losing almost one hour on Friday in practice. Considering the race yesterday I felt a little bit more comfortable with the bike today but when there was a bike in front I was not able to do a good lap time. I was dropping back into the 1'48s and on a clear track I could bring it into the 1'47s. Even on the last lap there was a 1'47.7 and that was with making a mistake out of the final double lefts. So there are positives to be taken from this weekend. You are never happy with third but you also have to be realistic and sometimes be happy with that. Even when we are struggling we are on the podium."

Chaz Davies, Aruba.it Racing - Ducati #7, 1st - "It's just been an incredible week-end, from start to finish. The latest upgrades Ducati brought for the Panigale R in Aragon allowed us to compete for the win in each race. To seize a victory here in Imola, Ducati's backyard, is special. To do a double, is unbelievable. Today the conditions were different, but we were able to create a gap since the first few laps. I made a couple of mistakes in lap 9 that made me lose a second, but also helped me stay focused until the checkered flag. We head to Sepang with confidence, as we have a more competitive package than last year, when we still left Malaysia with a second place and a win. Our goal is to keep the momentum and further cut the gap in the championship."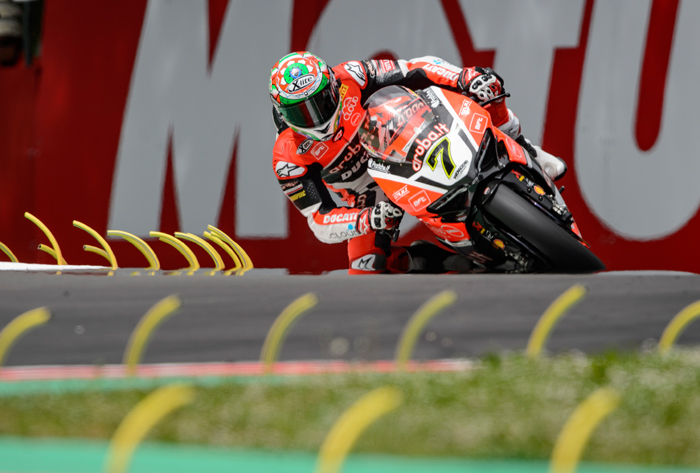 WorldSBK Race 1: Davies takes victory from pole smashinglap record
A stunning performance from Aruba.it rider Chaz Davies saw him take a comfortable victory in Race 1 at Imola, as Kawasaki pairing Rea and Sykes were left to fight it out for the other podium positions.
It was Davies and Rea who got the best starts from the front row of the grid, with Davide Giugliano struggling most as his teammate and the KRT riders got past him at the start of the race. With Davies leading the charge to escape, it was left to Rea, the only man seeming able to stay in touch with the Ducati rider, to try and chase him down.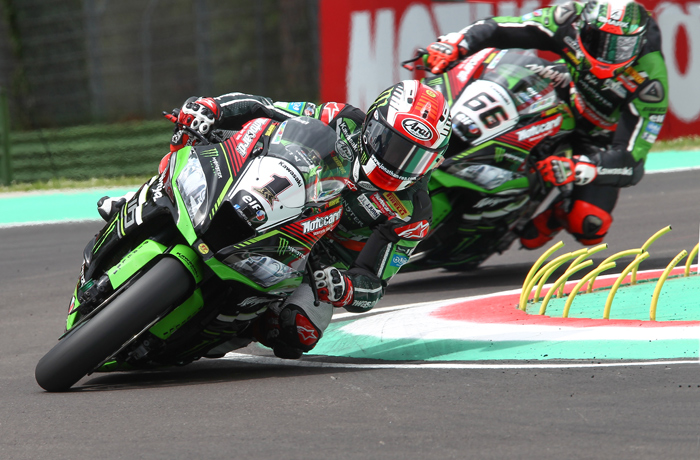 Rea and Sykes tackle the rubber baby bumpers in the tight front straightway chicane at Imola.
With ten laps remaining, the reigning Champion ran wide at Turn 1 and the gap to teammate Sykes suddenly closed, with the KRT riders facing another inter-team battle as the Yorkshireman tried to stay in touch. Rea however managed to recover his rhythm and hold off his teammate to the line to minimize the damage in the Championship after a close challenge on the last lap.
Jordi Torres (81) place a strong 4th in race one on the Althea BMW, and is shown here racing with Leon Camier on the MV Agusta and Hondas' Nicky Hayden.
Jordi Torres, who scored his first WorldSBK podium at Imola in 2015, had a stunning run for P4 on his Althea BMW machine at the team's home race, ahead of second Aruba.it Racing – Ducati rider Davide Giugliano. Leon Camier, after a race of some ups and downs, crossed the line in sixth for another fantastic haul of points for home manufacturer MV Agusta.
Lorenzo Savadori (50) on the Loda Racing Aprilia ran in the top 5 throughout the first part of the race, before the rookie succumbed to the pressure of riders behind. Michael van der Mark, after a difficult Superpole 2, was the winner of the battle for P7 and headed Savadori over the line, who saw the chequered flag in P8 just ahead of Imola rookie Nicky Hayden on the second Honda. Xavi Forés made up ground in the Race on his Barni Racing Team Ducati to lock out the top ten, just ahead of Alex Lowes after a difficult weekend for the Pata Yamaha squad.
Baiocco, Reiterberger, Brookes and DeAngelis completed the points scoring positions, with DeAngelis still suffering with an injury to his left hand at the Round closest to home for the San Marinese rider.
P1 - Chaz Davies - "Johnny (Rea) is always a fast starter so I wasn't expecting to lead into the first corner. I made a good start, put my head down and set some really quick lap times early on. I didn't know how it was going to play out. I don't know what tyre the others guys ran so I don't know if they were a bit harder than me or the same so I didn't how my bike was going to feel in the latter stages of the race. But it felt like our pace was just quick as the other guys if not a bit stronger even at the end. We are very, very happy to win here at Imola. For Ducati it is basically their back garden, so it's really important. Thanks to Ducati and all my team for giving me a great motorcycle and I'm just glad I can show what it is capable of."
P2 - Jonathan Rea "I'm happy, because Chaz had something special today. In the beginning I stayed quite close, until I made a mistake. The problem I had at Aragon and Thailand where the rear locked happened quite a lot in that race so we need to dig deeper and see what's really happening, because as soon as it happened two or three times my confidence dropped a lot. In the beginning I felt good with Chaz (Davies), on the first lap the gap was big but then I managed to keep it stable until I made the mistake. Then that was all it took. Tomorrow is a new day and I'm looking forward to that."
After losing some ground to Davies in Race 1, Jonathan Rea will be aiming for victory number 6 at Imola on Sunday in Race 2, where he has another chance to overtake Carlos Checa as most successful at the Italian track. Davies and Ducati are sure to put up at fight as the lights go out at 13:00 local time (GMT +2). Make sure to stay ahead of the curve on WorldSBK.com.

WorldSBK - Imola Race 1 - Complete SBK Results Here
1. Chaz Davies, Aruba.it Racing - Ducati
2. Jonathan Rea, Kawasaki Racing Team +3.406
3. Tom Sykes, Kawasaki Racing Team +3.729
WorldSBK Race Two : Davies Dominates for a Ducati Double at Home
Aruba.it rider takes a second stunning win of the weekend
Ducati title challenger Chaz Davies threw down the gauntlet to Championship leader Jonathan Rea in Race 2 at Imola as the Welshman again lead off the line from pole position and took a commanding victory. Kawasaki Racing Team's reigning Champion Rea crossed the line second despite struggling with some issues, heading teammate Tom Sykes over the line.
Under worsening skies at the Autodromo Internazionale Enzo e Dino Ferrari, the WorldSBK grid got away on a dry track with Davies leading off the line and the two KRT riders once again able to leapfrog second Aruab.it rider Davide Giugliano. With a few moments for Rea on track that saw him lose touch with leader Davies, the reigning Champion held it together to get another big haul of points towards his title defence. Sykes kept close to his teammate for the majority of the race, but was unable to make a pass on the daunting 4.9km of Imola.
Davide Giugliano was the lead home rider on the second Aruba.it machine, and started from the middle of the front row to come home in P4, making an improvement on his Saturday result of P5. Leon Camier brought more home glory for the host nation as the Brit rode his MV Agusta to another top 5 finish after a best of P4 recently for the Italian manufacturer, adding more points to the ever expanding tally and completing their first weekend of points scoring finishes at the Autodromo Internazionale Enzo e Dino Ferrari.
Giugliano and Lowes battle just behind the race leaders, taking 4th and 6th at the finish
Alex Lowes, after a difficult Superpole 2, fought his Pata Yamaha YZF R1 up into the Top 6 after succumbing to Camier, in front of Jordi Torres as the Catalan Althea BMW rider was left outside the top ten near the start of the race and pulled off an impressive recovery ride. Lorenzo Savadori on his Aprilia made sure there was representation for every manufacturer in the top 8 at Imola, before suffering a problem on the last lap and being relegated to P11 over the line.
Honda duo Nicky Hayden and Michael van der Mark ended the second race of the weekend in P8 and P9 respectively, after a difficult few days in Imola where the Assen podium finishers found themselves further back on the grid than both are used to. Xavi Forés completed the top ten for Barni Racing team on his Ducati, classified ahead of Savadori at the flag.
P1 - Chaz Davies "I'll take that! What a mega weekend. I came here thinking that it was going to be a really tough track for keeping up with our main rivals at Kawasaki. Given their history, they have always been really strong here and Johnny has always been really strong here. I am so proud of the work Ducati have done, giving me such a complete package now. I feel like I can fight for these wins at every circuit, not just the odd circuit here and there. Credit to them, what a result for them at their home race, top step twice, fastest laps and pole. It's a gentleman's set I believe."
P2 Jonathan Rea "In a few places we were still having the same recurring problem but we changed the complete engine character of the bike, so with the harder tyre I was starting to feel good again. I don't know what happened but when I was on the straight here in fifth gear the dashboard switched off and the bike switched off and I thought 'no way, this is the end of my race'. Then I made a shift back to fourth gear, everything came alive again and the lights were going. Maybe the engine management went to sleep for a few minutes! I rejoined but I couldn't catch the same rhythm again, because after the moment I had on the chicane I landed and completely bent the back brake. But I'm really happy because it seems like we have found a good direction. Congratulations to Chaz because he was really strong here and we had no answer."
P3 Tom Sykes -"I'm a little bit disappointed because we definitely had the speed to go for second. But unfortunately when I was battling with Jonathan I really started to struggle on some corners. His ZX-10R was where I wanted to put mine. Like on the last lap we had maybe half a second gap to Jonathan, I was able to put the bike where I wanted to and the lap time was very good again. So that's my only concern from that race, it looks like when we are battling and we are not able to do what we would want on a free track the lap time suffers. So I'm happy, third is third, I don't like making excuses and for the next race we know where to look. We know where we have to improve and we have to keep smiling because we are consistently on the podium now. The next step is to try and be more comfortable and try to fight for the win."
WorldSBK will now go jet set once again as the paddock heads east to Sepang International Circuit in Malaysia for the next Round of the 2016 season.

WorldSBK - Imola Race 2 - Complete SBK Results Here
1. Chaz Davies Aruba.it Racing - Ducati
2. Jonathan Rea Kawasaki Racing Team +4.262
3. Tom Sykes Kawasaki Racing Team +4.604
---
Kawasaki's Jonny Rea (1) leads the pack at Assen with team mate Sykes (66), Ducati's Davies (7) and Nicky hayden (69).


2015 FIM SBK Motul World Superbike Championship, Round 4 of 14 Assen
Jonthan Rea Does the Double TT at Assen, Hayden's First Podium

Assen, The Netherlands, April 15-17th, 2016 -The second 21-lap Assen race provided a double win for Jonathan Rea (KRT), with his team-mate Tom Sykes second this time out, as both riders continue to find success on the new model Ninja ZX-10R. The Sunday race was started in wet conditions but rapidly dried out, meaning all the riders pitted to change tyres at some stage.
Once again Rea proved to have the magic touch at Assen, winning his second race of the weekend, his 9th race in total at the Dutch track and his fifth race victory of the season in eight attempts. He now has a career total of 34 WorldSBK race wins, placing him a clear fourth in the all time race winners' rankings.

At the start of the race, in fully wet track conditions, Sykes took the lead from his pole position grid placing. The changing weather and drying track surface saw him drop back and soon pit to change tyres but in the heat of the tyre change process he went out on intermediate tyres, not the front intermediate/rear slick he intended to use.

When Rea, who was one of six riders to lead the race at some stage as the competitors entered and left the pits at will, stopped for dry weather tyres he returned to the fray at strong pace, after finding the grip level for a lap. He and his team-mate Sykes, who had pitted for new rubber first, finally competed for the race win in the final laps.

Rea ran out the winner by 2.442 seconds, extending his championship lead in the process with his second double win of 2016.

Sykes' intermediate rear tyre had an effect on the outcome of his race but in finishing second, after a day one crash and no score, the 2013 world champion recovered in great style and scored 20 highly valuable championship points.

In the overall championship table Rea leads by 45 points, from today's race two fifth place rider Chaz Davies. Sykes is third overall, now 32 points ahead of the fourth place rider. Kawasaki leads the Manufacturers' Standings by 44 points with the new model Ninja ZX-10R.


Jonathan Rea, "Our target this weekend was to increase our championship lead and we did that. I said to Pere my crew chief before the start of the race that the track should dry out pretty fast. We have had previous experiences like that. I have no idea why I go so well at Assen. It is nothing to do with the track itself. We got a double victory but it was not like Australia where I had more pace than the rest. We controlled the situations this weekend when we had to, we were calm and clever when we had to be, and as a team our strength shone through to get two strong results. We got the maximum from what we could achieve here so I am super, super, happy with that. Our stars aligned this weekend and it worked out, so I am just happy."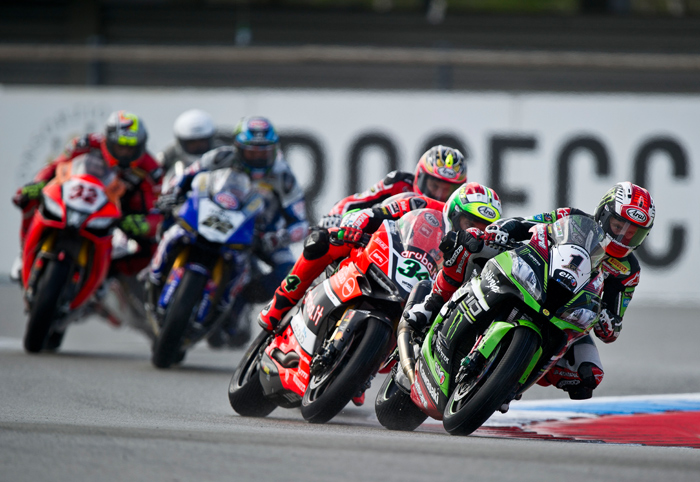 Rea (1) leads Ducati's Guigliano (34) who would crash out and Davies (7) midway in Race One.
World SBK Race One: Rae takes the Victory, Chaz Hangs close, Hayden's first podium
Saturday, 16 April 2016 - Kawasaki rider Jonathan Rea as won Race 1 at the TT Circuit Assen as he cements his place as second most successful rider at the Dutch track. Chaz Davies took a well-fought P2, and Honda rider and MotoGP Legend Nicky Hayden got to the WorldSBK podium for the first time.
After a great start for the front row, Tom Sykes lead from pole and was followed off the line by KRT teammate Jonathan Rea as both Kawasakis took off in the lead of the race. After a mistake by Sykes, Rea then passed the pole-sitter as the Ducati of Chaz Davies fought to catch the two, eventually getting past both as the lead group started to concertina.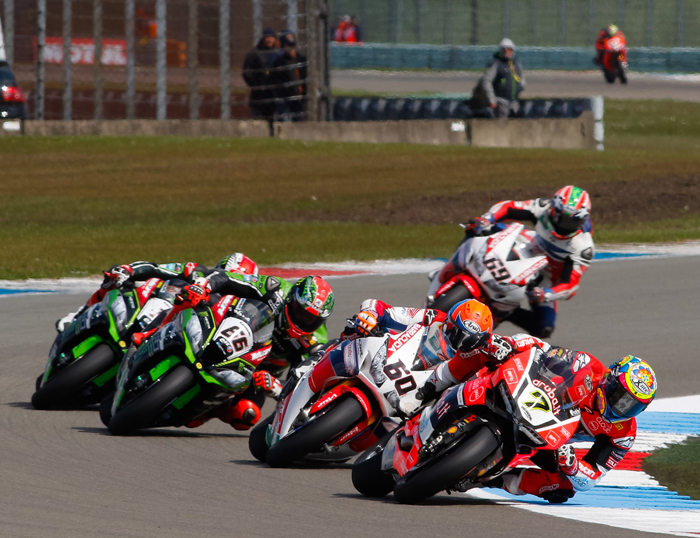 Sykes was the first of the frontrunners to falter as the Kawasaki rider lost the front into T16, crashing out of the race but escaping unharmed. The group of Rea, Davies, van der Mark and Hayden was left out front in the race, with the Welshman heading the group.
Van der Mark, Davies and Rea fought for the lead in a spectacular showcase of WorldSBK, before the Dutchman sadly pushed too hard and lost his Honda, sliding out and leaving his rivals to a duel won by Rea. Honda teammate Nicky Hayden, after playing a patient game in P4, earnt his way to his first podium in World Superbike with a ride that shows he know has the measure of the Honda, and the Pirelli tyre.
MV Agusta recovered from disappointment in Aragón as Leon Camier fought his way back from being denied entry to Superpole 2 by finishing in an incredible P4, a great haul of points and show of pace from the Italian factory and a well deserved reward for the hard work put in by team and rider.
Pata Yamaha pairing Sylvain Guintoli and Alex Lowes suffered mixed fortunes in Tissot-Superpole and in Race 1, with the number 50 Yamaha of Guintoli starting from the front row and unfortunately ending his first Race in the Netherlands too early with a trip to the gravel. Teammate Lowes fought back from a crash in Superpole 2 to run in the top 6 before ending his race in P8.
BMW riders Markus Reiterberger and Jordi Torres, after graduating from Tissot-Superpole 1, both ran close together in the top ten until Reiterberger ran off track, leaving teammate Torres to take another top 5 finish as the flag fell, with the German recovering to an impressive 7th, just behind lead Aprilia Lorenzo Savadori. Savadori recorded his best career result to date by coming home P6 as the Noale factory continue to improve and the reigning STK1000 Cup winner continues to impress, and the Kawasakis of Roman Ramos and Lucas Mahias, replacing Sylvain Barrier, closed out a top ten in Race 1 in which every manufacturer was represented.
WorldSBK will be racing once again on Sunday at 13:00 local time (GMT +2), as van der Mark endeavours to take the same pace to the end of the race, and Rea aims for another double at the TT Circuit Assen.
WorldSBK Results Race 1- Complete Results Here
P1 - Jonathan Rea - Kawasaki Racing Team
P2 - Chaz Davies - Aruba.it Racing - Ducati +1.662
P3 - Nicky Hayden - Honda World Superbike Team +5.365
Jonathan Rea, Kawasaki Racing Team P1 - "The front group was good, because it was four guys and some typical Assen racing. I put my head down with a few laps to go. I mean Chaz (Davies) did a great job at the start because it is really hard to lead here with the wind. When I hit the front it was hard. I'm so, so happy because I feel like we've been on the back foot now since Aragon and even the start of the season. So to score 25 points here is great. I want to thank all the Dutch fans because they give me a great reception when I come here every year. Thanks also to my team for the hard work and for keeping my spirits up, because honestly after Aragon we felt a bit deep in the sea and now we feel like our heads are above water."
Chaz Davies, Aruba.it Racing - Ducati P2- "I finished the front tyre with about five laps to go. I was pushing and trying to manage it the best I could whilst I was leading and obviously Michael (van der Mark) hit the front, then Jonny (Rea) repassed him and I was prepared to get stuck in, but on the first corner of the last lap I tucked the front big time. I am so lucky to be standing here really, it just went and went and went, for what felt like a second and the bike gripped and then came back. At that point I just didn't have a front tyre to attack in the last laps. But it's 20 points and not so bad."
Nicky Hayden, Honda World Superbike Team P3 - "It was a really fun race. It was really going into the unknown, we just had a couple of laps in the dry in qualifying. It was pretty intense off the grid but I got a great start and I was able to hang there. The other guys were a bit quicker than me but I thought maybe I was going to have something left at the end. Then Michael (van der Mark) crashed and I thought, you know what I should just take this podium, get these points, put them on the board and learn from it and hopefully put up a better fight tomorrow."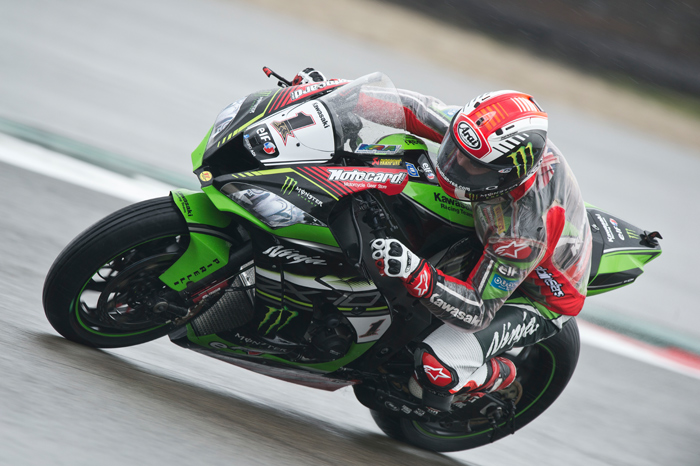 Race Two started in the rain with groved wet tires for wet track, but it quikly dried an the riders had to stop to change to dry slicks.
WorldSBK Race Two: Rea Completes the Pair, van der Mark Excites the Crowd
Sunday, 17 April 2016 - KRT rider Jonathan Rea took another incredible win in the Netherlands in Race 2 as a half-wet half-dry race saw tyre decisions play the key role. Joined on the podium by teammate Tom Sykes and local hero Michael van der Mark, Race 2 was characterized by nervous glances at the sky as the riders dealt their cards.
Sunday morning initially brought better weather to the TT Circuit Assen, with the sun breaking through the clouds to give the Dutch track a crisp, clear morning. With a lower breeze after the wind caused issues on Saturday, the race looked set to be in dry conditions, before a deluge interrupted World Supersport and saw a Wet Race declared for WorldSBK.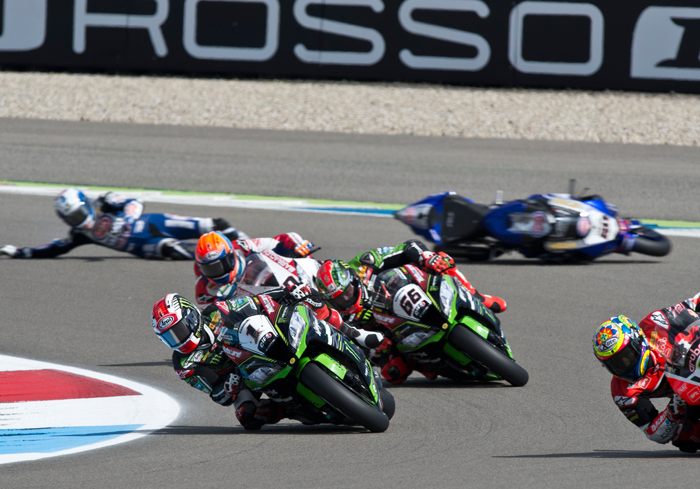 Exciting Race Two action after pit stops for a change to dry tires sees Chaz Davies going wide and Sam Lowes crashing out as Rea (1) dives inside with Sykes (66) and Van der Mark (60) in their battle for the lead.
With Sylvain Guintoli getting bogged down off the line, the two Kawasakis of Sykes and Rea took to the lead, with Chaz Davies' Ducati and Michael van der Mark and Nicky Hayden's Hondas in hot pursuit. As the conditions caused quick position changes, it was Milwaukee BMW rider Josh Brookes who emerged in the lead, with the damp conditions suiting the reigning BSB Champion.
Saturday podium finisher Nicky Hayden, reigning Champion Jonathan Rea and local hero Michael van der Mark were the challengers, before Rea and Sykes were the first of the frontrunners to dive into the pits for dry tyres as track conditions improved, followed by Van der Mark on the next lap.
As the pack started to shuffle after the tyre changes, Pedercini rider Lucas Mahias found himself at the head of the race, with KRT pairing Rea and Sykes hunting him down, followed by van der Mark. As dry tyres became necessary, reigning Champion Rea took control of the race once again to take another win in WorldSBK and increase his Championship lead. Teammate Tom Sykes made a well-timed tyre change to come home in P2 and recover some earlier lost ground, and Dutch rider Michael van der Mark remembered Saturday's standing ovation after a crash and kept the Honda on the track to take another home podium, keeping his WorldSBK rostrum record at 75% at his home circuit.
2015 STK1000 winner Lorenzo Savadori was another superstar decision maker as the IodaRacing rider took his Aprilia to P4 and his best ever result, followed home by Ducati's Chaz Davies, who was the lead bike for the Borgo Panigale factory once again. Honda rider Nicky Hayden, who had been challenging for the lead in the dry, came home sixth after waiting a little too long to change to slicks, mindful of the grey skies ahead.
Alex Lowes made up ground once again to end the race in P7 on his Pata Yamaha, in front of Davide Giugliano on the second Aruba.it Ducati. Leon Camier, after giving MV Agusta their best result of P4 in Race 1, again brought home a good haul of points in P9.
Xavi Forés crossed the line to complete the top ten after an impressive showing at the start of the race, in front of front row starter Guintoli on the second Pata Yamaha YZF R1, with the points scorers completed by Roman Ramos, Lucas Mahias and the BMWs of Karel Abraham and Jordi Torres. Josh Brookes, after leading and impressing in the difficult conditions, sadly crashed out and was unable to complete the race on his Milwaukee BMW, but will be encouraged by his incredible early pace.
WorldSBK is back on track at the mythical Autodromo Internazionale Enzo e Dino Ferrari in Imola at the end of April, for the cards to be dealt and played once again.
Jonathan Rea, Kawasaki Racing Team P1 - "I just took my time at the beginning and just tried to stay in the group. I didn't want to go too far in the front as I wanted to judge when the others were going into the pit. Then I took the decision to go in early and it was the perfect choice. We were so calm on the grid, so calm when the rain came and even the team asked me when we were making the pit stop, if I preferred the intermediate or the dry. So I said let's go with the slicks and they put the slicks on. I just took my time then at the beginning, probably a bit too much, and then in the end I had a lot of time to play with. I was so, so happy to win a double here for my team. This gives us good momentum now for the next few races."

Tom Sykes Kawasaki Racing Team P2 - "I think it was unbelievable pace we had, but it was a shame. We have a great wet system here in the Shark helmet and the initial plan was intermediate, then about two seconds late I decided on the slick. I just wasn't able to get my Yorkshire tones through the Shark helmet to Marcel (Duinker). It's a slight shame, second position is not too bad, but sure the slick tyre cost us the race win. We had fantastic pace, the bike was working really well, I just wasn't able to get the power of the ZX-10R to the ground with the cut slicks. Considering yesterday though it was a big improvement and we certainly can build on this for the future now."
Michael van der Mark Honda World Superbike Team P3 - "It's just what we needed after Race 1, when I wanted to win so badly and crashed out of second, but I watched that race back already and I think it was so entertaining! Today was difficult. On Friday I crashed twice in the wet and I was proper scared to go out there. Today was such a weird race. I woke up this morning and the sun was shining and then it rained during the Supersport race. The track was drying, I was trying to take the lead and get away, but on the rain tyre it wasn't possible and I didn't feel safe. We had to go to slick tyres, I waited one lap, I went out of pit lane and the bike didn't work for a couple of laps as the tyres needed to warm up. For me it was an amazing race after the disappointment yesterday. I wanted to win so badly yesterday and today I have taken third place in front of this amazing place and it is like a win!"

WorldSBK Race 2 - Complete World SBK Results Here
P1 - Jonathan Rea - Kawasaki Racing Team
P2 - Tom Sykes - Kawasaki Racing Team +2.442
P3 - Michael van der Mark - Honda World Superbike Team +15.189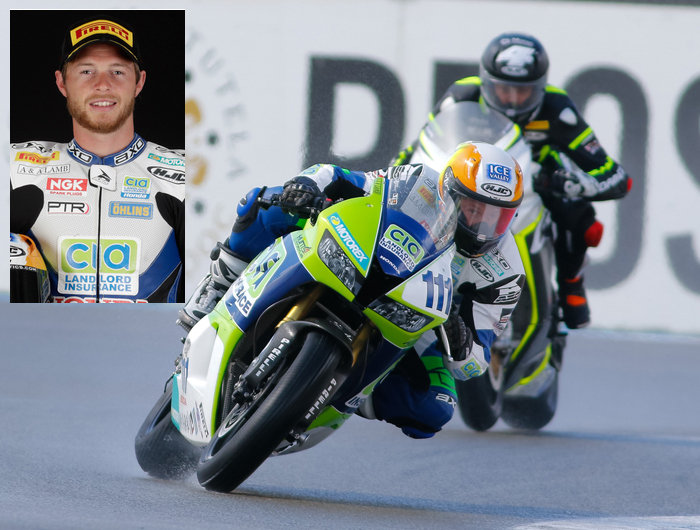 WorldSSP: Smith Takes Victory as Assen Gets Wet
Red flagged and restarted race sees British 1-2 beat Sofuoglu over the line
Kyle Smith won the WorldSSP race at the TT Circuit Assen, with the podium completed by GRT rider Gino Rea and Puccetti reigning Champion Kenan Sofuoglu in incredibly difficult conditions.With the clouds battling the sun for supremacy and the harsh wind of Saturday replaced by a cooler breeze, Sunday seemed to promise better weather would hopefully hold out for the WorldSSP grid as they lined up for another battle.
It was Sofuoglu who got the best start, with PJ Jacobsen slotting into P2 off the second row, leaving poleman Krummenacher in P4 chasing the Triumph of Luke Stapleford. Cluzel began his fight back and was inside the top ten before a sudden deluge hit the track and the red flag came out.
With conditions suddenly treacherous, Jacobsen lost the front before slowing for the red flag and was given the task of pushing his damaged Honda back to the pits to see if it would make the restart. With a quick restart procedure and riders lining up on the grid for that restart in the order in which they saw the red flag, Jacobsen did manage to begin from P1 on the repaired Honda.
With a run off for Cluzel and Jacobsen encountering some smaller issues, it was Puccetti pairing of Krummenacher and Sofuoglu carefully heading the race as GRT rider Gino Rea fought to keep up with the pair on his MV Agusta, with Jacobsen, led by Smith, trying to get back in the podium fight.
Krummenacher suffered a run off at the final chicane that saw him out of podium contention, before Jacobsen lost the Honda in the treacherous conditions. The last lap battle to decide the podium conditions saw Brits Rea and Smith fight off reigning Champion Sofuoglu, with Kyle Smith crossing the line 0.8 seconds clear of Gino Rea to take the victory. Sofuoglu, locking out the podium in P3, gains another small margin of points on teammate Krummenacher, who came home fourth. Assen lap record holder Cluzel will be wanting to forget about the weekend after crossing the line in P18, the second title rival not adding to his Championship tally at Assen.

WorldSSP Race - Complete Results Here
P1 - Kyle Smith - CIA Landlord Insurance Honda
P2 - Gino Rea - GRT Racing Team +0.831
P3 - Kenan Sofuoglu - Kawasaki Puccetti Racing +2.424
---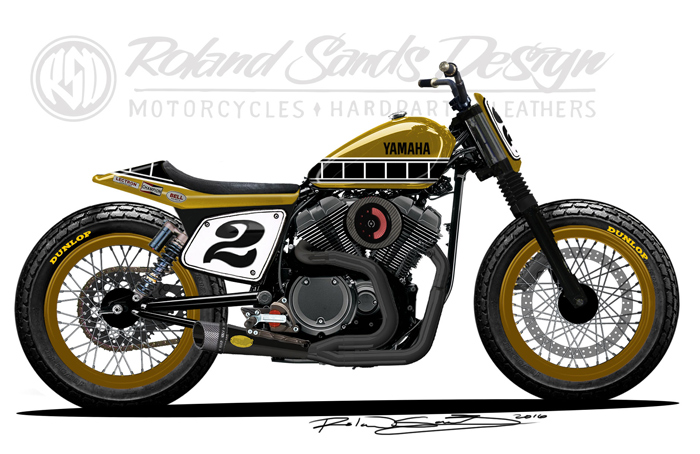 Yamaha Once Again Sponsors True American Heroes Weekend May 13-14th 2016
Hosted By Kenny Roberts;Donates Bolt C-Spec Motorcycle To Benefit Auction
Modesto, CA - April 26, 2016 – For the fifth consecutive year, Yamaha Motor Corporation, U.S.A., is proud to sponsor the True American Heroes Weekend, a fundraising event held at Kenny Roberts' legendary ranch in Modesto, California, to benefit "Welcome Home Heroes" and the Cpl. Michael D. Anderson Jr. Memorial Foundation.
Yamaha has also donated a brand-new Bolt C-Spec motorcycle to the True American Heroes Benefit Auction. The Bolt C-Spec is being customized into a Kenny Roberts flat-tracker tribute bike by Team Roberts, Jeff Palhegyi Design, and Roland Sands Design, with help from Öhlins USA, Two Brothers Racing, and Braap Shop Yamaha in Modesto, CA, and it will be the centerpiece item at the Action. < Additional Details in the Column at Left.
---

A happy Lorenzo at leMans.

2015 FIM MotoGP World Championship, Round 5 of 18 Monster Energy Grand Prix of France
Lorenzo produces perfection in crash filled French GP
Jorge Lorenzo ran away with the French GP, taking a flag-to-flag victory as former championship leader Marc Marquez fell. Rossi and Viñales joining him on the podium.
LeMans France, Sunday, 08 May 2016 - Tension hung in the air ahead of the 28-lap Monster Energy Grand Prix de France as riders in the MotoGP™ World Championship sat patiently on the grid. Jorge Lorenzo (Movistar Yamaha MotoGP) had pole ahead of championship leader Marc Marquez (Repsol Honda Team) and potential podium challenger Andrea Iannone (Ducati Team). Gusts of wind blew across the track as they departed for the Warm Up lap.
Lorenzo made a perfect start as Marquez wheelied off the line, the Yamaha rider leading through the first chicane with Andrea Dovizioso (Ducati Team) behind him. Marquez was soon up to fourth as he charged past Pol Espargaro (Monster Yamaha Tech 3), Valentino Rossi (Movistar Yamaha MotoGP) attempted to follow him through but found himself swamped by the likes of Aleix Espargaro (Team Suzuki Ecstar) and Bradley Smith (Monster Yamaha Tech 3).
As they crossed the finish line for the first time Lorenzo's lead stood at half a second with Dovizioso and Iannone behind. It was not the start Rossi had wanted, able to make up just a single place from seventh on the grid as the second lap began. Dovizioso, who had seemingly banished his recent bad luck, remained strong in second.
Having started last on the grid, home rider Loris Baz (Avintia Racing) was up to 17th by the fourth lap of the race. Local fans cheered him on with each pass, urging the Frenchman forever forward.
Lap four saw Rossi improve his pace, going half a second quicker than his rival Marc Marquez who was just ahead. The pair weren't the only ones closing up, Iannone also making significant progress on his teammate. His charge would be halted on lap seven when Iannone fell at Turn 8. Iannone's fall was followed soon after by Cal Crutchlow (LCR Honda), who suffered his fourth race crash of the year. One lap later, fellow satellite Honda rider Tito Rabat (Estrella Galicia 0,0 Marc VDS) came off at Turn 6. Iannone would re-join the race but eventually retired.
Lap 13 saw Rossi slip past on Marc Marquez, making it a three-way battle for second as Lorenzo continued to run away at the head of the race. Just a few corners later Rossi was up into second place and matching Lorenzo's times.
A thrilling battle for second was brewing until on lap 16 at Turn 7 both Andrea Dovizioso and Marc Marquez crashed at the same time. There was no contact between them, the pair both simultaneously losing the front. Now Maverick Viñales (Team Suzuki Ecstar) was on course for his first MotoGP™ podium and Lorenzo on the cusp of taking the championship lead.
The falls continued and soon Marc Marquez was up in 13th place, despite missing a large section of his side fairing. Lorenzo, 7.8 seconds clear with five laps to go, was having no such issues as he calmly ran his own race. With gaps of at least three seconds splitting the top three, each eased their pace to guarantee a finish in the clearly difficult conditions.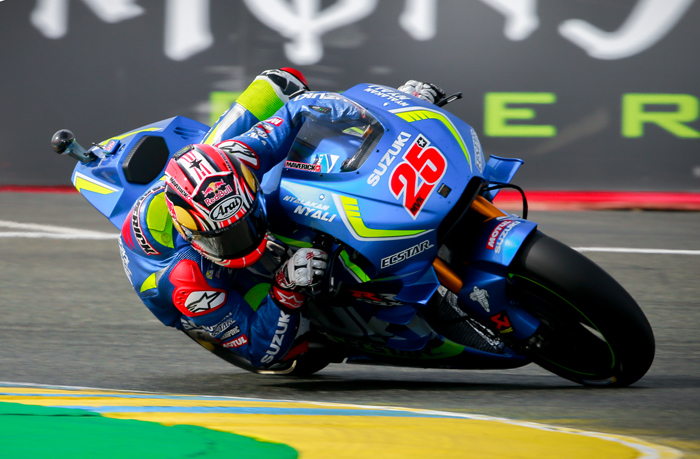 Maverick Viñales finished 3rd on the podium thanks to all the crashers in front of him.
For the second time in 2016, Jorge Lorenzo crossed the line in first place after dominating the French GP. Over ten seconds would separate him from Rossi as the race came to an end. It was a day of celebration for Suzuki and Viñales, the Spaniard taking his first podium finish in the premier class. Viñales' podium is the first for Suzuki since the 2008 Czech GP, making amends for his mistake in Argentina.
Victory sees Lorenzo move to the top of the championship with 90 points, Marquez forced to concede his advantage after the crash. Rossi stays third and is 12 points behind Lorenzo. Marquez, Lorenzo and Rossi now have a mistake each to their name and with only 12 points between them in the championship; the season is only just getting started. The MotoGP™ World Championship now heads to Mugello, Rossi's home round but one where Lorenzo has been the man to beat in recent years. Once again it looks set to be a thrilling weekend in the Tuscan hills.
Dani Pedrosa (Repsol Honda Team) was unable to close the gap to Viñales despite his best efforts and settled for fourth. Pol Espargaro was once again the fastest Independent Team rider as he ended Tech 3's home round in a credible fifth ahead of his brother.
Aleix Espargaro (Team Suzuki Ecstar), Danilo Petrucci (Octo Pramac Yakhnich), Hector Barbera (Avintia Racing), Alvaro Bautista (Aprilia Racing Team Gresini) and Stefan Bradl (Aprilia Racing Team Gresini) completed the top ten. Of the 21 riders on the grid, 13 finished the race.
Scott Redding (Octo Pramac Yakhnich) retired from the race early on, followed by Yonny Hernandez (Aspar Team MotoGP) who crashed from the race on lap seven. While running inside the top ten, Jack Miller (Estrella Galicia 0,0 Marc VDS) suffered a fall, the French GP a war of attrition. Turn 7 claimed yet another victim as Bradley Smith crashed out of his team's home race.
MotoGP™ Race Results - Complete Results Here
1 - Jorge Lorenzo (SPA) YAMAHA 43'51.290
2 - Valentino Rossi (ITA) YAMAHA +10.654
3 - Maverick Viñales (SPA) SUZUKI + 14.177
-----
1st Independent Team Rider
5 - Pol Espargaró (SPA) YAMAHA + 24.931
---

A happy Valentino dominated in Spain this weekend on Lorenzo's (left) and Marquez's (right) home track at Jezerz.

2015 FIM MotoGP World Championship, Round 4 of 1 Gran Premio Red Bull de Espana
Rossi Kicks Butt on Marquez and Loreno's Home Turf
Jerez, Spain, Sunday April 24th 2016
- The Gran Premio Red Bull de España saw Valentino Rossi lead from start to finish, winning from Lorenzo and Marquez with ease. All weekend the leading three were in a league of their own. Rossi, Lorenzo and Marquez had filled the top three spots of almost every practice session and lined up next to each other on the front row of the grid. The three biggest names in MotoGP™ were alongside each other once more and everything in practice had indicated that there was almost nothing to choose between them. As is typical of the Spanish GP, the grid was packed with mechanics, guests and officials but the riders did their best to block it out and run through their race plans.
With all three on the same hard front and medium rear tyres, managing tyre life could very well decide the race but those concerns would come later. The sun beat down on the grid and getting into, and out of, Turn 1 quickly and safety was all any of the MotoGP™ riders were worrying about. Races can't be won in the first corner, but they can certainly be lost. Right hands gripped throttles; riders leaned forward and tensed as the lights came on. Off the lights went, the crowd erupting into applause and cheers as Valentino Rossi made a great start to lead into Turn 1. But he wasn't alone Jorge Lorenzo right behind with Repsol Honda Team duo Marc Marquez and Dani Pedrosa within touching distance.
Perhaps the best start of the race was from Pedrosa who quickly put his RC213V into third midway through the first lap. Across the line they went as the second lap began as the Movistar Yamaha MotoGP pair stretched their lead. Marquez attacked Pedrosa into Turn 6, running wide as his line was blocked. Through Turn 9 Lorenzo launched a similar attack on Rossi, the Italian holding off his teammate as the Hondas clawed back the gap with Marquez now in third.
Fans were transfixed on the leading four, few noticing the incredible start of Eugene Laverty (Aspar Team MotoGP) who was in eighth as the third lap began and the leading Independent Team rider. Andrea Dovizioso (Ducati Team) chased Aleix Espargaro (Team Suzuki Ecstar) for fifth with Maverick Viñales (Team Suzuki Ecstar) on the tail of his Ducati. Dovizioso's teammate, Andrea Iannone (Ducati Team) was having a terrible race, dropping like a stone down to 14th in the opening laps.
All of the leaders lapped in the mid 1'40s, Rossi trying to escape as Marquez looked for a way through on Lorenzo. His lead would soon be over half a second, Rossi upped his pace lap after lap and drew out hundredths of a second at each corner. Before long the gap was at a second, Valentino Rossi seemingly doing as his teammate had done so many times before and breaking the field early in the race. No matter what Lorenzo did he was unable to close in on Rossi nor shake off Marquez.
Disaster struck for Dovizioso on the tenth lap as yet again, through no fault of his own, his race came to an end. The factory Ducati rider was forced to sit up as his Desmosedici GP encountered a terminal issue, forcing him to ride back into the pits and once again make the long walk across the garage to spectate the race.
Rossi and his team had focused on race setting throughout the weekend, 'The Doctor's' work paying off as the gap soon grew to over two seconds as no one was able to match his lap times. Behind him Lorenzo had his hands full fending off Marquez, the Repsol Honda rider not quite close enough to attack but able to apply ample pressure.
Overtakes were scarce at the front but the battle for seventh place produced some thrilling racing, Pol Espargaro (Monster Yamaha Tech 3) leading the group ahead of Laverty. Just behind them Andrea Iannone and Cal Crutchlow (LCR Honda) pushed each other hard for 10th position, not what either rider wanted before the race. In front, Pedrosa had Aleix Espargaro to contend with, Pedrosa working hard to hold off the Suzuki man. Since his fifth in Austin, Espargaro has been in some of the best form of his career after a setup breakthrough.
With over half race distance gone, Lorenzo broke Marquez and opened up a one second lead on his fellow Spaniard. Marquez had chosen to run winglets on his Honda, which assisted with keeping the front end down but also ran the risk of overheating the front tyre over the race. With ten laps to go, Lorenzo hadn't just broken Marquez but he also began to close in on Rossi. A gap that was once three seconds quickly dropped to two and that gap continued to fall by a couple of tenths a lap, would it be enough with eight laps remaining?
His chances of victory would fade as Rossi responded to Lorenzo's increased pace and once again dropped into the low 1'41s. The gap would grow to over three seconds, Lorenzo unable to push any harder and settling to take valuable championship points. Marquez also continued to drop back, his chances of a home victory long gone as he found himself over five second behind Lorenzo.
After a terrible start to the race, Iannone set about making up for lost time and quickly got past Pol Espargaro (Monster Yamaha Tech 3) and ran away with seventh place. This would be one of the last battles of the race as the field stretched out, only a handful of riders within a second of each other.
For the 113th time in his career and the 87th time in the premier class, Valentino Rossi pulled a wheelie across the line to celebrate victory. After the disappointment of Austin, the result is exactly what 'The Doctor' needed. Behind him Jorge Lorenzo took his 100th premier class podium finish and Marquez was able to keep the lead of the Championship, his lead reduced slightly to 17 points.
Pedrosa withstood Espargaro's challenge to end in fourth ahead of the Spaniard.Maverick Viñales (Team Suzuki Ecstar), Andrea Iannone (Ducati Team), Pol Espargaro (Monster Yamaha Tech 3), Eugene Laverty (Aspar Team MotoGP) and Hector Barbera (Avintia Racing) completed the top ten. Alvaro Bautista (Aprilia Racing Team Gresini) crashed out of the race at Turn 11 after battling with Cal Crutchlow in the opening stages.
The Monster Energy Grand Prix de France will seem them do it all again for round five of the 2016 World Championship.
Full MotoGP™ World Championship Results HERE.
MotoGP Results
1 Valentino Rossi Yamaha ITA 45'28.834
2 Jorge Lorenzo Yamaha ESP 00'02.386
3 Marc Marquez Honda ESP 00'07.087
4 Daniel Pedrosa Honda ESP 00'10.351
5 Aleix Espargaro Suzuki ESP 00'14.143
6 Maverick Viñales Suzuki ESP 00'16.772
7 Andrea Iannone Ducati ITA 00'26.277
8 Pol Espargaro Yamaha ESP 00'30.750
9 Eugene Laverty Ducati GBR 00'32.325
10 Hector Barbera Ducati ESP 00'32.624
11 Cal Crutchlow Honda GBR 00'38.497
12 Bradley Smith Yamaha GBR 00'39.669
13 Loris Baz Ducati FRA 00'45.227
14 Stefan Bradl Aprilia DEU 00'47.886
15 Yonny Hernandez Ducati COL 00'47.988
16 Michele Pirro Ducati ITA 00'49.414
17 Jack Miller Honda AUS 00'49.513
18 Tito Rabat Honda ESP 00'53.334
19 Scott Redding Ducati GBR01'05.555
---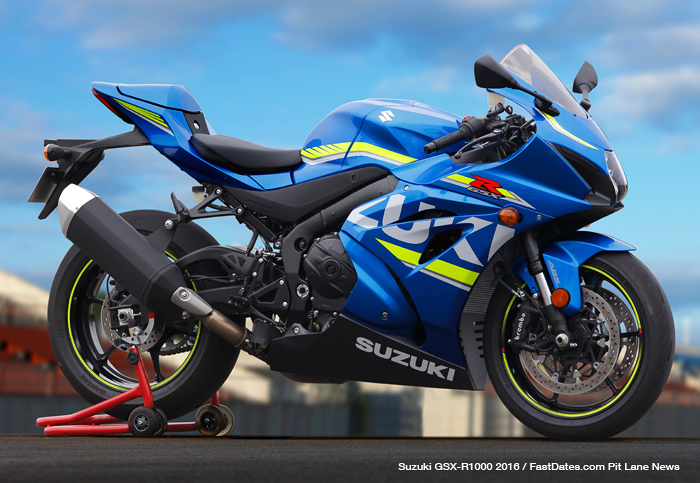 Suzuki has yet to reveal pricing, availability dates and if there are different models of the all new GSXR1000 modieled after their new MotoGP bike.This bike shown above features conventional non-resevoir front forks, bhile the bike describe in the press relases and shown in the studio pictures, has a Gold-anosized frok tubes with gas remote resevoirs.

Suzuki Next Generation 2016 GSX-R1000 -World-Beating Performance. Again.
Nov. 17, 2015 – It has been three decades, with more than a million editions sold, since the GSX-R line was born. And a decade and a half has elapsed since the first GSX-R1000 changed the open sportbike class forever. Now, the concept of the 6th-generation GSX-R1000 is redefining what it means to be The Top Performer. It embodies the life work and professional ambition of Suzuki engineers who are passionate about the GSX-R1000 and its place in motorcycle history. Men who love riding and racing, enthusiasts determined to restore the GSX-R1000 to its proper title of The King of Sportbikes. Know this: It is the most powerful, hardest-accelerating, cleanest-running GSX-R ever built.
It is also the lightest, the most compact, the most aerodynamic and the best-handling GSX-R1000 ever, with smoother throttle response and better combustion efficiency. It's fitted with a supremely effective electronic engine management system that doesn't require a degree in engineering to understand--and doesn't need constant adjustment by a squad of computer technicians to work.
Above all, it is a GSX-R. By definition, it is built to run right and be reliable, and designed to help make each person fortunate enough to pilot the bike a better rider. By plan, it is engineered using experience gained during 30 Years of Domination in production-based Superbike, Superstock and Endurance races worldwide, combined with new proprietary technology developed in the MotoGP World Championship. CONTINUED HERE
---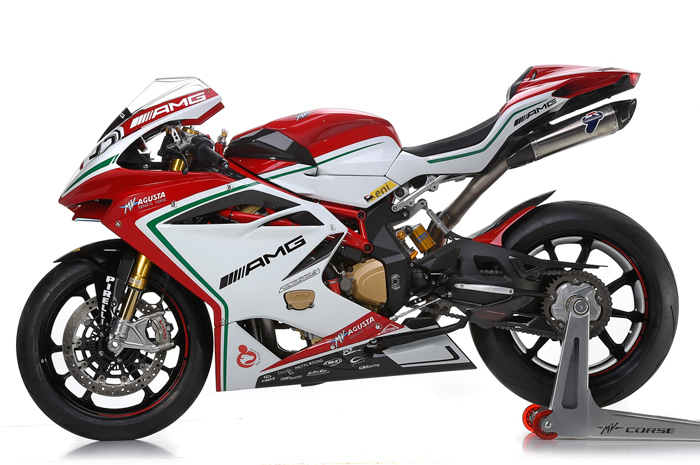 MV AGUSTA Files for Protection to Restructure Its Debt
April 1st , 2016 - There were reports that MV Agusta, the motorcycle manufacturer with considerable amounts of motorsport heritage, had filed for bankruptcy in its country of origin, Italy. This however isn't true as the manufacturer, in a press release, says that it is only restructuring its finances. Certain online reports suggest that MV filed for Chapter 11 bankruptcy, which is a type of bankruptcy that buys the company some time to turn its fortunes around, freezing loans and assessing and saving whatever positive assets might remain. This however was a certain website's way of explaining to its American readers how the section works. MV, being an Italian company, doesn't work according to the US bankruptcy laws.
The past two years have proved to be good for MV Agusta, with 25 per cent of the company being bought over by Mercedes-AMG, and with a claimed thirty per cent increase in international turnover. However, this hasn't been enough to neutralise the debt that the Varese-based company is in.
In fact, this appears to be another low in a past that's been peppered with highs and lows for the motorcycle maker once owned by Count Domenico Agusta. While they once won world championship titles under the Count's supervision, the company wasn't able to match the same quality in their production bikes, which in turn led to flagging sales. Although an attempt was made to revive the brand by Claudio Castiglioni, after which Harley-Davidson and Proton also tried to get the brand going, once again things didn't quite go according to plan. MV Agusta today is once again in the hands of the Castiglioni family, with Claudio's son Giovanni attempting to carry on his late father's work. They have applied for insolvency and are currently looking to get more financiers on board. The company also plans to keep its R&D department in place and try and churn out motorcycles faster. It is also in the process of convincing Mercedes-AMG to increase its stake in the company and thereby pump in additional liquid cash. Mercedes-AMG currently hold a 25 per cent stake in MV Agusta.
MV Agusta is present in the Indian market through Moto Royale, a Kinetic Motors initiative. It is currently in the process of ramping up the number of dealerships as well as bringing in more models in the near future. When asked about the bankruptcy rumours, Ajinkya Firodia, MD of MV Agusta India, said that "MV Agusta has asked Moto Royale to inform any media that MV has not filed Chapter 11 or bankruptcy."
---
Ducati Attends Motor Bike Expo of Verona
with the new 2016 XDiavel and All-New draXter Concept Bike
Borgo Panigale (Bologna, Italy), 22 January 2016 - At the coming Motor Bike Expo of Verona January 22-24 Ducati will be exhibiting a further addition to its new for 2016 XDiavel cruiser world, the all-new draXter. This "concept bike" interprets the XDiavel world from a sports viewpoint. The project was developed by the Ducati Design Center's Advanced Design area, a section dedicated to exploring the future style and design concepts of Ducati motorcycles. This wild dragster inspired sports interpretation of the XDiavel world has been named the draXter

Their ideas and sketches have allowed the Ducati prototype department to come up with the draXter, starting from a standard production XDiavel. The beating heart of the draXter is that of an extreme dragster with premium racing componentry. This is particularly evident, for example, in the suspension and brakes, taken directly from the Panigale Superbike. This styling exercise has accentuated the lines and proportions of the XDiavel making them more extreme than ever and turning the draXter into a unique, breath-taking "racer".
The number 90 on the side of the Ducati draXter recalls the racing world, yet also pays homage to Ducati's 90th anniversary, being celebrated this year.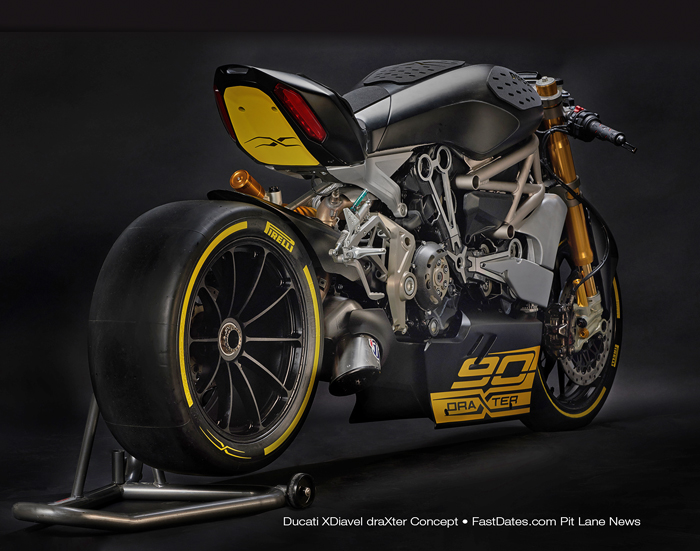 ---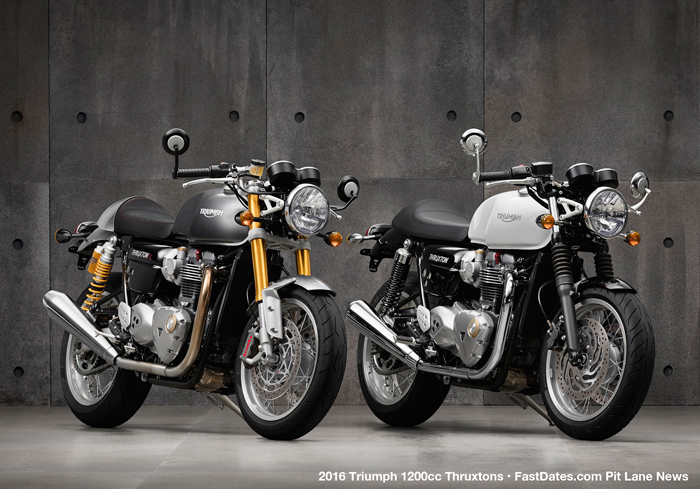 Triumph Annouches an All-New 2016 Watercooled Retro Motorcycle Linuep
Highlighted by the New 120cc Thruxton and Thruxton R Click any Picture to Enlarge

November 1, 2015 - The Thruxton and Thruxton R are two of the five exciting motorcycles in the new 2016 Bonneville family - all with 100% authentic Bonneville character, truly modern capability and performance. Named after the legendary 500 mile Thruxton endurance race series and the Triumphs that dominated it, and which broke the first 100mph lap at the Isle of man TT, the Bonneville 'Thruxton' racers inspired a generation of teenage café racers and custom special builders.

The New Bonneville Model Line Up
Five all new Bonneville models - all with 100% authentic character, beautifully enhanced styling and truly modern performance. The Street Twin is our most contemporary, fun and accessible new Bonneville, powered by an all-new high torque 900cc engine. With its unique character, distinctive sound, stripped-back styling and dynamic riding experience, the new Street Twin is the perfect Bonneville for today's rider and the perfect starting point for personalisation.

The timeless style and iconic character of the original 1959 model is reborn in the classy and authentic Bonneville T120 and effortless cool Bonneville T120 Black. Both crafted to the highest standard of detailing, quality and finish, and matched by the capability and performance of a truly modern classic. Powered by the all-new Bonneville 1200cc high torque engine, fed by beautiful, authentically styled, twin throttle bodies.

The new 1200cc Thruxton and Thruxton R are the real deal. With genuine poise, power and performance, they are the ultimate modern classic café racers. Both with beautifully imposing and authentic styling, they have the power, braking, performance and handling to live up to their legendary name. Continued Here
---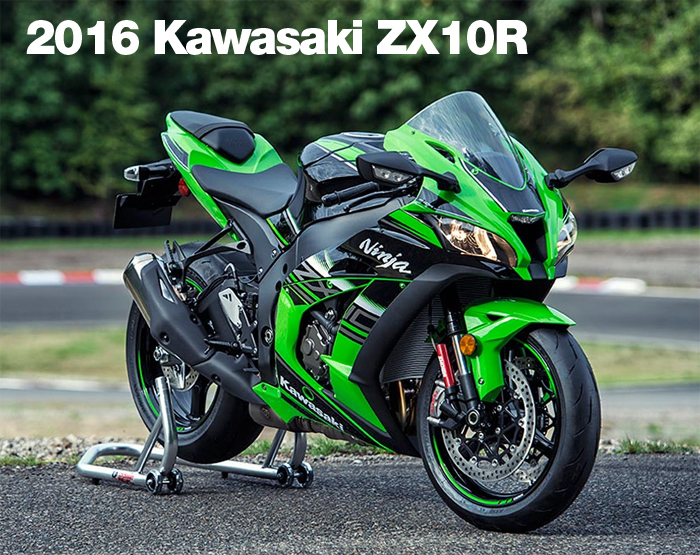 Kawasaki All New 2016 ZX10R
Successor to a 2-Time World Champion - Complete Information and Photos


---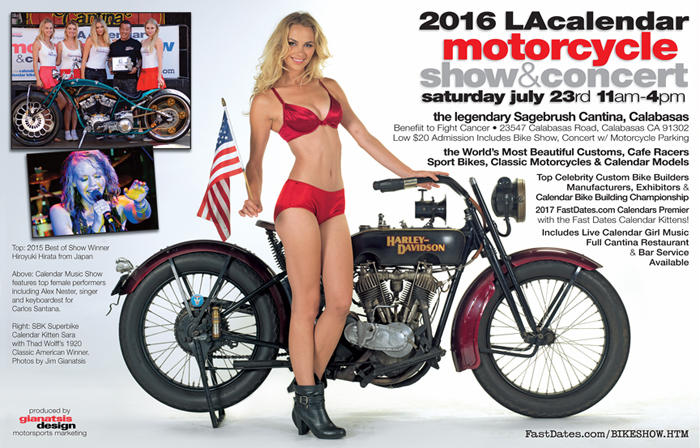 2016 LA Calendar Motorcyel Show returns to the Sagebrush Cantina on Saturday July 23rd
Mark your Caledar now to join us - More Information Here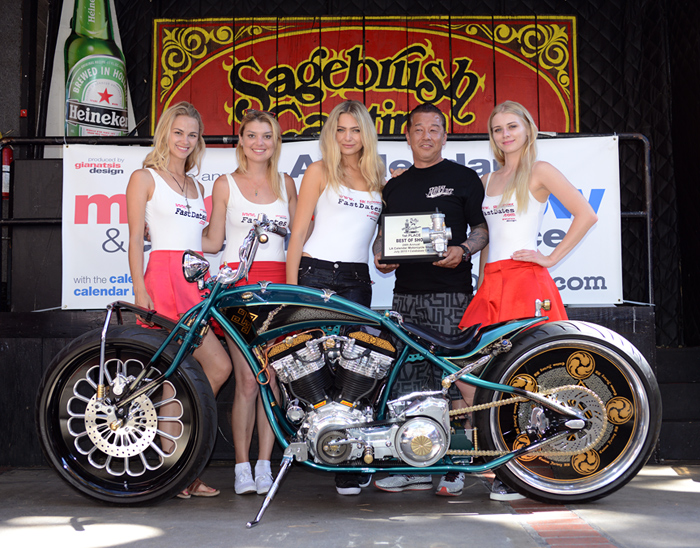 2015 LA Calendar Best of Show winner Hiroyuki Hirata with Calendar Kittens Sara, Apple, Helena and Alena.
Builder Hiroyuki Hirata returns from Japan to take his 2nd Best of Show with "Zero Fighter"
2015 LA Calendar Motorcycle & Calendar Girl Music Show

The Sagebrush Cantina, Calabasas, CA, Saturday July 25th 2015 - The 2015 LA Calendar Motorcycle Show continued its now 24- year tradition as the premier outdoor streetbike event in America as it rocked the legendary Los Angeles biker hangout and party zone, the Sagebrush Cantina in beautiful downtown Calabasas, California. Featured were top Celebrity Custom Bike Builders from across the globe competitiing in the Calendar Bike Building Championship, selected Vendors and Exhibitors, Calendar Girl Music live performances, and an incredibly delicious Sagebrush Cantina Taco Lunch Buffet included with admission. The Calendar Motorcycle Show again benefited the American Cancer Society with a portion of each Admission Ticket being donated to help find a cure.

COMPLETE 2015 LA CALENDAR BIKE SHOW COVERAGE HERE

---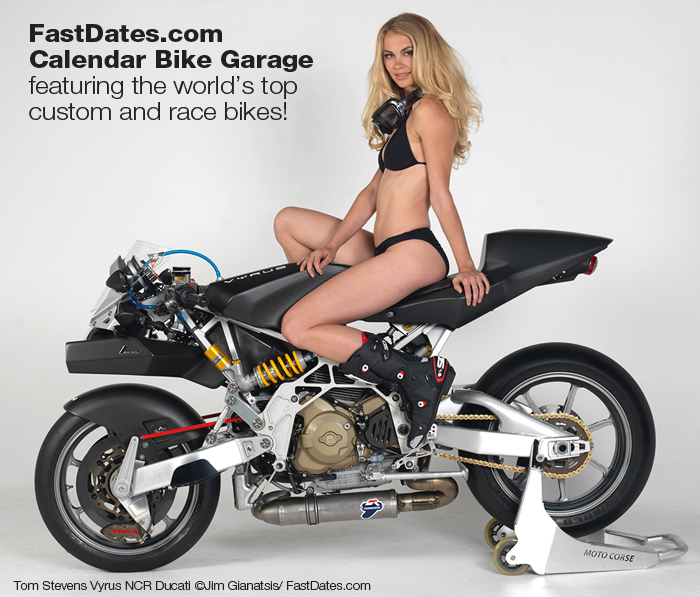 Now in the Calendar Bike Garage... The World's Coolest Naked Ducati!
Beauitful FastDates.com Calendar Kitten Sara takes us for a ride on the world's most exotic and expensive Ducati streetbike
ever - a $110,000 Vyrus NCR 983 Superleggera in the Calendar Bike Garage and in Members Corner.
Now in the FastDates.com Calendar Bike Garage!
David Beckham's Amazon Triumph Scrambler build by legenday Calendar Bike Builder Rickard Pollock / Mule Motorcycles, photographed with Calendar Kitten and Penthouse Pet Aleska in BIG full screen saver size photos.
David Beckham stars in OUTLAWS - a Belstaff Triumph Movie Short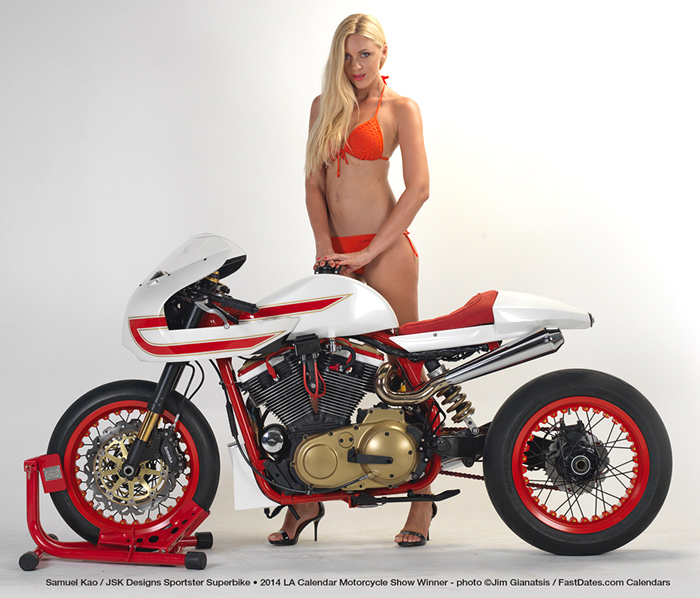 Now in the Calendar Bike Garage... Sam Kao's LA Calendar Show Winner
Beauitful FastDates.com SBK World Superbike Calendar Kitten Petra looks fantastic with Samuel Kao's JSK Desgn Sportster
featured in the Calendar Bike Garage / Members Corner and in the new 2016 Iron & Lace Calendar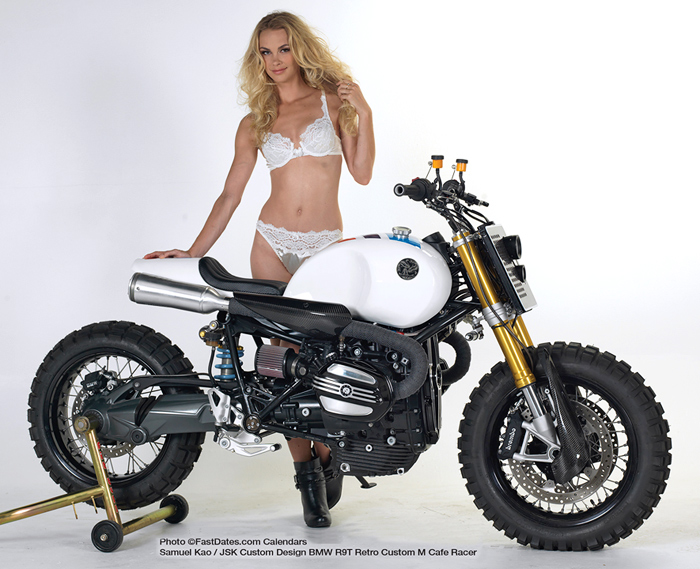 Now in the Calendar Bike Garage...
Samuel Kao's Calendar Bike Show class winning BMW R 90T Bar Hopper with beauitful FastDates.com SBK World Superbike Calendar Kitten Sara featured in the Calendar Bike Garage / Members Corner and in the new 2016 Iron & Lace Calendar
---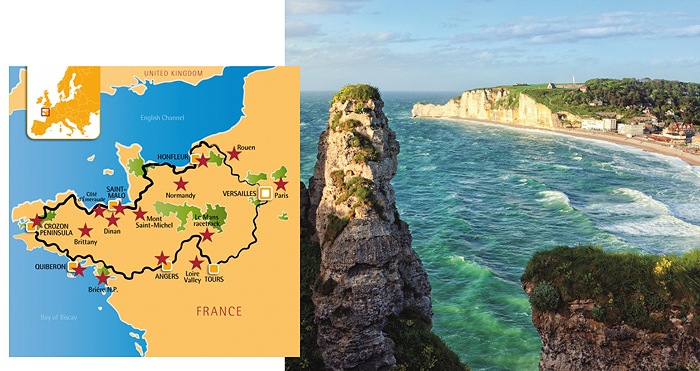 New Edelweiss Motorcycle Tour - From Paris to Omaha, France
Experience the ultimate tour cocktail: rich culture, great landscapes, picturesque villages and superb riding from Paris, the city of love, to the beaches of Brittany and Normandy. You can also join FastDates.com Editor Jim Gianatsis on the August 10-20th 2015 Tour.
Is there a more exciting city than Paris in which to start a tour? You will have the opportunity to visit all of the important sites this city is justly famous for. Backcountry roads will take you to great cultural locations, such as the renowned Châteaux of the Loire Valley. "End of Earth" – that's what the Romans called the western tip of the peninsula of Brittany. We will ride all the way to the end, exploring amazing coastal roads, small villages and beautiful beaches all along the way.
It is certainly one of the most diverse landscapes in France, offering rock cliffs and dunes on the seaside, and moors further inland. Beaches in the area are less populated than elsewhere and are counted amongst the most beautiful in France. History in the region can be traced back to 700,000 years ago and includes the ancient megalithic cultures and the Celtic tribal territories that existed before Roman rule. Today, numerous standing stones and monoliths testify to the rich and lengthy history of the region. The UNESCO World Heritage Site of Mont Saint-Michel is undoubtedly one of the most spectacular sites in France (and all of Europe, for that matter). A monastery and surrounding ancient village are nestled on a small rock off the mainland.
You will see beaches renowned for the military operations that occurred there, one of which is Omaha beach, and the vast war cemeteries, last resting places for thousands of soldiers. More beautiful coastal rides and interesting cities, such as Honfleur and Rouen, will complete our amazing tour, with Paris as our final destination. For complete Pricing, Bikes, and Booking Information visit the Edelweiss Website Here
---
New "Hitting The Apex" MotoGP Movie Trailer
Exciting new MotoGP Documentary Movie by Mark Neale and narrated by Brad Pit. Watch the trailer for Hitting the Apex, Mark Neale's documentary that follows the battle for MotoGP supremacy between drivers Valentino Rossi, Jorge Lorenzo, Marco Simoncelli and Marc Marquez. The film is narrated by Brad Pitt and features exclusive footage and interviews. Hitting the Apex is in cinemas from September 2 and available on DVD and Blu-Ray from September 7th, 2015.

Buy it now on DVD - http://www.amazon.com/exec/obidos/ASIN/B00RCOXUYK/fastdatescomcale
---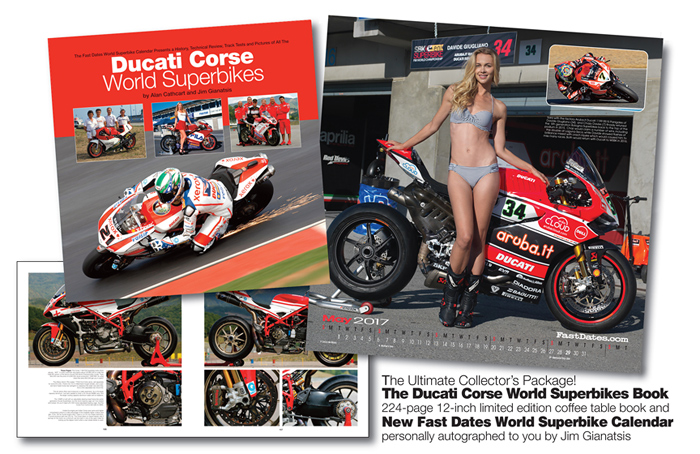 ---
Previous Week -

More: Pit Lane News
New Model Sportbikes • Editorial Features: Pit Board

Also Visit: Fast Dates Calendar News • Iron & Lace Calendar News • Calendar Girl News
Meet the Models • Paddock Garage
Get FastDates.com T-Shirts, Mugs & Photographs from Our Store


MEMBERS CORNER! Calendar Kittens, Paddock Garage, Iron & Lace Garage

Amazon.com Motorcycle Products & Apparel Store
MotorcycleSuperstore.com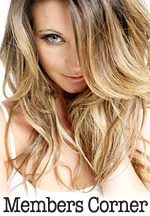 Hot Bikes, Sexy Kittens
Your Excl
Your Excusive Grid Pass
also includes....
---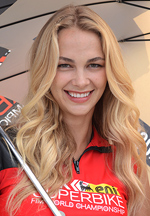 2015 SBK Race Season
Meet the offical SBK
World Superbike Girls!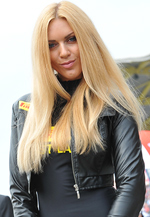 2014 SBK Race Season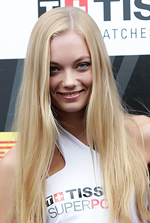 2013 SBK Race Season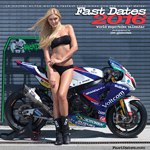 Order the New 2016 Calendars!
with the FastDates.com Calendar Kittens - the official SBK Umbrella Girls!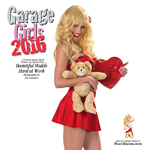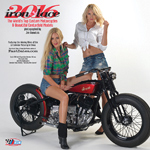 Click Below for more
Calendars!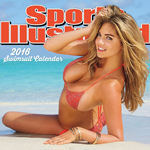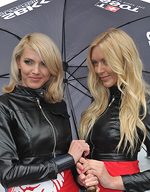 Meet FastDates.com
Calendar Kittens
SBK Grid Girls
Jitunka & Petra!
---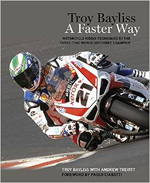 New! Troy Bayliss
A Faster Way
Track Riding Book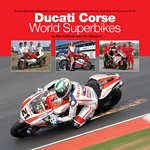 Retail $49.95 ea.
Click to Order from Amazon.com

Ducati Corse
World Superbikes
by Alan Cathcart
& Jim Gianatsis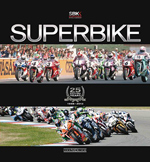 The Official SBK
World Superbikes
1987-2012
25 Year History Book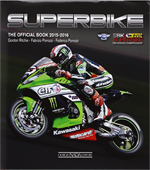 The Official SBK
2015-2016 Yearbook
These SBK Yearbooks are the Best Books Ever about World Superbike. They feature wesome color photography of the riders, bike and racing action. The feature a deailed revue of the past season in pictures and stactics, awith a detailed look at the bikes and riders.

Plus a technical look data all the bikes, a preview of the upcoming season's Championship!
We buy this every year ourselves and highly recommend it!
SBK World Superbike Video Game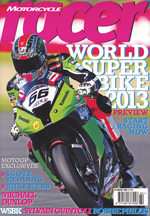 Official Print Media Partner
---
Dorna Turns Down 5 New Team Entry Requests into MotoGP for 2017 due tp lack of Available factory bikes
Monday, 02 May 2016 - On the 21st of March it was announced that applications from existing MotoGP Championship teams to provide a 24th entry in the MotoGP class from 2017 would be invited. The deadline for applications was the 29th of April, on which date the Selection Committee, comprising delegates of FIM, IRTA and Dorna would consider the applications.

Expressions of interest were received from five teams who were then provided with more comprehensive details of the requirements and the financial conditions.

Three teams subsequently submitted official applications for consideration.

The Selection Committee considered the applications and concluded that all three had merit and each, in slightly different ways, had elements that could enhance the MotoGP class.

However, alongside the application process, discussions were also conducted with the Manufacturers to establish the likely availability of competitive machinery for the extra entry. The conclusion from these discussions was that there was reluctance amongst the existing Manufacturers to commit to making additional equipment available, at least for 2017.

It has therefore reluctantly been decided to postpone a decision on the allocation of the additional entry to a later season.

FIM, IRTA and Dorna wish to thank the teams who complied with the application process and apologise that the offer has had to be withdrawn.
Jorge Lorenzo teams up with Ducati in MotoGP for 2017 and 2018
April 18th, 2016 - Ducati announces that it has reached an agreement with current factory Yamaha rider and reigning 2015 MotoGP World Champion Jorge Lorenzo which will see the Spanish rider will take part in the MotoGP World Championship in 2017 and 2018 aboard the Ducati Desmosedici GP of the Ducati Team.
Lorenzo, born in Palma de Mallorca on 4 May 1987, has won five world championship titles throughout his racing career (250cc in 2006 and 2007 and MotoGP in 2010, 2012 and 2015).
2016 SBK Calendar Update
Monza Round Cancelled The FIM and DWO would like to announce the cancellation of the 2016 WorldSBK Italian Round that was to be held at the Autodromo Nazionale Monza during the weekend of the 22nd – 24th July.

Regarding the changes needed to bring the WorldSBK paddock back to Monza, all the bodies involved have requested the FIM and DWO for the time required in order to further analyze the project, with a view to confirming its feasibility in the near future.
(We assume the cancellation was for the ned for track safety upgrades. -Ed)

DWO would further like to announce that the substitute circuit contract with Vallelunga will not be activated, due to scheduling difficulties and the required modifications to the venue that would enable Vallelunga to host a Round of WorldSBK.

At this time, a replacement venue for this Italian Round of the Championship is still being evaluated. Confirmation of both the location and date of the replacement will be provided before the 1st of May, to enable final confirmation of the 2016 WorldSBK Calendar.
Yamaha and Valentino Rossi Extend Contract for 2 More Yeas Through 2018
Losail (Qatar), 19th March 2016 - It is with great pleasure that Yamaha Motor Co., Ltd. confirms that Valentino Rossi will remain a part of the Movistar Yamaha MotoGP team's rider line-up for the MotoGP World Championship season of 2017 and 2018.
The announcement comes after three very strong years by the most-respected MotoGP rider of all time, since his return to Yamaha in 2013.
Rossi has had a very special bond with his beloved YZR-M1 starting from his first race with Yamaha at Welkom Circuit, South Africa, in 2004, which ended in an iconic win. The combination of 'the Doctor' and the YZR-M1 has gone from strength to strength since and together they secured four titles and 53 Grand Prix wins over ten seasons.
With fifteen brilliant podiums and four strong GP victories in the last year, Yamaha is confident in their partnership with Valentino Rossi and looks forward to being a serious title contender for 2016 and the following seasons.
Nicky Hayden was inducted into the MotoGP™ World Championship Hall of Fame at the Valencia GP.

The 2006 MotoGP™ World Champion Nicky Hayden was inducted into the World Championship Hall of Fame as the 22nd MotoGP™ Legend by Dorna Sports CEO Carmelo Ezpeleta in a ceremony held at the final round of the 2015 season in Valencia.
The American announced earlier in the season that he would leave the premier class at the end of the year in order to compete in WorldSBK in 2016.
A three-time Grand Prix winner, Nicky Hayden clinched the 2006 title with Repsol Honda, ending Valentino Rossi's streak of 5 consecutive titles from 2001 to 2005. The popular American will leave the category after 216 Grand Prix appearances, and throughout his illustrious career the 'Kentucky Kid' has been on the podium 28 times, posted 7 race fastest laps and taken 5 pole positions.
Hayden joins a long list of greats that have been made MotoGP™ Legends that includes Giacomo Agostini, Mick Doohan, Geoff Duke, Wayne Gardner, Mike Hailwood, Daijiro Kato, Eddie Lawson, Anton Mang, Angel Nieto, Wayne Rainey, Phil Read, Jim Redman, Kenny Roberts, Jarno Saarinen, Kevin Schwantz, Barry Sheene, Marco Simoncelli, Freddie Spencer, Casey Stoner, John Surtees and Carlo Ubbiali.
Nicky Hayden: "It is really is a great honour to receive this. I do not take it lightly, I know there are people in this club with more illustrious careers and who have obviously won more than me, but regardless I got in there! I am very happy. I mean for 13 years it was eat, breathe and sleep MotoGP. It's been an amazing ride. Of course these last two years have been tough, but I've enjoyed every minute of it, worked with some great teams and rode some great bikes.

I'd just like to thank everybody who has supported me through it all, my teams and my family, I appreciate it all. Thanks also to Carmelo; I think MotoGP - as much as the last weeks have been a little negative - is in a great place. The sport is bigger and better than ever, the tracks are safer and the young talent keeps getting younger and faster. So the future is very bright."

Carmelo Ezpeleta – CEO of Dorna Sports: "For all of us, it's a great pleasure to give Nicky this award - this is not just because you've been Champion and you're one of the riders with most starts in the premier class, but also for your behaviour over all those years, your sportsmanship and your friendship. It's a great pleasure to consider you one of our legends. Thank you for all you've done for the sport in all those years."

MV Agusta F3 800cc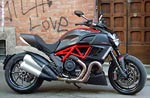 The Devil Made Us Do It!
Testing the Ducati Diavel in Italy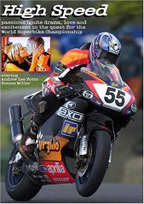 High Speed - the Movie
The best motorcycle racing movie ever made! Filmed on location at the World Superbike races , this an exciting romantic drama staring beautiful British actress Sienna Miller.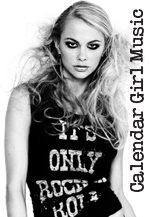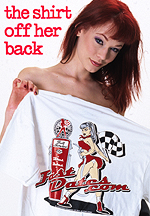 Order the Official
FastDates.com &
LA Calendar Bike Show
T-Shirts!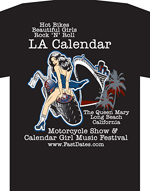 MotoAmerica Needs You!
Road Racing Series Looking For Volunteers For New Season
COSTA MESA, CA, JAN. 19 - MotoAmerica is looking for a few good men. And women. With the new season rapidly approaching, MotoAmerica is seeking volunteers who want to assist the series and be a part of the action that is the 2016 MotoAmerica AMA/FIM North American Road Racing Series.

So would you like to help organize and run the 2016 MotoAmerica AMA/FIM North American Road Racing Championship? MotoAmerica will provide training, camping options, guest and parking passes, plus lunch on Friday, Saturday, and Sunday at each event.
"Last year we had a great turnout of volunteers who helped us with our events in our debut season," said MotoAmerica race operations manager Niccole Cox. "Like MotoGP and World Superbike, we use volunteers to help our staff and it's a system that works well. We really attracted some quality people last year and we're hoping for more of the same this coming season. It's a lot of fun to work with the new people and see how much they enjoy working the races from the inside."

Positions are available at all nine events for track, tire, and grid marshals, technical control, and registration staff. Here is a brief description of those positions:

* Track Marshal: Provides support with motorcycle recovery in the event of a crash or mechanical failure. The race director relies heavily on having a team of well disciplined and competent marshals.

* Tire Marshal: Assists Tire Control Coordinator in paddock, hot pit, and grid to ensure competitors follow tire-allocation regulations. Volunteer will check tire tags on motorcycles as they leave pit out, log tire tags and report any infractions to Tire Control.

* Technical Control: Supports Technical Director to certify racing motorcycles conform to rulebook. Volunteer will help organize paperwork and oversee bikes in Parc Ferme.

* Registration Staff: Helps Registration Manager verify competitors, crew, media, and VIPs have appropriate credentials and parking passes. Volunteer helps with making copies and other clerical duties needed.

* Grid Marshal: Assists Chief Steward help riders follow practice and qualifying procedures and make sure their motorcycles are positioned correctly on the grid for race starts as well as monitors for potential safety risks on the race start.

To apply for one or more of these positions, click on the following link to got to the appropriate page on their website www.MotoAmerica.com
World Supersport on the Verge of Change for 2016
The Fédération Internationale de Motocyclisme (FIM), FIM Europe and DWO are pleased to announce that a new exciting format will be introduced for the upcoming season.
The 2016 edition of the FIM Superbike World Championship will witness a historical change for the important and renowned World Supersport class.

After successfully introducing technical and sporting rule changes in the World Superbike class for 2015, it is time now on focusing efforts on the middleweight series.

In what is its third year as promoter and organiser of the series, Dorna is constantly working side by side with the FIM, teams and manufacturers to ensure the series maintains and improves its level in line with the changes in the motorcycle industry and worldwide economy.

In 2016, the FIM Supersport World Championship will feature new technical rules that will result in major cost saving for the teams involved. The WSS machines' preparation will be similar in all ways to the ones used in the most important national championships, easing the way for local teams to take part in selected races with wildcard rides and increasing the competition between participants.
Furthermore, a new series within the major Championship – following the same technical regulations as the main tier of World Supersport - will be created, which will be dedicated to teams aiming to take part in the European rounds only to promote young talents at much reduced cost. This will provide a chance for a selected number of smaller further teams to increase their visibility on the world stage – with a massive boost in terms of TV presence and appeal – while the riders will have a chance to compete head to head with some of the established stars of World Supersport. The name of the complementary series is yet to be revealed.

As a consequence of this fundamental revamping of World Supersport, the Superstock 600 class will cease to exist.

Ignacio Verneda, FIM CEO: "The modification of the technical regulations in Supersport to reduce costs and increase the participation of riders was logical after the success achieved in World Superbike following similar changes. We are convinced that this step is important for the future of the Supersport class.

Dr. Wolfgang Srb, FIM Europe President: "The promotion of young and hopeful riders has always been high on our agenda. We believe in series that pave - at affordable costs - the way from National via European Championships to the pinnacle of every sport: the World Championship. I am happy that Dorna shares the view of the "pyramid model" and offers with the new Supersport class an attractive European Road Racing series for talented riders. However, I like to underline the fact that the series will be open for riders from all continents. A strong and close competition is paramount for success."

Javier Alonso, WorldSBK Executive Director: "We are happy to announce these major changes to the sporting and technical sides of the FIM Supersport World Championship. We are confident that the new format will bring further and fresh excitement to the series as well as a whole new set of opportunities for teams and young riders with the talent and desire to build a path upwards in motorcycle racing."

The new Technical Rules for the FIM Supersport World Championship will be available soon on the FIM Website.
Motul announced as new WorldSBK Title Sponsor
Solid agreement signed for the next five seasons, from 2016 to 2020.
Marc Saurina, WSBK Commercial and Marketing Director with Roman Grabowski, Motul Motorsport Manager
Details of the agreement between Dorna Group and Motul were revealed at Magny-Cours last Friday during the penultimate round of the 2015 WorldSBK season. Representatives Romain Grabowski of Motul and Marc Saurina of Dorna formally announced to the gathered media and fans the new-look, long-term partnership which will see the Championship invigorated from the start of next year.
Motul, the French company producing high-performance motor oils and industrial lubricants, has a long history in motorsports. It is a key partner for both the FIM and Dorna Group and will make its debut in WorldSBK in 2016, as Title Sponsor of the Championship.
Starting from the forthcoming new season, the series will feature a dedicated combined championship logo in all of its adaptations, as well as a brand-new Motul-SBK product range. This will be launched during the first quarter of next season and is aimed at customers who expect the very best.
In the meantime, racing oils and lubricants will be available for the teams competing in WorldSBK, putting a perfect combination of racing knowledge and skills at the end users' disposal.
Motul has embraced the essence of the SBK Experience and it is now going to offer its guests the closest motorcycle racing experience ever with proximity and accessibility being the key words.
Motul products will be on display within the Paddock for all the Superbike fans attending the races, making this a full partnership which involves fans, teams and Motul guests.
Romain Grabowski, Motul Motorsport Manager said: "We are really delighted to add WorldSBK to the list of motorcycling disciplines we support on a worldwide basis. As with the FIM EWC, WorldSBK teams will be able to use the Motul Factory Line range which is dedicated to racing and which benefits from knowledge gained from the major manufacturers' use of experimental products in MotoGP. This 360° partnership includes the launch of a WorldSBK by Motul product which will be destined for fans of the championship, and we've also got a brand-new 'Motul SBK Experience' concept which from 2016 will allow us to offer our customers a unique experience at each of the season's races. We can't wait for this 2016 campaign to begin!".
Marc Saurina, WSBK Commercial and Marketing Director says: "It is a great pleasure for us to see such an important brand in the history of motorsports joining with WorldSBK's core values. Motul is the perfect partner with whom to develop our concept of brand experience, having a close proximity to the very DNA of production-based motorcycling."