Calendar of the World Superbike Championship
Home of the Official SBK Fast Dates Calendar Kittens

August 2015 Page 1

The Survival of Laguna Seca Raceway
Rossi Retkes Points Lead at Silverstone MotoGP
2015 LA Calendar Motorcycle Show
Fast Dates SBK Podium Kittens at 2015 Laguna Seca
World Premier new 2016 FastDates.com Calendars!

Previous Week - More: Pit Lane News
New Model Sportbikes • Editorial Features: Pit Board

• 2015 LA Calendar Motorcycle Show - Complere Coverage
• Fast Dates SBK Calendar Kittens at Laguna Seca 2015
• Laguna Seca SBK World and AMA Superbike
• Ducati 1199R15 FastDates Review, Seup and Test
• Honda RC213V Moto GP Streetbike Replica goes on sale
• Victory Motorcycles Buys Brammo Electic - Races Isle of Man
• Corsa Motoclassica 2015 Willow Springs Racway
• SBK Superbike 2105 Media Guide - The Bikes, The Riders
• MotoGP 2015 Season Preview - The Bikes and Riders
• 2015 Yamaha YZF-R1M Serious Suberbike Contender
• 2015 Yamaha FJ09 - Yamaha joins Sport Toursing market
• Ducati 1199R15 Homologation Superbike
• Is a New Organizer for AMA Pro Roadracing Enough?
• Dirt Track Girl! AMA Dirt Track Season Final with Shaya Texter
• On Any Sunday - The Next Chapter - Movie Review
• Polais Slingshot 3-Wheeler - Is it a Motorcycle or a Car?
• International Motorcycle Shows 2014/15
• EICMA 2014 Bike Show from Milan, Italy - New Sportbikes!
• Moto America 2015 Race Dates, Loses Daytona 200
• MotoAmerica Group Takes Over AMA Pro Roadracing
• Fast Dates Edelweiss Tour of the Pyreness Spain & France!
• Fast Dates Shoot with Jitka & Petra at Laguna Seca WSBK
• 2014 LA Calendar Motorcycle Show coverage
• New 2015 SBK World Superbike Technical Rules Released
• Suzuki MotoGP Bike Preview and Test
• BMW Concept 90 Cafe Racer - the Boxer Gets naked!
• Meet the SBK World Superbike Girls! - Photo Pictorial
• Ducati 11999 Superlegera - Exotic Superbike
• Venice Vintage Motorcle Rally
• FastDates.com Calendar Video Shoot - Kelsey and Jessica
• World Superbike 25 Years -Maurizio and Paolo Flammini
• Troy Bayliss Race Academy School Misano & Paris 2012!
• Ezpeleta Details Dorna's Control of MotoGP and WSBK
• Ducati Corse World Superbike Book Cathcart & Gianatsis
• NCR / Poggopolini The Exotic Ducati Custom Bike Shop
• DRE Troy Bayliss Racing Academy - Exclusive at 180mph!
• John Britten Motorcycling's Most Creative Innovator
• High Speed World Superbike Movie with Sienna Miller


NEW! FAST 2015, 2016
Digital Calendar Magazine Yearbooks
the Bikes, the Builders, the Riders, the Kittens,
the Calendar Bike Show, the World Superbike races
all the 2015 Calendar Pictures, and Special Features...
we take you around the world for the making of the
2015 FastDates.com Calendars
Now in Members Corner

SBK Fast Dates Calendar Kittens
Jitka and Petra On Location
at Lagunga Seca World Superbike &
The LA Calendar Motorcycle Show!

Fast Dates does the Edelweiss Tour of the Pyreness!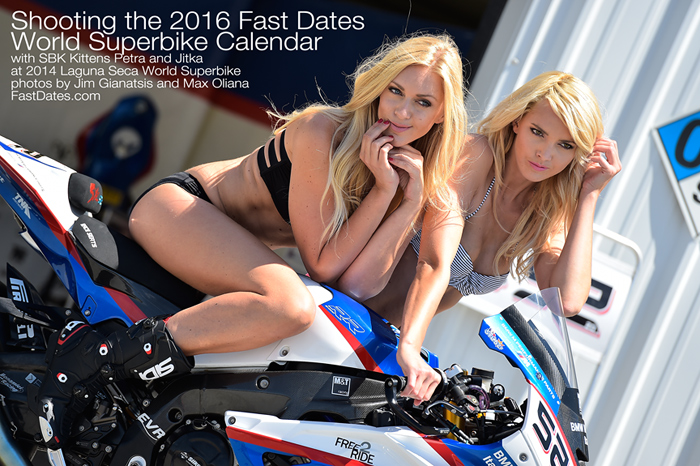 All three Editions of this new 2016 FastDates.com Calendars feature our official SBK Fast Dates World Superbike Calendar Kittens Jitka Pralinka and Petra Ruzickova from the Czech Republic, who spent the summer in America with Calendar photographer Jim Gianatsis to shoot and work at Mazda Raceway Laguna Seca USA World and AMA Superbike, and the LA Calendar Motorcycle Show.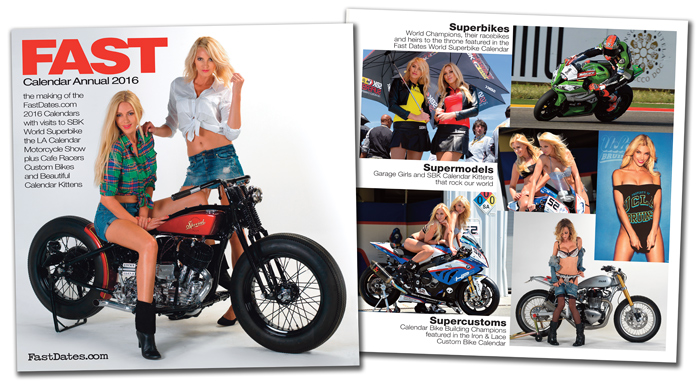 FAST 2016, 2015, 2014 Digital Calendar Magazines
Go Behind the Scenes for the Making of the FastDates.com Calendars!
Each year's FastDates.com Calendar Digital Yearbook features 120 pages of exciting hi-resolution digital photography that
takes you with us behind the scenes to our photo shoots at SBK World and AMA Superbike, the LA Calendar Motorcyle Show,
and in our photo studio. You'll meet the beautiful Calendar Kitttens in sexy biography pictorials, the top Factory Racers and Custom Bike Builders,and see detailed photo features on the top calendar and race bikes. Take a track day with World Superbike Champion Troy Bayliss at Misano, take an Edelsweiss Ducati World Superbike tour of the Ducati Factory & Museum and across Italy, ride a Vespa scooter around Paris and party at the Crazy Horse and the Moulon Rouge. Hang with beautiful teen rock star Taylor Momsen of the Pretty Reckless. Did we forget anything?
Oh yes, and you'll see every page in the new Fast Dates, Garage Girls, Iron & Lace Calendars!
---
A Fast Dates Racebike Calendar classic photo by Jim Gianatsis
Now available for the first time ever for your wall! - Iconic pinup model Cincy Margolis at Laguna Seca Raceway with Jamie James' 1992 Vance & Hines Yamaha OW01 750cc AMA Superbike.
Order at - http://FastDates.SmugMug.com

The FastDates.com Calendars have been shooting at Laguna Seca since 1991 when I shot the 1993 Fast Dates Superbke Calebdar there with celebrity model Cindy Margolis and Jamie James' factory Vance & Hines Yamaha Superbike. Then in 1995 we bagan working with and shoot at the USA rounds of the SBK World Supebike Championship when it first came to the California track. My own personal history with the track goes even further back to 1981 when I was the Fox Shox suspension engineer for the factory AMA Superbike teams, and I also took in a Keith Code racing school there. -JG

Will Iconic Mazda Raceway Laguna Seca Survive?
Call it the "Curious Case of Road Course Confusion in Monterey County."
By Marshall Pruett / Reprinted curtesy of Racer magzine.com

Mazda Raceway Laguna Seca is one of the best, most iconic and legenday roadracing tracks in America. But like many other American roadrace tracks, it could go away. From economic factors, spectators access and amenities, modern internet andTV race coverge, aging motorsports enthusiat demographics, the local Monterey community and its Board of Directors are all conspiring to make it difficult to survive. Here's the inside story from Marshall Pruit on what is taking place and why, reprinted curtesy of Racer magazine.- Jim Gianatsis, Editor

August 15th 2015th - I've followed the murky circumstances that surround Monterey County's desire to replace its current promoter with a new organization to run its Mazda Raceway Laguna Seca property, and as far as I can tell, it's a job no one would want, and it's being offered by a group that's lost touch with reality.

It's such a silly mess of entangled egos and fantasy-based desires, attempting to understand the situation is best served by breaking down the dynamics into smaller sections.

BACKGROUND
Laguna Seca, which held its first event in 1957, was gifted to the County in the early Seventies, and is part of the California State Park system. It's governed by the Monterey County's Board of Supervisors. It isn't for sale. It's located near the splendid Monterey coast, sits atop a mountain, and rests within a dry lake bed.

Laguna Seca was once a very popular destination for IndyCars, sportscars, and continues to host everything from motorcycle races to vintage racing events. The track is about an hour and 15 minutes from a major metro (San Jose), and a good two hours from San Francisco or Oakland. In general terms, it's a destination venue where most visitors top up their fuel tanks and invest a fair amount of time to drive to and from the circuit. From my house, it's about an hour and 30 minutes south without traffic.
The track has a solid assortment of residents who live on the hills surrounding the facility. Those houses are very costly, and their owners have kept the County on a short leash when it comes to noise pollution. Of all the tracks I've visited, Laguna Seca is the most restrictive when it comes to sound. It severely limits the type of events—and even the types of cars—that can make use of the facility. If there's one track that feels like a hushed library most days, it's Laguna Seca.


CHANGES
Laguna Seca gained international fame as one of the most desirable road courses on the planet, thanks in part to the iconic "Corkscrew" corner. It's also hosted some of the greatest series and drivers—from Trans-Am to Can-Am, CART to IMSA, and others—since its inception. It was a genuinely big draw through the early 2000s, and when MotoGP arrived a few years later, its popularity was rekindled.

Sadly, the public's waning interest in road racing over the past decade has seen Laguna Seca host a variety of proven series, some lesser-known championships, and all but MotoGP played to relatively empty grandstands.

Champ Car struggled to draw a crowd, Grand-Am races were almost empty, and even the ALMS suffered in its final years. Continuing the theme, May's visit by the NASCAR-owned TUDOR United SportsCar Championship was lightly attended, and next month's event for the Pirelli World Challenge/Indy Lights season finales are a concern at the box office.

And the phenomenon isn't unique to Monterey County. IndyCar no longer draws a meaningful crowd at many events. In 2015, NOLA, Detroit, Texas, Fontana, and Milwaukee were notable for their poor attendance, and the final two races of the season at Pocono and Sonoma have underperformed in recent years. It speaks to a situation where almost 50 percent of IndyCar's races—road courses and ovals—sell far too few tickets, and IMSA is in a similar situation at some of its sports car races.

As road racing lost its selling power, Monterey County lost Laguna Seca as cash cow to bolster its annual budget. In the simplest terms, the product Monterey County once sold generated significant income, but with a growing apathy towards road racing, a much smaller crowd is willing to make the trek to buy what they're selling. The County, the Sports Car Racing Association of the Monterey Peninsula (SCRAMP), and the series that race at Laguna Seca could spend a fortune on promotions, but if the core product isn't especially desirable, it would take more than a marketing campaign to solve the problem.

And in a final Catch-22, the drop in interest for road racing has resulted in reduced income for Laguna Seca. Without the necessary funding to pay the costly sanction fees required by most of the major series, holding onto MotoGP, or bringing IndyCar back to Monterey, or hosting a round of the FIA World endurance Championship is impossible.

If you've wondered why Laguna Seca went from hosting a number of elite road racing events to a calendar filled with less compelling content, it started with road racing's decline and continues to suffer as fewer fans buy tickets to attend. There are also hurdles to clear when it comes to track rentals and hosting car clubs and amateur racing series between major events. More on that later.

Significant income is needed to attract significant racing series, and without it, Laguna Seca's options are limited to what they can afford or, as vintage racing fans will find this weekend at the Rolex Monterey Motorsports Reunion, whatever events they can create.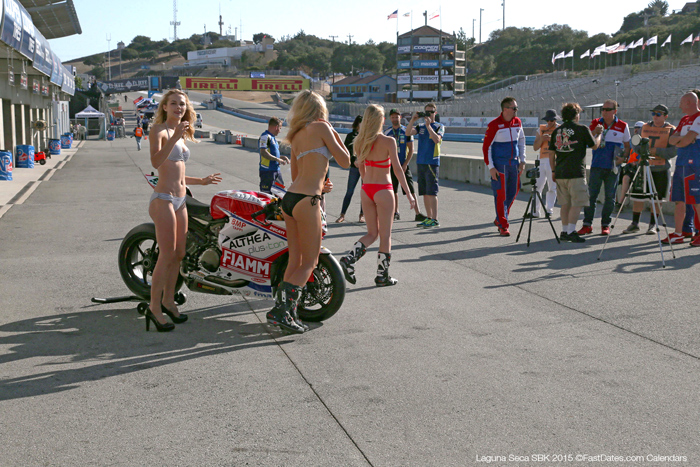 TODAY
In light of the situation above, Laguna Seca faces a series of constraints that makes appeasing the County much harder than anyone might expect. With shrinking income from the track, the County's Board of Supervisors began exploring a change in promoters approximately 13 months ago. If the existing promoters haven't been able to turn things around, why not look towards other solutions? On the surface, it makes complete sense.

The non-profit team from SCRAMP has run the track since 1957, and with growing dissatisfaction from the County, the Board reached out to the NASCAR-owned International Speedway Corporation (ISC) as a possible alternative.
(In an interesting twist, although Monterey County started its search more than a year ago, SCRAMP only learned of the Board's closed-door initiative about six weeks ago. Awkward...)

The County asked ISC to submit a business proposal to take over promotions at Laguna Seca, and of the wishes expressed by the Board, an increase in revenue and major renovation of the rustic facility have been mentioned.

For their part, ISC runs 13 tracks NASCAR has either built or bought, and they have considerable expertise in the field of track management. It's also worth mentioning that of those 13 tracks, only one is a permanent road course (Watkins Glen, ABOVE). The rest are ovals, and in some instances, those ovals have active road courses ("Rovals").

ISC doesn't know much about road racing, but they do know how to run race tracks, and as a for-profit company traded on Wall Street, they offer brand name appeal like no other. For ISC, the invitation to meet and submit a business plan was greeted as an interesting opportunity to explore. According to multiple sources, ISC is presently in a 90-day due diligence phase to assess the track's financials, to consider the Board's wishes, and then determine whether they can meet the County's needs.

MORE BACKGROUND ON SOUND
Before making an attempt to draw any conclusions, we need to take a quick look at how Monterey County governs Laguna Seca, and how those practices influence the current (or future) promoter.

Referring back to the Draconian sound limitations imposed on Laguna Seca by the Board, the track's annual calendar has been created with two key items enforced by the County: A maximum of five major motor racing events and, most important of all, maximum decibel levels every day of the year.

Where most tracks look at an empty calendar and think of the series they want to fill the available dates, Laguna Seca starts with a bizarre matrix of "decibel limit days" granted by the County and works backwards. At present, the track is given 30 days with no sound restrictions, and most of those days are consumed by the five major races.

Track rental days are held to a nearly impossible 90 db limit, while SCCA and NASA club racing events—which have declined in recent years in favor of Sonoma or Thunderhill—are allowed a more reasonable 103 db limit.

Even, so Laguna Seca forces some racers to avoid the circuit altogether due to their inability to consistently run under the maximum decibel requirement. And with the regular presence of fog, sound dissipation can be a problem—especially in the mornings—which means a car that complies on a sunny Friday morning could be black flagged with the presence of fog on Saturday morning. After one warning, repeat offenders are pulled off course and sent to the paddock.

As an interesting aside, Laguna Seca has seen more exhaust pipe configurations, baffles, mufflers sound diverters, and other homemade devices to try and stay within the day's decibel limit than any other track I've visited. In the Bay Area, it's common to build a racecar and base the routing of the exhaust on where Laguna Seca's sound meter is located. I know because I've had to do it a few times, and its location can change, adding more complexity to the situation. For those who compete in a class where the rules don't allow custom exhaust routing, many have a "Laguna exhaust" they install that features big, power-robbing mufflers.

One way or the other, most who race in Monterey (outside of those 30 unlimited days) have spent considerable time and money to comply with the County's fast-acting sound police.

The detailed explanation on Laguna Seca and sound might help to illustrate how different the facility is to most tracks. Many circuits have sound restrictions of their own, but they pale in comparison to the lockdown in Monterey.

MORE QUESTIONS
With Monterey County looking for more revenue, the first thought would be to hold more major events at Laguna Seca but they continue to hold firm at five big races.

And what about using the circuit's expansive infield for events other than motor racing? That's where sound—and other limits—enter into the equation. Why not hold a few festivals, and maybe some concerts? Both ideas have been floated as earning opportunities and both have been turned down by the Board. Whether it's the physical capacity limit of the facility or the 10 p.m. noise curfew, Monterey County has shot down the idea of Laguna Seca tapping into the types of alternative income streams other tracks have recently embraced.

They could court a wider variety of car clubs, karting championships, Pro-Am motorcycle series, and other forms of racing to fill the weekdays and open weekends, but with the stifling sound restrictions in mind, Laguna Seca isn't even a consideration for far too many decision makers. Why bother ringing the track if you know there's no chance your cars or bikes can run without being black flagged?

The picture of how the County runs Laguna Seca is fairly clear, and as far as I can tell, the Board conspires against their own success. Its primary product they sell isn't very popular; the track is far away from where most people live in the Bay Area; as a result the track's income is down; they can't afford to pay most of the bigger road racing series to appear; it's facilities, while improved, lack most modern amenities; its sound restrictions have dialed down its use among locals; the unlimited sound days are mostly consumed by the major races; hosting more than five big races is prohibited, and so far, they've blocked attempts to use the circuit as a money maker with non-racing events.

With all of that in mind, how exactly would a SCRAMP, ISC, or another promoter appease Monterey County with all of those choke points in place?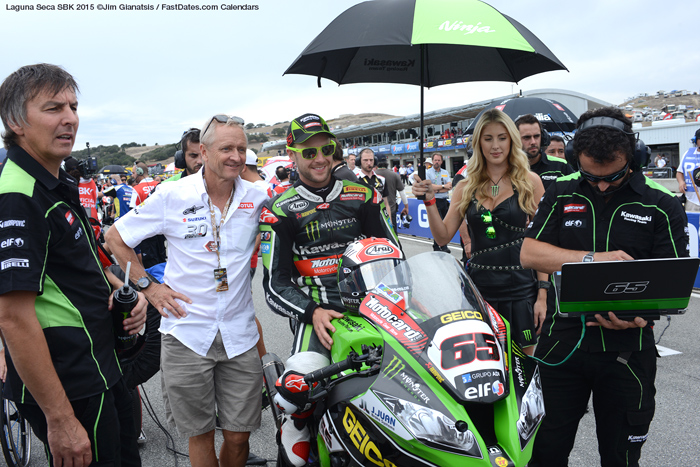 LOOKING AHEAD
In recent weeks, SCRAMP has been painted as an inept group of underachievers. ISC has been flamed as part of NASCAR's Death Star—an entity that would somehow ruin Laguna Seca and rob the County.

As I said in the beginning, based on the ridiculous expectations held by the Board, and the shackles they continually place on the circuit's promoter, why would SCRAMP or ISC want the job? Based on the vitriol coming out of the Board, and the blow-for-blow responses from SCRAMP, we can assume there's no love lost on either side.

Maybe a change in promoters is what's best for the track. And maybe it isn't. The Board's treatment of SCRAMP has been poor, at best, and with their willingness to negotiate in secret, ISC might think twice about the County's practices. Is there any reason to believe they wouldn't pull the same stunt in a few years?

I have no doubt ISC, with its massive resources and infrastructure, could improve Laguna Seca in some capacity, but we aren't talking about big spikes in profitability or a wholesale remodeling of the facility. Not without easing the restrictions on sound and dates. And if the County was willing to relax in both areas, it's worth asking why they haven't done so with their current promoter and given them a chance to win.

In yet another point to consider, because Laguna Seca is state property, every improvement made to the facility belongs to Monterey County. If ISC were to take over, the track would not be transformed with a variety of new buildings, grandstands, bathrooms, and other structural items to increase its value on ISC's dime. Every dollar ISC spent would be, in essence, a gift to the County, and one dollar less for its shareholders.

Under the current arrangement with a non-profit like SCRAMP, some of the revenue from events at Laguna Seca is used for facility upgrades. Why, then, as a publicly-traded company, would ISC spend its own money to improve a facility is doesn't own?
If hiring ISC can bring in more money, and permission is given to spend the excess on modernizing the track, Monterey County would have a perfect solution to meet one of its two goals. Exactly how ISC would generate that money under the numerous constraints I've detailed is the question that defies a logical answer.

The County has already confirmed the potential hiring of ISC would not come with a NASCAR Sprint Cup event, so that scuttles any chance of using North America's most popular racing series to boost income at one of the five big events. So where does the windfall of money and property improvements come from?

ISC is still conducting their evaluation, and has not commented on the situation in any meaningful way. As much as the County apparently wants ISC, who knows if the track's financials and the prospects of meeting the County's expectations would leave ISC wanting to get in bed with the County.

I'd have to assume ISC could turn the profits up a little bit, but would it be worth the headaches? Is taking over Laguna Seca as a promoter-for-hire a lucrative proposition? That's ultimately ISC's decision to make.

If there's one major takeaway from the entire ordeal, it's how out of touch Monterey's Board of supervisors has become with the fading popularity and earning potential of their 58-year-old road course.

It's like an old record store that was a cornerstone of the community for forty years, barely survived the format change from vinyl to compact discs, and can't understand why they're struggling as internet music sales have taken off. They can blame SCRAMP for diminished revenue, hold false hopes ISC will parachute in as a savior and angel investor, and continue to believe their dated product holds the same earning power it did at the turn of the century, but those are delusional views.

I can't say whether replacing SCRAMP with ISC would benefit Laguna Seca, but after digging into this nonsensical situation, I'm convinced replacing the current Board of Supervisors would definitely benefit Monterey County.
---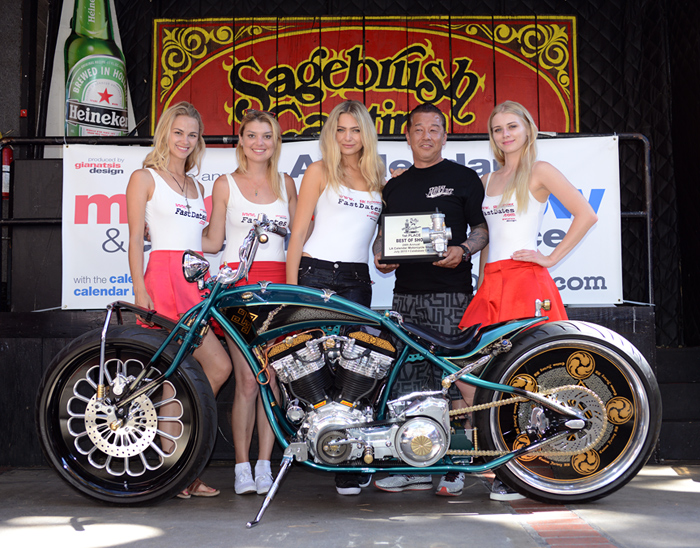 2015 LA Calendar Best of Show winner Hiroyuki Hirata with Calendar Kittens Sara, Apple, Helena and Alena.
Builder Hiroyuki Hirata returns from Japan to take his 2nd Best of Show with "Zero Fighter"
2015 LA Calendar Motorcycle & Calendar Girl Music Show

The Sagebrush Cantina, Calabasas, CA, Saturday July 25th 2015 - The 2015 LA Calendar Motorcycle Show continued its now 24- year tradition as the premier outdoor streetbike event in America as it rocked the legendary Los Angeles biker hangout and party zone, the Sagebrush Cantina in beautiful downtown Calabasas, California. Featured were top Celebrity Custom Bike Builders from across the globe competitiing in the Calendar Bike Building Championship, selected Vendors and Exhibitors, Calendar Girl Music live performances, and an incredibly delicious Sagebrush Cantina Taco Lunch Buffet included with admission. The Calendar Motorcycle Show again benefited the American Cancer Society with a portion of each Admission Ticket being donated to help find a cure.

COMPLETE 2015 LA CALENDAR BIKE SHOW COVERAGE HERE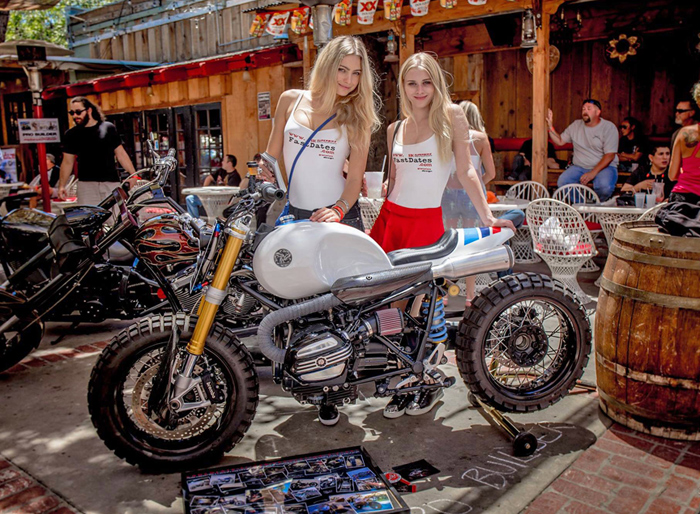 Calendar Kittens and part time Russian Mobsters Helena and Alana with Samuel Kao / JSK Custom Design's cool BMW R9T Retro Custom with legendary BMW Martini Racing paintwork. The bike took 2nd Palce in Pro Builder and won the AFT Customs Visionary Award for the most inovative bike at the Show.
Former AMA Superbike racer and motorcycle industry test rider Thad Wolf rode in on his beautiful and unrestored original 1918 Harley-Davidson, so we just had to give him1st Place in the Classic American class and invited him to bring his bike to the Calendar shoot the next day. Awarding Thad his trophy were FastDates.com Calendar Kittens and the official Laguna Seca SBK World Superbike Podium Gilrs from the previous weeeknds race; Apple Price, Sara Horvath, Helena Milona and Alena Savostikova.
---
Valentino on the podium for the 4th time this season with newcomer Danilo Petrucci and Andrea Andrea Dovizioso.
2015 FIM MotoGP World Championship, OCTO British Grand Prix,Great Britain, Round 12 of 18
Rossi ReTakes the MotoGP Championship Lead at Sivlerstone
Octo British Grand Prix, Silverstone, Sunday, August 30th 2015 - Movistar Yamaha's Valentino Rossi produced a fearless ride in the rain to claim his first ever victory at Silverstone, and open up a 12-point lead in the MotoGP™ World Championship standings over his teammate Jorge Lorenzo.
Rossi had earlier topped the wet Warm Up session, and there was drama before the lights even went out at Silverstone as it was originally declared a dry race, but rain on the grid prompted every rider to return to the pits on their warm up lap to swap for wets. This led to a 30-minute delay to allow the teams and riders to safely re-form back on the grid.
When the action started in anger, Rossi enjoyed a solid start, before moving his way up from 4th on the grid to take the lead on just the second lap. Rossi managed to pass his teammate and main title rival Lorenzo at Village corner, much to the delight of the 73,000 fans at the legendary Silverstone Circuit.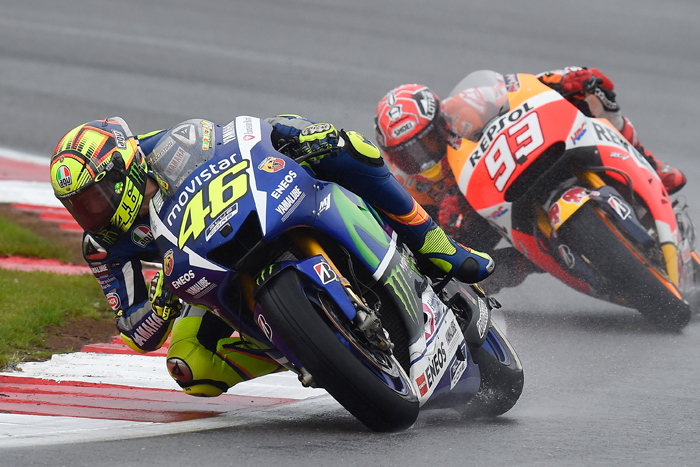 He then tried to break away at the front, with only Marc Marquez on the Repsol Honda able to stay with him. Lap after lap Rossi and Marquez pulled away at the front, opening up a gap of 7 seconds to the 3rd placed Petrucci by just the ninth lap. The 36-year-old Italian was setting a blistering pace in the dreadful conditions, and it proved too much for even Marquez. The reigning MotoGP™ World Champion crashed out on lap 13 at Copse Corner to effectively end any chance he had of defending his title. The Spaniard now trails Rossi by 77 points in the standings, with just 6 races remaining.
Without Marquez to push him, Rossi seemed to relax and at one point it seemed as if the chasing Ducati's of Danilo Petrucci and Andrea Dovizioso would close him down towards the end of the race. Petrucci had reduced the gap to just 1.6s with two laps remaining, but Rossi got a signal from his pit board and upped the pace once more. The 'Doctor' went on to take the race win by 3.010s.
Octo Pramac Racing's Danilo Petrucci delivered an incredible ride to secure his first ever MotoGP™ podium as the leading Satellite rider. The Italian, starting from 18th on the grid, rode through the pack superbly before getting involved in an excellent battle for second with Dovizioso on the factory Ducati Team GP15. Petrucci's GP14 is known as a good bike to ride in the wet and he made sure that he secured his best ever MotoGP™ career result to the delight of his team.
Ducati Team's Andrea Dovizioso (+4.117s) completed an all-Italian podium to equal his best result of the season in Assen. The former 125cc World Champion started from 12th on the grid but rode superbly in the tricky conditions to secure his 29th MotoGP™ Podium.
Rossi's main title rival and teammate Jorge Lorenzo (+5.726s) had a frustrating race. The double MotoGP™ World Champion led into the first corner, but found himself dropping back through the field at an alarming rate. At one point Lorenzo was as low as sixth before he seemed to recover and fought back to cross the line in fourth, limiting the damage to his title chances.
Dani Pedrosa (+11.132s) on the second Repsol Honda battled hard throughout the race to secure fifth spot. The Spaniard was right in the mix for the podium during the race but started to drop back in the latter stages, eventually crossing the line over 5 seconds behind Lorenzo.
EG 0,0 Marc VDS's Scott Redding (+25.467s) won the 'Battle of the Brits' as he pulled off his the best result of his MotoGP™ career in front of his passionate home support. His compatriot Bradley Smith on the Monster Tech 3 Yamaha was a further second back, after he enjoyed a race long battle with his teammate Pol Espargaro, before the Spaniard crashed out at turn 3 on lap 14.
Andrea Iannone (Ducati Team) finished in eighth ahead of the Team Suzuki Ecstar GSX-RR of Aleix Espargaro in ninth. Aprilia Racing Team Gresini's Alvaro Bautista secured the team's first top-ten finish of their return to the premier class.
Nicky Hayden (Aspar MotoGP Team) was the leading Open Honda in 12th ahead of the Avintia Racing duo of Hector Barbera and Mike Di Meglio, while his teammate Eugene Laverty crossed the line in 17th.
LCR Honda pair Cal Crutchlow and Jack Miller both enjoyed excellent starts to the race and found themselves battling for the final podium spot. Unfortunately Miller would take out his British teammate at Vale on the 3rd lap, with both men forced to retire. Stefan Bradl (Aprilia Racing Team Gresini) also crashed out of the race with 8 laps to go.
Up next is round 13 in the MotoGP™ World Championship, the Gran Premio TIM di San Marino e della Riviera di Rimini on 11th-13th September.
Valentino Rossi, Yamaha 1st - "I'm very happy and proud of this victory, it's a great feeling! I think that the last race on the wet that I won was ten years ago. This morning I woke up feeling good, but my team also did a great job and my bike was fantastic already from the first lap of the warm up. I felt great and got more feeling and positive things from the bike, so I knew I could be competitive in the race. I fought a lot with Marc, which was very difficult. I kept trying to break away but he stayed with me. I saw that Marc crashed on the mega screen and I didn't hear noise of his bike, so I already thought that maybe something had happened. After he crashed I slowed down, because I thought I had enough of an advantage but in reality Danilo wasn't so far, so I had to recover my concentration and start to push, because if I didn't he would catch me. This is my fourth victory of the season, so I'm very happy and it's important for the championship. Today I was very fast, I had great confidence with the bike and it's a fantastic victory at Silverstone, where I never won before, this is the first time!"

MotoGP™ Race Classification - Check out the full MotoGP™ Race Results HERE
1 - Valentino Rossi (ITA) YAMAHA 46'15.617
2 - Danilo Petrucci (ITA) DUCATI + +3.010
3 - Andrea Dovizioso (ITA) DUCATI + 4.117
---
Jonthan Rea (65) and Chaz Davies (7) came together for the race win in the final left turn before the finsh line in Race Two, with Davis taking the win by just 0.1 seconds to make Rea wit for the next race round at Jerez in 6 weeks after the summer break to claim his 2015 World Superbike title.
2015 Eni SBK World Superbike Championhip, Sepang, Malaysia, Round 10 of 13
Rea and Daviies Trade Podium Top Steps at Sepang
Sepang, Malaysia , July 31st, Aug 1-2nd 2015 - Championship leader Jonathan Rea (Kawasaki Racing Team) won the opening encounter at the Sepang International Circuit after a race of two halves, which saw Tom Sykes (Kawasaki Racing Team) slip to fifth at the flag with an overworked rear tire after leading for the first eleven laps. The Ulsterman had a race-long battle with Davies that eventually came down at the last turn, when despite running wide the KRT rider was able to get on the gas early to retake the lead before the chequered flag. Complete Race Coverge from Sepang Here
---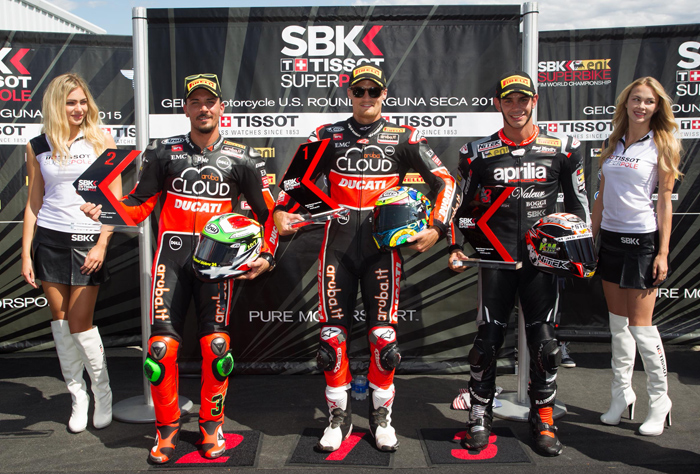 Calendar Kittens Helena and Sara award the Tissot-Superpol top 3 trophies to Davide Giugliano, Chaz Davies and Jordi Tores.


2015 Eni SBK World Superbike Championhip, Mazda Raceway Laguna Seca, Geico Insurance USA Round 9 of 13

Chaz Davies Doubles for Ducati at Laguna Seca USA World Superbike
Laguna Seca Raceway, Monterey, CA , July 17-19th 2015 - A perfect race day for Chaz Davies and the Aruba.it Racing - Ducati Superbike Team who triumphed in both of the Superbike races at the Laguna Seca Mazda Raceway! Davide Giugliano achieved a solid fourth place finish in race 1 but unfortunately crashed at the start of race 2; the Italian is unhurt.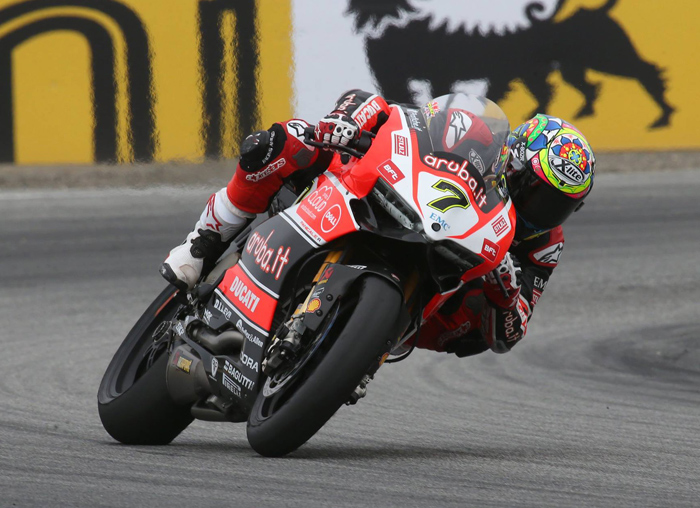 Chaz Davies power slides the Ducai out of Turn 11 to Superpole victory. Photo by Kel Edge.
Complete 2015 Laguna Seca SBK and AMA SuperbikeRace Coverge Here
---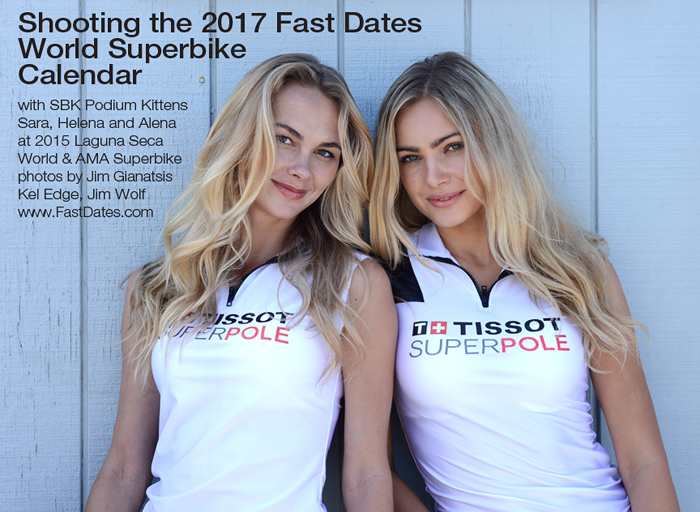 Calendar Kittens Sara Horvath and Helene Milana featured as the
Official SBK Grid and Podium Girls at World Superbike Laguna Seca, and
July 17-19th and as LA Calendar Show Host on Saturday July 25th

The FastDates.com Motorcycle PinUp Calendars was excited to announce that Calendar Kittens Sara Horvath, Helene Milana and Alena Savostikova, represented by Umbrella Girls USA, served as the official SBK World Superbike Umbrella Girls at the 2015 aguna Seca World and AMA Superbike race weekend July 17-19th at Mazda Raceway, Laguna Seca, CA. Then all three Kittesn hosted at the annual LA Calendar Motorcycle Show on Saturday July 25th at the Sagebrush Cantina, Calabasas, CA.

The SBK Kittens also made fan appearances in front of the Laguna Seca Paddock Souvenir Store during the Lunch Breaks on Saturday and Sunday to introduce, autograph and sell the new 2017 Fast Dates World Superbike Calendar. Sara, Helena and Alena will also be working the race weekend with FastDates.com Calendar photographer and publisher Jim Gianatsis to shoot the next edition of the Fast Dates World Superbike Calendar with all the top factory race team bikes on Pit Lane during the race weekend.
The newest FastDates.com Calendar Kittens, Helene Milana, who joined us at Laguna Seca World Superbike and the LA Calendar Motorcycle Show in July, recently moved to Los Angeles from Belarus in Eastern Europe. While Alena Savostikoa is of Russia desent, but was born and raised in Florida, moving to Los Angles to become a professional model Los Angeles. Both are a perfect match in looks and 5' 9" height to Sara.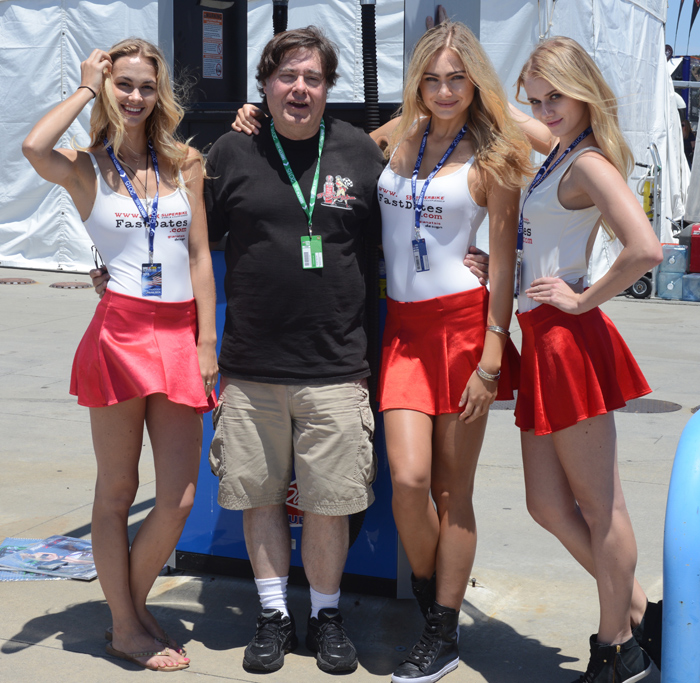 Our SBK Fast Dates Calendar Kittens at 2015 Laguna Seca - Sara Horvath, Helene Milana and Alena Savostikoka with photographer and producer Jim Gianatsis

"This year's SBK World Superbike round at Laguna Seca USA marks the 21st year that the FastDates.com Calendars have provided our beautiful Calendar Kittens to be the official SBK Umbrella and Podium models, going back to the first ever American World Superbike race at Laguna Seca in 1995", explained Jim Gianatsis. "The Fast Dates Supebike Calendar shares a rich history with both SBK World Superbike - the most exciting production based motorcycle roadracing series ever, all the top factory race teams and their riders over those many years, and with Mazda Raceway in the years that SBK has been here at one of America's most renown roadracing venues, and with our partner Umbrella Girls USA.

This past year's 2014 USA Superbike round at Laguna Seca featured our official SBK Fast Dates World Superbike Calendar Kittens Jitunka Pralinka and Petra Ruzickova from the Czech Republic, who spent the summer in America with Calendar photographer Jim Gianatsis to shoot and work at Mazda Raceway Laguna Seca USA World and AMA Superbike, and the LA Calendar Motorcycle Show. Jitunka and Petra are featured in all three Editions of this new 2016 FastDates.com Calendars.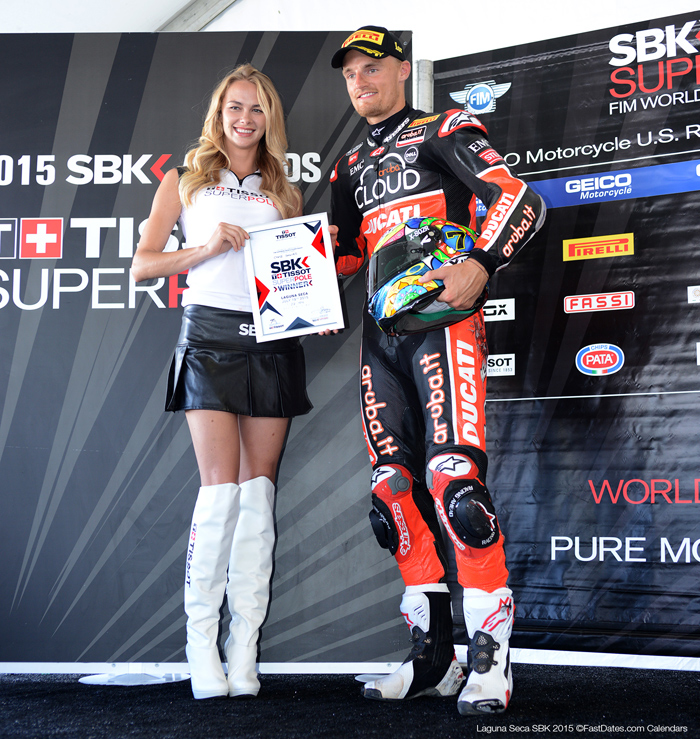 Calendar Kitten Sara handed out the Superpole and 1st Place trophies at Laguna Seca to double race winner Chaz Davis.

This year I am excited to welcome our newest Kitten Helena to working alongside Sara for SBK World Superbike and at this year's Fast Dates Calendar event and photo shoots."

Calendar Kitten Sara is also featured in the new 2016 FastDates.com Calendars - Fast Dates, Iron & Lace and Garage Girls, and in the new FAST2016 Digital Magazine found on the website. Race fans at Laguna Seca World Superbike can meet Sara and Helena at the Laguna Seca Paddock Souvenir Store on Saturday /Sunday during the track's Lunch Break. and in the SBK Paddock Show where they will be working as the SBK spokesmodels assisting with the awards presentations and rider interviews.

Then the following weekend, Sara, Helena and Alena hotested the 24th annual 2015 LA Calendar Motorcycle Show on Saturday July 25th at the Sagebrush Cantina, Calabasas, CA, which includes the Calendar Bike Building Championship with top celebrity custom bike builders from as far away as Japan and Europe premiering their latest custom builds. Included is the Calendar Girl Music Show featuring beautiful actress and singer songwriter Gwedolyn Edwards and her Band, and American Idol contender Alex Nester. And both Sara Horvath and Helena Milana will be premiering the new 2016 FastDates.com Calendars where Sara is again featured. For additional information on these two great California based Motorcycle Events and to purchase tickets, and for more about the Fast Dates Kittens and Calendars visit: http://www.FastDatess.com and http://www.MazdaRaceway.com

---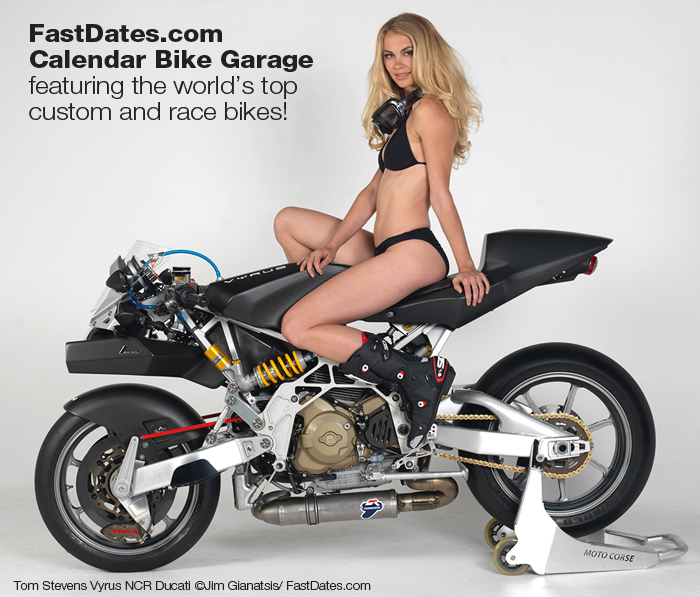 Now in the Calendar Bike Garage... The World's Coolest Naked Ducati!
Beauitful FastDates.com Calendar Kitten Sara takes us for a ride on the world's most exotic and expensive Ducati streetbike
ever - a $110,000 Vyrus NCR 983 Superleggera in the Calendar Bike Garage and in Members Corner.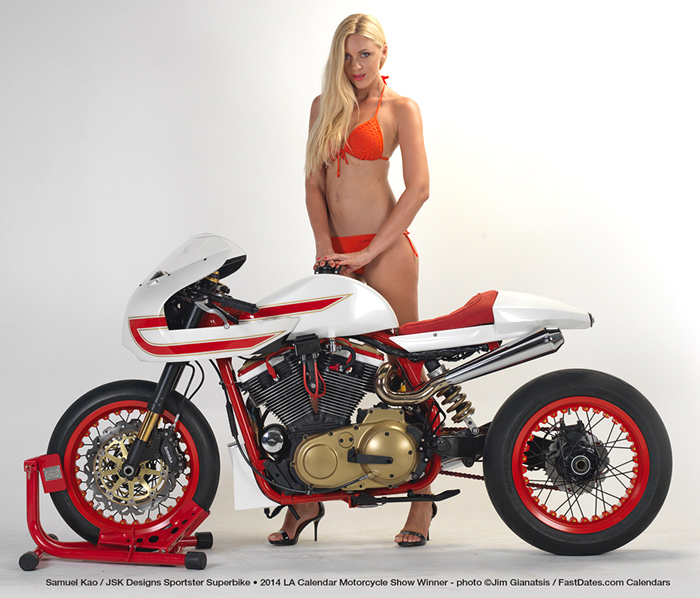 Now in the Calendar Bike Garage... Sam Kao's LA Calendar Show Winner
Beauitful FastDates.com SBK World Superbike Calendar Kitten Petra looks fantastic with Samuel Kao's JSK Desgn Sportster
featured in the Calendar Bike Garage / Members Corner and in the new 2016 Iron & Lace Calendar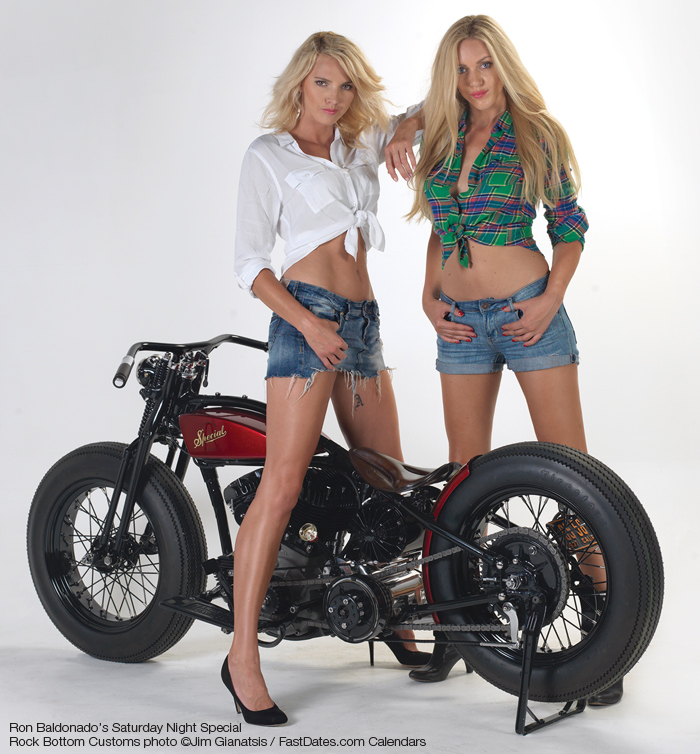 Now in the Calendar Bike Garage... Ron Baldonado's "Saturday Night Special"
With eauitful FastDates.com SBK World Superbike Calendar Kitten Jitka and Petra
featured in the Calendar Bike Garage / Members Corner and in the new 2016 Iron & Lace Calendar

---
FastDates.com Sets Up and Tests the New 2015 Ducati 1199R Superbike!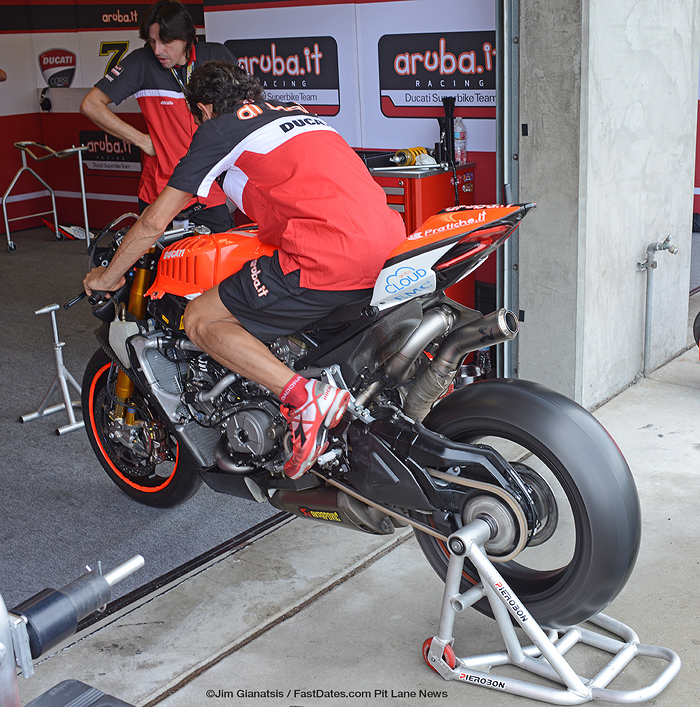 New Akrapovick Exhaust for Team Ducati Bikes
Chaze Davies / Aruba.it Racing - Ducati Superbike Team new secret weapon?
The factory Ducati Arub.it Team started running this crazy single tailpipe Akrapovic Titanium Exhaust System on their 1199RS racebike this last month as Chaz starting winning races. It's really difficult to see clearly what is happening with the exhaust pipe routing, but rather than the normal Panigale twin cylinder exhaust / pipes venting the exhaust gasses into their own separate silencers on each side of the bike, this system seems to route both header pipes into one Silencer, then a 180 degree turn under the front of the engine back into the next in-line Silencer, where it is then outputed into one long high pipe out the rear side of the bike. This longer tuned length of the shared exhaust headers (or one silencer serves as an expansion box?) may help add both more peak and midrange power. There probably is no need to run both silencers with this in-line silencer setup, especially since the end pipe looks to have some 3rd silencer as well, so possibly it is just to retain the look of the stock exhaust system?
Weight wise, all the World Superbikes are easily at the FIM minimum.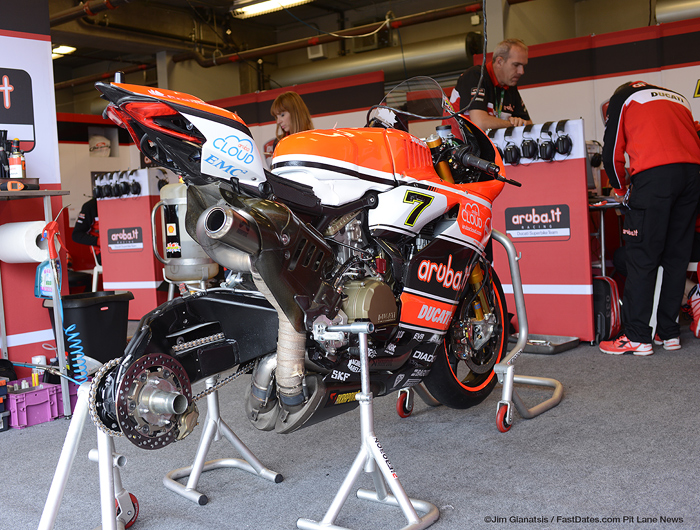 ---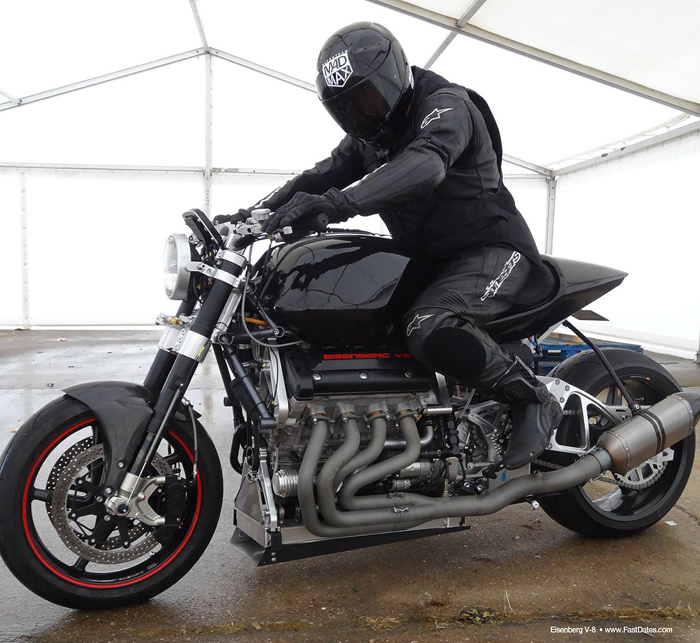 Meet the EISENBERG V8 - born and what a beast it is destined to become.
Guernsey, Channel Islands, Great Britaiin, August 2015 - Eidenberg, a British speciality motorsports builder focusing on extreme motor bikes, Quads & LAND SPEED Racing, powered by Jet Turbines and V8's, has managed has managed to marry apowerful DOHC 3000cc V8 into a motorbike in a more compact way. Everyone who sees it, cannot believe how compact, light and narrow the bike is. We are talking about a seriously powerful bike, no longer than a Ducati Diavel and no heavier than a GSX1400 but with nearly 500hp @ 10,500rpm, with no turbo or nitrous - just naturally aspirated! and yes, it goes around corners!
Everything single thing on the bike has been designed and made from scratch including the specially adapted V8 engine, 6 speed, gearbox, slipper clutch, concentric drive system, tuned length exhausts, twin fan hidden radiator, alternator and starter motor, carbon wheels, 240 rear tyre, F1 style ECU and electrics, and more.. It was the most complex motorbike packaging any of the team have ever worked on, but when you see it in real life, it's amazing and the sound is unbelievable.. like a V8 Ferrari but super smooth to ride. More about Eisenberg at - http://www.MadMaxWorld.com
---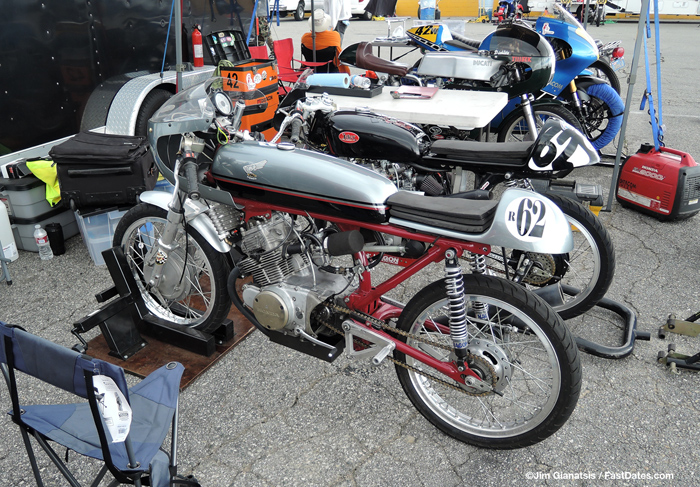 2015 Corsa Motoclassica at Willow Spring Raceway, California
Photos and Report by Jim Gianatsis



Rosemond, CA -April 24-26th 2015 - The annual Corsa Motoclassica was first run 20 years ago at Willow Springs Raceway in Rosemond, California, just down the road from Edwards Air Force Test Base in the Mojave Dessert. It was the child of Yoshi Kosaka of Garage Company, a Los Anegles based motorcycle used bike and parts store and restoration shop specializing in classic street and race bikes. The Corsa Classic at Willow Springs gave Yoshi's customers a place to bench race and ride their beloved classic race bikes at speed, and could be called the West Coast's version of the Barber Motorsports Festival in near Montgomery, Alabama. Continued Here
---
New "Hitting The Apex" MotoGP Movie Trailer
Exciting new MotoGP Documentary Movie by Mark Neale and narrated by Brad Pit. Watch the trailer for Hitting the Apex, Mark Neale's documentary that follows the battle for MotoGP supremacy between drivers Valentino Rossi, Jorge Lorenzo, Marco Simoncelli and Marc Marquez. The film is narrated by Brad Pitt and features exclusive footage and interviews. Hitting the Apex is in cinemas from September 2 and available on DVD and Blu-Ray from September 7th, 2015.

Buy it now on DVD - http://www.amazon.com/exec/obidos/ASIN/B00RCOXUYK/fastdatescomcale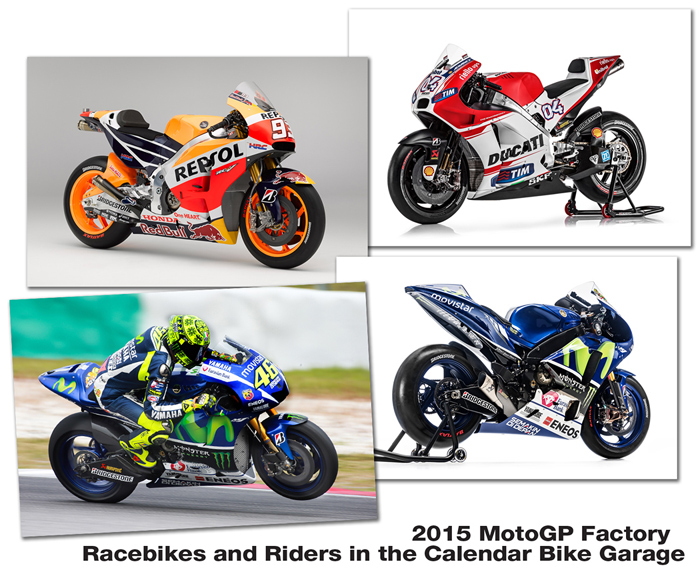 Calendar Bike Garage - Detailed MotoGP Bike Photos, Specs, Large Screen Savers
Calendar Photo Store - Calendar, MotoGP Bikes and Rider Photo Prints & Wall Displays
---
There's More! Go to Pit Lane New Previous Week

Also Visit: Fast Dates Calendar News • Iron & Lace Calendar News • Calendar Girl News
Meet the Models • Paddock Garage
Get FastDates.com T-Shirts, Mugs & Photographs from Our Store



MEMBERS CORNER! Calendar Kittens, Paddock Garage, Iron & Lace Garage

Amazon.com Motorcycle Products & Apparel Store
MotorcycleSuperstore.com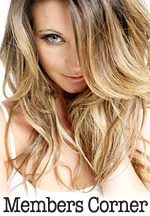 Hot Bikes, Sexy Kittens
Your Exclusive Grid Pass
also includes....
---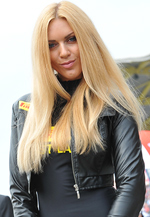 2014 SBK Race Season
Meet the offical SBK
World Superbike Girls!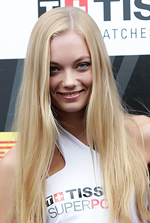 2013 SBK Race Season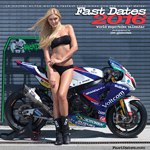 Order the New
201 & 2016 5 Calendars!
with the FastDates.com Calendar Kittens - the official SBK Umbrella Girls!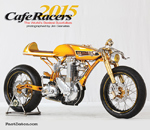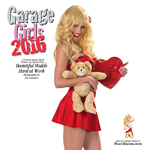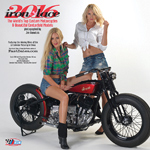 Click Below for more
Calendars!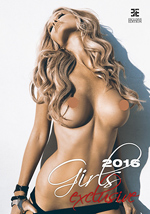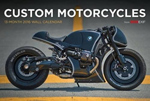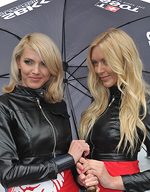 Meet FastDates.com
Calendar Kittens
SBK Grid Girls
Jitunka & Petra!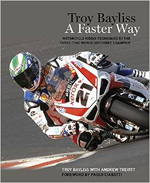 New! Troy Bayliss
A Faster Way
Track Riding Book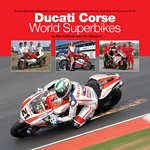 Retail $49.95 ea.
Click to Order from Amazon.com

Ducati Corse
World Superbikes
by Alan Cathcart
& Jim Gianatsis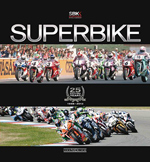 The Official SBK
World Superbikes
1987-2012
25 Year History Book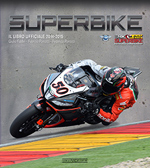 The Official SBK
2014-2015 Yearbook
These SBK Yearbooks are the Best Books Ever about World Superbike. They feature awesome color photography of the riders, bike and racing action. The feature a detailed revue of the past season in pictures and statistics, with a detailed look at the bikes and riders.

Plus a technical look data all the bikes, a preview of the upcoming season's Championship!
We buy this every year ourselves and highly recommend it!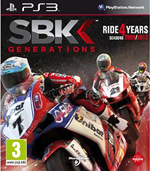 SBK World Superbike Video Game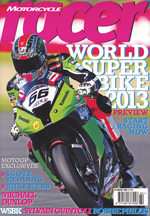 Official Print Media Partner
---
MotoGP™ to return to Brno in 2016 and beyond
August 16th - MotoGP™ rights holder Dorna Sports SL reached a deal with the Czech authorities in order to secure the Czech GP presence on the FIM MotoGP™ World Championship calendar for at least the next five years. A joint effort of the Moravian government and the city of Brno will lead to the creation of a new body acting as the promoter of the event and working alongside Dorna Sports towards MotoGP™ return to the iconic Czech venue in 2016 and beyond.

Carmelo Ezpeleta, CEO of Dorna Sports, declared: "The Czech GP is one of the highlights of the Championship as it's been on the calendar for 50 years and as we see this weekend again, it's a very popular event. We are very happy to reach an agreement with the Czech authorities that will ensure the future of the Grand Prix in the Czech Republic for at least the next five years."

Czech ministry of Education, Youth and Sports, Katerina Valachova, commented: "We're proud to announce that Brno will host MotoGP again in 2016 and the four following years, thanks to the creation of a new public body involving the Meridional Moravia Government and the City of Brno."

The first Czechoslovakian Grand Prix was held at Brno in 1965, on the original 13.94 km long road circuit. The current circuit was first used for grand prix racing in 1987 and hosted the Czechoslovakian GP through until 1991. Brno did not appear on the calendar for 1992, but the event was revived in 1993 as the Grand Prix of the Czech Republic and has taken place every year since.
Chaz Davies and Ducati Own Laguna Seca 2015
Monterey (USA), Sunday 19 July 2015 – A perfect race day for Chaz Davies and the Aruba.it Racing - Ducati Superbike Team who triumphed in both of the Superbike races at the Laguna Seca Mazda Raceway! Davide Giugliano achieved a solid fourth place finish in race 1 but unfortunately crashed at the start of race 2; the Italian is unhurt.

Race 1 – after the hot and sunny conditions seen up until today, this morning rain made an appearance but fortunately the track was totally dry for race one. Chaz got away extremely well from pole position, immediately taking control of the races. He set the fastest lap of the race on lap five (1'23.739), after which he continued to push and build on his advantage over the chasing pack. Putting together the perfect race, the Welshman knew how best to manage each phase of the race, riding his Ducati Panigale R to its second victory of the season and crossing the line almost two seconds ahead of second-placed Sykes.

Davide lost a few positions at the start and was lying fifth after lap one. In the first phase he unfortunately lost contact with the leading group while trying to pass Torres. Able to pass the Spaniard on lap thirteen to move into fourth place, Giugliano was unable to do any more due to the gap of more than 8 seconds that had opened up in the meantime between him and the trio up ahead. The Italian therefore finished the race in fourth position.

Race 2 – once again Davies made a very fast start to take the lead. Despite a rain shower during the early stages of the race, the Welsh rider did not slow his pace, again building up a considerable advantage over Sykes, lying second, just as in Race 1. In what was almost a replay of the first race, Chaz kept his head, maintaining both his advantage and his concentration right to the line, finishing first and achieving what is a first double win of the season for him and the team.
Giugliano, fifth through the first lap, was unfortunately the victim of what appeared to be a serious crash at Turn 6 on the very next lap. The Italian rider has contusions to the left heel and right knee but doctors confirm that he has sustained no serious injuries.

After nine championship rounds, and thanks to the results at Laguna Seca, Davies moves into third place in the overall standings, with 263 points, while Giugliano retains seventh, having earned 119 points. Ducati positions second in the manufacturer's standings with 318 points.

Chaz Davies (Aruba.it Racing - Ducati Superbike Team #7) 1st, 1st
"I'm really, really happy with these results, and we've definitely seen the fruits of our labour here. The track here perhaps limits our weak points and plays to our strengths, and we were able to put together two really good races that went almost exactly to plan. I didn't think we'd be able to lap in 1.23s but I was able to make some really quick first laps in Race 1, pushing hard for the first twelve or so and then it was all about gap management. We made a few small tweaks for race 2 and I think those changes were useful. I took a lot of risks with the rain, and was very worried about crashing but luckily the rain stopped and things went smoothly from there to the finish line. I thank my entire team, Ducati and our sponsors - it's been a really solid weekend, and a lot better than last year's outcome of course."

Davide Giugliano (Aruba.it Racing - Ducati Superbike Team #34) – 4th, DNF
"It was not my day. In race one I lost a lot of time trying to get past Torres and then, once I'd done that, there was no chance to catch the three guys up ahead and so I had to be happy with fourth. We made some changes for race 2 but they were not needed in the end as I crashed almost immediately. To be honest, I was really scared as I thought I'd hurt my back again, but the doctors assure me that I am ok. I'm really sorry as we had a good chance to do well…"

Stefano Cecconi – Team Principal –
"It's been a fantastic, emotional weekend, made possible by Chaz's superb performance and incessant work by Ducati and all of the team members. This season is really rewarding us and this first double win will allow us to face the next races with extremely high morale."

Ernesto Marinelli – Ducati SBK Project Director
"Today's result is a very important one. To be on pole and then score a double win tops off a perfect weekend, that Chaz completed like a real artist, right from the first session, confirming his talent and the competitiveness of our Panigale. Huge thanks to him from everyone in Ducati for having given back the "double" that we'd been missing for some time. This result would not have been possible without the hard work of everybody, both at home in the factory and at the track, who contributes, day after day, to building a level of performance that allowed us to make the difference today. It was a real shame for Davide who could have done well in race 2, but having seen the crash we consider ourselves lucky that he has suffered no serious injury and so I'm sure he'll be straight back to fighting as one of the frontrunners in Malaysia."

DOUBLE PODIUMS FOR Kawasaki Racing Team DUO AT LAGUNA SECA
July 19th 2015 - At the ninth round of the FIM Superbike World Championship season, held at Laguna Seca in the USA, KRT riders Tom Sykes and Jonathan Rea battled with each other in both races, with Sykes scoring two second places and Rea taking two thirds. The KRT riders are still 1-2 in the championship itself, with Rea on 407 points and Sykes on 282.
In the first 25-lap race of the day Sykes set about trying to chase down eventual race winner Chaz Davies but ended up in a defensive battle with Rea as they vied for the 20 points available for second place. Sykes was to hold on to his runner-up position, with Rea scoring third, finishing right behind his team-mate.
In race two Sykes led Rea in the early laps, with an attempted pass from the championship leader being rebuffed by his team-mate in definite fashion. Light spots of rain on the track shortly after the start had caused some anxious moments for all the riders but the track conditions rapidly improved, allowing Sykes to take the fastest lap of race two, 1'23.842, on lap ten.
In finishing second twice today Sykes minimised his loss of points to double race winner Davies. Despite recording his two smallest points scores of the season Rea still holds a strong 125-point advantage over Sykes, with four rounds of the championship remaining. Rea has continued his remarkable run of finishing on the podium at every single race this year.
In the Manufacturers' Championship standings, Kawasaki leads by 112 points.
The Sepang International Circuit will host the tenth round of the series, from Friday 30 July to Sunday 2 August.
TOM SYKES (Rider Kawasaki Racing Team): "Jonathan and I had a great battle for the entire first race. I had plus zero on my pit board, so I just had to manage the situation. I felt the rear tyre drop and had to compensate in some areas, trying to do some things slightly differently. It was not ideal but overall I am happy with second position considering the circumstances. We made two small changes for race two and it was strange because at the beginning I felt I had a really good bike set-up but in the rain Chaz took a couple of more risks. It paid off because he made a big gap and I think that was probably the deciding factor in the race. We had a couple of warnings and I was just not able to stick with Chaz. Overall, I am fairly satisfied but we were just not close enough. Two second places are acceptable but another rider took the prizes this weekend."
JONATHAN REA (Rider Kawasaki Racing Team): "I tried a lot but there was nothing I could do to go through on Tom in race one. He also had a good pace but I am sure I had a higher pace. I just could not through him. I tried a few times and ran wide and it was very clear if I was to stick a pass it had to be an aggressive one and in the last laps I did not get an opportunity. He was riding quite smart. In the final corner I was a little bit behind and it was one of those where you had to be clever as well, because 16 points is a lot better than zero. We also had a good pace in race two but it was a little bit my fault because I made too many mistakes. Tom and I both lost a lot of time to Chaz when the rain was coming but we ended up with a really good pace together. Today we played the long game a little bit and third is where I could finish."
THE AMERICAN SUPERBIKE WEEKEND FINISHED WITH A SPECTACULAR DUEL BETWEEN THE APRILIA RIDERS
Laguna Seca, 21 June 2015 – Superbike race number 200 for Leon Haslam, Race 2 at Laguna, will long be remembered for the spectacular and clean battle between the English rider and his team mate, Jordi Torres. It was the Spanish rookie who succeeded under the chequered flag at his début on the difficult California track, bringing home an encouraging fourth place finish.
In Race 1 Leon, who started from the second row, didn't get off to the best start and was forced to fight to recover positions. Hindered by poor grip, the English rider took a slide which also damaged the gear shift lever on his RSV4. At that point Leon had to settle for a thirteenth place finish.
Leon Haslam: "Unfortunately in Race 1 we struggled. I had trouble maintaining the pace and after the crash the only thing on my mind was finishing the race, given the damage to my bike as well. We took a big step forward for Race 2. I rode much better, especially in the initial phases of the race. Then our pace dropped off a bit and I'm disappointed about that because I know that my bike had great potential. The biggest problem was consistency, in addition to a couple of turns where I was struggling. We'll evaluate some further changes now that we can make for Malaysia, which is a track where we can definitely be very competitive."
After his best qualifying phase of the season (third best time), Jordi Torres had his sights set on two good races. In the start of the first race he stuck close to Giugliano until a lack of feeling forced him to maintain his own pace without being able to make a play for fourth place. That was a position he achieved in Race 2, however, at the end of a battle with his team mate which kept fans and the Team Aprilia Racing – Red Devils garage on the edge of their seats. After swapping out positions several times, Jordi and Leon finished the race in fourth and fifth place respectively.
Jordi Torres: "Today we did a great job. We knew we would be able to do well after our third place time in qualifying. Our pace wasn't the best, especially in Race 1 where I struggled with rear grip and wasn't able to keep up with Giugliano. In Race 2 things went much better. In the first few laps I struggled in the braking sections because of the new pads, but once they worked themselves out I was able to set my pace to overtake Leon. The changes we made between the two races allowed me to do the times we had expected. I'm also pleased because we identified one of the areas where we'll make some changes for the coming races which will make my RSV4 perform better in mid-turn."

Mixed Results for Ten Kate Pata Honda at Laguna
Michael van der Mark took his Honda CBR1000RR Fireblade SP to eighth and seventh place finishes respectively in today's two ninth-round World Superbike championship races at Laguna Seca in the USA.
Both 25-lap races were won by British rider Chaz Davies as van der Mark, 22, got two good starts from a lowly 15th place on the grid. Race one turned out to be a relatively lonely affair, the Dutch rider finishing in eighth place, nine seconds behind Pata Honda team-mate Sylvain Guintoli.
Guintoli himself enjoyed an impressive start in the first outing, running as high as fifth in the early stages after starting from ninth place on the grid. The reigning World Superbike champion eventually finished seventh.
Rain threatened the 3.61km Laguna circuit for race two and, indeed, spots began falling early in the race but they amounted to nothing. However, during the uncertainty and following a solid start, Guintoli was jostling for position towards the end of lap two when Alex Lowes entered pit lane, colliding with the 33-year-old Frenchman. Guintoli damaged his right thumb in the ensuing crash but was otherwise unhurt.
Van der Mark was left to fly the Pata Honda flag alone, bringing his CBR home in a creditable seventh place. He leaves California immediately to fly to Japan where he is targeting a third successive victory in the iconic Suzuka 8 Hours endurance race next Sunday.
Disapointed for Althea Ducati at Laguna Seca
Team Althea returns home dissatisfied with the double DNF in race 1 due to technical issues. On the race grid, the two riders Matteo Baiocco and Niccolò Canepa suffered the same mechanical problem off the line. Both were forced to retire immediately due to the jamming of the clutch of both bikes. The team has never suffered such a problem before and so the technicians and enginee! rs are working to understand the cause.
In race 2 the team decided to change many of the bikes' components and the two Team Althea riders took to the grid anxious to bring home a strong result. Canepa, having made a good start that saw him battle for fifth place, had to deal with the onset of rain which made an appearance in all sectors and which strongly affected his race. After scoring zero points in race 1, the Genoan rider preferred to play safe and bring home important points, closing in final eighth place.
Baiocco surely suffered as a result of his inexperience at this track and the lack of kilometres clocked up contributed to the race 1 stop. He found himself in a complicated situation when rain appeared unexpectedly and his only aim at that point was to complete the race as best he could. In the end he did not complete exactly the race that he and his Team had hoped for but that's the way it went today. He crossed the line in thirteenth position. Baiocco and his bike still have eight more races in which to express their potential, having seen highs and lows during the season thus far.
Round ten will take place on 2 August 2015 at the Sepang circuit in Malaysia.
Niccolò Canepa: "I'm so sorry I didn't achieve the expected result, considering the positive times set during the practices. Unfortunately we had a technical problem in race 1 while in race 2 track conditions changes compared to yesterday and it wasn't easy to adapt to running the opening laps in the rain, so we suffered there. We've worked well this weekend and we had the pace but unfortunately some things happened that we had little control over. Now we look ahead to the next race."
Matteo Baiocco: "It's really a pity that we couldn't complete the warm-up in the dry and we didn't need the technical stop in race 1 as it would have given us the chance to set a few things on the bike that I hadn't previously had the opportunity to do. In race 2 we made some changes that I didn't like and I really struggled. I finished the race though, trying to score some more championship points. Now we have to prepare well for Sepang so that we arrive there with clearer ideas."

MV Agusta F3 800cc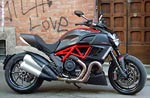 The Devil Made Us Do It!
Testing the Ducati Diavel in Italy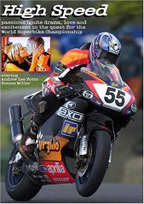 High Speed - the Movie
The best motorcycle racing movie ever made! Filmed on location at the World Superbike races , this an exciting romantic drama staring beautiful British actress Sienna Miller.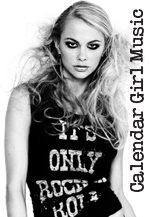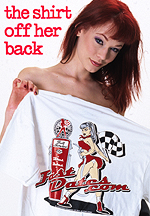 Order the Official
FastDates.com &
LA Calendar Bike Show
T-Shirts!