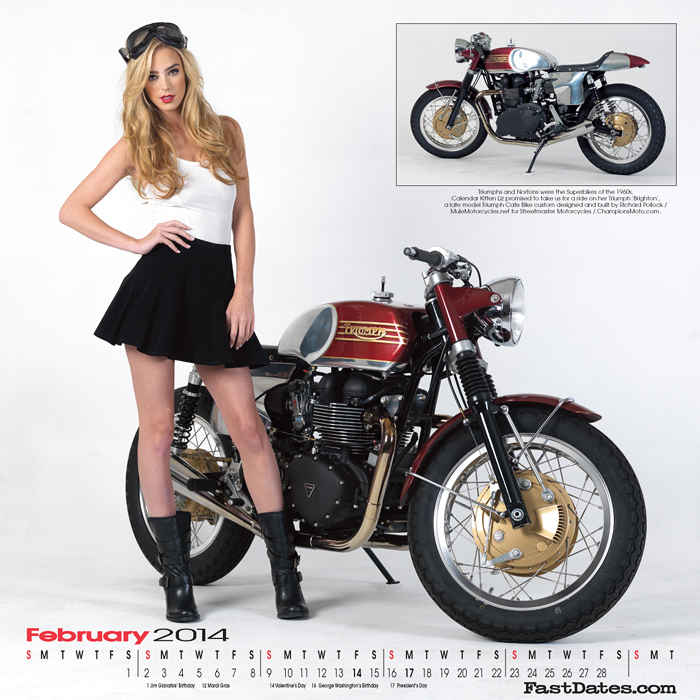 This Month in the Fast Dates World Superbike Calendar ....
Beautiful Calendar Kitten Liz looks ready to go for a ride on this awesome Streetmaster Triumph cafe racer by Richard Pollock / Mule Motorcycles.. You'll find bikes like this with beautiful Kittens featured in the Calendar Bike Garage with full specifications and screensaver size pictures.
---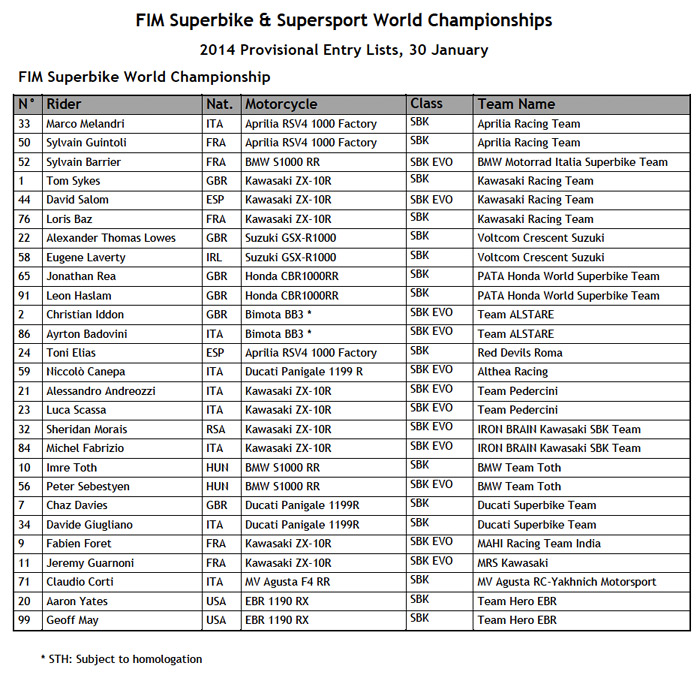 Provisional Permanent Entry List for the 2014 SBK World Superbike Championship
January 30th 2014 - The SBK Eni Superbike Championship released its Provisional Entry List of Permanent Riders and Teams for the 2014 World Superbike Class. It's a really exciting solid lineup of 29 full time Riders with 10 different marques of Motorcycle Manufacturers. The Permanent Rider starting grids will also be increased at each round by Wild card Entries in the different countries. New manufacturers joining the Championship this year include Team Hero Eric Buell Racing with American riders Aaron Yates and Geoff May, the MV Agusta factory bike fielded by reigning Supersport Championship team RC-Yakhnich Motorsports, and Team Alstare now campaigning the new Bimota BB3 Superbike.

The 2014 World Superbike Championships kicks off this month February 22-14th at Phillip Island, Australia, with official pre season testing taking place at track the the week beforehand.
---
British rider Chaz Davies (left) and Italian Davide Giugliano(right) to compete in the 2014 championship aboard the 1199 Panigale

Ducati Gets Serious in 2014
Returning to SBK World Superbike with an Official Factory Team
Borgo Panigale (Bologna, Italy), Monday 27 January 2014 – With just a few weeks to go before the start of the 2014 Superbike World Championship at the Australian circuit of Phillip Island on 23 February, the Ducati Superbike Team has been officially presented to fans, enthusiasts and press in an exclusive live streaming event from the Ducati Auditorium in Borgo Panigale.

The 2014 season will see the return of Ducati (the winners of 31 world titles in World Superbike, composed of 17 Manufacturers and 14 Riders titles) in an official capacity to the World Superbike Championship. Ducati will also re-establish its collaboration with Feel Racing, the logistical and organisational structure based in Crespellano, in the province of Bologna, a relationship that was interrupted in 2010, the last year in which the Bologna-based manufacturer participated in the production-derived series as a factory team.

On stage to present the season's plans and technical innovations were Claudio Domenicali (CEO Ducati Motor Holding), Luigi Dall'Igna (General Manager Ducati Corse), Paolo Ciabatti (Sporting Director Ducati Corse), Ernesto Marinelli (SBK Project Director) and Team Manager Serafino Foti. A clear and tangible sign of how important it is for Ducati to have its red machines return as frontrunners in the World Superbike championship.

Next to take to the stage were the two Ducati Superbike factory riders, 26-year old Welshman Chaz Davies and 24-year old Italian Davide Giugliano, on hand to unveil the 2014 version of the 1199 Panigale with its new racing livery that includes the team's main sponsors TIM, Fiamm, Valsir and Diadora.

The event was broadcast live on the web thanks to avant-garde filming and encoding technology, the fruit of innovation from Telecom Italia - team sponsor with the TIM brand – and the new TIM 4G mobile network. Fans from across the world connected to the live streaming via www.ducati.com, www.liveonlte.tim.it and various social media sites. The public also had the chance to interact directly with members of the Ducati Superbike Team, by sending a series of questions that contributed to the success of the event with interaction between the web users and protagonists on the stage.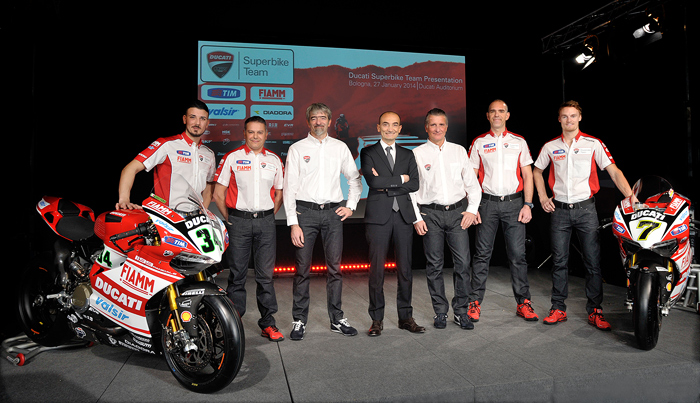 Above from left: Davide Giugliano, Serafino Foti, Luigi Dall'Igna, Claudio Domenicali, Paolo Ciabatti, Ernesto Marinelli, Chaz davies. CLICK TO GO BIG

Claudio Domenicali - CEO Ducati Motor Holding
"It is with great satisfaction that I open the new 2014 racing season with the presentation of the Ducati Superbike team. Using a movie analogy, this is our 'Back to the Future', where Ducati starts from its origins and essential values, looking forward decisively towards new challenges and new goals. As it always has been, Superbike is an important element for Ducati, its fans and enthusiasts and we take great interest in it. Its proximity to the product, the fact that Ducati made its name in the modern era thanks to the many victories of its twin-cylinder machines in this championship for production-derived bikes, the chance to develop solutions and kits to offer to our clients and fans, all of this makes Superbike a strategic championship for us. Ducati and its fans look forward to seeing the Panigale fighting for the top step of the rostrum, and Luigi Dall'Igna certainly has the experience and competence with which to take the team in that direction. I wish them all the best of luck, especially our two new riders Chaz and Davide who, I am sure, will do everything they can to put the smile back on the faces of the Ducatisti."

Luigi Dall'Igna - General Manager Ducati Corse
"The results of the latest tests are encouraging. Both riders were able to record important lap times but more important is the fact that their comments regarding the bike have been positive. This is a key factor, especially in view of the experience they have accumulated in recent seasons and the fact that both were riding bikes of reference until just a few months ago. They are together providing us with the feedback needed in order to develop the 1199 Panigale in the best possible way. There is of course a lot of work still to do but I am confident and optimistic and believe that over the course of this coming championship we will get the bike back to where it deserves to be."

Paolo Ciabatti – Sporting Director Ducati Corse
"2014 gets off to a good start. We have taken the decision to run the Superbike team directly once more, in conjunction with Feel Racing. We have won many titles with the Feel Racing team in the past and seeing as they are based in Crespellano, close to Bologna, it is as if they are an offshoot of Ducati Corse. We have two new riders, Chaz and Davide who, as well as being young, are also very ambitious and competitive, and with them we hope that we will soon get back to achieving the kind of results we expect. To win against the four-cylinders will not be easy but we think that we can achieve good results this year and finally bring satisfaction to our fans with the 1199 Panigale."

Ernesto Marinelli - SBK Project Director
"The 2014 version of the Panigale has undergone various evolutions since last year. I would say the main one regards the electronics system that has been completely modified, generating not only an advantage in terms of functionality but also a lower overall weight. With regard to the chassis, the biggest change involves the new Ӧhlins suspension, which this season has a price cap imposed by the regulations. The braking system has also changed, with new 328mm Brembo front discs, and the engine has undergone evolution in order to achieve greater performance. We believe that we have a good bike/rider package with which to bring Ducati back to the positions that count."

Serafino Foti - Team Manager
"I think that Chaz and Davide have a characteristic in common, in that neither of them has yet reached the apex of his career, so this gives them both great motivation. We will learn more about our level of competitiveness in about a month's time in Australia but the important thing is to have faith in the bikes and to know that we have given our all throughout this first phase. Another important thing is not to lose focus during the season, as this will undoubtedly be a very difficult championship of the highest level. The goal is to give the Ducati fans the kind of excitement that they experienced in the past – we will give it our all!"

Chaz Davies – Ducati Superbike Team #7
"I haven't been riding the Panigale for very long yet but I feel that my bike has a lot of potential still to explore and evaluate. It's important to continue to work hard and to stay focused on improving each component of the bike but this is a challenge that I'm very much looking forward to. I think that the bike has the potential to win races; we just need to keep working in the same direction and make the most of every opportunity that presents itself during race weekends. I think Davide and I will develop a strong working relationship and this will allow us to support and spur each other on to achieve positive results on the track."

Davide Giugliano – Ducati Superbike Team #34
"My new Panigale is something amazing, a bike that immediately feels like mine and with which I'm immediately in tune. I'm very pleased with how the bike is developing and so this is already very positive. Chaz is undoubtedly a great rider, a great talent and this season he will surely be one of my toughest rivals but I know that we'll work together and will encourage each other to always do our best. We also owe it to the fans of course, as we want everybody who has always followed and supported Ducati to have fun and enjoy the results! I'm more than ready to get going and can't wait to start the championship."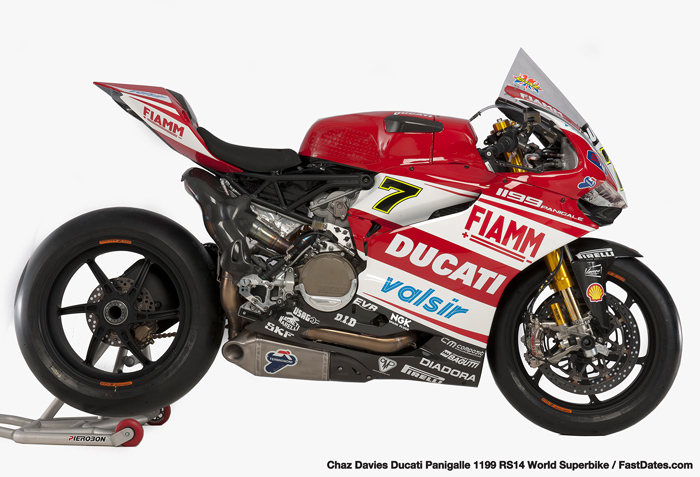 Click to Enlarge
Meet the All New 1199RS14 Panigale World Superbike Exotic
Say "Good Bye" to the disaster that was the 1199RS13 Panigale, raced uncompetively last year by independent contracted Team Alstare, a bike that was down some 30 horsepower / 20kph top speed on its competition. Team rider and 2011 World Superbike Champion Carlos Checa was forced to ride so far over his head most of the 2013 season just to finish in the top ten, until at Istanbul in September were he suffered a serious practice crash that fractured his pelvis among other injuries and forced him to sit out the remainder of the season. With no prospects for a competitive ride with Ducati Panigale back in November, Carlos knew he was better off to announce his retirement from racing at age 41.

What most race fans people didn't know unless you are a Pit Lane News reader( to who we revealed last fall) back in June 2013 the Alstare team was told by SBK that they could bend the rules if they wanted (read cheat) to try and make the bike competitive with the 4-cylinder bikes . The sanctioned cheating included removal of the 50mm Intake Restrictors (required for 1200cc V-twins, which according to the FIM rule book could only be removed in 2mm increments after 6 races of non top 10 finishes) to go back in one big jump to the stock 67.5mm throttle bodies. And whatever else Ducati wanted to do inside the engine with the use of non homologated parts and specifications. The problem was, there was no development program in place back at Ducati Corse to design and test such parts, and Team Alstare was being told by Ducati at the time, the bike is fine and leave it alone. By the end of the 2013 race season with Ducati suffering its worst results ever in World Superbike, there was finger pointing going on from both sides, so Team Alstare and Ducati Corse decided to company just half-way through their 2-year contract.
With Team Alstare gone in November 2013, Ducati management final realized they needed to bring their factory World Superbike effort back in-house and develop the bike. The first step was to hire Aprilia team manager Luigi Dall'Igna away from Aprilia and put him in charge of the Ducati Corse race department. Whether "GiGi" can split his focus to save both of Ducati Core's struggling WSBK and MotoGP race programs in just a few short months, is probably next to impossible. Plus, both 2014 Corse SBK and MotoGP race programs do not have the A-list riders needed to take on the likes of the current World Championship winning teams and riders they will be up against in both race series.

The new 1199 RS14 revealed this week by Ducati Corse and pictured here, will undoubtedly see ongoing development changes and performance gains as the race season progresses and more new parts are designed and tried. It will probably be the most exotic factory Ducati "production" bike ever raced in World Superbike because SBK has granted them a no holds bared "Get Out of Jail" card to bend the rules any way they want. We're guessing cylinder compression ratios as high as 15:1 on race gas (stock compression is 12.5:1), wild cams, full Titanium Desmo valve trains and gears, possibly even a Titanium crankshaft and gearbox set set.

The only stock components on the 1199 RS14 are probably the cast aluminum steering head box, the swingarm and engine cases. Those could be made out of magnesium and carbon fiber if Ducati Corse wanted, but the new production Panigale Superleggera with street gear and lights, is already below the FIM mandated 364lb minimum weight limit, so there is no need to go lighter.

If you click on the 1199 RS14 bike pictures here, to enlarge them, and study the RS14's details closely, you will see every other component of even this early season bike, is changed. Start with the mock fuel tank which is actually an enlarged airbox at the front, with much of the fuel now carried lower in the frame under that blacked-out fuel tank extension under the rider's seat. The rear sub frame is now aluminum tubing to accommodate the under seat fuel tank, rather than the stock cast aluminum sub frame or the carbon fibre one on the Superleggera. All the rear suspension shock brackets are billet rather than stock cast. The Termignoni Exhaust system has different bends and length compared to the optional Ducati Performance Termignoni system.
The bodywork is all carbon fibre, and remember, those headlights are just painted on.

And the suspension is full mechanically adjustable Ohlins Moto GP / Superbike spec, not the computer controled electronic suspension as found on the production on the 1199 S/R models. The Brembo Brakes and Rotors are also higher spec than stock. Even the super light 1199R and Superleggera Marchesini wheels are replaced on the RS14 with possibly even lighter OZ Wheels

With the full change over to EVO based Superbike rules in 2015, this will be the last year for exotic factory World Superbikes.
It will be very interesting to see this season if Ducati Corse can make the Panigale's 1199 Superquadro motor as competitive as the factory Kawasaki and Aprilia, before they all have to revert back to full production tuned engines with the full implementation of Evo class rules next year in World Superbike and most National Championships. But for this one last year with the FIM Technical Rulebook thrown out just for the boys from Bologna, we get to see the most exotic factory Ducati Superbike ever.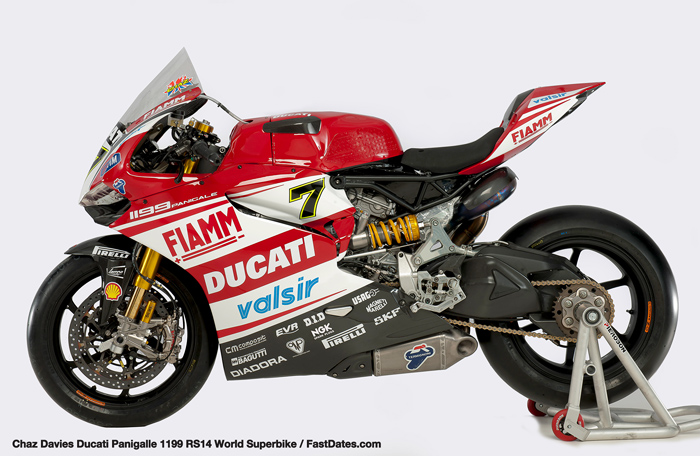 Click to Enlarge
Ducati 1199 RS14 Panigale Technical Specification:
'Superquadro' Engine
Type: 4-stroke L-twin 90°
Capacity: 1198cm3
Bore x Stroke: 112mm x 60.8mm
Timing system: Desmodromic, 4 valves per cylinder
Cooling system: liquid cooled
Engine management: Electronic Ignition-injection ECU Magneti Marelli WLF independent motorized elliptical throttle bodies*
Fuel injection: Electronic injection system,
Injectors: Mitsubishi SF2204, twin injectors each cylinder
Exhaust system: Termignoni stainless steel/titanium 2-1-2 with two titanium mufflers
Power: >210CV** at 11500rpm at the crankshaft
Maximum speed: >310km/h
Lubrication: Gear oil pump

Transmission
Gearbox: 6-Speed, straight cut gears
Clutch: EVR wet multiple plate slipper clutch with hydraulic contr

Chassis
Frame Suspension: Aluminium monocoque
Wheels: Z aluminium forged wheels 3.50x17'' front and 6.00x17'' rear
Suspension: 42 mm pressurized RSP25 upside-down Öhlins fork, s
ingle-side aluminium swingarm, with Öhlins RSP40 shock absorber O

Brakes
Front:Brembo radial P4X30-34 calipers, two Ø 328mm floating discs
Rear: Radial P2X34 caliper, one 218mm Ø disc

Tyres
Front: Pirelli slick 120/70-R17
Rear: Pirelli slick 200/60-R17
---
2014 Pata Honda Team presented at Verona Motor Bike Expo
January 25th -The 2014 Pata Honda team that will contest this season's FIM World Superbike and World Supersport championships was presented this afternoon at the Motor Bike Expo exhibition at Verona in Italy.
 
The team comprises the same rider line-up as in 2013 with British riders Jonathan Rea and Leon Haslam riding the new Honda CBR1000RR Fireblade SP in the 14-round World Superbike championship which kicks off at Phillip Island in Australia on 23 February.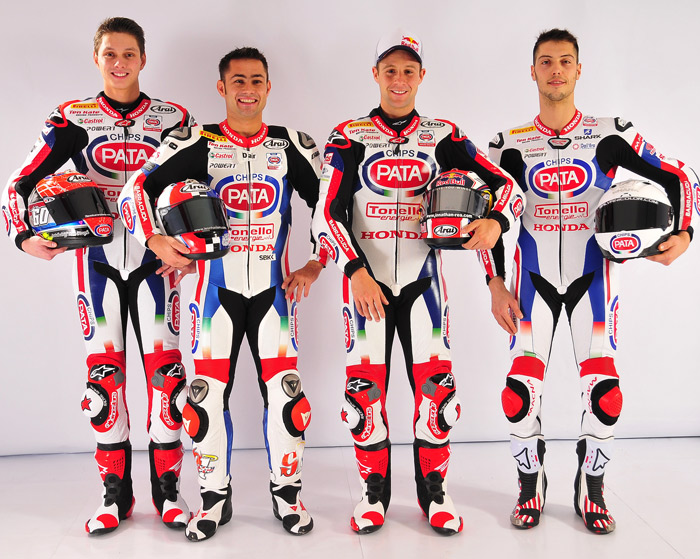 Team Pata Honda from left: Michael van der Mark, Leon Haslam, Jonathan Rea and Lorenzo Zanetti.


Meanwhile, following their rookie seasons in 2013, Dutch rider Michael van der Mark and Italian ace Lorenzo Zanetti will challenge for honours on Honda's CBR600RR in the World Supersport series, which also starts at Phillip Island next month.
 
The team presentation took place in front of hundreds of media and motorcycle racing fans on day two of the increasingly popular Motor Bike Expo at Verona. The show is taking place just 70km from the headquarters and factory of Pata, Italy's famous snack manufacturer which is title partner of the Pata Honda team for the second year.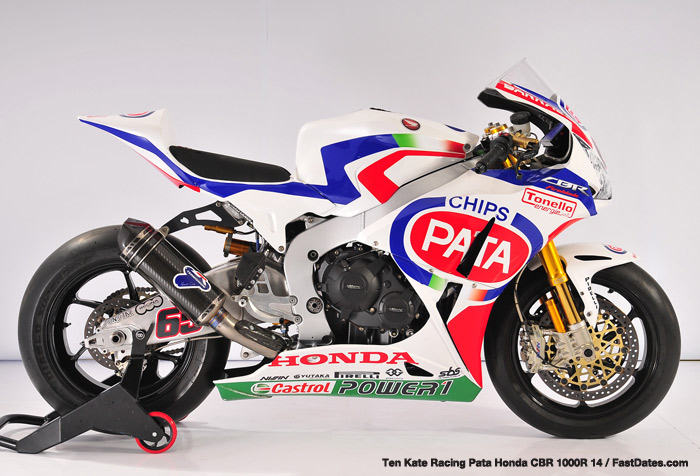 Can you spot the changes from Jonathan Rea's new 2014 season Pata Honda CBR1000R introduced this week (above), and the 2013 season team bike photographed with our beautiful SBK Fast Dates Calendar Kittens Hannah and Jessica below? The new bike has more affordable Ohlins production Superbike suspension and a more conventional swingarm, whereas the 2013 bike has much more expensive billet machined Ohlins MotoGP suspension and a much more heavily braced swingarm, and different Nissin brakes. However the bike shown at Verna could just be a display bikes with lower cost components, and not what will be race later this month at Phillip Island.
---
2014 LA Calendar Motorcyc;e Show Moves to the Malibu Golf Cours on July 20th
The 2014 LA Calendar Motorcycle Show continues its now 23rd year tradition as the premier outdoor streetbike event in America with the Calendar Bike Building Championship & Concours d' Elegance, top Celebrity Builders, selected Vendors and Exhibitors, and the Calendar Girl Music Show. The Show always kicks off the world premier of next year's new 2015 FastDates.com Motorcycle PinUp Calendars featuring the world's top road race and custom motorcycles with the beautiful Calendar Kittens featured in the Calendars in attendance at the Show.
A special treat this year will be the personal appearance of SBK Fast Dates World Superbike Girls Jitka and Petra from the Czech Republic. The weekend beforehand they will be featured at the SBK World Superbike USA round at Mazda Raceway, Laguna Seca working on the Starting Grid and Victory Podium for the World TV broadcast. During their first ever trip to America these two beautiful Czech supermodels will also be shooting with Calendar photographer and Show producer Jim Gianatsis for the Fast Dates World Superbike Calendar at Laguna Seca, and in Los Angeles with the top winning bikes at the Calendar Show. Jitka and Petra are featured in the new 2015 Calendars which will premier at the Show, and fans will be able to buy the Calendars and have them personally autographed, and pose with the SBK Fast Dates girls for pictures.
The Calendar Show relocates this year to the beautiful green event lawn of the exclusive Malibu Golf Course, located at 901 Encinal Canyon Road. Malibu, CA 90265 in the beautiful Santa Monica Mountains cooled by ocean breezes, just outside Los Angeles. The location is on the world's best motorcycle riding roads, just off legendary Mulholland Highway and the Pacific Coast Highway 1, midway between Southern California's favorite motorcycle enthusiast gather spots The Rock Store and Neptune's Net / County Line.
The Calendar Bike Building Championship includes the popular Pro Builder and Street Custom classes, Cafe Bike / Bobber, and Sportbike/Racebike Classes, and a growing Collector Bike Market for European and Japanese Classics. Show Entries will be placed in a Concours d' Elegance displays on special event field of the Malibu Golf Course. Spectators arriving early before 10am on special interest custom, sport bike and collector bikes will be invited to park inside the Show grounds and display their bikes for the duration of the event.
Among the top name custom bike builders expected at the Show are former Calendar Bike Building Championship winners featured in the FastDates.com Calendars including builders Russell Mitchell / Exile Cycles, Jim Giuffra and the Spokesmodels of AFT Metric Customs, Shinya Kimura / Chabott Engineering, Ron Simms / Ron Simms Customs, Richard Pollock / Mule Motorcycles, Chris Redpath / MotoGPwerks and many more.
Headlining the included live Calendar Girl Music Festival entertainment again this year is beautiful signer songwriters Lily Elise, featured on NBC TV's The Voice as a Finalist and member of Team Christina Aguilera, who will be performing with her full band. With other talented singer songwriters to be announced.
The Malibu Golf Course's own Malibu & Vine gourmet restaurant will be preparing an incredible $20 BBQ lunch menu including soft drinks that promises to exceed expectations of what is normally served at bike events. Beer and Wine will also be available, as well as access to the full Malibu & Vine Restaurant and Outdoor Bar with shaded tables on the lawn. In all, it will be a full day of incredible bikes and celebrity builders, beautiful girls, great music, tasty food and beverages that will overwhelm all five of the human senses!
The 2013 LA Calendar Motorcycle Show & Concours d' Elegance is just $20 General Admission, and $40 VIP Admission includes a BBQ Lunch w/ Beverages. Event parking is free, with separate paved Motorcycle and Car Parking areas. Show capacity is limited and advance ticket purchase is suggested. The Malibu Golf Course is located at 901 Encinal Canyon Road. Malibu, CA 90265. Additional Information, Purchase Advance Tickets, Vendor and Bike Contest Registration is online at: www.FastDates.com/BIKESHOW.HTM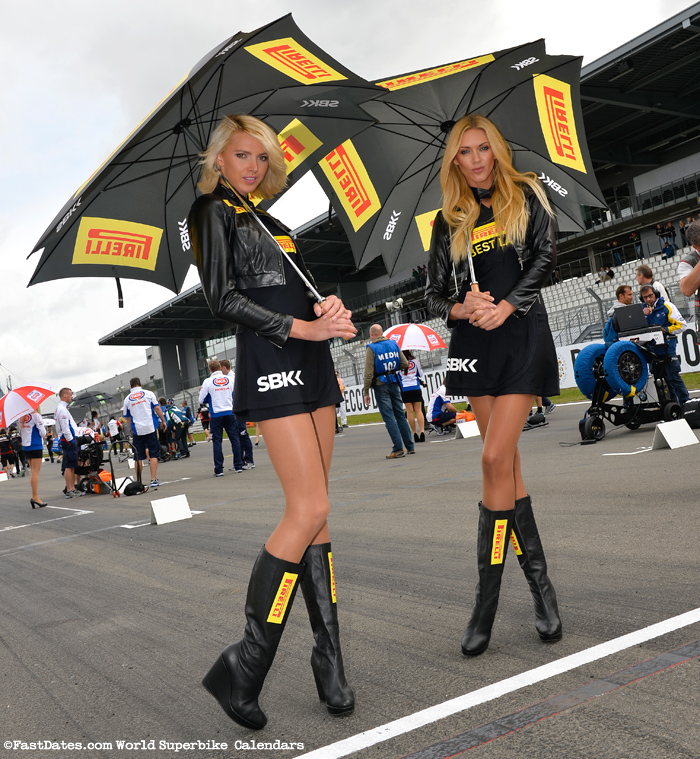 FastDates.com Calendar Kittens and official SBK World Superbike Umbrella Girls, Jitka (left) and Petra (right) are featured in the
2014 Fast Dates World Superbike and Garage Girls Calendars, and the new 2014 Fast Calendar Digital Magazine.
Fast Dates brings Czech SBK girls Jitka and Petra to
Laguna Seca World Superbike and the LA Calendar Motorcycle Show in July 2014!
January 10, 204 - The FastDates.com Calendars and producer / photographer Jim Gianatsis are excited to announce an agreement with SBK World Superbike and the international model agencies PetrasAngles.com and UmbrellaGilrsUSA.com to bring beautiful Czech Republic SBK grid girls Jitka and Petra to the United States this July 2014 to appear at Laguna Seca SBK World Superbike round and the LA Calendar Motorcycle Show.
These two 6-foot 2-inch tall long legged, blond hair professional supermodels hail from the capital of the Czech Republic, Prauge, and have been featured on SBK world TV race broadcasts the last 3 years standing at the front of the SBK World Superbike starting grid towering above the race bikes and riders in their uniforms with umbrellas to showcase SBK's title sponsors Pirelli Tires, Agip Fuels and Lubricants, and Alfa Romeo Automobiles. In their official uniforms with 6-inch heels on their platform boots, Jitka and Petra tower nearly 7 feet tall and can intimidate the bravest factory racers and experienced photographers!

Both these Czech mates are already official FastDates.com Calendar Kittens having shot for the Calendars with contributing Italian photographer Max Oliana at the 2012 and 2013 SBK rounds at Bruno and Silverstone for the current 2014 and upcoming 2015 Fast Dates World Superbike and Garage Girls PinUp Calendars.
Meet the offical SBK Fast Dates World Superbike Girls Here!
---

Newly crowned 2013 British Superbike Champion Sam Lowes was quickest in Portugal on the factroy Suzuki, just ahead of the other new Suzuki team rider Eurene Laverty.
 
SBK World Superbike Pre Season Testing
Voltcome Cresent Suzuki Turnes the Quickest Times at Portimao, Ducati has the 1199 Up to Speed
Portimao (Portugal), Monday 20 January 2014 - Voltcom Crescent Suzuki successfully concluded its week of pre-season testing with Alex Lowes topping the Portimao timesheets today, following-on from Eugene Laverty's quickest-time yesterday.
Lowes' and Laverty's detailed evaluations after four-days on-board the Yoshimura-powered GSX-R, firstly in Almeria, Spain - and for the last two-days at Portimao in Portugal - enabled the Voltcom Crescent Suzuki squad to refine the 2014 Öhlins suspension and newly-developed electronic control strategies, as the pair completed a thorough test schedule.
A full day of testing today saw the team working non-stop to ensure the most-efficient use of time and track: Lowes completed 165 laps over the two days in Portimao (725-kms of flat-out riding) on a track he had never previously ridden, while Laverty completed 133 laps. The distance covered allowed the team numerous chassis-setting evaluations to find the best balance for braking stability, steering and rear grip to further the developments made in Almeria last week.
Laverty's lap-time of 1'43.4 topped the unofficial day one timesheets, from the four Factory World Superbike teams running on a blustery day-one at Portimao, with his team-mate Lowes taking the top spot overall in the combined two-day timings with a 1'42.5 as Laverty also improved to a 1'42.6.
The Voltcom Crescent Suzuki team will now return to its UK base to further evaluate the data collected and prepare for the opening round of the eni FIM Superbike World Championship and the official pre-season test at Phillip Island, Australia in a month's time.
Unofficial Two-Day Combined Times: 1. Alex Lowes (Voltcom Crescent Suzuki) 1'42.5: 2. Eugene Laverty (Voltcom Crescent Suzuki) 1'42.6: 3. Jonathan Rea (Honda) 1'42.9: 4. Davide Giugliano (Ducati) 1'43.0: 5. Marco Melandri (Aprilia) 1'43.1: 6. Chaz Davies (Ducati) 1'43.2: 6. Leon Haslam (Honda) 1'43.5.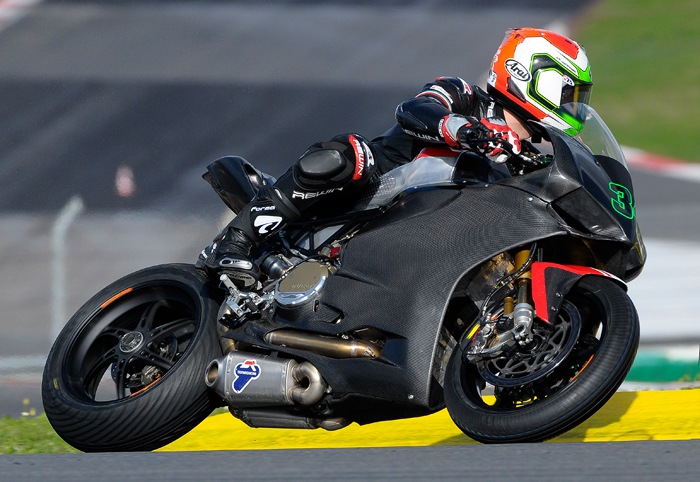 Davies and Giugliano (shown here) continue to gain confidence with the 1199 Panigale Superbike. Note the raintires, with the weather unfortunately impacting the planned work schedule in Portugal
---
Surprise! - Alstare and Bimota Go World Superbike EVO racing in 2014
Liège, Monday 13th, Jan 2014 - One spin-off of the newly formed long-term partnership between the legendary Bimota brand and Alstare – the most experienced team in World Superbikes - is the formation of Team BIMOTA ALSTARE RACING which will compete in the EVO class in this year's World Superbike Championship on the formidable Bimota BB3*.

Engineer Acquaviva and his team at Bimota's headquarters in Rimini have taken the bullet-proof BMW engine and married it to a beautifully designed chassis – designed and built in their own workshops - together with high level components in all areas. The result is a stunning looking bike, but one that hides a powerful beast within.

It will be Alstare's job to develop this bike, with Bimota's full co-operation, and turn it into a race winner and bring success on track to both companies. The team will attack the EVO class with two riders – Italian Ayrton Badovini and Briton Christian Iddon .Ayrton is no stranger to Alstare, having ridden for them last year – in what proved to be a very challenging season. Now fully fit again, the Italian is comfortable with the team and ready to go to fight for glory right from the start.

Christian may well be new to the team, but there is a Bimota connection as his father rode a Bimota YB3 in the opening years of the championship. Christian comes from a successful background in motocross and supermoto and only switched to roadracing in 2008, but has begun to show his huge potential and is definitely one to watch for the future.
---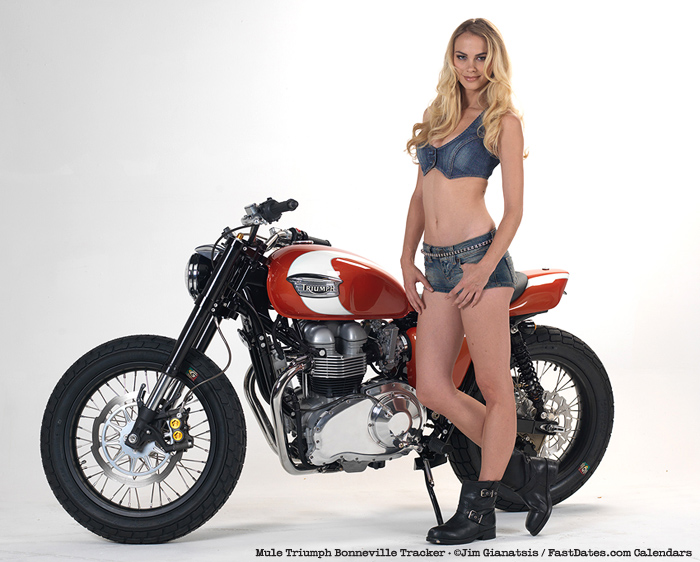 Mule Motorcycles Triumph Bonneville Tracker now in the Calendar Bike Garage!
Check out this awesome Triumph Bonneville Streetracker built by one of our favorite Calendar Bike Builders, Richard Pollock / Mule Motorcycles, now featured in the FastDates.com Calendar Bike Garage with complete details and large screen saver size pictures. We might just even have included this picture of beautiful Sara with the bike.... Go to Calendar Bike Garage
Mule Motorcycles "Web Surfer 2" now in the Calendar Bike Garage!
Check out this awesome new Buell powered Streetracker built by one of our favorite Calendar Bike Builders, Richard Pollock / Mule Motorcycles, which is now featured in the FastDates.com Calendar Bike Gatage with complete details and large screen saver size pictures. You'll even find this Calendar picture of beautiful Sara with the bike.... Go to Calendar Bike Garage
---


The Sprocket Theif!
---
NEW! FAST 2014 Digital Calendar Magazine Yearbook
The Bikes, the Builders, the Riders, the Kittens,the Calendar Bike Show, the World Superbike races all the 2014 Calendar Pictures, and Special Features... For the first time every we take you around the world in 120 exclusive pages for the making of the 2014 FastDates.com Calendars! Now in Members Corner
Click Above for a full size screensaver of our Gianatsis Design offices Computer Monitor as we select pictures from this year's World Superbike photo shoots and begin production of the next Fast dates World Superbike Calendar!
Shooting the next FastDates.com Calendar at Laguna Seca Wold Superbike!
Go behing te scenes with photographer Jim Gianatsis and senen (!) beautiful FastDates.com Calendar Kittens - the offical SBK World Superbike Umbrella Girls, as we shoot the next edition of the Fast Dates World Superbike Calendar at Mazda Raceway Laguna Seca this past September 26-28th 2013. The Complete Story in FAST DATES NEWS.
---
There's More! Go to Pit Lane News Previous Week

Also Visit: Fast Dates Calendar News • Iron & Lace Calendar News
Calendar Girl News • Meet the Models • Paddock Garage
Get FastDates.com T-Shirts, Mugs & Photographs from Our Store

MEMBERS CORNER! Calendar Kittens, Paddock Garage, Iron & Lace Garage


Amazon.com Motorcycle Products & Apparel Store



MotorcycleSuperstore.com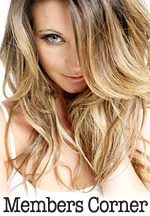 Hot Bikes, Sexy Kittens
Your Exclusive Grid Pass
also includes....
---
Order the New
2013 / 2014 Calendars!
with the FastDates.com Calendar Kittens - the official SBK Umbrella Girls!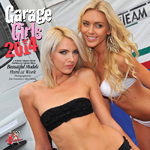 Click for even more
2014 Calendars!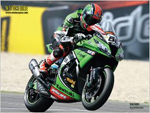 2014 Superbike / MotoGP
Action Calendar!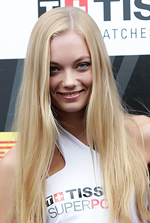 Meet the offical SBK
World Superbike Girls!

Tommy Aquino photo curtesy AMA Pro Racing / Brian J Nelson
Racer Tommy Aquino killed in California crash
Monday, Feb 3rd 2014
21-year-old American rider Tommy Aquino has passed away following a motocross accident at the Piru motocross track in California on Sunday.
According to officials, Aquino lost his life in an incident which took place shortly before 12.30pm, with reports labeling the incident a head-on collision between two motorcyclists at the track in the 4300 block of Center Street. One rider was seriously injured and taken to hospital by helicopter, while Aquino was pronounced dead at the scene with his family confirming his passing shortly afterwards.
Aquino had quickly risen through the ranks and was recently a competitor in the British Superstock Series. He competed in Spain's FIM CEV in 2011 (Valencia and Jerez) and 2012 (Jerez, Navarra and Catalunya, scoring points in the latter two). Also in 2011, he earned a victory at the New Jersey Motorsports Park before finishing third in the AMA Pro Daytona SportBike Rider Championship.
New Superpole Format for World Superbike
Dec 23rd - The 2014 edition of the eni FIM Superbike World Championship will see the introduction of a new Tissot-Superpole format, based on two sessions of 15 minutes each. Twenty riders will battle for the best placing on the grid, with the combined times in free practice to play a bigger role in the chase for pole position.
This change is part of an effort to make WSBK and GP Sporting Rules as similar as possible, to create a common ground in terms of regulations that can help circuit organisers, marshals and everyone involved in both series.
Tissot-Superpole - New procedure
- The top 20 riders classified after the Free Practice 1, 2 and 3 sessions will take part in Tissot-Superpole
- The ten fastest riders will be seeded directly into to Superpole 2 while the riders classified 11th to 20th will take part in Superpole 1
- The fastest two riders in Superpole 1 will progress to Superpole 2, making a total of 12 riders competing for the first 12 grid positions
- Both Superpole sessions will run for 15 minutes each. There will be a break of 10 minutes in between Superpole 1 & Superpole 2
Althea returns to World Superbike as Ducati's reference team for the World Superbike EVO class
Dec 20th- The Althea Racing-Ducati duo is back together for the 2014 eni FIM Superbike World Championship, as the team will run a 1199 Panigale in the EVO class. The Italian outfit will be Ducati's reference team for the newly born EVO category and its staff remains totally unchanged from last year.
Piloting the Althea Racing 1199 Panigale EVO will be Niccolò Canepa, a long-time Ducati rider. The 25 year old from Genova was runner-up in last year's FIM Superstock 1000 Cup with Team Barni, again on a Panigale, and took part in two WSBK rounds with Team Ducati Alstare, one of which as substitute rider for Carlos Checa.
Genesio Bevilacqua: "We are delighted to be back with Ducati as we achieved tremendous results together in the past, and we are looking forward to do the same now. Niccolò Canepa is the right rider for our new project, I have a lot of respect for him. We are fully committed and we want to thank Ducati for the trust put in us, I'm sure we will reward the company with some good performance."
Niccolò Canepa: "I'm so happy to be part of this new project, it was really important for me to step up to WSBK and I feel Althea Racing is the right team to do so. 2014 will be a crucial year for World Superbike, due to the introduction of the EVO class, it will be interesting to see how things will shape up. It's nice to stay with Ducati, my second family, and an honour to race for the 2011 Championship winning team. We need some testing before Phillip Island, so we can find a base set-up for the Panigale and gel together, but I know the bike quite well - in both STK and WSBK versions - and the team has an incredible amount of experience, so I think it won't take too long. I'm sure we'll do great things together."
Laguna Seca World Superbike USA to return to One Day, 2-Race format in 2014
With the release of the 2014 SBK World Superbike Calendar we can see that the USA round of World Superbike at Mazda Raceway Laguna Seca has returned to the traditional mid July motorcycle race weekend date at the west coast track which, having most recently been used by the MotoGP round, which is not returning to Laguna in 2014.
It's know that this past Septembers WSBK race weekend at Laguna was a disappointment as far as spectator attendance - we estimated perhaps 4,000 spectators at best, far from break-even profitable for the track.
Part of the problem for low spectator attendance was probably running the combined WSBK / AMA extended 3-day race weekend in September, so soon after their July combined MotoGP / AMA race weekend. That and the fact the traditional one day, 2-race format for WSBK had been spread out over 2 days, Saturday and Sunday, like the AMA does with its Superbike races.
The problem being in this difficult economy, spreading the feature event WSBK and AMA Superbike races over 2 days, Saturday and Sunday, together with Friday Practice, makes the races an expensive 2-4 day race weekend for spectators flying or driving in from Southern California.
That includes another day or two of expensive Monterey hotels, restaurants and lost days of work back home.
By now returning in 2014 to the traditional 2-day WSBK weekend with Qualifying Practice and Superpole on Saturday, and both Superbike races on Sunday, fans can now experience a much more affordable 1-3 day weekend at Laguna Seca to see both SBK races on Sunday.
We haven't heard yet how the AMA will schedule its Pro Racing classes during the 3-day WSBK race weekend which also includes Practice on Friday.
FINALLY!
AMA Pro Racing Annouces News Class Structures beginning in 2014, with Superbikes to eventualy conform to new World and National EVO Rules

DAYTONA BEACH, Fla. (December 4, 2013) - Officials from AMA Pro Racing announced today the future plans for the AMA Pro Road Racing class structure and rules package. The changes, which are planned for the 2015 AMA Pro Road Racing season, are being made with the goal of fostering a cost-effective and competitive racing platform for America's premier motorcycle road racing series.
 
"These long-term, strategic moves have been planned with careful consideration and after many conversations with our motorcycle manufacturers, teams, riders and event promoters," said Michael Gentry, Chief Operating Officer of AMA Pro Racing. "We feel that these changes will help us elevate the sport of professional motorcycle racing in North America to greater heights."
 
AMA Pro Racing will further refine the Series' tiered performance structure comprised of production-based classes. The performance characteristics of the motorcycles raced in each division will be configured so as to provide appropriate platforms for riders to compete and hone their skills as they climb the ladder to the premier AMA Pro SuperBike division.
 
AMA Pro SuperBike will be entering its 40th year of competition and will once again be featured as the headlining class for the Series. Following consultation with both World and National Superbike championship governing bodies, incremental changes will be made to the technical rules package over the next two seasons in the interest of rule commonality, performance parity and cost containment.
 
Equally as important to the class restructuring, the 2014 SuperSport season will be reconfigured as an overall National championship; the class will no longer be separated into East and West divisions. In 2015, a consolidated middleweight category will be established by combining the AMA Pro GoPro Daytona SportBike and AMA Pro SuperSport classes.
 
To complete the progressive class structure in 2015, AMA Pro Racing is investigating the potential of adding an entry-level division showcasing the smaller-displacement machines which are currently in large demand in showrooms across North America. The Vance & Hines Harley-Davidson Series is planned to enter its sixth season as part of the AMA Pro Road Racing class structure in 2015.
 
The 2014 AMA Pro Road Racing season will kick off once again at Daytona International Speedway. The event is scheduled for March 13 - 15, 2014 and will have the same three-day format featured in recent years, highlighted by the 73rd running of the DAYTONA 200 on Saturday afternoon.  For tickets and information, please visit DaytonaInternational
Speedway.com
 
About AMA Pro Road Racing: AMA Pro Road Racing is the premier motorcycle road racing series in North America and is universally regarded as one of the most competitive road racing organizations in the world. Learn more about AMA Pro Road Racing at www.amaproracing.com/rr/. 
AMA Pro Racing is the premier professional motorcycle racing organization in North America, operating a full schedule of events and championships for a variety of motorcycle disciplines.  Learn more about AMA Pro Racing at www.amaproracing.com.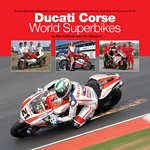 Retail $49.95 ea.
Click to Order from Amazon.com

Ducati Corse
World Superbikes
by Alan Cathcart
& Jim Gianatsis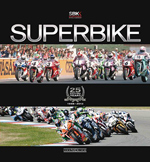 The Official SBK
World Superbikes
1987-2012
25 Year History Book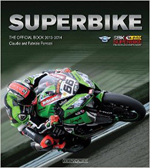 The Official SBK
2013-2014 Yearbook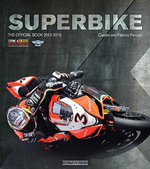 The Official SBK
2012-2013 Yearbook
These SBK Yearbooks are the Best Books Ever about World Superbike. They feature awesome color photography of the riders, bike and racing action. The feature a detailed revue of the past season in pictures and statistics, with a detailed look at the bikes and riders.

Plus a technical look data all the bikes, a preview of the upcoming season's Championship!
We buy this every year ourselves and highly recommend it!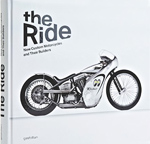 The Ride
The new generation
of sport customs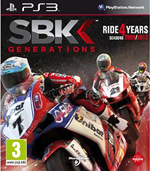 SBK World Superbike Video Game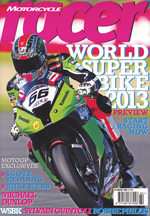 Official Print Media Partner
---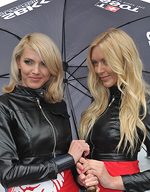 Meet 2013 Calendar Kitten
Jitunka & Petra!

MV Agusta F3 800cc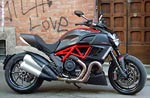 The Devil Made Us Do It!
Testing the Ducati Diavel in Italy
Sudco High Performance & OEM Replacement Parts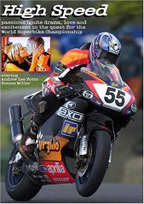 High Speed - the Movie
The best motorcycle racing movie ever made! Filmed on location at the World Superbike races , this an exciting romantic drama staring beautiful British actress Sienna Miller.
---
EDELWEISS OFFERS NEW and AFFORDABLE MOTORCYCLE TOUR ALONG THE DOLOMITES WITH CHALLENGING ROADS, OVERWHELMING MOUNTAIN SCENERY AND ITALIAN CUISINE AT ITS FINEST.
The Dolomites are a must for a passionate biker – come with us on an unforgettable motorcycle tour. The countryside is dominated by mountains, rivers, and gorge-like valleys, which have just space enough for a road and railroad tracks; but there are also bigger towns like Bolzano, where our base hotel is located.

Thinking about Italian culture you will notice quite a big difference from what you may expect; building style, cultures, languages, bilingual road signs and special foods show that varied peoples and ideas peacefully co-exist here. The Sella Ronda is a very good warm-up for the following days and our rides to Penserjoch, Jaufenpass and Timmelsjoch.

Eight more passes are on our schedule for the next day and we will have the opportunity to stop in the nice little town of Cortina d'Ampezzo, well known from the Olympics in 1956. Now it's time to make a decision: go to Venice for sightseeing or collect 10 more passes? Tough call! The last riding day leads us south to the wonderful Lake Garda, with swimming and riding at its best.
Find Out More
THROUGH THE ALPINE WONDERLAND OF AUSTRIA AND SOUTHERN GERMANY – THE ALPS AND LAKES MOTORCYCLE TOUR!
The Alps and Lakes motorcycle tour takes you through a beautiful part of European motorcycle paradise; the Alps. The contrast between the beautiful lakes in southern Germany and Austria and the towering mountains that reach up to more than 10,000 ft is nothing less than breathtaking.
This area is the famous background for the movie "Sound of Music". This vacation offers a little bit of everything: beautiful and relaxing rides through the valleys; some mountain roads and passes; and great vistas and sights, including King Ludwig's castle, Herrenchiemsee, and the historic city of Salzburg. The tour consists of five riding days, one of them is a rest day – which means that you stay two nights at the same hotel.

This is a great opportunity to explore a little bit more, ride around the countryside, walk through town, meet the locals and sample some of the local food. The tour will take you through Germany and Austria, and on the rest day you can even add Italy to your list if you are so inclined.
Find Out More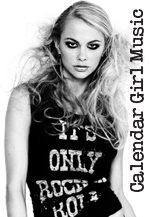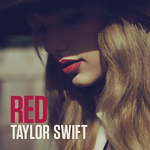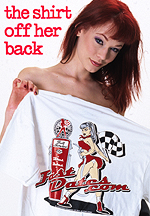 Order the Official
FastDates.com &
LA Calendar Bike Show
T-Shirts!