Ducati SBK Project Manager Ernesto Marinelli and Alstare Team owner Francis Batta.

Ducati and Alstare to Terminate Their World Superbike Partnership
October 25th, 2013 - In a not fully unexpected move, after a disastrous 2013 World Superbike season with the new 5th Generation 1199RS Ducati Superbike, Ducati Corse and Team Alstare have agreed to part ways after the first year of their two-year partnership agreement. The ending of their relations was cordial in the below press release, but behind the scenes their was unhappiness all around.
Ducati Corse felt they have provided their contracted factory team a winning bike package and contracted riders. Alstare felt the bike wasn't competitive in World Superbike spec as delivered, and there was not enough development support and new parts coming from Ducati to make it competitive this year and going forward into 2014. While the team riders, both Ayrton Badovini and Carlos Checa, sided with Alstare behind the scenes that the 1199RS was underpowered and didn't handle well when push to its limits.
Checa's frustration with the non-competitivness of the Ducati, together with his recent hip injury and his age, was one of the contributing factors to his announced retirement from racing last week.
Team Alstare owner Francis Batta was also facing financial problems to fund the Ducati Alstare Team for the 2014 season with the loss of one of their major sponsors, due in part to the team's lack of success in 2013.
It is expected that Ducati Corse will return to partnering their Superbike team to Team Althea and owner Genesico Bevilacqua, the contractor for Ducati Corse's 2011-2012 WSBK Superbike effort in. It is very difficult to put together an all new team of experienced mechanics and engineers from scratch in just 2 months before testing for the 2014 season needs to begin. It is believed they ended their partnership last year over Alstare needing more financial support Ducati, which wasn't forthcoming, while Alstare stepped in with their additional sponsorship at that time.
It will be interested to learn in the coming weeks if Luigi "GiGi" Dail'lgna who has come over to Ducati Ducati Corse as their new General manager from the successful Aprilia Superbike team, will have the budget and support of the Ducati factory to speed up the development of the 1199RS to make it competitive (in light of the forthcoming EVO rules as well). And if GiGi might be signing his former Aprilia team rider Eugene Laverty to the new Ducati team, since Laverty has lost his seat for 2014 at Aprilia to Italian Marco Melandri.
Click for an exclusive FastDates.com Screensaver

Here is the official Ducati Corse press release in its entirety:
 • The decision was taken in common agreement after a meeting in Borgo Panigale, Bologna
• Early partnership termination due to global economic downturn challenging Team Alstare's 2014 expenses
• Ducati confirms its participation in the 2014 World Superbike Championship with plans and riders to be confirmed in the coming days

Borgo Panigale (Bologna, Italy), 25 October 2013 – By common agreement, Ducati and Alstare have decided to terminate their partnership, which started in November 2012. Ducati and Team Alstare have reached the end of a very difficult season unable to achieve the desired results, despite the effort, commitment and resources applied by both parties.
 
The partnership between the Bologna-based motorcycle manufacturer and Team Alstare was expected to continue in 2014, however, the current economic climate and subsequent withdrawal of support by one of Alstare's main partners, has dictated that the Belgian team must downsize its future plans. 
 
In a meeting held at the Ducati factory in Borgo Panigale, Bologna, Francis Batta and the Ducati management decided the best course of action would be an early termination of the agreement before the start of the 2014 season.
 
"I am extremely sorry that an operation that had started on such a positive note had to be concluded before its time without achieving the results we were aiming for," said Ernesto Marinelli, Ducati SBK Project Manager. "This was a very difficult year in terms of sports performance, but I am convinced that it nevertheless made us both grow and lay solid foundations for our future development and improvement. In these months together, I experienced the constant professionalism and expertise of everyone at Team Alstare, and I hope to be able to work with them again in the future. My special thanks, both in my personal capacity and on behalf of the whole company, go to Francis for the effort he has put in this year – as he always has throughout his career."
 
"I am very sad because this challenge, which began last November, was very important for me as a fresh start after missing one year," said Francis Batta Owner of Team Alstare. "Working with Ducati was incredibly thrilling, although unfortunately, we failed to achieve the results we had set ourselves. The 2013 racing season has been incredibly hard for us, and being unable to start from a solid position in 2014, I would rather not take risks that might compromise our ability to complete the season. I would like to thank Ducati for trusting me and I wish them all the success that they deserve."
 
Ducati has confirmed that it will take part in the Superbike World Championship next season, with 2014 riders and racing plans to be announced in the coming days.
Davide Giuliano (right) makes his return to the Ducati factory team in 2014 after racing an Aprilia RSV4 with Genesio Bevilacqua (left) on the Althea Racing team this past season. We might expect part or all of the Althea team personal to again be part of Ducati's new 2014 WSBK race team as they were in 2011-2012.
Ducati announce 2014 World Superbike riders Davies and Giugliano
Chaz Davies and Davide Giugliano destined to race in Ducati colours for 2014 World Superbike season with riders and technicians to immediately start pre-season testing 30-31 October at Jerez

Borgo Panigale (Bologna, Italy), 28 October 2013 – Following the announcement of the mutual decision to conclude early the partnership with Team Alstare, Ducati today confirm its participation in the 2014 World Superbike Championship and its agreement with the riders who will compete aboard the Ducati 1199 Panigale motorcycles.
 
Welsh rider, Chaz Davies, and the Italian, Davide Giugliano, are both now officially confirmed to compete for the Italian manufacturer during the 2014 and 2015 World Superbike seasons. This is an important decision for Ducati, determined to bounce back after a year of disappointing results for the 1199 Panigale, which failed to deliver the results expected in World Superbike despite its considerable success in many national championships and the highly-competitive FIM Superstock Cup.
 
The new Ducati Superbike riders will immediately join technicians of the Ducati development team to start work 30-31 October at Jerez de la Frontera (Spain), carrying out the first of three test sessions planned for the winter break. More detailed information concerning the organisation and management of the team will be available in the coming weeks. Rider profiles:
 
Chaz Davies  was born 10 February, 1987 in Knighton, Wales (UK) and first started racing in minimoto in 1995, winning the championship title in this rookie category the following year and retaining it until 1998. From 2002-2006 he competed at World Championship level in the 125GP category, moving up to 250GP soon after. After additional experience in the AMA championship he was selected to take part in the World Supersport Championship and in 2011 became World Supersport Champion. The following year he moved up to World Superbike, a category in which he scored his first victory in 2012 and three more in 2013.
 
Davide Giugliano was born in Rome on 28 October, 1989 and started his racing career in 2005 by competing in the European Superstock 600 championship, finishing third in the championship the following year. After a year in the World Supersport Championship he switched to FIM Superstock 1000 Cup and in 2011 rode the Ducati 1098 R to championship victory competing for the Althea Racing team. Giugliano made his Superbike debut in 2011, riding as a wildcard at Portimão immediately after clinching the Superstock Cup title. In 2012 he became an official rider for the Genesio Bevilacqua team alongside Carlos Checa, taking two podiums and closing the season 10th overall. In 2013, he achieved one pole position and two more podiums in the World Superbike series, finishing the championship in 6th position.
---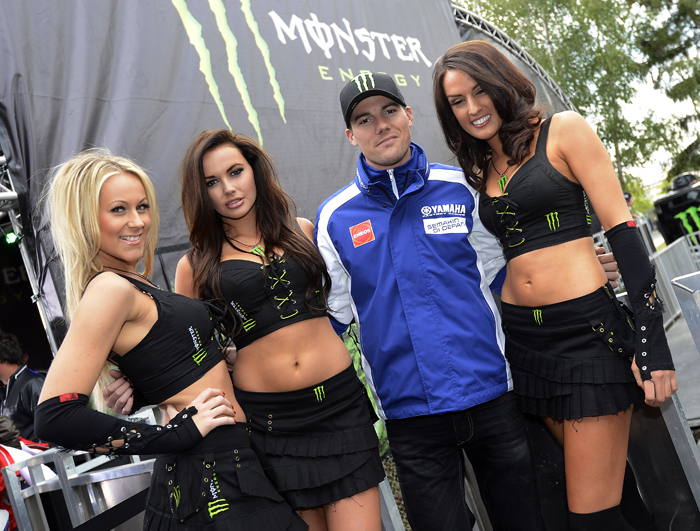 Ben Spies last year at the Lemans MotoGP when he rode for Yamaha, priot to going to Ducati Parmac for 2013.
Ducati and Ben Spies announce the American's retirement from racing competition
• Spies announces retirement after a successful career in Superbike and MotoGP
• Decision taken jointly by Ducati and the Texan rider
• Retirement prompted by doubts about physical ability to race next year
 
Borgo Panigale (Bologna, Italy), October 26, 2013 - Ducati Motor Holding and Ben Spies announced today that the American will not be racing in 2014 after the parties reached agreement to resolve Ben's current contract with the Italian racing manufacturer. The 29-year-old Texan had signed a two-year agreement with Ducati at the end of last season to race in MotoGP in 2013 and 2014 as part of the factory-supported Ignite Pramac Racing Team.
 
Ben has been sidelined for most of this season due to an injury to his right shoulder sustained in October 2012 while riding for another manufacturer team. While he began 2013 racing with Pramac, it quickly became clear that he was not fully healed from his injury and needed to undergo further rehabilitation on his shoulder. Unfortunately, on his return to racing at Indianapolis in August, Ben had another setback when he suffered a season-ending crash during practice. 
 
The resulting operations on both shoulders have left Spies feeling that his physical ability to ride next year remains in question and a decision was jointly made by Ducati and Ben to release Ben from any requirement to race in 2014.
 
The 2009 World Superbike Champion, three-time AMA Superbike Champion and MotoGP race winner announced his retirement from the sport in the following way: "I had such high hopes for racing for Ducati, and Ducati has been incredibly supportive of me during this challenging year, so I am tremendously disappointed that I have not been able to fulfill my personal goals and team goals with Ducati. I want to thank everyone from racing organizations, factories, teams and all my fans for helping me and supporting me throughout my career. I never dreamed that I would reach the level of success that I have over the past 20 years of racing, but the time has come to stop and I do so with great sadness."
 
Spies' manager/mother Mary Spies added: "Wherever Ben has raced over the years—from AMA Superbike to World Superbike to MotoGP—he has always felt the warmth and appreciation of the organizers, circuits, teams and fans. We are so grateful to them for their support."
 
Ducati MotoGP Project Director Paolo Ciabatti declared: "We had high expectations when Ben joined Ducati in MotoGP this year, and we really hoped that he would fully recover from his Indianapolis crash injuries and continue to race for us in the future. However we understand the reasons for his decision and respect them. It is really a shame for our sport that Ben will not be racing anymore, because in our opinion he is one of the most talented riders in the world. We will miss him and wish him all the best for his future life."
---
2013 World Superbike Champion Tom Sykes / Kawasaki Racing ZX10R.
SBK Eni World Superbike Championship, Magny-Cours, France, Round of 13 of 14
Tom Sykes / Kawsaki New World Superbike Champions!
2013 World Superbike Season Finale at Jerez
RACE DAY Sunday October 20th 2013 - The eni FIM Superbike World Championship season drew to a close today after the last race of a spectacular year. Many riders were in the spotlight in Spain but above them all was Tom Sykes (Kawasaki Racing Team) who achieved a historical milestone for both himself and the Japanese manufacturer. The British rider grabbed his first-ever World Superbike title today and completed an outstanding record of 8 Tissot-Superpoles and 9 race wins with his 17th podium finish of the year, a second place in Race 2 behind Eugene Laverty (Aprilia Racing Team).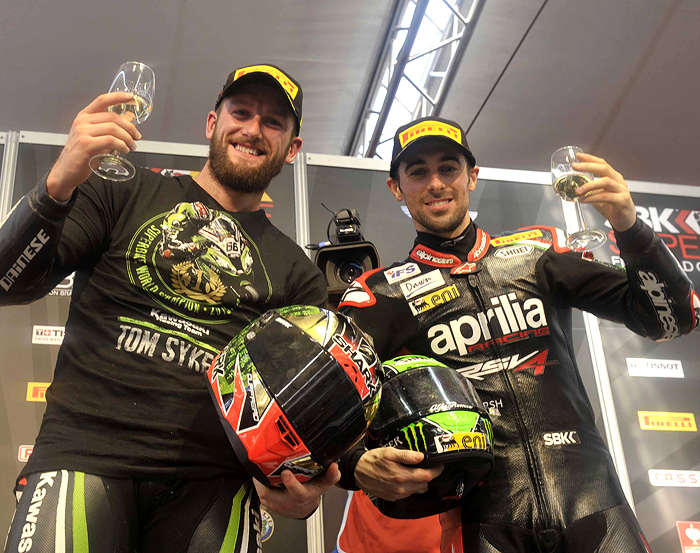 New 2013 World Superbike Champion Tom Sykes and runner-up Eugene Laverty, the double race winner at Jerez, toast their Prosecco Doc champaigne.
In taking his his first Superbike World Championship title,Tom Sykes is first Kawasaki rider to take the top prize in production-based racing since Scott Russell in 1993. The championship win was particularly sweet for the entire Kawasaki Racing Team as they missed out on the title with Tom by only half a point in 2012. In the 2013 season Tom has scored nine race wins, 18 podiums of all kinds, eight pole positions and 13 fastest laps. Sykes also led for 255 laps over the whole season, more than twice the total of the next best rider.    Complete Jerez Season Finale Coverage Here
---

Carlos Checa, still walking with crutches, celebratd his 41st birthday and retirement announcement with the Ducati Alstate team in their hospitalaity area at Jerez.

World Champion Carlos Checa Announces his Retirement from Motorcycle Racing
Jerez de la Frontera (Spain), Saturday 19 October 2013: on the eve of the final races of the 2013 World Superbike championship, taking place at the Andalusian track of Jerez de la Frontera, Carlos Checa, 2011 world champion with Ducati, has announced his retirement from the world of racing. The announcement was made by Carlos himself, in the presence of journalists, colleagues, sponsors and friends who were invited to the Ducati Alstare hospitality today. An intimate and emotional affair, which gave the Spanish rider the chance to thank a world that he has belonged to for many years and to which he has made such an important contribution. Continued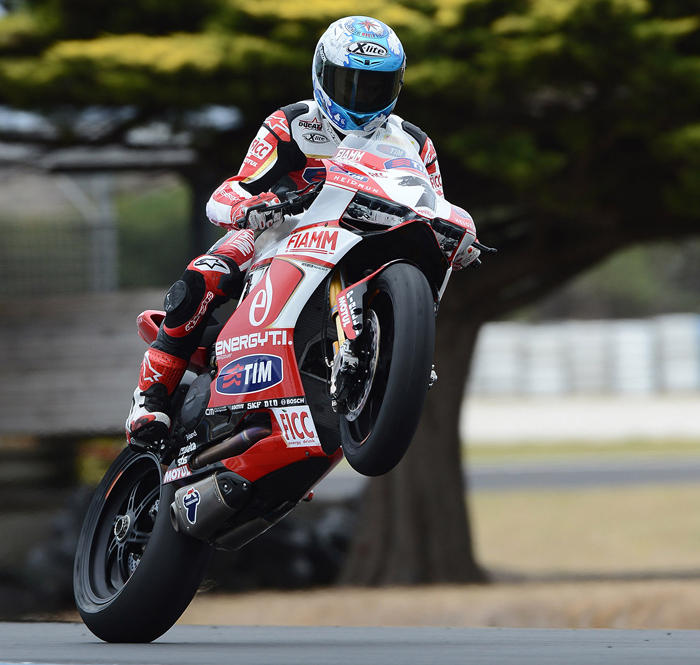 ---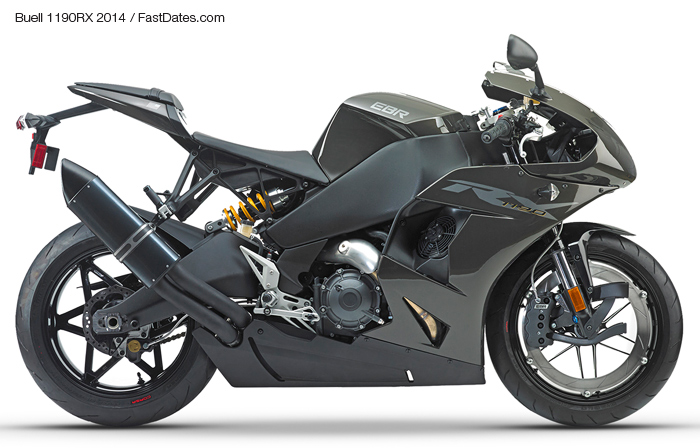 Click for Screensaver
Erik Buell Racing Unveils its New American Sport Bike the EBR 1190RX for $18,995.
Orlando, Florida, October 16th 2013 - Under wraps from the public for months, EBR finally lifted the covers on its latest creation — the 1190RX Sportbike — to a crowd of journalists gathered on Day 1 of AIMExpo in Lecture Hall W300. The new 185-hp street-legal V-Twin superbike boasts a broad, smooth powerband and weighs only 419 lbs., one of the lightest in its class. The company also announced its dealer plan for the new model, which will have an MSRP set at $18,995 and 180-day free floor planning. According to Gary Pietruszewski, vice president, global sales for EBR, "For about the price of an economy car, you can have a world-class performance sportbike."   Complete Details Here
---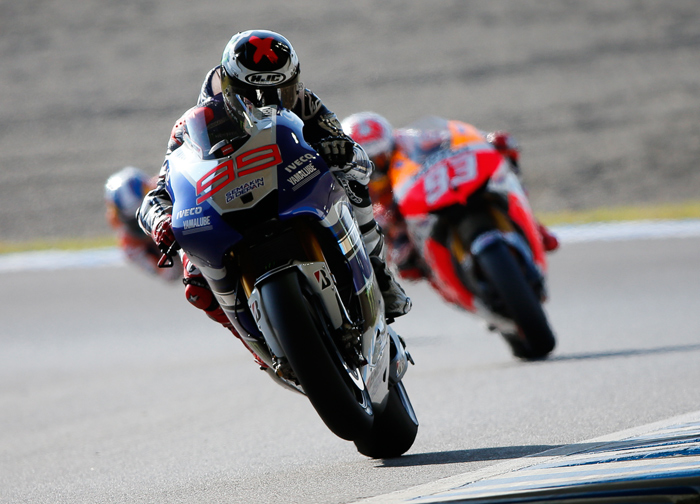 Yamaha's Jorge Lorenzo leads Marquez and Pedrosa in dominating fashion at Honda's home circuit
2013 FIM MotoGP World Championship, AirAisia Grand Prix of Japan. Round 17 of 18
Lorenzo Takes an Impressive Win in Japan
Taking the MotoGP Championship goes down to the wire for the Season Finale
Grand Prix of Japan, Motegi, Sunday October 2nd 2013 - Jorge Lorenzo has triumphed for the seventh time in 2013, winning Sunday's AirAsia Grand Prix of Japan. The Yamaha Factory Racing rider fought off a stiff challenge from Repsol Honda Team's Marc Marquez and Dani Pedrosa to ensure that the MotoGP™ title battle goes down to the wire for the first time since 2006.
Providing a truly unpredictable end to the late-season triple-header, the Motegi weekend was very much shaken up by inclement weather conditions; this led to the cancellation of all track action on Friday as well as heavy modifications to the Saturday agenda. Ironically, Sunday's race took place under clear blue skies in Japan.

From his fourth pole position of the year, it would be a lights-to-flag victory for Lorenzo to move one win ahead of Marquez in the 2013 season. Teammate Valentino Rossi looked to be providing a buffer between the current titleholder and the pair of factory Hondas, but suffered braking issues at Turn 11 twice, and fell back down the order.

Lorenzo would come under severe pressure from Marquez at the mid-way point of the race, with Pedrosa in hot pursuit. However, the Mallorcan was spared some breathing space as Marquez made mistakes at both Turn 11 and Turn 1. The 20-year-old would never be as close to Lorenzo again, eventually ending the day 3.1 seconds in arrears.

Pedrosa's third place marked his 12th podium finish of the season, but the Sabadell rider was unable to complete a hat trick of Motegi victories, as his chances for the 2013 world title officially evaporated. Alvaro Bautista and Stefan Bradl rounded out the top five, with the GO&FUN Honda Gresini rider having slipstreamed his way past the LCR Honda MotoGP bike at the start of the eighth lap. Rossi fought back to sixth place after running as low as 11th, while Cal Crutchlow, who suffered from overheating brakes, got the better of impressive Monster Yamaha Tech3 teammate Bradley Smith in seventh and eighth spots.

Ducati Team completed the top ten with Nicky Hayden and Andrea Dovizioso, while 11th place was taken by wildcard Katsuyuki Nakasuga for the Yamaha YSP Racing Team. In 12th was lead CRT rider Colin Edwards (NGM Mobile Forward Racing), with Power Electronics Aspar's Aleix Espargaro having become the third of three retirements courtesy of a high-speed accident due to loss of braking power – he escaped with a left hip contusion. Lukas Pesek (Came IodaRacing Project) was first to retire, while Cardion AB Motoracing's Luca Scassa pulled into the pit lane with a loose right foot peg.

Sunday's result - marking the 200th premier class race victory for Yamaha - sees Lorenzo move to within 13 points of Marquez with just the Gran Premio Generali de la Comunitat Valenciana remaining. This signals the first final-race MotoGP™ title-decider for seven years; in 2006 it was also a duel between the Honda and Yamaha factory teams, with the crown won by Nicky Hayden as the American picked up a maiden title from then reigning World Champion Valentino Rossi.

Jorge Lorenzo, Yamaha 1st - "We chose the soft tyre and the others chose the hard tyre, we knew that at the end of the race we might have problems but finally I could push even more the lap times. The strategy could have been different but to take this win at the home of Honda makes me very happy."
Marc Marquez, Repsol Honda, 2nd -"Second place today is a very good result. After my crash in warm-up, I knew that it would be difficult to be consistent - because in the morning I hadn't managed that either. This was my first time at this track with a MotoGP bike and in practice I was unable to get any references in the dry, leaving me with only the warm-up and the race in which to find my way. I saw that Jorge was a little stronger than us here and I had a couple of scary moments, making me decide that 20 points and the gap being reduced by only five points would be a decent result. There is only one race remaining – the most important of the year – so we shall try to be more focused than ever at Valencia."
Dani Pedrosa, Repsol Honda: 3rd - "It was a bit of a boring race for me, because I tried to give everything but I had a lot of problems exiting the corners; I was unable to get on the gas fully and I lost a lot of time to Marc and Jorge. I was third for the entire race, trying to hold onto them. However, at the midway point of the race my pace started to become slower than theirs. Now we have to focus on the next race, in Valencia, where we shall try to do as well as possible."
RESULTS MOTOGP RACE: (24 laps = 115.224 Km)
POS / RIDER / NAT. / TEAM / MOTORCYCLE / TIME / KM/H / GAP
1 / Jorge LORENZO / SPA / Yamaha Factory Racing / YAMAHA / 42'34.291 / 162.3 /
2 / Marc MARQUEZ / SPA / Repsol Honda Team / HONDA / 42'37.479 / 162.1 / 3.188
3 / Dani PEDROSA / SPA / Repsol Honda Team / HONDA / 42'38.883 / 162.1 / 4.592
4 / Alvaro BAUTISTA / SPA / GO&FUN Honda Gresini / HONDA / 42'54.046 / 161.1 / 19.755
5 / Stefan BRADL / GER / LCR Honda MotoGP / HONDA / 42'57.101 / 160.9 / 22.81
6 / Valentino ROSSI / ITA / Yamaha Factory Racing / YAMAHA / 42'58.928 / 160.8 / 24.637
7 / Cal CRUTCHLOW / GBR / Monster Yamaha Tech 3 / YAMAHA / 43'01.787 / 160.6 / 27.496
8 / Bradley SMITH / GBR / Monster Yamaha Tech 3 / YAMAHA / 43'05.260 / 160.4 / 30.969
9 / Nicky HAYDEN / USA / Ducati Team / DUCATI / 43'11.301 / 160 / 37.01
10 / Andrea DOVIZIOSO / ITA / Ducati Team / DUCATI / 43'17.235 / 159.7 / 42.944
11 / Katsuyuki NAKASUGA / JPN / Yamaha YSP Racing Team / YAMAHA / 43'27.636 / 159 / 53.345
12 / Colin EDWARDS / USA / NGM Mobile Forward Racing / FTR KAWASAKI / 43'37.504 / 158.4 / 1'03.213
13 / Randy DE PUNIET / FRA / Power Electronics Aspar / ART / 43'41.131 / 158.2 / 1'06.840
14 / Andrea IANNONE / ITA / Energy T.I. Pramac Racing / DUCATI / 43'42.509 / 158.1 / 1'08.218
15 / Yonny HERNANDEZ / COL / Ignite Pramac Racing / DUCATI / 43'52.531 / 157.5 / 1'18.240
Pole Position: Jorge LORENZO 1'53.471 152.3 Km/h
Fastest Lap: Jorge LORENZO 1'45.736 163.4 Km/h Lap 16
Circuit Record Lap: Dani PEDROSA 1'45.589 163.6 Km/h 2012
Circuit Best Lap: Jorge LORENZO 1'44.969 164.6 Km/h 2012
CHAMPIONSHIP POSITION TILL DATE:
1 MARQUEZ 318, 2 LORENZO 305, 3 PEDROSA 280, 4 ROSSI 224, 5 CRUTCHLOW 188,
6 BAUTISTA 160, 7 BRADL 146, 8 DOVIZIOSO 133, 9 HAYDEN 118, 10 SMITH 107,
11 ESPARGARO 88, 12 IANNONE 57, 13 PIRRO 50, 14 EDWARDS 40, 15 DE PUNIET 36.
---
Superleggera - Ducati's Limited Edition New Project 1201 Production Superbike
October 9-18th, 2013 - If the Ducati 1199 Panigale R with its Titanium connecting rods wasn't enough, the Bologna firm has introducd the 'Superleggera' version under the code name "Project 1201".The Superleggera (meaning superlight in Italian), is an invite-only lightweight version of the already extreme Panigale R. However the Superleggera will come with a £60,000 price-tag, making the £26,550 Panigale R look like a budget option. The 1199 Superleggera is the most exclusive and extreme Ducati ever made.    Continued Here
---
Alex Lowes reeled in Shayne Byrne for the 2013 British Superbike Championship. Byrne and triple race winner Josh Brookes give him a Champaign congratulations on the podium
MCE Insurance British Superbike Championship, Brands Hatch, Round 12 of 12
Josh Brooks / Tyco Suzuki take the Season Finale Triple Race Wins
Alex Lowes / Samsung Honda Crowned 2013 British Superbike Champs at Brands Hatch
British Grand Prix Circuit, Brans Harch, England, October 19-20th, 2013 - Alex Lowes powered Samsung Honda to the MCE Insurance British Superbike crown in a dramatic final weekend of ups and downs in the difficult wet conditions at the Brands Hatch Grand Prix circuit. Lowes went into the final race of the weekend with a three points advantage over the three times title winner Shane Byrne knowing that to take the title he had to finish ahead of his Kawaski riding rival. With a script Hollywood film makers would have been proud of, the 2013 MCE Insurance British Superbike Championship went right down to the very last lap of the very last race but for 2012 Champion Shane 'Shakey' Byrne there was heartbreak for both him and the Rapid Solicitors Kawasaki team as he missed out on a record-breaking fourth MCE BSB title by just seven points.
It was to be an epic showdown.  After their tumbles earlier in the race, Lowes was a third row starter, Byrne was back on the eighth row, but they both wanted the top spot but it was Suzuki's Josh Brookes who powered clear of the field, en route to completing a winning triple at the Kent circuit, that left Lowes and Byrne scrapping for second place.
Saturday's Race One was held in damp weather conditions and with Josh Brookes on the Tyco Suzuki winning the race, it was Lowes who came out on top for the battle for second with Shakey having to settle for third aboard the Rapid Solicitors and Minxflix-sponsored Kawasaki ZX-10R., Lowes was second on the sixth lap, just ahead of Byrne but next time around they had swapped places and the local favourite looked to be doing just enough, but Lowes had other ideas.  Despite several times swerving wickedly out of line in the difficult damp conditions Lowes upped his pace, closed on Byrne and snatched back second place at Surtees with five laps remaining. Lowes held on to his second place, and with it the British Superbike crown for the first time, and all of that after a weekend of intriguing action.
It had started with Lowes running third for much of Saturdays opening race, adrift of Byrne with Brookes dictating terms at the front. But at Surtees with four laps to go Lowes found the better line to nose through, and once ahead of Byrne he was able to open a clear gap over his rival.
That gave Lowes the edge in the title chase, a three points advantage going into the Sunday's Second & Third Action action. That gave Lowes a three-point lead going into today's two races but with steady rain falling, the opening race became a lottery with the Honda rider crashing out on the second corner. However, Shakey's hopes were also soon dashed as he crashed out at the same corner on the fifth lap. So, it all came down to a final race shoot-out and Shakey knew he needed to beat Lowes to stand any chance of retaining the crown. he too went down at Druids.
That set up the final Race Three winner takes all finale with Lowes keeping his cool and his nerve to power away from rival Bryrne over the last two to take the country's premier crown for the first time. With heavy rain drenching the track surface adding to the drama, Shakey's cause wasn't aided by having to start from 22nd on the grid, the legacy of the earlier crash, but in true champion's style he was up inside the top ten as early as the second lap. By the fifth lap he was on the rear wheel of Lowes and grabbed second place two laps later meaning the result that would have seen him crowned champion once more. However, Lowes fought back on the 16th of 20 laps and wasn't to be denied his maiden title leaving Shakey to settle for third in the race and second in the championship for Paul Bird's Penrith based team.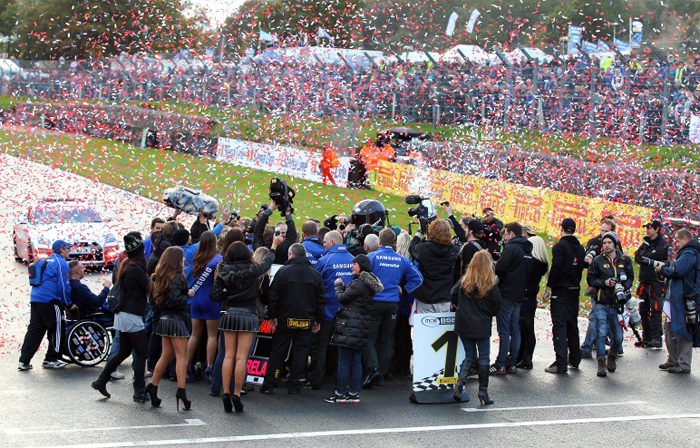 Shane Byrne's team-mate Noriyuki Haga found the going tough in the tricky conditions and after taking 11th in Saturday's opening race, he crashed out of sixth place at Clearways on the third lap of the second race. That just left the final race of the 2013 season, which again took place on a wet track, and the Japanese rider was sadly an early retirement on the sixth lap.
Freddy Foray, deputising again for Samsung Honda's injured Ryuichi Kiyonari, scored points in all three races, with a best result of tenth, together with a thirteenth and a fourteenth.   Michael Rutter had a lonely ride in eleventh place on his Bathams Honda, while Dan Linfoot took seventh, tenth and eleventh places on the Lloyds British GBmotoHona with his team-mate Peter Hickman fifteenth and tenth.
Alex Lowes (Samsung Honda)  2013 BSB Champion: 
Race results 2nd/dnf/2nd  Pts 643
""I'm pretty happy about it – at least now Sam (his twin the World Supersport Champion) can't take the Mickey out of me as he would have done if I'd been second. It was an unbelievable last race, really difficult, and I just didn't know how fast to push. I saw on my pit-signals that Shane was closing on me and round here that is the last thing you wanted to see. It was a case of keeping focussed and when Shane had got past me I knew that I had to pass the guy if I wanted the title and I pushed on real hard. I had a few moments but luckily kept it all together and beat him to take the title and to me that really is incredible, always difficult with the weather playing such a big part. Saturday's  race was hard – it was difficult to know where the grip was so it was a case of keeping calm and then pushing hard. It felt pretty good but it was quite slippery. In Sunday's first race Josh Brookes touched my bar and I went down – it was not my fault and I can't angry about something that is out of my control. It was one of those things, unfortunate.
Shane Byrne:  "It's a shame the final round was affected so much by the difficult conditions otherwise I think it could have been even more exciting but I gave it my all right up until the very end. I had no idea I was in second in the last race as I couldn't see anyone ahead but when I saw P2 on my board I knew that position would be enough. I just tried to concentrate and stay smooth but I knew Alex would have a go and when he did I had to fight back straightaway otherwise it would be over. Sure enough, he came by but we were having so many moments out there I just couldn't get him back. I made a mistake and ran wide a couple of times on the last lap but Alex put it on the line and became champion and it's been a pleasure to race with him all year long. Obviously, it's disappointing not to have retained the title but it's been one of the most enjoyable seasons of racing I've ever had. It's tough to see the title disappear but a few things have happened this year that have made me realise how much I enjoy doing what I do and I can put my hand on my heart and say I gave it my all."
RESULTS 2013 BRITISH SUPERBIKE BRANDS HATCH FINALE
Saturday RACE 1:
POS / RIDER / NAT / MOTORCYCLE / TIME / GAP
1 / Josh BROOKES / AUS / Suzuki - Tyco Suzuki / 29:29.316 /
2 / Alex LOWES / GBR / Honda - Samsung Honda / 29:30.284 / 0.968
3 / Shane BYRNE / GBR / Kawasaki - Rapid Solicitors Kawasaki / 29:35.025 / 5.709
4 / Josh WATERS / AUS / Kawasaki - Halsall Racing Kawasaki / 29:46.137 / 16.821
5 / PJ JACOBSEN / USA / Suzuki - Tyco Suzuki / 29:52.206 / 22.890
6 / Tommy BRIDEWELL / GBR / Yamaha - Milwaukee Yamaha / 29:53.661 / 24.345
7 / Chris WALKER / GBR / Kawasaki - Quattro Plant Kawasaki / 29:54.854 / 25.538
8 / James WESTMORELAND / GBR / BMW - Buildbase BMW Motorrad / 29:57.047 / 27.731
9 / Lee COSTELLO / GBR / Kawasaki - Halsall Racing Kawasaki / 29:59.233 / 29.917
10 / Michael RUTTER / GBR / Honda - Bathams Honda / 29:59.710 / 30.394
11 / Noriyuki HAGA / JPN / Kawasaki - Rapid Solicitors Kawasaki / 30:02.993 / 33.677
12 / Dan LINFOOT / GBR / Honda - Lloyds British GBmoto Racing Honda / 30:03.610 / 34.294
13 / Freddy FORAY / FRA / Honda - Samsung Honda / 30:12.746 / 43.430
14 / Jon KIRKHAM / GBR / BMW - Buildbase BMW Motorrad / 30:13.997 / 44.681
15 / Peter HICKMAN / GBR / Honda - Lloyds British GBmoto Racing Honda / 30:14.320 / 45.004
Fastest lap: Alex LOWES GBR Honda - Samsung Honda Lap 17 1:36.760 145.69 Km/h
Sunday RACE 2:
POS / RIDER / NAT / MOTORCYCLE / TIME / GAP
1 / Josh BROOKES / AUS / Suzuki - Tyco Suzuki / 32:29.715 /
2 / Lee COSTELLO / GBR / Kawasaki - Halsall Racing Kawasaki / 32:29.911 / 0.196
3 / James ELLISON / GBR / Yamaha - Milwaukee Yamaha / 32:30.443 / 0.728
4 / James WESTMORELAND / GBR / BMW - Buildbase BMW Motorrad / 32:38.842 / 9.127
5 / Chris WALKER / GBR / Kawasaki - Quattro Plant Kawasaki / 32:46.541 / 16.826
6 / PJ JACOBSEN / USA / Suzuki - Tyco Suzuki / 32:46.913 / 17.198
7 / Dan LINFOOT / GBR / Honda - Lloyds British GBmoto Racing Honda / 33:00.520 / 30.805
8 / Jon KIRKHAM / GBR / BMW - Buildbase BMW Motorrad / 33:11.114 / 41.399
9 / Jakub SMRZ / CZE / Honda - Padgetts Honda / 33:17.795 / 48.080
10 / Freddy FORAY / FRA / Honda - Samsung Honda / 33:21.551 / 51.836
11 / Howie MAINWARING / GBR / Kawasaki - Tsingtao WKbikes Performance / 33:33.109 / 1:03.394
12 / Aaron ZANOTTI / GBR / Suzuki - STEL Suzuki / 33:59.876 / 1:30.161
13 / Matteo BAIOCCO / ITA / Ducati - Rapido Sport Racing / 34:02.341 / 1:32.626
14 / Danny DE BOER / NED / Honda - Bathams Honda / 32:34.151 / 1 Lap
15 / Martin JESSOPP / GBR / BMW - Riders Motorcycles / 32:45.243 / 1 Lap
Fastest lap: Josh BROOKES AUS Suzuki - Tyco Suzuki Lap 19 1:33.139 151.36 Km/h
Sunday RACE 3:
POS / RIDER / NAT / MOTORCYCLE / TIME / GAP
1 / Josh BROOKES / AUS / Suzuki - Tyco Suzuki / 32:50.906 /
2 / Alex LOWES / GBR / Honda - Samsung Honda / 32:52.091 / 1.185
3 / Shane BYRNE / GBR / Kawasaki - Rapid Solicitors Kawasaki / 32:53.493 / 2.587
4 / Tommy BRIDEWELL / GBR / Yamaha - Milwaukee Yamaha / 32:55.775 / 4.869
5 / James ELLISON / GBR / Yamaha - Milwaukee Yamaha / 33:04.427 / 13.521
6 / Jon KIRKHAM / GBR / BMW - Buildbase BMW Motorrad / 33:07.188 / 16.282
7 / James WESTMORELAND / GBR / BMW - Buildbase BMW Motorrad / 33:07.300 / 16.394
8 / Josh WATERS / AUS / Kawasaki - Halsall Racing Kawasaki / 33:08.092 / 17.186
9 / Chris WALKER / GBR / Kawasaki - Quattro Plant Kawasaki / 33:08.293 / 17.387
10 / Dan LINFOOT / GBR / Honda - Lloyds British GBmoto Racing Honda / 33:10.933 / 20.027
11 / Jakub SMRZ / CZE / Honda - Padgetts Honda / 33:25.198 / 34.292
12 / Peter HICKMAN / GBR / Honda - Lloyds British GBmoto Racing Honda / 33:30.559 / 39.653
13 / Lee COSTELLO / GBR / Kawasaki - Halsall Racing Kawasaki / 33:30.633 / 39.727
14 / Freddy FORAY / FRA / Honda - Samsung Honda / 33:47.348 / 56.442
15 / Matteo BAIOCCO / ITA / Ducati - Rapido Sport Racing / 33:56.412 / 1:05.506
Fastest Lap: Alex LOWES GBR Honda - Samsung Honda Lap 20 1:36.165 146.59 Km/h
FINAL 2013 CHAMPIONSHIP POSITIONS:
1 LOWES 643, 2 BYRNE 636, 3 BROOKES 621, 4 ELLISON 589, 5 WESTMORELAND 564,
6 KIYONARI 522, 7 KIRKHAM 213, 8 BRIDEWELL 197, 9 JACOBSEN 188, 10 WALKER 168,
11 HICKMAN 113, 12 LINFOOT 102, 13 WATERS 96, 14 FARMER 93, 15 SMRZ 82.
FINAL MANUFACTURER POSTIONS:
1 KAWASAKI 519, 2 HONDA 513, 3 SUZUKI 440, 4 YAMAHA 337, 5 BMW 271, 6 DUCATI
---
NEW! FAST 2014 Digital Calendar Magazine Yearbook
The Bikes, the Builders, the Riders, the Kittens,the Calendar Bike Show, the World Superbike races all the 2014 Calendar Pictures, and Special Features... For the first time every we take you around the world in 120 exclusive pages for the making of the 2014 FastDates.com Calendars! Now in Members Corner
---
There's more! Go to Pit Lane News Previous Week

Also Visit: Fast Dates Calendar News • Iron & Lace Calendar News
Calendar Girl News • Meet the Models • Paddock Garage
Get FastDates.com T-Shirts, Mugs & Photographs from Our Store

MEMBERS CORNER! Calendar Kittens, Paddock Garage, Iron & Lace Garage


Amazon.com Motorcycle Products & Apparel Store



MotorcycleSuperstore.com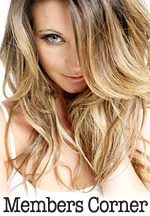 Hot Bikes, Sexy Kittens
Your Exclusive Grid Pass
also includes....
---
Order the New
2013 / 2014 Calendars!
with the FastDates.com Calendar Kittens - the official SBK Umbrella Girls!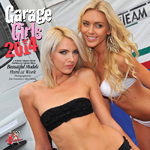 Click for even more
2014 Calendars!
---
Engineer Luigi Dall'Igna to become new Ducati Corse General Manager
 • Bernhard Gobmeier to assume a new important role within Volkswagen Group Motorsport
• Luigi Dall'Igna to be appointed Ducati Corse General Manager
• The new positions will become effective from 11 November, 2013

Borgo Panigale,Bologna, Italy, 10 October, 2013 – Ducati announces the appointment of Mr. Luigi Dall'Igna as the new General Manager of Ducati Corse (the former Aprilia World Superbike team manager who is foundly known as "Gi Gi" in the SBK paddock). Having played key roles for many years in both MotoGP and World Superbike championships, 47-year-old Mr. Dall'Igna has acquired significant experience in the world of motor sport. His expertise will enable the Bologna-based manufacturer to increase its focus on the technical aspects of its racing activity, continuing to lay the foundations for a new phase of development and improving its competitive results. Mr. Dall'Igna will report directly to Ducati Motor Holding CEO, Claudio Domenicali.
 
Bernhard Gobmeier, who has been the General Manager of Ducati Corse for the past ten months, will return to Germany to pursue the opportunity of a prestigious and strategic position within the Motorsport organisation of the Volkswagen Group. In his new position, the 54-year-old Engineer from Bavaria will continue his upward professional curve within the VW Group.
 
Paolo Ciabatti, who has been the MotoGP Project Manager since January, is confirmed in his role and will report directly to the new Ducati Corse General Manager, as will 39-year-old Engineer Ernesto Marinelli, Ducati Superbike Project Manager for the past two seasons. The new appointments become effective from 11 November, 2013, immediately after the end of the 2013 racing season.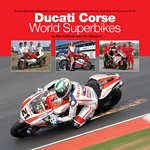 Retail $49.95 ea.
Click to Order from Amazon.com

Ducati Corse
World Superbikes
by Alan Cathcart
& Jim Gianatsis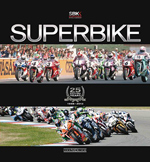 The Official SBK
World Superbikes
1987-2012
25 Year History Book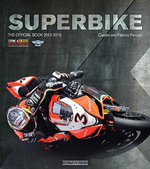 The Official SBK
2012-2013 Yearbook
These SBK Yearbooks are the Best Books Ever about World Superbike. They feature awesome color photography of the riders, bike and racing action. The feature a detailed revue of the past season in pictures and statistics, with a detailed look at the bikes and riders.

Plus a technical look data all the bikes, a preview of the upcoming season's Championship!
We buy this every year ourselves and highly recommend it!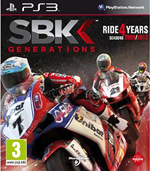 SBK World Superbike Video Game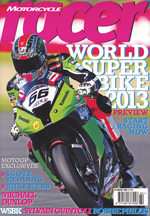 Official Print Media Partner
---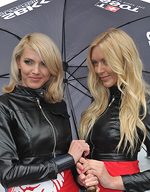 Meet 2013 Calendar Kitten
Jitunka & Petra!

MV Agusta F3 800cc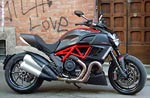 The Devil Made Us Do It!
Testing the Ducati Diavel in Italy
Sudco High Performance & OEM Replacement Parts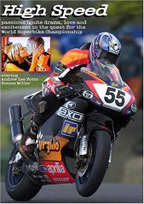 High Speed - the Movie
The best motorcycle racing movie ever made! Filmed on location at the World Superbike races , this an exciting romantic drama staring beautiful British actress Sienna Miller.
---
EDELWEISS OFFERS NEW and AFFORDABLE MOTORCYCLE TOUR ALONG THE DOLOMITES WITH CHALLENGING ROADS, OVERWHELMING MOUNTAIN SCENERY AND ITALIAN CUISINE AT ITS FINEST.
The Dolomites are a must for a passionate biker – come with us on an unforgettable motorcycle tour. The countryside is dominated by mountains, rivers, and gorge-like valleys, which have just space enough for a road and railroad tracks; but there are also bigger towns like Bolzano, where our base hotel is located.

Thinking about Italian culture you will notice quite a big difference from what you may expect; building style, cultures, languages, bilingual road signs and special foods show that varied peoples and ideas peacefully co-exist here. The Sella Ronda is a very good warm-up for the following days and our rides to Penserjoch, Jaufenpass and Timmelsjoch.

Eight more passes are on our schedule for the next day and we will have the opportunity to stop in the nice little town of Cortina d'Ampezzo, well known from the Olympics in 1956. Now it's time to make a decision: go to Venice for sightseeing or collect 10 more passes? Tough call! The last riding day leads us south to the wonderful Lake Garda, with swimming and riding at its best.
Find Out More
THROUGH THE ALPINE WONDERLAND OF AUSTRIA AND SOUTHERN GERMANY – THE ALPS AND LAKES MOTORCYCLE TOUR!
The Alps and Lakes motorcycle tour takes you through a beautiful part of European motorcycle paradise; the Alps. The contrast between the beautiful lakes in southern Germany and Austria and the towering mountains that reach up to more than 10,000 ft is nothing less than breathtaking.
This area is the famous background for the movie "Sound of Music". This vacation offers a little bit of everything: beautiful and relaxing rides through the valleys; some mountain roads and passes; and great vistas and sights, including King Ludwig's castle, Herrenchiemsee, and the historic city of Salzburg. The tour consists of five riding days, one of them is a rest day – which means that you stay two nights at the same hotel.

This is a great opportunity to explore a little bit more, ride around the countryside, walk through town, meet the locals and sample some of the local food. The tour will take you through Germany and Austria, and on the rest day you can even add Italy to your list if you are so inclined.
Find Out More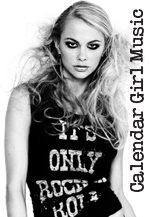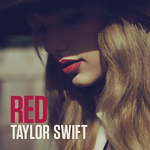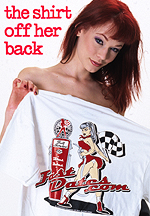 Order the Official
FastDates.com &
LA Calendar Bike Show
T-Shirts!