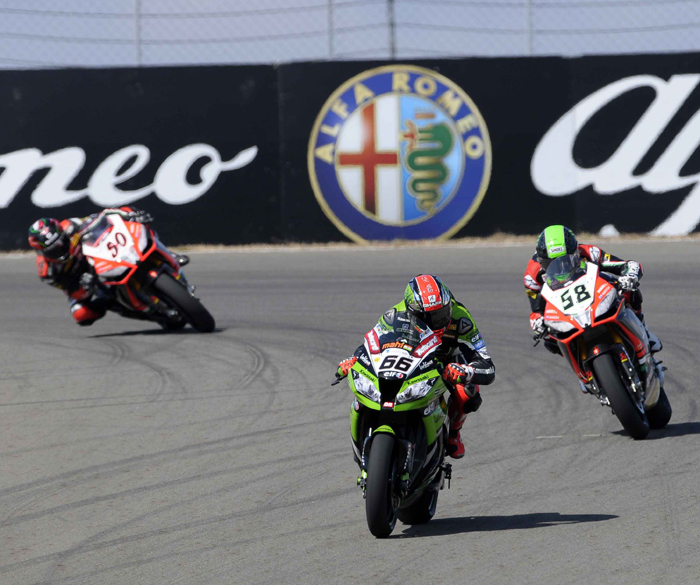 The Aprilia's of Eugene Lavery (58) and Sylvain Guintolli (50) chased down early race leader Tom Sykes (66) both races.
SBK Eni World Superbike Championship, Nurburgring, Germany, Round of 10 of 15
Laverty and Sofuoglu Score Wins at new Instanbul World Superbike Round
Istanbul,Turkey, September 13-15th 2013 – The eleventh round of the eni FIM Superbike World Championship reached its highest point today, as teams and riders geared up for what was an outstanding day of racing. Eugene Laverty (Aprilia Racing Team) made a clean sweep of the competition by winning both WSBK races and narrow the gap from Tom Sykes (Kawasaki Racing Team) – third and second at the flag in the two races – to 26 points. Sylvain Guintoli (Aprilia Racing Team) and Marco Melandri (BMW Motorrad GoldBet) got one podium finish each, but lost some ground in the title chase, which sees them now sitting 8 and 33 points short of the leader
The star of the day, though, was Kenan Sofuoglu (Mahi Racing Team India Kawasaki), who sent the 51,652 spectators into raptures by edging Sam Lowes (Yakhnich Motorsport Yamaha) at the finish line, to win his WSS home race. Lowes, on the other hand, is just two points away – even considering the number of race wins – to win his first World Supersport title.
The eni FIM Superbike World Championship will resume at Mazda Raceway Laguna Seca in two-weeks time after an 8-year absence from the American venue, while Supersport will be back on track – along with the two STK classes and EJC – early next month at Magny-Cours.
An extremely unlucky day in Friday for Team SBK Ducati Alstare today at Istanbul Park
Practice Friday 13th: luck was unfortunately not with Team SBK Ducati Alstare today at the Intercity Istanbul Park circuit in Turkey. While taking part in the first practice session of this twelfth round of the World Superbike Championship, both Carlos Checa and Ayrton Badovini crashed, injuring themselves in the process.
 
This morning's first practice session took place in very warm conditions (30˚C air temperature, 44˚C track). The session was longer than usual, 90 minutes in length, in order to give the riders time to familiarize themselves with this new track. Carlos, after suffering a few problems early on in the session, was making solid improvement during the second half of the session, recording times that brought him close to the leading group but unfortunately, right after having registered his fastest lap of the session (59.2), the Spaniard was the victim of a nasty highside at Turn 2. He was taken to the Clinica Mobile as a result, where doctors diagnosed a contusion to the upper thorax as well as a possible fracture of the left scaphoid. Unfortunately Carlos will be unable to continue this weekend; further medical tests are required in order to establish when he will be able to return to the track.
 
Badovini made a good start to the session, immediately finding his rhythm on this new track. He remained in the top positions for the best part of the extended session but unfortunately, just ten minutes from the end and while in the process of making a very fast lap, he too crashed, losing the front at Turn 12. Having stretched the ligaments in his left ankle as well as suffering severe swelling due to a hematoma in the same ankle, it was decided that he would not participate in this afternoon's qualifying to give the swelling chance to reduce. Doctors are however confident that Ayrton will be able to ride tomorrow.
 
The two riders finished this first session in tenth (Checa) and eleventh (Badovini) position.
 
Carlos Checa: "I have a lot of pain in the chest area on both the right and left side. I've also hurt my wrist but as there is already a screw there, resulting from an injury that dates back to 1996, it's not yet clear whether I've now fractured it again or not. I obviously cannot ride in this condition; the doctors have advised me to rest up."
 
Ayrton Badovini: "We had made quite a good start. There are a few things we still need to sort out but the session had been going fairly well until the crash, also considering that we were using a harder tyre solution that I normally have more difficulty with. We didn't need the crash of course, my foot was trapped between the track and bike but fortunately, thanks to my boot, the damage was limited. I have however stretched all the ligaments in my left ankle and broken a vein, which is the reason for the swelling. The doctors tell me that, as long as I rest up today and keep my ankle iced, then I should be a in a position to ride tomorrow - I won't be in great shape of course but I'll do my best."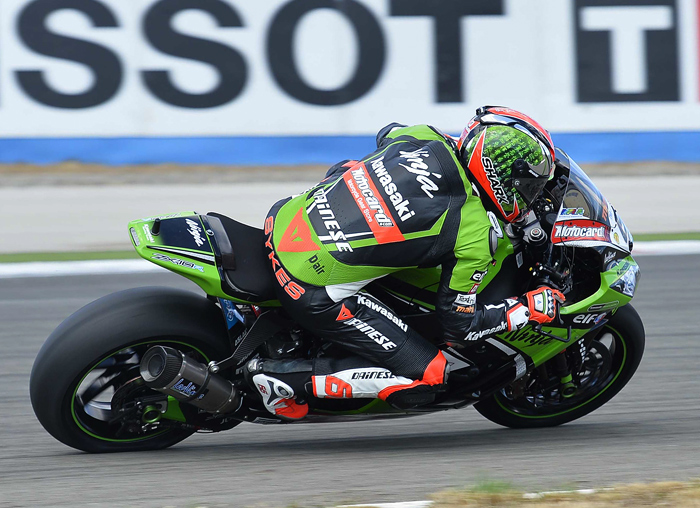 Tom Sykes takes Superpole
Saturday Sept 14th - The eni FIM Superbike World Championship riders could enjoy a dry and sunny Tissot-Superpole at the Intercity Istanbul Park, after the rainy morning that had slowed down their work at the Turkish venue. Track conditions allowed riders to push to the limit, resulting in a significant improvement in terms of lap times.
Tom Sykes (Kawasaki Racing Team) scored his 7th Tissot-Superpole of the season – the 18th of his career – after a thrilling finale that involved his main rival for the title Sylvain Guintoli (Aprilia Racing Team). Sykes was the first rider to break into the 1'54s early in the final session, but the Frenchman tried his best to outperform the rival during his last quick-lap attempt, eventually finishing behind the Brit for just 0.022 seconds.
Tom Sykes: "I am happy because this is a circuit I had never been to before and I only got two practice sessions yesterday. I am fighting a bit of a cold but the changes we made to the bike set-up last night were positive, the team great job and we went in the right direction. We just need to see if we can put this to good use tomorrow. It is funny how it goes because Sylvain Guintoli will be beside me on the grid. It seems we have been fighting all season, in qualifying and races, so it looks like it is going the distance!"
Sylvain Guintoli: "We were really close to pole, but during my last lap I did a few small mistakes that probably cost me those 22 thousands of a second. It would have been good to be on pole, but the most important thing is to start the races from the front row. I felt immediately at ease on this track and I think we can target some good results tomorrow. As I said the battle for the title has entered the crucial stage, I'm expecting two exciting races on a track that's pretty much new to everyone."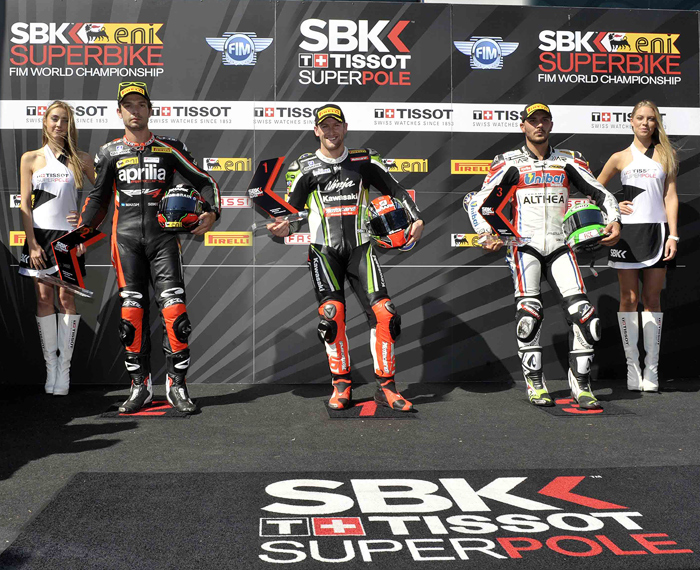 The two riders will be joined tomorrow, on the first row of the grid, by Davide Giugliano (Althea Racing Aprilia), who got the better of Eugene Laverty (Aprilia Racing Team). The Irishman could not repeat the 1'54.9 set in Superpole 2, a time that would have helped him to finish in the top-3.
WSBK debutant Toni Elias (Red Devils Roma Aprilia) put up an impressive performance by ending up in fifth place - and only a 0.674 seconds gap from pole-sitter - ahead of Jules Cluzel (FIXI Crescent Suzuki), Marco Melandri and Chaz Davies (BMW Motorrad GoldBet). Leon Haslam (Pata Honda World Superbike and Aussie Mark Aitchison (Team Pedercini Kawasaki) completed the top-10.
Tissot-Superpole times: 1. Sykes (Kawasaki) 1'54.872 average 167.351 kph; 2. Guintoli (Aprilia) 1'54.894; 3. Giugliano (Aprilia) 1'55.073; 4. Laverty (Aprilia) 1'55.340; 5. Elias (Aprilia) 1'55.546; 6. Cluzel (Suzuki) 1'55.614; 7. Melandri (BMW) 1'56.402; 8. Davies (BMW) 1'56.416; 9. Haslam (Honda) 1'56.463; 10. Aitchison (Kawasaki) 1'57.001; 11. Sandi (Kawasaki) 1'57.329; 12. Fabrizio (Honda) 1'57.371; 13. Uprak (Kawasaki) 2'02.469; 14. Ercelik (BMW) 2'04.070; 15. Iannuzzo (BMW) 2'39.610.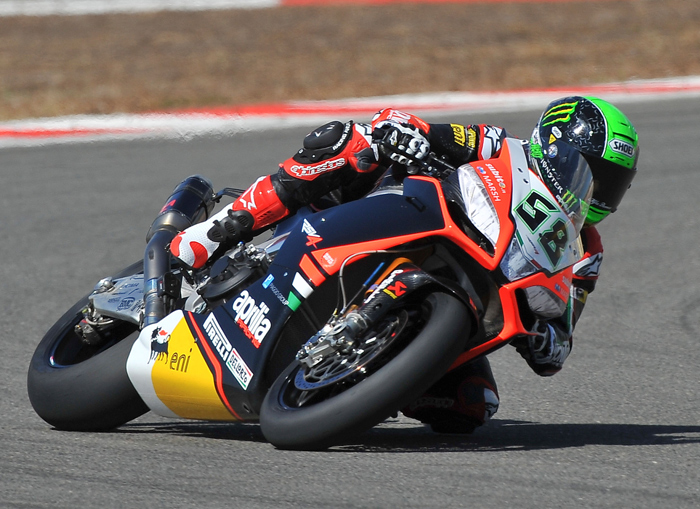 Eugene Laverty won both Superbike races at Istanbul.
Superbike Race One
Eugene Laverty (Aprilia Racing Team) has won the first race of the day at the Intercity Istanbul Park, after what was a perfect performance by the Irishman. Moreover, it was the first Race 1 win - out of five overall - this year for Laverty, a crucial result for his title hopes. The factory Aprilia got in the lead during Lap 13 by overtaking Tom Sykes (Kawasaki Racing Team) and tenth by tenth he managed to pull away, while the Championship leader lost some ground and was passed by Marco Melandri (BMW Motorrad GoldBet) three laps later.

The Italian did an outstanding recovery from the third row on the grid thanks to a strong race pace but, once he managed to move up to second place, it was too late to try and catch Laverty. Meanwhile, Sylvain Guintoli (Aprilia Racing Team) began his charge to third place, but Sykes successfully defended his position up to the finish line.
Davide Giugliano (Althea Racing Team Aprilia) ended up fifth after a close battle with Toni Elias (Red Devils Roma Aprilia), that ended up with a collision between the two – with both able to stay upright – at the exit of the last turn. An almost identical situation involved Pata Honda riders Leon Haslam and Michel Fabrizio, with the Brit who managed to secure ninth place ahead of his team mate for the round.
The Honda duo crossed the line behind Jules Cluzel (FIXI Crescent Suzuki) and Chaz Davies (BMW Motorrad GoldBet), who were seventh and eighth respectively. Technical problems forced Ayrton Badovini (Team Ducati Alstare) and Mark Aitchison (Team Pedercini Kawasaki) out of the race.
Race One Results: 1. Laverty (Aprilia) 18 Laps/96.120 km in 34'57.650 average 164.962 kph; 2. Melandri (BMW) 2.009; 3. Sykes (Kawasaki) 3.432; 4. Guintoli (Aprilia) 3.919; 5. Giugliano (Aprilia) 15.830; 6. Elias (Aprilia) 15.945; 7. Cluzel (Suzuki) 16.921; 8. Davies (BMW) 21.491; 9. Haslam (Honda) 40.186; 10. Fabrizio (Honda) 40.218; 11. Sandi (Kawasaki) 41.700; 12. Iannuzzo (BMW) 1'39.549; 13. Uprak (Kawasaki) 1 Lap; 14. Ercelik (BMW) 1 Lap; RT. Aitchison (Kawasaki); RT. Badovini (Ducati).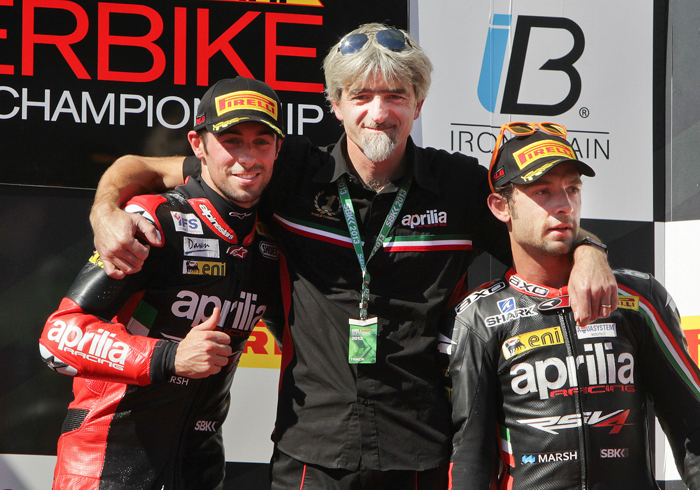 Aprilia team manager Gino clebrates douple race wins with Laverty (left) and Guintolli (right).
Superbike Race Two
Eugene Laverty (Aprilia Racing Team) stole the show today with an outstanding performance in Race 2 at the Intercity Istanbul Park, that led to his second double win of the career – after the one achieved in 2011 at Monza. The Irishman started his charge on early leader Tom Sykes (Kawasaki Racing Team) and, after spending half of the race chasing the rival, he eventually closed the gap and overtook the factory Kawasaki Rider on Lap 12, at Turn 14. Laverty then proved he had the pace to stay in the lead… (read more)
Eugene Laverty: "My previous double-win was at Monza in 2011, but this one has a special meaning because it was totally unexpected. I am very happy as my bike was perfect, even better in the second race – despite the similar pace-  as I could make the difference in the final stages. I'm back into contention for the title, but most of all I regained confidence and that gives me great hope for the next rounds."
Tom Sykes: "Two podiums today even though it was the first time for me here. We made two or three changes to the bike between races and I think everybody saw that our bike was working a bit better in the second one. We started that race quite strongly and I was able to lead again but some of our competitors were using the tyres a little bit better. Unfortunately I did not have the package at the end of the second race to fight back and try to win it. I believe that we can learn and improve from this weekend."
Race 2 Results: 1. Laverty (Aprilia) 18 Laps/96.120 km in 34'58.775 average 164.873 kph; 2. Sykes (Kawasaki) 1.708; 3. Guintoli (Aprilia) 4.052; 4. Melandri (BMW) 10.860; 5. Elias (Aprilia) 12.171; 6. Davies (BMW) 12.396; 7. Cluzel (Suzuki) 17.434; 8. Haslam (Honda) 17.683; 9. Giugliano (Aprilia) 25.770; 10. Fabrizio (Honda) 38.735; 11. Aitchison (Kawasaki) 48.892; 12. Sandi (Kawasaki) 49.136; 13. Iannuzzo (BMW) 1'36.589; 14. Uprak (Kawasaki) 1 Lap; 15. Ercelik (BMW) 1 Lap.
Standings (Round 11 of 14) : 1. Sykes 323; 2. Guintoli 315; 3. Laverty 297; 4. Melandri 290; 5. Davies 239; 6. Baz 180; 7. Rea 176; 8. Fabrizio 168; 9. Cluzel 141; 10. Giugliano 139; 11. Camier 114; 12. Badovini 107; 13. Neukirchner 84; 14. Checa 80; 15. Haslam 78; 16. Sandi 45; 17. Iannuzzo 25; 18. Elias 21; 19. Aitchison 20; 20. Clementi 18; 21. Canepa 11; 22. Lundh 10; 23. Lai 8; 24. Reiterberger 7; 25. Allerton 6; 26. Uprak 5; 27. Smrz 4; 28. Stauffer 4; 29. Ercelik 3; 30. Akiyoshi 2; 31. Haga 2. Manufacturers: 1. Aprilia 419; 2. Kawasaki 377; 3. BMW 354; 4. Honda 216; 5. Suzuki 193; 6. Ducati 144; 7. Yamaha 4.
Sam Lowes (11) and Kenan Sofuoglu (54) were just this far apart all race with the Turkish rider just barely taking the win on his home track.

World Supersport
Kenan Sofuoglu (Mahi Racing Team India Kawasaki) and Sam Lowes (Yakhnich Motorsport Yamaha) put up a superb fight today in the World Supersport race at the Intercity Istanbul Park. The two riders, who had been battling heat-to-head for the win in almost every round contested so far, managed to give the vocal and ecstatic Turkish crowd something to remember. In the end, after swapping positions with Championship points leader Sam Lowes, Kegan took the race win by just a bike length at the finish line.
Supersport 600cc Results: 1. Sofuoglu (Kawasaki) 16 Laps/85.440 km in 31'59.707 average 160.224 kph; 2. Lowes (Yamaha) 0.040; 3. Vd Mark (Honda) 9.074; 4. Zanetti (Honda) 11.987; 5. Rolfo (MV Agusta) 12.696; 6. Tamburini (Honda) 12.936; 7. Coghlan (Kawasaki) 14.002; 8. Salom (Kawasaki) 14.855; 9. Kennedy (Honda) 19.952; 10. Quarmby (Honda) 20.429; 11. Scassa (Kawasaki) 23.542; 12. Baldolini (Suzuki) 25.392; 13. De Rosa (Honda) 28.730; 14. Roccoli (Yamaha) 29.051; etc.
Standings (Round 11 of 13): 1. Lowes 205; 2. Sofuoglu 156; 3. Foret 121; 4. Vd Mark 107; 5. Zanetti 99; 6. Scassa 74; 7. Kennedy 71; 8. Rolfo 62; 9. Coghlan 60; 10. Antonelli 55; etc. Manufacturers 1. Kawasaki 225; 2. Yamaha 213; 3. Honda 142; 4. MV Agusta 72; 5. Suzuki 30; 6. Triumph 6.
15, 11 FARMER 93, 12 HICKMAN 89, 13 LINFOOT 73, 14 WATERS 67,
15 SMRZ 53.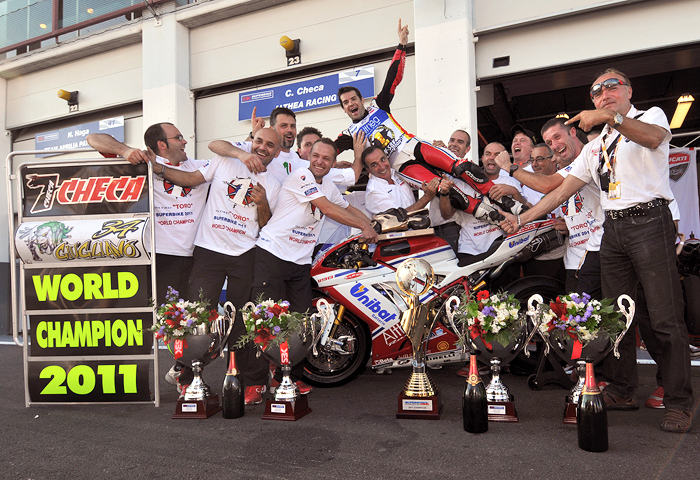 Carlos Checa took Ducati to the 2011 World Superbike Championship with the 1198RS, but the new 1199RS Paniagle has not proven competive in this year's modified SBK Class.

Carlos Checa (Team SBK Ducati Alstare) out for the rest of the 2013 Superbike season due to injury, considering his options for the future including possible retirement
Bologna (Italy), Tuesday 17 September 2013- After a difficult weekend in Turkey during which Carlos Checa suffered a serious accident, the latest tests made by doctors in Spain have now revealed that the official rider for Team SBK Ducati Alstare also has a fractured pelvis. A terrible blow for the Team SBK Ducati Alstare rider who faces surgery and a minimum ten-week recuperation period.
 
At the recent World Superbike round that took place last weekend at Istanbul Park in Turkey, Checa was the victim of a bad crash during Friday's first free practice session. The Clinica Mobile medical team, on hand to treat the rider at the track, reported a contusion to the thorax and a suspected fracture of the left scaphoid. As a result the Spanish rider was unable to continue with the weekend's qualifying sessions or races and returned to Spain on Sunday morning in order to immediately undergo further testing, first in the hands of Doctor Turmo of the CAR clinic and then under the care of Doctor Mir.
 
Unfortunately today's diagnosis has further complicated the medical situation. Carlos was having difficulty walking and so Doctor Mir, who is attending to Carlos at this difficult time, therefore carried out further tests that have revealed a fracture of the pelvis, at the point where it joins with the femoral head. Surgery is scheduled for Wednesday 18th September and will be performed by Doctor Ribas of the Dexeus clinic. The long period of recuperation required post-surgery unfortunately means that Checa will be unable to participate in the final three round of the 2013 season.
In a interview from the Istanbul race weekend with Gordon Ritchie in Cycle News this week, Carlos Checa who tunrs age 41 next month said, while recovering from his current wrist injury in the off season, he would have to consider the option of retirement if left with no option but to return to the uncompetitive Ducati 1199RS Superbike.
"Here it is difficult even with Ducati I have a very good relations. I want to do well with Ducati, but I try this year and there is no way for me to succeed. My wish is to bring the Panigale to the top, but we are very far. I do not think i can do it next year. For me this is clear. On the other side, at the moment I have some options, but not something if i sign today than i can go there. My manager has been talking about some projects and probably the closest, the more interesting is kawasaki. But i need to consider. This year I am quite tired. This year has been very hard for me."
In some ways yeas (I think about retiring), but on the other side I like competition. But what i do not like at all is what has happened to me this year. But to have an option to fight for winning enthuses me. I know to be at that level takes a lot of concentration, energy, compromise and dedication you need to put there. This is the point, if I will be able to do it or not. I need to relax a little bit (right now).If you ask me if i want to retire then for sure, today is not the best day. But I think in a few days, especially when I have recovered a little pit from the pain i have now from the crash, then I want to think and consider the offer. It is time for me to consider and take the decision in the next few weeks. Honestly, I have not thought so much about the future, but taking a potentially winning option is the only option that I can take to continue. If it is a winning option, I will think about it."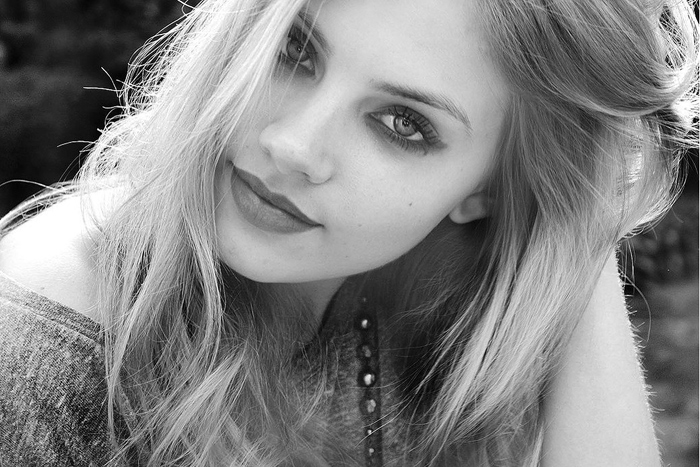 Reminding us of Hollywood's two hottestest actresses Amber Heard and Scarlett Johanon, meet new Fast Dates Calendar Kitten Jacqueline Pabst.
Three beautiful FastDates.com Calendar Kittens to headline the
2013 SBK World Superbike Laguna Seca USA Starting Grid on Sept 26-28th

Los Angeles, CA, August 1, 2014 - The FastDates.com Calendars & Website, in association with Umbrella Girls USA, is excited to announce that SBK World Superbike has selected three beautiful Fast Dates Calendar Kittens to grace the front of the starting grid when the World Superbike Championship returns to the Monterey Peninsula at Mazda L aguna Seca Raceway the weekend of September 26-28th 2013 after an 8 year absence. The models include model and university student Jacqueline Pabst, transplanted Irish supermodel Hannah Flattery who previously worked in England and served as an umbrella girl on the grid of the British Superbike Championship, and popular Umbrella Girls USA spokesmodel Jessica Harbour out of San Diego, CA.
World Superbike in America makes its return to Laguna Seca this September after an 8 year hiatus from the west coast's most popular roadrace facility. Together with the premier SBK World Superbike Class, the AMA Pro Roadracing Championship will also be joining the 3-day race weekend with its top classes including Pro Superbike. The first World Superbike Championship race in America took place at Laguna Seca Raceway back in 1995 with four FastDates.com Calendar models serving as the official SBK grid and podium girls on race day that year, and in many subsequent years since.
As he does every year at one of the SBK World Superbike rounds around the world, FastDates.com Calendar publisher and photographer Jim Gianatsis will use the 2013 SBK Laguna Seca September 26-28th race weekend to shoot with the Calendar Kittens for the next edition of the Fast Dates World Superbike Calendar.
"This year's Calendar shoot will be for the 25th Anniversary of the Fast Dates Calendar, the first edition of which featured Pamela Anderson on the cover with Miguel DuHamels' "Big Papa" Yoshimura Suzuki Superbike," explains Jim. "Every year I've been privileged to have exclusive track access to photograph the Calendar with all the top factory race teams in AMA and World Superbike, MotoGP, together with many of the world's most beautiful models and celebrities."
Above, Fast Dates World Superbike Calendar Kittesn Hannah Flattery, and left, Jessica Harbour
"This year will be no exception with the addition of beautiful models Sara and Jessica. I've been shooting with both of them for the Calendars over the past year and don't take a bad shot, plus they are fun and easy to work. I look forward to travel with them up the beautiful Pacific Coast on Highway 1 from Los Angeles to Monterey for the return of World Superbike at Laguna Seca, and show them the fan party atmosphere on Monterey's Cannery Row on Saturday night. It's going to be an incredible race weekend experience in one of the most beautiful locations on earth that no motorcycle racing fan will want to miss!"
Sara and Jessica recently worked togther in July, hosting the 22 annual LA Calendar Motorcyle Show at the Queen Mary, in Long Beach, CA. The premier custom streetbike event in America, the girls hosted the world premier of the new 2014 FastDates.com Calendars. And as a talented singer songwriter, Sara also performed on stage entertaining the spectators during the day
To find our more about the FastDates.com Calendars and Calendar Kittens, and to order Calendars and Books go to FastDates.com.

Gianatsis Design Associates specializes in advertsing and marketing for the motorsports and sports fasion markets and can be found at FastDates.com/JGDESIGN.HTM. UmbrellaGirls USA.com spealizes in providing spokesmodels for motorsports events and shows.
New Fast Dates.com Calendar Shoot!
Go behind the scenes at the glamorous Gianatsis Design Studios with beautiful new Calendar Kittens Jessica and Kelsey as they shoot for the FastDates.com Motorcycle PinUp Calendars with photographer Jim Gianatsis. And look for the new 2014 Calendars available right here on July 1st. Order the Calendars!
Videographer: Eric Lundmark; Video Editing and Still photography: Jim Gianatsis; Models: Jessica Harbour, Kelsey Silwinski; Make Up: Victoria Rubell, Music: Special thanks to Neil Sedaka for our theme song Calendar Girl; Modeling Agent: Umbrella Girls USA.
---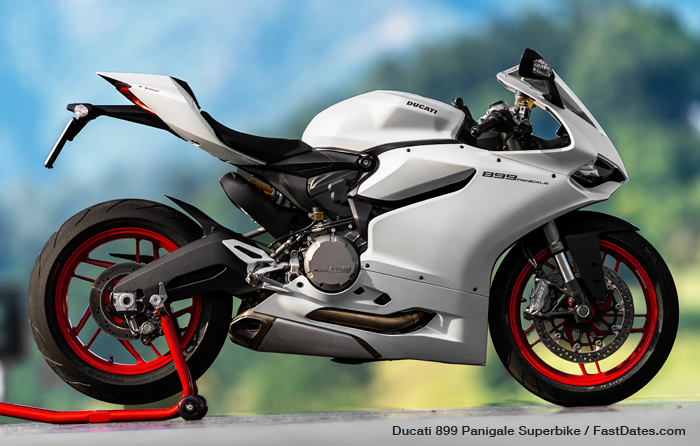 NEW 2014 Ducati 899 Panigale Superbike
August 6th, 2013 - Supermid perfection - the new 899 Panigale: The introduction of the highly-anticipated Ducati 899 Panigale provides a new way to access the exclusive world of Ducati Superbikes with a "Supermid" version designed to provide the thrill of the new generation flagship model with the refined character of an everyday streetbike.
The brand new Superquadro engine features a revised bore and stroke for a broad power delivery, producing 148hp (109kW) with a torque of 73lb-ft (10.1kgm). The super-smooth power unit continues to be a fully stressed member of the innovative Panigale monocoque construction, achieving both an outstanding power-to-weight ratio and ride-enhancing agility with a dry weight of 169kg (372.5lb). An 1199 silhouette underlines the family DNA, while the Ducati Quick Shift (DQS) and the fully integrated Riding Mode technologies of Ride-by-Wire, triple stage ABS, Ducati Traction Control (DTC) and Engine Brake Control (EBC) continue the benchmark ingenuity introduced with the award-winning Panigale.
Ducati's constant pursuit of perfection now offers all-round performance for connoisseurs with an authentic and stylish way to enter the world of high performance. The 899 Panigale is available in traditional Ducati red with black wheels or a stunning arctic white silk with red wheels at $14,995 US.
Expect to see added to the 899 family in the very near future, an ungraded 899S model with full Ohlins electronic suspenion like its big brother 1199S, and a smaller displacement 848cc engine necessary to homologate thsmaller V-Twin for the 600cc Supersport Class. Because of the required production numbers for Superstock, just offering an 848S model could also negate the need for an 848R model. Tradidionally with Ducati, the R model gets Titanium engine rods and valves to allow it to turn higher about 500 more RPMs for more peak horsepower. COMPLETE DETAILS AND PHOTOS
---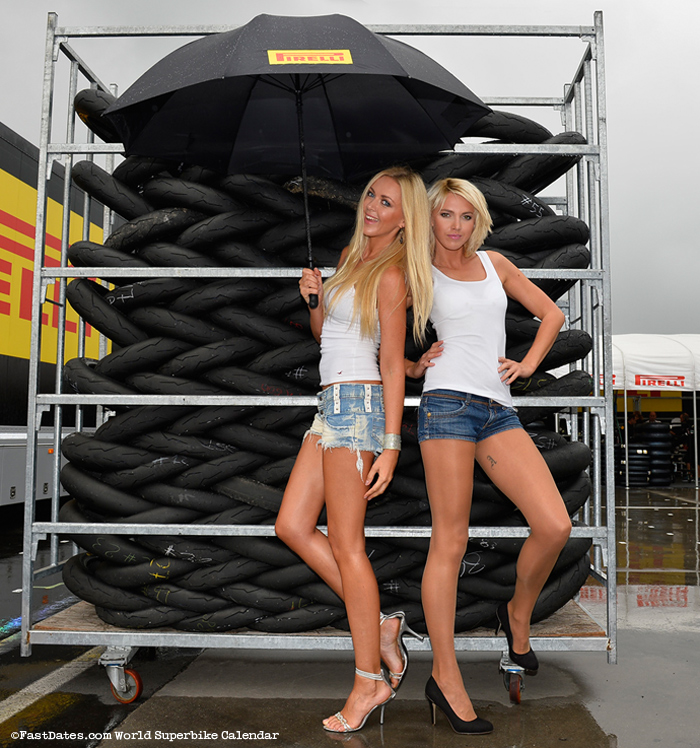 Jitka and Petra shoot for the next 2015 Fast Dates World Superbike Calendar
Nurburgring, Germany, September 11th, 2013 - Our offical Pirelli SBK World Superbike grid girls and FastDates.com Calendar Kittens Petra and Jitka make the best of rainy Superpole Saturday at the Nurburging. Behind them is a cart load of used race tires ready for the shredder. Both Kittens are featured in the new 2014 Fast Dates and Garage Girls Calendars.

Petra and Jitka were photographed again at the Nurburgring World Superbike round by our contributing photographer Max Oliana with the picture to appear in the next 2015 Fast dates World Superbike Calendar. The girls had to drive in from their home in Prauge Czeh Republic, across the old Iron Curtain, for the weekend's Calendar shoot and races. Here they are shooting inside the Ducati Alstare garage with Carlos Checa's bike, and in the Aprilia garage with Sylvan Guintoli's RSV4 factory bike as the rain pours down outside on Saturday. On Sunday they'd be back at work on the starting grid for both races as the offical Pirelli SBK Umbrella Girls.
---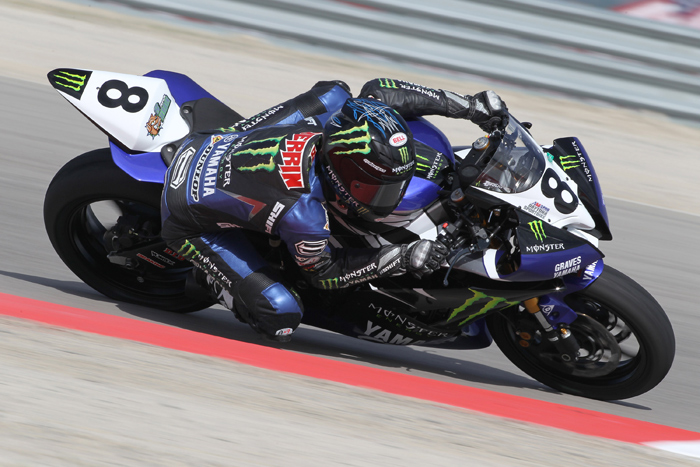 Josh Herrin in action above, and pensive below.
2013 AMA Pro National Guard Superbike Championship, New Jersey Round 8 0f 9
Third Jump Start of the Season for reigning champ Josh Hayes at New Jersey,
puts Yamaha team mate Josh Herrin in the cat bird's seat for 2013 Title at Laguna
New Jersey Motorsprts park, NJ, Sept 1, 2013 - The wild 2013 AMA Pro National Guard SuperBike championship fight went a long way toward being decided in this past weekend's pivotal New Jersey Lottery Devil's Showdown at New Jersey Motorsports Park. Now boasting a 22-point advantage with just a single race remaining, Monster Energy Graves Yamaha's Josh Herrin needs only to avoid disaster at the upcoming season finale at Mazda Raceway Laguna Seca and he'll at last claim his long-pursued first-career GEICO Motorcycle AMA Pro Road Racing #1 plate.
 
Herrin solidified his now-commanding championship position in the same manner in which he assembled it prior to his fruitful visit to New Jersey Motorsports Park -- by seizing the moment and maximizing every possible opportunity. The 23-year-old has continually built up his speed, confidence, and fitness, even as his second season in the premier class has developed. And each time his triple-champion teammate, Josh Hayes, has stumbled, Herrin has been there to take advantage to the tune of four race wins and an inside track on claiming the upset title victory.
 
Herrin has just one finish outside the top five all season long (a sixth at Road America), and has been on the podium in 11 of 13 races, including the last eight in succession.
 
It was the same story at NJMP. Herrin managed to overcome what seemed at the time to be a title-ending electrical issue at the start of Saturday's race. The rising star was forced to come to a complete stop and restart his YZF-R1 SuperBike after his machine suffered a malfunction in second gear. Despite falling to last position, Herrin started the long charge forward, a nearly impossible task that was aided significantly by a stroke of good luck that followed the bad in the form of a red flag. Herrin capitalized on his second chance, slicing from the third row and into the lead on the opening lap of the restart. From there he rode an exceptionally aggressive race with his title hopes on the line, picking up his fourth win of the season with a decisive pass on title rival Martin Cardenas on the race's final corner.
The following day, Herrin further bolstered his championship position with a clutch runner-up result, again fending off Cardenas and leaving himself just one top-ten result away from the title.

Reflecting on his season to date, Herrin said, "It's gone great -- I'm not getting lucky, that's for sure. I got lucky with Josh having some mechanicals at the beginning of the year but everything else I think has been hard earned and a smart job by me and my crew and we'll take it. We have a twenty-something point lead going in Laguna, so that means we've pretty much just got to finish to wrap it up. I've never been this excited."
 
While Herrin has been steady throughout 2013, the story of the season has been the polar opposite that's taken place the other side of the Monster Energy Graves Yamaha garage. After his crushing performance in 2012, Josh Hayes came into 2013 a heavy favorite to make history and become the first man to claim four consecutive AMA Pro National Guard SuperBike titles. Despite furthering his dominance in many ways, the Mississippian now finds himself with just an outside shot of attaining that goal.
 
Hayes' results at NJMP were just the continuation of a bizarre season for the normally reliable Hayes, which in turn has created a bizarre title fight, such is his influence on the shape of the season. One can make an argument that it's entirely possible -- perhaps even likely -- that minus mitigating factors, Hayes could have won every single race this season, just as he's taken every single pole position.
His title campaign got off to an inauspicious start with a pair of mechanical failures suffered while leading at Daytona International Speedway. He later took the checkered flag first by nearly five seconds at Mid-Ohio but was officially credited with second in the final results -- needing a full five-second advantage after being hit with his second jump-start penalty of the season (he had earlier successfully overcame one at Barber Motorsports Park). The Mississippian finished third in a straight fight at Miller Motorsports Park, although even in that case Hayes found himself disadvantaged due to a tire gamble gone wrong. And the following day at MMP, Hayes crashed out of the lead.
 
Despite that odd assortment of misfortune and mistakes, Hayes came into New Jersey Motorsports Park still in control of his own destiny due to his excellence in the races in which he encountered no such drama (six wins). However, Saturday's final may have been the last nail in the coffin.
 
Races are occasionally decided by inches, and less frequently, so are championships. However, usually those inches are measured at the end of a race, not the beginning. But that may very well have been the case at NJMP as the Yamaha superstar was judged to have moved slightly in anticipation of the green light, bringing about his third jump-start infraction of the season.
 
Hayes, who had both his 'A' and 'B' machines suffer from electrical failures in that morning's qualifying, then suffered a similar issue as Herrin as they powered forward at the start. But again, thanks to the red flag, Hayes was able to get back into the fight and ultimately demonstrated his on-track superiority by dicing his way through the field to claim the checkered flag first. However, with the penalty, that win was downgraded to a fourth-place finish, and Herrin's runner-up was elevated to a win (again).
 
The defending champ got a small measure of revenge the following day with a blowout victory -- his seventh of the season and the 40th premier class triumph of his career -- but by then the damage was already done.
 
It's difficult to overstate just how critical that penalty was in terms of Hayes' title hopes. It resulted in a combined 17-point swing in the championship picture as relates to the two works Yamaha pilots. Without it, Hayes would now be in position to lock down his fourth straight SuperBike title with a pole and win at Laguna Seca -- two feats he'll be favored to accomplish. However, now he needs disaster to strike Herrin in order to have any hope of retaining his crown.
 
After Sunday's win, a somber Hayes said, "I don't know -- I was proud of how I rode (on Saturday). I guess the saving grace of the day was that I rode well, worked my way through the guys, and crossed the finish line first. I'm proud of that for my team. The rest of it, the pieces will fall where they may. I was proud of the way I rode and proud of my team for putting a good bike back underneath me. I can't say I'm happy -- just proud."
 
Yoshimura Suzuki Factory Racing's title hopeful, Martin Cardenas, scooped up his tenth and eleventh podium finishes of the season at New Jersey Motorsports Park. However, they were a pair of thirds, costing him further ground as he now finds himself a point behind Hayes and 23 down on championship elect Herrin with just one race to go.
 
Saturday's final corner clash with Herrin may have been where the Colombian's championship chances were ultimately dashed. Had he successfully fought off Herrin's attempt, rather than get pushed wide and lose two positions in the melee, Cardenas would have earned the race win and also taken the point for most laps led. Under that scenario, Cardenas would trail Herrin by just seven points heading into Laguna Seca and with each man having earned three wins. In other words, he would still be control of his own destiny as a pole, win, and laps leader point would put him equal with Herrin if Herrin finished second in response, and the championship tie-breaker would have fallen to Cardenas, with four wins to Herrin's three.
 
And on Sunday, Cardenas tracked down Herrin from well behind but again lost out to the motivated Yamaha man on the last lap, giving away more points to his rival. As a result, Cardenas finds himself facing pretty much the same longshot odds as Hayes -- only he also needs to overcome the defending champ as well.
 
"This was a very long and tough race weekend," said Cardenas. "Overall, the race was good and I'm very happy with the Yoshimura Suzuki GSX-R1000. The bike worked great this weekend and I look forward to finishing the season with a little bit better result at Laguna Seca."
 
Prior to the weekend, National Guard Jordan Suzuki's Roger Hayden was singled out as a potential spoiler and he turned out to be exactly that for Hayes and Cardenas, stealing points from both men with his Saturday runner-up. On Sunday, he finished fractions of a second off another second-place finish but took the checkered flag just off the podium in fourth.
 
"Saturday's race was really good," said Hayden. "We were a little bit quicker than on Sunday. The Jordan Suzuki GSX-R1000 was great all weekend but we had a little more speed on Saturday. The National Guard Jordan Suzuki team has been working really hard for me and I know that fourth place isn't exactly what we want, but overall it was a good weekend and we were competitive in both races. Now I'm looking forward to Laguna, a track I've done well at, and finishing the season out strong."
 
Jordan Suzuki's Danny Eslick was looking to bridge the gap to the front four at NJMP and showed flashes of doing that before twice taking the checkered flag in fifth (although Saturday's result became a sixth as, like Hayes, he was assessed a five-second penalty for jumping the start).
 
Sunday's race was perhaps the most promising of the season for the Oklahoman. He swapped positions during the race's opening half with Cardenas and Hayden, actually holding down third position at one point, before fading to fifth.
 
Eslick said, "On Saturday at the start of the race, I was ready to go and the starter wasn't quite ready. So I got a five-second penalty. Then there was the red flag and that changed everything. I got the short end of the stick on the red flag, but that's racing. Then Sunday, I got off with the lead pack and was able to make a few moves and it was good to be racing with my teammate and the guys up front. Overall, we got the Jordan Suzuki GSX-R1000 up there and rolling pretty good this weekend."
 
KTM/HMC's Chris Fillmore traded fifth and sixth place results with Eslick as he continued to reel in strong results aboard the RC8R. He was particularly impressive on Sunday, overtaking and shaking rival Geoff May (Team HERO EBR) and very nearly chasing down Eslick to earn a clean fifth.
 
Herrin leads into the GEICO Motorcycle AMA Pro Road Racing season finale on the verge of claiming his first-career AMA Pro National Guard SuperBike title. The finale will take place on September 27-29 at Mazda Raceway Laguna Seca, as the series returns to Monterey, California, for a second time this season, this time to share the spotlight with the FIM Superbike World Championship.
 
Next Up
 The 2013 GEICO Motorcycle AMA Pro Road Racing season will resume in less than two weeks' time as the series travels to Mazda Raceway Laguna Seca in Monterey, Calif. for the ninth and final round on September 27-29. For tickets and additional information, please visit  http://www.mazdaraceway.com/buy-tickets.
 
Stay connected with GEICO Motorcycle AMA Pro Road Racing on social media at http://twitter.com/AMAProSBK and http://www.facebook.com/AMAProRoadRacing.
---
Lorenzo was able to easily maintain a 2 second lead over the Honda riders all race long.

2013 MotoGP World Championship, Misano Italy, Round 13 of 18
Lorenzo Continues to dominate at Missao MotoGP
Gran Premio Aperol di San Marino e della Riviera di Rimini, Sunday Sept 15th 2013 - Jorge Lorenzo has won his second consecutive Grand Prix, winning the GP Aperol di San Marino e Riviera di Rimini at Misano on Sunday afternoon. The World Champion, who took the lead at the start, controlled the pace as championship leader Marc Marquez beat Dani Pedrosa to second position.

Misano World Circuit Marco Simoncelli has delivered another glorious result for Lorenzo, who has now flourished at the Adriatic venue for three years in a row. The win, which is the 49th of his career and 28th in the premier class, also confirms that the Mallorcan has won both Italian races on the calendar for a trio of successive seasons.

From second on the grid, Lorenzo shot into the lead as pole-sitter Marquez dropped to third on the opening lap. The latter would put on a spurt in the second half of the race, but by this point had fallen to fourth place due to an unforced error; Marquez recovered from his Turn 8 mistake to catch and pass both Lorenzo's teammate Valentino Rossi and his Repsol Honda Team colleague Pedrosa. However, as the two Honda riders engaged in a battle, Lorenzo's already comfortable lead only grew.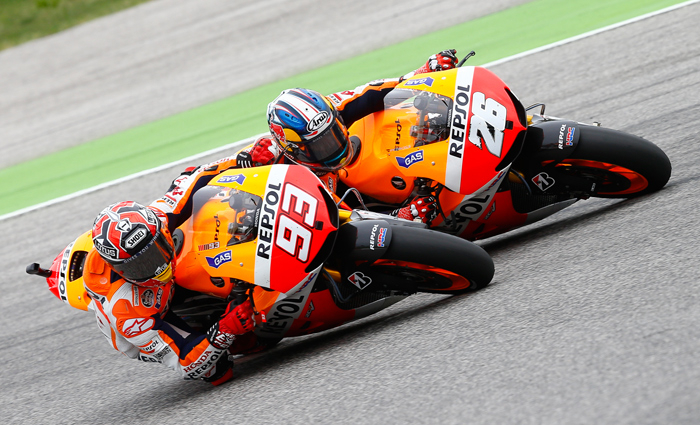 Marquez stuffs his way inside Pedrosa to take 2nd place from his team mate.
Marquez's championship lead is now 34 points with five races remaining, while Lorenzo has drawn level with Pedrosa for second overall. Rossi and Monster Yamaha Tech3's Cal Crutchlow are the only other two riders who can mathematically still clinch the title; the Italian ended Sunday's race fourth, while the Englishman fell to sixth on the final lap behind LCR Honda MotoGP's Stefan Bradl. Alvaro Bautista was seventh for GO&FUN Honda Gresini, having claimed his maiden MotoGP™ podium at Misano in 2012, while Ducati Team's Andrea Dovizioso beat teammate Nicky Hayden and Ignite Pramac Racing's Michele Pirro to eighth spot.

11th was Tech3's Bradley Smith, while Colin Edwards (NGM Mobile Forward Racing) was the leading CRT rider in 12th; the American finishing one position ahead of Aleix Espargaro (Power Electronics Aspar) who, from an impressive sixth on the grid, ran fourth on Lap 1, but was handed a ride-through penalty for jumping the start. Six riders failed to make the finish, including Energy T.I. Pramac Racing's Andrea Iannone who was one of six Italians racing in front of a passionate crowd.
Jorge Lorenzo, 1st - "Luckily we improved the bike a lot in warm up, especially in braking so we improved the lap time and the pace quite a bit. I was convinced to follow my strategy of the last couple of races which was to try to break away and finally I could do it. The first two laps I had a big advantage so I had to keep pushing to maintain a distance because they never gave up and wanted to catch me. I'm happy, we recovered five points and we are closer to Marc. I need to be constant and try to win races and stay focused."

MOTOGP RACE RESULTS: (28 laps = 118.328 Km)
POS / RIDER / NAT. / TEAM / MOTORCYCLE / TIME / KM/H / GAP
1 / Jorge LORENZO / SPA / Yamaha Factory Racing / YAMAHA / 44'05.522 / 161 /
2 / Marc MARQUEZ / SPA / Repsol Honda Team / HONDA / 44'08.901 / 160.8 / 3.379
3 / Dani PEDROSA / SPA / Repsol Honda Team / HONDA / 44'12.890 / 160.5 / 7.368
4 / Valentino ROSSI / ITA / Yamaha Factory Racing / YAMAHA / 44'20.584 / 160.1 / 15.062
5 / Stefan BRADL / GER / LCR Honda MotoGP / HONDA / 44'27.877 / 159.6 / 22.355
6 / Cal CRUTCHLOW / GBR / Monster Yamaha Tech 3 / YAMAHA / 44'28.121 / 159.6 / 22.599
7 / Alvaro BAUTISTA / SPA / GO&FUN Honda Gresini / HONDA / 44'36.581 / 159.1 / 31.059
8 / Andrea DOVIZIOSO / ITA / Ducati Team / DUCATI / 44'48.224 / 158.4 / 42.702
9 / Nicky HAYDEN / USA / Ducati Team / DUCATI / 44'50.380 / 158.3 / 44.858
10 / Michele PIRRO / ITA / Ignite Pramac Racing / DUCATI / 44'53.340 / 158.1 / 47.818
11 / Bradley SMITH / GBR / Monster Yamaha Tech 3 / YAMAHA / 44'53.533 / 158.1 / 48.011
12 / Colin EDWARDS / USA / NGM Mobile Forward Racing / FTR KAWASAKI / 45'08.676 / 157.2 / 1'03.154
13 / Aleix ESPARGARO / SPA / Power Electronics Aspar / ART / 45'13.122 / 157 / 1'07.600
14 / Hiroshi AOYAMA / JPN / Avintia Blusens / FTR / 45'21.050 / 156.5 / 1'15.528
15 / Danilo PETRUCCI / ITA / Came IodaRacing Project / IODA-SUTER / 45'23.429 / 156.4 / 1'17.907
Pole Position: Marc MARQUEZ 1'32.915 163.7 Km/h
Fastest Lap: Marc MARQUEZ 1'33.935 161.9 Km/h Lap 11
Circuit Record Lap: Jorge LORENZO 1'33.906 162.0 Km/h 2011
Circuit Best Lap: Marc MARQUEZ 1'32.915 163.7 Km/h 2013
CHAMPIONSHIP POSITION TILL DATE:
1 MARQUEZ 253, 2 LORENZO 219, 3 PEDROSA 219, 4 ROSSI 169, 5 CRUTCHLOW 146,
6 BRADL 124, 7 BAUTISTA 112, 8 DOVIZIOSO 104, 9 HAYDEN 95, 10 SMITH 71,
11 ESPARGARO 71, 12 PIRRO 50, 13 IANNONE 41, 14 EDWARDS 31, 15 BARBERA 27.
---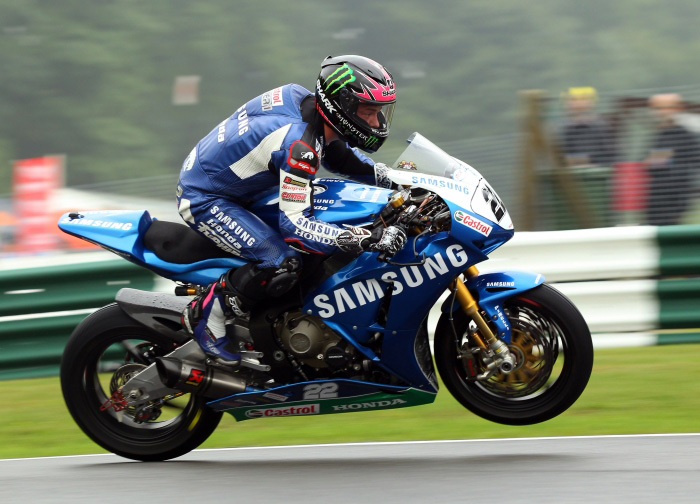 Sam Lowes on the factory backed Samsung Honda

2013 MCE Insurance British Superbike Championship, Donnington Park Round 9 of 12
Sam Lowes and Honda Double Again at Donnington British Superbike
Donnington Park, Sunday Sept 5-6th 2013 - Alex Lowes made it four straight race victories in as many starts as he underlined his credentials to take the MCE Insurance British Superbike crown in the ninth round at Donington Park and has closed to within six points of defending champion Shane Byrne going into the all important Showdown sequence.
Lowes was always at the sharp-end of the action, missing out on pole position by barely a quarter of a second to James Westmoreland, BMW, but outgunning him at the start of both races and then dictating terms while behind him Byrne, trying everything he knew, worked intensely to find a way ahead for his Kawasaki.
Lowes had the edge, taking the race by 0.111secs from Byrne with James Ellison securing his place in the Showdown with a third place on his Yamaha. Suzuki's Josh Brookes, finishing fourth, had like Lowes and Byrne been assured of his place in the Showdown prior to this round.
Kiyonari, like Byrne, aiming for a record fourth BSB crown, was struggling for pace throughout the opening race, but worked into the points scoring positions, finishing the first race in thirteenth, and then going two places better in the second race and that was enough to secure his place in the Showdown.
Lowes continued in the second race in the same form as in the opener, leading throughout, apart from a few yards at the Esses when Byrne lunged through, but was unable to complete the move and the Samsung Honda rider went on to take his sixth victory of the season, and complete his second winning double in as many rounds.
Other Honda riders will now fight for honours in the BSB Riders Cup.  Jakub Smrz took eighth and tenth places on the Padgetts Honda. Peter Hickman took his Lloyds British GBmoto Honda into eleventh and thirteenth places while his team-mate Dan Linfoot was fifteenth and fourteenth. After Donington Park, the two Samsung Honda riders Alex Lowes and Ryuichi Kiyonari are through to the Showdown and are joined by Byrne, Brookes, Ellison and James Westmoreland who secured the sixth and final place on a tie-breaker at the expense of his BMW team-mate Jon Kirkham.
Alex Lowes (Samsung Honda) Championship position 2nd 533pts Race results 1st/1st
"I got a good start and that was good. I thought the guys must have been messing my pit board up as each lap it just said +0! I enjoyed the race, I didn't know it was Shakey behind me but I obviously knew someone was there, the bike was working well though. I don't think I have ever pushed as hard as I did at the end of those races to take the double. I wanted wins this weekend as the points make it close and I am really excited about the Showdown. It is so close so it should be really good fun at Assen."
RESULTS BRITISH SUPERBIKE RACE 1:
POS / RIDER / NAT / MOTORCYCLE / TIME / GAP
1 / Alex LOWES / GBR / Honda - Samsung Honda / 30:12.264 /
2 / Shane BYRNE / GBR / Kawasaki - Rapid Solicitors Kawasaki / 30:12.375 / 0.111
3 / James ELLISON / GBR / Yamaha - Milwaukee Yamaha / 30:12.785 / 0.521
4 / Josh BROOKES / AUS / Suzuki - Tyco Suzuki / 30:19.130 / 6.866
5 / James WESTMORELAND / GBR / BMW - Buildbase BMW Motorrad / 30:23.892 / 11.628
6 / Jon KIRKHAM / GBR / BMW - Buildbase BMW Motorrad / 30:30.474 / 18.210
7 / Chris WALKER / GBR / Kawasaki - Quattro Plant Kawasaki / 30:32.137 / 19.873
8 / Jakub SMRZ / CZE / Honda - Padgetts Honda / 30:32.689 / 20.425
9 / PJ JACOBSEN / USA / Suzuki - Tyco Suzuki / 30:35.753 / 23.489
10 / Barry BURRELL / GBR / Kawasaki - Quattro Plant Kawasaki / 30:40.814 / 28.550
11 / Peter HICKMAN / GBR / Honda - Lloyds British GBmoto Racing Honda / 30:42.356 / 30.092
12 / Josh WATERS / AUS / Yamaha - Milwaukee Yamaha / 30:46.121 / 33.857
13 / Ryuichi KIYONARI / JPN / Honda - Samsung Honda / 30:46.270 / 34.006
14 / Michael RUTTER / GBR / Honda - Bathams Honda / 30:48.950 / 36.686
15 / Dan LINFOOT / GBR / Honda - Lloyds British GBmoto Racing Honda / 30:51.985 / 39.721
Fastest lap: James WESTMORELAND GBR BMW - Buildbase BMW Motorrad Lap 9 1:29.815 160.44 Km/h
RESULTS BRITISH SUPERBIKE RACE 2:
POS / RIDER / NAT / MOTORCYCLE / TIME / GAP
1 / Alex LOWES / GBR / Honda - Samsung Honda / 30:07.355 /
2 / Shane BYRNE / GBR / Kawasaki - Rapid Solicitors Kawasaki / 30:07.413 / 0.058
3 / Tommy BRIDEWELL / GBR / Kawasaki - Halsall Racing Kawasaki / 30:09.682 / 2.327
4 / James WESTMORELAND / GBR / BMW - Buildbase BMW Motorrad / 30:11.022 / 3.667
5 / Josh BROOKES / AUS / Suzuki - Tyco Suzuki / 30:11.849 / 4.494
6 / James ELLISON / GBR / Yamaha - Milwaukee Yamaha / 30:16.720 / 9.365
7 / Jon KIRKHAM / GBR / BMW - Buildbase BMW Motorrad / 30:22.952 / 15.597
8 / Chris WALKER / GBR / Kawasaki - Quattro Plant Kawasaki / 30:28.000 / 20.645
9 / PJ JACOBSEN / USA / Suzuki - Tyco Suzuki / 30:28.403 / 21.048
10 / Jakub SMRZ / CZE / Honda - Padgetts Honda / 30:28.705 / 21.350
11 / Ryuichi KIYONARI / JPN / Honda - Samsung Honda / 30:29.142 / 21.787
12 / Josh WATERS / AUS / Yamaha - Milwaukee Yamaha / 30:36.435 / 29.080
13 / Peter HICKMAN / GBR / Honda - Lloyds British GBmoto Racing Honda / 30:44.240 / 36.885
14 / Dan LINFOOT / GBR / Honda - Lloyds British GBmoto Racing Honda / 30:45.157 / 37.802
15 / Michael RUTTER / GBR / Honda - Bathams Honda / 30:46.095 / 38.740
Fastest lap:
James WESTMORELAND GBR BMW - Buildbase BMW Motorrad Lap 5 1:29.677 160.69 Km/h
CHAMPIONSHIP POSITIONS:
1 BYRNE 370, 2 LOWES 343, 3 BROOKES 308, 4 ELLISON 200, 5 KIYONARI 170,
6 WESTMORELAND 154, 7 KIRKHAM 154, 8 BRIDEWELL 126, 9 WALKER 123,
10 JACOBSEN 1
---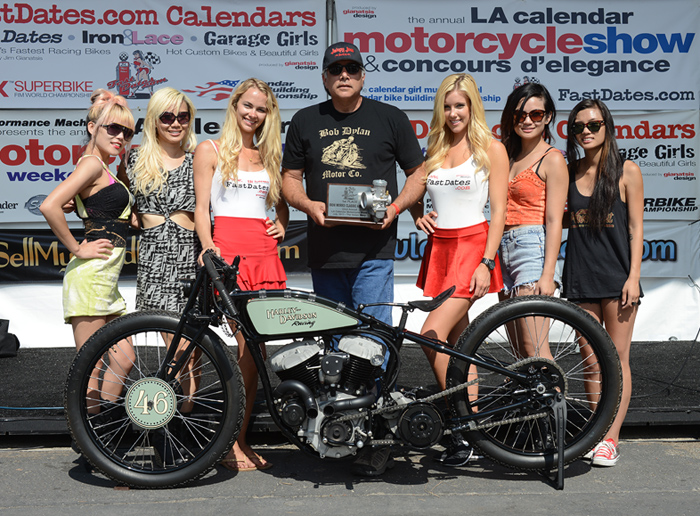 Ron Boldonado and his Classic American Class winning replica Board Track race with girls from the band Nylon Pink
and Calendar Kittens Sara Horvath and Jessic Harbour who will be accompanying us this September 26-28th to Laguna Seca World Superbike to shoot the next edition of the Fast Dates World Superbike Calendar and will serve as official SBK grid girls on race day.
2013 LA Calendar Motorcycle Show & Calendar Girl Music Festival
Los Angeles, July 14th, 2013 - The 22nd edition of the annual LA Calendar Motorcycle Show marked its return to the Queen Mary Seawalk Village in Long Beach, CA with Southern California's Sam Baldi continuing his domination of 2013 season West Coast bike event by taking the Calendar Bike Building Championship's Best of Show and one of the coveted Mikuni Carburetor Trophies with his latest Jimmy Todorovith / Profile Cycles built Big Twin custom named "Lost Angel". Complete Show Coverge Here
Zen Motorcycles "Tribite to Hagakure" by Laurent Dutriel
One of the most beautiful custom bikes we've ever seen is this very simple, hand crafted Land Speed Record stle bike by French artist Laurent Dutriel. It is bare bones basic with no starter, no transmission gears, no lights, and is started by attaching a rope pull cord to the clutch to spin -over the engine. It is the pure essence of motorcycling - fast, loud, thrilling and beautiful.
"This bike is a tribute to old racers at the beginning of the twentieth century, and also of a Japanese bike made in 1995. I made this bike to challenge in the Land Speed race in Bonneville August 2001, to prove to myself, I could run more than 200 km/h, without any suspension and no gearbox."   Visit the Calendar Bike Garage
---
NEW! FAST 2014 Digital Calendar Magazine Yearbook
The Bikes, the Builders, the Riders, the Kittens,the Calendar Bike Show, the World Superbike races all the 2014 Calendar Pictures, and Special Features... For the first time every we take you around the world in 120 exclusive pages for the making of the 2014 FastDates.com Calendars! Now in Members Corner
---
There's more! Go to Pit Lane News Previous Week

Also Visit: Fast Dates Calendar News • Iron & Lace Calendar News
Calendar Girl News • Meet the Models • Paddock Garage
Get FastDates.com T-Shirts, Mugs & Photographs from Our Store

MEMBERS CORNER! Calendar Kittens, Paddock Garage, Iron & Lace Garage


Amazon.com Motorcycle Products & Apparel Store



MotorcycleSuperstore.com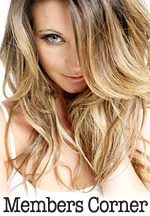 Hot Bikes, Sexy Kittens
Your Exclusive Grid Pass
also includes....
---
Order the New
2013 / 2014 Calendars!
with the FastDates.com Calendar Kittens - the official SBK Umbrella Girls!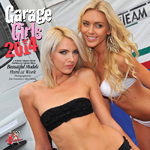 Click for even more
2014 Calendars!
---
Blake Young Joins
FIXI Cresent Suzuki at Laguna WSB
Team Suzuki Press, Sept 18th - AMA Superbike runner-up Blake Young will join the FIXI Crescent Suzuki team for the forthcoming eni FIM Superbike World Championship round at Laguna Seca in America as a replacement for the injured Leon Camier. The American will turn 26-years-of-age on the September 20th so the chance to ride the Yoshimura-Powered GSX-R1000 Superbike has come as an early birthday present for the Wisconsin-based racer. He has finished as runner-up in the highly competitive AMA Superbike series in the last two years and has this season raced in the Indianapolis and Houston rounds of the MotoGP™ Championship.
Young has been drafted in to replace Camier at Laguna Seca following the Englishman's huge crash in Turkey last weekend that left him needing surgery on seven broken bones in his right foot. He is now recovering from the injury and is aiming to be fit for the final race of the season at Jerez.
Born in Madison, Wisconsin, Young was 14 when he became a full-time road racer and two years later he officially entered the AMA Pro Road Racing Series on a Suzuki GSX-R600. He spent his first seasons in the Supersport,
Superstock and the Formula Xtreme series', before making his debut in Superbike in 2008 on a Suzuki. In 2009 Young moved to a full-time ride in the AMA Superbike class with Rockstar Makita Suzuki, taking four podiums in his first season and sixth overall. The following season he took five podiums - including three wins - and again raced to sixth in the championship. In 2011 he challenged for the title onboard the Yoshimura Suzuki, recording seven wins and another eight podiums, to see him finish runner-up - just five points away from the title-winner. Last season, while still with Yoshimura Suzuki he again finished second in AMA Pro Superbike Championship, taking three wins and 13 additional podiums to his name.
Fixi Crescent Suzuki's latest recruit will get his first taste of the Suzuki GSX-R1000 in Friday morning's free-practice at Laguna Seca on September 27th, where his knowledge of the Californian circuit will be put to good use as learns to ride a full-blown World Superbike there for the first time.
Blake Young: "I'm really excited at the prospect of riding for FIXI Crescent Suzuki and I can't wait to ride the bike. It was a surprise to get the call, but it will be great to go back to Laguna Seca, especially on a World Superbike - it's a bit like a dream come true for me and made even better that it's a Suzuki. I'm now ready to get out on the bike and try to do some good things on the world stage and see what happens from there. I want to thank all the people that have made this happen and it's never good when a rider gets injured, so I want to wish Leon all the best for a quick and full recovery. It will be great to ride his bike and hopefully I can do well on it for him and the team."
Paul Denning - Team Manager: "We are happy to have secured Blake for the Laguna Seca round for the FIXI Crescent Suzuki team; he has excellent knowledge of the circuit and also knows how to win on a Suzuki GSX-R and we think he'll adapt to WSB quickly. It is never an easy job having to replace one of your riders due to injury, but we are sure Blake will do a good job for us at Laguna and the whole team is looking forward to welcoming him and we hope to have a smooth and successful weekend. We'll certainly do all we can to help him be competitive and to get the best possible result."
Nori Haga Joins British Champion Shane Byrne At Rapid Solicitors Kawasaki
Monday Sept 16th 2013 - Reigning MCE Insurance British Superbike Champions Paul Bird Motorsport (PBM) have signed Japanese star Noriyuki Haga to contest the final three rounds of the 2013 Championship.
The former triple runner-up in the World Superbike Championship will join MCE British Championship leader and defending champion Shane 'Shakey' Byrne on board a Rapid Solicitors Kawasaki ZX-10R for all three Showdown rounds, starting at Assen this coming weekend.
Having won 43 WSBK races in a distinguished career, Haga raced in BSB last season and despite suffering a broken collarbone at Cadwell Park, bounced back late in the season to claim eighth place in the final standings.
Earlier this season, Nori-chan took a third place podium finish at the prestigious Suzuka Eight Hours race in his native Japan alongside former 500cc World Champion Kevin Schwantz.
Haga will get his first taste of the Minxflix-supported Rapid Solicitors Kawasaki ZX-10R in a test at Snetterton en route to Assen and will also be in action on the bike at familiar tracks to him including Silverstone (October 4/6th) and the Brands Hatch GP circuit finale (October 18/20th).
Paul Bird, Team Owner:  "I have always admired Nori throughout his career and it's fair to say he's one of my heroes so I'm delighted to have the chance to work with him. He's proven many times that he's a great rider and showed at the tracks he knew last year that he could still be very competitive. He was on pole position at Assen last year and rode a couple of brilliant races so despite not doing a lot of racing this year, he'll be very strong. He loves all three Showdown tracks and if he can also help Shakey's bid for the title, all well and good."
More information including bike, team and rider profiles, race calendar etc can be found at www.pbmuk.net.  The official website of the 2013 MCE Insurance British Superbike Championship is at www.britishsuperbike.com.
A day without results for Team SBK Ducati Alstare at Istanbul Park with Carlos Checa and Ayrton Badovini Injured
 Istanbul (Turkey), Sunday 15 September 2013: despite physical problems resulting from Friday's crash, Ayrton Badovini (Team SBK Ducati Alstare) attempted to participate in today's Superbike races at Intercity Istanbul Park in Turkey. Unfortunately a technical stop in race 1 put paid to his chances of scoring points and, due to the pain he was suffering in the first half of that first race, he decided not to compete in the day's second race.
 
Badovini suffered strained ligaments and swelling in his left ankle after a crash at turn 12 in Friday morning's practice. Having not completed the qualifying sessions yesterday, the Ducati Alstare rider managed to get his boot on this morning despite the injury. He was therefore able to make a few laps during warm-up to assess whether he would be able to race later in the day.
 
Race 1 – Badovini lined up at the back of the grid, in sixteenth position, due to the fact that he did not participate in either of the qualifying sessions as a result of the injury. Making a good start, he was already up in thirteenth position by the end of the first lap. He held this position for the first eight laps but unfortunately, during the course of lap nine, he was forced to return to the garage due to a technical problem and was unable to rejoin the race.
 
Ayrton Badovini: "It's a pity about the stop, today was a chance to make some laps and get to grips with this track. It would have been difficult to finish the race anyway due to my physical condition but I wanted to try at least. I was also having some grip issues because, having completed only one practice session, we didn't have time to identify the best set-up for our bike on this new track. Unfortunately a weekend to forget…"
 
Carlos Checa was unfortunately absent from today's races, having crashed on Friday and suffering a contusion to the thorax and suspected fracture of the scaphoid as a result. He flew to Barcelona this morning where he will receive further treatment.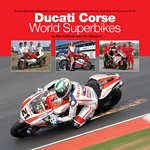 Retail $49.95 ea.
Click to Order from Amazon.com

Ducati Corse
World Superbikes
by Alan Cathcart
& Jim Gianatsis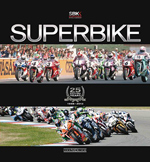 The Official SBK
World Superbikes
1987-2012
25 Year History Book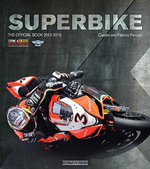 The Official SBK
2012-2013 Yearbook
These SBK Yearbooks are the Best Books Ever about World Superbike. They feature awesome color photography of the riders, bike and racing action. The feature a detailed revue of the past season in pictures and statistics, with a detailed look at the bikes and riders.

Plus a technical look data all the bikes, a preview of the upcoming season's Championship!
We buy this every year ourselves and highly recommend it!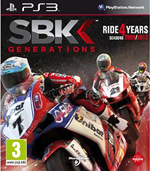 SBK World Superbike Video Game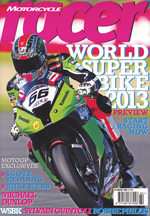 Official Print Media Partner
---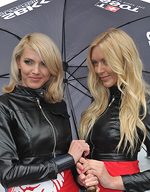 Meet 2013 Calendar Kitten
Jitunka & Petra!

MV Agusta F3 800cc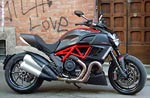 The Devil Made Us Do It!
Testing the Ducati Diavel in Italy
Sudco High Performance & OEM Replacement Parts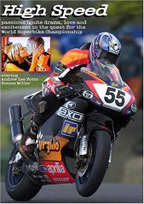 High Speed - the Movie
The best motorcycle racing movie ever made! Filmed on location at the World Superbike races , this an exciting romantic drama staring beautiful British actress Sienna Miller.
---
EDELWEISS OFFERS NEW and AFFORDABLE MOTORCYCLE TOUR ALONG THE DOLOMITES WITH CHALLENGING ROADS, OVERWHELMING MOUNTAIN SCENERY AND ITALIAN CUISINE AT ITS FINEST.
The Dolomites are a must for a passionate biker – come with us on an unforgettable motorcycle tour. The countryside is dominated by mountains, rivers, and gorge-like valleys, which have just space enough for a road and railroad tracks; but there are also bigger towns like Bolzano, where our base hotel is located.

Thinking about Italian culture you will notice quite a big difference from what you may expect; building style, cultures, languages, bilingual road signs and special foods show that varied peoples and ideas peacefully co-exist here. The Sella Ronda is a very good warm-up for the following days and our rides to Penserjoch, Jaufenpass and Timmelsjoch.

Eight more passes are on our schedule for the next day and we will have the opportunity to stop in the nice little town of Cortina d'Ampezzo, well known from the Olympics in 1956. Now it's time to make a decision: go to Venice for sightseeing or collect 10 more passes? Tough call! The last riding day leads us south to the wonderful Lake Garda, with swimming and riding at its best.
Find Out More
THROUGH THE ALPINE WONDERLAND OF AUSTRIA AND SOUTHERN GERMANY – THE ALPS AND LAKES MOTORCYCLE TOUR!
The Alps and Lakes motorcycle tour takes you through a beautiful part of European motorcycle paradise; the Alps. The contrast between the beautiful lakes in southern Germany and Austria and the towering mountains that reach up to more than 10,000 ft is nothing less than breathtaking.
This area is the famous background for the movie "Sound of Music". This vacation offers a little bit of everything: beautiful and relaxing rides through the valleys; some mountain roads and passes; and great vistas and sights, including King Ludwig's castle, Herrenchiemsee, and the historic city of Salzburg. The tour consists of five riding days, one of them is a rest day – which means that you stay two nights at the same hotel.

This is a great opportunity to explore a little bit more, ride around the countryside, walk through town, meet the locals and sample some of the local food. The tour will take you through Germany and Austria, and on the rest day you can even add Italy to your list if you are so inclined.
Find Out More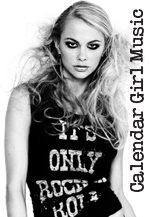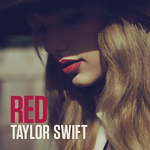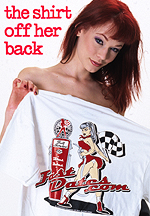 Order the Official
FastDates.com &
LA Calendar Bike Show
T-Shirts!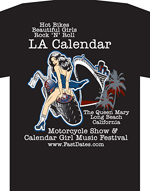 Marquez heads Monday MotoGP test as Hernandez Replaces Injured Ben Spies Pramac Ducati
Missano, Italy, Mon Sept 16h - Marc Marquez was quickest in Monday's post-race test at Misano World Circuit Marco Simoncelli. As the championship leader moved ahead of Jorge Lorenzo, Suzuki continued its programme ahead of a MotoGP™ return and Yonny Hernandez made his first appearance in Ignite Pramac Racing colours.
The full day of testing gave those present a perfect opportunity to put right what had not worked over the San Marino Grand Prix race weekend, as well as trialing new and updated components both for the rest of this season and for 2014. For the record, Marquez's last-gasp lap of 1'33.264 demoted Lorenzo by two tenths of a second, with Valentino Rossi completing the top three on the second Yamaha Factory Racing bike.

For Repsol Honda Team, the programme revolved around a non-liveried evolution bike of the one first sampled in the Aragon test that followed the Catalan GP in June; this was the first time that particular version of the machine had been ridden, as rain had prevented Casey Stoner from doing so at his last Motegi test. Marquez and Dani Pedrosa also worked with the current bike, focusing on a new swingarm and new rear shocks.

While Yamaha Factory Racing looked into a 2014 configuration engine, Monster Yamaha Tech3 worked on braking improvements for Cal Crutchlow – whose confidence had been knocked over the weekend – and new suspension parts for Bradley Smith, who had struggled with balance and finding the ideal riding position over. They would end proceedings fourth and 11th quickest, respectively.
Suzuki stuck to their usual plan in terms of rider roles, with Randy de Puniet serving as the main tester alongside Nobuatsu Aoki. Ahead of the company's return to the World Championship in 2015, running at Misano is likely to come as a great help in order to extract data from a new track in a bid to define chassis development to a greater level; the marque continues to test with Mitsubishi ECU software for the time being, but is working with the Magneti Marelli spec system back at base. Individually, Suzuki will continue testing at Misano across Tuesday and Wednesday.

There was a new challenge for Yonny Hernandez, as the Colombian is now riding for Pramac Racing Team to cover for the injured Ben Spies. He used the test as an opportunity to adapt to the bike ahead of the Aragon race, while teammate Andrea Iannone looked into Brembo brake discs and smaller components, experimenting with settings ahead of specific upcoming race events. Brakes was also the prime focus for Ducati Team, with Nicky Hayden and Andrea Dovizioso then looking into both software development and clutch settings. Michele Pirro was back in Ducati Test Team colours, sharing his bike with Franco Battaini to analyse a 2014-spec engine plus new software, in order to share feedback with engineers who continue to work on the development of next year's machine.

GO&FUN Honda Gresini's Alvaro Bautista made the top five, placing the emphasis on Showa front forks and his Nissin brakes, as he and LCR Honda MotoGP's Stefan Bradl sandwiched Pedrosa into sixth position. In Bradl's case, the workload consisted of mapping and bike geometry, including suspension modifications. At Avintia Blusens, Hector Barbera resumed work with the new pneumatic valve engine, having suffered chatter during Sunday's race, while teammate Hiroshi Aoyama began the day with his more conventional engine that had failed during Free Practice on Friday.
The timesheet was completed by Michele Magnoni, currently competing in the Superstock 1000 championship. The Italian rode Lukas Pesek's Came IodaRacing Project machine and could soon become the team's official reserve rider, while compatriot Claudio Corti was involved in trying out a Magneti Marelli ECU software upgrade at NGM Mobile Forward Racing; this was also run by Michael Laverty, who was otherwise kept highly occupied with back-to-back comparison runs between the PBM in-house bike and the ART machine previously ridden by Hernandez.

Although Marquez shook things up by posting the eventual quickest time with the 2014 prototype Honda right before the chequered flag signaled the end of an eight-hour day, activities had started very calmly as the circuit had been left drenched by a heavy rainstorm during the night.
---
Google Ad