Restricted to Death or a Poor Design for Racing?
the future of Ducati's New 1199 Panigale in SBK World Superbike
August 1st, 2013 - You've seen it at every race this 2013 SBK World Superbike race season as the once dominate Ducati name has been left floundering in mid-pack with their new Superquadro powered 1199 Panigale. Team Alstare Ducati factory riders Carlos Checa and Andrea Badovini have been qualifying and finishing in mid-pack, behind the other factory teams and just in front of the privateers. While World Superbike TV commentators Jonathan Green and Steve Martin tell us each week the 'New Panigale is still going through a difficult development program".
That may be organizer Dorna / SBK's official line - a "difficult development program", as they try to pull as many 1000cc in-line four cylinder Manufacturers as they can - hit hard by global economic collapse, back into the depleted World Superbike grid. But for the Bologna manufacturer who's unmatched passion for building winning sportbikes has garnered them 17 World Superbike Championships in the last 25 years of World Superbike racing, getting a new Superbike design right, the first year, had not been a problem in the past - just witness Carl Fogarty's 1995 title win on the new 2nd Generation 916/955; Neil Hodgson's 2003 title win on the new 4th Generation 999 in 2003; and Troy Bayliss 2011 title win on the new 5th Generation 1090/1198 in 2008. Winning 17 world titles in 25 years shows Ducati knows how to design and develop winning bikes right out of the factory front door.
Making this all the more perplexing, in box-stock form, the 1199 Panigale is probably the best of the current street legal Superbike on the market with its light weight, incredible handing, electronic controls and adjustability, and power equal to the best of the competition from BMW and Aprilia.
Proving Ducati's winning potential with the all new 6th Generation 1199 Panigale was the simple fact that in the 2012 Superstock 1000 Championship the newest Ducati was in the hands of Eddie La Mara on the privateer Althea Barni racing Team Italia 1199 was able to take 5 Podiums, 2 Pole wins and 1 Race Win against strong factory backed teams from BMW and Kawasaki. Only reliability problems with the stock 1199s engine's heavy steel connecting rods held it back the first season, rectified in 2013 by the change to new lighter Titanium rods and valves in the 1199R model.
So why has Ducati become an also ran in the 2013 World Superbike Class with the new 1199 Panigale which should be dominating again with its all new short stroke, hi-rpm Superquadro engine? Does it have to do with FIM SBK Rule Book and the restrictions placed on 1200cc V-twin bikes, while, the 1000cc 4-cylinder bikes can run virtually unrestricted? Ignoring the additional weight restriction (compared to the 1000cc 4-cylinders bikes), the Ducati 1098/1198 had to run in mid-way thru 2012 after Carlos Checa won the 2011 World Championship again for the bike, the previous 5th Generation 1098/1198 with its Testastretta engine was always required by the FIM to run 50mm intake restrictors on its stock 63.9mm throttle bodies.
The 1198 Testastretta engine has a 106 x 67.9mm bore x stroke (1198cc) and the 1198RS race engine made peak power of 199hp at 11,900 rpm. With its broad, torquey powerband delivering gobs of mid-range power and provided for great rear tire grip, the FIM mandated 50mm restriction of air flow at peak RPM wasn't a big concern to be completive in World Superbike.
But the new Ducati 1199 Superquadro engine with its even shorter stroke 112 x 60.8mm bore x stroke (also 1198cc) was designed as a higher revving, higher horsepower engine to keep up with the horsepower race in the marketplace dominated by BMW and Aprilia, et all. On the stock production bikes the peak horsepower RPM was raised from the 1198's power peak at 195hp 9,975 rpm to the 1199's at 195hp @ 10,775 rpm.
So the new Superquadro has to turn 800 more RPM than the Testastretta to same power in stock form. But everyone assumed the new Superquadro short stroke engine could be modified in race trim (with higher compression, more radical cams, ignition and fuel mapping) to make even more power.
And we can assume, that if the old 1198RS Testastretta race engine made it's peak power at 11,900 rpm, then the new Superquadro's 1199RS engine, in direct relation to their street counterparts, needs to make its peak power at 12,900 rpm. All the while, at a sacrifice to that once famous Ducati mid-range power. However, with the FIM mandated 50mm restrictors installed, is the new 1199RS limited at the higher 11,900+ rpm it needs to spin to say competitive this 2013 race season?
We asked the Ducati Corse Press Department to show us the powerband of a Corse prepped Superquadro 1199RS with its even bigger stock 67mm throttle bodies, with and without with the FIM mandated 50mm restrictors installed, and they declined to show or tell us any numbers.
The previous 1198 Testastretta engine came stock with 63.9mm Throttle Bodies and was required by FIM rules to run 50mm intake restricters to reduce power. The new 1199 Superquadro engine has massive new 67mm Throttle Bodies are bigger than on most race car engines. But it still had to breath through the 50mm Restrictors at the start of the 2013 race season, on an engine designed to make its peak power 1,000 RPM higher. The new engine now needs 1000 rpm x 1198cc more air per minute pulled though those same tiny 50mm restrictor plates - that's equivalent to 316.5 gallons of air more per minute! Is the Superquardo RS limited in making competitive poawrr by the FIM mandited restrictors?
So the new 1199RS is probably only making the same 199hp peak horsepower as the old 1198RS, but now with the loss of the old engine's big advantage in mid-range power and traction. The new Panigale Superquadro with its narrower powerband, can't pull out of the corners like the old bike, while on the big straightaways its down some 30+ hp / 10 mph to the much more powerful 230-240hp 1000cc 4-cylinder superbikes.
Strike One: Effectively, Ducati shot itself in the foot with the new 1199 Superquadro engine. Which on its own is an incredible engine. But In designing it to make more peak power to stay completive in the Superbike street market, it gave-up the famous mid-range power that Ducati enthusiasts love.
Strike Two: Then in SBK World Superbike the 50mm intake restrictors at the start of the 2013 race season have nullified its designed-in power increase - Strike Two.

With Two Strikes against it over last year's Testastretta engine, you can understand why the Superquadro was not competitive at the beginning of the year in World Superbike. No amount of "development" can help a great engine design, that didn't anticipate running in a restricted race class, or needing to be highly modified beyond stock production specs.
Now if you are watching the 1199S/R in SBK European Superstock last season and this season, the stock Barni and Alstare Ducati bikes have been somewhat completive against the stock BMW 1000RR and Kawasaki ZX-10 machines. Sock for stock, even with intake restrictors, the Panigale is somewhat completive in Superstock just as it was designed to be. The only disadvantage for the new 1199 Superquadro in Superstock seems to be the higher RPM motor is not as kind on its rear tires as the old Testastretta long stroke motor was, and now towards the end of a race, the tires are going off and lap times are suffering.
But in the World Superbike class where the 1000cc fours are allowed to employ higher compression and more radical camshaft timing, and breath in as much air as as they need to make even more power. While the 1200cc V-twin bikes - the Ducati1199RS is restricted even further to stock 1199 pistons, although all type bikes are allowed to make compression increases by maching the cylinder head surface.
Could it be the new Superquadro engine design is limited in that it can't be modified very much beyond stock to make it competitive in WSBK against the 4-cylinders bikes? That even with the FIM Restrictors reportedly "removed" since Imola in June (the FIM rules do not allow immediate complete removal, only increases in size in 2mm increments, and only after 3 Event Weekends / 6 Races). We hear the 1199 engine, even without Restrictors, only picks up about 5-7 hp more horsepower, increasing power output up from its current 195hp restricted to about 200hp. Not a significant power gain against their 240hp competition.
According to the FIM rules (see below), if the restrictors started the 2013 season at 50mm, they can only be adjusted in 2mm increases, and only after 3 races of poor results. So Ducati Corse could only go up from 50mm to 52 mm at Imola. So the current Ducati 1199 Superquadro engine design has a few more years of losing races before they can keep going up in size and remove the restrictors entirely and run their fully open 67mm throttle bodies. No one at Ducati Corse will tell us if they have tested a Superquadro engine with higher compression and wilder cams, and they won't tell us what size restrictors they are running on their stock 67mm Throttle bodies.
And even with the change to Titanium rods and valves on the new production 1199R homologation bike this year to allow them to turn 500 higher RPM and make more power, it seems the current engine specifications still can't turn the higher RPM's it really needs to make competitive power.
Update - No Restrictors Confirmed
August 12, 2014 - We have since learned, and without any formal announcement, the FIM and DORNA have bypassed the published Technical Regulations (see below) and allowed the Ducati 1199RS Panigale Superbikes to now run open 67mm throttle bodies with no restrictors at all, since the Imola Round the end of June 2013.
The race results for Alstare Ducati at Imola, then followed by Moscow, still remained disappointing for the factory squad. Although at Silverstone on the August 3rd-4th weekend, Carlos Ceca was able to put the 1199RS on the front row with a 2nd place in Superpole. But in both races the factory bikes remained down on top speed, and Badovini and Checa fell back in both races to finish in 8th -12th positions.
In Superbike race trim the 1199 Superquadro, now unrestricted, remains down in peak power agains the 1000cc 4-cylinder bikes. And its peaky powerband is not easy on the Pirelli spec tires, causing the tires to overheat and loose grip towards the end of the races, and the bikes falling back in position. Effectively for Ducati in 2013, this year's Superbie race season has been a huge disapointment for the exciting new Panigale design.
Is there a solution for Ducati in World Superbike, and the Superbike Market?
Should Ducati can't keep plodding along with an oversize engine in World Superbike at the mercy of changing rule restrictions? Is there a long term solution for Ducati's current woes in World Superbike and in the market place? Can the unrestricted Superquadro engine be redesigned in some way, to make competive power?
Before learning that the current spec 1199 Superquadro 1200cc engine would still be struggling to be competitive in World Superbike even without FIM Restrictors, I'd have had the engine department at Ducati testing a downsized 1000cc Superquadro engine on the dyno without Restrictors to see how much power it can make - modified with high compression pistons, race cams and unrestricted. Going smaller doesn't necessarily mean less power. In GT2 Le Mans Sports Car Racing the factory Corvette team was required to run very small Intake Restrictors on its stock big displacement 6.2 litter V-8 push rod 2-valve engines. They found in testing by going to smaller displacement 5.5 litter V-8 engine with the same size restrictors and air flow, they could rev their smaller engine higher with the same amount of air and make more peak horsepower and remain completive against the the DOHC 4-valve Ferrari F430s.
The same might be true for Ducati in going to a smaller 1000cc V-twin Superbike engine, they could probably make more peak horsepower, plus they would be allowed by the rules to do away with the Restrictors all together. Then just sell 500 examples of a new 1000R Panigale next year to homologate the smaller displacement bike for racing.
But for all the Ducati Superbike enthusiasts bemoaning the loss of mid-range torque with the new 1199 Superquadro engine, Ducati might just be better off to revert back to something like the old 106mm bore x 67.9mm stoke found in the old 1198 Testastretta engine, which also produced the same stock 195hp ratings as the new 1199 engine while running with 50mm Restictors. And perhaps with the removal of Restrictors on this revised 1199 longer stroke / torque engine, Ducati would also have the peak power to keep up with the competition. One other problem though, the new Superquadro engine design may not allow for a return to a longer stroke crank and rod in its current design structure.
Should a smaller displacement 1000R Panigale or a longer stroke 1199R still not prove power completive in dyno testing against the current BMW and Kawasaki Superbikes, and the all new Honda RC211 derived V-4 Superbike coming this fall, then it just might be time to pull the V-4 Desmosedici 1000cc engine out of the closet and homologate it for World Superbike.
Either way Ducati should not be at the mercy of FIM rules restrictions by running a bigger displacement Superbike than everyone else. In fact, I sent a letter outlining all this to Ducati CEO Claudio Domenicali back in May of 2013. I didn't get a reply back, either because he thinks I'm an idiot, or because they just may be working on what I've suggested. We'll probably have to wait for Ducati's next big new product reveal at EICMA in November 2013 to see if Ducati has a new unrestricted 1000cc V-twin or V-4, or a long stroke 1200cc Superbike in the pipeline. - Jim Gianatsis, Editor
Go to: Ducati 1199 Feature Introduction • Ducatii 1199S Track Ride • Ducati 1199R
Design of the 1199 SuperQuadro Engine • 1199 Restricted to Death in World Superbike
Back to Ducati Motorcycles • New Bike Index • Pit Board Index • Pit Lane News
---
The FIM SBK 2013 Superbike / Superstock Rule Book
See the Complete Rule book at: http://www.fim-live.com/fileadmin/alfresco/6510004_eng.pdf
2.4.8.1.2 Air restrictors for 1200cc 2 cylinders
Application: Only the 1200cc 2 cylinders will be fitted with air restrictors. The initial air restrictor size to be installed is equivalent to a Ø 50 mm circular area (1963,5 mm2). Air restrictor size will be adjusted (in steps equivalent to a change of 2 mm in diameter or equivalent circular area, upwards to Ø 52 mm and then to no restrictor at all, downwards to a minimum of Ø 46 mm), if needed during the Championship, as described below in Art. 2.4.8.1.4

Definition: An air restrictor is a metallic device with a tract of constant controlled section and which is placed in the induction tract between the throttle body and the cylinder head. The length of the controlled tract must be at least 3 mm. No air and/or air-fuel mixture to the engine must by-pass the restrictor. No part of the fuel injection system (injector, needle, slide, etc) shall extend through the restrictor.

The Manufacturer must supply the FIM with 10 sets of plug-calibres (-gauges) to check the diameter of the air restrictor when using one of the prescribed sizes (Ø 52, Ø 50, Ø 48, Ø 46 mm).
A Manufacturer may have a non-circular air restrictor, provided that the area of this restrictor is equivalent to the area of a nominal circular restrictor. In this case, the Manufacturer must supply the FIM with 10 sets of plug-calibres (-gauges) for measuring the restrictor during the technical verifications.

59 SBK
The FIM may also request the Manufacturer to supply a cut section of the air restrictor(s) in each of the prescribed sizes.

2.4.8.1.3 Air restrictor adjustment
The minimum air restrictor size is increased or decreased in 2 mm steps in diameter of equivalent circular area, according to following procedure:

1. If the gap in the average value of 'event averages', calculated as described in Art. 2.4.4.2 is more than 5 points in favour of the 1000cc 4 cylinder manufacturer, and If a rider of a 1000cc 4 cylinder motorcycle is leading the riders' FIM Superbike World Championship standings at that time:

Then the initial air restrictor size of all the 1200cc 2 cylinder motorcycles will be increased by one size, to a Ø 52 mm (or the equivalent area 2123.7 mm2), or as a last step, the air restrictor will be withdrawn.

2. If the minimum weight for 1200cc 2 cylinder manufacturers has reached the upper limit of 171 kg, and if the resulting gap of the average value of 'event averages', calculated as described in Art. 2.4.4.2, is more than 5 points in favour of the 1200cc 2 cylinder manufacturer, and
if a rider of a 1200cc 2 cylinder motorcycle is leading the riders' FIM Superbike World Championship standings at that time:

Then, the initial air restrictor size of the 1200cc 2 cylinder manufacturers will be reduced by one size, to a Ø48 mm (or the equivalent area 1809.6 mm2) or, as last step, to a minimum of Ø46 mm (or the equivalent area 1661.9 mm2).

60 SBK
If the air restrictor size is not updated, then the results of three more events will be considered and the best manufacturers for each engine configuration will be updated considering the sum of points of the best two riders from each selected manufacturer over six events and so on, over multiples of three events. A new average value of the 'event averages' will be calculated over six events and so on, over multiples of three events, until the points gap of the average value of the 'event averages' from the last minimum weight update is higher than 5.

The FIM Superbike Technical Director will inform all the teams about the possible air restrictor size adjustments, within 24 hours from the end of the last event (the last meeting of the International Jury), where the average value of the 'event averages' was calculated. The new air restrictor size adjustments must be applied from the first following event.
2.4.8.6 Pistons
• For 1000cc 3 and 4 cylinders
Pistons may be altered or replaced from those fitted to the homologated motorcycle.
• For 1200cc 2 cylinders
Standard piston or the piston kit (*) must be used. (*) The piston kit must have the same price as the standard one and must be listed in the current racing parts list of the Manufacturer and be on sale for customers. Within 90 days from the order, the customer must receive the piston kit set.
---
2014 FIM World Superbike Rules Changes
The FIM, August 8th 2013 - Following various meetings between the FIM, Dorna and the MSMA, a new framework has been put in place for the progressive application of the new Superbike rules. The new rules are aimed at reducing costs for the motorcycle and its components.

1. The rules changes for the 2014 FIM Superbike World Championship season will be as follows:
• A limited number of engines (eight) per rider/per season.
• A limited number of gear ratios.
• A price cap on the brakes.
• A price cap on the suspensions.

2. In order to ensure that there are a sufficient number of riders with competitive motorcycles on the grid, the MSMA has agreed to provide, on request, a complete motorcycle package at a fixed prize, for the years 2014, 2015 and 2016.
The motorcycle packages supplied will be the same as those used by the manufacturer and will receive certain updates and maintenance from the manufacturers during the season. (The price being discussed for these race packages is USD $300,000 not including crash damages - Ed).

3. Under the new rules, there will be a sub-category known as the EVO class. This class will follow the FIM Superbike technical regulations for all chassis, suspension and brake components. On the engine and electronics side, however, these motorcycles will follow the present FIM Superstock rules. The price cap on brakes and suspensions will be the same as Superbike.
More details about the EVO technical rules will be available on the FIM Website shortly.
A draft of the new technical rules will be published on the FIM website by 26 August.
---
Supermodel, actress, and singer songwriter and Fast Dates Calendar Kitten Sara Horvath.
FastDates.com Calendar Kittens to headline the
2013 SBK World Superbike Laguna Seca USA Starting Grid on Sept 26-28th

Los Angeles, CA, August 1, 2014 - The FastDates.com Calendars & Website, in association with Umbrella Girls USA, is excited to announce that SBK World Superbike has selected three beautiful Fast Dates Calendar Kittens to grace the front of the starting grid when the World Superbike Championship returns to the Monterey Peninsula at Laguna Seca Raceway the weekend of September 26-28th 2013. The models include supermodel, actress, singer songwriter Sara Horvath who hails from Livingston, Montana, and popular Umbrella Girls USA spokesmodel Jessica Harbour out of San Diego, CA.
World Superbike in America makes its return to Laguna Seca this September after an 8 year hiatus from the west coast's most popular roadrace facility. Together with the premier SBK World Superbike Class, the AMA Pro Roadracing Championship will also be joining the 3-day race weekend with its top classes including Pro Superbike. The first World Superbike Championship race in America took place at Laguna Seca Raceway back in 1995 with four FastDates.com Calendar models serving as the official SBK grid and podium girls on race day that year, and in many subsequent years since.
As he does every year at one of the SBK World Superbike rounds around the world, FastDates.com Calendar publisher and photographer Jim Gianatsis will use the 2013 SBK Laguna Seca September 26-28th race weekend to shoot with the Calendar Kittens for the next edition of the Fast Dates World Superbike Calendar.
"This year's Calendar shoot will be for the 25th Anniversary of the Fast Dates Calendar, the first edition of which featured Pamela Anderson on the cover with Miguel DuHamels' "Big Papa" Yoshimura Suzuki Superbike," explains Jim. "Every year I've been privileged to have exclusive track access to photograph the Calendar with all the top factory race teams in AMA and World Superbike, MotoGP, together with many of the world's most beautiful models and celebrities."
Above, Fast Dates World Superbike Calendar Kitten Sara Horvath,
and left, Jessica Harbour
"This year will be no exception with the addition of beautiful models Sara and Jessica. I've been shooting with both of them for the Calendars over the past year and don't take a bad shot, plus they are fun and easy to work. I look forward to travel with them up the beautiful Pacific Coast on Highway 1 from Los Angeles to Monterey for the return of World Superbike at Laguna Seca, and show them the fan party atmosphere on Monterey's Cannery Row on Saturday night. It's going to be an incredible race weekend experience in one of the most beautiful locations on earth that no motorcycle racing fan will want to miss!"
Sara and Jessica recently worked togther in July, hosting the 22 annual LA Calendar Motorcyle Show at the Queen Mary, in Long Beach, CA. The premier custom streetbike event in America, the girls hosted the world premier of the new 2014 FastDates.com Calendars. And as a talented singer songwriter, Sara also performed on stage entertaining the spectators during the day
To find our more about the FastDates.com Calendars and Calendar Kittens, and to order Calendars and Books go to FastDates.com.

Gianatsis Design Associates specializes in advertsing and marketing for the motorsports and sports fasion markets and can be found at FastDates.com/JGDESIGN.HTM. UmbrellaGirls USA.com spealizes in providing spokesmodels for motorsports events and shows.
New Fast Dates.com Calendar Shoot!
Go behind the scenes at the glamorous Gianatsis Design Studios with beautiful new Calendar Kittens Jessica and Kelsey as they shoot for the FastDates.com Motorcycle PinUp Calendars with photographer Jim Gianatsis. And look for the new 2014 Calendars available right here on July 1st. Order the Calendars!
Videographer: Eric Lundmark; Video Editing and Still photography: Jim Gianatsis; Models: Jessica Harbour, Kelsey Silwinski; Make Up: Victoria Rubell, Music: Special thanks to Neil Sedaka for our theme song Calendar Girl; Modeling Agent: Umbrella Girls USA.
---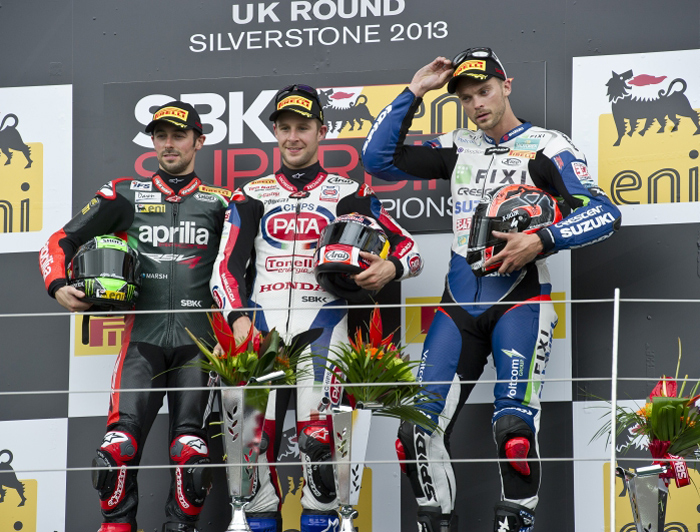 2013 SBK Eni World Superbike Championship, Silverstone Round 9 of 15
Loris Baz and Jonthan Rea on Top at Silverstone World Superbike
Silverstone, Great Britain, Sunday 4 August 2013 - A typical British mixed weather welcomed the eni FIM Superbike Championship for Round 9 race day at Silverstone. A busy schedule gave fans plenty of spectacular action to watch and delivered unpredictable results, along with some of the most thrilling battles witnessed so far this year. Amid dry and wet conditions throught the race weekend, Race day on Sunday would see Pata Honda's Jonthan Rea and Kawasaki's Loris Baz come out on top, while Aprilia's Sylvain Guintoli increase his points lead in the World Championship standings ahead of Kawsaki's Tom Sykes. Complete Race Coverage
Laverty, Checa and Rea share the champaign in the Paddock Show after securing the front row in Superbpole for Sunday's races.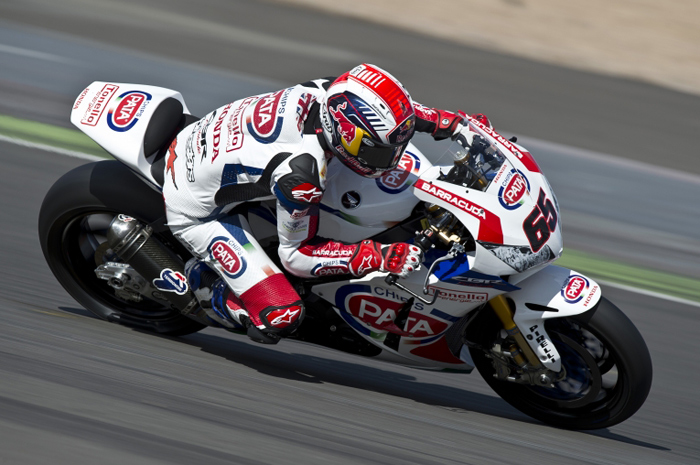 Jonthan Rea led an all British rider podium in Race One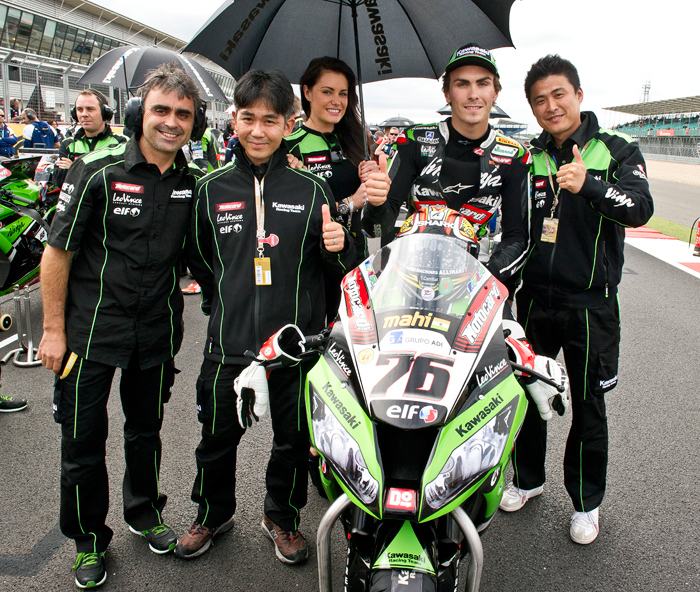 Loris Baz beat Kawasaki team mate Tom Sykes both races on Tom's home turf at Silverstone.
---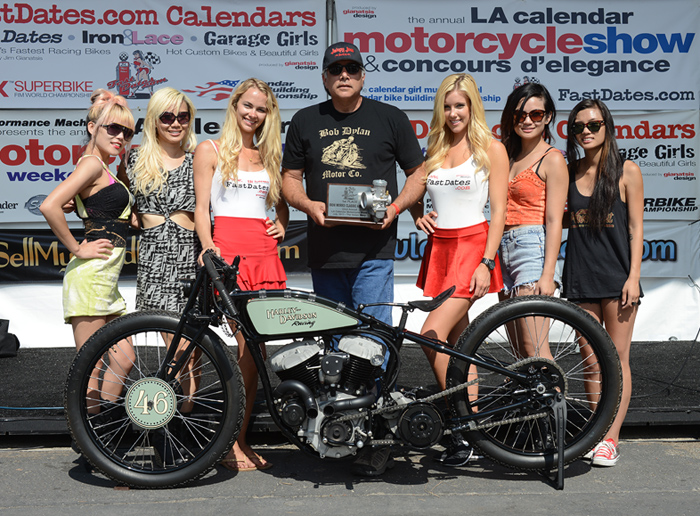 Ron Boldonado and his Classic American Class winning replica Board Track race with girls from the band Nylon Pink
and Calendar Kittens Sara Horvath and Jessic Harbour who will be accompanying us this September 26-28th to Laguna Seca World Superbike to shoot the next edition of the Fast Dates World Superbike Calendar and will serve as official SBK grid girls on race day.
2013 LA Calendar Motorcycle Show & Calendar Girl Music Festival
Los Angeles, July 14th, 2013 - The 22nd edition of the annual LA Calendar Motorcycle Show marked its return to the Queen Mary Seawalk Village in Long Beach, CA with Southern California's Sam Baldi continuing his domination of 2013 season West Coast bike event by taking the Calendar Bike Building Championship's Best of Show and one of the coveted Mikuni Carburetor Trophies with his latest Jimmy Todorovith / Profile Cycles built Big Twin custom named "Lost Angel".
Chris Redpath / MotoGPwerks.com Sportbike Class winner features a Suzuki TL1000 V-Twin Superbike engine in a hand made trellis tube frame.
This year's Calendar Motorcycle Show continued it's long standing tradition of showcasing top Celebrity Builders in the Calendar Bike Building Championship, selected Vendors and Exhibitors, together with Calendar Girl Music live performances. And as always, this year's Show celebrated the world premier of the new 2014 FastDates.com Motorcycle PinUp Calendars photographed by Show producer Jim Gianatsis featuring the world's top SBK World Superbikes, sport and cafe bikes, and custom motorcycles with the beautiful Calendar Kittens. On hand throughout the day to meet with fans and pose for pictures were Calendar Kittens Apple Price, together with official SBK World Superbike grid girls, Jessica Harbour and singer songwriter Sarah Horvath. Complete Show Coverge Here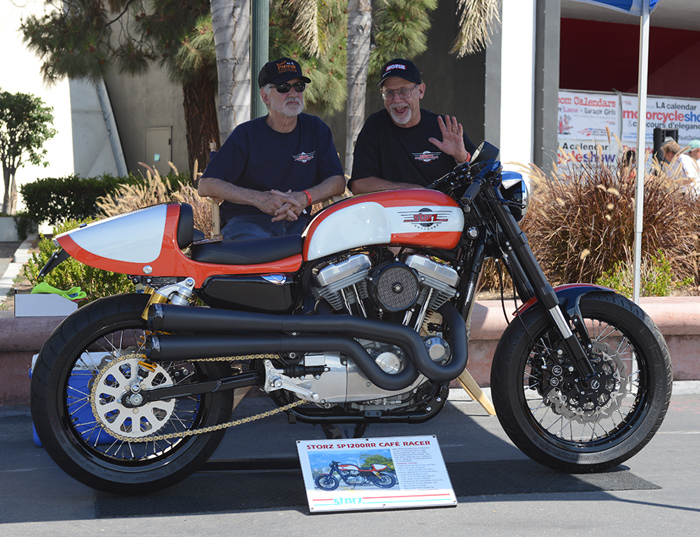 Steve Storz premiered his new Storz SP1200RR Cafe Racer which retails for $28,000 or you can buy the parts individually to modify your own Sportster donor bike.
---
Click to GO BIG

2013 MotoGP World Championship, Sachsenring, Germany, Round 8 of 18
Stefan Bradl takes Pole and finishes in 2nd Place
Marquez Continues to Win at Laguna Seca MotoGP
Laguna Seca, California, USA July 18-20th - Marc Marquez has won Sunday's Red Bull U.S. Grand Prix at the Mazda Raceway Laguna Seca, becoming the youngest ever back-to-back race winner in MotoGP™. The Repsol Honda Team rider extended his championship lead while LCR Honda MotoGP's Stefan Bradl celebrated a first premier-class podium finish from pole position. Valentino Rossi held off Alvaro Bautista for the final rostrum spot. Complete Coverage HERE
---
The 2014 FastDates.com Calendars and the FAST 2014 Calendar Magazine Yearbook feature
the official SBK World Superbike grid girls Jitunka & Petra from the Czech Republic!
NEW! FAST 2014 Digital Calendar Magazine Yearbook
The Bikes, the Builders, the Riders, the Kittens,the Calendar Bike Show, the World Superbike races all the 2014 Calendar Pictures, and Special Features... For the first time every we take you around the world in 120 exclusive pages for the making of the 2014 FastDates.com Calendars! Now in Members Corner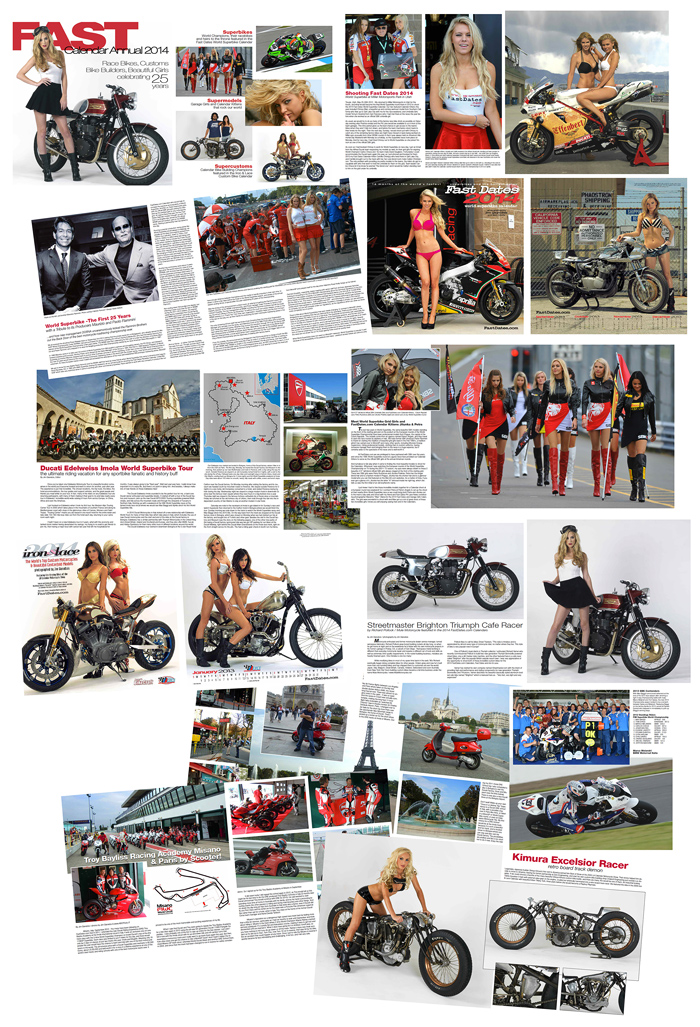 ---


Edelweiss Alps Ride and News Adventure Bike Guide
Ride with Edelweis Tours and Motorcyclist magazne as they test all the hot new Adventure Motorcycles through the Alps -
the Triumph Explorer XC, Ducati Multistrada S Touring, KTM 1190 Adventure & Adventure R, BMW 2013 Watercooled R1200GS and 2012 Aircooled R1200GS, Yamaha Super Tenere, Honda Cross Tour. To find our more abour Edelweis Bike Tours click here:
---
Mission R / RS Electric Superbike Ready for Production
This $58,999 RS model is limited to just 40 units. Once it's delivered, the Mission R will enter production starting at just $29,999 (before a $2,500 federal tax credit). For additional details and to order go to: http://www.mission-motorcycles.com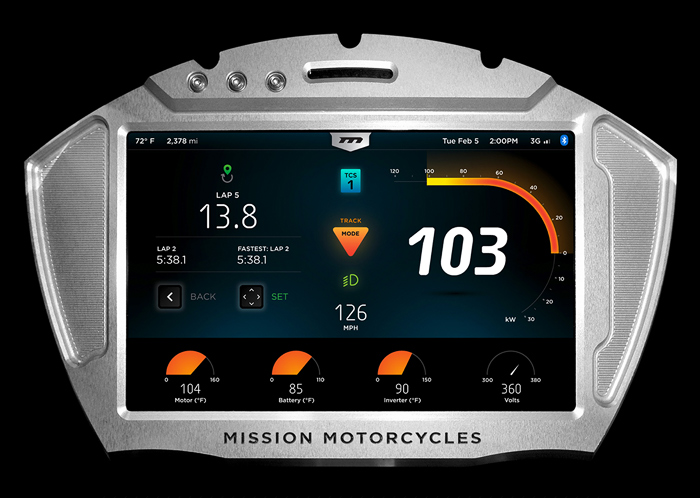 ---
There's more! Go to Pit Lane News Previous Week

Also Visit: Fast Dates Calendar News • Iron & Lace Calendar News
Calendar Girl News • Meet the Models • Paddock Garage
Get FastDates.com T-Shirts, Mugs & Photographs from Our Store

MEMBERS CORNER! Calendar Kittens, Paddock Garage, Iron & Lace Garage


Amazon.com Motorcycle Products & Apparel Store



MotorcycleSuperstore.com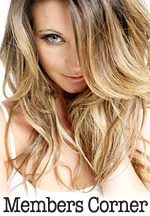 Hot Bikes, Sexy Kittens
Your Exclusive Grid Pass
also includes....
---
Order the New
2013 / 2014 Calendars!
with the FastDates.com Calendar Kittens - the official SBK Umbrella Girls!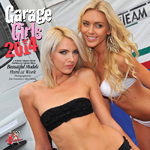 Click for even more
2014 Calendars!
---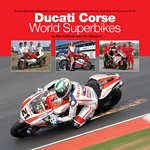 Retail $69.95 ea.
Click to Order from Amazon.com

Ducati Corse
World Superbikes
by Alan Cathcart
& Jim Gianatsis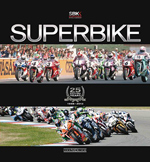 The Official SBK
World Superbikes
1987-2012
25 Year History Book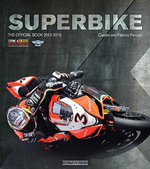 The Official SBK
2012-2013 Yearbook
These SBK Yearbooks are the Best Books Ever about World Superbike. They feature awesome color photography of the riders, bike and racing action. The feature a detailed revue of the past season in pictures and statistics, with a detailed look at the bikes and riders.

Plus a technical look data all the bikes, a preview of the upcoming season's Championship!
We buy this every year ourselves and highly recommend it!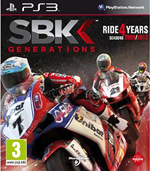 SBK World Superbike Video Game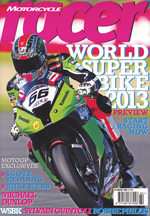 Official Print Media Partner
---
Jonathan Rea to Honda MotoGP Team in 2014,
Nickey Hayden to Honda World Superbike
Aug 3rd - World Superbike TV commentator Jonathan Green revealed during Sunday's SBK Silverstone race broadcast that Ten Kate Pata Honda rider Jonathan Rea was expected to leave the Superbike Paddock the end of this season to take a seat on a factory Honda bike in MotoGP. Even more interesting was Jonathan's reveal that Rea's vacant seat on the Ten kate Honda Superbike team would be non other than American Nicky Hayden, who had received notice from the Ducati MotoGP team a week earlier, that his contract with them in MotoGP would not be renewed for next year. Word was that Ducati's Paolo Ciabatti had offered Nicky a ride for next season on the Ducati Corse World Superbike Team, but with the new 1199RS Panigale being so restricted by the FIM rules at present as to not be competitive, Hayden is wise to make the move to the Ten kate Honda team instead, which is expected to be racing the all now Honda V-4 Superbike, which is a production based copy of the dominate Honda RC211 MotoGP machine.
Cal Crutchlow with Ducati in MotoGP beginning next season. Hayden to go Packing.
August 2nd, Bologna, Italy - Ducati has reached an agreement with Cal Crutchlow that will have the Briton campaigning the 2014 and 2015 MotoGP race seasons with the Ducati Team. Crutchlow will race alongside Andrea Dovizioso. The British rider and the Italian, who were team-mates in 2012, will work on developing the Desmosedici and growing Ducati's MotoGP project.

The 2009 World Supersport champion and 2011 MotoGP Rookie of the Year, Crutchlow is presently enjoying his strongest GP season to date, sitting fifth in the championship points standings. He has posted four podium finishes in the first nine races, and he earned his first MotoGP pole position at the Dutch TT.

The end of the 2013 season will also mark the completion of Nicky Hayden's five-year professional relationship with the Ducati Team. Ducati would like to thank Nicky for his contributions during that time, and everyone on the team and at Ducati Corse looks forward to giving him and Andrea their full support over the second half of the 2013 season.
Word had it that Ducati did offer Hayden a ride on the Ducati factory World Superbike team for 2014, and that he declined the offer. That refusal might not have been a good idea, because there may not be any vacant factory team rides in MotoGP next year for the likes of Hayden.
This announcement of Crutchlow signing with Ducati comes on the same day of Yamaha's annuncemt that they are signing young Moto2 GP rider Pol Espargaro, which reduced Crutchlow's future chances of moving up to the Yamaha factory Team spots currently held by Loreno and Rossi.
Yamaha Announces
2-Year MotoGP Contract with Pol Esparggaró
Milan, Italy, Aug 2nd, 2013 - Yamaha Motor Co., Ltd is delighted to be able to announce that it has concluded a two-year agreement with current Spanish Moto2 rider Pol Espargaró. As a result of this contract the 22-year-old will make his MotoGP debut in 2014 with the Monster Yamaha Tech3 Team and will ride the Yamaha YZR-M1.
Pol Espargaró is enjoying his third season as a key protagonist in the Moto2 Class and is currently lying second in the Championship standings.
Ducati and Nicky Hayden
to part ways at the end of the Season
July 18th - Coming into Laguna Seca, American Nicky Hayden was told by Ducati Corse MotoGP team manager Paolo Ciabatti that after 5 years of no podium results his MotoGP contract with them would not be renewed for 2015.

We are surprised that Ducati held onto him this long, but their reasoning has always been he was a good spokesman for Ducati for their biggest motorcycle market, America. But it now had come to the point that his association with the brand had become a determent as he continues to not deliver results, consistently finish around last place among the factory team riders in this season's MotoGP Championship, despite the team's ongoing development problems with their GP bikes.

You only have to look back at Hayden's AMA National Championship and MotoGP titles he garnered with Honda. In AMA Superbike American Honda had the best Superbike and team that season. And in MotoGP, Nicky was handed the excellent RC211 fully developed by retiring Champion Mick Doohan, while all the other factory teams were struggling with bike development. Nicky has never been known as a good development and test rider, which has only hindered Ducati even more since Casey Stoner left the team 3 years ago.
Who will take Hayden's place at Ducati? Word has it they are in discussions with Cal Crutchlow who is looking for a front line factory ride, since there is no immediate future for him to move up from the Monster Yamaha support team where he currently is, as long as Jorge Lorenzo and Valentino Rossi remain on the full factory squad.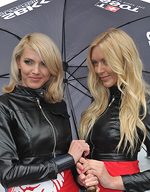 Meet 2013 Calendar Kitten
Jitunka & Petra!

MV Agusta F3 800cc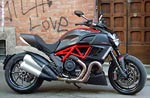 The Devil Made Us Do It!
Testing the Ducati Diavel in Italy
Sudco High Performance & OEM Replacement Parts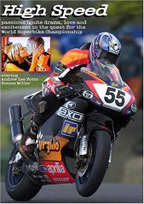 High Speed - the Movie
The best motorcycle racing movie ever made! Filmed on location at the World Superbike races , this an exciting romantic drama staring beautiful British actress Sienna Miller.
---
Shocker! BMW to Withdraw from World Superbike at the end of 2013
With effect from the end of the 2013 season, "BMW Motorrad will terminate its commitment in the FIM Superbike World Championship in order to strengthen the customer sports programme."

Munich, 24th July 2013 -BMW Motorrad is continuing its long-term strategic realignment of the brand. This strategy also affects BMW Motorrad Motorsport's activities, which as a next step will also be restructured. At the end of the 2013 season, BMW Motorrad Motorsport will terminate its factory involvement in the FIM Superbike World Championship. The main focus and some of the resources of BMW Motorrad's commitment to sport will switch to other motorsport activities like the successful international customer sports programme from 2014 on.

"BMW Motorrad Motorsport will end its involvement in the World Superbike Championship after this season", explained Stephan Schaller, General Director BMW Motorrad. "This is consistent with the strategic realignment of our brand. BMW Motorrad will now focus on the further expansion of the very successful product portfolio over 500 cc, the expansion of product segments under 500 cc, e-mobility and the development of market potential in emerging economies like Brazil and Asia. Only those who act consistently today are well prepared for the challenges of tomorrow. BMW Motorrad will remain involved in motorsport and in doing so we will focus on the international customer sport in all its facets. I want to thank everybody who has supported us on this long and successful journey."

"The team is a very professional and motivated group of people and I am sure they will continue to do everything to end the season on a high note", commented Andrea Buzzoni, General Manager BMW Motorrad WSBK. "Twenty thirteen is a good year, the atmosphere within the team is great and also our riders, Marco Melandri and Chaz Davies, are doing an excellent job. We are satisfied with the current results and, of course, we will keep working hard. Therefore I am convinced we can celebrate more successes with Marco and Chaz as the season goes on. I am sorry about the decision, but I understand the strategic decision making of the company. I want to thank all the people who are involved in this project."

BMW Motorrad Motorsport has run a successful worldwide customer sport programme for several years. From the beginning, customer teams and riders have celebrated numerous victories and titles in international and national championships with the BMW S 1000 RR. From the start of this season, some of them have also fielded the brand new DDC equipped BMW HP4, and celebrated several race wins. Details of the increased future commitment in customer sport will be announced in due course.

BMW Motorrad Motorsport entered the FIM Superbike World Championship in 2009. After a learning phase, it has established itself of a winning team in this highly contested series. To date, the German manufacturer has celebrated 11 race wins and a total of 33 podium finishes with the race version of the BMW S 1000 RR. The most successful season so far was 2012, when BMW finished runner-up in the manufacturers' classification and fought for both the manufacturers' and the riders' titles until the very last race.
EDELWEISS OFFERS NEW and AFFORDABLE MOTORCYCLE TOUR ALONG THE DOLOMITES WITH CHALLENGING ROADS, OVERWHELMING MOUNTAIN SCENERY AND ITALIAN CUISINE AT ITS FINEST.
The Dolomites are a must for a passionate biker – come with us on an unforgettable motorcycle tour. The countryside is dominated by mountains, rivers, and gorge-like valleys, which have just space enough for a road and railroad tracks; but there are also bigger towns like Bolzano, where our base hotel is located.

Thinking about Italian culture you will notice quite a big difference from what you may expect; building style, cultures, languages, bilingual road signs and special foods show that varied peoples and ideas peacefully co-exist here. The Sella Ronda is a very good warm-up for the following days and our rides to Penserjoch, Jaufenpass and Timmelsjoch.

Eight more passes are on our schedule for the next day and we will have the opportunity to stop in the nice little town of Cortina d'Ampezzo, well known from the Olympics in 1956. Now it's time to make a decision: go to Venice for sightseeing or collect 10 more passes? Tough call! The last riding day leads us south to the wonderful Lake Garda, with swimming and riding at its best.
Find Out More
THROUGH THE ALPINE WONDERLAND OF AUSTRIA AND SOUTHERN GERMANY – THE ALPS AND LAKES MOTORCYCLE TOUR!
The Alps and Lakes motorcycle tour takes you through a beautiful part of European motorcycle paradise; the Alps. The contrast between the beautiful lakes in southern Germany and Austria and the towering mountains that reach up to more than 10,000 ft is nothing less than breathtaking.
This area is the famous background for the movie "Sound of Music". This vacation offers a little bit of everything: beautiful and relaxing rides through the valleys; some mountain roads and passes; and great vistas and sights, including King Ludwig's castle, Herrenchiemsee, and the historic city of Salzburg. The tour consists of five riding days, one of them is a rest day – which means that you stay two nights at the same hotel.

This is a great opportunity to explore a little bit more, ride around the countryside, walk through town, meet the locals and sample some of the local food. The tour will take you through Germany and Austria, and on the rest day you can even add Italy to your list if you are so inclined.
Find Out More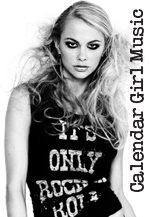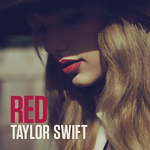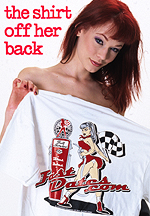 Order the Official
FastDates.com &
LA Calendar Bike Show
T-Shirts!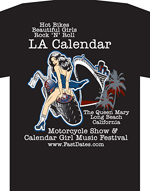 Sykes Re-Signs With Kawasaki Racing
Team For 2014
20 July 2013 -Tom Sykes will campaign the Kawasaki Ninja ZX-10R in the 2014 SBK season for the official Kawasaki Racing Team after signing a contract to continue what has already been a fruitful relationship.
Sykes was runner-up in the championship in 2012 with KRT and currently leads the FIM Superbike World Championship after seven rounds of the season have been completed. Kawasaki is keen to continue this great form and build on it for the future so retaining Sykes was an important part in the winning equation of rider, machine and team. In 2014 Tom will start his fifth straight year with Kawasaki in the Superbike World Championship.
With new initiatives coming into place from SBK rights holders Dorna the 2014 SBK Championship is sure to be followed with keen interest by fans and media alike, making the choice of riders a key element of Kawasaki's strategy.
Re-signing Tom is also a recognition of the strong part he has played in the development of the on-track capabilities of the Ninja ZX-10R and his continued presence on the official team maintains his contribution to a very positive era in the history of Kawasaki's overall racing activities.
Tom Sykes: "For me this is an awesome place to be. I have made my feelings quite clear to Kawasaki and all the individual team members and sponsors. I am really happy in my working environment and very relaxed. I am probably at my best in this kind of scenario so the natural thing is to continue for at least another year in SBK. It is a great championship and when you have all the ingredients in place to be fighting at the front every weekend, even at different circuits, it is what you aim for. We have proved that we can do it and had a couple of double wins already. I have a great feeling riding with Kawasaki, so why change that? I am over the moon to stay in the team and the continuity is great. I could not be happier with the people around me. The deal has been done so early in the season, which is an absolute first.
Suzuki Celebrating 50 Years in the USA at Indianapolis MotoGP
BREA, Calif. – On August 16, 1963, Suzuki officially entered the American motorcycle market. Fifty years later, at the Red Bull Indianapolis MotoGP August 16-18, the company will commemorate this notable anniversary and celebrate the customers, dealers and vehicles that make Suzuki a major influence on the powersports market.

Suzuki's 50th Anniversary event will take place in the Suzuki Fan Paddock at Turn 2, a prominent position trackside, and the largest customer display by any manufacturer at this year's Indianapolis MotoGP race weekend.

"Our entire display will focus on honoring our customers from the past 50 years," said Steve Bortolamedi, Communications Manager for Suzuki Motor of America, Inc. "We're inviting all Suzuki customers to join the festivities; it's going to be a great weekend celebration of Suzuki's 50 Years in America, with a look forward, too."

Suzuki owners can enjoy a variety of exclusive benefits at the Suzuki Fan Paddock at Turn 2 during the Indy MotoGP weekend:
• Hospitality Area: Owners (& one guest) can watch the races from Turn 2 or on video monitors in the display area.
• Free Gear Check: Owners will be able to check in their motorcycle gear and have it secured for the day.
• Free Tech Inspection by qualified Suzuki technicians
• Professional Photo of owners and their bike
Along with Suzuki owners, all fans attending the race weekend are welcome to the following activities at its Fan Paddock:
• Interactive Suzuki History, told by Cycle World and Motorcyclist Magazines.
• PowerSport Institute (PSI) School: Tech training and giveaways
• Genuine Suzuki Parts, Accessories and Apparel Store
• Music and Prizes
• Suzuki Motorcycle, ATV and Scooter Product Display
• Bike Unveiling
• Ultimate Hayabusa Contest Winner Announcement
• Kids Fan Pack
• GSX-R Knee Dragging Photo Booth Experience
• Suzuki Race Teams: Yoshimura Suzuki, National Guard / Michael Jordan, and more!
Suzuki owners can purchase their Indianapolis MotoGP tickets here: http://bit.ly/Suzuki-IndyGP. Owners who purchase these tickets will be able to park at our Fan Paddock, take advantage of the track lap for half the cost, have a reserved seat at the grandstand, and receive IMS souvenirs. Visit the ticketing website for more info.
Supportive Suzuki Ad photo here: http://bit.ly/13eBwkO/

About Suzuki:
Suzuki Motor Corporation founded The Motorcycle/ATV Division of American Suzuki Motor Corporation (ASMC), Brea, Calif., in 1963. ASMC markets motorcycles, ATVs and scooters via an extensive dealer network throughout 49 states. ASMC's parent company, Suzuki Motor Corporation (SMC), based in Hamamatsu, Japan, is a diversified worldwide manufacturer of motorcycles, ATVs, scooters, automobiles and marine engines. Founded in 1909 and incorporated in 1920, it has 147 distributors in 201 countries. For more information, visit www.suzukicycles.com
---
Google Ad