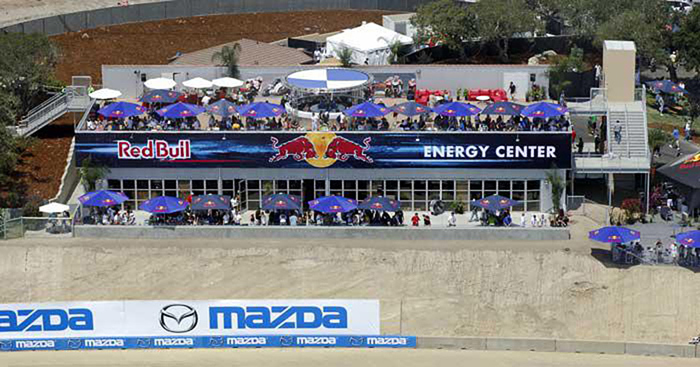 2013 GEICO Motorcycle AMA Pro Road Racing Year-End Awards Celebration
Sunday, September 29th at Mazda Raceway Laguna Seca's Red Bull Energy Center
Release, September 4th, 2013 - AMA Pro Racing officials announced today that Mazda Raceway Laguna Seca's Red Bull Energy Center will be the host venue for the 2013 GEICO Motorcycle AMA Pro Road Racing Year-End Awards Celebration. Following the September 27-29 season finale at Mazda Raceway Laguna Seca in Monterey, Calif., the Series will gather together at the hospitality venue located just above turn one on Sunday evening, September 29, 2013 from 7:00 p.m. to 10:00 p.m. for a casual night of cocktails, dinner and awards.
 
The 2013 Year-End Awards Celebration will commemorate the champion riders and top performers in AMA Pro National Guard SuperBike, AMA Pro GoPro Daytona SportBike, AMA Pro Motorcycle-Superstore.com SuperSport and the AMA Pro Vance & Hines Harley-Davidson Series. In addition to rider awards, top entrants, manufacturers and mechanics will also be lauded and all AMA Pro Racing riders, teams, industry members and officials are invited to attend.
 
"This year has been an amazing season for GEICO Motorcycle AMA Pro Road Racing," said Michael Gentry, COO of AMA Pro Racing. "We are very excited to bring all of the stars of the sport together under one roof so that we can give them the recognition that they deserve."
 
In addition to the distribution of awards, there will be a variety of entertainment options to enjoy throughout the evening. The 2013 GEICO Motorcycle AMA Pro Road Racing Year-End Awards Celebration will be a casual event and tickets are priced at $25 per person. Tickets are limited and will not be sold at the door. Completed order forms must be received by the AMA Pro Racing offices in Daytona Beach, Fla. no later than September 20, 2013. The ticket order form can be downloaded at http://www.amaproracing.com/assets/2013-AMAPro-Ticket-Order-Form.pdf.
 
For additional information, please contact AMA Pro Racing's Daytona Beach headquarters at (386) 492-1014.
No Television Coverage of AMA Pro Roadracing 2013 Season Finale at Laguna Seca
September 6th, 2013 - As professional roadracing in America under the ownership of The Daytona Motorsports Group continues to spiral further downward then we ever thought possible, and despite the resergence of the American economy, officials from AMA Pro Racing and Chet Burks Productions regretfully announced today that the GEICO Motorcycle AMA Pro Road Racing classes competing as part of the upcoming FIM Superbike World Championship event at Mazda Raceway Laguna Seca on September 26-29th, 2013 will not be televised, due to unresolvable complications (lack of money) in the production arrangements for the event.
 
"We came into this with the sole intent of improving the sport of motorcycle road racing in North America and AMA Pro Racing has been a great partner," said Chet Burks, President of Chet Burks Productions. "Despite the best efforts of all involved, the unexpected contractual and financial elements that have arisen for this event aren't feasible. We really regret that this is happening but we simply can't come up with the funds we need to purchase production for this event. We're thankful for all of the sponsors that stepped up to support the broadcasts in 2013 and we're already hard at work lining things up for a successful, televised 2014 season without the likelihood of complications like this arising again.
 
"I also want to thank our television broadcast partner CBS Sports Network for their support this year. Although they are disappointed that we are not able to shoot the Monterey round, they are already working with us on the plans to provide an even better television broadcast package for the 2014 season."
 
The FIM Superbike World Championship event at Mazda Raceway Laguna Seca is scheduled for September 27 - 29, 2013. For tickets and additional information, please visit http://www.mazdaraceway.com/buy-tickets.
 
For those that are unable to attend the event, AMA Pro Racing will offer Live Timing & Scoring of all on-track sessions alongside play-by-play commentary via Twitter on AMA Pro Live. Log on and tune in at http://www.amaprolive.com/rr/.
---
Zen Motorcycles "Tribite to Hagakure" by Laurent Dutriel
One of the most beautiful custom bikes we've ever seen is this very simple, hand crafted Land Speed Record stle bike by French artist Laurent Dutriel. It is bare bones basic with no starter, no transmission gears, no lights, and is started by attaching a rope pull cord to the clutch to spin -over the engine. It is the pure essence of motorcycling - fast, loud, thrilling and beautiful.
"This bike is a tribute to old racers at the beginning of the twentieth century, and also of a Japanese bike made in 1995. I made this bike to challenge in the Land Speed race in Bonneville August 2001, to prove to myself, I could run more than 200 km/h, without any suspension and no gearbox."   Visit the Calendar Bike Garage
---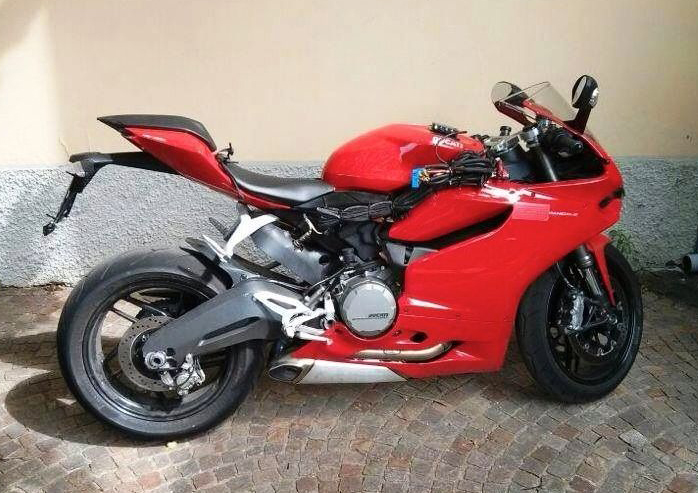 Sneak Peak! New Ducati 899 Sportbike and 796 Scrambler
September 1st, 2013 - A new spy photo has emerged, above, showing the rumored new Ducati 899 Panigale, evolving Ducati's 5th Generation mid-size Sportbike to the new 5th Generation Panigale frame-less design with the new generation Superquadro engine. The name on the bodywork clearly reads "Panigale", with the model number preceding it covered in red duct tape.   Continued
---
This Month in the Garage Girls Calendar ....
Calendar Kitten and SBK World Superbike umbrella girl Camilla Chiniquy likes to loosen big wheel nuts, mount up fresh rubber and get wet. You'll find Calendar bikes with beautiful Kittens featured in the Calendar Bike Garage with full specifications and screensaver size pictures, and revealing pictorials of our Calednar Kittens in Member's Corner.

Order the 2013 and 2014 Fast Dates Calendars
Calendar Bike Photo Features, Paddock Garage Tuning, Pictorials of our Calendar Kittens in Members Corner
---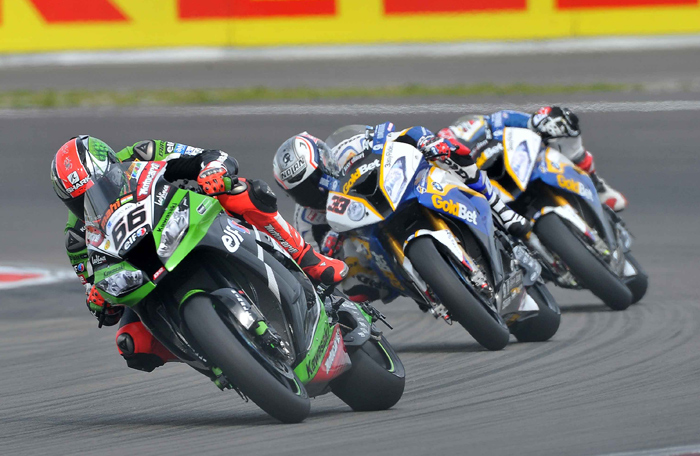 Tom Sykes on the Kawasaki holds off the factory BMW's of Margo Melandri and Chaz Davies in Race One.
SBK Eni World Superbike Championship, Nurburgring, Germany, Round of 10 of 15
Sykes and Davies Take Wins at Nurburgring, Sykes the Championship Points Lead
Nurburgring, Germany, Aug 30-31st, Sept 1st 2013 – Sunday at the Nurburgring was a day of exciting races and injury setbacks for some of the protagonists of the eni FIM Superbike World Championship. Tom Sykes (Kawasaki Racing Team) and Chaz Davies (BMW Motorrad GoldBet) scored one victory each on the Eifel venue, with the Huddersfield-born rider who regained the Championship lead by one point over Sylvain Guintoli (Aprilia Racing Team), while the Welshman rode his S1000RR to first place for the first time after the double win at Aragon last April.   Continued Here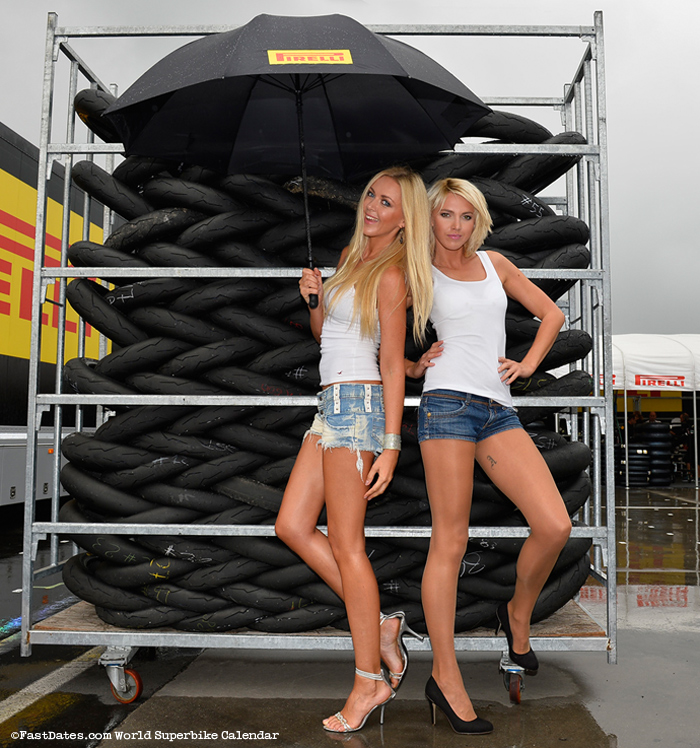 Jitka and Petra shoot for the next 2015 Fast Dates World Superbike Calendar
Nurburgring, Germany, September 11th, 2013 - Our offical Pirelli SBK World Superbike grid girls and FastDates.com Calendar Kittens Petra and Jitka make the best of rainy Superpole Saturday at the Nurburging. Behind them is a cart load of used race tires ready for the shredder. Both Kittens are featured in the new 2014 Fast Dates and Garage Girls Calendars.

Petra and Jitka were photographed again at the Nurburgring World Superbike round by our contributing photographer Max Oliana with the picture to appear in the next 2015 Fast dates World Superbike Calendar. The girls had to drive in from their home in Prauge Czeh Republic, across the old Iron Curtain, for the weekend's Calendar shoot and races. Here they are shooting inside the Ducati Alstare garage with Carlos Checa's bike, and in the Aprilia garage with Sylvan Guintoli's RSV4 factory bike as the rain pours down outside on Saturday. On Sunday they'd be back at work on the starting grid for both races as the offical Pirelli SBK Umbrellaa Girls.
Our beautiful SBK Calednar Kittens strip down and clown arond for the camera as they get ready to go to shoot for us in the factory team garages.
Pictures, Videos and much more on energyzone.worldsbk.com
---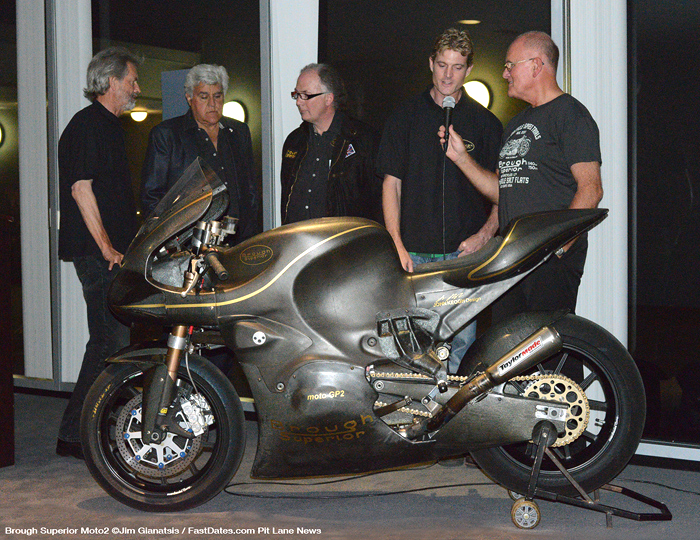 The new Brough Superior Moto2 race bike with From left: Designer James Parker, Jay Leno, Brough Superior CEO Mark Upham, development rider Shawn Higbee and motojournalist Alan Cathcart. Click to Go BIG on any picture.
Brough Superior, Ace Cafe Host Special Announcements
New Race and Production Bikes, New Ace Cafe in Orlando, Florida
Report and Photography by Jim Gianatsis
Peterson Automotive Museum, Los Angeles, Wed August 21st, 2013 - At a private rooftop party atop the Peterson Automotive Museum in Los Angeles, London's Ace Cafe presented a "Return to the Salt with Brough Superior" a private evening hosted by TV personality and motorcycle enthusiast Jay Leno. The event was produced by the legendary Ace Cafe of London's owner Mark Wilsmore, new Ace Cafe USA partner Mark McKee, and Brough Superior's CEO Mark Uphon. CONTINUED
---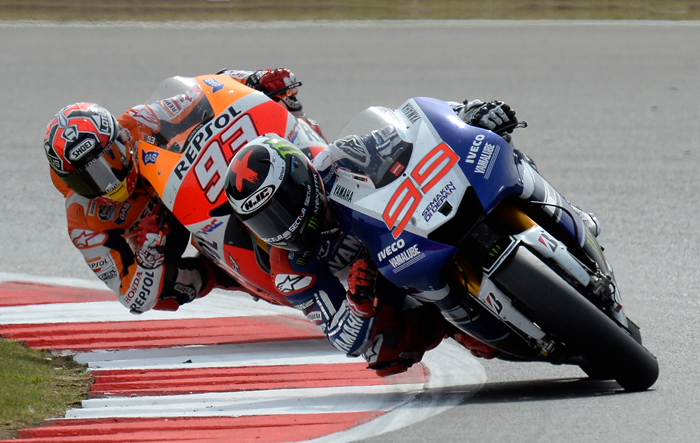 Lornzo and Marquez ran this close the entie race, trading positions 3 times on the last 2 laps in their run to the checkered.

2013 MotoGP World Championship, British Grand Prix Silverstone, Round 12 of 18
Lorenzo fights off Marquez for the win at Silverstone MotoGP
British Grand Prix, Silverstone,Great Britain, Sunday Sept 1st - Yamaha Factory Racing's Jorge Lorenzo delivered a stunning performance today to take victory in the British Grand Prix at the Silverstone circuit. The defending world champion made another lightening race start this afternoon, flying from second on the grid to take the hole shot into turn one ahead of arch rival Marc Marquez. Although unable to break away, Lorenzo executed an unbroken string of inch perfect laps to maintain the lead until just three laps from the end when Marquez attempted to take control of the race.   Continued Here
---
Restricted to Death or a Poor Design for Racing?
the future of Ducati's New 1199 Panigale in SBK World Superbike
August 1st, 2013 - You've seen it at every race this 2013 SBK World Superbike race season as the once dominate Ducati name has been left floundering in mid-pack with their new Superquadro powered 1199 Panigale. Team Alstare Ducati factory riders Carlos Checa and Andrea Badovini have been qualifying and finishing in mid-pack, behind the other factory teams and just in front of the privateers. While World Superbike TV commentators Jonathan Green and Steve Martin tell us each week the 'New Panigale is still going through a difficult development program".   CONTINUED
Ducati Corse Director Bernard Gobmeir Hints at Changes for the Panigale 1199 Next Year
September 10th, 2013 - In an interview with motoscribe Gordon Ritchie in the current issue of Cycle News, Ducati Corse Director Bernard Gobmeir hinted at changes to the factory team's Panigale 1199RS which would hopefully make the down on competive power Ducati Superbike more competive next season. When asked why the new Panigale 1199 hasn't kept pace with the improvd 4-cylinder bikes, Gobmer replied:

"The four cylinders have also changed for sure. The Panigale has also improved this year already and we ar going to have the next step very soon. We will try to get back the old qualities like Carlos Checa has described. But is it enough to be in the top three all the time like in 2011 (with the previous 1198RS)? I doubt it, because in thr meantime, Kawasaki is much stronger than in 2011. Aprilia was always goo, BMW is at a good level. Even Honda with it new electronics made a step forward. Even Suzuki was not to good, but at some tracks they have been damv good."
What Gommeir seems to say is that the Ducati V-twin 1199RS will be improved for next year, but it stil may not be enough to keep pace with the gains shown by the four cylinders. We think the short stroke 1199 Superquadro needs to return to the old long stroke design of the previous 1198 Testastretta engine. An engine, that if it could run without FIM restrictors as the new 1199RS is now running now without restrictors, could possibly make 20 more peak horsepower and much more tire saving mid-range torque than the new Superquadro which lost most of Ducati's advantageous mid-range power, and has not respond well to performnce upgrades.
The questions is, does the design architecture of the Superquadro which also serves as the bike's chassis, even allow it to have the stroke increased? It may be impossible to bolt in a longer stroke crank and taller cylinders without a complete redesign of the entire motorcycle. Will Ducati want to wait through another disasterous 2014 race season with the 1199 down on modified race power, hoping tht DORNA will change completely to the new EVO Class / Superstock engine rules for all World Superbikes in 2015? Or should Ducati bring out a Desmosedici V-4 1000cc Superbike of their own that they know will run with the other four cylinder bikes? Stay tuned....
---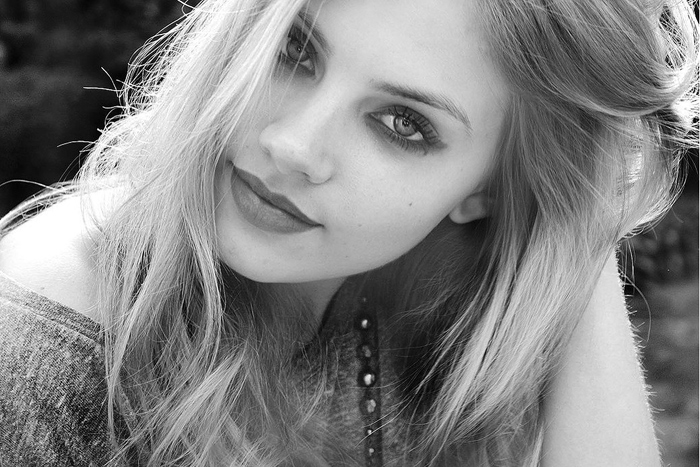 Reminding us of Hollywood's two hottestest actresses Amber Heard and Scarlett Johanon, meet new Fast Dates Calendar Kitten Jacqueline Pabst.
Three beautiful FastDates.com Calendar Kittens to headline the
2013 SBK World Superbike Laguna Seca USA Starting Grid on Sept 26-28th

Los Angeles, CA, August 1, 2014 - The FastDates.com Calendars & Website, in association with Umbrella Girls USA, is excited to announce that SBK World Superbike has selected three beautiful Fast Dates Calendar Kittens to grace the front of the starting grid when the World Superbike Championship returns to the Monterey Peninsula at Laguna Seca Raceway the weekend of September 26-28th 2013. The models include model and university student Jacqueline Pabst, transplanted Irish supermodel Hannah Flattery who previously worked in England and served as an umbrella girl on the grid of the British Superbike Championship, and popular Umbrella Girls USA spokesmodel Jessica Harbour out of San Diego, CA.
World Superbike in America makes its return to Laguna Seca this September after an 8 year hiatus from the west coast's most popular roadrace facility. Together with the premier SBK World Superbike Class, the AMA Pro Roadracing Championship will also be joining the 3-day race weekend with its top classes including Pro Superbike. The first World Superbike Championship race in America took place at Laguna Seca Raceway back in 1995 with four FastDates.com Calendar models serving as the official SBK grid and podium girls on race day that year, and in many subsequent years since.
As he does every year at one of the SBK World Superbike rounds around the world, FastDates.com Calendar publisher and photographer Jim Gianatsis will use the 2013 SBK Laguna Seca September 26-28th race weekend to shoot with the Calendar Kittens for the next edition of the Fast Dates World Superbike Calendar.
"This year's Calendar shoot will be for the 25th Anniversary of the Fast Dates Calendar, the first edition of which featured Pamela Anderson on the cover with Miguel DuHamels' "Big Papa" Yoshimura Suzuki Superbike," explains Jim. "Every year I've been privileged to have exclusive track access to photograph the Calendar with all the top factory race teams in AMA and World Superbike, MotoGP, together with many of the world's most beautiful models and celebrities."
Above, Fast Dates World Superbike Calendar Kittesn Hannah Flattery, and left, Jessica Harbour
"This year will be no exception with the addition of beautiful models Sara and Jessica. I've been shooting with both of them for the Calendars over the past year and don't take a bad shot, plus they are fun and easy to work. I look forward to travel with them up the beautiful Pacific Coast on Highway 1 from Los Angeles to Monterey for the return of World Superbike at Laguna Seca, and show them the fan party atmosphere on Monterey's Cannery Row on Saturday night. It's going to be an incredible race weekend experience in one of the most beautiful locations on earth that no motorcycle racing fan will want to miss!"
Sara and Jessica recently worked togther in July, hosting the 22 annual LA Calendar Motorcyle Show at the Queen Mary, in Long Beach, CA. The premier custom streetbike event in America, the girls hosted the world premier of the new 2014 FastDates.com Calendars. And as a talented singer songwriter, Sara also performed on stage entertaining the spectators during the day
To find our more about the FastDates.com Calendars and Calendar Kittens, and to order Calendars and Books go to FastDates.com.

Gianatsis Design Associates specializes in advertsing and marketing for the motorsports and sports fasion markets and can be found at FastDates.com/JGDESIGN.HTM. UmbrellaGirls USA.com spealizes in providing spokesmodels for motorsports events and shows.
New Fast Dates.com Calendar Shoot!
Go behind the scenes at the glamorous Gianatsis Design Studios with beautiful new Calendar Kittens Jessica and Kelsey as they shoot for the FastDates.com Motorcycle PinUp Calendars with photographer Jim Gianatsis. And look for the new 2014 Calendars available right here on July 1st. Order the Calendars!
Videographer: Eric Lundmark; Video Editing and Still photography: Jim Gianatsis; Models: Jessica Harbour, Kelsey Silwinski; Make Up: Victoria Rubell, Music: Special thanks to Neil Sedaka for our theme song Calendar Girl; Modeling Agent: Umbrella Girls USA.
---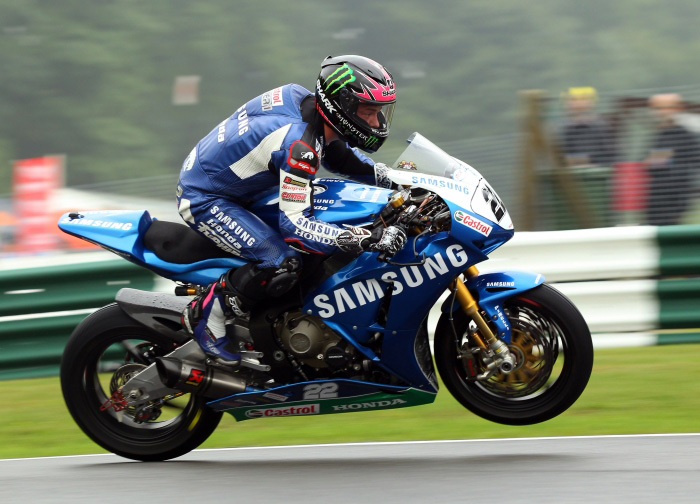 2013 MCE Insurance British Superbike Championship, Cadwell Park Round 8 of 12
Double Home Delight For Honda's Sam Lowes at Cadwell Park British Superbike
Cadwell Park, England, MONDAY AUGUST  26, 2013. Alex Lowes delighted his massed ranks of sun-drenched supporters with an eighth round winning double at his local Cadwell Park circuit.  The victories underline his credentials as a title-fighter in the Showdown sequence of races in the scrap for the MCE Insurance British Superbike crown.   Continued Here
---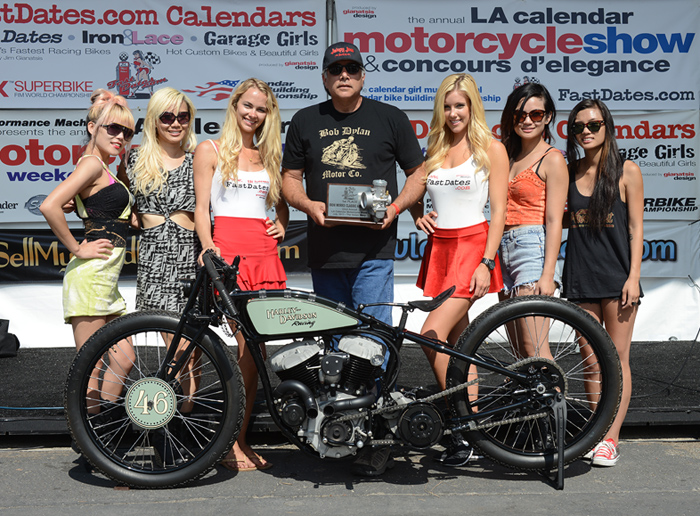 Ron Boldonado and his Classic American Class winning replica Board Track race with girls from the band Nylon Pink
and Calendar Kittens Sara Horvath and Jessic Harbour who will be accompanying us this September 26-28th to Laguna Seca World Superbike to shoot the next edition of the Fast Dates World Superbike Calendar and will serve as official SBK grid girls on race day.
2013 LA Calendar Motorcycle Show & Calendar Girl Music Festival
Los Angeles, July 14th, 2013 - The 22nd edition of the annual LA Calendar Motorcycle Show marked its return to the Queen Mary Seawalk Village in Long Beach, CA with Southern California's Sam Baldi continuing his domination of 2013 season West Coast bike event by taking the Calendar Bike Building Championship's Best of Show and one of the coveted Mikuni Carburetor Trophies with his latest Jimmy Todorovith / Profile Cycles built Big Twin custom named "Lost Angel".
This year's Calendar Motorcycle Show continued it's long standing tradition of showcasing top Celebrity Builders in the Calendar Bike Building Championship, selected Vendors and Exhibitors, together with Calendar Girl Music live performances. And as always, this year's Show celebrated the world premier of the new 2014 FastDates.com Motorcycle PinUp Calendars photographed by Show producer Jim Gianatsis featuring the world's top SBK World Superbikes, sport and cafe bikes, and custom motorcycles with the beautiful Calendar Kittens. On hand throughout the day to meet with fans and pose for pictures were Calendar Kittens Apple Price, together with official SBK World Superbike grid girls, Jessica Harbour and singer songwriter Sarah Horvath. Complete Show Coverge Here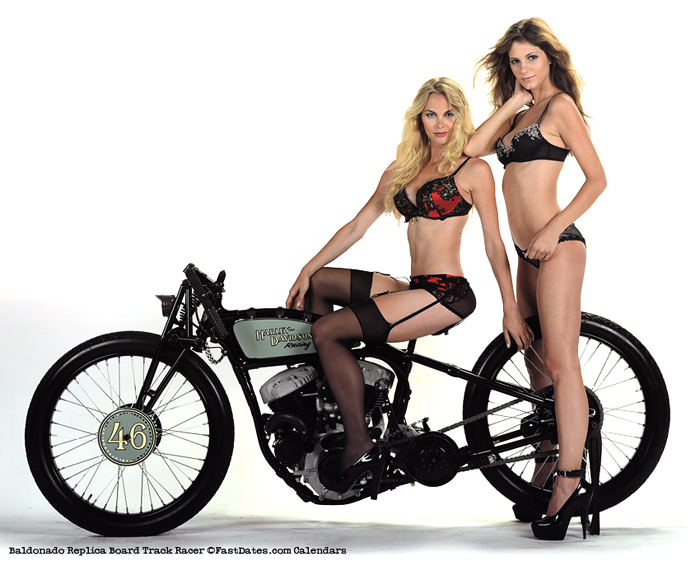 Ron Baldonado's 1st Place Calendar Motorcycle Show winner is featured in a 2015 Calendar studio shoot with
large screen saver photos including Calendar Kittens Sara and Rebekah in the Calendar Bike Garage.
---
NEW! FAST 2014 Digital Calendar Magazine Yearbook
The Bikes, the Builders, the Riders, the Kittens,the Calendar Bike Show, the World Superbike races all the 2014 Calendar Pictures, and Special Features... For the first time every we take you around the world in 120 exclusive pages for the making of the 2014 FastDates.com Calendars! Now in Members Corner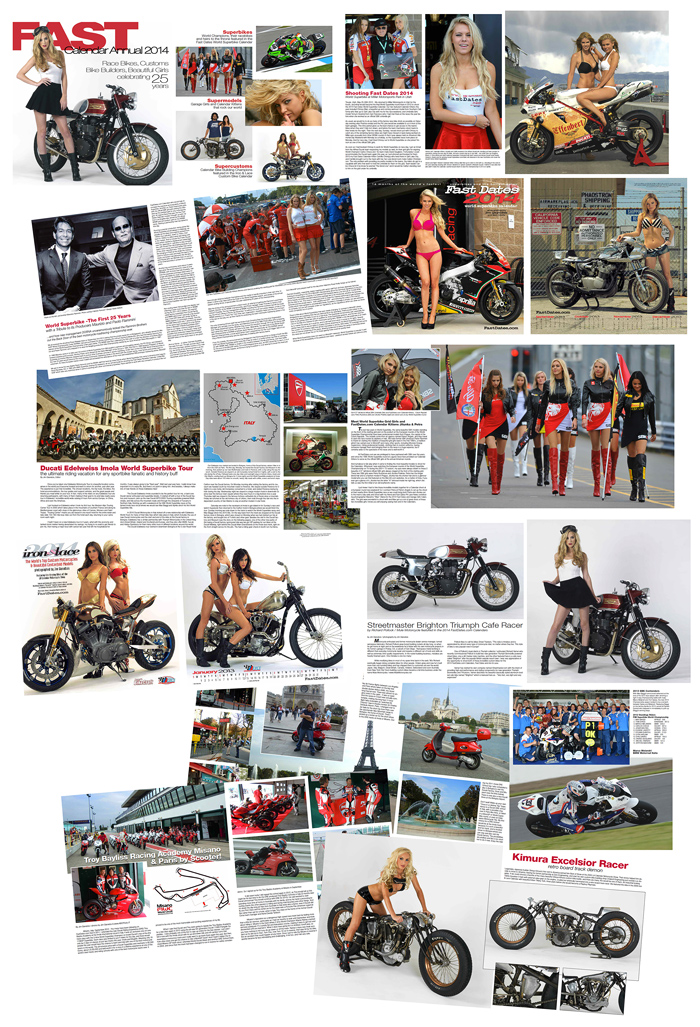 ---
Mission R / RS Electric Superbike Ready for Production
This $58,999 RS model is limited to just 40 units. Once it's delivered, the Mission R will enter production starting at just $29,999 (before a $2,500 federal tax credit). More Here
---
There's more! Go to Pit Lane News Previous Week

Also Visit: Fast Dates Calendar News • Iron & Lace Calendar News
Calendar Girl News • Meet the Models • Paddock Garage
Get FastDates.com T-Shirts, Mugs & Photographs from Our Store

MEMBERS CORNER! Calendar Kittens, Paddock Garage, Iron & Lace Garage


Amazon.com Motorcycle Products & Apparel Store



MotorcycleSuperstore.com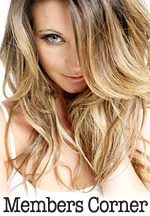 Hot Bikes, Sexy Kittens
Your Exclusive Grid Pass
also includes....
---
Order the New
2013 / 2014 Calendars!
with the FastDates.com Calendar Kittens - the official SBK Umbrella Girls!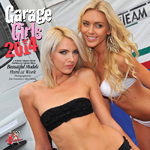 Click for even more
2014 Calendars!
---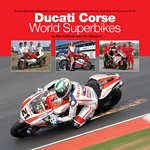 Retail $49.95 ea.
Click to Order from Amazon.com

Ducati Corse
World Superbikes
by Alan Cathcart
& Jim Gianatsis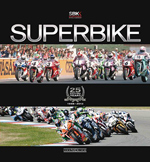 The Official SBK
World Superbikes
1987-2012
25 Year History Book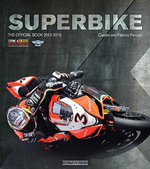 The Official SBK
2012-2013 Yearbook
These SBK Yearbooks are the Best Books Ever about World Superbike. They feature awesome color photography of the riders, bike and racing action. The feature a detailed revue of the past season in pictures and statistics, with a detailed look at the bikes and riders.

Plus a technical look data all the bikes, a preview of the upcoming season's Championship!
We buy this every year ourselves and highly recommend it!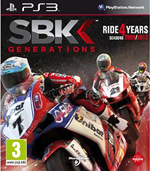 SBK World Superbike Video Game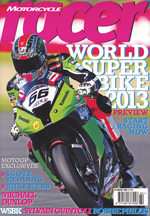 Official Print Media Partner
---
Jonathan Rea / Pata Honda, Suffers Broken Pelvis at Nurburgring
Sept 1st - The tenth round of the FIM Superbike World Championship saw Leon Haslam fight hard to take a seventh and then a 13th place after two dry weather races which were red flagged for oil spills late in their duration. Race one was taken by new championship leader Tom Sykes (Kawasaki) while race two went to BMW rider Chaz Davies.
Jonathan Rea (Pata Honda World Superbike Team) was looking good for a podium finish while sitting in fourth place in race one, until a crash on oil saw him slide into the trackside barrier at high speed and break his left femur. He was followed into the gravel by Leon Camier (Suzuki) shortly afterwards, before the race was stopped. The result was counted back to the positions at the end of the 17th lap, minus the riders who fell.
Rea is now in hospital in Koblenz where he is hoping to have a pin inserted in the broken femur later tonight. Jonathan had qualified fifth and started fourth after the withdrawal of Loris Baz (Kawasaki) following an injury the French rider had suffered in  the morning warm-up. Rea looked comfortable in the race behind the leading trio before his crash and felt he had a strong raceday package.
Haslam was seventh in race one but he fell at turn eight on lap six of race two, but he got going again albeit in last position. He clawed his way back to a points scoring position in 13th, but was frustrated to lose the chance of another high scoring ride. He is now 15th in the overall rankings.

Jonathan Rea (Pata Honda World Superbike Team)
Race result: DNF / DNS Championship position: 7th
"I've felt better, but I'm hoping to get the leg pinned later tonight so hopefully I can be home in a few days and start the recovery as soon as possible. It's unbelievable what was happening with the flags in the race because I saw an oil flag at turn six but then nothing at turn seven or after that. I went down at the fast left at turn eight and, unfortunately, I stayed conscious throughout so I can remember everything. I was feeling pretty good before then and, although I didn't have the pace to pass the guys in front it was clear I had the best package and, although it was late in the race, I still had good grip levels. Until I hit the oil."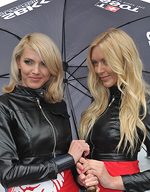 Meet 2013 Calendar Kitten
Jitunka & Petra!

MV Agusta F3 800cc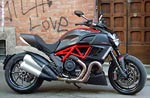 The Devil Made Us Do It!
Testing the Ducati Diavel in Italy
Sudco High Performance & OEM Replacement Parts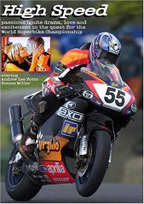 High Speed - the Movie
The best motorcycle racing movie ever made! Filmed on location at the World Superbike races , this an exciting romantic drama staring beautiful British actress Sienna Miller.
---
Sykes Wins First German Race And Regains The Championship Lead
WSBK, Nürburgring, Germany, 1 September 2013 - In race one Sykes was the leader for every lap in the final race classification, and although he had been passed by Marco Melandri near the end of the scheduled 20 laps, the red flag was shown for an oil spill and two subsequent crashes just behind the leading trio.
Sykes was awarded the race one win on the count back rules, which discount the lap the race was stopped on. As he was the leader on lap 17, Tom took the win.
In race two Sykes found his machine set-up not quite as effective as it had been in race one and although he was in the leading group throughout he could not get to the front. Another red flag, for a crashed machine's spilt oil, stopped the race at the 18-lap stage this time, with Sykes fourth and only 1.189 seconds behind the winner.
KRT rider Loris Baz had been on strong form all weekend but suffered a high-speed crash going into the final chicane in morning warm-up. He was taken to hospital where it was found he had suffered a fractured C2 vertebra but without suffering any neurological complications or spinal injury. After reaching hospital he was awake, alert and making jokes with his medical team. He will remain in hospital in Germany for 24 Hours to allow a specialist to see him on Monday. A decision will be taken then to see if he needs further treatment or just time to rest and recuperate.
Mark Aitchison (Kawasaki Team Pedercini) finished each Nürburgring race in 11th place. Federico Sandi (Kawasaki Team Pedercini) did not finish either German race.
In the championship fight Sykes now leads Sylvain Guintoli by one point, 287 to 286, with four rounds and eight races remaining.
Leandro Mercado (Kawasaki Team Pedercini) scored his first ever win in the Superstock 1000 FIM Cup category in the 11-lap race in Germany and in doing so is now third in the championship, with two races remaining. Jeremy Guarnoni (MRS Kawasaki) took fourth place today while Romain Lanusse (Team MRS Kawasaki) went fifth.
Four top-ten results for Team SBK Ducati Alstare in today's Superbike races at the Ring
 Nürburgring (Germany), Sunday 1 September 2013: highs and lows for Team SBK Ducati Alstare during round 10 of the 2013 World Superbike championship this weekend at the Nürburgring. After scoring pole position yesterday, Ayrton Badovini finished today's races in seventh and ninth place, Carlos Checa crossed the line tenth.
 
Race 1 – the first race took place in cold but dry conditions (air temp 14˚C, track 21˚C). Starting from pole for the first time in his Superbike career, Ayrton lost several positions through the first corners, placing eleventh by lap two. Followed by his team-mate Carlos, twelfth, who was able to make up a number of positions in the opening stages, the two Ducati Alstare men maintained those positions for the best part of the race. The race was brought to an early close by Race Direction when Rea and Camier were the victims of a bad accident two laps from the end. As a result, Badovini closed in final ninth position, Checa just behind him in tenth.
 
Race 2 – With less riders taking part after race one's incident, Carlos started from fifteenth on the grid this time around. He was up in eleventh place after one lap and his position remained as such for almost the entire race. Despite fighting to catch first Cluzel and later Neukirchner, he was unable to pass them and thus closed the race in tenth place. Ayrton made a better start than he did in race one and was able to maintain a strong pace for the duration of the race. By lap six he was in seventh position behind Giugliano, a position that he was able to hold until the line.
 
Ayrton Badovini: "Unfortunately in the first race I lost too much ground in the first laps and many guys got past me. I was having trouble and made some mistakes too. For race 2 we made a small change to the bike and I decided to approach it with a different mentality and take things more calmly. It worked because I was able to be more precise, more consistent lap after lap. I'm pleased because besides the result, seventh, the important thing was that I was able to close the overall gap between myself and the leaders. All in all it's been a positive weekend, one of the best we've had so far."
 
Carlos Checa: "What can I say, the results speak for themselves. We made changes between race one and two but unfortunately this didn't make a great deal of difference. I've had trouble getting the right balance with the bike this weekend. Contrary to Misano, where testing went pretty well, here I've had some problems. I don't know, maybe I've lost some of the confidence I had in Misano. We've made modifications during the weekend but perhaps I haven't been able to interpret them properly. The team has worked well and I hope we can find a better set-up with which we can improve our results in the next races."
EDELWEISS OFFERS NEW and AFFORDABLE MOTORCYCLE TOUR ALONG THE DOLOMITES WITH CHALLENGING ROADS, OVERWHELMING MOUNTAIN SCENERY AND ITALIAN CUISINE AT ITS FINEST.
The Dolomites are a must for a passionate biker – come with us on an unforgettable motorcycle tour. The countryside is dominated by mountains, rivers, and gorge-like valleys, which have just space enough for a road and railroad tracks; but there are also bigger towns like Bolzano, where our base hotel is located.

Thinking about Italian culture you will notice quite a big difference from what you may expect; building style, cultures, languages, bilingual road signs and special foods show that varied peoples and ideas peacefully co-exist here. The Sella Ronda is a very good warm-up for the following days and our rides to Penserjoch, Jaufenpass and Timmelsjoch.

Eight more passes are on our schedule for the next day and we will have the opportunity to stop in the nice little town of Cortina d'Ampezzo, well known from the Olympics in 1956. Now it's time to make a decision: go to Venice for sightseeing or collect 10 more passes? Tough call! The last riding day leads us south to the wonderful Lake Garda, with swimming and riding at its best.
Find Out More
THROUGH THE ALPINE WONDERLAND OF AUSTRIA AND SOUTHERN GERMANY – THE ALPS AND LAKES MOTORCYCLE TOUR!
The Alps and Lakes motorcycle tour takes you through a beautiful part of European motorcycle paradise; the Alps. The contrast between the beautiful lakes in southern Germany and Austria and the towering mountains that reach up to more than 10,000 ft is nothing less than breathtaking.
This area is the famous background for the movie "Sound of Music". This vacation offers a little bit of everything: beautiful and relaxing rides through the valleys; some mountain roads and passes; and great vistas and sights, including King Ludwig's castle, Herrenchiemsee, and the historic city of Salzburg. The tour consists of five riding days, one of them is a rest day – which means that you stay two nights at the same hotel.

This is a great opportunity to explore a little bit more, ride around the countryside, walk through town, meet the locals and sample some of the local food. The tour will take you through Germany and Austria, and on the rest day you can even add Italy to your list if you are so inclined.
Find Out More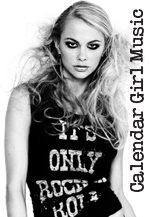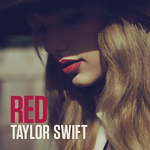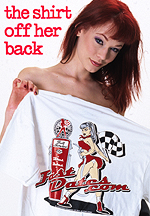 Order the Official
FastDates.com &
LA Calendar Bike Show
T-Shirts!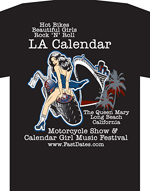 ---
Google Ad