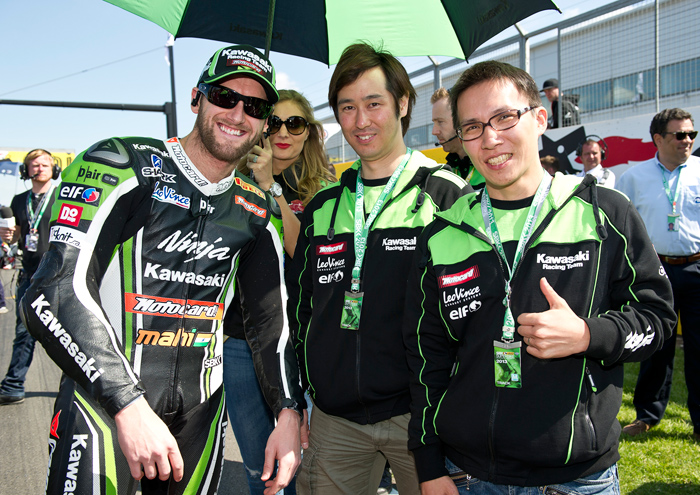 SBK Eni World Superbike Championship, Magny-Cours, France, Round of 13 of 14
The stage is set for WSBK season finale at Jerez
Rome (Italy), Monday 14 October 2013 - The eni FIM Superbike World Championship riders are gearing up for the last round of 2013, that will take place this weekend at the Circuito de Jerez, Spain on October 18-20th . The last time the Andalusian track hosted an event of the series was in 1990, with the Spanish Round being the season opener for WSBK.
Tom Sykes (Kawasaki Racing Team) enters the final showdown in confident mood after the double win at Magny-Cours, that allowed the Brit to extend his lead to a comfortable 37 and 38 points over the two remaining title contenders, Eugene Laverty and Sylvain Guintoli (Aprilia Racing Team). With such a considerable margin over the rivals, Sykes could be crowned new World Superbike Champion already after the first race by finishing in third place, in case the two opponents would eventually take the top-two spots on the podium.
All the factory teams and most of the private ones have previously tested at Jerez, meaning the riders will not take too long to get up to speed on the Spanish venue.
Team BMW Motorrad GoldBet line-up will turn into a trio this weekend, as regular riders Marco Melandri and Chaz Davies will be joined by STK team mate Sylvain Barrier, who is set to make his long-awaited WSBK debut after retaining the title in the FIM Superstock 1000 Cup in front of his home crowd at Magny-Cours.
Local rider Toni Elias (Red Devils Aprilia) is targeting a strong result at Jerez, a track he knows well and where he won during his best ever 250cc World Championship season (2003) and in 2010, first race victory of his title-winning season in Moto2.
Leon Camier (FIXI Crescent Suzuki) is down to race despite not being 100% after the injury suffered at Nurburgring. Former BSB Champion will undergo further checks at Jerez prior to the round, before a final decision on his participation to the event. Similar situation for Loris Baz, who is eager to jump on his Kawasaki Racing Team ZX-10R after sitting out from the last three rounds.
Javier Fores will replace fellow Spaniard Carlos Checa for the last outing of what has been a difficult season for Team Ducati Alstare. The 28 year old from Llombai has previously raced in the series, when he stepped in for injured James Toseland to race with Team BMW Motorrad Italia for the last three rounds in 2011.
Australian FX Superbike Champion Broc Parkes will make his comeback to the series by tackling the event onboard the Yamaha YZF-R1 of the YART Team.

Standings (Round 13 of 14): 1. Sykes 411; 2. Laverty 374; 3. Guintoli 373; 4. Melandri 339; 5. Davies 270; 6. Giugliano 195; 7. Fabrizio 186; 8. Baz 180; 9. Rea 176; 10. Cluzel 162; 11. Badovini 127; 12. Camier 114; 13. Haslam 91; 14. Neukirchner 84; 15. Checa 80; 16. Sandi 54; 17. Elias 46; 18. Aitchison 33; 19. Iannuzzo 27; 20. Salom 22; 21. Clementi 18; 22. Philippe 13; 23. Lanzi 13; 24. Canepa 12; 25. Lai 11; 26. Pirro 10; 27. Lundh 10; 28. Hayden 8; 29. Young 8; 30. Reiterberger 7; 31. Allerton 6; 32. Uprak 5; 33. Smrz 4; 34. Stauffer 4; 35. Ercelik 3; 36. Eslick 2; 37. Akiyoshi 2; 38. Haga 2. Manufacturers: 1. Aprilia 500; 2. Kawasaki 465; 3. BMW 412; 4. Honda 234; 5. Suzuki 225; 6. Ducati 169; 7. Yamaha 4.
World Supersport
After clinching his first-ever World Title at Magny-Cours, Sam Lowes (Yakhnich Motorsport Yamaha) will be back on track to contest his last World Supersport race before moving to the Moto2 World Championship. The battle-hungry youngster from Lincoln will have a final chance for another epic challenge against Kenan Sofuoglu (Mahi Racing Team India Kawasaki).
Confirmed Pata Honda riders for 2014 Michael van der Mark and Lorenzo Zanetti will try and mix it up for what would be their first ever win in the series – and the maiden one for the team this year. Matthieu Lagrive, last minute substitute for injured Florian Marino at Magny-Cours, will be again on track for Team Intermoto Ponyexpres Kawasaki, and he will be replacing this time Luca Scassa. Complus SMS Racing Honda is going to tackle the round by fielding former CEV Moto3 rider Fraser Rogers.
Standings (Round 12 of 13): 1. Lowes 225; 2. Sofuoglu 181; 3. Foret 134; 4. Vd Mark 117; 5. Zanetti 108; 6. Kennedy 76; 7. Scassa 75; 8. Coghlan 62; 9. Rolfo 62; 10. Leonov 56; 11. Antonelli 55; 12. Marino 53; 13. Morais 47; 14. Iddon 45; 15. Russo 38; etc. Manufacturers: 1. Kawasaki 250; 2. Yamaha 233; 3. Honda 152; 4. MV Agusta 88; 5. Suzuki 36; 6. Triumph 6.
Superstock 1000
Despite the title already assigned last round, the final race for the FIM Superstock 1000 Cup will play an important role for the riders involved, who are looking forward to end up their season in the best possible way.
With 2013 title winner Sylvain Barrier (BMW Motorrad GoldBet) up to his debut in World Superbike, Niccolò Canepa (Barni Racing Ducati) – who is still looking for his first race win of the season - will try and defend his second place in the standings from Jeremy Guarnoni (MRS Kawasaki) and Leandro Mercado (Team Pedercini Kawasaki), who scored one win each in the last two rounds. Barrier's place will be taken by former STK1000 rider and 2013 IDM Superbike Champion Markus Reiterberger.
Standings (Round 9 of 10): 1. Barrier 178; 2. Canepa 145; 3. Guarnoni 128; 4. Mercado 126; 5. Savadori 98; 6. La Marra 85; 7. Jezek 81; 8. Lanusse 60; 9. Bussolotti 55; 10. Andreozzi 51; etc. Manufacturers: 1. BMW 189; 2. Kawasaki 173; 3. Ducati 166; 4. Honda 38; 5. Suzuki 5.
Superstock 600
Franco Morbidelli (San Carlo Team Italia Kawasaki) leads the way in the points as the Superstock 600 European Championship heads to Jerez for a thrilling finale. The Rome-born rider holds a 10-point advantage on Christian Gamarino (Team Go Eleven Kawasaki), fierce challenger for second place finish in France, and 14 on team mate Alessandro Nocco, dominant winner last time out at Magny-Cours.
Kyle Smith (Agro-on Racedays Kawasaki) is looking forward to the Spanish round boosted by his previous knowledge of the track, after the encouraging performances put up in his first two races in the series.
Standings (Round 9 of 10): 1. Morbidelli 134; 2. Gamarino 124; 3. Nocco 120; 4. Chesaux 113; 5. Duwelz 102; 6. Coveña 81; 7. Mulhauser 67; 8. Nestorovic 63; 9. Salvadori 57; 10. Morrentino 48; 11. Casalotti 42; 12. Schmitter 38; 13. Tuuli 34; 14. Tessels 34; 15. Vitali 27; etc.
---
Marquez (left) and Pedrosa (right) were very cool to each other at Sepang after the incident 2 weeks ago at Aragon where Marquez clipped his team mates bike in an attempt to pass him, beaking the rear wheel sensor wire and disabling Pedrosa's traction control, causing him to immediate crash out.
2013 FIM MotoGP/Moto2/Moto3 World Championships, Malaysian Grand Prix Round 15, Sepang
Pedrosa & Marquez Score Repsol Honda 1-2 at Sepang
Malaysian Grand Prix, Sepang, October 13th October 2013 - Dani Pedrosa (Repsol Honda RC213V) shrugged off lingering pain from his recent Aragon crash to score a convincing victory in today's Malaysian GP, run in gruelling tropical heat. The former 250 and 125 World Champion was followed home by team-mate Marc Marquez (Repsol Honda RC213V), who once again increased his World Championship lead over Jorge Lorenzo (Yamaha) who finished third today.
Pedrosa – who also won here last year – finished the race 2.7 seconds ahead of Marquez to record his third victory of the season. The result gave the Repsol Honda team its fifth one-two finish of the season, following similarly impressive performances at Austin, Jerez, Indianapolis and Brno. The result increases Honda's lead in the constructors' title race and Repsol Honda's lead in the team championship.
Starting from the second row of the grid, Pedrosa grabbed the lead from Lorenzo on lap five and was soon clear of the entertaining battle that raged behind him, with Lorenzo and pole-sitter Marquez swapping positions time and again before half distance. At one point the Yamaha rider made contact with the reigning Moto2 World Champion – who had set a new lap record on lap two – but their fight continued unabated until Marquez went inside his rival at Turn 14 on the ninth lap. From that moment on, Marquez had only the brilliant Pedrosa ahead, but he had lost too much time fighting back and forth with Lorenzo and soon realised that chasing his team-mate would entail taking too many risks. He knew full well that all he really needed to do was increase his points advantage over the reigning champ, which he duly did.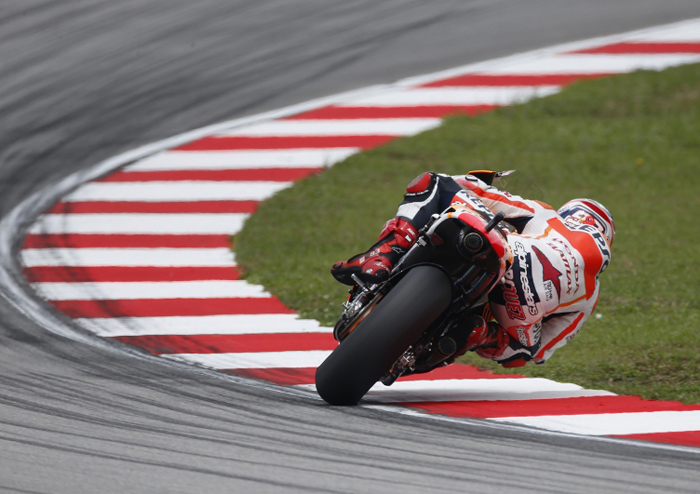 Who needs traction control? Marquez was a 2 wheel drift sliding itno, and powering out of corners at Sepang.

With 15 rounds gone and three to go, the remarkable 20-year-old rookie leads Lorenzo by 43 points. If he does go on to win the title, he will be the youngest crowned king of the elite class in the 65 year history of the sport. After his third win of the season, Pedrosa sits just 11 points behind Lorenzo. Without the Aragon crash – which wasn't his fault – he would still be very much in contention for the World Championship.
Alvaro Bautista (Team GO&FUN Honda Gresini RC213V) enjoyed a thrilling duel for fifth place with Cal Crutchlow (Yamaha), which went his way in the final few laps. In the early stages he had run with the lead group, but after running wide he lost touch and that allowed Crutchlow to catch and pass him. However, Bautista had the speed when it mattered most.
Australian rookie Bryan Staring (GO&FUN Honda Gresini FTR Honda) finished 18th, three places out of the points, and is looking forward to going to Phillip Island, a track he knows well.
Stefan Bradl (LCR Honda RC213V) missed today's race after what should have been an uncomplicated low-side crash during yesterday's final practice session. The German lost the front into Turn One and caught his right foot on some trackside carpet, which fractured the ankle. He underwent surgery in Kuala Lumpur last night and has yet to decide whether he will be able to race at Phillip Island next weekend.
The MotoGP paddock now continues its eastern tour, immediately heading south to Phillip Island for next Sunday's Australian GP. The quick-fire action continues with the Japanese GP on October 27, before the circus returns to Europe for the Valencia GP season finale in Spain on November 10.
Dani Pedrosa, Repsol Honda, 1st - "I am very happy with this win, as it is very special. My level of riding today was very good and the victory comes after a difficult week in which I was laid up in bed and could hardly move. To come here and win is fantastic, so thanks to all my team! It is a pity about what happened in Aragón, because we had the pace and the same chance of the win as we did here. However, we can't keep looking back; we need to continue on and try to carry our form into the final races."
Marc Marquez, Repsol Honda: 2nd -"These twenty points are very important and I'm really happy with how the race went today. I had a nice, fun battle with Lorenzo, but at the same time I could see that Dani was opening up a gap. When I finally managed to overtake Jorge and make the pass stick, I tried to reduce the distance that Dani had put between us. However, I saw that it was too risky to do so. From that moment on, I decided to focus on keeping Lorenzo at bay, because the goal here was to finish the race ahead of him. We did what we came here to do, so we are very happy!"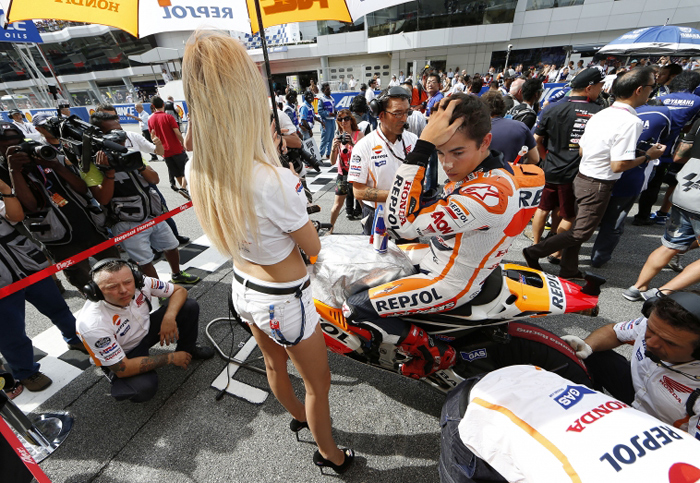 RESULTS MOTOGP RACE: (20 laps = 110.96 Km)
POS / RIDER / NAT. / TEAM / MOTORCYCLE / TIME / KM/H / GAP
1 / Dani PEDROSA / SPA / Repsol Honda Team / HONDA / 40'45.191 / 163.3 /
2 / Marc MARQUEZ / SPA / Repsol Honda Team / HONDA / 40'47.948 / 163.1 / 2.757
3 / Jorge LORENZO / SPA / Yamaha Factory Racing / YAMAHA / 40'51.860 / 162.9 / 6.669
4 / Valentino ROSSI / ITA / Yamaha Factory Racing / YAMAHA / 40'55.542 / 162.6 / 10.351
5 / Alvaro BAUTISTA / SPA / GO&FUN Honda Gresini / HONDA / 41'07.340 / 161.8 / 22.149
6 / Cal CRUTCHLOW / GBR / Monster Yamaha Tech 3 / YAMAHA / 41'07.492 / 161.8 / 22.301
7 / Bradley SMITH / GBR / Monster Yamaha Tech 3 / YAMAHA / 41'16.055 / 161.3 / 30.864
8 / Andrea DOVIZIOSO / ITA / Ducati Team / DUCATI / 41'30.302 / 160.4 / 45.111
9 / Aleix ESPARGARO / SPA / Power Electronics Aspar / ART / 41'44.455 / 159.4 / 59.264
10 / Yonny HERNANDEZ / COL / Ignite Pramac Racing / DUCATI / 41'46.608 / 159.3 / 1'01.417
11 / Hiroshi AOYAMA / JPN / Avintia Blusens / FTR / 41'48.856 / 159.2 / 1'03.665
12 / Randy DE PUNIET / FRA / Power Electronics Aspar / ART / 41'59.447 / 158.5 / 1'14.256
13 / Claudio CORTI / ITA / NGM Mobile Forward Racing / FTR KAWASAKI / 42'06.794 / 158 / 1'21.603
14 / Hector BARBERA / SPA / Avintia Blusens / FTR / 42'13.167 / 157.6 / 1'27.976
15 / Colin EDWARDS / USA / NGM Mobile Forward Racing / FTR KAWASAKI / 42'14.633 / 157.5 / 1'29.442
Pole Position: Marc MARQUEZ 2'00.011 166.4 Km/h
Fastest Lap (New record): Marc MARQUEZ 2'01.415 164.5 Km/h Lap 2
Old Circuit Record Lap: Casey STONER 2'02.108 163.5 Km/h 2007
Circuit Best Lap: Marc MARQUEZ 2'00.011 166.4 Km/h 2013
CHAMPIONSHIP POSITION TILL DATE:
1 MARQUEZ 298, 2 LORENZO 255, 3 PEDROSA 244, 4 ROSSI 198, 5 CRUTCHLOW 166,
6 BAUTISTA 136, 7 BRADL 135, 8 DOVIZIOSO 120, 9 HAYDEN 102, 10 SMITH 89,
11 ESPARGARO 83, 12 PIRRO 50, 13 IANNONE 47, 14 EDWARDS 32, 15 BARBERA 29.
---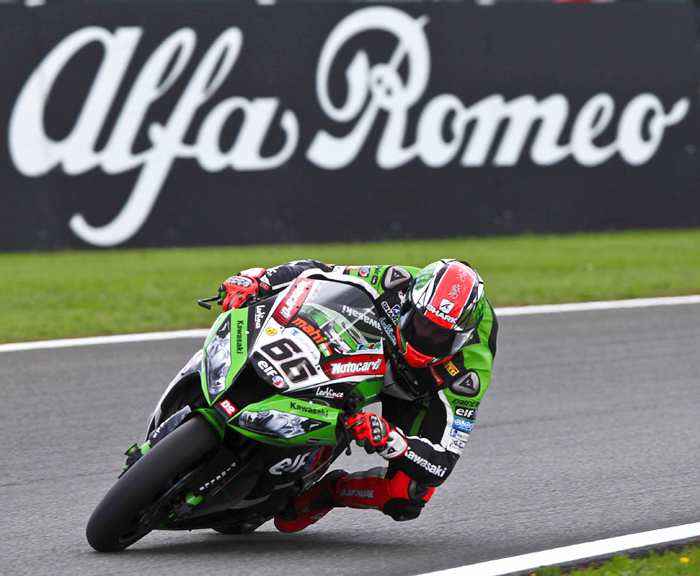 SBK Eni World Superbike Championship, Magny-Cours, France, Round of 13 of 14
Barrier / BMW and Lowes / Yamaha Secure their Titles at Magny-Cours
Tom Sykes / Team Kawasaki Score Crucial Double SBK Victory in France
Magny-Cours, France, Oct 4-6th, 2013 - The French Round of the eni FIM Superbike World Championship proved once again to be a title decider, as the 73,844 attendants could cheer for local rider Sylvain Barrier (BMW Motorrad GoldBet) retaining the STK1000 title and for Sam Lowes (Yakhnich Motorsport Yamaha) clinching his first-ever Championship victory in World Supersport.
Tom Sykes (Kawasaki Racing Team) scored his third double race win this season in the premier World Superbike at Magny Cours today and in doing so took a strong 37 point lead with only one round of the championship remaining. The battle for the ultimate prize in World Superbike is still open, despite the resounding double victory scored by Tom Sykes (Kawasaki Racing Team), who holds now 38 points over Eugene Laverty and 39 on Sylvain Guintoli. The factory Aprilia riders completed the podium in both occasions, even after the dramatic finale of Race 2.
In the first race Sykes was not seriously threatened after he headed off into the lead at lap record pace, taking a new best lap in race conditions of 1'38.345. He would go on and beat in an even more impressive race two performance.
In the opening race, scheduled for 23 laps, Tom had a two second advantage over Sylvain Guintoli as the laps timed down. When a red flag was shown to halt the race because of a bike laying on track on fire, Sykes was declared the winner and, as enough laps had been completed to call it a full result, he was awarded full points.
The second race also did not quite go the full distance and when rains started towards the end, two riders crashed behind Tom. A red flag was shown to halt proceedings again and this time Sykes was 11.091 seconds ahead in the final race results. On lap four of race two Tom set a final new lap record, 1'37.932. This was Tom's ninth race win of 2013, the 14th of his career.
Tom Sykes stars in French Tissot-Superpole
Superpole, Saturday Oct 5th - Tissot-Superpole for the French Round was held under mixed conditions and saw Tom Sykes (Kawasaki Racing Team) claiming the front spot on the grid for the 8th time this year. The Brit will be joined on the first row by title contender Sylvain Guintoli (Aprilia Racing Team), who was able to elevate himself to second in the closing stages… (read more)
Tom Sykes: "This is a great place to get pole position, especially in these conditions. Three riders in two corners made it very difficult for me in the fast lap so I am sure it was very exciting for those watching on TV! From where I was sitting it was quite dangerous. I hope it is dry tomorrow because if we have good conditions everybody will be fighting and putting on a good show for the crowd. Our bike is working well but we can still improve it even more in wet conditions."
Race One
Tom Sykes (Kawasaki Racing Team) has scored victory in the first World Superbike race of the day, leading the way from lights to the Red Flag that was waved during Lap 19, following the crash suffered by Mark Aitchison (Team Pedercini Kawasaki). The Brit was able to pull away from the rest of the field, except for Sylvain Guintoli (Aprilia Racing Team), in the early stages of the race, with the duo able to lap consistently in the 1'38s barrier. Sykes' pace, though, was too fast even for the Frenchman, as the KRT rider managed to put a safe margin between himself and the rival as the race progressed.
Eugene Laverty (Aprilia Racing Team) crossed the line a lonely third to complete the top-3 ahead of Davide Giugliano (Althea Racing Aprilia), very competitive in the opening laps before losing ground from the top, Marco Melandri (BMW Motorrad GoldBet) and Michele Pirro (Team Ducati Alstare), who rode an incredible maiden race in the series to end up 6th.
In the first half of the race Pirro was involved in a spectacular 5-way battle for sixth place, along with Pata Honda duo of Michel Fabrizio and Leon Haslam, Toni Elias (Red Devils Aprilia) and Vincent Philippe (FIXI Crescent Suzuki). Elias, who made his WSBK debut last month in Turkey, lost control of his Aprilia RSV4 at Turn 13 during the sixteenth lap, taking out Philippe in the process. The difficult first race for the FIXI Crescent Suzuki was completed by local rider's Jules Cluzel crash in the early stages, preceded by the fall occurred to works BMW rider Chaz Davies.
SUPERBIKE RACE ONE: (Laps 18 = 79,398 Km)
POS / RIDER / NAT. / TEAM / MOTORCYCLE / GAP
1 / T. SYKES / GBR / Kawasaki Racing Team / Kawasaki ZX-10R / 29'38.830
2 / S. GUINTOLI / FRA / Aprilia Racing Team / Aprilia RSV4 Factory / 2.146
3 / E. LAVERTY / IRL / Aprilia Racing Team / Aprilia RSV4 Factory / 10.643
4 / D. GIUGLIANO / ITA / Althea Racing / Aprilia RSV4 Factory / 15.687
5 / M. MELANDRI / ITA / BMW Motorrad GoldBet SBK / BMW S1000 RR / 23.573
6 / M. PIRRO / ITA / Team Ducati Alstare / Ducati 1199 Panigale R / 33.848
7 / M. FABRIZIO / ITA / Pata Honda World Superbike / Honda CBR1000RR / 37.599
8 / L. HASLAM / GBR / Pata Honda World Superbike / Honda CBR1000RR / 37.903
9 / A. BADOVINI / ITA / Team Ducati Alstare / Ducati 1199 Panigale R / 38.181
10 / L. LANZI / ITA / Mesaroli Transports A.S. / Ducati 1098R / 51.604
11 / D. SALOM / ESP / Kawasaki Racing Team / Kawasaki ZX-10R / 54.742
12 / F. SANDI / ITA / Team Pedercini / Kawasaki ZX-10R / 1'03.442
13 / V. PHILIPPE / FRA / Fixi Crescent Suzuki / Suzuki GSX-R1000 / 1'07.176
14 / F. LAI / ITA / MR-Racing / Ducati 1199 Panigale R / 1'24.850
15 / V. IANNUZZO / ITA / Grillini Dentalmatic SBK / BMW S1000 RR / 2 Laps
Fastest Lap: 4° Tom Sykes 1'38.345 161,468 Km/h
Lap Record: 2009 N. Haga 1'38.619 161,020 Km/h
Best Lap: 2012 T. Sykes 1'36.950 163,790 Km/h
Race Two
Tom Sykes made a clean sweep of the French Round thanks to a dominant win in Race 2, that completes the third double-victory for the Kawasaki Racing Team rider this year. The Championship leader got a perfect start out of pole and steadily pulled away, to place a considerable gap between himself and the chasing duo of Eugene Laverty and Sylvain Guintoli. As slight drizzle started to fall on… (read more)
Tom Sykes: "It is great to score a double win here. We made two small changes in the bike to race two, when you are on the edge all the time you have got very small changes that make a big outcome. Magny-Cours was generous to me, the bike and all at Kawasaki, so this was great. It was spitting with rain at the end of race two and that was difficult, but I had a big gap to manage. We still have some work to do but the good thing is that we have been there or thereabouts all season."
Eugene Laverty: "Tom was on another planet today, I tried to catch him in the early laps but he was pulling away out of slow turns. I battled with Sylvain in the end, usually I don't like this type of situations because I respect him and we're still both in contention, but every point can make a difference in this part of the season. I'm happy about the two results, even though our target was to narrow our gap from the leader."
SUPERBIKE RACE TWO:  (Laps 21 = 92,631 Km)
POS / RIDER / NAT. / TEAM / MOTORCYCLE / GAP
1 / T. SYKES / GBR / Kawasaki Racing Team / Kawasaki ZX-10R / 34'36.149
2 / E. LAVERTY / IRL / Aprilia Racing Team / Aprilia RSV4 Factory / 11.091
3 / S. GUINTOLI / FRA / Aprilia Racing Team / Aprilia RSV4 Factory / 11.337
4 / D. GIUGLIANO / ITA / Althea Racing / Aprilia RSV4 Factory / 23.008
5 / C. DAVIES / GBR / BMW Motorrad GoldBet SBK / BMW S1000 RR / 25.724
6 / V. PHILIPPE / FRA / Fixi Crescent Suzuki / Suzuki GSX-R1000 / 34.762
7 / M. MELANDRI / ITA / BMW Motorrad GoldBet SBK / BMW S1000 RR / 36.219
8 / T. ELIAS / ESP / Red Devils Roma / Aprilia RSV4 Factory / 40.957
9 / L. LANZI / ITA / Mesaroli Transports A.S. / Ducati 1098R / 43.713
10 / A. BADOVINI / ITA / Team Ducati Alstare / Ducati 1199 Panigale R / 53.188
11 / D. SALOM / ESP / Kawasaki Racing Team / Kawasaki ZX-10R / 56.251
12 / M. AITCHISON / AUS / Team Pedercini / Kawasaki ZX-10R / 1'04.048
13 / F. SANDI / ITA / Team Pedercini / Kawasaki ZX-10R / 1'04.243
14 / J. CLUZEL / FRA / Fixi Crescent Suzuki / Suzuki GSX-R1000 / 1'10.346
15 / F. LAI / ITA / MR-Racing / Ducati 1199 Panigale R / 1'29.441
Fastest Lap: 4° Tom Sykes 1'37.932 162,149 Km/h
Lap Record: 2013 T. Sykes 1'38.345 161,470 Km/h
Best Lap: 2012 T. Sykes 1'36.950 163,790 Km/h
CHAMPIONSHIP POSITIONS TILL DATE:
1 SYKES 411, 2 LAVERTY 374, 3 GUINTOLI 373, 4 MELANDRI 339, 5 DAVIES 270,
6 GIUGLIANO 195, 7 FABRIZIO 186, 8 BAZ 180, 9 REA 176, 10 CLUZEL 162,
11 BADOVINI 127, 12 CAMIER 114, 13 HASLAM 91, 14 NEUKIRCHNER 84, 15 CHECA 80.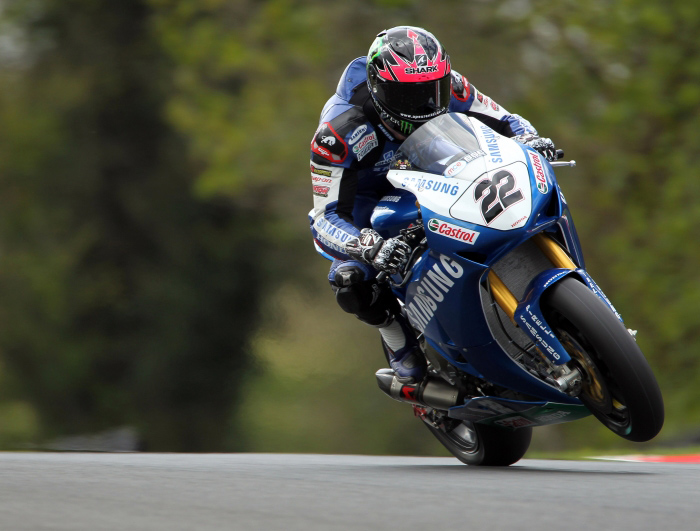 New 2013 World Supersport Champion Sam Lowes on the Samsung Yamaha R6.

World Supersport – Sam Lowes 2013 Champion
Sam Lowes (Yakhnich Motorsport Yamaha) has clinched his first ever World Title today, after the second place finish achieved in the WSS Race behind winner Kenan Sofuoglu (Mahi Racing Team India Kawasaki). The indomitable 23 year old from Lincoln, Great Britain, rode a superb race with no tactics involved, even though he just needed to finish in the points to be awarded the new World Supersport Champion.
The race was red-flagged during the final lap following the crash suffered by Christian Iddon (ParkinGO MV Agusta Corse), who high-sided while running in third place. The English rider was able to make it back to the pits within the time limit for his maiden podium in series, as final results were based on the previous lap.
Lowes, Sofuoglu and Iddon put up an incredible show for the win, while Fabien Foret (Mahi Racing Team India Kawasaki) took the most out a 5-way fight for fought that also involved Sheridan Morais (Team Go Eleven Kawasaki), Pata Honda riders Michael van der Mark and Lorenzo Zanetti, and Roberto Tamburini (Team Honda Lorini). Zanetti, along with other two riders - Matthieu Lagrive (Intermoto Ponyexpres Kawasaki) and Lee Johnston (PTR Honda) - had a crash on the final lap, but he was only one of the three who successfully rode back, to claim seventh.
Sam Lowes - "I'm very happy and want to say a massive thank you to Yamaha and to everybody involved in getting me here. From when I first rode the R6 in Jerez and joined the team I felt a great feeling and I knew we could fight for the championship. To feel it and do it are two different things so I'm very happy to be world champion. Today's race was great fun, sometimes its nice to be in a battle and take your mind off the bigger picture. I enjoyed that race a lot. I'd like to say a massive thank you to Kenan; he's a great rider, I classify him as a friend and I respect him a lot for this season. Thank you for the fight! I also want to thank everyone who has got me into the position I am in today."
Supersport 600cc Results: 1. Sofuoglu (Kawasaki) 20 Laps/88.220 km in 34'07.601 average 155.104 kph; 2. Lowes (Yamaha) 0.299; 3. Iddon (MV Agusta) 0.622; 4. Foret (Kawasaki) 13.168; 5. Morais (Kawasaki) 13.483; 6. Vd Mark (Honda) 13.900; 7. Zanetti (Honda) 14.363; 8. Tamburini (Honda) 14.748; 9. Leonov (Yamaha) 24.989; 10. Baldolini (Suzuki) 27.754; 11. Kennedy (Honda) 32.396; 12. De Rosa (Honda) 32.977; 13. Roccoli (Yamaha) 37.785; 14. Coghlan (Kawasaki) 38.295; 15. Scassa (Kawasaki) 39.159; etc.
Supersport 600cc Standings (Round 12 of 13): 1. Lowes 225; 2. Sofuoglu 181; 3. Foret 134; 4. Vd Mark 117; 5. Zanetti 108; 6. Kennedy 76; 7. Scassa 75; 8. Coghlan 62; 9. Rolfo 62; 10. Leonov 56; 11. Antonelli 55; 12. Marino 53; 13. Morais 47; 14. Iddon 45; 15. Russo 38; etc. Manufacturers: 1. Kawasaki 250; 2. Yamaha 233; 3. Honda 152; 4. MV Agusta 88; 5. Suzuki 36; 6. Triumph 6.
---
FIM Superbike & Supersport World Championship and FIM Superstock 1000cc Cup
Changes to the Regulations

FIM Confirms World Superbike to move fully to new 2014 EVO Reguations Starting 2015
Federation International de Motorcycles , Oct 10th, 2013 - The Superbike Commission, composed of Messrs Javier Alonso (WSBK Managing Director), Ignacio Verneda (FIM Executive Director, Sport) and Takanao Tsubouchi (MSMA Representative), met at the Dorna Headquarters on 1 October in the presence of Messrs Daniel Carrera and Gregorio Lavilla (Dorna WSBK Organisation). A unanimous decision was taken to introduce the following main modifications to the Regulations of the FIM Road Racing Superbike & Supersport World Championship and FIM Superstock 1000cc Cup:
FIM Sporting Regulations Application for 2014
Superbike & Supersport
Practice restrictions:
- Winter test ban starts on 1 December each year and finishes on 15 January as per current rules.
- Overseas testing is forbidden for contracted teams and riders. Dorna will organise Official Tests in Phillip Island before the race. Dates will be communicated as soon as confirmed.
- No testing will be allowed from the first race of the calendar until the last race of the calendar for contracted teams and riders.

Dorna will organise three Official Tests on the Mondays following three races, for the World Superbike class only. Dates will be communicated as soon as confirmed.
- No testing will be allowed for Supersport after the first race until the last race of the season.

Supersport
- 6 engines per season only;
- 1 gearbox option only.

Application for 2015
Superbike
- All Superbikes will have to comply with the EVO technical regulations, in order to maintain the ongoing cost reduction process. The Superbike Commission is studying some modifications to those technical rules that will be announced by the end of 2013.
- The new changes should allow all Manufacturers entering the Championship to be competitive, as well as providing an easier route into the World Championship for
Editor's Note: As we published last month, an EVO Regulation Class will be optional in the World Superbike Class beginning in 2014 to help fill the starting grid with more affordable bikes for more potential teams. The FIM has now confirmed that ALL bikes in the Superbike Class will confirm to the new EVO class rules beginning in 2015.

EVO rules essentially require the use of Stock Engines and Chassis and Brakes, closer to stock Electronics. Suspension Components (Fork and Shocks) can be changed to other readily available aftermarket suspension components, and there will be a price cap on the cost of these components, so no exotic works prototype suspensions can be used. Essentially World Superbikes will become 1000cc Superstock class bikes with upgraded suspensions and a few other bolt-on goodies.
This is essentially a good move to help World Superbike survive with lower bike costs and to help full the starting grids with more privateer teams. But with Dorna having taken control of WSBK this past year, it now allows Dorna the opportunity to keep a larger performance and technical gap between World Superbikes and Dorna's bread and butter MotoGP show. The last few years have seen the factory World Superbikes getting within 1 second of the lap times of factory MotoGP bikes on the same tracks, and actually being faster than the prototype chassis EVO class MotoGP bikes.
---
Engineer Luigi Dall'Igna to become new Ducati Corse General Manager
 • Bernhard Gobmeier to assume a new important role within Volkswagen Group Motorsport
• Luigi Dall'Igna to be appointed Ducati Corse General Manager
• The new positions will become effective from 11 November, 2013

Borgo Panigale,Bologna, Italy, 10 October, 2013 – Ducati announces the appointment of Mr. Luigi Dall'Igna as the new General Manager of Ducati Corse. Having played key roles for many years in both MotoGP and World Superbike championships, 47-year-old Mr. Dall'Igna has acquired significant experience in the world of motor sport. His expertise will enable the Bologna-based manufacturer to increase its focus on the technical aspects of its racing activity, continuing to lay the foundations for a new phase of development and improving its competitive results. Mr. Dall'Igna will report directly to Ducati Motor Holding CEO, Claudio Domenicali.
 
Bernhard Gobmeier, who has been the General Manager of Ducati Corse for the past ten months, will return to Germany to pursue the opportunity of a prestigious and strategic position within the Motorsport organisation of the Volkswagen Group. In his new position, the 54-year-old Engineer from Bavaria will continue his upward professional curve within the VW Group.
 
Paolo Ciabatti, who has been the MotoGP Project Manager since January, is confirmed in his role and will report directly to the new Ducati Corse General Manager, as will 39-year-old Engineer Ernesto Marinelli, Ducati Superbike Project Manager for the past two seasons. The new appointments become effective from 11 November, 2013, immediately after the end of the 2013 racing season.
 
Ducati Motor Holding CEO, Claudio Domenicali commented: "Thanks to this appointment, we can look forward to the next racing season with renewed motivation. We are confident that the new Ducati Corse organisation, and a strategy even more focussed on technical development, will help us achieve our targets, ensuring that Ducati once again becomes a key player both in MotoGP and Superbike. I would like to personally thank Bernhard for his work during these past ten months, and wish Gigi a warm welcome. I am certain that his solid experience combined with our technology and R&D and the technical support supplied by the Audi/VW Group, will help us restore Ducati to the level of racing excellence it had in the very recent past." 
Editor's Note: With Ducati Corse's utter failure to return to competitiveness in both MotoGP and World Superbike this season, it was obvious that previously appointed Corse General Manager Bernard Gobmeir, who had come over last year's BMW World Superbike team, just wasn't turning things around at Ducati Corse in Bologna. Team members were saying Gobmeir was not attending many races during the 2013 season, and not much was getting done in the way of bike development and new parts. The Alstare Ducati Superbike team had not received any new parts to upgrade the 1199RS bikes all year, despite the SBK organizers having given them free reign to do whatever was needed technically, to make the Panigale competitive. This announcement from Ducati's Domenicali that Gobmeir is being moved back to VW/Audi is happy new for the Corse Race Department.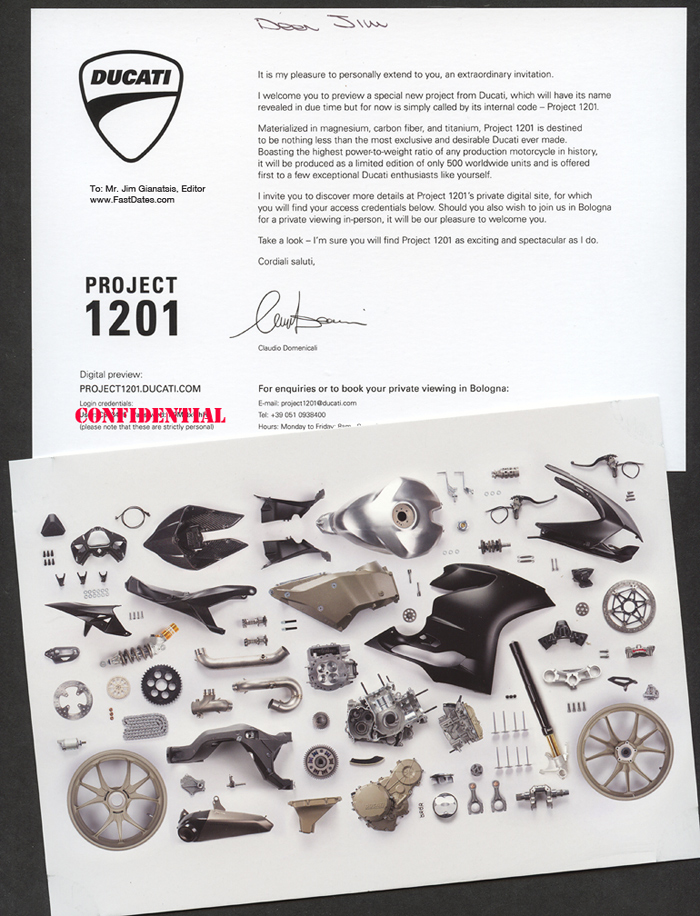 Superleggera - Ducati's Limited Edition New Project 1201 Production Superbike
October 9th, 2013 - As a hard -core Ducati owner enthusiast, I just received this special invitation via DHL Express from Claudio, Domenicali, CEO, Ducati S.p.A , Bologna Italy...

If the Ducati 1199 Panigale R with its Titanium connecting rods wasn't enough, the Bologna firm will introduce a 'Superleggera' version under the code name "Project 1201" before the end of 2013.The Superleggera (meaning superlight in Italian), is an invite-only lightweight version of the already extreme Panigale R. However the Superleggera will come with a £60,000 price-tag, making the £26,550 Panigale R look like a budget option.
The high-end Panigale Superbike will be limited to 500 units in total and features the state-of-the-art electronics package derived from the Ducati Corse WSBK setup. Rumors have been suggesting the Superleggera has been developed with the new WSB EVO and Superstock 1000 racing category in mind, but we now believe this to be more of a gold Rolex for posers than a homologation street Superbike. BMW's HP4 is another example of a heavily-tweaked standard model, produced in limited numbers to give an advantage in 'stock' racing.
The Superleggera shares very little with the £80,000 Panigale RS race bike -the bike only available to top racing teams, with the 1201 featuring an all-carbon-fibre fairing and the monocoque frame is made from ultra-expensive, lightweight magnesium. The Superleggera is thought to produce 200bhp ( actually the same power as a standard 1199 model with the optional Termignoni full race exhaust system) at the crank and weigh 15kg less than the R which the scales at 180kg / 196 lbs wet. Our own 1199S streetbike already tips the scales at 388 lbs wet, less gas.
Our Fast Dates 1199S Panigale Project Bike probably equals the new 1199 Superleggera for half the cost?
What the Superleggera really seems to be is an 1199S model with the full 2014 Ducati Performance Accessory Catalog thrown at it, making it by far the most expensive Ducati road bike since the Desmosedici RR. In studying the attached exposed parts picture of the bike, this looks to be essentially the 1199 S/R production bike with most of the plastic body parts replaced by carbon fibre, and some Aluminum chassis replaced by Magnesium, Titanium Exhaust Header Pipes, together with high-end Hand and Foot Lever Controls. Honestly, a lot of these lighter bolt-on Magnesium and Carbon Fibre Body Parts should have come standard on the 2013 year 1199R model which is $7,000 more expensive than an 1199S, but they didn't.
Other Superleggera components like the suspension remain the stock 1199S Ohlins units, and not the higher spec Ohlins racing shock and forks as found on the 1199 RS race bikes. The claim that this new street bike with full street gear/lights is 15kg / 33 lbs lighter than the R model might be stretching the truth a little, but DP replacement components like the Titanium Header pipes (which should have come with the Termignoni Full Race Exhaust System for $3,600 - but didn't) and the the Magnesium Marzocchi wheels will help shed a few more pounds. But bare in mind the Mag wheels are not FIM legal for racing, and you will have to change a lot of the carbon fibre bits like the headlight functional upper front fearing for non-headlight fairing if you do want to go racing.
And with our own Fast Dates Panaigale 1199S Project Bike being a pretty incredible bike, it will be hard to justify spending twice as much and more for a slightly lighter version. If you already own or buy a used 1199S, just simple, easy changes to a lighter 520 Chain/Sprocket Kit, a Shorai Lithium Battery and a few other goodies for under $2,000 will accomplish almost as much weight savings as buying the new $60,000 Superleggera, and leave you with enough money left over to by a new $51,000 Corvette C7. We'll let you know more details when the 1201 is fully revealed on Ducati's Project 1201 website tomorrow, October 10th.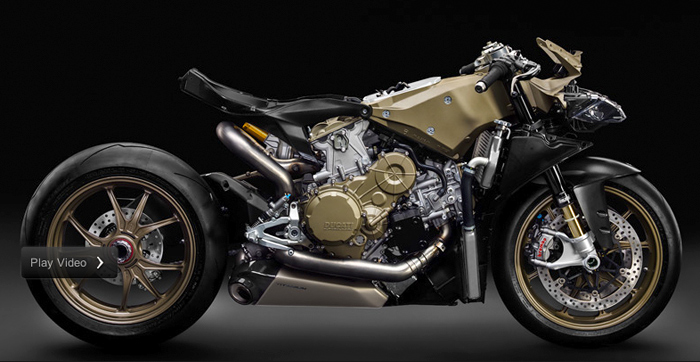 October 14th, 2013 - The Ducati Project 1201 got its naked reveal today with this comple but nude assembled picture sans bodywork. It's an exotic production street superbike, not a race bike. Note how its cast Magnesium wheels require larger, more substantial spokes compared to the forged Aluminum wheels on our 1199S above. Titanium Exhaust System is steet legal, not a full race exhaust. The bike can be club raced like any other production street bike, but is not compliant for FIM Superstock / Superbike racing.

And this picture below surfaced on the internet today of the complete bike, taken at the Ducati USA Dealer Show. Note the 1-pound heavy handlebar ends on this expensive lightweigh, and the stock foot control assembly for $65,000- rather than the DP Adjustable Corse Raceing Foot Controls!!!




Partial Reveal: The Technology
October 10th 2013: Today the Ducati 1201 Project Website revealed the Parts "Technology" in the Superleggera as an opening tease, with 2 more introductions planned in the next week: Mechanics on Oct 14th, and the complete bike Revealing on Oct 18th.
Here's what we can show you so far:
CRANKSHAFT
Crankshaft At Project 1201's very heart spins a forged steel crankshaft of exceeding strength, precision balanced with tungsten inserts and lightened to an incredible degree (-396g / 14 ounces vs. 1199 Panigale R), beyond in fact what was previously achieved for the Superbike 1199RS. An engineering statement of ultimate performance, this super-crankshaft gives Project 1201 a free-revving character unmatched outside of a premier-class professional race bike.
PISTONS
To absolutely maximize its engine output, Project 1201 uses pistons normally found in World Superbikes. Made of an incredibly light aluminium alloy (-97g / 3 ounces each vs. 1199 Panigale R), with a short skirt and two-ring design for minimal friction, these Superbike pistons harness the furious energy of combustion and translate it into tyre-smoking power.
Bare in mind these Project 1201's lightened engine parts, which will also include the R model's Titanium Connecting Rods, will increase the engine's ability to rev quicker and to higher RPMs- particularly on a future homologated race bike, but it also reduces the tractability / rideability of the Superquadro powered 1199 Superbike which Ducati riders have bee bemoaning both on and off the race track with the change from the much loved previous generation long-stroke Testastretta motor.
FRAME
The Monoscocca frame, already enormously innovative in its multifunctional minimalism, is transformed into a jewel by being sand-cast in magnesium alloy. Compact and rigid with excellent vibration absorption, the frame forms the ultimate lightweight backbone (-1.1Kg / 2.4 lbs vs. 1199 Panigale R) to support Project 1201's incredible performance.
SUBFRAME
Structural piece, or modern art? A complex subframe artisanally crafted in aerospace-quality carbon fibre is phenomenally light – less than a kilo (-1.2Kg vs. 1199 Panigale R) – and holds electronics as well as Project 1201's tail. Laterally and torsionally stiff, the subframe also supports the seat, providing an optimal foundation for the rider to assert full control.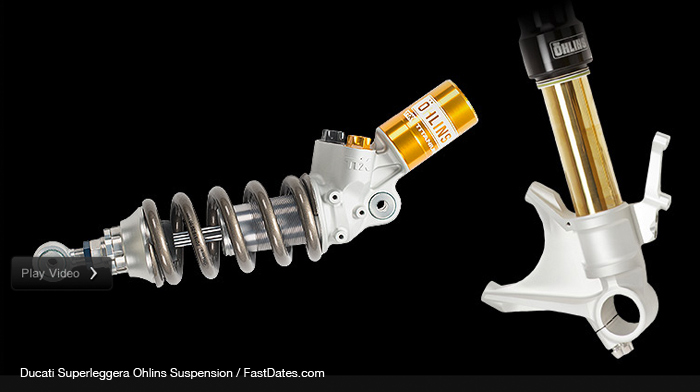 SUSPENSION
To keep it always in perfect dynamic control on any surface and at any speed, Project 1201 features customized lightweight (-1.4Kg vs. 1199 Panigale R) suspension from the world-class Swedish suppliers Öhlins, including a titanium-spring TTX36 shock and Superbike-level FL916 lightened front fork with stress-optimized outer tubes and fully machined bottoms.
WHEELS
Computer designed and optimized, expertly forged from magnesium, and machined to balanced perfection, Project 1201's wheels are an essential component of its breathtaking performance. An astonishing 1kg / 2.2 lbs lighter than the already-featherweight wheels of the 1199 Panigale S/R, their reduction in unsprung rotating mass hugely benefits Project 1201's acceleration, braking, and handling.
---
Alex Lowes is trying to reel in on Shayne Byrne for the 2013 British Superbike Championship.
MCE Insurance British Superbike Championship, Silverstone, Round 11
Lowes and Byrne Trade Wins at Silverstone to maintain British Superbike Title Bout
Silverstone, GB, October 5-6th, 2013 - - Alex Lowes goes into the final triple race round of the MCE Insurance British Superbike Championship trailing the defending title holder Shane Byrne by a single point after an epic penultimate round at Silverstone. Riding the Samsung Honda, Lowes had scorched to his seventh pole position of the season at record pace but Kawasaki rider Byrne, despite intense pain from an injury to his right hip sustained in a heavy tumble during free practice, was full of fight to start alongside him at the front of the grid.
Lowes had the edge in the opening race, but Byrne was never more than a third of a second down and a couple of times briefly nosed in front but each time the Honda rider snapped back and with Byrne again threatening in the last corner won the dash to the line by 0.094secs and that gave him a four points advantage in the title stakes.
Pete Hickman ran seventh aboard the Lloyds British GBmoto Honda, with French rider Freddy Foret settling into the challenges of the series as he deputised for the injured Ryuichi Kiyonari with a solid ride into eleventh place aboard the second Samsun Honda. Jakub Smrz completed the points scoring riders aboard the Padgetts Honda, running just ahead of the Bathams Honda duo of Michael Rutter and Danny de Boer.
The second race brought more of the same at the sharp-end of the pack. Lowes made the break but Byrne took him to lead for four laps before the Honda rider was back in front in a gripping battle for supremacy but there was only a split second between them as they battled relentlessly at a furious pace that again left the rest trailing.
Byrne was full of fight again grabbing the initiative, but again his move was countered by Lowes who had the advantage, just, going into Woodcote for the final time but this time Byrne had the line and the drive to take the verdict in a photo-finish  crossing the line 0.012secs ahead of Lowes.
Smrz took tenth, three places up on Dan Linfoot who had crashed his Lloyds British GBmoto Honda out of the opener on the first lap. Foret took fifteenth with Rutter a further three places back.
Lowes now heads for Brands Hatch and three races on the full Grand Prix circuit over the weekend of 19-20 October in the final Showdown for the crown intent on overturning Byrne's single point advantage and give Honda their first British title since Kiyonari' success in 2010.
Alex Lowes (Samsung Honda): "They were epic battles – the races have been incredible and I have really enjoyed them but, had Shane been fit they might have been more difficult but it just shows why he is the champion. My bike was good, I was riding well and I really enjoyed them. I kept thinking that I could get rid of Shane but he just stayed there. You don't race to come second but you have to take your hat off to him in the second race but races like that are what you live for and you can still have a smile on your race when you finish second in that sort of race.  Now we go to Brands Hatch with just a point between us and I think the pressure is on him – it is his home circuit and everyone expect him to go well there, but I am really looking forward to the races and will be giving everything to take the championship for the team and Honda."
RESULTS BRITISH SUPERBIKE RACE 1:
POS / RIDER / NAT / MOTORCYCLE / TIME / GAP
1 / Alex LOWES / Honda - Samsung Honda / 29:43.638 /
2 / Shane BYRNE / Kawasaki - Rapid Solicitors Kawasaki / 29:43.732 / 0.094
3 / Tommy BRIDEWELL / Yamaha - Milwaukee Yamaha / 29:52.010 / 8.372
4 / PJ JACOBSEN / Suzuki - Tyco Suzuki / 29:52.243 / 8.605
5 / James ELLISON / Yamaha - Milwaukee Yamaha / 29:58.045 / 14.407
6 / Jon KIRKHAM / BMW - Buildbase BMW Motorrad / 29:59.206 / 15.568
7 / Peter HICKMAN / Honda - Lloyds British GBmoto Racing Honda / 30:03.930 / 20.292
8 / James WESTMORELAND / BMW - Buildbase BMW Motorrad / 30:05.257 / 21.619
9 / Matteo BAIOCCO / Ducati - Rapido Sport Racing / 30:07.556 / 23.918
10 / Barry BURRELL / Kawasaki - Quattro Plant Kawasaki / 30:13.945 / 30.307
11 / Freddy FORAY / Honda - Samsung Honda / 30:15.217 / 31.579
12 / Josh WATERS / Kawasaki - Halsall Racing Kawasaki / 30:15.620 / 31.982
13 / Chris WALKER / Kawasaki - Quattro Plant Kawasaki / 30:17.020 / 33.382
14 / Lee COSTELLO / Kawasaki - Halsall Racing Kawasaki / 30:17.047 / 33.409
15 / Jakub SMRZ / Honda - Padgetts Honda / 30:17.096 / 33.458
Fastest lap: Shane BYRNE Kawasaki - Rapid Solicitors Kawasaki Lap 7 2:06.748 167.63 Km/h
RESULTS BRITISH SUPERBIKE RACE 2:
POS / RIDER / NAT / MOTORCYCLE / TIME / GAP
1 / Shane BYRNE / Kawasaki - Rapid Solicitors Kawasaki / 29:40.169 /
2 / Alex LOWES / Honda - Samsung Honda / 29:40.181 / 0.012
3 / Tommy BRIDEWELL / Yamaha - Milwaukee Yamaha / 29:43.855 / 3.686
4 / James ELLISON / Yamaha - Milwaukee Yamaha / 29:47.085 / 6.916
5 / Josh BROOKES / Suzuki - Tyco Suzuki / 29:47.676 / 7.507
6 / PJ JACOBSEN / Suzuki - Tyco Suzuki / 29:47.766 / 7.597
7 / Jon KIRKHAM / BMW - Buildbase BMW Motorrad / 29:54.229 / 14.060
8 / Matteo BAIOCCO / Ducati - Rapido Sport Racing / 30:02.588 / 22.419
9 / James WESTMORELAND / BMW - Buildbase BMW Motorrad / 30:03.778 / 23.609
10 / Jakub SMRZ / Honda - Padgetts Honda / 30:06.287 / 26.118
11 / Chris WALKER / Kawasaki - Quattro Plant Kawasaki / 30:06.369 / 26.200
12 / Josh WATERS / Kawasaki - Halsall Racing Kawasaki / 30:07.008 / 26.839
13 / Dan LINFOOT / Honda - Lloyds British GBmoto Racing Honda / 30:09.623 / 29.454
14 / Noriyuki HAGA / Kawasaki - Rapid Solicitors Kawasaki / 30:14.648 / 34.479
15 / Freddy FORAY / Honda - Samsung Honda / 30:14.717 / 34.548
Fastest lap: Shane BYRNE Kawasaki - Rapid Solicitors Kawasaki Lap 2 2:06.526 167.92 Km/h

CHAMPIONSHIP POSITIONS TILL DATE:
1 BYRNE 604, 2 LOWES 603, 3 ELLISON 562, 4 BROOKES 546, 5 WESTMORELAND 534,
6 KIYONARI 522, 7 KIRKHAM 193, 8 BRIDEWELL 174, 9 JACOBSEN 167, 10 WALKER 141,
11 HICKMAN 108, 12 FARMER 93, 13 LINFOOT 83, 14 WATERS 75, 15 SMRZ 70.
---
2013 World Superbike Championship title contendors and race winners Tom Sykes (66) and Eugene Laverty (58) came out on top amid heated 6 rider battles for the race wins both days as World Superbike returned to Laguna Seca Raceway.
SBK Eni World Superbike Championship, Laguna Seca USA, Round of 12 of 14
Tom Sykes / Team Kawasaki Leaves America With An Extended Points Lead
Laguna Seca, USA, September 30th, 2013 -Tom Sykes added a fourth place in Race Two on Sunday today, together with his Race One victory yesterday, Saturday to take a 23-point advantage away from the 12th round of the series, as David Salom scored a strong ninth place.
Sykes was leader of the second race at Laguna for 21 of 26 laps but in the final two circuits he got passed by three riders and had to settle for fourth place. He had been fighting unexpected traction issues exiting corners for most of the race and rode well to stay in the lead for so long, but he was unable to make the most of his machine's performance as he could not get the power to the ground as he wanted.
His first race win on Saturday added to his 13 points for fourth today take Tom to a leading total of 361 points, with two rounds and four races remaining – the first next weekend in France at Magny-Cours.
The overall team performance at Laguna was strong as it was a new track for Tom and his team to face, while most of his top rivals had been here many times before. With regular team rider Loris Baz missing through injury David Salom's ninth place in race two today was a good result for a rider more used to racing in the Supersport World Championship. He improved all weekend and rewarded his opportunity to race in SBK with good points scores.
Sykes and new second place rider in the championship Eugene Laverty are now tied on seven race wins apiece, as Tom looks to Magny-Cours next Sunday to repeat the race victory he took there last season on the Ninja ZX-10R.
Tom Sykes: "It was great to win yesterday and I led for a long time today but that was the first time we have struggled with grip all weekend. We were six or seven tenths off our best times in the same track conditions and we have to think about why that was. We know what our potential was here again today. Overall, we have extended our championship lead but it would have been nice to taken that second podium! We can keep improving and we have a couple of good circuits coming up so we will move on with confidence. In less than a week's time we will be in France and doing it all over again. We have worked hard and well all race weekend and took a win on Saturday."    
 COMPLETE LAGUNA SECA RACE COVERAGE HERE
Hannah Flattery and Jessica Harbour rock the Laguna Seca starting line on Race Day Sunday morning before the weekend's Race Two with World Championship points leader Tom Sykes' Kawasaki ZX10R which won Saturday's Race One.
Five beautiful FastDates.com Calendar Kittens headlined the
2013 SBK World Superbike Laguna Seca USA Starting Grid on Sept 27-29th
Los Angeles, CA, September 29th, 2013 - The FastDates.com Calendars & Website, in association with Umbrella Girls USA, was excited to have SBK World Superbike and reigning SBK World Champions Team Aprilia has selected three beautiful Fast Dates Calendar Kittens to grace the front of the starting grid when the World Superbike Championship returned to the Monterey Peninsula at Mazda Laguna Seca Raceway the weekend of September 27-29th 2013 after an 8 year absence. The Kittens included Torunn Sivesind and Rebekah Davis serving as the official SBK Pirelli Girls, with Halle Arbaugh and Jessica Harbour as the official SBK podium models, and transplanted Irish super model Hannah Flattery who served as the official Team Aprilia Umbrella Girl for rider Sylvain Guintoli.
The offical SBK World Supebike Umbrella Girls at Laguna Seca 2013 included (center left to right) FastDates.com Calendar Kittens Jessica Harbour and Halle Arbough as the SBK Podium Girls, Rebekah Davis and Torunn Sivesind as the Pirelli Girls.
The American round of World Superbike make its return to Laguna Seca this September after an 8 year hiatus from the west coast's most popular road race facility. Together with the premier SBK World Superbike Class, the AMA Pro Roadracing Championship will also be joining the 3-day race weekend with its top classes including Pro Superbike. The first World Superbike Championship race in America took place at Laguna Seca Raceway back in 1995 with four FastDates.com Calendar models serving as the official SBK World Superbike grid and podium girls on race day that year, and in many subsequent years since.
FastDates.com Calendar publisher and photographer Jim Gianatsis, as he does every year at one of the SBK World Superbike rounds, used the 2013 SBK Laguna Seca September 27-29th race weekend to shoot all the top factory Superbikes on Pit Lane with the Calendar Kittens for the next edition of the Fast Dates World Superbike Calendar. And on race day both Halle and Jessica served as official SBK podium girls, with Hanna serving as the grid girl for reigning World Superbike Championship Aprilia Team and rider Sylvan Guintoil who, with team mate Eugene Laverty, was engaged in a heated fight for the 2013 Superbike world title with Kawasaki's Tom Sykes.
Jessica makes Niccolò Canepa's factory Ducati look even better as Jim pops the shutter on pit lane.

"This year's Calendar shoot will be for the 25th Anniversary of the Fast Dates Calendar, the first edition of which featured Pamela Anderson on the cover with Miguel Duhamel's "Big Papa" Yoshimura Suzuki Superbike," explains Jim. "Every year I've been privileged to have exclusive track access to photograph the Calendar with all the top factory race teams in AMA and World Superbike, MotoGP, together with many of the world's most beautiful models and celebrities."
"This year's race will be no exception with the addition of beautiful models Halle, Jessica and Hannah. I've been shooting with both of them for the Calendars over the past year and don't take a bad shot, plus they are fun and easy to work. It was so much fun to travel with the girls up the beautiful Pacific Coast on Highway 1 from Los Angeles to Monterey for the return of World Superbike at Laguna Seca, and show them the fan party atmosphere on Monterey's Cannery Row on Saturday night. It was an incredible race weekend experience in one of the most beautiful locations on earth that no motorcycle racing fan should miss!"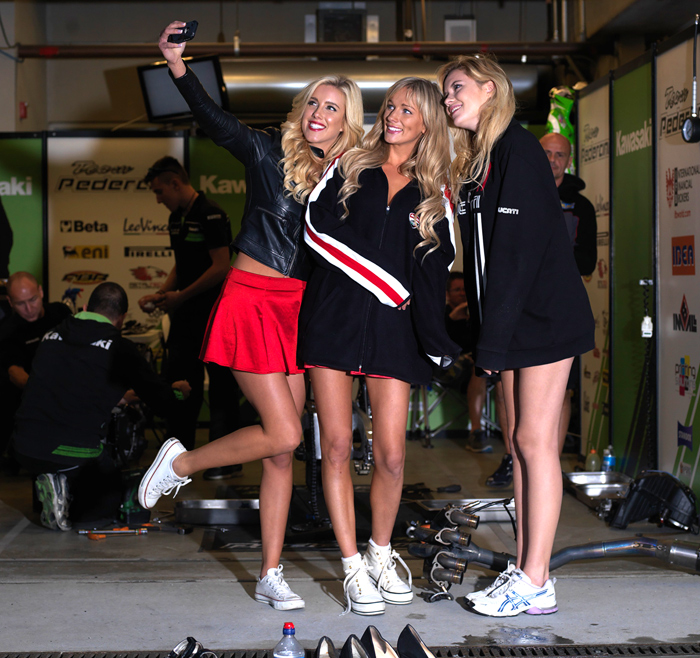 It's a wrap! Jessica, Hannah and Halle mug for a group Twitter picture in the Pedercini Kawasaki garage after a shoot.
To find our more about the FastDates.com Calendars and Calendar Kittens, and to order Calendars and Books go to FastDates.com. Gianatsis Design Associates produces FastDates.com specializes in adverting and marketing for the motorsports and sports fashion markets and can be found at FastDates.com/JGDESIGN.HTM. UmbrellaGirlsUSA.com specializes in providing beautiful and skilled spokesmodels for motorsports events and trade shows.
New Fast Dates.com Calendar Shoot!
Go behind the scenes at the glamorous Gianatsis Design Studios with beautiful new Calendar Kittens Jessica and Kelsey as they shoot for the FastDates.com Motorcycle PinUp Calendars with photographer Jim Gianatsis. And look for the new 2014 Calendars available right here on July 1st. Order the Calendars!
Videographer: Eric Lundmark; Video Editing and Still photography: Jim Gianatsis; Models: Jessica Harbour, Kelsey Silwinski; Make Up: Victoria Rubell, Music: Special thanks to Neil Sedaka for our theme song Calendar Girl; Modeling Agent: Umbrella Girls USA.
---
Josh Herrin celebates his 1st AMA Superbike Championship as 3-time winner and team mate Josh Hayes did thr best he could with the race win at Laguna as 2 DNF's earlier the season prevented him from repeating his title.
2013 AMA Pro National Guard Superbike Championship, Laguna Seca Round 9 0f 9
Josh Hayes Dominates at Lagunga Seca,
as the other Josh Takes the Superbike Title for Yamaha
MONTEREY, Calif. Sept 29th 2013 - Sunday's AMA Pro National Guard SuperBike season finale at Mazda Raceway Laguna Seca was the 2013 campaign summed up into a single race. Three-time series champion Josh Hayes demonstrated his superiority in terms of outright pace en route to scoring his eighth victory of the season in a blowout, but it still wasn't enough to overcome the consistent excellence of his 23-year-old Monster Energy Graves Yamaha teammate Josh Herrin.
 
Just as he has all year long, Herrin maximized the opportunities he was given and did exactly what he had to in order to secure his first-career GEICO Motorcycle AMA Pro Road Racing title. While the outgoing champ raced off into the sunset and took the checkered flag by a margin of 13.434 seconds, second-year National Guard SuperBike ace Herrin registered a calculated ride to a clear runner-up result, clinching the '13 premier-class crown in the process.
 
Herrin took the title with a final tally of 345 points to Hayes' 330.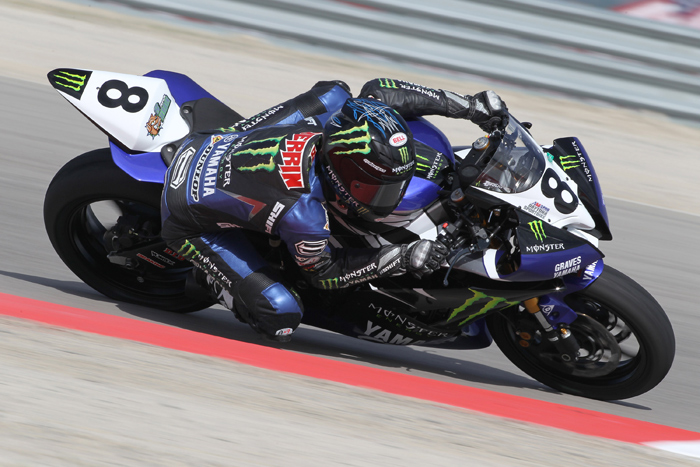 New 2013 AMA Superbike Champion Josh Herrin in action.
---
Zen Motorcycles "Tribite to Hagakure" by Laurent Dutriel
One of the most beautiful custom bikes we've ever seen is this very simple, hand crafted Land Speed Record stle bike by French artist Laurent Dutriel. It is bare bones basic with no starter, no transmission gears, no lights, and is started by attaching a rope pull cord to the clutch to spin -over the engine. It is the pure essence of motorcycling - fast, loud, thrilling and beautiful.
"This bike is a tribute to old racers at the beginning of the twentieth century, and also of a Japanese bike made in 1995. I made this bike to challenge in the Land Speed race in Bonneville August 2001, to prove to myself, I could run more than 200 km/h, without any suspension and no gearbox."   Visit the Calendar Bike Garage
NEW! FAST 2014 Digital Calendar Magazine Yearbook
The Bikes, the Builders, the Riders, the Kittens,the Calendar Bike Show, the World Superbike races all the 2014 Calendar Pictures, and Special Features... For the first time every we take you around the world in 120 exclusive pages for the making of the 2014 FastDates.com Calendars! Now in Members Corner
---
There's more! Go to Pit Lane News Previous Week

Also Visit: Fast Dates Calendar News • Iron & Lace Calendar News
Calendar Girl News • Meet the Models • Paddock Garage
Get FastDates.com T-Shirts, Mugs & Photographs from Our Store

MEMBERS CORNER! Calendar Kittens, Paddock Garage, Iron & Lace Garage


Amazon.com Motorcycle Products & Apparel Store



MotorcycleSuperstore.com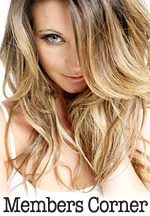 Hot Bikes, Sexy Kittens
Your Exclusive Grid Pass
also includes....
---
Order the New
2013 / 2014 Calendars!
with the FastDates.com Calendar Kittens - the official SBK Umbrella Girls!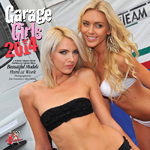 Click for even more
2014 Calendars!
---
Team SBK Ducati Alstare prepares for final Jerez Superbike round with Badovini and Forés
 Bologna (Italy), Friday 11 October 2013: Team SBK Ducati Alstare and rider Ayrton Badovini will be joined by substitute rider Javier 'Xavi' Forés for the fourteenth and final round of the 2013 World Superbike championship, taking place at the Jerez circuit in Spain on the weekend of 20 October.
 
At the penultimate Magny-Cours round, which took place one week ago, Badovini and substitute rider Michele Pirro took mixed results, with Ayrton finishing the event's two races in ninth and tenth position and Michele scoring a sixth place finish in race one before unfortunately suffering a crash in the second of the day's races.
 
Javier Forés, 28 years old and from Valencia, Spain, will not step up to substitute for Checa in the season's closing round. Forés is competing this year in the Stock Extreme category in the Spanish CEV championship. He is currently lying at the top of the general classification, leading the way for Ducati on board his 1199 Panigale, having won five of six races thus far and with two events still left to run. Javier knows the Jerez circuit well, having raced there while competing in various national and international series. The last time he participated in the World Superbike championship was in 2011, when he took part in the final rounds with BMW. He has not yet ridden the Panigale in its Superbike configuration, but will do so next Tuesday and Wednesday during development tests taking place at Misano. This will give Javier, who is extremely enthusiastic about this new challenge, the chance to gain confidence with the bike ahead of the race weekend.
 
Ayrton Badovini:
"We're already at the final event of the year, unbelievable! It hasn't been an easy season for us but I would like to bring it to an end in the best possible way, by taking good results at Jerez. I tested there earlier this year of course and I like the track, but it's many years since Superbikes went there though, so we'll not have that benefit of race experience. I hope we can work hard and adapt the bike to the track and complete two good races to finish the season on a positive note."
 
Javier Forés:
"Jerez is a track I really like, I race there every year in the Spanish championship and so know it very well. I think it suits the Ducati, seeing as there are no long straights to contend with. This year is going very well for me in the Spanish championship. In my Stock category I'm getting on well with the Panigale and have won five of the six races run so far. I haven't yet had chance to ride it in its Superbike configuration and so can't wait to get on track and work to adapt the bike to the track. It will be a really interesting weekend and I thank Ducati and team Ducati Alstare for giving me this important opportunity."
Thank you Mazda Raceway Laguna Seca for bringing World Superbike back to its American home!!!
We hope all American roadracing fans will realize how much better the show and access to the teams and the racing is at World Superbike and they will increase ten fold in attendance at Laguna Seca WSBK in the coming years. It was great to return to Laguna WSBK this past weekend to shoot the next Fast Dates World Superbike Calendar
Cycle News published "official" spectator attendance figures at the Laguna Seca SBK World Superbike / AMA races at 41,000. As an event promoter ourselves, we estimated a crowd of maybe 4,000 on Saturday / 5,000 on Sunday (which included the 4,000 with Weekend Tickets returning from Saturday).
If the race tracks didn't have title sponsors like Yamaha, Red Bull, etc, to help with costs, and MotoGP and SBK weren't discounting the race sanction fees heavily to keep them in the American market, we certainly would not have any World Championship motorcycle roadracing in America. Spectator attendance at Amerian races the last 10 years just has not justified it.
Ducati World Superbike
Technical Updates and Riders for 2014
Ben Spies is contracted to Ducati of Italy, and not the Parmac MotoGP team which runs Ducati GP bikes. His contract requires him to race MotoGP or WSBK at Ducati's pleasure. He is under consideration for being on the factory Alstare Ducati World Superbike team for 2014, but his current injuries are preventing Ducati from selecting him at this date. Ducati hopes to have their 2014 WSBK team riders selected by the final race at Magney Cours in a few weeks.
Nicky Hayden also has an offer to race on the Ducati Superbike team next year, but he tested the bike last month and found it to be so underpowered, he'd rather try to stay in MotoGP with a Satelite team.
In an effort to make the new 1199 Ducati Paniagle competitive in World Superbike this year against the other makes, FIM/SBK sanctioning officials have "hinted" to the team since June that they can make any (illegal) modifications to the 1199RS they want to improve power and handling. But unfortunatley, the Corse Race Department does not have the desire, budget, needed staff or ability to make the all the needed changes this season. This past weekend at Laguna they ran modified fuel tanks which extended under the rider's seat to help move weight down and rearward, to help unload the front end which has been washing out, and improve rear wheel traction. The riders said it worked and was proven by Nicholas Canepa qualifying 4th in Superpole.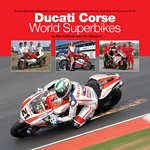 Retail $49.95 ea.
Click to Order from Amazon.com

Ducati Corse
World Superbikes
by Alan Cathcart
& Jim Gianatsis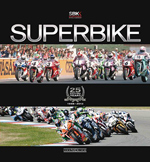 The Official SBK
World Superbikes
1987-2012
25 Year History Book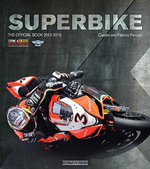 The Official SBK
2012-2013 Yearbook
These SBK Yearbooks are the Best Books Ever about World Superbike. They feature awesome color photography of the riders, bike and racing action. The feature a detailed revue of the past season in pictures and statistics, with a detailed look at the bikes and riders.

Plus a technical look data all the bikes, a preview of the upcoming season's Championship!
We buy this every year ourselves and highly recommend it!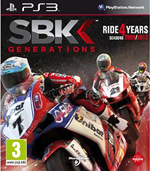 SBK World Superbike Video Game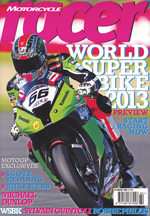 Official Print Media Partner
---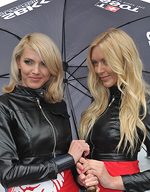 Meet 2013 Calendar Kitten
Jitunka & Petra!

MV Agusta F3 800cc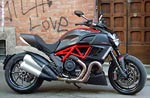 The Devil Made Us Do It!
Testing the Ducati Diavel in Italy
Sudco High Performance & OEM Replacement Parts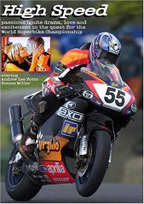 High Speed - the Movie
The best motorcycle racing movie ever made! Filmed on location at the World Superbike races , this an exciting romantic drama staring beautiful British actress Sienna Miller.
---
EDELWEISS OFFERS NEW and AFFORDABLE MOTORCYCLE TOUR ALONG THE DOLOMITES WITH CHALLENGING ROADS, OVERWHELMING MOUNTAIN SCENERY AND ITALIAN CUISINE AT ITS FINEST.
The Dolomites are a must for a passionate biker – come with us on an unforgettable motorcycle tour. The countryside is dominated by mountains, rivers, and gorge-like valleys, which have just space enough for a road and railroad tracks; but there are also bigger towns like Bolzano, where our base hotel is located.

Thinking about Italian culture you will notice quite a big difference from what you may expect; building style, cultures, languages, bilingual road signs and special foods show that varied peoples and ideas peacefully co-exist here. The Sella Ronda is a very good warm-up for the following days and our rides to Penserjoch, Jaufenpass and Timmelsjoch.

Eight more passes are on our schedule for the next day and we will have the opportunity to stop in the nice little town of Cortina d'Ampezzo, well known from the Olympics in 1956. Now it's time to make a decision: go to Venice for sightseeing or collect 10 more passes? Tough call! The last riding day leads us south to the wonderful Lake Garda, with swimming and riding at its best.
Find Out More
THROUGH THE ALPINE WONDERLAND OF AUSTRIA AND SOUTHERN GERMANY – THE ALPS AND LAKES MOTORCYCLE TOUR!
The Alps and Lakes motorcycle tour takes you through a beautiful part of European motorcycle paradise; the Alps. The contrast between the beautiful lakes in southern Germany and Austria and the towering mountains that reach up to more than 10,000 ft is nothing less than breathtaking.
This area is the famous background for the movie "Sound of Music". This vacation offers a little bit of everything: beautiful and relaxing rides through the valleys; some mountain roads and passes; and great vistas and sights, including King Ludwig's castle, Herrenchiemsee, and the historic city of Salzburg. The tour consists of five riding days, one of them is a rest day – which means that you stay two nights at the same hotel.

This is a great opportunity to explore a little bit more, ride around the countryside, walk through town, meet the locals and sample some of the local food. The tour will take you through Germany and Austria, and on the rest day you can even add Italy to your list if you are so inclined.
Find Out More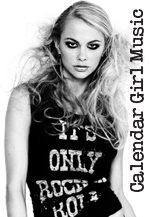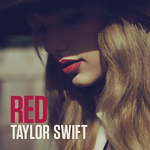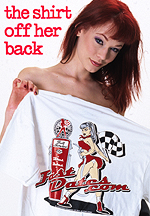 Order the Official
FastDates.com &
LA Calendar Bike Show
T-Shirts!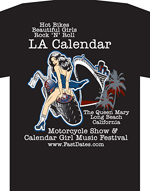 Yamaha USA announces its 2014 Riders as new Champ Josh Herin moves to Moto2 in Europe
Monterey, CA, Sept 29th, 2013 – Now that the 2013 AMA Pro Racing season has reached its conclusion, the Monster Energy/Graves/Yamaha team is pleased to announce that 2013 AMA Pro GoPro Daytona SportBike Champion Cameron Beaubier will join three-time AMA Pro National Guard SuperBike Champion Josh Hayes on the two-rider team. The announcement was made by Keith McCarty, Motorsports Racing Division Manager for Yamaha Motor Corporation, U.S.A.
For the 2014 AMA Pro SuperBike season, Josh Hayes will be aboard the #4 Monster Energy/Graves/Yamaha YZF-R1, and Cameron will race the team's other R1 SuperBike, with competition #2 on the fairing.

According to McCarty, "Josh Herrin has been with us since 2005, and he's been a tremendous rider and great ambassador for the Yamaha brand and all our team sponsors. His long-term goals have always been to win a Championship here in the U.S., and then go and race in Europe. With his 2013 SuperBike Championship and an opportunity awaiting him to race in the Moto2 World Championship, his dreams are coming true. We're thankful to Josh for all the terrific years he's given us, and especially for winning the SuperBike Championship this season. We're looking forward to seeing him race on the world stage beginning next year."

When asked about his new SuperBike teammate, Josh Hayes said, "First of all, big congratulations to Josh (Herrin) for winning the Championship this year. He really stepped up big this season. I'm looking forward to seeing him race against those boys in Moto2. It's great to have another American carrying the flag for us. Good luck to Josh. As for Cameron, he had an amazing year in Daytona SportBike, and he deserves to be up here racing the Yamaha R1 and representing Monster Energy/Graves/Yamaha in SuperBike. He's already proven to be a phenomenal rider. I'm thrilled to have him as my teammate for 2014, and I have to say that I've definitely got my work cut out for me next season!"

Cameron said, "Congratulations to Josh Herrin on his SuperBike Championship, and also on his opportunity to race in Moto2. It's going to be cool to see him compete against the world's best and represent the U.S. As for me, I'm very thankful that Keith (McCarty) has given me this opportunity to continue advancing my racing career with Yamaha. I love riding for Yamaha, and I'm looking forward to racing the R1 SuperBike. And, to have Josh Hayes as my teammate is icing on the cake. He's helped me so much over the past couple of years, and I really respect him both as rider and a mentor."

Stayed tuned for more information coming soon about Yamaha's U.S. road racing plans for 2014, including an announcement of next year's rider lineup for the Yamaha Extended Service/Monster Energy/Graves/Yamaha team.
Pata Honda confirms 2014 SBK line-up
Oct 1st - The Pata Honda World Superbike team has announced that it will retain the same rider line-up of Jonathan Rea and Leon Haslam heading into the 2014 world championship season.
 
Rea is currently recuperating from a fractured left femur that he sustained in a crash at Nürburgring in Germany last month, but the 26-year-old from Northern Ireland is making a good recovery and is optimistic about the possibility of riding his Honda CBR1000RR Fireblade again before then end of the year.
 
Rea began his world championship career with the Ten Kate-run Honda team in the 2008 World Supersport series before moving up to World Superbikes in 2009, since when he has secured 33 podiums from 116 races, including 11 race victories.
 
He will once again partner fellow British rider Leon Haslam who joined the team for the 2013 season, which has unfortunately been affected by a broken leg he sustained at Assen in the Netherlands in April.
 
Haslam, 30, has contest 155 World Superbike championship races, a third of which have been on Honda's CBR machine. The British rider has achieved a total of three race wins and 28 podium finishes since his first SBK race in 2003, and he finished as runner-up in the series in 2010.
 
Jonathan Rea - "It's been a big decision that I've thought long and hard about because there were some other options to consider. However, at the end of the day it was an easy choice because of the faith and respect that I have for the team that I've been with for six years and the company that I have been with my entire career. I know how hard the guys work to make the Honda competitive and I know that we have the potential to fight again for more podiums and race wins and the championship next season. Those podiums and wins are what motivate all of us and that's why I know that everyone will pull out the stops over the winter again to make them happen. We will go into the testing programme in a much better position than we were in 12 months ago because we've worked so hard to get the new electronics package to work this season. I am as motivated as ever and really looking forward to riding my bike again."
 
Leon Haslam - "I'm very happy to have another go at it, really! This season has been pretty non-existent with the injury and the big learning curve we've had with the new electronics. So I'm excited to get back to full fitness and to have good go with the bike and see if we can turn the potential into success. We've made some really good steps recently but that's been combined with some bad luck this year. Hopefully, that's all out of the way now and we can keep making progress in the last few races and over winter testing. The Haslam link to Honda has been strong for many years and it was fantastic to win the Suzuka 8-hour this year. Hopefully we can go back and defend that next year, and I can't wait to go into the next World Superbike season with the same bike, the same guys and have a proper go at it."
 
Ronald ten Kate, team manager - "Jonathan has demonstrated great faith in this team over the years and we are, of course, overjoyed to have him back for a sixth World Superbike campaign. We have got to know each other very well over the years and one thing that comes across is his consistent and tenacious desire to get the very best out of the CBR – something he does year after year. Of course, with injuries, it has not been an easy season for him or for his team-mate, so we are very happy that Leon will join us again for next season. With two fit riders and some further development on the bike, we can look forward to 2014 with renewed confidence and optimism."
 
Carlo Fiorani, racing operations manager - Honda Motor Europe
"I do not think it is a secret that both Jonathan and Leon had some other options to consider for 2014, so we are, of course, delighted that we will be working with them again. We believe that there is a great level of mutual respect between us and we know that we have two fully-motivated riders who have the potential to fight for top honours. It's good that they, too, know that the Honda they ride has equal potential and that they will have a team around them to help get the results that we all want to see. For many reasons, 2013 has been a difficult year for everyone, so we all hope that, with Dorna taking the series to new levels, we can have a 2014 season that is safe and successful, both for the riders and for the whole team."