Dani Pedros, Marc Marquez and Jorge Lorenzo on the final podium of the year at Valenca. Marquez's "Baby Champ on Board" denotes him as the youngest ever premier class motorccyle Grand Prix winner.

MotoGP World Championship, Valencia, Round 18 of 18

Lorenzo Wins Valencia, Marquez the 2013 MotoGP World Championship
Gran Premio Generali de la Comunit at Valenciana, November 8-10th, 2013 - Marc Marquez (Repsol Honda RC213V) made history at Valencia today, becoming the youngest premier-class king since the birth of the motorcycling World Championships in 1949. The remarkable rookie secured the title with a perfectly judged ride to third place behind team-mate Dani Pedrosa (Repsol Honda RC213V) and race winner and outgoing champion Jorge Lorenzo (Yamaha).
Marquez – aged 20 years and 266 days – comfortably beat the previous youngest champion record, held by Honda's first premier-class king Freddie Spencer, who was 21 years and 258 days old when he won the title at Imola, Italy, on 4 September 1983. Marquez is Honda's 16th World Champion in the elite 500cc/MotoGP categories.
Following his six race victories earlier in the year – another record for a rookie – Marquez arrived at Valencia 13 points in front of Lorenzo. Thus Marquez knew that if Lorenzo won today's race, he 'only' needed to finish fourth to make sure of his place in history. But the season finale – watched by a raucous capacity crowd at the stadium-style Valencia venue – was anything but straightforward.
Jorge Lorenzo (99) and Marc Marquez (93) will resolve the 2013 MotoGP World Championship in the final race at Valencia.
Preview: Marquez vs Lorenzo – The Showdown at Valencia!
In Valencia this weekend at the Gran Premio Generali de la Comunitat Valenciana, MotoGP™ fans the world over will enjoy a final-race title decider for the first time in seven years, as Repsol Honda Team's Marc Marquez looks to hold off the charge from Yamaha Factory Racing's reigning World Champion Jorge Lorenzo.
This final race showdown not withstanding Lorenzo's season ending winning streak, but Marquez's controversial disqualification while running in 2nd place at Phillip Island just two rounds earlier, only because he stopped 1-lap too late for a mandatory required tire change. The misunderstanding by Marquez and his crew caused them to receive the overly harsh penalty of disqualification from that race, preventing him from winning the 2013 title the following race weekend at Motegi in Japan. Now this final race weekend at Valencia with Marquez still holding an 18 point lead over his rival, Lorenzo needs to take the 25-point win while Marquez only needs to cruise to a top five finish to consummate his 2013 Championship title.

The last time such a showdown occurred was in 2006 when Honda's Nicky Hayden claimed the ultimate honour as Yamaha's Valentino Rossi made a rare mistake. Seven years on, more drama is certain as Marc Marquez and Jorge Lorenzo go head-to-head at the climax of what has been a riveting season. Marquez heads to Valencia with a championship-leading advantage of 13 points, meaning a single fourth place would guarantee the title no matter what Lorenzo is capable of.

Looking at the rookie's track record this looks to be a certain, however if Valencia's rain-hit race of last year is anything to go by, anything can happen. It was Repsol's Dani Pedrosa who won the race last year, and will this year be out to prove a point, as he saw his title chances go after his third place in Motegi. Yamaha's Valentino Rossi could prove to be a big factor in the outcome of the race, as he looks to hold off Marquez's charge and help out his teammate Lorenzo.

Another player could be Monster Yamaha Tech3's Cal Crutchlow, who has not only cemented fifth place in the championship, but also contests his last race on board a Yamaha before his switch to Ducati. GO&FUN Honda Gresini's Alvaro Bautista has been continually improving throughout the season and will hope to impress his home fans, whilst LCR Honda MotoGP's Stefan Bradl should be much closer to full fitness after fracturing his right ankle in Malaysia.

Nicky Hayden will aim to have a good weekend on his last for the Ducati Team and get one over on his teammate Andrea Dovizioso, whilst the Ignite Pramac and Energy T.I. Pramac machines of Yonny Hernandez and Andrea Dovizioso will hope to hold off Power Electronics Aspar's Aleix Espargaro. Espargaro has already collected top CRT honours, but will aim to celebrate that with another spot in Parc Ferme in front of local support. The grid will be two riders stronger, as Michele Pirro lines up for the Ducati Test team, and Austrian Martin Bauer makes another appearance with his S&B Suter with the Remus Racing Team.
World Championship Standings MotoGP™

Current MotoGP-1 Standings: 1. Marc Marquez SPA Honda 318; 2- Jorge Lorenzo SPA Yamaha 305; 3- Dani Pedrosa SPA Honda 280; 4- Valentino Rossi ITA Yamaha 224; 5- Cal Crutchlow GBR Yamaha 188.


Marquez Qualifies with Record Lap Pole Ahead of Lorenzo, Pedrosa Third for Valencia Finale
Qualifying, Saturday Nov 9th - Marc Marquez (Repsol Honda RC213V) scored his ninth pole position of the year at sunny Valencia today, putting himself in the perfect position for tomorrow's all-important title decider. Team-mate Dani Pedrosa (Repsol Honda RC213V) was a close third fastest in this afternoon's 15 minute qualifying session which was watched by a capacity crowd, here to watch MotoGP's first final-race showdown since 2006.
If Marquez's only championship rival Jorge Lorenzo (Yamaha) wins tomorrow's race, the 20-year-old has to be fourth or higher to secure the title and become the youngest premier-class champion in the 65 year history of the sport. Although he knows that riding a calculating race for the required amount of points will make him champion, Marquez was in full attack mode today, getting his RC213V shaking and bucking as he fought his way round this tight but demanding circuit. The approach of the former 125 and Moto3 World Champion is straightforward and sensible: if he continues to ride as he always does – with the bike loose beneath him – he feels more comfortable and can maintain better concentration.
Marquez's best lap – the fastest-ever motorcycle lap at Valencia – put him an impressive 0.340 seconds ahead of Lorenzo, with Pedrosa just 0.086 seconds further adrift. Pedrosa – who won the Valencia MotoGP race in 2007, 2009 and 2012 – was delighted to be back on the front row for the first time Aragon. Because Honda prefer not to issue team orders to its riders, Pedrosa is free to aim for another Valencia victory tomorrow, which will only help his team-mate in his quest for the 2013 MotoGP title.
The progress of Marquez and Pedrosa in the race will also affect the outcome of the highly prized constructors' World Championship, which Honda won last season and currently lead this year. The manufacturer is now going for a record 20th constructors' title. Honda scored its first constructors' title in 1966, with the mighty RC181 four-cylinder four-stroke. Following a long absence from GP racing, it wasn't until 1983 that Honda won its second constructors' title, with the NS500 three-cylinder two-stroke. Honda has also won more premier-class race victories than anyone – victory tomorrow would take the company to 250 wins in the class of kings.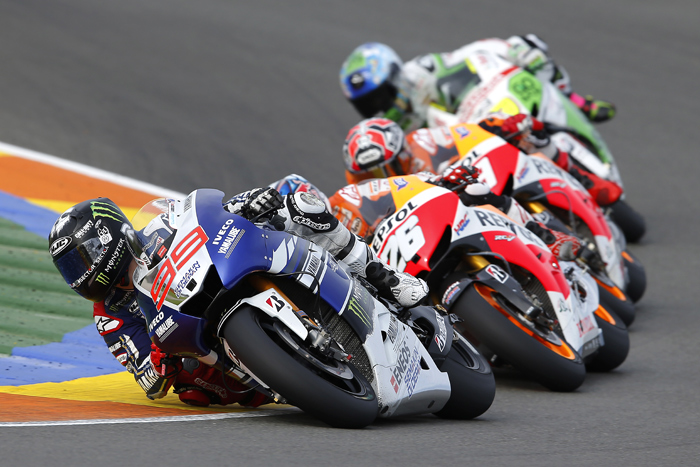 Race winner Lorenzo holds off Pedrosa, Marquez and Bautista.
Race Day Finale, Lorenzo and Marquez both Do What is Needed
Sunday Nov. 10th -Yamaha Factory Racing's Jorge Lorenzo wrapped up the 2013 MotoGP season today with victory in the Gran Premio Generali de la Comunitat Valenciana, his third consecutive victory of the season. Trailing leader Marc Marquez by 13 points going into the race, Lorenzo had nothing to lose and everything to gain as the Spanish showdown unfolded in front of a record crowd of 104,000 race fans at the Ricardo Tormo circuit.  
Taking off past Marquez from second on the grid, the 2012 world champion took the holeshot and control of the race. Lorenzo kept the pace down on the opening laps, hoping to bring the chasing pack into play to challenge Marquez. The daring strategy allowed Dani Pedrosa to attack, the two rivals entering an intense battle over several laps as they swapped positions countless times in a stunning display of riding skill at the limit. Pedrosa was to end up the loser in the exchange as the two touched going into turn two with 21 laps to go. Pedrosa ran wide, losing position as he rejoined the race.
The incident allowed Marquez to briefly pass Lorenzo for the lead but he was only allowed to stay ahead for a lap before Lorenzo reclaimed the front on lap 11, putting the hammer down to reel off a number of 1'31 second laps as he flew to his eighth win of the season.


Marquez hadn't best of starts from pole position – his ninth pole from 18 races – and finished the first lap in third place behind leader Lorenzo and Pedrosa, the winner here in 2007, 2009 and 2012. Pedrosa attacked Lorenzo repeatedly, often getting ahead, only for Lorenzo to come right back at him, including one move at Turn Two that brought the pair into collision and came under investigation from Race Direction.
Lorenzo's tactics were simple: by chopping back and forth with Pedrosa he hoped to slow the leading pace and bring as many riders as possible into the lead group. He would then let fate play its hand and hope that other riders might relegate Marquez to fifth place or lower. However, the strategy failed. The second group of Valentino Rossi (Yamaha) and Alvaro Bautista (Honda) wasn't quite quick enough to join the fight at the front.
Lorenzo's collision with Pedrosa at Turn Two at one-third distance allowed Marquez to sweep into the lead, but with no need for him to take risks, it wasn't long before Lorenzo was back in front. Pedrosa was less lucky when Lorenzo slammed into him – he ran off the track and had Bautista and Rossi come by.
By half-distance Marquez seemed safe – he was running a comfortable second – but then Pedrosa passed Rossi and Bautista and set off after his team-mate. Marquez, who was executing some glorious high-speed slides through the fast Turn 13, did the sensible thing on lap 26 and let Pedrosa past into second place.


And that's the way it finished: Lorenzo, Pedrosa and then Marquez, who crossed the line in ecstasy before stopping on the slowdown lap and hurling his gloves into the tumultuous crowd. After 18 races – his first 18 races in the class – he had beaten twice MotoGP World Champion Lorenzo by four points.
Lorenzo's Teammate Valentino Rossi moved up to fourth off the line after a good start, chasing Marquez into the first corner with Alvaro Bautista in hot pursuit behind. As the race unwound Bautista was able to make a pass on Rossi but with 19 laps to go the nine-time world champion showed his mastery of late braking, taking third position back from the Spanish rider. The provisional podium position was not to last as a recovering Pedrosa re-passed on his way to second, leaving Rossi to claim fourth at the line.
Unlike the top three, Alvaro Bautista (Team GO&FUN Honda Gresini RC213V) chose the softer rear tyre and was able to run just behind the leaders while Lorenzo tried to slow the pace. But the Spaniard wasn't keen to get involved in the three-way battle up front because he wanted to give fellow Honda riders Pedrosa and Marquez a clean run up front. Finally he finished fifth, four seconds behind Rossi.
Stefan Bradl (LCR Honda RC213V) spent much of the race alone, gaining one position when Cal Crutchlow (Yamaha) crashed out in front of him and eventually crossing the line in sixth place, almost ten seconds down on Bautista. Bryan Staring (GO&FUN Honda Gresini FTR Honda) had another difficult run in his final MotoGP outing, coming home in 19th position.
Despite dominating not just the last quarter of the season but the final race, it was not enough to overcome the points difference to Marquez, leaving Lorenzo to claim a worthy second place in the standings after an incredible season of unrivalled performances. Rossi's eighth fourth place finish of the season was enough to secure him fourth in the final standings.
Jorge Lorenzo, 1st / 46'10.302 / 30 laps - "I slowed the start of the race a little but I think it didn't work out because the other riders, Bautista, Valentino, Crutchlow and the others needed some tenths more to stay there. I tried first and last to play a little bit with the race and I managed it quite well but I couldn't stay there for too long. When I looked behind I could see that Valentino was very far away so I thought that today it was better to concentrate on winning the race and waiting to see if Marc makes a mistake. Now we have to celebrate second in the standings which is a good place. We have to congratulate Marc because he really deserved the championship and we will make a party tonight!"
Dani Pedrosa, Repsol Honda: 2nd - "I started well and from the first lap I thought I could go in front and be faster. But every time I passed Jorge he immediately fought back. I changed my overtakes but still he found a way to come past again – he pushed me a couple of times, the second time it was hard enough to push me off the track and I nearly crashed. After that it was a different race, I had to come back. Congratulations to Marc and Jorge, it's been a very exciting season."
Marc Marquez, Repsol Honda: 3rd - "I am still in a dream – I can't yet realise what I did today! Maybe this all happened too early because we didn't expect the title in my first year. I have to say thanks to Honda, the team, my family and everyone who has helped me to enjoy this moment. The race result was what I predicted yesterday: Jorge, Dani, me. The first ten laps I was a little nervous and stiff on the bike. Inside something was telling me I needed to fight, but I had to be clever and think about the championship and not the race. It was the longest race of my career, especially the last lap when I was very careful and didn't push at all. In normal circumstances I would have been ready to fight with Jorge and Dani, but maybe if I pushed more I would have crashed. I'm so proud with what we have done this season. The first races I had a lot of moments, but by the second half of the championship I had a learned a lot and was cleverer. The big thing was that Honda helped me so much."
Valentino Rossi, 4th / +10.579 / 30 laps - "The race was not so bad, especially after this morning where I had a lot of problems and wasn't fast enough. Unfortunately I didn't have the pace to fight for the podium. I was able to stay close at the beginning and try to fight but after I didn't have the speed, like more or less all the season where I am two or three tenths slower compared to the top guys. For this reason I couldn't challenge for the pole position, the race and the championship. The season was not so bad for me but we have to try more to increase our speed and our performance to fight for the podium more constantly. This is the target for 2014."
Massimo Meregalli, Yamaha Team Director - "It has been an incredible season. I think we deserved the championship, we really did the maximum that we could. I would like to say a big thank you to everybody, Jorge and the team. We never gave up and Jorge never gave up. He delivered some really impressive performances. Even today he made a fantastic race. He started the race having a plan and tried to manage the race until he understood that he couldn't do any more. Then when he decided to win he pulled away. The season has been really long, hard and tough but we are satisfied with all we did. I would like to thank everybody and wish all the best to team members Jeremy, Walter and "Bibo" who are leaving us. Tomorrow the new season is already starting with a three-day test. We will aim to give the Japanese engineers as much information as possible to work with."

American Nicky Hayden's 5 year relationship with Ducati came to an end at Valencia. The MotoGP Tv coverge never even showed or mention him or the othr two ducati factory riders, they were so far back behind the race leaders.
Nicky Hayden – Ducati Team, 8th - "The start wasn't very good, as the same thing happened as in Japan, but I was able to make up some places and finish in eighth place. It's not a great result, but it was nice to finish the race as first Ducati rider. For a while, I thought maybe I could get on the back of Bradley [Smith] as I cut the 3 second gap in half but then I had a moment coming off the last corner and hit the windscreen. He went faster after that anyway, so that was it. It's pretty emotional. I spent five years with a great group of guys, and although it hasn't always been easy, we were a good team together. I wish them all the best."
 
Andrea Dovizioso – Ducati Team, 9th -"It was a pretty disappointing and slow race for me. I had no feeling; this track continues to be difficult for me, and I just didn't do very well. Nicky was good though, and once he was gone, I tried to base my race strategy around Iannone. All things considered, eighth place overall isn't too bad, but these obviously aren't the positions that we want and we'll approach the 2014 season with confidence and determination."
 
Michele Pirro – Ducati Test Team, 10th - "It was a tough race because apart from the fact that I haven't raced for two months, 30 laps here is very difficult. I just regret that my crash yesterday compromised my grid position, and instead of starting close to Andrea and Nicky, I was two rows behind them. In the early laps, I found myself in eighteenth place. I ruined the tyre when I started battling with the others. I made up a bit of ground, but the other riders were still far away. Thanks to Ducati for the opportunities they have given me this season; I'm sure we'll do some great things in 2014."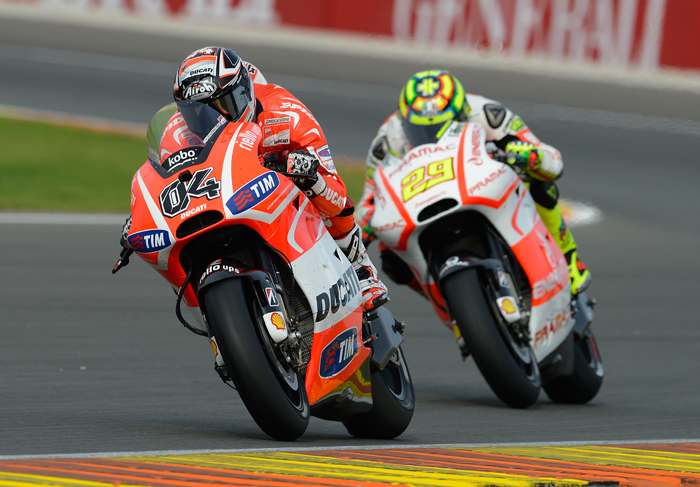 Andrea Dovizioso and Pramac Ducati's Andrea Iannone.
2013 MotoGP season comes to an end for Ducati Team.
Tomorrow first 2014 tests for Crutchlow and Dovizioso, headed by Luigi Dall'Igna, new Ducati Corse General Manager
 The Ducati Team wrapped up a difficult season today at Spain's Circuit de la Comunitat Valenciana, with Nicky Hayden and Andrea Dovizioso finishing in eighth and ninth places, respectively, on a day that saw Marc Marquez crowned 2013 MotoGP World Champion.
 
Hayden, in his final race with the Ducati Team after a five-year stint, had a bad start from his fourth-row grid slot aboard his Desmosedici GP13, but he made several overtakes in the early going and passed the chequered flag in eighth position. Row-three starter Dovizioso was involved in a near-race-long battle with fellow Ducati rider Andrea Iannone and after getting the better of that contest, he finished the race one spot behind his American teammate. Dovizioso and Hayden finished eighth and ninth overall in the final championship standings.
 
After starting from the seventeenth spot on the grid, Ducati Test Team rider Michele Pirro was 18th at the end of lap 1, but he pushed hard for the rest of the 30-lap race and completed the day rounding out the top ten.
 
The 2014 season gets underway tomorrow with the start of the first winter tests and the Ducati Team will be on track for three days of testing activity with Andrea Dovizioso and Cal Crutchlow, Ducati's new signing. The test will also mark the first official Ducati appearance of Luigi Dall'Igna, who was recently appointed Ducati Corse General Manager.
 
"Today's race brings to an end a 2013 season that for Ducati has been particularly short on satisfaction," declared Claudio Domenicali, CEO of Ducati Motor Holding, at the end of the race. "Tomorrow we'll begin with the first tests of the 2014 season, with a new structure headed by Luigi Dall'Igna, to whom I would like to give a warm welcome and offer best wishes, both on a personal level and on behalf of the entire company. I would also like to take this opportunity to thank and say goodbye to Bernhard Gobmeier, who has managed Ducati Corse in the last ten months, and who today hands over the baton, so to speak, to Gigi. Big thanks also go to the teams and the riders, in particular to Nicky, who will leave his team and his garage this evening to tackle a new professional challenge, but who in these last few years has always been a proud ambassador for our brand throughout the world. And finally I give a warm welcome to Cal Crutchlow who will join Andrea on our team next year. Both riders will do their utmost to help us forget the disappointments we have suffered in the last few seasons."
 
"We are delighted to welcome on board Luigi Dall'Igna, who will be at the circuit from Monday onwards for the first tests of 2014," declared Maurizio Arrivabene, Vice-President of Philip Morris International. "Obviously we cannot consider ourselves satisfied with the results we have obtained recently, but we have been alongside Ducati for the definition of the new racing structure. We did it with continuing confidence in the project, in a spirit of total and constructive collaboration, with the aim of working together towards a future of mutual satisfaction."
RESULTS MOTOGP RACE: (30 laps = 120.15 Km)
POS / RIDER / NAT. / TEAM / MOTORCYCLE / TIME / KM/H / GAP
1 / Jorge LORENZO / SPA / Yamaha Factory Racing / YAMAHA / 46'10.302 / 156.1 /
2 / Dani PEDROSA / SPA / Repsol Honda Team / HONDA / 46'14.236 / 155.9 / 3.934
3 / Marc MARQUEZ / SPA / Repsol Honda Team / HONDA / 46'17.659 / 155.7 / 7.357
4 / Valentino ROSSI / ITA / Yamaha Factory Racing / YAMAHA / 46'20.881 / 155.5 / 10.579
5 / Alvaro BAUTISTA / SPA / GO&FUN Honda Gresini / HONDA / 46'25.267 / 155.2 / 14.965
6 / Stefan BRADL / GER / LCR Honda MotoGP / HONDA / 46'34.701 / 154.7 / 24.399
7 / Bradley SMITH / GBR / Monster Yamaha Tech 3 / YAMAHA / 46'39.345 / 154.5 / 29.043
8 / Nicky HAYDEN / USA / Ducati Team / DUCATI / 46'50.195 / 153.9 / 39.893
9 / Andrea DOVIZIOSO / ITA / Ducati Team / DUCATI / 47'03.498 / 153.1 / 53.196
10 / Michele PIRRO / ITA / Ducati Test Team / DUCATI / 47'13.285 / 152.6 / 1'02.983
11 / Aleix ESPARGARO / SPA / Power Electronics Aspar / ART / 47'14.499 / 152.5 / 1'04.197
12 / Hector BARBERA / SPA / Avintia Blusens / FTR / 47'17.128 / 152.4 / 1'06.826
13 / Claudio CORTI / ITA / NGM Mobile Forward Racing / FTR KAWASAKI / 47'21.783 / 152.2 / 1'11.481
14 / Danilo PETRUCCI / ITA / Came IodaRacing Project / IODA-SUTER / 47'23.945 / 152 / 1'13.643
15 / Colin EDWARDS / USA / NGM Mobile Forward Racing / FTR KAWASAKI / 47'34.551 / 151.5 / 1'24.249
Pole Position: Marc MARQUEZ 1'30.237 159.7 Km/h
Fastest Lap (New record): Dani PEDROSA 1'31.628 157.3 Km/h Lap 22
Old Circuit Record Lap: Casey STONER 1'32.582 155.7 Km/h 2008
Circuit Best Lap: Marc MARQUEZ 1'30.237 159.7 Km/h 2013
FINAL 2013 CHAMPIONSHIP POSITION:
1 MARQUEZ 334, 2 LORENZO 330, 3 PEDROSA 300, 4 ROSSI 237, 5 CRUTCHLOW 188,
6 BAUTISTA 171, 7 BRADL 156, 8 DOVIZIOSO 140, 9 HAYDEN 126, 10 SMITH 116,
11 ESPARGARO 93, 12 IANNONE 57, 13 PIRRO 56, 14 EDWARDS 41, 15 DE PUNIET 36.
FINAL TEAM POSITION:
1 REPSOL HONDA TEAM 634, 2 YAMAHA FACTORY RACING 567, 3 MONSTER YAMAHA TECH 3 304,
4 DUCATI TEAM 266, 5 GO&FUN HONDA GRESINI 173, 6 LCR HONDA MOTOGP 156,
7 POWER ELECTRONICS ASPAR 129, 8 PRAMAC RACING TEAM 121, 9 NGM MOBILE FORWARD RACING 55,
10 AVINTIA BLUSENS 49, 11 CAME IODARACING PROJECT 26, 12 PAUL BIRD MOTORSPORT 10,
13 CARDION AB MOTORACING 5.
FINAL CONSTRUCTOR POSITION:
1 HONDA 389, 2 YAMAHA 381, 3 DUCATI 155, 4 ART 99, 5 FTR KAWASAKI 46, 6 FTR 46,
7 IODA-SUTER 26, 8 PBM 3, 9 FTR HONDA 2.
Moto2 to Terol
Nicolas Terol (Mapfre Aspar Team Moto2 Suter) won his third victory of the year in the Honda-powered Moto2 series, inheriting and never relinquishing the lead after runaway early leader and recently crowned World Champion Pol Espargaro (Tuenti HP40 Pons Kalex) crashed out of the lead on the eighth of 37 laps.
For a while, Terol had Simone Corsi (NGM Mobile Racing Speed Up) on his tail, but gradually he pulled away to establish a comfortable advantage and cross the finish line four seconds ahead of Jordi Torres (Mapfre Aspar Team Moto2 Suter), who is still getting around the paddock on crutches, following a big spill in Japan two weeks ago.
Torres passed Corsi with six laps to go and worked hard to gain a gap on the Italian who then came under pressure from Johann Zarco (Came Ioda Racing Project Suter). The Italian and the Frenchman were neck and neck, Zarco getting a better drive out of the final turn to pass the chequered flag alongside Corsi. At first the timing screens had Corsi down as the final podium finisher, but moments later the final results had Zarco third by just one thousandth of a second.
Behind the top four, the mid-pack Moto2 battle was typically intense, with Esteve Rabat (Tuenti HP 40 Pons Kalex) breaking clear of the multitude to claim fifth. The next three finishers Alex De Angelis ((NGM Mobile Forward Racing Speed Up), Thomas Luthi (Interwetten Paddock Suter) and Anthony West (QMMF Racing Team Speed Up) were separated by less than two seconds.
Scott Redding (Marc VDS Racing Team Kalex), who had led the World Championship until he crashed and broke a wrist in Australia three weeks ago, struggled to 15th. Espargaro remounted after his tumble and finished 29th.
Nicolas Terol, Mapfre Aspar Team Moto2: race winner - "I'm very happy with my first victory here at my home circuit. It's a dream come true for me. The race was difficult because I was alone, so lap by lap I had to work very hard to maintain concentration and focus. To win the last race of 2013 is very important to me because it gives me great motivation for 2014 when I will be ready for the battle."
MOTO2 RACE: (27 laps = 108.135Km)
POS / RIDER / NAT. / TEAM / MOTORCYCLE / TIME / KM/H / GAP
1 / Nicolas TEROL / SPA / Aspar Team Moto2 / SUTER / 43'24.972 / 149.4 /
2 / Jordi TORRES / SPA / Aspar Team Moto2 / SUTER / 43'29.019 / 149.2 / 4.047
3 / Johann ZARCO / FRA / Came Iodaracing Project / SUTER / 43'30.965 / 149 / 5.993
4 / Simone CORSI / ITA / NGM Mobile Racing / SPEED UP / 43'30.966 / 149 / 5.994
5 / Esteve RABAT / SPA / Tuenti HP 40 / KALEX / 43'33.288 / 148.9 / 8.316
6 / Alex DE ANGELIS / RSM / NGM Mobile Forward Racing / SPEED UP / 43'35.568 / 148.8 / 10.596
7 / Thomas LUTHI / SWI / Interwetten Paddock Moto2 / SUTER / 43'36.191 / 148.7 / 11.219
8 / Anthony WEST / AUS / QMMF Racing Team / SPEED UP / 43'37.306 / 148.7 / 12.334
9 / Mattia PASINI / ITA / NGM Mobile Racing / SPEED UP / 43'38.355 / 148.6 / 13.383
10 / Dominique AEGERTER / SWI / Technomag carXpert / SUTER / 43'39.581 / 148.6 / 14.609
11 / Julian SIMON / SPA / Italtrans Racing Team / KALEX / 43'39.777 / 148.5 / 14.805
12 / Xavier SIMEON / BEL / Maptaq SAG Zelos Team / KALEX / 43'43.140 / 148.4 / 18.168
13 / Takaaki NAKAGAMI / JPN / Italtrans Racing Team / KALEX / 43'43.764 / 148.3 / 18.792
14 / Mika KALLIO / FIN / Marc VDS Racing Team / KALEX / 43'48.527 / 148.1 / 23.555
15 / Scott REDDING / GBR / Marc VDS Racing Team / KALEX / 43'52.451 / 147.8 / 27.479
Pole Position: Pol ESPARGARO 1'34.957 151.8 Km/h
Fastest Lap (New record): Jordi TORRES 1'35.694 150.6 Km/h Lap 12
Old Circuit Record Lap: Karel ABRAHAM 1'36.611 149.2 Km/h 2010
Circuit Best Lap: Pol ESPARGARO 1'34.957 151.8 Km/h 2013
FINAL 2013 CHAMPIONSHIP POSITIONS:
1 ESPARGARO 265, 2 REDDING 225, 3 RABAT 215, 4 KALLIO 187, 5 AEGERTER 157,
6 LUTHI 155, 7 TEROL 150, 8 NAKAGAMI 148, 9 ZARCO 139, 10 TORRES 126, 11 CORSI 105,
12 SIMEON 88, 13 SIMON 79, 14 DE ANGELIS 76, 15 WEST 61.
FINAL CONSTRUCTOR POSITION:
1 KALEX 392, 2 SUTER 297, 3 SPEED UP 149, 4 TECH 3 19, 5 MOTOBI 18.
Moto3 Race to to Masbou, Tile to Vinales
Alexis Masbou (Ongetta-Rivacold FTR Honda) had a stunning ride to sixth place in the title-deciding Moto3 race, despite having to start the race from pit lane after his bike refused to fire for the warm-up lap. The Frenchman was dead last at the end of the first lap but he kept his head and charged through the pack, even though this track is notoriously difficult for overtaking. By half-distance he had already climbed to 11th, but the closer you get to the front, the harder it is to pass. The last man he overtook was Spaniard Isaac Vinales (Ongetta-Centro Seta FTR Honda), who crossed the line seventh, a fraction of a second behind Masbou, in the midst of a seven-rider gang disputing positions.
Honda's other big star of the race was Jack Miller (Caretta Technology – RTG FTR Honda) who was running fifth in the leading group – headed by title-fighters Maverick Vinales, Alex Rins and Luis Salom – until he tumbled out in the closing stages. Nonetheless he remains seventh overall in the World Championship final standings, just ahead of Masbou.
The title was won by Maverick Vinales, who got the better of Rins at the very final corner. Salom had fallen earlier, remounting to finish 14th. The 2014 preseason testing season begins tomorrow at Valencia, when most MotoGP riders will test their next year's prototypes. Moto2 and Moto3 riders start at Jerez later in the week.
MOTO3 RACE:  (24 laps = 96.12 Km)
POS / RIDER / NAT. / TEAM / MOTORCYCLE / TIME / KM/H / GAP
1 / Maverick VIÑALES / SPA / Team Calvo / KTM / 40'12.463 / 143.4 /
2 / Jonas FOLGER / GER / Mapfre Aspar Team Moto3 / KALEX KTM / 40'12.649 / 143.4 / 0.186
3 / Alex RINS / SPA / Estrella Galicia 0,0 / KTM / 40'12.650 / 143.4 / 0.187
4 / Alex MARQUEZ / SPA / Estrella Galicia 0,0 / KTM / 40'26.129 / 142.6 / 13.666
5 / Efren VAZQUEZ / SPA / Mahindra Racing / MAHINDRA / 40'26.171 / 142.6 / 13.708
6 / Alexis MASBOU / FRA / Ongetta-Rivacold / FTR HONDA / 40'41.050 / 141.7 / 28.587
7 / Isaac VIÑALES / SPA / Ongetta-Centro Seta / FTR HONDA / 40'41.239 / 141.7 / 28.776
8 / Ana CARRASCO / SPA / Team Calvo / KTM / 40'41.257 / 141.7 / 28.794
9 / Philipp OETTL / GER / Interwetten Paddock Moto3 / KALEX KTM / 40'41.416 / 141.7 / 28.953
10 / Miguel OLIVEIRA / POR / Mahindra Racing / MAHINDRA / 40'41.648 / 141.7 / 29.185
11 / Romano FENATI / ITA / San Carlo Team Italia / FTR HONDA / 40'41.810 / 141.7 / 29.347
12 / Brad BINDER / RSA / Ambrogio Racing / MAHINDRA / 40'41.970 / 141.7 / 29.507
13 / Zulfahmi KHAIRUDDIN / MAL / Red Bull KTM Ajo / KTM / 40'43.129 / 141.6 / 30.666
14 / Luis SALOM / SPA / Red Bull KTM Ajo / KTM / 40'46.616 / 141.4 / 34.153
15 / Matteo FERRARI / ITA / Ongetta-Centro Seta / FTR HONDA / 40'49.981 / 141.2 / 37.518
Pole Position: Alex RINS 1'39.459 144.9 Km/h
Fastest Lap (New record): Luis SALOM 1'39.744 144.5 Km/h Lap 7
Old Circuit Record Lap: Zulfahmi KHAIRUDDIN 1'49.622 131.5 Km/h 2012
Circuit Best Lap: Alex RINS 1'39.459 144.9 Km/h 2013
FINAL CHAMPIONSHIP POSITIONS:
1 VIÑALES 323, 2 RINS 311, 3 SALOM 302, 4 MARQUEZ 213, 5 FOLGER 183, 6 OLIVEIRA 150,
7 MILLER 110, 8 MASBOU 94, 9 VAZQUEZ 82, 10 FENATI 73, 11 KORNFEIL 68, 12 KHAIRUDDIN 68,
13 BINDER 66, 14 AJO 62, 15 SISSIS 59.
FINAL CONSTRUCTOR POSITION:
1 KTM 425, 2 KALEX KTM 191, 3 MAHINDRA 173, 4 FTR HONDA 151, 5 SUTER HONDA 47,
6 TSR HONDA 8.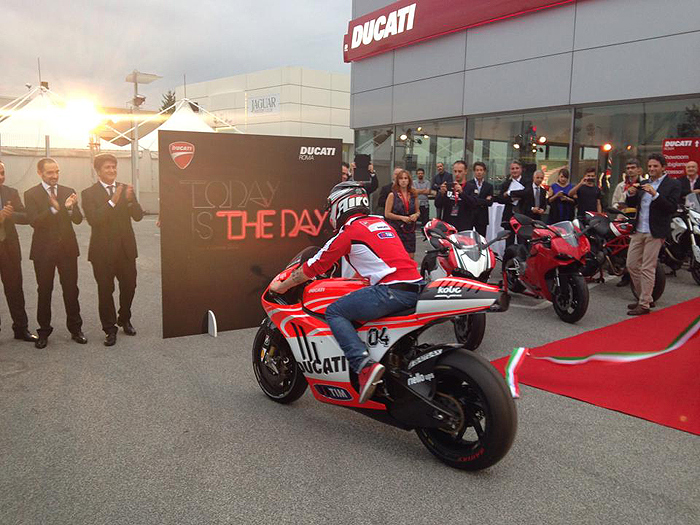 The Ducati factory opened up a new flagship store in Rome this past week with factory rider Andrea Dovizioso riding in on a team MotoGP bike. In the background we see Ducati design engineer Diego Sgorbatiin the blus shirt taking a picture, Corse team manager Paolo Ciabatti (white papers in his crossed arms) and Paolo Flammini (crossed arms), former SBK World Superbike Championship President.
Rossi with Galbusera on their first day together in testing at Valencia on Monday November 11th

Ilvano Galbusera Confirmed as New Cref Chief for Rozssi as Burgess is Let Go
Valencia, Spain, 11th November 2013 - Yamaha Factory Racing has confirmed that Silvano Galbusera will join the Team from today in the position of Crew Chief for rider Valentino Rossi for the 2014 MotoGP season. The appointment follows the announcement that Jeremy Burgess would no longer continue with Team following the Valencia Grand Prix weekend. Burgess had been Rossi's long standing Crew Chief since Rossi's first stint with Honda in 2000. The Rossi/Burgess pair have been together for 14 seasons - since Rossi joined the Repsol Honda team in 2000. Burgess, who also worked with Freddie Spencer and Mick Doohan, went with Rossi from Honda to Yamaha to Ducati and then back to Yamaha again this season.
The announcement came after rumors of the split surfaced in the Italian press this week. At the MotoGP pre-race press conference in advance of Sunday's World Championship finale in Valencia, Spain, Rossi was asked if the rumors were true – that he was unhappy with the work that Burgess has done.

"No, the rumors are true," Rossi said. "I mean not that I'm not happy about the work of Jeremy, but I think that next year Jeremy will not be my chief mechanic. It was a very difficult decision for me because I have a great history with Jeremy. He's just not my chief mechanic, but he's like part of a family. My father of racing.

"I just decide that for next year I need to change something for try to find new motivation and try to have a new boost for improve my level, my speed. And I think that… yeah that this is our last race together with Jeremy."
Silvano began his career in motorcycle racing in 1979 with Gilera, spending 14 years working on both road racing in the 250cc world championship with riders such as Alessandro Gramigni and Paolo Casoli and also worked off road on African Rallies such as the Paris-Dakar with Michele Rinaldi. He then moved to Cagiva in 1994 and worked in the 500cc world championship with John Kocinski.
The following year saw Silvano arrive in the Yamaha family where he remained until 2011. During his time there he worked as both a Crew Chief and Technical Director in World Superbike and World Supersport, guiding riders including Troy Corser, Noriyuki Haga, Cal Crutchlow and Ben Spies to multiple race wins and of course the 2009 World Superbike Championship title. For 2012 and 2013 Silvano worked with Italian Marco Melandri in BMW's World Superbike team.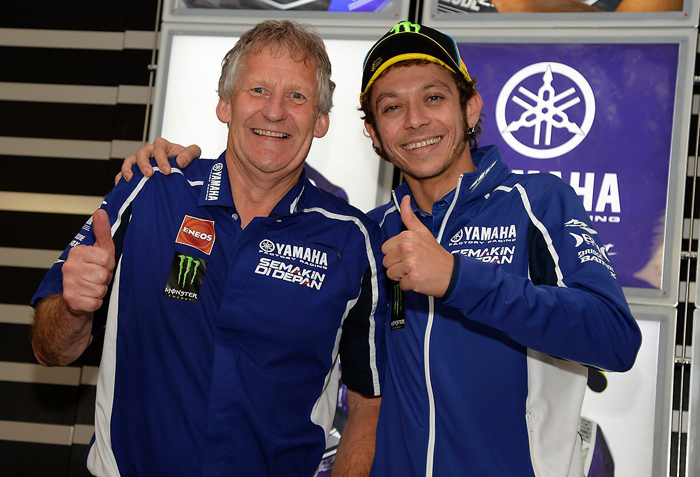 Jeremy Burgess in a happier moment with Valentino.
---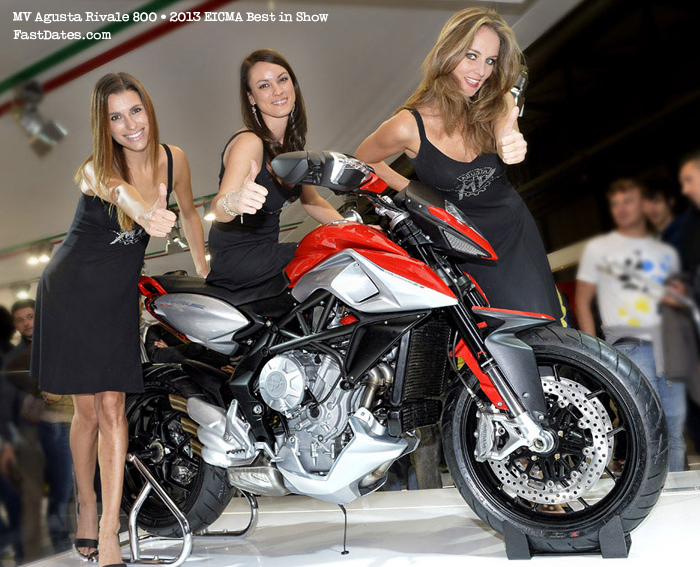 Thumbs Up! for MV Agusta's new Rivale 800, an 800cc 3-cylinder streetfighter design won the Best of Show award at this year's EICMA Show.
2013 EICMA Motorcycle Show
Milan, Italy, November 7th-10th 2013 - The 71st International Motorcycle Show, the world's largest annual media, trade and consumer event for motorized two wheeler manufacturers and accessory companies continued to excite again this year with some very exciting new motorcycle model introductions and beautiful spokesmodels. It's great to see that despite the down trodden world economy, aging buyer demographics and world ecological conditions, performance motorcycle are more the rage than ever. And in this regard the European manufacturers continue to lead the world with new bike introductions and increased sales, while the once dominate Japanese Big Four manufacturers continue to struggle with warmed over big bikes and smaller displacment enty level bikes that are 20 years to late to seduce the younger generation who no longer have an interest or the financial income to own an expensive 2-wheel toy.

Ducat's new Testrastretta powered 2014 Monster receives the Most Beautiful Bike award at EICMA 2013 with Ducati Design Engineer Diego Sgorbati in the red tie.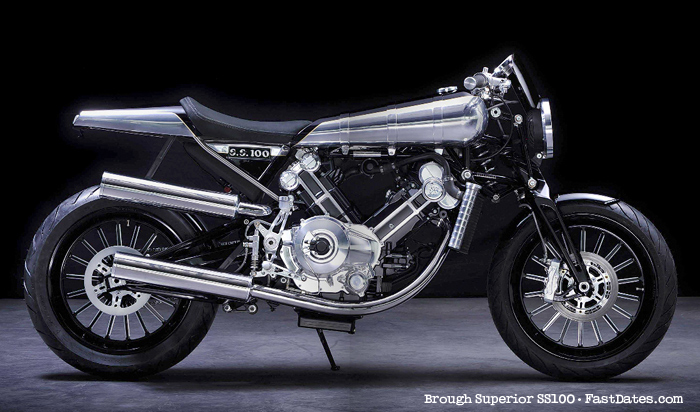 Brough Superior
Mark Upham from Australia has been building exact replicas for a few years now of the iconic and expensive Brough Superior motorcycle from the 1920s. Recently he seems to have gotten some big bucks investor financing as he is now set on world domination, first with a new GP class Moto2 race bike he revealed to us a few months ago, and now with an all new SS100 Brough Superior production bike. This is the bike Upham thinks Brough would be buiding today in the 21st Century if the company had survived the last 70 years. At a price of $75,000 each it will be interesting to see how many wealthy collectors will wanted one of these parked in their museus next to their original 1926 Brough Superior SS100.

To find out more about Brough Superior and their old and new bikes, Check out the really cool
Brough Superior Online Digital Magazine
---
NEW! FAST 2014 Digital Calendar Magazine Yearbook
The Bikes, the Builders, the Riders, the Kittens,the Calendar Bike Show, the World Superbike races all the 2014 Calendar Pictures, and Special Features... For the first time every we take you around the world in 120 exclusive pages for the making of the 2014 FastDates.com Calendars! Now in Members Corner
Click Above for a full size screensaver of our Gianatsis Design offices Computer Monitor as we select pictures from this year's World Superbike photo shoots and begin production of the next Fast dates World Superbike Calendar!
Shooting the next FastDates.com Cal;endar at Laguna Seca Wold Superbike!
Go behing te scenes with photographer Jim Gianatsis and senen (!) beautiful FastDates.com Calendar Kittens - the offical SBK World Superbike Umbrella Girls, as we shoot the next edition of the Fast Dates World Superbike Calendar at Mazda Raceway Laguna Seca this past September 26-28th 2013. The Complete Story in FAST DATES NEWS.
Click Above for an exclusive FastDates.com Screensaver of our beautifuyl Czech Republic FastDates.com Calendar Kittens
and offical SBK World Superbike Umbrella Girls Jitka and Petra with Carlos Checa's Ducai 1199RS13.
---
Fast Dates Edelweiss Pyrenees Tour June 10-18th 2014
You're Invited! - if you would like to join FastDates.com Calendar Editor and Photographer Jim Gianatsis as we take in the beautiful mountain ranges of Southern France / Northern Spain. With some challenging roads up to 10,000 feet to keep it really interesting.
We did a small part of this tour back in 2004 on their Western Alps tour that included Southern France's Grand Canyon, which was really awesome, but this has much more Spain, a country we've never been to. This Southern Europe area is really green, beautiful, awesome weather. You can see the tour details here on the Edelweiss website:
http://www.edelweissbike.com/en/cont/def/home.html?partnerID=US-GDA
---
Subscribe to Motorcycle Racer!
The latest issue of Motorcycle Racer, the world's number one road race magazine is on sale now and you can receive your copy by signing up for a 3-issue subscription for only £10.99. Don't miss issue 168 - it includes an exclusive interview with Dani Pedrosa in which he reveals his strategy for competing with Marc Marquez and Jorge Lorenzo. Giampiero Sacchi talks about life at Ioda Racing's MotoGP team -and-coming road racer Dean Harrison explains his rise up the rankings. 
 
Andrew Pitt quizzes World SBK team managers about the new-for-2014 regulations whilst this month's Guest Editor, Gino Rea gives his take on going it alone in Moto2.
 
PJ Jacobsen describes his battle to improve lap times this season and his hopes for next year and we examine the chances of the new Rotary Racer with exclusive interviews with Brian Crighton, James Whitham and Lee Dickinson. 
 
There's more! With Real Rider evaluating the Showdown, Talan Skeels-Piggins on fighting back from his hospital bed, Sidecar news, products and great photography, it's a terrific read. 
 
Subscribe now and we'll send you issue 168 now and the next two issues covering the climax of the 2013 race season. Click on www.motorcycleracer.com/christmas-gifts/three-issues-1099-uk.php or call in England to: 044 0161 443 1000
---
There's more! Go to Pit Lane News Previous Week

Also Visit: Fast Dates Calendar News • Iron & Lace Calendar News
Calendar Girl News • Meet the Models • Paddock Garage
Get FastDates.com T-Shirts, Mugs & Photographs from Our Store

MEMBERS CORNER! Calendar Kittens, Paddock Garage, Iron & Lace Garage


Amazon.com Motorcycle Products & Apparel Store



MotorcycleSuperstore.com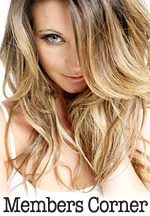 Hot Bikes, Sexy Kittens
Your Exclusive Grid Pass
also includes....
---
Order the New
2013 / 2014 Calendars!
with the FastDates.com Calendar Kittens - the official SBK Umbrella Girls!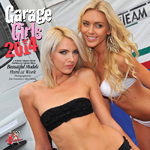 Click for even more
2014 Calendars!
---
EUGENE LAVERTY SIGNS CRESCENT SUZUKI WSB
Team Suzuki Press Office – November 12. Crescent Suzuki has signed 2012 eni FIM Superbike World Championship runner-up Eugene Laverty to lead the team's assault on next year's title fight.
The 27-year-old Irishman will join the team with immediate effect and will participate in the team's final test of the season at Jerez on November 25th and 26th, where he will get his first taste of the Yoshimura-powered Suzuki GSX-R. Prior to the test, Laverty will be at the 'Motorcycle Live' Show on Saturday November 23rd at the NEC in Birmingham as a guest of Suzuki UK, where he will make his first official appearance as a Suzuki rider.
Laverty won a staggering nine races in 2013 and headed to the final round of the season with a chance of the championship, where - despite winning both races – he narrowly missed out on the title. The Irishman brings with him a wealth of experience gained throughout many different championships in his career including British 125cc Championship, MotoGP™ 250cc division and twice runner-up in the World Supersport class.
The Crescent Suzuki team is currently pushing forward with an aggressive development plan for the GSX-R1000 Superbike in order to further increase its competitive level in 2014, and looks forward to matching these improvements to the clear racing ability of its new rider.
Eugene Laverty: "I'm delighted to join Crescent Suzuki for the 2014 season. I will try the GSX-R1000 for the first time at the end of this month to better understand our potential, and I am really excited to see what I can do with the bike. Thank you to Paul Denning and his team, and to Suzuki, for pushing so hard for this deal and for believing in me. I will give everything I possibly can to bring Suzuki to the top of the podium again!"
Paul Denning – Team Manager: "It is an exciting prospect for the Crescent Suzuki team to have secured the services of a rider of Eugene's calibre. He has shown regularly this season that he has the determination, ability and technique to secure superb results, even when things are against him. Eugene brings a different level of expectation to the team and it is now up to us to give him the tool for the job. We have made big steps this season with the GSX-R, and with further developments planned for 2014 I am convinced that Eugene will be able to get the maximum potential from the Suzuki."
Cresent SSuzuki & Leon Camier PPart Company
Team Suzuki Press Office November 6th - Crescent Suzuki bids Leon Camier a fond and regrettable farewell as his second year with the team has drawn to a close.
Camier joined the Crescent World Superbike team at the end of 2011 and has been a popular addition to the team ever since. He brought a wealth of experience to the Crescent Suzuki squad and all who have worked with him have benefitted from this and his friendly, accessible manner.
The Englishman was responsible for FIXI Crescent Suzuki's first-ever WSBK podium, when he finished third at Nurburgring in 2012 and repeated that feat again at Silverstone this season. He has been hampered with some serious injuries in 2013, but has always fought back quickly with a very positive attitude.
Suzuki, Crescent Motorcycle Company, 2012/13 title sponsor FIXI, all members of the squad and the team's other sponsors, partners and associates would like to wish Camier well for the future in both his racing and personal life and to thank him for the two-years of hard work, dedication and professionalism that he has given the team.
Details on the 2014 line-up for Crescent Suzuki WSBK will be announced in the near future.
Paul Denning – Team Manager: "On behalf of all at Crescent and all our sponsors and partners, I would like to thank Leon for the two years that he has been with the team. He has not only been the consummate professional at all times and a great ambassador, he has also become a close friend. His infectious nature is a pleasure to have around the team and he will certainly be missed. I don't think we ever saw the best of Leon, due to some unfortunate injuries, but if points were awarded for dedication to get back to full fitness then he would have been 2013 World Champion!
"I wish Leon the very best of luck for the future and I am genuinely sad to see him leave the team. He is a highly talented racer who deserves to get back to the winning circle."
Engineer Luigi Dall'Igna to become new Ducati Corse General Manager
 • Bernhard Gobmeier to assume a new important role within Volkswagen Group Motorsport
• Luigi Dall'Igna to be appointed Ducati Corse General Manager
• The new positions will become effective from 11 November, 2013

Borgo Panigale,Bologna, Italy, 10 October, 2013 – Ducati announces the appointment of Mr. Luigi Dall'Igna as the new General Manager of Ducati Corse (the former Aprilia World Superbike team manager who is foundly known as "Gi Gi" in the SBK paddock). Having played key roles for many years in both MotoGP and World Superbike championships, 47-year-old Mr. Dall'Igna has acquired significant experience in the world of motor sport. His expertise will enable the Bologna-based manufacturer to increase its focus on the technical aspects of its racing activity, continuing to lay the foundations for a new phase of development and improving its competitive results. Mr. Dall'Igna will report directly to Ducati Motor Holding CEO, Claudio Domenicali.
 
Bernhard Gobmeier, who has been the General Manager of Ducati Corse for the past ten months, will return to Germany to pursue the opportunity of a prestigious and strategic position within the Motorsport organisation of the Volkswagen Group. In his new position, the 54-year-old Engineer from Bavaria will continue his upward professional curve within the VW Group.
 
Paolo Ciabatti, who has been the MotoGP Project Manager since January, is confirmed in his role and will report directly to the new Ducati Corse General Manager, as will 39-year-old Engineer Ernesto Marinelli, Ducati Superbike Project Manager for the past two seasons. The new appointments become effective from 11 November, 2013, immediately after the end of the 2013 racing season.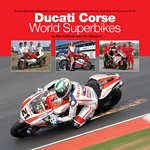 Retail $49.95 ea.
Click to Order from Amazon.com

Ducati Corse
World Superbikes
by Alan Cathcart
& Jim Gianatsis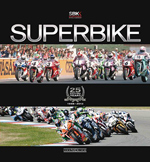 The Official SBK
World Superbikes
1987-2012
25 Year History Book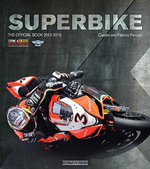 The Official SBK
2012-2013 Yearbook
These SBK Yearbooks are the Best Books Ever about World Superbike. They feature awesome color photography of the riders, bike and racing action. The feature a detailed revue of the past season in pictures and statistics, with a detailed look at the bikes and riders.

Plus a technical look data all the bikes, a preview of the upcoming season's Championship!
We buy this every year ourselves and highly recommend it!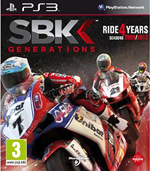 SBK World Superbike Video Game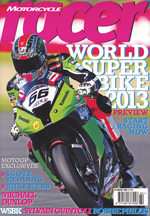 Official Print Media Partner
---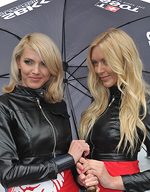 Meet 2013 Calendar Kitten
Jitunka & Petra!

MV Agusta F3 800cc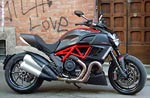 The Devil Made Us Do It!
Testing the Ducati Diavel in Italy
Sudco High Performance & OEM Replacement Parts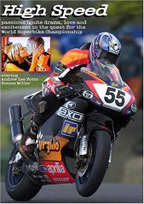 High Speed - the Movie
The best motorcycle racing movie ever made! Filmed on location at the World Superbike races , this an exciting romantic drama staring beautiful British actress Sienna Miller.
---
EDELWEISS OFFERS NEW and AFFORDABLE MOTORCYCLE TOUR ALONG THE DOLOMITES WITH CHALLENGING ROADS, OVERWHELMING MOUNTAIN SCENERY AND ITALIAN CUISINE AT ITS FINEST.
The Dolomites are a must for a passionate biker – come with us on an unforgettable motorcycle tour. The countryside is dominated by mountains, rivers, and gorge-like valleys, which have just space enough for a road and railroad tracks; but there are also bigger towns like Bolzano, where our base hotel is located.

Thinking about Italian culture you will notice quite a big difference from what you may expect; building style, cultures, languages, bilingual road signs and special foods show that varied peoples and ideas peacefully co-exist here. The Sella Ronda is a very good warm-up for the following days and our rides to Penserjoch, Jaufenpass and Timmelsjoch.

Eight more passes are on our schedule for the next day and we will have the opportunity to stop in the nice little town of Cortina d'Ampezzo, well known from the Olympics in 1956. Now it's time to make a decision: go to Venice for sightseeing or collect 10 more passes? Tough call! The last riding day leads us south to the wonderful Lake Garda, with swimming and riding at its best.
Find Out More
THROUGH THE ALPINE WONDERLAND OF AUSTRIA AND SOUTHERN GERMANY – THE ALPS AND LAKES MOTORCYCLE TOUR!
The Alps and Lakes motorcycle tour takes you through a beautiful part of European motorcycle paradise; the Alps. The contrast between the beautiful lakes in southern Germany and Austria and the towering mountains that reach up to more than 10,000 ft is nothing less than breathtaking.
This area is the famous background for the movie "Sound of Music". This vacation offers a little bit of everything: beautiful and relaxing rides through the valleys; some mountain roads and passes; and great vistas and sights, including King Ludwig's castle, Herrenchiemsee, and the historic city of Salzburg. The tour consists of five riding days, one of them is a rest day – which means that you stay two nights at the same hotel.

This is a great opportunity to explore a little bit more, ride around the countryside, walk through town, meet the locals and sample some of the local food. The tour will take you through Germany and Austria, and on the rest day you can even add Italy to your list if you are so inclined.
Find Out More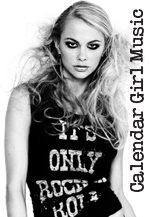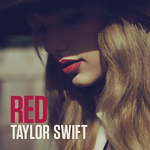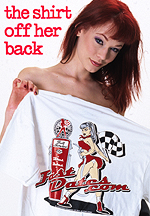 Order the Official
FastDates.com &
LA Calendar Bike Show
T-Shirts!