Fast Dates Calendar December 2013
Our offical Fast Dates SBK World Superbike grid girl Taylor Gunnin poses with Josh Water's Yoshimua Suzuki World Superbike at the Miller Motorsp[orts USA round, one of one two races the team competed at in 2011. Order the Fast Dates Calendars Here.
2014 World Superbike Calendar Schedule
November 28th 2014 - Today the FIM (Fédération Internationale de Motocyclisme) has issued the 2014 provisional calendar for the eni FIM Superbike World Championship, FIM Supersport World Championship and FIM Superstock 1000 Cup. The proposed dates list a 14-event series, with the first races scheduled for Sunday 23rd February at Phillip Island in Australia and finishing, at an as yet unnamed overseas venue, on Sunday 2nd November.
There are a number of additions to the proposed calendar from the circuits used in 2013, with rounds now being staged in – subject to contract – Malaysia and South Africa, as well as Misano in Italy replacing the Monza event. The American round continues at Mazda Raceway, Laguna Seca, now moved to the traditional SBK and MotoGP dates at Laguna Seca in mid-July.
---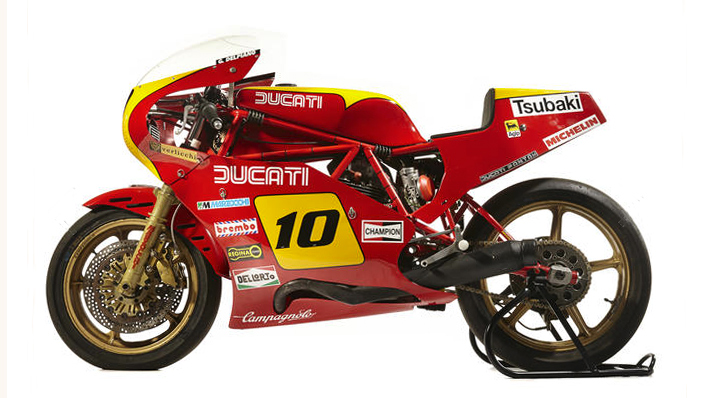 Ultimate collector Ducati Bikes featured at Bonhams Las Vegas January 9th 2014.
San Francisco, December 1st – Following the recent news of the Pierce Museum collection of Harley-Davidsons headlining January's Las Vegas motorcycle auction, Bonhams is very pleased to announce the addition of another truly impressive collection, that of Silverman Museum Racing. Comprised of Italian thoroughbreds, the Silverman collection is renowned for having the best of the best. Like the world-famous Silverman collection of Native American artifacts, universally regarded as one of the best in existence, the collection of Ducati motorcycles is likewise second to none.
Following the owner's passion for racing and, indeed, the DNA of the marque itself, most of the collection is built around competition models. For instance, featured is a 1973 750SS Imola Short Stroke.
Based on the motorcycle that roared to victory in the 1972 Imola GP capturing both first and second places with factory riders Paul Smart and Bruno Spaggiari, this is the model that launched the Ducati legend. As Classic Driver wrote, with "an engine note as moving as an opera by Verdi and curves as beguiling as Sophia Loren's" it is the all-time favorite model from the Bologna manufacturer.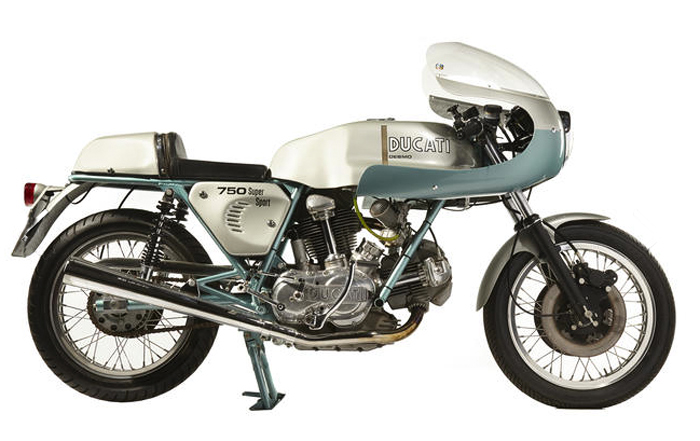 Then there is a rare 1974 750SS Green Frame Round Case – never sold new in the US – with its boisterous symphony, powerful motor and low production numbers that represents one of the finest and most desirable of all Ducatis.
And a brand new 1978 Ducati 900 NCR, the same model that propelled legendary racer Mike Hailwood to a victorious comeback (after an 11 year hiatus!) at the Isle of Man and Mallory Park.Perhaps most noteworthy, however, is the original condition 1984 750SS TT1 campaigned by Pablo Real. In addition to being the progenitor of the extremely successful four-valve Ducati racers that paved the way for world Superbike domination, TT1 models are nearly as rare as hen's teeth and never come up for sale, let alone one with documented race history. Better still, not one but two TT1s are being offered!
Other multiple same-model machines from this astounding collection include two or more TT2s, F1 Desmos and F1 Montjuics, something that is practically unheard of, in addition to the many other fine examples from the group.
Truly one of the greatest collections of Ducatis assembled, the Silverman Museum Racing collection will share center stage with the Pierce Museum collection in January, each representing Bologna and Milwaukee with machines that are diametrically opposed in style and purpose yet symbolize the epitome and benchmark of their respective genres.
The Bonhams Las Vegas Motorcycle Auction will take place at Bally's Hotel & Casino on the Las Vegas Strip on Thursday 9 January 2014. Detailed information about each motorcycle will be listed in the published catalog available in December. To order a catalog, register to bid in person or by phone, and to learn more about other motorcycles in this anticipated auction, visit www/bonhams.com/vegas2.
---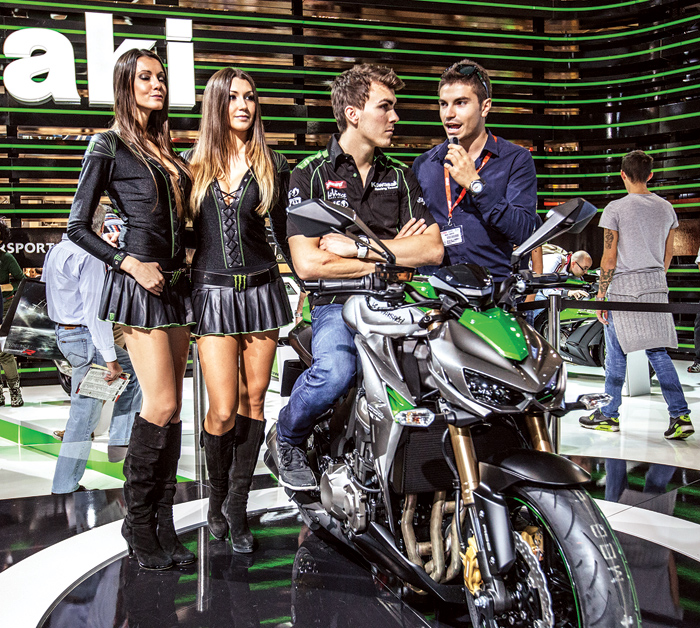 Kawasaki Factory World Superbike rider Loris Baz and the girls from Monster Energy show off the new Kawsaki Z1000 Sport Touring bike. Comfortable high bars and removable luggage bags make this a great do-all bike. Click and Picture to Enlarge.
2013 EICMA Motorcycle Show
Milan, Italy, November 7th-10th 2013 - The 71st International Motorcycle Show, the world's largest annual media, trade and consumer event for motorized two wheeler manufacturers and accessory companies continued to excite again this year with some very exciting new motorcycle model introductions and beautiful spokesmodels. It's great to see that despite the down trodden world economy, aging buyer demographics and world ecological conditions, performance motorcycle are more the rage than ever. And in this regard the European manufacturers continue to lead the world with new bike introductions and increased sales, while the once dominate Japanese Big Four manufacturers continue to struggle with warmed over big bikes and smaller displacment enty level bikes that are 20 years to late to seduce the younger generation who no longer have an interest or the financial income to own an expensive 2-wheel toy.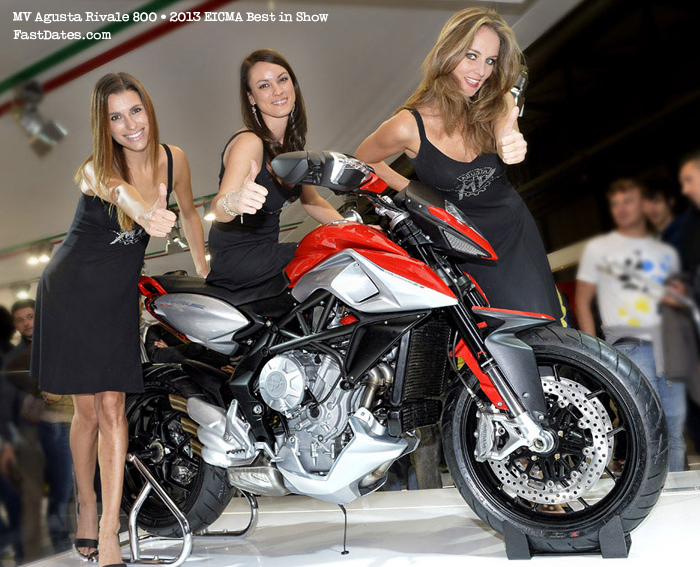 Thumbs Up! for MV Agusta's new Rivale 800, an 800cc 3-cylinder streetfighter design won the Best of Show award at this year's EICMA Show. This should give Ducati's Mopnster more than a run, but for a little more money.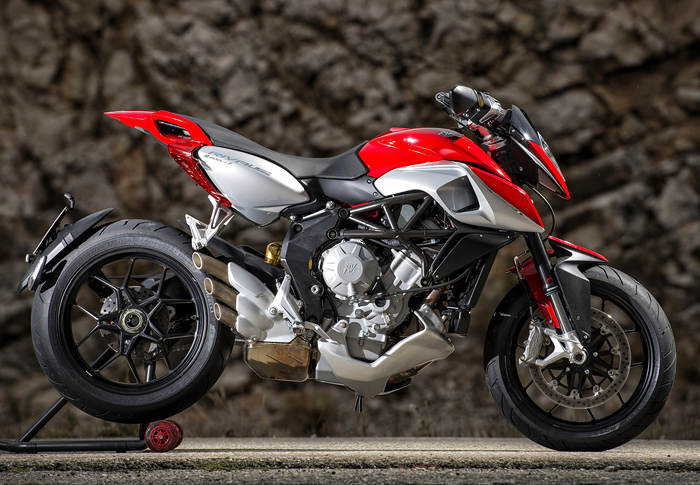 Bimoto's new BB3 Superbike employs a BMW RR1000 Superbike motor.

Aprilia's World Superbike Championship winning RSV4 1000cc bike is now availble as the nwest Tuono without side fairs and more comfortable high bars for everyday street ridig.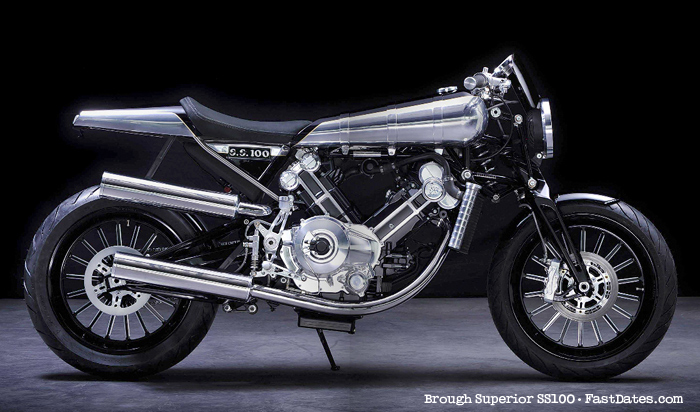 Brough Superior
Mark Upham from Australia has been building exact replicas for a few years now of the iconic and expensive Brough Superior motorcycle from the 1920s. Recently he seems to have gotten some big bucks investor financing as he is now set on world domination, first with a new GP class Moto2 race bike he revealed to us a few months ago, and now with an all new SS100 Brough Superior production bike. This is the bike Upham thinks Brough would be buiding today in the 21st Century if the company had survived the last 70 years. At a price of $75,000 each it will be interesting to see how many wealthy collectors will wanted one of these parked in their museus next to their original 1926 Brough Superior SS100.

To find out more about Brough Superior and their old and new bikes, Check out the really cool
Brough Superior Online Digital Magazine
New Honda 2014 CBR1000RR SP and RCV1000R
Since its inception, the CBR1000RR has represented the essence of a genuine Superbike. By design, the CBR1000RR hits that ideal balance between power and handling that makes it so fun to ride on the street or the track. Now for 2014, the CBR1000RR's performance gets even sharper with the introduction of the CBR1000RR SP. The Japanese sportbike manufacturers now need to offer higher spec versions of their production superbike models, just like the European manufacturers, as the new EVO rules in World and National Superbike will require the use of production Suspension, Brakes and Electronics.
For the ultimate in performance, the CBR1000RR SP features fully adjustable Öhlins front and rear suspension, plus Brembo front brakes and Pirelli Diablo Supercorsa SC premium tires. This is the first time Honda has ever offered Ohlins and Suspension and Brembo brakes on one of thier sportbikes, rather than these components fromtheir own Honda owned companies Showa and Nissan.
A special lightweight subframe lowers the center of gravity and a new-design rear single-seat cowl also shaves weight. Add additional power and torque via a new cylinder head, intake tract and exhaust system, along with high-performance engine parts including pistons and connecting rods hand-selected to match weight and balance for quality and performance. The riding position is now more track-oriented, a bubble windscreen creates a larger still-air pocket for the rider, and a special tri-color paint scheme all help to create a finely honed instrument that brings the CBR1000RR's performance to a whole new level. Color: White/Red/Blue; Price: $17,000 estimated ; Availability: February 2014
Model: CBR1000RR SP
Engine Type: 999.8cc liquid-cooled inline four-cylinder
Bore and Stroke: 76.0mm x 55.1mm
Compression ratio: 12.3:1
Valve Train: DOHC; four valves per cylinder
Induction: Programmed Dual Stage Fuel Injection (PGM-DSFI) with 46mm throttle bodies, Denso 12-hole injectorsIgnition:
Computer-controlled digital transistorized with 3-D mapping
Transmission: Close-ratio six-speed
Final Drive: #530 O-ring-sealed chain
Suspension Front: 43mm Öhlins inverted fork with spring preload, rebound and compression damping adjustability; TBD inches travel
Rear: Unit Pro-Link Öhlins shock with spring preload, rebound and compression damping adjustability; TBD inches travel
Brakes Front: Brembo four-piston calipers with floating 320mm dual discs
Rear: Single-piston caliper with 220mm disc
Tires Front: 120/70-17 radial
Rear: 190/50-17 radial
Wheelbase: 55.5 inches
Rake (Caster Angle): 23° 3'
Trail: 96.0mm (3.7 inches)
Seat Height: 32.2 inches
Fuel Capacity: 4.6 gallons (@6.073 pounds per US Gallon = 27.9 lbs)
Fuel Economy Estimate**: TBD
Color: White/Red/Blue
Curb Weight*: 440.9 pounds (with all fluids including a full fuel tank / 413 lbs without fuel)
Unfortunatly we can't buy or race an RCV1000R in World Superbike, HRC Honda's new 2014 open class race bike for privater MotoGP teams. This is the machine that Nicky Hayden, Scott Redding, and Karel Abraham will be racing next season. At some point in time though, howpefully a year from now, Honda will introduce a production virsion of this bike that will be homologated for Superbike racing.

Like its RC V4 predecessors, the 2014 Honda RCV1000R uses a 999.5cc 90° V4 engine, and while there are many similarities between the two bikes, there are major differences as well. Specifically, the Honda RCV1000R uses conventional steel valve springs, instead of the Honda RC213V's pneumatic valve springs; and a conventional gearbox, instead of the factory bike's seamless gearbox design.

Still the RCV1000R is an impressive machine, and in the hands of Casey Stoner the bike lapped within 0.3 seconds as the RCV213V on the same tires. When shod with the CRT-spec Bridgestone rubber, Stoner was within 0.17 seconds of his factory bike lap time. What the will translate to on race day remains to be seen though.

Costing around €1,200,000 for the first season, and €500,000 for the upgrade package in the second season, teams are still paying quite a bit of coin for a GP bike, especially since HRC is barring them from making their own modifications to the engine. Still, the Honda RCV1000R is a much cheaper option to the satellite-spec RC213V.
---
NEW! FAST 2014 Digital Calendar Magazine Yearbook
The Bikes, the Builders, the Riders, the Kittens,the Calendar Bike Show, the World Superbike races all the 2014 Calendar Pictures, and Special Features... For the first time every we take you around the world in 120 exclusive pages for the making of the 2014 FastDates.com Calendars! Now in Members Corner
Click Above for a full size screensaver of our Gianatsis Design offices Computer Monitor as we select pictures from this year's World Superbike photo shoots and begin production of the next Fast dates World Superbike Calendar!
Shooting the next FastDates.com Cal;endar at Laguna Seca Wold Superbike!
Go behing te scenes with photographer Jim Gianatsis and senen (!) beautiful FastDates.com Calendar Kittens - the offical SBK World Superbike Umbrella Girls, as we shoot the next edition of the Fast Dates World Superbike Calendar at Mazda Raceway Laguna Seca this past September 26-28th 2013. The Complete Story in FAST DATES NEWS.
Click Above for an exclusive FastDates.com Screensaver of our beautifuyl Czech Republic FastDates.com Calendar Kittens
and offical SBK World Superbike Umbrella Girls Jitka and Petra with Carlos Checa's Ducai 1199RS13.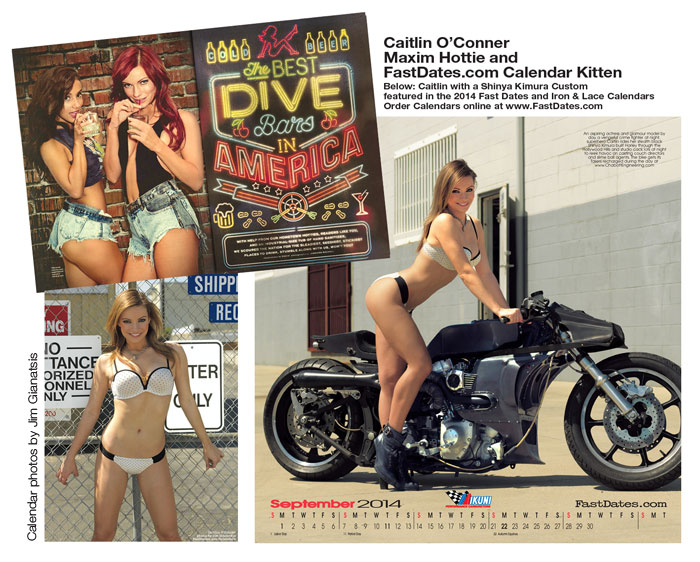 Calendar Kitten Caitlin is a Maxim Hometown Hottie!
Excited to see beautiful Maxim Hottie and 2014 FastDates.com Calendar Kitten and Maxium Hometown Hottie Caitlin O'Conner is featured again in the new December issue of Maxim magazine in a story on Dive Bars! Order Caitlin O'Connor's 2014 Fast Dates and Iron & Lace Calendars as she poses with some cool customs by Shinya Kimura - www.FastDates.com/IRONLACE.HTM
---
Fast Dates Edelweiss Pyrenees Tour June 10-18th 2014
You're Invited! - if you would like to join FastDates.com Calendar Editor and Photographer Jim Gianatsis as we take in the beautiful mountain ranges of Southern France / Northern Spain. With some challenging roads up to 10,000 feet to keep it really interesting.
We did a small part of this tour back in 2004 on their Western Alps tour that included Southern France's Grand Canyon, which was really awesome, but this has much more Spain, a country we've never been to. This Southern Europe area is really green, beautiful, awesome weather. You can see the tour details here on the Edelweiss website:
http://www.edelweissbike.com/en/cont/def/home.html?partnerID=US-GDA
---
Kate Moss and new Matchless Leather Jackets
She's one of the world's most iconic and high priced supermodels, and now the spokesmodel for one of Great Britain's iconic motorcycle brands - Matchless. The 39 year old British supermodel Kate Moss stars in the the new Matchless London brand apparel line which features classic 1960s Rocker style Cafe Racer leather jackets at upscale Carnaby Street prices. Knowing what Kate Moss commands for a photo shoot, the new brand owners at Matchless are shooting high. Check out all their riding and fashion gear at MatchlessLondon.com
---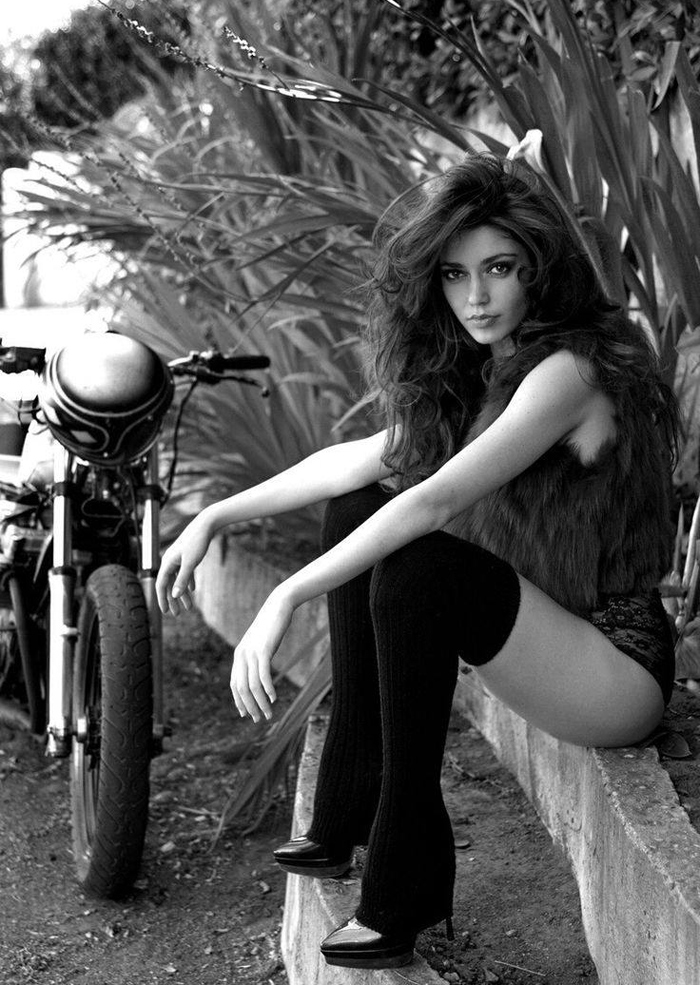 There's more! Go to Pit Lane News Previous Week

Also Visit: Fast Dates Calendar News • Iron & Lace Calendar News
Calendar Girl News • Meet the Models • Paddock Garage
Get FastDates.com T-Shirts, Mugs & Photographs from Our Store

MEMBERS CORNER! Calendar Kittens, Paddock Garage, Iron & Lace Garage


Amazon.com Motorcycle Products & Apparel Store



MotorcycleSuperstore.com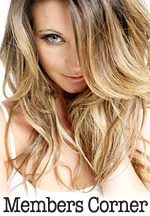 Hot Bikes, Sexy Kittens
Your Exclusive Grid Pass
also includes....
---
Order the New
2013 / 2014 Calendars!
with the FastDates.com Calendar Kittens - the official SBK Umbrella Girls!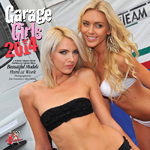 Click for even more
2014 Calendars!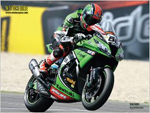 2014 Superbike / MotoGP
Action Calendar!
---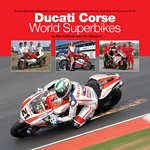 Retail $49.95 ea.
Click to Order from Amazon.com

Ducati Corse
World Superbikes
by Alan Cathcart
& Jim Gianatsis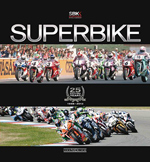 The Official SBK
World Superbikes
1987-2012
25 Year History Book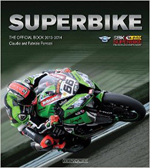 The Official SBK
2013-2014 Yearbook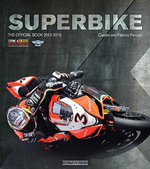 The Official SBK
2012-2013 Yearbook
These SBK Yearbooks are the Best Books Ever about World Superbike. They feature awesome color photography of the riders, bike and racing action. The feature a detailed revue of the past season in pictures and statistics, with a detailed look at the bikes and riders.

Plus a technical look data all the bikes, a preview of the upcoming season's Championship!
We buy this every year ourselves and highly recommend it!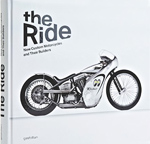 The Ride
The new generation
of sport customs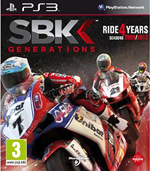 SBK World Superbike Video Game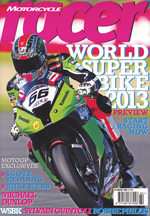 Official Print Media Partner
---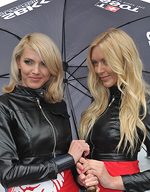 Meet 2013 Calendar Kitten
Jitunka & Petra!

MV Agusta F3 800cc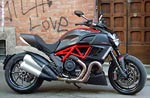 The Devil Made Us Do It!
Testing the Ducati Diavel in Italy
Sudco High Performance & OEM Replacement Parts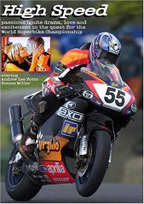 High Speed - the Movie
The best motorcycle racing movie ever made! Filmed on location at the World Superbike races , this an exciting romantic drama staring beautiful British actress Sienna Miller.
---
EDELWEISS OFFERS NEW and AFFORDABLE MOTORCYCLE TOUR ALONG THE DOLOMITES WITH CHALLENGING ROADS, OVERWHELMING MOUNTAIN SCENERY AND ITALIAN CUISINE AT ITS FINEST.
The Dolomites are a must for a passionate biker – come with us on an unforgettable motorcycle tour. The countryside is dominated by mountains, rivers, and gorge-like valleys, which have just space enough for a road and railroad tracks; but there are also bigger towns like Bolzano, where our base hotel is located.

Thinking about Italian culture you will notice quite a big difference from what you may expect; building style, cultures, languages, bilingual road signs and special foods show that varied peoples and ideas peacefully co-exist here. The Sella Ronda is a very good warm-up for the following days and our rides to Penserjoch, Jaufenpass and Timmelsjoch.

Eight more passes are on our schedule for the next day and we will have the opportunity to stop in the nice little town of Cortina d'Ampezzo, well known from the Olympics in 1956. Now it's time to make a decision: go to Venice for sightseeing or collect 10 more passes? Tough call! The last riding day leads us south to the wonderful Lake Garda, with swimming and riding at its best.
Find Out More
THROUGH THE ALPINE WONDERLAND OF AUSTRIA AND SOUTHERN GERMANY – THE ALPS AND LAKES MOTORCYCLE TOUR!
The Alps and Lakes motorcycle tour takes you through a beautiful part of European motorcycle paradise; the Alps. The contrast between the beautiful lakes in southern Germany and Austria and the towering mountains that reach up to more than 10,000 ft is nothing less than breathtaking.
This area is the famous background for the movie "Sound of Music". This vacation offers a little bit of everything: beautiful and relaxing rides through the valleys; some mountain roads and passes; and great vistas and sights, including King Ludwig's castle, Herrenchiemsee, and the historic city of Salzburg. The tour consists of five riding days, one of them is a rest day – which means that you stay two nights at the same hotel.

This is a great opportunity to explore a little bit more, ride around the countryside, walk through town, meet the locals and sample some of the local food. The tour will take you through Germany and Austria, and on the rest day you can even add Italy to your list if you are so inclined.
Find Out More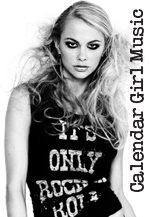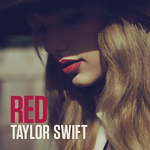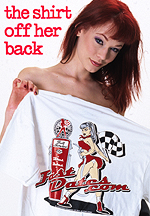 Order the Official
FastDates.com &
LA Calendar Bike Show
T-Shirts!