This Month in the 2015 Garage Girls Calendar...
Beauitful FastDates.com Calendar Kittens and RockstarSupercross Girls Jessica and Kelsey
are hot enoiugh to do some welding without a match!
You'll also find these Kittensfeatured in the 2015 Fast Dates and Iron & Lace Calendars.
And watch them shooting the Calendars with photographer Jim Gianatsis in Calendar Girl News.
Order the Garage Girls Calendar Here.
Order the Fast Dates Calendars
Calendar Bike Photo Features, Paddock Garage Tuning, Pictorials of our Calendar Kittens in Members Corner
See more of our beautiful Models and Calendar Motorcyces in
Calendar Bike Garage and in Members Corner.
---
Troy Bayliss and Ducati Takes on the AMA Grand National Dirt track Miles
Starting wih the Springfield Mile this weekend...
May 18th 2015 - The former 3-time Ducati World Superbike Champion, 46-year old Australian Troy Bayliss has been in America the last week, preparing to take on the AMA Grand National Dirt Track Miles. This is a five series event, with Bayliss to contest the first two beginning with the Springfield Mile in Illinois, before heading back home to Australia. He'll be back for the last three in September.
"That's pretty big over there (AMA Dirt track Rcing) ,'' Troy told a local Australian newspaperjust before leaving home. "I'll be riding for Lloyd Brothers Motorsport. They race for Ducati. so I'll be racing an 1100 Ducati on the mile circuit. It's fast on the dirt, I'll be getting speeds like 230 or 240. It'll be a bit of an eye opener for me.''
Bayliss said he has 'a few contacts' in America through the Troy Bayliss Classic and that's how the offer came to ride in the GNM. "They ride for Ducati and I thought about going to do it, then Ducati North America got behind it along with a few other people.

Troy flew to Lloyd Brothers race shop in the Midwest last week to see and get fitted up to his new Ducati Scrambler inspired dirt track bikes. Then the Troy and the team loaded into their race transporter to drive out to Sacramento, CA, a week early to do some testing on the big Mile Track, the bighigh-speed track he has never raced on before. Back home in Australia the former Superbike Champ has been racing 450 based motocross bikes on smaller 1/4 Mile tracks and holding his annual Troy Bayliss Classic Invitational dirt track races since retiring 6 years ago.

This is not Troy's first return to professional racing since his Superbike retirement in 2009. Earlier this year Troy retuned to race World SuperbikeChampionship at the Australian Round at Phillip Island to substitute for Ducati Team rider Davide Giguliano, who was injured in practice crash earlier that week. Bayliss rode very well in the two Superbike races that weekend, posting quickest lap time in one race, running as highas 6th in one race, and finishing just inside the top 10 both times. Two weeks later Troy also raced the new World Superbike round at Sepang, Thailand, and again carded credible top ten finishes.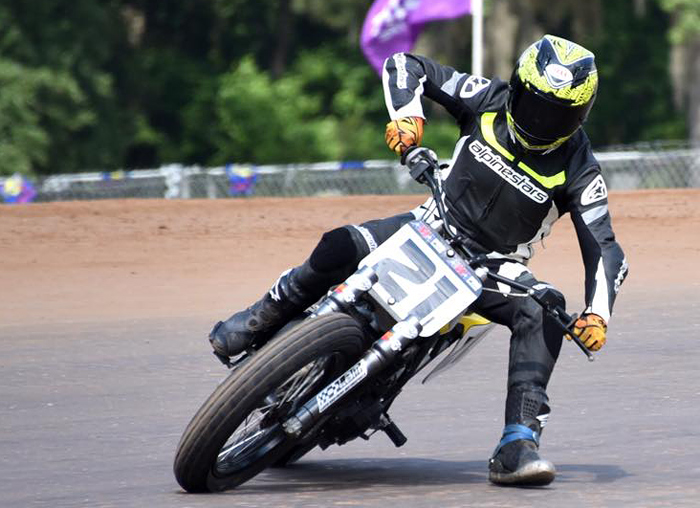 Troy Bayliss Five Miles Tour – How To Watch From Anywhere In The World
The first stop on the Troy Bayliss "Five Miles" tour is next weekend so this is a good time to fill new AMAPro Flat Track fans in on how to follow the races if they are too far away to go in person.
If you love racing and like us and have painfully shelled out hundreds of euros and dollars for the privilege of staying in the know, you are really going to like what I have to tell you about following Troy Bayliss on the Five Miles Tour. It's easy, totally free AND the coverage includes all the practice sessions and races. Better yet, it's a world wide feed with no regional restrictions. Log on race day and get comfortable, you may find yourself wanting to stay a while.
Live coverage on the internet is available for all the races on Fanschoice.TV http://www.fanschoice.tv/ It goes live on the day of the race prior to the first practice and stays live until after the main event. It works on any device and any website. It's totally and completely free and works anywhere in the world. Just log on and click on the AMAPro section. Find the feed you are looking for and that's it.
Full results are posted on the AMAPro website here within 30 minutes after the race. A full recap of the entire event will appear withing 48 hours http://www.amaproracing.com/ft/ For updates in between make sure you check out the @AMAProFlatTrack Twitter feed HERE
Another great resource is "Talking Motorcycles with Barry Boone" show which is available as a podcast you can subscribe to. He covers a lot of different 2 wheeled topics but his long history as a flat track announcer makes him one of the best resources for intelligent interviews full of good info. Available on iTunes or go directly HERE
Flat Track Live is a Facebook based resource that does a good job of staying on top of the Flat Track news. Find them on Facebook HERE and make sure you follow the twitter feed @FlatTrackLive as well HERE
Finally, this year flat track is coming to the XGames on June 4th and Johnny Lewis and the Lloyd Brothers Motorsport Ducati team will be there. To follow them on Twitter go HERE and search the hashtag #XGamesFlatTrack
Harley-Davidson Flat-Track Racing Round One/LCQ/Final is on ESPN 9:30 – 11:30 EDT June 4th
Other obvious good resources for this exciting sport include the tracks themselves like the Sacramento mile @Sactomile and well know media resources like @DaveDespain and his Dave Despain Show on MavTV, or Chris Carr, who is now doing commentary for AMAPro racing and is very much in the know on his facebook page HERE
Best Troy Bayliss, Johnny Lewis and the Lloyd Brothers Motorsports resources include:
Troy Bayliss Athlete Facebook Page • Lloyd Brothers Motorsports Facebook page
---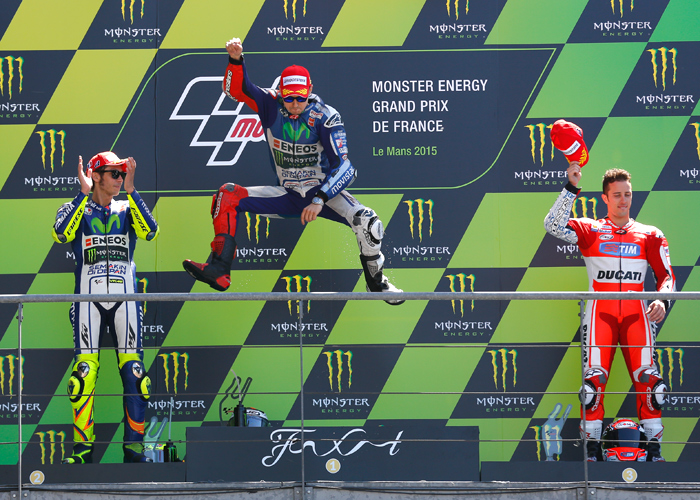 Lorenzo (left) was untouchable again this weekend at LeMans as he celebrates on the podium wioth rossi and Dovizioso.

2015 MotoGP World Championhip, Monster Energy Grand Prix de France, Round 5 of 18
Lorenzo Dominated while an Intense Battle for Fourth Burned.
Lorenzo Takes Critical MotoGP™ Victory in France

LeMans, France, Sunday May 17th 2015 - Fortunately rain was nowhere to be seen in Le Mans, setting the stage for an exciting and eventful MotoGP™ race. The French GP comes after a post race test in Jerez and many riders arrived in France with new confidence, direction and parts. Bradley Smith was one such rider, running new front forks this weekend and leading FP2 on Friday.

Round five of the MotoGP™ World Championship also saw Repsol Honda's Dani Pedrosa return to the grid, the Spaniard having missed three rounds after having surgery to cure arm pump issues. Returning for Jerez had been a possibility, but a test on a Supermoto bike had Pedrosa and his Repsol Honda crew air on the side of caution and wait until Le Mans.

Lorenzo appeared strong again this weekend, as he had done in Jerez, despite saying that his third on the grid was one of the worst qualifying results of his career. A lightning start allowed the Spaniard to break away early, quickly able to pass Andrea Dovizioso on the Ducati and focus on riding his own race. One of Lorenzo's strongest areas is his ability to run at the front and set incredibly consistent lap times when not having to battle with other riders. As in Jerez, Lorenzo demonstrated this incredible skill and was nearly untouchable. "I could overtake Dovizioso early and stay in the lead. I had to manage the one second gap and I had to push really hard even though the front feeling wasn't great," he said.

This makes it back-to-back wins for Lorenzo and reignites his championship hopes after many had begun to doubt the Spaniard. The MotoGP™ paddock heads next to Mugello, a favourite track of Lorenzo and one that has seen several outstanding rides from the Movistar Yamaha rider. On his current form he will be difficult to match.

While Lorenzo was surging ahead, Marc Marquez had a difficult start to the race, dropping as low as sixth before finding his form in the closing stages.

The Spaniard quickly caught Andrea Iannone and Bradley Smith ahead, leading to a fiery battle between Marquez and Iannone. The duo swapped positions at nearly every corner, giving spectators flashbacks of their Moto2™ days. The performance of Iannone was particularly impressive as he dislocated his left shoulder less than a week ago at a private Ducati test at Mugello. Marquez eventually came out on top as Iannone's lap times dropped off significantly in the final three laps, no doubt feeling the pain in his shoulder.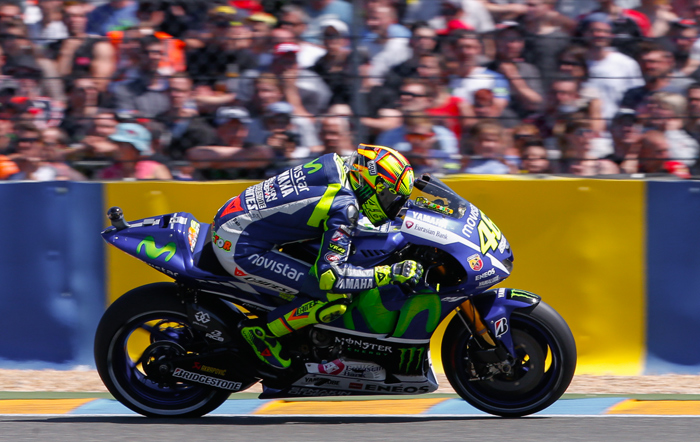 Championship points leader Rossi moved upquickly from a 6th place start, battled Dovizioso for 2nd and came out on top, but couldn't reel in team mate Lorenzo.


While the battle tore on behind, Andrea Dovizioso and Valentino Rossi had a brief battle, the Yamaha rider coming out on top. Issues in Jerez saw Dovizioso finish off the podium for the first time this year, this third at Le Mans is important for the Ducati rider's championship as he sits in second with 67 points, just five more than Lorenzo. "The grip after ten laps was not great, I struggled a bit. I couldn't gain much in the braking. I didn't have Lorenzo's pace though. To return to the podium is important for the championship and us," reflected Dovizioso after the race.

Charging through the field, Rossi seemed as though he may be able to catch his teammate but the gap never dropped below one and a half seconds. It had been a less than ideal start to the weekend for the Italian as he and his Movistar Yamaha MotoGP team struggled with finding a good setting. Big risks in changes to the set up of Rossi's M1 paid off come the race as he once again extended his championship lead, now 15 points ahead of Andrea Dovizioso. "We suffered a lot during practice because I couldn't ride to the limit. We risked more with the set up for the race and I felt very good. It took a couple of laps to understand it fully," said Rossi.

Le Mans was a difficult race for many of the British riders, both Cal Crutchlow and Scott Redding fell from the race in what was an overall disappointing weekend for many of the Honda bikes. The higher track temperatures on race day having a negative impact for the Honda riders who struggled for front end feel. Bradley Smith did well to finish in sixth behind the dueling pair of Iannone and Marquez after a strong showing earlier in the week. There were also reasons to celebrate for rookie Eugene Laverty, the Irishman scoring his first MotoGP™ points as he finished in 14th and as the second Open Honda bike.

The Open category was led by Nicky Hayden, the American also qualifying as the highest Open rider. He and Jack Miller had battled during the early stages of the race, but the Australian fell as he existed Turn 4. Local rider Loris Baz also finished in the points in 12th, taking his best ever MotoGP™ finish in front of a cheering crowd.

Miller was not the only rider to fall as he existed Turn 4, returning Dani Pedrosa also took a tumble there. The Spaniard was unhurt and remounted to finish in 16th, some 15 seconds out of the points. Stefan Bradl was another early faller as he continues to adapt to the Yamaha Forward machine. Both Aleix Espargaro and Karel Abraham were forced into the pits with technical issues, ending their races early.
Jorge Lorenzo, Team Yamaha 1st - "Before the race I was a little bit worried about the front tyre on the right side, because it was close in some corners. Sometimes that's worse in the race on Sunday, because it's hotter at two o'clock and you have more fuel in the tank and push more on braking. On the third or fourth lap it started closing, and I started worrying that I had an ever worsening tyre in the next laps, but luckily for us the tyre stayed more or less the same. It was close in the whole race, but not becoming worse. I was pushing the whole time and when the fuel tank ran low I pushed a little bit less. So this time we have been lucky. I know that other riders also struggled with the front. I could improve in some areas because I lose out in some corners. It was important to be second and overtake Marc at the start and Dovizioso in the first corner. This is the way I prefer to ride, because with nobody in front I can brake perfectly, keep the corner speed and try to increase the gap, so that is what happened. It was difficult because Andrea kept a gap of under a second for a long time, but finally I could stay ahead by 1,2 or 1,4s. Then, when I saw Valentino in second place and in some place close in a little, I had to try to push so much, especially on braking, I could brake later and later and rode a 1'33,004, which gave me the advantage I needed to win this race. Winning two races in a row after finishing outside of the podium in three Grand Prix is a big contrast. These are much better results, but you have to keep your feet on the ground and not hesitate, because things can change very quickly and I can have bad results in the future. Mugello is a good track for Yamaha and especially for me, because it's my favourite track, but Valentino is also very fast there, so who knows what's going to happen."
Valentino Rossi, Team Yamaha 2nd - "I'm happy but we struggled too much to find the right setting in the practice, so we decided to risk and modify the bike before the race. I have to say thank you to my team because they worked very well, my bike today in the race was fantastic and I was able to push, recover and overtake and I was especially able to enjoy riding a lot. I started from the third row and Jorge is always very fast at the start. I had a small gap but I enjoyed the race a lot, because I could overtake and ride at the maximum. Around half way through the race I arrived in second place behind Jorge. He had around two seconds so I wasn't so far behind him and I tried the maximum, because I felt good, but he was in a perfect situation. He was in front and concentrated and he was in his "hammer time". When he's like that it's very difficult to come close to him. This weekend he was stronger than us and was better prepared for the race, so he deserved to win, but I'm happy, also for Yamaha because this year our bike is very strong. These twenty points are very important for the championship. We arrived late at the front, but we arrived and it was another great race. We struggled in the practice, I think that's also due to our bike a little bit, because Jorge also struggled, while he's always great at putting out one fast lap. That's our weak point, but on the other side, in the race our bike is fantastic, it's very balanced and you can push every lap and this is important. I arrive in Mugello with this great condition I'm in and that makes me very happy. The problem is that it's also Jorge's favourite track! Today was a great result for our team, a Yamaha 1-2, and we hope that in Mugello we can reverse the order!"
LeMans MotoGP Results:
1. Jorge LORENZO, Movistar Yamaha MotoGP - 43'44.143
2. Valentino ROSSI, Movistar Yamaha MotoGP - +3.820
3. Andrea DOVIZIOSO, Ducati Team - +12.380
4. Marc MARQUEZ, Repsol Honda Team - +19.890
5. Andrea IANNONE, Ducati Team - +20.237
6. Bradley SMITH, Monster Yamaha Tech 3 - +21.145
7. Pol ESPARGARO, Monster Yamaha Tech 3 - +35.493
8. Yonny HERNANDEZ, Pramac Racing - +39.601
10 Danilo PETRUCCI (Pramac Racing)
11 Nicky HAYDEN (Aspar MotoGP Team)
12 Loris BAZ (Athinà Forward Racing)
13 Hector BARBERA (Avintia Racing)
14 Eugene LAVERTY (Aspar MotoGP Team)
15 Alvaro BAUTISTA (Aprilia Racing Team Gresini)

Riders World Championship after GP of France:
1. Valentino ROSSI - 102
2. Jorge LORENZO - 87
3. Andrea DOVIZIOSO - 83
4. Marc MARQUEZ - 69
5. Andrea IANNONE - 61
6. Cal CRUTCHLOW - 47
7. Bradley SMITH - 46
8. Pol ESPARGARO - 35
9. Aleix ESPARGARO - 31
10.Maverick VIÑALES - 27
---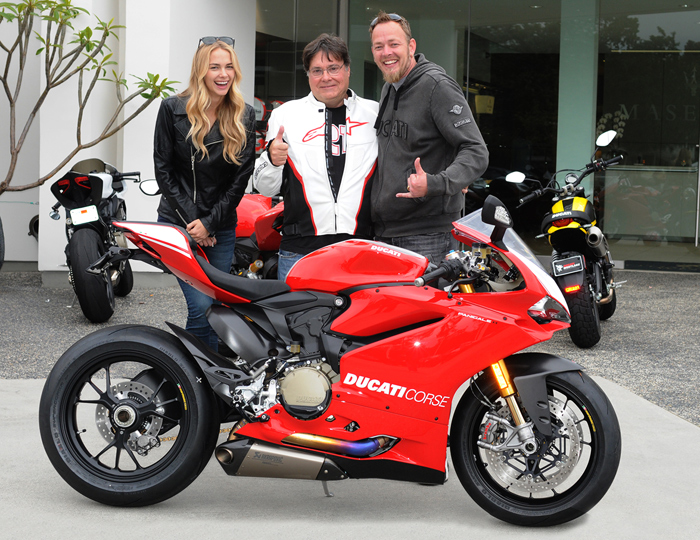 Jim and Sara Attend Ducati Westlake Open House of New 2015 Ducatii 1199R
Westlake, CA ,May 16th, 2015 - FastDates.com Calendar producer Jim Gianatsis and SBK Fast Dates World Superbike Calendar Kitten Sara Horvath were at a Ducati Westlak Open House on Saturday May 16th to premier the new 2015 Ducati 1199R Superbike. Hosting the event were the staff fromof Ducati Westlake including Store Manager Josh Ronaldon(picture above in the Black jacket, with sara and Jim) and Salesman Casey Holloway, Parts Manager Laurel and Sales Associates Connor and Curt. The event included a complimentary lunch with beverages, live music, new bike demo rides, and Jim signing his book "Ducati Coese World Superbikes.

The limited homologation 1199R15 was special ordered by editor Jim, a serious Ducati Superbike enthusiast and collector who got to ride ride home after the Open House, where it joins his collection of all 5 Genertions of Ducati R homologation Superbikes. Team Ducati Corse rider Chaz GDavies had just ridden a box stock 1199R15 two days earlier at its press introduction at the Imola International Circuit, Italy, and posted a lap time good enough to quality 10th on the grid at the previous weekend's Imola World Superbie race withthe full factory race bikes.

The bike was modified the day before the event with the Ducati Performace Akrapovic Titanium race Silencer Kit with ECO Map increasing the power from 205 to 220hp, a Ducati Corse Adjustable Foot Control Assembly, Quick Release Fuel, Track Rear License Plate Assembly, and 520 Chain Kit. Congratulations Jim!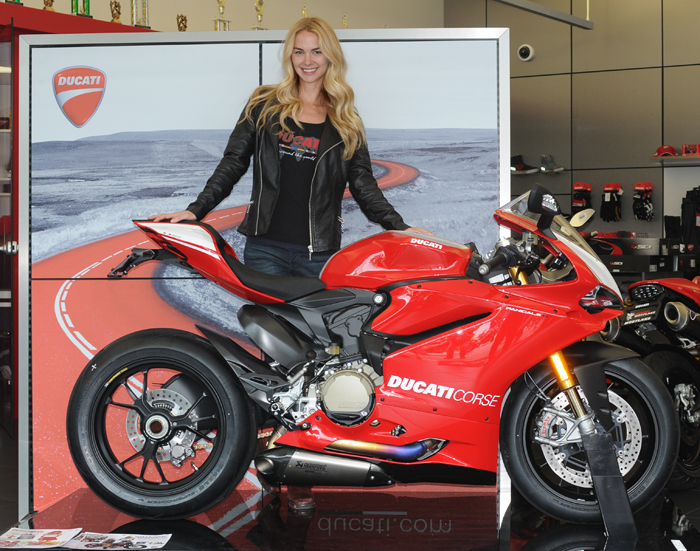 SBK Fast Dates Calendar Kitten Sara was featured thi smonth at the Ducati Westalke Open House premier of the new 2015 Panigale 1199R Superbike.

Calendar Kitten Sara Horvath to be Featured at SBK World Superbike Laguna Seca
July 17-19th and as LA Calendar Show Host on Saturday July 25th

Los Angeles, April 3rd, 2015 - The FastDates.com Motorcycle PinUp Calendars is excited to announce one of their most popular Calendar Kittens, professional model Sara Horvath represented by Umbrella Girls USA, will be serving as one of the offical SBK World Superbike Umbrella Girls at the upcoming Laguna Seca World and AMA Superbike race weekend July 17-19th 2015 at Mazda Raceway, Laguna Seca, CA. Sara will also be working the races with Calendar photographer and publisher Jim Gianatsis to shoot the next edition of the Fast Dates World Superbike Calendar with all the top factory race team bikes on Pit Lane during the race weekend.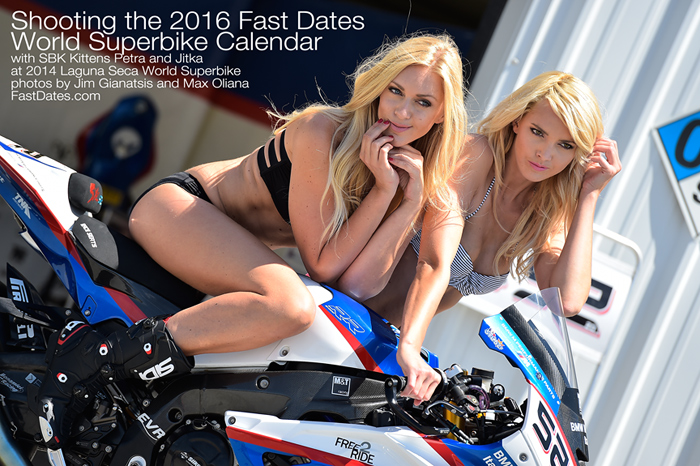 "This year's SBK World Superbike round at Laguna Seca USA marks the 21st year that the FastDates.com Calendars have provided its beautiful Calendar Kittens to be the offical SBK Umbrella and Podium models, going back to the first ever American World Superbike race at Laguna Seca in 1995", explained Jim Gianatsis. "The Fast Dates Supebike Calendar shares a rich history with both SBK World Superbike - the most exciting production based motorcycle roadracing series ever, all the top factory race teams and their riders over those many years, with Mazda Raceway the years that SBK has been here at one of America's most renown roadracing venues, and with our partner Umbrella Girls USA. We will be confirming a second Calendar Kitten to be working alongside Sara for SBK and our Fast Dates Calendar shoot in the coming weeks."
Newest FastDates.com Calendar Kitten and Miss Pirelli World Challenge sports car racing girl Jorie Mae Stanton is our other choice for the 2nd Kitten to join us at Laguna Seca World Superbike and he LA Calendar Motorcycle Show in July. Like Sara, Jorie is also a university graduate, holding a degree in Animal Science and her regualr job is curator of the Primate Department at the Buffalo Zoo in Buffalo, New York.
Calendar Kitten Sara is currently featured in the latest 2015 FastDates.com Calendars - Fast Dates, Iron & Lace and Garage Girls, and in the new FAST2015 Digital Magazine found on the website. Race fans at Laguna Seca World Superbike can meet Sara in the SBK Paddock Show where she will be working as the SBK spokesmodel assisting with the awards presentations and rider interviews. Then the following weekend on Saturday July 25th Sara will be hosting the 24th annual LA Calendar Motorcycle Show at the Sagebrush Cantina, Calabasas, CA, which includes the Calendar Bike Building Championship with top celebrity builders premiering their latest custom builds, the Calendar Girl Music Show featuring beautiful actress and singer songwriter Gwedolyn Edwards and her Band, and American Idol contender Alex Nester. And Sara will be premiering the new 2016 FastDates.com Calendars where she is again featured. For additional information on these Events and to purchase tickets, and for more about the Kittens and Calendars visit: http://www.FastDatess.com and http://www.MazdaRaceway.com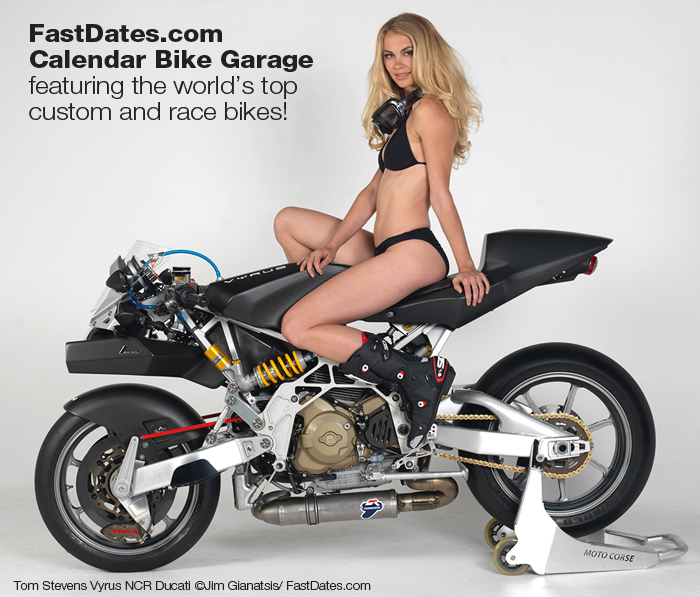 This Month in the Calendar Bike Garage.., The World's Coolest Naked Ducati!
Beauitful FastDates.com Calendar Kitten Sara takes us for a ride on the world's most exotic and expensive Ducati streetbike
ever - a $110,000 Vyrus NCR 983 Superleggera in the Calendar Bike Garage and in Members Corner.

Order the Fast Dates Calendars
Calendar Bike Photo Features, Paddock Garage Tuning, Pictorials of our Calendar Kittens in Members Corner
---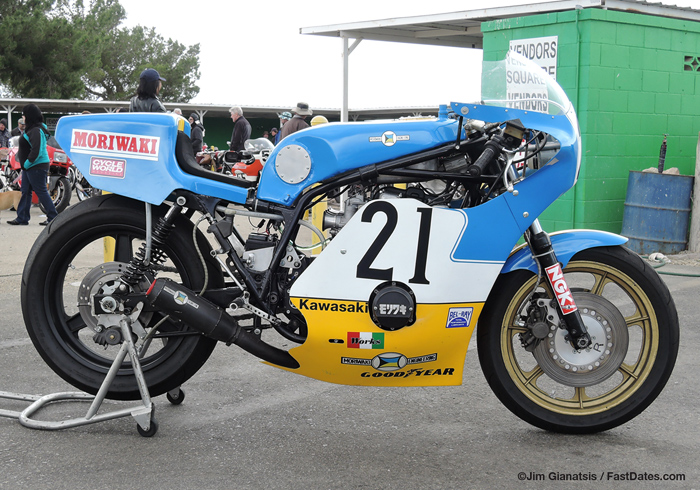 Moriwaki Kawasaki KZ1000 Formula One bike1982.

2015 Corsa Motoclassica at Willow Spring Raceway, California
Photos and Report by Jim Gianatsis

Rosemond, CA -April 24-26th 2015 - The annual Corsa Motoclassica was first run 20 years ago at Willow Springs Raceway in Rosemond, California, just down the road from Edwards Air Force Test Base in the Mojave Dessert. It was the child of Yoshi Kosaka of Garage Company, a Los Anegles based motorcycle used bike and parts store and restoration shop specializing in classic street and race bikes. The Corsa Classic at Willow Springs gave Yoshi's customers a place to bench race and ride their beloved classic race bikes at speed, and could be called the West Coast's version of the Barber Motorsports Festival in near Montgomery, Alabama. Continued Here
Suzuki 500cc Titan Twin 2-Stroke Formula One race bike.
---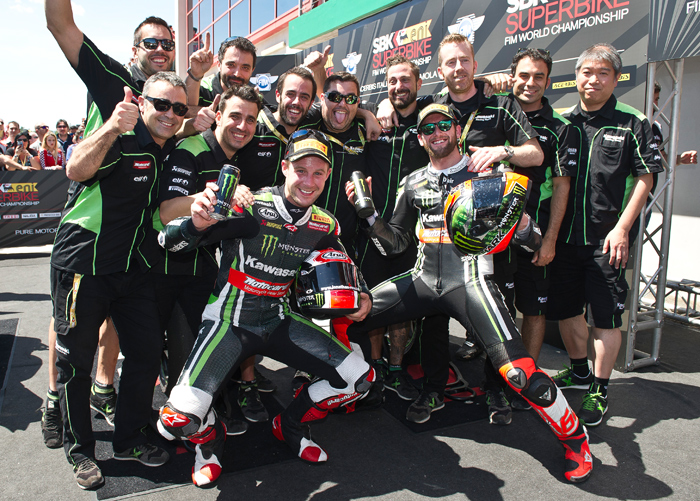 A Big Double Double for Kawasaki's Rae and Sykes the Boys at imola.
2015 Eni SBK World Superbike Championhip, Imola Italy, Round 5 of 13
Double Win at Imola For Superbike Championship Leader Rea
As Teamate Sykes Takes Two Second Places
IMOLA , ITALY, May 10th 2015 -Jonathan Rea (KRT) scored two convincing WSB wins at Imola today and in a strong performance from the Kawasaki Racing Team in general his team-mate Tom Sykes was second in each contest. Rea has now won eight of the ten races run so far in 2015.
Rea's phenomenal Imola performance means he has scored eight wins from ten starts in the FIM Superbike Championship this year, and he now enjoys a huge championship points advantage of 87 points over his nearest challenger.

For Sykes, two second places were his best results of the season putting him up to third in the championship. He is now only 25 points from second place rider Leon Haslam.

The first race was shaping up to be a fight between the top Kawasaki riders until it was stopped at just over half distance. The championship rules demanded a restart, which was only six laps long, but counted for full points. Rea and Sykes once more disputed the lead in this race, with early leader Sykes deposed by Rea on lap three. Rea was to go on to win by 0.482 seconds.

In race two, with marginally warmer track temperatures, again the KRT riders proved the fastest this weekend, with Rea easing away from Sykes in the later stages of the full 19-lap race to make it a double success for himself. With Sykes second again it was a double 1-2 for the KRT squad. Complete Coverge Here
---
The 2015 Los Angeles Calendar Motorcycle & Calendar Girl Music Show
moves to the Sagebrush Cantina, Calabasas on Saturday July 25th 2015

Los Angeles, CA, USA March 1st 2015 - The 2015 LA Calendar Motorcycle Show continues its now 24- year tradition as the premier outdoor streetbike event in America as it rocks the legendary Los Angles bike hangout and party zone, the Sagebrush Cantina in beautiful downtown Calabasas, California. Featured are top Celebrity Custom Bike Builders, the Calendar Bike Building Championship & Concourse d' Elegance, selected Vendors and Exhibitors, and Calendar Girl Music live performances. The Calendar Motorcycle Show is also a benefit for the American Cancer Society with a portion of each Admission Ticket being donated to help those people who are fighting cancer, and to help find a cure.
The Calendar Motorcycle Show features many of the world's top Pro and Amateur custom street bike builders in attendance with their newest 2-wheeled creations of rolling art to compete in the Calendar Show Bike Building Championship for cash and awards including the coveted Best of Show Trophy. The Calendar Show provides a broad focus for all motorcycle enthusiasts including the growing Collector Bike Market with Exhibitors and Bike Show classes for classic European, British and Japanese motorcycles, along with American V-Twins and Customs. Show Entries will be placed in a Concourse display on the Cantina's large outdoor event patio.
The annual Calendar Motorcycle Show always kicks off the world premier of next year's new 2016 FastDates.com Motorcycle PinUp Calendars featuring the world's top road race and custom motorcycles with the beautiful Calendar Kittens featured in the Calendars in attendance at the Show. Show Producer Jim Gianatsis will again be photographing the winning bikes to appear in the Motorcycle Magazines and the next FastDates.com Calendars.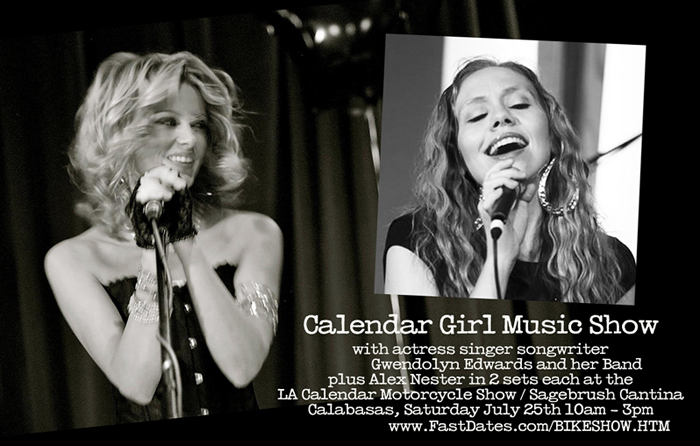 Included with admission is the Calendar Girl Music Show is an incredible day of live music featuring beautiful actress and singer songwriter Gwendolyn Edwards and her Band, and former American Idol contender Alex Nester, each performing two sets of a spicy mix of hot cover tunes and their own original songs. Like many we know impacted by cancer, Alex is a survivor and we are excited the Calendar Show will be helping others with a portion of our ticket sales going to the American Cancer Society. To find our more about their important work fighting cancer go to www.Cancer.org
Legendary Builders featured in the popular FastDates.com Iron & Lace Custom Motorcycle PinUp Calendars and expected to attend include Russell Mitchell / Exile Cycles, Richard Pollock / Mule Motorcycles, Ron Simms / Ron Simms Customs, Jim Giuffra & Spokesmodels / AFT Customs, Chris Redpath / MotoGPwerks, Shinya Kimura / Chabott Engineering, and Adrian Packet / Canyon Motorcycles.
Together with the Calendar Motorcycle's Show's display of exciting new Custom and Classic bikes, Celebrity Builders, and select Manufacturers, there will live performances by a talent female singer songwriters. And VIP Admission includes the Sagebrush Cantina's excellent Taco Plate Buffet with soft drinks, where you can custom design your Mexican lunch plate with a large selection of meats, sides, salads, chips and toppings. Full Bar service is also available. Because the Show is now in gated patio venue, spectator capacity is limited and advance online ticket purchase is recommended to assure your entry to the longest running and most exciting streetbike event on the West Coast.
The 2015 LA Calendar Motorcycle Show takes place on Saturday July 25th 10am-3pm at the Sagebrush Cantina, 23527 Calabasas Road, Calabasas, CA 91302. Motorcycle Parking is Free at the main entrance, with on site paid Car Parking also available. For additional information and to purchase tickets go to: www.FastDates.com/BIKESHOW.HTM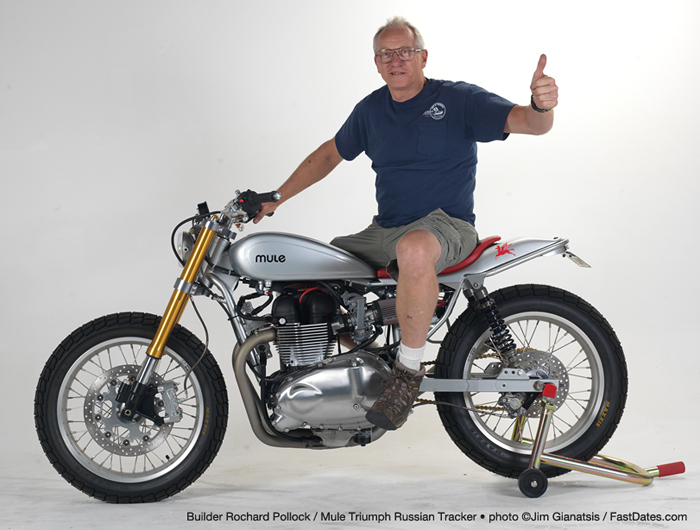 Richard Pollock / Mule Motorcycles to Be Honored at The 2015 Show!
The 2015 LA Calendar Motorcycle Show on Saturday July 25th will pay special tribute this year to Richard Pollock / MuleMotorcycles.net as one of our favorite and most successful FastDates.com Calendar Bike Builders over the last 25 years. You'll certainly want to join us as we honor Richard and he premiers his newest Streetracker build!
---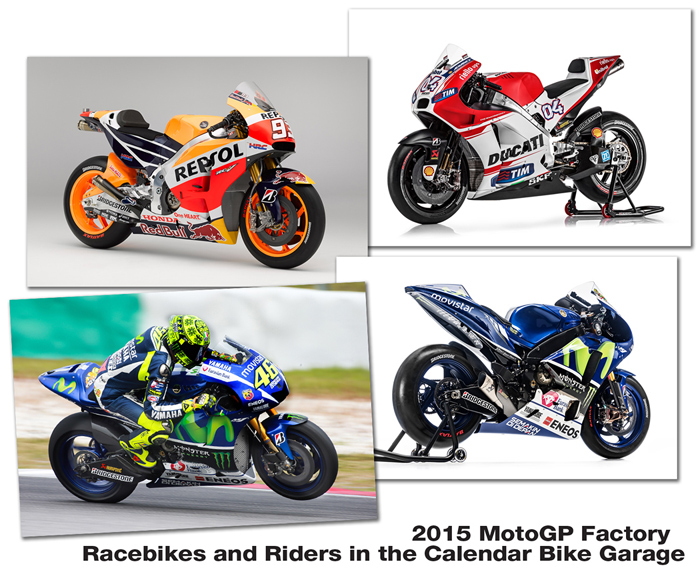 Calendar Bike Garage - Detailed MotoGP Bike Photos, Specs, Large Screen Savers
Calendar Photo Store - Calendar, MotoGP Bikes and Rider Photo Prints & Wall Displays
---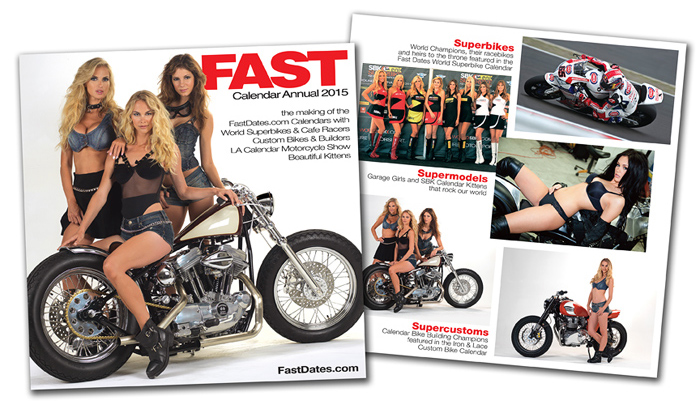 NEW! FAST 2015, 2014 Calendar Digital Yearbook
Go behind the scenes of the FastDates.com Calendar photo shoots at the SBK World Superbike races, the Los Angeles Calendar Motorcycle Show & Concourse d' Elegance, and inside the FastDates.com Studio of famed photographer Jim Gianatsis. Meet the official SBK World Superbike Calendar Kittens who also serve as the official SBK podium and grid girls, the top factory riders of World Superbike, and America's top custom bike builders. You'll find detailed editorial photo features on the Calendars' top Custom and Race bikes, and on the Calendar Kittens.
Did we forget anything? - Oh yes! The new FAST 2015 Calendar Yearbook Digital Edition features in high resolution every page in the new 2015 Fast Dates World Superbike, Iron & Lace Custom Bikes, Garage Girls and Cafe Racers Calendars featuring the world's top race and custom bikes and the beautiful Calendar Kittens!
Now in Members Corner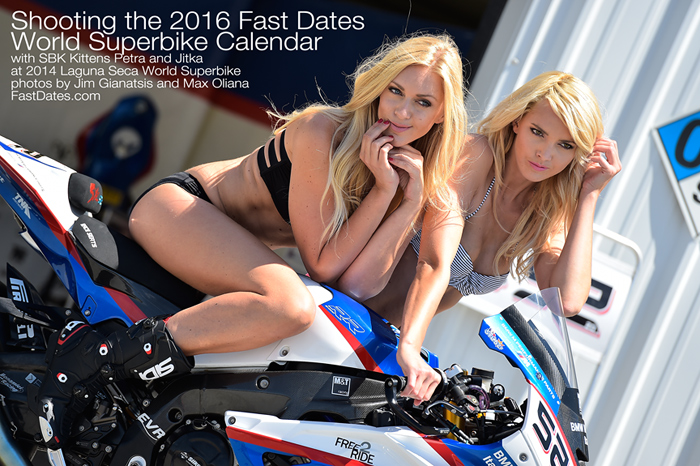 ---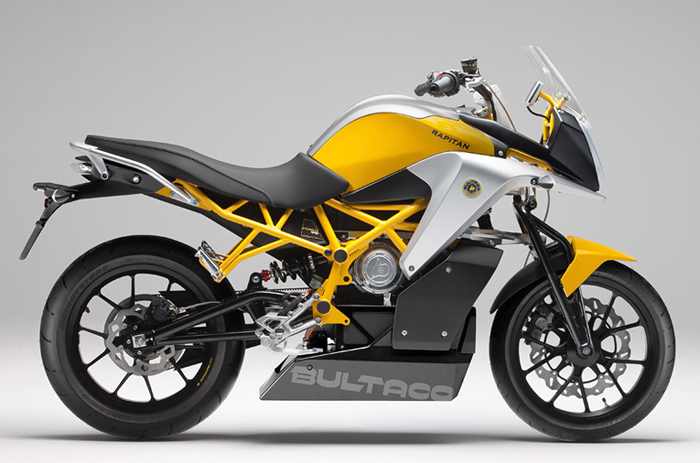 Bultaco Rapitán Electric
Bultaco is back, with the Barcelona-based motorcycle manufacturer founded in 1958 closed in 1983, now returning with an Electric Sportbike of its own. Instead of returning to the market with internal-combustion motorbikes like it made for decades, the new Bultaco is working on a line of motorcycles with electric propulsion. The revival effort has stemmed out of LGN Tech Design SL, a Spanish startup established that, among other activities, competed in electric motorcycle racing and has now grown into the rebirth of the Bultaco brand.
The company has several electric motorcycles under development, but is starting with the Rapitán (pictured above) and Rapitán Sport, powered by a brushless electric motor with 54 horsepower and 92 pound-feet of torque on tap, a 90-mile-per-hour top speed and regenerative braking to keep the lithium-ion battery topped off. The on-board charger will fill the battery from empty in three and a half to five hours for a combined SAE range of 87 miles, and without a gas tank between the rider and the handlebars, will even store a full-face helmet on board.
The team behind the revival, having benefited from the guidance of the late former BMW, Rolls-Royce and Maserati executive Karl-Heinz Kalbfell, aims to bring its first vehicles to market sometime this year, initially to be distributed in select markets across Europe. More at http://bultaco.es/en/motos
Polaris / Victory Motorcycles Acquires Electric Motorcycle Business from Brammo
Will Race at the Isle of Man with TT Legend William Dunlap
MINNEAPOLIS, May 11th -- Polaris Industries Inc. (NYSE: PII) today announced it has acquired the electric motorcycle business of Brammo Inc. In addition, Polaris is acting as a leading investor in a recapitalization of Brammo that enables the company to focus exclusively on the design, development and integration of electric vehicle powertrains.
Going forward, the two companies will leverage Polaris' leading position in the global powersports industry to market a variety of electric vehicles utilizing Brammo's award winning lithium-ion electric drivetrain technology, while freeing Brammo to continue developing its innovative electric vehicle powertrains. Brammo supplies these products, including the Brammo Power™ battery pack and Brammo Power™ vehicle management systems, globally to a wide range of OEMs. As part of this transaction, Polaris will utilize the assets acquired to begin manufacturing electric motorcycles in the second half of 2015 at its Spirit Lake, IA facility.
"We have enjoyed our involvement with Brammo Motorcycles over the past three years, and our excitement about their industry-leading lithium-ion electric drivetrain technology has increased commensurate with their improvements in cost and performance. Polaris and Brammo share a goal of adding the most advanced and highest capability electric solutions to Polaris' portfolio of leading powersports products," said Scott Wine, Polaris Chairman and CEO. The agreement allows both companies to be more agile during the development cycle with clear accountability toward selling products that exemplify Polaris' standard for delivering world class vehicles.
Polaris has been a strategic investor and partner with Brammo since 2011. During that time, the companies have collaborated on a number of projects in motorcycles, off-road and on-road vehicles. "Today's announcement strengthens not only Polaris' commitment to bringing our consumers lithium-ion electric solutions, but also this partnership's ability to continue innovating and developing leading electric drivetrain technology," said Wine. "We anticipate a return on these investments and believe the new alignment brings us that much closer to delivering world-class electric solutions across our products."
Brammo has designed and developed numerous electric vehicles, including the award-winning Enertia and Empulse motorcycles. Testifying to its capabilities and technology, Brammo motorcycles have won a number of awards including: 2013 Playboy "Motorcycle of Year" and "Best Electric" (Empulse R), 2012 GQ "Best Stuff of the Year" (Empulse), 2011 Popular Science "Best of What's New" (Empulse), 2011 Motorcycle.com "Best of 2011" and a 2010 Silver Edison Award. In addition, Brammo's motorcycles have won numerous racing championships including the 2013 FIM eRR North American World Cup Champion and 2012 TTXGP World Championship.
About Polaris
Polaris is a recognized leader in the powersports industry with annual 2013 sales of $3.8 billion. Polaris designs, engineers, manufactures and markets innovative, high quality off-road vehicles, including all-terrain vehicles (ATVs) and the Polaris RANGER® and RZR® side-by-side vehicles, snowmobiles, motorcycles and on-road electric/hybrid powered vehicles.
Polaris is among the global sales leaders for both snowmobiles and off-road vehicles and has established a presence in the heavyweight cruiser and touring motorcycle market with the Victory, Indian Motorcycle and Slingshot brands. Additionally, Polaris continues to invest in the global on-road small electric/hybrid powered vehicle industry with Global Electric Motorcars (GEM), Goupil Industrie SA, Aixam Mega S.A.S., and internally developed vehicles. Polaris enhances the riding experience with a complete line of Polaris Engineered parts, accessories and apparel, Klim branded apparel and ORV accessories under the Kolpin, Pro Armor and Cycle Country brands.
Polaris Industries Inc. trades on the New York Stock Exchange under the symbol "PII", and the Company is included in the S&P Mid-Cap 400 stock price index.
Information about the complete line of Polaris products, apparel and vehicle accessories are available from authorized Polaris dealers or anytime at www.polaris.com.
About BrammoBrammo Inc. is a leading electric vehicle technology company headquartered in North America. Brammo designs and develops electric vehicles including the award winning Enertia and Empulse motorcycles. Brammo is the 2013, FIM eRR North American World Cup Champion. Brammo is an OEM supplier of its innovative Brammo Digital Drivetrain systems including the Brammo Power battery pack and Brammo Power vehicle management system. Brammo has vehicle distribution and marketing operations in North America, South America, Europe, and Asia. Information about Brammo can be found at www.brammo.com.
---
There's More! Go to Pit Lane News Previous Week

Also Visit: Fast Dates Calendar News • Iron & Lace Calendar News
Calendar Girl News • Meet the Models • Paddock Garage
Get FastDates.com T-Shirts, Mugs & Photographs from Our Store





MEMBERS CORNER! Calendar Kittens, Paddock Garage, Iron & Lace Garage




Amazon.com Motorcycle Products & Apparel Store



MotorcycleSuperstore.com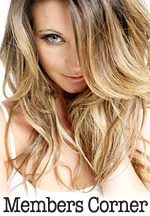 Hot Bikes, Sexy Kittens
Your Exclusive Grid Pass
also includes....
---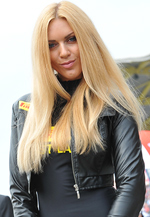 2014 SBK Race Season
Meet the offical SBK
World Superbike Girls!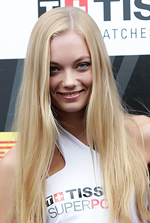 2013 SBK Race Season
Order the New
2014 / 2015 Calendars!
with the FastDates.com Calendar Kittens - the official SBK Umbrella Girls!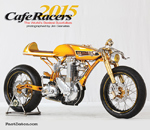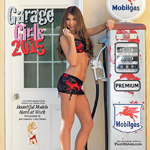 Click Below for more
2015 Calendars!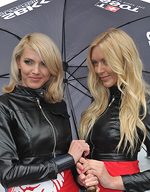 Meet FastDates.com
Calendar Kittens
SBK Grid Girls
Jitunka & Petra!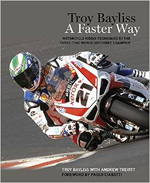 New! Troy Bayliss
A Faster Way
Track Riding Book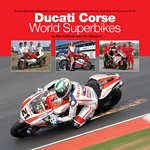 Retail $49.95 ea.
Click to Order from Amazon.com

Ducati Corse
World Superbikes
by Alan Cathcart
& Jim Gianatsis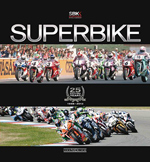 The Official SBK
World Superbikes
1987-2012
25 Year History Book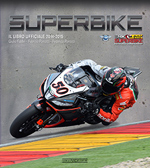 The Official SBK
2014-2015 Yearbook
These SBK Yearbooks are the Best Books Ever about World Superbike. They feature awesome color photography of the riders, bike and racing action. The feature a detailed revue of the past season in pictures and statistics, with a detailed look at the bikes and riders.

Plus a technical look data all the bikes, a preview of the upcoming season's Championship!
We buy this every year ourselves and highly recommend it!
---
Superbike: Imola Sunday Races Imola (Italy) 10 May 2015
The World Superbike weekend at Imola has concluded positively for Team Althea Racing. Matteo Baiocco finishes the two races eighth and sixth, while Michel Fabrizio crosses the line in tenth and ninth ! place, not far behind his teammate.
Matteo Baiocco completed two great races at the historic Imola track, confirming the continuous progress made between the start of the championship and now. Unlucky yesterday during the Superpole, Baiocco today started further back on the grid but in race 1 he made up positions lap after lap and was lying tenth when the race was brought to a stop with a red flag. In the restarted 6-lap sprint, Matteo never lost focus and crossed the line eighth. In race 2, with track temperatures of roughly 46°C, he was able to manage tyre wear and maintain a constant rhythm to the line, securing a sixth place finish and important championship points.
Matteo Baiocco: "I'm really pleased with today's two races, which went to making up for yesterday unlucky Superpole episode. I was able to see that if we'd started a little further ahead on the grid I would have been able to make a great race. A solid result in terms of the championship anyway, two good positions and consistency throughout the races. The team has worked really well and these results give us confidence for the next races. I would like to thank everyone who was here, Genesio Bevilacqua and all my staff, who never set a foot wrong and who have helped me complete two strong races. I will continue to try and repay them with result! s that are equal to or better than these."
Michel Fabrizio's return to a championship that he hasn't competed in for a year was a positive one. The Italian was able to complete two good races, not far off the results obtained by his teammate. In only three days he has had to deal with a new bike, after a long break, and trying to find the right feeling with his Ducati Panigale R. The work completed together with his team was efficient, and meant that Michel was well prepared. In race 1 he was able to finish inside the top ten but was unlucky in race 2, losing precious time after making contact with! another rider and almost losing his boot in the process. This set back forced him to push hard to make up for lost time and he eventually finished in ninth position.
Michel Fabrizio: "This was a good weekend for me and the best thing is that I felt like a rider again. I thank the entire team for having given me so much over these three days. I would have liked to repay them with a great result and it was a pity about the contact with Mercado which literally pulled my boot off. I almost had to stop to put it back on because it was sliding off my foot. I lost precious seconds and so seeing as how the race went I think ninth was the best I could do. Ninth which wouldn't normally be positive for a rider but after a year's break I think it's a great result. I'm particularly disappointed for the team."
---
MOTOGP TESTS AT JEREZMovistar Yamaha's Jorge Lorenzo ended the official test at Jerez on top after dominating the Spanish GP over the weekend.
It was cloudy but warm for the first official mid-season MotoGP™ test on Monday in Jerez and Movistar Yamaha's Jorge Lorenzo, who had dominated proceedings during the race weekend, ended the day once more on top of the timesheets recording a 1'38.516.
His teammate Valentino Rossi was only four-hundredths of a second further back in second. The team admitted they did not have any major updates to test, with both riders focusing more on the setup of their bikes, and completing 52 and 66 laps respectively.

CWM LCR Honda's Cal Crutchlow (+0.306s) followed up his fourth during the race in Jerez by finishing third in the test, as he tried out some new suspension parts and worked on the electronics package on his RC213V as he put in 64 laps.

Team Suzuki Ecstar Aleix Espargaro (+0.382s) completed 63 laps and was 4th fastest as he used the test to try and find out if they had solved the chatter issue which had affected the bike at the three previous races. Chatter can be caused by excess grip, so the team wanted to know if they had fix the problem, or if it was simply down to slippery nature of the Jerez track.

Repsol Honda's Marc Marquez only completed four laps as he tried out a new swingarm for his Repsol Honda team, ending the day in 5th, 0.460 seconds behind Lorenzo as he protected his broken finger from any more damage.

Monster Yamaha Tech 3's Bradley Smith completed the top six, 0.831s back from Lorenzo, beating his time from Qualifying in the process. The Brit put in 41 laps as he finished three-tenths ahead of his teammate Pol Espargaro.

A number of the Open class teams made use of the extra track time to work on the setup of their Magneti Marelli electronics package, while Avintia Racing's Hector Barbera had some new parts to test to effectively turn his Open GP14 into the 14.1 his teammate Danilo Petrucci rides.

Aprilia Racing Team Gresini debuted their full seamless shift gearbox at the test with Alvaro Bautista, while Marco Melandri had a new swingarm and chassis to test. Bautista made dramatic progress to end the day in 11th 1.2s behind Lorenzo, while Melandri finished last in 22nd.
THE SEAMLESS GEARBOX MAKES ITS DEBUT ON THE APRILIA RS-GP
Jerez, (Spain), 4 May 2015 – The day after the Jerez de la Frontera race, where Aprilia Racing Team Gresini continues improving with Alvaro Bautista's performance and the progress Marco Melandri made in the race, development on the RS-GP does not stop.
In the tests scheduled for today on the Andalusian track the seamless gearbox (continuous engagement), active in upshifting as well, made its début and was immediately appreciated by Bautista who was the first official rider to ride it onto the track.
The Italian team's entire season has been and will be characterised by continuous experimentation with technical solutions which serve both to improve the performance of the RS-GP and to provide data and information for the design of the prototype that will race in the 2016 season. For this the technical step today takes on particular importance and paves the way for the new gearbox's race début which could take place in one of the next European MotoGP rounds. The team also worked on new chassis solutions, particularly on a new frame and swingarm. The test results will now be processed at the Noale headquarters in order to prepare for the upcoming races.
ROMANO ALBESIANO (Aprilia Racing Manager)
"Today was a very positive day. For the first time we put our seamless gearbox technology, a particular Aprilia solution, on the track with an official rider. Alvaro liked it very much and found a clear advantage straight away compared to the conventional gearbox. So it was a complete success which now means that we'll have to work hard to get it into a race as quickly as possible. Considering how things went today I think we'll be able to do that soon, within the next two or three races. I'd like to have it for Mugello or at the latest for Barcelona. Marco did his job, bringing in new chassis ideas, some we liked and some not so much, so we still have some work to do in that area. In short I would say that, between the race and the tests, we are finishing up this trip to Jerez pretty well."
FAUSTO GRESINI (Team Manager)
"Days like this are fundamental, especially for us as we are taking on a season where we need to learn and grow. They help us understand what steps to take in order to improve. In the end Alvaro also put in a good time with 1'39.766, but in these tests it is just as important to figure out which solutions to reject. Any new information is important, but to understand where to direct the technical advancements and to avoid going down paths that lead nowhere. Everything works together to make progress in the development of such an important project.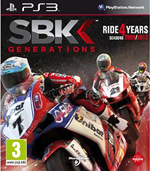 SBK World Superbike Video Game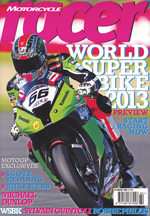 Official Print Media Partner
---
Rossi On Top for
Yamaha in Argentina
Termas de Rio Hondo (Argentina), 19th April 2015
Movistar Yamaha MotoGP's Valentino Rossi ended his Argentine adventure in style today with a sensational victory in the Gran Premio de la República Argentina. Teammate Jorge Lorenzo started strongly as a key protagonist before dropping to finish in fifth.

Starting from a less than perfect eighth position on the grid, Rossi was immediately in the middle of the pack fighting for first corner position. Taking a lap to find his rhythm he then started his move up the field, taking first Danilo Petrucci and then Aleix Espargarò to move into sixth. With 20 laps to go his teammate Lorenzo was next as the Doctor continued his charge towards the front.

The next pack to be dispatched were Andrea Iannone, then Cal Crutchlow and finally Andrea Dovizioso to put the Movistar Yamaha MotoGP rider in second position. Rossi then had the seemingly impossible task of closing a gap of over four seconds to leading rider Marc Marquez.

The nine-time world champion then delivered a performance for the record books, putting the hammer down and cutting the lead lap by lap to reel Marquez in with just two laps remaining. A fast exchange of positions followed through turns two, three and four, with Rossi exiting turn five in the lead. In his rush to counter attack, Marquez then clipped Rossi's back wheel on the exit, crashing out of contention.

Teammate Lorenzo was quick to attack from the grid start, taking third through the first corner then swiftly dealing with Aleix Espargarò for second and beginning the hunt for Marquez. The charge was to be short lived as the Mallorcan struggled to make the harder rear tyre work for him, gradually dropping to take fifth at the line.

Rossi's victory brings with it some incredible numbers, bringing Rossi's podium tally to 199, 110 of which are victories and 51 of those with Yamaha.

The result puts him on 66 points at the top of the rider standings, six clear of Dovizioso in second. Movistar Yamaha MotoGP also lead the team standings on 103 points and Yamaha lead the constructors standings with 66 points.

Lorenzo's fifth place finish delivers 11 points, putting him on a total of 37 in fourth, one point ahead of Marquez.

MV Agusta F3 800cc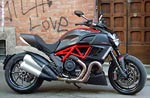 The Devil Made Us Do It!
Testing the Ducati Diavel in Italy
Sudco Carburetor Kits & OEM Replacement Parts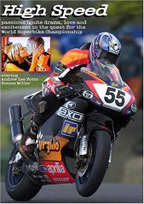 High Speed - the Movie
The best motorcycle racing movie ever made! Filmed on location at the World Superbike races , this an exciting romantic drama staring beautiful British actress Sienna Miller.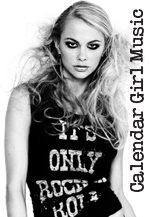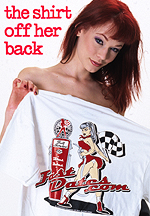 Order the Official
FastDates.com &
LA Calendar Bike Show
T-Shirts!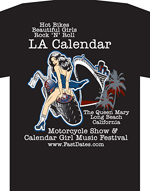 3-Time SBK World Superbike Champion
Troy Bayliss
to race AMA Dirt Track
This Season
DAYTONA BEACH, Fla. (April 21, 2015) - Troy Bayliss, the Australian road racing superstar and winner of three World Superbike titles, is coming to the USA to compete in the most iconic and historic form of American motorcycle racing.

Bayliss will run five events on the AMA Pro Flat Track schedule, putting him in the field against the best dirt track racers in the world. He is set to make his debut on a Lloyd Brothers Motorsports Ducati May 24 at the legendary Springfield Mile in Springfield, Ill., and will run the four remaining Mile events on the 2015 schedule.

"Having Troy Bayliss race with AMA Pro Flat Track, at some of our most storied venues, really multiplies the excitement and positive momentum we have as a sport right now," said Michael Gentry, Chief Operating Officer of AMA Pro Racing. "With his own exhibition race, as well as the Superprestigio and with his impressive resume with World Superbike, British Superbike and MotoGP, Troy is one of the motorcycle racing greats. Seeing him on American dirt is a mouth-watering prospect for USA race fans. We are looking forward to the excitement created by his presence in our paddock. A lot of work went into making this a reality and we are thankful to David and Michael Lloyd of Lloyd Brothers Motorsports, Jim Dillard, Vicki Smith and Ducati North America for their vision, support and participation."

Top road racers have long used dirt track as a training regimen, but Bayliss has taken it to a new level since his retirement from full-time competition in 2008. For the last three years, he's successfully promoted the Troy Bayliss Classic flat track exhibition in Australia, an event that has attracted top AMA Pro Flat Track riders such as current Grand National Champion Jared Mees, Sammy Halbert and Henry Wiles.

Following the Springfield Mile, Bayliss is scheduled to race the Sacramento Mile on May 30. July 4 and 11, he'll run the Du Quoin Mile and Indy Mile, respectively, before finishing with the second running of the Springfield Mile Sept. 6.

"Dirt and flat track racing are where I cut my teeth as a junior. Everything I have learned on the dirt helped me through my career in road racing and to find myself back where it all started makes me feel young again," said Bayliss. "To race the Grand Nationals will be a challenge, but to compete with Lloyd Brothers Motorsports on the Ducati had to be done. Flat track is on the up here in Australia. We have run the Troy Bayliss Classic for the past three years and mixing it up with Henry Wiles, Jared Mees and Sammy Halbert has been great. I really look forward to my time in the US of A."

Bayliss, 46, recorded 94 podium finishes in 152 World Superbike starts, including 52 victories. He recorded his only MotoGP victory as a wildcard entrant in 2006, filling in for the injured Factory Ducati rider, Sete Gibernau, in Valencia, Spain. His decorated resume also includes a British Superbike Championship, which he won in 1999.

Next up, the stars of AMA Pro Flat Track will visit Springfield, Ill., for the first Springfield Mile on May 24, 2015. Fans can get their tickets by calling (217) 753-8866. The entire event can also be viewed live and in high definition at www.FansChoice.tv.