Calendar of the World Superbike Championship
Home of the Official SBK Fast Dates Calendar Kittens

May 2015 Page 4

SBK World Superbike Imola • MotoGP Spain
Corsa Motoclassica Willow Springs
Miller Motorsports Park, Utah, Closing
2015 LA Calendar Motorcycle ShowJuly 25th
FAST 2015 Calendar Magazine

Previous Week - More: Pit Lane News
New Model Sportbikes • Editorial Features: Pit Board

• Corsa Motoclassica 2015 Willow Springs Racway
• SBK Superbike 2105 Media Guide - The Bikes, The Riders
• MotoGP 2015 Season Preview - The Bikes and Riders
• 2015 Yamaha YZF-R1M Serious Contenter to European Superbikes
• 2015 Yamaha FJ09 - Yamaha joins Sport Toursing market
• Ducati 1199R15 Homologation Superbike
• Is a New Organizer for AMA Pro Roadracing Enough to Save It?
• Dirt Track Girl! AMA Dirt Track Season Final with Shaya Texter
• On Any Sunday - The Next Chapter - Movie Review
• Polais Slingshot 3-Wheeler - Is it a Motorccyle or a Car?
• International Motorcycle Shows 2014/15
• MotoGP2014 Season Final at Valencia - Marc Marquez
• World Superbike 2014 Season Finale at Qatar - Sylvain Quintoli
• British Superbike 2014 Season Finale Brands Hatch - Shane Byren
• EICMA 2014 Bike Show from Milan, Italy - The Hot New Sportbikes!
• Moto America Announces 2015 Race Dates, Loses Daytona 200
• Marquez Wins 2014 MotoGP Championship at Motegi
• Josh Hayes Takes His 4th AMA Superbike Title in 2014
• MotoAmerica Group Takes Over AMA Pro Roadracing
• Fast Dates Edelweiss Tour of the Pyreness in Spain and France!
• Fast Dates Calendar Shoot with Jitka and Petra at Laguna Seca
• 2014 LA Calendar Motorcycle Show coverage
• New 2015 SBK World Superbike Technical Rules Released
• Suzuki MotoGP Bike Preview and Test
• BMW Concept 90 Cafe Racer - the Boxer Gets naked!
• Meet the SBK World Superbike Girls! - Photo Pictorial
• 2013 EICMA International Motorcycle Show - Report & Photos
• Ducati 11999 Superlegera - Exotic Superbike
• Venice Vintage Motorcle Rally
• Fast Dates SBK Calendar Shoot 2013 Laguna Seca - 5 Kittens!
• FastDates.com Calendar Video Shoot - with Kelsey and Jessica
• World Superbike 25 Years - Tribute to Maurizio and Paolo Flammini
• Troy Bayliss Race Academy School Misano & Paris 2012!
• Ezpeleta Details Dorna's Control of MotoGP and WSBK
• Ducati Corse World Superbike Book by Cathcart and Gianatsis
• NCR / Poggopolini The exotic Ducati Custom Race Bike Shop
• DRE Troy Bayliss Racing Academy - Exclusive First Test at 180mph!
• John Britten A Tribute to Motorcycling's Most Creative Innovator
• High Speed World Superbike Feature Moviewith Sienna Miller


NEW! FAST 2015
Digital Calendar Magazine Annual
the Bikes, the Builders, the Riders, the Kittens,
the Calendar Bike Show, the World Superbike races
all the 2014 Calendar Pictures, and Special Features...
we take you around the world for the making of the
2014 FastDates.com Calendars
Now in Members Corner

SBK Fast Dates Calendar Kittens
Jitka and Petra On Location
at 2014 Lagunga Seca World Superbike &
The LA Calendar Motorcycle Show!

Fast Dates does the Edelweiss Tour of the Pyreness!

NCR / Poggopolini Exotic Ducati Custom Race Bike Shop

World Superbike - The First 25 Years
a Tribute and Thanks to its Producers
Maurizio and Paolo Flammini
Read the Full Story Here

Is a New Organizer for AMA Pro Roadracing
Enough to Save it?
Read Jim Gianatsis' Editorial Here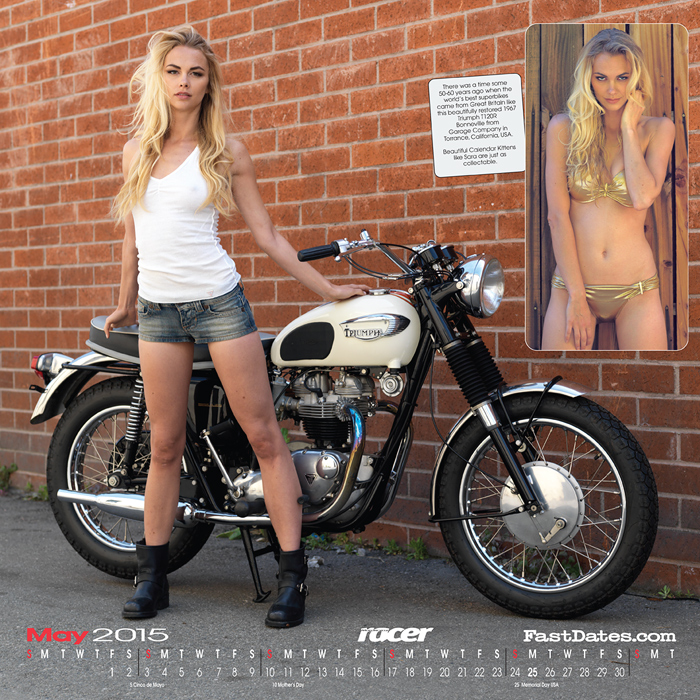 This Month in the Fast Dates Calendar ...
Contemporary beauty 2015 SBK Fast Dates World Superbike Calendar Kitten Sara Horvath will be featured on the podium and starting grid at Mazda Raceway Laguna Seca? World Superbike July 17-19th, pictured here with a classic Triumph T120R Bonneville from Garage Company, Inglewood, CA. Sara will also be hosting the Los Angeles Calendar Motorcycle Show & Concert on Saturday July 25th. See more of our beautiful Kittens and Calendar bikes in the
Calendar Bike Garage and in Members Corner.
Order the Fast Dates Calendars
Calendar Bike Photo Features, Paddock Garage Tuning, Pictorials of our Calendar Kittens in Members Corner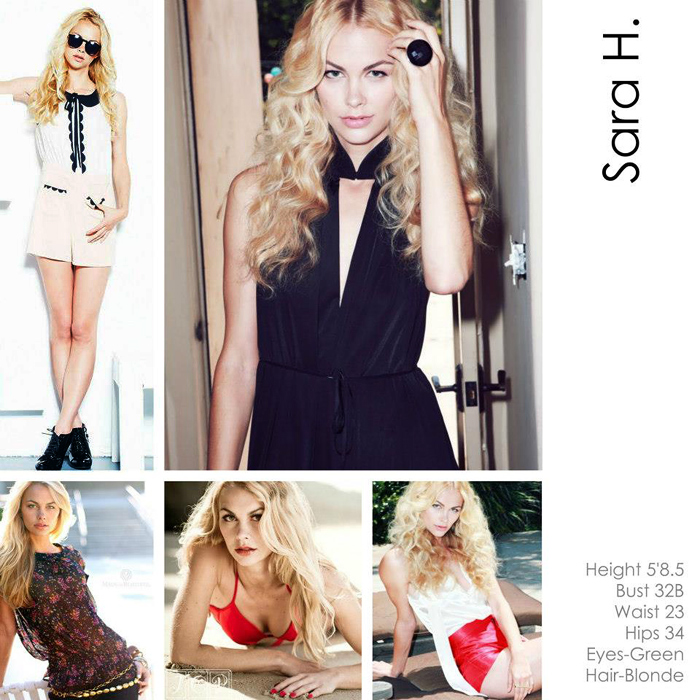 Calendar Kitten Sara Horvath to be Featured at SBK World Superbike Laguna Seca
July 17-19th and as LA Calendar Show Host on Saturday July 25th

Los Angeles, April 3rd, 2015 - The FastDates.com Motorcycle PinUp Calendars is excited to announce one of their most popular Calendar Kittens, professional model Sara Horvath represented by Umbrella Girls USA, will be serving as one of the offical SBK World Superbike Umbrella Girls at the upcoming Laguna Seca World and AMA Superbike race weekend July 17-19th 2015 at Mazda Raceway, Laguna Seca, CA. Sara will also be working the races with Calendar photographer and publisher Jim Gianatsis to shoot the next edition of the Fast Dates World Superbike Calendar with all the top factory race team bikes on Pit Lane during the race weekend.
"This year's SBK World Superbike round at Laguna Seca USA marks the 21st year that the FastDates.com Calendars have provided its beautiful Calendar Kittens to be the offical SBK Umbrella and Podium models, going back to the first ever American World Superbike race at Laguna Seca in 1995", explained Jim Gianatsis. "The Fast Dates Supebike Calendar shares a rich history with both SBK World Superbike - the most exciting production based motorcycle roadracing series ever, all the top factory race teams and their riders over those many years, with Mazda Raceway the years that SBK has been here at one of America's most renown roadracing venues, and with our partner Umbrella Girls USA. We will be confirming a second Calendar Kitten to be working alongside Sara for SBK and our Fast Dates Calendar shoot in the coming weeks"

Right: Newest FastDates.com Calendar Kitten and Miss Pirelli World Challenge sports car racing girl Jorie Mae Stanton is our top candiate for the 2nd Kitten to join us at Laguna Seca World Superbike and he LA Calendar Motorcycle Show in July. Like Sara, Jorie is also a university graduate, holding a degree in Animal Science and her regualr job is curator of the Primate Department at the Buffalo Zoo in Buffalo, New York.
Calendar Kitten Sara is currently featured in the latest 2015 FastDates.com Calendars - Fast Dates, Iron & Lace and Garage Girls, and in the new FAST2015 Digital Magazine found on the website. Race fans at Laguna Seca World Superbike can meet Sara in the SBK Paddock Show where she will be working as the SBK spokesmodel assisting with the awards presentations and rider interviews. Then the following weekend on Saturday July 25th Sara will be hosting the 24th annual LA Calendar Motorcycle Show at the Sagebrush Cantina, Calabasas, CA, which includes the Calendar Bike Building Championship with top celebrity builders premiering their latest custom builds, the Calendar Girl Music Show featuring beautiful actress and singer songwriter Gwedolyn Edwards and her Band, and American Idol contender Alex Nester. And Sara will be premiering the new 2016 FastDates.com Calendars where she is again featured. For additional information on these Events and to purchase tickets, and for more about the Kittens and Calendars visit: http://www.FastDatess.com and http://www.MazdaRaceway.com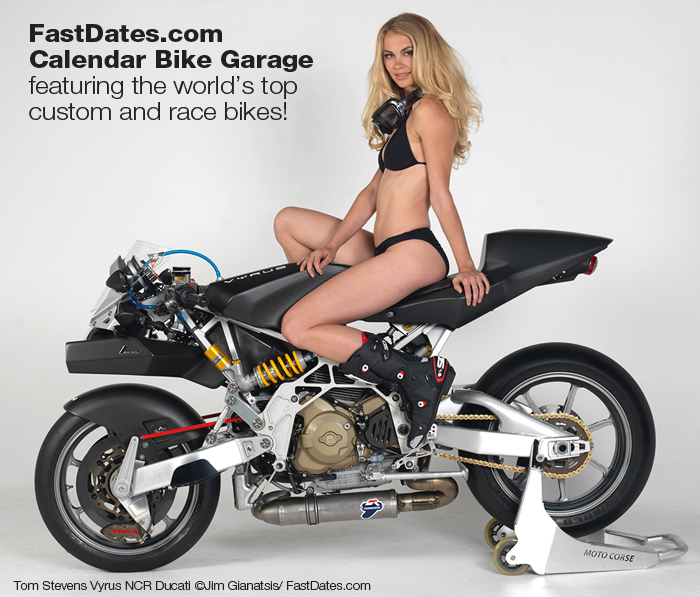 This Month in the Calendar Bike Garage.., The World's Coolest Naked Ducati!
Beauitful FastDates.com Calendar Kitten Sara takes us for a ride on the world's most exotic and expensive Ducati streetbike
ever - a $110,000 Vyrus NCR 983 Superleggera in the Calendar Bike Garage and in Members Corner.

Order the Fast Dates Calendars
Calendar Bike Photo Features, Paddock Garage Tuning, Pictorials of our Calendar Kittens in Members Corner
---
2015 Corsa Motoclassica at Willow Spring Raceway, California
Photos and Report by Jim Gianatsis

Rosemond, CA -April 24-26th 2015 - The annual Corsa Motoclassica was first run 20 years ago at Willow Springs Raceway in Rosemond, California, just down the road from Edwards Air Force Test Base in the Mojave Dessert. It was the child of Yoshi Kosaka of Garage Company, a Los Anegles based motorcycle used bike and parts store and restoration shop specializing in classic street and race bikes. The Corsa Classic at Willow Springs gave Yoshi's customers a place to bench race and ride their beloved classic race bikes at speed, and could be called the West Coast's version of the Barber Motorsports Festival in near Montgomery, Alabama. Continued Here
---

Davide Giugliano (center) finally returns after his practice crash at the series opening round at Phillip Island, and promptly puts the Ducati Panigale on Pole ahead of Championship leaders Jonthan Rea and Tom Sykes..

2015 Eni SBK World Superbike Championhip ,Imola Italy, Round 5of 13
Imola World Superbike - Giuliano Qualifies Ducati on Pole
Imola (Italy), Saturday 9 May 2015 – A 'red hot' Superpole for Davide Giugliano and the Aruba.it Racing – Ducati Superbike Team at Imola today: Giugliano, returning after having missed the first four championship rounds due to injury, laps fastest of all to score pole position for tomorrow's races! Chaz Davies qualifies fourth.

In this morning's final timed practice session, Davide was once again able to improve on his fastest time, by an impressive four tenths, to set a best of 1'47.116 and conclude the combined practices in first position as a result. Chaz, who spent the session making some refinements to the set-up of his Panigale R, retained fourth place thanks to his best time set yesterday (1'47.686), meaning that both factory riders therefore qualified comfortably for the afternoon's second Superpole.

Superpole 2: after making an initial lap on race rubber, the two riders headed straight back out on track with the qualifying solution. Davide completed two flying laps but the first, despite a small mistake in the final section, was to prove decisive. Stopping the clock at 1'46.382, the Roman rider's time was to remain the fastest of the entire session! Giugliano thus earned pole position for tomorrow's races, a truly impressive feat coming on the back of three months of inactivity, due to the bad accident he suffered in Phillip Island. Chaz, completing two fast laps, recorded a best of 1'46.672 that positioned him fourth at the session's end. The Welshman will therefore line up on the second row of tomorrow's grid.

Davide Giugliano (Aruba.it Racing - Ducati Superbike Team #34) – 1st (1'46.382)
"I knew that I could put in a fast lap – that's one of my strengths. We can only be pleased with this result and I think it's a nice reward not only for myself but also for the team, the sponsors and all my fans. Tomorrow will be more difficult; I believe that we're in a good place as far as set-up is concerned, and we've already chosen the tyres, but I'm not physically fit and think I'll struggle a bit in the races. Anyway, that said, never say never, maybe adrenalin will help me! For now I'll celebrate the Superpole with my team, and tomorrow we'll have to see…"

Preview: World Superbike Reurns to Home Pavement at Imola
Imola, Italy, May 8-10th 2015 - The fifth event of the WorldSBK season takes the series to Imola for the Acerbis Italian Round. In the Province of Bologna and the Emilia-Romagna region, the circuit named in honour of Enzo and Dino Ferrari has been on the World Superbike calendar since 2001, with the exceptions of 2007 and 2008 when the series raced at Vallelunga. The current 4.936km layout features 22 corners of which 13 are left-handers. The flowing nature of the layout, the many elevation changes and the lack of long straights make Imola one of the most demanding and technical tracks in the world.

Imola has hosted a total of 23 races to date, with only the second encounter of 2005 having been called off due to adverse conditions. Furthermore, since 2002, no less than seven events out of 11 have thrown up double victories; Colin Edwards did it first on the historic day when he beat Troy Bayliss to a second world title, whereas the latest was taken by current series leader Jonathan Rea in 2014.

Surely facts like this generate only further confidence for the Kawasaki Racing Team rider, who has already picked up two doubles since the start of 2015: Buriram and Assen. Having collected a massive 95% of the maximum championship points on offer so far this season, few would bet against the Northern Irish Kawasaki rider.

There could be a lot for the Italians to shout about this weekend. Aprilia has achieved no less than 11 podiums at the track and at least one of the marque's bikes has always finished in the top five of every Imola race since the start of 2009. The manufacturer's leading representative in the current standings is Leon Haslam, who is the closest challenger to Rea and took a victory in Australia, while rookie team-mate Jordi Torres is yet to finish lower than in sixth position every time he sees the chequered flag.

Perhaps the biggest stories will be the World Superbike comebacks of two famous names. Davide Giugliano finally returns, having been ruled out of action when he injured his back in a pre-season testing crash at Phillip Island. Since then, his Aruba.it Racing - Ducati SBK Team has returned to winning ways with Chaz Davies, who is third in the championship standings. Last year, Giugliano started on the front row at Imola, having finished on the podium after leading Race 1 in 2013. Elsewhere, Michel Fabrizio is also likely to boost attendance figures as he reappears on the grid, subbing for Nico Terol at the Althea Racing Team. The 30-year-old from Rome has been a regular on the grid since 2006 and will ride alongside fellow countryman Matteo Baiocco ahead of Terol's suspected return at Donington Park. The grid's other Italian is Ayrton Badovini, who believes his season 'will begin' at Imola, where in the Superstock 1000 class he won in 2010; this was his ninth victory out of ten races in what proved to be a truly dominant title-winning campaign.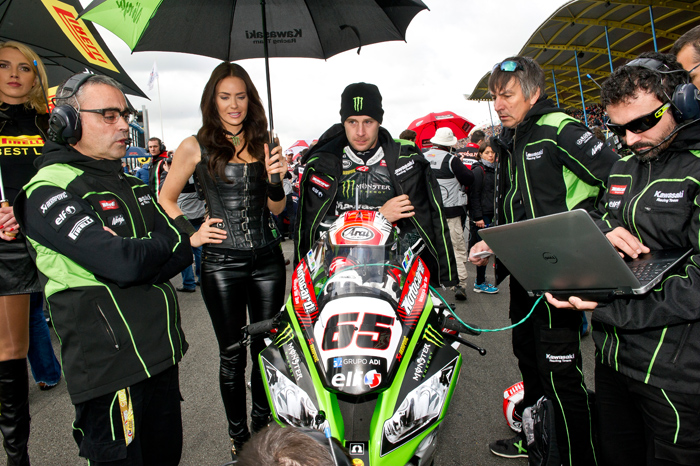 Last Round Diuble Wimmer amd Points leader Jonny Rea on the Starting Grid at Assen with SBK Fast Dates World Superbike Calendar Kitten and Pirelli Girl Jitka (far left).

Behind the championship top three of Rea, Haslam and Davies, 2013 title winner Tom Sykes (Kawasaki Racing Team) is looking to get his championship fight back on track, having struggled with a major lack of rear-end traction last time out at Assen. Such struggles were not a problem for Pata Honda World Superbike Team's Michael van der Mark, who made history by becoming the first Dutchman to clinch a World Superbike podium finish; he immediately doubled the tally by clinching another podium in Race 2. He now sits just five points in arrears of World Champion team-mate Sylvain Guintoli, while the championship top ten is completed by Barni Racing Team's Leandro Mercado. At Voltcom Crescent Suzuki, Alex Lowes and Randy de Puniet move into their third round since switching to a Magneti Marelli electronics package. They will continue to juggle their race setup work with bike development, with the ongoing testing ban meaning the British-based team is having to use practice sessions to continue expanding its bike capabilities. Although it may be a steep mountain to climb, signs of progress were visible in The Netherlands two weekends ago, not least as Lowes qualified on the second row of the grid and went on to finish Race 2 in ninth place.

Several riders will reach landmark race start numbers in Italy. Ayrton Badovini will make his 130th World Superbike start in Race 2 and Davide Giugliano's return will begin with his 80th race in the opening encounter. As for championship leader Jonathan Rea, Imola's second race will see him become the 24th rider to start 150 races in WorldSBK's premier class. He debuted on the Algarve in 2008; since then, Rea has amassed 21 race wins, 50 podium finishes, 13 Superpoles and 13 fastest laps. He also carries the sixth-largest lead after the opening eight races of a season in the series' history, with a 50-point cushion over Haslam.

2015 eni FIM Superbike World Championship (4 of 13 rounds completed)
1 - Jonathan Rea Kawasaki Racing Team - 190
2 - Leon Haslam Aprilia Racing Team - Red Devils - 140
3 - Chaz Davies Aruba.it Racing - Ducati Superbike Team - 123
4 - Tom Sykes Kawasaki Racing Team - 88
5 - Jordi Torres Aprilia Racing Team - Red Devils - 83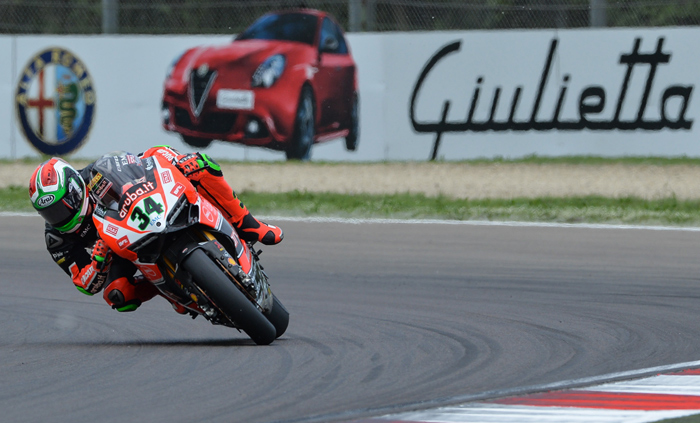 Giugliano grabs emotional Tissot-Superpole at Imola
Sykes and Rea complete the front row ahead of Davies and Haslam.
Saturday, 09 May 2015 -Today's Tissot-Superpole qualifying sessions at the 4.9km Imola circuit was scintillating, with Davide Giugliano (Aruba.it Racing – Ducati Superbike Team) securing the 4th Pole Position of his WorldSBK career, the 166th for Ducati in the series, thanks to a 1.46.382s lap time and despite a near crash at "Variante Bassa" while changing direction. For Giugliano today's result marked an emotional return to the series following his injury at the official pre-season test in Australia last February.

The Kawasaki Racing Team duo of Tom Sykes and Jonathan Rea will join the Italian rider on the front row of the grid tomorrow in what are shaping up to be two very unpredictable races as the top-5 on the grid are separated by a mere 0.472s.

Leandro Mercado (Barni Racing Ducati) heads the third row with his so far best ever qualifying performance in the series, he will be joined by Ayrton Badovini (BMW Motorrad Italia) and Michael van der Mark (Pata Honda World Superbike Team), while David Salom (Team Pedercini), Alex Lowes (Voltcom Crescent Suzuki) and Leon Camier (MV Agusta Reparto Corse) will start from row 4.

Camier was unable to take part in the final Pole Position shootout after suffering a technical problem in the closing minutes of the opening Superpole session.

Michel Fabrizio, his Althea Racing team mate Matteo Baiocco, reigning World Champion Sylvain Guintoli (Pata Honda World Superbike Team) complete the top 15 riders on the grid ahead of tomorrow's two 19-lap races.

WorldSBK Imola - Tissot-Superpole
1 - Davide Giugliano Aruba.it Racing - Ducati Superbike Team 1'46.382
2 - Tom Sykes Kawasaki Racing Team +0.084
3 - Jonathan ReaKawasaki Racing Team +0.121

---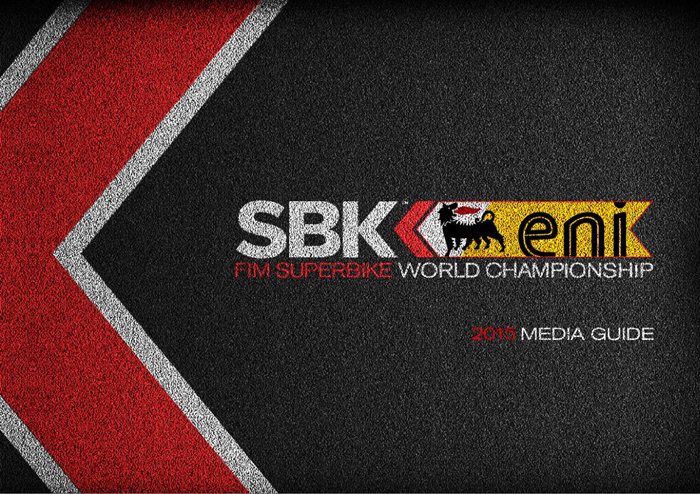 2015 SBK World Superbike Media Guide
FastDates.com is excited to share with you for the first time, the 2015 SBK World Superbike Meida Guide which showsthe 2015 Race Schedule, all the Riders, Teams, Racebike, and Tracks of this year's Championship. This is what SBK provides to both the Race media, and to the Race Rrack Promoters to use in their Souvenir Race Programs they sell at the track. This is in a PDF format which you can download to your computer and print out.

---
Lorenzo (left) was untouchable all weeekend at jerez, while ")ld Man" Rossi took 3rd behind Marquez, and increase the Doctor's points lead in the Chanmpionhip over Dovizioso.

2015 MotoGP World Championhip, Gran Premio Bwin de Espana, Round 4 of 18
Movistar Yamaha MotoGP rider Jorge Lorenzo was back on form and blew away the competition today at the Circuito de Jerez de la Frontera. He continued his weekend of dominance at the Gran Premio de España and took the chequered flag, not having lost the lead once, with staggering 5,5 second lead. Teammate Valentino Rossi also rode a strong race and continued his podium-streak by claiming third place and the 200th podium finish of his career.

Lorenzo had a great launch from pole position, taking the holeshot into turn one. Completely in the zone he immediately put the hammer down and rode away from the pack, with only rival Marc Marquez able to follow him. Lorenzo was quick to respond by upping his pace and rode a Circuit Record of 1'38.735 on just his second lap. He pulled away and soon created a gap of over a second to Marquez, who was unable to keep up with his blistering pace. Consistently posting laps under the 1'40 mark, Lorenzo remained unchallenged for the rest of the race and completed his perfect performance of the weekend when he took the flag with a 5.576 second lead, securing his fifth victory at the Andalusian circuit. Lorenzo now has his 55th career win, 34 of which are with Yamaha.
Preview: All eyes set on Marquez's recovery from surgery after sustaining a dirt track crash on Saturday, while Rossi's goal is to safeguard leadership in SpanishGP
Gran Premio bwin de España,Jerez, Spain, April 27th, 2015 - There was a dramatic twist in the MotoGP™ World Championship battle between Marc Marquez and Valentino Rossi this week, as news emerged that Marquez needed surgery after fracturing the little finger in his left hand. Marquez sustained the injury while riding dirt track in training on Saturday 25 April, and had to be operated on by Dr. Mir in Barcelona.

Movistar Yamaha's Valentino Rossi currently holds a six-point advantage over the Ducati GP15 of Andrea Dovizioso in the World Championship standings, and a thirty-point lead over the fifth-placed Marquez. Rossi and Marquez's clash at the previous race in Argentina has whetted fans appetites in anticipation of another great battle now the Championship has landed in Europe.

Last year at Jerez, Rossi and Marquez fought it out in the early part of the race, before Marquez went on to take the victory, with Rossi in second and Pedrosa third. This year the 36 year-old Italian will be hoping to go one better, and add to his impressive tally of 6 MotoGP™ victories at the Spanish circuit. Rossi is the most successful rider in history at Jerez, having taken 8 victories across all classes, and is one of only 3 non-Spanish riders to have stood on the top step in the MotoGP™ class, along with Casey Stoner and Loris Capirossi.

Marquez will surely have other plans though, as he became the first rider to win the race from pole position last season to claim his first victory at the Spanish circuit. Despite trailing Rossi by such a margin in the standings, the reigning MotoGP™ World Champion Marquez said that he is not panicking yet despite his injury, as he was 30 points behind his teammate Pedrosa after six races in 2013, and still went on to win the title.

Repsol Honda have not made an official decision on who will be Marquez's teammate come the weekend, as they await news on how well Dani Pedrosa's recovery from arm pump surgery has gone. Pedrosa will take part in a supermoto race this week to see if his rehabilitation is on course to allow him to return to action in Jerez. The man who has filled in for Pedrosa for the last two races, HRC test rider Hiroshi Aoyama, is on standby to race once more should the Spaniard not be fully recovered in time.

Rossi's teammate Jorge Lorenzo will be looking to get his season back on track, having failed to finish on a podium in the first three races of a MotoGP™ season for the first time in his career. The Spaniard will be boosted by support from his home crowd, and the fact he took back-to-back victories at the Jerez circuit in 2010 and 2011. Lorenzo currently sits 4th in the standings, 29 points behind Rossi, and one point ahead of Marquez, but he knows that he will need to start winning races if he is to have any chance of fighting for his third title.

The Ducati Team will be hoping to continue their excellent start to the season, which has seen Andrea Dovizioso claim 3 second-places in a row on the new Desmosedici GP15. Last year the Italian finished 5th in Jerez and the team will be hoping that he can claim their first win in the class since 2010. His teammate Iannone won the Moto2™ race at Jerez in 2011, but has failed to finish a race at the circuit since moving up to the MotoGP™ class in 2013.

CMW LCR Honda's Cal Crutchlow grabbed his first podium of the season in Argentina, and will be full of confidence heading to Spain after receiving some vital upgrades to his Factory spec bike. His previous best finish at Jerez is 4th back in 2012, after he had to retire from the race last season on board the Factory Ducati.

Team Suzuki Ecstar showed excellent signs of progress in Argentina, with Aleix Espargaro qualifying second on the grid and both GSX-RR's finishing the race in the top ten. The Suzuki should suit the flowing and technical Jerez track, and racing in front of their home fans will boost Espargaro and his teammate Maverick Viñales. Espargaro finished last year's MotoGP™ race in 7th on the Forward Racing Yamaha, while Viñales ended the Moto2™ race in 5th.

Last year at Jerez Monster Yamaha Tech3's Bradley Smith beat his teammate Pol Espargaro into 8th during the race, and has tasted victory at the Spanish circuit before having won the 125cc race there in 2009. Pol Espargaro knows he has to bounce back from a poor start to 2015, and he will be looking forward to racing in front of his home fans, at a circuit he has won at before in the 125cc (2010) and Moto2™ (2012) classes.

Pramac Racing's Yonny Hernandez will be looking to have a good weekend after being forced to retire in Argentina, and managed to cross the line in 14th at Jerez last season, while his teammate Petrucci fractured his wrist during Warm Up and was forced to miss the race.

Scott Redding on the Estrella Galicia 0,0 Marc VDS Racing Honda will be hoping to build on his first top ten finish in Argentina, having finished on the podium at Jerez in 2013 on his way to finishing as runner-up in the Moto2™ World Championship that year.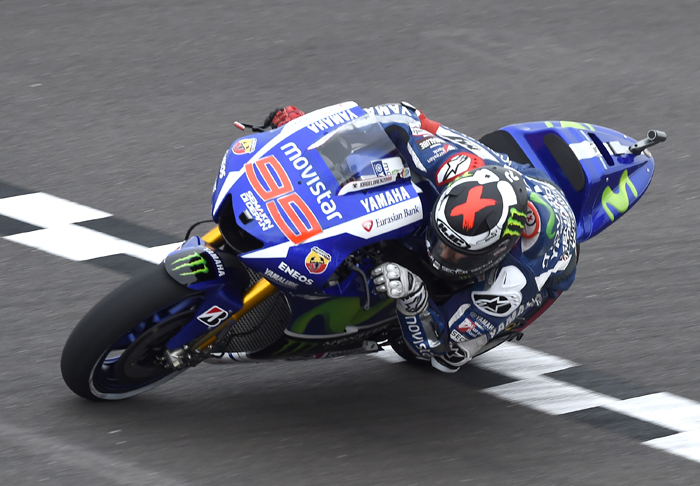 Lorenzo Is untouchable at Jerez Home Spanish MotoGP
Sunday, 03 May 2015 - Movistar Yamaha's Jorge Lorenzo dominates the race in Jerez to take victory by over 5 seconds as Rossi claims his 200th podium. Jorge Lorenzo reclaimed the Circuito de Jerez as "Lorenzo Land" as he proved to be simply untouchable on his way to his 55th World Championship victory. The Spaniard has dominated throughout the weekend, and continued this during the race as he led from the lights to the flag.

His winning margin of 5.576s was an indication of just how much he was in control of the race, as he even had time to salute the fans on his final lap before crossing the line to take the chequered flag.

Repsol Honda's Marc Marquez rode valiantly with his broken finger and even managed to hold off a charging Valentino Rossi (+11.586s) at the end of the race to claim second. Rossi was 2 seconds behind Marquez with 10 laps to go, and the Spaniard must have had a feeling of déjà vu when his pit board said Rossi had closed the gap to a second with only seven laps left.

Unlike in Argentina, he managed to respond to keep the Italian at bay with Rossi eventually crossing the line in third, a further six seconds back, to claim his 200th World Championship podium.

CWM LCR Honda's Cal Crutchlow secured a rather lonely 4th place to finish as the leading satellite rider 3.8s ahead of Pol Espargaro on the Monster Yamaha Tech 3 M1. Ducati Team's Andrea Iannone won a hard fought battle for sixth against Aleix Espargaro on the Team Suzuki Ecstar GSX-RR.

Bradley Smith finished in eighth, while Andrea Dovizioso (9th) had to ride through the field after running wide a twice during the opening laps and finding himself down in 25th.

Pramac Racing's Yonny Hernandez completed the top ten with Hector Barbera finishing as the top Open class rider in 14th, just ahead of Aprilia Racing Team Gresini's Alvaro Bautista (15th) who claimed the final Championship point.
Jorge Lorenzo, Team yamaha 1st - "I am absolutely proud of myself and of the team that we finally delivered some extraordinary work, because we had some problems that have been beyond our control. Due to the lining of the helmet in Doha, my illness in Austin and the tyres in Argentina we couldn't demonstrate our true potential. This time I could do it during the whole weekend and especially on braking. Sometimes it happens that on Sunday I feel a bit worse on braking than during the rest of the weekend, but today that didn't happen. I was able to brake really late, enter well into the corners, and carry good corner speed and acceleration, so everything was fine. When this happens you have to make profit of it and win the race. I was thinking about jumping into the lake, but I am 28 years old...! It's not the same as when you are 23, so in the last second I decided to stop and go back to the bike. Today it's mother's day so it's very special, because my mum saw the race and saw me winning and tomorrow I turn 28. It's important that we recover some points to Vale because he's been very strong at the beginning of this season and always on the podium. It's also important we have recovered the feeling and ability to go fast and now we have to enjoy these hours, this night and this victory!"

Marc Marquez, Repsol Honda Team: 2nd - "This is a track where we've always struggled a little because of my riding style – and this year also because of my injury, but today we achieved what we set out to do. On the opening laps I followed Jorge, but by lap five I could tell that although my finger was not a problem, I was unconsciously working more with my right arm and it began to stiffen up. From then on, I decided to just try and finish the race strong. Then I saw that Valentino was closing in on me and I thought: 'It's going to be Argentina all over again.' But I gathered strength and this time I was able to maintain the gap between us. We leave Jerez a little closer to the World Championship leader, but Jorge has extended his advantage."
Valentino Rossi, Team Yamaha 3rd: "It was a difficult weekend. From Friday on we were struggling a lot to find the right setting and I wasn't able to ride on the maximum level. We improved and worked until after the warm up, trying to improve the setting. In the end it's a podium, so it's not so bad, but also in the race I wasn't strong enough to fight with Jorge and also with Marc. Especially entering the corners I wasn't at 100%. I had one moment in the race where I was not doing so bad and I was close to Marc. We hoped for another good fight until the end and I thought I could do it, because I got the gap down to one second, but had to give up. I have scored a lot of points and scored two victories and four podiums. This time I extended my lead to Dovizioso, but it looks like Jorge also came back into the championship with this victory. He is just 20 points behind, but the championship is still long. We don't have to think about the points yet, just of the bike, trying to be competitive every weekend."

Rossi (82pts) now has a 15-point advantage over Andrea Dovizioso (67pts) in the MotoGP™ World Championship standings whilst Jorge Lorenzo (62pts) has moved into third at the expense of Marquez (56pts).
Complete Results Here

---
The 2015 Los Angeles Calendar Motorcycle & Calendar Girl Music Show
moves to the Sagebrush Cantina, Calabasas on Saturday July 25th 2015

Los Angeles, CA, USA March 1st 2015 - The 2015 LA Calendar Motorcycle Show continues its now 24- year tradition as the premier outdoor streetbike event in America as it rocks the legendary Los Angles bike hangout and party zone, the Sagebrush Cantina in beautiful downtown Calabasas, California. Featured are top Celebrity Custom Bike Builders, the Calendar Bike Building Championship & Concourse d' Elegance, selected Vendors and Exhibitors, and Calendar Girl Music live performances. The Calendar Motorcycle Show is also a benefit for the American Cancer Society with a portion of each Admission Ticket being donated to help those people who are fighting cancer, and to help find a cure.
The Calendar Motorcycle Show features many of the world's top Pro and Amateur custom street bike builders in attendance with their newest 2-wheeled creations of rolling art to compete in the Calendar Show Bike Building Championship for cash and awards including the coveted Best of Show Trophy. The Calendar Show provides a broad focus for all motorcycle enthusiasts including the growing Collector Bike Market with Exhibitors and Bike Show classes for classic European, British and Japanese motorcycles, along with American V-Twins and Customs. Show Entries will be placed in a Concourse display on the Cantina's large outdoor event patio.
The annual Calendar Motorcycle Show always kicks off the world premier of next year's new 2016 FastDates.com Motorcycle PinUp Calendars featuring the world's top road race and custom motorcycles with the beautiful Calendar Kittens featured in the Calendars in attendance at the Show. Show Producer Jim Gianatsis will again be photographing the winning bikes to appear in the Motorcycle Magazines and the next FastDates.com Calendars.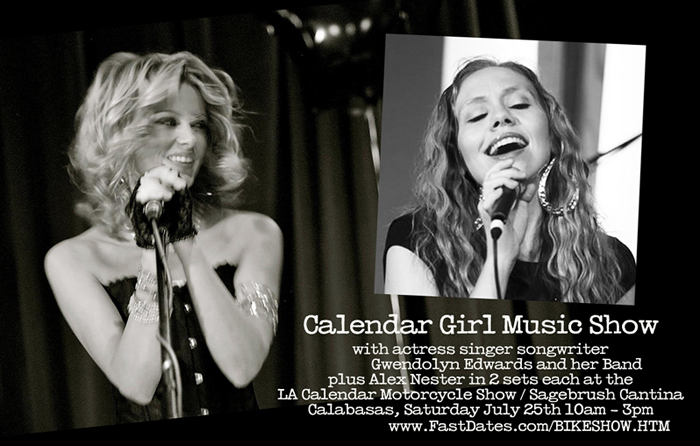 Included with admission is the Calendar Girl Music Show is an incredible day of live music featuring beautiful actress and singer songwriter Gwendolyn Edwards and her Band, and former American Idol contender Alex Nester, each performing two sets of a spicy mix of hot cover tunes and their own original songs. Like many we know impacted by cancer, Alex is a survivor and we are excited the Calendar Show will be helping others with a portion of our ticket sales going to the American Cancer Society. To find our more about their important work fighting cancer go to www.Cancer.org
Legendary Builders featured in the popular FastDates.com Iron & Lace Custom Motorcycle PinUp Calendars and expected to attend include Russell Mitchell / Exile Cycles, Richard Pollock / Mule Motorcycles, Ron Simms / Ron Simms Customs, Jim Giuffra & Spokesmodels / AFT Customs, Chris Redpath / MotoGPwerks, Shinya Kimura / Chabott Engineering, and Adrian Packet / Canyon Motorcycles.
Together with the Calendar Motorcycle's Show's display of exciting new Custom and Classic bikes, Celebrity Builders, and select Manufacturers, there will live performances by a talent female singer songwriters. And VIP Admission includes the Sagebrush Cantina's excellent Taco Plate Buffet with soft drinks, where you can custom design your Mexican lunch plate with a large selection of meats, sides, salads, chips and toppings. Full Bar service is also available. Because the Show is now in gated patio venue, spectator capacity is limited and advance online ticket purchase is recommended to assure your entry to the longest running and most exciting streetbike event on the West Coast.
The 2015 LA Calendar Motorcycle Show takes place on Saturday July 25th 10am-3pm at the Sagebrush Cantina, 23527 Calabasas Road, Calabasas, CA 91302. Motorcycle Parking is Free at the main entrance, with on site paid Car Parking also available. For additional information and to purchase tickets go to: www.FastDates.com/BIKESHOW.HTM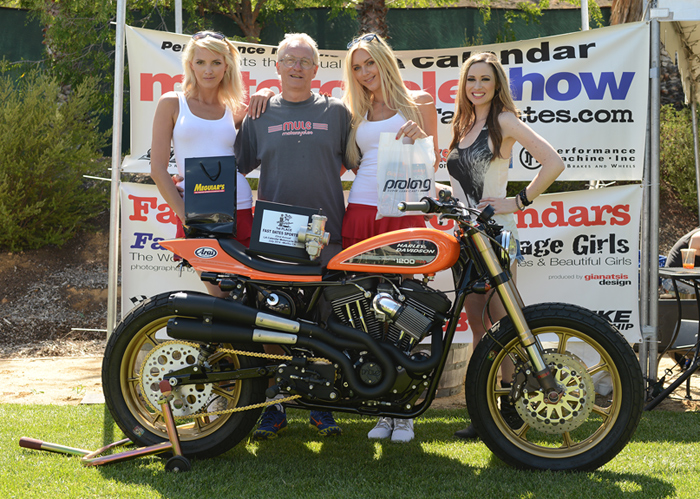 Richard Pollock / Mule Motorcycles to Be Honored at The 2015 Show!
The 2015 LA Calendar Motorcycle Show on Saturday July 25th will pay special tribute this year to Richard Pollock / MuleMotorcycles.net as one of our favorite and most successful FastDates.com Calendar Bike Builders over the last 25 years. You'll certainly want to join us as we honor Richard and he premiers his newest Streetracker build!
---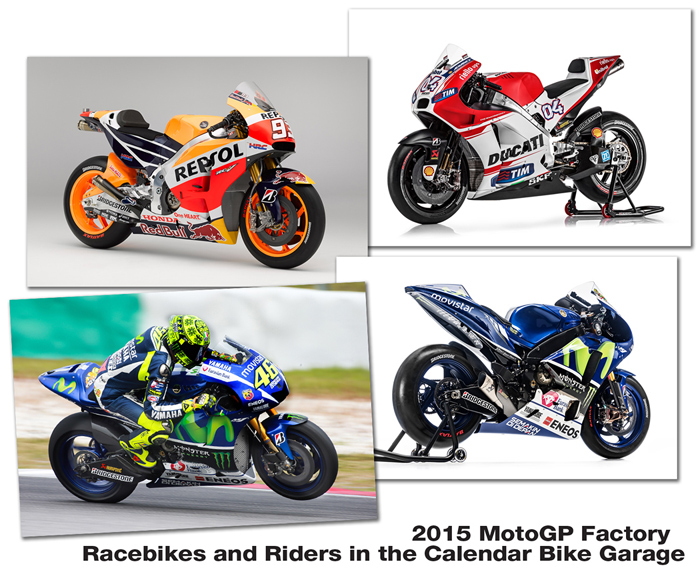 Calendar Bike Garage - Detailed MotoGP Bike Photos, Specs, Large Screen Savers
Calendar Photo Store - Calendar, MotoGP Bikes and Rider Photo Prints & Wall Displays
---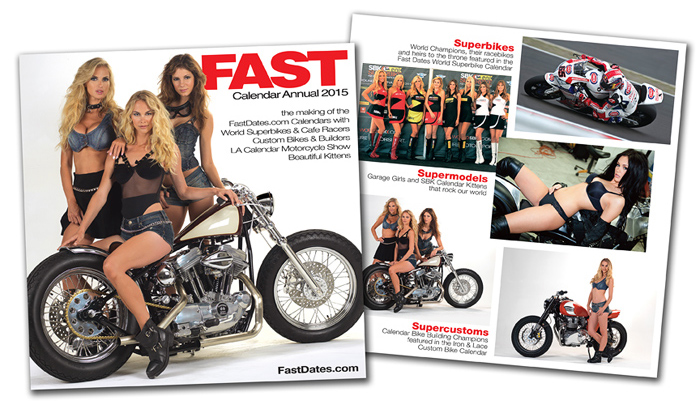 NEW! FAST 2015, 2014 Calendar Digital Yearbook
Go behind the scenes of the FastDates.com Calendar photo shoots at the SBK World Superbike races, the Los Angeles Calendar Motorcycle Show & Concourse d' Elegance, and inside the FastDates.com Studio of famed photographer Jim Gianatsis. Meet the official SBK World Superbike Calendar Kittens who also serve as the official SBK podium and grid girls, the top factory riders of World Superbike, and America's top custom bike builders. You'll find detailed editorial photo features on the Calendars' top Custom and Race bikes, and on the Calendar Kittens.
Did we forget anything? - Oh yes! The new FAST 2015 Calendar Yearbook Digital Edition features in high resolution every page in the new 2015 Fast Dates World Superbike, Iron & Lace Custom Bikes, Garage Girls and Cafe Racers Calendars featuring the world's top race and custom bikes and the beautiful Calendar Kittens!
Now in Members Corner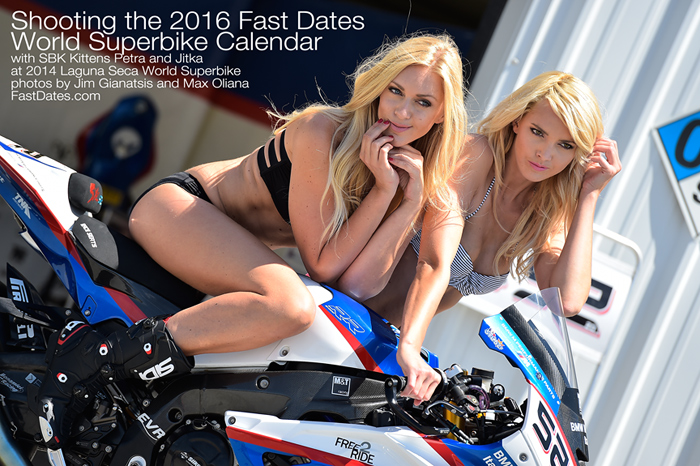 ---
World Endurance Championship 2014 Season Review


KTM's First Electric Streetbike is a Hot Little SuperMoto
May 1st 2015- KTM recently launched its first street-going E-bike, the Freeride E-SM, The motorcycle follows KTM's electric-motorcycle journey; last year, it launched the Freeride E-XC and E-SX Off-Road Enduro and Motocross bikes. A road-going Freeride was the next obvious step.
The Freeride E-SM uses a brushless permanent magnet synchronous engine, which requires low maintenance. Speaking of the KTM Freeride E-SM, the Austrian manufacturer says "With its powerful acceleration and high-voltage fun the Freeride E-SM has a typical KTM-style chassis and boasts a steel-aluminum composite frame, high-end WP suspension, 17" Giant wheels with Pirelli Diablo Rosso tires and is a premium quality motorcycle powered by a state-of-the-art electric motor along with the latest high-performance lithium-ion PowerPack. With a peak output of 21 horsepower (16kW) and 31 ft/lbs of torque (42Nm), this innovative machine does not need to shy away from motorcycles with combustion engines.
"The bike, which has three power settings and is ideal for all kinds of motorcyclists from beginners to advanced, has all of the necessary features for registration – and is further in line with A1-driving license regulations."
Philipp Habsburg, Head of KTM R&D Department, said "We are pleased to bring our third E-Mobility product to the market with the Freeride E-SM. A true Sportmotorcycle which makes a lot sense to be used as Sprintbike in urban areas – and it should be the coolest bike in the parking spot. E-Mobility is an evolving technology for KTM and the E-SM is part of a growing product portfolio of bikes, in which we plan to create premium quality products for the city, street and offroad over the next few years."
The Freeride E-SM will not yet be available in the states, but will reach European dealers in May. But as a clean running Electrical Motorcyele, it should be easy to import and register as a street motorcyle.
---
Miller offered a state of the art Race Pits and Press facilities. Here we shoot the Fast Dates Calendar in the pouring rain during the 2011 World Superbike race weeked.

One of Larry H. Miller's dreams is coming to an end...
MILLER MOTORSPORTS IS CLOSING IN OCTOBER 2015
Salt Lake City, Utah, Friday May 8th - Miller Motorsports Park will cease operations on Oct. 31 of this year, the Larry H. Miller Group of Companies announced Friday, confirming a Deseret News report.
"On behalf of my family, I would like to thank all of those who have supported the track over the years, both locally and worldwide, for their enthusiasm and use of the facility," Larry H. Miller Group of Companies owner Gail Miller said in a statement released by the organization.
The Miller group announced In its press release, that it had indeed decided to not renew the lease on the land in Tooele County and to close the track, as was first reported by the Deseret News. It is not known whether another entity will take over ownership of the track, which has been a pet project and passion for the late Larry H. Miller.
This development came as a big surprise to Tooele County commissioner Shawn Milne. As of late Friday morning, he hadn't heard anything from the Millers about their company not renewing the lease. The report is "absolutely news to me," Milne said. "How unfortunate."
Tooele County commissioners have a meeting scheduled with Miller Sports Properties and former LHM Group of Companies CEO Greg Miller on Friday afternoon. Milne said the meeting had been in the works for three months. It was supposed to be focused on "tourism expectations."
Miller Motorsports Park will remain open throughout the racing season. The full schedule of summer racing events, driving schools, public karting and group activities will be held as planned, the organization announced. Miller Motorsports Park opened in 2006 and was highly touted as being one of the nicest racing facilities in the world. However, it was also a huge financial drain on the Larry H. Miller Group of Companies, losing millions of dollars since its inception.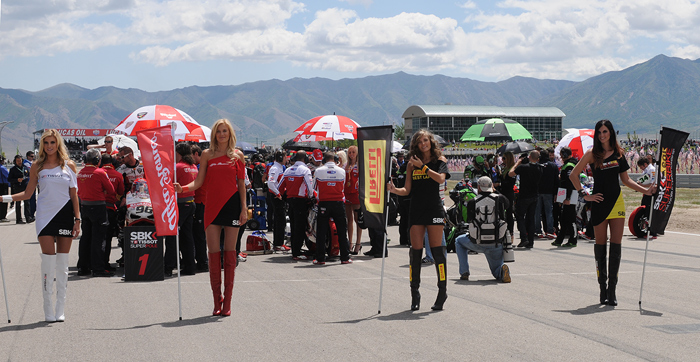 Over the years, the Alan Wilson-designed, 4.5-mile track has hosted high-profile events, including the American Le Mans series, a NASCAR race (Grand National West Series), the FIM Superbike World Championship and the AMA Superbike Championship, among others.
Land adjacent to the track facility in Erda is one of five sites being considered by the Utah Legislature for the new Utah State Prison.
This was bound to happen when track owner, multiple car dealership millionaire and motorsports enthusiast Larry Miller passed away a few years ago. Larry Miller originally built the track in the middle of nowhere as a private playground for his Ford race car collection. He attempted to make the track profitable by bringing in major motorsports championships like World Superbike and Amerian LeMans, even an AMA National Motocross and music events, driving schools and the like, but the track's remote location away from major population areas was its biggest drawback. That and the fact the expansive road course layout is not conducive to good spectator viewing.

Average spectator attendance at major events at Miller would only draw 2-3,000 spectators, where as most major event need closer to 10K + to be profitable. The facility is one of the best in America, but with a poor spectator design, in a bad geographical location. Obviously the Miller family had no interest in keeping such a financial drain going after Larry passed away 3 years ago. RIP
---
There's More! Go to Pit Lane News Previous Week

Also Visit: Fast Dates Calendar News • Iron & Lace Calendar News
Calendar Girl News • Meet the Models • Paddock Garage
Get FastDates.com T-Shirts, Mugs & Photographs from Our Store





MEMBERS CORNER! Calendar Kittens, Paddock Garage, Iron & Lace Garage




Amazon.com Motorcycle Products & Apparel Store



MotorcycleSuperstore.com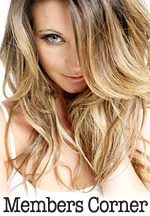 Hot Bikes, Sexy Kittens
Your Exclusive Grid Pass
also includes....
---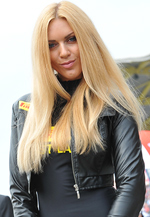 2014 SBK Race Season
Meet the offical SBK
World Superbike Girls!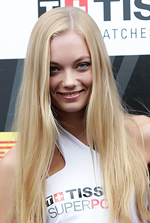 2013 SBK Race Season
Order the New
2014 / 2015 Calendars!
with the FastDates.com Calendar Kittens - the official SBK Umbrella Girls!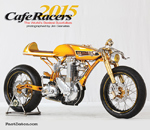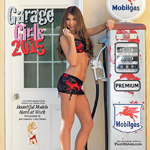 Click Below for more
2015 Calendars!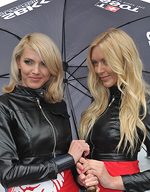 Meet FastDates.com
Calendar Kittens
SBK Grid Girls
Jitunka & Petra!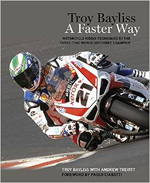 New! Troy Bayliss
A Faster Way
Track Riding Book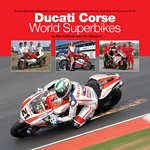 Retail $49.95 ea.
Click to Order from Amazon.com

Ducati Corse
World Superbikes
by Alan Cathcart
& Jim Gianatsis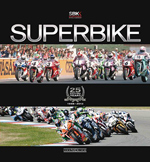 The Official SBK
World Superbikes
1987-2012
25 Year History Book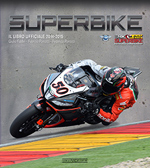 The Official SBK
2014-2015 Yearbook
These SBK Yearbooks are the Best Books Ever about World Superbike. They feature awesome color photography of the riders, bike and racing action. The feature a detailed revue of the past season in pictures and statistics, with a detailed look at the bikes and riders.

Plus a technical look data all the bikes, a preview of the upcoming season's Championship!
We buy this every year ourselves and highly recommend it!
---
MOTOGP TESTS AT JEREZMovistar Yamaha's Jorge Lorenzo ended the official test at Jerez on top after dominating the Spanish GP over the weekend.
It was cloudy but warm for the first official mid-season MotoGP™ test on Monday in Jerez and Movistar Yamaha's Jorge Lorenzo, who had dominated proceedings during the race weekend, ended the day once more on top of the timesheets recording a 1'38.516.
His teammate Valentino Rossi was only four-hundredths of a second further back in second. The team admitted they did not have any major updates to test, with both riders focusing more on the setup of their bikes, and completing 52 and 66 laps respectively.

CWM LCR Honda's Cal Crutchlow (+0.306s) followed up his fourth during the race in Jerez by finishing third in the test, as he tried out some new suspension parts and worked on the electronics package on his RC213V as he put in 64 laps.

Team Suzuki Ecstar Aleix Espargaro (+0.382s) completed 63 laps and was 4th fastest as he used the test to try and find out if they had solved the chatter issue which had affected the bike at the three previous races. Chatter can be caused by excess grip, so the team wanted to know if they had fix the problem, or if it was simply down to slippery nature of the Jerez track.

Repsol Honda's Marc Marquez only completed four laps as he tried out a new swingarm for his Repsol Honda team, ending the day in 5th, 0.460 seconds behind Lorenzo as he protected his broken finger from any more damage.

Monster Yamaha Tech 3's Bradley Smith completed the top six, 0.831s back from Lorenzo, beating his time from Qualifying in the process. The Brit put in 41 laps as he finished three-tenths ahead of his teammate Pol Espargaro.

A number of the Open class teams made use of the extra track time to work on the setup of their Magneti Marelli electronics package, while Avintia Racing's Hector Barbera had some new parts to test to effectively turn his Open GP14 into the 14.1 his teammate Danilo Petrucci rides.

Aprilia Racing Team Gresini debuted their full seamless shift gearbox at the test with Alvaro Bautista, while Marco Melandri had a new swingarm and chassis to test. Bautista made dramatic progress to end the day in 11th 1.2s behind Lorenzo, while Melandri finished last in 22nd.
THE SEAMLESS GEARBOX MAKES ITS DEBUT ON THE APRILIA RS-GP
Jerez, (Spain), 4 May 2015 – The day after the Jerez de la Frontera race, where Aprilia Racing Team Gresini continues improving with Alvaro Bautista's performance and the progress Marco Melandri made in the race, development on the RS-GP does not stop.
In the tests scheduled for today on the Andalusian track the seamless gearbox (continuous engagement), active in upshifting as well, made its début and was immediately appreciated by Bautista who was the first official rider to ride it onto the track.
The Italian team's entire season has been and will be characterised by continuous experimentation with technical solutions which serve both to improve the performance of the RS-GP and to provide data and information for the design of the prototype that will race in the 2016 season. For this the technical step today takes on particular importance and paves the way for the new gearbox's race début which could take place in one of the next European MotoGP rounds. The team also worked on new chassis solutions, particularly on a new frame and swingarm. The test results will now be processed at the Noale headquarters in order to prepare for the upcoming races.
ROMANO ALBESIANO (Aprilia Racing Manager)
"Today was a very positive day. For the first time we put our seamless gearbox technology, a particular Aprilia solution, on the track with an official rider. Alvaro liked it very much and found a clear advantage straight away compared to the conventional gearbox. So it was a complete success which now means that we'll have to work hard to get it into a race as quickly as possible. Considering how things went today I think we'll be able to do that soon, within the next two or three races. I'd like to have it for Mugello or at the latest for Barcelona. Marco did his job, bringing in new chassis ideas, some we liked and some not so much, so we still have some work to do in that area. In short I would say that, between the race and the tests, we are finishing up this trip to Jerez pretty well."
FAUSTO GRESINI (Team Manager)
"Days like this are fundamental, especially for us as we are taking on a season where we need to learn and grow. They help us understand what steps to take in order to improve. In the end Alvaro also put in a good time with 1'39.766, but in these tests it is just as important to figure out which solutions to reject. Any new information is important, but to understand where to direct the technical advancements and to avoid going down paths that lead nowhere. Everything works together to make progress in the development of such an important project.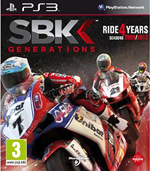 SBK World Superbike Video Game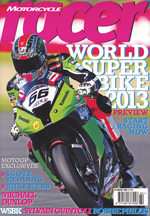 Official Print Media Partner
---
Rossi On Top for
Yamaha in Argentina
Termas de Rio Hondo (Argentina), 19th April 2015
Movistar Yamaha MotoGP's Valentino Rossi ended his Argentine adventure in style today with a sensational victory in the Gran Premio de la República Argentina. Teammate Jorge Lorenzo started strongly as a key protagonist before dropping to finish in fifth.

Starting from a less than perfect eighth position on the grid, Rossi was immediately in the middle of the pack fighting for first corner position. Taking a lap to find his rhythm he then started his move up the field, taking first Danilo Petrucci and then Aleix Espargarò to move into sixth. With 20 laps to go his teammate Lorenzo was next as the Doctor continued his charge towards the front.

The next pack to be dispatched were Andrea Iannone, then Cal Crutchlow and finally Andrea Dovizioso to put the Movistar Yamaha MotoGP rider in second position. Rossi then had the seemingly impossible task of closing a gap of over four seconds to leading rider Marc Marquez.

The nine-time world champion then delivered a performance for the record books, putting the hammer down and cutting the lead lap by lap to reel Marquez in with just two laps remaining. A fast exchange of positions followed through turns two, three and four, with Rossi exiting turn five in the lead. In his rush to counter attack, Marquez then clipped Rossi's back wheel on the exit, crashing out of contention.

Teammate Lorenzo was quick to attack from the grid start, taking third through the first corner then swiftly dealing with Aleix Espargarò for second and beginning the hunt for Marquez. The charge was to be short lived as the Mallorcan struggled to make the harder rear tyre work for him, gradually dropping to take fifth at the line.

Rossi's victory brings with it some incredible numbers, bringing Rossi's podium tally to 199, 110 of which are victories and 51 of those with Yamaha.

The result puts him on 66 points at the top of the rider standings, six clear of Dovizioso in second. Movistar Yamaha MotoGP also lead the team standings on 103 points and Yamaha lead the constructors standings with 66 points.

Lorenzo's fifth place finish delivers 11 points, putting him on a total of 37 in fourth, one point ahead of Marquez.

MV Agusta F3 800cc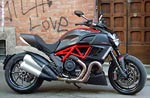 The Devil Made Us Do It!
Testing the Ducati Diavel in Italy
Sudco Carburetor Kits & OEM Replacement Parts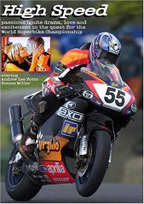 High Speed - the Movie
The best motorcycle racing movie ever made! Filmed on location at the World Superbike races , this an exciting romantic drama staring beautiful British actress Sienna Miller.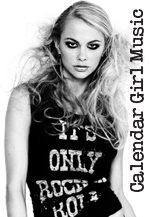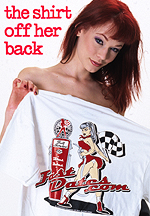 Order the Official
FastDates.com &
LA Calendar Bike Show
T-Shirts!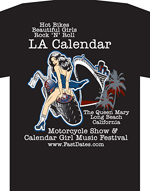 3-Time SBK World Superbike Champion to race AMA Dirt Track
This Season
DAYTONA BEACH, Fla. (April 21, 2015) - Troy Bayliss, the Australian road racing superstar and winner of three World Superbike titles, is coming to the USA to compete in the most iconic and historic form of American motorcycle racing.

Bayliss will run five events on the AMA Pro Flat Track schedule, putting him in the field against the best dirt track racers in the world. He is set to make his debut on a Lloyd Brothers Motorsports Ducati May 24 at the legendary Springfield Mile in Springfield, Ill., and will run the four remaining Mile events on the 2015 schedule.

"Having Troy Bayliss race with AMA Pro Flat Track, at some of our most storied venues, really multiplies the excitement and positive momentum we have as a sport right now," said Michael Gentry, Chief Operating Officer of AMA Pro Racing. "With his own exhibition race, as well as the Superprestigio and with his impressive resume with World Superbike, British Superbike and MotoGP, Troy is one of the motorcycle racing greats. Seeing him on American dirt is a mouth-watering prospect for USA race fans. We are looking forward to the excitement created by his presence in our paddock. A lot of work went into making this a reality and we are thankful to David and Michael Lloyd of Lloyd Brothers Motorsports, Jim Dillard, Vicki Smith and Ducati North America for their vision, support and participation."

Top road racers have long used dirt track as a training regimen, but Bayliss has taken it to a new level since his retirement from full-time competition in 2008. For the last three years, he's successfully promoted the Troy Bayliss Classic flat track exhibition in Australia, an event that has attracted top AMA Pro Flat Track riders such as current Grand National Champion Jared Mees, Sammy Halbert and Henry Wiles.

Following the Springfield Mile, Bayliss is scheduled to race the Sacramento Mile on May 30. July 4 and 11, he'll run the Du Quoin Mile and Indy Mile, respectively, before finishing with the second running of the Springfield Mile Sept. 6.

"Dirt and flat track racing are where I cut my teeth as a junior. Everything I have learned on the dirt helped me through my career in road racing and to find myself back where it all started makes me feel young again," said Bayliss. "To race the Grand Nationals will be a challenge, but to compete with Lloyd Brothers Motorsports on the Ducati had to be done. Flat track is on the up here in Australia. We have run the Troy Bayliss Classic for the past three years and mixing it up with Henry Wiles, Jared Mees and Sammy Halbert has been great. I really look forward to my time in the US of A."

Bayliss, 46, recorded 94 podium finishes in 152 World Superbike starts, including 52 victories. He recorded his only MotoGP victory as a wildcard entrant in 2006, filling in for the injured Factory Ducati rider, Sete Gibernau, in Valencia, Spain. His decorated resume also includes a British Superbike Championship, which he won in 1999.

Next up, the stars of AMA Pro Flat Track will visit Springfield, Ill., for the first Springfield Mile on May 24, 2015. Fans can get their tickets by calling (217) 753-8866. The entire event can also be viewed live and in high definition at www.FansChoice.tv.