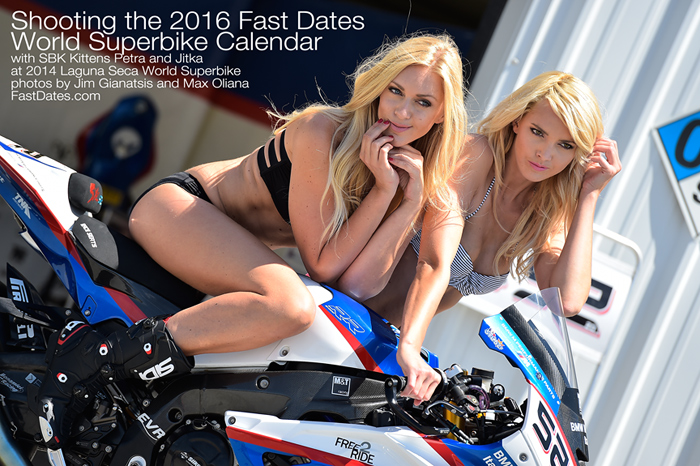 Fast Dates Calendar Celebrates 20 years by bringing
Czech SBK Calendar Kittens Jitka and Petra to 2014
Laguna Seca World Superbike and the LA Calendar Motorcycle Show
By Jim Gianatsis Photos by Jim Gianatsis, Massimo Oliana and Sabrina Mosca

California, USA, July 15-22nd 2014 -The FastDates.com Calendars and myself, producer / photographer Jim Gianatsis were excited to announce an agreement with SBK World Superbike and the international model agencies PetrasAngles.com and UmbrellaGirlsUSA.com to bring beautiful Czech Republic SBK grid girls Jitka Pralinka and Petra Ruzinka to the United States during July 2014 to work for SBK and shoot with me at the Mazda Raceway Laguna Seca United States SBK World Superbike and AMA National race weekend July 11-13th, and the LA Calendar Motorcycle Show in Malibu on July 20th.

– Complete Story and Photos Here –
Team Pata Honda's Jonathan Rea was happy to step in for a few pictures with the Kittens where we were shooting his team Ten kate Honda CBR1000R in front of their pit garage.
---

2014 LA Calendar Best of Show winner Image Vehicles International with Calendar Kittens Petra and Jitka, singer Katie Cole.

New Builder Image Vehicles International takes Best of Show with radical Honda CBX 6-Cylinder Cafe Racer
2014 LA Calendar Motorcycle Show Concourse d' Elegance & Calendar Girl Music Festival
Report and photos by Jim Gianatsis

Malibu, CA, Sunday July 20th 2014 - The 2014 edition of the LA Calendar Motorcycle Show continued its now 23rd year tradition as the premier outdoor streetbike event in America with producer photographer Jim Gianatsis moving the Show this year to the beautiful green lawns of the Malibu Golf Course among the twisty canyon roads in the Santa Monica Mountains alongside the Pacific Ocean. Highlighting this year's exciting activities was the emergence of another new and soon to be renown custom bike builder to the sport for which the Calendar Show is known for cultivating.
A special treat this year were the personal appearances of SBK Fast Dates World Superbike Girls Jitka Pralinka and Petra Ruzickova from the Czech Republic. Just the weekend before they were featured at the SBK World Superbike USA round at Mazda Raceway Laguna Seca where they worked on the starting grid and victory podium as the official SBK umbrella girls for the race and World TV broadcast.
Additional Calendar Show coverage and photos at: 2014 LA Calendar Motorcycle Show
---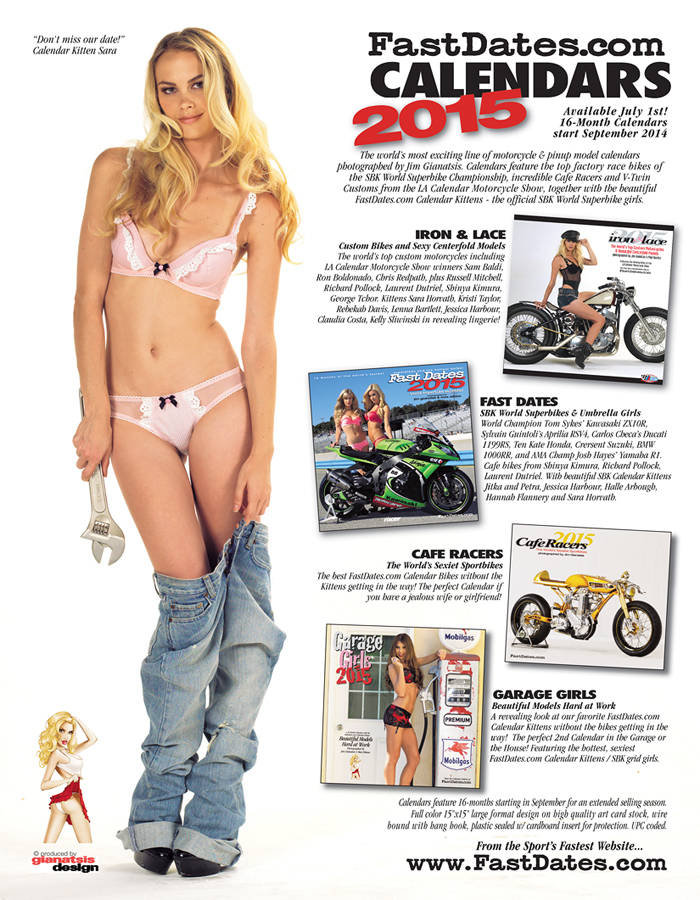 Click on the Calendar Covers to Order
World Premier! 2015 FastDates.com Motorcycle PinUp Calendars
July 1st, 2014 - The World's most exciting line of Motorccyle & PinUp Model Calendar photographed by legendary motorsports and fashion photographer Jim Gianatsis. Bikrs include the top Factory Race Bikes of the SBK World Superbike Championship, incredible Cafe Racers, and the winning custom bikes from the annual LA Calendar Motorcycle Show. Photographed together with the FastDates.com Calendar Kittens... the offical umbrella girls of the SBK World Superbike Championship. A new Calendar title added for 2015 is Cafe Racers featuring classic custom street racers without the girls getting in the way.

The FastDates.com Calendars reveal a full 16 months of the world's top motorcycles with beautiful pin up models beginning in September preceding the cover year to give dealers a full 6 month selling season if they start in August preceding the cover year. Calendars ship to Distributors in June with your ordered needed in March preceding the Calendar year. Calendars and are printed in full color on 15x15-inch heavy dull coated art stock board and wire spiral bound with a top thumb cut hanger for easy wall hanging. Packaged with a thick cardboard stiffer and inserted in a reseal able clear plastic display envelope for protection and easy viewing.
NEW! FAST 2014 Digital Calendar Magazine Yearbook
The Bikes, the Builders, the Riders, the Kittens,the Calendar Bike Show, the World Superbike races all the 2014 Calendar Pictures, and Special Features... For the first time every we take you around the world in 120 exclusive pages for the making of the 2014 FastDates.com Calendars! Now in Members Corner
---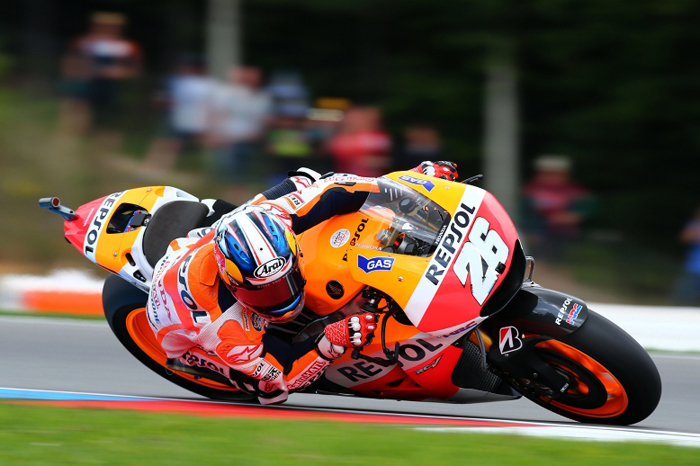 Dani Pedrosa
2014 FIM MotoGPWorld Championship, Czech Grand Prix, Brno Round 11 of 18
Marquez Doesn't Win, but...
Pedrosa Maintains Honda's Clean Sweep of the 2014 MotoGPs at Brno
Czech Grand Prix, Brno, Race Day, Sunday, 17 August 2014 - Dani Pedrosa (Repsol Honda RC213V) rode a superbly judged race at Brno to score his first victory of the season and thereby end the winning streak of team-mate Marc Marquez (Repsol Honda RC213V) who came home fourth this afternoon. Pedrosa's 26th MotoGP victory strengthened his second place in the World Championship standings and moved him to within 77 points of Marquez with seven races remaining.
Pedrosa – who had already won here in MotoGP, 250s and 125s – started well from the second row of the grid and steadily worked his way to the front, setting a new lap record and then grabbing the lead from Jorge Lorenzo (Yamaha) at Turn Three on lap six. Although Lorenzo tried everything in his power to stay with the Honda he couldn't quite manage it around the fast, majestic Brno circuit. At one point Pedrosa built a 1.7 second advantage over his closest rival, finally crossing the line 0.410 seconds ahead as he battled some front-end chatter issues during the final laps. After the race he strongly congratulated his team for his first win since Sepang 2013.
Valentino Rossi (46) repasses Marquez (93) for 3rd place and begins pulling away.

Marquez had won the previous ten races and looked likely to continue his winning streak after yesterday taking his ninth pole position of the year, but it was not to be. After passing Valentino Rossi (Yamaha) in the early stages it seemed that he would attempt to attack Lorenzo and Pedrosa and take the lead. But this time he didn't quite have the set-up to challenge at the front. He was losing a fraction of second as he accelerated out of every corner due to a slight lack of rear grip. Initially he attempted to make up for the handicap by braking later into corners, but that only overheated the front tyre.
As intelligent as he is fast, Marquez realised it would be impossible to win the race and eventually lost the battle for third with Rossi. He was not disheartened though. He always knew he would get beaten one day and even announced that he now feels more relaxed because he no longer has to bear the pressure of trying to win every race. With 11 rounds done and seven to go, the 21-year-old reigning champion is still favourite to retain his title.
After crashing out at Indy last weekend, Stefan Bradl (LCR Honda RC213V) was happy to score more points today, taking seventh place despite taking a wrong turn during practice which lost him time in trying to find the perfect set-up for today's race. The German did his best to catch Ducati duo Andrea Iannone and Andrea Dovizioso but in the later stages he struggled with front-end grip.
Alvaro Bautista (Team GO&FUN Honda Gresini RC213V) finished the race all alone in tenth position after a difficult weekend, once again lacking the kind of rear grip he needs to perform at his best.
Dani Pedrosa, Repsol Honda: 1st - "I am very happy to have won this race! This year it has been a tough road to victory, but today everybody in the team is very happy. Seeing their smiling faces makes me happy as well, because you always try to get the best results but don't always manage to do so. This year we have an amazing rival in Marc, who has had great performances at every round so far. Maybe today wasn't his best day, but I think that we also worked very well this weekend. Bringing home the win for the team feels fantastic."
Jorge Lorenzo, Fiat Yamaha, 2nd - "Finally we beat Marc, but unfortunately it was not me who got the victory this time. I had a chance to get the win because I was feeling good during the warm up and also on the first laps of the race. The only problem was that the feeling of the bike changed after a few laps and Dani caught me. I need to be more aggressive, because he managed to get away. The bike was not so bad at the end of race but I was on the limit to catch him. If there would have been one more lap I would have been able to try and beat him, but it was too late. I wanted to try and fight for the win, but Dani rode a really good race. It was a good opportunity for us to win because Marc was not fit enough, but we didn't plan the race perfectly so we have to learn from this experience in the future. I'm very happy with Yamaha's work and how they have improved the bike these last few races. I think it will also be a big improvement for other tracks. I also feel very strong physically so if it goes well we can fight for the victory."
Valentino Rossi, Fiat Yamaha, 3rd - "I'm very happy about this result, because it was a difficult weekend. Yesterday I crashed and injured my finger. This morning it was very bad when checking the setting also with pain making it difficult to ride. This afternoon I visited the Clinica Mobile for my finger to prepare it for the race. With Silvano (Galbusera) and the whole team we were able to set up the bike and we were able to have a good race. I'm happy. We had a good pace and got another podium. Unfortunately I lost a bit of time on the first laps because I wasn't sure, but after I found the rhythm and then it was a great pleasure to beat Marc. He was sliding and had a problem so he wasn't fast enough. Of course we tried to arrive more in front but the third place was not so bad in Brno because Dani and Jorge rode a very strong race."
Marc Marquez, Repsol Honda: 4th - "Today was one of those Sundays in which I neither felt completely comfortable, nor had found the best set-up for the bike. It wasn't down to a mistake by me or by the team, it was simply that we didn't have the same feeling as on other Sundays. In a way it's taken a weight off my shoulders, as now people won't be asking me if I can win every race any more. It was also important that we were able to focus on staying in fourth, even though it was tough not to be fighting for the win. We took 13 points that are important for the World Championship and we still have a big advantage. What matters is who wins the title, not who wins the most races."
FastDates.com Calednar Kitten Petra (3rd from left in the sun glasses) , back home in her home country of the Czech Republic after hanging with us in California, was part of the MotoGP Police squad at Brno
RESULTS MOTOGP RACE: (22 laps = 118.866 Km)
POS / RIDER / NAT. / TEAM / MOTORCYCLE / TIME / KM/H / GAP
1 / Dani PEDROSA / SPA / Repsol Honda Team / HONDA / 42'47.800 / 166.6 /
2 / Jorge LORENZO / SPA / Movistar Yamaha MotoGP / YAMAHA / 42'48.210 / 166.6 / 0.410
3 / Valentino ROSSI / ITA / Movistar Yamaha MotoGP / YAMAHA / 42'53.059 / 166.3 / 5.259
4 / Marc MARQUEZ / SPA / Repsol Honda Team / HONDA / 42'58.254 / 165.9 / 10.454
5 / Andrea IANNONE / ITA / Pramac Racing / DUCATI / 43'05.439 / 165.5 / 17.639
6 / Andrea DOVIZIOSO / ITA / Ducati Team / DUCATI / 43'05.634 / 165.4 / 17.834
7 / Stefan BRADL / GER / LCR Honda MotoGP / HONDA / 43'11.619 / 165.1 / 23.819
8 / Aleix ESPARGARO / SPA / NGM Forward Racing / FORWARD YAMAHA / 43'17.421 / 164.7 / 29.621
9 / Bradley SMITH / GBR / Monster Yamaha Tech 3 / YAMAHA / 43'18.164 / 164.6 / 30.364
10 / Alvaro BAUTISTA / SPA / GO&FUN Honda Gresini / HONDA / 43'25.439 / 164.2 / 37.639
11 / Scott REDDING / GBR / GO&FUN Honda Gresini / HONDA / 43'43.404 / 163.1 / 55.604
12 / Michele PIRRO / ITA / Ducati Team / DUCATI / 43'44.527 / 163.0 / 56.727
13 / Hiroshi AOYAMA / JPN / Drive M7 Aspar / HONDA / 43'44.708 / 163.0 / 56.908
14 / Karel ABRAHAM / CZE / Cardion AB Motoracing / HONDA / 43'51.935 / 162.5 / 1'04.135
15 / Leon CAMIER / GBR / Drive M7 Aspar / HONDA / 43'52.702 / 162.5 / 1'04.902
16 / Alex DE ANGELIS / RSM / NGM Forward Racing / FORWARD YAMAHA / 44'08.466 / 161.5 / 1'20.666
17 / Hector BARBERA / SPA / Avintia Racing / AVINTIA / 44'12.082 / 161.3 / 1'24.282
18 / Mike DI MEGLIO / FRA / Avintia Racing / AVINTIA / 44'15.236 / 161.1 / 1'27.436
19 / Broc PARKES / AUS / Paul Bird Motorsport / PBM / 44'26.667 / 160.4 / 1'38.867
Pole Position: Marc MARQUEZ 1'55.585 168.2 Km/h
Fastest Lap (New record): Dani PEDROSA 1'56.027 167.6 Km/h Lap 4
Old Circuit Record Lap: Marc MARQUEZ 1'56.135 167.4 Km/h 2013
Circuit Best Lap: Cal CRUTCHLOW 1'55.527 168.3 Km/h 2013
CHAMPIONSHIP POSITIONS TILL DATE:
1 MARQUEZ 263, 2 PEDROSA 186, 3 ROSSI 173, 4 LORENZO 137,
5 DOVIZIOSO 118, 6 ESPARGARO, A 85, 7 ESPARGARO, P 78, 8 IANNONE 73,
9 BRADL 65, 10 SMITH 65, 11 BAUTISTA 56, 12 REDDING 45, 13 AOYAMA 37,
14 CRUTCHLOW 36, 15 HAYDEN 29, 16 HERNANDEZ 27, 17 ABRAHAM 25,
---
Rossi leading the opening laps ahead of Marquez, Lorenzo and Dovizioso.
2014 MotoGP World Championship, Indianapolis USA Round 10 of 18
Marquez Makes it a Perfect 10 for the Season at Indy USA MotoGP
Indianapolis Motor Speedway, Sunday, 10 August, 2014 - Honda's defending World Champion Marc Marquez (Repsol Honda RC213V) powered to a tenth victory in ten races at the Indianapolis Grand Prix today, preserving his perfect 2014 record from yet another pole position, adding a new lap record, and extending his title lead still further in a landmark start to the second half of the season. Hondas triumphed also in the other two MotoGP classes, adding a hard-fought Moto3 win to the inevitable victory in the all-Honda Moto2 class.
A crowd of more than 80,000, dwarfed by the massive 250,000-capacity grandstands of the historic Indianapolis banked oval circuit, were treated to a thrilling spectacle in the MotoGP race, with four riders changing places sometimes several times in the same lap.
Yamaha's Jorge Lorenzo marked his return to fitness in style, taking a stunning second at the legendary 'Brickyard'. Starting from third on the grid, the Spaniard initially dropped back to sixth place in the bunch up of riders on turn two before cutting back through the pack to take his place as a key protagonist of the race.
Yamaha Teammate Valentiono Rossi also made a stunning return to form after the summer break. The Doctor had an electrifying start, climbing four places from the second row of the grid to take the lead in the second corner from Andrea Dovizioso. On lap three his teammate Lorenzo arrived at the back of Marc Marquez and together they closed down the gap to the leaders. Within a few laps the tension reached fever pitch as the four rivals came within touching distance as they exchanged places numerous times.
Three-wide in a turn as Marquez (93) slips inside of Lorezo and Rossi to take the lead.

On the tenth lap Rossi led from Marquez, closely followed by Lorenzo and Dovizioso. The order soon changed again when Lorenzo and Marquez both passed Rossi in turn two, the two Yamaha riders almost colliding in the process. Marquez took the lead with Rossi in second while Lorenzo followed in third. He was back on his way to the front when he experienced a big moment in the last corner as his knee clipped the curbstones, causing him to lose vital seconds.
Lorenzo then started to close the gap of 0.4 seconds to his teammate again and overtook him on lap 15. The Mallorcan, closely followed by Rossi, now had his eyes on the win, but by then the gap to Marquez had become too big for him to close. He finished the race in second, 1.803 seconds behind Marquez, whilst Rossi finished in third place with a gap of +6.558 seconds to his teammate.
Marquez waited until the 11th lap of the 27 lap-race round the MotoGP-dedicated infield circuit at the iconic Indianapolis Motor Speedway to stamp his authority on the race, after several skirmishes with his closest rivals in a hard-fought first ten laps. Having regained the lead, and now confident that earlier front-tyre concerns were also behind him, Marquez drew away steadily to claim win number ten in a year he is making his own by 1.8 seconds.
It was the former 125cc and Moto2 World Champion's fourth successive win at the Indy track: last year in MotoGP, and the previous two in Moto2. He is the first rider to win ten consecutive races since a previous Honda serial champion Mick Doohan, in 1997. Having already broken every "youngest-ever" record in his maiden championship season last year, he is drawing closer to the target of becoming also the second-youngest champion, displacing previous holder Freddie Spencer (Honda) to third. To do so, he needs to win the 2014 title before the end of the season … with a massive advantage of 89 points, the achievement is looking increasingly likely.
With the Yamaha pair of Jorge Lorenzo and Valentino Rossi fading in second and third; second Repsol Honda RC213V rider Dani Pedrosa made the most of a difficult weekend to come through to fourth, having earlier been running in sixth. The former 125cc and double 250cc World Champion had qualified eighth, but gained pace and positions as the race wore on.
Pedrosa holds second overall in the title standings. Although yet to win a race this season, this was his first time off the top-three podium in the last four races.
Marc Marquez, Repsol Honda: 1st - "I am really happy to have taken this win. After the summer break it was important to start with another victory. Yesterday it seemed like it may be a straightforward race, but it ended up being quite the opposite. We suffered a lot and physically it was hard, there was a lot of humidity and I was sweating a lot. The track temperature rose by 10 degrees today and this made the tyres behave differently. It was hard for me to have the same level of confidence. I was patient at the beginning and when I regained the good feeling I had in practice I decided to push, opening that two-second gap which in the end was enough for the win."
Jorge Lorenzo, Movistar Yamaha, 2nd - "The beginning of the championship was a little bit of a disaster for me. I didn't feel comfortable on the bike and made many mistakes. Now I feel a lot better on the bike and I improved my physical condition. I rode well and consistently and I feel very fit on the bike. I ride against very strong riders now; Valentino improved his form this year. He is faster so it is not easy to overtake him and Marc is no longer the rookie rider he was last year. He has a very strong bike and he has more experience and is really fit and riding well. Despite this we are very focused on improving the bike. Yamaha is working very hard, so I am confident that we will get a better bike hopefully for this year, but if not for next season. Maybe on one of the next tracks that suits my riding style we can challenge Marc, but if we want to be a consistent threat to him in every race, we have to improve a bit more and that's what we are trying to do."
Valentina Rossi, Movistar Yamaha, 3rd - "I am satisfied because this is a good third place after a good battle with Jorge and Marc. I led the race, stayed in front and rode well. I'm happy because usually this is a difficult track for me. We worked well with the team and the bike was good for the race. We were able to achieve a good pace, but now we have to make another step to arrive in front of Jorge and Marc."
Dani Pedrosa, Repsol Honda: 4th - "Overall it has been a difficult weekend in which at no point did I feel good on the bike. We couldn't find a good set-up in practice. Then in the race, although I was able to move up a few places, I was always off the pace if I was going to fight for the podium."
RESULTS MOTOGP RACE: (27 laps = 112.59 Km)
POS / RIDER / NAT. / TEAM / MOTORCYCLE / TIME / KM/H / GAP
1 / Marc MARQUEZ / SPA / Repsol Honda Team / HONDA / 42'07.041 / 160.3 /
2 / Jorge LORENZO / SPA / Movistar Yamaha MotoGP / YAMAHA / 42'08.844 / 160.2 / 1.803
3 / Valentino ROSSI / ITA / Movistar Yamaha MotoGP / YAMAHA / 42'13.599 / 159.9 / 6.558
4 / Dani PEDROSA / SPA / Repsol Honda Team / HONDA / 42'17.057 / 159.7 / 10.016
5 / Pol ESPARGARO / SPA / Monster Yamaha Tech 3 / YAMAHA / 42'24.848 / 159.2 / 17.807
6 / Bradley SMITH / GBR / Monster Yamaha Tech 3 / YAMAHA / 42'26.645 / 159.1 / 19.604
7 / Andrea DOVIZIOSO / ITA / Ducati Team / DUCATI / 42'27.800 / 159.0 / 20.759
8 / Cal CRUTCHLOW / GBR / Ducati Team / DUCATI / 42'46.837 / 157.9 / 39.796
9 / Scott REDDING / GBR / GO&FUN Honda Gresini / HONDA / 42'47.548 / 157.8 / 40.507
10 / Hiroshi AOYAMA / JPN / Drive M7 Aspar / HONDA / 43'02.801 / 156.9 / 55.760
11 / Karel ABRAHAM / CZE / Cardion AB Motoracing / HONDA / 43'12.171 / 156.3 / 1'05.130
12 / Mike DI MEGLIO / FRA / Avintia Racing / AVINTIA / 43'12.387 / 156.3 / 1'05.346
13 / Colin EDWARDS / USA / NGM Forward Racing / FORWARD YAMAHA / 43'15.960 / 156.1 / 1'08.919
14 / Michael LAVERTY / GBR / Paul Bird Motorsport / PBM / 43'16.244 / 156.1 / 1'09.203
15 / Broc PARKES / AUS / Paul Bird Motorsport / PBM / 43'37.654 / 154.8 / 1'30.613
Pole Position: Marc MARQUEZ 1'31.619 163.8 Km/h
Fastest Lap (New record): Marc MARQUEZ 1'32.831 161.7 Km/h Lap 17
Old Circuit Record Lap: New circuit
Circuit Best Lap: Marc MARQUEZ 1'31.619 163.8 Km/h 2014
CHAMPIONSHIP POSITIONS TILL DATE:
1 MARQUEZ 250, 2 PEDROSA 161, 3 ROSSI 157, 4 LORENZO 117,
5 DOVIZIOSO 108, 6 ESPARGARO 78, 7 ESPARGARO 77, 8 IANNONE 62,
9 SMITH 58, 10 BRADL 56, 11 BAUTISTA 50, 12 REDDING 40,
13 CRUTCHLOW 36, 14 AOYAMA 34, 15 HAYDEN 29, 16 HERNANDEZ 27,
17 ABRAHAM 23, 18 EDWARDS 11, 19 PIRRO 7, 20 PARKES 7.
---

Calendar Kittens Petra and Jitka present Tom Sykes the Superpool award at Laguna Seca.
2014 Eni SBK World Superbike Championship, Laguna Seca USA Round 9 of 13
Melandri and Sykes share top honors at Laguna Seca World Superbike
Laguna Seca, California, USA, July 11-13th 2014 - The ninth round of the FIM Superbike World Championship, at Laguna Seca in the USA, saw Tom Sykes secure a podium place in race one behind Aprilia's Marco Melandri and Sylvan Guintoli, then follow it up with his eighth race win of the 2014 season, to extend his championship leading advantage once again. Loris Baz scored good points in each race and David Salom (KRT SBK Evo) won both SBK Evo contests to put himself into an even more commanding lead in the Evo class. Complete Coverage Here
---
There's More! Go to Pit Lane News Previous Week

Also Visit: Fast Dates Calendar News • Iron & Lace Calendar News
Calendar Girl News • Meet the Models • Paddock Garage
Get FastDates.com T-Shirts, Mugs & Photographs from Our Store


MEMBERS CORNER! Calendar Kittens, Paddock Garage, Iron & Lace Garage


Amazon.com Motorcycle Products & Apparel Store



MotorcycleSuperstore.com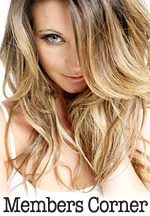 Hot Bikes, Sexy Kittens
Your Exclusive Grid Pass
also includes....
---
Eni FIM Superbike World Championship 2014 Calendar Update
South Africa Cancelled
Qatar Season Finale added
Barcelona (Spain), Thursday 31 July 2014 - The FIM and Dorna WSBK Organization would like to announce the confirmation of the Qatar Round at Losail International Circuit, scheduled for 2 November 2014.
The venue was on the WSBK calendar for five consecutive years between 2005 and 2009. In 2014, the races will be taking place under floodlights for the first time.
The impressive lighting system of the Losail International Circuit is powered by 44 13-megawatt generators and made up of 1000 structures, 3600 light bulbs and 500km of wires.
As the round will be held at night time, the final prize-giving ceremony for both WSBK and WSS classes will take place in Doha the following day, on the evening of Monday 3 November.
Regarding the Round in South Africa originally scheduled to take place on October 19, FIM and Dorna WSBK regret to announce that, despite the efforts of the local promoter (GAS Sport), the works carried out on the race track are not advanced enough to meet the conditions required to achieve FIM homologation.
Dorna WSBK Organization and the International Federation are looking into the possibility of finding a replacement for this race. Depending on the replacement venue, the awards for the FIM Superstock 1000 Cup, European Superstock 600 and European Junior Cup, powered by Honda, could be presented either at the French Round, scheduled on Sunday 5 October 2014 in Magny-Cours, or at the new venue.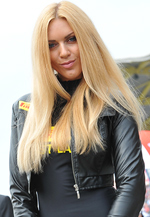 2014 SBK Race Season
Meet the offical SBK
World Superbike Girls!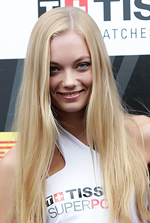 2013 SBK Race Season
Order the New
2014 / 2015 Calendars!
with the FastDates.com Calendar Kittens - the official SBK Umbrella Girls!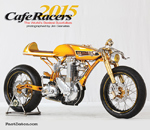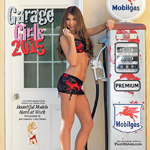 Click Below for more
2015 Calendars!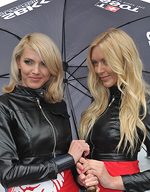 Meet FastDates.com
Calendar Kittens
SBK Grid Girls
Jitunka & Petra!
---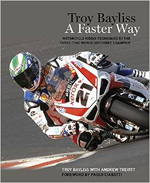 New! Troy Bayliss
A Faster Way
Track Riding Book
World Superbike Tyre supplier call for tender
Rome (Italy), Monday 28 July 2014 - Dorna WSBK Organization, in agreement with the FIM, announce the open call for tender for those companies willing to be the sole tyre supplier of the eni FIM Superbike World Championship from 2016 onwards, as the agreement with the current tyre supplier will expire at the end of 2015.
The application for the tender procedure can be submitted starting from Monday 28 July within four (4) weeks, by Monday 25 August 2014.
Those tyre companies interested in this offer can address any technical request to Gregorio Lavilla, WSBK Sporting Director.

Note: We suspec this is just a formality and Pirelli will renew its contract with World Superbike. But we also suspect the Championship is having financial problems and needs to push up the tire sposnorship fees.- Editor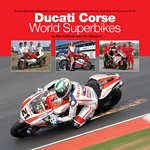 Retail $49.95 ea.
Click to Order from Amazon.com

Ducati Corse
World Superbikes
by Alan Cathcart
& Jim Gianatsis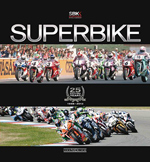 The Official SBK
World Superbikes
1987-2012
25 Year History Book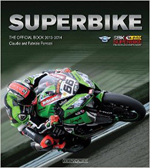 The Official SBK
2013-2014 Yearbook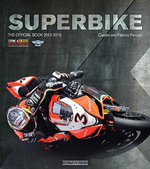 The Official SBK
2012-2013 Yearbook
These SBK Yearbooks are the Best Books Ever about World Superbike. They feature awesome color photography of the riders, bike and racing action. The feature a detailed revue of the past season in pictures and statistics, with a detailed look at the bikes and riders.

Plus a technical look data all the bikes, a preview of the upcoming season's Championship!
We buy this every year ourselves and highly recommend it!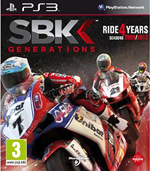 SBK World Superbike Video Game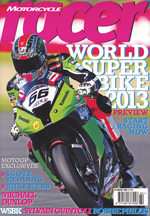 Official Print Media Partner

MV Agusta F3 800cc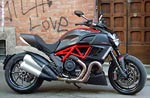 The Devil Made Us Do It!
Testing the Ducati Diavel in Italy
Sudco Carburetor Kits & OEM Replacement Parts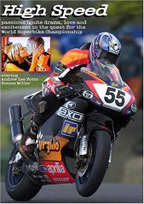 High Speed - the Movie
The best motorcycle racing movie ever made! Filmed on location at the World Superbike races , this an exciting romantic drama staring beautiful British actress Sienna Miller.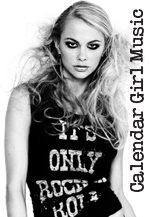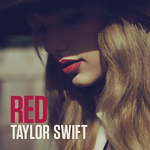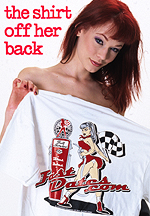 Order the Official
FastDates.com &
LA Calendar Bike Show
T-Shirts!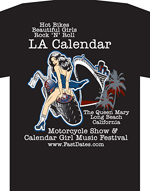 California CHP Lane Splitting Guidelines
July 24th - One of the most debated and least understood maneuvers by motorcycle riders in California - zipping between lanes of stalled traffic, or "lane-splitting" - got a little dicier when the California Highway Patrol acknowledged Wednesday that it had been required to removed safety guidelines it had just published a few weeks earlier for for the practice from its website and tossed all printed materials.
Motorcyclists, some of whom might not own a bike if they couldn't split lanes, got revved up about the pullback.
They said it will cause even more confusion about lane-splitting, which remains legal and saves riders time and fuel, but often puzzles - and sometimes outright angers - drivers of four-wheeled vehicles stuck in gridlock. Some motorcyclists, too, aren't experts on the concept.
"I'm disappointed. A lot of people put a lot of time and effort into creating those guidelines," said Nick Haris, the Western states representative of the American Motorcyclist Association. "It's a pity to see it so quickly removed."
Guidelines, not laws
The CHP removed the guidelines about two weeks ago under orders from the state's Office of Administrative Law, after complaints from a Sacramento man that they could be misinterpreted as enforceable laws. Lane-splitting tips have been banished from materials distributed by the CHP as well as the Department of Motor Vehicles and the Office of Traffic Safety.
"People liked the guidelines and appreciated them," said CHP Officer Mike Harris, an agency spokesman. "But some people had thought they were given as rules or laws that can be enforced by the department."
Here are some of the guidelines for motorcycle lane-splitting that were removed from the California Highway Patrol's website:
-- Travel no more than 10 mph faster than other traffic - danger increases at higher speed differentials.
-- It is not advisable to lane-split when traffic flow is at 30 mph or faster - danger increases as overall speed increases.
-- Typically, it is safer to split between the No. 1 and No. 2 lanes (the lanes farthest to the left) than between other lanes.
-- Consider the total environment in which you are splitting, including the width of the lanes, size of surrounding vehicles, as well as roadway, weather and lighting conditions.
-- Be alert and anticipate possible movements by other road users.
-- Don't put yourself in dangerous positions.
-- If you can't fit, don't split.
Source: California Highway Patrol
Now this wasn't addressed by the Highway Patrol and may be a real grey area, but we like to split lanes on the Double Yellow Lines between the CarPool Lane and the #1 Lane on the Freeway. Here the space is wider and it's illegal for cars to cross over the Double Yellow, so there is much less chance of a car changing lanes in front of you as you come up from behind. - Editor