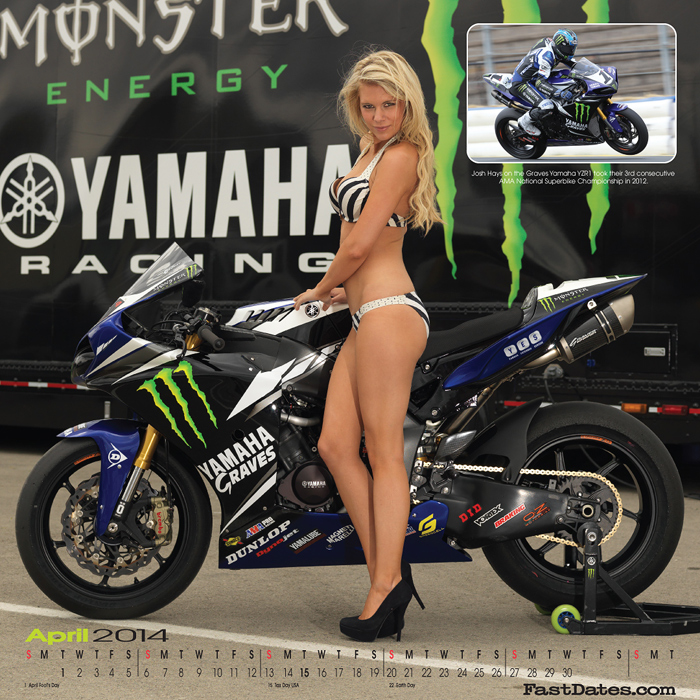 This Month in the Fast Dates World Superbike Calendar ....
Beautiful SBK Fast Dates Calendar Kitten Chrissy Blair hooks up with AMA National Superbike Champion Josh Hayes' Graves Yamaha YZR1. You'll find bikes like this with beautiful Kittens featured in the Calendar Bike Garage with full specifications and screensaver size pictures.


See revealing pictorials of the Calendar Kittens including Chrissy
in the Fast 2014 Calendar Magazine in Members Corner

Order the Fast Dates Calendars • Calendar Screensavers in Members Corner
---

Above: Christian Iddon with Alstare team owner Francis Batta and the stock production Bimotta BB3 just 2 months ago.
2014 Eni SBK World Superbike Championship
Team Alstare BiMoto join the 2014 World Superbike starting grid beginning at Aragon!
April 5th 2014 - Bimota Alstare have announced they'll be racing full-time in World Superbikes in 2014, debuting at Aragon World Superbikes, and fielding young Brit Christian Iddon alongside Ayrton Badovini on the super-sexy BB3. Team Alstare BiMoto and its two riders Christian Iddon and Ayrton Badovini are shown on the Provisional Entry list for next weks World Superbike round at Aragon in Spain. The new Alstare Bimota factory team run by Francis Batta was not at the 2014 WSBK season opener in Phillip Island in February becuase they were still dealing with a number of issues for the newly annouced team including finding sponsors and setting up a budget, preparing the bikes, and working with organizers FIM and Dorna to have the small speciality bike manufacturer;s BMW 1000RR engined bikes homologated for World Superbike.

As you can read (see below) in the newly Revised FIM 2014 Superbike Rules published earlier the week, the homologation rules have been modified so Bimotoa can race in WSBK on provisional status if they have 150 bikes built early in the season, and 500 bike sby the end of the year. After difficulties with homologation and producing enough bikes, there's been a reduction in the required numbers needed to make the grid. Plus, Dorna, the FIM and MSMA see the benefits of having another two bikes (and one more manufacturer) on the grid.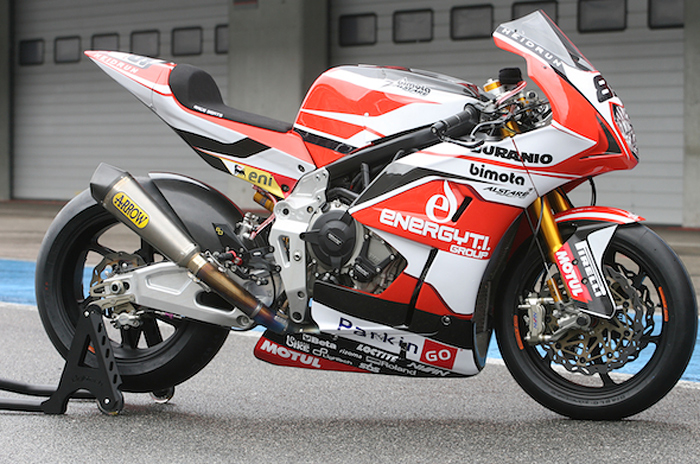 The new 2014 Alstare Bimoto BB3 World Superbike all set up and ready for action!
Team boss, Francis Batta: "It has been a difficult few months and a bit frustrating at times, but we have all been working away tirelessly to be on track at Aragon. It has taken a huge effort, but I am confident we will be there in good shape. We would like to thank Dorna, the FIM and the MSMA for giving us this great opportunity to bring a famous marque back to the track. It is going to be a baptism of fire at Aragon, but one we are all looking forward to."

Meanwhile, Christian Iddon said: "When I visited the team's headquarters and workshops recently, I was very impressed with the facilities and all the work going on. Now that we know we're going to race in Aragon we're all even more fired up than before. For sure, the job will be hard, but we're going to give it everything we've got and maybe surprise a few people along the way."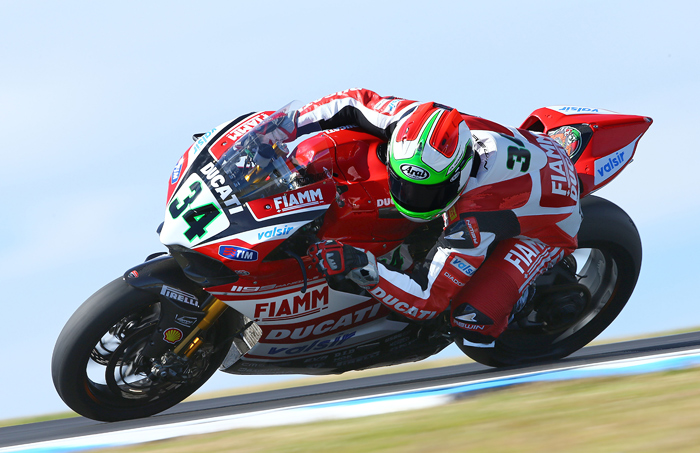 Giugliano tops the timesheets on Monday in Jerez ahead of team mate Davies and reigning Champ Sykes
Private testing at Jerez for many WSBK teams
The top riders back on track to get ready for the second round of the season
Jerez, Spain, April 1st - Several WSBK teams will hit the track early next week for private testing at Circuito de Jerez, Spain, in preparation for the second round of the season, scheduled for April 13th at MotorLand Aragon. This will be the last chance for many teams and riders to get some track time before the season picks up the pace.
The Aprilia Racing Team will show up at the Andalusian venue with current with regular rider duo Sylvain Guintoli and Marco Melandri as well as test rider Alex Hofmann. Melandri will focus on sorting out the lack of confidence at the front end which is very important at Aragon, especially at the end of the long back straight.
First race winner of the season Eugene Laverty and rookie sensation Alex Lowes are looking forward to getting back to work. The Voltcom Crescent Suzuki pairing has many new things to evaluate, including a new swingarm developed by British company FTR, an updated engine specification and new electronic strategies. Barcelona-based Kawasaki Racing Team will get on track with WSBK duo reigning Champion Tom Sykes and Loris Baz, as well as EVO rider David Salom.
After this week's three day test at Cartagena, in which they tried a new swingarm and worked on traction control as well as numerous chassis settings, the Pata Honda Team will also be present at Jerez with test rider Michele Magnoni once again alongside full time pairing Jonathan Rea and Leon Haslam. The Ducati Superbike Team will continue its preparation for the second round after the encouraging season debut at Phillip Island by fine tuning the Ducati 1199 Panigale R for what might be a challenging venue for the Italian twin cylinder machine.
Claudio Corti and the MV Agusta RC – Yakhnich Motorsport Team will go through a good number of changes for their F4 RR, hoping to bridge the gap with the front runners in the upcoming event.
Chaz Davies
Ducati duo leads first day of testing at Jerez
Giugliano tops the timesheets ahead of team mate Davies and reigning Champ Sykes
Monday, 31 March 2014 - Under sunny conditions and warm spring temperatures all the top teams of the eni FIM Superbike World Championship had their first day of private testing at Jerez. It was Ducati Superbike Team's Davide Giugliano to set the fastest lap time of day 1 in 1'41.056, ahead of team mate Chaz Davies and reigning Superbike World Champion Tom Sykes. Nine riders out of eleven were able to lap within the 1'41s.
The WSBK riders will resume their work on track tomorrow for day two out of three, with weather forecast not looking as promising as today.
Day 1 Times
1 - Davide Giugliano (Ducati Superbike Team) 1'41.056
2 - Chaz Davies (Ducati Superbike Team) 1'41.468
3 - Tom Sykes (Kawasaki Racing Team) 1'41.545
4 - Jonathan Rea (Pata Honda) 1'41.624
5 - Sylvain Guintoli (Aprilia Racing) 1'41.754
6 - Alex Lowes (Voltcom Crescent Suzuki) 1'41.821
7 - Marco Melandri (Aprilia Racing Team) 1'41.905
8 - Loris Baz (Kawasaki Racing team) 1'41.932
9 - Leon Haslam (Pata Honda) 1'42.153
10 - Eugene Laverty (Voltcom Crescent Suzuki) 1'42.648
11 - David Salom (Kawasaki Racing Team) 1'43.642
Victory is sweet! Eurene Laverty took the the opening race win for his new team Suzuki, beating his old Aprilia team who let him go at the end of last season to replace him with Marco Melandri (left) who finished 2nd, with Guintoli (right) in 3rd
2014 SBK World Superbike Championship
Phillip Island World Superbike Season Opener

Phillip Island Australia, Feb 14th, 2014 - The eni FIM Superbike World Championship is set for another exciting season of racing that will officially kick-start on February 23rd at the Phillip Island Grand Prix Circuit, Australia, following a two-day official test scheduled on 17-18 of the same month. The Victorian Circuit, a riders' favourite, is also the most visited in the history of WSBK, as the 2014 edition will be the 24th held on the Island. Complete Race Coverage Here
Share your Ducati Passion in the Ducati Grandstand during the 2014 FIM Superbike World Championship at Mazda Raceway Laguna Seca on July 11-23th!

The Ducati Grandstand at Mazda Raceway Laguna Seca on July 11 – 13, 2014 will be the place to be to watch all of the nail-biting action for the only US stop of the 2014 FIM Superbike World Championship. In collaboration with Ducati, Mazda Raceway Laguna Seca is selling an exclusive Tribuna Ducati Ticket Package for $199 while supplies last. Get yours and join fellow Ducatisti as we cheer the Ducati Corse team to victory!
Tribuna Ducati Ticket Package
• 3–Day Admission and Paddock Pass
• Turn 4 Ducati Grandstand Seat
• Ducati Motorcycle Parking Pass
• Ducati On-track Parade Lap on Friday
• Ducati Track Walk
• Commemorative Ducati Gift
At just $199 per person, this is an amazing opportunity you don't want to miss. Reserve your Ducati Ticket Package today and make sure to use promo code "DUCATI" to get these exclusive savings. Purchase these advance tickets on the DucatiUSA.com website http://www.ducatiusa.com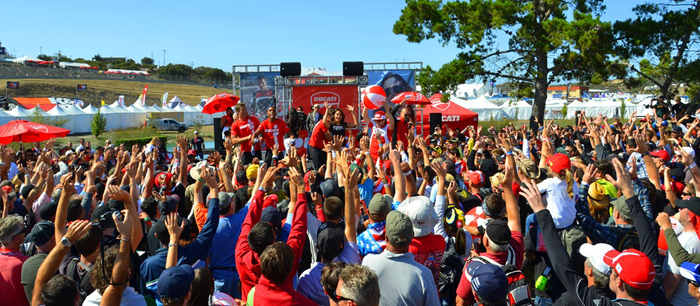 ---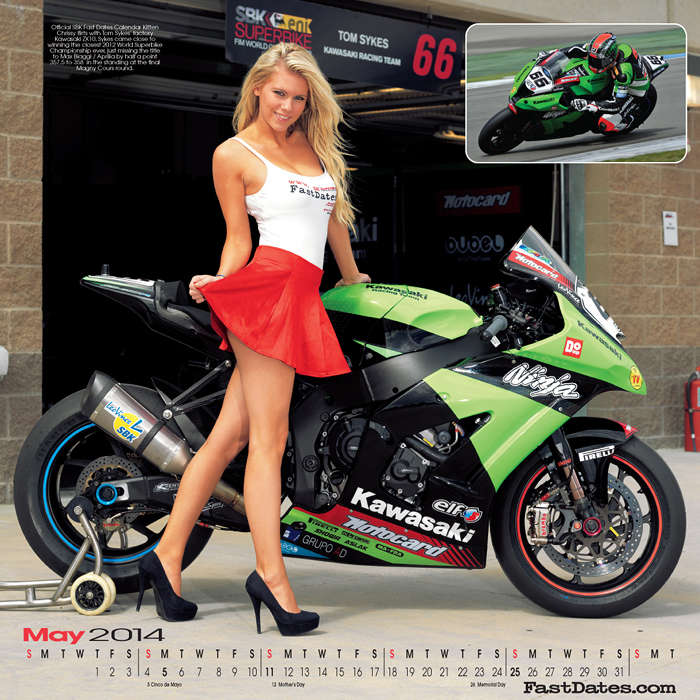 Rules Updates for FIM Superbike & Supersport World Championships
FIM Superstock 1000cc Cup
April 4th 2014 - The FIM and Dorna WSBK Organization wish to inform that the updated version of the FIM Superbike & Supersport World Championships, and FIM Superstock 1000 cc Cup Regulations is available HERE

a) For safety reasons, upon the request of the WSBK and WSS Teams, a change has been made to the tyre supply rules (Technical Regulations, art. 2.4.7 for WSBK and 2.5.7 for WSS); the most significant update is clarified as follows, for your convenience:
For both Superbike races and for the Supersport race only, Wet and Intermediate tyres will not need to be marked with a tyre sticker. They will not be considered in the total number of tyres available for use, however normal allocation limits still apply.

b) Following Superbike Race 1 the intention to protest other riders for technical breaches only must be submitted within 15 minutes of the end of the race. For sporting protests the time limits remains as before. Below, an extract of the most important change within the regulations (Sporting Regulations, art. 1.28; Disciplinary Code, art. 3.4.3), for your convenience:
"(…) At the end of Superbike Race 1 (one) the machines will be allowed to return to their garages where, after control of the tyre stickers by the Technical Director or his approved staff, the wheels may be removed. Data may be downloaded, NO other work may be carried out until 15 minutes after the end of Superbike Race 1 (see art 3.4.3). The garage doors must remain fully open at all times during this period.(…)"

According with the WSBK Teams, following the meeting held in Phillip Island, Australia, during the first Round of the WSBK Championship last 21-23 February, the complete Homologation Rules are available HERE
---
Yamaha Is Presenting Sponsor For Three-Event GEICO Motorcycle Superbike Shootout; Shootout Races Added To 2014 Yamaha Road Racing Contingency Program
Cypress, CA - April 3, 2014 – Yamaha Motor Corporation, U.S.A., is proud to announce that it has signed on as sponsor for the GEICO Motorcycle Superbike Shootout Presented By Yamaha, a three-event championship motorcycle road racing series that includes the:
• Yamaha SoCal Nationals at Auto Club Speedway in Fontana, CA on April 26-27;
• Pacific Nationals at Sonoma Raceway in Sonoma, CA on May 3-4; and the
• Mountain Nationals at Miller Motorsports Park in Tooele, UT on May 24-25.
The announcement was made by Bob Starr, General Manager of National Communications for Yamaha's Motorsports Group.
"All of us at Yamaha Motor Corporation, U.S.A., are proud that Yamaha is the presenting sponsor for this new race series," Starr commented. "We're excited that our loyal customers and race fans in the Western part of the U.S. will now have three events to attend that are close to their homes, and they'll be able to see for themselves just how breathtaking professional motorcycle road racing at this level is!"
Keith McCarty, Motorsports Racing Division Manager for Yamaha Motor Corporation, U.S.A., added, "I'm excited that Yamaha is now the presenting sponsor for the Shootout and that the fans will get the opportunity to see our Monster Energy Pro Superbike riders Josh Hayes and Cameron Beaubier, as well as our Y.E.S./Monster Energy Pro Sportbike riders Garrett Gerloff and JD Beach, compete in these three race weekends. We're looking forward to seeing lots of fans come out to support the races and interact with our riders. Stay tuned for more information as the opening round of the Superbike Shootout draws near."
Yamaha Expands 2014 Road Racing Contingency Program
In related news, Mike Guerra, Racing Division Department Manager for Yamaha, announced that Yamaha Motor Corporation, U.S.A., has extended its 2014 Road Racing Contingency Program to include the GEICO Superbike Shootout Presented By Yamaha.
Guerra said. "Our Contingency Program rewards aspiring Yamaha road racers, so we're pleased to be able to extend the Program so that Yamaha R1 and R6 riders who compete in the races that are part of the three-event Superbike Shootout will be rewarded for their results."
For complete details on how to register, along with specific information on which racing classes are included, visit the Road Racing Contingency page of the Yamaha Motor Corporation, U.S.A., Website at: www.yamahamotorsports.com/sport/racing/RoadRace_Contingency.aspx
---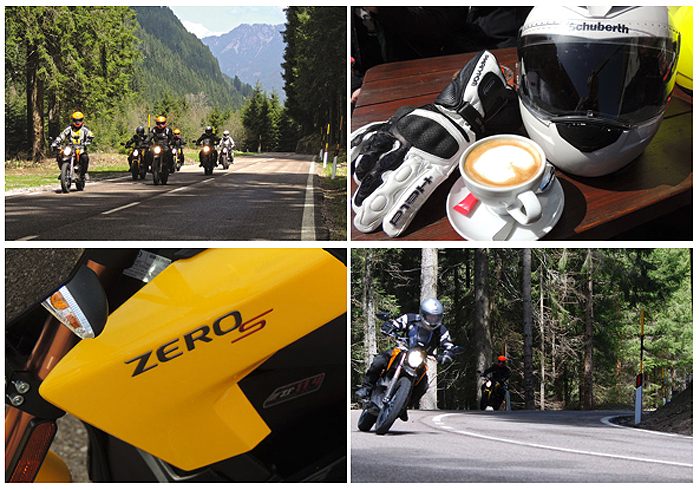 Exciting New Edelweiss Motorcycle Tours in Europe!

New Zero Electric Tour Through the Alps! Jul 26 - Aug 01 and Aug 02 - Aug 08 2014
To sweep through the Alps on silent feet, to enjoy nature with all your senses, to create stunning faces and evoke disbelief, would be really fun.

But what about the power, the reach, the driving behavior? Does it work at all? After all, you do not want to stand in the middle of Stelvio and make the coach tourists grin. There is just one answer to this: an acid test – under severe conditions! Done thinking. In May 2013 our annual office and tour guide ride was scheduled. You cannot even imagine the facial expressions of our established tour guides as they stood in awe of the brand new Zero. Incredulous, skeptical but – thank God – also curious. For three days we rode the bikes over the passes of the Alps and the Dolomites. Solo and with a passenger. In sports and in eco mode. In sunshine and in rain. It works, and how!

The best thing about the whole story, however, was seeing the grins on each of the tour guides' faces, even with helmets on, at the end of the tour. The decision was made. We had to do an Alps Electric tour and not just any tour, but one that makes any motorcycle enthusiast's mouths water. The Silvretta High Alpine Road, the Stelvio, the Gavia pass, the Mendel Pass, the passes of the Sella Ronda and the Timmelsjoch have to be on the list, just to name a few highlights. Edelweiss goes electric – come ride with us!
Fast Dates Edelweiss Pyrenees Tour June 10-18th 2014
You're Invited! - if you would like to join FastDates.com Calendar Editor and Photographer Jim Gianatsis as we take in the beautiful mountain ranges of Southern France / Northern Spain on the Edelweiss Pyrenees Tour on June 10-18th 2014. With some challenging roads up to 10,000 feet in two beautiful southern European countires in Springtime to keep it really interesting.
We did a small part of this tour back in 2004 on their Western Alps tour that included Southern France's Grand Canyon, which was really awesome, but this has much more Spain, a country we've never been to. This Southern Europe area is really green, beautiful, awesome weather. You can see the tour details here on the Edelweiss website: http://www.edelweissbike.com
Click Here to Find Out More & Sign Up Today!


---
Legendary Motorcycle Designer Massimo Tamburini passed away at Age 70
Saturday, April 5, 2014 - The motorcycling world has just become a gloomier one with the loss of Massimo Tamburini, bike designer extraordinaire, and iconic figure in the business. 70-year-old Tamburini had battled with his cancer over the past years, and like in most such cases, it was a lost battle. Massimo was diagnosed with lung cancer in November 2013, and began undergoing chemotherapy. The San Marino resident's condition got worse through the last several months, and he died Saturday at 70-years old.
Massimo Tamburini is the man who created several of the most acclaimed motorcycles of the modern era, including the 2nd generation Ducati 916/998 Superbike, the MV Agusta F4 and Brutale, to name only a few. The name Tamburini was associated with iconic Italian brands like Ducati, MV Agusta, Bimota or Cagiva over the years, and become a milestone in the design world.
Tamburini began his design career in 1971, when he customized an MV Agusta 750 Sport. He took the 750 Sport, and revised it, utilizing a frame he welded himself. While designing air-condition ducts in 1973, Tamburini and partners Valerio Bianchi and Giuseppe Morri began Bimota – a "portmanteau" that uses the first letters of each partners last name (Bi, Mo, Ta). Bimota began building motorcycles that utilized engines from Honda, Kawasaki and Suzuki. Tamburini left the company 11 years later due to a falling out with Morri.

Tamburini joined the Cagiva Group in 1985, founded by Claudio Castiglioni. Cagiva, which owned Ducati in 1985, continually developed new and innovative motorcycles that have influenced the direction of the Italian and world motorcycle markets through the 1980s and 1990s. Just like Tamburini, Castiglioni also passed away from cancer in 2011.

Tamburini became the head of the Cagiva Research and Development department,  responsible for designing both Cagiva and Ducati motorcycles. His first design was the Ducati Paso 750, the name in memory of his friend and Grand Prix racer Renzo Pasolini, who died while racing at Monza in 1973. The Paso broke from Ducati's race-influenced F1 styling, and brought full bodywork mainstream.

But it was in 1994 when Tamburini would drastically change the look of all sport bikes going forward. This is when the 916 was born. The 916 featured bold, streamlined styling, a single-sided swingarm and a second-generation Desmoquattro engine.
In 1996, Ducati was sold to the US-based Texas-Pacific Group, but Tamburini stayed with Cagiva.
From here, Tamburini began designing MV Agusta motorcycles when Cagiva bought MV Agusta in 1991.Tamburini would design the F4, a sport bike that was released in 1997. The F4 series was a success, and in 2005 MV Agusta released the F4 Tamburini 1000 – a special model named after its famed designer. Tamburini continued with MV Agusta, and his last creation was the Brutale and F3 675.
It was Tamburini who founded the Cagiva Research Center and the brand Bimota. Bimota is a name which comprises the first two letters of the names of its founders Bianchi, Morri and Tamburini. After Cagiva bought Ducati, Massimo Tamburini also worked with Pierre Terblanche, with the latter drawing inspiration for his Supermono from the Ducati 919 created by Tamburini.
Tamburini also enforced the use of the single-sided swingarm and the underseat exhaust, as mandatory solutions for sport bikes. His work with MV Agusta is still a reference for the actual models, which also draw their cues from Tamburini's ideas. In fact, both the Ducati 919 and the MV Agusta F4 have found their place in the Guggenheim Museum exhibits in the past.
Onrne of the guidelines in Massimo Tamburini's approach to designing a motorcycle was centered on practicality and usable performance. He used to um things us and say that "the ideal one would be a 750 with the power of a 1000 and the weight of a 500."
Giovanni Castiglioni, son of Claudio and President of MV Agusta, sums up Tamburini beautifully: "Massimo Tamburini was one of the legends of the motorcycle industry. I want to remember his passion, enthusiasm and determination. He was a great designer, but above all he was truly passionate about motorcycles. He left our company a precious heritage and will always occupy a place of honor amongst motorcycle's all time greats. His name will go down in history for his ingenious intuition and perfectionism applied to every small detail."
---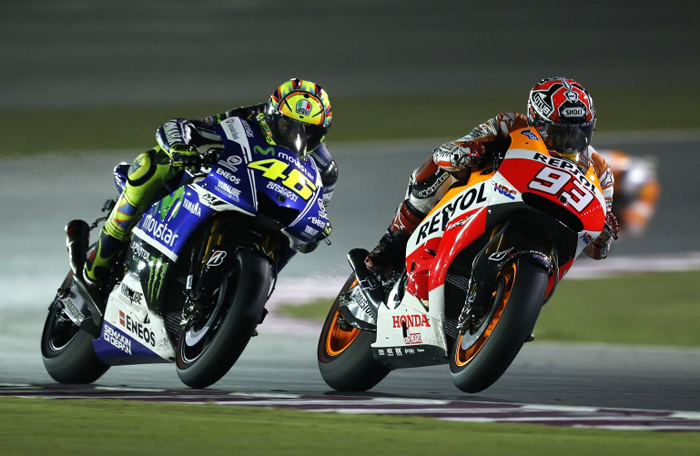 The 2014 MotoGP season couldn't have started out any more exciting than this side-by side battle for the Qatar race win between Valentino Rossi (46) and Marc Marquez (93).
2014 MotoGP World Championship
The Doctor is back! But the newly crowned Champ still rules....
Marquez and Rossi Battle It Out Under the Lights
in the MotoGP Season Opener at Qatar
Qatar, Sunday March 23rd, 2014 - Repsol Honda RC213V rider Marc Marquez opened the defence of his debut-season MotoGP World Championship in the style of a champion – returning from injury to claim a fighting victory after a fierce battle with Valentino Rossi (Yamaha) that lasted all the way to the end of the 22-lap race, held under floodlights at the Losail circuit in Qatar.
Complete 2014 MotoGP Season opener race coverge follows below.
Complete Qatar MotoGP Coverage Here
---

Danny Elsick(69) lead the Dayona 200 Miler right from the start.


2014 AMA Pro Roadracing Championship
Danny Eslick Wins 73rd DAYTONA 200 For Triumph
Yamaha's Josh Hayes and Cameron Beaubier win in Superbike
DAYTONA BEACH, Fla. (March 15, 2014) - Danny Eslick's return to the AMA Pro GoPro Daytona SportBike class couldn't have been more spectacular. The native of Broken Arrow, OK, and a two-time series champ won pole and then outlasted the competition to take the 73rd Daytona 200. Eslick, aboard a Riders Discount Racing Triumph, won Triumph's first Daytona 200 since 1967 by 10.975 seconds.
Complete 2014 Daytona Supersport 200 and Superbike Race Coverage HERE
---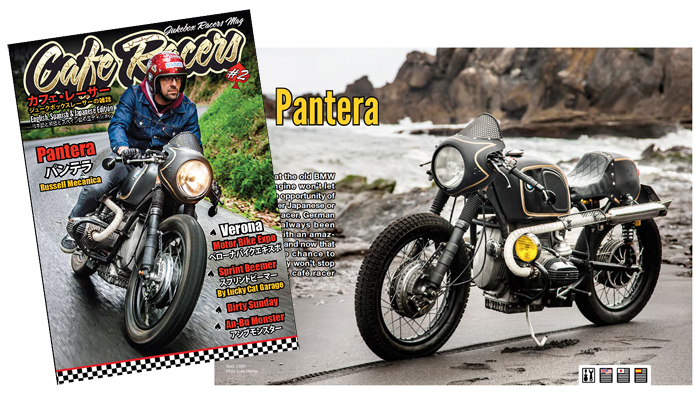 Click to Download the Digial Magazines for Free
New Cafe Racers Magazine Digital Issue #2 Now Available
Our good buddy Daniel Gil-Delgardo is the editor of the Spanish motorcycle publications Cafe Racers and Xtreame Bikes. In past years they've featured coverage of our annual LA Calendar Motorcycle Show. Besides being beautiful looking glossy magazines featuring great looking European custom cafe bikes and sportbikes, the new versions of the magzines are now availble digitiall online for free, and they feature English language versions. The 2nd Issue of Cafe Racers Digital is now available on their website to download to your computer in an easy to read PDF format, together with Issue Number One. www.CafeRacersMag.es
---
---
2014 LA Calendar Motorcyc;e Show Moves to the Malibu Golf Cours on July 20th
The 2014 LA Calendar Motorcycle Show continues its now 23rd year tradition as the premier outdoor streetbike event in America with the Calendar Bike Building Championship & Concours d' Elegance, top Celebrity Builders, selected Vendors and Exhibitors, and the Calendar Girl Music Show. The Show always kicks off the world premier of next year's new 2015 FastDates.com Motorcycle PinUp Calendars featuring the world's top road race and custom motorcycles with the beautiful Calendar Kittens featured in the Calendars in attendance at the Show.
---
NEW! FAST 2014 Digital Calendar Magazine Yearbook
The Bikes, the Builders, the Riders, the Kittens,the Calendar Bike Show, the World Superbike races all the 2014 Calendar Pictures, and Special Features... For the first time every we take you around the world in 120 exclusive pages for the making of the 2014 FastDates.com Calendars! Now in Members Corner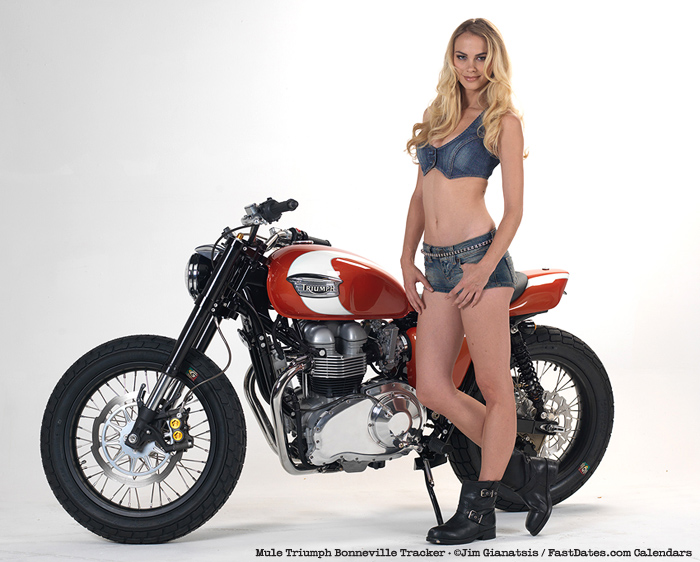 Mule Motorcycles Triumph Bonneville Tracker now in the Calendar Bike Garage!
Check out this awesome Triumph Bonneville Streetracker built by one of our favorite Calendar Bike Builders, Richard Pollock / Mule Motorcycles, now featured in the FastDates.com Calendar Bike Garage with complete details and large screen saver size pictures. We might just even have included this picture of beautiful Sara with the bike.... Go to Calendar Bike Garage
---
There's More! Go to Pit Lane News Previous Week

Also Visit: Fast Dates Calendar News • Iron & Lace Calendar News
Calendar Girl News • Meet the Models • Paddock Garage
Get FastDates.com T-Shirts, Mugs & Photographs from Our Store


MEMBERS CORNER! Calendar Kittens, Paddock Garage, Iron & Lace Garage


Amazon.com Motorcycle Products & Apparel Store



MotorcycleSuperstore.com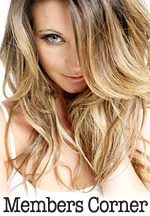 Hot Bikes, Sexy Kittens
Your Exclusive Grid Pass
also includes....
---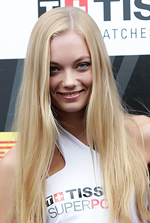 Meet the offical SBK
World Superbike Girls!
Order the New
2013 / 2014 Calendars!
with the FastDates.com Calendar Kittens - the official SBK Umbrella Girls!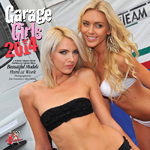 Click for even more
2014 Calendars!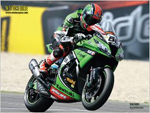 2014 Superbike / MotoGP
Action Calendar!
---
Kiss and Make Up!
Kevin Schwantz and Circuit of the Americas
April 1, 2014 - Circuit of The Americas (COTA) and motorcycle racing legend Kevin Schwantz have amicably settled their legal differences and have reached a new agreement to collaboratively promote motorcycling racing at the Austin circuit and across the United States. Schwantz will serve as an official ambassador for COTA and work to promote the upcoming Red Bull Grand Prix of The Americas MotoGP event set for April 11-13, 2014.

"Kevin is a great champion and partnering with him gives us an opportunity to learn from his deep knowledge, as well as continue to celebrate his accomplishments," Circuit Chairman Bobby Epstein said. "Kevin and I have always shared the desire to see him be a part of COTA, and it's awesome to finally see it become a reality. A great American track and a great American champion in the same city can't be kept apart. As a result, casual riders, current racers, future stars and the fans all win."
"I look forward to being the ambassador for two-wheel racing for COTA, especially as the 2014 MotoGP season begins and returns to Texas," Schwantz said. "Grand prix motorcycle racing has been my life, and to help COTA market and promote that moving forward is exciting!"
As a COTA ambassador, Schwantz will play a prominent role in a variety of promotions for the upcoming Red Bull Grand Prix of The Americas event in April, including media availabilities and fan activities. For example, Schwantz will serve as Grand Marshal for the MotoGP race on Sunday, April 13, and will lead the parade laps scheduled for COTA's personal seat license holders on Saturday, April 12, following grand prix qualifying sessions.

Additionally, COTA will work with Schwantz to raise money for an important charity he supports, the Simoncelli Foundation, which was established in memory of Schwantz's good friend, Marco Simoncelli, a MotoGP competitor from Italy who will be inducted into the MotoGP Hall of Fame as a MotoGP Legend this May. Simoncelli died after an accident during the 2011 Malaysian Grand Prix. Today through Friday, April 4, COTA will donate $1 for every ticket purchased for the Red Bull Grand Prix of The Americas to the Simoncelli Foundation, a nonprofit organization supporting humanitarian projects that benefit the disadvantaged.
"I am thankful for COTA's support of the Simoncelli Foundation, a charity that's important to all of us who knew Marco personally and fans that followed his career," Schwantz added. "Marco was a great competitor and a very special friend. Now racing fans everywhere can honor his memory and help a cause important to Marco by purchasing a ticket to Austin's MotoGP race."
Tickets for the Red Bull Grand Prix of The Americas start at $39 and are available for purchase at
CircuitoftheAmericas.com
Children ages 12 and under receive free general admission with a ticketed adult.
Terms of the legal settlement between COTA and Kevin Schwantz were not disclosed.
Sylvain Barrier now
awake after coma
March 19th - Italy's Gazzetta dello Sport reported today that World Superbike rider Frenchman Sylvain Barrier is awake, fully conscious and responsive. As the sporting newspaper states, the Frenchman was involved in a road accident nearby Lyon on Saturday night, with his car destroyed after a collision with a lorry. Gazzetta dello Sport also added that Barrier will be transferred today to a clinic specialised in maxillofacial surgery, with an estimated recovery time of two- three months.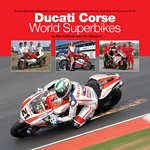 Retail $49.95 ea.
Click to Order from Amazon.com

Ducati Corse
World Superbikes
by Alan Cathcart
& Jim Gianatsis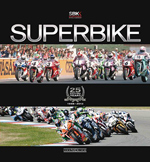 The Official SBK
World Superbikes
1987-2012
25 Year History Book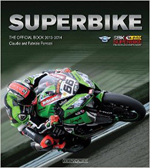 The Official SBK
2013-2014 Yearbook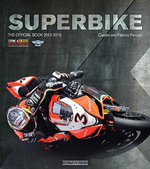 The Official SBK
2012-2013 Yearbook
These SBK Yearbooks are the Best Books Ever about World Superbike. They feature awesome color photography of the riders, bike and racing action. The feature a detailed revue of the past season in pictures and statistics, with a detailed look at the bikes and riders.

Plus a technical look data all the bikes, a preview of the upcoming season's Championship!
We buy this every year ourselves and highly recommend it!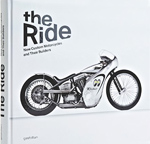 The Ride
The new generation
of sport customs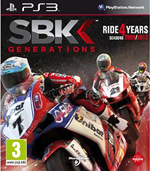 SBK World Superbike Video Game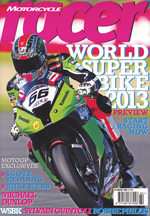 Official Print Media Partner
---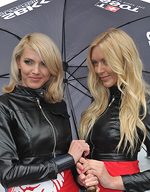 Meet FastDates.com
Calendar Kittens
SBK Grid Girls
Jitunka & Petra!

MV Agusta F3 800cc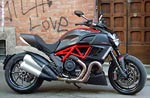 The Devil Made Us Do It!
Testing the Ducati Diavel in Italy
Sudco High Performance & OEM Replacement Parts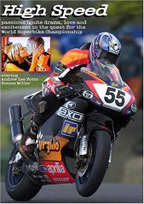 High Speed - the Movie
The best motorcycle racing movie ever made! Filmed on location at the World Superbike races , this an exciting romantic drama staring beautiful British actress Sienna Miller.
---
THROUGH THE ALPINE WONDERLAND OF AUSTRIA AND SOUTHERN GERMANY – THE ALPS AND LAKES MOTORCYCLE TOUR!
The Alps and Lakes motorcycle tour takes you through a beautiful part of European motorcycle paradise; the Alps. The contrast between the beautiful lakes in southern Germany and Austria and the towering mountains that reach up to more than 10,000 ft is nothing less than breathtaking.
This area is the famous background for the movie "Sound of Music". This vacation offers a little bit of everything: beautiful and relaxing rides through the valleys; some mountain roads and passes; and great vistas and sights, including King Ludwig's castle, Herrenchiemsee, and the historic city of Salzburg. The tour consists of five riding days, one of them is a rest day – which means that you stay two nights at the same hotel.

This is a great opportunity to explore a little bit more, ride around the countryside, walk through town, meet the locals and sample some of the local food. The tour will take you through Germany and Austria, and on the rest day you can even add Italy to your list if you are so inclined.
Find Out More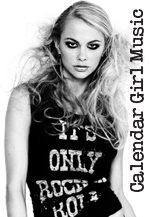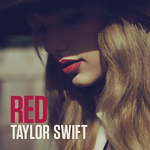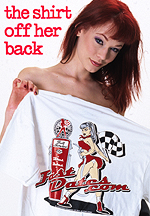 Order the Official
FastDates.com &
LA Calendar Bike Show
T-Shirts!