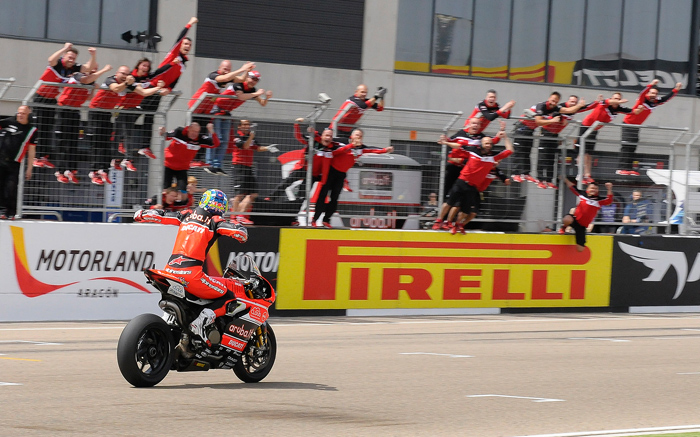 It was already already a World Superstock Championship winner, but Chaz Davies finally gave the Ducati Panigale its first World Superbike class victory at Aragon in Race Two.
2015 Eni SBK World Superbike Championhip, Aragon, Spain Round 3 of 13
Rea Increases Point Lead with Race One Win
Davies Domontes in Race Two to Give Ducati Panigale its first WSBK Victory
Alcaniz (Spain), Sunday 12 April 2015 – Jonathan Rea (KRT) scored his fourth win of the season in Race One at the Motorland Aragon circuit today, following that up with a second place to extend his previous championship lead. Tom Sykes (KRT) placed third in the first race, having led it for 12 laps, but was unfortunate to fall in the second 18-lap contest.

Chaz Davies (Aruba.it Racing – Ducati Superbike Team) put together the perfect second race today at Motorland Aragón, scoring the very first win for the Panigale R in the Superbike World Championship. The factory rider was also on the podium in race 1, in second place. Two good races also for Javier Forés who obtained fifth and sixth position on his debut weekend with the Panigale R Superbike. 3-day attendance: 25,728

Championship points leader Jonthan Rea.

Motorland Aragon Launches European WorldSBK Season
PREVIEW: Aragon, Spain, April 8th 2015 - Following a dramatic encounter in the new destination of Thailand, the eni FIM Superbike World Championship returns to familiar soil this weekend with the Aragon Round. The MotorLand Aragon facility, a stone's throw from the town of Alcaniz, made its debut on the calendar in 2011. However, for this year a different track configuration is to be used for the first time, as the riders will take the long double left-hander leading into the start/finish straight. On previous occasions, the tighter hairpin was used at the end of the back straight.

Of the quartet of events to be staged in Aragon thus far, race wins have been shared equally amongst as many riders, all winning two races apiece. Italians Max Biaggi and Marco Melandri each took a victory in 2011 and 2012, while in the more recent two seasons impressive doubles have gone the ways of British riders Chaz Davies and Tom Sykes.

Championship leader Jonathan Rea – having picked up three of the four 2015 race victories to date – heads with new machinery to Aragon, the same track where he had his first outing aboard the Ninja ZX-10 last November, in a two-day private test. Having collected a remarkable 95% of the maximum points available up to this point, the British rider surely has good reason to be confident as he heads out into the Spanish hills.

This could be a crucial weekend for 2013 WorldSBK title winner Tom Sykes. The Englishman may have picked up his first rostrum of the season in the opening Buriram race, although he lies some 45 points in arrears of his team-mate and has ground to make up. If history is anything to go by, he should head to Spain with confidence as last year Huddersfield rider Sykes successfully won both races from the Tissot-Superpole, in each of the Sunday encounters leading home French Kawasaki team partner Loris Baz.

If Rea's start to the season has been spectacular, then Leon Haslam's cannot be described as anything other than immensely strong. He may have beaten his compatriot only once, but Haslam remains very much in contention thanks to a trio of second places finishes which ensure he heads to Aragon only ten points behind Rea. Furthermore, he now hopes the Moto2 experience of team-mate Jordi Torres at the MotorLand Aragon circuit will only add to the challenge from the Aprilia Racing Team – Red Devils riders this weekend. However, Haslam does admit that the next three rounds at Aragon, Assen and Imola will be key damage limitation exercises before heading to venues on which he expects to be at his strongest.

Spanish fans certainly have a lot to be excited about. Not only is Torres on the charge, but Althea Racing Ducati's Nico Terol is a former Grand Prix winner in Aragon, while David Salom (Team Pedercini), Santiago Barragan (Grillini SBK Team) and Roman Ramos (Team Go Eleven Kawasaki) have all demonstrated their capabilities of strong showings.

In a further reinforcement to the Spanish Armada, Xavi Fores returns to the grid for the double-head of Aragon and Assen – race meetings separated by the space of just one week. Fores will take up the helm of the second Aruba.it Racing – Ducati Superbike Team bike, becoming the latest substitute for the recovering Davide Giugliano after three-time World Champion Troy Bayliss elected to call time on his WorldSBK career after Thailand. Hailing from Valencia, Fores teams up with 2013 Aragon double winner Chaz Davies who himself is looking to bounce back from a weekend full of troubles last time out.

A rider with momentum is Alex Lowes. The Voltcom Crescent Suzuki man clinched his third World Superbike podium finish and the first of 2015 in Thailand's second race and is now looking to move up from seventh place in the Riders' Championship. Elsewhere, Pata Honda World Superbike Team are striving for top three results themselves, with World Champion Sylvain Guintoli continuing to carry the famed number one alongside Michael van der Mark ahead of the latter's home race event at Assen next weekend.

2015 eni FIM Superbike World Championship (2 of 13 rounds completed)
1 - Jonathan Rea Kawasaki Racing Team - 95
2 - Leon Haslam Aprilia Racing Team - Red Devils - 85
3 - Tom Sykes Kawasaki Racing Team - 50
4 - Sylvain Guintoli Pata Honda World Superbike - 41
5 - Jordi Torres Aprilia Racing Team - Red Devils - 39
Saturday Superpose Sees Haslam on Top of Davies and Torress
Alcaniz, Spain) April 11th - - With a fabulous lap Leon Haslam rode his Aprilia RSV4 to the front of the pack on the starting grid. The Aprilia Racing Team - Red Devils English rider achieved an impressive feat today.

After a cautious start (in the first timed session Haslam had the tenth best time), Leon and hi team consistently improved, taking the RSV4 RF into second position in the FP4 sessions that preceded Superpole. At that point Leon began the decisive session aware that he could be fast, but his performance with a qualifier tyre of 1'49.664 was extraordinary since it was almost two seconds faster than the times he put on the sheets in the FP4 sessions.

It was definitely a team result since work was done on various fronts, from the chassis to electronic control management, aiming at finding grip and speed in the various conditions without stressing the tyres too much in a race setting. For Leon Haslam this is the second pole in his Superbike career after the one he took at Phillip Island in 2010.

Leon Haslam, Aprilia Racing, 1st: "When I saw the time on the dashboard I was really happy even though I didn't know what place I had taken, especially because it wasn't an entirely perfect lap. Being in front of everyone else is incredible when you consider that in the first session we were tenth! The team did a great job. We improved session after session and now the feeling is a lot better. There are various unknowns for tomorrow, not the least of which is the weather which may not be the best. We need to keep analysing the data to try and shave a few more tenths off of our pace. We are expecting two very heated races that will be decided over the long run."

Chaz Davies, Ducati, 2nd; "In Superpole I was able to put together a good lap, not a great lap. Unfortunately I made a mistake in the first sector which I actually thought might have cost me the front row, so I was pleased to finish second, as a front row start is important. Compared to yesterday, things have gone better today, particularly this morning when I was able to complete race distance with good results. It looks like Rea and I have a similar pace from what I've seen so far but we'll have to see tomorrow; the races won't be easy, and we need to try and maintain a strong pace as long as possible."

Jordi Torre, Aprilia Racing, 3rd:
"We improved a lot compared to yesterday. We still need to be a bit faster, but we have taken a decisive step forward. I need to be more aggressive in the braking area and on corner entry to get closer to the front runners. In Superpole I used the qualifier for the second time and I definitely need to learn how to take the best out of it. If we can manage to take another step forward in looking after the front tyre we'll be able to improve even more. The goal for tomorrow is not to lose touch with the leading pack in order to gain experience. The two races certainly won't be easy!"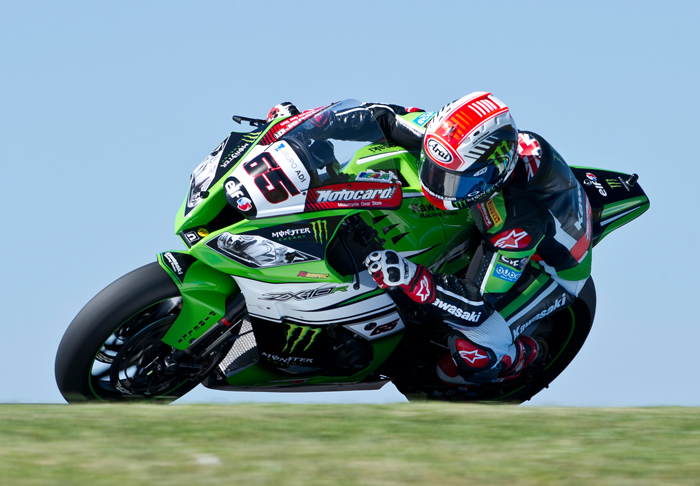 Rea Edges Davies for Race 1 win after spectacular last lap
Sykes complete the podium ahead of Aprilia duo of Haslam and Torres.
RACE ONE, Sunday 12th - In the opening 18-lap encounter at MotorLand Aragon, Jonathan Rea (Kawasaki Racing Team) claimed his fourth win of the season, equalling his previous best for number of victories in a year in just five starts. The Ulsterman came out on top at the end of an enthralling last lap saw, which him lose the lead only to retake it on the final corner from fellow Briton Chaz Davies (Aruba.it Racing - Ducati Superbike Team) who finished second, missing out the victory by 0.051s.
Tom Sykes (66) took lead early lead in Race One, before being passed Davies (7) and Rae (66) in a epic finght for the win
Initially leading from the start, other KRT rider Tom Sykes was put under immense pressure from the current championship leader and team mate Jonathan Rea who eventually overhauled the former champion on lap 14, and Chaz Davies whose pace in the closing stages was impressive as he clawed back a small gap that had opened up to put himself into contention as the trio neared the last lap. Sykes would eventually finish in the final podium place.
Behind the leading three another three way fight ensued, with Pole Position man Leon Haslam (Aprilia Racing Team – Red Devils) getting the better of his team mate Jordi Torres, the pair finish fourth and fifth respectively, just ahead of Xavi Fores on the second factory Ducati Panigale R machine.
Nico Terol (Althea Racing Ducati) closed to within 2.3s of Haslam to claim a well-deserved seventh ahead of Leandro Mercado (Barni Racing Ducati), Sylvain Guintoli (Pata Honda World Superbike Team) and MV Agusta Reparto Corse's Leon Camier, who completed the top-10.
It was a difficult opening race for the Voltcom Crescent Suzuki pairing of Alex Lowes and Randy de Puniet who both retired to the pits within the opening five laps before rejoining at half distance in an attempt to ensure the technical issues do not re-appear in Race 2. Pata Honda rider Michael van der Mark also retired on lap 11.
Rea (65) and Davies (7) traded the race lead 3 times inthe last two laps, but the Kawasaki rider would lead the Ducati pilot by just half a bike length across the finsih line in Race On
WorldSBK MotorLand Aragon - Race 1
1 - Jonathan Rea Kawasaki Racing Team
2 - Chaz Davies Aruba.it Racing - Ducati Superbike Team +0.051
3 - Tom Sykes Kawasaki Racing Team +4.977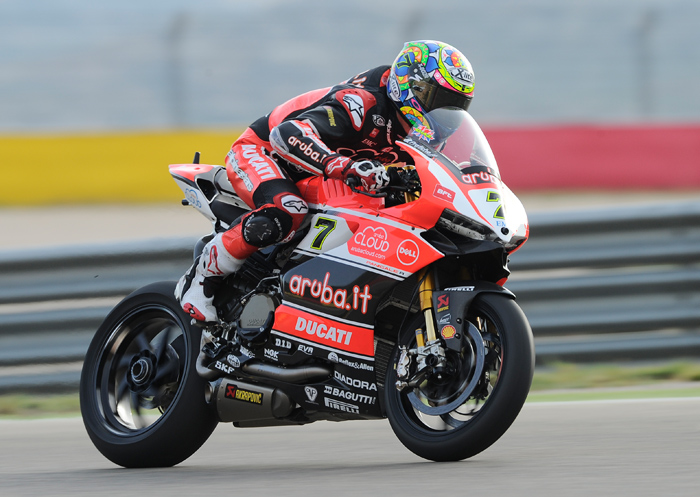 Chaz Davies gave the Ducati 1199R its first ever win in World Superbike in Race Two

Davies Dominates to Give Ducati Panigale a Historic Win in Race Two
RACE TWO, Sunday 12th - Rea edges Haslam for second place while Sykes and Guintoli crash out of the encounter.
The second 18-lap race at MotorLand Aragon, run in much warmer conditions, was won by Briton Chaz Davies (Aruba.it Racing – Ducati Superbike Team), after a dominating performance. The Welshman led from turn one to build up a comfortable lead courtesy of a stellar race pace, eventually taking the flag for his fifth career win by 3.1 seconds. Davies last won a WorldSBK race at the Nürburgring in Germany in 2013, but his victory in Spain not only ended Ducati's 58-race winning drought but also marked the first win for the Panigale R machine in the series.
Chaz (7) took the start of Race Two and was never caught.
Race 1 winner Jonathan Rea (Kawasaki Racing Team), suffering from a fever, battled hard throughout the whole race with former team mate Leon Haslam (Aprilia Racing Team – Red Devils), who looked much more at home in race 2 than he did in the earlier encounter. Second position would eventually go to Rea, thus extending his championship lead to 26 points, with Haslam taking the final place on the rostrum as the pair were split by just 0.5s at the chequered flag.
Jordi Torres (Aprilia Racing Team – Red Devils) took a well-earned fourth position, circulating more or less alone for the latter part of the race, the rookie looking pleased on his return to the pit box. Xavi Fores claimed another solid result on his debut weekend with the Aruba.it Ducati Superbike Team in fifth.
David Salom (Team Pedercini Kawasaki) completed the top-6 after overhauling Leandro Mercado (Barni Racing Ducati), Michael van der Mark (Pata Honda World Superbike Team), Ayrton Badovini (BMW Motorrad Italia) and Nico Terol (Althea Racing Ducati) in the final two laps.
Tom Sykes (Kawasaki Racing Team) was running fourth and looked comfortable before high-siding spectacularly on lap five. Reigning champion Sylvain Guintoli (Pata Honda World Superbike Team) also fell at the fast turn 14 which ends the lap, the Frenchman was able to walk away. Alex Lowes (Voltcom Crescent Suzuki) had another race to forget, the young English rider running off track in the early stages before recovering to salvage two points with a 14th place finish at the flag.

Chaz Davies, Aruba.it Racing - Ducati Superbike Team #7
"We've come close before now but today we finally did it! This has been my only goal since coming to Ducati and I'm very pleased to have achieved this result here. It's extremely important to me, to be able to repay Ducati, Aruba and all of the ducatisti with the first win for the Panigale R. I know that everyone has been working tirelessly to obtain this result. Race 1 was also really enjoyable and I was happy with the podium but just disappointed with the position, as I really wanted the win. I didn't have a lot of opportunity to make passes but tried where I could in the final stages. I made a small mistake in the middle of the race, selecting an incorrect electronic setting on the bike and losing maybe a second to the Kawasakis but fortunately I was able to make it back up and push all the way to the line. All in all, it's been a fantastic day with results that I hope to repeat very soon."
Jonathan Rea, Team Kawsaki #65: "I did not expect to win here because Tom and Chaz are really fast riders and this is their best circuit. So to finish with a first and second is a bit surreal. I need to just keep working hard like I have been and take stock of things. We have not had a result lower than second so far. We had never worked with the SC0 tyre until this weekend but we had to today. We needed to because of the temperature range but I did not know how hard to push at the beginning of race two. That was when Chaz made a gap to me. Race one was also difficult but I think I rode a clever race because the gap at the beginning was almost up to 1.5 seconds. So to close that down without abusing the tyre, and then keep some for the end, was hard work. It is clear Kawasaki has made a big step in the winter and we are really competitive, so I am happy."

Tom Sykes, Team Kawsaki: "I was happy enough with race one because we have come a long way since Thailand. I had a good start, a good middle of the race but towards the end we were not able to push the rear tyre as much as we wanted. I scored a podium in race one but in some ways at the moment we are having a bit of a bad run. I cannot beat myself up about it. I am OK after the crash in race two; I just took a big hit on my left side. It was a strange crash, very late on the exit of the corner so it caught me unaware. Not sure if it was all rider error right now or what. In the beginning of race two the lap times felt consistent and I was looking for a way past Leon and that was when there was a small mistake. We have a great circuit coming up next week at Assen and the plan is to make another step in a good direction."
WorldSBK MotorLand Aragon - Race 2
1 - Chaz Davies Aruba.it Racing - Ducati Superbike Team
2 - Jonathan Rea Kawasaki Racing Team +3.190
3 - Leon Haslam Aprilia Racing Team - Red Devils +3.712
Superbike Standings (3 of 13 rounds completed) - Complete Results Here
1 - Jonathan Rea Kawasaki Racing Team - 140
2 - Leon Haslam Aprilia Racing Team - Red Devils - 114
3 - Chaz Davies Aruba.it Racing - Ducati Superbike Team - 83
---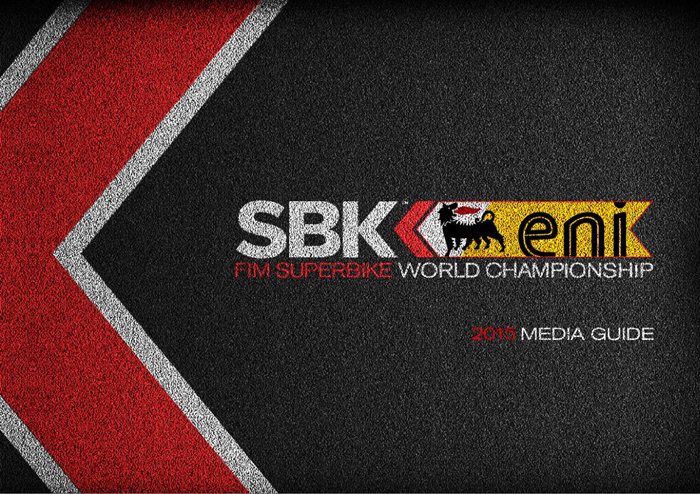 2015 SBK World Superbike Media Guide
FastDates.com is excited to share with you for the first time, the 2015 SBK World Superbike Meida Guide which showsthe 2015 Race Schedule, all the Riders, Teams, Racebike, and Tracks of this year's Championship. This is what SBK provides to both the Race media, and to the Race Rrack Promoters to use in their Souvenir Race Programs they sell at the track. This is in a PDF format which you can download to your computer and print out.



Now this is serious...
MV Agusta's 2015 F4 Reparto Corse homologation production bike for World Superbike.
Mercedes AMG is MV Agusta's marketing partner.

---
Marquez had it all his way at Corcuit of the Americas

2015 MotoGP World Championhip, Red Bull Grand prix of the Americas, USA Round 2 of 18
Marquez Returns to Domination at US Grand prix in Austin
Austin, Texas, USA , Sunday April 12th 2015 - Marc Marquez showed just how good he is by continuing his 100% record at the Circuit of The Americas, winning in Austin by more than 2.3 seconds. The reigning MotoGP™ World Champion Marc Marquez sent a message out to the rest of the paddock that he was back after his mishap in Qatar, as he dominated the Red Bull Grand Prix of The Americas, at one point leading by over 5 seconds. After mixed weather over the course of the weekend, the sun came out and track temperatures rose to 35 degrees in time for the start of the MotoGP™ race.

Andrea Dovizioso led the field into turn 1, with Marquez happy to let the Ducati GP15 open up a 0.5s lead during the opening couple of laps. The Spaniard took the lead on lap 5, and didn't look back as he went on to leave the rest of the field behind to maintain his 100% record at CoTA, before relaxing towards the end of the race.

A brilliant battle for second then ensued between the Italians Valentino Rossi, Dovizioso, and his Ducati teammate Andrea Iannone. "The Doctor" having to use all of his skill and experience to hold off the charge of the red machines as they tried to make their power advantage count. He would eventually lose out to Dovizioso, who made it another podium for the resurgent Ducati Team, although "The Doctor" maintains his lead in the Championship standings as he finished 3rd.

Rossi's teammate Jorge Lorenzo left it late, overtaking the Ducati GP15 of Andrea Iannone with only 3 laps to go to snatch 4th place from the Italian, with Monster Tech 3 Yamaha's Bradley Smith rounding out the top 6 as the leading Satellite rider. CWM LCR Honda's Cal Crutchlow recovered from a poor start that saw him down in 10th on the opening lap to finish in 7th, 6 seconds behind Smith.

Aleix Espargaro was a further 2 seconds back in 8th, as he finished 19 seconds ahead of his rookie teammate Maverick Viñales on the second Team Suzuki Ecstar GSX-RR in 9th.

Pramac Racing's Danilo Petrucci completed the top ten, ahead of the Repsol Honda of Hiroshi Aoyama and the leading Open class bike of Hector Barbera on the Avintia Ducati. Scott Redding earlier crashed at turn 11 taking out Pol Espargaro in the process, much to the chagrin of the Spanish rider, with a number of others also having to retire throughout the race.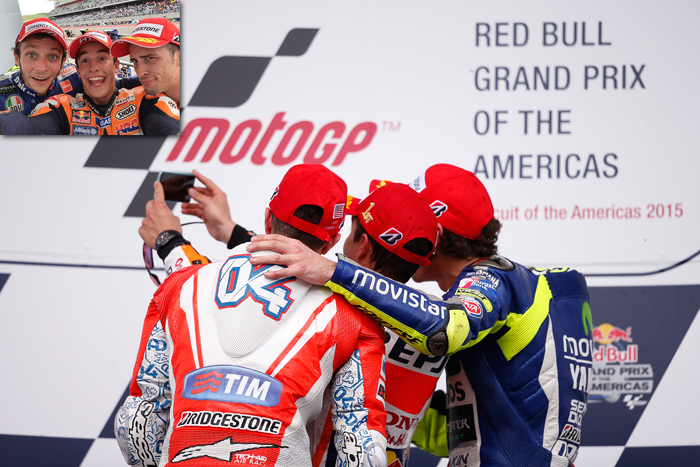 The perfect Podium Selfie with Marquez, Dovizoso and Rossi.
USA MotoGP Results - Click Here for Complete Results
1 - Marc Marquez (SPA) HONDA 43'47.150
2 - Andrea Dovizioso (ITA) DUCATI 43'49.504
3 - Valentino Rossi (ITA) YAMAHA 43'50.270

---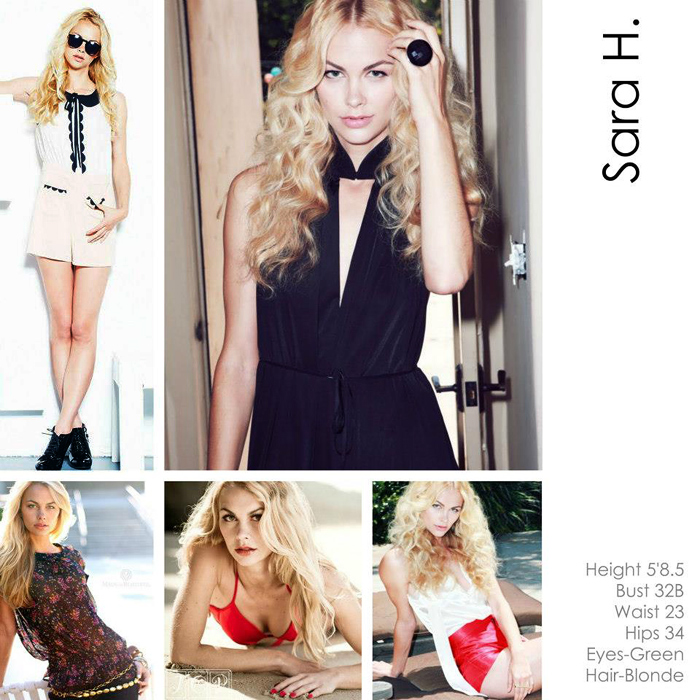 Calendar Kitten Sara Horvath to be Featured at SBK World Superbike Laguna Seca July 17-19th and as LA Calendar Show Host on Saturday July 25th

Los Angeles, April 3rd, 2015 - The FastDates.com Motorcycle PinUp Calendars is excited to announce one of their most popular Calendar Kittens, professional model Sara Horvath represented by Umbrella Girls USA, will be serving as one of the offical SBK World Superbike Umbrella Girls at the upcoming Laguna Seca World and AMA Superbike race weekend July 17-19th 2015 at Mazda Raceway, Laguna Seca, CA. Sara will also be working the races with Calendar photographer and publisher Jim Gianatsis to shoot the next edition of the Fast Dates World Superbike Calendar with all the top factory race team bikes on Pit Lane during the race weekend. Shown here is a picture of the adorable Sara in an Easter Bunny theme for the Calendars.

"This year's SBK World Superbike round at Laguna Seca USA marks the 21st year that the FastDates.com Calendars have provided its beautiful Calendar Kittens to be the offical SBK Umbrella and Podium models, going back to the first ever American World Superbike race at Laguna Seca in 1995", explained Jim Gianatsis. "The Fast Dates Supebike Calendar shares a rich history with both SBK World Superbike - the most exciting production based motorcycle roadracing series ever, all the top factory race teams and their riders over those many years, with Mazda Raceway the years that SBK has been here at one of America's most renown roadracing venues, and with our partner Umbrella Girls USA. We will be confirming a second Calendar Kitten to be working alongside Sara for SBK and our Fast Dates Calendar shoot in the coming weeks"

Calendar Kitten Sara is currently featured in the latest 2015 FastDates.com Calendars - Fast Dates, Iron & Lace and Garage Girls, and in the new FAST2105 Digital Magazine found on the website. Race fans at Laguna Seca World Superbike can meet Sara in the SBK Paddock Show where she will be working as the SBK spokesmodel assisting with the awards presentations and rider interviews. Then the following weekend on Saturday July 25th Sara will be hosting the 24th annual LA Calendar Motorcycle Show at the Sagebrush Cantina, Calabasas, CA, which includes the Calendar Bike Building Championship with top celebrity builders premiering their latest custom builds, the Calendar Girl Music Show featuring beautiful actress and singer songwriter Gwedolyn Edwards and her Band, and American Idol contender Alex Nester. And Sara will be premiering the new 2016 FastDates.com Calendars where she is again featured. For additional information on these Events and to purchase tickets, and for more about the Kittens and Calendars visit: http://www.FastDatess.com and http://www.MazdaRaceway.com
The 2015 Los Angeles Calendar Motorcycle & Calendar Girl Music Show
moves to the Sagebrush Cantina, Calabasas on Saturday July 25th 2015

Los Angeles, CA, USA March 1st 2015 - The 2015 LA Calendar Motorcycle Show continues its now 24- year tradition as the premier outdoor streetbike event in America as it rocks the legendary Los Angles bike hangout and party zone, the Sagebrush Cantina in beautiful downtown Calabasas, California. Featured are top Celebrity Custom Bike Builders, the Calendar Bike Building Championship & Concourse d' Elegance, selected Vendors and Exhibitors, and Calendar Girl Music live performances. The Calendar Motorcycle Show is also a benefit for the American Cancer Society with a portion of each Admission Ticket being donated to help those people who are fighting cancer, and to help find a cure.
The Calendar Motorcycle Show features many of the world's top Pro and Amateur custom street bike builders in attendance with their newest 2-wheeled creations of rolling art to compete in the Calendar Show Bike Building Championship for cash and awards including the coveted Best of Show Trophy. The Calendar Show provides a broad focus for all motorcycle enthusiasts including the growing Collector Bike Market with Exhibitors and Bike Show classes for classic European, British and Japanese motorcycles, along with American V-Twins and Customs. Show Entries will be placed in a Concourse display on the Cantina's large outdoor event patio.
The annual Calendar Motorcycle Show always kicks off the world premier of next year's new 2016 FastDates.com Motorcycle PinUp Calendars featuring the world's top road race and custom motorcycles with the beautiful Calendar Kittens featured in the Calendars in attendance at the Show. Show Producer Jim Gianatsis will again be photographing the winning bikes to appear in the Motorcycle Magazines and the next FastDates.com Calendars.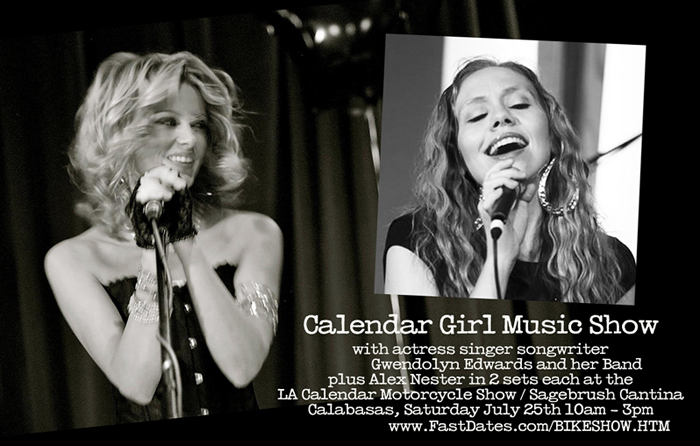 Included with admission is the Calendar Girl Music Show is an incredible day of live music featuring beautiful actress and singer songwriter Gwendolyn Edwards and her Band, and former American Idol contender Alex Nester, each performing two sets of a spicy mix of hot cover tunes and their own original songs. Like many we know impacted by cancer, Alex is a survivor and we are excited the Calendar Show will be helping others with a portion of our ticket sales going to the American Cancer Society. To find our more about their important work fighting cancer go to www.Cancer.org
Legendary Builders featured in the popular FastDates.com Iron & Lace Custom Motorcycle PinUp Calendars and expected to attend include Russell Mitchell / Exile Cycles, Richard Pollock / Mule Motorcycles, Ron Simms / Ron Simms Customs, Jim Giuffra & Spokesmodels / AFT Customs, Chris Redpath / MotoGPwerks, Shinya Kimura / Chabott Engineering, and Adrian Packet / Canyon Motorcycles.
Together with the Calendar Motorcycle's Show's display of exciting new Custom and Classic bikes, Celebrity Builders, and select Manufacturers, there will live performances by a talent female singer songwriters. And VIP Admission includes the Sagebrush Cantina's excellent Taco Plate Buffet with soft drinks, where you can custom design your Mexican lunch plate with a large selection of meats, sides, salads, chips and toppings. Full Bar service is also available. Because the Show is now in gated patio venue, spectator capacity is limited and advance online ticket purchase is recommended to assure your entry to the longest running and most exciting streetbike event on the West Coast.
The 2015 LA Calendar Motorcycle Show takes place on Saturday July 25th 10am-3pm at the Sagebrush Cantina, 23527 Calabasas Road, Calabasas, CA 91302. Motorcycle Parking is Free at the main entrance, with on site paid Car Parking also available. For additional information and to purchase tickets go to: www.FastDates.com/BIKESHOW.HTM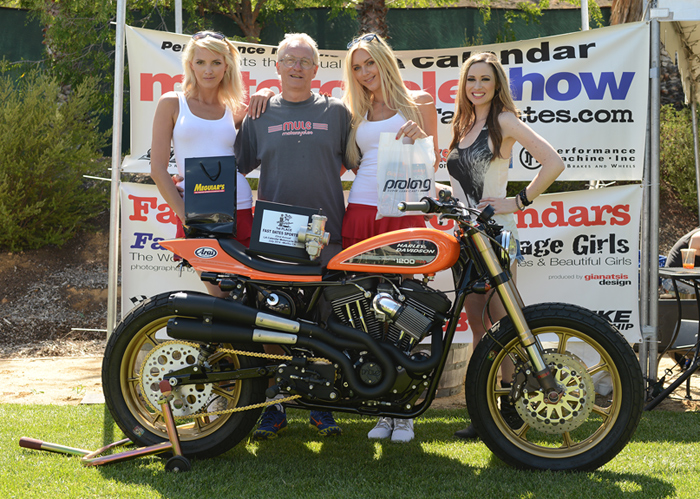 Richard Pollock / Mule Motorcycles to Be Honored at The 2015 Show!
The 2015 LA Calendar Motorcycle Show on Saturday July 25th will pay special tribute this year to Richard Pollock / MuleMotorcycles.net as one of our favorite and most successful FastDates.com Calendar Bike Builders over the last 25 years. You'll certainly want to join us as we honor Richard and he premiers his newest Streetracker build!
---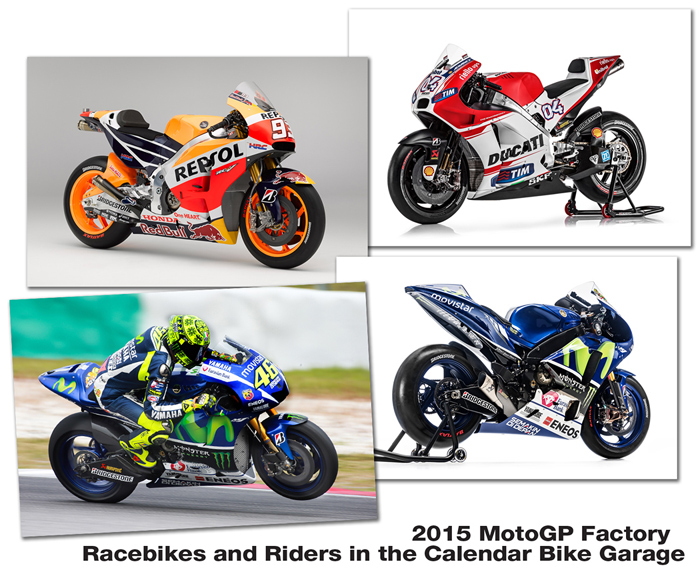 Calendar Bike Garage - Detailed MotoGP Bike Photos, Specs, Large Screen Savers
Calendar Photo Store - Calendar, MotoGP Bikes and Rider Photo Prints & Wall Displays
---
Cafe Racer Magazine


Spain #15 Digital Edition featuring a cool retro Suzuki Katana and Triumph Enduro Bike.

Click on the cover to download the PDF Magazine to your computer.

Contents:
Suzuki Katana Icon
Triumph Tramontana
Ducati Scrambler Test Ride
Beyond The Scrambler
Tomahawk II
BMW Racer
Check out this cool new Retro Suzuki Katana built by Icon Motorccyle Apparel and featured in the new issue of Cafe Racer.
For more cool bikes check out the Calendar Bike Garage and in the FAST2015 Calendar Magazine - http://www.FastDates.com/IronLaceGarage.HTM
---
Reigning AMA Superbike Champ Josh Hays leads Yamaha teammate Ceaubier inSaturday's Race One in the rai.n
MotoAmerica AMA Pro Roadracin, Austin Texas, Round 1

Hayes earns 49th career Superbike win in rain-soaked Texas
Josh Hayes Wins MotoAmerica Superbike Opener
AUSTIN, TX, APR. 11th - Josh Hayes turned 40 last week, but apparently age hasn't slowed him down. Riding in a Texas rainstorm, the Monster Energy/Graves Yamaha rider showed he's still the master of the class as he sloshed his way to a calculated victory over teammate Cameron Beaubier at the Circuit of The Americas. Yoshimura Suzuki's Roger Hayden ended up third.
Rain moved into Austin area just prior to the start of the Supersport final and it hung around until after the two MotoAmerica debut races were completed. More of it is expected for Sunday's second race of the Superbike doubleheader, which will run at the end of a busy day of Moto3, Moto2 and MotoGP racing as MotoAmerica is sharing the weekend with the Red Bull Grand Prix of the Americas.
Hayes took off from the start for the 12-lap final and opened up a gap almost four seconds early in the race. Pole sitter Beaubier chipped away at the lead and got it down to 2.5 seconds, but Hayes was able to maintain the gap and eventually stretched it back out to win by 5.279 seconds.
It was the 49th AMA Superbike win of Hayes' career and the four-time AMA Superbike Champion dedicated his victory to his friend Dane Westby, a MotoAmerica racer who lost his life a few weeks ago in a street accident.
"There are just so many things going on this weekend," Hayes said. "Just so much: new series, new machine. There is a lot of Yamaha brass here for a big weekend with MotoGP. A lot of things happening with so much of my family here, a lot like Rog [Hayden]. I have a lot of friends here in Texas and I'm a bit overwhelmed. We've had some dodgy weather, we've had some good weather, we've had a little bit of everything. I feel like we've had a good sprinkle of everything. To have a successful race weekend and come out of here with a win, regardless of what happens tomorrow, it's fantastic. I'm very happy to be up here and get one in for Yamaha and the new R1. My team has done an amazing job. I was prepared, rain or shine. Mentally, I was in a really good state. I was ready to go either way very early in the weekend."
Fourth place in the Superbike race went to Bernat Martinez on a Yamaha YZF-R1 with Yoshimura Suzuki's Jake Lewis rounding out the top five in his Superbike debut.
The Superstock class ran together with the Superbikes and it was RoadRace Factory's Jake Gagne riding his Yamaha YZF-R1 to victory over the RSV4 of Aprilia HSBK Racing's Dustin Dominguez. Tyler O'Hara rode the Tyler O'Hara Racing Yamaha R1 to third place.
"My plan was to get out there and do my own thing, let the race come to me and be there in the end," Gagne said. "I put my head down and rode hard in the beginning to try and keep those guys [the top three Superbikes] in sight. Josh [Hayes], Cameron [Beaubier] and Rog [Hayden] were all hauling butt. About halfway through I had some moments and I couldn't hold on to Rog any longer. I wanted to bring this thing home and get the Yamaha R1 on the top of the Superstock podium. I'm stoked. It's my first time on the 1000 in the wet and it was a big eye-opener, but I had fun out there and I'm glad we brought her back home."
The Supersport final was a wild race with several of the top racers crashing out in the difficult conditions. The man who stood on the top step of the podium when all was said and done was Yamalube/ Y.E.S./Graves Yamaha's JD Beach, the Kentuckian taking his first-ever win in the premier 600cc class and his first win of any kind in five years. Beach topped teammate Garrett Gerloff and M4 Suzuki/SportbikeTrackGear.com's David Anthony.
Among the top men who crashed out of the race were race leaders Josh Herrin, on the Wheels in Motion/Motosport.com/Meen Yamaha, and Latus Motors Racing Triumph's Bobby Fong. Both Herrin and Fong were able to remount, finishing seventh and ninth, respectively.
"It's great to get this first win, but I definitely want to dedicate this win to the Westby family," Beach said. "Coming into this weekend I wanted to win for myself, but I also wanted to win for the Westby family too. I know what it's like to lose somebody real close like that. This race is for them. When I came out of turn 20 and looked back and there was nobody there, it was amazing. I've been working hard for five years and it's been a long time since I've won a race. I'm living in Kentucky with a great family. The Gillims have helped me out a lot and doing winters there... I'm riding my bicycle and it's 20 degrees outside. I'm putting in the miles, putting in the work... to finally get that first win again is amazing."
1st SUPERBIKE FINAL
1. Josh Hayes (Yamaha)
2. Cameron Beaubier (Yamaha)
3. Roger Hayden (Suzuki)
4. Bernat Martinez (Yamaha)
5. Jake Lewis (Suzuki)
6. Chris Ulrich (Suzuki)
7. Elena Myers (Suzuki)
8. Mathew Orange (BMW)
9. Ricky Orlando (Kawasaki)
10. Aaron Hersh (Suzuki)
1st SUPERSTOCK 1000 FINAL
1. Jake Gagne (Yamaha)
2. Dustin Dominguez (Aprilia)
3. Tyler O'Hara (Yamaha)
4. Mark Heckles (Yamaha)
5. Devon McDonough (Aprilia)
6. Taylor Knapp (Yamaha)
7. Geoff May (Yamaha)
8. Barrett Long (Ducati)
9. Carlos Lescale (BMW)
10. Jeff Wrobel (Suzuki)
SUPERSPORT FINAL
1. JD Beach (Yamaha)
2. Garrett Gerloff (Yamaha)
3. David Anthony (Suzuki)
4. Ben Young (Yamaha)
5. Kaleb De Kreyel (Yamaha)
6. Joe Roberts (Yamaha)
7. Josh Herrin (Yamaha)
8. Kyle Wyman (Yamaha)
9. Bobby Fong (Triumph)
10. Ramdan Rosli (Yamaha)

Beaubier Takes Race Two Superbike Win At COTA
Beaubier wins Superbike, Gagne takes Superstock 1000 victory in Texas
Cameron Beaubier (6) beat teammate Josh Hayes (1) and Roger Hayden (95) to win the Superbike race at the Circuit of The Americas on Sunday
AUSTIN, TX, APR. 12th - Cameron Beaubier turned the tables on his Monster Energy/Graves Yamaha teammate Josh Hayes today at the Circuit of The Americas, the 22-year-old Californian beating Hayes by .445 of a second in a thrilling race two of the MotoAmerica Superbike Championship of Texas, the opening round of the 2015 MotoAmerica AMA/FIM North American Superbike Championship.
Hayes, who won Saturday's rain-sodden race one, pushed Beaubier for the full 12 laps with the battle coming down to the final corner. That's when Hayes tried to put his Yamaha YZF-R1 where there simply wasn't room. Beaubier held his line as Hayes tried to stuff it up the inside, the pair coming together with Beaubier sprinting off to the checkered flag for his fourth career AMA Superbike win. Hayes, meanwhile, gathered himself up to still finish a close second. The pair now head to Road Atlanta with a win apiece and an identical points tally of 45 points.
For the second day in a row, Yoshimura Roger Hayden finished third with the Suzuki rider much more competitive in the dry than he was in Saturday's wet race. The Kentuckian led some laps early, despite getting his GSX-R1000 completely sideways through the esses on the opening lap. Hayden eventually lost touch with the lead duo and fell into a battle with RoadRace Factory's Jake Gagne. Hayden prevailed for his second third-place finish in a row with Gagne holding on for fourth overall and a runaway victory in the Superstock 1000 class, which runs with the Superbikes but is scored separately.
Aprilia HSBK Racing's Dustin Dominguez finished second in the Superstock 1000 class for the second time on the weekend, the Texan ending up 36.7 seconds behind Gagne on his RSV4. Taylor Knapp improved to finish third in today's Superstock final on the FourFour Motorsports Yamaha YZF-R1.
"Going into today we made a little front-end change, raised it up a little bit just to try it," Beaubier said. "We've been struggling a little bit getting off some off some of the tighter corners yesterday. I was actually struggling pretty good in the beginning. Roger [Hayden] and Josh [Hayes] had some pace on me. I slowly started connecting the corners a little bit better and getting some more confidence. I finally got by those guys. I put my head down the last few laps and I knew Josh was right there."
Beaubier was expecting Hayes to try something in the final corner and he was ready for it. - "I saw him coming in to the last corner and I was like, 'No, this is my frickin race.' It was pretty cool to get it done today. I looked back to make sure he was up and then looked at my leg and there was some rubber there. But it's a lot of fun racing these guys. I feel like we have respect for each other, but at the same time we can lean on each other pretty hard. I'm looking forward to this year."
2nd SUPERBIKE FINAL:
1. Cameron Beaubier (Yamaha)
2. Josh Hayes (Yamaha)
3. Roger Hayden (Suzuki)
4. Jake Lewis (Suzuki)
5. Chris Fillmore (KTM)
6. Elena Myers (Suzuki)
7. Bernat Martinez (Yamaha)
8. Aaron Hersh (Suzuki)
9. Ricky Orlando (Kawasaki)
2nd SUPERSTOCK 1000 FINAL:
1. Jake Gagne (Yamaha)
2. Dustin Dominguez (Aprilia)
3. Taylor Knapp (Yamaha)
4. Geoff May (Yamaha)
5. Devon McDonough (Aprilia)
6. Tyler O'Hara (Yamaha)
7. Mark Heckles (Yamaha)
8. Marcel Irnie (BMW)
9. Barrett Long (Ducati)
10. Jeff Wrobel (Suzuki
---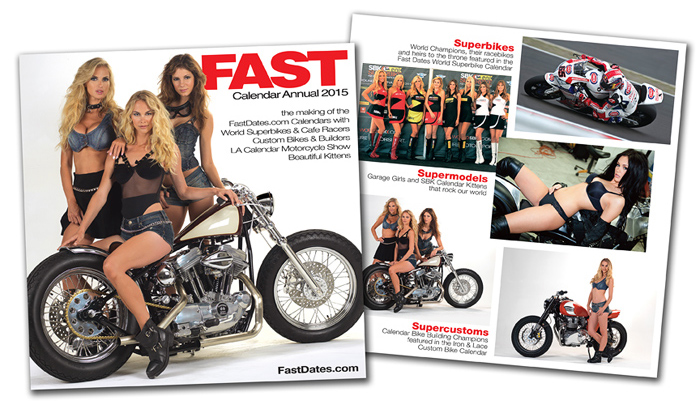 NEW! FAST 2015, 2014 Calendar Digital Yearbook
Go behind the scenes of the FastDates.com Calendar photo shoots at the SBK World Superbike races, the Los Angeles Calendar Motorcycle Show & Concourse d' Elegance, and inside the FastDates.com Studio of famed photographer Jim Gianatsis. Meet the official SBK World Superbike Calendar Kittens who also serve as the official SBK podium and grid girls, the top factory riders of World Superbike, and America's top custom bike builders. You'll find detailed editorial photo features on the Calendars' top Custom and Race bikes, and on the Calendar Kittens.
Did we forget anything? - Oh yes! The new FAST 2015 Calendar Yearbook Digital Edition features in high resolution every page in the new 2015 Fast Dates World Superbike, Iron & Lace Custom Bikes, Garage Girls and Cafe Racers Calendars featuring the world's top race and custom bikes and the beautiful Calendar Kittens!
Now in Members Corner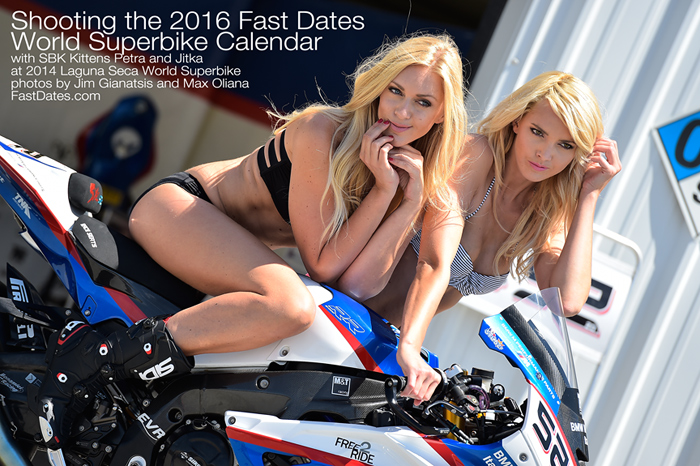 ---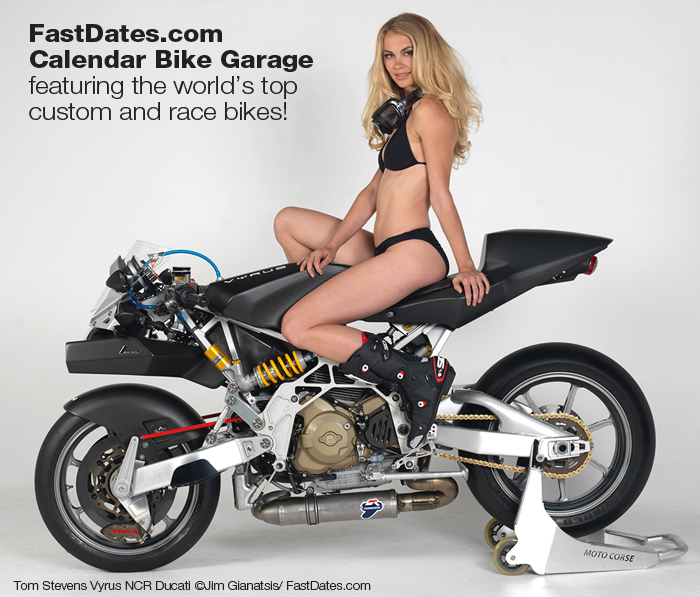 This Month in the Calendar Bike Garage.., The World's Coolest Naked Ducati!
Beauitful FastDates.com Calendar Kitten Sara takes us for a ride on the world's most exotic and expensive Ducati streetbike
ever - a $110,000 Vyrus NCR 983 Superleggera in the Calendar Bike Garage and in Members Corner.

Order the Fast Dates Calendars
Calendar Bike Photo Features, Paddock Garage Tuning, Pictorials of our Calendar Kittens in Members Corner
---



Eric Buel Racing Closes, Files for Bankruptcy
April 15th 2015 - Erik Buell Racing (EBR), an East Troy motorcycle manufacturer that was the successor to BUELL, the company once owned by Harley-Davidson Inc., has ceased operations. The sudden move, announced Wednesday, leaves 126 employees out of work. The company has more than $20 million in outstanding liabilities, according to its attorney, and is seeking court protection from creditors. Erik Buell Racing is the sequel to Buell Motorcycle Co., which was owned by Harley-Davidson for more than a decade before Harley dropped the brand in 2009.
Initially, the new company produced hand-built $40,000 sport bikes for road-racing enthusiasts. More recently, it geared up to build a less expensive mass-production motorcycle with a racing pedigree. Company founder Erik Buell invested his own money into the venture, while Hero MotoCorp Ltd., the largest motorcycle manufacturer in India, had a 49% ownership stake.
The company had done well on the AMA national racing circuit, where it went head to head with much larger companies such as Yamaha and Kawasaki. But it struggled to gain sales in a marketplace dominated by Japanese and European sport bike manufacturers. Erik Buell Racing had pursued the top 100 U.S. motorcycle dealers and last year opened a European office to support a race team and build brand identity.
"The turn we recently took, after we thought we were moving forward, was unexpected," Erik Buell said in a statement. "We thought we had secured funding, but in the end, we were not able to get the funding in place. Therefore we need to do the best we can under the circumstances for all parties in interest."
The company is seeking protection under a state statute that is similar to federal bankruptcy law. Bids will be solicited for the company as part of the Chapter 128 process, with the winning bid to be determined by a state court. At the company's request, attorney Michael S. Polsky will be the court-appointed receiver.
Any proposed sale is subject to court approval and higher or better bids, according to Polsky. The company anticipates that its assets will be sold, according to a state Department of Workforce Development notice that announced the immediate termination of the employees.
"To say this setback is a disappointment does not begin to express what I feel right now. I am personally grateful for the support of our outstanding workers, customers and vendors. While this is a sad ending, I personally hope for a new and better beginning," Buell said.
Creating a product from scratch is something the longtime entrepreneur knows a lot about, having founded Buell Motorcycle Co. in a Mukwonago barn 31 years ago and then starting over in 2009 as a manufacturer of racing motorcycles aimed at the highest level of the sport. Buell, an engineer by profession, is known for carrying images of futuristic motorcycles on his cellphone. His company recently patented a 400-horsepower gas-electric motorcycle engine.
Employees and Erik Buell Racing dealerships learned of the shutdown Wednesday.
---
There's More! Go to Pit Lane News Previous Week

Also Visit: Fast Dates Calendar News • Iron & Lace Calendar News
Calendar Girl News • Meet the Models • Paddock Garage
Get FastDates.com T-Shirts, Mugs & Photographs from Our Store





MEMBERS CORNER! Calendar Kittens, Paddock Garage, Iron & Lace Garage




Amazon.com Motorcycle Products & Apparel Store



MotorcycleSuperstore.com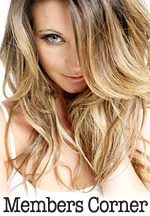 Hot Bikes, Sexy Kittens
Your Exclusive Grid Pass
also includes....
---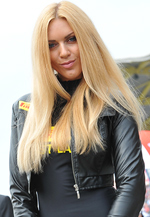 2014 SBK Race Season
Meet the offical SBK
World Superbike Girls!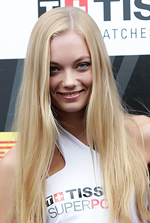 2013 SBK Race Season
Order the New
2014 / 2015 Calendars!
with the FastDates.com Calendar Kittens - the official SBK Umbrella Girls!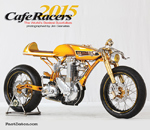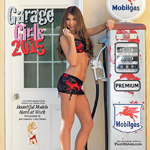 Click Below for more
2015 Calendars!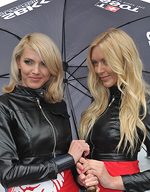 Meet FastDates.com
Calendar Kittens
SBK Grid Girls
Jitunka & Petra!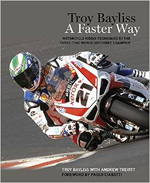 New! Troy Bayliss
A Faster Way
Track Riding Book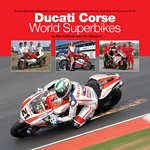 Retail $49.95 ea.
Click to Order from Amazon.com

Ducati Corse
World Superbikes
by Alan Cathcart
& Jim Gianatsis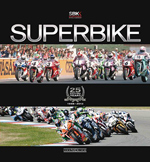 The Official SBK
World Superbikes
1987-2012
25 Year History Book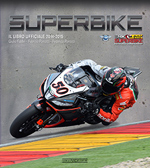 The Official SBK
2014-2015 Yearbook
These SBK Yearbooks are the Best Books Ever about World Superbike. They feature awesome color photography of the riders, bike and racing action. The feature a detailed revue of the past season in pictures and statistics, with a detailed look at the bikes and riders.

Plus a technical look data all the bikes, a preview of the upcoming season's Championship!
We buy this every year ourselves and highly recommend it!
---
Tough day in the office for Pata Honda duo
April 12th - The third-round of the World Superbike championship this weekendwas a challenging outing for Michael van der Mark and Sylvain Guintoli at Aragon, Spain.

Over the weekend the team strived to improve and find the optimum setting for the Honda CBR1000RR Fireblade SP around the 5.077km circuit.

In the first of two 18-lap races, van der Mark was forced to retire due to a small technical problem on the tenth lap. The second race saw the SBK rookie make a gallant attack moving up from his starting grid position in 11th to sixth place, but on the last lap had to settle with eighth.

Meanwhile van der Mark's teammate Sylvain Guintoli finished race one within the top-ten taking ninth place after making his way forward from his qualifying position in 14th. During the second installment he had made his way up to tenth but crashed out of the running on the sixth lap after loosing the front.

The team will now take and analyse all the data collected from each session this weekend in preparation for its home race at Assen, the Netherlands next weekend 17-19 April.
Hard Earned Poits for Voltcom Cresent Suzuki at Aragon
Team Suzuki Press Office, April 12. -Voltcom Crescent Suzuki's Randy de Puniet and Alex Lowes overcame the weekend's electronics issues to take 13th and 14th positions in the second race at Motorland Aragon in Spain today.
De Puniet showed consistently-improving pace throughout the afternoon's action, progressing from his 19th grid start to manoeuvre his Yoshimura-powered GSX-R to 12th by the sixth lap. The final stages of the day's racing saw the Frenchman battle with Román Ramos (Go Eleven) swapping places a number of times before claiming 13th at the line.
Lowes laid his race one problems to rest with a great start in the second outing. However, an early engine brake control issue saw him run off at turn eight on the first lap and re-join at back of the pack. Head down, the British racer fought his way through nine riders to position his Suzuki GSX-R1000 in the points by lap 11. Exhibiting the speed and control that could have seen him fighting for sixth, Lowes battled bravely, coming home in 14th with two championship points and an understanding of the potential to come.
The morning's race was fraught with tension after a launch control error at the lights threatened to end Lowes' race before it had begun. The weekend's continuing electronics development returned both riders to the pits after five laps – while Lowes re-joined for the remainder of the race and continued to circulate, evaluating the system and collecting valuable data, but de Puniet was forced to retire after seven laps on track.
A dramatic last lap battle saw Kawasaki's Jonathan Rea clinch victory in race one by just 0.05 from Ducati's Chaz Davies, the Welshman responding to the earlier battle by safely securing the race two victory with a three-second margin.
Development of the GSX-R's new Magneti Marelli system continues in earnest for Voltcom Crescent Suzuki as the team heads directly from Spain to the Netherlands for the fourth round of the eni FIM Superbike World Championship taking place at Assen's 'Cathedral of Speed' on Sunday April 19th.
Alex Lowes: "There is no getting away from how difficult it has been this weekend, I did my best today and I really don't feel I could have done a lot more. There's no point explaining the problems we've had with the new system but I'm frustrated, both for me and the whole team, as the guys have shown so much commitment to moving this project forward but it just wasn't to be this weekend. I'm still convinced that we will have a more competitive bike when it's all dialled-in and when we're challenging for podiums again; whenever that may be, it will make the work we've done this weekend feel even more worthwhile."
Randy de Puniet: "We knew it was going to be a very difficult weekend, but maybe I didn't expect how difficult! We have learnt many things; in the first race the bike was impossible to ride, with too many technical problems. I pulled-in three times to try to solve them but eventually we had to stop. For the second race we decided to change the strategy completely and although it was far from perfect it was much better. I finished 13th but was close to 11th, so maybe there was potential for more. We are still far from where we want to be and we need to find the solution quickly, so we will see in Assen how far we can advance. My thanks to the team for their effort during a difficult weekend, I gave my best and so did they. Now it is time to take the information gained and improve for the next race."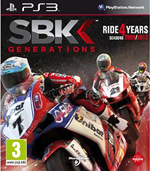 SBK World Superbike Video Game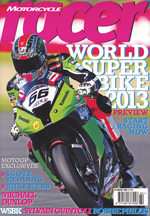 Official Print Media Partner
---
TEAM APRILIA: LEON HASLAM FINISHES HIS WEEKEND AT MOTORLAND DE ARAGON ON THE PODIUM.
FIFTH AND FOURTH PLACE FOR TEAM MATE JORDI TORRES IN HIS HOME ROUND.
Alcaniz (Spain), 12 April 2015 – The weekend at Motorland de Aragon ended with a podium and confirmation of the Rider and Manufacturer second place overall standings for Team Aprilia Racing - Red Devils.
Leon Haslam, after winning Superpole yesterday, rode his RSV4 to a third place finish in Race 2 and just barely missed the podium in Race 1.
For the morning race the English rider had to deal with the rather low "feared" temperatures that he had already faced yesterday morning and which damaged tyre performance, keeping him from staying in contact with the lead pack. In the afternoon, on hotter tarmac, Leon started from the pole position he earned yesterday and played it safe on the first laps, starting to push and engaging in a heated battle with Rea. The gap between the two changed constantly, which is the sign of a fierce battle in which Haslam yielded only at the end, bringing home an excellent third place finish on a track that has never been particularly kind to him.
Leon Haslam: "I'm really happy about this podium. I knew that it wouldn't be easy for us, both because of the low temperatures in Race 1 and because of the greater experience our rivals have on this track. In Race 2 we made a few small changes to the RSV4 but most of all the different conditions allowed us to be faster. I was disappointed not to have engaged in a close battle with Rea. I was faster than he was in a few spots of the track, but I lost ground in others. I'm confident as I look forward to the next rounds at Assen and Imola. They are two tracks that I like and our improvement this weekend is an excellent starting place. We know what our strong points are and race after race we are gathering fundamental data to improve. I'm sure that we'll be able to take advantage of this experience over the rest of the season."
Another solid race for Jordi Torres, who doesn't seem in the least to feel his status as a rookie on the world champion bike. On his home track the Spaniard continued working hard to adapt to a new category and to fully comprehend how his RSV4 RF works. The fifth place finish in Race 1, but especially the fourth place in Race 2, shows his great consistency and growing familiarity with the Italian Superbike.
Jordi Torres: "These were two intense races. With the low temperatures we made a conservative choice in terms of tyres and in fact, in the second part of the race we had a good pace. The Race 2 conditions were much different. I used a few laps to adapt and that made me lose contact with the leaders. This is another difficulty of Superbike. Things can change a lot between the two races and it isn't always easy to adapt. In any case we did a good job this weekend. I earned some important points but above all I am continuing to gain experience, learning the secrets of this category. I've even changed my riding style a lot and I just need to take that final step, but I am leaving Aragon with good sensations."

MV Agusta F3 800cc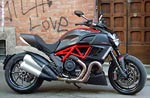 The Devil Made Us Do It!
Testing the Ducati Diavel in Italy
Sudco Carburetor Kits & OEM Replacement Parts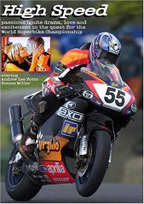 High Speed - the Movie
The best motorcycle racing movie ever made! Filmed on location at the World Superbike races , this an exciting romantic drama staring beautiful British actress Sienna Miller.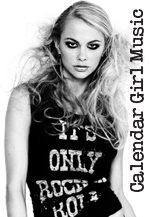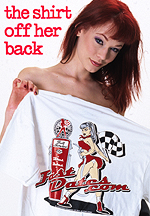 Order the Official
FastDates.com &
LA Calendar Bike Show
T-Shirts!