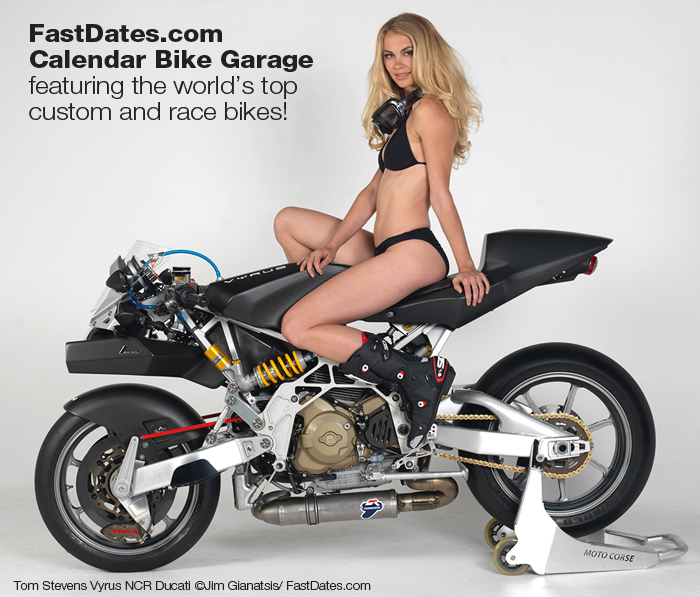 This Month in the Calendar Bike Garage.., The World's Coolest Naked Ducati!
Beauitful FastDates.com Calendar Kitten Sara takes us for a ride on the world's most exotic and expensive Ducati streetbike
ever - a $110,000 Vyrus NCR 983 Superleggera in the Calendar Bike Garage and in Members Corner.

Order the Fast Dates Calendars
Calendar Bike Photo Features, Paddock Garage Tuning, Pictorials of our Calendar Kittens in Members Corner
---
Valentino Rossi fights off Andrea Dovizios for the lead going into the final race lap at Qatar. Dovi's Ducati had the horsepower advantand over the factory Yamahas going down the front staight and could pass at will, but Valentino would get a better drive out of the final corner on the last lap and win by a bike length at the finish line.

2015 MotoGP World Championhip, Doha, Qatar Round 1 of 18
Veteran Rossi wins from behind, Ducati fianlly returns to the podium
The 2015 FIM MotoGP World Championship kicks off
with the Commercial Bank Grand Prix of Qatar
Losail, Qatar, March 26-29th 2015 - Movistar Yamaha MotoGP's Valentino Rossi opened the 2015 MotoGP season tonight with a stunning victory at the Grand Prix of Qatar, amid a 4-way battle for the lead with Ducati's Andrea Dovizioso and Andrea Iannone who filled out the other two steps on the podium, and Rossi's teammate Jorge Lorenzo. What started as a battle that could have been anybody's race, ended in a thrilling duel during the opening round at the Losail International Circuit in one o fthe most excitn MotoGP racs ever.
Season Preview
The MotoGP™ paddock will arrive at the Losail International Circuit this week for the start of the 2015 season. After months of waiting the first round is upon us and what a season it promises to be, as already during preseason testing a few surprises have been thrown up with some big stories making the headlines.
The official 2015 MotoGP Riders group photo - Click to Go Big
Ducati have dramatically come back with a competitive machine for 2015, with the Luigi Dall'Igna designed Desmosedici GP15 dominating the final preseason test in Qatar. The new machine is not only fast, but the Italian factory team seemed to have finally cured the understeer problem that affected previous versions of the bike. While the GP15 has shown good pace since it debuted at the second test in Sepang, it will be interesting to see how it performs over the race distance under the floodlights at the Losail Circuit in the hands of the Ducati Team riders Andrea Dovizioso and Andrea Iannone.

Suzuki have returned to MotoGP™ with an all new factory squad, featuring riders Aleix Espargaro and class rookie Maverick Viñales. They have been developing the GSX-RR machine over the last year, and already it has proved competitive, plus the team believes there is a lot more potential to unlock in the bike throughout the season.

On the subject of comebacks, Aprilia have also returned to the MotoGP™ grid for 2015, although this year will be more of a season-long test for riders Alvaro Bautista and Marco Melandri, as they look to develop the RS-GP bike to be competitive in 2016.

Repsol Honda's Marc Marquez will be looking to defend his title once more, having claimed back-to-back championships in the past two seasons. The young Spaniard believing that the serious challenge for the title will not come from Ducati, but his own teammate Dani Pedrosa and the Movistar Yamaha's.

Valentino Rossi and Jorge Lorenzo will be desperate to wrestle the title form Marquez's grasp, and with 11 world titles between them plus a renewed determination this season, the Movistar Yamaha team will be looking to claim the Championship once more. Rossi experienced a resurgence last season, having made some changes behind the scenes, while his teammate Lorenzo ended the season brilliantly, after a disastrous start to 2014 effectively cost him any chance of the title.

There is also the interesting battle of the satellite teams with riders Cal Crutchlow on the CWM LCR Honda RC213V, Scott Redding on the factory spec Estrella Galicia 0,0 Marc VDS Racing Honda, the Tech 3 Yamaha's of Bradley Smith and Pol Espargaro plus the Pramac Ducati's of Yonny Hernandez and Danilo Petrucci all set to do battle in Qatar.

In the Open class it was Karel Abraham who ended on top at the final preseason test, but it should prove to be an interesting season-long battle between the Drive M7 Aspar Honda RC213V-RS's of Nicky Hayden and Eugene Laverty along with the Avintia Ducati's of Hector Barbera and Mike Di Meglio, and the Athina Forward Racing Yamaha's of Stefan Bradl & Loris Baz. Plus Jack Miller, the runner-up in the Moto3™ Championship last year, will be looking to impress on the Open spec CMW LCR Honda, while Alex de Angelis is on the Octo Ioda Racing ART Machine.

In 2015 the number of riders competing in the MotoGP™ class has increased to 25 - up from 23 in 2013 - and this season there will be more riders on the grid that have won Grand Prix World Championships than ever before. Twelve riders, who have won a total of 18 titles between them, will line up under the lights in Qatar to compete in the first round, along with 4 rookies to the class in the shape of Viñales, Miller, Laverty and Baz.

The schedule for the Commercial Bank Grand Prix of Qatar differs from other rounds in that it is spread over 4 days, with two days of free practice commencing on Thursday, qualifying on Saturday, and the MotoGP™ race scheduled to start at 9pm local time on Sunday night.
Marc Marquez ended Free Practice 1 on top of the timesheets
as riders took to the track for the first time in the 2015 MotoGP™ season
Thursday, 26 March 2015 - Marquez finished with a 1'55.281, only seven-hundredths faster than his Repsol Honda teammate Dani Pedrosa (+0.076s). Aleix Espargaro (+0.404s) managed to end the session in third place, as he took advantage of the softer tyre option which is available to Team Suzuki Ecstar, as part of the concessions given to Factory teams without a race win since 2013.

Cal Crutchlow (+0.537s) was the top satellite rider in 5th place on the CMW LCR Honda, with Pramac Racing's Danilo Petrucci just a further one-tenth of a second back in 6th, with the Italian also using the softer tyre option on his Ducati GP14.1. Petrucci, who had to run back to the pits for his second bike after experiencing issues with his first, managed to finish the session ahead of the factory Ducati's of Dovizioso (+0.699s) in 8th, and Iannone (+1.034s) in 10th on the GP15 bike. The fastest Open class rider was Stefan Bradl (+1.296s) in 14th on the Athina Forward Racing machine.


Marc Marquez finished on top of the combined timesheets after FP3,
with Cal Crutchlow claiming a sensational 2nd place.
Friday, 27 March 2015 - With the combined times from all three Free Practice sessions deciding who would qualify automatically for Q2, with the top ten riders all making it through, it was once again Repsol Honda's Marquez who ending on top of the timesheets in Qatar. The satellite CWM LCR Honda of Cal Crutchlow (+0.096s) put in a sensational lap to end the three sessions in 2nd. Andrea Iannone (+0.170s) finished third, after losing the front at turn 2 ended any chance he had of improving on his time set early on in FP3.

Aleix Espargaro (+0.172s) put the Team Suzuki Ecstar GSX-RR into 4th, with the Movistar Yamaha's of Lorenzo (+0.286s) and Rossi (+0.370s) just making it through to Q2 in 8th and 9th respectively.

Hector Barbera (+0.574s) was the leading Open class rider in 11th, with Scott Redding (12th +0.625s), Maverick Viñales (13th +0.854s) and Bradley Smith (16th +0.919s) on the Monster Tech 3 Yamaha some of the big names who will have to battle it out in Q1. Loris Baz also crashed at turn 2, and was taken to the Medical Centre for an x-ray on a suspected broken finger.

MotoGP™ Q1 will take place at 20:35 local time on Saturday in Qatar, with Q2 at 21:00.
Click Here for the combined results from free practice

Andrea Dovizioso takes pole for Ducati on the Desmo GP15,
ahead of Dani Pedrosa and Marc Marquez in Qatar.
It was always going to be close in QP2, and the first qualifying session of the season did not disappoint as Dovizioso took a sensational pole position for the factory Ducati Team ahead of the Repsol Honda's of Marquez (+0.324s) and Pedrosa (+0.217s). At the end of the session you could see how much this pole meant to Luigi Dall'Igna (Ducati Team General Manager) who oversaw the development of the new GP15 from scratch. Reigning MotoGP™ Champion Marquez had no response to Dovizioso's pace on the softer option tyre and had to settle for 3rd on the grid behind his teammate Pedrosa.

Andrea Iannone will start from the front of the second row in 4th on the other factory Ducati, with Pramac Racing's Yonny Hernandez (+0.562s) making it three Ducati's in the top five, in 5th place. Jorge Lorenzo (+0.598s) is in 6th, with Bradley Smith (+0.618s) heading the 3rd row on the satellite Monster Tech 3 Yamaha finishing ahead of the Factory YZR-M1 of Valentino Rossi (+0.738s), who will start from 8th.

CWM LCR Honda's Cal Crutchlow, who had shown impressive pace during practice, crashed out at turn 14 and had to settle for 12th place.

Earlier in Q1 Pramac Racing's Danilo Petrucci led right from the start, setting a time seven-tenths quicker than his best from practice and claiming top spot. The battle for the second automatic qualifying spot was won by Monster Tech 3 Yamaha's Bradley Smith in dramatic fashion. The British rider pinching 2nd place from Maverick Viñales on the Team Suzuki Ecstar GSX-RR right at the end of the session, after the checkered flag had been shown. Click Here for Qualifying Results.
Rossi on the podium with Dovizioso and Iannone

Rossi Rules Stunning Season Opener in Qatar
Sunday 29th - Movistar Yamaha MotoGP's Valentino Rossi opened the 2015 MotoGP season tonight with a stunning victory at the Grand Prix of Qatar, amid a 4-way battle for the lead with Ducati's Andrea Dovizioso and Andrea Iannone who filled out the other two steps on the podium, and Rossi's teammate Jorge Lorenzo. What started as a battle that could have been anybody's race, ended in a thrilling duel during the opening round at the Losail International Circuit in one o fthe most excitn MotoGP racs ever.
Lorenzo dives his Yamaha inside the Ducatis of Iannone and Dovizioos during their 3-way battle for the lead in the first half of the race.

Rossi rode an incredible race. Starting from eighth on the grid, the nine-time world champion fell back to tenth position and took a few laps to get a feel for the situation. He then ploughed through the order on his way to the front of the field. He quickly overtook several riders to take fifth in a duel with rival Pedrosa on lap four. Keeping up his pace, he soon passed Hernandez for fourth and continued his podium chase by bridging a 1,5 second gap to rider in third. He then clawed his way to the front group of Dovizioso, Lorenzo and Iannone. This was the start of an incredible final battle between the two factory teams as the riders changed positions several times.
Rossi fought hard, eventually overtaking Iannone with four laps to go. A nail biting last few rounds with rival Dovizioso followed, with the Doctor giving one of his best performances in his 20 year MotoGP career. Fighting until the very last corner he gave everything to hold enough of an advantage to clinch the first victory of the 2015 season, with a margin of 0.174s.
Rossi had caught up with the 3-way battle for the lead by mid race and here dives inside Iannone to move into third, then be repassed, then passing back Ianonne again.Then he want after Lorenzo, and Doviviso who was back in the lead agian.The Ducatis had the advantage of top speed over the Yamahas on the main staight reaching 357kh / 221 mph.


Teammate Jorge Lorenzo also had a great start to his 2015 Championship, flying from sixth on the grid to grab second place into turn one. He continued to chase Dovizioso, as rival Marquez had run wide. Lorenzo took over at the front in turn 12 of lap two, but was unable to create a lead. The Mallorcan and Dovizioso battled fiercely and were later joined by Iannone and Rossi. Lorenzo feeling the heat of the following riders, made many attempts at reclaiming the lead, but was unable to hold first position. He fought bravely, but with four laps to go was forced to let his teammate and rivals go through due to a problem with his helmet. He finished fourth, 2.707s from the front.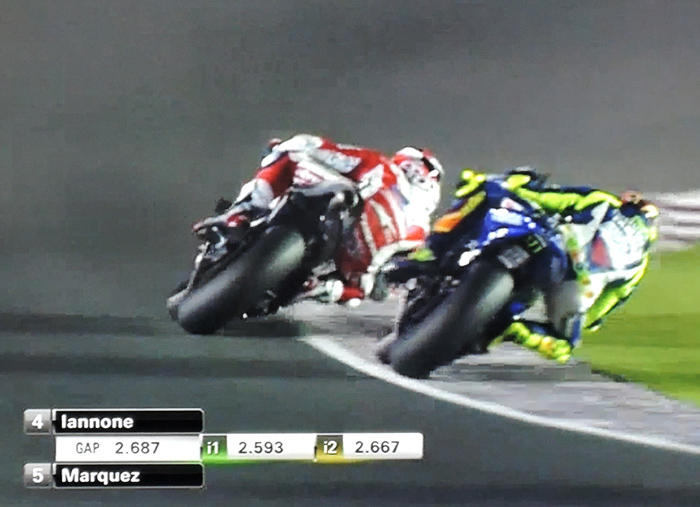 Rossi is now in 2nd position here and fighting Dovozioso for the lead. Dovi has the inside line in this corner, but Rossi goes even tighther rightup on on the apex's white paint and ripple curbing in an attempt to get past!

Rossi's superb win earns him first place in the championship standings with 25 points. Lorenzo now holds fourth place in the championship with 13 points. Thanks to today's results Movistar Yamaha MotoGP take the lead in the teams' championship with 38 points. The next round will be held at the Circuit of the Americas (COTA), United States, in two weeks' time.

Valentino Rossi 1st | 42'35.717 | 22 Laps
"In the last three seasons I always rode solid races and arrived on the podium but to come back with a victory is another thing. I am so happy because we suffered a lot during the practices and also the tests, but we worked very well for the 22 laps race and I was very strong. First of all you have to be lucky, but especially the work that we do with the team during the weekend makes the difference for my pace in the race. It was definitely one of the best races of my career, considering where we were yesterday. I really have to thank all my team, my engineers and all at Yamaha because I think today we did something amazing."
The Grand Prix of Qatar saw an exceptional race debut for the new Ducati Desmosedici GP15, which made its track debut just over one month ago in the Sepang 2 tests.

Andrea Dovizioso (Ducati Team #04) – 2nd
"This is a special result for Ducati and for me, after everything we have been through in the last few years, and it rewards the work that we have done together to arrive at this point. I never expected to be so competitive in the first race, and it really is an extraordinary result. I want to thank all the engineers and the people in Bologna, who managed to get the bike ready in time for the Sepang 2 tests, the mechanics who have worked so hard this weekend and all the guys in Ducati Corse for the commitment they have demonstrated with this project. Iannone and I managed to get two podiums for Ducati and that's a great result, but above all now I believe that this is only a starting-point for the future."

Andrea Iannone (Ducati Team #29) – 3rd
"I am very pleased with this result: it is my first podium in MotoGP and it's really incredible to have done it on my debut race as a factory Ducati rider. Dovi and I finished second and third with the new GP15 bikes, and I didn't expect to be so competitive so soon in the first race, so it really is a fantastic sensation. Back home the guys in Ducati Corse have done a great job this winter, and I owe a lot to them. Since 2013 I have had the support of this great company, which has helped me to improve and which has taught me a lot of things, and so I would like to dedicate my first podium to all of them. A big thanks to everyone in Ducati, to Gigi Dall'Igna, to Claudio Domenicali and all the people who work with me."

Luigi Dall'Igna (Ducati Corse General Manager)
"For sure it's a great emotion to have two riders on the podium with the new GP15, and for this reason I am really pleased, especially for all the guys in Ducati Corse who have done a great job back home in planning, designing and building the new bike in such a short period of time over the last few months. Probably today we could have even come away with a victory and not having done so actually leaves me with a tinge of disappointment, but today's result in any case is fantastic and I am sure that we will manage to achieve our aim in the next few races."

Jorge Lorenzo 4th | +2.707 | 22 Laps
"It was a difficult race. After the first lap, I found myself in second place and I followed Dovizioso. I was faster and I passed him where I could in the fast corners. On the speed and in braking the Ducati was much stronger than our bike, but we could recover on corner speed while the acceleration was similar. To be honest, I thought that I could win the race, though it surely wasn't going to be easy, because Valentino had a very strong pace at the end of the race. I was feeling better and better, but suddenly there was something wrong when in the top part of the helmet the foam came loose and came down so I lost half of my vision. I couldn't see the corners very well and couldn't concentrate or ride like before and I was losing half a second or more per lap. In a race where, at minimum I could fight for the win, I finished fourth."

Grand Prix of Qatar –Click here for the full MotoGP™ Race Results.

1. Valentino ROSSI – (Movistar Yamaha MotoGP) 42'35.717
2. Andrea DOVIZIOSO – (Ducati Team) +0.174
3. Andrea IANNONE – (Ducati Team) +2.250
4. Jorge LORENZO – (Movistar Yamaha MotoGP) +2.707
5. Marc MARQUEZ – (Repsol Honda Team) +7.036
6. Dani PEDROSA – (Repsol Honda Team) +10.755
7. Cal CRUTCHLOW – (CWM LCR Honda) +12.384
8. Bradley SMITH – (Monster Yamaha Tech 3) +12.914
9. Pol ESPARGARO – (Monster Yamaha Tech 3) +13.031
10. Yonny HERNANDEZ – (Pramac Racing) +17.435
11. Aleix ESPARGARO – (Team SUZUKI ECSTAR) +19.901
12. Danilo PETRUCCI – (Pramac Racing) +24.432
13. Scott REDDING – (EG 0,0 Marc VDS) +32.032
14. Maverick VIÑALES – (Team SUZUKI ECSTAR) +33.463

---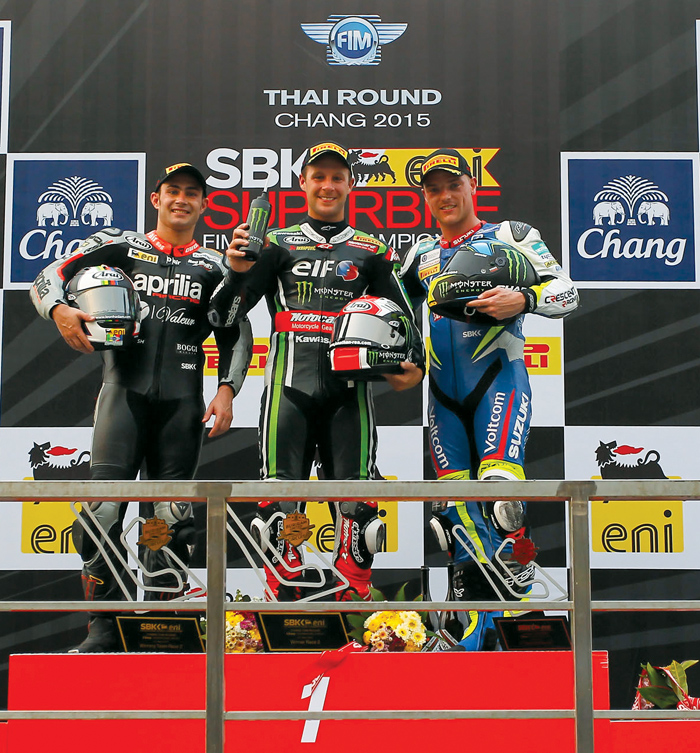 2015 Eni SBK World Superbike Championhip, Buriram Thailand Round 2 of 13
A Huge Crowd Shows Up for World Superbike Premier in Thailand
Jonthan Rae Takes Out a Tastey Thai Treat With SBK Double Wins
Buriram,Thailand, March 20-22nd 2015th - SBK WorldSuperbike mades its first ever visit to thethe Chang International Circuit in Buriram, Thailand sawTeam Motocard Kawasaki Racing's Jonthan Rea domonate with back to back wins in two lights-to-flag victory by Jonathan Rea, claiming his 18th career win and extended his lead in the championship to 10 points in the process. The third double of his career capped a perfect weekend for the Ulsterman, who was dominant all weekend long as he also claimed Pole Position and recorded the fastest laps in both encounters. Incredibly enough, he led every single lap of racing, too. The Chang Circuit drew a huge crowd of 84,000 race fans for the country;s fisrt ever World Championship roadrace on the beautiful new sta e of the art road course. Continued Race Coverage Here
---
The 2015 Los Angeles Calendar Motorcycle & Calendar Girl Music Show
moves to the Sagebrush Cantina, Calabasas on Saturday July 25th 2015

Los Angeles, CA, USA March 1st 2015 - The 2015 LA Calendar Motorcycle Show continues its now 24- year tradition as the premier outdoor streetbike event in America as it rocks the legendary Los Angles bike hangout and party zone, the Sagebrush Cantina in beautiful downtown Calabasas, California. Featured are top Celebrity Custom Bike Builders, the Calendar Bike Building Championship & Concourse d' Elegance, selected Vendors and Exhibitors, and Calendar Girl Music live performances. The Calendar Motorcycle Show is also a benefit for the American Cancer Society with a portion of each Admission Ticket being donated to help those people who are fighting cancer, and to help find a cure.
The Calendar Motorcycle Show features many of the world's top Pro and Amateur custom street bike builders in attendance with their newest 2-wheeled creations of rolling art to compete in the Calendar Show Bike Building Championship for cash and awards including the coveted Best of Show Trophy. The Calendar Show provides a broad focus for all motorcycle enthusiasts including the growing Collector Bike Market with Exhibitors and Bike Show classes for classic European, British and Japanese motorcycles, along with American V-Twins and Customs. Show Entries will be placed in a Concourse display on the Cantina's large outdoor event patio.
The annual Calendar Motorcycle Show always kicks off the world premier of next year's new 2016 FastDates.com Motorcycle PinUp Calendars featuring the world's top road race and custom motorcycles with the beautiful Calendar Kittens featured in the Calendars in attendance at the Show. Show Producer Jim Gianatsis will again be photographing the winning bikes to appear in the Motorcycle Magazines and the next FastDates.com Calendars.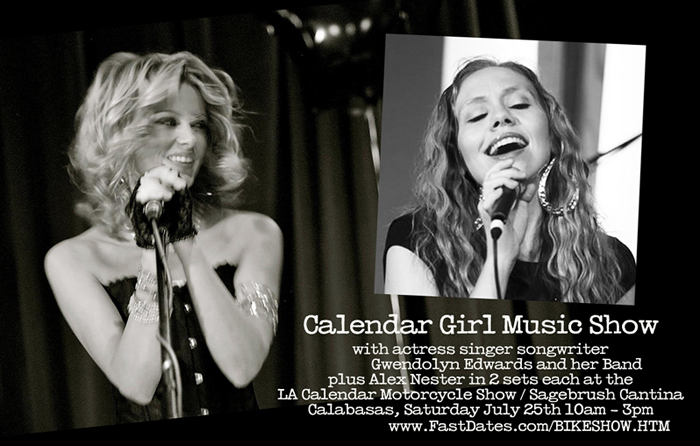 Included with admission is the Calendar Girl Music Show is an incredible day of live music featuring beautiful actress and singer songwriter Gwendolyn Edwards and her Band, and former American Idol contender Alex Nester, each performing two sets of a spicy mix of hot cover tunes and their own original songs. Like many we know impacted by cancer, Alex is a survivor and we are excited the Calendar Show will be helping others with a portion of our ticket sales going to the American Cancer Society. To find our more about their important work fighting cancer go to www.Cancer.org
Legendary Builders featured in the popular FastDates.com Iron & Lace Custom Motorcycle PinUp Calendars and expected to attend include Russell Mitchell / Exile Cycles, Richard Pollock / Mule Motorcycles, Ron Simms / Ron Simms Customs, Jim Giuffra & Spokesmodels / AFT Customs, Chris Redpath / MotoGPwerks, Shinya Kimura / Chabott Engineering, and Adrian Packet / Canyon Motorcycles.
Together with the Calendar Motorcycle's Show's display of exciting new Custom and Classic bikes, Celebrity Builders, and select Manufacturers, there will live performances by a talent female singer songwriters. And VIP Admission includes the Sagebrush Cantina's excellent Taco Plate Buffet with soft drinks, where you can custom design your Mexican lunch plate with a large selection of meats, sides, salads, chips and toppings. Full Bar service is also available. Because the Show is now in gated patio venue, spectator capacity is limited and advance online ticket purchase is recommended to assure your entry to the longest running and most exciting streetbike event on the West Coast.
The 2015 LA Calendar Motorcycle Show takes place on Saturday July 25th 10am-3pm at the Sagebrush Cantina, 23527 Calabasas Road, Calabasas, CA 91302. Motorcycle Parking is Free at the main entrance, with on site paid Car Parking also available. For additional information and to purchase tickets go to: www.FastDates.com/BIKESHOW.HTM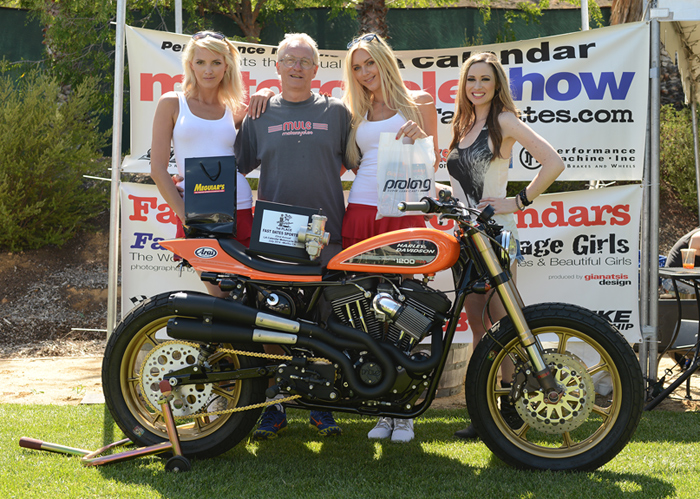 Richard Pollock / Mule Motorcycles to Be Honored at The 2015 Show!
The 2015 LA Calendar Motorcycle Show on Saturday July 25th will pay special tribute this year to Richard Pollock / MuleMotorcycles.net as one of our favorite and most successful FastDates.com Calendar Bike Builders over the last 25 years. You'll certainly want to join us as we honor Richard and he premiers his newest Streetracker build!
---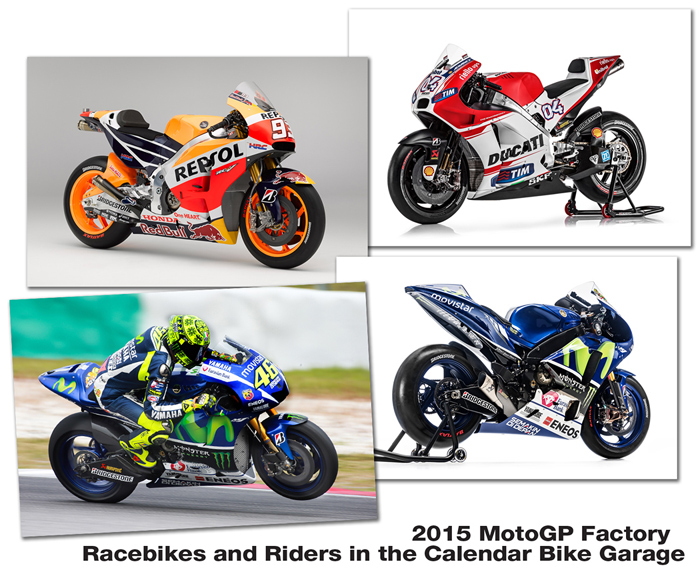 Calendar Bike Garage - Detailed MotoGP Bike Photos, Specs, Large Screen Savers
Calendar Photo Store - Calendar, MotoGP Bikes and Rider Photo Prints & Wall Displays
---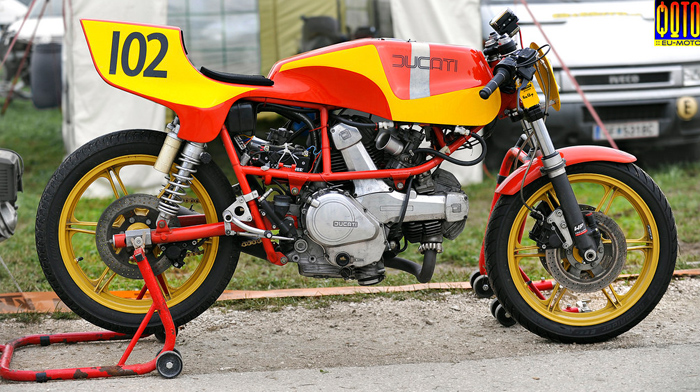 How beautiful is this classic Ducati Pantah Racer. The Pantah was the first of the belt-driven camshaft Ducati motors, the first generation of the current Ducati V twins. First shown December 1979, it came on the market as the 1980 500SL and the last of the line 650SL was sold in 1986. Successful in racing as the 600 cc TT2 and later TT1 750 cc racer, it was a lighter, shorter wheelbase motorcycle, in a new trellis frame that was to become a trademark Ducati feature. For more cool bikes check out the Calendar Bike Garage and in the FAST2015 Calendar Magazine - http://www.FastDates.com/IronLaceGarage.HTM
---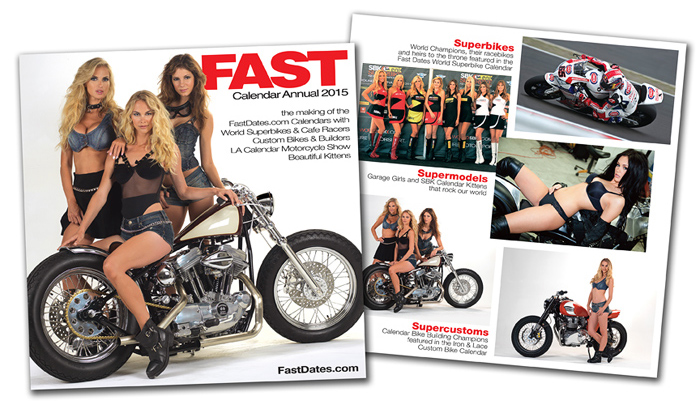 NEW! FAST 2015, 2014 Calendar Digital Yearbook
Go behind the scenes of the FastDates.com Calendar photo shoots at the SBK World Superbike races, the Los Angeles Calendar Motorcycle Show & Concourse d' Elegance, and inside the FastDates.com Studio of famed photographer Jim Gianatsis. Meet the official SBK World Superbike Calendar Kittens who also serve as the official SBK podium and grid girls, the top factory riders of World Superbike, and America's top custom bike builders. You'll find detailed editorial photo features on the Calendars' top Custom and Race bikes, and on the Calendar Kittens.
Did we forget anything? - Oh yes! The new FAST 2015 Calendar Yearbook Digital Edition features in high resolution every page in the new 2015 Fast Dates World Superbike, Iron & Lace Custom Bikes, Garage Girls and Cafe Racers Calendars featuring the world's top race and custom bikes and the beautiful Calendar Kittens!
Now in Members Corner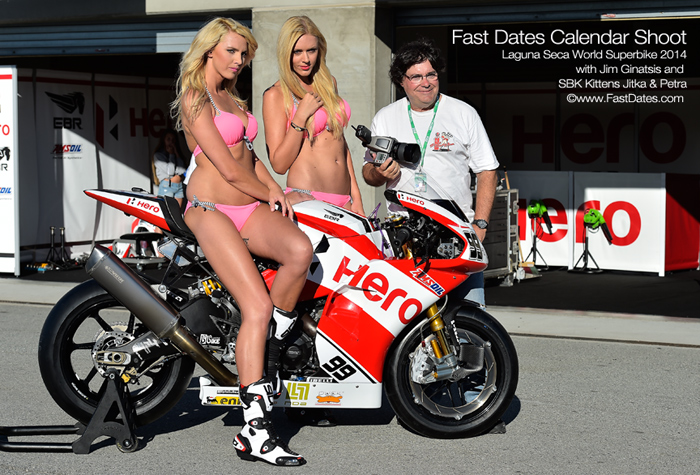 ---
Now in the Calendar Bike Garage!
Alstare Bimota DB3 EVO World Superbike
Up close detail shots of the race bike and full-size screen saver photos with SBK Fast Dates Calendar Kittn Petra.
---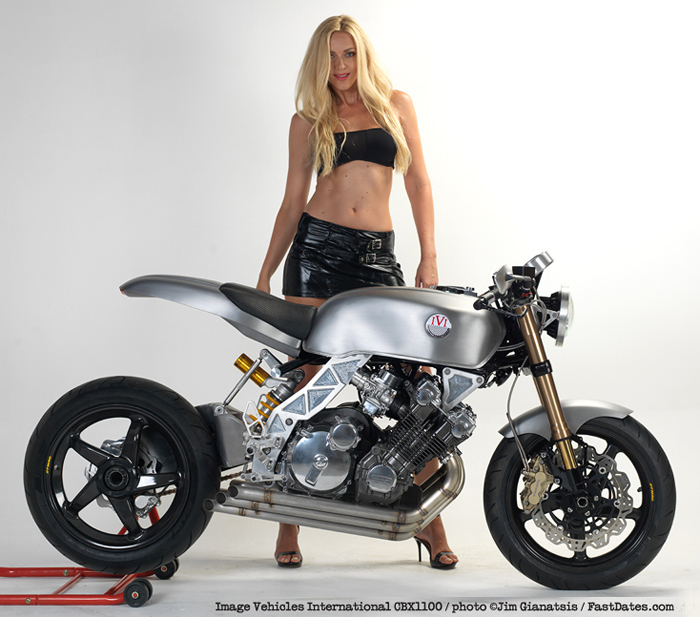 Now in The Calendar Bike Garage!
Imagine Vehicle's Honda CBX Best of Show Winner! Detail Photos and Full Size Screensavers with Calendar Kitten Petra.
Visit the CalendaBike Garage

Additional Calendar Show coverage and photos at: 2014 LA Calendar Motorcycle Show Coverage
---
---
There's More! Go to Pit Lane News Previous Week

Also Visit: Fast Dates Calendar News • Iron & Lace Calendar News
Calendar Girl News • Meet the Models • Paddock Garage
Get FastDates.com T-Shirts, Mugs & Photographs from Our Store





MEMBERS CORNER! Calendar Kittens, Paddock Garage, Iron & Lace Garage




Amazon.com Motorcycle Products & Apparel Store



MotorcycleSuperstore.com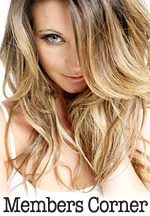 Hot Bikes, Sexy Kittens
Your Exclusive Grid Pass
also includes....
---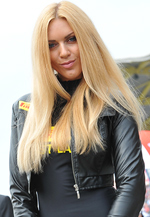 2014 SBK Race Season
Meet the offical SBK
World Superbike Girls!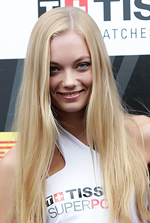 2013 SBK Race Season
Order the New
2014 / 2015 Calendars!
with the FastDates.com Calendar Kittens - the official SBK Umbrella Girls!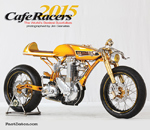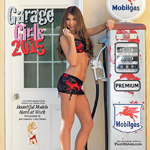 Click Below for more
2015 Calendars!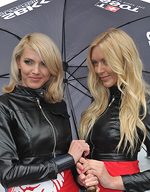 Meet FastDates.com
Calendar Kittens
SBK Grid Girls
Jitunka & Petra!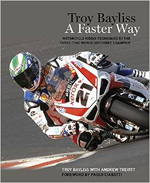 New! Troy Bayliss
A Faster Way
Track Riding Book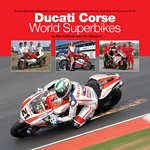 Retail $49.95 ea.
Click to Order from Amazon.com

Ducati Corse
World Superbikes
by Alan Cathcart
& Jim Gianatsis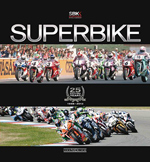 The Official SBK
World Superbikes
1987-2012
25 Year History Book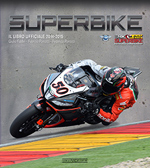 The Official SBK
2014-2015 Yearbook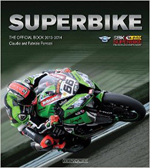 The Official SBK
2013-2014 Yearbook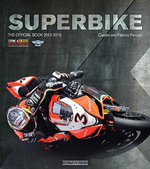 The Official SBK
2012-2013 Yearbook
These SBK Yearbooks are the Best Books Ever about World Superbike. They feature awesome color photography of the riders, bike and racing action. The feature a detailed revue of the past season in pictures and statistics, with a detailed look at the bikes and riders.

Plus a technical look data all the bikes, a preview of the upcoming season's Championship!
We buy this every year ourselves and highly recommend it!
---
Marquez is Top Honda in 6th Place as MotoGP Season Starts with a Thriller in Qatar
March 9th - Repsol Honda Team RC213V riders Marc Marquez and Dani Pedrosa finished sixth and seventh in the floodlit Qatar GP, fighting back from a troubled start to an exciting race with a thrilling climax.
Both factory riders had started from the front row of the grid, but chances of following up with similar top-three finishes were scuppered from the start.
Defending champion Marc Marquez (Repsol Honda Team RC213V) had a nightmare first lap. Winner here last year – the first of a classic ten-in-a-row run – the 22-year-old star was caught up in a tangle in the first corner, and was obliged to run wide and off the track to avoid a race-ending collision.

Marquez dropped right to the back, and immediately set about recovering ground, scything through the backmarkers, then picking his way through a fierce mid-field battle.
He had caught and passed his team-mate Pedrosa just after half distance; but could get no further ... the gap to the leaders finally proving unbridgeable.
Dani Pedrosa (Repsol Honda Team RC213V) also had a difficult first lap. He picked up places steadily, up to fifth on the sixth of 22 laps of the 5.38-km Losail circuit. But by then the front four were already out of reach, and although he could match their speed, he was unable to close the gap.

His situation was made more difficult by the return of serious arm-pump problems that blighted his results last season, and required corrective surgery early that was only partially successful. Pedrosa pledged to seek a more permanent solution, throwing doubt on his immediate racing future. The Repsol Honda Team pledged to give their loyal long-term rider the fullest support in his quest for a cure.

It was not the hoped-for result at the first of 18 races, but both riders proved their strength and the speed of their machines in spite of the adversity that blunted their challenge. With a full season ahead, motivation is reinforced by early adversity.
The race was won by veteran former World Champion Valentino Rossi (Yamaha), finally prevailing in an exciting last-laps battle with Andrea Dovizioso (Ducati). Dovizioso's team-mate Andrea Iannone was a close third, narrowly ahead of early leader Jorge Lorenzo (Yamaha).
The Repsol Honda pair finished just five seconds behind the leaders.
Two other riders campaign the Factory Option Honda RC213V. Cal Crutchlow (CWM LCR Honda RC213V) made it three in the top ten, finishing seventh after triumphing in a strong battle for the position.

Scott Redding (Estrella Galicia 0,0 Marc VDS Honda RC213V) was 13th, still seeking the best machine balance in his first attempt on the awesomely powerful factory Honda.
Four others race the upgraded Honda RC213V-RS, in the Open category, where a lower technical specification is traded off with softer tires and extra fuel.

2006 World Champion Nicky Hayden (Aspar Team Honda RC213V-RS) finished the strongest, placed 17th, with team-mate Eugene Laverty 18th. Karel Abraham (AB Motoracing Honda RC213V-RS) and class rookie Jack Miller (CWM LCR Honda RC213V-RS) did not finish, after a last-lap tangle put them both on the ground.
TEAM SUZUKI ECSTAR POSITIVE AT QATAR MotoGP
Team Suzuki Press Office – March 29
Team SUZUKI ECSTAR's Aleix Espargaro and Maverick Viñales both raced to points-scoring positions in Suzuki's full-time return to the 2015 MotoGP™ series tonight at Losail in Qatar; and the team is positive with its initial debut.

Espargaro finished 11th and series rookie Viñales 14th aboard their 2015 GSX-RRs under the floodlights of the night-race; and in front of 19,500 spectators. It was an important result for Suzuki after a three-year absence from motorcycling's premier class of racing; and after much development from the Japanese factory and continued testing to develop the all-new GSX-RR.

Espargaro started from 11th place on the grid, after a weekend that saw him well-in the top 10, and was in the top-seven on the opening laps. Viñales, who started from 13th place on the grid, fought back throughout the 22-lap race to score his first-ever MotoGP series points.

Satoru Terada – Team Director:
"This has been a very important result for us. We have spent the last three years preparing for this debut and we have hit our objectives. Both the riders ended the race and got into the points. Developing a high-performance MotoGP™ machine is not an easy process; we've learnt that we have some strong points and some weak points. We have a good chassis, but we lack outright power and this prevented us from to be fighting further up the grid. We are all aware of that and we have engineers in Japan working hard to improve our performance. In fact, this result gives us a further incentive to give our best and push even harder as soon as possible. At the end of the day I'm proud of these results, I know I'm working with a full team of professionals and we will push-on to greater heights."

Aleix Espargaro:
"I can't say I'm happy with this result as this is probably the worse position I've been in since last season and I honestly thought I would be higher-up in the classification. We had a few issues with the machine but we all know that the main problem now is the power. Engineers in Japan are working hard, I know, but unless we get some more horsepower, it will be very hard to get to the front. In any case I've also had good feelings from the race; I ended it and I got points, which was our objective. We are all fully focused on our development process and I'm sure we will get even better results soon."

Maverick Viñales:
"It's been an amazing experience! Racing with the top riders in MotoGP™ is something unbelievable and I'm so happy with the experience. The race has been strange; soon after the start I had some issues with the electronics and I lost some traction control, so I had to rely only on my wrist, but the machine was performing well so I decided to keep on and finally I ended the race and got two points. This was our priority, so I'm satisfied. We know where we need to improve and also what went wrong with this race, so we can work on it and hopefully be even more effective in the next race. "

Grand Prix of Qatar – Final Classification:

1. Valentino ROSSI – (Movistar Yamaha MotoGP) 42'35.717
2. Andrea DOVIZIOSO – (Ducati Team) +0.174
3. Andrea IANNONE – (Ducati Team) +2.250
4. Jorge LORENZO – (Movistar Yamaha MotoGP) +2.707
5. Marc MARQUEZ – (Repsol Honda Team) +7.036
6. Dani PEDROSA – (Repsol Honda Team) +10.755
7. Cal CRUTCHLOW – (CWM LCR Honda) +12.384
8. Bradley SMITH – (Monster Yamaha Tech 3) +12.914
9. Pol ESPARGARO – (Monster Yamaha Tech 3) +13.031
10. Yonny HERNANDEZ – (Pramac Racing) +17.435
11. Aleix ESPARGARO – (Team SUZUKI ECSTAR) +19.901
12. Danilo PETRUCCI – (Pramac Racing) +24.432
13. Scott REDDING – (EG 0,0 Marc VDS) +32.032
14. Maverick VIÑALES – (Team SUZUKI ECSTAR) +33.463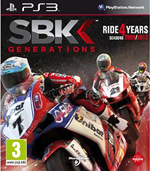 SBK World Superbike Video Game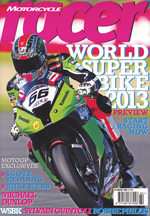 Official Print Media Partner

MV Agusta F3 800cc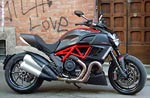 The Devil Made Us Do It!
Testing the Ducati Diavel in Italy
Sudco Carburetor Kits & OEM Replacement Parts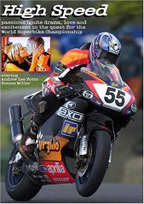 High Speed - the Movie
The best motorcycle racing movie ever made! Filmed on location at the World Superbike races , this an exciting romantic drama staring beautiful British actress Sienna Miller.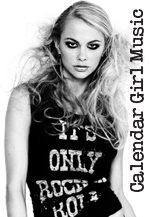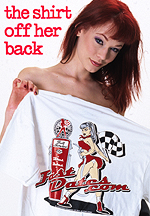 Order the Official
FastDates.com &
LA Calendar Bike Show
T-Shirts!