Rea leads Haslam, Sykes, Davies and Giugliano at the start of Race One.
2015 Eni SBK World Superbike Championhip, Imola Italy, Round 5 of 13
Tom Sykes trades places with team mate Jonthan Rea on the Top Step
As Team Kawasaki Goes 1-2 again both Races this week at Donnington World Superbike
Donnington, Great Britain, May 22-24th 2015 -In the sixth round of the FIM Superbike World Championship, held at Donington Park, Tom Sykes (KRT) scored a home double for his first race wins of the season so far. His team-mate Jonathan Rea was second in race one and again in race two, extending his championship lead to over 100 points.
Sykes has now won the last six WSB races at Donington, all for KRT, as he found his best machine set-up of the year to win in relatively cool conditions. He equalled the record of six Donington WSB race wins held by Carl Fogarty and took his career victory total to 24. Sykes also set a new lap record of 1'27.640 in race two, giving him the perfect weekend when his raceday performances are added to his in Superpole qualifying success, at new track best pace on Saturday.


In race one Sykes and Rea had an often-tough battle for supremacy, passing each other regularly to share the lead until near the end of the 23 laps, when Sykes pushed on and Rea had to settle for second.

In race two, with Sykes out front at the start, Rea was ready to make his drive forward but almost fell on lap two at the fast Coppice corner, dropping to seventh place. He kept his composure and despite a severely bent rear brake lever he moved forward, contesting third place by lap 11. Rea was to get to second place after 23 laps, finishing 9.772 seconds behind Sykes.
In the championship Rea is still the clear and convincing leader, with a total of 280 points after scoring eight wins and four second place finishes in 12 races. Sykes is third, only one point behind second place, with a total of 178 points.
Portimao is the next round on the calendar, with raceday on June 7th.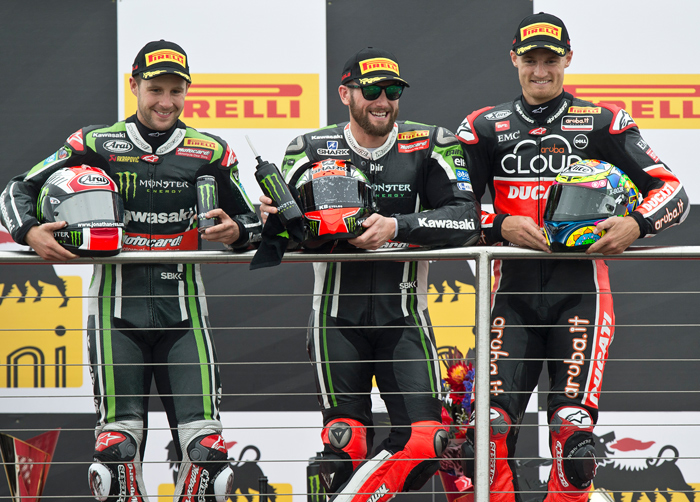 Tom Sykes: "A full set this weekend - two race wins, pole position and a new lap record. After some battles in race one I had a clean start in race two and I went a little bit faster down Craner and into the Old Hairpin to stop any passes, and away we went. The bike was really nice and I made some 1'27s in the beginning. When I saw that the gap was increasing I just had to be careful in how to manage the race. I was really happy with the race performance because Marcel my crew chief and all the boys have been working really well. It is good to win all the last six races here at Donington but there is no real reason why. We are getting there now and I am able to do a little bit more of what I want to with the bike, and it showing."

Jonthan Rea set Fastest Lap in Race One, and earned a little extra shade from Fast Dates SBK Calendar Kitten and Pirelli girl Petra.


Jonathan Rea: "I did not accept defeat before the races but Donington is one of those circuits where if there is one place where my team-mate was going to really excel it was here. I had a big moment in race two and I was really lucky. When I found a rhythm I realised that Tom was on a different racetrack today but I could finish second because I knew the pace of the Kawasaki in the second part of the race would be strong. I just put my head down and put some laps together and took second. Pere my crew chief has just told me that the championship points gap is in three figures, which I cannot believe. It is incredible, so we just need to keep doing the same."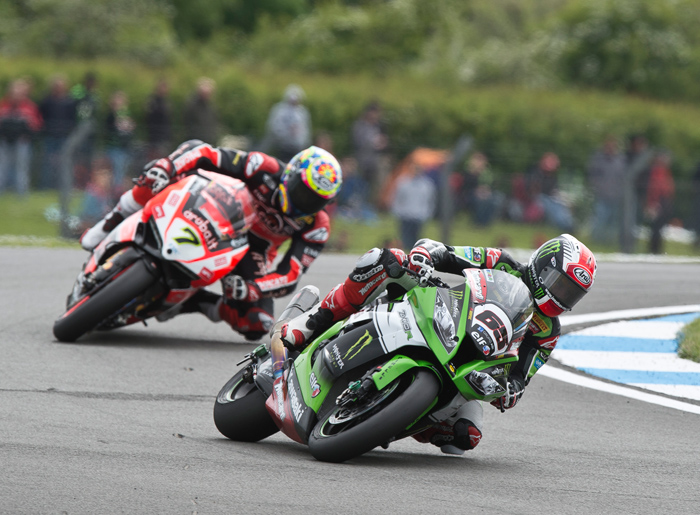 Jonthan Rea (65) faught heated battles both races over 2nd place with Ducati's Chaz Davies (7).
Sykes Does the Donington Double for Third Time in a Row
Lap Record tumble as the Briton dominates. Rea and Davies to complete the podium
Race Day, Sunday May 24th- Tom Sykes (Kawasaki Racing Team) made it two wins from two starts as he dominated WorldSBK race 2 at Donington Park to equal Carl Fogarty's six race wins record in the series. The former champion, who has now won every race at the 2.5 mile circuit for the last three years, made it a clean sweep, adding the fastest lap in race 2 to the Tissot-Superpole that he secured yesterday, to win by over 9 seconds. Today's double is the first for Sykes after almost eleven months, the last one dating back to Misano 2014.
Kawasaki team mates Jonthan Rea (65) and Tom Sykes (66) had a heat battle in race one, before Sykes finally broke away with the lead mid-race.
Series leader Jonathan Rea (Kawasaki Racing Team) saved what could have been a huge crash as rounded Coppice Corner on lap 2, the championship leader lucky not to fall. He regrouped with some great overtaking moves to salvage second ahead of Chaz Davies (Aruba.it Racing – Ducati SBK Team) who finished third for the second time today. This is the first race day of the year with Rea off the top-step of the rostrum in both encounters. Davide Giugliano (Aruba.it Racing – Ducati Superbike Team) was fifth after being passed by Leon Haslam (Aprilia Racing Team – Red Devils) on the penultimate lap. The British rider overcame the pain and discomfort of cracked ribs to finish fourth. Alex Lowes (Voltcom Crescent Suzuki) claimed another strong sixth place finish after running third in the early stages.
After almost crashing out in Race Two, Jonthan Rea (65) charged back up to pass Giugliano (34) and Davies (7) for another 2nd place.

The top ten riders were rounded out by Jordi Torres (Aprilia Racing Team – Red Devils) and Sylvain Guintoli (Pata Honda World Superbike Team) who battled race long, as they had in the opening encounter. Ayrton Badovini (BMW Motorrad Italia) was in the top ten again in ninth with Matteo Baiocco (Althea Racing Ducati) tenth.
Roman Ramos (Team GO Eleven Kawasaki), David Salom (Team Pedercini Kawasaki), Leandro Mercado (Barni Racing Ducati), Randy de Puniet (Voltcom Crescent Suzuki) and Santiago Barragan (Grillini SBK Team Kawasaki) were 11th to 15th respectively.
Leon Camier (MV Agusta Reparto Corse) crashed out of sixth at the Esses on lap 4, while Nico Terol (Althea Racing) and Christophe Ponsson (Team Pedercini Kawasaki) were taken to the Medical Centre after falling off their respective machines halfway through the race. Reigning World Supersport Champion Michael van der Mark (Pata Honda World Superbike) had to pull out of the encounter due to technical issues.
Superbike Race 1
1 T. SYKES (Kawasaki Racing Team)
2 J. REA (Kawasaki Racing Team)
3 C. DAVIES (Aruba.it Racing-Ducati SBK Team)
4 L. HASLAM (Aprilia Racing Team - Red Devils)
5 A. BADOVINI (BMW Motorrad Italia SBK Team)
6 A. LOWES (VOLTCOM Crescent Suzuki)
8 S. GUINTOLI (PATA Honda World Superbike Team)
RT M. VD MARK (PATA Honda World Superbike Team)
Superbike Race 2
1 T. SYKES (Kawasaki Racing Team)
2 J. REA (Kawasaki Racing Team)
3 C. DAVIES (Aruba.it Racing-Ducati SBK Team)
4 L. HASLAM (Aprilia Racing Team - Red Devils)
5 D. GIUGLIANO (Aruba.it Racing-Ducati SBK Team)
6 A. LOWES (VOLTCOM Crescent Suzuki)
8 S. GUINTOLI (PATA Honda World Superbike Team)
RT M. VD MARK (PATA Honda World Superbike Team)
Full Results, Click Here

Supersport 600
1 K. SOFUOGLU (Kawasaki Puccetti Racing)
2 J. CLUZEL (MV Agusta Reparto Corse)
3 K. RYDE (Pacedayz European TrackDays)
4 L. ZANETTI (MV Agusta Reparto Corse)
5 P. JACOBSEN (Kawasaki Intermoto Ponyexpres)
6 L. STAPLEFORD (Profile Racing)
8 G. REA (CIA Landlords Insurance Honda)
10 A. REID (CORE'' Motorsport Thailand)
---
Troy Bayliss and His Lloyd Brothers Ducati Scrambler replica AMA Pro Dirt Trackers.

Troy Bayliss and Ducati Takes on the AMA Grand National Dirt Track Miles
Starting with the Springfield Mile and a Steep Learning Curve
SPRINGFIELD, Ill. May 24, 2015 - Bryan Smith surprised very few people on Sunday at the Illinois State Fairgrounds when he swiped the Springfield Mile checkered flag in the Harley-Davidson GNC1 presented by Vance & Hines Main Event. Piloting his powerful No. 42 Crosley Radio Kawasaki, Smith was tested by Jared Mees on the race's final lap when the defending Grand National Champion went low in turn four and took the lead from Smith for a brief moment. However, he reclaimed the top spot on the front stretch after putting his Kawasaki in perfect position to outrun Mees' No. 1 Rogers Racing Harley-Davidson to the finish line.
"This win feels great," said Smith. "Everyone kept it clean and it was a really good race. I have to thank my team as they've been behind me from the start. I also want to thank Kawasaki for coming on board this year, that's really huge."
The win marked Smith's 18th career Harley-Davidson GNC1 presented by Vance & Hines victory and his fifth at Springfield. The Flint, Mich., native now sits seventh in the point standings and will be looking to earn another win next weekend when the series visits Sacramento, Calif., for the Sacramento Mile. It's a track where Smith has been dominant, winning his last four main events there.
Three-time World Superbike champion Troy Bayliss failed to make the main event aboard his 21I Lloyd Brothers Motorsports Ducati. However, on his first ever ride on the big Mile Tracks, the Aussie showed signs of improvement as the day went on, decreasing his lap times in every on-track session.
"I'm really pleased with the way things went," said Bayliss. "These guys are younger than me and they cut their teeth on this sport. They've been doing it year-in and year-out for many years and they're very good. After my first session, I was like 'Wow, this is going to be quite difficult today.' But every session I gained a second and by the end of the day I was basically one second off the fast time. I knew making the Main event would be hard. It was good to race these guys. It was sweet. The bike was nice and there's a few little things we need to work on, but it's about me getting comfortable."
Mees didn't have enough to take the win from Smith at the end of the main, and he was even left with a battle for third with Brad Baker on the No. 6 Factory Harley-Davidson as the two crossed the line. Mees now sits second in points and remains arguably the most consistent rider on the circuit.
Baker was barely a wheel behind Mees, showing the 2013 Grand National Champion is fully healed from an arm injury suffered during the offseason. Baker sat behind No. 7 Briggs Auto Kawasaki rider Sammy Halbert for the majority of the main, but got by late to challenge Mees for the second spot.
Baker's third place finish improves his position in the point standings to eighth, while Halbert's fourth place effort moves him to third.
---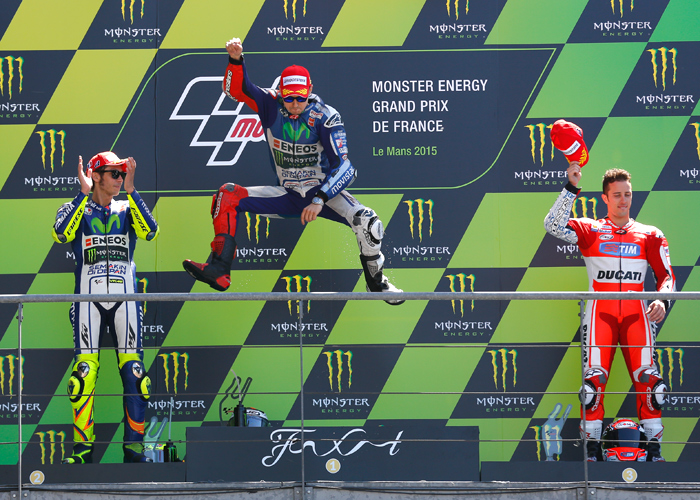 Lorenzo (left) was untouchable again this weekend at LeMans as he celebrates on the podium wioth rossi and Dovizioso.

2015 MotoGP World Championhip, Monster Energy Grand Prix de France, Round 5 of 18
Lorenzo Dominated while an Intense Battle for Fourth Burned.
Lorenzo Takes Critical MotoGP™ Victory in France

LeMans, France, Sunday May 17th 2015 - Fortunately rain was nowhere to be seen in Le Mans, setting the stage for an exciting and eventful MotoGP™ race. The French GP comes after a post race test in Jerez and many riders arrived in France with new confidence, direction and parts. Bradley Smith was one such rider, running new front forks this weekend and leading FP2 on Friday.

Round five of the MotoGP™ World Championship also saw Repsol Honda's Dani Pedrosa return to the grid, the Spaniard having missed three rounds after having surgery to cure arm pump issues. Returning for Jerez had been a possibility, but a test on a Supermoto bike had Pedrosa and his Repsol Honda crew air on the side of caution and wait until Le Mans.


Championship points leader Rossi moved upquickly from a 6th place start, battled Dovizioso for 2nd and came out on top, but couldn't reel in team mate Lorenzo. Complete Race Coverage Here
---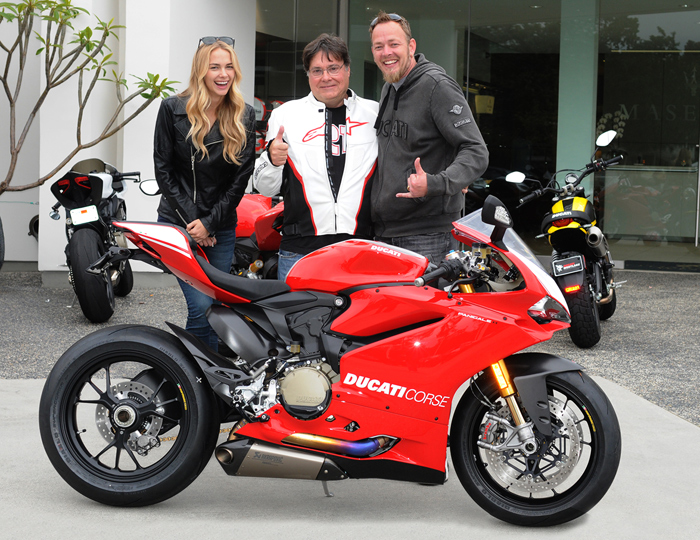 Jim and Sara Attend Ducati Westlake Open House of New 2015 Ducatii 1199R
Westlake, CA ,May 16th, 2015 - FastDates.com Calendar producer Jim Gianatsis and SBK Fast Dates World Superbike Calendar Kitten Sara Horvath were at a Ducati Westlak Open House on Saturday May 16th to premier the new 2015 Ducati 1199R Superbike. Hosting the event were the staff fromof Ducati Westlake including Store Manager Josh Ronaldon(picture above in the Black jacket, with sara and Jim) and Salesman Casey Holloway, Parts Manager Laurel and Sales Associates Connor and Curt. The event included a complimentary lunch with beverages, live music, new bike demo rides, and Jim signing his book "Ducati Coese World Superbikes.

The limited homologation 1199R15 was special ordered by editor Jim, a serious Ducati Superbike enthusiast and collector who got to ride ride home after the Open House, where it joins his collection of all 5 Genertions of Ducati R homologation Superbikes. Team Ducati Corse rider Chaz GDavies had just ridden a box stock 1199R15 two days earlier at its press introduction at the Imola International Circuit, Italy, and posted a lap time good enough to quality 10th on the grid at the previous weekend's Imola World Superbie race withthe full factory race bikes.

The bike was modified the day before the event with the Ducati Performace Akrapovic Titanium race Silencer Kit with ECO Map increasing the power from 205 to 220hp, a Ducati Corse Adjustable Foot Control Assembly, Quick Release Fuel, Track Rear License Plate Assembly, and 520 Chain Kit. Congratulations Jim!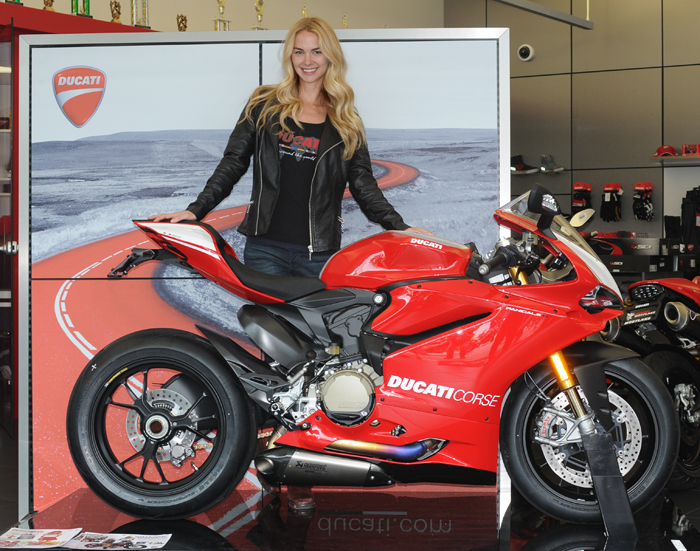 SBK Fast Dates Calendar Kitten Sara was featured thi smonth at the Ducati Westalke Open House premier of the new 2015 Panigale 1199R Superbike.

Calendar Kitten Sara Horvath to be Featured at SBK World Superbike Laguna Seca
July 17-19th and as LA Calendar Show Host on Saturday July 25th

Los Angeles, April 3rd, 2015 - The FastDates.com Motorcycle PinUp Calendars is excited to announce one of their most popular Calendar Kittens, professional model Sara Horvath represented by Umbrella Girls USA, will be serving as one of the offical SBK World Superbike Umbrella Girls at the upcoming Laguna Seca World and AMA Superbike race weekend July 17-19th 2015 at Mazda Raceway, Laguna Seca, CA. Sara will also be working the races with Calendar photographer and publisher Jim Gianatsis to shoot the next edition of the Fast Dates World Superbike Calendar with all the top factory race team bikes on Pit Lane during the race weekend.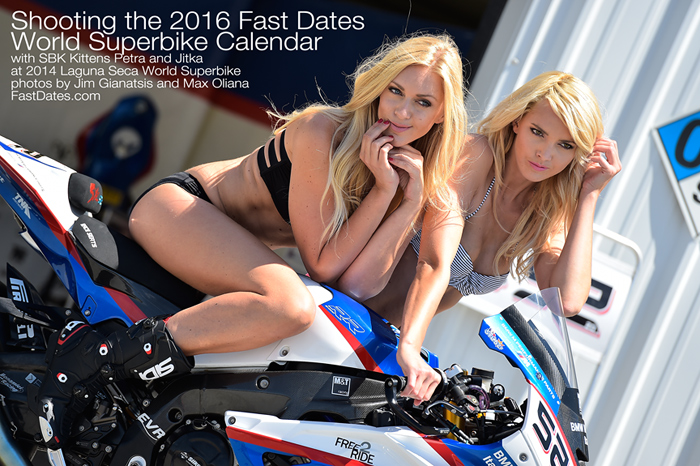 "This year's SBK World Superbike round at Laguna Seca USA marks the 21st year that the FastDates.com Calendars have provided its beautiful Calendar Kittens to be the offical SBK Umbrella and Podium models, going back to the first ever American World Superbike race at Laguna Seca in 1995", explained Jim Gianatsis. "The Fast Dates Supebike Calendar shares a rich history with both SBK World Superbike - the most exciting production based motorcycle roadracing series ever, all the top factory race teams and their riders over those many years, with Mazda Raceway the years that SBK has been here at one of America's most renown roadracing venues, and with our partner Umbrella Girls USA. We will be confirming a second Calendar Kitten to be working alongside Sara for SBK and our Fast Dates Calendar shoot in the coming weeks."
Newest FastDates.com Calendar Kitten and Miss Pirelli World Challenge sports car racing girl Jorie Mae Stanton is our other choice for the 2nd Kitten to join us at Laguna Seca World Superbike and he LA Calendar Motorcycle Show in July. Like Sara, Jorie is also a university graduate, holding a degree in Animal Science and her regualr job is curator of the Primate Department at the Buffalo Zoo in Buffalo, New York.
Calendar Kitten Sara is currently featured in the latest 2015 FastDates.com Calendars - Fast Dates, Iron & Lace and Garage Girls, and in the new FAST2015 Digital Magazine found on the website. Race fans at Laguna Seca World Superbike can meet Sara in the SBK Paddock Show where she will be working as the SBK spokesmodel assisting with the awards presentations and rider interviews. Then the following weekend on Saturday July 25th Sara will be hosting the 24th annual LA Calendar Motorcycle Show at the Sagebrush Cantina, Calabasas, CA, which includes the Calendar Bike Building Championship with top celebrity builders premiering their latest custom builds, the Calendar Girl Music Show featuring beautiful actress and singer songwriter Gwedolyn Edwards and her Band, and American Idol contender Alex Nester. And Sara will be premiering the new 2016 FastDates.com Calendars where she is again featured. For additional information on these Events and to purchase tickets, and for more about the Kittens and Calendars visit: http://www.FastDatess.com and http://www.MazdaRaceway.com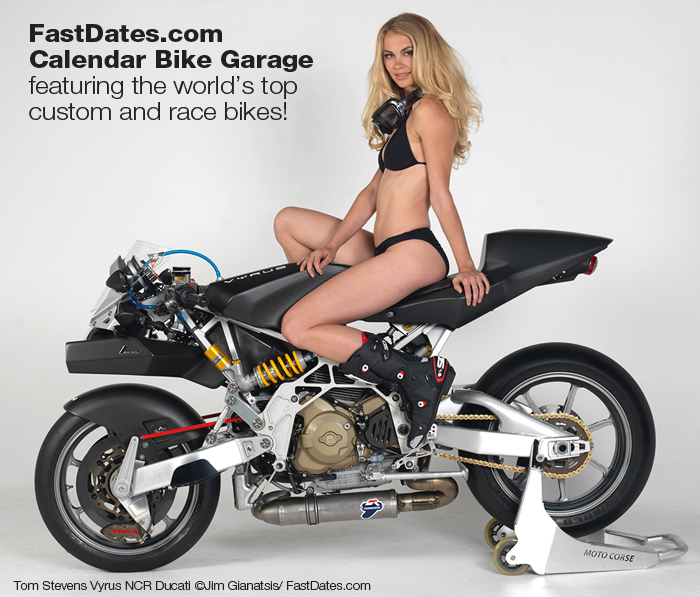 This Month in the Calendar Bike Garage.., The World's Coolest Naked Ducati!
Beauitful FastDates.com Calendar Kitten Sara takes us for a ride on the world's most exotic and expensive Ducati streetbike
ever - a $110,000 Vyrus NCR 983 Superleggera in the Calendar Bike Garage and in Members Corner.

Order the Fast Dates Calendars
Calendar Bike Photo Features, Paddock Garage Tuning, Pictorials of our Calendar Kittens in Members Corner
---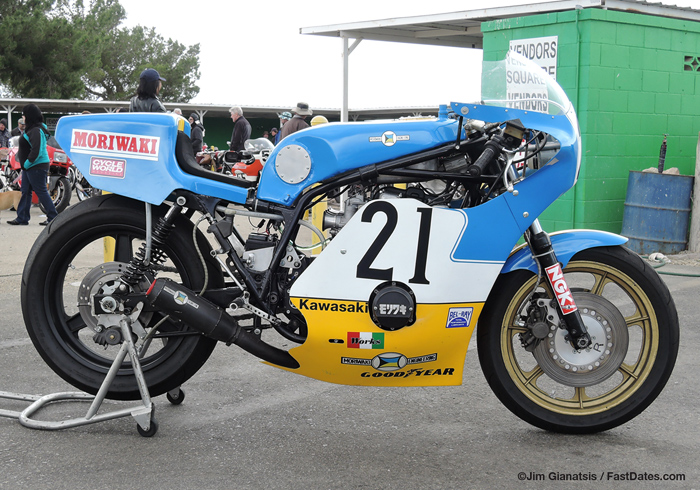 Moriwaki Kawasaki KZ1000 Formula One bike1982.

2015 Corsa Motoclassica at Willow Spring Raceway, California
Photos and Report by Jim Gianatsis

Rosemond, CA -April 24-26th 2015 - The annual Corsa Motoclassica was first run 20 years ago at Willow Springs Raceway in Rosemond, California, just down the road from Edwards Air Force Test Base in the Mojave Dessert. It was the child of Yoshi Kosaka of Garage Company, a Los Anegles based motorcycle used bike and parts store and restoration shop specializing in classic street and race bikes. The Corsa Classic at Willow Springs gave Yoshi's customers a place to bench race and ride their beloved classic race bikes at speed, and could be called the West Coast's version of the Barber Motorsports Festival in near Montgomery, Alabama. Continued Here
Suzuki 500cc Titan Twin 2-Stroke Formula One race bike.
A vist with Yoshi Kosaka, owner of Garage Company in Torrance, CA, and founder of Moto Classica
The Garage Company is what happens when the dreams of a boy who grows up putting together motorcycles from discarded bikes and parts in Tokyo come true. Yoshi Kosaka, former dental tool engineer turned motorcycle designer and collector, talks about his influences, and the inspiration that go into his shop/museum, and his one of a kind California Bobbers.

Directed-Filmed-Edited by Brian Booth
Special Thanks to Yoshi Kosaka and everyone at The Garage Company

www.BrianBooth.com
http://www.GarageCompany.com
---
The 2015 Los Angeles Calendar Motorcycle & Calendar Girl Music Show
moves to the Sagebrush Cantina, Calabasas on Saturday July 25th 2015

Los Angeles, CA, USA March 1st 2015 - The 2015 LA Calendar Motorcycle Show continues its now 24- year tradition as the premier outdoor streetbike event in America as it rocks the legendary Los Angles bike hangout and party zone, the Sagebrush Cantina in beautiful downtown Calabasas, California. Featured are top Celebrity Custom Bike Builders, the Calendar Bike Building Championship & Concourse d' Elegance, selected Vendors and Exhibitors, and Calendar Girl Music live performances. The Calendar Motorcycle Show is also a benefit for the American Cancer Society with a portion of each Admission Ticket being donated to help those people who are fighting cancer, and to help find a cure.
The Calendar Motorcycle Show features many of the world's top Pro and Amateur custom street bike builders in attendance with their newest 2-wheeled creations of rolling art to compete in the Calendar Show Bike Building Championship for cash and awards including the coveted Best of Show Trophy. The Calendar Show provides a broad focus for all motorcycle enthusiasts including the growing Collector Bike Market with Exhibitors and Bike Show classes for classic European, British and Japanese motorcycles, along with American V-Twins and Customs. Show Entries will be placed in a Concourse display on the Cantina's large outdoor event patio.
The annual Calendar Motorcycle Show always kicks off the world premier of next year's new 2016 FastDates.com Motorcycle PinUp Calendars featuring the world's top road race and custom motorcycles with the beautiful Calendar Kittens featured in the Calendars in attendance at the Show. Show Producer Jim Gianatsis will again be photographing the winning bikes to appear in the Motorcycle Magazines and the next FastDates.com Calendars.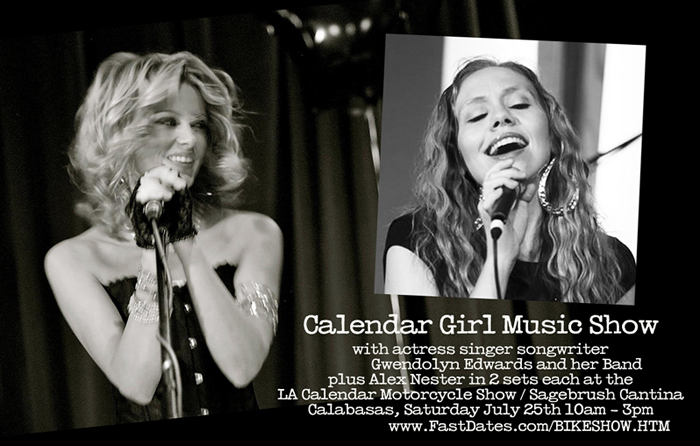 Included with admission is the Calendar Girl Music Show is an incredible day of live music featuring beautiful actress and singer songwriter Gwendolyn Edwards and her Band, and former American Idol contender Alex Nester, each performing two sets of a spicy mix of hot cover tunes and their own original songs. Like many we know impacted by cancer, Alex is a survivor and we are excited the Calendar Show will be helping others with a portion of our ticket sales going to the American Cancer Society. To find our more about their important work fighting cancer go to www.Cancer.org
Legendary Builders featured in the popular FastDates.com Iron & Lace Custom Motorcycle PinUp Calendars and expected to attend include Russell Mitchell / Exile Cycles, Richard Pollock / Mule Motorcycles, Ron Simms / Ron Simms Customs, Jim Giuffra & Spokesmodels / AFT Customs, Chris Redpath / MotoGPwerks, Shinya Kimura / Chabott Engineering, and Adrian Packet / Canyon Motorcycles.
Together with the Calendar Motorcycle's Show's display of exciting new Custom and Classic bikes, Celebrity Builders, and select Manufacturers, there will live performances by a talent female singer songwriters. And VIP Admission includes the Sagebrush Cantina's excellent Taco Plate Buffet with soft drinks, where you can custom design your Mexican lunch plate with a large selection of meats, sides, salads, chips and toppings. Full Bar service is also available. Because the Show is now in gated patio venue, spectator capacity is limited and advance online ticket purchase is recommended to assure your entry to the longest running and most exciting streetbike event on the West Coast.
The 2015 LA Calendar Motorcycle Show takes place on Saturday July 25th 10am-3pm at the Sagebrush Cantina, 23527 Calabasas Road, Calabasas, CA 91302. Motorcycle Parking is Free at the main entrance, with on site paid Car Parking also available. For additional information and to purchase tickets go to: www.FastDates.com/BIKESHOW.HTM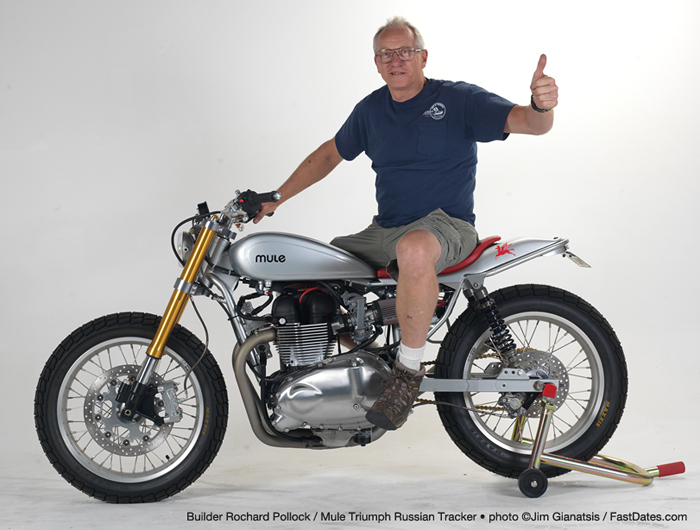 Richard Pollock / Mule Motorcycles to Be Honored at The 2015 Show!
The 2015 LA Calendar Motorcycle Show on Saturday July 25th will pay special tribute this year to Richard Pollock / MuleMotorcycles.net as one of our favorite and most successful FastDates.com Calendar Bike Builders over the last 25 years. You'll certainly want to join us as we honor Richard and he premiers his newest Streetracker build!
---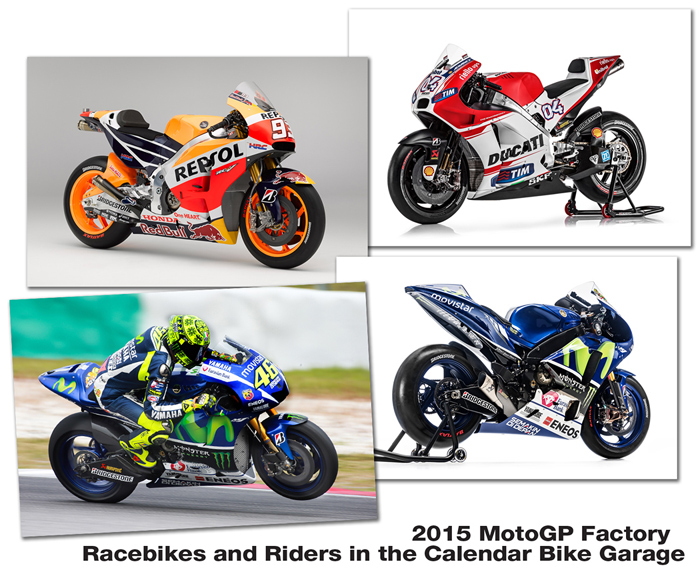 Calendar Bike Garage - Detailed MotoGP Bike Photos, Specs, Large Screen Savers
Calendar Photo Store - Calendar, MotoGP Bikes and Rider Photo Prints & Wall Displays
---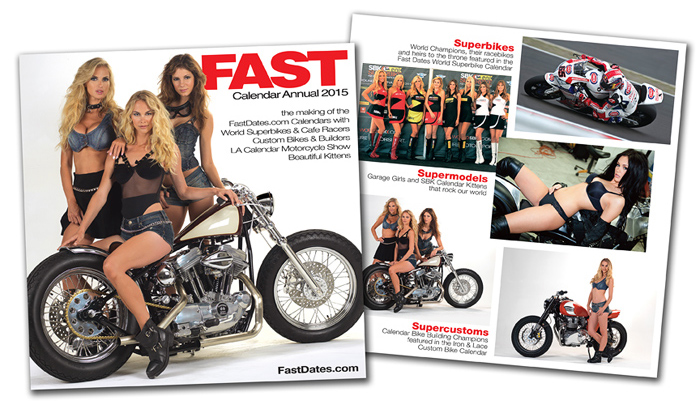 NEW! FAST 2015, 2014 Calendar Digital Yearbook
Go behind the scenes of the FastDates.com Calendar photo shoots at the SBK World Superbike races, the Los Angeles Calendar Motorcycle Show & Concourse d' Elegance, and inside the FastDates.com Studio of famed photographer Jim Gianatsis. Meet the official SBK World Superbike Calendar Kittens who also serve as the official SBK podium and grid girls, the top factory riders of World Superbike, and America's top custom bike builders. You'll find detailed editorial photo features on the Calendars' top Custom and Race bikes, and on the Calendar Kittens.
Did we forget anything? - Oh yes! The new FAST 2015 Calendar Yearbook Digital Edition features in high resolution every page in the new 2015 Fast Dates World Superbike, Iron & Lace Custom Bikes, Garage Girls and Cafe Racers Calendars featuring the world's top race and custom bikes and the beautiful Calendar Kittens!
Now in Members Corner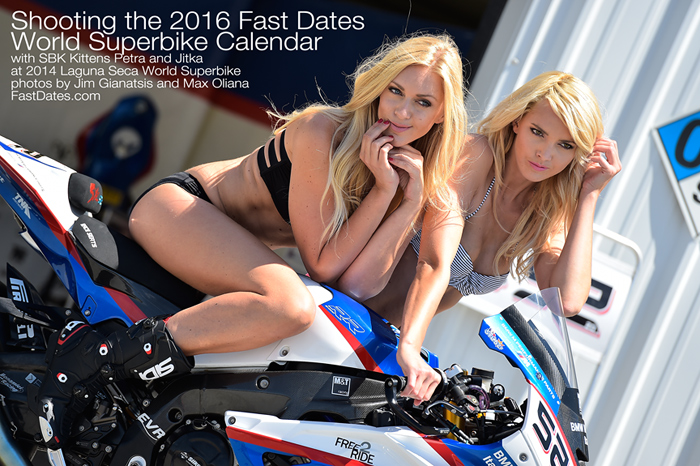 FastDates.com Calendar Kittens Petra and Jitka parade to the starting grid at Donington World Superbike this past weekend under the watchful lenses of photographers. The are featured in the new 2016 Calendars Available Here.

Below,all the Czech models working for SBK at Donington, visit downtown London, with Jitka taking the picture.


---
There's More! Go to Pit Lane News Previous Week

Also Visit: Fast Dates Calendar News • Iron & Lace Calendar News
Calendar Girl News • Meet the Models • Paddock Garage
Get FastDates.com T-Shirts, Mugs & Photographs from Our Store





MEMBERS CORNER! Calendar Kittens, Paddock Garage, Iron & Lace Garage




Amazon.com Motorcycle Products & Apparel Store



MotorcycleSuperstore.com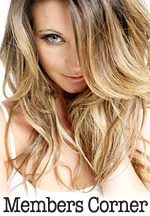 Hot Bikes, Sexy Kittens
Your Exclusive Grid Pass
also includes....
---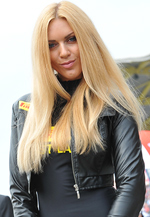 2014 SBK Race Season
Meet the offical SBK
World Superbike Girls!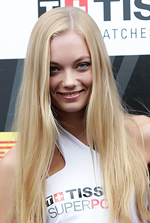 2013 SBK Race Season
Order the New
2014 / 2015 Calendars!
with the FastDates.com Calendar Kittens - the official SBK Umbrella Girls!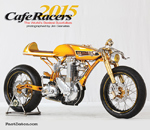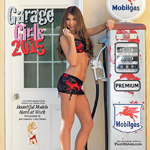 Click Below for more
2015 Calendars!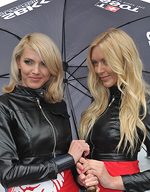 Meet FastDates.com
Calendar Kittens
SBK Grid Girls
Jitunka & Petra!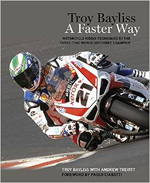 New! Troy Bayliss
A Faster Way
Track Riding Book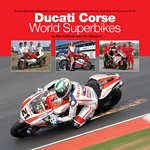 Retail $49.95 ea.
Click to Order from Amazon.com

Ducati Corse
World Superbikes
by Alan Cathcart
& Jim Gianatsis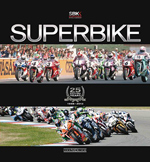 The Official SBK
World Superbikes
1987-2012
25 Year History Book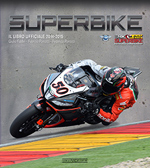 The Official SBK
2014-2015 Yearbook
These SBK Yearbooks are the Best Books Ever about World Superbike. They feature awesome color photography of the riders, bike and racing action. The feature a detailed revue of the past season in pictures and statistics, with a detailed look at the bikes and riders.

Plus a technical look data all the bikes, a preview of the upcoming season's Championship!
We buy this every year ourselves and highly recommend it!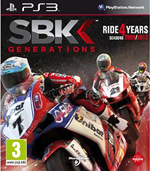 SBK World Superbike Video Game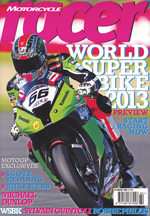 Official Print Media Partner
---
LEON HASLAM GRITS HIS TEETH AND TAKES A DOUBLE FOURTH PLACE, HOLDING ONTO 2nd PLACE IN THE RIDER STANDINGS
GREAT COMEBACK IN BOTH RACES FOR JORDI TORRES
SUPERSTOCK 1000: APRILIA AND SAVADORI DOMINATE THE CHAMPIONSHIP, THIRD WIN IN A ROW
Donington, 24 May 2015 – The much feared rain never arrived to shuffle the deck, but Donington was the setting of an exciting World Superbike round anyway.
On his Aprilia RSV4 Leon Haslam got off the line well from the second row in both starts, demonstrating grit and determination despite the pain from his injury at Imola. Joining the pack of British riders who monopolised the top spots, Leon kept a good pace until about the mid race point when he was forced to give in to fatigue.
Despite the difficulties, the tough British rider valiantly defended two fourth place finishes which earned important points for him and gave the Aprilia Racing – Red Devils team yet another useful result. Haslam holds onto second place in the overall rider standings and fully intends to be a key player in the coming races which are more favourable to the characteristics of his RSV4 RF.
Leon Haslam: "I'm fairly pleased with the results today considering my conditions. Obviously I would have liked to have been on the podium for my fans, but I think that in the end two fourth places are the most we could have aimed for. I started well in both races and then I started feeling the fatigue. In spite of it all, even here we showed that we are in the game. I'm looking forward to some tracks that are more favourable for us so I can perform at my best. Now we'll start thinking about Portimão, a track which should cater well to my RSV4."
The best Superbike 2015 rookie, Spaniard Jordi Torres, started from the fifth row of the grid but in the two races he managed to gain positions as soon as the red lights went off, continuing his comeback throughout. Overtaking often on an unfamiliar track for him and against decidedly tough adversaries, Jordi finished the two races in seventh place. This is a double result which, after analysing the weekend, leaves the Spanish rider quite satisfied.
Jordi Torres: "The truth is that I'm pleased with these two seventh places. I started from way back but I fought in both races, bringing home important points on a difficult track. We knew that it would be hard here. The English riders are doing very well and they are on their home pitch at Donington, but we managed to improve in each session. This is a strange track because it brings out both our strong points and our weaknesses, so finding an optimum setup for the RSV4 wasn't a simple thing. Portimão will also be a new track for me, but since it is more uniform and smooth I think it might make life easier."
SUPERSTOCK 1000: APRILIA AND SAVADORI DOMINATE THE CHAMPIONSHIP
Third win in a row for the Aprilia RSV4 RF and Lorenzo Savadori in the Superstock 1000 FIM Cup. The Nuova M2 Racing Team Italian duo dominated the race from the first lap, finishing the 15 laps with a gap of almost 3 seconds ahead of the closest contender. Kevin Calia also performed well, finishing seventh at the chequered flag.
Thanks to today's win Savadori strengthens his leadership in the rider standings, with Aprilia leading the manufacturers.
Double podium for Davies and the Aruba.it Racing - Ducati Superbike Team today at Donington Park
Donington Park (UK), Sunday 24 May 2015 – a well-deserved double podium for Chaz Davies and the Aruba.it Racing - Ducati Superbike Team at the Donington Park circuit in the UK today; racing at his home round, Davies crossed the line third in both of the day's races. A more difficult day for Davide Giugliano, who was seventeenth and fifth across the line.

Race 1 –cold but dry conditions for this first race of the day. Chaz, sixth on the grid, was strong off the line and lying fourth through the opening laps, behind Haslam, in third, and the two Kawasakis. Lapping with similar pace to Haslam, Welshman Davies was able to pass him on the sixteenth lap to move into third place, a position that he then held to the line, powering his Panigale R to a strong podium finish.
From the front row of the grid, Giugliano positioned fifth through the early stages of the race. Unfortunately, on lap nine, a rear tyre problem forced him to return to the pitlane where his technicians put in a new tyre. The Italian then rejoined the race but was only able to do so much from last position and despite his best efforts, with too much time to make back up, Davide crossed the line in eventual seventeenth place.

Race 2 – in the opening stages, Davide was lapping third while Chaz was lying fifth behind Lowes. After some swapping of positions, at the mid-race point the two factory Ducatis were in fourth (Chaz) and fifth (Davide), with both riders chasing down Haslam and Rea just up ahead. Davies got past Haslam on lap seventeen and, able to manage the final phase of the race effectively, concluded the race in third position once more. Giugliano battled with Haslam in the final stages of the race, crossing the line in final fifth place.

Six rounds in to the 2015 championship and Davies retains fourth place in the overall standings, with 155 points, while Giugliano positions fourteenth, having earned 40 points. Ducati, thanks to today's double podium, moves up to second in the manufacturer's standings with 196 points.

Chaz Davies (Aruba.it Racing - Ducati Superbike Team #7) – 3rd, 3rd
"I'm really pleased with today's results. The weekend wasn't easy but we worked hard and to finish both races on the podium here is very positive. Today we simply weren't on the same level as the Kawasakis and doing any better than third was difficult. In race two I didn't have much grip and also had a small problem off the line that fortunately sorted itself out right away. Let's say I've done all I could here today and we can only be happy, especially considering the fact that this has always been something of a bogey track for me. Thanks to my whole team for their great work this weekend and now we'll focus on the next races in which I hope we can score some more strong results."

Davide Giugliano (Aruba.it Racing - Ducati Superbike Team #34) – 17th, 5th
"Of course I'm very disappointed with the race 1 result. I was really struggling with the grip and so decided to come into the pitlane and get the rear tyre changed. Doing this meant I lost too much ground and there was no way to catch up once back on track, but at least we understood what the problem was. In race 2, I was hopeful that I'd be able to do better but from mid-race the grip dropped off and I was unable to ride as I wanted to. A pity because I was sure we had everything set to be able to complete two strong races here at Donington."

Serafino Foti – Team Manager
"All in all, today has been a positive day, in that Chaz has completed two strong races. To reach the podium in both shows stability and the continuous growth of the package. Today, in reality, the Kawasakis, and especially Sykes, had something extra. Davide, having put in a good qualifying performance, was unlucky in the races, but he nevertheless make a good second race, fighting for a podium place until a few laps from the end. We need to be prepared for the upcoming Portimao round and so the work will continue, strengthened by our experience here this weekend."

MV Agusta F3 800cc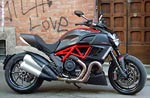 The Devil Made Us Do It!
Testing the Ducati Diavel in Italy
Sudco Carburetor Kits & OEM Replacement Parts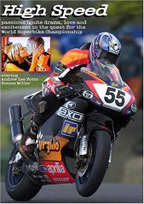 High Speed - the Movie
The best motorcycle racing movie ever made! Filmed on location at the World Superbike races , this an exciting romantic drama staring beautiful British actress Sienna Miller.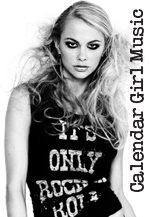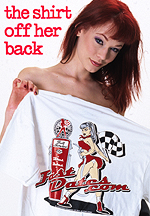 Order the Official
FastDates.com &
LA Calendar Bike Show
T-Shirts!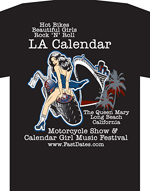 3-Time SBK World Superbike Champion
Troy Bayliss
to race AMA Dirt Track
This Season
DAYTONA BEACH, Fla. (April 21, 2015) - Troy Bayliss, the Australian road racing superstar and winner of three World Superbike titles, is coming to the USA to compete in the most iconic and historic form of American motorcycle racing.

Bayliss will run five events on the AMA Pro Flat Track schedule, putting him in the field against the best dirt track racers in the world. He is set to make his debut on a Lloyd Brothers Motorsports Ducati May 24 at the legendary Springfield Mile in Springfield, Ill., and will run the four remaining Mile events on the 2015 schedule.

"Having Troy Bayliss race with AMA Pro Flat Track, at some of our most storied venues, really multiplies the excitement and positive momentum we have as a sport right now," said Michael Gentry, Chief Operating Officer of AMA Pro Racing. "With his own exhibition race, as well as the Superprestigio and with his impressive resume with World Superbike, British Superbike and MotoGP, Troy is one of the motorcycle racing greats. Seeing him on American dirt is a mouth-watering prospect for USA race fans. We are looking forward to the excitement created by his presence in our paddock. A lot of work went into making this a reality and we are thankful to David and Michael Lloyd of Lloyd Brothers Motorsports, Jim Dillard, Vicki Smith and Ducati North America for their vision, support and participation."

Top road racers have long used dirt track as a training regimen, but Bayliss has taken it to a new level since his retirement from full-time competition in 2008. For the last three years, he's successfully promoted the Troy Bayliss Classic flat track exhibition in Australia, an event that has attracted top AMA Pro Flat Track riders such as current Grand National Champion Jared Mees, Sammy Halbert and Henry Wiles.

Following the Springfield Mile, Bayliss is scheduled to race the Sacramento Mile on May 30. July 4 and 11, he'll run the Du Quoin Mile and Indy Mile, respectively, before finishing with the second running of the Springfield Mile Sept. 6.

"Dirt and flat track racing are where I cut my teeth as a junior. Everything I have learned on the dirt helped me through my career in road racing and to find myself back where it all started makes me feel young again," said Bayliss. "To race the Grand Nationals will be a challenge, but to compete with Lloyd Brothers Motorsports on the Ducati had to be done. Flat track is on the up here in Australia. We have run the Troy Bayliss Classic for the past three years and mixing it up with Henry Wiles, Jared Mees and Sammy Halbert has been great. I really look forward to my time in the US of A."

Bayliss, 46, recorded 94 podium finishes in 152 World Superbike starts, including 52 victories. He recorded his only MotoGP victory as a wildcard entrant in 2006, filling in for the injured Factory Ducati rider, Sete Gibernau, in Valencia, Spain. His decorated resume also includes a British Superbike Championship, which he won in 1999.

Next up, the stars of AMA Pro Flat Track will visit Springfield, Ill., for the first Springfield Mile on May 24, 2015. Fans can get their tickets by calling (217) 753-8866. The entire event can also be viewed live and in high definition at www.FansChoice.tv.