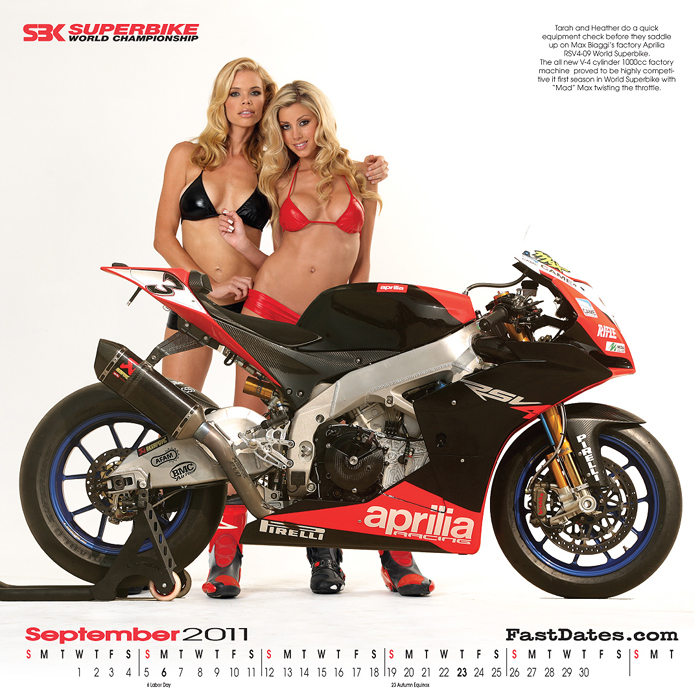 September - October 2011 Fast Dates Calendar News
This Month in the Fast Dates World Superbike Calendar ...
World Premier of the new 2012 SBK Fast Dates World Superbike Calendar
Calendar Kitten Tarah Tobiason and Playboy Playmate Heather Rae Young rock our world
with Max Biaggi's 2010 World Superbike Championship Aprilia RSV4
Order the 2012 Fast Dates Calendar • Screensavers in Members Corner
---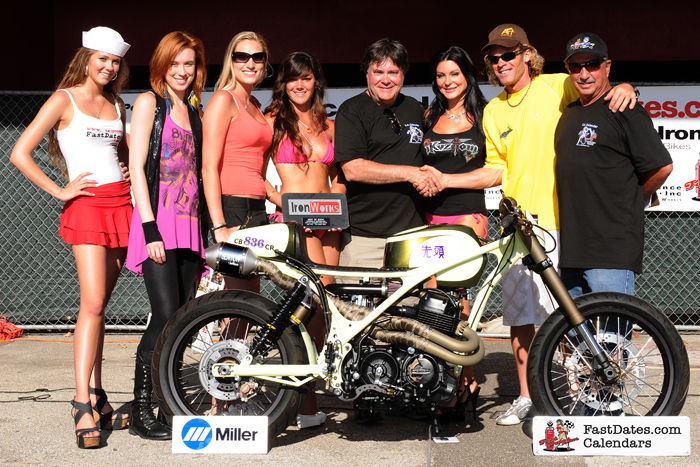 AFT Customs wins our LA Calendar Motorcycle Best of Show - again!
The Queen Mary, Long Beach , CA, July 16th, 2011 - Thanks to everyone who came to our 20th annual LA Calendar Show on Saturday the 16th - we had some really incredible people, music and custom bikes and a great day. Congratulations to Jim Giuffra and the spokesmodels at AFT Customs for now taking wins 5 years in a row and taking Best of Show with classic a 1970s classic Honda CB 750 named Sentoh! All the winning bikes were photographed the day after the Calendar Show for the next 2013 FastDates.com Calendars with beautiful supermodel Shannon Baucom, below left, and our World superbike girl Camilla Chiniquy, below right.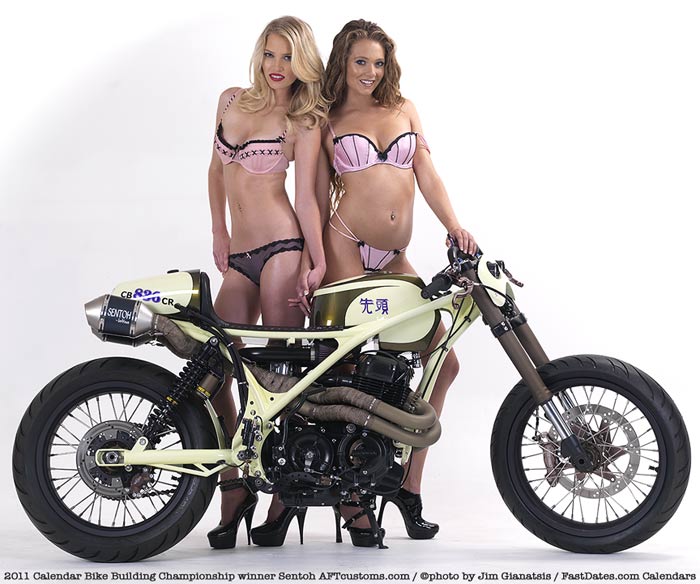 The Complete Show Story w/ Photos HERE • See more of Sentoh in the Calendar Bike Gallery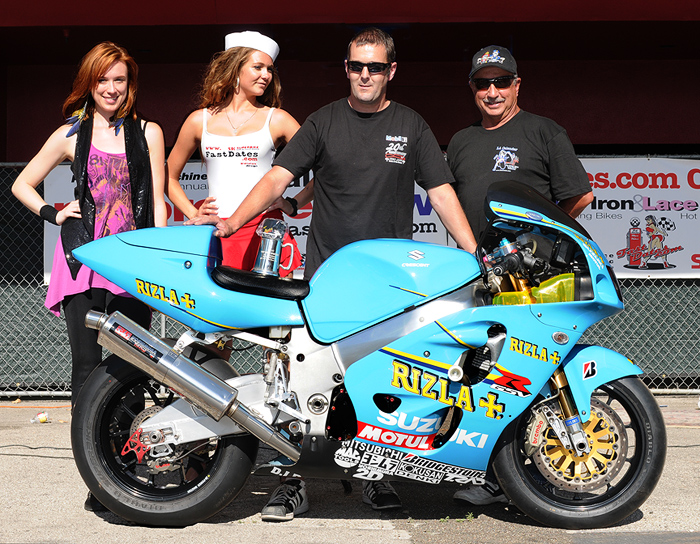 Chris Redpath at MotoGPwerks.com took 1st Place Sportbike for the 2nd year in a row, this time with a Suzuki GSXR1000 retro moded as a tribute to the Rizla Suzuki MotoGP race bikes. With Chis is Show hostess and singer Emily Jaye, Our FastDates.com Calendar Kitten Camilla Chiniquy from Miller USA World Superbike, Utah, who flew down to do more photo shoots with the winning Show Bikes for the next 2013 Calendars, and Show assistant Lee Chapin.
---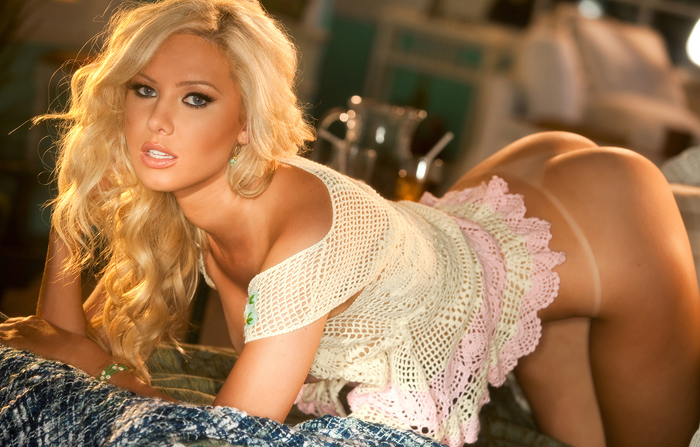 Calendar Kitten Tiffany Toth is newest Playboy Playmate for September 2011!
August 20th, 2011 - Fast Dates.com Calendar Kitten Tiffany Toth is Playboy magazine's newest Playmate for September 2011 as revealed in the latest issue of Playboy on newsstands now and on the Playboy.com website. FastDates.com pubkisher Jim Gianatsis discovered Tiffany and start shooting with her some 5 years ago and she has appeared in all our Calendars since the 2008 through to the latest 2012 editions. Tiffany now joins a long list of Calendar Kittens who have gone on to become, or have been Playboy Playmates beginning with legendary Pamela Anderson on the cover of our first Fast Dates Calendar in 1991.

Order Tiffany's 2012 Iron & Lace and Garage Girls Calendars. Order PAST EDITION CALENDARS
Tiffany's FastDates.com Calendars and Pictorials in Members Corner
Tiffany is a native of Orange County, just south of Los Angeles, and of course loves hanging out at the beach. The 25 years old has been modeling professionally since leaving high school, and now also works as a professional makeup artist and stylist. "I've always wanted to be in Playboy. Ever since I can remember, I've had this fascination with Playboy. I collected the magazine and idolized the Playmates. I even imitated their hair and makeup. And now here I am! Everything is exactly as I imagined it."

It the four years that FastDates.com has been shooting with Tiffany, she's appeared with some pretty cool bikes including the limited-edition Ducati Testastretta Tri-Colore in 2009 Fast Dates, and some cool old retro customs from legendary builder Shinya Kimura in 2009 Iron & Lace. In the just released new 2012 Calendars Tiffany is featured in both Iron & Lace and Garage Girls - so get your order in now as they will sell out fast!

Actually, when we first meet Tiffany four year ago she was already shooting for Playboy, only it was for their website as one of their Cyber Girls. People always asked her, ourselves included, when is Playboy going to realize what they have an make you a Playmate? We're guessing Hugh Hefner finally noticed her at a Mansion party and did make it happen. Congratulations Tiffany, we love you!

CLICK RIGHT to visit
Tiffany's Calendar Kitten profile page.
You can check out more sexy pictorials of our Calendar Kitten Tiffany in Members Corner.
And you can see extra pictures from Tiffany's Playboy magazine centerofl shoot on the Playboy.com website:
See Tiffany and any of our Calendar Kittens on Playboy's website...


---

Our newest Calendar Kittens, college co-eds Camilla Hahn Chiniquy (brunette) and Taylor Gunnin (blond) standing in the pouring rain, help warm up Carlos Checa's Althea Ducati for Monday's Memorial Day World Superbike race. It must have helped as Carlos would go on to post double race win on this bike.
SBK World Superbike Championship, Round 5 of 10, Miller USA
Our 2011 Miller USA Fast Dates World Superbike Calendar Shoot by Jim Gianatsis
Miller Motorsports Park, Tooele, Utah, USA), Memorial Day Weekend May 28-30th 2011 – FastDates.com was again excited to attend the Miller Motorsports Park USA round of the World Superbike Championship this year to cover the exciting race weekend and photograph the next edition of the official SBK Fast Dates World Superbike Calendar. I had just found Taylor a few months earlier through one of my favorite local model agencies, Brand Model and Talent, and booked her then to be sure I'd have her confirmed for the trip to Salt Lake City, Utah, and the Miller WSBK race weekend.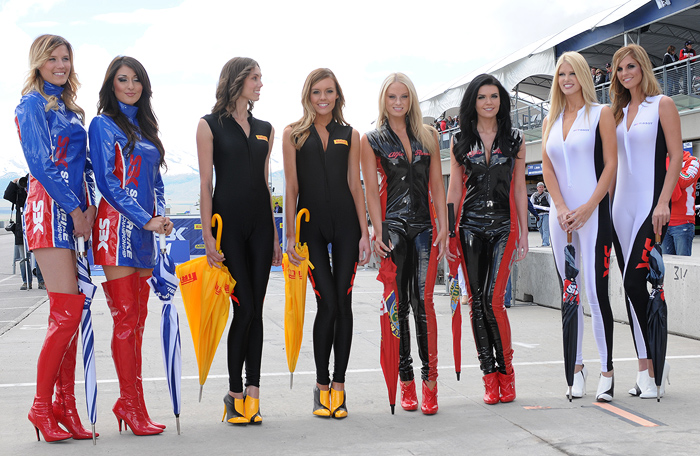 Now hard at work, the beautiful Miller USA World Superbike grid girls provided by Umbrella Girls USA included our own Fast Dates Calendar Kitten Taylor Gunnin, 5th from left. How tall are these girls? Our Taylor is 5'8" and wearing 5-inch heels. The two SBK girls on the right in White suits are 6'2" in their bare feet! We're thinking of starting our own SBK Fast Dates Women's Volleyball team.
MORE MILLER WSBK and AMA RACE COVERAGE HERE.
---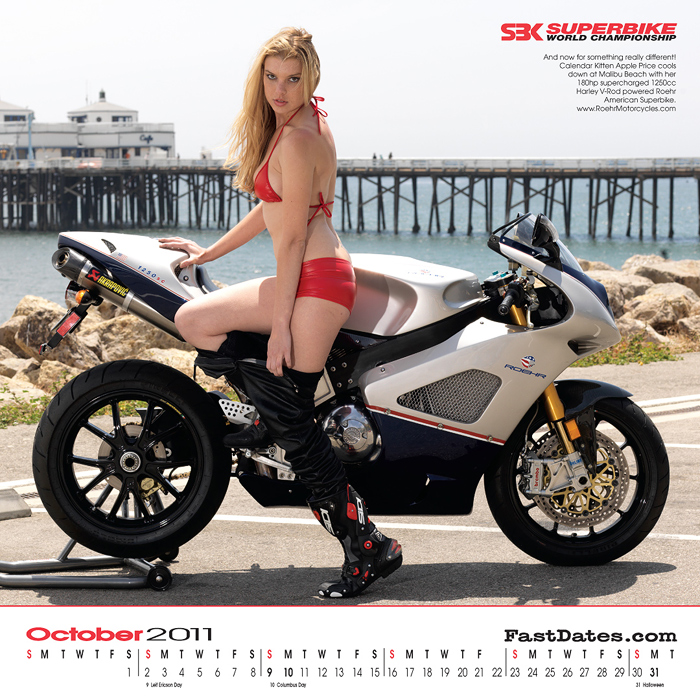 This Month in the Fast Dates World Superbike Calendar ....
World Superbike Calendar Kitten Apple Price at the Malibu Beach Pier with the
Roehr Superbike powered by a Harley-Davidson V-Rod Engine.
Order the 2011 Fast Dates Calendar • Screensavers in Members Corner
---
There's more! Go to Fast Dates Calendar News NEXT PAGE

Hot Calendar Girl and Bike News! Go to: Fast Dates • Garage Girls • Iron & Lace

Click to see even more of our sexy Fast Dates Calendar Kittens...


And visit these great Fast Dates recommended partner websites...
Some of our Calendar Kittens can also at Playboy's website...

FREE! New Met-Art Model Galley Updated Daily - Stop Back Each Day






MotorcycleSuperstore.com