Calendar of the World Superbike Championship
Home of the Official SBK Fast Dates Calendar Kittens

September 2016 Page 2
Edelweiss Paris to Omaha Tour with
SBK Fast Dates Calendar Kitten Kaustin
Misano & Silverstone MotoGPs
2016 LA Calendar Motorcycle Show Winner!

New 2016 Harley XG750R Dirt Tracker
Preview! - 2016 LA Calendar Motorcycle Show

Previous Week - More: Pit Lane News
New Model Sportbikes • Editorial Features: Pit Board

• Edelweiss Bike Trip Paris to Omaha Beach with Kaustin
• Fast Dates Calednar Shoot Laguna Seca 2016
• 2016 LA Calendar Motorcycle Show Coverage
• 2016 Laguna Seca USA World Superbike Coverage
• 2016 Missano SBK World Superbike
• 2016 SBK World Superbike Season Opener Phillip Island
• SBK Superbike 2016 Media Guide - The Bikes, The Riders
• 2015-2016 IMS International Motorcycle Shows
• 2016 Suzuki GSXR1000
• 2016 Ducati New Models
• 2016 MV Agusta 1000cc FV RC Homologation Superbike
• Jorge Lorenzo - MotoGP World Champion Biography
• Jonathan Rae - 2016 SBK World Superbike Champion
• New 2016 Kawasaki ZX10 - New Bike for the SBK Champ
• New 2016 Triumph Bonnevilles - More Watercooled Power
• 2015 MotoGP Valencia Season Finale - Lorenzo Crowned
• 2015 SBK World Superbike Qatar Season Final & Standings
• Meet 2015 SBK World Superbike Champ Jonthan Rea
• 2015 MotoAmerica Superbike Season Finale
• 2015 LA Calendar Motorcycle Show - Complere Coverage
• Fast Dates SBK Calendar Kittens at Laguna Seca 2015
• Laguna Seca SBK World and AMA Superbike
• Ducati 1199R15 FastDates Review, Seup and Test
• Honda RC213V Moto GP Streetbike Replica goes on sale
• Victory Motorcycles Buys Brammo Electic - Races Isle of Man
• Corsa Motoclassica 2015 Willow Springs Racway
• Polais Slingshot 3-Wheeler - Is it a Motorcycle or a Car?
• MotoAmerica Group Takes Over AMA Pro Roadracing
• Fast Dates Edelweiss Tour of the Pyreness Spain & France!
• Fast Dates Shoot with Jitka & Petra at Laguna Seca WSBK
• Suzuki MotoGP Bike Preview and Test
• Meet the SBK World Superbike Girls! - Photo Pictorial
• Venice Vintage Motorcycle Rally
• FastDates.com Calendar Video Shoot - Kelsey and Jessica
• World Superbike 25 Years -Maurizio and Paolo Flammini
• Troy Bayliss Race Academy School Misano & Paris 2012!
• Ducati Corse World Superbike Book Cathcart & Gianatsis
• NCR / Poggopolini The Exotic Ducati Custom Bike Shop
• DRE Troy Bayliss Racing Academy - Exclusive at 180mph!
• John Britten Motorcycling's Most Creative Innovator
• High Speed World Superbike Movie with Sienna Miller


NEW! FAST 2017, 2016, 2015, 2014 ...
Digital Calendar Magazine Yearbooks
the Bikes, the Builders, the Riders, the Kittens,
the Calendar Bike Show, the World Superbike races
all the 2015 Calendar Pictures, and Special Features...
we take you around the world for the making of the
2015 FastDates.com Calendars
Now in Members Corner

2017 SBK Fast Dates Calendar Kittens
Sara, Helena and Alena on Location
at Lagunga Seca World Superbike &
The LA Calendar Motorcycle Show!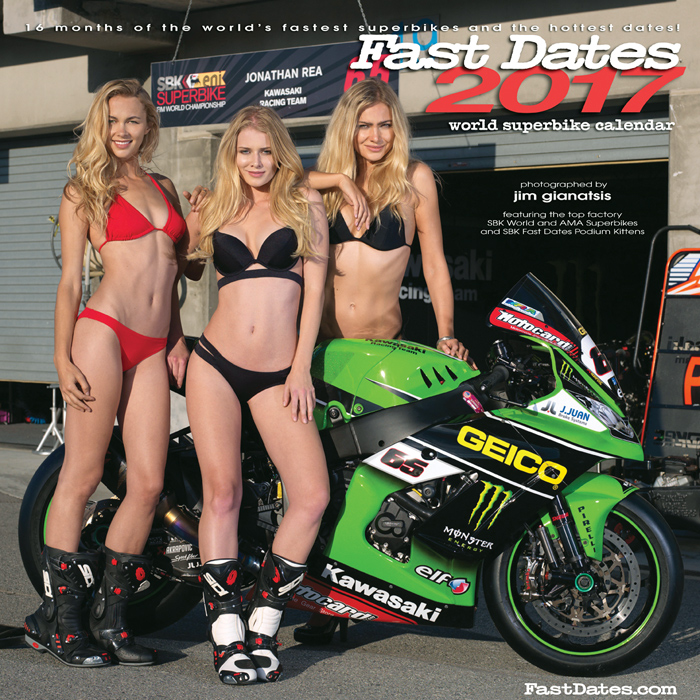 World Premier New 2017 Fast Dates Calendar!
Our official SBK Podiumand Grid Kittens Sara, Alena S and Alena P gets up close and personal with Jonthan Rea's 2015 SBK World Championship winning Motocard Kawasaki ZX10R at Laguna Seca USA World Superbike. FastDates.com Calendars are highest quality full color 15 x 15" wire spiral bound printed on heavy art stock revealing 16 months beginning with September.

Order the New 2016 and 2017 FastDates.com Calendars...
Click on the Calendar Picture Above or Here to Order

See More of the Bikes and Beautiful Calendar Kittens in -
Calendar Bike Garageand Members Corner and Meet the Models


This Month in the Fast Dates Calendar ...
Our Official SBK Podium Kittens Jitunka Pralinka gets up close and personal with Eugene Laverty's factory Cresent Suzuki World Superbike. FastDates.com Calendars are highest quality full color 15 x 15" wire spiral bound printed on heavy art stock revealing 16 months beginning with September.
Order the New Calendars HERE

See more of our beautiful Kittens and Calendar Bikes in the
Calendar Bike Garage and in Members Corner.
---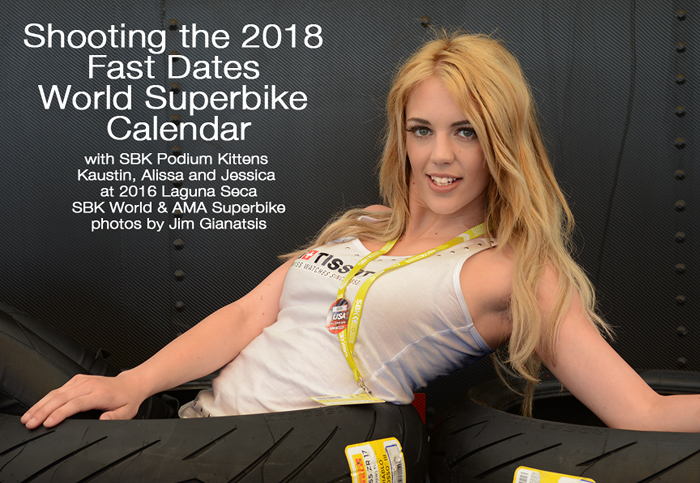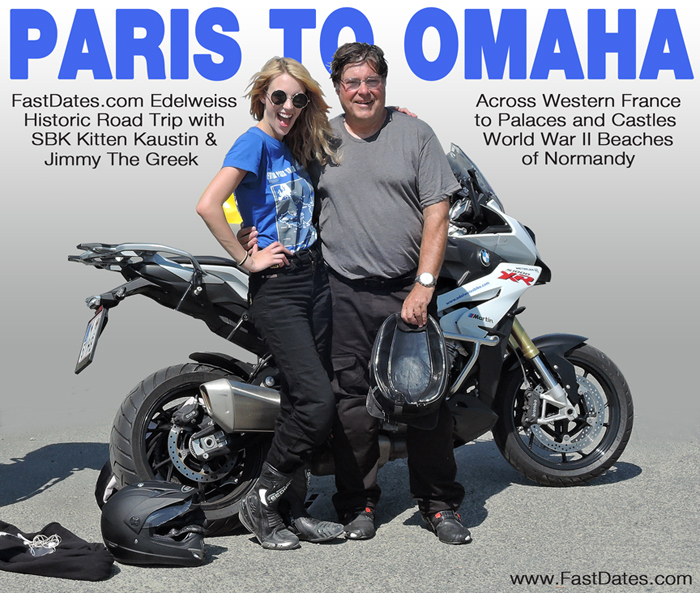 We're Back! Riding Edelweiss Motorcycle Tour - From Paris to Omaha, France
Versailles, France, August 2016 - How we spent our summer vacation! On the exciting Edelweiss Bike Travel 2016 Paris to Omaha Beach 10-day motorcycle tour across western France visiting the histroric battle sites of World War II where editor Jim Ginatsis father, B26 bomber pilot Capt. James Gianatsi played a pivital role in te D-say invasion and liberating France. We rode 2-up two-up with awesome FastDates.com SBK World Superbike Calendar Kitten Kaustin "Kaussie" Rose in a story for the FastDates.com Website. Our bike of choice would be the newly introduced BMW R 1000 XR Sport Tourer, based on the potent BMW R 1000 RR Superbike. For the Complete Story Click on the Photos or Check Out the Complete Story Here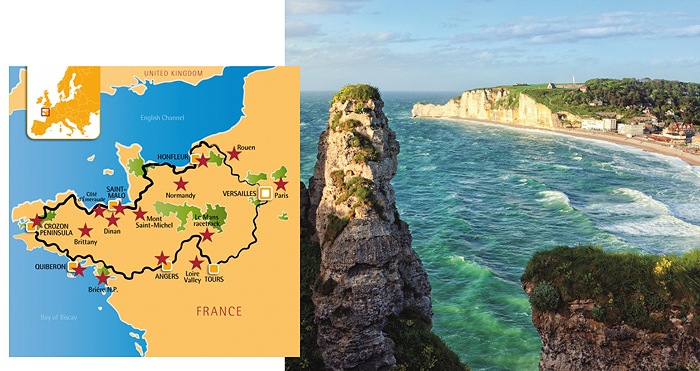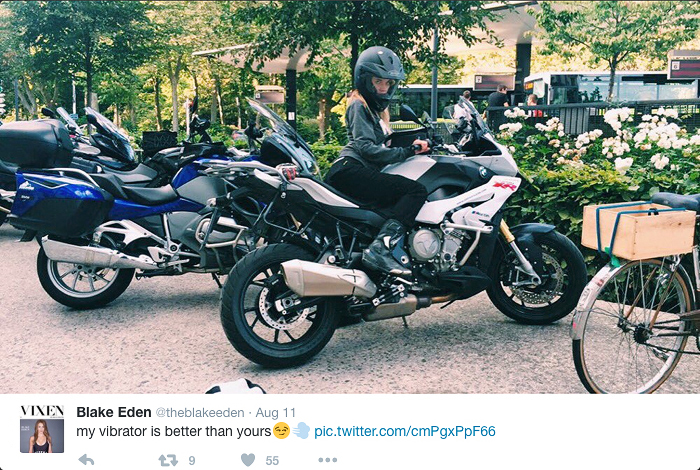 Kaustin Rose (aka Blake Eden) is from Phoenix, Arizona, and is a huge motorsports enthusiast. She grew up working in her father's business of buying, repairing and selling cars and motorcycles. Having motorcycles parked in the house was just part of the norm for her, and she was always rebuilding car motors with her dad. Caustin rode a KTM dirt bike in the desert, and got heavily into building up and driving cars in Drifting competition. But after destroying her Nissan drift car into a wall, and then her new 2012 BMW M3, she tell us she's taking a break from owning cars for a while to "settle down".

Kaustin moved to Los Angeles just a year ago to get into glamour and fashion modeling. Her credits include magazine covers like Penthouse March 2016.

Kaustin's exciting and busy first month of FastDates.com Calendar shoots began with the drive from Los Angeles up Pacific Coast on Highway 1 to Monterrey for the 2016 Laguna Seca USA World SBK & AMA Superbike round July 8-10th to shoot the Fast Dates World Superbike Calendar and will join other Umbrella Girls USA models to serve as official SBK Podium and Gird Girls at Mazda Raceway Laguna Seca.

Following the Laguna Seca Superbike weekend, Kaustin returned to Los Angeles for the the Saturday July 23rd LA Calendar Motorcycle Show to help premier the new 2017 FastDates.com Calendars and help with the Calendar Bike Building Championship awards. Then the following day she was at photographer Jim Gianatsis home studio to shoot with all the the top custom motorcycles from the Show for the next 2018 Iron & Lace Custom Motorcycle Calendar - http://www.FastDates.com/BIKESHOW.HTM
For complete Pricing, Bikes, and Booking Information visit the Edelweiss Website Here



---


From the left: Builder Hirokai Takai, Calendar Show producer Jim Gianatsis, Calendar Kitten Kaustin Rose, Best of Show winner Yuichiti Yoshizkwa, Kittens Alissa Bourne and Daria Dali.

We Have a Winner!
Yuichiti Yoshizkwa takes 2016 LA Calendar Motorcycle Best of Show
Calabasas, CA, July 23rd, 2016 - Yuichiti Yoshizkwa / Custom Works Zou, flew his bike in from Japan to take Best of Show at the 2016 LA Calendar Motorcycle Show. This was the 5th year in a row that Asian Builders had claimed the top spot at America's premier custom motorcyce show with their unique had craft builds. Yuichiti's Cafe Racer themed bike features a front swingarm suspension with its Amrican V-Twin replica Shovel Head fed by a exhaust driver turbocharger!

Complete coverage if this year's 2016 LA Calendar Motocycle Show HERE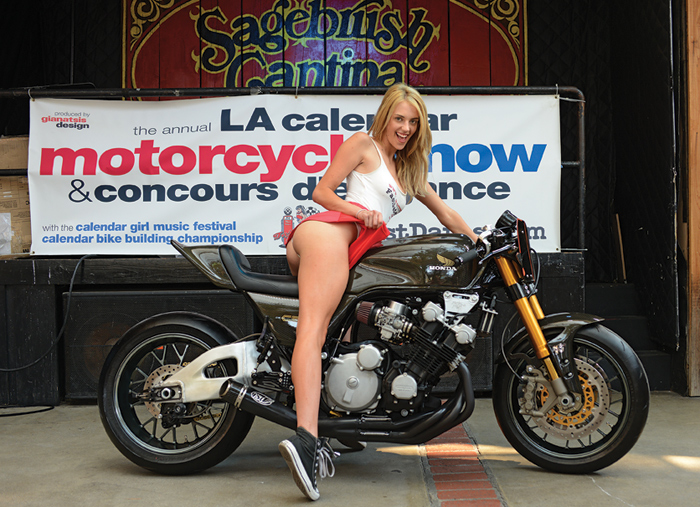 World Superbike Calendar Kitten Kaustin throws a leg over Nick Kane's class winning Honda CBX 1100 Cafe Racer.

---
Pedrosa stuffs and bumbs his way inside Rossi to take over the race lead adn the win.

FIM 2016 MotoGP World Championhip, Round 13 of 18 ,GP TIM di San Marino e della Riviera di Rimini
San Marino, Italy, Sunday September 11th, 2016 - History can be an easy thing to remake when the cards fall right. In 2016, MotoGP™ has now rewritten it - but it's been nothing but easy for those who have penned their own chapters in the season that has now seen the most different winners in a single year since the dawn of the world championship in 1949. Chapter eight was written at Misano World Circuit Marco Simoncelli and it was Repsol Honda rider Dani Pedrosa holding the pen.

Pedrosa took his 29th premier class win and 103rd podium at the Italian track as he fought back up from a tough qualifying position on the third row, and in doing so kept his fantastic record of a race win in every year of his MotoGP™ career in tact. After a tough season and then a corner turned at the post-race test in Brno, the 'Baby Samurai' returned to the top step in spectacular style, taking first teammate Marc Marquez, then the Movistar Yamahas of Jorge Lorenzo and Valentino Rossi as he charged for the flag and crossed the line with a healthy margin - unstoppable and uncatchable in his race rhythm.


Lorenzo got the jump from pole, leading the field into Turn 1 as the Mallorcan so often does, with front row starters Rossi and Maverick Viñales (Team Suzuki Ecstar) going head-to-head for P2 and the Italian coming out on top. Pedrosa got an incredible start from P8 to move him up into the front group, joining Viñales, Andrea Dovizioso (Ducati Team) and Marc Marquez (Repsol Honda Team) in the squabble for P3.
Rossi soon struck back to sit up teammate Lorenzo at the final corner and push the reigning champion wide, taking the lead and leaving Lorenzo and Marquez to chase him down - with Pedrosa the fastest man on track and setting a new lap record. Making a move against his teammate look easy and getting down into the 1:32s, Pedrosa was on the charge.
Setting his sights on Lorenzo and slicing through, the number 26 fixed his crosshairs on the race leader in Rossi's backyard before passing the Italian with an aggressive move to sit him up and concentrating on making a gap at the front.
Untouchable and back with a bang, the incredible ride through from P8 was completed as the 'Baby Samurai' shook off a helpless Rossi to cross the line with a healthy margin, as history continues to be made with the eighth different winner in 2016.
Marquez suffered a tough race to head over the line in P4, but retains a healthy 43 point lead in the title as the paddock head back to Spanish soil. Viñales completed the top five, beating home rider Dovizioso and temporary teammate Michele Pirro (Ducati Team) to the honour. Cal Crutchlow (LCR Honda) had a solid ride to cross the line P8 ahead of Monster Yamaha Tech 3 rider Pol Espargaro, and it was a fantastic showing from Alvaro Bautista in Aprilia Racing Team Gresini's home race as the Spaniard completed the top ten.

MotorLand Aragon now awaits: no longer enemy territory for Pedrosa, Marquez or Lorenzo as the flyways approach - and the season finale in Valencia gets ever closer.
Dani Pedrosa. 1st - "It was a great race, and it has been a long time since I've had these feelings. Even I was surprised by the performance I put in today because I hadn't expected to go so fast; we were fantastic. The key was the pace; I was able to fight my way through, especially in the final part, and being consistent allowed me to catch the riders at the front. It's very nice for me to take a victory again, after all the effort made by those who have been with me in this challenging season so far: my family, my team and my fans. It has been very difficult, so I'm very happy for all of them. Today I enjoyed myself, although I was a little worried about the choice of front tyre because I hadn't used it in hot conditions. In the end we were focused and everything went very well; it was an opportunity we had to take advantage of, and I think we achieved a great victory."
MotoGP Race Results - Complete Results Here
1- Dani Pedrosa (SPA) HONDA 43'43.524
2 - Valentino Rossi (ITA) YAMAHA +2.837
3 - Jorge Lorenzo (SPA) YAMAHA +9.569
Missano was packed with some 100,000 race fans, most of them dressed in Yellow to cheer on their hero Valentini. Their hero salutd them back from the podium by drinking his champaigne from his boot!


---
FIM 2016 MotoGP World Championhip, Round 12 of 18, Octo British Grand Prix
Silverstone, Great Britain, Sunday, 04th September 2016 - Maverick Viñales (Team Suzuki Ecstar) has taken a historic first win for Suzuki since their return to the championship, as the 2013 Moto3™ world champion was in a class of his own at the Octo British Grand Prix to become the seventh winner so far in 2016. Viñales, who got his first podium in Le Mans in the French GP, got a front row start and simply pulled away once away in the lead - putting in an incredible performance to cross the line 3.4 seconds clear. After an almighty battle behind, it was home hero and pole sitter Cal Crutchlow (LCR Honda) and Valentino Rossi (Movistar Yamaha MotoGP) who completed the podium. It was a fitting race for Rossi's 20th start in the premier class, as he became the first rider to hit the milestone.

There was Lap 1 drama as the Octo British Grand Prix got underway, with rain threatening the grid and bike swaps practiced in morning Warm Up. With the initial lights out it was Viñales at the front, before an incident between Loris Baz (Avintia Racing) and Pol Espargaro (Monster Yamaha tech 3) brought out the red flag and the two riders went to the medical center. On the restart, the front row of the grid of Crutchlow, Rossi and Viñales fought for the lead, with Crutchlow taking the position early before Viñales got through to pull away.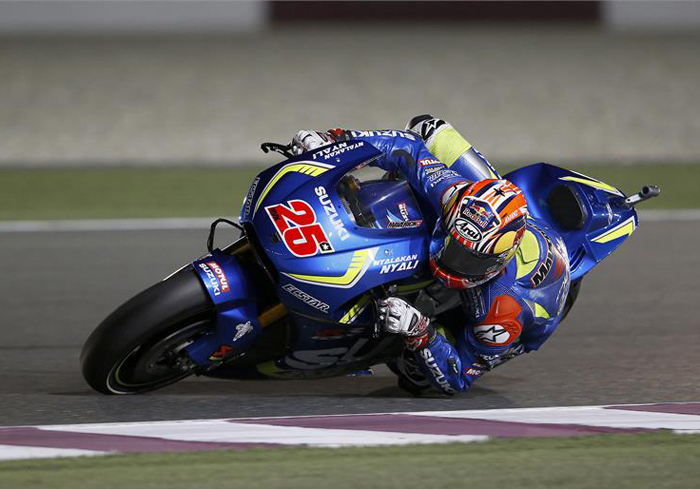 With Viñales away at the front, Marc Marquez (Repsol Honda Team) led a five bike train of Rossi, Crutchlow, Andrea Iannone (Ducati Team) and Marquez' teammate Dani Pedrosa in the chase, with reigning champion Jorge Lorenzo (Movistar Yamaha MotoGP) having a difficult race as he circulated in P8 despite his stunning record at the British venue. With Rossi then taking over in P2, Viñales was still over two seconds clear and the chase was on.

Iannone, after making his way to the front of the chasing group, then lost his Ducati with 6 laps to go and suffered a DNF, leaving Crutchlow in P2 and Rossi and Marquez to duel it out. With the Italian and the Spaniard the two men at the top of the championship - although Marquez 53 points clear - it was a battle royale for points, pride and supremacy as the two fought. With characteristic hard racing and some incredible moves from each, Marquez eventually broke away from his Italian title rival to close on Crutchlow - before running deep and dropping back behind teammate Pedrosa into P5, into another battle that he just won to come home P4. Pedrosa had a calmer ride than his teammate to the top five, but looked to have made an incredible leap forward in the setup of his Repsol Honda as he got back to running in the front group at the British GP.


Andrea Dovizioso (Ducati Team) came home P6 in a solid ride despite having twisted his knee in a testing crash ahead of the event, with Aleix Espargaro on the second Team Suzuki Ecstar similarly riding after a recent hand injury to come home P7. 5-time world champion Jorge Lorenzo crossed the line eighth after struggling for grip, with Danilo Petrucci (Octo Pramac Yakhnich) and Alvaro Bautista (Aprilia Racing Team Gresini) completing the top ten. Home hero Scott Redding (Octo Pramac Yakhnich) was the last to cross the line after a crash, with compatriot and replacement rider Alex Lowes coming home in P13 on the Monster Yamaha Tech 3 in a solid first MotoGP™ performance.

The grid now head for Misano World Circuit Marco Simoncelli on the 9-11th September for the next race, with Marquez still 50 points clear at the front - despite Rossi taking a small amount of points back from the Spaniard's lead in the battle of Britain.
MotoGP Race Results - Complete Results Here
1- Maverick Viñales (SPA) SUZUKI 39'03.559
1st Independent Team Rider
2 - Cal Crutchlow (GBR) HONDA +3.480
3 - Valentino Rossi (ITA) YAMAHA +4.063


KTM Unveils Its New MotoGP Bike to Race in 2017
August 2016 - The Red Bull Ring in Spielberg, at the Austrian round of MotoGP Championsgip, saw KTM officially present its MotoGP project, the KTM RC16. There had been months of testing, with press releases and photos issued. There had been KTM's participation in the private MotoGP test at the Red Bull Ring in July, alongside the rest of the MotoGP teams. But at the Austrian GP, the fans and media got their first chance to see the bike close up.
There are few surprises: 1000cc V4 engine, using pneumatic valves, housed in a tubular steel trellis frame and an aluminum swing arm. Suspension is by WP, while brakes are by Brembo, and exhaust by Akrapovic. Electronics are the spec MotoGP Magneti Marelli ECU.
Big Horsepower Numbers
Really interesting are the numbers for maximum engine revs and horsepower. Like all official numbers on values such as torque, horsepower, and revs, they are not to be trusted, but these both seem highly inaccurate. KTM claims the RC16 makes 250hp. It certainly makes that, and probably 10% more, given that most MotoGP engines are believed to make somewhere between 260 and 275 horsepower.
Reports from the track said that the KTM was not short of top speed, though test rider Mika Kallio told a group of reporters that he believed they were still down a little on the Ducati. "On the engine side, we are on the good level," the Finnish test rider told us. "There is still room to improve, at the moment the Ducati is still the fastest bike on the straight, so we are not there, but we are close to the other bikes." Those who saw the speeds through the speed traps reported KTM as being very fast indeed, though no one would be drawn into revealing actual speeds.
19,000 RPM?!
Where does that horsepower come from? On the corporate blog, KTM report the maximum revs as being 19,000 RPM. If that number is accurate, it is insanely high: MotoGP adopted the engine bore limit of 81mm precisely to limit engine speeds, after the manufacturers rejected a mandatory rev limit. Conventional engineering wisdom had it that reliable engines would not be able to rev much above 16,000 RPM, as engine speeds above that would place too much stress on pistons and conrods, causing them to fall apart. A mean piston speed (MPS) (link is external) of 26 m/s was believed to be a fairly firm limit.
That has not turned out to be the case. The bikes were soon revving well up towards 17,000 RPM, and making further inroads into the laws of physics. According to our research, the Ducatis can rev to 18,000 RPM, the Hondas to 17,750 RPM, the Yamahas to 17,250 RPM (with satellite bikes having engine limits set several hundred RPM below the max revs of the factory machines). Ducati was already achieving an MPS of 29.1 m/s, a seemingly impossibly high number. If KTM really are revving to 19,000 RPM, that would be an MPS of 30.7 m/s, which is up in drag engine territory. Dragsters have to cover around 1200 meters between engine rebuilds. MotoGP bikes have to hang together for close to 2000 kilometers.
How do KTM – or Ducati, Honda, and Yamaha, for that matter – achieve such engine speeds? MPS – mean piston speed – is a rough approximation, but it is not an accurate reflection of the stresses placed on the engine. What matters is the amount of acceleration and deceleration which the piston and connecting rod undergo as they slow down for bottom and top dead center, then speed up again towards the middle of the stroke. The weight of components such as pistons, wrist pins and conrods is a factor here, as force is acceleration times mass, and force is stress.
Clearly, the factories are working to find clever ways of reducing stress, which will include lighter weight components, paying close attention to mass distribution, the location of the wrist pin, and smoothing the transition between acceleration and deceleration as much as possible. What they are doing is impossible to know, nor how they are doing it. But the lessons learned will at some point pass down into production vehicles, though we may have to wait a few years to find out.
The KTM V-Four
What we do know about the engine is layout of the engine. Though KTM Technical Director Sebastian Risse was cagey when asked directly what layout the engine used, he tacitly acknowledged it was a 90° V4. When I put it to him that the aim of running the bike without a balance shaft had implications for engine design, he replied, "This is true, yes." Not an admission as such, but as close as you might expect from a factory engineer.
The engine firing order is also not yet fixed. When asked whether the engine would have a big bang (cylinders firing together) or screamer (each cylinder firing separately) firing order, Risse answered that KTM had not yet made up their minds. "We are still doing some investigations about this," Risse said. "Especially now with the electronics, there's not just the mechanical firing order, there's more about it, and you can play a lot with it." What he is implying is that although two pistons may reach TDC at the same time, the charges in the cylinders can be ignited a degree or so apart. That can help smooth the power delivery, and reduce the load placed on the crankshaft.
A Different Chassis and Suspension
While we may never know details of the engine internals, there are a couple of things which KTM cannot hide. The two biggest differences between the KTM and the other bikes on the grid are the suspension and the chassis. KTM will be the only bike on the grid to use WP suspension rather than the Öhlins used by everyone else. And it is the only bike on the grid to choose a tubular steel frame over an aluminum beam frame.
Will this be a disadvantage for KTM over the rest of the field? After all, the other factories are all using the same suspension and chassis design for a reason, right? And Ducati dropped the trellis frame, for a carbon fiber frameless design, and then swapped that for an aluminum beam frame, and now they are starting to become competitive.
In an informal conversation, a senior member of a rival factory was impressed by the way the bike looked during the test. "The bike doesn't move at all in the corners," they said. "It's much more stable than we expected." The fact that the KTM RC16 was a second off the Yamahas, and 1.9 seconds off the fastest Ducati, proved it was already a competitive package. Mika Kallio was just five hundredths of a second behind Ducati test rider Michele Pirro.
Full factory WP Suspension
Choosing WP over Öhlins is a logical choice for KTM. WP is a subsidiary of KTM, and the two have worked closely in every motorcycle racing discipline they have been involved in. WP supply the factory KTM machines in Moto3, and will be the official name of KTM's Moto2 project. They have gained a lot of experience in Moto2 – so much so that some teams using WP in Moto2 have started referring to the Ajo squad as the "WP factory Moto2 team" – which will be applicable in MotoGP.
Above all, KTM will have the full support of WP. "This will be a full factory effort," one source close to KTM told me privately. The two factories are just a short cycle ride away in Mattighofen, Austria, so communication is extremely direct. Updates will be fast and frequent.
A Trellis Frame!
Pol Espargaro, who will race for KTM in MotoGP next season, was more concerned about the trellis frame. "We need to check if the tubular chassis works," he told us at Barcelona. "If the tubular chassis is not working we will struggle so much. I prefer a slow bike that is good in the corners than a fast bike on the straight and impossible to manage. I think [the chassis] will be harder than we are used to do with Yamaha. It's a different system."
So far, the performance of the KTM RC16 has not given much cause for concern, though there are still areas that need work. "We need to improve the rear grip somehow on the exit," Mika Kallio told us at the launch. "We have a lot of power in the engine, but on the exit side, we can't really use everything, all of the potential. So we need to find some way to do this. Everyone can see Ducati are really good on that side."
But a lack of rear grip is not unique to the KTM. Both Maverick Viñales and Aleix Espargaro have complained of exactly the same thing, especially once temperatures rise. The Honda suffers even worse problems, either spinning the rear wheel or wanting to wheelie out of corners. The Yamaha is much better, but still lacks grip compared to the Ducati.
The Ducati gets a lot of its advantage from its aerodynamics, however. The vast array of winglets make a big difference in keeping the front wheel down and providing drive to the rear wheel. Those winglets are banned from next year, so the difference between the KTM and the Ducati could be much smaller in 2017. With KTM currently working hard on a bike without winglets, they may well get an advantage. Sources familiar with the situation report that Ducati have been testing without winglets for next year, and suffering real problems with wheelie. Part of their advantage will be gone.

The tubular steel frame will pose a set of challenges for both Pol Espargaro and current and future teammate Bradley Smith when they switch to KTM. Having spent all their lives racing an aluminum beam frame, they have an intimate understanding of how that frame feels and responds. A trellis frame, such as the KTM RC16 uses, responds differently.
I asked Mika Kallio if he could feel the difference with the tubular steel frame. "Yes," he responded. "Also for the rider, it was not easy to jump to this bike. It gives you a different feeling, this frame, and I needed to learn first how I felt with this bike, and then I needed to make a lot of laps to see exactly how to give the right comments on which way we need to go on the development. It has also been a big challenge for me, to learn the bike and this feeling that this frame gives."
Would it take Espargaro and Smith some time to get to grips with the different frame? "I believe it will take a few laps more to understand, but there's no problem, anyway. We have been testing many different kind of frames, about the stiffness and that kind of thing, and there were some interesting things that we could find."

The reason for choosing a tubular steel frame over an aluminum beam frame was simple: KTM has a vast amount of knowledge and experience with this kind of frame, which they would be throwing away if they went with an aluminum chassis. "KTM has a lot of history with this tubular frame," Kallio said. "I think they know what they are doing, so I believe that there is something how we can be better than the competitors. Like we saw in the other races in the past, Ducati was using a same kind of tubular frame and they were fast. So I don't see any problem why we can't be OK with that."
The fear of using a tubular steel frame was that the many different components and welds would make it difficult to produce two identical frames. Kallio told us he had never noticed that problem. "I was impressed that all the bikes that I tested, I felt different, and then if there were two similar frames, I couldn't feel the difference between the bikes."
That is not to say that KTM did not consider an aluminum beam frame. "Already in past projects, like Moto3, of course we were considering it," KTM Technical Director Sebastian Risse told me. "There we also had the experience from 125 and 250. So it was a decision which was really well thought through. We even had some aluminum frames running, but in the end, it was a conscious decision. We know more about the steel frame, we didn't find any disadvantages, we knew our strong points and can use them, and we know also what to work on to reach the similar level to aluminum."
Winning by being different?
Can the KTM RC16 be a competitive package in MotoGP? Given the Austrian company's approach and success in other areas, there is no reason they will not succeed in the premier class. They have dominated almost every series they have entered, first in off-road disciplines, and now in road racing. As KTM continues to grow, they have the budget and the knowhow to build competitive motorcycles. They have the backing of Red Bull, and a healthy balance sheet to invest.
KTM wants to make a mark as the premier European sports motorcycle brand. Success in MotoGP has become a cornerstone of that objective. They have learned from previous failed projects, and from success in Moto3. They are doing so while trying to retain their identity, sticking to steel tubular frames and WP suspension rather than just copying others. That, in itself, is to be applauded. Expected to se the new KTM RC run at a few remaining rounds of the 2106 season as a wild card entry, with a full-on 4-year commitment to Dorna having just been signed to field a full 2-riderKYM factory team beginning in 2107
---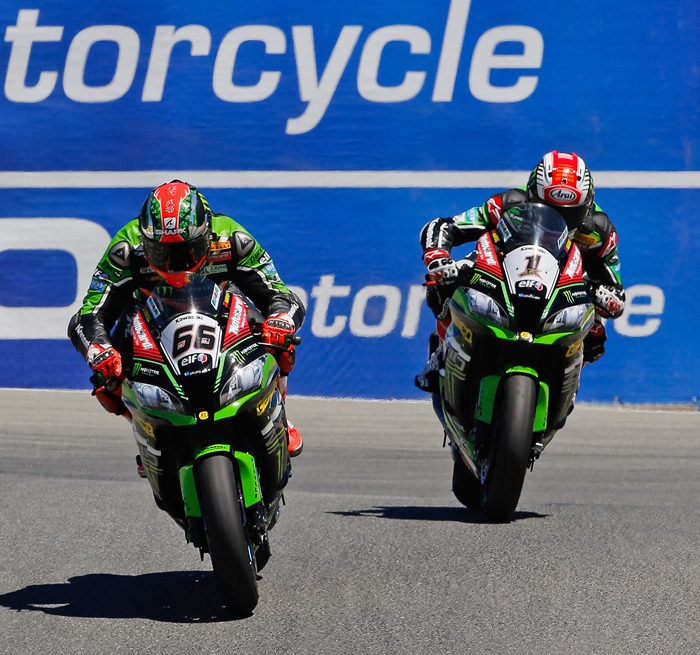 Tom Sykes (66) and Kawasaki team matea Jonthan Rae (1) both carded Race wins at Mazda Raceway.

2016 FIM SBK Motul World Superbike Championship, Round 10 of 14 Laguna Seca

Kawasaki's Rea and Sykes fight off Davies and Guilgiano Ducatis to win Laguna Seca
Mazda Raceay Laguna Seca, Monterey, CA , July 8-10th 2016 - The American round of the 2016 FIM Superbike World and AMA Mational Championship again served up some incrdible racing, and was the location for our annual Fast Dates World Superbike Calendar shoot. Accompanying photographer Jim Gianatsis on the annual road trip up beautiful Pacific Coast Highway One were
ewo beautiful new Calendar Kittens Alissa Bourne and Kaustin Rose. On Friday afternoon after Practice we shot with all the top factory SBK and AMA Superbikes on Pit Lane in front of the team garages, then for the weekend's Superpole and Race Activities the Kittens served as the offical SBK Starting Grid Umbrella and P odium Girls. This marked the 22nd year since WSBK first come to Laguna Seca in 1995 that the FastDates.com Calendars have shot the factory race bikes at Laguna Seca World Superbike and provided our Calendar Kittens to serve as official SBK umbrella girls.
KRT rider Tom Sykes was bumped out the top three in the last dash after having had a more difficult morning session but ended the day in P4, ahead of FP1's fastest man Alex Lowes, who rounded out the top 5 for Pata Yamaha. Davide Giugliano finished up P6 as the Italian returns to a track with some difficult memories after a crash last year sidelined him for many Rounds of the season, ahead of Althea BMW rider Jordi Torres in P7.
Lorenzo Savadori was impressive in P8 for IodaRacing Aprilia, ahead of Xavi Forés for Barni Racing on the Panigale R, who ended the day in P9. Niccolo Canepa continued stand in duties for Sylvain Guintoli with another good showing to round out the top 10 for Pata Yamaha.
Honda rider Michael van der Mark, after spending most of the morning session at the front, was the casualty of the last minute dash as the Dutchman ended Day 1 in P11 and just missed out on direct entry into Tissot-Superpole 2. Alex De Angelis was P12 on the second IodaRacing machine, ahead of MV Agusta's Leon Camier, Milwaukee BMW's Karel Abraham and second Althea BMW rider Raffaele de Rosa, who is riding at Laguna Seca for the first time as a replacement for injured Markus Reiterberger.
Entry to Tissot-Superpole 2 is now decided for the top ten, with the last two spots in the fight for the top 12 places on the grid up for grabs through the Superpole 1 session on Saturday. With a closely packed field, it's sure to be an explosive battle in qualifying ahead of the two WorldSBK races of the weekend: the lights go out at 14:30 local time (GMT -7) on both Saturday and Sunday as the fight for 50 points begins once again.
Laguna Seca, Day 1 - Complete Results Here
Chaz Davies Aruba.it Racing - Ducati 1:23.622
Jonathan Rea Kawasaki Racing Team 1:23.696
Nicky Hayden Honda World Superbike Team 1:23.866
Chaz Davies - "Being fastest at the end of the first day is always good but we know it doesn't count for a lot come tomorrow! But so far so good, it seems like we're on good pace from the first laps and we're just chipping away. I think we can improve a bit for tomorrow too, and that's what I'm happiest about."
The next morning Saturday, Tom Sykes would win Superpole to earn his seventh pole position starting place of the year, and the 37th of his career. Rea had qualified only 0.055 seconds behind and was second on the grid. Davies would be third quickest and also on the front row. Above, Fast Dates Calendar Kitten Kaustin Rose awards the Tissot Superpole watch to Tom Sykes.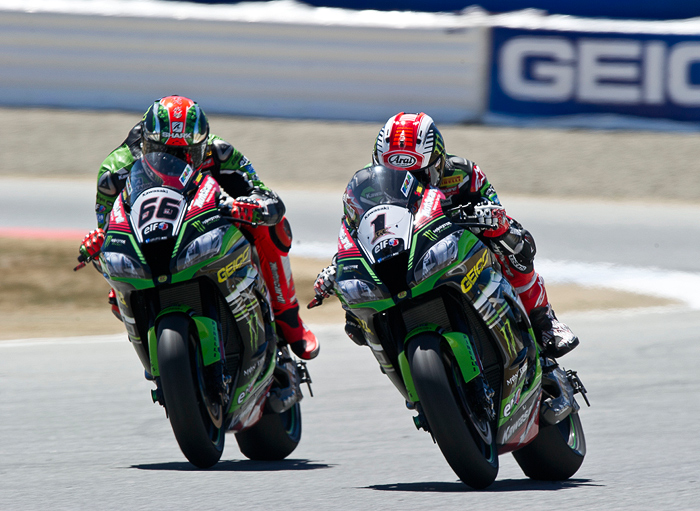 Laguna Seca: Race Day One - Rea Reigns in the US of A
KRT duo battle at the front as Kentucky Kid Hayden withstands the pressure for P3
Saturday July 9th - Jonathan Rea has taken his first ever victory at Mazda Raceway Laguna Seca, beating teammate Tom Sykes into P2 with Nicky Hayden coming through under pressure to take the final spot on the rostrum. Tom Sykes got away in the lead from pole, with the Yorkshireman leading Ducati's Chaz Davies, who got a superb start from the second row to end Lap 1 in P2, ahead of Sykes' KRT teammate Jonathan Rea. With the front three close together and the second Aruba.it bike of Davide Giugliano leading Honda's home hero Nicky Hayden in the chase, Davies took the lead with 21 to go with last year's double winner looking to make it three in a row, before the Welshman pushed too hard on the front and slid off into the gravel at Turn 6, out of contention.
With Rea and Sykes closer to Giugliano after Davies' crash, the reigning Champion then recovered from having gone slightly deep into the Corkscrew and began to put the hammer down. Rea, who has never won at Laguna Seca and was only 0.055 off the Superpole-winning time set by teammate Sykes, showed great pace all weekend at the Californian track and began to pull away from Sykes, until a mistake at the Corkscrew once more saw the Northern Irishman soon lose the lead and forced to do the work again. Rea eventually crossed the line over a second clear to take his first victory at the US track, with Sykes in P2 and another World Champion completing the podium in P3.
Kentucky Kid, MotoGP Legend and Honda World Superbike Team rider Hayden had warned against expecting miracles at his home venue, aware of the competition around him, but put in a superlative ride under pressure at home to come home in P3, adding another podium to his impressive rookie tally.
Hayden's teammate, 2014 WorldSSP Champion Michael van der Mark, moved up from P11 on the grid to hunt down the frontrunners and cross the line P4 after taking IodaRacing's Lorenzo Savadori and Pata Yamaha's Alex Lowes in the latter stages of the race. Lowes crossed the line in P5 and Savadori, who had never ridden at Laguna Seca, put in an impressive rookie ride to come home in the top 6, ahead of Barni Racing's Xavi Forés and Althea BMW rider Jordi Torres. Alex De Angelis on the second Aprilia and Niccolo Canepa on the second Pata Yamaha completed the top ten.
Leon Camier moved up one place from his starting position after an interrupted Friday to come home P11, ahead of Pedercini's Anthony West and the Milwaukee BMW pairing of Josh Brookes and Karel Abraham. Roman Ramos completed the top 15 for Go ELEVEN.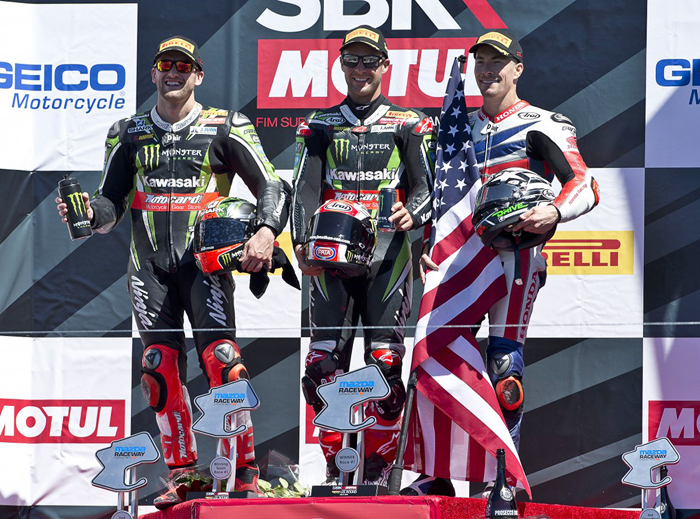 Jonathan Rea, 1st - "The best thing about today is winning the Race here in the USA where the passion is so high. It feels like I made some mistakes so I'm quite mad with myself - mostly in braking - so that's something to look into tomorrow; trying to get a bike that's more stable. Tom did a really good job in the beginning to make the pace but we seemed to have the best package today and I'm happy to have brought it home."
Tom Sykes, 2nd - "It was very easy to make a mistake and very windy. I think we did a good job at the beginning. I never felt comfortable with the rear traction but still we were able to make some good laps. I was able to regroup but I never quite had the package to fight with Jonathan. Credit where credit's due and tomorrow we need to just find something with the package."
Nicky Hayden, 3rd - "It feels really good to be on the podium. I'm not ecstatic with my race – I had hoped to be faster than that - but you know what? We got on the podium. So thanks to my team and all my supporters – this is for them of course. I hope to be able to put up a better fight tomorrow."
WorldSBK Race 1: Complete Results Here
1. Jonathan Rea Kawasaki Racing Team
2. Tom Sykes Kawasaki Racing Team +0.819
3. Nicky Hayden Honda World Superbike Team +12.296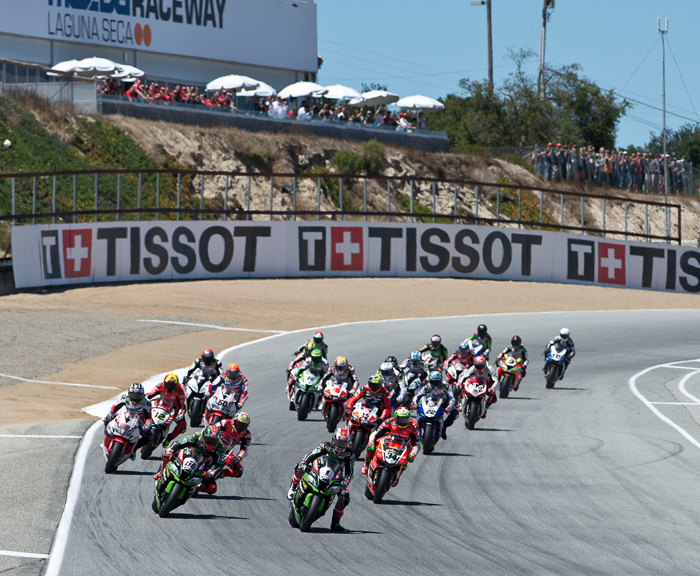 The 4th year of World SBK and AMA Superbike's return to Mazda Raceway Laguna Seca saw the biggest spectator turtnout yet. Despite the offical attendance numbers which alwaystotl up each of the 3 day weekend's attendae, and then inflated by double, we's guestimate this year's attendance was up another 1,000 peoplelast year, to around 6,000 attendace each day for Saturday and Sunday, up from approx 3,000 in 2003.
Laguna Seca: Race day 2 - A Showdown to Remember
Rea Off Track and Breaks Down, dueling Ducatis and Last Corner Drama
Sunday July 10th - Tom Sykes has taken victory in Race 2 at Mazda Raceway Laguna Seca, heading the Ducati duo of Davide Giugliano and Chaz Davies over the line in a race that would have been impossible to script. With a slight wheelie off the line from Jonathan Rea alongside, KRT rider Tom Sykes kept the lead from pole as Davide Giugliano benefitted from P3 and slotted in behind the Yorkshireman; Chaz Davies and Nicky Hayden the closest challengers behind.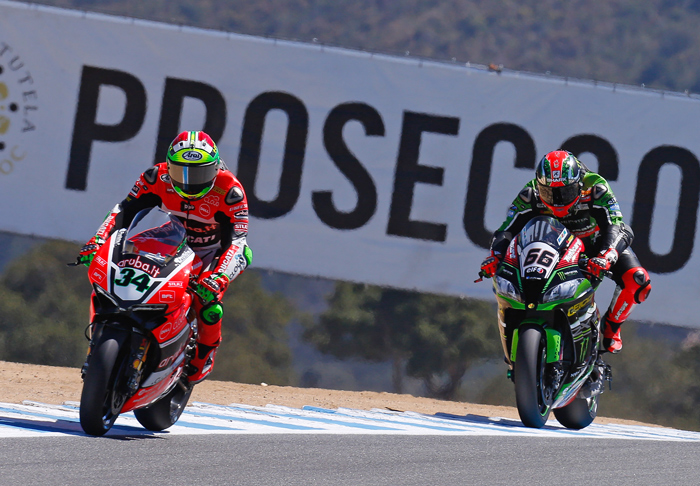 Ducati's Giugliano(34) took the lead from Sykes (66) and Rae in Race Two, until a crash on Lap 5 brought out the Red Flag and necessitated a restart. A heated battle for the lead resumed on the restart, which saw Rae run off track and then drop out with bike problems, leacing Sykes to fight off Giugliao and his Ducsti team mate Chad Davies for a narrow victory.
The first few laps of the Race saw Michael van der Mark a high profile casualty, with the impressive Dutchman running on and losing control of his Honda before rejoining down the field. Leon Camier then shortly suffered a technical problem that saw the MV Agusta Reparto Corse rider forced to retire, followed by IodaRacing rider Alex De Angelis.
Giugliano took the lead on Lap 3, with the two Aruba.it Ducatis sandwiching the KRT pairing of Sykes and Rea, before a fall for Pawel Szkopek brought out the Red Flag. With the restarted Race set for 21 laps, the quick restart procedure soon saw bikes back on track, with Giugliano on pole for the restart from Sykes and Rea, with van der Mark able to restart, but from the final row.
The Italian lost the lead off the line to Sykes, before standing the Yorkshireman up and taking it back, with Hayden able to take Rea and move himself up into P3. The reigning Champion fought back however, and set off to hunt down the leading duo. Lorenzo Savadori was a high profile casualty soon after, as the impressive Italian rookie lost his Aprilia and crashed out on lap 3.
An incredible tussle down the Corkscrew then saw the Kawasaki duo attack Giugliano and fight it out, before a lap later Jonathan Rea went wide at Turn 6 and ran on – out of the frontrunning battle as he then stopped on track with a technical problem.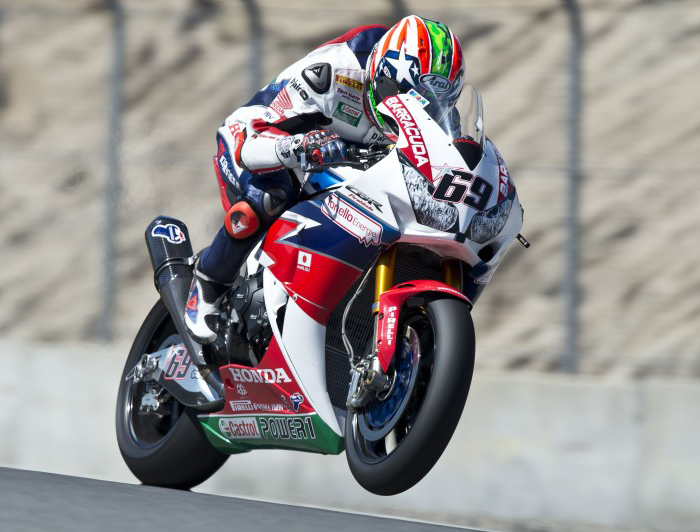 The lead trio of Sykes, Giugliano and Davies ahead and away, a six bike train of Hayden, Forés, Lowes, Torres, van der Mark and Canepa battled over P4, with positions swapping and the Corkscrew hosting another classic moment as Forés took the inside line after running a little deep, and Hayden refused to be overtaken.
An three-way fight for the win ensued with the two Ducatis fighting it out in a modern classic behind Sykes as the laps ticked down, with the Yorkshireman standing firm in the face of incredible pressure from the two red machines behind. As the three crossed the line almost together after the incredible fight, last corner drama ensued for those behind, with Alex Lowes trying to take teammate Niccolo Canepa and sending both off – with Canepa able to at least see the line quickly.
Jordi Tirres on the Althea BMW.
Forés came home P4 for Barni Racing, ahead of home hero Nicky Hayden in P5, with Torres on the Althea BMW in P6. Michael van der Mark staged an incredible comeback to cross the line seventh, ahead of Pata Yamaha's Niccolo Canepa as the Italian managed to shoot over the line after the interruption. Anthony West was ninth for Pedercini, ahead of Roman Ramos who completed the top ten for GO EVELEN.
Yamaha's Alex Lowes(22) was bested in Race 2 by replacemet rider Nicholas Canepa (59) who was substituing for injured Sylvain Guintoli.
Raffaele De Rosa ended his WorldSBK debut in P11, ahead of Karel Abraham for Milwaukee BMW, Grillini's Dominic Schmitter and a re-mounted Alex Lowes in P14. Saeed Al Sulaiti took home his first point in P15.
WorldSBK now heads into the summer break, before the grid get back on track at Lausitzring in September for the final four-Round showdown of the 2016 MOTUL FIM Superbike World Championship.
Tom Sykes, 1st : "That was quite exciting and I had a lot of pressure from the Ducati riders all race long. We struggled with edge grip today so I had to change my style a little bit to defend my line. It destroyed the lap time but gave us the 25 points. Overall, it was good race for the spectators and a close one between three riders. I am happy enough but it was a difficult race in some ways. The restart was one more thing to think about and we made some changes, making the best of the situation. We never had the perfect set-up but I feel we made a good compromise. We have made a good weekend, with pole position, a second place and a win. We will go into the summer break on a high and try to learn from the information we took from the previous Misano round and this one, and then try to put the jigsaw together for the last part of the season."

Jonathan Rea, Points Leader Retired - : "To not finish is disappointing because up to that point I felt so good with the bike. Even when I got stuck in some traffic at the beginning I was able to close down the gap to the leaders. I feel it was one more race we could have really capitalised on, but this is racing sometimes. We need to analyse everything with the bike. When I went wide in T7 I rejoined the track and it seemed I had a problem. As soon as I closed the gas the rear was locking and I heard some noise. I carried on through some corners, arrived in turn one and it was really locking a lot. Then in T2 something was wrong so I pulled in. We have to take the rough with the smooth because we have had a really good run so far, but it is a frustrating way to go into the summer break. I wish the Lausitzring round was next weekend because I feel really good with the bike and that is a huge motivation for me."
Davide Giugliano, 2nd - "I had so much fun, but it's been difficult both physically and mentally, because it was paramount not to make mistakes while battling against Chaz. We've been both fair and I think we made it fun for people on track and at home. For me, to score a podium here is special because last year my season was put to an end in Laguna Seca and my career was almost destroyed. Yesterday was tough for the whole team, but some small adjustments allowed us to make the most of our current potential."
Chaz Davies, 3rd - "It was quite a tight race. It was good to be back on the podium for sure, after a weak start. I got shuffled back to sixth in the early laps, and not just sixth but deep in the pack. I lost a few seconds. So that made things a bit harder. Unfortunately the last few laps didn't pan out as I was hoping but nevertheless it's good to be back on the podium after a tough few Races."
Nicky Hayden, 5th - "I'm really disappointed for how the race went, especially for how things were looking before the red flag. At the first start there was a little glitch in the light and I got buried, but I was good in turns one and two and made up a lot of positions. I was feeling more and more confident and just had my best lap of the weekend on race tyres, then the red flag came out. After the second start something happened: we're not sure what exactly at the moment as the team is still analysing the data, but the bike was completely different. I couldn't brake as good as yesterday and I lost all confidence. It's a shame, really, because after the first start I thought I could have gone for something really special."
WorldSBK Race 2: Complete Results Here
1. Tom Sykes Kawasaki Racing Team
2. Davide Giugliano Aruba.it Racing - Ducati +0.209
3. Chaz Davies Aruba.it Racing - Ducati +0.786
---
New 1299 Panigale S Anniversario Premiers at WDW2016
Casey Stoner and Claudio Domenicali have unveiled the bike that marks Ducati's 90th anniversary. Limited edition of 500 bikes with all-new colour scheme and technical content. The 1299 Panigale S Anniversario, equipped with the new EVO Traction and Wheelie Control, also includes a special track kit.

Misano Adriatico, Rimini - Italy, July 2nd 2016 - To celebrate its 90th anniversary, the Bologna-based bike manufacturer decided to provide visitors to World Ducati Week 2016 (1-3 July, "Marco Simoncelli" Misano World Circuit) with a special preview of the new 1299 Panigale S Anniversario. The reason for doing so was simply to reward the tens of thousands of Ducatisti who flocked to WDW2016 with a symbolic "gift". An exclusive bike for an exclusive, knowledgeable and demanding audience.

On Saturday evening - during the presentation of the Ducati riders - this audience enjoyed a wonderful preview of the 1299 Panigale S Anniversario on the stage of the Santamonica stadium in Misano Adriatico, presented to them by non other than Casey Stoner. The former MotoGP world champion presented this latest made-in-Bologna gem together with Ducati's CEO Claudio Domenicali. The limited-edition 1299 Panigale S Anniversario (just 500 bikes will be made) features an all-new colour scheme and technical content.

Inspiration for the 1299 Panigale S Anniversario's colours was drawn from Ducati race bikes. Its white, black and Ducati Red fairings perfectly complement its special gold wheels. Other distinctive features on the 1299 Panigale S Anniversario include its top triple clamp and steering head inserts, both in machined-from-solid aluminium alloy.

Each top triple clamp is unique in that it has been laser-etched with the bike's unique production number of 500. The steering head inserts shift the front wheel forward 5 mm, giving the same chassis geometry as the incredible Panigale R. Moreover, a light lithium battery, together with carbon fibre heel guards, rear mudguard and shock absorber cover reduce weight by 2.5 kg.

The electronics on the 1299 Panigale S Anniversario incorporates all-new traction and wheelie control, representing a major evolution of such systems; hence the name Ducati Traction Control (DTC) and Ducati Wheelie Control (DWC) EVO. Both systems maximise performance and active safety on the Italian Superbike.

In addition to the new DTC and DWC EVO, the 1299 Panigale S Anniversario also features Bosch Cornering ABS, which ensures performance and safety whatever the riding conditions, plus Ducati Quick Shift (DQS) for ultra-fast clutchless up and downshifts on both track and road. The twin-cylinder, 1285 cc, 205 hp Superquadro engine features Engine Brake Control (EBC), which optimises vehicle stability under extreme turn-in conditions.

The suspension department, instead, offers up Ducati Electronic Suspension (DES) and Öhlins Smart EC; the latter is an event-based control system that processes information about the bike and accordingly uses stepper motors to dynamically adjust the suspension set-up during riding, improving cornering grip, stability, braking, turn-in, handling and riding comfort.

The 1299 Panigale S Anniversario also features TFT (Thin Film Transistor) instrumentation, as well as customizable Ducati Riding Modes (Race, Sport and Wet) that allow the rider to have tailor-made performance.

Like all bikes in the Panigale family, the 1299 Panigale S Anniversario makes excellent use of monocoque frame technology. The compact, enhanced-strength die-cast aluminium monocoque structure features the Superquadro engine as a stressed member of the frame.

To emphasise the sports performance of the 1299 Panigale S Anniversario even further, the bike comes with a racing kit consisting of an Akrapovi? Racing exhaust in titanium, billet aluminium mirror blockoff plates, and a cover for the hole created by removing the license-plate holder for track days. Lastly, a battery charger is also provided.

The 1299 Panigale S Anniversario will be available from Ducati Dealerships starting in the second half of July (country specific).
---

Aero Winglets this season on the factory MotoGP Ducati of Andrea Dovizioso, on pole in the wet at Assen

We are sorry to report the GP Commission has decided to ban the aerodynamic wings that Team Ducati pioneered, and all the other factory teams have now copied. The radical looking aero wings, whether they worked well or not is debateable, actually helped to differentiate the factory prototype MotoGP bikes from the very similar looking and performing production based SBK World Superbikes. The winglets helped give motorcycle racing's "premier class" the exotic look similar to Formula One and LeMansP1 prototype race cars, making the bikes more exciting for fans to watch race. Disappointing.

But perhaps it was a safety concern because motorcycle racers are not protected from being hit by the sharp external winglets, as a race car driver would be protected in a fully enclosed car.

Assen, The Netherlans, June 25th - The Grand Prix Commission, composed of Messrs. Carmelo Ezpeleta (Dorna, Chairman), Ignacio Verneda (FIM CEO), Herve Poncharal (IRTA) and Takanao Tsubouchi (MSMA) in the presence of Javier Alonso (Dorna) and Mike Trimby (IRTA, Secretary of the meeting), in a meeting held on 25th. June at Assen, made the following decisions:

Aerodynamic Wings in the MotoGP Class
The Grand Prix Commission, composed of Messrs. Carmelo Ezpeleta (Dorna, Chairman), Ignacio Verneda (FIM CEO), Herve Poncharal (IRTA) and Takanao Tsubouchi (MSMA) in the presence of Javier Alonso (Dorna) and Mike Trimby (IRTA, Secretary of the meeting), in a meeting held on 25th. June at Assen, made the following decisions:

The Commission unanimously agreed that, with effect from the 2017, the use of aerodynamic wings in the MotoGP class will be banned. The actual regulation will replicate those for the Moto3 and Moto2 classes where the use of wings is already prohibited.

Wings that comply with current technical regulations may continue to be used for the remainder of the 2016 season.

Post-Race Noise Tests
Since the introduction of four-stroke machinery in all classes, no machine has ever failed the mandatory post-race noise checks. Accordingly, the requirement for the first three machines to be routinely checked after the race is cancelled with immediate effect. The Technical Director may still decide to carry out noise tests at his discretion.
---
HARLEY-DAVIDSON UNVEILS XG750R FLAT TRACKER
Next Generation, Liquid-Cooled Factory Harley-Davidson XG750R Flat Track Bike based off new water-cooled Street 500/750 platform Breaks Cover at AMA Pro Springfield Mile

MILWAUKEE (May 26, 2016) – A new-generation Harley-Davidson® flat-track motorcycle is ready to race. The Harley-Davidson® Screamin' Eagle® Factory Team is unleashing the XG750R, its first all-new flat track race bike in 44 years, to battle in fierce, adrenaline-filled competition on dirt ovals across the U.S. The XG750R will make its official competition debut Sunday, May 29, at the AMA Pro Flat Track Springfield Mile in Illinois.
Powered by the fuel-injected, liquid-cooled Harley-Davidson Revolution X™ V-Twin engine, the XG750R will be raced by Factory Team rider Davis Fisher on the AMA Pro Harley-Davidson GNC1 presented by Vance & Hines flat track series. The new XG750R motorcycle is strictly for race competition and will not be offered for sale at this time.
The new flat tracker is powered by the 750cc Revolution X™ V-Twin engine designed for the Harley-Davidson Street® 750, a motorcycle built for maximum urban maneuverability with rebellious Dark Custom™ attitude. Tuned for the track, this modified Revolution X engine will power the new XG750R in the extreme heat of competition as it fights to be first to the finish line.
The race-modified Revolution X engine and a racing frame for the XG750R were developed by Vance & Hines Motorsports. Vance & Hines also is the partner for the factory Harley-Davidson® Screamin' Eagle®/Vance & Hines drag racing program where V-Rod® motorcycles have won eight of the past 12 NHRA Pro Stock Motorcycle drag racing championships.
"After decades of flat-track racing success behind the Harley-Davidson XR750 flat track motorcycle, we knew it was time to develop the next-generation Harley-Davidson to compete in one of the best spectator racing sports out there today," said Kris Schoonover, Harley-Davidson racing manager. Fisher, in his first season racing with the Harley-Davidson Screamin' Eagle Factory Team and a rookie on the GNC1 series, will be the first racer aboard the XG750R. The 18-year-old racer from Warren, Ore., won the 2015 AMA Pro GNC2 championship.
"We wanted a young rider with plenty of raw ability for the XG750R program, and Davis proved himself in the GNC2 class," said Schoonover. "We are excited to have the opportunity to bring an emerging talent like Davis up to the GNC1 series to develop the new bike alongside an experienced champion like Brad Baker."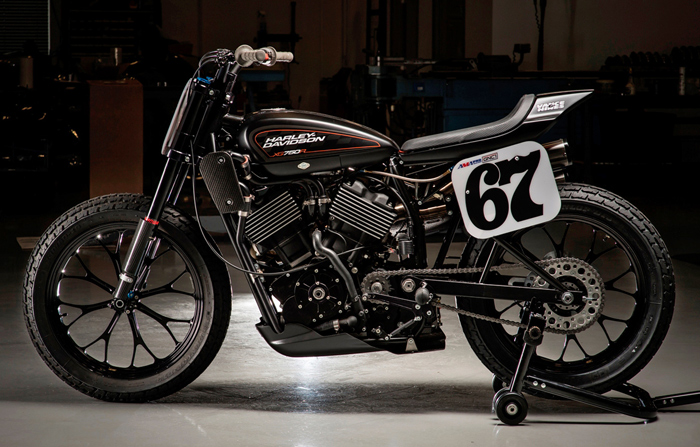 Harley-Davidson Screamin' Eagle Factory Team rider Brad Baker, 23 years old and the 2013 AMA Pro Grand National Champion, will continue to race aboard the proven Harley-Davidson XR750 motorcycle while Fisher races the XG750R through its developmental stage.

At the May 29th 2016 Springfield Mile, H-D factory rider Davis Fisher finished 8th on the new Harley XG750R, behind behind a slew of Kawasaki Ninja 650 in-line twins, and 9 seconds down behind podium finishers factory Harley Rider Brad Baker in 3rd on the old XR750, privateer Jared Mees also on an XR750, with Bryan Smith on a Kawasaki Ninja 650 taking the race win. The more advanced design of the 4-valve DOHC Kawasaki engine proving highly competitive despiteits smaller displacement.
"The XG750R has shown great potential in testing and the first few races this season," said Schoonover. "But as with any new racing motorcycle, there will be work to do. We're excited to continue testing the XG750R in real world competition, and as we make our way through the season, we will evaluate the performance of the bike and our factory riders to see if Baker might switch to the new bike."
Check Harley-Davidson.com for a full listing of this season's races; also follow Harley-Davidson on Facebook for racing updates.
---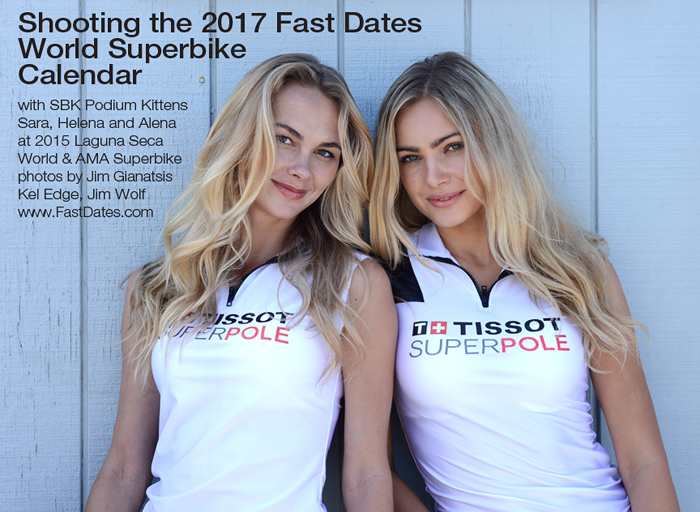 All Three Editions of this new 2017 FastDates.com Calendars feature our official SBK Fast Dates World Superbike Calendar Kittens Sara Horvath, Alena Pyshnaya from the Ukraine, and Alena Sovostikova from Russia, who spent the summer in America with Calendar photographer Jim Gianatsis to shoot and work at Mazda Raceway Laguna Seca USA World and AMA Superbike, and the LA Calendar Motorcycle Show. Follow the action behind the scrnes at the link above, and in our FAST 2017 Digital Magazine Yearbook in Members Corner.
FAST 2017, 2016, 2015, 2014 Digital Calendar Magazines


Go Behind the Scenes for the Making of the FastDates.com Calendars!
Each year's FastDates.com Calendar Digital Yearbook features 120 pages of exciting hi-resolution digital photography that takes you with us behind the scenes to our photo shoots at SBK World and AMA Superbike, the LA Calendar Motorcyle Show, and in our photo studio. You'll meet the beautiful Calendar Kitttens in sexy biography pictorials, the top Factory Racers and Custom Bike Builders,and see detailed photo features on the top calendar and race bikes. Take a track day with World Superbike Champion Troy Bayliss at Misano, take an Edelsweiss Ducati World Superbike tour of the Ducati Factory & Museum and across Italy, ride a Vespa scooter around Paris and party at the Crazy Horse and the Moulon Rouge. Hang with beautiful teen rock star Taylor Momsen of the Pretty Reckless. Did we forget anything?

Oh yes, and you'll see every page in the new Fast Dates, Garage Girls, Iron & Lace Calendars!.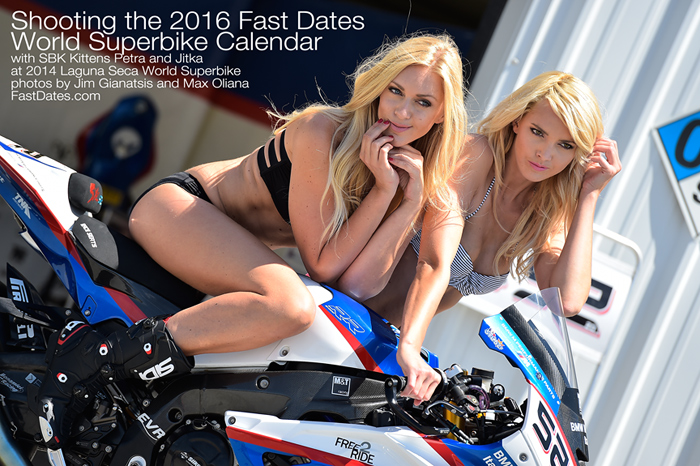 All three Editions of this new 2016 FastDates.com Calendars feature our official SBK Fast Dates World Superbike Calendar Kittens Jitka Pralinka and Petra Ruzickova from the Czech Republic, who spent the summer in America with Calendar photographer Jim Gianatsis to shoot and work at Mazda Raceway Laguna Seca USA World and AMA Superbike, and the LA Calendar Motorcycle Show. Follow the action behind the scrnes at the link above, and in our FAST 2017 Digital Magazine Yearbook in Members Corner.
---

Chantilly, France, September, 2016 - At the third international Concours d'Elegance Chantilly Arts & Elegance,
the F4Z is the first Atelier motorbike to be created by the historical Milanese coachbuilder Zagato in collaboration with bike manufacturer MV Agusta from Varese.

The only remaining Italian coachbuilding company to be independent and still in the hands of its founder's family, Zagato shaped the F4Z, based on the standard mechanics of the MV Agusta F4, as a one-off piece for a Japanese entrepreneur, collector of Zagato cars as well as Italian motorbikes.

The MV Agusta F4Z's bodywork was designed and engineered by the Zagato team and built with noble materials like aluminium and carbon fibre. It consists of a limited number of relatively large panels: this is the characteristic that, in the motorcar world, sets apart collectibles from mass produced automobiles. Compared to the production MV Agusta F4, the F4Z features an entirely different bodywork. Some parts had to be adapted and re-engineered, others fully replaced by components that were made specially: intake manifolds, fuel tank, battery, exhaust system.

For MV Agusta, founded in 1945 by Domenico Agusta, the F4Z represents a different result compared to the traditional rules of customisation in the motorbike sector, witnessing the brand's entrance into the niche of collectibles, built on request and expression of exclusivity, uniqueness and investment in durables.

For the company founded by Ugo Zagato in 1919, that specialised in light 2 door/2 seat bodies (coupe or spider) right from the start, the MV Agusta F4Z represents instead a digression beyond the car universe, their traditional field of expression. Nowadays Zagato is a modern Total Design Centre and coachbuilding Atelier, able to blend and balance the most advanced engineering technologies, the use of innovative materials and the traditional workshop production procedures. More in Fast Dates News


---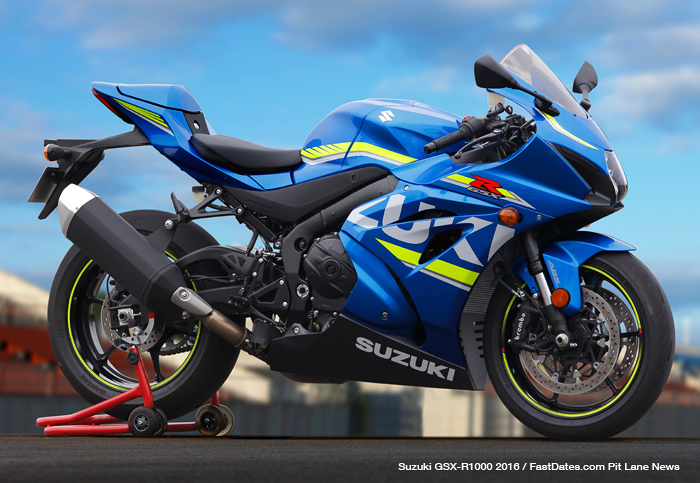 Suzuki has yet to reveal pricing, availability dates and if there are different models of the all new GSXR1000 modieled after their new MotoGP bike.This bike shown above features conventional non-resevoir front forks, bhile the bike describe in the press relases and shown in the studio pictures, has a Gold-anosized frok tubes with gas remote resevoirs.

Suzuki Next Generation 2016 GSX-R1000 -World-Beating Performance. Again.
Nov. 17, 2015 – It has been three decades, with more than a million editions sold, since the GSX-R line was born. And a decade and a half has elapsed since the first GSX-R1000 changed the open sportbike class forever. Now, the concept of the 6th-generation GSX-R1000 is redefining what it means to be The Top Performer. It embodies the life work and professional ambition of Suzuki engineers who are passionate about the GSX-R1000 and its place in motorcycle history. Men who love riding and racing, enthusiasts determined to restore the GSX-R1000 to its proper title of The King of Sportbikes. Know this: It is the most powerful, hardest-accelerating, cleanest-running GSX-R ever built.
It is also the lightest, the most compact, the most aerodynamic and the best-handling GSX-R1000 ever, with smoother throttle response and better combustion efficiency. It's fitted with a supremely effective electronic engine management system that doesn't require a degree in engineering to understand--and doesn't need constant adjustment by a squad of computer technicians to work.
Above all, it is a GSX-R. By definition, it is built to run right and be reliable, and designed to help make each person fortunate enough to pilot the bike a better rider. By plan, it is engineered using experience gained during 30 Years of Domination in production-based Superbike, Superstock and Endurance races worldwide, combined with new proprietary technology developed in the MotoGP World Championship. CONTINUED HERE
---


MV Agusta and Pirelli, the new DIABLO ROSSO™ III and new Brutale 800:
a special project to celebrate 'Made in Italy'
The two Italian brands created a special version of the latest naked from the Schiranna-based company which selected the brand new Pirelli tyres as original equipment for this model

"Diablo Brutale", as this single unit has been renamed, is a tribute to design, craftsmanship, sportiveness and high technology of the latest supersport tyre of the DIABLO™ family
Varese/Milano, 17 May 2016 – MV Agusta and Pirelli have been working together for several decades and, since 2011, the
historic Italian motorcycle manufacturer has decided to rely only on the brand of the elongated P symbol to equip all its
models. MV Agusta and Pirelli are both well-known and appreciated brands all over the world: they have managed to make design and showcase 'Made in Italy'. They combine maximum sportiveness and innovation, their core values which are recognised by all motor fans and, in this specific case, by motorcycle lovers.

On the one hand, the last technological evolution of the DIABLO™ range, the DIABLO ROSSO™ III, which is the new supersport
tyre from Pirelli, born from the track to the road, redefining the concept of sports riding taking it to the new level. Its strong
points are sports handling, a high level of grip also in the wet and with long lasting performance.

On the other hand the Brutale 800, a motorcycle whose original project dates back to 2001 and that – year after year – was
renovated in its style and spirit, to remain loyal to itself, and to its ability to amaze and conquer new generations of
enthusiasts. The new Brutale 800 is an example of Made in Italy technology that has dictated new design guidelines in its
segment.

The Diablo Brutale is a single unit of the new MV Agusta Brutale 800 which was born as a tribute to design, sportiveness and
high technology of the last supersport tyre of the Pirelli DIABLO™ family, which was chosen as original equipment for this
machine. It also celebrates the historical partnership between MV Agusta and Pirelli, two companies which have long and
worldwide appreciated traditions in the motorcycling world.

Diablo Brutale presents an attractive matt black color which is interrupted only by a luminous red as a reference to the tyre
logo. MV Agusta has decided to pay homage to the new Pirelli tyre through some graphical elements. The DIABLO ROSSO™ III
logo appears on the tank's side, while the typical 'thunder' groove of the tread pattern, which represents a tyre's trademark,
appears on the tank as well as on the front fender plus both sides of the tail. Both the Pirelli logo and the red "D" of DIABLO™
appear next to the MV Agusta logo on the top of the tank.

Pirelli has decided to equip this special with a set of DIABLO ROSSO™ III with a red color dedicated graphic, just like the details
that give the Brutale the unique spirit of the Diablo.

With the new Brutale 800, MV Agusta questioned the style, engine, equipment and chassis of the previous model with a
unique goal: giving birth to the best Brutale ever. The same goal achieved by Pirelli with the development of the DIABLO
ROSSO™ III, the direct descendent of the renowned and highly rated DIABLO ROSSO™ II, which raises the bar of sport riding
even higher than the previous model and extends the qualities of its predecessor, strengthening its features in terms of
handling and grip, with long lasting performance.

The Brutale 800 has DIABLO ROSSO™ III tyres as original equipment with the following sizes: 120/70 ZR17 M/C (58W) TL front,
180/55 ZR17 M/C (73W) TL rear.
---
Ducati Attends Motor Bike Expo of Verona
with the new 2016 XDiavel and All-New draXter Concept Bike
Borgo Panigale (Bologna, Italy), 22 January 2016 - At the coming Motor Bike Expo of Verona January 22-24 Ducati will be exhibiting a further addition to its new for 2016 XDiavel cruiser world, the all-new draXter. This "concept bike" interprets the XDiavel world from a sports viewpoint. The project was developed by the Ducati Design Center's Advanced Design area, a section dedicated to exploring the future style and design concepts of Ducati motorcycles. This wild dragster inspired sports interpretation of the XDiavel world has been named the draXter

Their ideas and sketches have allowed the Ducati prototype department to come up with the draXter, starting from a standard production XDiavel. The beating heart of the draXter is that of an extreme dragster with premium racing componentry. This is particularly evident, for example, in the suspension and brakes, taken directly from the Panigale Superbike. This styling exercise has accentuated the lines and proportions of the XDiavel making them more extreme than ever and turning the draXter into a unique, breath-taking "racer".
The number 90 on the side of the Ducati draXter recalls the racing world, yet also pays homage to Ducati's 90th anniversary, being celebrated this year.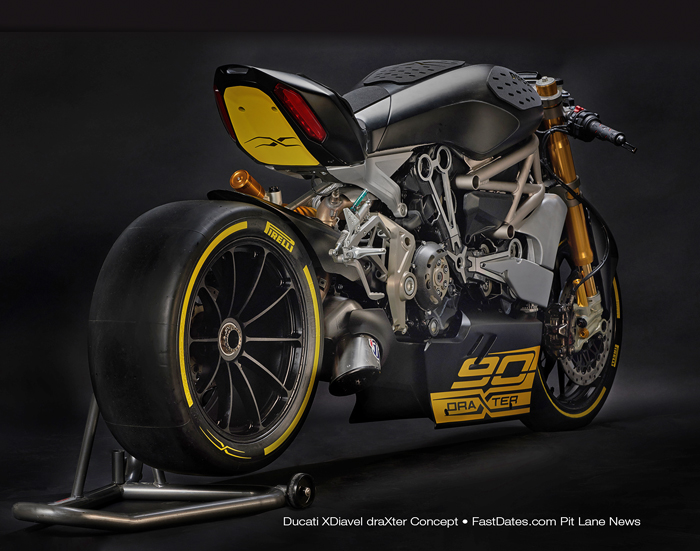 ---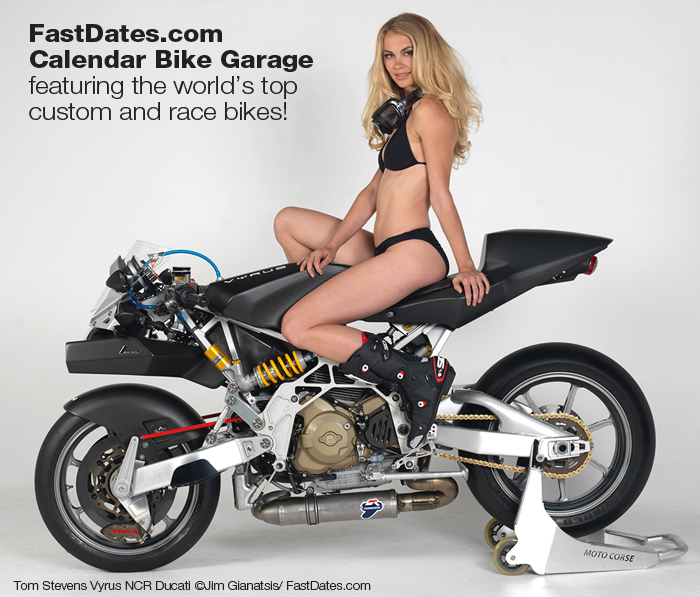 Now in the Calendar Bike Garage... The World's Coolest Naked Ducati!
Beauitful FastDates.com Calendar Kitten Sara takes us for a ride on the world's most exotic and expensive Ducati streetbike
ever - a $110,000 Vyrus NCR 983 Superleggera in the Calendar Bike Garage and in Members Corner.
Now in the FastDates.com Calendar Bike Garage!
David Beckham's Amazon Triumph Scrambler build by legenday Calendar Bike Builder Rickard Pollock / Mule Motorcycles, photographed with Calendar Kitten and Penthouse Pet Aleska in BIG full screen saver size photos.
David Beckham stars in OUTLAWS - a Belstaff Triumph Movie Short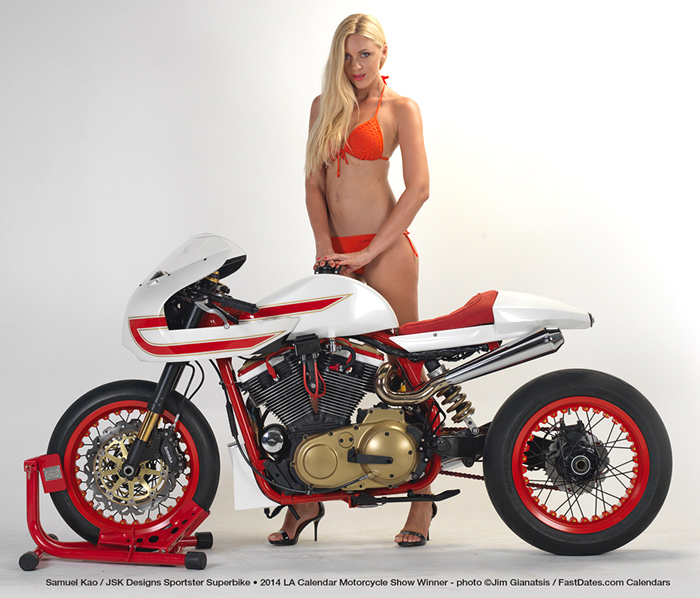 Now in the Calendar Bike Garage... Sam Kao's LA Calendar Show Winner
Beauitful FastDates.com SBK World Superbike Calendar Kitten Petra looks fantastic with Samuel Kao's JSK Desgn Sportster
featured in the Calendar Bike Garage / Members Corner and in the new 2016 Iron & Lace Calendar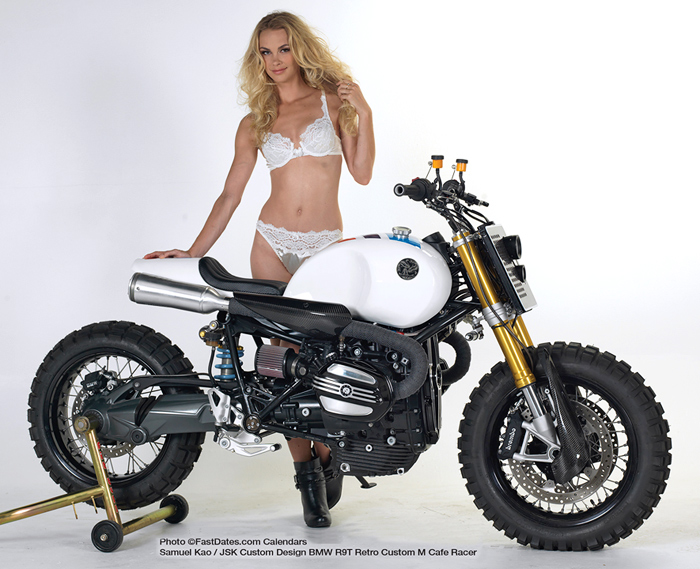 Now in the Calendar Bike Garage...
Samuel Kao's Calendar Bike Show class winning BMW R 90T Bar Hopper with beauitful FastDates.com SBK World Superbike Calendar Kitten Sara featured in the Calendar Bike Garage / Members Corner and in the new 2016 Iron & Lace Calendar

---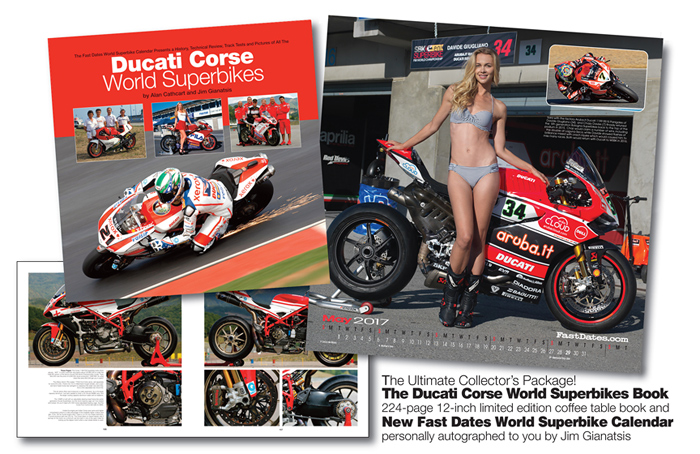 ---
Previous Week - More: Pit Lane News
New Model Sportbikes • Editorial Features: Pit Board

Also Visit: Fast Dates Calendar News • Iron & Lace Calendar News • Calendar Girl News
Meet the Models • Paddock Garage
Get FastDates.com T-Shirts, Mugs & Photographs from Our Store




MEMBERS CORNER! Calendar Kittens, Paddock Garage, Iron & Lace Garage



Amazon.com Motorcycle Products & Apparel Store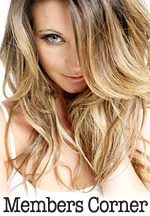 Hot Bikes, Sexy Kittens
Your Excl
Your Excusive Grid Pass
also includes....
---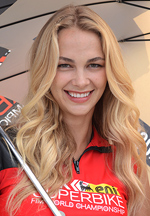 2015 SBK Race Season
Meet the offical SBK
World Superbike Girls!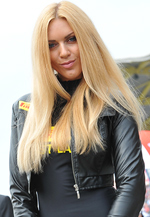 2014 SBK Race Season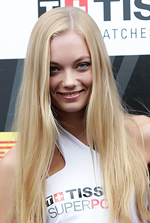 2013 SBK Race Season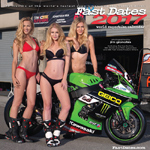 Order the New 2017 Calendars!
with the FastDates.com Calendar Kittens - the official SBK Umbrella Girls!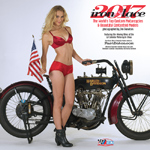 Click Below for more
Calendars!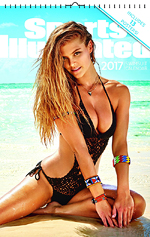 Sports Illustrated Swimsuit 2017 Wall Art Calendar Art w/Hanger 11x17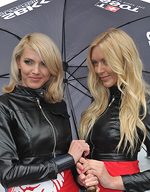 Meet FastDates.com
Calendar Kittens
SBK Grid Girls
Jitunka & Petra!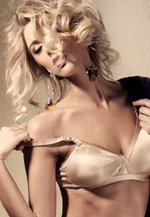 Petra Ruzickova
---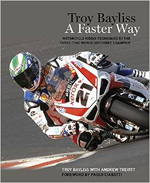 New! Troy Bayliss
A Faster Way
Track Riding Book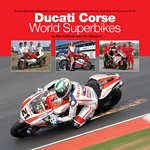 Retail $49.95 ea.
Click to Order from Amazon.com

Ducati Corse
World Superbikes
by Alan Cathcart
& Jim Gianatsis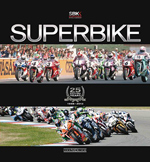 The Official SBK
World Superbikes
1987-2012
25 Year History Book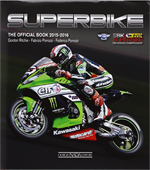 The Official SBK
2015-2016 Yearbook
These SBK Yearbooks are the Best Books Ever about World Superbike. They feature wesome color photography of the riders, bike and racing action. The feature a deailed revue of the past season in pictures and stactics, awith a detailed look at the bikes and riders.

Plus a technical look data all the bikes, a preview of the upcoming season's Championship!
We buy this every year ourselves and highly recommend it!
SBK World Superbike Video Game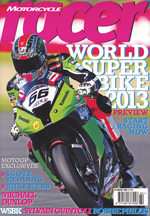 Official Print Media Partner
---
Honda WorldSBK Team signs Stefan Bradl for the 2017 WorldSBK season
August 2nd 2016 -The Honda WorldSBK Team is pleased to announce the signing of 26-year-old Stefan Bradl from Germany for the 2017 FIM Superbike World Championship. Crowned Moto2 World Champion in 2011, Bradl will join former MotoGP™ Champion Nicky Hayden to complete a stellar line-up for Honda next season.

Despite his young age, Bradl has a wealth of experience at international level. Since his 125cc debut in 2005, he has collected nineteen podium finishes and seven wins across all Grand Prix classes. After winning the Moto2 World Championship in 2011, Stefan made his MotoGP debut with the LCR Honda Team in 2012 where his best result was a second-place finish at Laguna Seca in 2013.

The Honda WorldSBK Team would like to thank Michael van der Mark for his outstanding efforts and title-winning contribution during his tenure as a Honda rider. The team will maintain its unconditional support for Michael for the remainder of the season, with the goal of achieving the best possible results.

The Honda WorldSBK Team is pleased to confirm that its riders for the 2017 season will be Nicky Hayden and Stefan Bradl.
Ducati team on track in 2017 with Chaz Davies and Marco Melandri
The Aruba.it Racing - Bologna, Italy, July 28th - The Aruba.it Racing - Ducati team finalized its line-up for the 2017 WorldSBK Championship, confirming Chaz Davies and signing an agreement with Marco Melandri. Chaz and Marco have already been teammates in the past with great results, their common goal is to fight for the victory at each round and aim at the Riders' and Manufacturers' world titles.

Chaz Davies, 29, is currently in the middle of his third season with Ducati and, thus far, has secured 9 wins and 32 podiums overall on the Panigale R, showing constant progress and winning the hearts of many Ducati fans.

"I'm extremely happy to renew my professional relationship with Ducati for two more seasons," Davies said. "The continuity element is really important in our job, and so far we've made great strides and got progressively closer to our goal. Now we can fight for the win practically on every track, and I'm confident we can make further improvements. Moreover, to race for Ducati is something special: everything is done with heart and passion, you really feel part of a family and have a direct connection between the production and racing. It's going to be exciting."

Thirty-four-year-old Melandri, on the other hand, will return to the production-based series, where he has claimed 19 wins and 49 overall podiums in 100 races.

"I'm really excited to come back to racing, it's a dream come true," Melandri stated. "I always said I was only interested in a top bike and top team, and I could not have asked for more. I kept following WorldSBK closely, and I'm confident the Panigale R can perfectly suit my riding style. We'll just have to take one step at a time, but the potential is surely high. I know it won't be easy to get back up to speed, but I have all the time to step on the bike, do laps and make sure I'm ready for the first test: to this end, I will skip the holidays to train on a street version of the Panigale R."

The 2016 championship will mark Davide Giugliano's last season within the Aruba.it Racing - Ducati team. In three years with the squad, the Italian rider has shown great speed and resilience, taking 10 podiums so far despite being sidelined for most of 2015 with two serious injuries. Ducati and Aruba.it would like to thank Davide for his efforts, wishing him all the best for his future career and reiterating their commitment to give him the best possible tools to achieve his first WorldSBK win.

"I had a great time with Ducati," said Giugliano. "I learned a lot and was given a wealth of experience to draw upon, which is really important for a young rider. We also faced some difficult times, especially last year when I was badly injured, but we've always stayed close. We decided to take different paths, but our relationship remains strong: I'm still young, so we may rejoin forces in the future. I sincerely wish Melandri the best and would like to thank everyone in Ducati, especially Paolo Ciabatti, and Aruba.it for all their support. It's been a great journey, which has yielded great results despite the fact that we would have liked to do more, but I'll give my best until the end of the season to achieve bigger goals."

Luigi Dall'Igna, Ducati Corse General Manager: "Chaz Davies has become a key member of the Ducati family, so we're happy to announce that he will ride with us for two more years. Chaz has shown great progress and we're confident he can take our bike to even higher grounds. In 2017, he will ride alongside Marco Melandri, who took upon the challenge with great enthusiasm. Marco is a talented rider, he has already achieved prestigious results in WorldSBK and we're confident that the year spent without racing has not undermined his qualities. We're obviously sad for Davide Giugliano, who will part ways with us at the end of the year, and we wish him nothing but the best. Davide proved to have great competitiveness, taking many podiums and fastest laps, and has given a crucial input towards the development of the WorldSBK-spec Panigale R. We would like to thank him and guarantee we will give him all our support until the last race to help him achieve the results he deserves."

Stefano Cecconi, Aruba S.p.A. CEO and Team Principal: "Given that the riders' choice is among the most important and difficult to make, as the available seats are always less than what we would ideally offer, we had to resort to our ambition and courage while taking all the necessary time to finalize the 2017 line-up. Chaz has shown he can fight for the victory each round. Davide is a young and fast rider, who can become even more competitive, so I hope it's a 'see you again' and not a 'farewell' between us. Marco's resume speaks for itself and puts more pressure, at any rate positive, on us: we want to help him achieve the result that, surely not due to a lack in talent, has eluded him in WorldSBK so far."
Luis Salom dies from Catalunya MotoGP 2 Practice Accident
Gran Premi Monster Energy de Catalunya, Friday 3rd June 2016 - Following an incident during today's Moto2 Free Practice 2 at the Circuit de Barcelona-Catalunya, it is with great sadness that we have to report the passing of Luis Salom (SAG Team).

The session was red flagged with just under 25 minutes remaining after the Spanish rider fell at turn 12.

Two medical cars and then two ambulances were immediately on scene to treat the 24-year-old and the medical helicopter was also deployed to assist in his treatment.

Due the severity of his condition, the decision was taken to transfer Salom by road to the nearby Hospital General de Catalunya. On arrival, he underwent surgery, but despite the best efforts of the trauma team, he passed away at 1655pm local time.

Salom made his World Championship debut at Jerez in 2009 in the 125cc category. He finished on the podium in 25 races, including nine victories in the Moto3 World Championship. He finished the 2012 Moto3 World Championship in second position in the standings and a year later was third overall after battling with Maverick Vinales and Alex Rins down to the final round in Valencia.

He also finished on the podium three times in 41 appearances in the Moto2 World Championship, including a second place pace in the opening round of 2016 at the Losail International Circuit in Qatar.

The FIM, Dorna, IRTA, RFME and the Circuit de Barcelona-Catalunya wishes to pass on its condolences to the family, friends and team of Salom.
MotoAmerica Superbike Champ Cameron Beaubier To Race For Pata Yamaha Official WorldSBK Team Next Weekend At Donington Park
Cypress, CA - May 20, 2016 – Defending MotoAmerica Superbike Champion and Monster Energy/Graves/Yamaha Factory Superbike rider Cameron Beaubier will replace injured Pata Yamaha Official WorldSBK rider Sylvain Guintoli for next weekend's MOTUL FIM Superbike World Championship race at Donington Park, England. The announcement was made by Keith McCarty, Motorsports Racing Division Manager for Yamaha Motor Corporation, U.S.A., and Paul Denning, Team Principal for the Pata Yamaha Official WorldSBK Team.

With a couple of weeks off between rounds four and five of the 2016 MotoAmerica AMA/FIM North American Roadracing Championship, the timing was right for Cameron to fly to England and climb aboard the Pata Yamaha WorldSBK YZF-R1. He will be teamed with Pata Yamaha Official WorldSBK rider Alex Lowes next weekend at Donington Park on the Leicestershire border for round seven of the Superbike World Championship.

Commenting on the exciting opportunity for the 23-year-old rider from Roseville, California, Cameron said, "I feel really fortunate that the Pata Yamaha Official WorldSBK Team is giving me this opportunity to be a part of the team for the weekend while Sylvain is healing up. I'm also thankful that Yamaha U.S. is allowing me to do this in the middle of our MotoAmerica season! It will be a tough weekend, with lots of learning, but I'm going to do my best and have fun!"

"This is a great opportunity for Cameron," McCarty said. "It's a perfect example of how our Yamaha bLU cRU rider support program is working to prepare and promote Yamaha riders here in the U.S. to compete on the world stage. Cameron raced in a round of the German Superbike Championship last year, and competing for the Pata Yamaha Official WorldSBK Team at Donington next weekend will be another big step in his racing career. All of us at Yamaha U.S. are proud of Cameron, and we'll definitely be cheering him on!"

Sykes And Kawasaki Racing Team Continue Their Strong Partnership
June 20th, 2016 - 2013 FIM Superbike World Champion for Kawasaki, Tom Sykes, will continue his successful relationship with KRT and KHI for another two years after making a new agreement with the Japanese factory to be a key member of the overall Ninja ZX-10R racing project, both on and off-track.
Having formed such a successful partnership with Kawasaki in the past few years, culminating in his championship win in 2013, Sykes will continue to be an integral part of the Kawasaki racing and development program around the awesome Ninja ZX-10R. Tom's commitment to the Kawasaki cause has been evident ever since he first rode a WorldSBK spec Ninja back in 2010, and he has collected an enviable list of achievements along the way.

Sykes has now taken 30 race wins, and all but one of his 76 career podium finishes, on ZX-10R machines. Tom has also set the second highest ever record of Superpole qualifying wins, which reached 36 at the most recent round in Misano. He has also set 30 fastest laps during WorldSBK races and has been twice a runner-up in the championship, in addition to his headlining success in 2013.

In making a new agreement with Kawasaki's official squad Tom is now intent on continuing his career at the highest level of production-derived racing, with the most successful WorldSBK team and machine of recent times. Once more Tom will join up alongside his current KRT team-mate Jonathan Rea, who also recently re-signed.

Tom Sykes stated: "I am really excited to have made a further commitment with KRT and KHI. It's a great feeling to be back with such a great team for another two years. We have already shown the capabilities of the latest model Ninja ZX-10R this season and there is a lot of potential still to come from the bike. I think it is safe to say that we have the best all-round package in the FIM Superbike World Championship and I would like to thank KHI for showing their continued commitment to me as a rider. As well as the bike and the on-track performance I have been part of the Kawasaki family for seven years so it was really natural to continue that relationship. To carry on working with my dedicated crew - Marcel, Danilo, Mattia, Raul, Tambu and Ruben and all my other valued colleagues and friends in the team - was priceless as they are widely recognized as the pick of the crop in the WorldSBK paddock.
I get so much support from the brilliant fans and passionate Kawasaki owners that it was also a positive decision to make to remain part of that. Another important thing is to continue the development program, for the road bike and the race bike side of things, which is something I feel an integral part of. The technical aspect of working with the team and KHI is deeply satisfying to me, not just the successes on track."
JONATHAN REA AND KAWASAKI TOGETHER FOR TWO MORE YEARS
May 12th 2016 - Reigning FIM Superbike World Champion Jonathan Rea has re-signed with Kawasaki's official KRT effort to compete for two more years on the class-leading latest model Ninja ZX-10R.
Committing to extend their mutually beneficial partnership into the future, both Rea and Kawasaki aim to continue the kind of success that delivered Rea the championship in his first KRT season last year.
Jonathan leads the current WorldSBK championship standings by 35 points after five rounds of the 2016 season have been completed.

JONATHAN REA (Kawasaki Racing Team Rider): "I am so happy to extend this partnership with the Kawasaki Racing Team and continue the great relationship I have with all the Kawasaki engineers and fans. It is clear that our objectives and way of working are very well matched so it makes perfect sense to extend this for two more seasons. With all the incredible memories we have made so far and are now creating, I am 100% confident that we will enjoy working together and develop the Ninja ZX-10R into the future. I would like to thank Kawasaki and all the KRT staff for their full support and belief in my potential. With this in mind I am now even more focused than ever to win the World SBK Championship in 2016 to make it back to back wins."
Andrea Dovizioso confirmed alonside Jorge Lorenzo in Ducati MotoGP Team for 2017 and 2018
May 17th - Ducati wishes to announce that it has reached an agreement with Andrea Dovizioso for the 2017 and 2018 MotoGP seasons. The Romagna-born rider, who has been with Ducati since 2013, will team up with Jorge Lorenzo for the next two seasons aboard the Ducati Team's Desmosedici GP bike.

Andrea Dovizioso: "I am very satisfied to have reached this agreement with Ducati and to be able to continue the adventure begun back with them in 2013. In the last few years we have worked with a lot of commitment and we have succeeded in taking the Desmosedici GP to an excellent competitive level, and so I am convinced that soon we will obtain the satisfaction that we deserve."

The 2016 championship will therefore be Andrea Iannone's final season with the Ducati Team. The Abruzzo-born rider, after two years in the "factory-supported" Pramac Racing outfit, moved to the factory team in 2015, immediately showing his great talent and pace, and he will undoubtedly give his utmost in the remaining rounds of the season in order to conclude his experience in Ducati in the best possible way.

Andrea Iannone: "Obviously I am sorry that my time with Ducati will draw to a close at the end of this season, but I am grateful to the Bologna manufacturer for the opportunity it has given me in the last few years. I made my MotoGP debut with Ducati and I have grown up with them, always succeeding in improving my level of performance. In the remaining races I will give my all, as I always do, because I am convinced that thanks to the competitiveness of the Desmosedici GP we can achieve some great results."

Luigi Dall'Igna: "It's never easy to take a decision like this one, especially when you have two great riders like the two Andreas in your team. We are very happy that Dovizioso has agreed to stay with us for the next two years, and together with him we can continue the successful work we began four years ago in order to reach the ambitious aims we have set for ourselves. We are sorry for Andrea Iannone, who at the end of the season will no longer be a part of the team. Andrea has carried out an important job in these years and has made a significant contribution to the development of the Ducati Desmosedici GP. For this reason we would like to thank him and we will provide him with our maximum commitment in the next rounds of the championship, in order to obtain the prestigious results that are for sure within his reach."
Reigning world champion Jorge Lorenzo will join Ducati MotoGP Team at the end of the season after seven years at Yamaha. Maverick Viñales tipped to replace him.
April 21st - Three-time Moto GP world champion Jorge Lorenzo will join Ducati from Yamaha on a two-year contract at the end of the current 2016 campaign, the two teams confirmed on Monday.

The move is something of a coup for the freshly-returned team given that Lorenzo is the reigning champion, and rather daring for an Italian team given Lorenzo's bitter rivalry with his current Yamaha teammate, the hugely popular Italian Valentino Rossi.

"Ducati has reached an agreement with Jorge Lorenzo for the Spanish rider to race the world championship Moto GP for 2017 and 2018," a Ducati statement read.

The Spanish sports press reported widely that Lorenzo, who won 41 top level races with Yamaha, will be paid 25 million euros ($28 million) for the two-year term at Ducati.
The Japanese team with whom the 28-year-old Mallorcan has spent the past seven seasons wished their champion well.

"Yamaha is extremely grateful for Jorge's contributions to its racing successes and looks forward to sharing more memorable moments during the remaining 15 MotoGP rounds of 2016," they said in an official statement.

Twice a champion at 250cc, Lorenzo won the MotoGP world title in 2010, 2012, and in 2015 after a bitter struggle with Rossi, who accused a second Spaniard, Marc Márquez, of teaming up with Lorenzo to prevent him winning last year's crown in a story that dominated the sport for months.

As Yamaha extended Rossi's deal for two years in March it was suspected that Lorenzo's deal would be allowed to run out.
Although Yamaha have yet to confirm a new partner for Rossi, Spain's up-and-coming 21-year-old Maverick Viñales, currently with Suzuki, is tipped to be that man.
Dorna Turns Down 5 New Team Entry Requests into MotoGP for 2017 due tp lack of Available factory bikes
Monday, 02 May 2016 - On the 21st of March it was announced that applications from existing MotoGP Championship teams to provide a 24th entry in the MotoGP class from 2017 would be invited. The deadline for applications was the 29th of April, on which date the Selection Committee, comprising delegates of FIM, IRTA and Dorna would consider the applications.

Expressions of interest were received from five teams who were then provided with more comprehensive details of the requirements and the financial conditions.

Three teams subsequently submitted official applications for consideration.

The Selection Committee considered the applications and concluded that all three had merit and each, in slightly different ways, had elements that could enhance the MotoGP class.

However, alongside the application process, discussions were also conducted with the Manufacturers to establish the likely availability of competitive machinery for the extra entry. The conclusion from these discussions was that there was reluctance amongst the existing Manufacturers to commit to making additional equipment available, at least for 2017.

It has therefore reluctantly been decided to postpone a decision on the allocation of the additional entry to a later season.

FIM, IRTA and Dorna wish to thank the teams who complied with the application process and apologise that the offer has had to be withdrawn.
Jorge Lorenzo teams up with Ducati in MotoGP for 2017 and 2018
April 18th, 2016 - Ducati announces that it has reached an agreement with current factory Yamaha rider and reigning 2015 MotoGP World Champion Jorge Lorenzo which will see the Spanish rider will take part in the MotoGP World Championship in 2017 and 2018 aboard the Ducati Desmosedici GP of the Ducati Team.
Lorenzo, born in Palma de Mallorca on 4 May 1987, has won five world championship titles throughout his racing career (250cc in 2006 and 2007 and MotoGP in 2010, 2012 and 2015).
2016 SBK Calendar Update
Monza Round Cancelled The FIM and DWO would like to announce the cancellation of the 2016 WorldSBK Italian Round that was to be held at the Autodromo Nazionale Monza during the weekend of the 22nd – 24th July.

Regarding the changes needed to bring the WorldSBK paddock back to Monza, all the bodies involved have requested the FIM and DWO for the time required in order to further analyze the project, with a view to confirming its feasibility in the near future.
(We assume the cancellation was for the ned for track safety upgrades. -Ed)

DWO would further like to announce that the substitute circuit contract with Vallelunga will not be activated, due to scheduling difficulties and the required modifications to the venue that would enable Vallelunga to host a Round of WorldSBK.

At this time, a replacement venue for this Italian Round of the Championship is still being evaluated. Confirmation of both the location and date of the replacement will be provided before the 1st of May, to enable final confirmation of the 2016 WorldSBK Calendar.
Yamaha and Valentino Rossi Extend Contract for 2 More Yeas Through 2018
Losail (Qatar), 19th March 2016 - It is with great pleasure that Yamaha Motor Co., Ltd. confirms that Valentino Rossi will remain a part of the Movistar Yamaha MotoGP team's rider line-up for the MotoGP World Championship season of 2017 and 2018.
The announcement comes after three very strong years by the most-respected MotoGP rider of all time, since his return to Yamaha in 2013.
Rossi has had a very special bond with his beloved YZR-M1 starting from his first race with Yamaha at Welkom Circuit, South Africa, in 2004, which ended in an iconic win. The combination of 'the Doctor' and the YZR-M1 has gone from strength to strength since and together they secured four titles and 53 Grand Prix wins over ten seasons.
With fifteen brilliant podiums and four strong GP victories in the last year, Yamaha is confident in their partnership with Valentino Rossi and looks forward to being a serious title contender for 2016 and the following seasons.
Nicky Hayden was inducted into the MotoGP™ World Championship Hall of Fame at the Valencia GP.
The 2006 MotoGP™ World Champion Nicky Hayden was inducted into the World Championship Hall of Fame as the 22nd MotoGP™ Legend by Dorna Sports CEO Carmelo Ezpeleta in a ceremony held at the final round of the 2015 season in Valencia.
The American announced earlier in the season that he would leave the premier class at the end of the year in order to compete in WorldSBK in 2016.
A three-time Grand Prix winner, Nicky Hayden clinched the 2006 title with Repsol Honda, ending Valentino Rossi's streak of 5 consecutive titles from 2001 to 2005. The popular American will leave the category after 216 Grand Prix appearances, and throughout his illustrious career the 'Kentucky Kid' has been on the podium 28 times, posted 7 race fastest laps and taken 5 pole positions.
Hayden joins a long list of greats that have been made MotoGP™ Legends that includes Giacomo Agostini, Mick Doohan, Geoff Duke, Wayne Gardner, Mike Hailwood, Daijiro Kato, Eddie Lawson, Anton Mang, Angel Nieto, Wayne Rainey, Phil Read, Jim Redman, Kenny Roberts, Jarno Saarinen, Kevin Schwantz, Barry Sheene, Marco Simoncelli, Freddie Spencer, Casey Stoner, John Surtees and Carlo Ubbiali.
Nicky Hayden: "It is really is a great honour to receive this. I do not take it lightly, I know there are people in this club with more illustrious careers and who have obviously won more than me, but regardless I got in there! I am very happy. I mean for 13 years it was eat, breathe and sleep MotoGP. It's been an amazing ride. Of course these last two years have been tough, but I've enjoyed every minute of it, worked with some great teams and rode some great bikes.

I'd just like to thank everybody who has supported me through it all, my teams and my family, I appreciate it all. Thanks also to Carmelo; I think MotoGP - as much as the last weeks have been a little negative - is in a great place. The sport is bigger and better than ever, the tracks are safer and the young talent keeps getting younger and faster. So the future is very bright."

Carmelo Ezpeleta – CEO of Dorna Sports: "For all of us, it's a great pleasure to give Nicky this award - this is not just because you've been Champion and you're one of the riders with most starts in the premier class, but also for your behaviour over all those years, your sportsmanship and your friendship. It's a great pleasure to consider you one of our legends. Thank you for all you've done for the sport in all those years."

MV Agusta F3 800cc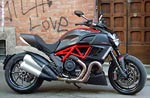 The Devil Made Us Do It!
Testing the Ducati Diavel in Italy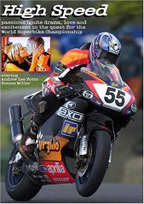 High Speed - the Movie
The best motorcycle racing movie ever made! Filmed on location at the World Superbike races , this an exciting romantic drama staring beautiful British actress Sienna Miller.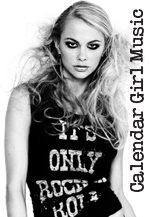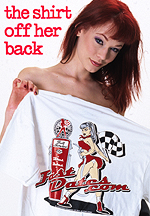 Order the Official
FastDates.com &
LA Calendar Bike Show
T-Shirts!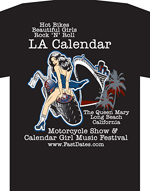 World Supersport on the Verge of Change for 2016
The Fédération Internationale de Motocyclisme (FIM), FIM Europe and DWO are pleased to announce that a new exciting format will be introduced for the upcoming season.
The 2016 edition of the FIM Superbike World Championship will witness a historical change for the important and renowned World Supersport class.

After successfully introducing technical and sporting rule changes in the World Superbike class for 2015, it is time now on focusing efforts on the middleweight series.

In what is its third year as promoter and organiser of the series, Dorna is constantly working side by side with the FIM, teams and manufacturers to ensure the series maintains and improves its level in line with the changes in the motorcycle industry and worldwide economy.

In 2016, the FIM Supersport World Championship will feature new technical rules that will result in major cost saving for the teams involved. The WSS machines' preparation will be similar in all ways to the ones used in the most important national championships, easing the way for local teams to take part in selected races with wildcard rides and increasing the competition between participants.
Furthermore, a new series within the major Championship – following the same technical regulations as the main tier of World Supersport - will be created, which will be dedicated to teams aiming to take part in the European rounds only to promote young talents at much reduced cost. This will provide a chance for a selected number of smaller further teams to increase their visibility on the world stage – with a massive boost in terms of TV presence and appeal – while the riders will have a chance to compete head to head with some of the established stars of World Supersport. The name of the complementary series is yet to be revealed.

As a consequence of this fundamental revamping of World Supersport, the Superstock 600 class will cease to exist.

Ignacio Verneda, FIM CEO: "The modification of the technical regulations in Supersport to reduce costs and increase the participation of riders was logical after the success achieved in World Superbike following similar changes. We are convinced that this step is important for the future of the Supersport class.

Dr. Wolfgang Srb, FIM Europe President: "The promotion of young and hopeful riders has always been high on our agenda. We believe in series that pave - at affordable costs - the way from National via European Championships to the pinnacle of every sport: the World Championship. I am happy that Dorna shares the view of the "pyramid model" and offers with the new Supersport class an attractive European Road Racing series for talented riders. However, I like to underline the fact that the series will be open for riders from all continents. A strong and close competition is paramount for success."

Javier Alonso, WorldSBK Executive Director: "We are happy to announce these major changes to the sporting and technical sides of the FIM Supersport World Championship. We are confident that the new format will bring further and fresh excitement to the series as well as a whole new set of opportunities for teams and young riders with the talent and desire to build a path upwards in motorcycle racing."

The new Technical Rules for the FIM Supersport World Championship will be available soon on the FIM Website.
Motul announced as new WorldSBK Title Sponsor
Solid agreement signed for the next five seasons, from 2016 to 2020.
Marc Saurina, WSBK Commercial and Marketing Director with Roman Grabowski, Motul Motorsport Manager
Details of the agreement between Dorna Group and Motul were revealed at Magny-Cours last Friday during the penultimate round of the 2015 WorldSBK season. Representatives Romain Grabowski of Motul and Marc Saurina of Dorna formally announced to the gathered media and fans the new-look, long-term partnership which will see the Championship invigorated from the start of next year.
Motul, the French company producing high-performance motor oils and industrial lubricants, has a long history in motorsports. It is a key partner for both the FIM and Dorna Group and will make its debut in WorldSBK in 2016, as Title Sponsor of the Championship.
Starting from the forthcoming new season, the series will feature a dedicated combined championship logo in all of its adaptations, as well as a brand-new Motul-SBK product range. This will be launched during the first quarter of next season and is aimed at customers who expect the very best.
In the meantime, racing oils and lubricants will be available for the teams competing in WorldSBK, putting a perfect combination of racing knowledge and skills at the end users' disposal.
Motul has embraced the essence of the SBK Experience and it is now going to offer its guests the closest motorcycle racing experience ever with proximity and accessibility being the key words.
Motul products will be on display within the Paddock for all the Superbike fans attending the races, making this a full partnership which involves fans, teams and Motul guests.
Romain Grabowski, Motul Motorsport Manager said: "We are really delighted to add WorldSBK to the list of motorcycling disciplines we support on a worldwide basis. As with the FIM EWC, WorldSBK teams will be able to use the Motul Factory Line range which is dedicated to racing and which benefits from knowledge gained from the major manufacturers' use of experimental products in MotoGP. This 360° partnership includes the launch of a WorldSBK by Motul product which will be destined for fans of the championship, and we've also got a brand-new 'Motul SBK Experience' concept which from 2016 will allow us to offer our customers a unique experience at each of the season's races. We can't wait for this 2016 campaign to begin!".
Marc Saurina, WSBK Commercial and Marketing Director says: "It is a great pleasure for us to see such an important brand in the history of motorsports joining with WorldSBK's core values. Motul is the perfect partner with whom to develop our concept of brand experience, having a close proximity to the very DNA of production-based motorcycling."