Fast Dates World Superbike and MotoGP Calendar News
September - October 2012
...more Fast Dates News HERE
This Month in the Fast Dates World Superbike Calendar ....
Calendar Kittens and Playboy Playmates Jaime Edmonson and Heather Rae Young get frisky with Carlos Checa's 2011 Althea Ducati 1198RS World Superbike. Carlos would return with the bike in 2012 to win the Superbike World Championship. You'll find bikes like this with beautiful Kittens featured in the Calendar Bike Garage with full specifications and screensaver size pictures.
Plus nude pictorials of the Calendar Kittens in Members Corner
Order the Fast Dates Calendars • Calendar Screensavers in Members Corner

Order the 2013 Fast Dates Calendar
Calendar Bike Photo Features, Paddock Garage Tuning, Nude Pictorials of our Calendar Kittens in Members Corner
---

Ladies and Gentlemen, presenting 2012 LA Calendar Best of Show winner Hoshikawa Hideki and his bike 'Asterisk'. Pictured from left are Calendar Kittens Halle and Sabella, Hideki, show producer Jim Gianatsis, and Kinsey Ray. The unique aluminum die cut and laser painted Calednar Girl logo trophies were produced by SicChops.com.

Look for all these great bikes and model in the next 2014 FastDates.com Calendars.




Japanese Builder Hoshikawa Hideki flys in to take Best of Show
2012 LA Calendar Motorcycle Show

Calabasas, California, USA, Sunday July 22nd, 2012 - The 21st edition of the LA Calendar Motorcycle Show sponsored by Russ Brown Motorcycle Attorneys moved into its third decade as the premier outdoor streetbike event in America featuring its top Celebrity Builders, the Calendar Bike Building Championship & Concours d' Elegance, selected Vendors and Exhibitors, Calendar Girl Music live performances, this year taking place at a beautiful new new location on the lawn and under the shade trees of the Calabasas Inn, in the upscale Los Angeles suburb of Calabasas, California. The first decade of the Calendar Motorcycle Show took place at the exciting Museum of Flying at the Santa Moncia Airport, then expanded in 1991 to two days the larger Queen Mary event facility in Long Beach venue alongside the Pacific Ocean.

The Show's activities again included the Calendar Bike Building Championship, selected Vendors and Exhibitors, the Motorcycle Machine Dyno, and Calendar Girl Music live performances featuring the Japanese girl rock band Nylon Pink, singer songwriters Rachel McGoye and Marina V.

As always the Show marks the world premier of next year's new 2013 FastDates.com Motorcycle PinUp Calendars photographed by Calendar Show producer Jim Gianatsis. The Calendars include Fast Dates World Superbike and MotoGP roadracebikes, Iron & Lace Custom Motorcycles, and Garage Girls Hard at Work, hosted by beautiful Calendar Kittens and SBK World Superbike grid girls Sabella Shake and Kinzy Ray featured in the in the FastDates.com Calendars and Website. The new 2013 Calendars are available now at FastDates.com, Amazon.com, at Cycle Gear Stores and your favorite dealer, or phone Van Leeuwen Distributing at 1-800-461-1226.

The Show park was filled to capacity with top industry names including Jim's Machine, Edelbrock Engineering, Frog Specialties / Beringer Brakes, AXO streetbike apparel, and Universal Technical Institute training school. Spectators were treaded to upscale dining on lined covered tables under shade trees, with food and beverages form some of LA's top food trucks - Baby's Badass Burgers, The Grilled Cheese Truck, Maui Waui Hawaiian Smoothies and Sugar Babies Cupcakery. The fresh baked heart topped cup cakes were passed out by the Calendar Kittens complimentary to show spectators.

The Calendar Motorcycle Show continues to feature many of the world's top Pro and Amateur custom street bike builders with their newest 2-wheeled creations of rolling art to compete in the Calendar Show Bike Building Championship for fame and awards including the coveted Best of Show Trophy. The Calendar Show broadened its focus to include the growing Collector Bike Market with Exhibitors and Bike Show classes for classic European, British and Japanese motorcycles, along with American V-Twins and Customs. Show Entries were place in a Concours d' Elegance display throughout the venue on the grass and under shade trees at the Calabasas Inn.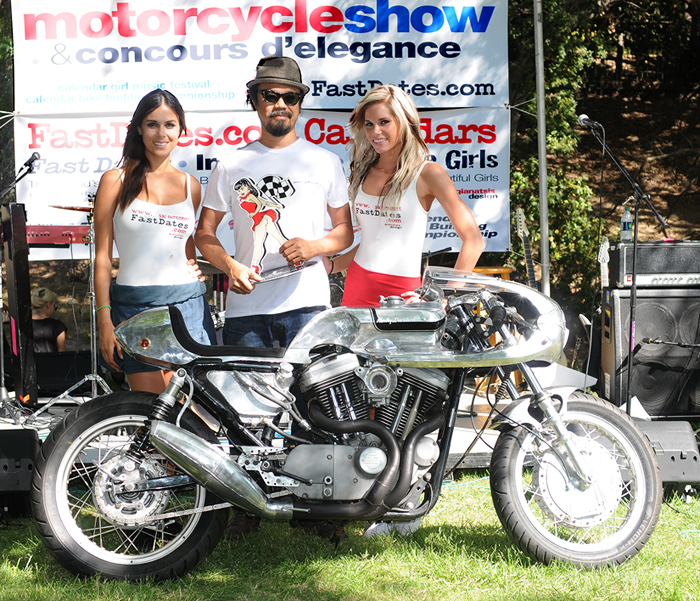 Shinya Kimura took first place in the Classic American class with this H-D Sportster based cafe racer with Shinya's signature hand made aluminum bodywork.

Among the top custom and racebike builders in attendance and featured in FastDates.com Iron & Lace Custom Motorcycle and Fast Dates Racebike PinUp Calendars over the past 20 years included Russell Mitchell / Exile Cycles and Richard Pollock / Mule Motorcycles, Shinya Kimura / Chabott Engineering, Jim Guiffra & Spokesmodels / AFT Customs, Todd Silicato / Todd's Cycle, Chris Redpath / MotoGPwerks, Caleb Owens / CRO Customs, Yaniv Evan / Power Plant Choppers and Steve Storz / Storz Performance.


Chris Redpath / MotoGPwerks.com 1st Place Classic Metric with a Ducati Bevel Drive Cafe Bike built for Tom Cruise.
Chris Redpath of MotoGP Werks used the Show to display two really neat Ducati's he had just built for Hollywood actor Tom Cruise, one a naked Ducati MotoGP Desmosedici streetfighter valued over $100,000, and the other an old Ducati Bevel-Drive 750 custom Cafe Bike. Redpath, a former factory race tuner and now performance show owner, also brought along couple of former AMA National Superbike Championship racers, one a Mike Baldwin CB900F, the other a Matt Mladin Yoshimura Suzuki GSXR750, plus a classic Mike Hailwood type Ducati racer.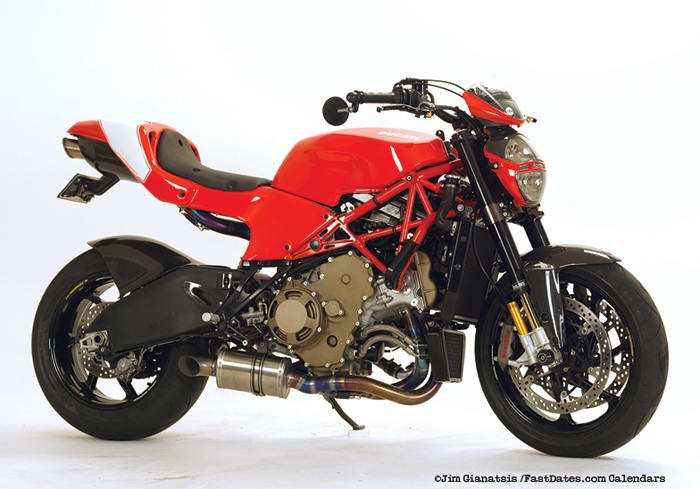 Here's Tom Cruise's $100,000 Ducati Desmosedici V-4 Streetfighter built by Chris at MotoGPwerks.com. We got to ride the bike and it is without a doubt the nicest, best handling, lightest, most powerful streetbike we've ever ridden, with a huuge torquey powerband right off of idle thanks to major ignotion and fuel injection re mapping by Chris.

For the fourth time in eight years, a top Japanese builder used the LA Calendar Show to mark his entrance onto the world stage, following in the foot steps of former Best of Show and Class winners Shinya Kimura / Chabott Engineering, Kenji Nagai / Ken's Factory and Hiroyouki Hirata of BB Custom Factory who all flew in with their bikes from Japan just to compete at the world renoun Calendar Show.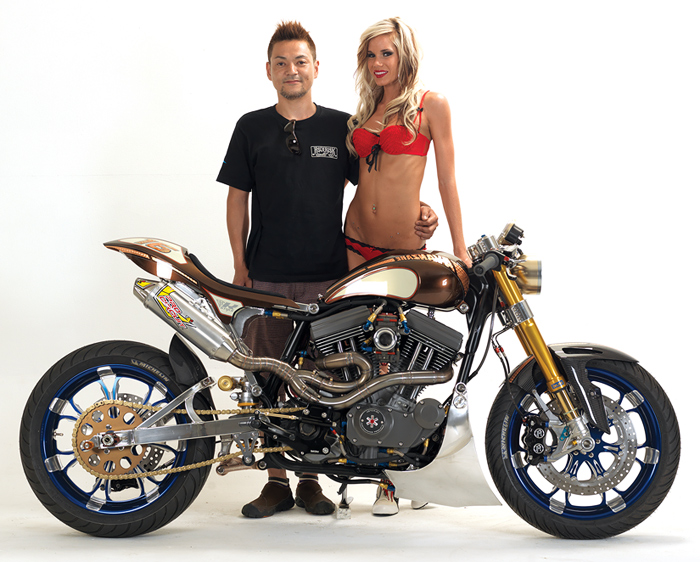 2012 LA Calendar Best of Show winner Hoshikawa Hideki and his winning bike 'Asterisk' and Calendar Kitten Kinsey Ray. Look for all these great bikes and model in the next 2014 FastDates.com Calendars.

Garnering Best of Show in this year's 2012 Calendar Bike Building Championship was Hoshikawa Hideki / Asteris9.com from Miyagi, Japan who flew in to Los Angeles for just 3 days with his latest custom bike build to compete and take top honors, then fly back home to Japan. Celebrity judges Jim Gianatsis, Jim Giuffra, Chris Redpath and Michael Schacht choose Hideki's 883cc Sportster based naked custom sportbike as the most exciting, original and well constructed custom at the Show. Hideki said he built it for a customer who gave him a blank check and no instructions whatsoever, other then to ask him to build the best bike he could build. Hideki is not necessarily a sportbike enthusiast, he builds all kinds of Harley based customs, but this time he said, he wanted to concentrate on the quality of the design and build, utilizing real sportbike feel and performance for the now highly modified 1200cc Sportster engine.
AFT Customs also award Hideki their own "AFT Visionary Awards Trophy" which was hand built by the spokesmodels at AFT, and award by shop owner Jim Giuffra, models and Angelea and Shelby to the one builder at the Show who they felt exhibited an new direction in custom bike building. In this case Hideki had taken a mundane, underpowered, overweight, ill handling 883cc Sportster and turned it into a1200cc highly potent, world-class custom sportbike.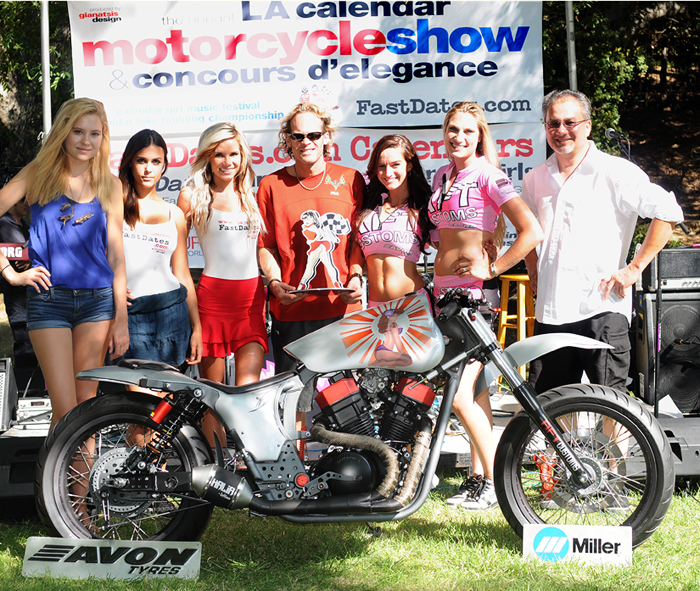 FastDates.com Calendar Kittens Halle, Sabella and Kinsey, AFT's Jim, Angela and Shelby with sponsor Phillippe Danh from Frog Specialities/Beringer Brakes USA.
Among the Calendar Show's exciting custom bike world premiers was Two-Time Best of Show and now Six-Time Class Winners with this year's Sportbike Class victory, Jim Giuffra and the Spokesmodels from AFTCustoms.com, Jaskson, CA. premiering their latest build as always at the Calendar Show. Following their tradition of naming their bikes after spirit gods, their bike 'Halia' is a Hawaiian spirit named Honda Shadow performance custom Cafe Sport Racer that will head for the BUB Speed Trials at the Bonneville Salt Flats in August with its girl builders Angela and Shelby in the saddle for speed record attempts.

The 2012 LA Calendar Motorcycle Show's move to the new Calabasas Inn venue, proved to be a tremendous success. Everyone had nothing but positive comments about the beautiful new location, how important the Calendar Show was to the custom bike building community on the West Coast, and how they looked forward to returning again next year on the 3rd weekend of July 2013 to see the Show continue.
Complete 2012 LA Calendar Motorcycle Show Coverage HERE
---
Click to Enlarge
World Premier! The Fast Dates World Superbike Calendar Presents a History, Track Tests,
Team Rider and Designer Interviews, and Pictures of All the
Ducati Corse World Superbikes
by Alan Cathcart and Jim Gianatsis
The year 2011 marked the 25th anniversary of the creation of the first, of a now legendary line of Ducati Superbikes with their trademark Desmoquattro 4-valve V-twin motors hung below a lightweight trellis tube frame, race bikes that went on to dominate the then new World Superbike Championship for next quarter of a century. Arguably the most significant motorcycle engine design of any kind since the CB750 Honda, and surely the most remarkable and successful volume production engine format ever used in world competition by any single manufacturer, the venerable Ducati 4-valve desmodromic engine recorded to this date 14 World Superbike Championship titles in the 24 year history of the world's premier production bike based world roadracing series.
This book chronicles the development and history all five Ducati Corse World Superbike generations from the first Desmoquatro 750cc prototype to the revolutionary new 1199 Panigale Superquadro together with interviews with the Ducati designers, team racers and managers. This unique insight is provided by renown motorcycle racer and journalist Alan Cathcart who has had the envious and often exclusive opportunity to test ride every one of the factory Corse race bikes over the last 25 years, those tests of which are featured here. Photography of the Corse factory bikes and riders is proved by the world's most renown motorcycle roadracing photographers.
Adding icing to the cake, and to warrant this big collectors edition book, included are the incredible high definition photographs of the bikes taken by former racer, motojournalist and photographer Jim Gianatsis as featured in the Fast Dates World Superbike Calendars from those years with the beautiful Fast Dates Calendar Kittens who served as the official SBK and Team Ducati Corse grid girls at the race where the bikes were photographed.
This 224 page large format collectors edition book begins with a Forward by Massimo Bordi, legendary designer of the Desmoquattro back in 1974. Then it dives into the technical details, revealing photography and Cathcart's exclusive tests of every one of the factory Ducati Corse Superbikes from the First Generation 851cc Daytona raced prototype, to Doug Polen's Fast by Ferracci 888/926 World Championship winner. Followed by the Second Generation 916/955 machines, the Third Generation 999, the Fourth Generation 1098/1198, to the all-new Fifth Generation 1199 Panigale. Included along the way are interviews with all the factory riders and World Championship winners from Doug Polen, Carl Fogarty and Troy Corser, to Neil Hodgson, James Toseland, Troy Bayliss, Nori Haga and Carlos Checa. While the tradition continues with a detailed look at the new 1199 Panigale and a interview with the designers who created it, and an exclusive track test of the newest Generation 1199 bike by Cathcart and 3-time World Superbike Champion Troy Bayliss.
This is a must have book for every Ducati and motorcycle roadracing enthusiast. Gianatsis Design has produced and published the book in a beautiful large format 12x12-inch hard cover design coffee table style Collectors Edition Book featuring 224 pages in full color printed on 100# dull coat art paper for the best possible reproduction and presentation. Books are individually shrink wrapped and have a printed cover wrapper.
Ducati Corse World Superbikes is $69.95 Retail Direct from Amazon.com USA / Amazon.com UK

Dealer and Distributors can order multiple copies at our Distributor Information Page
Jim Gianatsis autographed Collector Copies of the Book and matching 2013 FastDates.com Calendar
use the PayPal.com Button below.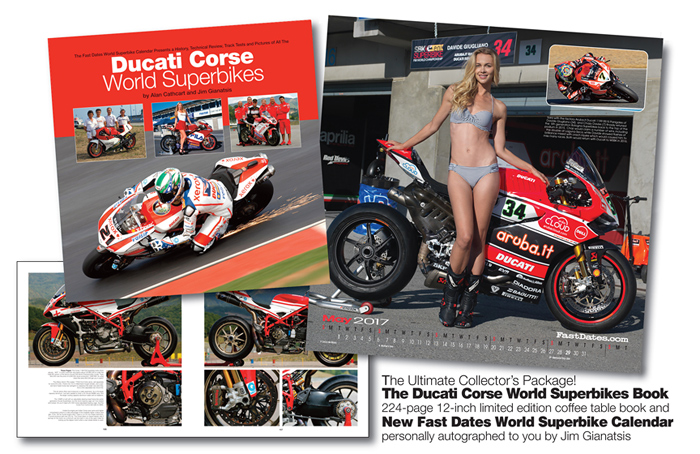 Exclusive Autographed Collector's Package!
The all new Ducati Corse World Superbikes 224-pg book and the 2013 Fast Date World Superbike Calendar
Personally autographed to you (or the name you request on the PayPal.com Order Form) by Jim Gianatsis and shipped direct from Gianatsis design to you.
To order the Ducati Corse World Superbike Book or the Fast Dates Calendar individually, unsigned,
go to the Sportbike Books and Fast Dates Calendar order pages.
---
Fast Dates Calendars to shoot with SBK Grid Girls at Brno!
They are among the most beautiful models in the world, from the Czech Republic, and working for InFront World Superbike as the offical SBK grid girls at all the European race rounds. Our European Staff Photographer Max Olina got to shoot with beautiful Petra and Jitka (above left and right) at Brno World Superbike on July 21-22, 2012 for 2014 FastDates.com.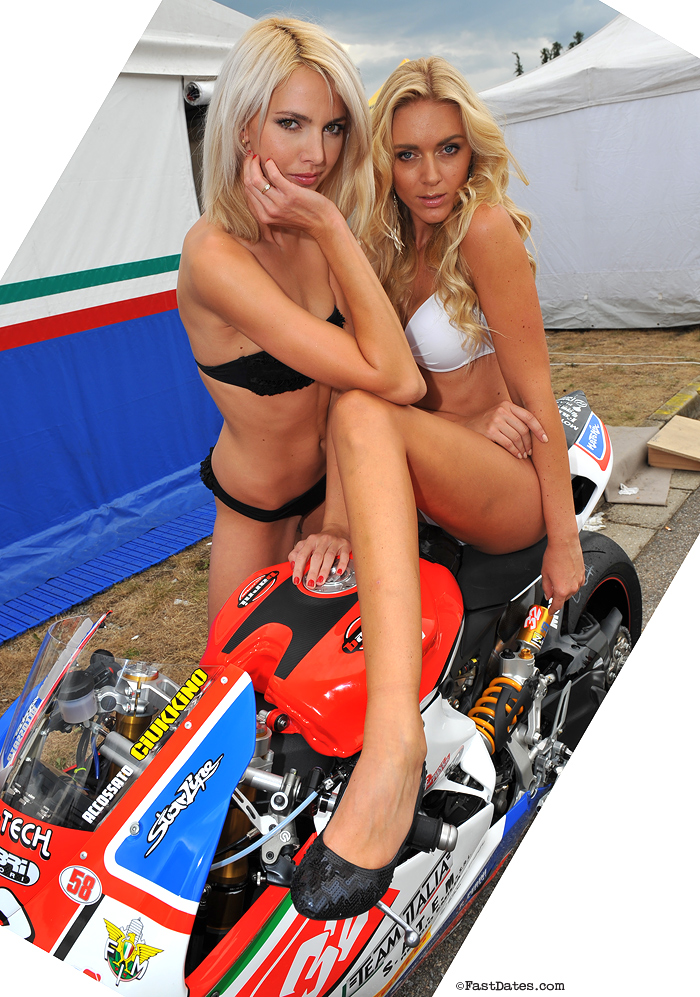 ---
---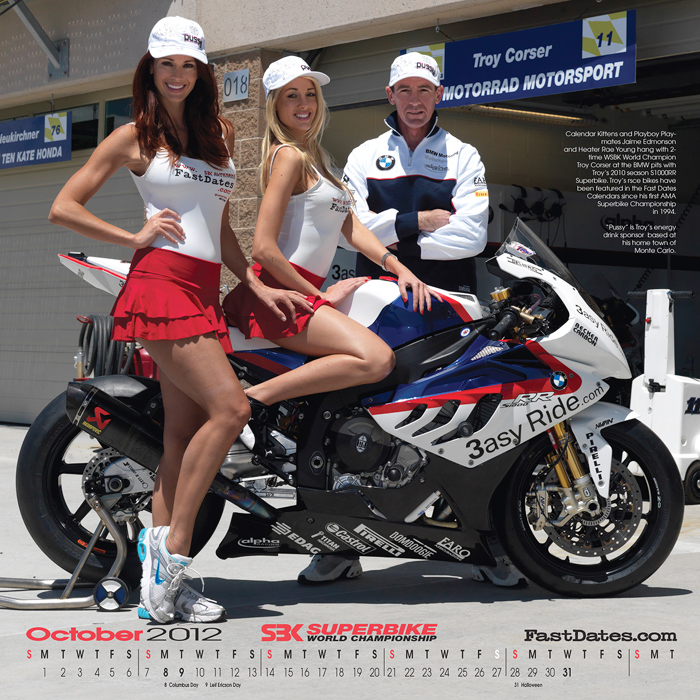 This Month in the Fast Dates World Superbike Calendar ....
Calendar Kittens and Playboy Playmates Jaime Edmonson and Heather Rae Young join 2-time World Superbike Champion
Troy Corser aboard his factory BMW S1000 RR World Superbike. You'll find bikes like this with beautiful Kittens featured in the Calendar Bike Garage with full specifications and screensaver size pictures.
Plus nude pictorials of the Calendar Kittens in Members Corner
Order the Fast Dates Calendars • Calendar Screensavers in Members Corner
---
There's more! Go to Fast Dates Calendar News PREVIOUS PAGE

Hot Calendar Girl and Bike News! Go to: Fast Dates • Garage Girls • Iron & Lace

Click to see even more of our sexy Fast Dates Calendar Kittens...


And visit these great Fast Dates recommended partner websites...
Some of our Calendar Kittens can also at Playboy's website...

FREE! New Met-Art Model Galley Updated Daily - Stop Back Each Day







MotorcycleSuperstore.com