Custom Bike Pinup Calendar News November - December 2009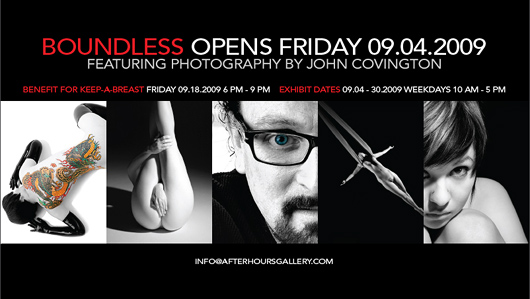 Iron & Lace Calendar Builder
The 3rd Rebirth of John Convington
For most of us its a challenge, or a dream, to get through life do one thing right, or even to excell at doing it better than someone else. Meet former Iron & Lace Calendar bike builder John Covington from Phonenix, Arizona, one of the most notable,wildest creative custom bike builders in the mid 1990s.
John started Surgical Steeds, latter renamed Steed Muscle Bikes, and was a fixture at west cost bike shows including our annual LA Calendar Motorcycle Show and on the custom bike scence. Two of his more noteable designs were a U.S. Air Force Stealth Fighter YF-22 inspired custom "Stealth V2" which was featured on the cover and inside the 1996 Iron & Lace Calendar with model Cherie Wimberly. Three years later John was back with a Carol Shelby "Cobra 427" replica bike which I shot at Laughlin with model Linda O'Neal for the 1999 Iron & Lace Calendar.
The last time we saw John was at the 2002 LA Calendar Motorcyle Show with a display of his Steed Muscle Bikes. After that we heard he sold his custom bike business and had started his own heavy metal rock band, playing drums, and calling himself the "Pulverizor". OK, so much for career chnge number 2.
Then just last month we received an Email from John inviting us to a photo exhibit and book singing premier at a prestegious art galley in Phoenix. What?, career number 3! We checked out his website and come tofin he is now working as a professional studio photographer in Phoenix with his own major studio facility, and his on;one portfolio is really impressive. Check it out: http://www.jcstudiosllc.com
When we read his online biography, we realized we never knew ho multifacted his personalities and talents were:
"John Covington is a member of the American Society of Media Photographers (ASMP) and has made his mark in automotive, alternative fashion, musician and lifestyle photography. His base of operations is in Phoenix, Arizona, where he shoots regularly for a wide range of national publications.
Covington's passion for photography began at age eight with his first Brownie camera. However, his road to photography took a few turns and detours before the camera became his full-time vocation. You can see those unexpected paths in his photographs. His education at the Art Center College of Design (Pasadena) expresses itself in his art sometimes surprisingly graphic compositions.
You can see his years as a rock drummer reveal themselves in his fascination with fringe characters and underlying rhythm in his backgrounds and lighting.
Wonder where the fascination with soft curves, smooth lines, and on-the-edge detailing comes from? Credit it to his years as designer and manufacturer of Alternative American motorcycles. Covington's past infuses his present. He explores the edges that make people stop and stare, then wonder if what they're beholding is safe or dangerous."
Enter Boundless, John's Art Show this past September and the name of hs limited edition book on nude models tied up in bondage themes.
"The concept for Boundless was inspired by the alternative and tattooed models streaming into Covington's studio for magazine shoots. As he photographed them, he realized that each model possessed her own grace and energy, but the shackled context of their commercial assignments denied them any personal expression. Covington invited them back to his studio on their own terms, creating a space where they could delve passionately and deeply into the feminine. The resulting images are empowering, engaging and . . . Boundless."
We highly recommend stopping by John's website, check out some of the exciting images from his show and book, and ordering a signed copy of Boundlees fror yourself.
http://www.jcstudiosllc.com/boundless
---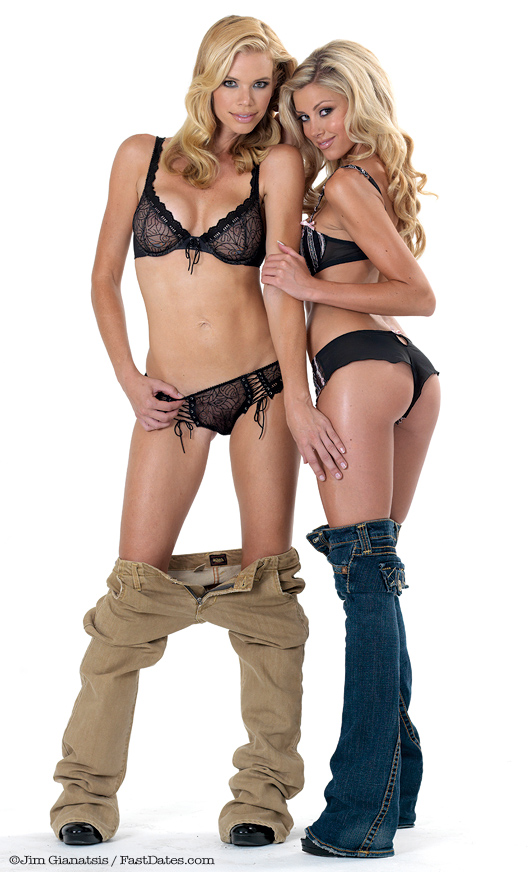 New Calendar Kittens Tarah & Heather
Gianatsis Design Studios, November 2009 - We told you about our upcoming photo shoot last month with California supermodel Tarah Tobiason (above left) and upcoming Playboy Playmate Heather Rae Young (above right), so we thought you might like to see one of the pictures! Both Kittens were a joy to shoot with and will be featured in all 3 editions of the 2011 FastDates.com Calendars.
Heather's already photographed Playboy Centerfold feature is expected to appear in the next few months. possibly as Miss January 2010. Heather has been featured earlier in many of the Playboy Newsstand Specials magazines, and on the Playboy.com website (at the banner ad link below). But you may not recognize Heather in her earlier Playboy shoots where she was a slightly plump barely-legal teen model out of high school. Last year at age 20, Heather took on a serious training and diet routine that almost completely transformed her into the goddess like creature we know her as now. We've never seen a girl with such a perfect face and boy, a body so hard and tight, our dream was to bounce quarters off her perfectly round butt and six-pack tummy.
Heather has also confirmed she will be joining us at the 2010 LA Calendar Motorcycle Show Weekend to premier and autograph her new 2011 FastDates.com Calendars.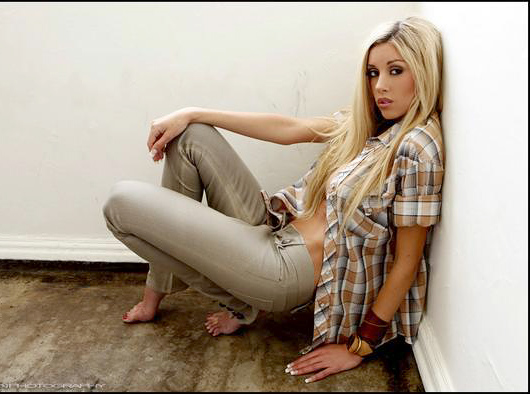 Shooting with 2 Beautiful
new Calendar Kittens
We discovered beautiful up coming new Playboy Playmate Heather Rae Young (above, waiting for a stiff breeze) wondering around aimlessly at this year's 2009 LA Calendar Motorcycle Show. We couldn't help ourselves but to offer to make her even more famous by becoming a Calendar Kitten and shooting her for the next 2011 FastDates.com Calendars. Somehow she fell for our stupid pickup line.

We must be doing something right! We even convinced Heather to do a girl/girl shoot with supermodel Tarah Tobiason (at right).

Our newest Calendar Kittens shot together this last with Jim Gianatsis for all three 2011 Garage Girls Iron & Lace, and Fast Dates Calendars with Valentino Rossi's YZR1 MotoGP bike and two new custom V-Twins from Calendar Builder Todd Silicatio at ToddsCycle.com.
---
4th Place winner "Harrier" from SE Service, Skogas, Sweeden uses a BMW boxer engine as the main stressed frame member for a monoshock suspended front swingrm with center hub steering.
Sportbike Contenders at the
2009 AMD World Championship of Custom Bike Building
Sturgis, South Dakota, 2009 - The Official World Championship of Custom Bike Building encompasses some 18 bike shows in total, in 16 different countries aroud the world: Germany, Austria, Switzerland, Italy, France, Spain, Portugal, Sweden, The Netherlands, Ireland, Japan, Australia, Russia, Canada, Mexico and the United States.The World Championship of Custom Bike Building is an Official Sponsor of the annual Sturgis Motorcycle Rally and is endorsed by the City of Sturgis as the sole official custom bike event of the world famous 69 year-old rally. Winners from the 18 rounds are invited to the AMD World Championship Final which takes place at Sturgis Bike Week each August.
Past AMD World Championship winners like our FastDates.com Calendar builder Roger Goldammer from Canada have won oveall with inovative sport/racing bikes in a field of mostly Harley V-twin customs choppers. But this year with the down turn in the economy and the custom bike market, more practical sportbike styled customs that appeal to everyone across the board in motorcycling. Check out these four awesome street customs, to of which are from our regualr FastDates.com Calendar bike builders Roland Sands and Jesse Rooke.
You can see high resolution screen savers images of these bikes and more from the
2009 AMD World Championship in the
Iron & Lace Garage as part of Members Corner.
Freestyle Class Show Winner "Ramber" from Cooks Customs, Milwaukee, Wisconsin
Roland Sands built this cool Harley V-twin powered monoshock Cafe Racer featuring a Ducati style tube frame and swingarm. The exhaust pipes are guaranteed leg burners.
Jesse Rooke built our favorite, most practical and fun looking of all the Show's bikes, a street legal supercharged Harley V-twin powered street tracker (above and below) built for Dunlop Tires with single sided swingarm. Believe it or not, this cool bike only placed 25th in the 33 bike field!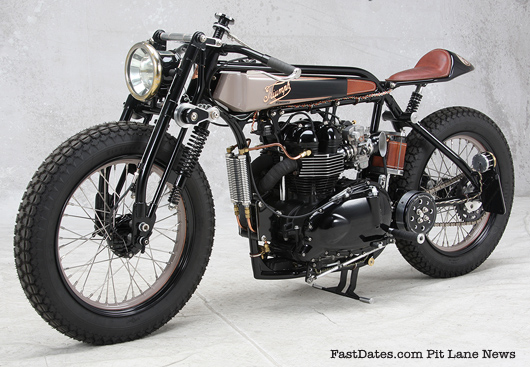 Taking 6th Place with "TT Deluxe " was LC Fabrications from Mt. Crawford, Virginia. They use a modern Triumph Bonneville twin cylinder engine in a retro 1920's style race bike chassis.
---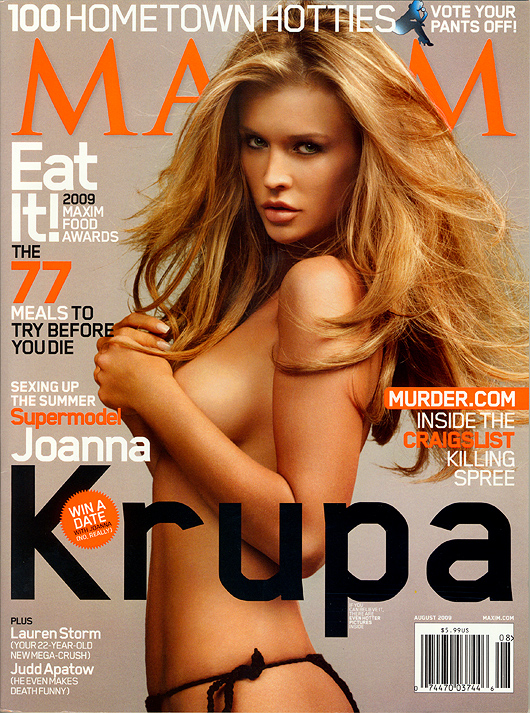 Calendar Kitten Joanna does MAXIM and Playboy again, stars on TV's Dancing with the Stars
November 1st - FastDates.com Calendar Kitten Joanna Krupa seems to be appearing everywhere this month.She is currently the top celebrity contestant on this fall TV season's "Dancing with the Stars", recording top scores each week with her professional dancing partner. Look for Joanna to pull off the season's win.

We also caught Joanna on "Chelsey Lately"on E! TV hosted by Chelsey Handler where she talked with the sexy female comedian and they both revealed they are both be on alternate covers of the December 2009 issue of Playboy Magazine. Chelsey was also on the Jay Leno Show that evening where Jay revelaed her Playboy cover. Chelsey has a humerous semi nude photo feature inside the issue, while our beautiful Calendar Kitten Joanna has a much more revealing
8-page nude pictorial inside the December issue.
Joanna has already been featured previously on the cover Playboy 3 years ago with a beautiful 10-page nude pictorial. You can check out Joanna's Playboy pictorial in our Members Corner.
Joanna Krupa was first featured in our 2004 Iron & Lace Calendar (above) with builder Jesse Rooke's first ever custom bike which took Best of Show at the 2003 LA Calendar Motorcycle Show. Past Edition Calendars are available in Collectors Corner.
In case you are wondering why we haven't been shooting with Joanna recently for the FastDates.com Calendars, her day rate is now in supermodel territory at around $20,000 per day. While Joanna revealed on Chelsey Lately that her ongoing appearance on "Dancing With the Stars" requires a 6-8 hour work day 7-days a week for 2-3 months for dance rehersal and filming, for no pay whatsoever! Still, FastDates.com Calendar fans won't be left disappointed as our next 2011 Calendars will feature all new photos of Joanna which were taken at our previous shoots.
August 1st - One of our most beautiful FastDates.com Calendar Kittens ever, Joanna Krupa, has again scored the cover of MAXIM magazine, this time for August 2009. We first discovered Joanna back in 2003 where we photographed her for the 2004 FastDates.com Calendars. Since then Joanna has gone on to become the most photographed, most popular swimsuit models in the world, having graced the covers of every major men's magazine from Playboy to Esquire.
See even more of Joanna in FastDates.com Members Corner
---
Beautiful Playboy cover model Amanda Bently at the classic 1940's Canyon Service Station in Santa Monica, CA, with a Paul Yaffe chopper, this incredible photo was featured on the cover of the 2003 Iron & Lace Calendar.
First Time Ever! FastDates.com Calendar Images Available for Sale!
Photo Prints, Posters, Canvas Wall Murals
Now, for the first time you can have my favorite, most memorable FastDates.com Calendar photos reproduced to museum qualty standards for your home, garage, office or store, thanks to our new partnership with one of America's premier online photo labs. Choose from photo prints on quality photo paper, to huge poster and mural size Giclee' photo prints on archival rag paper or canvas mounted to wooden frames or display boxes.
Now you can enjoy my best photos of the the world's finest motorcycles with beautiful models! - Jim Gianatsis
---
There's more! Go to Iron & Lace News Previous Page
Return to Iron & Lace Calendar News Front Page

Also Visit:
Fast Dates Calendar News • Pit Lane News • Calendar Girl News • Meet the Models
See much more of our all our beautiful calendar girls
in their sexy pictorials in FastDates.com Members Corner...


Some of our Calendar Girls can also be seen at Playboy's website...



MotorcycleSuperstore.com