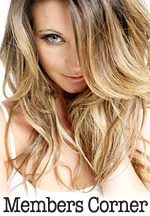 Members Corner
Hot Bikes, Sexy Kittens
Get Your Exclusive Grid Pass
also includes....
---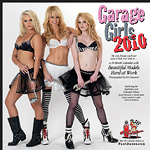 Featuring Playboy models Tamara Witmer, Tiffany Toth
2010 Calendar Preview!
Get a full look NOW of all the 2010 Calendar photos in big screen saver size in
Members Corner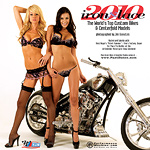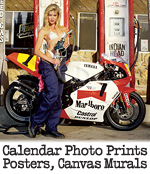 ---
Looking ahead at
Harley-Davidson's
2010 Forecast
Powersports Business
Friday January 22, 2010 - Harley-Davidson will continue to reduce its bike production in 2010, with plans of reducing manufacturing by 5-10 percent.
The company outlined those plans today plus reported its full-year earnings results, which include a net loss of more than $55 million.
Much of those losses are due to the company's restructuring activities and its production cutbacks, including a more than 50 percent decline in its recent quarter.
The company also noted it continues to see dealer closures, with 28 dealerships or Secondary Retail Locations having closed in 2009, or about 3.5 percent of the company's retail operations. The company said a further 15 could close in the next three months.
Harley-Davidson said it plans to build 201,000-212,000 bikes next year. "We believe 2010 will be a challenging year," Harley-Davidson CEO Keith Wandell said in a press release.
On the same day the company outlined its year-end results, it unveiled a new Sportster model. The bike, called the Forty-Eight, will be geared toward the brand's younger buyers with a MSRP of $10,499.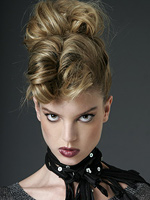 Calendar Kitten Apple
Tests the new
Roehr Harley Superbike!
meet her in person at the LA Calendar Motorcycle Show July 18-19th


Exclusive!
Calendar Kitten Apple
Tests the new
Roehr Harley Superbike!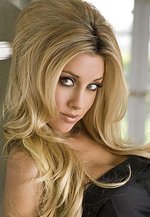 Meet Sexy FastDates.com
Calendar Kitten and new
Feb 2010 Playboy Playmate
Heather Rae Young
featured in the next 2011 Calendars
---
---
Below: The $64,000
2009 Calendar Bike Building Championship Winners


Performance Machine
Best of Show
Kenji Negai / Kens Factory
Torrance USA / Tokyo Japan


Iron Works
!st Place Pro Builder
Chris Flechtner / Speed Shop Design, Seattle WA


Best Performance Machine Bike
Ron Simms / Ron Simms
Oakland, CA




1st Place Mikuni Street Custom
Kevin Hendricks /
Anarchy Disrupter, Ultima 120ci
Shelly, ID




1st Place Iron Works
Classic Post '56 Street Custom
Gilbert Martus / Krome 3
Colton, CA


1st Place Iron Works
Classic Pre '65 Street Custom
Oscar Fragoso / Gothspeed
1950 Triumph Thunderbird
Long Beach, CA


1st Place
S&S Street Performance
Butch Yaple / Custom Cycle Controls
Henderson NV
1st Place Mikuni Street Chopper
Mark Shell
Idaho Falls, ID


1st Place Metric Custom
"LoLA"
AFT Model Agency Girls /
AFT Metric Customs
Inglewood, CA


1st Place Iron Works Bobber
Ken Drapier / BUB Bobber
Grass Valley, CA


1st Place Iron Works Sportster
Dave Edwards, Cycle World /
Richard Pollock, Mule MC
Poway, CA


1st Place Fast Dates Sportbike
Ray Roth /
Eye Candy Cycle Design
Kawasaki ZX14 Turbo
Riverside, CA
---