This Month in the 2014 Garage Girls Calendar...
Calendar Kitten Emily is getting dresesed to go for a ride on her Richard Pollock / Mule Motorscycles Sportster Streetracker.

Calendar Kitten & Garage Girls News May - June 2014
More Garage Girls News Continued HERE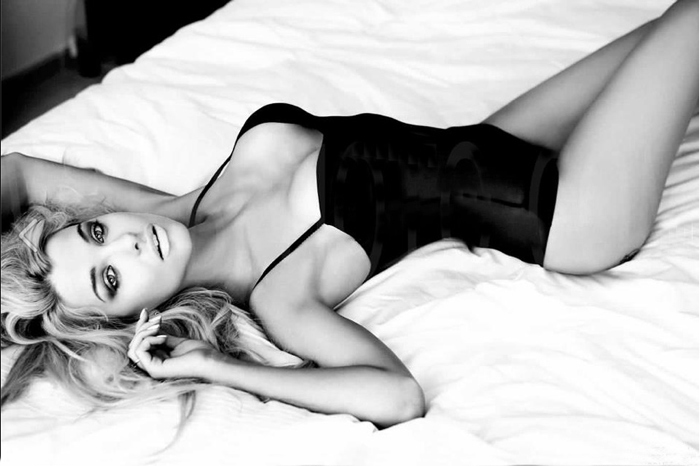 Click to Order Online

2014 Garage Girls
15-inch Spiral Bound
ISBN 1578651638


Click to Order Online

2013 Garage Girls
15-inch Spiral Bound
ISBN 1578651530


Click to Order Online

2014 Iron Lace
Centerfold Models and Custom Bikes
15-inch Spiral Bound
ISBN 157865162X


Click on Cover to Order Now

2014 Fast Dates
SBK Racebike Pinup Calendar
SBK World Superbike, Performance Machine
ISBN 1578651611
Order Online Now or by Phone!
Click on the Small Calendar Covers Above or the Amazon.com Link below:

Mon-Fri 8am - 5pm Saint Louis, Missouri time
Mid-USA 1- 800-527-0501/ 1-800-632-0024 0000
NEW! FAST 2014 Digital Calendar Magazine Annual
The Bikes, the Builders, the Riders, the Kittens,the Calendar Bike Show, the World Superbike races all the 2014 Calendar Pictures, and Special Features... For the first time every we take you around the world in 120 exclusive pages for the making of the 2014 FastDates.com Calendars! Now in Members Corner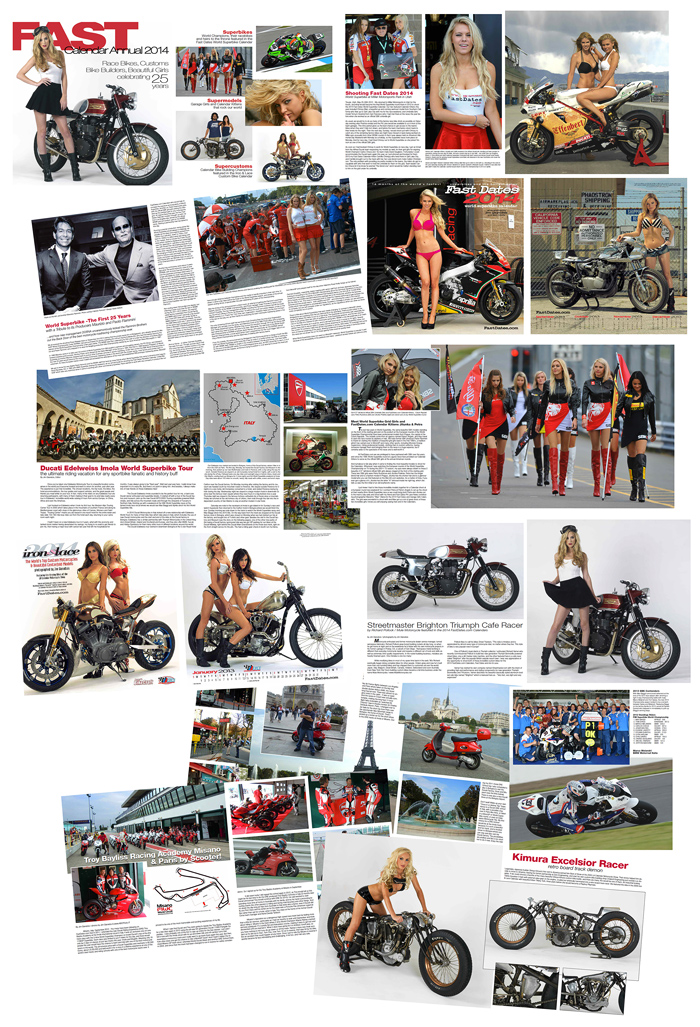 Shooting the 2014 FastDates.com Calendars!
Go behind the scenes with newest Calendar Kitten Lizzie as she shoots with Jim Gianatsis for the new 2014 Fast Dates, Iron & Lace, and Garage Girls Calendars with some cool custom bikes form Richard Pollock, Mule Motorcycles!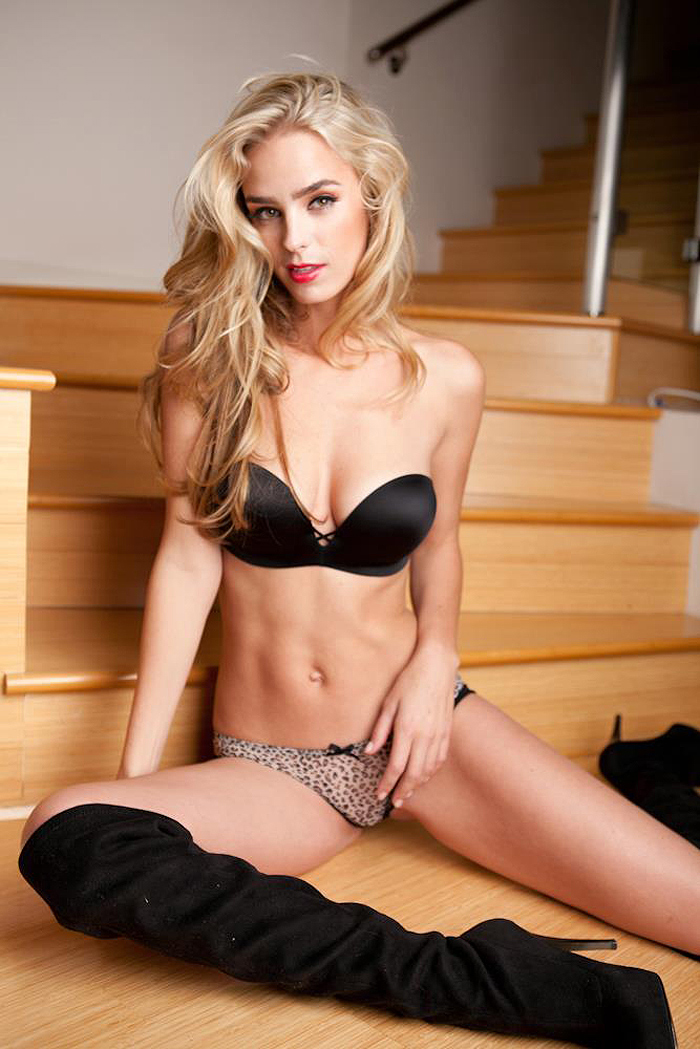 See more revealing pictorials of the 2014 Calendar Kittens in Members Corner
Order the Fast Dates Calendars • Calendar Screensavers in Members Corner
---
| | |
| --- | --- |
| Click for more about The Pretty Reckless | Click to Order from Amazon.com |
The Pretty Reckless is Going to Hell
Our favorite rock band The Pretty Reckless with lead singer and cute teen actress turned bad girl Taylor Momsen is
Going to Hell in their new ablum being released in March 2014 , and we're happy to take the ride with her.

"Rock & roll needs to make a resurgence," insists Taylor Momsen, speaking to her belief that the genre has slipped from the mainstream. "It needs to come back in a big way and take over again." The 20-year-old singer, whose band the Pretty Reckless broke out in 2010 with their alt-rock debut Light Me Up, says she's fully prepared to hold up her end of the bargain. "We're really trying to come to something unique and different," she says of Going to Hell, the band's forthcoming second album, due out in early 2014 on Razor and Tie.
---
The 2014 Pirelli Calendar Celebrates 50 years with Helmet Newton
Known just as "The Calendar" the iconic Pirelli Tire promotional Calendar is seldom seen in America because of its mild nude fashion stylized content that might offend our Midwestern Conservative Left Church Goers, this year 204 marks its 50th anniversary photography by iconic fashion photographer Helmet Newton who died nine years ago.. The expensively produced Calendar is only given away as a gift by corporate management to influential friends in motorsports and the media.
For many years The Calendar has strayed away from motorsports to being just a exotic fashion shoot with very overpaid Hollywood actresses and supermodels. In fact, the 2014 Calendar was originally shoot last summer a joint effort from Patrick Demarchelier and Peter Lindbergh in a studio in NewYork with a group of supermodels posing togther. But after seeing the boring results, the Pirelli marketing department went back into its archives to resurrect the pictures that Helmet Newton had shot for the 1986 Calendar but were never used, when the shot near Monte Carlo was cut short for personal reasons.. We concur it was a good choice.
Commissioned independently of Pirelli UK's 1986 calendar by the company's competitive Italian wing, Newton's images for the tire giant are both as sensual and controversial as you might expect (albeit more for their explicit product placement than the full-frontal nudity for which Newton was renowned). After almost three decades stowed away in the Pirelli Foundation archives, they've been dusted off in celebration both of 50-year-old calendar created in homage to beautiful women, as well as the photographer who perhaps captured them best. The Calendar has returned to its beginnings to featuring beautiful women with the world's sexiest tires that dominate many of the Motorsports' premier Two and Four Wheeled World Championships.
Above: the 50th Anniversary 2014 Pirelli Calendar with Helmet Newton's 1986 photo shoot.
Below: A video review of past Pirelli Calendars
---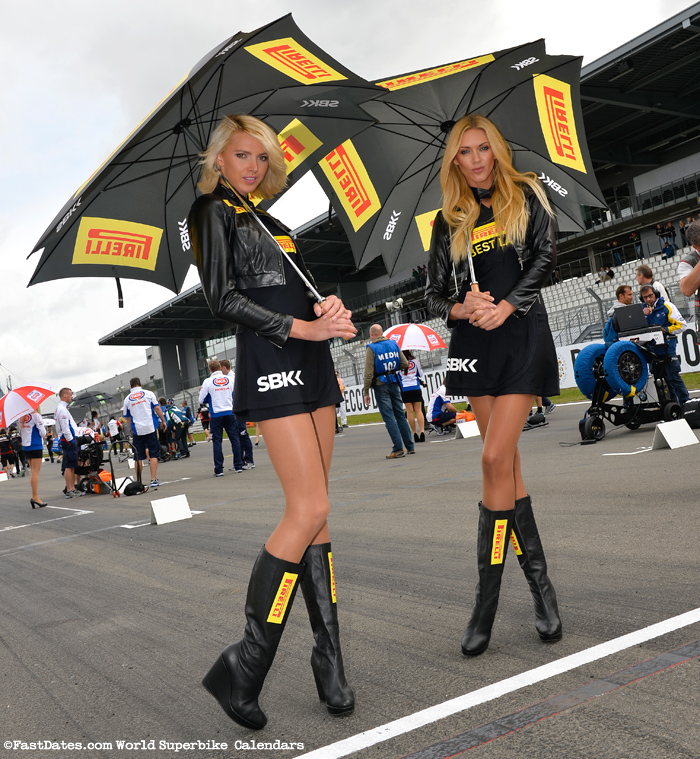 FastDates.com Calendar Kittens and official SBK World Superbike Umbrella Girls, Jitka (left) and Petra (right) are featured in the
2014 Fast Dates World Superbike and Garage Girls Calendars, and the new 2014 Fast Calendar Digital Magazine.
Fast Dates brings Czech SBK girls Jitka and Petra to
Laguna Seca World Superbike and the LA Calendar Motorcycle Show in July 2014!
2014 - The FastDates.com Calendars and producer / photographer Jim Gianatsis are excited to announce an agreement with SBK World Superbike and the international model agencies PetrasAngles.com and UmbrellaGilrsUSA.com to bring beautiful Czech Republic SBK grid girls Jitka and Petra to the United States this July 2014 to appear at Laguna Seca SBK World Superbike round at Mazda Raceway Laguna Seca the weekend of July 11-13th and at the LA Calendar Motorcycle Show in Malibu, CA on Sunday July 20th.
These two 6-foot 2-inch tall long legged, blond hair professional supermodels hail from the capital of the Czech Republic, Prauge, and have been featured on SBK world TV race broadcasts the last 3 years standing at the front of the SBK World Superbike starting grid towering above the race bikes and riders in their uniforms with umbrellas to showcase SBK's title sponsors Pirelli Tires, Agip Fuels and Lubricants, and Alfa Romeo Automobiles. In their official uniforms with 6-inch heels on their platform boots, Jitka and Petra tower nearly 7 feet tall and can intimidate the bravest factory racers and experienced photographers!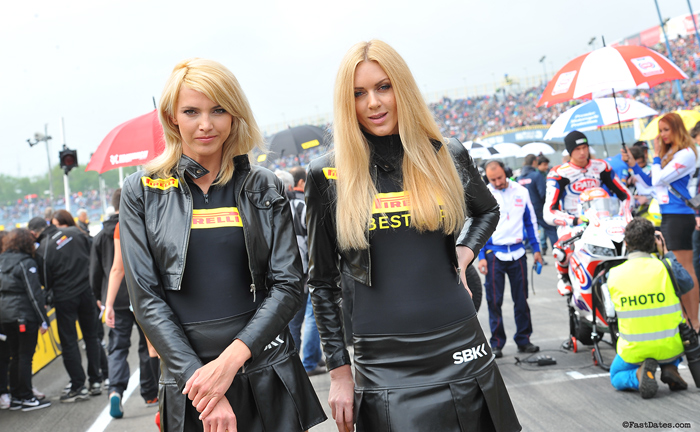 Both these Czech mates are already official FastDates.com Calendar Kittens having shot for the Calendars with contributing Italian photographer Max Oliana at the 2012 and 2013 SBK rounds at Bruno and Silverstone for the current 2014 and upcoming 2015 Fast Dates World Superbike and Garage Girls PinUp Calendars.
Meet the offical SBK Fast Dates World Superbike Girls Here!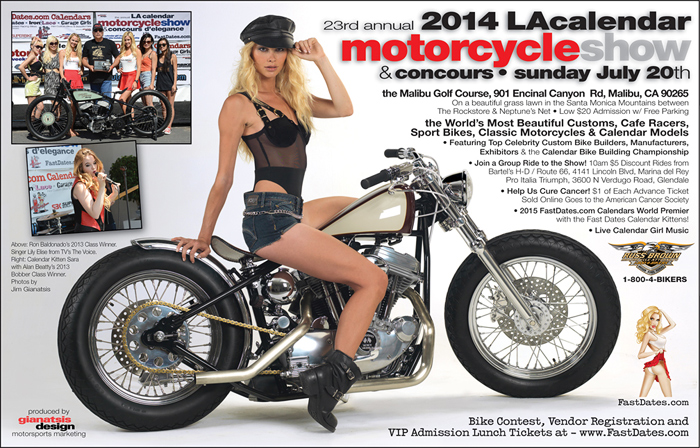 2014 LA Calendar Motorcyc;e Show Moves to the Malibu Golf Cours on July 20th
The 2014 LA Calendar Motorcycle Show continues its now 23rd year tradition as the premier outdoor streetbike event in America with the Calendar Bike Building Championship & Concours d' Elegance, top Celebrity Builders, selected Vendors and Exhibitors, and the Calendar Girl Music Show. The Show always kicks off the world premier of next year's new 2015 FastDates.com Motorcycle PinUp Calendars featuring the world's top road race and custom motorcycles with the beautiful Calendar Kittens featured in the Calendars in attendance at the Show.


---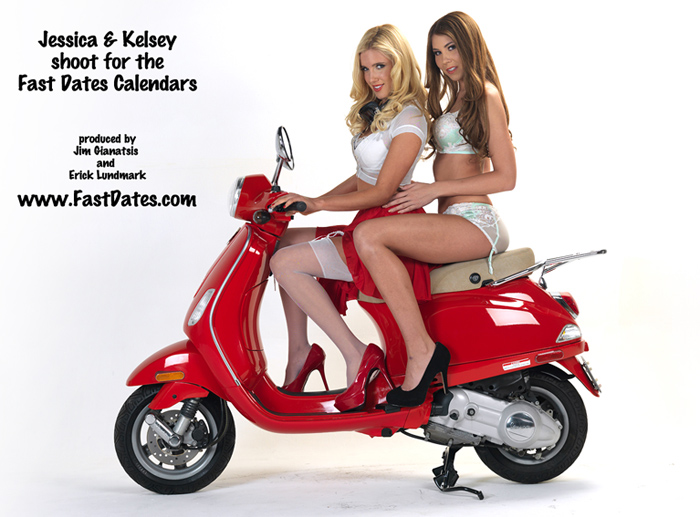 New 2015 Fast Dates.com Calendar Video Shoot!
Go behind the scenes at the glamorous Gianatsis Design Studios with beautiful new Calendar Kittens Jessica Harbour and Kelsey as they shoot for the FastDates.com Motorcycle PinUp Calendars with photographer Jim Gianatsis. And look for the new 2015 Calendars available right here on July 1st. Order the Calendars!
Videographer: Eric Lundmark; Video Editing and Still photography: Jim Gianatsis; Models: Jessica Harbour, Kelsey Silwinski; Make Up: Victoria Rubell, Music: Special thanks to Neil Sedaka for our theme song Calendar Girl; Modeling Agent: Umbrella Girls USA.
---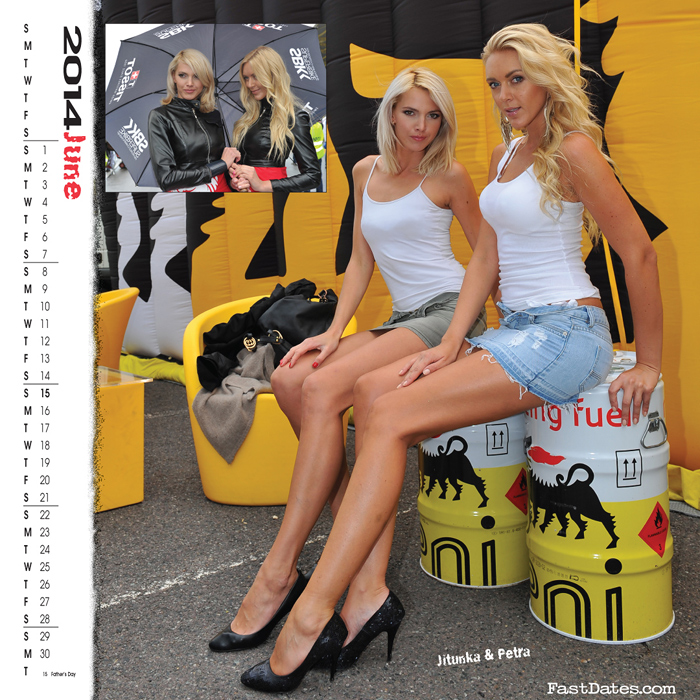 This Month in the 2014 Garage Girls Calendar...
SBK World Superbike Calendar Kitten Jitka and Petra know just how to fire up our motor!
Order the latest Garage Girls Calendars now, and see our Kittens very revealing sexy pictorials in Members Corner.
---
More Calendar Girl News
Visit Members Corner for very sexy Calendar Kitten pictorials....


And Visit These Our Great Affiliate Partner Websites:
Some of our Calendar Kittens can also be seen at Playboy's website...


Click for a Free Met Art Sample Model Gallery Updated Each Day!