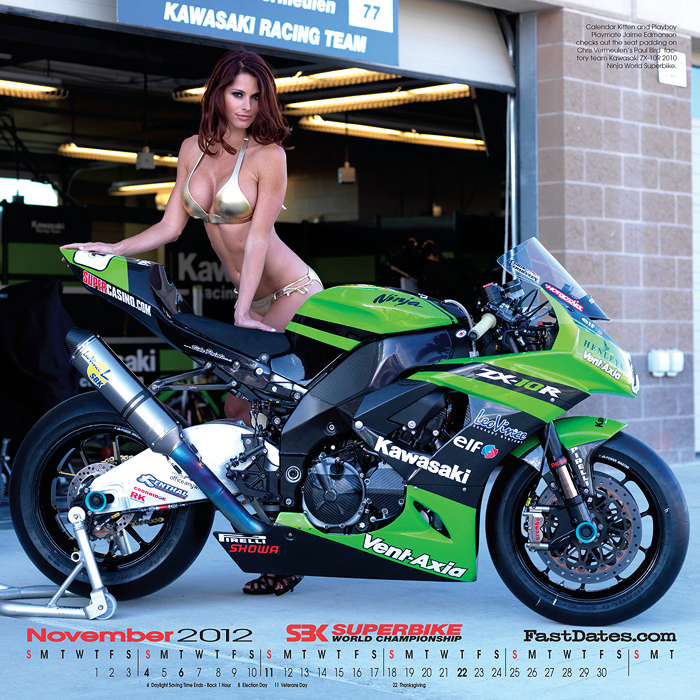 Fast Dates World Superbike and MotoGP Calendar News
November - December 2012
...more Fast Dates News HERE
This Month in the Fast Dates World Superbike Calendar ....
Calendar Kitten and Playboy Playmate Jaime Edmonson gets friendly with Chris Vermuelin's factory Kawasaki ZX10R World Superbike. You'll find Calendar bikes like this with beautiful Kittens featured in the Calendar Bike Garage with full specifications and screensaver size pictures.

Plus sexy pictorials of the Calendar Kittens in Members Corner
Order the Fast Dates Calendars • Calendar Screensavers in Members Corner

Order the 2013 Fast Dates Calendar
Calendar Bike Photo Features, Paddock Garage Tuning, Pictorials of our Calendar Kittens in Members Corner
FastDates.com Calendar Kittens, Playboy Playmates and girlfriends Heather Rae Young and Jaime Edmonson.
---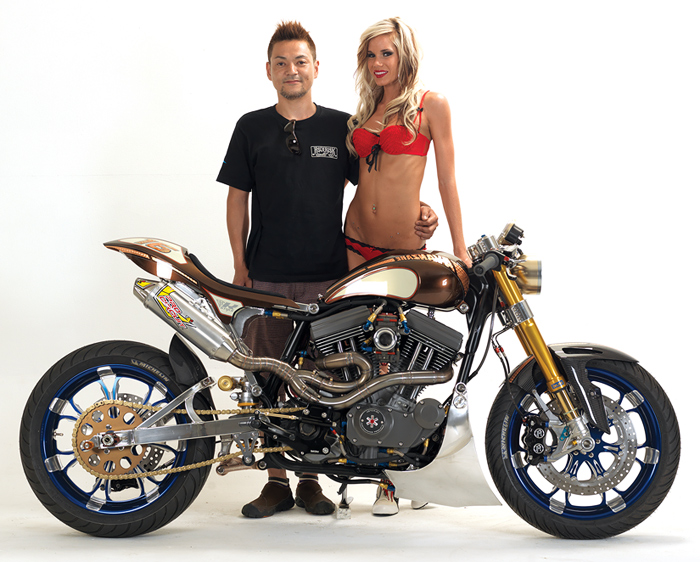 2012 LA Calendar Best of Show winner Hoshikawa Hideki and his winning bike 'Asterisk' and Calendar Kitten Kinsey Ray. Look for all these great bikes and model in the next 2014 FastDates.com Calendars.

Japanese Builder Hoshikawa Hideki flys in to take Best of Show
2012 LA Calendar Motorcycle Show
Calabasas, California, USA, Sunday July 22nd, 2012 - The 21st edition of the LA Calendar Motorcycle Show sponsored by Russ Brown Motorcycle Attorneys moved into its third decade as the premier outdoor streetbike event in America featuring its top Celebrity Builders, the Calendar Bike Building Championship & Concours d' Elegance, selected Vendors and Exhibitors, Calendar Girl Music live performances, this year taking place at a beautiful new new location on the lawn and under the shade trees of the Calabasas Inn, in the upscale Los Angeles suburb of Calabasas, California. The first decade of the Calendar Motorcycle Show took place at the exciting Museum of Flying at the Santa Moncia Airport, then expanded in 1991 to two days the larger Queen Mary event facility in Long Beach venue alongside the Pacific Ocean.

For the fourth time in eight years, a top Japanese builder used the LA Calendar Show to mark his entrance onto the world stage, following in the foot steps of former Best of Show and Class winners Shinya Kimura / Chabott Engineering, Kenji Nagai / Ken's Factory and Hiroyouki Hirata of BB Custom Factory who all flew in with their bikes from Japan just to compete at the world renoun Calendar Show.
Complete 2012 LA Calendar Motorcycle Show Coverage HERE
LA Calendar Motorcycle Show performer Katie Cole (below) has a new song "I Can't Wait" and video out.
Check it out and purchase her song on Amazon.com.
---
Top Gun Desmosedici Streetfighter
November 1st, 2012 - Image a sportbike rider's ultimate fantasy to take a MotoGP bike and convert it to regular streetbike use. Expensive, even impractical, but certainly the ultimate canyon carver and Rock Store attention grabber. Chris Redpath of MotoGPwerks.com, located in Anaheim, CA, did just that for one of his regular customers, actor Tom Cruise. A former MotoGP race mechanic who has settled down from traveling the race circuits of the world to own his own racebike oriented shop, Chris is also one of the regularly featured custom bike builders on the FastDates.com Website and Motorcycle PinUp Calendars. Chris has built a number of custom Ducati sportbikes for Cruise and also helps to service and maintain the Top Gunner's bike collection.
Featured here is their latest project, a Ducati Desmosedici converted to Streetfighter status. The Desmosedici was a limited production replica of Ducati's MotoGP desmodromic 4-valve V-4 990cc race bike ridden by the likes of Casey Stoner and Valentino Rossi. It sold in 2008-2009 in a production run of 1,500 bikes for $65,000 - $72,000. Word has it that Cruise has three of them, hence the desire to make one a little different and more practical for everyday riding.
"Streetfighter" is the name given to a modified Superbike that's been stripped of its bodywork to make it lighter and less crash vulnerable, the low clip-on handlebars removed and replace by tall streebike bars to make it easier
handling and more comfortable when riding through the streets and canyons.
Other modifications to TC's Desmosedici include a necessary front headlight from Ducati's Diavel cruiser and a small bikini handlebar fairing to protect the digital flatscreen instrument dashboard. The exhaust system is a $6,000 optional Termignoni race system which helps bump power from the stock 195hp to near 220hp in a bike lightened to just 370 pounds.
Other tricks include a special MotoGP adjustable CPU that Chris has remapped to give the bike incredible low-end torque and power right off of idle, making it an easy-to-ride wheelie monster. Value of the finished bike? Close to $100,000.
The FastDates.com Motorcycle PinUp Calendars are photographed by former racer and motojournalist Jim Gianatsis, and include Fast Dates World Superbike and MotoGP bikes, Iron & Lace Custom Motorcycles, and Garage Girls, all with the beautiful Calendar Kittens. Visit the FastDates.com Website for Motorcycle News, Editorial Features, Books and Photography of the Models, Calendar Bikes and Builders. The 2013 Calendars are available at FastDates.com, Amazon.com, or phone Van Leeuwen at 1-800-461-1226.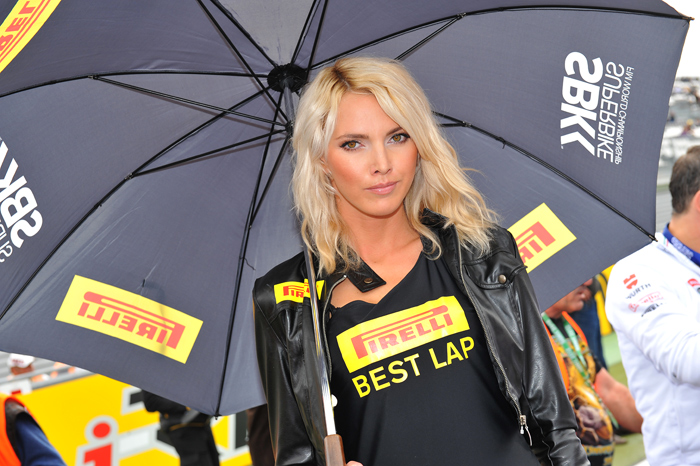 FastDates.com Calendar Kitten and SBK Grid Girl Petra struts the grid for Pirelli at Magny-Cours. Look for her in the next 2014 FastDates.com Calendars. Photo by Max Olina. Complete Magny-Cours Race Covergae HERE
---
Click to Enlarge
World Premier! The Fast Dates World Superbike Calendar Presents a History, Track Tests,
Team Rider and Designer Interviews, and Pictures of All the
Ducati Corse World Superbikes
by Alan Cathcart and Jim Gianatsis
The year 2011 marked the 25th anniversary of the creation of the first, of a now legendary line of Ducati Superbikes with their trademark Desmoquattro 4-valve V-twin motors hung below a lightweight trellis tube frame, race bikes that went on to dominate the then new World Superbike Championship for next quarter of a century. Arguably the most significant motorcycle engine design of any kind since the CB750 Honda, and surely the most remarkable and successful volume production engine format ever used in world competition by any single manufacturer, the venerable Ducati 4-valve desmodromic engine recorded to this date 14 World Superbike Championship titles in the 24 year history of the world's premier production bike based world roadracing series.
This book chronicles the development and history all five Ducati Corse World Superbike generations from the first Desmoquatro 750cc prototype to the revolutionary new 1199 Panigale Superquadro together with interviews with the Ducati designers, team racers and managers. This unique insight is provided by renown motorcycle racer and journalist Alan Cathcart who has had the envious and often exclusive opportunity to test ride every one of the factory Corse race bikes over the last 25 years, those tests of which are featured here. Photography of the Corse factory bikes and riders is proved by the world's most renown motorcycle roadracing photographers.
Adding icing to the cake, and to warrant this big collectors edition book, included are the incredible high definition photographs of the bikes taken by former racer, motojournalist and photographer Jim Gianatsis as featured in the Fast Dates World Superbike Calendars from those years with the beautiful Fast Dates Calendar Kittens who served as the official SBK and Team Ducati Corse grid girls at the race where the bikes were photographed.
This 224 page large format collectors edition book begins with a Forward by Massimo Bordi, legendary designer of the Desmoquattro back in 1974. Then it dives into the technical details, revealing photography and Cathcart's exclusive tests of every one of the factory Ducati Corse Superbikes from the First Generation 851cc Daytona raced prototype, to Doug Polen's Fast by Ferracci 888/926 World Championship winner. Followed by the Second Generation 916/955 machines, the Third Generation 999, the Fourth Generation 1098/1198, to the all-new Fifth Generation 1199 Panigale. Included along the way are interviews with all the factory riders and World Championship winners from Doug Polen, Carl Fogarty and Troy Corser, to Neil Hodgson, James Toseland, Troy Bayliss, Nori Haga and Carlos Checa. While the tradition continues with a detailed look at the new 1199 Panigale and a interview with the designers who created it, and an exclusive track test of the newest Generation 1199 bike by Cathcart and 3-time World Superbike Champion Troy Bayliss.
This is a must have book for every Ducati and motorcycle roadracing enthusiast. Gianatsis Design has produced and published the book in a beautiful large format 12x12-inch hard cover design coffee table style Collectors Edition Book featuring 224 pages in full color printed on 100# dull coat art paper for the best possible reproduction and presentation. Books are individually shrink wrapped and have a printed cover wrapper.
Ducati Corse World Superbikes is $69.95 Retail Direct from Amazon.com USA / Amazon.com UK

Dealer and Distributors can order multiple copies at our Distributor Information Page
Jim Gianatsis autographed Collector Copies of the Book and matching 2013 FastDates.com Calendar
use the PayPal.com Button below.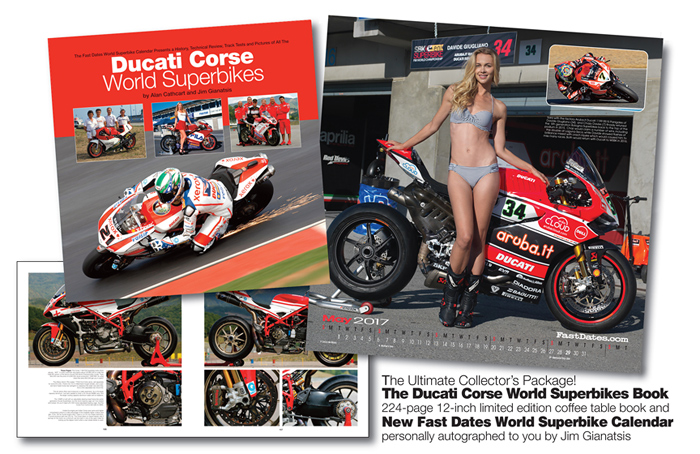 Exclusive Autographed Collector's Package!
The all new Ducati Corse World Superbikes 224-pg book and the 2013 Fast Date World Superbike Calendar
Personally autographed to you (or the name you request on the PayPal.com Order Form) by Jim Gianatsis and shipped direct from Gianatsis design to you.
To order the Ducati Corse World Superbike Book or the Fast Dates Calendar individually, unsigned,
go to the Sportbike Books and Fast Dates Calendar order pages.
---
---
This Month in the Fast Dates World Superbike Calendar ....
Calendar Kitten and Playboy Playmate Heather Rae Young knows just how to accessorize Luca Scassa's Supersonic Racing Ducati 1198RS World Superbike. You'll find bikes like this with beautiful Kittens featured in the Calendar Bike Garage with full specifications and screensaver size pictures.

Plus revealing pictorials of the Calendar Kittens in Members Corner
Order the Fast Dates Calendars • Calendar Screensavers in Members Corner
---
There's more! Go to Fast Dates Calendar News PREVIOUS PAGE

Hot Calendar Girl and Bike News! Go to: Fast Dates • Garage Girls • Iron & Lace

Click to see even more of our sexy Fast Dates Calendar Kittens...




MotorcycleSuperstore.com