Custom Bike Pinup Calendar News March - April 2010


This month in the 2010 Iron & Lace Calendar
Rachel and Sabella Go Ice Racing with a mean Turbo V-Twin
Our beautiful Calendar Kittens might not be dressed warmly enough for hanging out on a frozen lake, but some how that just doesn't matter. Their ice shredding boy toy is the Tobias Guckel / TGS Motorcycles, Rappenhof, Germany "Seppster 2 Ice Racer" which took 3nd place at the 2008 AMD World Championship of Custom Bike Building. This unique turbo charged Big Twin with a special single sided front fork, features huge spikes on the tires, sure to turn any ice racing track into a giant slushie! Our girls will bring the cherry syrup....
All of our Iron & Lace Calendar bikes including the LA Calendar Show and AMD World Championship winners are feature in large photo pictorials in the Calendar Bike Garage.
Past Editon Calendars are still available in Collector's Corner
---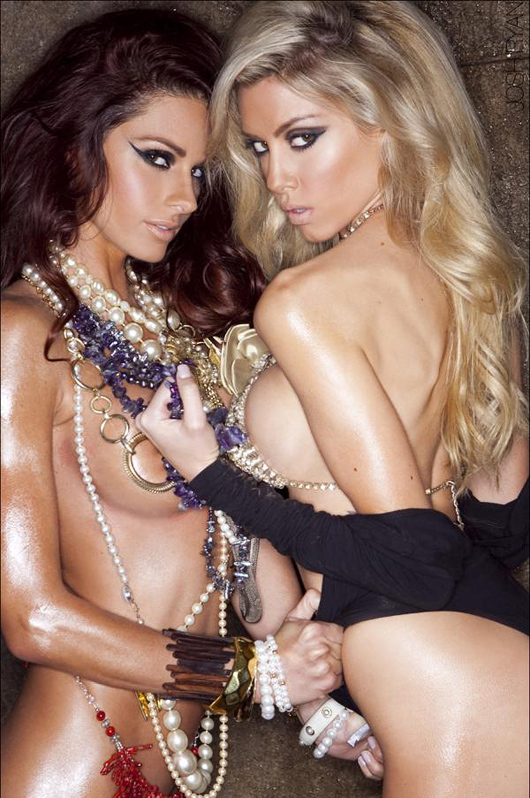 Playboy's hottest new Playmates become Calendar Kittens to to rock the
July 18th LA Calendar Motorcycle Show & Calendar Girl Music Festival!
Los Angeles, CA, Feb 1st, 2010 - Playboy magazine's hottest new Playmates of the year 2010, Miss January Jamie Faith Edmonson (profile below), and Miss February Heather Rae Young (pictured above and below) have been confirmed by producer Jim Gianatsis to be our official SBK World Superbike Fast Dates Calendar Kittens at the Miller Motorsports USA World Superbike round May 29-31st 2010 to photograph the next Fast Dates Calendar with all the top factory team race bikes. Heather hs already shot with Jim for all 3 editions of the 2011 FastDates.com Calendars which will premier at the LA Calendar Motorcycle Show at the Queen Mary Event Park in Long Beach this July 18th 2010 and hosted by these beautiful Playboy Playmates and Calendar Kittens where you can meet them in person, and have their new Calendars autographed!




Heather Rae has already been shooting with us since last fall and will be featured on the cover and inside of all three editions 2011 Fast Dates.com Calendars which will be premiering at these events, and are now available to see with Heather posing on Ben Spies's factory Yamaha World Superbike and Casey Stoner;s Ducati GP09 bike in Members Corner.

Heather is good friends with Jaime Faith and it didn't take much effort for Heather to convince us that Jaime needed to join us for both these exciting event weekends, both as Calendar models and hostesses. You can also see Heather's February Playboy pictorial in Members Corner.

Subscribe to Playboy at 75% discount off the cover price!
Jaime Faith Edmonson (at right) recently was the fourteenth-season contestant on TV's "Amazing Race" who finished in second place with girlfriend Cara Rosenthal.

The 30-year-old former St. Petersburg, Florida, police officer and Miami Dolphins cheerleader from Ft. Lauderdale, FL said both she and Rosenthal were approached to appear in Playboy after The Amazing Race's fourteenth-season finale aired in May 2009.

"Cara had to say say "No". She's in law school and hopes to be governor someday," Edmondson said about Rosenthal before adding she "never saw this coming" for herself. "Here I find myself going to be on newsstands on my 31st birthday,"as Playboy's Miss January 2010.

Jaime spent last summer living at the Playboy Mansion to work on her photo shoot and participate in E!'s The Girls Next Door reality TV series.
Heather will be at the 2010 LA Calendar Motorcycle Show Weekend to premier and autograph her new 2011 FastDates.com Calendars which include the 2011 edition of Iron & Lace with Heather featured on the cover and inside with beautiful Tarah Tobianson - Below!




Meanwhile, you can preview now our 2011 FastDates.com Calendars with Heather and Tarah in the
Calendar Galley in Members Corner.
---
2009 LA Calendar Motorcycle Show's World Wide magazine coverage!
Click the pages to enlarge.
Barnnett's Magazine 2009 Show coverage, interview with Jim Gianatsis in March 2010 issue.
Kenji Negai's 2009 LA Calendar best of Show winner is featured with the cover and a 3-page spread in the January 2010 issue of Iron Works magazine.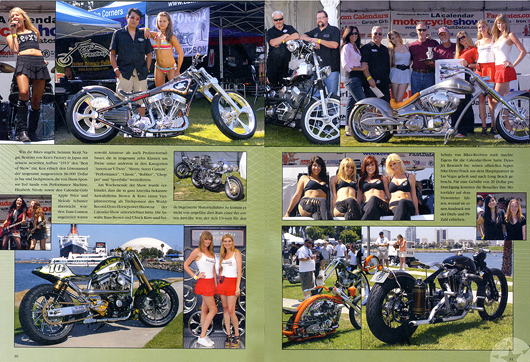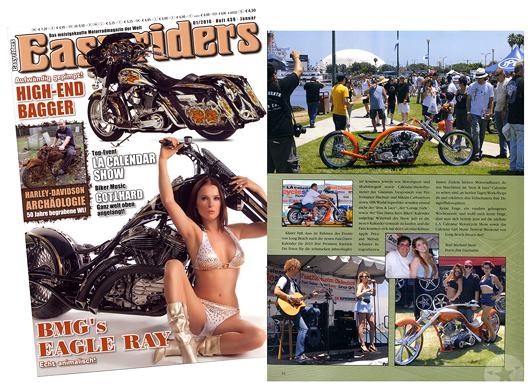 Easyriders Europe 5-page editorial feature and cover credits!
---
Beautiful Playboy cover model Amanda Bently at the classic 1940's Canyon Service Station in Santa Monica, CA, with a Paul Yaffe chopper, this incredible photo was featured on the cover of the 2003 Iron & Lace Calendar.
First Time Ever! FastDates.com Calendar Images Available for Sale!
Photo Prints, Posters, Canvas Wall Murals
Now, for the first time you can have my favorite, most memorable FastDates.com Calendar photos reproduced to museum quality standards for your home, garage, office or store, thanks to our new partnership with one of America's premier online photo labs. Choose from photo prints on quality photo paper, to huge poster and mural size Giclee' photo prints on archival rag paper or canvas mounted to wooden frames or display boxes.
Now you can enjoy my best photos of the the world's finest motorcycles with beautiful models! - Jim Gianatsis
The Making of the FastDates.com Calendars now on DVD!
Sure, we may be slow getting around to some things, one of those being the re mastering of our infamous Making of the FastDates.com Calendars movies to DVD. But now thanks to the help of Amazon.com we've entered the 21st century and you can stuff into your Computer or Big Screen DVD player the fastest, hottest, wettest, sexiest motorcycle movies ever made.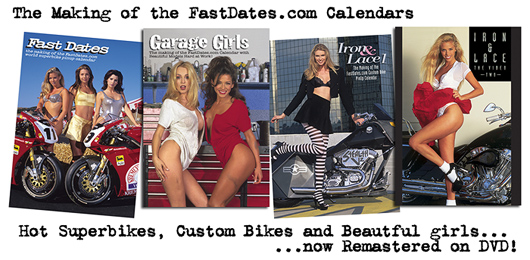 We guarantee you'll be left breathless by the incredible bikes, locations and beautiful girls. But don't wait to get those sticky rental copies of these exciting new FastDates.com Calendar DVD s from your your local rental dive. Be the hero of the next Race Watch or Bachelor's Party by getting your very own DVD copies over night from Amazon.com to hide under your bed from your mom, or download them now directly to your computer. The making of the FasDates.com Calendars DVD movies are available from Amazon.com and in the FastDates.com Video Store.
---
There's more! Go to Iron & Lace News Previous Page
Return to Iron & Lace Calendar News Front Page

Also Visit:
Fast Dates Calendar News • Pit Lane News • Calendar Girl News • Meet the Models
See much more of our all our beautiful calendar girls
in their sexy pictorials in FastDates.com Members Corner...


Some of our Calendar Girls can also be seen at Playboy's website...



MotorcycleSuperstore.com