Calendar of the World Superbike Championship
Home of the Official SBK Fast Dates Calendar Kittens

October 2016 Page 1
Marc Marquez 2016 MotoGP World Champion
MotoGPs in Japan, Phillip island, WSBK Jerez
Edelweiss Paris to Omaha Tour with
SBK Fast Dates Calendar Kitten Kaustin
Intermot 2016 New Ducati, Honda and Suzuki Sportbikes
2016 LA Calendar Motorcycle Show Winner!

New 2016 Harley XG750R Dirt Tracker
Preview! - 2016 LA Calendar Motorcycle Show

Previous Week - More: Pit Lane News
New Model Sportbikes • Editorial Features: Pit Board

• 2016 Intermot New Bikes - Honda CBR, Suz GSXR, Ducati
• 2016 AMA MotoAmerica Season Final- Beaubier Crowned
• Edelweiss Bike Trip Paris to Omaha Beach with Kaustin
• Fast Dates Calednar Shoot Laguna Seca 2016
• 2016 LA Calendar Motorcycle Show Coverage
• 2016 Laguna Seca USA World Superbike Coverage
• 2016 Missano SBK World Superbike
• 2016 SBK World Superbike Season Opener Phillip Island
• SBK Superbike 2016 Media Guide - The Bikes, The Riders
• 2015-2016 IMS International Motorcycle Shows
• 2016 Suzuki GSXR1000
• 2016 Ducati New Models
• 2016 MV Agusta 1000cc FV RC Homologation Superbike
• Jorge Lorenzo - MotoGP World Champion Biography
• Jonathan Rae - 2016 SBK World Superbike Champion
• New 2016 Kawasaki ZX10 - New Bike for the SBK Champ
• New 2016 Triumph Bonnevilles - More Watercooled Power
• Meet 2016 2015 SBK World Superbike Champ Jonthan Rea
• Fast Dates SBK Calendar Kittens at Laguna Seca 2015
• Ducati 1199R15 FastDates Review, Seup and Test
• Honda RC213V Moto GP Streetbike Replica goes on sale
• Victory Motorcycles Buys Brammo Electic - Races Isle of Man
• Corsa Motoclassica 2015 Willow Springs Racway
• Polais Slingshot 3-Wheeler - Is it a Motorcycle or a Car?
• MotoAmerica Group Takes Over AMA Pro Roadracing
• Fast Dates Edelweiss Tour of the Pyreness Spain & France!
• Fast Dates Shoot with Jitka & Petra 2014 Laguna Seca SBK
• Suzuki MotoGP Bike Preview and Test
• FastDates Shoot 2013 Laguna Seca WSBK
• Meet the SBK World Superbike Girls! - Photo Pictorial
• Venice Vintage Motorcycle Rally
• FastDates.com Calendar Video Shoot - Kelsey and Jessica
• World Superbike 25 Years -Maurizio and Paolo Flammini
• Troy Bayliss Race Academy School Misano & Paris!
• Ducati Corse World Superbike Book Cathcart & Gianatsis
• NCR / Poggopolini The Exotic Ducati Custom Bike Shop
• DRE Troy Bayliss Racing Academy - Exclusive at 180mph!
• John Britten Motorcycling's Most Creative Innovator
• High Speed World Superbike Movie with Sienna Miller


NEW! FAST 2017, 2016, 2015, 2014 ...
Digital Calendar Magazine Yearbooks
the Bikes, the Builders, the Riders, the Kittens,
the Calendar Bike Show, the World Superbike races
all the 2015 Calendar Pictures, and Special Features...
we take you around the world for the making of the
2015 FastDates.com Calendars
Now in Members Corner

2017 SBK Fast Dates Calendar Kittens
Sara, Helena and Alena on Location
at Lagunga Seca World Superbike &
The LA Calendar Motorcycle Show!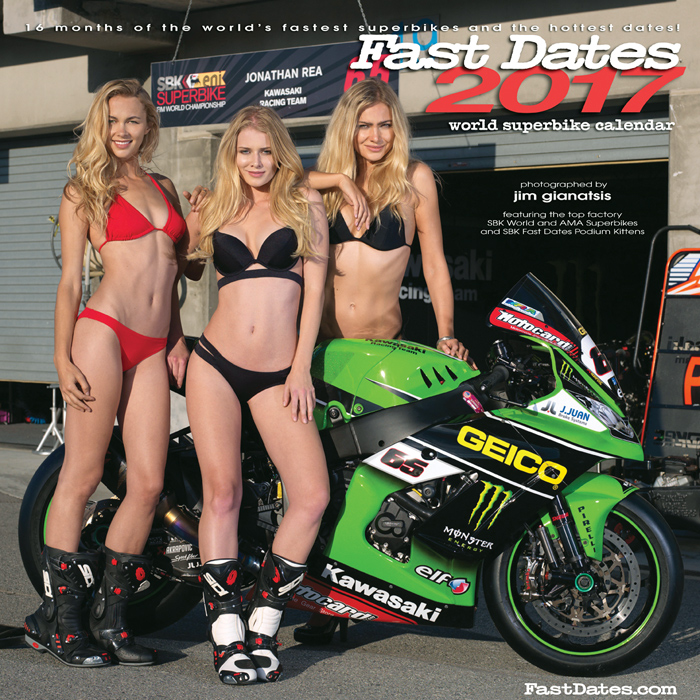 World Premier New 2017 Fast Dates Calendar!
Our official SBK Podiumand Grid Kittens Sara, Alena S and Alena P gets up close and personal with Jonthan Rea's 2015 SBK World Championship winning Motocard Kawasaki ZX10R at Laguna Seca USA World Superbike. FastDates.com Calendars are highest quality full color 15 x 15" wire spiral bound printed on heavy art stock revealing 16 months beginning with September.

Order the New 2016 and 2017 FastDates.com Calendars...
Click on the Calendar Picture Above or Here to Order

See More of the Bikes and Beautiful Calendar Kittens in -
Calendar Bike Garageand Members Corner and Meet the Models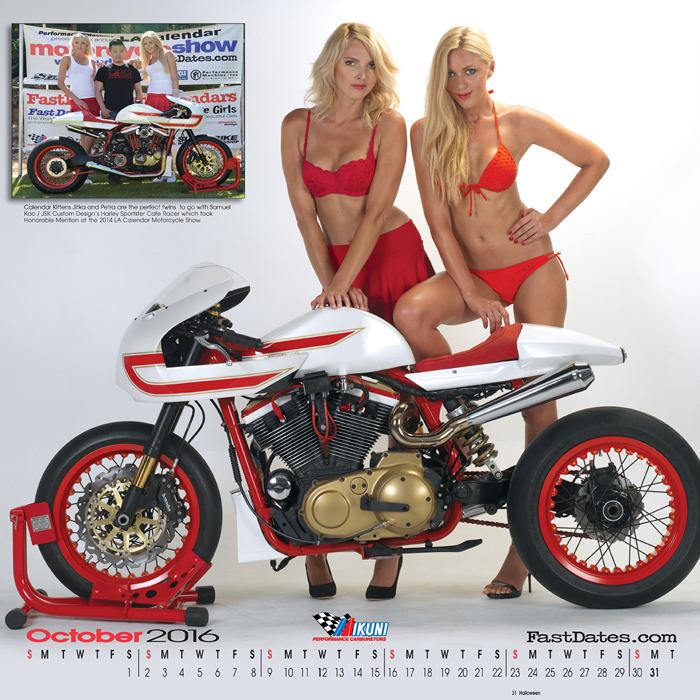 This Month in the Iron & Lace Calendar ...
Beautiful Czech Calendar Kittens Jitunka and Petra with the Sam Kao / JSK Design Harley Sportster cafe racer
that took Honorable mention at the 2014 KA Calendar Motorcycle Show.
Order the new Iron & Lace Calendar - Click on the Calendar Picture Above or Here to Order

See more of our beautiful Kittens and Calendar Bikes in the
Calendar Bike Garage and in Members Corner.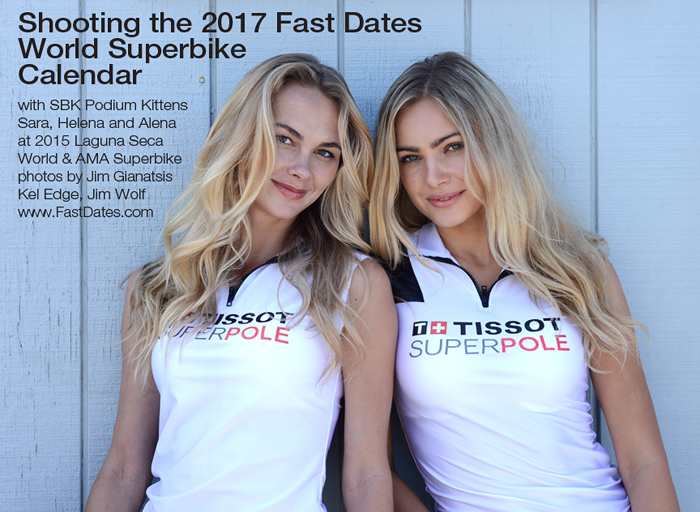 All Three Editions of this new 2017 FastDates.com Calendars feature our official SBK Fast Dates World Superbike Calendar Kittens Sara Horvath, Alena Pyshnaya from the Ukraine, and Alena Sovostikova from Russia, who spent the summer in America with Calendar photographer Jim Gianatsis to shoot and work at Mazda Raceway Laguna Seca USA World and AMA Superbike, and the LA Calendar Motorcycle Show. Follow the action behind the scrnes at the link above, and in our FAST 2017 Digital Magazine Yearbook in Members Corner.
FAST 2017, 2016, 2015, 2014 Digital Calendar Magazines


Go Behind the Scenes for the Making of the FastDates.com Calendars!
Each year's FastDates.com Calendar Digital Yearbook features 120 pages of exciting hi-resolution digital photography that takes you with us behind the scenes to our photo shoots at SBK World and AMA Superbike, the LA Calendar Motorcyle Show, and in our photo studio. You'll meet the beautiful Calendar Kitttens in sexy biography pictorials, the top Factory Racers and Custom Bike Builders,and see detailed photo features on the top calendar and race bikes. Take a track day with World Superbike Champion Troy Bayliss at Misano, take an Edelsweiss Ducati World Superbike tour of the Ducati Factory & Museum and across Italy, ride a Vespa scooter around Paris and party at the Crazy Horse and the Moulon Rouge. Hang with beautiful teen rock star Taylor Momsen of the Pretty Reckless. Did we forget anything?

Oh yes, and you'll see every page in the new Fast Dates, Garage Girls, Iron & Lace Calendars!.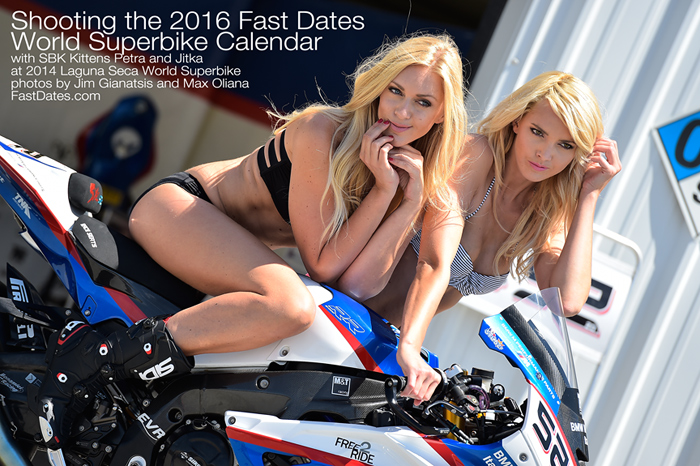 All three Editions of this new 2016 FastDates.com Calendars feature our official SBK Fast Dates World Superbike Calendar Kittens Jitka Pralinka and Petra Ruzickova from the Czech Republic, who spent the summer in America with Calendar photographer Jim Gianatsis to shoot and work at Mazda Raceway Laguna Seca USA World and AMA Superbike, and the LA Calendar Motorcycle Show. Follow the action behind the scrnes at the link above, and in our FAST 2017 Digital Magazine Yearbook in Members Corner.
FastDates.com Calendar Kitten Denisa Rosinska was one of the SBK Proscecco girls at Lausitzring WSBK.
Denisa is featured in the 2017 Garage Girls Calendar AVAILABLE HERE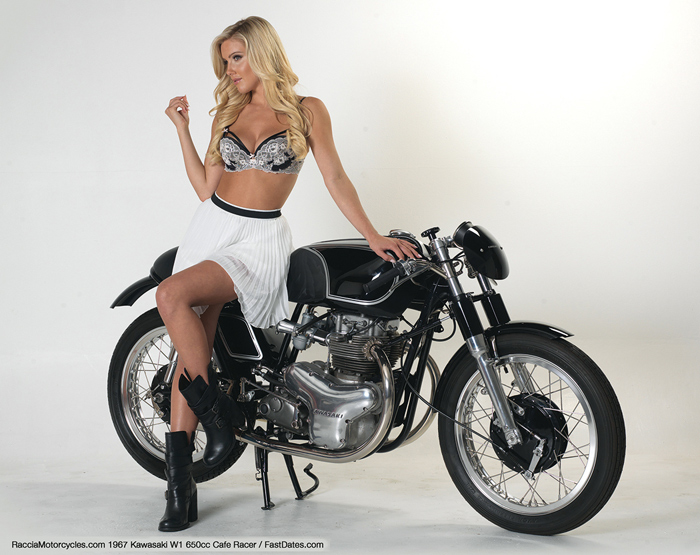 Calendar Bike Show Winner
Now in the FastDates.com Calendar Bike Garage!
Mike LaFountain's 2016 LA Calendar Bike Show class winning 1967 Kawasaki W1 Cafe Racer with SBK Fast Dates World Superbike Calendar Kitten Jessica Harbour in Big Screen Saver Size Pictures and bike details - http://www.FastDates.com/IronLaceGarage.HTM
---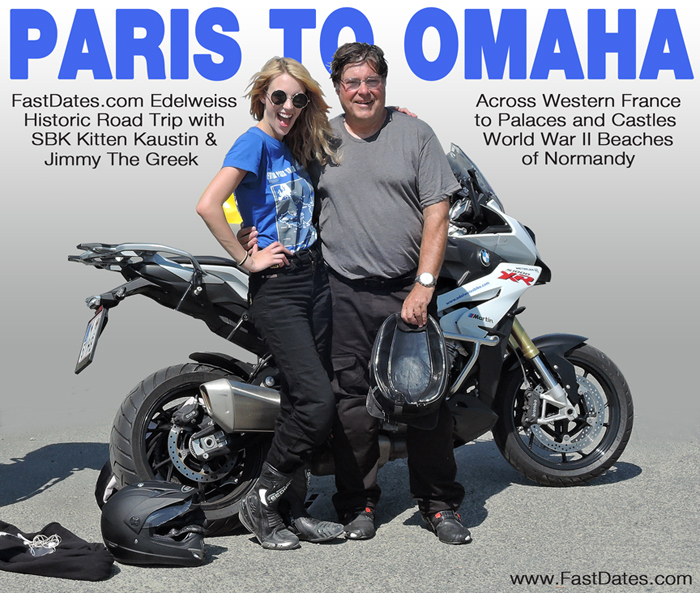 We're Back! Riding Edelweiss Motorcycle Tour - From Paris to Omaha, France
Versailles, France, August 2016 - How we spent our summer vacation! On the exciting Edelweiss Bike Travel 2016 Paris to Omaha Beach 10-day motorcycle tour across western France visiting the histroric battle sites of World War II where editor Jim Ginatsis father, B26 bomber pilot Capt. James Gianatsi played a pivital role in te D-say invasion and liberating France. We rode 2-up two-up with awesome FastDates.com SBK World Superbike Calendar Kitten Kaustin "Kaussie" Rose in a story for the FastDates.com Website. Our bike of choice would be the newly introduced BMW R 1000 XR Sport Tourer, based on the potent BMW R 1000 RR Superbike. For the Complete Story Click on the Photos or Check Out the Complete Story Here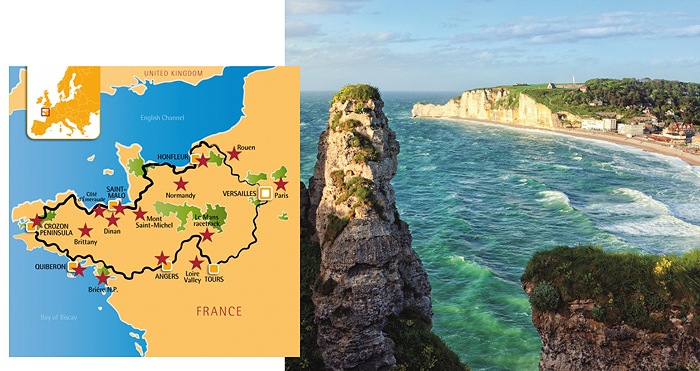 Kaustin Rose (aka Blake Eden) is from Phoenix, Arizona, and is a huge motorsports enthusiast. She grew up working in her father's business of buying, repairing and selling cars and motorcycles. Having motorcycles parked in the house was just part of the norm for her, and she was always rebuilding car motors with her dad. Caustin rode a KTM dirt bike in the desert, and got heavily into building up and driving cars in Drifting competition. But after destroying her Nissan drift car into a wall, and then her new 2012 BMW M3, she tell us she's taking a break from owning cars for a while to "settle down".

Kaustin moved to Los Angeles just a year ago to get into glamour and fashion modeling. Her credits include magazine covers like Penthouse March 2016.

Kaustin's exciting and busy first month of FastDates.com Calendar shoots began with the drive from Los Angeles up Pacific Coast on Highway 1 to Monterrey for the 2016 Laguna Seca USA World SBK & AMA Superbike round July 8-10th to shoot the Fast Dates World Superbike Calendar and will join other Umbrella Girls USA models to serve as official SBK Podium and Gird Girls at Mazda Raceway Laguna Seca.

Following the Laguna Seca Superbike weekend, Kaustin returned to Los Angeles for the the Saturday July 23rd LA Calendar Motorcycle Show to help premier the new 2017 FastDates.com Calendars and help with the Calendar Bike Building Championship awards. Then the following day she was at photographer Jim Gianatsis home studio to shoot with all the the top custom motorcycles from the Show for the next 2018 Iron & Lace Custom Motorcycle Calendar - http://www.FastDates.com/BIKESHOW.HTM
For complete Pricing, Bikes, and Booking Information visit the Edelweiss Website Here

---


From the left: Builder Hirokai Takai, Calendar Show producer Jim Gianatsis, Calendar Kitten Kaustin Rose, Best of Show winner Yuichiti Yoshizkwa, Kittens Alissa Bourne and Daria Dali.

We Have a Winner!
Yuichiti Yoshizkwa takes 2016 LA Calendar Motorcycle Best of Show
Calabasas, CA, July 23rd, 2016 - Yuichiti Yoshizkwa / Custom Works Zou, flew his bike in from Japan to take Best of Show at the 2016 LA Calendar Motorcycle Show. This was the 5th year in a row that Asian Builders had claimed the top spot at America's premier custom motorcyce show with their unique had craft builds. Yuichiti's Cafe Racer themed bike features a front swingarm suspension with its Amrican V-Twin replica Shovel Head fed by a exhaust driver turbocharger!

Complete coverage if this year's 2016 LA Calendar Motocycle Show HERE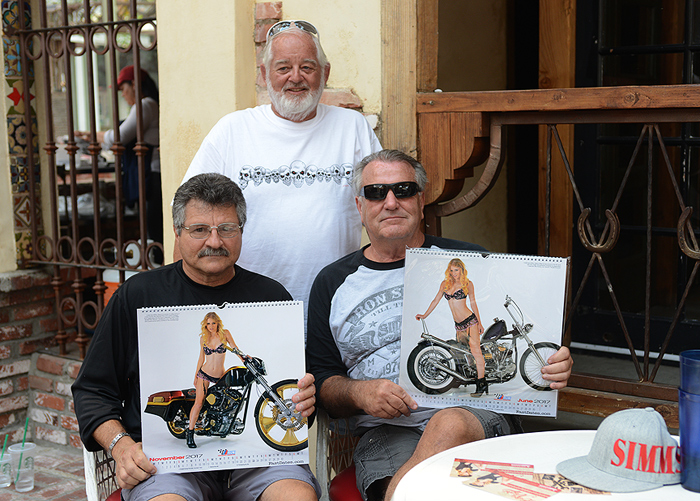 Legendary custom bike builder Ron Simms (seated right) shows off 2 of his newest custom bikes featured in the new
2017 Iron & Lace Calendar which premiered at the Show.
---
Crutchlow takes his 2nd win this year.

FIM 2016 MotoGP World Championhip, Round 16 of 18 Phillip Island

Crutchlow Is Uncatchable at Phillip Island
Marquez crashes, Rossi storms through the field


Michelin Australian Motorcycle Grand Prix, Phillip Island, Sunday, October 23rd 2016 - Cal Crutchlow (LCR Honda) took a stunning second GP win at Phillip Island, as the Brit kept calm and kept his gap at the front ahead of P2 finisher Valentino Rossi (Movistar Yamaha MotoGP), with Team Suzuki Ecstar's Maverick Viñales completing the podium.

There were no miracle starts for those frontrunners starting further back for the Australian GP, with Jorge Lorenzo (Movistar Yamaha MotoGP) getting the best from P12 to move up to P9, and teammate Valentino Rossi gaining two places to P13 – with Maverick Viñales moving up only one. It was Pol Espargaro (Monster Yamaha Tech 3) who got the holeshot from P3 on the front row, with polesitter Marquez the biggest loser off the line – before the 2016 MotoGP™ World Champion swept back around the outside of Doohan Corner to take back P2 and then fight off Espargaro through Lukey Heights and down into T10. Once at the front, the Motegi and Aragon winner set off in his rhythm, soon seconds clear.

The fight for P2 between Crutchlow and Aleix Espargaro (Team Suzuki Ecstar) saw the Brit emerge on top, as Rossi was charging through the field – picking off Pol Espargaro and Andrea Dovizioso (Ducati Team) as the rider from Tavullia entered podium contention, then setting his sights on Aleix Espargaro and soon getting past.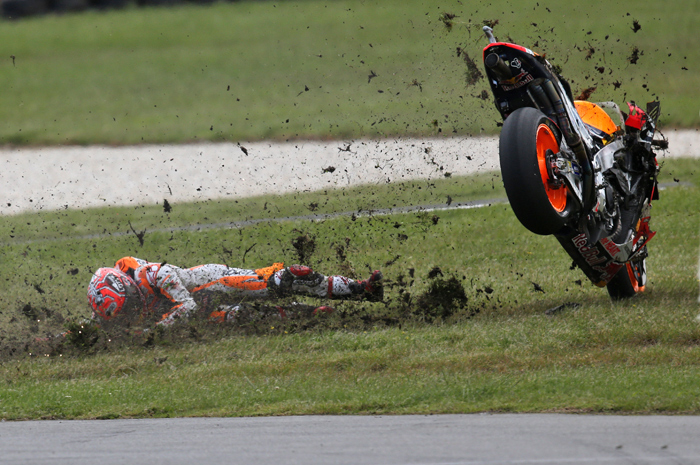 Nearly three seconds clear at the front, there was suddenly a Repsol Honda sliding through the gravel at Turn 4 – and Marc Marquez was out of the Michelin® Australian Motorcycle Grand Prix. The hard front tire that Marquez had chosen earlier, lost its temperate and grip on the cooling afternoon track.
Crutchlow then found himself in the lead, hoping the 2014 flashback for Marquez wouldn't touch him after a last lap crash two years ago – as Rossi began his hunt for the LCR machine, over two seconds back but on an amazing roll from P15 on the grid. As the British rider continued pulling away, Rossi then got a warning shot at Turn 4 that saw him run deep and lose ground, as the new fight for the final podium spot saw Aleix Espargaro locked in battle with Dovizioso – and Viñales soon getting involved.
After swapping positions in a three-way fight, Turn 4 then claimed another victim as Aleix Espargaro lost his Suzuki machine with 5 laps to go, and teammate Viñales broke the resolve of Dovizioso to take the final place on the podium and head the Italian home.
After his storming start, Pol Espargaro took a solid result as he crossed the line in P5, ahead of a struggling Jorge Lorenzo – who was unable to make up big ground after his good launch off the line.
Further back saw Scott Redding and Danilo Petrucci (Octo Pramac Yakhnich) leading a seven rider fight for P7 of home hero Jack Miller (Estrella Galicia 0,0 Marc VDS), Hector Barbera (Ducati Team), Stefan Bradl (Aprilia Racing Team Gresini), Bradley Smith (Monster Yamaha Tech 3) and Nicky Hayden.
'Kentucky Kid' Hayden, standing in for injured Dani Pedrosa at Repsol Honda, put in an impressive one-off return to his 2006 championship winning colours as he battled well within the points, before Miller took Turn 4 a little overenthusiastically and Hayden was the casualty, sliding out.
Hector Barbera was another crasher, leaving Redding to lead compatriot Bradley Smith over the line for P7, with the top ten completed by Petrucci and Miller. As well as the solid result for Miller, fellow Australian Mike Jones scored a point on his Avintia Racing machine, impressing once again.
Another Independent Team win in 2016, another win for Cal Crutchlow, and a little glimpse of the old Marquez. A fight back from outside the top ten to make the podium – for both the bikes who crossed the line behind the Brit – and some spectacular racing at Phillip Island once again. Next up is he penultimate round – and another chapter of an incredible 2016.
MotoGP™ Race Results - Complete Results Here
1st Independent Team Rider
1: Cal Crutchlow (GBR) HONDA 40'48.543
2 - Valentino Rossi (ITA) YAMAHA +4.218
3 - Maverick Viñales (SPA) SUZUKI +5.309
---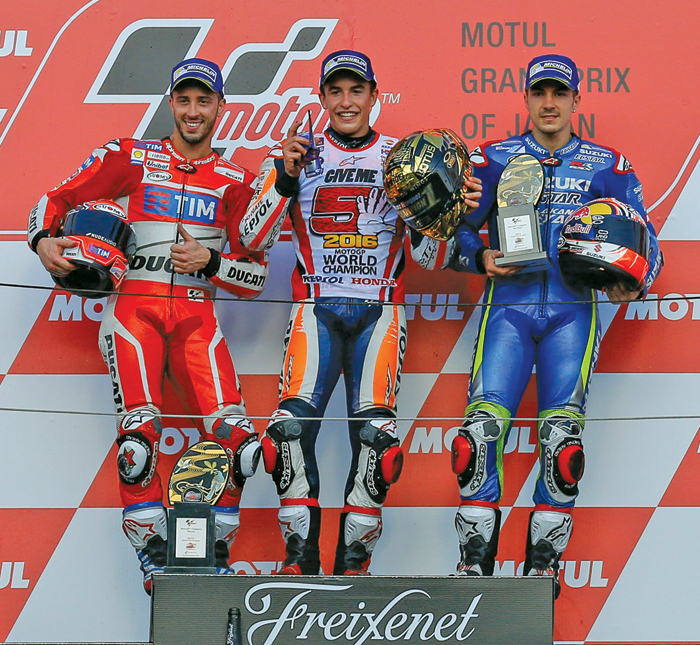 Andrea Dovizioso, Marc Marquez and Maverick Viñales

FIM 2016 MotoGP World Championhip, Round 15 of 18 Motul Grand Prix of Japan

Marquez Crowned 2016 MotoGP Champion at Motegi
Rossi and Lorenzo crash out to hand MM93 Easy Title Victory


Motul Grand Prix of Japan, Sunday, October 15th 2016 - Repsol Honda Team's Marc Marquez has taken the 2016 MotoGP™ World Championship at the home of Honda – with the hand dealt by the Japanese venue seeing the cards fall perfectly for the Spaniard as Movistar Yamaha teammates Valentino Rossi and Jorge Lorenzo crashed out of contention. First was Rossi, into the gravel early – before Lorenzo's ride through the pain barrier after a highside on Saturday was cut short; sliding out of P2 in the last few laps. Marquez, clear at the front, kept it on the road to take his third premier class title in four years, and his fifth victory of the year.

Rossi had a good start from pole, but had to let Marquez and Lorenzo pass going into turn one. What followed was a flurry of activity on the first lap as the Italian scrapped with Marquez and Aleix Espargaró. Completing the first lap in third place, Rossi refused to give up and cleverly bided his time whilst following Lorenzo and Marquez, to take second from his teammate five laps later. He was chasing the victory and kicked up the pace a nudge until he lost the front end in turn ten on lap seven, ending his race prematurely.

A crash for Eugene Laverty (Pull&Bear Aspar Team) then saw the Irishman out the race early on, as the top three of Lorenzo, Marquez and Rossi held station at the front and Motegi prepared the coming twists in the tale.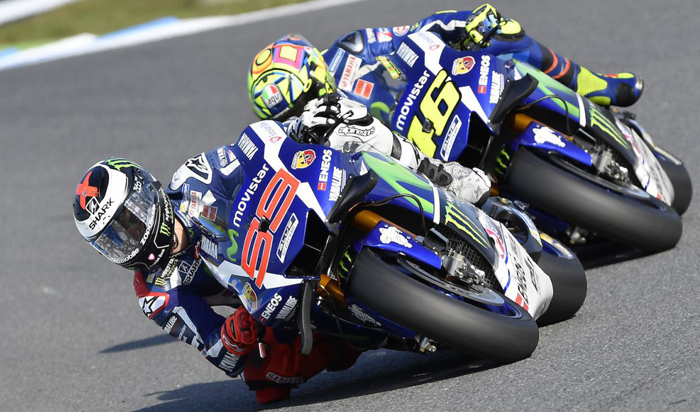 Rossi (46) pushes team maet Lorenzo (99) to retake 2nd position, then Rossi crashed out as he tried to recatch Marquez.
Rossi was first to fold, as the 9-time World Champion made a mistake and lost the front end of his Yamaha – leaving teammate Lorenzo as the last man standing in between Marquez and the crown. The status quo between the two remained, with Marquez in a clear lead, as battle raged behind.
Maverick Viñales (Team Suzuki Ecstar) broke away from an early fight with LCR Honda's Cal Crutchlow to get on the hunt back towards the podium, with teammate Espargaro falling back into his clutches as Andrea Dovizioso (Ducati Team) began to hunt down Lorenzo.
'DesmoDovi' made some inroads, with Lorenzo getting closer and closer, before an uncharacteristic error from the reigning World Champion saw him follow teammate Rossi in crashing out – a painful trip through the gravel after a highside in FP3 had left the Mallorcan bruised and riding through the pain barrier.

Marquez' pit board informed the number 93 of the unbelievable situation he now found himself in: a handful of laps, a third crown, and glory once again at the home of Honda. Dovizioso followed the new Champion over the line for a P2 finish, with Viñales completing the podium in another impressive ride - just pipping teammate Espargaro after winning the inter-team Suzuki battle.
Cal Crutchlow came home in fifth as top Independent Team rider once again, with rival for that title, Monster Tech 3's Pol Espargaro, just behind in sixth. Alvaro Bautista (Aprilia Racing Team Gresini) impressed with seventh for another great result for the Noale factory, with teammate Stefan Bradl compounding the joy for Aprilia as he completed a double top ten finish in P10. Octo Pramac Yakhnich pairing Danilo Petrucci and Scott Redding were the remaining puzzle pieces in that top ten, in P8 and P9 and only three tenths apart over the line.
Marquez' third MotoGP™ title is his third in four years in the premier class, and his fifth World Championship after becoming 125 World Champion in 2010 and Moto2™ World Champion in 2012. The plan from the start of the season remained the same until it proved its worth: control, calm and consistency – a new MO that has seen the mistakes of the past craft the success of the present, and a new MotoGP™ World Champion emerge from the ashes of a tough 2015.
Marc Marquez RACE WINNER 2016 MOTOGP WORLD CHAMPION
"It's incredible! Before the race I didn't expect to be Champion, and I said that here it would be impossible. However, when I saw that Rossi was out of the race, I decided to push hard for the victory. I was riding my hardest, and when there were three laps to go, I read on my pit board that Lorenzo was also out; on that same lap, I made mistakes in four or five corners, as it was difficult to stay focused! I'm very happy because this title is very special considering some of the crashes I had last year, and also because it came at Motegi, Honda's home. Honda has worked so hard this year, and you could see the fruits of that effort also at this track, where we've struggled in the past. I myself also improved during the season; for instance, I learned how to better use the front Michelin tyre. It has been a demanding year, but a fantastic one. It's great for my team, and of course I don't want to forget my grandmother, who passed away this year and would be very happy with this World Championship. Now we can just enjoy it and go into the last three races with maybe a more 'Marc Marquez' style."
Jorge Lorenzo, Yamaha DNF -" I'm very disappointed, because I made a mistake. I tried to push too much when the bike was not working well with the tyres. In Aragón we made a good decision with the tyres and this time it was the opposite. We chose the wrong front tyre, with the soft I think I would have made a better race, because my front tyre on the first laps was vibrating and closing. I didn't have a good feeling, that's why I couldn't keep up with the pace of Marquez. Finally, because Dovizioso was coming, I pushed more than before in that corner and the front tyre didn't give me any support or feedback and I crashed. It's a pity, because I think we had the potential to fight for the victory with the right front tyre, but it was impossible today and we lost a great opportunity to be second in the championship. I want to congratulate Marquez because he didn't have an advantage from his bike this year and he was the most consistent rider, so he deserves this championship."
Valentino Rossi, Yamaha DNF - "First of all, I would like to say that I'm OK, fortunately no problems. On the other hand it's a shame because I was quite strong and I had a good pace. Unfortunately my start was not fantastic and I lost a position to Marquez and Lorenzo. After that, Marquez was a bit faster than me to overtake Lorenzo, I lost a bit more time behind him, but the pace was good. I was able to push a lot to try and catch Marquez but unfortunately I lost the front. Sincerely, I felt nothing like going into the corner too wide or too deep, but I lost the front and logically I made a mistake."
Next up, MotoGP™ returns to the scene of the Island Battle last season – Phillip Island. With the Championship decided, maybe the new Marquez will be revealed as a mask – and the Champion of the world will cut loose and set his sights firmly on a magnificent win number six.
MotoGP™ Race Results - Complete Results Here
1 25 93 Marc MARQUEZ SPA Repsol Honda Team HONDA 42'34.610 162.3
2 20 4 Andrea DOVIZIOSO ITA Ducati Team DUCATI 42'37.602 162.1 2.992
3 16 25 Maverick VIÑALES SPA Team SUZUKI ECSTAR SUZUKI 42'38.714 162.1 4.104
4 13 41 Aleix ESPARGARO SPA Team SUZUKI ECSTAR SUZUKI 42'39.336 162.0 4.726
5 11 35 Cal CRUTCHLOW GBR LCR Honda HONDA 42'49.659 161.4 15.049
6 10 44 Pol ESPARGARO SPA Monster Yamaha Tech 3 YAMAHA 42'54.264 161.1 19.654
7 9 19 Alvaro BAUTISTA SPA Aprilia Racing Team Gresini APRILIA 42'57.642 160.9 23.032
8 8 9 Danilo PETRUCCI ITA OCTO Pramac Yakhnich DUCATI 43'03.165 160.5 28.555
9 7 45 Scott REDDING GBR OCTO Pramac Yakhnich DUCATI 43'03.412 160.5 28.802
10 6 6 Stefan BRADL GER Aprilia Racing Team Gresini APRILIA 43'06.940 160.3 32.330
11 5 21 Katsuyuki NAKASUGA JPN Yamalube Yamaha Factory Rac YAMAHA 43'17.455 159.6 42.845
12 4 68 Yonny HERNANDEZ COL Pull & Bear Aspar Team DUCATI 43'26.829 159.1 52.219
13 3 38 Bradley SMITH GBR Monster Yamaha Tech 3 YAMAHA 43'28.393 159.0 53.783
14 2 53 Tito RABAT SPA Estrella Galicia 0,0 Marc VDS HONDA 43'29.370 158.9 54.760
15 1 73 Hiroshi AOYAMA JPN Repsol Honda Team HONDA 43'34.765 158.6 1'00.155
16 76 Loris BAZ FRA Avintia Racing DUCATI 43'39.050 158.3 1'04.440
17 8 Hector BARBERA SPA Ducati Team DUCATI 44'17.576 156.0 1'42.966
18 7 Mike JONES AUS Avintia Racing DUCATI 42'51.865 154.5 1 lap
Not Classified
99 Jorge LORENZO SPA Movistar Yamaha MotoGP YAMAHA 33'43.286 162.3 5 laps
46 Valentino ROSSI ITA Movistar Yamaha MotoGP YAMAHA 10'42.812 161.3 18 laps
43 Jack MILLER AUS Estrella Galicia 0,0 Marc VDS HONDA 10'53.385 158.7 18 laps
50 Eugene LAVERTY IRL Pull & Bear Aspar Team DUCATI 3'45.477 153.3 22 laps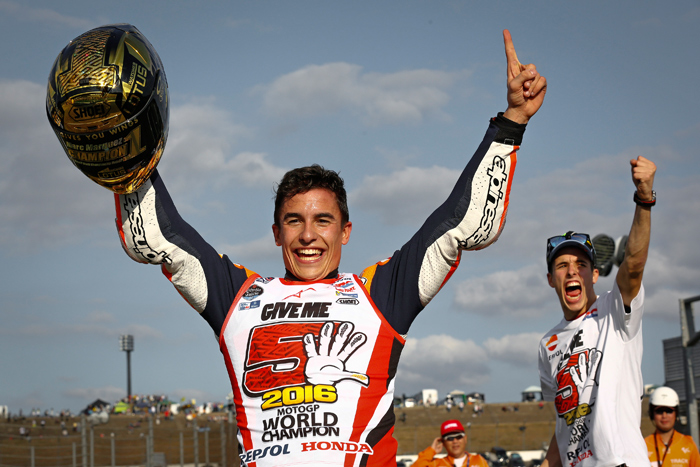 Marc Marquez celebrates his 5th World Championship with his brother Alex
Marc Marquez: The Story of a Champion
A third premier class crown in four years for the 2016 MotoGP™ World Champion

The end of 2015 saw Marc Marquez (Repsol Honda Team) lose the title of World Champion for the first time since moving into the premier class of motorcycle racing, as the historic battle between Jorge Lorenzo and Valentino Rossi (Movistar Yamaha MotoGP) took over at the top of the table and Marquez suffered his mistakes. Crashes, struggles and controversy marked the toughest year of Marquez' premier class career – and 2016 saw the rider from Cervera stage an incredible comeback. Controlled, poised and willing to play the long game: this was the new Marquez, and he was here to take back his crown.

Marquez made his debut in the World Championship in 2008 at 15, and although his rookie season was curtailed by injury, he made headlines by achieving a podium result in just his sixth race. He picked up another podium result in 2009, before becoming 125 World Champion for the first time in 2010 - winning an incredible ten of the last 14 races of the year.

In the Moto2™ class the following season, the rider from Cervera had a tough start before going on an incredible winning run, taking seven victories to hunt down the mammoth lead accrued by title rival Stefan Bradl – including a podium in Phillip Island from 38th on the grid. A crash in practice for the Malaysian Grand Prix then halted the season, and Marquez was forced to cede the title fight with serious problems with his eyesight. Not knowing whether the problem could be solved, Marquez had a tough off season with his career in doubt - until surgery was able to correct the problem, and he was finally able to get back on the bike. When he did, he obliterated the opposition and took the 2012 Moto2™ World Championship – including an unbelievable win from the back of the grid at the season finale Valencian GP.

Fresh from that historic win, the newly crowned Champion of the intermediate class then got to try his new MotoGP™ bike for the first time at the Valencia test – joining Repsol Honda and finding big shoes to fill as Casey Stoner retired.
On the podium first time out and winning his second ever premier class Grand Prix at the Circuit of the Americas, Marquez became the youngest ever rider to clinch the premier class world title in MotoGP™, thanks to a truly amazing debut season. He also became the first rookie premier class World Champion for 35 years.

The 2014 campaign saw Marquez raise the bar as he built up a huge lead in the Championship with ten successive victories in the opening ten rounds of the season. Teammate Pedrosa then halted the streak with a victory in Brno, a result that started a mid season blip that saw him off the podium in three races in four. Back on top by Silverstone, Marquez wrapped up the title in Japan at the Twin Ring Motegi – the home of manufacturer Honda.

2015 began well, with a win in Texas second time out and Marquez looking to defend his crown. But too many crashes and points lost as the Yamaha charge of Rossi and Lorenzo gained traction saw Marquez out of contention by the time the flyaways came around – but a stunning win in Phillip Island saw Marquez back on the top step. After taking victory in one of the greatest races of all time, Marquez and Rossi then clashed next time out in Sepang – with Marquez crashing out and Rossi awarded a penalty for the incident. Valencia saw the rider from Cervera take another home podium in P2 to complete the year, ready to recharge over the winter and take back his crown from new World Champion Lorenzo.

The scars of last season have created a new rider. Where 2015 saw the Spaniard push too hard and make mistakes, this season has replaced those flaws with calm and control – pushing when the victory is there to be taken, and taking the points when the stakes are too high. The strategy – that Marquez explains as the way to win a title rather than win the most races – has seen the 2013, 2014 and now 2016 MotoGP™ World Champion equal great rival Lorenzo with a third premier class crown – his fifth World Championship. Taking the title at the home of Honda at Motegi - as he did in 2014 - Marquez' ride to a stunning fifth win of the season was enough, as Rossi and Lorenzo crashed out of both the race and the Championship fight in the high drama in Japan.

Wins in Texas, Argentina, Germany and Aragon saw the Spaniard 52 points clear ahead of the Japanese GP at Motegi. The only rider to score points in every race, the 2016 MotoGP™ World Champion is Repsol Honda's Marc Marquez – once again.
---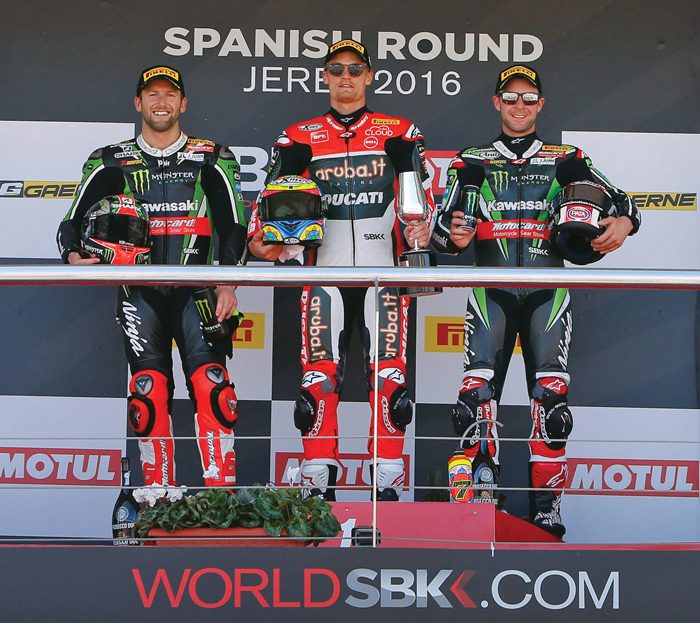 SBK Motul World Superbike Championship Round 13 of 14, Jerez, Spain
Chaz Davies Doubles Down Again in Spain
Gaerne Spanish Round, Circuit de Jerez, October 15-16th th 2016 -After taking the top step of podium in Race 1 on Saturday, the Aruba.it Racing - Ducati team did the double in Jerez de la Frontera (Spain) on Sunday with Chaz Davies. The Welshman rider thus seized his fourth win in a row and ninth of the season – tied with championship leader Rea – to maintain the momentum that saw him win five out of six races after the summer break.

Thanks to a blistering start from sixth position on the grid, Davies entered turn 1 in second place and soon after took the lead and adopted the same strategy as in Race 1, progressively building a gap with an unequaled pace. To underscore his masterful performance, he also set the fastest lap with a 1:41.492.

After twelve rounds, Davies is third (395 points) in the general standings behind Kawasaki team mates Jonthna rea and Tom Stkes. The SBK World Supebike Championship will be back in action under floodlights in Losail for the final round of the season, scheduled for October 28-30.

Chaz Davies (Aruba.it Racing - Ducati #7) 1st - "To win four races in a row is just unreal. Lately I've been very confident and able to push 100 percent every lap, just dancing on the bike. Also, I managed to get the best start of the year and entered turn 1 just behind Sykes. I think he was trying to save his tyres, so I took the opportunity because I knew we could run our pace for the whole race. Today, the key was to manage the grip. I was a little mindful at the start, because the hotter conditions made the track more slippery, but in the end I could see the gap building and then it was just a case of bringing it home. Without getting overconfident, we'll try to make it sixth in a row to get second position in the championship."

With his factory Ducati 1199RS now fully sorted, Davies can pull away from the previously diminate Kawasaki ZX10Rs of Jonthan Rea and Tom Sykes by .25-.50 seconds per lap.
Davies Does It Again at Jerez to Kick Off the Weekend
Ducati Wins the Race but Kawasaki celebrate the Manufacturer's Crown
RACE ONE Saturday October 15th 2016 - Race 1 at the Gaerne Spanish Round saw Chaz Davies (Aruba.it Racing – Ducati) decimate the field by over three seconds, while a podium for the Kawasaki Racing Team duo was enough for the Japanese marque to secure the Manufacturers Award.

Jonathan Rea (Kawasaki Racing Team) led into the first corner from P2 on the grid, with teammate Tom Sykes and Alex Lowes (Pata Yamaha Official WorldSBK Team) close behind. However it wasn't long until Davies moved in on Lowes to begin his hunt for the win. Nicky Hayden (Honda World Superbike Team) didn't get an ideal start after a wheelie off the line slowed him

considerably, however the Kentucky Kid made up for it by setting a fastest time on lap 3 as he worked his way up into the top five.
The early laps saw many riders end their races prematurely with the first victims of the Circuito de Jerez being Luca Scassa (VFT Racing) and Saeed Al Sulaiti (Pedercini Racing) on the opening lap. Xavi Fores (Barni Racing Team) and Davide Giugliano (Aruba.it Racing – Ducati) were next when they both crashed out at turn 1 on lap two. On the next lap Lowes crashed out at turn 5, before Ant West (Pedercini Racing) slid out but the Australian was able to rejoin at the next corner.

Once Davies got in front it was impossible for the Kawasakis to match his pace. Sykes, who finished second, gained important Championship points to help close in on his title leading teammate Jonathan Rea, who finished third.

Hayden worked his way up to finish in fourth ahead of his teammate Michael van der Mark who rounded out the top five. Sylvain Guintoli (Pata Yamaha Official WorldSBK Team) finished in sixth with MV Agusta Reparto Corse rider Leon Camier taking seventh. The first Spaniard home was Jordi Torres (Althea BMW Racing Team) who finished in eighth ahead of his teammate Markus Reiterberger in ninth.

Further down the order it was a four-way fight to place in the top 10 involving Josh Brookes (Milwaukee BMW), Alex De Angelis (Ioda Racing Team) Roman Ramos (Team GOELEVEN) and Lorenzo Savadori (IodaRacing). Eventually, Brookes won the battle to finish in tenth with De Angelis in P11, Ramos in P12 and Savadori in P13. Ant West came home in P14 while Peter Sebestyen (Team Toth) picked up his first point of the season in P15.

The MOTUL FIM Superbike World Championship could be decided in Race 2 on Sunday the 16th of October when the WorldSBK field take to the grid for a second time at the Gaerne Spanish Round.

C.Davies (Ducati) 1st Place: "This used to be a bogey track of mine, I never used to be able to get results and it was always difficult. The last two years it has kind of clicked a little bit. You would think that after 16 years I would be able to get it right sooner or later! I'm just so happy to get the victory today because yesterday we were looking good and today the track changed quite a bit so we had to react to that, react to our rivals stepping up the pace and we managed to do that.

T.Sykes (Kawasaki) 2nd Place: "It is a big day for Kawasaki, two years on the bounce, which is like the number ten bus! They win one last year and they are on it straight away again. It just shows you the amount of effort and support they are putting into the WorldSBK championship. Overall, it is quite an acceptable race, to finish second with those strong guys either side of me is not too bad, but it is also not perfect. Chaz is the one hunting me down in the championship for second and we need to find an answer tomorrow."
J.Rea (Kawasaki) 3rd Place: "With everything on my mind it was better to consolidate our points today, move on and take one step closer to our ultimate goal. I'm a little bit disappointed with our bike today. We had no traction from early on, front and rear, so tomorrow we need to understand that. All in all I'm happy to be on the podium, my first podium in Jerez, so that is at least one goal accomplished today."
Results WorldSBK Race 1 - Complete Results Here
C.Davies Ducati
T.Sykes Kawasaki (+3.290)
J.Rea Kawasaki (+7.151)
Davies Can't Be Beat at Jerez
Unstoppable Ducati and the duelling Kawasakis
RACE TWO Sunday October 16th 2016 - Chaz Davies (Aruba.it Racing - Ducati) won Race 2 at Jerez in a similar fashion to his victory on Saturday, while also taking out the overall Pirelli Best Lap Award. The Welshman won his fourth double of the season in southern Spain with almost six seconds separating him from fellow podium finishers and Kawasaki Racing Team duo Jonathan Rea and Tom Sykes.

Davies had an incredible start storming straight through to fourth by the first corner, but it was Sykes who led with Rea close behind in second. By the end of the first lap, the Ducati rider had already shot to the front and began to build his lead.
The Kawasakis then battled it out for the remainder of the race together, with Rea trying to hunt down his second World Title. The lead swapped and changed between the Championship contenders but the reigning World Champion couldn't shake off Sykes to take the crown, which he stll leads by 48 points.

By the end of the race, fourth-placed Nicky Hayden (Honda World Superbike Team) had caught up to the KRT duo to fight it out for the podium, but he narrowly missed out as Sykes took third behind his teammate Rea in second. As a result, the 2016 Championship could not be won at the Gaerne Spanish Round and the Northern Irishman will need to wait until the last round at Qatar to be crowned Champion.

Sylvain Guintoli (Pata Yamaha Official WorldSBK Team) had a solid ride in Race 2, improving from Saturday to come home in fifth ahead of Honda World Superbike Team's Michael van der Mark in sixth, who celebrated his 50th WorldSBK race start.
Alex Lowes (Pata Yamaha Official WorldSBK Team) finished in seventh ahead of Jordi Torres (Althea BMW Racing Team) who was the first Spaniard home in eighth. Torres battled with fellow Spaniard Xavi Fores (Barni Racing Team) earlier on in the race to break into the top ten. Unfortunately for Fores, his race ended early after technical issues forced him to retire.

Anthony West (Pedercini Racing) ended Sunday in ninth while Lorenzo Savadori (Ioda Racing Team) rounded out the top ten. Roman Ramos (Team GOELEVEN) came home in P11 with Josh Brookes (Milwaukee BMW) crossing the line in P12. Davide Giugliano (Aruba.it Racing – Ducati) finished in P13, which was a solid effort considering he struggled with his recovering shoulder throughout the weekend. Althea BMW Racing Team's Markus Reiterberger finished in P14 with Gianluca Vizziello (Grillini Racing Team) picking up a point in P15.

The 2016 MOTUL FIM World Superbike Championship will now be decided in the final round of the season at Qatar on the 28th to the 30th of October and it's Jonathan Rea who leads the way.

C.Davies (DUCATI) 1st Place: "Since the summer break we have been flying and this is the result. Five out of six wins now, so hats off to the crew because it is thanks to them that we are now in this position, they never stopped working or rested on their laurels. They keep chipping away in Bologna so thanks to them, thanks to Aruba and thank you to Ducati."
J.Rea (KAWASAKI) 2nd Place: "We have to play the long game. I haven't felt so good at this circuit honestly. So to be two times on the podium is quite good. The gap to Chaz and Ducati is a bit worrying right now. But we can move on to Qatar, which is a track I really enjoy. Last year I had one good race there so we will see. I'm very relaxed now though, because even with the form of Chaz right now and with 48 points I think we can go to Qatar in a relaxed mood and look to pick up the target there."
T.Sykes (KAWASAKI) 3rd Place: "40 points or 48 points that was finally the difference and we are clutching at straws. The problem is that has allowed Chaz to close up even more and he is in great form. We need to find a better bike, a better set up and hopefully something that can allow me to be aggressive from start to finish like Chaz, because at the moment I feel like I am playing with myself during the race, so really disappointed. Overall third is the best we could manage today and that's racing. We've got to move on from this and get stronger."
Results JerezWorldSBK Race 2 - Complete Results Here
1. C.Davies Aruba.it Ducati- Racing
J.Rea Kawasaki Racing Team (+5.893)
3. 2. T.Sykes Kawasaki Racing Team (+6.030)
WorldSSP: Sofuoglu Takes the Crown Five Laps In
Krmmenacher out of contention early on, while Bassani takes ESS Cup
Kenan Sofuoglu won the race at Jerez and was crowned the 2016 FIM Supersport World Champion just five laps in on Sunday at Jerez, after his Kawasaki Puccetti Racing Teammate Randy Krummenacher crashed out of contention for the title. Incredibly it is the first time a WorldSSP rider has won back-to-back titles since Sébastien Charpentier did it in 2005 and 2006. Sofuoglu is also now the only rider in history to win the WorldSSP Championship five times.

The Turkish rider defended the tough challenge by Kallio Racing Team's Niki Tuuli and CIA Landlord Insurance Honda's Kyle Smith, who tried everything they could to beat the Kawasaki Rider at his own game. But experience won out and they weren't able to match his incredible pace. Tuuli finished second, Smith came home in third and Honda World Supersport Racing Team's PJ Jacobsen finished in fourth after catching the podium finishers in the final laps.

Sofuoglu had the holeshot and led from the first corner, focussed only on winning his fifth title. Krummenacher who was running in second, attacked at every opportunity to get in front of Sofuoglu. The first few laps saw the lead switch between the two Kawasakis before Krummenacher became undone at turn 1 and slid out on lap five. He wasn't able to continue and officially retired from the race on lap 9, with Sofuoglu automatically being declared Champion of WorldSSP for his second consecutive time.

Further down the order FIM Europe Supersport Cup leader Axel Bassani (San Carlo Team Italia) had a good start and was fighting for sixth position with Jules Cluzel (MV Agusta Reparto Corse) and Ayrton Badovini (GEMAR Balloons – Team Lorini). The young Italian was able to hold off his Supersport challengers and was able to finish in fifth, after Federico Caricasulo (BARDHAL Evan Bros. Honda Racing) crashed out in the final laps. By being the first ESS rider home, Bassani won the FIM Europe Supersport Cup.

Cluzel finished in sixth ahead of second-placed ESS rider Illia Mykhalchyk (DS Junior Team), with Badovini coming home in eighth. Christoffer Bergman (CIA Landlord Insurance Honda) finished in ninth with Lorenzo Zannetti (GRT Racing) rounding out the top ten.

Third-placed ESS rider to finish was Alessandro Zaccone (San Carlo Team Italia) who placed 11th in the race overall, ahead of Xavier Pinsach (GEMAR Balloons –Team Lorini) in 12th. Hikari Okubo (CIA Landlord insurance Honda) finished in P13 with Luke Stapleford (Profile Racing) in 14th and Zulfahmi Khairuddin (Orelac Racing VerdNatura) picking up a point in P15.

Thanks to Sofuoglu's win, Kawasaki were named Manufacturers' Champions of the WorldSSP category, joining their WorldSBK counterparts who won the Award on Saturday at Jerez. Though the Championship has been decided, WorldSSP isn't over just yet. The field now heads to Qatar for the final round of the 2016 season on the 28th to 30th of October.

K.Sofuoglu (KAWASAKI) 1st Place: "This is special because it was also my dream at Magny Cours to win the race and win the championship. Being honest when I saw Randy and Tuuli behind me I just thought lets stay in third place but then when I saw that Randy had crashed and I thought, 'Why can't I win the race too, because I'm already the champion?'. Then I pushed the throttle, the last few laps were difficult and I'm so, so happy. I've won the race, won the championship and this is my fifth title, which was my goal. Honestly for my career I have reached my goal. Now I will ride the bike just because I enjoy it."
SBK Supersport, Superstock - Complete Results Here
---
The new Base model Ducati Supersport will retail for just $12,995 USD. Click on any picture to enlarge.

New Sport Bike Introductons at Intermot 2016
Cologne, Germany, October 4, 2016 – A few majort motorccyle manufacturers unveiled their long awaited new generation Superbikes at the Intermot 2016 Motorcycle Show in Colone Germany this month. The most anticipated were Honda and Suzuki who unveiled all new generation CBR1000RR and GSXR1000 bikes respectiverly, both significantly ligher and producing close to 200hp in stock form, with all the latestest electornic aids. Disappointing is the fact they just caught up with the major European brands Ducati, Aprilia and BMW who introduced these updates on their current generation Superbike some 3 years ago.
Most disapointing was Honda, who was expected to replace their in-line four cylinder CBR1000R with an affordable version of their MotoGP V-4 derived 2016 Honda RC213V-S Superbike introduced last June 2015 at a price of $184,000. No trickle down tchnology for the once industry leading Japanese manufacturer.
Ducati, on the otherhand, certainly stole the show at Intermot with the re-introduction of an all new SuperSport, the model which they stopped updating and tookout of producton some 10 years ago, leaving a big gaping gap in their model lineup between their around town Monster playbike, and their hard edged Panigale Superbike. The new Supersport enplys the previous generation Testastretta Superbike eing in a smaller 937cc displacement, their trademark trellsi fame, and more comfortable higher position handlebars for both sport and town riding. The low prices for the two Supersportmodels will put it right in competion with Ducati's own Monster modls, the BMW 90T, and Triump's new watercooled Bonneville and Thruxton models. Expect the new Ducati Supersport to be a huge hit!



The new Ducati Supersport S model upgrades to Ohlins suspension front and rear for just $14,995 USD.

Ducati SuperSport
Ducati took advantage of the special press-only day at INTERMOT 2016 to unveil the first of a series of new bikes for 2017. At the Cologne motorcycle fair, Ducati CEO Claudio Domenicali took to the stage to present the SuperSport, the company's latest sport motorcycle.
The Ducati SuperSport is designed for those who want a sport-inspired bike that still provides comfort and easy handling on everyday roads. A fun bike that's versatile and accessible, with the style and soul of a real Ducati thoroughbred .A lean and mean road machine with a decidedly approachable feel thanks to easy handling, the confidence-inspiring Ducati Safety Pack (Bosch ABS + Ducati Traction Control), the awesome price-quality ratio of the equipment and the long maintenance intervals.
A lean and mean road machine with a decidedly approachable feel thanks to easy handling, the confidence-inspiring Ducati Safety Pack (Bosch ABS + Ducati Traction Control), the awesome price-quality ratio of the equipment and the long maintenance intervals.
Powering the SuperSport is a twin-cylinder 937 cm³ Testastretta 11° engine, delivering 113 hp and a full yet linear torque curve. Thanks to the three Riding Modes (Sport, Touring, and Urban), the SuperSport's temperament can be adapted to maximize enjoyment whatever the riding conditions. Agile on city streets, comfortable on the motorway and superlative on twisting country roads, the SuperSport is super-versatile. Relaxed rider and passenger positions, good airflow deflection from the height-adjustable screen and the mileage provided by the 16-litre fuel tank also make the new Ducati SuperSport a cool companion on medium-distance rides.
The Base Ducati SuperSport MSRP is $12,995. The SuperSport S version featuring fully adjustable Öhlins suspension, the Ducati Quick Shift up/down system and a rear seat cover: the latter are also available as accessories for the SuperSport. SuperSport S MSRP is starting from $14,795, First USA deliveries begin in April.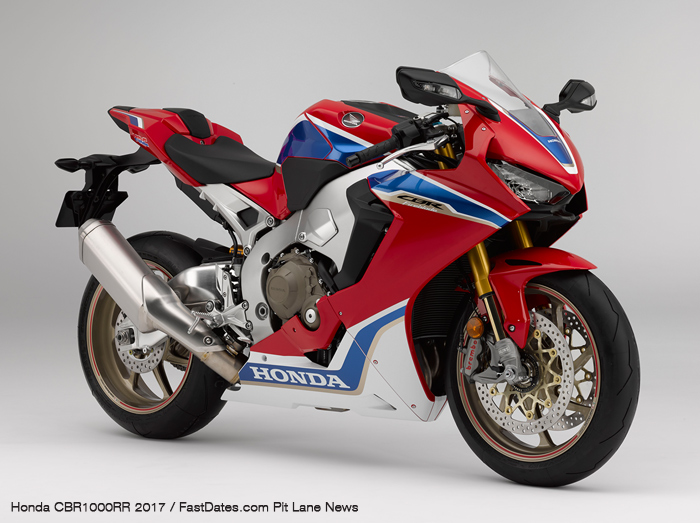 Honda's new 2017 CBR1000RR SP and SP2 Fireblades both feature Ohlins Suspension.
New Honda CBR100RR, CB1100
Twenty-five years since the launch of the original CBR900RR Fireblade, the 25th anniversary of the ground-breaking machine sees the introduction of two new versions: the comprehensively upgraded CBR1000RR Fireblade SP and new CBR1000RR Fireblade SP2.
Since its introduction, the Fireblade has always placed weight, handling and agility at the top of the Super Sports agenda. In keeping with this tradition of 'Total Control', the 2017 year model Fireblade SP places the focus squarely on power to weight ratio, with a 15kg weight reduction and 8kW top end power boost. The resultant 14% improvement in the power to weight ratio brings it to a level hitherto unseen in the Fireblade's history.
For 2017, the Fireblade SP and SP2 move into 'Next Stage Total Control' with a comprehensive electronic control package, developed with reference to the RC213V-S street legal version of Honda's MotoGP machine, that supports the rider in all situations. Multiple power modes, engine braking settings and Honda Selectable Torque Control are available, plus Quickshifter, Downshift Assist and new ABS. The Öhlins Electronic Control Suspension can be programmed to unrivalled levels of precision.
In a first for the Fireblade, also available in 2017 will be the Fireblade SP2. The SP2 features lightweight Marchesini wheels and redesigned valves, combustion chamber and pistons; a kit will be available to make it ready for circuit use for racing and leisure.
Also unveiled at Intermot were the upgraded CB1100 EX and new CB1100 RS, two examples of beautifully crafted Honda engineering. The fuel tank has been reshaped and now has no visible welding seams. Side covers, seats, rear fender and footpegs have all been reworked to give even stronger, authentic CB character. New LED lights add a more modern touch to the retro design; the shorter exhaust muffler creates a more characterful engine note.
Whereas the CB1100 EX has even more classic appeal from its 40-spoke 18" zinc-coated stainless steel wheels, the new CB1100 RS has a more sporty, café racer style, with new cast 17" aluminium wheels fitted with wide, sporty tyres and a more upright caster angle and lower handlebars.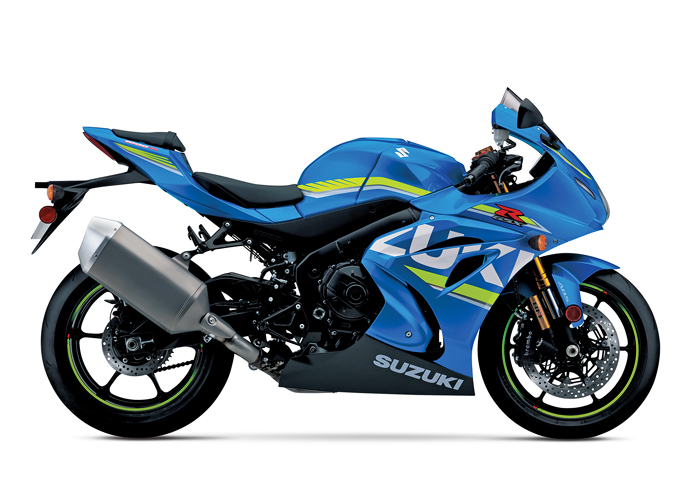 Suzuki GSX-R 750, 1000
October 4th 2016) - The GSX-R line is the heart and soul of Suzuki. For 2017, the heartbeat is quicker and stronger, pumped up by the all-new 2017 GSX-R1000. With significant influence from Suzuki's MotoGP racing program, the new GSX-R1000 is ready to set a higher performance level for racers and for street riders. A new engine, new chassis and a spectrum of advanced electronics features make this GSX-R1000 the king of sportbikes.
The Suzuki sportbike family includes another trio of top performers. The GSX-R750 – the original racer-replica sportbike – returns with a reputation for delivering an ideal combination of power and lightweight handling performance. The GSX-R600 continues to prove itself on the street and on the racetrack as a middleweight sportbike leader. With an attitude and character like no other sportbike, the Suzuki Hayabusa returns to deliver unmatched power and endless rider satisfaction.

New aluminum, twin-spar frame is narrower and positions the engine angle backwards 6-degrees to help increased chassis stability and improve aerodynamics

2017 GSX-R1000, GSX-R1000 ABS & GSX-R1000R ABS
The King of the Sportbikes has returned to own the racetrack, and dominate the streets. The 2017 GSX-R1000 models effectively blend Suzuki design philosophies with advanced electronics to deliver motorcycles that can adjust themselves to their environment and fine tune performance to suit a rider's intentions. To make sure any rider can enjoy the benefits of GSX-R ownership, Suzuki has developed three models with graduated levels of performance features; starting with a base GSX-R1000, a GSX-R1000 ABS, or the consummate GSX-R1000R ABS.

The GSX-R1000 renaissance begins with an all-new 999.8cc liquid-cooled DOHC inline-four cylinder engine that produces exceptionally high top-end power without sacrificing low to mid-range power thanks to innovations such as Suzuki's exclusive Variable Valve Train (VVT) system. Proven in MotoGP competition, VVT uses centrifugal forces to rotate the intake camshaft's drive sprocket so valve timing is optimal at any engine's speed. Complementing the VVT are Suzuki's Racing Finger Followers which increase valve response at higher engine speeds that can reach up to 14,500 RPM.

This GSX-R1000 debuts Suzuki's Ride-by-Wire throttle bodies which are precisely controlled by the new, 32-bit dual-processor ECM to match the throttle grip rotation of the rider's hand. The result is a strong, seamless engine power delivery from idle to redline. Complementing the four, primary fuel injectors mounted in the new throttle bodies are four Suzuki Top Feed Injectors (S-TFI) that spray fuel from the top of the air box directly into the intake funnels for higher peak power, more efficient combustion, and a higher level of fueling control.

Using race-winning MotoGP knowledge, Suzuki has fitted an Inertial Measurement Unit (IMU) on the new GSX-R1000. The BOSCH, six-axis IMU lets the GSX-R1000 recognize its position on the street or race track to help the rider achieve an extraordinary level of riding performance via instantaneous adjustments made electronically to the engine and chassis components.

Depending upon which GSX-R1000 a rider has chosen, the IMU supports a wide menu of new performance features. These features include the ten-mode Motion Track Traction Control System* (MT-TCS), three mode Suzuki Drive Mode Selector (S-DMS), the Motion Track Anti-Lock Braking System**, the Suzuki Launch Control System and the Suzuki Bi-directional Quick-shift System. Other electronic features new to the GSX-R1000 include the Suzuki Easy Start System and the Low RPM Assist feature.

The new aluminum, twin-spar frame is narrower and positions the engine angle backwards 6-degrees to help increased chassis stability and improve aerodynamics. The new swingarm has equalized bracing to the main beams to provide balanced support and movement to the shock absorber to improve racetrack handling while conveying a consistent suspension feel to the rider. The GSX-R1000 and GSX-R1000 ABS models employ SHOWA's renowned Big Piston Fork (BPF) and complementary remote-reservoir rear shock for superb handling. The GSX-R1000R ABS uses race-level technology to bring a new standard of damping force responsiveness to a SuperSport motorcycle with the SHOWA's Balance Free Fork (BFF) and Balance Free Rear Cushion lite (BFRC-lite) shock.

The innovation of the GSX-R1000 extends further into its chassis with the 320mm front BREMBO T-drive Brake Rotors that have five conventional floating rotor spools and five new-design T-drive fasteners that enable the rotor to absorb more braking energy than a disc with conventional spools alone. Combined with the BREMBO Radial Mount Brake Calipers the new GSX-R1000 has more braking force available to the rider than ever before.


Race-worthy bodywork has always been a trademark of the GSX-R line, so new aerodynamic bodywork was created by Suzuki styling designers and engineers using numerous wind tunnel tests to achieve a slippery shape with a compelling appearance. Narrower than ever before, the GSX-R1000's shape directly aids performance by improved handling and top speed on the racetrack. The new Suzuki Ram Air Direct (SRAD) intake ducts are positioned closer to the center of the fairing nose, where air pressure is highest to boost top speed performance. These intake ducts are also larger, thanks to the compact LED headlight and are accented by arching LED position lights on the GSX-R1000R ABS model..

Color and Pricing for the GSX-R1000, GSX-R1000 ABS and GSX-R1000R are TBA with the GSX-R1000 and GSX-R1000R hitting dealership floors on May 2017 and the GSX-R1000 ABS hitting dealership floors on June 2017.
---
KTM Unveils Its New MotoGP Bike to Race in 2017
August 2016 - The Red Bull Ring in Spielberg, at the Austrian round of MotoGP Championsgip, saw KTM officially present its MotoGP project, the KTM RC16. There had been months of testing, with press releases and photos issued. There had been KTM's participation in the private MotoGP test at the Red Bull Ring in July, alongside the rest of the MotoGP teams. But at the Austrian GP, the fans and media got their first chance to see the bike close up.
There are few surprises: 1000cc V4 engine, using pneumatic valves, housed in a tubular steel trellis frame and an aluminum swing arm. Suspension is by WP, while brakes are by Brembo, and exhaust by Akrapovic. Electronics are the spec MotoGP Magneti Marelli ECU.
Big Horsepower Numbers
Really interesting are the numbers for maximum engine revs and horsepower. Like all official numbers on values such as torque, horsepower, and revs, they are not to be trusted, but these both seem highly inaccurate. KTM claims the RC16 makes 250hp. It certainly makes that, and probably 10% more, given that most MotoGP engines are believed to make somewhere between 260 and 275 horsepower.
Reports from the track said that the KTM was not short of top speed, though test rider Mika Kallio told a group of reporters that he believed they were still down a little on the Ducati. "On the engine side, we are on the good level," the Finnish test rider told us. "There is still room to improve, at the moment the Ducati is still the fastest bike on the straight, so we are not there, but we are close to the other bikes." Those who saw the speeds through the speed traps reported KTM as being very fast indeed, though no one would be drawn into revealing actual speeds.
19,000 RPM?!
Where does that horsepower come from? On the corporate blog, KTM report the maximum revs as being 19,000 RPM. If that number is accurate, it is insanely high: MotoGP adopted the engine bore limit of 81mm precisely to limit engine speeds, after the manufacturers rejected a mandatory rev limit. Conventional engineering wisdom had it that reliable engines would not be able to rev much above 16,000 RPM, as engine speeds above that would place too much stress on pistons and conrods, causing them to fall apart. A mean piston speed (MPS) (link is external) of 26 m/s was believed to be a fairly firm limit.
That has not turned out to be the case. The bikes were soon revving well up towards 17,000 RPM, and making further inroads into the laws of physics. According to our research, the Ducatis can rev to 18,000 RPM, the Hondas to 17,750 RPM, the Yamahas to 17,250 RPM (with satellite bikes having engine limits set several hundred RPM below the max revs of the factory machines). Ducati was already achieving an MPS of 29.1 m/s, a seemingly impossibly high number. If KTM really are revving to 19,000 RPM, that would be an MPS of 30.7 m/s, which is up in drag engine territory. Dragsters have to cover around 1200 meters between engine rebuilds. MotoGP bikes have to hang together for close to 2000 kilometers.
How do KTM – or Ducati, Honda, and Yamaha, for that matter – achieve such engine speeds? MPS – mean piston speed – is a rough approximation, but it is not an accurate reflection of the stresses placed on the engine. What matters is the amount of acceleration and deceleration which the piston and connecting rod undergo as they slow down for bottom and top dead center, then speed up again towards the middle of the stroke. The weight of components such as pistons, wrist pins and conrods is a factor here, as force is acceleration times mass, and force is stress.
Clearly, the factories are working to find clever ways of reducing stress, which will include lighter weight components, paying close attention to mass distribution, the location of the wrist pin, and smoothing the transition between acceleration and deceleration as much as possible. What they are doing is impossible to know, nor how they are doing it. But the lessons learned will at some point pass down into production vehicles, though we may have to wait a few years to find out.
The KTM V-Four
What we do know about the engine is layout of the engine. Though KTM Technical Director Sebastian Risse was cagey when asked directly what layout the engine used, he tacitly acknowledged it was a 90° V4. When I put it to him that the aim of running the bike without a balance shaft had implications for engine design, he replied, "This is true, yes." Not an admission as such, but as close as you might expect from a factory engineer.
The engine firing order is also not yet fixed. When asked whether the engine would have a big bang (cylinders firing together) or screamer (each cylinder firing separately) firing order, Risse answered that KTM had not yet made up their minds. "We are still doing some investigations about this," Risse said. "Especially now with the electronics, there's not just the mechanical firing order, there's more about it, and you can play a lot with it." What he is implying is that although two pistons may reach TDC at the same time, the charges in the cylinders can be ignited a degree or so apart. That can help smooth the power delivery, and reduce the load placed on the crankshaft.
A Different Chassis and Suspension
While we may never know details of the engine internals, there are a couple of things which KTM cannot hide. The two biggest differences between the KTM and the other bikes on the grid are the suspension and the chassis. KTM will be the only bike on the grid to use WP suspension rather than the Öhlins used by everyone else. And it is the only bike on the grid to choose a tubular steel frame over an aluminum beam frame.
Will this be a disadvantage for KTM over the rest of the field? After all, the other factories are all using the same suspension and chassis design for a reason, right? And Ducati dropped the trellis frame, for a carbon fiber frameless design, and then swapped that for an aluminum beam frame, and now they are starting to become competitive.
In an informal conversation, a senior member of a rival factory was impressed by the way the bike looked during the test. "The bike doesn't move at all in the corners," they said. "It's much more stable than we expected." The fact that the KTM RC16 was a second off the Yamahas, and 1.9 seconds off the fastest Ducati, proved it was already a competitive package. Mika Kallio was just five hundredths of a second behind Ducati test rider Michele Pirro.
Full factory WP Suspension
Choosing WP over Öhlins is a logical choice for KTM. WP is a subsidiary of KTM, and the two have worked closely in every motorcycle racing discipline they have been involved in. WP supply the factory KTM machines in Moto3, and will be the official name of KTM's Moto2 project. They have gained a lot of experience in Moto2 – so much so that some teams using WP in Moto2 have started referring to the Ajo squad as the "WP factory Moto2 team" – which will be applicable in MotoGP.
Above all, KTM will have the full support of WP. "This will be a full factory effort," one source close to KTM told me privately. The two factories are just a short cycle ride away in Mattighofen, Austria, so communication is extremely direct. Updates will be fast and frequent.
A Trellis Frame!
Pol Espargaro, who will race for KTM in MotoGP next season, was more concerned about the trellis frame. "We need to check if the tubular chassis works," he told us at Barcelona. "If the tubular chassis is not working we will struggle so much. I prefer a slow bike that is good in the corners than a fast bike on the straight and impossible to manage. I think [the chassis] will be harder than we are used to do with Yamaha. It's a different system."
So far, the performance of the KTM RC16 has not given much cause for concern, though there are still areas that need work. "We need to improve the rear grip somehow on the exit," Mika Kallio told us at the launch. "We have a lot of power in the engine, but on the exit side, we can't really use everything, all of the potential. So we need to find some way to do this. Everyone can see Ducati are really good on that side."
But a lack of rear grip is not unique to the KTM. Both Maverick Viñales and Aleix Espargaro have complained of exactly the same thing, especially once temperatures rise. The Honda suffers even worse problems, either spinning the rear wheel or wanting to wheelie out of corners. The Yamaha is much better, but still lacks grip compared to the Ducati.
The Ducati gets a lot of its advantage from its aerodynamics, however. The vast array of winglets make a big difference in keeping the front wheel down and providing drive to the rear wheel. Those winglets are banned from next year, so the difference between the KTM and the Ducati could be much smaller in 2017. With KTM currently working hard on a bike without winglets, they may well get an advantage. Sources familiar with the situation report that Ducati have been testing without winglets for next year, and suffering real problems with wheelie. Part of their advantage will be gone.

The tubular steel frame will pose a set of challenges for both Pol Espargaro and current and future teammate Bradley Smith when they switch to KTM. Having spent all their lives racing an aluminum beam frame, they have an intimate understanding of how that frame feels and responds. A trellis frame, such as the KTM RC16 uses, responds differently.
I asked Mika Kallio if he could feel the difference with the tubular steel frame. "Yes," he responded. "Also for the rider, it was not easy to jump to this bike. It gives you a different feeling, this frame, and I needed to learn first how I felt with this bike, and then I needed to make a lot of laps to see exactly how to give the right comments on which way we need to go on the development. It has also been a big challenge for me, to learn the bike and this feeling that this frame gives."
Would it take Espargaro and Smith some time to get to grips with the different frame? "I believe it will take a few laps more to understand, but there's no problem, anyway. We have been testing many different kind of frames, about the stiffness and that kind of thing, and there were some interesting things that we could find."

The reason for choosing a tubular steel frame over an aluminum beam frame was simple: KTM has a vast amount of knowledge and experience with this kind of frame, which they would be throwing away if they went with an aluminum chassis. "KTM has a lot of history with this tubular frame," Kallio said. "I think they know what they are doing, so I believe that there is something how we can be better than the competitors. Like we saw in the other races in the past, Ducati was using a same kind of tubular frame and they were fast. So I don't see any problem why we can't be OK with that."
The fear of using a tubular steel frame was that the many different components and welds would make it difficult to produce two identical frames. Kallio told us he had never noticed that problem. "I was impressed that all the bikes that I tested, I felt different, and then if there were two similar frames, I couldn't feel the difference between the bikes."
That is not to say that KTM did not consider an aluminum beam frame. "Already in past projects, like Moto3, of course we were considering it," KTM Technical Director Sebastian Risse told me. "There we also had the experience from 125 and 250. So it was a decision which was really well thought through. We even had some aluminum frames running, but in the end, it was a conscious decision. We know more about the steel frame, we didn't find any disadvantages, we knew our strong points and can use them, and we know also what to work on to reach the similar level to aluminum."
Winning by being different?
Can the KTM RC16 be a competitive package in MotoGP? Given the Austrian company's approach and success in other areas, there is no reason they will not succeed in the premier class. They have dominated almost every series they have entered, first in off-road disciplines, and now in road racing. As KTM continues to grow, they have the budget and the knowhow to build competitive motorcycles. They have the backing of Red Bull, and a healthy balance sheet to invest.
KTM wants to make a mark as the premier European sports motorcycle brand. Success in MotoGP has become a cornerstone of that objective. They have learned from previous failed projects, and from success in Moto3. They are doing so while trying to retain their identity, sticking to steel tubular frames and WP suspension rather than just copying others. That, in itself, is to be applauded. Expected to se the new KTM RC run at a few remaining rounds of the 2106 season as a wild card entry, with a full-on 4-year commitment to Dorna having just been signed to field a full 2-riderKYM factory team beginning in 2107
---

Aero Winglets this season on the factory MotoGP Ducati of Andrea Dovizioso, on pole in the wet at Assen

We are sorry to report the GP Commission has decided to ban the aerodynamic wings that Team Ducati pioneered, and all the other factory teams have now copied. The radical looking aero wings, whether they worked well or not is debateable, actually helped to differentiate the factory prototype MotoGP bikes from the very similar looking and performing production based SBK World Superbikes. The winglets helped give motorcycle racing's "premier class" the exotic look similar to Formula One and LeMansP1 prototype race cars, making the bikes more exciting for fans to watch race. Disappointing.

But perhaps it was a safety concern because motorcycle racers are not protected from being hit by the sharp external winglets, as a race car driver would be protected in a fully enclosed car.

Assen, The Netherlans, June 25th - The Grand Prix Commission, composed of Messrs. Carmelo Ezpeleta (Dorna, Chairman), Ignacio Verneda (FIM CEO), Herve Poncharal (IRTA) and Takanao Tsubouchi (MSMA) in the presence of Javier Alonso (Dorna) and Mike Trimby (IRTA, Secretary of the meeting), in a meeting held on 25th. June at Assen, made the following decisions:

Aerodynamic Wings in the MotoGP Class
The Grand Prix Commission, composed of Messrs. Carmelo Ezpeleta (Dorna, Chairman), Ignacio Verneda (FIM CEO), Herve Poncharal (IRTA) and Takanao Tsubouchi (MSMA) in the presence of Javier Alonso (Dorna) and Mike Trimby (IRTA, Secretary of the meeting), in a meeting held on 25th. June at Assen, made the following decisions:

The Commission unanimously agreed that, with effect from the 2017, the use of aerodynamic wings in the MotoGP class will be banned. The actual regulation will replicate those for the Moto3 and Moto2 classes where the use of wings is already prohibited.

Wings that comply with current technical regulations may continue to be used for the remainder of the 2016 season.

Post-Race Noise Tests
Since the introduction of four-stroke machinery in all classes, no machine has ever failed the mandatory post-race noise checks. Accordingly, the requirement for the first three machines to be routinely checked after the race is cancelled with immediate effect. The Technical Director may still decide to carry out noise tests at his discretion.
---
Friends of Laguna Seca looks to have won
the right to manage track, maybe, probably, it seems
MONTEREY COUNTY BOARD KEEPS OTHER TWO CONTENDERS HANGING ON IN CASE THINGS DON'T WORK OUT

Reprinted from Autoweek, October 15th 2016 - The non-profit Friends of Laguna Seca is on the way to managing the storied track and bringing it back to fiscal health. Unless, that is, the Monterey County Board of Supervisors decides it wants to go with two other groups vying for management control of the race facility.
Specifically, Friends of Laguna Seca won the right to "negotiate initially" with the county for a concession agreement. The county board would have to approve any agreement that comes out of the negotiations. If things don't go well in the concession agreement process, then the board can pick up with either of the other two groups that had turned in proposals. Those groups are Chris Pook's (he who made the Long Beach Grand Prix into a great event) World Automotive Championship of California, and the existing managers, Sports Car Racing Association of the Monterey Peninsula (or SCRAMP, which has been running the track since it was built in 1957). SCRAMP bid in partnership with International Speedway Corp. ISC owns and operates 13 tracks, from Daytona to Watkins Glen.
The decision to change track management came out of a civil grand jury report released last July that said the Monterey County Parks Department and SCRAMP were not managing the facility well. If you wanted to cut SCRAMP some slack, you could point out that the troubles date back to 2008, when a recession hit the country and many businesses took a hit. Nonprofit race tracks were among those suffering the effects.
The Friends of Laguna Seca includes local racer and race car restoration and sales expert Bruce Canepa and motorsports entrepreneur Gordon McCall, who puts on The Quail A Motorsports Gathering, The Quail Motorcycle Gathering and the big kickoff event to car week popularly known as The Jet Party, held at Monterey Airport. We'd be happy with those guys running things. Friends leadership also includes vintage racer Jonathan Feiber, Porsche Club and kart racer Ross Merrill, historic racer, karter and food industry executive Thomas Minnich, racer and realtor Warren "Ned" Spieker Jr. and motorsport executive Lauri Eberhart.
On its website, Friends president Ross Merrill said, "We are committed to managing Laguna Seca with fiscal responsibility and for the benefit of our community. We're driven by a passion for motorsports, a dedication to our community, and a desire to transform nearly six decades of renowned racing legacy into a new engine for our local economy. Ultimately, our aim is to restore the raceway's former glory."
The Friends proposal includes a 25-year commitment to rebuild the LSRA complex and implement a new business model that will include:
– A $50 million dollar capital improvement plan with $25 million invested in the first five years
– Establishing a profitable mix of events that will use all the assets of the LSRA
– Maximizing sponsorship opportunities and race track rentals
– Developing premium camping areas and an upgraded rifle/pistol range
– Enhancing the end-user experience facility-wide
– Bringing new events and premium programs to increase utilization within current restrictions, taking particular care to respect neighbors on Highway 68.
We wish them all the best and offer them this item of advice to begin with: Don't be afraid to call it Mazda Raceway Laguna Seca a couple of times, just to keep your naming rights sponsor happy. But they already knew that.
---
HARLEY-DAVIDSON UNVEILS XG750R FLAT TRACKER
Next Generation, Liquid-Cooled Factory Harley-Davidson XG750R Flat Track Bike based off new water-cooled Street 500/750 platform Breaks Cover at AMA Pro Springfield Mile

MILWAUKEE (May 26, 2016) – A new-generation Harley-Davidson® flat-track motorcycle is ready to race. The Harley-Davidson® Screamin' Eagle® Factory Team is unleashing the XG750R, its first all-new flat track race bike in 44 years, to battle in fierce, adrenaline-filled competition on dirt ovals across the U.S. The XG750R will make its official competition debut Sunday, May 29, at the AMA Pro Flat Track Springfield Mile in Illinois.
Powered by the fuel-injected, liquid-cooled Harley-Davidson Revolution X™ V-Twin engine, the XG750R will be raced by Factory Team rider Davis Fisher on the AMA Pro Harley-Davidson GNC1 presented by Vance & Hines flat track series. The new XG750R motorcycle is strictly for race competition and will not be offered for sale at this time.
The new flat tracker is powered by the 750cc Revolution X™ V-Twin engine designed for the Harley-Davidson Street® 750, a motorcycle built for maximum urban maneuverability with rebellious Dark Custom™ attitude. Tuned for the track, this modified Revolution X engine will power the new XG750R in the extreme heat of competition as it fights to be first to the finish line.
The race-modified Revolution X engine and a racing frame for the XG750R were developed by Vance & Hines Motorsports. Vance & Hines also is the partner for the factory Harley-Davidson® Screamin' Eagle®/Vance & Hines drag racing program where V-Rod® motorcycles have won eight of the past 12 NHRA Pro Stock Motorcycle drag racing championships.
"After decades of flat-track racing success behind the Harley-Davidson XR750 flat track motorcycle, we knew it was time to develop the next-generation Harley-Davidson to compete in one of the best spectator racing sports out there today," said Kris Schoonover, Harley-Davidson racing manager. Fisher, in his first season racing with the Harley-Davidson Screamin' Eagle Factory Team and a rookie on the GNC1 series, will be the first racer aboard the XG750R. The 18-year-old racer from Warren, Ore., won the 2015 AMA Pro GNC2 championship.
"We wanted a young rider with plenty of raw ability for the XG750R program, and Davis proved himself in the GNC2 class," said Schoonover. "We are excited to have the opportunity to bring an emerging talent like Davis up to the GNC1 series to develop the new bike alongside an experienced champion like Brad Baker."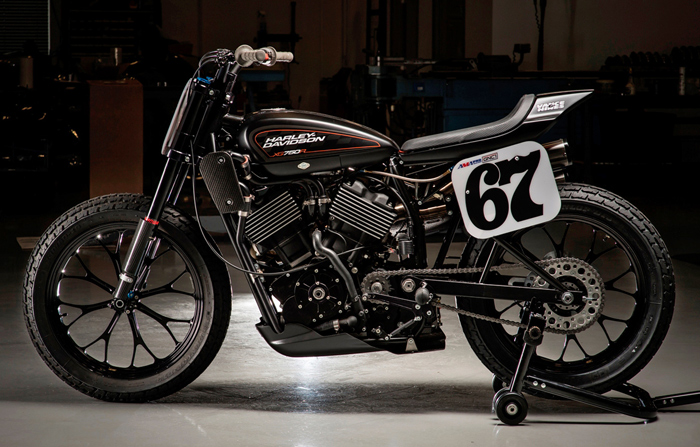 Harley-Davidson Screamin' Eagle Factory Team rider Brad Baker, 23 years old and the 2013 AMA Pro Grand National Champion, will continue to race aboard the proven Harley-Davidson XR750 motorcycle while Fisher races the XG750R through its developmental stage.

At the May 29th 2016 Springfield Mile, H-D factory rider Davis Fisher finished 8th on the new Harley XG750R, behind behind a slew of Kawasaki Ninja 650 in-line twins, and 9 seconds down behind podium finishers factory Harley Rider Brad Baker in 3rd on the old XR750, privateer Jared Mees also on an XR750, with Bryan Smith on a Kawasaki Ninja 650 taking the race win. The more advanced design of the 4-valve DOHC Kawasaki engine proving highly competitive despiteits smaller displacement.
"The XG750R has shown great potential in testing and the first few races this season," said Schoonover. "But as with any new racing motorcycle, there will be work to do. We're excited to continue testing the XG750R in real world competition, and as we make our way through the season, we will evaluate the performance of the bike and our factory riders to see if Baker might switch to the new bike."
Check Harley-Davidson.com for a full listing of this season's races; also follow Harley-Davidson on Facebook for racing updates.
---

Chantilly, France, September, 2016 - At the third international Concours d'Elegance Chantilly Arts & Elegance,
the F4Z is the first Atelier motorbike to be created by the historical Milanese coachbuilder Zagato in collaboration with bike manufacturer MV Agusta from Varese.

The only remaining Italian coachbuilding company to be independent and still in the hands of its founder's family, Zagato shaped the F4Z, based on the standard mechanics of the MV Agusta F4, as a one-off piece for a Japanese entrepreneur, collector of Zagato cars as well as Italian motorbikes.

The MV Agusta F4Z's bodywork was designed and engineered by the Zagato team and built with noble materials like aluminium and carbon fibre. It consists of a limited number of relatively large panels: this is the characteristic that, in the motorcar world, sets apart collectibles from mass produced automobiles. Compared to the production MV Agusta F4, the F4Z features an entirely different bodywork. Some parts had to be adapted and re-engineered, others fully replaced by components that were made specially: intake manifolds, fuel tank, battery, exhaust system.

For MV Agusta, founded in 1945 by Domenico Agusta, the F4Z represents a different result compared to the traditional rules of customisation in the motorbike sector, witnessing the brand's entrance into the niche of collectibles, built on request and expression of exclusivity, uniqueness and investment in durables.

For the company founded by Ugo Zagato in 1919, that specialised in light 2 door/2 seat bodies (coupe or spider) right from the start, the MV Agusta F4Z represents instead a digression beyond the car universe, their traditional field of expression. Nowadays Zagato is a modern Total Design Centre and coachbuilding Atelier, able to blend and balance the most advanced engineering technologies, the use of innovative materials and the traditional workshop production procedures. More in Fast Dates News


---


MV Agusta and Pirelli, the new DIABLO ROSSO™ III and new Brutale 800:
a special project to celebrate 'Made in Italy'
The two Italian brands created a special version of the latest naked from the Schiranna-based company which selected the brand new Pirelli tyres as original equipment for this model

"Diablo Brutale", as this single unit has been renamed, is a tribute to design, craftsmanship, sportiveness and high technology of the latest supersport tyre of the DIABLO™ family
Varese/Milano, 17 May 2016 – MV Agusta and Pirelli have been working together for several decades and, since 2011, the
historic Italian motorcycle manufacturer has decided to rely only on the brand of the elongated P symbol to equip all its
models. MV Agusta and Pirelli are both well-known and appreciated brands all over the world: they have managed to make design and showcase 'Made in Italy'. They combine maximum sportiveness and innovation, their core values which are recognised by all motor fans and, in this specific case, by motorcycle lovers.

On the one hand, the last technological evolution of the DIABLO™ range, the DIABLO ROSSO™ III, which is the new supersport
tyre from Pirelli, born from the track to the road, redefining the concept of sports riding taking it to the new level. Its strong
points are sports handling, a high level of grip also in the wet and with long lasting performance.

On the other hand the Brutale 800, a motorcycle whose original project dates back to 2001 and that – year after year – was
renovated in its style and spirit, to remain loyal to itself, and to its ability to amaze and conquer new generations of
enthusiasts. The new Brutale 800 is an example of Made in Italy technology that has dictated new design guidelines in its
segment.

The Diablo Brutale is a single unit of the new MV Agusta Brutale 800 which was born as a tribute to design, sportiveness and
high technology of the last supersport tyre of the Pirelli DIABLO™ family, which was chosen as original equipment for this
machine. It also celebrates the historical partnership between MV Agusta and Pirelli, two companies which have long and
worldwide appreciated traditions in the motorcycling world.

Diablo Brutale presents an attractive matt black color which is interrupted only by a luminous red as a reference to the tyre
logo. MV Agusta has decided to pay homage to the new Pirelli tyre through some graphical elements. The DIABLO ROSSO™ III
logo appears on the tank's side, while the typical 'thunder' groove of the tread pattern, which represents a tyre's trademark,
appears on the tank as well as on the front fender plus both sides of the tail. Both the Pirelli logo and the red "D" of DIABLO™
appear next to the MV Agusta logo on the top of the tank.

Pirelli has decided to equip this special with a set of DIABLO ROSSO™ III with a red color dedicated graphic, just like the details
that give the Brutale the unique spirit of the Diablo.

With the new Brutale 800, MV Agusta questioned the style, engine, equipment and chassis of the previous model with a
unique goal: giving birth to the best Brutale ever. The same goal achieved by Pirelli with the development of the DIABLO
ROSSO™ III, the direct descendent of the renowned and highly rated DIABLO ROSSO™ II, which raises the bar of sport riding
even higher than the previous model and extends the qualities of its predecessor, strengthening its features in terms of
handling and grip, with long lasting performance.

The Brutale 800 has DIABLO ROSSO™ III tyres as original equipment with the following sizes: 120/70 ZR17 M/C (58W) TL front,
180/55 ZR17 M/C (73W) TL rear.

---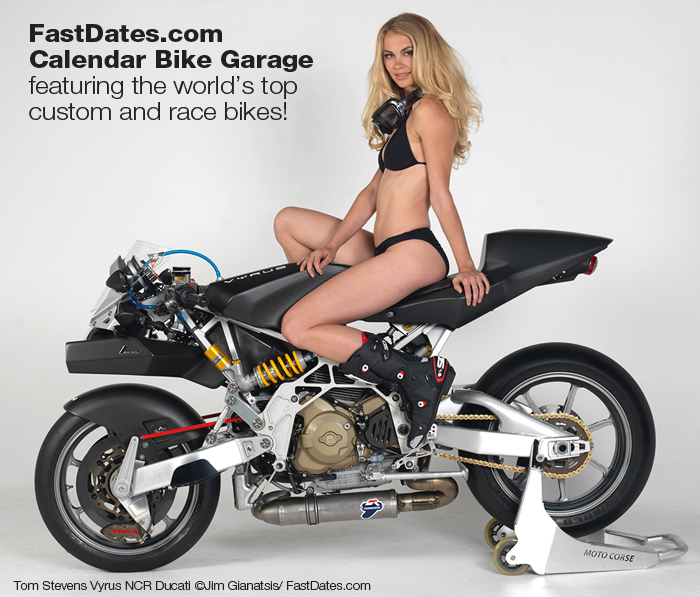 Now in the Calendar Bike Garage... The World's Coolest Naked Ducati!
Beauitful FastDates.com Calendar Kitten Sara takes us for a ride on the world's most exotic and expensive Ducati streetbike
ever - a $110,000 Vyrus NCR 983 Superleggera in the Calendar Bike Garage and in Members Corner.
Now in the FastDates.com Calendar Bike Garage!
David Beckham's Amazon Triumph Scrambler build by legenday Calendar Bike Builder Rickard Pollock / Mule Motorcycles, photographed with Calendar Kitten and Penthouse Pet Aleska in BIG full screen saver size photos.
David Beckham stars in OUTLAWS - a Belstaff Triumph Movie Short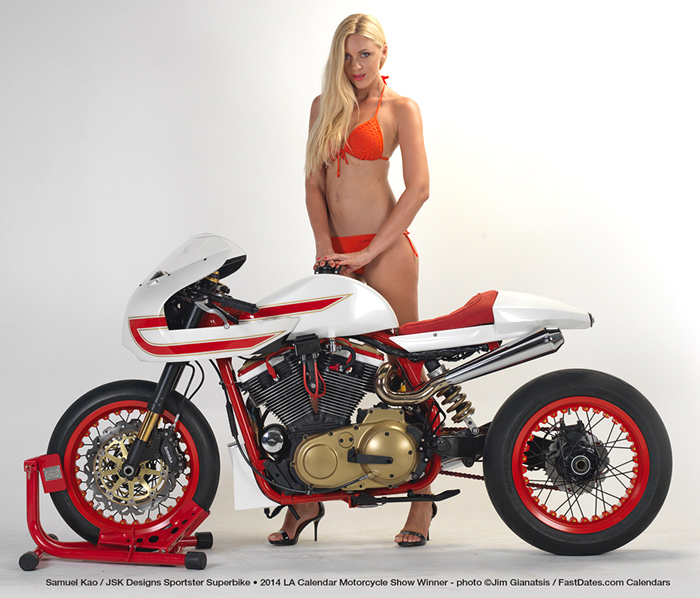 Now in the Calendar Bike Garage... Sam Kao's LA Calendar Show Winner
Beauitful FastDates.com SBK World Superbike Calendar Kitten Petra looks fantastic with Samuel Kao's JSK Desgn Sportster
featured in the Calendar Bike Garage / Members Corner and in the new 2016 Iron & Lace Calendar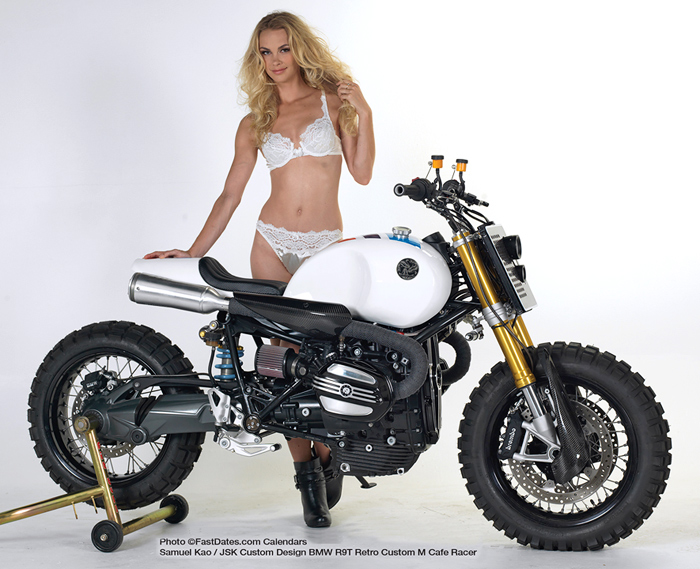 Now in the Calendar Bike Garage...
Samuel Kao's Calendar Bike Show class winning BMW R 90T Bar Hopper with beauitful FastDates.com SBK World Superbike Calendar Kitten Sara featured in the Calendar Bike Garage / Members Corner and in the new 2016 Iron & Lace Calendar
---


Meet me at the Gas Station
Visit the Gas Station NOW! Order the new 2017 Garage Girls Calendar HERE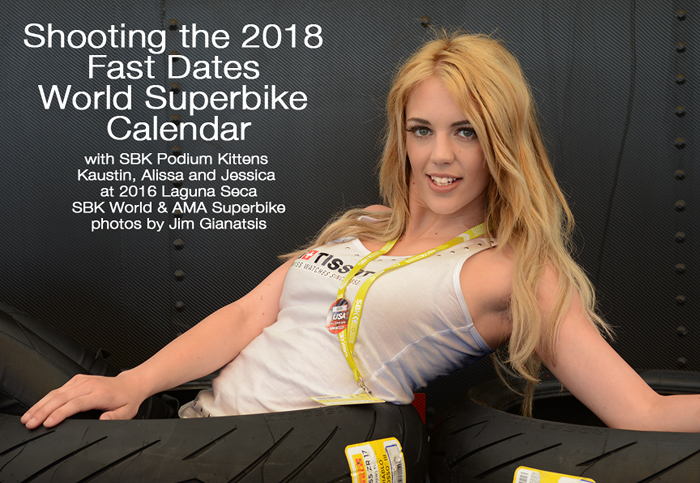 Fast Dates Calendar Celebrates 22 years of SBK World Superbike in America
California, USA, July 17-20th 2016 - For the 22nd year since SBK World Superbike first came to America at Laguna Seca Raceway in 1995, the FastDates.com Calendars and myself, producer / photographer Jim Gianatsis were excited to continue
our ongoing association with SBK World Superbike and the UmbrellaGirlsUSA.com to bring 2 more beautiful FastDates.com Calendar Kittens; Kaustin Lanae and Alissa Bourne to shoot with me at the 2016 Mazda Raceway Laguna Seca United States SBK World Superbike and AMA National race weekend July 8-10th. There they served as the official SBK Podium Girls and helped me shoot the next Fast Dates World & AMA Superbike Calendar. Then, two weekends later they both would work the
26th annual LA Calendar Motorcycle Show and Calendar shoot in Los Angeles on July 23-24th. Continued Here

---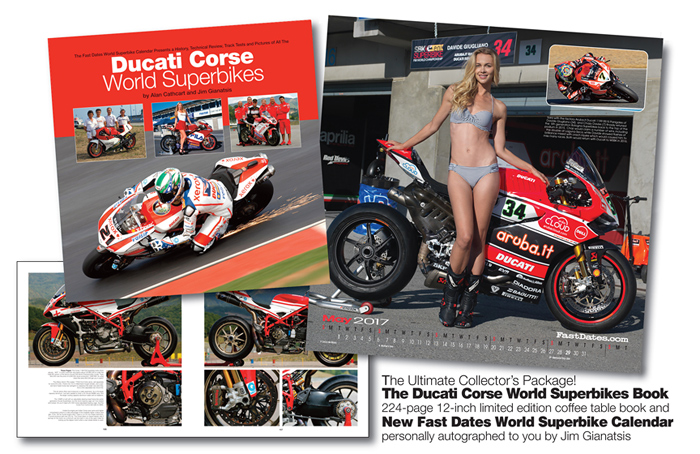 ---
Previous Week - More: Pit Lane News
New Model Sportbikes • Editorial Features: Pit Board

Also Visit: Fast Dates Calendar News • Iron & Lace Calendar News • Calendar Girl News
Meet the Models • Paddock Garage
Get FastDates.com T-Shirts, Mugs & Photographs from Our Store




MEMBERS CORNER! Calendar Kittens, Paddock Garage, Iron & Lace Garage



Amazon.com Motorcycle Products & Apparel Store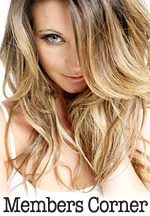 Hot Bikes, Sexy Kittens
Your Excl
Your Excusive Grid Pass
also includes....
---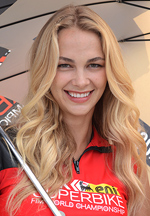 2015 SBK Race Season
Meet the offical SBK
World Superbike Girls!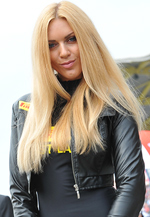 2014 SBK Race Season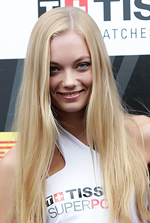 2013 SBK Race Season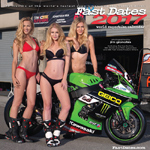 Order the New 2017 Calendars!
with the FastDates.com Calendar Kittens - the official SBK Umbrella Girls!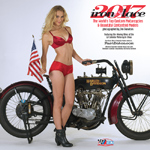 Click Below for more
Calendars!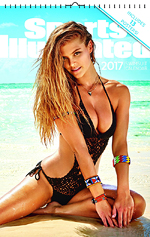 Sports Illustrated Swimsuit 2017 Wall Art Calendar Art w/Hanger 11x17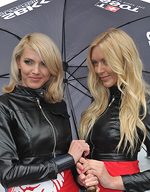 Meet FastDates.com
Calendar Kittens
SBK Grid Girls
Jitunka & Petra!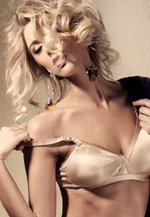 Petra Ruzickova
---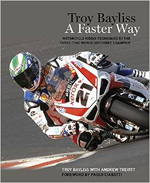 New! Troy Bayliss
A Faster Way
Track Riding Book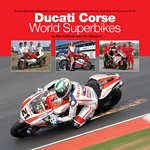 Retail $49.95 ea.
Click to Order from Amazon.com

Ducati Corse
World Superbikes
by Alan Cathcart
& Jim Gianatsis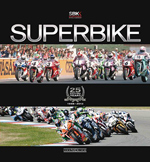 The Official SBK
World Superbikes
1987-2012
25 Year History Book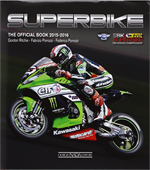 The Official SBK
2015-2016 Yearbook
These SBK Yearbooks are the Best Books Ever about World Superbike. They feature wesome color photography of the riders, bike and racing action. The feature a deailed revue of the past season in pictures and stactics, awith a detailed look at the bikes and riders.

Plus a technical look data all the bikes, a preview of the upcoming season's Championship!
We buy this every year ourselves and highly recommend it!
SBK World Superbike Video Game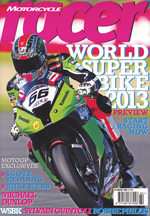 Official Print Media Partner
---
Motul Announced as
Title Sponsponsor of
2017-2018 MotoAmerica Superbike Championship
Costa Mesa, CA, OCT. 14 - MotoAmerica has announced the return of Motul as one of its supporting partners with the leading producer of motorcycle lubricants signing on as the class sponsor of the Superbike class for the 2017-2018 MotoAmerica AMA/FIM North American Road Race Championship. The class will be known for the next two years as the Motul Superbike class.

"Motul has really stepped up for next year," said three-time 500cc World Champion and MotoAmerica President Wayne Rainey. "Not only are they a supporting partner of our series going forward, but they've also committed to being the class sponsor of our premier Superbike class. Motul is a big sponsor of motorcycle road racing worldwide and we're happy to have them as a part of MotoAmerica. I also have a relationship with them that goes back to 1990 when they were a sponsor of mine during my first World Championship."

"There isn't a better way to support American road racing than being the Superbike class exclusive sponsor, where teams, strategies, and machines are pushed to the limit," said Guillaume Pailleret, President of Motul North America. "It is a wonderful opportunity to be able to showcase our products through our teams, and to have our name as a central piece of MotoAmerica races and events. This event, along with other prestigious FIM-sanctioned races like MotoGP and the Motul FIM Superbike World Championship shape a unique trio of extremely challenging motorcycle events, which Motul sponsors at the top level. We couldn't possibly be prouder of being a part of the MotoAmerica adventure."
The 10-round 2017 MotoAmerica AMA/FIM North American Road Race series is set to kick-off at the Circuit of The Americas in Austin, Texas, April 20-23.
MotoAmerica Announces Double Header race Weekends in 2017, Expanded 10 Round Schedule
Costa Mesa, CA, OCT. 12 - MotoAmerica has announced that its Superbike doubleheaders will now be run on separate days during the 2017 MotoAmerica AMA/FIM North American Road Race Championship with Superbike race one scheduled for Saturday afternoon followed by race two on Sunday afternoon.

"With World Superbike changing to the two-day Superbike race format, it was something that was always of interest to us," said MotoAmerica partner Chuck Aksland. "It was good to watch them do it for a year and get their feedback, which was positive on many fronts. They had increased Saturday attendance and better television viewership, among other things. We also had many requests from our fan base to make the change. Obviously, the two-day format was something that has been done here in previous years, but with our move to the World Superbike one-bike rule for 2017, it became more of a necessity as it gives the teams some flexibility and breathing space in the preparation from race to race."

At the stand-alone MotoAmerica races, Superbike race one will be held on Saturday afternoon with Sunday's race two on a similar schedule with a tentative 3:15 p.m. start time. The other classes (Supersport/Superstock 600 and KTM RC Cup) will continue to run the two-day format as they have in the first two seasons of MotoAmerica. The schedule will vary somewhat when MotoAmerica joins MotoGP at the Circuit of The Americas and World Superbike at Mazda Raceway Laguna Seca.

"I like the two-day format for our races," said two-time MotoAmerica Superbike Champion Cameron Beaubier. "I've always liked the idea of being able to sleep on the results from Saturday and come back Sunday with some fresh ideas for improvement. Even if your results are good on Saturday, it's nice to have some time before race two because you can always make things better and go faster. I also think the fans like having a Superbike race on both days so they can make a weekend out of it."

In addition to the schedule change, MotoAmerica has also announced that the qualifying procedure for the Superbike class has also changed. Superpole will now consist of just one 15-minute session featuring the 12 fastest riders from Superbike Practice 1 and 2. Superbike Practice 3 will not qualify riders to the Superpole session.

The 10-round 2017 MotoAmerica AMA/FIM North American Road Race series is set to kick-off at the Circuit of The Americas in Austin, Texas, April 20-23.
APRILIA FACTORY RSV4 MACHINES RETURN IN WORLD SBK 2017-18 WITH MILWAUKEE APRILIA RACING TEAM
Riders Italian Lorenzo Savadori and Noethern Irishman Eugene Laverty

Sept 22nd 2016 - Two Aprilia RSV4 bikes will be on the track in the 2017 World Superbike Championship with the Milwaukee Aprilia Racing Team colours.
This is a two-year contract, so it will also be valid for 2018.

The agreement specifies that technical material and related direct assistance and support will be provided by Aprilia Racing, including bike development, which classifies Milwaukee as a Supported Factory Team.

This means that Aprilia Racing - the Piaggio Group racing department and technological point of excellence in the Italian motorcycle industry - is confirming its high level presence in the premier competition for factory derivative bikes, alongside its important efforts in MotoGP.

The goal is to compete at top levels in World SBK in order to emphasize the competitiveness of the Aprilia RSV4, capable of taking no less than seven World Titles (three Rider and four Manufacturer) between 2010 and 2014, proving to be the most victorious bike in recent WSBK history.

The result of a project intended to create a true racing bike that any enthusiast could have, the RSV4 astonished from its rookie season, winning a race in its maiden year and then racking up repeated championship wins in both the Manufacturer and Rider competitions (twice with Max Biaggi and once with Sylvain Guintoli). All this while the street version - obviously also characterized by an exclusive narrow 1.0 litre V4 - continued to win comparative reviews year after year with the best competitors in the world, both European and Japanese.

The team run by Shaun Muir, which boasts two British titles, will be able to count on a top shelf rider lineup: in addition to the 2015 Superstock Champion Lorenzo Savadori, who quickly drew attention this year in his rookie World Superbike season, Northern Irishman Eugene Laverty will be back in WSBK, 2013 runner up astride none other than an Aprilia RSV4.

Romano Albesiano - Aprilia Racing Manager
"Shaun Muir's team, after making a good name for themselves in the British championship, wants to get to the top of a world category. Our agreement includes, in addition to providing bikes and materials, support from Aprilia Racing personnel to manage and develop the RSV4, within a Factory Support type relationship.
The birth of the Milwaukee Aprilia Racing Team also marks Eugene Laverty's return to WSBK, a rider who we know well and whose professional and personal qualities have our utmost respect. He will have Lorenzo Savadori working alongside him, a young rider who has been part of our sports project for two seasons in which he won the Superstock 1000 title first and then drew attention in WSBK with an extremely positive rookie year".

Shaun Muir - SMR General Manager - "For SMR, collaboration with Aprilia Racing for 2017 and 2018 means a real chance to fight for the win. Aprilia has a strong and victorious history in World Superbike and we are determined to continue on the same path. Having Eugene and Lorenzo on board makes this a dream team. Without a doubt, Eugene is coming back to WSBK for one reason only - to win. Lorenzo, on the other hand, is the fastest rookie and a sure protagonist. I wish to thank Milwaukee, Gulf and all of the partners who are supporting our project".

Eugene Laverty - "I'm excited to return to Superbike with Aprilia and the RSV4, a bike with which I took ten wins and second place overall in the championship. I hope to be able to pick up where I left off with those results, thanks to the support of Aprilia and a fantastic team like Shaun Muir's. Everything is in place for us to be competitive straight away".

Lorenzo Savadori - "I am very happy to continue my adventure in World Superbike with Aprilia. This is another chance to achieve great results, with one more year of experience on the RSV4 for me. In a demanding rookie season I was already able to express a good performance level, learning a lot, both about race management and working in the garage, but I do not want to stop here. We will definitely be highly motivated at the start, with an ambitious project and a great desire to do well".

Jason Chiswell - Vice President of Marketing Milwaukee Tools
"At Milwaukee Power tools our vision is always to win and that same mentality is shared with the SMR team. We see the next year with Aprilia as being an exciting and a new winning chapter in our World Superbike program".

Frank Rutten - Vice President of Gulf Oil International- "As the world's fastest growing oil brand we are very excited by the prospect of moving forwards with what we believe will be one of the most rapid teams in SBK next year. We have been extremely impressed by the way SMR has entered the World Superbike arena. They are one of the best organized and most professional outfits in the paddock and we have developed an excellent working relationship with both them and the team's title sponsor, Milwaukee Tools.

We are very excited by the prospect of moving forwards with them as team sponsor and official lubricant partners".
Honda WorldSBK Team signs Stefan Bradl for the 2017 WorldSBK season
August 2nd 2016 -The Honda WorldSBK Team is pleased to announce the signing of 26-year-old Stefan Bradl from Germany for the 2017 FIM Superbike World Championship. Crowned Moto2 World Champion in 2011, Bradl will join former MotoGP™ Champion Nicky Hayden to complete a stellar line-up for Honda next season.

Despite his young age, Bradl has a wealth of experience at international level. Since his 125cc debut in 2005, he has collected nineteen podium finishes and seven wins across all Grand Prix classes. After winning the Moto2 World Championship in 2011, Stefan made his MotoGP debut with the LCR Honda Team in 2012 where his best result was a second-place finish at Laguna Seca in 2013.

The Honda WorldSBK Team would like to thank Michael van der Mark for his outstanding efforts and title-winning contribution during his tenure as a Honda rider. The team will maintain its unconditional support for Michael for the remainder of the season, with the goal of achieving the best possible results.

The Honda WorldSBK Team is pleased to confirm that its riders for the 2017 season will be Nicky Hayden and Stefan Bradl.
Ducati team on track in 2017 with Chaz Davies and Marco Melandri
The Aruba.it Racing - Bologna, Italy, July 28th - The Aruba.it Racing - Ducati team finalized its line-up for the 2017 WorldSBK Championship, confirming Chaz Davies and signing an agreement with Marco Melandri. Chaz and Marco have already been teammates in the past with great results, their common goal is to fight for the victory at each round and aim at the Riders' and Manufacturers' world titles.

Chaz Davies, 29, is currently in the middle of his third season with Ducati and, thus far, has secured 9 wins and 32 podiums overall on the Panigale R, showing constant progress and winning the hearts of many Ducati fans.

"I'm extremely happy to renew my professional relationship with Ducati for two more seasons," Davies said. "The continuity element is really important in our job, and so far we've made great strides and got progressively closer to our goal. Now we can fight for the win practically on every track, and I'm confident we can make further improvements. Moreover, to race for Ducati is something special: everything is done with heart and passion, you really feel part of a family and have a direct connection between the production and racing. It's going to be exciting."

Thirty-four-year-old Melandri, on the other hand, will return to the production-based series, where he has claimed 19 wins and 49 overall podiums in 100 races.

"I'm really excited to come back to racing, it's a dream come true," Melandri stated. "I always said I was only interested in a top bike and top team, and I could not have asked for more. I kept following WorldSBK closely, and I'm confident the Panigale R can perfectly suit my riding style. We'll just have to take one step at a time, but the potential is surely high. I know it won't be easy to get back up to speed, but I have all the time to step on the bike, do laps and make sure I'm ready for the first test: to this end, I will skip the holidays to train on a street version of the Panigale R."

The 2016 championship will mark Davide Giugliano's last season within the Aruba.it Racing - Ducati team. In three years with the squad, the Italian rider has shown great speed and resilience, taking 10 podiums so far despite being sidelined for most of 2015 with two serious injuries. Ducati and Aruba.it would like to thank Davide for his efforts, wishing him all the best for his future career and reiterating their commitment to give him the best possible tools to achieve his first WorldSBK win.

"I had a great time with Ducati," said Giugliano. "I learned a lot and was given a wealth of experience to draw upon, which is really important for a young rider. We also faced some difficult times, especially last year when I was badly injured, but we've always stayed close. We decided to take different paths, but our relationship remains strong: I'm still young, so we may rejoin forces in the future. I sincerely wish Melandri the best and would like to thank everyone in Ducati, especially Paolo Ciabatti, and Aruba.it for all their support. It's been a great journey, which has yielded great results despite the fact that we would have liked to do more, but I'll give my best until the end of the season to achieve bigger goals."

Luigi Dall'Igna, Ducati Corse General Manager: "Chaz Davies has become a key member of the Ducati family, so we're happy to announce that he will ride with us for two more years. Chaz has shown great progress and we're confident he can take our bike to even higher grounds. In 2017, he will ride alongside Marco Melandri, who took upon the challenge with great enthusiasm. Marco is a talented rider, he has already achieved prestigious results in WorldSBK and we're confident that the year spent without racing has not undermined his qualities. We're obviously sad for Davide Giugliano, who will part ways with us at the end of the year, and we wish him nothing but the best. Davide proved to have great competitiveness, taking many podiums and fastest laps, and has given a crucial input towards the development of the WorldSBK-spec Panigale R. We would like to thank him and guarantee we will give him all our support until the last race to help him achieve the results he deserves."

Stefano Cecconi, Aruba S.p.A. CEO and Team Principal: "Given that the riders' choice is among the most important and difficult to make, as the available seats are always less than what we would ideally offer, we had to resort to our ambition and courage while taking all the necessary time to finalize the 2017 line-up. Chaz has shown he can fight for the victory each round. Davide is a young and fast rider, who can become even more competitive, so I hope it's a 'see you again' and not a 'farewell' between us. Marco's resume speaks for itself and puts more pressure, at any rate positive, on us: we want to help him achieve the result that, surely not due to a lack in talent, has eluded him in WorldSBK so far."
Luis Salom dies from Catalunya MotoGP 2 Practice Accident
Gran Premi Monster Energy de Catalunya, Friday 3rd June 2016 - Following an incident during today's Moto2 Free Practice 2 at the Circuit de Barcelona-Catalunya, it is with great sadness that we have to report the passing of Luis Salom (SAG Team).

The session was red flagged with just under 25 minutes remaining after the Spanish rider fell at turn 12.

Two medical cars and then two ambulances were immediately on scene to treat the 24-year-old and the medical helicopter was also deployed to assist in his treatment.

Due the severity of his condition, the decision was taken to transfer Salom by road to the nearby Hospital General de Catalunya. On arrival, he underwent surgery, but despite the best efforts of the trauma team, he passed away at 1655pm local time.

Salom made his World Championship debut at Jerez in 2009 in the 125cc category. He finished on the podium in 25 races, including nine victories in the Moto3 World Championship. He finished the 2012 Moto3 World Championship in second position in the standings and a year later was third overall after battling with Maverick Vinales and Alex Rins down to the final round in Valencia.

He also finished on the podium three times in 41 appearances in the Moto2 World Championship, including a second place pace in the opening round of 2016 at the Losail International Circuit in Qatar.

The FIM, Dorna, IRTA, RFME and the Circuit de Barcelona-Catalunya wishes to pass on its condolences to the family, friends and team of Salom.

Sykes And Kawasaki Racing Team Continue Their Strong Partnership
June 20th, 2016 - 2013 FIM Superbike World Champion for Kawasaki, Tom Sykes, will continue his successful relationship with KRT and KHI for another two years after making a new agreement with the Japanese factory to be a key member of the overall Ninja ZX-10R racing project, both on and off-track.
Having formed such a successful partnership with Kawasaki in the past few years, culminating in his championship win in 2013, Sykes will continue to be an integral part of the Kawasaki racing and development program around the awesome Ninja ZX-10R. Tom's commitment to the Kawasaki cause has been evident ever since he first rode a WorldSBK spec Ninja back in 2010, and he has collected an enviable list of achievements along the way.

Sykes has now taken 30 race wins, and all but one of his 76 career podium finishes, on ZX-10R machines. Tom has also set the second highest ever record of Superpole qualifying wins, which reached 36 at the most recent round in Misano. He has also set 30 fastest laps during WorldSBK races and has been twice a runner-up in the championship, in addition to his headlining success in 2013.

In making a new agreement with Kawasaki's official squad Tom is now intent on continuing his career at the highest level of production-derived racing, with the most successful WorldSBK team and machine of recent times. Once more Tom will join up alongside his current KRT team-mate Jonathan Rea, who also recently re-signed.

Tom Sykes stated: "I am really excited to have made a further commitment with KRT and KHI. It's a great feeling to be back with such a great team for another two years. We have already shown the capabilities of the latest model Ninja ZX-10R this season and there is a lot of potential still to come from the bike. I think it is safe to say that we have the best all-round package in the FIM Superbike World Championship and I would like to thank KHI for showing their continued commitment to me as a rider. As well as the bike and the on-track performance I have been part of the Kawasaki family for seven years so it was really natural to continue that relationship. To carry on working with my dedicated crew - Marcel, Danilo, Mattia, Raul, Tambu and Ruben and all my other valued colleagues and friends in the team - was priceless as they are widely recognized as the pick of the crop in the WorldSBK paddock.
I get so much support from the brilliant fans and passionate Kawasaki owners that it was also a positive decision to make to remain part of that. Another important thing is to continue the development program, for the road bike and the race bike side of things, which is something I feel an integral part of. The technical aspect of working with the team and KHI is deeply satisfying to me, not just the successes on track."
JONATHAN REA AND KAWASAKI TOGETHER FOR TWO MORE YEARS
May 12th 2016 - Reigning FIM Superbike World Champion Jonathan Rea has re-signed with Kawasaki's official KRT effort to compete for two more years on the class-leading latest model Ninja ZX-10R.
Committing to extend their mutually beneficial partnership into the future, both Rea and Kawasaki aim to continue the kind of success that delivered Rea the championship in his first KRT season last year.
Jonathan leads the current WorldSBK championship standings by 35 points after five rounds of the 2016 season have been completed.

JONATHAN REA (Kawasaki Racing Team Rider): "I am so happy to extend this partnership with the Kawasaki Racing Team and continue the great relationship I have with all the Kawasaki engineers and fans. It is clear that our objectives and way of working are very well matched so it makes perfect sense to extend this for two more seasons. With all the incredible memories we have made so far and are now creating, I am 100% confident that we will enjoy working together and develop the Ninja ZX-10R into the future. I would like to thank Kawasaki and all the KRT staff for their full support and belief in my potential. With this in mind I am now even more focused than ever to win the World SBK Championship in 2016 to make it back to back wins."
Andrea Dovizioso confirmed alonside Jorge Lorenzo in Ducati MotoGP Team for 2017 and 2018
May 17th - Ducati wishes to announce that it has reached an agreement with Andrea Dovizioso for the 2017 and 2018 MotoGP seasons. The Romagna-born rider, who has been with Ducati since 2013, will team up with Jorge Lorenzo for the next two seasons aboard the Ducati Team's Desmosedici GP bike.

Andrea Dovizioso: "I am very satisfied to have reached this agreement with Ducati and to be able to continue the adventure begun back with them in 2013. In the last few years we have worked with a lot of commitment and we have succeeded in taking the Desmosedici GP to an excellent competitive level, and so I am convinced that soon we will obtain the satisfaction that we deserve."

The 2016 championship will therefore be Andrea Iannone's final season with the Ducati Team. The Abruzzo-born rider, after two years in the "factory-supported" Pramac Racing outfit, moved to the factory team in 2015, immediately showing his great talent and pace, and he will undoubtedly give his utmost in the remaining rounds of the season in order to conclude his experience in Ducati in the best possible way.

Andrea Iannone: "Obviously I am sorry that my time with Ducati will draw to a close at the end of this season, but I am grateful to the Bologna manufacturer for the opportunity it has given me in the last few years. I made my MotoGP debut with Ducati and I have grown up with them, always succeeding in improving my level of performance. In the remaining races I will give my all, as I always do, because I am convinced that thanks to the competitiveness of the Desmosedici GP we can achieve some great results."

Luigi Dall'Igna: "It's never easy to take a decision like this one, especially when you have two great riders like the two Andreas in your team. We are very happy that Dovizioso has agreed to stay with us for the next two years, and together with him we can continue the successful work we began four years ago in order to reach the ambitious aims we have set for ourselves. We are sorry for Andrea Iannone, who at the end of the season will no longer be a part of the team. Andrea has carried out an important job in these years and has made a significant contribution to the development of the Ducati Desmosedici GP. For this reason we would like to thank him and we will provide him with our maximum commitment in the next rounds of the championship, in order to obtain the prestigious results that are for sure within his reach."
Reigning world champion Jorge Lorenzo will join Ducati MotoGP Team at the end of the season after seven years at Yamaha. Maverick Viñales tipped to replace him.
April 21st - Three-time Moto GP world champion Jorge Lorenzo will join Ducati from Yamaha on a two-year contract at the end of the current 2016 campaign, the two teams confirmed on Monday.

The move is something of a coup for the freshly-returned team given that Lorenzo is the reigning champion, and rather daring for an Italian team given Lorenzo's bitter rivalry with his current Yamaha teammate, the hugely popular Italian Valentino Rossi.

"Ducati has reached an agreement with Jorge Lorenzo for the Spanish rider to race the world championship Moto GP for 2017 and 2018," a Ducati statement read.

The Spanish sports press reported widely that Lorenzo, who won 41 top level races with Yamaha, will be paid 25 million euros ($28 million) for the two-year term at Ducati.
The Japanese team with whom the 28-year-old Mallorcan has spent the past seven seasons wished their champion well.

"Yamaha is extremely grateful for Jorge's contributions to its racing successes and looks forward to sharing more memorable moments during the remaining 15 MotoGP rounds of 2016," they said in an official statement.

Twice a champion at 250cc, Lorenzo won the MotoGP world title in 2010, 2012, and in 2015 after a bitter struggle with Rossi, who accused a second Spaniard, Marc Márquez, of teaming up with Lorenzo to prevent him winning last year's crown in a story that dominated the sport for months.

As Yamaha extended Rossi's deal for two years in March it was suspected that Lorenzo's deal would be allowed to run out.
Although Yamaha have yet to confirm a new partner for Rossi, Spain's up-and-coming 21-year-old Maverick Viñales, currently with Suzuki, is tipped to be that man.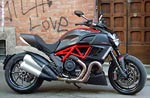 The Devil Made Us Do It!
Testing the Ducati Diavel in Italy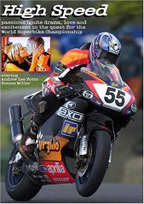 High Speed - the Movie
The best motorcycle racing movie ever made! Filmed on location at the World Superbike races , this an exciting romantic drama staring beautiful British actress Sienna Miller.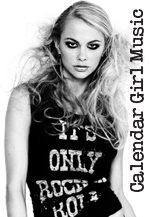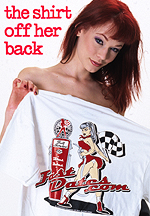 Order the Official
FastDates.com &
LA Calendar Bike Show
T-Shirts!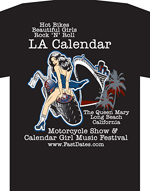 World Supersport on the Verge of Change for 2016
The Fédération Internationale de Motocyclisme (FIM), FIM Europe and DWO are pleased to announce that a new exciting format will be introduced for the upcoming season.
The 2016 edition of the FIM Superbike World Championship will witness a historical change for the important and renowned World Supersport class.

After successfully introducing technical and sporting rule changes in the World Superbike class for 2015, it is time now on focusing efforts on the middleweight series.

In what is its third year as promoter and organiser of the series, Dorna is constantly working side by side with the FIM, teams and manufacturers to ensure the series maintains and improves its level in line with the changes in the motorcycle industry and worldwide economy.

In 2016, the FIM Supersport World Championship will feature new technical rules that will result in major cost saving for the teams involved. The WSS machines' preparation will be similar in all ways to the ones used in the most important national championships, easing the way for local teams to take part in selected races with wildcard rides and increasing the competition between participants.
Furthermore, a new series within the major Championship – following the same technical regulations as the main tier of World Supersport - will be created, which will be dedicated to teams aiming to take part in the European rounds only to promote young talents at much reduced cost. This will provide a chance for a selected number of smaller further teams to increase their visibility on the world stage – with a massive boost in terms of TV presence and appeal – while the riders will have a chance to compete head to head with some of the established stars of World Supersport. The name of the complementary series is yet to be revealed.

As a consequence of this fundamental revamping of World Supersport, the Superstock 600 class will cease to exist.

Ignacio Verneda, FIM CEO: "The modification of the technical regulations in Supersport to reduce costs and increase the participation of riders was logical after the success achieved in World Superbike following similar changes. We are convinced that this step is important for the future of the Supersport class.

Dr. Wolfgang Srb, FIM Europe President: "The promotion of young and hopeful riders has always been high on our agenda. We believe in series that pave - at affordable costs - the way from National via European Championships to the pinnacle of every sport: the World Championship. I am happy that Dorna shares the view of the "pyramid model" and offers with the new Supersport class an attractive European Road Racing series for talented riders. However, I like to underline the fact that the series will be open for riders from all continents. A strong and close competition is paramount for success."

Javier Alonso, WorldSBK Executive Director: "We are happy to announce these major changes to the sporting and technical sides of the FIM Supersport World Championship. We are confident that the new format will bring further and fresh excitement to the series as well as a whole new set of opportunities for teams and young riders with the talent and desire to build a path upwards in motorcycle racing."

The new Technical Rules for the FIM Supersport World Championship will be available soon on the FIM Website.
Motul announced as new WorldSBK Title Sponsor
Solid agreement signed for the next five seasons, from 2016 to 2020.
Marc Saurina, WSBK Commercial and Marketing Director with Roman Grabowski, Motul Motorsport Manager
Details of the agreement between Dorna Group and Motul were revealed at Magny-Cours last Friday during the penultimate round of the 2015 WorldSBK season. Representatives Romain Grabowski of Motul and Marc Saurina of Dorna formally announced to the gathered media and fans the new-look, long-term partnership which will see the Championship invigorated from the start of next year.
Motul, the French company producing high-performance motor oils and industrial lubricants, has a long history in motorsports. It is a key partner for both the FIM and Dorna Group and will make its debut in WorldSBK in 2016, as Title Sponsor of the Championship.
Starting from the forthcoming new season, the series will feature a dedicated combined championship logo in all of its adaptations, as well as a brand-new Motul-SBK product range. This will be launched during the first quarter of next season and is aimed at customers who expect the very best.
In the meantime, racing oils and lubricants will be available for the teams competing in WorldSBK, putting a perfect combination of racing knowledge and skills at the end users' disposal.
Motul has embraced the essence of the SBK Experience and it is now going to offer its guests the closest motorcycle racing experience ever with proximity and accessibility being the key words.
Motul products will be on display within the Paddock for all the Superbike fans attending the races, making this a full partnership which involves fans, teams and Motul guests.
Romain Grabowski, Motul Motorsport Manager said: "We are really delighted to add WorldSBK to the list of motorcycling disciplines we support on a worldwide basis. As with the FIM EWC, WorldSBK teams will be able to use the Motul Factory Line range which is dedicated to racing and which benefits from knowledge gained from the major manufacturers' use of experimental products in MotoGP. This 360° partnership includes the launch of a WorldSBK by Motul product which will be destined for fans of the championship, and we've also got a brand-new 'Motul SBK Experience' concept which from 2016 will allow us to offer our customers a unique experience at each of the season's races. We can't wait for this 2016 campaign to begin!".
Marc Saurina, WSBK Commercial and Marketing Director says: "It is a great pleasure for us to see such an important brand in the history of motorsports joining with WorldSBK's core values. Motul is the perfect partner with whom to develop our concept of brand experience, having a close proximity to the very DNA of production-based motorcycling."