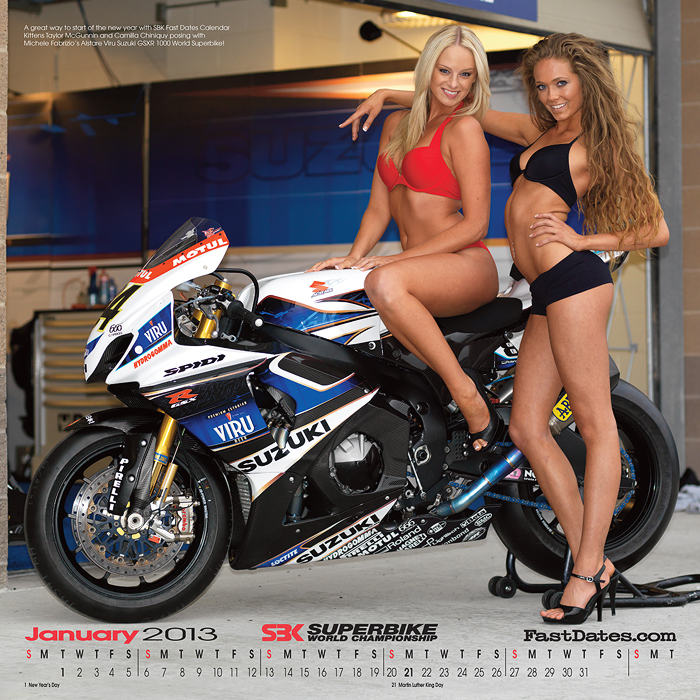 Fast Dates World Superbike and MotoGP Calendar News
January - February 2013
...and more Fast Dates News HERE
This Month in the Fast Dates World Superbike Calendar ....
Calendar Kitten and SBK World Superbike umbrella girls Taylor McGunnin and Camilla Chiniquy heat up the Suzuki garage at 2011 Miller US World Superbike round with Michelle Fabrizio's Alstare Suzuki GSXR1000. You'll find Calendar bikes like this with beautiful Kittens featured in the Calendar Bike Garage with full specifications and screensaver size pictures.

Plus sexy pictorials of the Calendar Kittens in Members Corner
Order the Fast Dates Calendars • Calendar Screensavers in Members Corner

Order the 2013 Fast Dates Calendar
Calendar Bike Photo Features, Paddock Garage Tuning, Pictorials of our Calendar Kittens in Members Corner
FastDates.com Calendar Kitten Taylor Gunnin (5th from left) with the other official SBK umbrella girls at Miller World Superbike.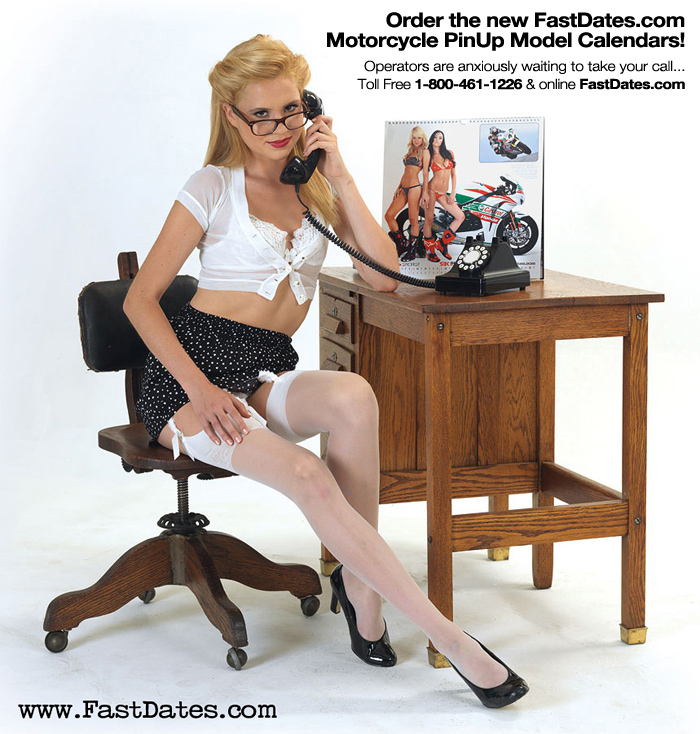 Meet FastDates.com Webite cover model Halle who wants to remind you it time to order your new 2013 Calendars.
Weekdays 8am - 5pm Pacific Cost Time phone Van Leeuwen Distributing at 1-800-461-1226 or ORDER ONLINE HERE.
---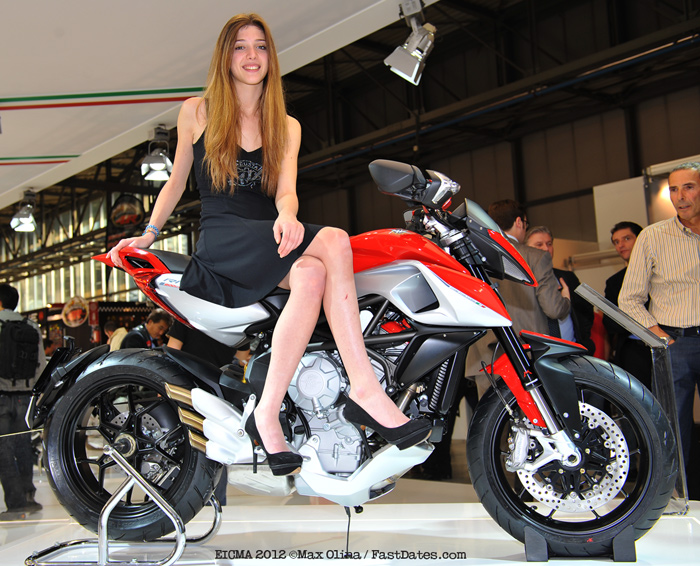 Fast Dates Exclusive! EICMA 2012 International Motorcycle Show
Milan, Italy November 13-18th, 2012 - MVAgusta's reply to the Ducati's Streetfighter / Hypermotard premiering at EICMA this year is their new Rivale 800cc (above) which uses the F3 Supersport's 675cc 3-cylinder motor that has been bored and stroked to the maximum.
The Rivale was voted 'Most Beautiful Bike' at this year's EICMA Show. - CLICK HERE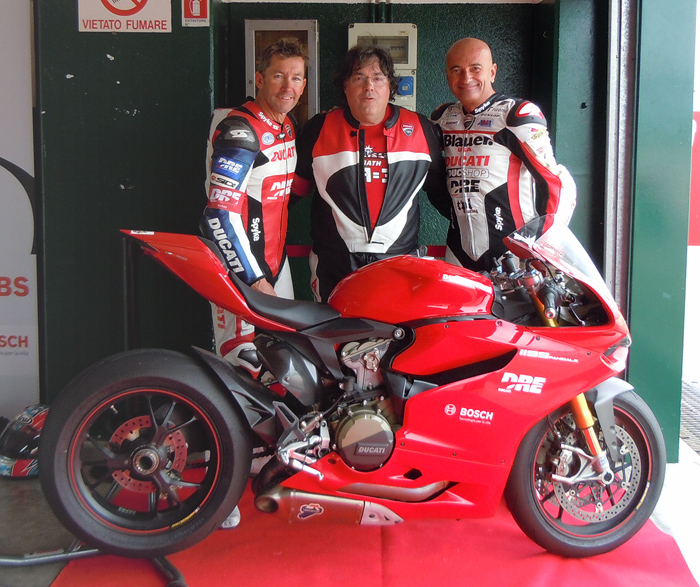 Troy Bayliss Race Academy School Misano & Paris 2012!
Join us again as Editor Jim Gianatsis takes the Troy Bayliss Academy DRE Race School aboard a Superstock 1199S Ducati Panigale Superbike at the Misano MotoGP Circuit in Italy, then caps it off with a sexy and romantic Vespa scooter trip to the City of Lights, Paris France! From the world's fastest Superbike, the world's biggest airliner to a 50cc Vespa - it was a non-stop thrill ride. CLICK HERE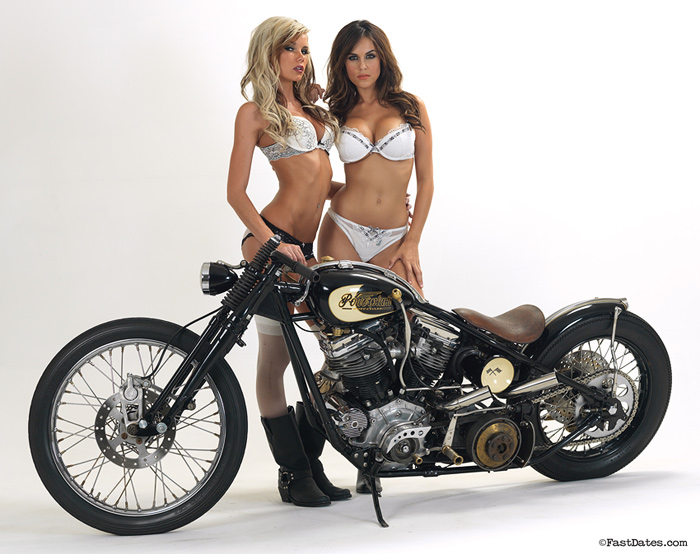 Retro Racer!
See awesome bike editorial features like Yaniv Evans' Powerplant Choppers "Black & White" with Fast Dates World Superbike grid girls Kinsey and Sabella in the Calendar Bike Garage
---
FastDates.com presents the
Edelweiss Ducati Best of Italy Tour with a World Superbike or MotoGP Race 2013/2014
Ever wonder why Italian motorcycle racers win almost twice as many world championship titles as any other nation? Well, there are probably many reasons, but looking at an Italian map you will see one particular reason: beautiful Italian roads weaving through a patchwork of mountains and mountain chains. That, and a passion for buildoing incredible high performance machinery, like Ducati which has won more World Superbike Championships than all the other bike manufacturers combined. Take that Championship winning Desmoquatro motor and place it in one of the world's premier sport touring bikes, the Multistrada 1200, and you've now got an incredible motorcycle to tour central Italy with its beautiful Tuscany region.

FastDates.com Website editor and photographer Jim Gianatsis has experienced the Edelweiss Ducati Best of Italy Tour first hand and recomends it highly, particularly for roadracing enthusiasts, and if you've never been riding or attended a World Championship round in Europe. For any Ducatista the trip to the Ducati factory is just icing on the cake. This tour begins in the birthplace of the most infamous of Italian motorcycles, the Ducati Factory in Bologna where you will tour the Ducati Museum and New Motorcycle Production Line before picking up your bike and heading out across the wine country of Tuscany with your newest friends.
Once underway, you will be busy all day, every day, to make it to places which are, on average, 60 miles apart as the crow flies. Why does it take so long? You'll spend a night in the beautiful cities of Florence, Sienna, Assisi and San Marino. But there's lunch and coffee stops in small villages along the way, plus you'll want to get to your destination city early to take in the sights, then end the day with a glorious dinner. You'll find your luggage waiting for you in your hotel room, having been transported there earlier by the chase van, so you can enjoy the day riding and enjoying the sights, not worrying about anything else. The Multistrada 1200 transforms mobility into art, rendering time and distance irrelevant, that's why. Art needs freedom, therefore our flight pattern is not necessarily bound to any particular road surface either.

You'll devote a week of your lives to create a team masterpiece of motorised motion, consider yourself part of the Ducati team, and do not expect anything short of Ducati VIP treatment at the World Superbike or Moto Grand Prix round that completes the tour on the following weekend. At the legendary tracks of Imola or Mugello you'll get VIP Parking in the Ducati Village just behind the Ducati Grandstands where you'll have the best seat in the house to watch the races. Then its a short ride back to Bologna that evening for a final evening banquet party with your new closest freinds before leaving for home the next day. For complete information go to: Edelweiss Ducati Italy Race Tour
To see FastDates.com Editorial Feature go the Edelweiss Ducati Best of Italy Tour

The Edelweiss Ducati Best if Italy Tours are schedued to take place in June of 2013 and 2104.
For full information about this and the other incredible Edelweiss Motorcycle Tours click here:
---
Click to Enlarge
World Premier! The Fast Dates World Superbike Calendar Presents a History, Track Tests,
Team Rider and Designer Interviews, and Pictures of All the
Ducati Corse World Superbikes
by Alan Cathcart and Jim Gianatsis
The year 2011 marked the 25th anniversary of the creation of the first, of a now legendary line of Ducati Superbikes with their trademark Desmoquattro 4-valve V-twin motors hung below a lightweight trellis tube frame, race bikes that went on to dominate the then new World Superbike Championship for next quarter of a century. Arguably the most significant motorcycle engine design of any kind since the CB750 Honda, and surely the most remarkable and successful volume production engine format ever used in world competition by any single manufacturer, the venerable Ducati 4-valve desmodromic engine recorded to this date 14 World Superbike Championship titles in the 24 year history of the world's premier production bike based world roadracing series.
This book chronicles the development and history all five Ducati Corse World Superbike generations from the first Desmoquatro 750cc prototype to the revolutionary new 1199 Panigale Superquadro together with interviews with the Ducati designers, team racers and managers. This unique insight is provided by renown motorcycle racer and journalist Alan Cathcart who has had the envious and often exclusive opportunity to test ride every one of the factory Corse race bikes over the last 25 years, those tests of which are featured here. Photography of the Corse factory bikes and riders is proved by the world's most renown motorcycle roadracing photographers.
Adding icing to the cake, and to warrant this big collectors edition book, included are the incredible high definition photographs of the bikes taken by former racer, motojournalist and photographer Jim Gianatsis as featured in the Fast Dates World Superbike Calendars from those years with the beautiful Fast Dates Calendar Kittens who served as the official SBK and Team Ducati Corse grid girls at the race where the bikes were photographed.
This 224 page large format collectors edition book begins with a Forward by Massimo Bordi, legendary designer of the Desmoquattro back in 1974. Then it dives into the technical details, revealing photography and Cathcart's exclusive tests of every one of the factory Ducati Corse Superbikes from the First Generation 851cc Daytona raced prototype, to Doug Polen's Fast by Ferracci 888/926 World Championship winner. Followed by the Second Generation 916/955 machines, the Third Generation 999, the Fourth Generation 1098/1198, to the all-new Fifth Generation 1199 Panigale. Included along the way are interviews with all the factory riders and World Championship winners from Doug Polen, Carl Fogarty and Troy Corser, to Neil Hodgson, James Toseland, Troy Bayliss, Nori Haga and Carlos Checa. While the tradition continues with a detailed look at the new 1199 Panigale and a interview with the designers who created it, and an exclusive track test of the newest Generation 1199 bike by Cathcart and 3-time World Superbike Champion Troy Bayliss.
This is a must have book for every Ducati and motorcycle roadracing enthusiast. Gianatsis Design has produced and published the book in a beautiful large format 12x12-inch hard cover design coffee table style Collectors Edition Book featuring 224 pages in full color printed on 100# dull coat art paper for the best possible reproduction and presentation. Books are individually shrink wrapped and have a printed cover wrapper.
Ducati Corse World Superbikes is $69.95 Retail Direct from Amazon.com USA / Amazon.com UK

Dealer and Distributors can order multiple copies at our Distributor Information Page
Jim Gianatsis autographed Collector Copies of the Book and matching 2013 FastDates.com Calendar
use the PayPal.com Button below.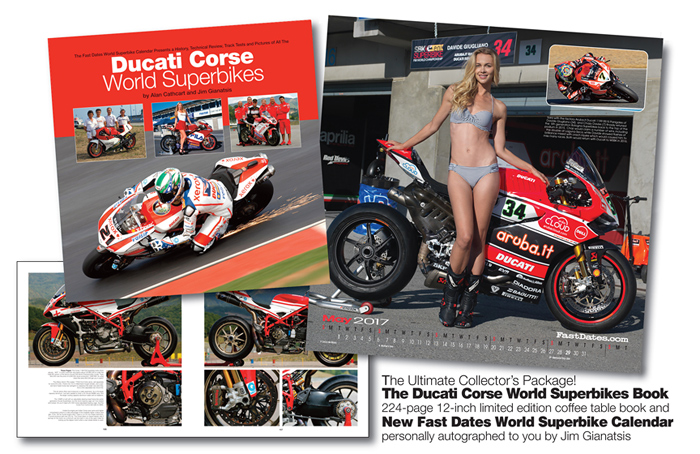 Exclusive Autographed Collector's Package!
The all new Ducati Corse World Superbikes 224-pg book and the 2013 Fast Date World Superbike Calendar
Personally autographed to you (or the name you request on the PayPal.com Order Form) by Jim Gianatsis and shipped direct from Gianatsis design to you.
To order the Ducati Corse World Superbike Book or the Fast Dates Calendar individually, unsigned,
go to the Sportbike Books and Fast Dates Calendar order pages.
---
---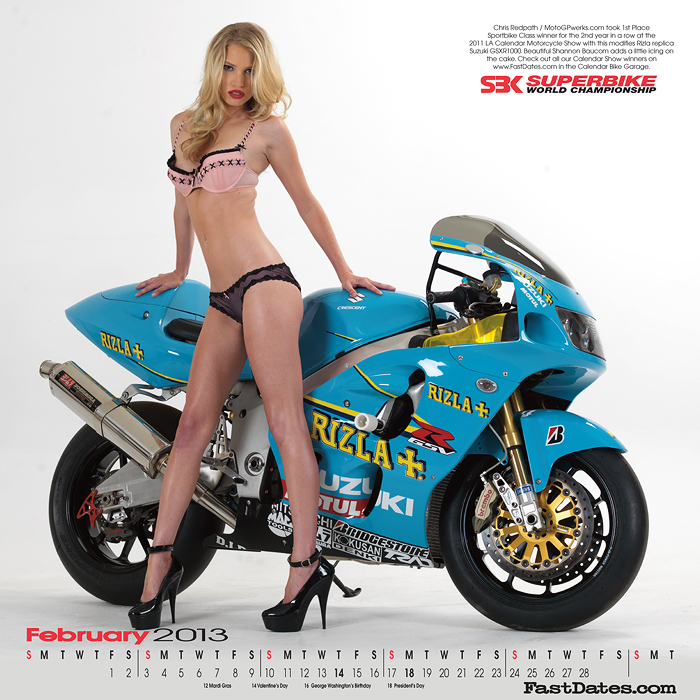 This Month in the Fast Dates World Superbike Calendar ....
Calendar Kitten Shannon Baucomb rocks our world with Chris Redpath's MotoGPwerks Suzuki GSXR1000 replica Rizla MotoGP bike which took First Place Sportbike at the 2011 LA Calendar Motorcycle Show. You'll find bikes like this with beautiful Kittens featured in the Calendar Bike Garage with full specifications and screensaver size pictures.

Plus revealing pictorials of the Calendar Kittens in Members Corner
Order the Fast Dates Calendars • Calendar Screensavers in Members Corner
---
There's more! Go to Fast Dates Calendar News PREVIOUS PAGE

Hot Calendar Girl and Bike News! Go to: Fast Dates • Garage Girls • Iron & Lace

Click to see even more of our sexy Fast Dates Calendar Kittens...




MotorcycleSuperstore.com