Custom Bike Pinup Calendar News May - June 2010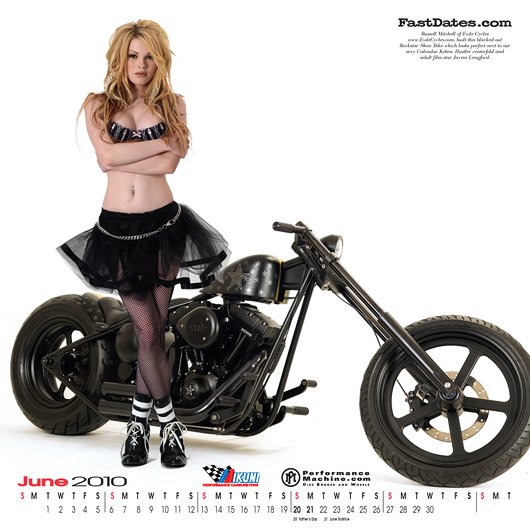 This month in the 2010 Iron & Lace Calendar
Jayme Langford and the Rockstar Exile Custom
This month's beautiful Calendar Kitten is Hustler centerfold and teen adult film star Jayme Langford.
And naughty Jayme is ready to 'ROCK" our world, literally, with this all-black Rockstar Energy Drink custom built by one of our favorite uilders, Russell Mitchell of Exile Customs. Jayme is also featured in the 2010 Garage Girls Calendar. Photo of course by Jim Gianatsis.
All of our Iron & Lace Calendar bikes including the LA Calendar Show and AMD World Championship winners are feature in large photo pictorials in the Calendar Bike Garage. Past Editon Calendars are still available in Collector's Corner
---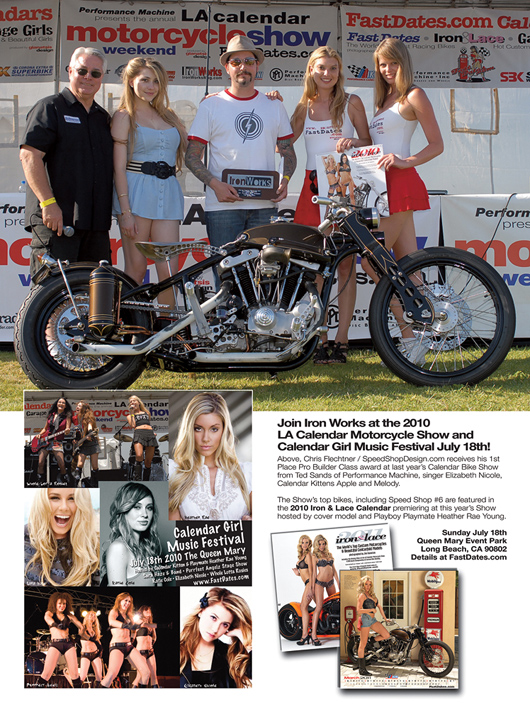 LA Calendar Motorcycle Show Winning Bike & 2010 Preview!
Chris Fletchner's / SpeedShopDesign.com 2009 LA Calendar Pro Class winning bike winner Speed Shop Special #6 is featured in a 3-page spread in the June 2010 issue of Iron Works magazine. Chris is building an all-new bike to premier at this year's 2010 LA Calendar Show on Sunday July 18th. Click the pages to enlarge.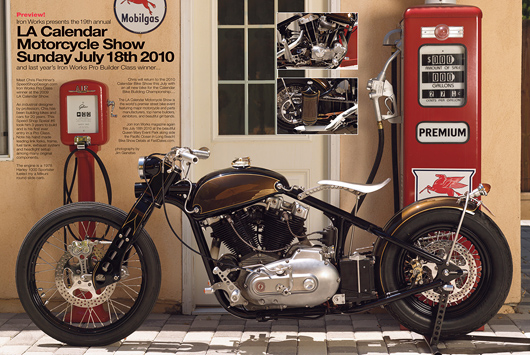 ---
Jim Guiffra shows one of his spokesmodels how to tear down the Honda VT750 in prepaation for its rebuild into a custom Bonneville racer.
AFT Customs to premier newest custom Bonneville racer "Kemosabe"
at the 2010 LA Calendar Motorcycle Show July 18th
Custom Honda Bobber Built and to be Piloted
by the ATF Models for Bonneville World Record Attempt
Long Beach, CA, May 1st 2010 - Reigning LA Calendar Bike Building Champions, AFT Customs of Martel, CA, with owner designer Jim Guiffra and his AFT Motorsports Model Agency spokesmodels (AFTcustoms.com) will again use this year's 2010 LA Calendar Motorcycle Show on Sunday July 18th at the Queen Mary Event Park, Long Beach, CA to premier their latest custom built motorcycle "Kemosabe". Then after the Calendar Show the AFT crew and the bike will head to the legendary Bonneville Salt Flats in Utah to participate in the BUB Speed Trials where two of the girl builders, Sukhee and Shelby, will pilot the bike on timed runs. Also helping with the bike build and attending the events are models Cyndi, Sara, Malanie and Katy.
The AFT crew are no strangers to premiering new bikes at the Calendar Motorcycle Show Weekend having garnered the coveted "Best of Show" award in 2008 with their Yamaha Royal Star based custom "Er Head." Last year they returned with "LoLA" a 2009 Honda VXT1300 Pro Street custom to take 1st place in the Metric Custom class. After the Show their winning bikes were photographed by Calendar Show producer Jim Gianatsis for the FastDates.com Iron & Lace Custom Motorcycle PinUp Calendar, the new 2011 edition of which premiers at this year's Show.
Past Year's AFT LA Calendar Motorcycle Show Winners:
http://www.FastDates.com/BikeShow2009/BikeShow2009Coverage/BS09.307MetricGuiffra.jpg
http://www.FastDates.com/BikeShow2008/BikeShow2008Coverage/BS08.332BestShow.jpg
"Kemosabe means faithful friend in Comanche, explains Guiffra. "It's the nickname Indian sidekick Tonto used for his partner "The Lone Ranger" in the classic old TV series from the 1960s.
AFT Customs is all about our friendships. All the AFT Model Agency Girls are working together with me build this bike, just as they have with all our past Calendar Show premiered bikes. We are like a family. We wanted our close friends in the Northern California custom bike builder community to be a part of this build as well so that it represented the Nor Cal scene & the support we have for each other. Each builder was given artistic creativity as long it fit our theme. The build is being fully documented and filmed for a upcoming TV show, which has been a lot of fun. The approach is different from what you've seen in the past."
| | | |
| --- | --- | --- |
| | | |
| | | |
| | | |
| | | |
| | | |
| | | |
| | | |
The AFT Agency models again went all out for this year's build which is a "Bobber" style custom based on a Honda VT750 V-twin streetbike. Miller Welding came on board as a sponsor and sent an instructor to help the girls improve their TIG welding. Guiffra's aim with the AFT Model Agency is to supply the Motorsports Industry with attractive spokesmodels for trade shows and consumer event, models who are knowledgeable in talking to customers about the products and companies they represent. Being involved in building some of the word's winning-est custom bikes featured in Calendars, magazines and on TV, and attempting world land speed records at Bonneville certainly makes them well qualified.
Product suppliers and sponsors for Kemosabe include Cole Foster - fairing for headlight; Satya / Alan Kraus - h/bar risers and wheel rotor centers; Brian Schimke - tail light, exhaust tip; Kirk Taylor - foot pegs; Greg Westbury - gas cap; Duane Ballard - leather work; Bozzie Customs - engine porting & polishing; Todd Evans - paint, Lyndall Racing Brakes; Avon Tyre; Avon grips; Works Connection; Alloy Art -controls, JE Piston, Web Cam, Motion Pro; Kingup and Easton.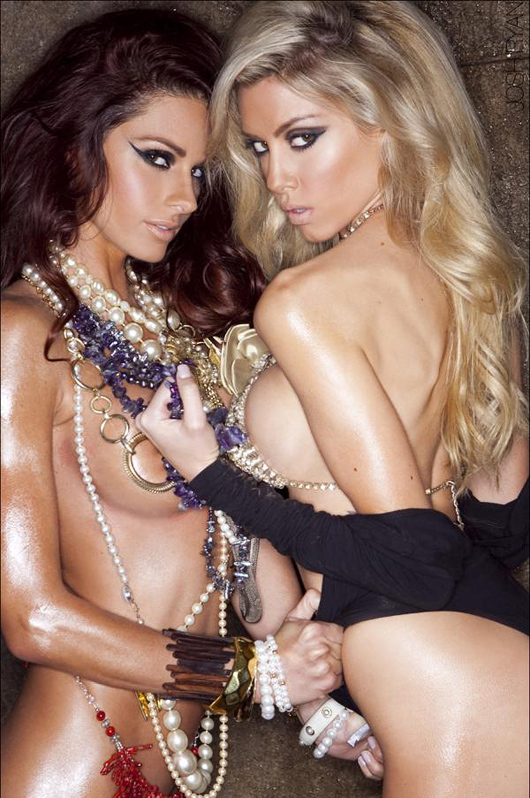 Playboy's hottest new Playmates become Calendar Kittens to to rock the
July 18th LA Calendar Motorcycle Show & Calendar Girl Music Festival!
Los Angeles, CA, Feb 1st, 2010 - Playboy magazine's hottest new Playmates of the year 2010, Miss January Jamie Faith Edmonson (profile below), and Miss February Heather Rae Young (pictured above and below) have been confirmed by producer Jim Gianatsis to be our official SBK World Superbike Fast Dates Calendar Kittens at the Miller Motorsports USA World Superbike round May 29-31st 2010 to photograph the next Fast Dates Calendar with all the top factory team race bikes. Heather hs already shot with Jim for all 3 editions of the 2011 FastDates.com Calendars which will premier at the LA Calendar Motorcycle Show at the Queen Mary Event Park in Long Beach this July 18th 2010 and hosted by these beautiful Playboy Playmates and Calendar Kittens where you can meet them in person, and have their new Calendars autographed!
---
The Making of the FastDates.com Calendars now on DVD!
Sure, we may be slow getting around to some things, one of those being the re mastering of our infamous Making of the FastDates.com Calendars movies to DVD. But now thanks to the help of Amazon.com we've entered the 21st century and you can stuff into your Computer or Big Screen DVD player the fastest, hottest, wettest, sexiest motorcycle movies ever made.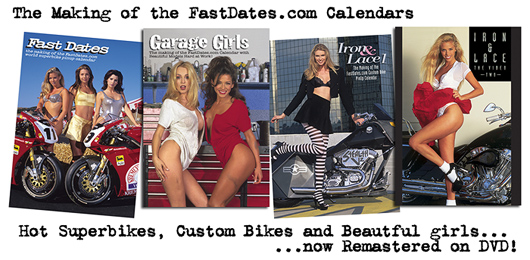 We guarantee you'll be left breathless by the incredible bikes, locations and beautiful girls. But don't wait to get those sticky rental copies of these exciting new FastDates.com Calendar DVD s from your your local rental dive. Be the hero of the next Race Watch or Bachelor's Party by getting your very own DVD copies over night from Amazon.com to hide under your bed from your mom, or download them now directly to your computer. The making of the FasDates.com Calendars DVD movies are available from Amazon.com and in the FastDates.com Video Store.
---
There's more! Go to Iron & Lace News Previous Page
Return to Iron & Lace Calendar News Front Page

Also Visit:
Fast Dates Calendar News • Pit Lane News • Calendar Girl News • Meet the Models
See much more of our all our beautiful calendar girls
in their sexy pictorials in FastDates.com Members Corner...


Some of our Calendar Girls can also be seen at Playboy's website...



MotorcycleSuperstore.com