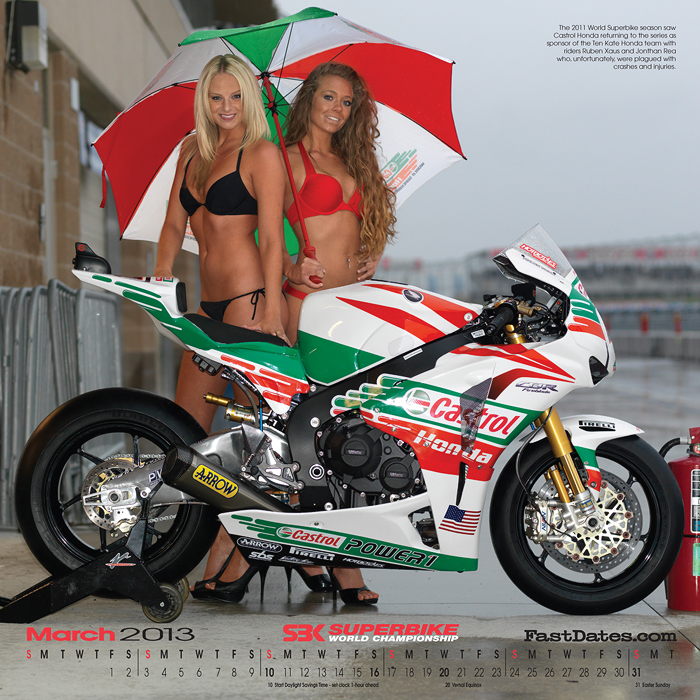 Fast Dates World Superbike and MotoGP Calendar News
March - April 2013
...and more Fast Dates News HERE
This Month in the Fast Dates World Superbike Calendar ....
Calendar Kitten and SBK World Superbike umbrella girls Taylor McGunnin and Camilla Chiniquy heat up the Ten Kate Castrol Honda garage at 2011 Miller US World Superbike round with Jonthan Rea's CBR1000RR. You'll find Calendar bikes like this with beautiful Kittens featured in the Calendar Bike Garage with full specifications and screensaver size pictures.

Plus sexy pictorials of the Calendar Kittens in Members Corner
Order the Fast Dates Calendars • Calendar Screensavers in Members Corner

Order the 2013 Fast Dates Calendar
Calendar Bike Photo Features, Paddock Garage Tuning, Pictorials of our Calendar Kittens in Members Corner
Photographer Jim Gianatsis gives Taylor and Camilla a look at their pictures which were coming out great during the 2011 Miller WSBK shoot despite the cold, rain and darkening skies. The girls were real pros! We try to shoot as many of the factory bikes as possible on Friday evening after the first day of practice when the bikes might be available for a few minutes.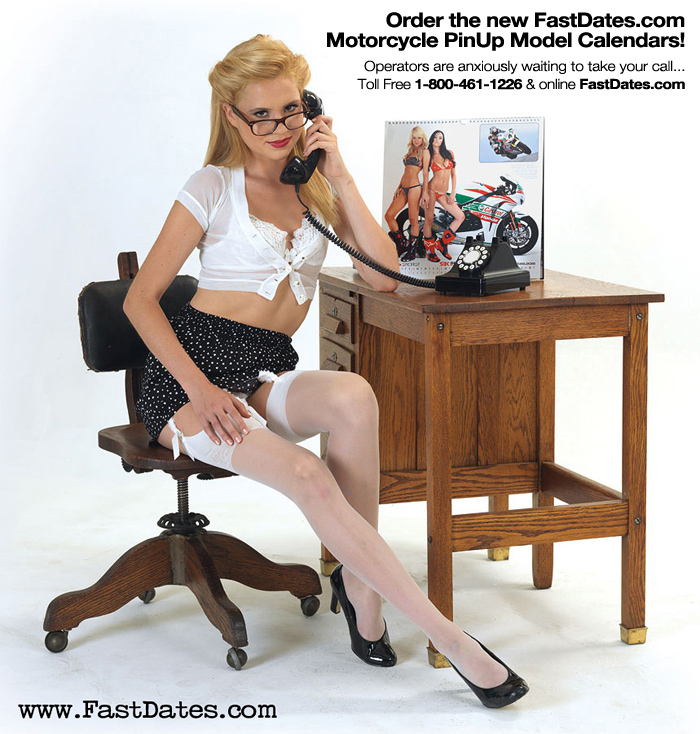 Meet FastDates.com Webite cover model Halle who wants to remind you it time to order your new 2013 Calendars.
Weekdays 8am - 5pm Pacific Cost Time phone Van Leeuwen Distributing at 1-800-461-1226 or ORDER ONLINE HERE.
---
Motorcycle Racer Magazine Partners
with the Fast Dates Calendar
March 17th, 2013 - The Fast Dates World Superbike Calendar welcomes Motorcycle Racer Magazine as an Official Partner! Look for MC Racer logos and ordering informtion in the upcoming 2014 Fast Dates World Superbike Calendar and on FastDates.com, and FastDates.com Calendar ads in future issues of MC Racer and on their website.

The latest issue of Motorcycle Racer Magazine on-sale through the website at www.motorcycleracer.com

This edition features Graeme Crosby as Guest Editor and his thoughts on MotoGP and World Superbikes are revealing - as are the interviews with Dorna's top brass Carmelo Ezpeleta and Javier Alonso. Find out what goes on behind the scenes at Red Bull Rookies, check out the best photos from recent MotoGP tests and discover how Shane Byrne is preparing himself for the coming season - all in this edition of the World's number one road race magazine. We also put the World Supersport Kawasaki and the Norton NRV4 through their paces and talk to Philip Neil at Tyco Suzuki about the GSX-R600.

All that, and more, for just £3.95 which includes postage and packing for UK readers. If you've not seen Racer for a while, here's a quick update. They 've upgraded the quality of the paper, the design, the reproduction of photos and added a special fold out cover with a different three page poster to enjoy each month.

In great Britain and world-wide call 44 0161 443 1000 if you prefer to buy over the 'phone. They take PayPal and all major credit and debit cards these days, to make life easier.
---
Los Angeles Calendar Motorcycle Show Concours d' Elegance
Returns to the Queen Mary, Long Beach, CA on Sunday July 14th 2013
The 2013 LA Calendar Motorcycle Show continues its now 22-year tradition as the premier outdoor streetbike event in America
with top Celebrity Builders, the Calendar Bike Building Championship & Concours d' Elegance, selected Vendors and Exhibitors, and Calendar Girl Music live performances. The Show marks the world premier of next year's new 2014 FastDates.com Motorcycle PinUp Calendars featuring the world's top roadrace and custom motorcycles with the beautiful Calendar Kittens featured in the Calendars in attendance at the Show.
The Calendar Show is broadening its focus from the American V-Twin custom market which had so dominated bike events the past ten years, but has now been so affected by the economic down turn. The Show will still include its popular Pro Builder and Street Custom classes, Cafe Bike / Bobber, and Sportbike/Racebike Clases, and now also include the growing Collector Bike Market for European and Japanese Classics. Show Entries will be placed in a Concours d' Elegance displays on grass and patio walkways in the the Queen Mary's Seawalk Village.
Among the top name custom bike builders expected to attend are former LA Calendar Show winners and featured FastDates.com Calendar bike builders Jim Giuffra and the Spokesmodels of AFT Metric Customs, Russell Mitchell / Exile Cycles, Shinya Kimura / Chabott Engineering, Richard Lock / Mule Motorcycles, Todd Silicato / Todds Cycle, Chris Redpath / MotoGPwerks and many more.
The selected partners for the 2013 LA Calendar Motorcycle Show include Russ Brown Motorcycle Attorneys, Barnett's Bike Craft Magazine featuring retro and cafe bikes, and Source Media's American V-Twin Group of magazines Hot Bike, Hot Bike Baggers and Street Choppers. The editors from each of the magazines will be in attendance to cover the event, assist in judging their sponsored classes, and choosing the top bikes to appear in their publications. Show producer Jim Gianatsis will be photographing the winning bikes on Monday after the Show to appear in the Magazines and the next FastDates.com Calendars. In addition to the coveted Best of Show and Class Awards, AFT Customs will present its Visionary Award Trophy for the most innovative and exciting bike at the event.
Headlining the live musical entertainment again this year is the all-girl Japanese Rock Band 'Nylon Pink' who will just be returning from their world music tour. Also featured will be some of Southern California's most talented and beautiful signer songwriters. While the Queen Mary's own gourmet restaurant culinary chefs will be preparing an incredible BBQ lunch menu that promises to exceed expectations of what is normally served at bike events. In all, it will be a full day of incredible bikes and builder, beautiful girls, music, food and beverages that will overwhelm all five of the human senses!
The 2013 LA Calendar Motorcycle Show & Concours d' Elegance is just $20 General Admission, and $40 VIP Admission includes a BBQ Lunch w/ Beverage and Queen Mary ghost ship admission. Show capacity is limited and advance ticket purchase is suggested. Purchase Advance Tickets, Vendor and Bike Contest Registration online at: www.FastDates.com/BIKESHOW.HTM.
Calendar Kittens Kinsey, Sabella and the girls from the band Nylon Pink who will again be performing at the 2013 LA Calendar Motorcycle Show, together with Yaniv Evan's 2012 Pro Builder Class Show winner. See more of Yaniv Evans' awesome bikes like this "Black & White" in the Calendar Bike Garage
Calendar Show Winners Featured In Bike Craft Magazine!
Three of the top winning bikes at last year's LA Calendar Motorcycle Show are featured in the Spring 2013 edition of Barnett's Bike Craft magazine, one of the Calendar Shows new media partners together with Thunder Press, Hot Bike, Hot Bike Baggers and Street Choppers magazines.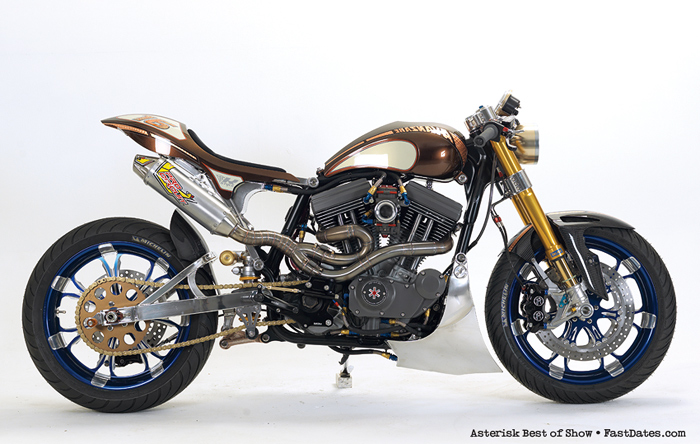 Garnering the cover and inside features in Bike Craft are Best of Show winner Hideki Hoshikawa / Asterisk Custom Cycles' 'Avanzare' naked Sportster based Streetfighter, Jim Giuffra / AFT Custom's 'Halia" Honda Shadow 750 based Bobber, and a Chris Redpath / MotoGPwerks built Ducati Desmosedici RR ultimate naked Streetfighter. Look for Bike Craft on your favorite new stand and order it online BikeCraftMagazine.com
All three bikes were photographed by Jim Gianatsis with beautiful Calendar Kittens for the 2014 FastDates.com Calendars which will premier at this year's upcoming LA Calendar Motorcycle Show on Sunday July 14, 2013 at the Queen Mary, Long Beach, CA. If you are a talented custom bike builder and are looking to make a name for yourself with International media exposure, you defenitetly want to be there. Info - FastDates.com/BIKESHOW.HTM
---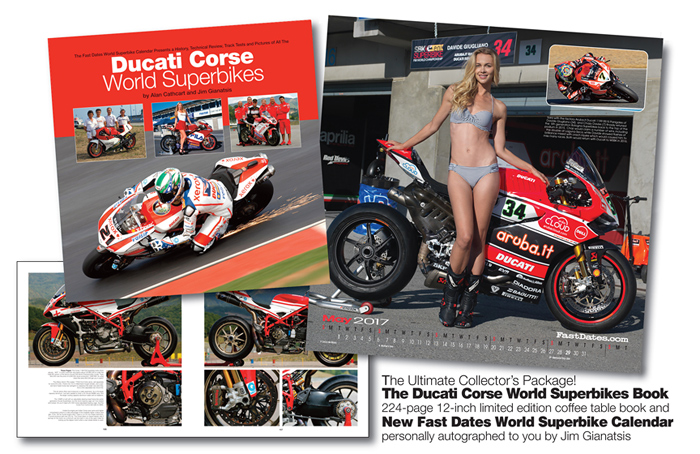 Exclusive Autographed Collector's Package!
The all new Ducati Corse World Superbikes 224-pg book and the 2013 Fast Date World Superbike Calendar
Personally autographed to you (or the name you request on the PayPal.com Order Form) by Jim Gianatsis and shipped direct from Gianatsis design to you.
To order the Ducati Corse World Superbike Book or the Fast Dates Calendar individually, unsigned,
go to the Sportbike Books and Fast Dates Calendar order pages.
---
Newest Calendar Kittens take our Ducati 1199RS replica for a spin....
We are loving our modified Ducati 1199RS Superbike and with two special new accessories - Umbrella Girls USA models and newest FastDates.com Calendar Kittens Jessica and Kelsey! The girls were in the Gianatsis Design studio this month to shoot with photographer Jim Gianatis for the next FastDates.com Calendars, so of course, we had to get them on our street racer replica for a few pictures. The new 5th generation Ducati Panigale Superbike is the best handing, best perfrming sportbike we've ever ridden! Click on the picture to Download the Screensaver. Complete Ducati 1199 Superbike set-up details including the factory Ducati Corse 1199RS Parts Book are on FastDates.com in the Paddock Garage
Isle of Man TT - The Great Show on Earth!
(Do Not try this at home!)
---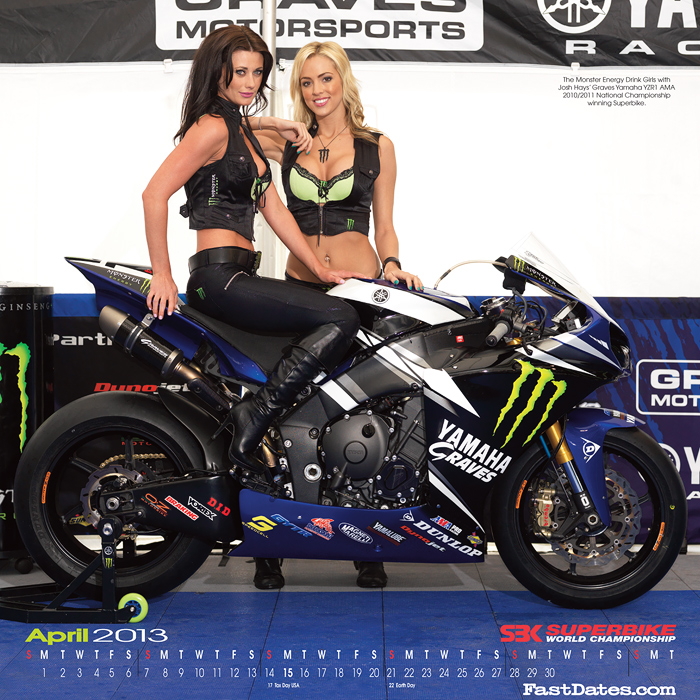 This Month in the Fast Dates World Superbike Calendar ....
The Monster Energy Drink girls with Josh Hayes' 2011/2012 AMA National Superbike Championship winning Graves Yamaha YZR1 Superbike. You'll find bikes like this with beautiful Kittens featured in the Calendar Bike Garage with full specifications and screensaver size pictures.

Plus revealing pictorials of the Calendar Kittens in Members Corner
Order the Fast Dates Calendars • Calendar Screensavers in Members Corner
---
There's more! Go to Fast Dates Calendar News PREVIOUS PAGE

Hot Calendar Girl and Bike News! Go to: Fast Dates • Garage Girls • Iron & Lace

Click to see even more of our sexy Fast Dates Calendar Kittens...




MotorcycleSuperstore.com