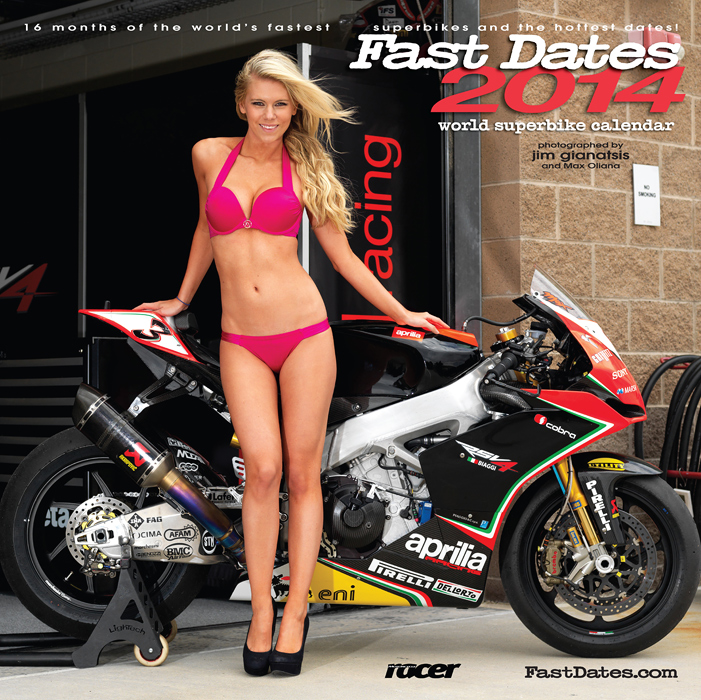 Fast Dates World Superbike and MotoGP Calendar News
July-August 2013
...and more Fast Dates News HERE
World Premier of the new 2014 FastDates.com Fast Dates World Superbike Calendar!
Featuring some of the the most beautiful Calendar Kittens ever including Jitunka and Petra,
the 6'2" blond twin starting line grid girls from SBK World Superbike!
Fast Dates is the Official Calendar of the SBK World Superbike Championship photographed on location at the Miller USA World Superbike round by Jim Gianatsis. Featured on the cover and inside is World Champion Max Biaggi's Aprilia RSV4, Tom Sykes Kawasaki ZX7, Carlos Checa's Ducati 1198RS, Johnthan Rea's Ten Kate Honda, Leon Haslams' Cresent Suzuki, Marco Melandri's BMW 1000RR, and AMA Champion Josh Hayes' Yamaha R1, plus cool custom Cafe Racers from Shinya Kimura, Richard Pollock, Chris Redwing.

The top factory race bikes and cafe racers are photographed together with beautiful Calendar Kittens and offical SBK World Superbike grid girls Chrissy Blair, Jitunka and Petra, Caitlin O'Conner, Halle Arbough, Kinsey Ray, Sabella Shake and Lizzie. The world's fastest roadracing motorcycles and beautiful swimsuit models - what more could you want!
This is your exclusive 16-month pit pass to the world's fast roadracing motorcycles and beautiful grid girls in
skimpy swimwear. Calendars are highest quality full color 15 x 15" wire spiral bound printed on heavy art stock
revealing 16 months beginning with September. $17.95 each - Order Now!
The 2014 FastDates.com Calendars and the FAST 2014 Calendar Magazine Yearbook feature
the official SBK World Superbike grid girls Jitunka & Petra from the Czech Republic!
NEW! FAST 2014 Digital Calendar Magazine Annual
The Bikes, the Builders, the Riders, the Kittens,the Calendar Bike Show, the World Superbike races all the 2014 Calendar Pictures, and Special Features... For the first time every we take you around the world in 120 exclusive pages for the making of the 2014 FastDates.com Calendars! Now in Members Corner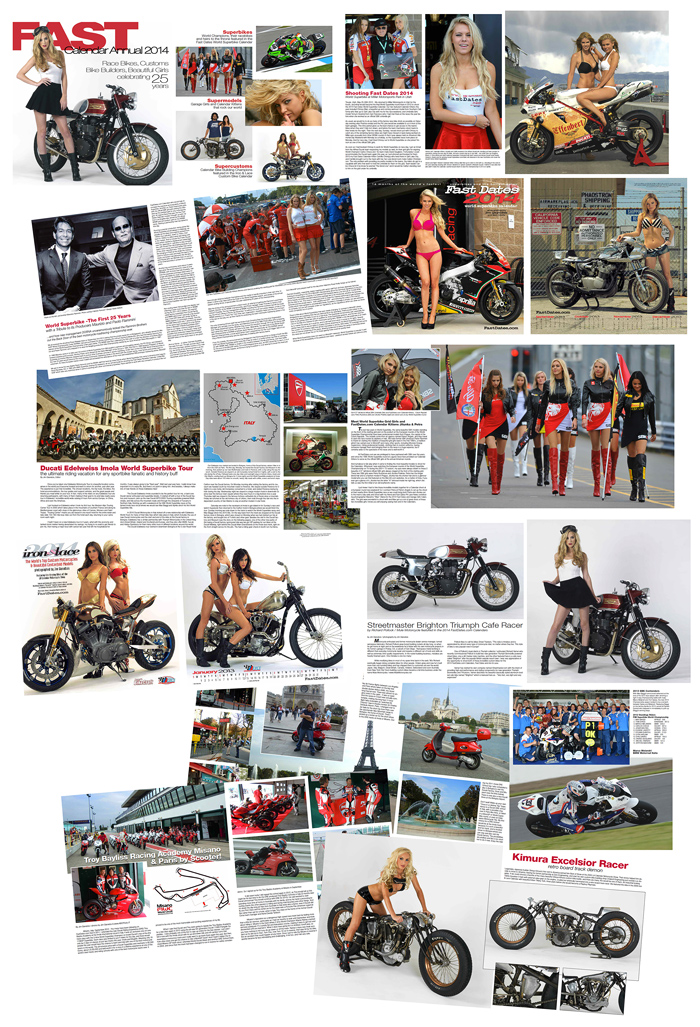 ---
This Month in the Fast Dates World Superbike Calendar ....
Calendar Kittens and SBK World Superbike umbrella girls Taylor McGunnin and Camilla Chiniquy keep the rain off Carlos Checa's Althea Ducati 1199RS World Superbike at 2011 Miller US World Superbike round. You'll find Calendar bikes like this with beautiful Kittens featured in the Calendar Bike Garage with full specifications and screensaver size pictures.

Order the 2013 Fast Dates Calendar
Calendar Bike Photo Features, Paddock Garage Tuning, Pictorials of our Calendar Kittens in Members Corner
---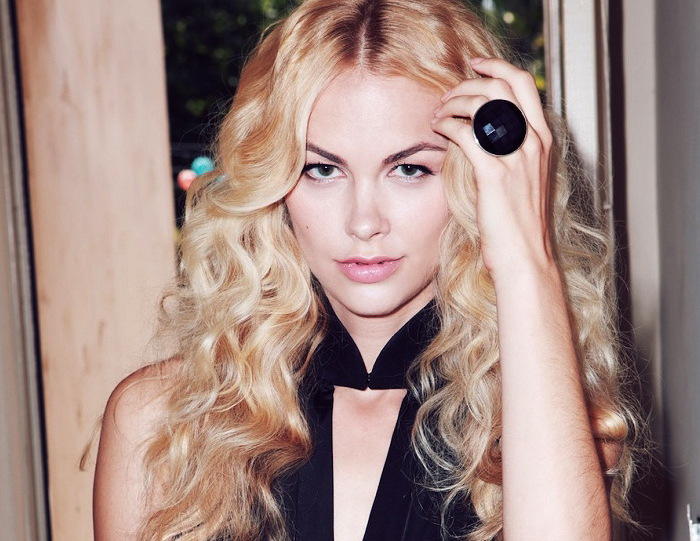 Supermodel, actress, and singer songwriter and Fast Dates Calendar Kitten Sara Horvath.
FastDates.com Calendar Kittens to headline the
2013 SBK World Superbike Laguna Seca USA Starting Grid on Sept 26-28th

Los Angeles, CA, August 1, 2014 - The FastDates.com Calendars & Website, in association with Umbrella Girls USA, is excited to announce that SBK World Superbike has selected three beautiful Fast Dates Calendar Kittens to grace the front of the starting grid when the World Superbike Championship returns to the Monterey Peninsula at Laguna Seca Raceway the weekend of September 26-28th 2013. The models include supermodel, actress, singer songwriter Sara Horvath who hails from Livingston, Montana, together with Jessica Harbour and Rebekah Davis from Southern California.
World Superbike in America makes its return to Laguna Seca this September after an 8 year hiatus from the west coast's most popular roadrace facility. Together with the premier SBK World Superbike Class, the AMA Pro Roadracing Championship will also be joining the 3-day race weekend with its top classes including Pro Superbike. The first World Superbike Championship race in America took place at Laguna Seca Raceway back in 1995 with four FastDates.com Calendar models serving as the official SBK grid and podium girls on race day that year, and in many subsequent years since.
As he does every year at one of the SBK World Superbike rounds around the world, former pro motorcycle racer and Cycle News editor, design engineer, legendary FastDates.com Calendar publisher and photographer Jim Gianatsis of the motorsports adverting agency Gianatsis Design Associates, will use the 2013 SBK Laguna Seca September 26-28th weekend to shoot with the Calendar Kittens for the next edition of the Fast Dates World Superbike Calendar.
"This year's Calendar shoot will be for the 25th Anniversary of the Fast Dates Calendar, the first edition of which featured Pamela Anderson on the cover with Miguel DuHamels' "Big Papa" Yoshimura Suzuki Superbike," explains Jim. "Every year I've been privileged to have exclusive track access to photograph the Calendar with all the top factory race teams in AMA and World Superbike, MotoGP, together with many of the world's most beautiful models and celebrities."
"This year will be no exception with the addition of beautiful models Sara, Jessica and Rebekah. I've been shooting with them for the throughout the past year and they are all very professional and don't take a bad shot, plus they are fun and easy to work. I look forward to travel with them up the beautiful Pacific Coast on Highway 1 from Los Angeles to Monterey for the return of World Superbike at Laguna Seca, and show them the fan party atmosphere on Monterey's Cannery Row on Saturday night. It's going to be an incredible race weekend experience in one of the most beautiful locations on earth that no motorcycle racing fan will want to miss!"
To find our more about the FastDates.com Calendars and Calendar Kittens, and to order Calendars and Books go to FastDates.com. Gianatsis Design Associates specializes in advertsing and marketing for the motorsports and sports fasion markets and can be found at FastDates.com/JGDESIGN.HTM. UmbrellaGirls USA.com spealizes in providing spokesmodels for motorsports events and shows.
Sara at Room 5 in Hollywood, Saturday August 3rd!
Fast Dates Calendar Kitten and singer songwriter Sara Horvath will be perfoming on Saturday August 3rd 2013, 9pm at Room 5 in Hollywood, one of Los Angeles's premier music venues. Room 5, 143 North La Brea Avenue, Hollywood, CA. http://www.room5lounge.com
---
Los Angeles Calendar Motorcycle Show Concours d' Elegance
Returns to the Queen Mary, Long Beach, CA on Sunday July 14th 2013
The 2013 LA Calendar Motorcycle Show continues its now 22-year tradition as the premier outdoor streetbike event in America
with top Celebrity Builders, the Calendar Bike Building Championship & Concours d' Elegance, selected Vendors and Exhibitors, and Calendar Girl Music live performances. The Show marks the world premier of next year's new 2014 FastDates.com Motorcycle PinUp Calendars featuring the world's top roadrace and custom motorcycles with the beautiful Calendar Kittens featured in the Calendars in attendance at the Show.
The 2013 LA Calendar Motorcycle Show & Concours d' Elegance is just $20 General Admission, and $40 VIP Admission includes a BBQ Lunch w/ Beverage and Queen Mary ghost ship admission. Show capacity is limited and advance ticket purchase is suggested. Purchase Advance Tickets, Vendor and Bike Contest Registration online at: www.FastDates.com/BIKESHOW.HTM.
Model Singer Songwriter Sara Horvath Shoots with FastDates.com Calendars at the Garage Company, hosting and performing at the July 14th LA Calendar Motorcycle Show
Los Angeles, CA, July 1st, 2013 - Meet beautiful new FastDates Calendar Kitten Sara Horvath who shot with Jim Gianatsis recently at the Garage Company, just of the I-405 near LAX Airport Inglewood, CA for the next FastDates.com Calendars. Sara was great to work with, and we had the chance to shoot her with some incredible old classic British bikes, including the (above) '60's Triumph Bonneville, and (below) the newly built retro Triumph Dirt Tracker built by legendary West Coast dirt track racer Sonny Nutter.
Sara continues to shoot with us this year for the Calendars including a studio shoot in June with a couple of cool cafe bike / street trackers from Richard Pollock of Mule Motorcycles. Then in July, as an accomplished singer song writer and spokesmodel, Sara is hosting our annual
LA Calendar Motorcycle Show on Sunday July 14th at the Queen Mary. Then on Monday following the Calendar Show she returns to our Gianatsis Design studios to shoot the winning bikes from the Show. And in September 2013 Sara will join us as World Superbike returns to Laguna Seca Raceway the weekend of September 26-28 to shoot the next Fast Dates World Superbike Calendar. Needless to say we are infatuated with beautiful Sara Horvath and we are sure you will be, too!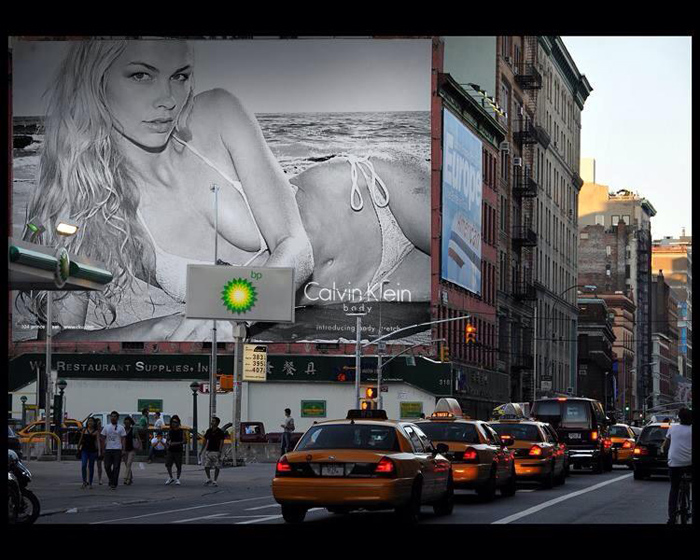 Sara's Calvin Klein Swimsear billboard!
Sara also hits our redline in the new ZZ Top Video - I Gotsa Get Paid
Check out below, newest Calendar Kittens Sara Horvarth - the blond, and Britney Brousseau - the brunette with the ZZ-Top -key chain in the new ZZ-Top music video - I Gotsa Get paid - Hot Rods, Hot music, hot chicks...what more could we want! You have to wait another year to see them in the next calendars, or eet them lice and in-person at this year's LA Calendar Motorcycle Show!
---
Newest Calendar Kittens take our Ducati 1199RS replica for a spin....
We are loving our modified Ducati 1199RS Superbike and with two special new accessories - Umbrella Girls USA models and newest FastDates.com Calendar Kittens Jessica and Kelsey! The girls were in the Gianatsis Design studio this month to shoot with photographer Jim Gianatis for the next FastDates.com Calendars, so of course, we had to get them on our street racer replica for a few pictures. The new 5th generation Ducati Panigale Superbike is the best handing, best perfrming sportbike we've ever ridden! Click on the picture to Download the Screensaver. Complete Ducati 1199 Superbike set-up details including the factory Ducati Corse 1199RS Parts Book are on FastDates.com in the Paddock Garage
New Fast Dates.com Calendar Shoot!
Go behind the scenes at the glamorous Gianatsis Design Studios with beautiful new Calendar Kittens Jessica and Kelsey as they shoot for the FastDates.com Motorcycle PinUp Calendars with photographer Jim Gianatsis. And look for the new 2014 Calendars available right here on July 1st. Order the Calendars!
Videographer: Eric Lundmark; Video Editing and Still photography: Jim Gianatsis; Models: Jessica Harbour, Kelsey Silwinski; Make Up: Victoria Rubell, Music: Special thanks to Neil Sedaka for our theme song Calendar Girl; Modeling Agent: Umbrella Girls USA.
---
Paolo on the left, and brother Marurizo Flamini. Photo curtesy Fabrizio Porrozzi / Giorgio Nada Editore
World Superbike -The First 25 Years
with a Tribute to its Producers Maurizio and Paolo Flammini

and how new management DORNA unceremoniously kicked the Flammini Brothers out the Back Door
of the best motorcycle roadracing championship ever
We all received the shocking Press Release back on September 2nd 2012 stating that the private equity firm of Bridgepoint, who already owned the MotoGP World Championship under DORNA, had just purchased the sports marketing firm InFront Sports & Media AG, who had themselves become the owners of the World Superbike Championship a few years earlier. The WSBK was then celebrating its 25th year of under the direction of brothers Maurizio and Paolo Flammini, who stepped in to save the fledgling production bike Championship started by ex-racer American Steve McLaughlin in 1987.

In 1990 Maurizio came in in to take over full control of World Superbike from McLaughlin's partners and struggling owners, the FG Group, and steered it forward towards world success. Brother Paolo came aboard as the Sales Manager of the Group in 1994, and then in 1999 became President of World Superbike as brother Maurizio stepped back to pursue other business ventures in sports marketing. Under their control the SBK World Championship in the next 20 years would become the most exciting motorcycle roadracing series in the world with the closest racing, most factory and private team involvement. At many European tracks it even rivaled and exceeded the attendance of the more well established FIM prototype roadracing series, MotoGP.
- Read the Full Story Here
Received in an Email on June 8th 2013 from Maurizo Flammini

DEAR JIM,
I HAVE NO WORDS TO THANK YOU FOR YOUR SO NICE ACTION. YOU HAVE BEEN A HONEST, PRODUCTIVE AND FRIENDLY PARTNER FOR SO MANY YEARS , PRODUCING THE "FAST CALENDAR" WHICH IS AND HAS BEEN AN "ICONA" OF THE WSBK AND WILL REMAIN FOR EVER LIKE THIS.

I REALLY HOPE TO MEET YOU AGAIN AND HAVE THE POSSIBILITY TO COOPERATE .

WE DO NOT STOP!! PLEASE HAVE A LOOK ON THE WWW.SUPERSTARSWORLD.COM.
IS THE NEW SUPERBIKE ! THE SUPERBIKE OF THE CARS !!

THIS CHAMPIONSHIP HAS BEEN INVENTED BY US AND SOON WILL COME TO USA !!
I LOOK FORWARD TO SEE YOU SOON AND AGAIN, THOUSAND OF THANKS FOR YOUR LOYALTY !!

ALL THE BEST, MAURIZIO
Maurizio Flammini, Chairman
FG GROUP® Headquarter: Rome
---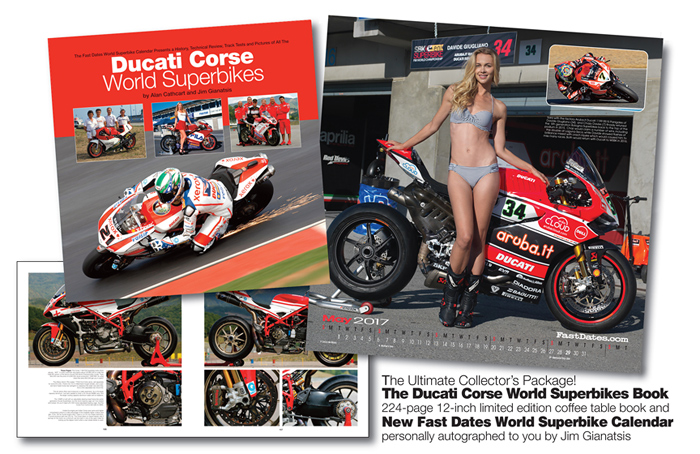 Exclusive Autographed Collector's Package!
The all new Ducati Corse World Superbikes 224-pg book and the 2013 Fast Date World Superbike Calendar
Personally autographed to you (or the name you request on the PayPal.com Order Form) by Jim Gianatsis and shipped direct from Gianatsis design to you.
To order the Ducati Corse World Superbike Book or the Fast Dates Calendar individually, unsigned,
go to the Sportbike Books and Fast Dates Calendar order pages.
---
Shooting the 2014 FastDates.com Calendars!
Go behind the scenes with newest Calendar Kitten Lizzie as she shoots with Jim Gianatsis for the new 2014 Fast Dates, Iron & Lace, and Garage Girls Calendars with some cool custom bikes form Richard Pollock, Mule Motorcycles!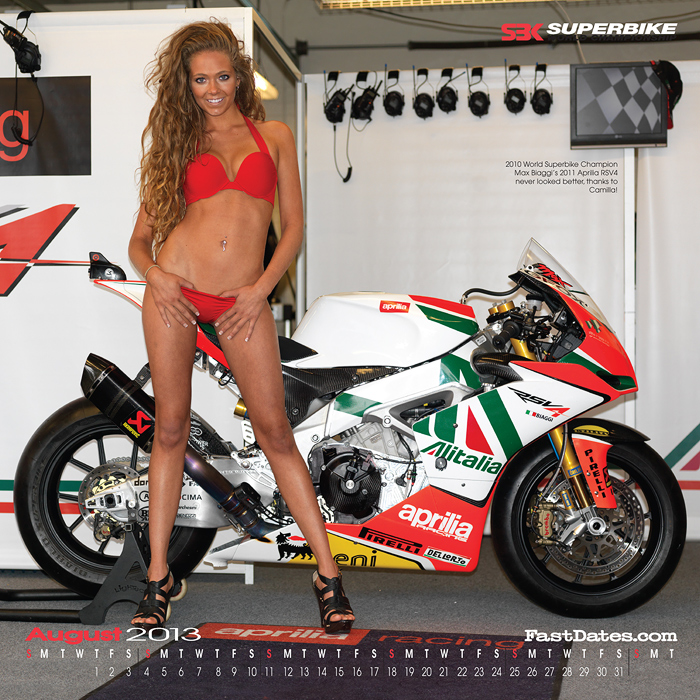 This Month in the Fast Dates World Superbike Calendar ....
Beautiful Calendar Kitten Camilla Chiniquy heats up the pit garage next to Bax Biaggi's factory Aprilia RSV4 World Superbike.
You'll find bikes like this with beautiful Kittens featured in the Calendar Bike Garage with full specifications and screensaver size pictures.

Plus revealing pictorials of the Calendar Kittens in Members Corner
Order the Fast Dates Calendars • Calendar Screensavers in Members Corner
---
There's more! Go to Fast Dates Calendar News PREVIOUS PAGE

Hot Calendar Girl and Bike News! Go to: Fast Dates • Garage Girls • Iron & Lace

Click to see even more of our sexy Fast Dates Calendar Kittens...




MotorcycleSuperstore.com