Don't Delay - Click to Order your FastDates.com Holiday Cards Now!


Custom Bike Pinup Calendar News November - December 2010
---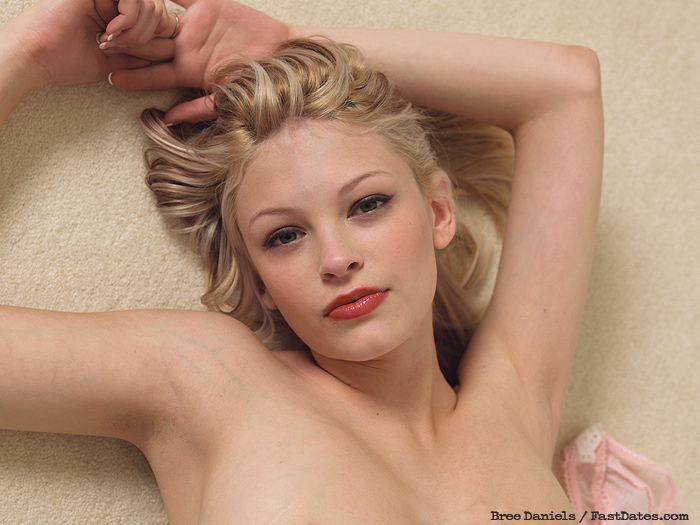 Bree Daniels does the FastDates.com Calendars
November 1st- You may not know her name yet, but 18 year old barley legal Hustler Honey and film starlet Bree Daniels is ready to rock your world as the newest FastDates.com Calendar Kitten. The minute Bree turned 18 years old this beautiful 5 foot 8 inch baby faced blond with no inhibitions boarded the Greyhound bus from her small Northwestern home town and headed to Los Angeles to make her fame and fortune in the adult magazine and film business.

We still hadn't heard of Bree when her new agent was on the phone asking if they could come by the office for a Go-See. We were between shooting seasons for the Calendars, working hard on production and not really looking for any models at the time, but hey, anything to break up the monotony in the office was always welcome, particularly if it involved a pretty girl. Needless to say when Bree walked in the door she completely blew us away with her fresh new beauty and sweet personality. We booked her then and there for a shoot, and would find some way to use the pictures!

The next week Bree was back with us in the studio to shoot stills for the next edition 2012 FastDates.com Calendars. And because Bree is the type of girl who likes to take her clothes off you can guess we got a lot of great photos of her getting naked for her new Calendar Kitten Gallery in Members Corner. But don't think it stopped there as Bree wanted us to use our video camera to show you guys just how excited she really was to be shooting for the FastDates.com Calendars.

Look for more of Bree Danielsin
Meet the Models and Members Corner.
---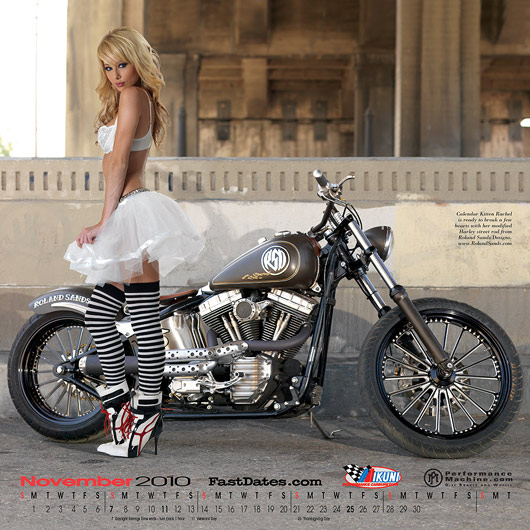 This month in the 2010 Iron & Lace Calendar
Rachel with a Roland sands Custom
This month's beautiful Calendar Kittens are Rachel Bernstein hangs out in downtown Los Angles with a Roland Sands modified
Harley-Davidson Softail . Photo by Jim Gianatsis.
All of our Iron & Lace Calendar bikes including the LA Calendar Show and AMD World Championship winners
are feature in large photo pictorials in the Calendar Bike Garage. • Past Editon Calendars are still available in Collector's Corner
---
New LA Calendar Motorcycle Show #5 T-Shirt!
Nov 1st, 2010- The exciting new LA Calendar Motorcycle Show T-Shirt #5 made for us by Feelin' Lucky for the 2010 Calendar Show is one of the best designs ever. It features a beautiful raven-hair Calendar Kitten that looks a lot like Cora Skinner on a custom chopper with her skirt flying in the breeze, next to the historic Queen Mary. We only have a limited number available, so don't delay in ordering yours! ORDER HERE

We deeply regret that Feelin' Lucky, the motorcycle T-shirt company owned by Mark Fairney that has been partnering with the LA Calendar Show for some 10 years, and who you've seen at all the major bike events from Laughin to Sturgis, is no longer in business. They were another victim of the recent economic downturn which has hit the motorcycle industry the hardest of all, with a sales downturn of some 80% across the market

It is tragic that we have lost so many good friends over the last two years. Just last month we learned that Iron & Lace Calendar Bike Builder Jesse James had closed the doors at West Coast Choppers. Many of our legendary Calendar Bike Builders are gone, or they have had to re-invent themselves as motorcycle repair shops to continue going.

Just 4 years ago the 2-day LA Calendar Show was the biggest bike show on the West Coast with 190 manufacturers and venders. Our 2010 Show had to revert back to a 1-day format with the loss of many sponsors, manufacturers, venders and dealers. All the major custom bike manufacturers are now gone, and so are many other motorcycle events.

However, The LA Calendar Show will return in 2011 for our 20th anniversary on Saturday July 16th in a new and exciting location at the Queen Mary's Seawalk Village.
Will have some old favorites like the cool custom bikes and the world premier of our next 2012 FastDates.com Calendars with the beautiful new Calendar Kittens, and some exciting new features you won't want to miss!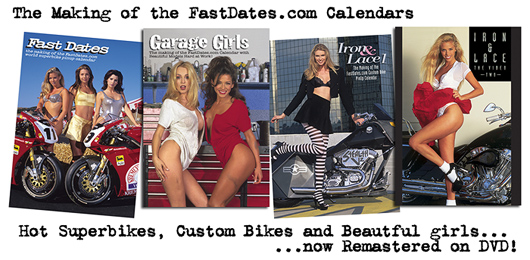 We guarantee you'll be left breathless by the incredible bikes, locations and beautiful girls. But don't wait to get those sticky rental copies of these exciting new FastDates.com Calendar DVD s from your your local rental dive. Be the hero of the next Race Watch or Bachelor's Party by getting your very own DVD copies over night from Amazon.com to hide under your bed from your mom, or download them now directly to your computer. The making of the FasDates.com Calendars DVD movies are available from Amazon.com and in the FastDates.com Video Store.
---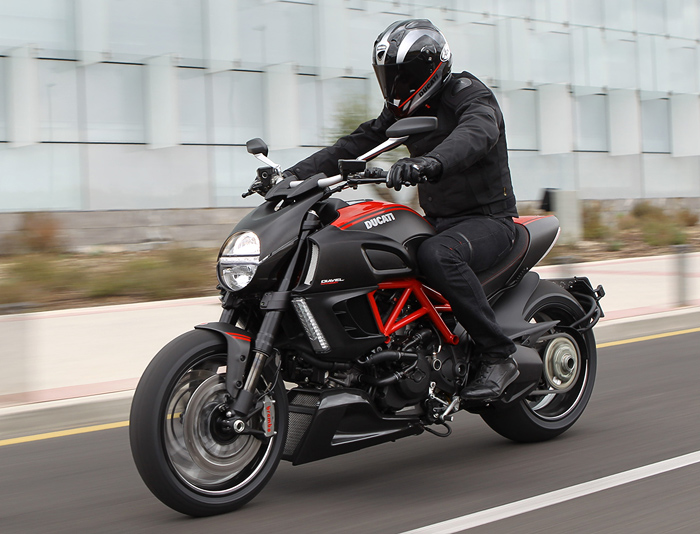 Ducati's Diavel - Think of it as a Harley V-Rod that has losts more power, is a hundred pounds lighter, that has better brakes, suspension and handling!
2011 Diavel! 162hp / 456lb Sport Super Cruiser
Ducati rocks the motorcycle world with an exciting new concept in shape, power and style
Bologna ,Italy, October 1st - The innovative new Ducati Diavel combines decades of twin-cylinder heritage and Italian style with a bold, world-beating technical confidence strong enough to extend the boundaries of motorcycle design. Custom shop beauty, state-of-the-art technology, innovative design and extraordinary riding pleasure are masterfully blended into the Diavel, a motorcycle destined to shape the future, a motorcycle built by people who have earned the right to change the rules.

Built to have a commanding presence, though lightweight and agile like all Ducatis, the Diavel takes the man-motorcycle relationship to the next level in absolute comfort. For connoisseurs of technology, ABS, Ducati Traction Control and Ducati Riding Modes deliver a confidence-inspiring sophistication while stunning looks, 162hp and 207kg (456lb) of authentic Ducati performance drives a comfortable sport lifestyle that
could only be dreamt of before.

Merging the worlds of power and style has never been achieved with such convincing precision. A specially engineered 240 section rear tyre combined with famous Ducati chassis technology serves up mind-blowing handling and lean angles which defy the laws of physics, whether carving through curves on your favourite road or just riding out for a night on the town. Continued HERE
---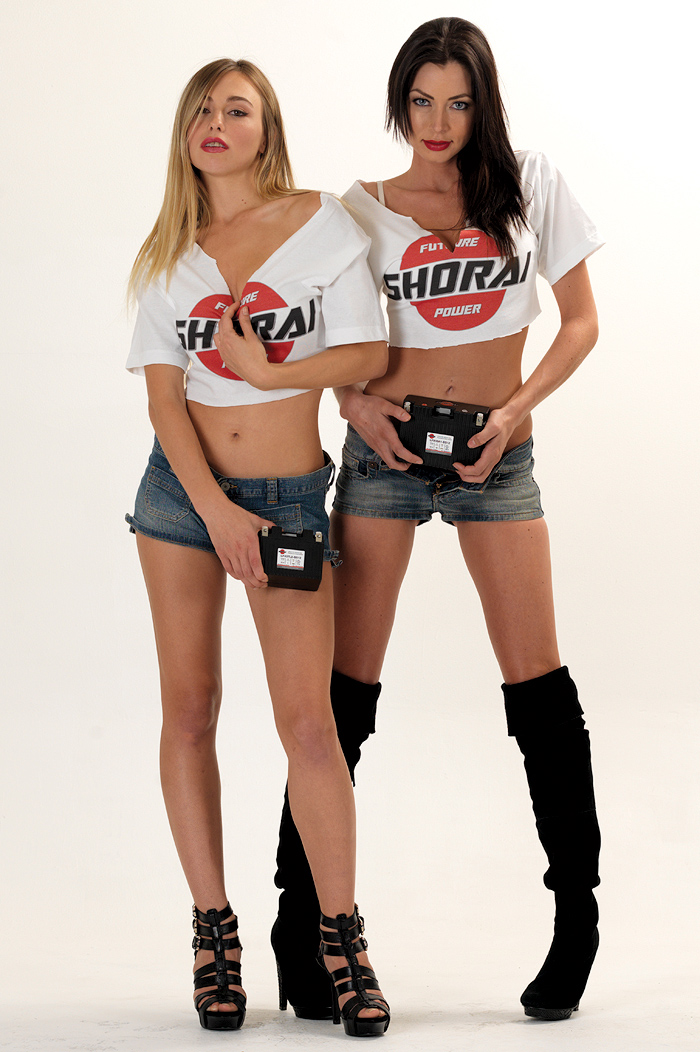 Shorai Introduces New Super Lightweight High-Performance Lithium Motorsports Batteries
Nov 15th - Hey guys, here is an incredible new product we have to tell you about. Gianatsis Design just completed a marketing photo shoot for this new American battery company Shorai found by David Radford, a Ducati sportbike racer guy with an import distributorship in the Radio Control toy car market which uses lithium batteries. This is the new lightweight and powerful Shorai Lithium Motorsports battery that David has developed with his overseas battery manufacturer that is going to take the motorcycle sport by storm (and hopefully will put the archaic and much hated lead acid batteries out of business).
We just did an ad campaign shoot for Shorai with 3 beautiful models who will be featured on their website. Shorai will premiering these new Lithium Batteries at the Long Beach International Motorcycle Show on December 10-12th with some of the girls. Stop by and say "Hi!".


If you are like us we have motorcycle's parked all over the house hooked up to Trickle Chargers, be cause we only get around to riding one every few months, but even then the batteries go dead and have to be replaced every 5 years or so. We had to get some of the new Shorai Batteries to try on our Ducati bikes and they are incredible! Not only are they maintainance free, and have a long operating life,and more powerful cranking Amps, but they are 80% lighter, about 25% smaller then your bike's original battery. The Shorai has a super lightweight a carbon fibre case. Comes fully charged and ready to run. Never needs trickle charging when the bike sits up. Can be mounted in any position.
Pictured above is the stock Yuasa battery out of my Ducati 1198R Superbike (most current Ducati bikes use this battery), and the Shorai battery I used to replace it which is nearly 8 pounds lighter and has more cranking Amps for the big high compression V-twin.
This is the most cost effective price / pound performance part for any bike. Period. For comparison, Bolt-on aftermarket performance parts usually cost : Titanium costs $500- $1,000 / pound, Carbon fibre $100-$200 / pound
The new Shorai batteries only cost about $18 / pound, offering a big 7-8 pound saving per bike!
And it's a much better product than what it replaces.The smaller Shorai battery even comes with a set of foam shim pads to take up the extra space you'll now have in your bike's battery compartment. The batteries are available for all motorsports vehicles from streetbikes, to dirtbikes, ATVs and personal watercraft. They are sold state technology and never need serving or charging other than by your vehicle's own charging system. So if your bike's electrical system or components don't drain its battery when parked, you can leave it and come back and start it easily with a full charge a year later.
Check out the new Shorai Batteries and their beautiful models we photographed at: www.ShoraiPower.com
You can order direct on their easy to read website, or phone 408-720-8821. Tell them FastDates.com sent you.
---
There's more! Go to Iron & Lace News Previous Page
Return to Iron & Lace Calendar News Front Page

Also Visit:
Fast Dates Calendar News • Pit Lane News • Calendar Girl News • Meet the Models
See much more of our all our beautiful calendar girls
in their sexy pictorials in FastDates.com Members Corner...


Some of our Calendar Girls can also be seen at Playboy's website...




MotorcycleSuperstore.com