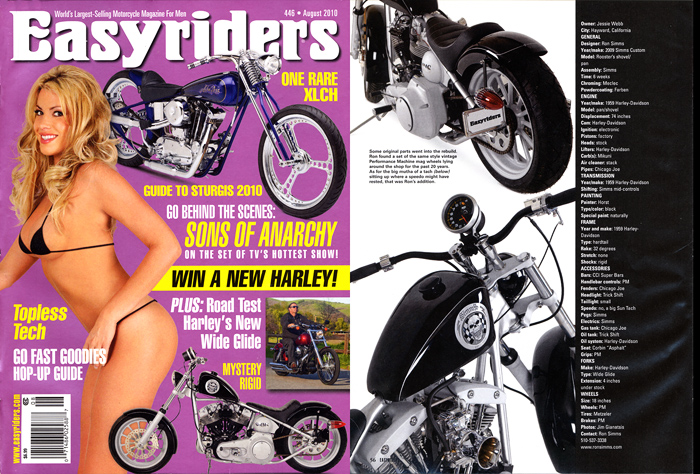 Custom Bike Pinup Calendar News September - October 2010
Ron Simms 2010 Iron & Lace Calendar Bobber with
sexy Calendar Kitten Stefanie Blaise featured in August 2010 Easyriders!
One of our bikes and models featured in the new 2011 Iron & Lace Calendar were also photographed by Jim Gianatsis for the August 2010 issue of Easyriders magazine.

The retro Sportster built by our good friend and long standing Iron & Lace Calendar builder Ron Simms is called " Rooster's Ride" as a tribute to the ride of a now departed friend nicknamed Rooster.

Our Calendar Kitten is Steffanie Blaise who appears on the cover and topless in the bik's centerspread feature in Easyriders.

In the new 2011 Iron & Lace Calendar, Stefanie appears with Chris Flechtner's retro styled Speed Shop Special #6 (at left) which took 1st Place Pro Builder in the Calendar Bike Building Championship at our 2009 LA Calendar Motorcycle Show. Chris returned this year tothe 2010 Calendar Show to take Best of Show with his controversial BSA powered "Beezerker".

Click to GO BIG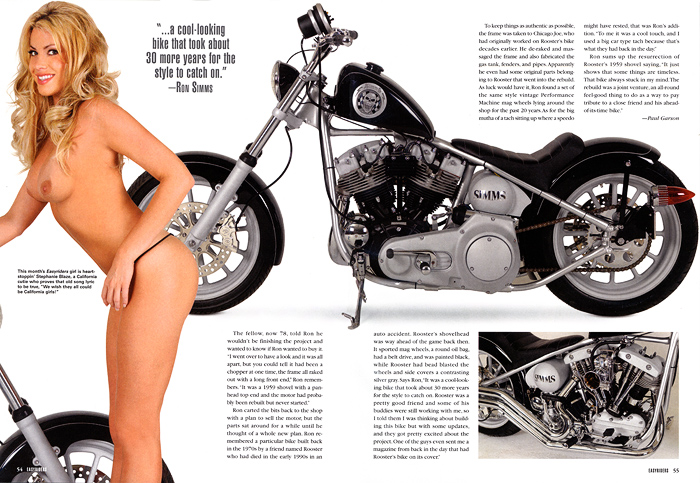 Click to GO BIG
---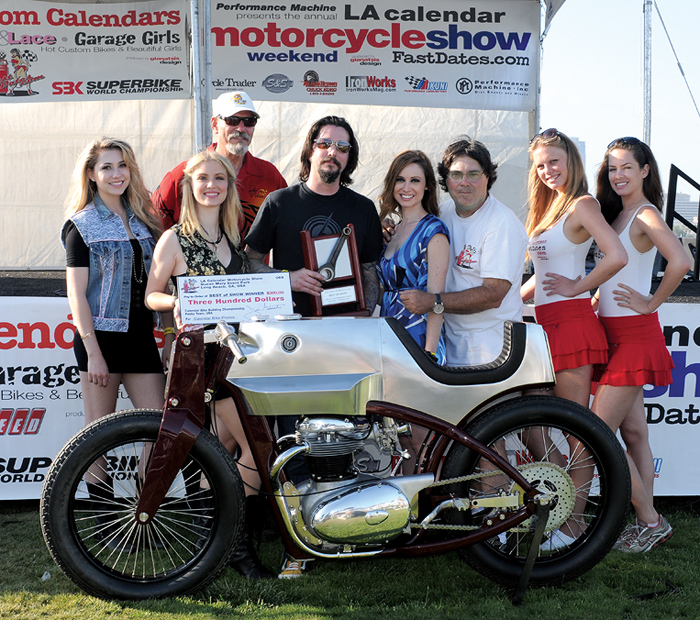 Left to right: Actress, singer songwriter and host Elizabeth Nicole, magician Krystan Lambert, Keith "Bandit" Ball
of Bikernet.com, 2010 Calendar Bike Building Championship winner Chris Flechtner / Speed Shop Design, singer songwriter Katie Cole, Calendar Show producer Jim Gianatsis, Calendar Kittens Melody Schuster and Candise Lakota.
Click to go BIG Hi-Resolution


Chris Flechtner returns to take Best of Show at the 19th annual
2010 LA Calendar Motorcycle Show & Calendar Girl Music Festival
Long Beach, CA, July 18th 2010 - The 19th annual Los Angeles Calendar Motorcycle Show & Calendar Music Festival presented by Motorcycle Attorneys Brown & Koro, America's premier streetbike event marked its returns to the Queen Mary Event Park in Long Beach on Sunday July 18th 2010. Chris Flechtner / Speed Shop Design returned to the 2010 Show with an all new, completely unique and quite controversial design to take Best of Show. The special construction bike named "Beezerker" features a stock mid 1960s BSA A65 engine in a fully hand built chassis and bodywork. The bike has such original features as parallelogram front forks and a frame which houses the oil tank and the hidden exhaust pipes routed up through the rear of the frame to exit at the rear of the seat cowling.
Just like Kenji Negai of Ken's Factory, Japan, who took 1st Place Pro Builder in 2008 and returned with an all new and even more exciting bike to take 2009 Best of Show, Chris also returned for blood the 2nd time around after taking 1st Pro Builder with his retro styled Speed Shop Special #6 last year. Chis is an experienced professional designer who has devoted the last 2 years to build two completely different custom bikes to premier at the LA Calendar Motorcycle Show.


Because "Beezerer" isn't powered by a the prerequisite American V-twin engine like most major bike show winners are, the internet bogs were abuzz the next day questioning the validity of the Calendar Show's Best of Show winner. But then the LA Calendar Show has never been know for its conventionality having awarded its top trophy in the past to other then other unknown builders with unconventional builds, and now well-respected builders: Dreamcraft Studios, Jesse Rooke, Shiny Kimura, Roland Sands, Russell Mitchell and Kenji Negai.
Although Chris may have been an unknown builder on the national scene before his emergence at last year's Calendar Show, he explains, "I've made more than a dozen custom bikes as well as modified and restored numerous classic motorcycles. I have also built a number of ground up custom cars. Most recently I have been working part time at my day job as a furniture designer, now devoting most of my time with my own custom bike building company Speed Shop Design the past year to get it moving along faster. The "Beezerker" intentionally pushes the boundaries of design and blurs time to give you a bike you simply can not place in a particular era, it's meant to be timeless like all good design should be."
"Beezerker" was Chris' first attempt in working with aluminum which he used to build the bike's fuel tank and 1930's Metropolis style bodywork. He also built all the hand and foot controls from scratch, including the foot mechanically actuated rear sprocket brake. The bike's originality defies description, if not classification, and could have been entered in nearly every one of the Show's Calendar Bike Building Championship's 10 classes from Modern and Classic Twin, to Street Custom and Sportbike. For 2 years now Chris has entered the Pro Builder Class in the Calendar Bike Building Championship, winning first the Pro Builder Class, and now this time around Best of Show.
Speed Shop Special #6 is featured in the just released 2011 Iron & Lace Calendar and in the FastDates.com Calendar Bike Garage.Beezerker was photographed by Jim Gianatsis on Monday after this year's Show to also appear on the FastDates.com website shortly, and in the next FastDates.com Calendars.
Complete 2010 LA Calendar Motorcycle Show Coverage Here

Calendar Bike Show Winners in Calendar Bike Garage Gallery





This month in the 2010 Iron & Lace Calendar
Rachel and Sabella with Ken's Best of Show winner
This month's beautiful Calendar Kittens are Rachel Bernstein and Sabella Shake with a Kenji Negai / Ken's Factory custom with took Best of Show at the 2009 LA Calendar Motorcycle Show. Photo, of course, by Jim Gianatsis.
All of our Iron & Lace Calendar bikes including the LA Calendar Show and AMD World Championship winners
are feature in large photo pictorials in the Calendar Bike Garage. • Past Editon Calendars are still available in Collector's Corner
---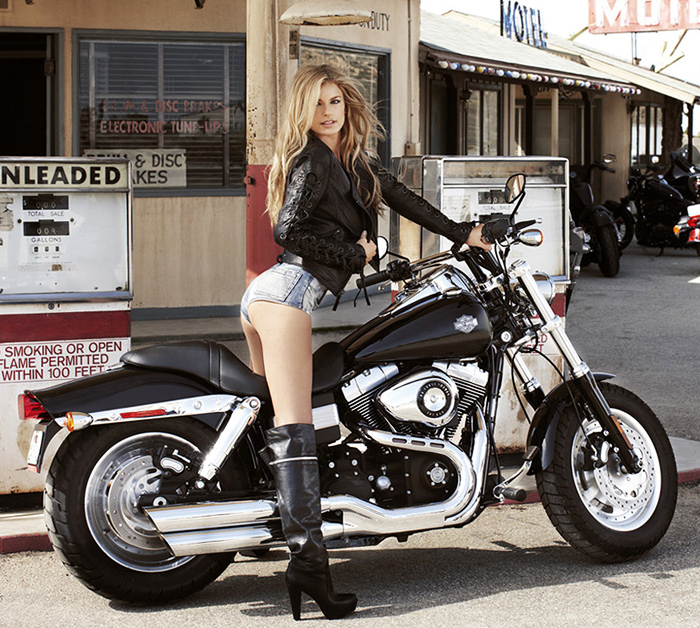 Win a Date with Marissa Miller and a Harley-Davidson of your choice!
August 2010 - We are sure you've noticed that Harley-Davidson has brought back beautiful Supermodel Marissa Miller to highlight their print, internet and TV advertsing campaign again for 2010. Kudo's to the American motorcycle manufacturer for bringing back sexy to mainstream advertsing. The only foolish thing about the campain are the videos and print shots of an obvious stand-in/stunt woman who is riding and doing burnouts on her Harley, particulary since Marrisa told us in her Harley photo shoot video last year that she doesn't ride.
With this year's Marissa Miller ad campain Harley is offering us a chance to registerto win a Harley-Davidson of our choice, a ride at some great destination in America, and a chance to meet Marissa in person. Log on tho Harley's website to enter the contest: www.H-D.com/START
---
The Making of the FastDates.com Calendars now on DVD!
Sure, we may be slow getting around to some things, one of those being the re mastering of our infamous Making of the FastDates.com Calendars movies to DVD. But now thanks to the help of Amazon.com we've entered the 21st century and you can stuff into your Computer or Big Screen DVD player the fastest, hottest, wettest, sexiest motorcycle movies ever made!

Above, Playboy centerfold Tanya Beyer down on the farm with Playboy models Keri and Jody Hoskins and some wild customs by Arlen Ness and Ron Simms in Iron & Lace I.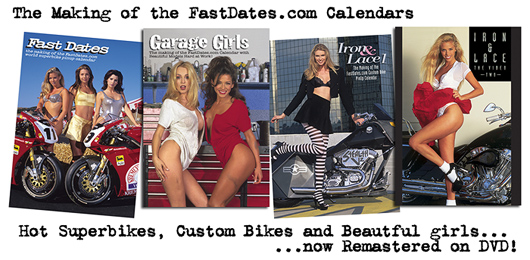 We guarantee you'll be left breathless by the incredible bikes, locations and beautiful girls. But don't wait to get those sticky rental copies of these exciting new FastDates.com Calendar DVD s from your your local rental dive. Be the hero of the next Race Watch or Bachelor's Party by getting your very own DVD copies over night from Amazon.com to hide under your bed from your mom, or download them now directly to your computer. The making of the FasDates.com Calendars DVD movies are available from Amazon.com and in the FastDates.com Video Store.
---
There's more! Go to Iron & Lace News Previous Page
Return to Iron & Lace Calendar News Front Page

Also Visit:
Fast Dates Calendar News • Pit Lane News • Calendar Girl News • Meet the Models
See much more of our all our beautiful calendar girls
in their sexy pictorials in FastDates.com Members Corner...


Some of our Calendar Girls can also be seen at Playboy's website...




MotorcycleSuperstore.com