Fast Dates World Superbike Calendar News
November-December 2013
...and more Fast Dates News HERE
This Month in the Fast Dates World Superbike Calendar ....
Calendar Kitten and SBK World Superbike umbrella girl Camilla Chiniquy looks incredible next to Casey Stoner's 2011 MotoGP World Championship winning Honda RC211800cc V4. You'll find Calendar bikes like this with beautiful Kittens featured in the Calendar Bike Garage with full specifications and screensaver size pictures.

Order the 2013 and 2014 Fast Dates Calendars
Calendar Bike Photo Features, Paddock Garage Tuning, Pictorials of our Calendar Kittens in Members Corner
---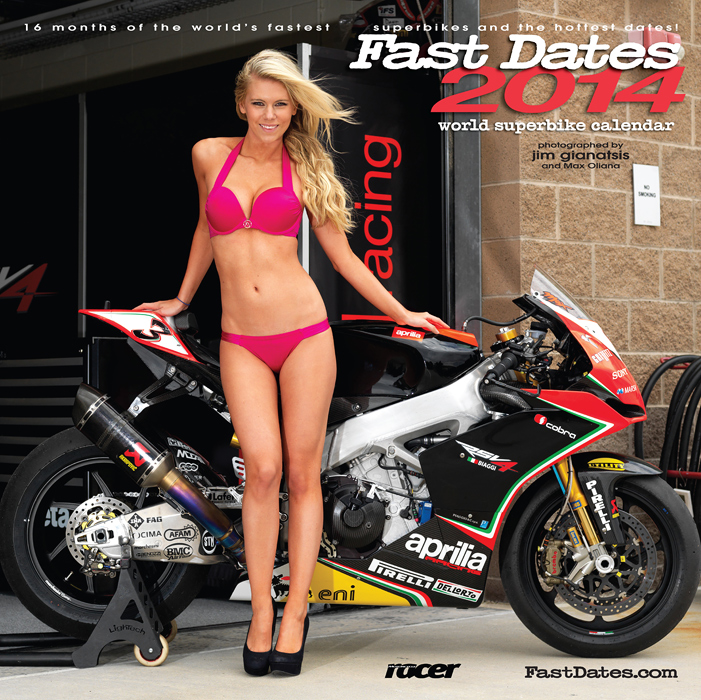 The New 2014 FastDates.com Fast Dates World Superbike Calendar!
Featuring some of the the most beautiful Calendar Kittens ever including Jitunka and Petra,
the 6'2" blond twin starting line grid girls from SBK World Superbike!
Fast Dates is the Official Calendar of the SBK World Superbike Championship photographed on location at the Miller USA World Superbike round by Jim Gianatsis. Featured on the cover and inside is World Champion Max Biaggi's Aprilia RSV4, Tom Sykes Kawasaki ZX7, Carlos Checa's Ducati 1198RS, Johnthan Rea's Ten Kate Honda, Leon Haslams' Cresent Suzuki, Marco Melandri's BMW 1000RR, and AMA Champion Josh Hayes' Yamaha R1, plus cool custom Cafe Racers from Shinya Kimura, Richard Pollock, Chris Redwing.

The top factory race bikes and cafe racers are photographed together with beautiful Calendar Kittens and offical SBK World Superbike grid girls Chrissy Blair, Jitunka and Petra, Caitlin O'Conner, Halle Arbough, Kinsey Ray, Sabella Shake and Lizzie. The world's fastest roadracing motorcycles and beautiful swimsuit models - what more could you want!
This is your exclusive 16-month pit pass to the world's fast roadracing motorcycles and beautiful grid girls in
skimpy swimwear. Calendars are highest quality full color 15 x 15" wire spiral bound printed on heavy art stock
revealing 16 months beginning with September. $17.95 each - Order Now!

Click on Cover to Order Now

2014 Fast Dates
SBK Racebike Pinup Calendar
SBK World Superbike, Performance Machine
ISBN 1578651611


Click on Cover to Order Now

2013 Fast Dates
SBK Racebike Pinup Calendar
SBK World Superbike, Performance Machine
ISBN 1578651514


Click to Order Now

2014 Garage Girls
The FastDates.com Calendar Kittens play dirty without the bikes getting in the way!
ISBN 1578651638


Click to Order Online

2013 Garage Girls
The FastDates.com Calendar Kittens play dirty without the bikes getting in the way!
ISBN 1578651530
Order by Phone or Online Now!
Click on the Small Calendar Covers Above

Phone (01) 800-461-1226
Mon-Fri 8am - 5pm Los Angeles time
Van Leeuwen USA 1-800-461-1226 / International (01) 818-896-2200
Mid-USA 1- 800-527-0501 / 1-800-632-0024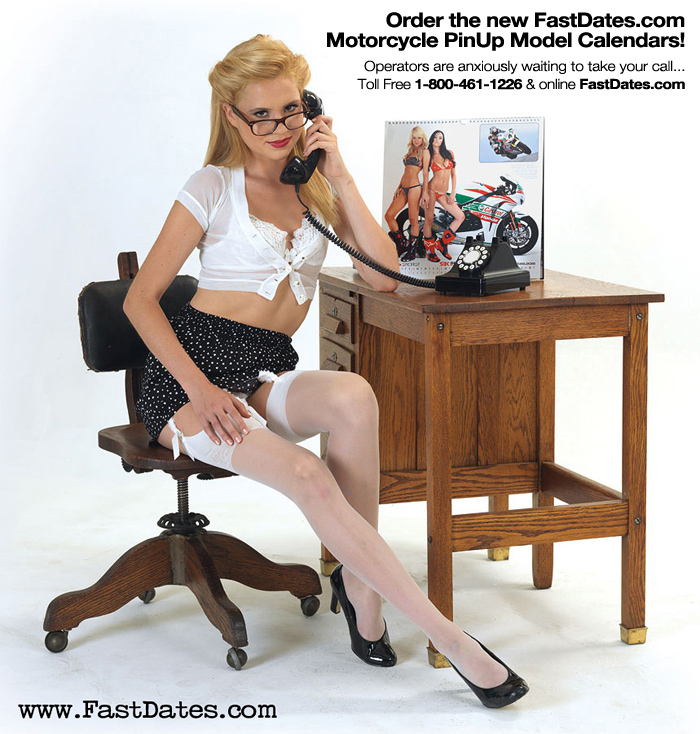 You'll find many of Calendar Bikes featured in the Calendar Bike Garage and a lot more pictures of all our beautiful Calendar Kittens in Members Corner. Past Editon Calendars are still available in Collector's Corner. Photo by Jim Gianatsis.
NEW! FAST 2014 Digital Calendar Magazine Annual
The Bikes, the Builders, the Riders, the Kittens,the Calendar Bike Show, the World Superbike races all the 2014 Calendar Pictures, and Special Features... For the first time every we take you around the world in 120 exclusive pages for the making of the 2014 FastDates.com Calendars! Now in Members Corner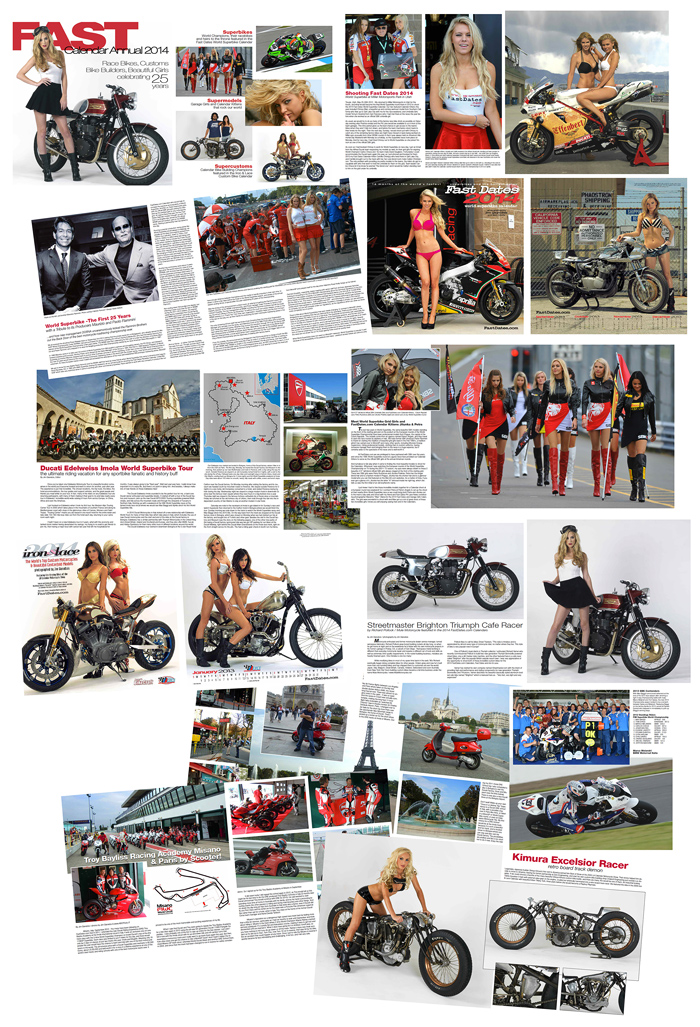 Shooting the 2014 FastDates.com Calendars!
Go behind the scenes with newest Calendar Kitten Lizzie as she shoots with Jim Gianatsis for the new 2014 Fast Dates, Iron & Lace, and Garage Girls Calendars with some cool custom bikes form Richard Pollock, Mule Motorcycles! Order the 2014 Calendars!
---
Hannah Flattery and Jessica Harbour rock the Laguna Seca starting line on Race Day Sunday morning before the weekend's Race Two with what would be 2013 World Champion Tom Sykes' Kawasaki ZX10R which won Saturday's Race One.
Five beautiful FastDates.com Calendar Kittens headlined the
2013 SBK World Superbike Laguna Seca USA Starting Grid on Sept 27-29th
Los Angeles, CA, September 29th, 2013 - The FastDates.com Calendars & Website, in association with Umbrella Girls USA, was excited to have SBK World Superbike and reigning SBK World Champions Team Aprilia has selected three beautiful Fast Dates Calendar Kittens to grace the front of the starting grid when the World Superbike Championship returned to the Monterey Peninsula at Mazda Laguna Seca Raceway the weekend of September 27-29th 2013 after an 8 year absence. The Kittens included Torunn Sivesind and Rebekah Davis serving as the official SBK Pirelli Girls, with Halle and Jessica Harbour as the official SBK podium models, and transplanted Irish super model Hannah Flattery who served as the official Team Aprilia Umbrella Girl for rider Sylvain Guintoli.
2013 World Superbike Championship title contendors and race winners Tom Sykes (66) and Eugene Laverty (58) came out on top amid heated 6 rider battles for the race wins both days as World Superbike returned to Laguna Seca Raceway.
The offical SBK World Supebike Umbrella Girls at Laguna Seca 2013 included (center left to right) FastDates.com Calendar Kittens Jessica Harbour and Halle as the SBK Podium Girls, Rebekah Davis and Torunn Sivesind as the Pirelli Girls.
FastDates.com Calendar Kittens Halle and Jessica play bookendson Saturday to Superpole winners Sylvain Guintoli, Tom Sykes and Eugene Laverty. Click to go BIG.
The American round of World Superbike make its return to Laguna Seca this September after an 8 year hiatus from the west coast's most popular road race facility. Together with the premier SBK World Superbike Class, the AMA Pro Roadracing Championship will also be joining the 3-day race weekend with its top classes including Pro Superbike. The first World Superbike Championship race in America took place at Laguna Seca Raceway back in 1995 with four FastDates.com Calendar models serving as the official SBK World Superbike grid and podium girls on race day that year, and in many subsequent years since.
Calendar Kitten Hannah on the grid with Sylvain Guintoli.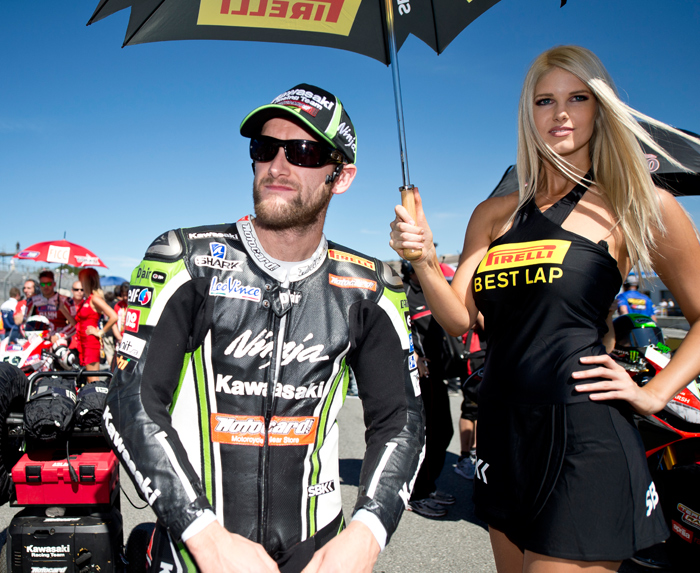 Tom Sykes on the Laguna Seca starting grid with Fast Dates Calendar Kitten Torunn Svesind.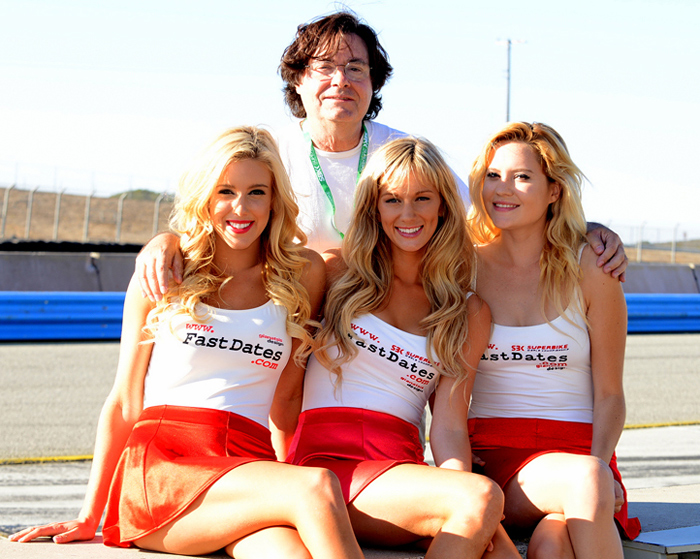 FastDates.com Calendar photographer and producer Jim Gianatsis with Kittens (left to right) Jessica, Hannah and Halle.

FastDates.com Calendar publisher and photographer Jim Gianatsis, as he does every year at one of the SBK World Superbike rounds, used the 2013 SBK Laguna Seca September 27-29th race weekend to shoot all the top factory Superbikes on Pit Lane with the Calendar Kittens for the next edition of the Fast Dates World Superbike Calendar. And on race day both Halle and Jessica served as official SBK podium girls, with Hannah serving as the grid girl for reigning World Superbike Championship Aprilia Team and rider Sylvan Guintoil who, with team mate Eugene Laverty, was engaged in a heated fight for the 2013 Superbike world title with Kawasaki's Tom Sykes.
Jessica makes Niccolò Canepa's factory Ducati look even better as Jim pops the shutter on pit lane.

"This year's Calendar shoot will be for the 25th Anniversary of the Fast Dates Calendar, the first edition of which featured Pamela Anderson on the cover with Miguel Duhamel's "Big Papa" Yoshimura Suzuki Superbike," explains Jim. "Every year I've been privileged to have exclusive track access to photograph the Calendar with all the top factory race teams in AMA and World Superbike, MotoGP, together with many of the world's most beautiful models and celebrities."
"This year's race will be no exception with the addition of beautiful models Halle, Jessica and Hannah. I've been shooting with both of them for the Calendars over the past year and don't take a bad shot, plus they are fun and easy to work. It was so much fun to travel with the girls up the beautiful Pacific Coast on Highway 1 from Los Angeles to Monterey for the return of World Superbike at Laguna Seca, and show them the fan party atmosphere on Monterey's Cannery Row on Saturday night. It was an incredible race weekend experience in one of the most beautiful locations on earth that no motorcycle racing fan should miss!"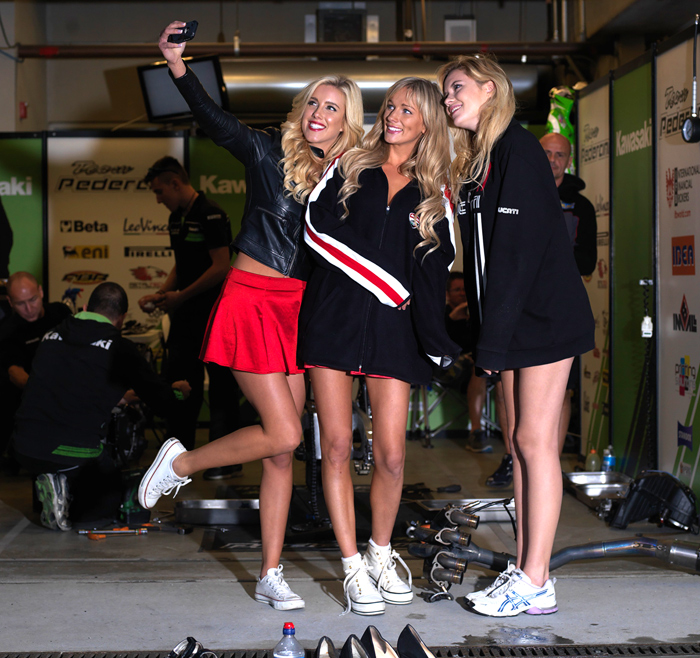 It's a wrap! Jessica, Hannah and Halle mug for a group Twitter picture in the Pedercini Kawasaki garage after a shoot.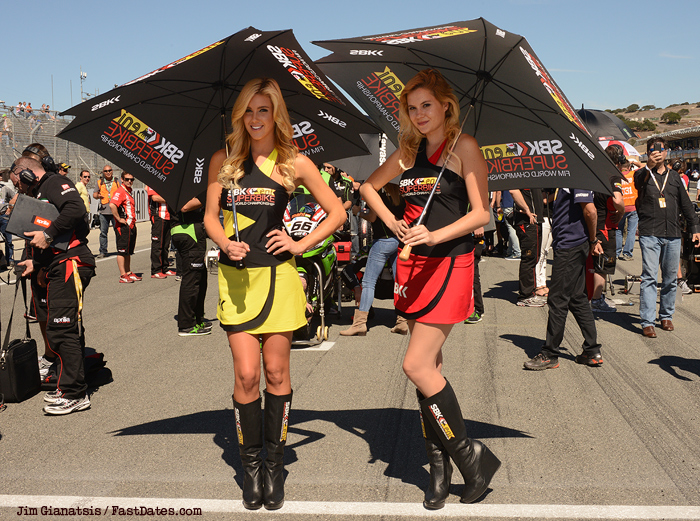 FastDates.com Calendar Kittens Jessica harbour and Halle were the official SBK Umbrella girls at Laguna Seca.
To find our more about the FastDates.com Calendars and Calendar Kittens, and to order Calendars and Books go to FastDates.com. Gianatsis Design Associates produces FastDates.com specializes in adverting and marketing for the motorsports and sports fashion markets and can be found at FastDates.com/JGDESIGN.HTM. UmbrellaGirlsUSA.com specializes in providing beautiful and skilled spokesmodels for motorsports events and trade shows.
Click to go BIG

Selecting photos and designing the next 2015 Fast Dates World Superbike Calendar with a little help from Sky Ferreira's music Videos on YouTube! 28-inch monitors help a lot. Calendars have to be photographed and produced a year in advance of the sale date to allow time for marketing, printing and distribution. Here's a preview of the FastDates World Superbike Calenar shot at SBK Laguna Seca last month.
New Fast Dates.com Calendar Shoot!
Go behind the scenes at the glamorous Gianatsis Design Studios with beautiful new Calendar Kittens Jessica and Kelsey as they shoot for the FastDates.com Motorcycle PinUp Calendars with photographer Jim Gianatsis. And look for the new 2014 Calendars available right here on July 1st. Order the Calendars!
Videographer: Eric Lundmark; Video Editing and Still photography: Jim Gianatsis; Models: Jessica Harbour, Kelsey Silwinski; Make Up: Victoria Rubell, Music: Special thanks to Neil Sedaka for our theme song Calendar Girl; Modeling Agent: Umbrella Girls USA.
---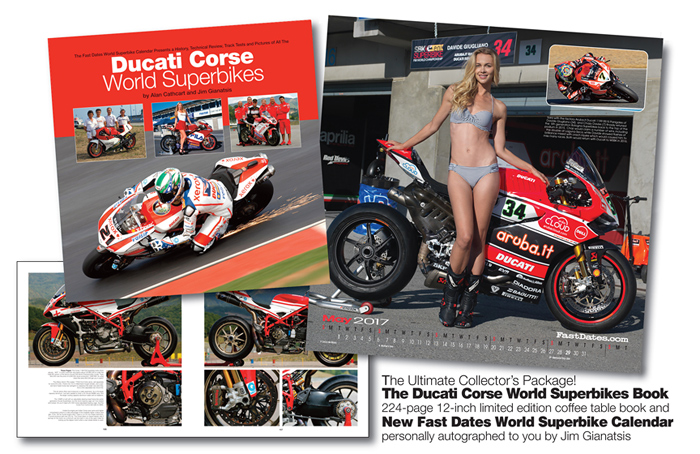 Exclusive Autographed Collector's Package!
The all new Ducati Corse World Superbikes 224-pg book and the 2013 Fast Date World Superbike Calendar
Personally autographed to you (or the name you request on the PayPal.com Order Form) by Jim Gianatsis and shipped direct from Gianatsis Design to you. ORDER COLLECTOR'S PACKAGE

To order the Ducati Corse World Superbike Book or the Fast Dates Calendar individually, unsigned, go to the
Sportbike Books and Fast Dates Calendar Order Pages.
---
2013 / 2014 International Motorcycle Show at Long Beach
Report and Photos by Jim Gianatsis - Click on any Photo to Enlarge

Long Beach, CA - Dec 6-8th 2013 - As the annual Advanstar produced (IMS) International Motorcycle Show makes its way across America every winter, with 3-day stops in every major city, it's the perfect time for motorcycle enthusiasts to come in from the cold and see the latest new 2014 bike offerings from all the major motorcycle manufacturers and fill out your Christmas wish list. With much of the the motorcycle industry and media based in Southern California, we like to think the Los Angeles stop at the Long Beach Convention Center the first weekend in December is the best IMS weekend to get together with our motor head friends, celebrity builders and racers, and many of the FasatDates.com Calendar Kittens working the bike displays for top manufacturers.
More 2013 / 2014 IMS Show Coverage Here
Fast Dates Edelweiss Pyrenees Tour June 10-18th 2014
You're Invited! - if you would like to join FastDates.com Calendar Editor and Photographer Jim Gianatsis as we take in the beautiful mountain ranges of Southern France / Northern Spain. With some challenging roads up to 10,000 feet to keep it really interesting.
We did a small part of this tour back in 2004 on their Western Alps tour that included Southern France's Grand Canyon, which was really awesome, but this has much more Spain, a country we've never been to. This Southern Europe area is really green, beautiful, awesome weather. You can see the tour details here on the Edelweiss website: http://www.edelweissbike.com
---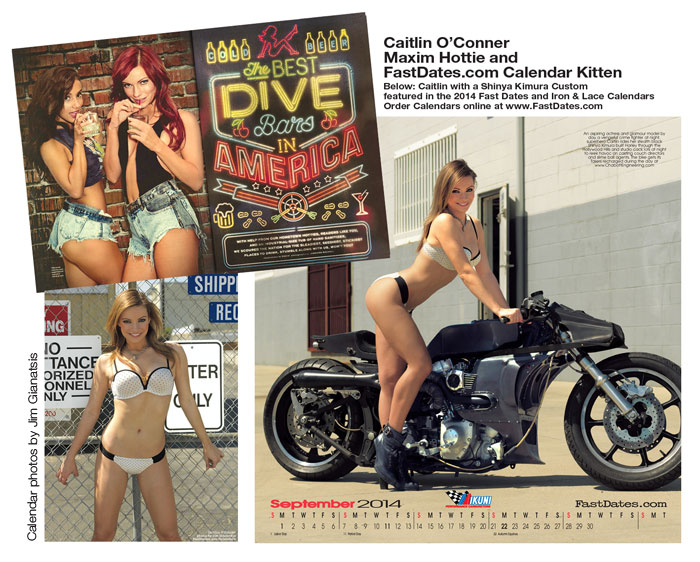 Calendar Kitten Caitlin is a Maxim Hometown Hottie!
Excited to see beautiful Maxim Hottie and 2014 FastDates.com Calendar Kitten and Maxium Hometown Hottie Caitlin O'Conner is featured again in the new December issue of Maxim magazine in a story on Dive Bars! Order Caitlin O'Connor's 2014 Fast Dates and Iron & Lace Calendars as she poses with some cool customs by Shinya Kimura - www.FastDates.com/IRONLACE.HTM
This Month in the Fast Dates World Superbike Calendar ....
Beautiful Calendar Kitten Taylor Gunnin heats up the pits at Miller Motorsports park with wild card rider Josh Water's Yoshimura Suzuki GSXR1000 World Superbike which Fugio Yoshimura brought over from Japan to race the American round . You'll find bikes like this with beautiful Kittens featured in the Calendar Bike Garage with full specifications and screensaver size pictures.

Plus revealing pictorials of the Calendar Kittens in Members Corner
Order the Fast Dates Calendars • Calendar Screensavers in Members Corner
---
There's more! Go to Fast Dates Calendar News PREVIOUS PAGE

Hot Calendar Girl and Bike News! Go to: Fast Dates • Garage Girls • Iron & Lace

Click to see even more of our sexy Fast Dates Calendar Kittens...




MotorcycleSuperstore.com