Custom Bike Pinup Calendar News January - February 2010


This month in the 2011 Iron & Lace Calendar
Mosh with a Ron Simms Custom
This month's beautiful Calendar Kittens is famed retro fetish model Mosh with a Ron Simm / RonSimms.com built Sportster bar hopper
tribute bike "Rooster" named after an old riding buddy who passed away. Photo by Jim Gianatsis.
All of our Iron & Lace Calendar bikes including the LA Calendar Show and AMD World Championship winners
are feature in large photo pictorials in the Calendar Bike Garage. • Past Editon Calendars are still available in Collector's Corner
Want more on Mosh? Check her out at:
www.TheMoshRoom.com
www.modelmayhem.com/219654

Meet The Mosh Kitten!


Mosh is a 21 year old Russian born model who specializes in Alternative, Fetish, Pinup, Nudes, and Erotic Beauty. With fierce blue eyes, platinum blonde hair, she stands at 5'3″ and has measurements of 33″- 23″- 35″. Sean Cummings at Alt Magazine says she is perhaps today's hottest alternative/fetish model in the industry. What separates Mosh from her peers is her ability to contort her body "beyond belief while commanding the camera's attention better than any other Alternative model." Yes folks, Mosh is superbly limber AND hot!

Known for her professionalism and strong creative input that she brings to her photo shoots, Mosh fans are especially mesmerized by her unique posing style and her dynamic flexibility. The level of creativity she inspires in others, and her willingness to think completely outside the box, have greatly added to her popularity in the Alternative genre.

Born in the Soviet Union, Mosh is 95% Russian and 5% Korean descent. She was a gymnast for about 10 years, a cheerleader for even longer, rhythmic gymnast for about 3 years, and an acrobat for about one year! Mosh's ability to stay limber in dynamic poses and in sky high heels while in front of the camera deem her as a pseudo contortionist!

Her LOVES include: latex, corsets, heels, leather, and lace. With a passion and creativity for makeup and fetish fashion, Mosh is working on developing a lipstick line as well as designing a collection of 5 inch+ high heeled shoes!
Mosh has a FETISH for Granny Panties!!! She owns dozens and loves wearing sheer pairs under vintage dresses, in photo shoots, in bed, wherever! If anyone can look hot in Granny Panties, it's Mosh!
---
New LA Calendar Motorcycle Show #5 T-Shirt!
Nov 1st, 2010- The exciting new LA Calendar Motorcycle Show T-Shirt #5 made for us by Feelin' Lucky for the 2010 Calendar Show is one of the best designs ever. It features a beautiful raven-hair Calendar Kitten that looks a lot like Cora Skinner on a custom chopper with her skirt flying in the breeze, next to the historic Queen Mary. We only have a limited number available, so don't delay in ordering yours! ORDER HERE

We deeply regret that Feelin' Lucky, the motorcycle T-shirt company owned by Mark Fairney that has been partnering with the LA Calendar Show for some 10 years, and who you've seen at all the major bike events from Laughin to Sturgis, is no longer in business. They were another victim of the recent economic downturn which has hit the motorcycle industry the hardest of all, with a sales downturn of some 80% across the market

It is tragic that we have lost so many good friends over the last two years. Just last month we learned that Iron & Lace Calendar Bike Builder Jesse James had closed the doors at West Coast Choppers. Many of our legendary Calendar Bike Builders are gone, or they have had to re-invent themselves as motorcycle repair shops to continue going.

Just 4 years ago the 2-day LA Calendar Show was the biggest bike show on the West Coast with 190 manufacturers and venders. Our 2010 Show had to revert back to a 1-day format with the loss of many sponsors, manufacturers, venders and dealers. All the major custom bike manufacturers are now gone, and so are many other motorcycle events.

However, The LA Calendar Show will return in 2011 for our 20th anniversary on Saturday July 16th in a new and exciting location at the Queen Mary's Seawalk Village.
Will have some old favorites like the cool custom bikes and the world premier of our next 2012 FastDates.com Calendars with the beautiful new Calendar Kittens, and some exciting new features you won't want to miss!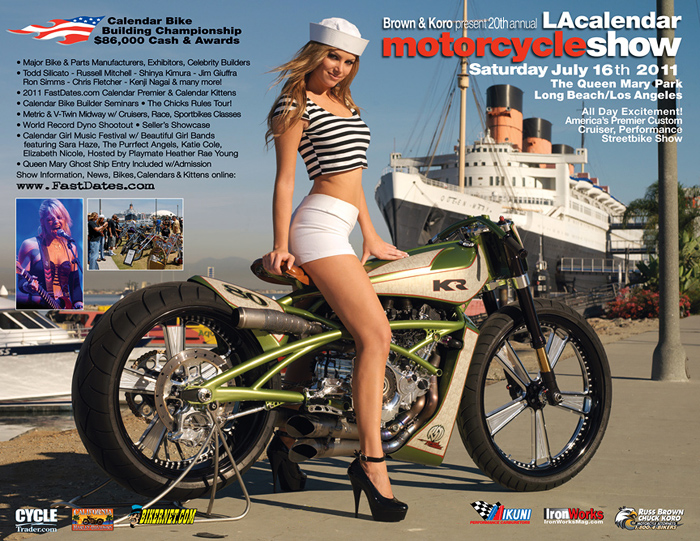 ---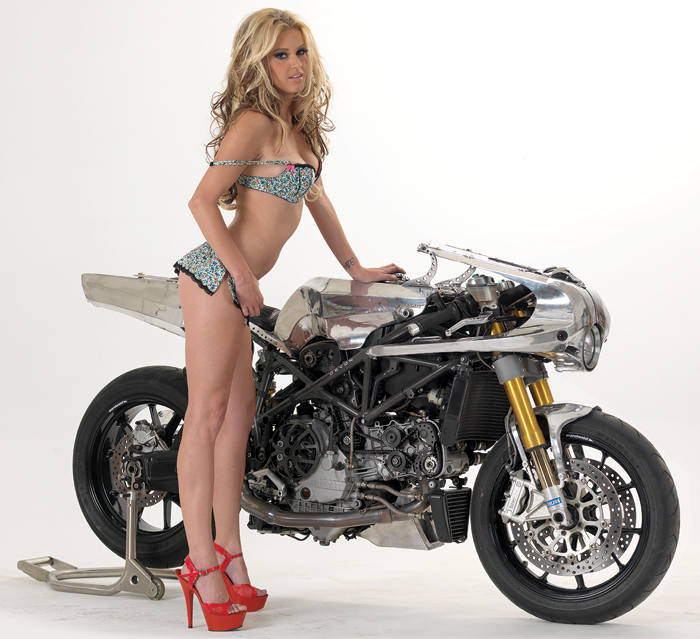 Model Brit Shelstad shot with the Shinya Kimura Ducati 999S for the 2012 Fast Dates Calendar. Brit, a Maxim Hometown Hottie, is an avid motorcycle enthusiast as well. She's worked worked for Umbrella Girls USA at the Laguna Seca MotoGP and other races, she's dated factory racer Kurtis Roberts, and she's a motocross racer herself.
Shinya Kimura Ducati 999S "Devon"
featured in the 2012 Fast Dates Calendar and in the Calendar Bike Garage
by Jim Gianatsis / photography by Jim Gianatsis
We first met Shinya Kimura when he won Best of Show bike at our 2004 LA Calendar Motorcycle Show with an old retro customized Harley Panhead.. At that time Shinya was the front man and celebrity builder at Zero Engineering of Japan, and we were humbled that Shina flew over from Japan with his bike just for our Calendar Show. It was Shinya who pioneered some 10-15 years ago the current retro chopper look that many top builders in America and around the world have followed. Shinya's retro customs were was so well known his he enthusiastic fans all over the world, including Hollywood stars, waiting in line up to 4 years to buy one of his bikes
The next year, 2005, Shinya moved to America and opened up a branch of Zero Engineering in Las Vegas, NV. But a year later he had a falling out with his partners and moved to Los Angeles to start up his own solely-owned company Chabbott Engineering, the company name he had used when he first started building bikes.
Originally from Japan where he turned to motorcycle repair, racing and restoration after studying entomology, Kimura has now relocated to the United States permanately and embarked on what has become a storied career in building what some have called functional art. He currently works out of his shop, Chabott Engineering, in Azusa, CA (www.chabottengineering.com).
Shinya has attended the LA Calendar Motorcycle show every year since 2004 and has used the Show each year to premier his latest custom builds. The retro Panhead Harley which won Best of Show that first year year was featured in the marketing campaign for the 2005 Calendar Show where it was seen and purchased by actor and motorcycle enthusiast Brad Pitt. Since then Pitt has purchased a number of Shinya's customs, including a pair of custom built Triumph and Ducati sportbikes that Shinya premiered at the Show in 2009.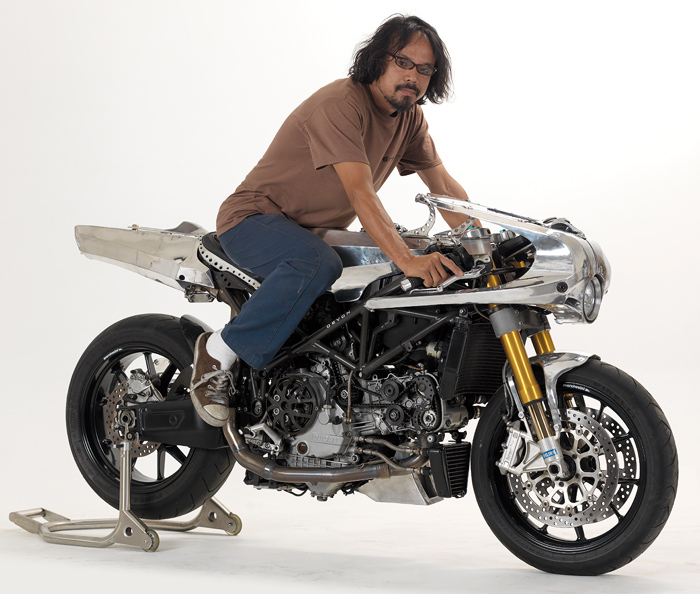 Shinya Kimura with the Ducati 999S Superbike retro conversion
Making its world premier at the 2010 Calendar Motorcycle Show was this aluminum re bodied retro styled Ducati 999S Superbike commission by a customer named Devon. Imagine if you will a classic vintage racer like Ducati's limited production MH900e Mike Hailwood "Evoluzione" racer. Ducati built 2,000 of them back in the early 2000s powered my an anemic 80hp air cooled twin. Most of them ended up parked in people's living rooms as expensive floor art because as "limited edition" bikes they were supposedly too valuable to ride, but in reality they were just plain uncomfortable and impractical to ride.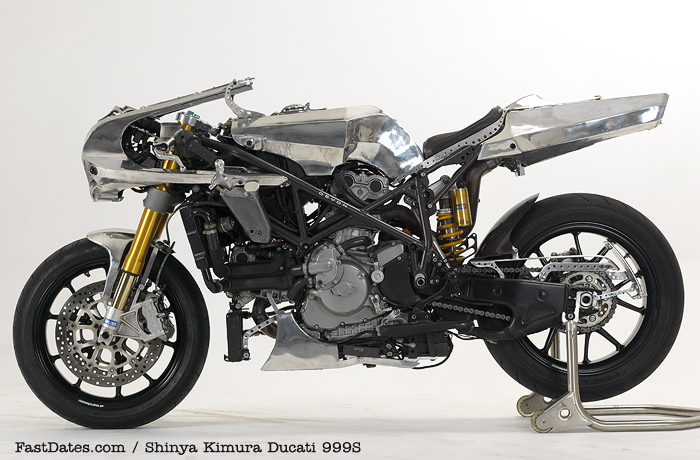 Then here comes Devon with a brain storm. Why not take Ducati's World Superbike Championship winning 999 Superbike in "S" configuration with the high end Ohlins race suspension and Brembo brakes. The Ducati that also happens to be the most comfortable riding of all the Ducati Superbikes.One that you can buy used now for around $8,000, half the market price of an MH900E. Then have legendary customizer Shinya Kimura re body it for you with unique hand fabricated aluminum bodywork. Rather than being one of 2,000 MH900E owners with a bike they can't ride, you are now just one of 1 with the ultimate ride able Ducati retro superbike that will blow the MH900E into the weeds, performance wise, and value wise over the coming years. Sheer genius! Congratulations Devon on having the ultimate 2-wheel retro racer. A unique one-off bike you can admire and ride. For additional information, hi-resolution photos and screend savers go to Calendar Bike Garage
Next project? How about a Shinya Kimura Ducati Desmosedici RR? You can see Shinya's bikes and mechanical art featured now at the Japanese Amerian national Museum in the Zen Garage exhibit: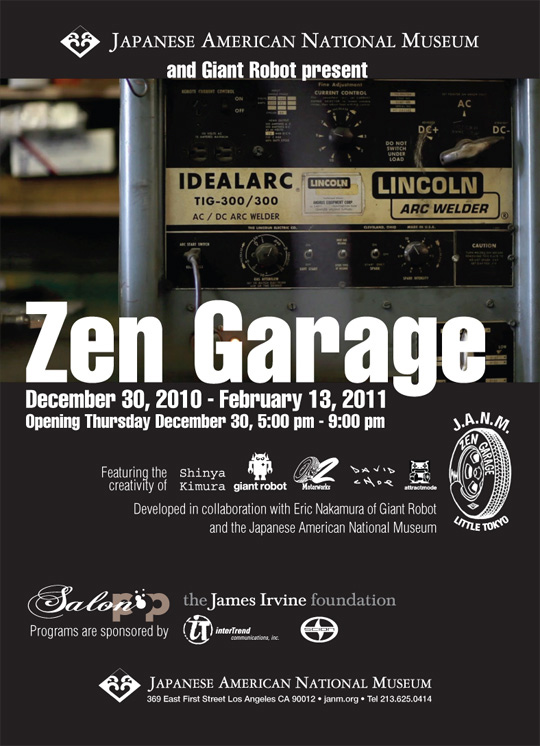 ---
Devastating Motorcycle Industry Statistics!
revel the impending death of American motorcycling
First-time bike buyers declining, median owner age grows older every year....
January 1st, 2011 - The population of new motorcycle buyers is aging, with the average rider age increasing from 40 to 49 years since 2001. Additionally, the percentage of first-time buyers has declined for a second consecutive year.
Those are two of the findings of J.D. Power and Associates 2010 U.S. Motorcycle Competitive Information Study, which includes responses from close to 8,500 owners who purchased a new 2009 or 2010 model-year on-road or dual-sport motorcycle between September 2009 and May 2010.The study, now in its 13th year, measures owner satisfaction with new motorcycles by examining six major factors of the overall ownership experience: product, build quality, cost of ownership, sales, service and warranty.
This is a devastating statistic for the world motorcycle industry, and America in particular. With the median age of motorcycle buyers (and hence riders) going up by 1 year of age, in each of the last 9 years. That essentially means no young new riders are coming into the sport, and sales are dropping at a devastating rate of 5-10% per year, no matter what the economy does to improve. If this trend continues, in just 10-20 years when the median rider age reaches 60-70 years old and riders die off/stopping buying motorcycles, there will be effectively no new motorcycles sold in America.
New motorcycle sales in America have dropped some 70-30% among manufacturers in the last 3 years because of the economic collapse in America. Motorcycles are a luxury recreational toy for most Americans, not a transportation necessity as in Europe and Asia. So the American motorcycle market was probably hit harder than any other recreational sport in our country when the down turned economy caused people to stop spending on non -essential big ticket items. This new riders Median Age statistic report means that even if the U.S. economy improves 5-10% per year in the coming years, new motorcycle and product sales will never increase from where they have fallen today.
We don't see that happening with TV shows like Stunt Rider on The Speed Channel serving as the only street bike role model for kids, and with the statistic that motorcyclists are 7-times more likely to killed in a road accident compared to automobile drivers.
That and the fact many teens don't care about owning their own motorcycles or car any more, and working an after school job like we did as kids to help pay for them. Today's kids would rather stay home, and spend their time and what money they have on electronic gadgetry, games, cell phones and computers. If they need to get somewhere they can hitch a ride with friends or their parents.
We have all helped to kill off the entry level motorcycle market. It's all our fault and the industry is coming down around us because of it.
Kudos to Honda for introducing the new $3,995 affordable 250xx CBR street sportbike for 2011, but it's still may be too expensive and sporty for what most entry level riders need. It needs to have scooter practicality for carrying school books, gym gear, and a passenger.
Not since the "You Meet the Nicest People on a Honda" ad campaign of the 1960's has a motorcycle manufacturer really targeted the entry level / new rider market.
And all of us in the Motorcycle Media our guilty of perpetuating this decline in new riders, because we only feature high end and middleweight motorcycles that only affluent older riders can afford to buy. When is the last time a U.S. Motorcycle Publication ran a cover feature story on motor scooters and practical 125cc street bikes that a high school/college kid could afford to buy? Never.
The only way to turn this around is to sell affordably priced, financed, and insured entry level motorcycles and scooters to teen angers with their parent's blessing. Motorcycle and scooters that are as cheap and easy to purchase, insure and operate as $2,000 used car.
Like many of you I was at the annual International Motorcycle Show, my local venue being in Long Beach Show, CA,this past month. I think I remember seeing about (5) twenty something year olds the day i was there. No one under 20 years. Mostly everyone was 35 years and older.
The Los Angles International Auto Show 2 weeks earlier had a much younger demographic.
Teen riders can no longer afford, or qualify to finance and insure a motorcycle in the pubic banking and insurance markets.
The only solution I might suggest at this point is, the major motorcycle manufacturers and distributors in America must pool together to form their own banking institutions or credit unions, and an insurance company to finance and insure the motorcycles they sell. Perhaps if they eliminate the profit margins earned by big banks and insurance companies, and their stock holders, the finance and insurance rates would come down for first time, young motorcycle buyers.
And speaking of insurance companies - particularly those big names like GEIKO and Progressive Insurance that are targeting the motorcycle market. They're the ones sponsoring the Progressive Insurance International Motorcycle Show, the GEICO motorcycle racing team, and the only paid ads left to support our streetbike magazines like Cycle World and Motorcyclist. They are the ones running expensive non stop prime time TV ads on every station we watch at a cost of Millions of dollar a day, Billions of dollars a year! How much do you think those insurance agencies have to increase their insurance prices rate to pay for that adverting to reach us, the motorcyclists?
Well friends and teens, the insurance rates of GEIKO and Progressive Insurance are about 1/3rd more than the insurance companies who don't advertise heavily or have independent agents to support. Low profit insurance agencies like AAA are where you need to go. Rates at AAA can be 50% less if you insure your motorcycle with your family's car and home policy. I also finance my motorcycle purchases on low interest rate Credit Union charge cards and Checks. That way you don't have to buy damage/loss/collision insurance for your bike if you can't afford it, since the credit card purchase is a cash loan that does gives you the title of the bike, not the bank or finance company which requires full replacement insurance.
If I crash my bike I fix it myself for the cost of parts. Whereas the insurance company might write off downed bike a toal loss, uppring your rates even more. I have not had collission / loss insurance on any of my motorcycles, ever. These are two great ways to reduce motorcycle insurance costs most people don't think of. - Jim Gianatsis, Editor
You are completely correct. The current down trend in American street motorcycle riding for younger riders (18 to 25) has been declining for
quite some time and will continue to do so for several reasons. Older riders (baby boomer bikers) will soon be over 50, many are in fact over 60 already. The over 50 riders are often brand loyal to marquees such as Harley-Davidson or BMW. However, most younger street riders are not brand
loyal and the vast majority of them do not have the old "Live to ride, ride to live" credo. In other words, they like motorcycling as a sport,
not a lifestyle. For them, riding a motorcycle is like playing golf; something to do once in a while if they feel like it, but not necessarily
a passion that they are committed to for life.
Even if Harley came out with a $3,000 street bike that looks like a Nightster with a Buell Blast single cylinder motor in it, it would not
change the tide. Neither will advertising campaigns aimed at getting young riders on Vespas. The problem is cultural. Just as Americans stopped
riding horses in favor of driving cars, our citizens continue to evolve.
I have a 12-year-old son who has no interest in motorcycles whatsoever. He is VERY interested in video games and the latest technology. He is not
alone. The majority of younger Americans (18 to 25) are interested in networking. They are always online and connected by cell phone, laptop or
desktop. We are in an enlightened age of communication. You would think that we, as motorcycle media representatives, could use the vast power of
the Internet to fuel a passion for two wheels in younger riders. However there seems to be very little energy flowing in that direction. It seems
to me that such a movement will only succeed if it is a grassroots effort put forth by a small group of dedicated young riders that live the life.
Your point is well taken that we may all be going the way of the dinosaur in the next 20 years. The very American image of the leather-clad biker
may indeed go the way of the cowboys and western outlaws of old. Something new and exciting needs to emerge to reinvent street motorcycling to make it vital for younger riders. When I was 15 "Then Came Bronson" and the film "Easy Rider" turned me on to motorcycles. I rushed out and bought a bike as fast as I could and haven't looked back since. What will act as that kind of catalyst for future riders? I don't have the answers but I
believe that the best way to find those answers is to ask the rightquestions. I applaud you for getting the discussion going.
Dave Nichols
Editor Easyriders & V-Twin Magazine
Paisano Publications, LLC
---
This month in the 2011 Iron & Lace Calendar
Supermodel Cora with a Dave Cook Custom
This month's beautiful Calendar Kittens is fashion model Cora Skinner featured in Bebe Guess advertsing, and with the dave cook / Cook's Custom Choppers, Wilwauke, WI. Thw bike "Ranbler" took1st Place at the 2009 AMD World Championship of Custom Bike Building.
Photo by Jim Gianatsis.
---
There's more! Go to Iron & Lace News Previous Page
Return to Iron & Lace Calendar News Front Page

Also Visit:
Fast Dates Calendar News • Pit Lane News • Calendar Girl News • Meet the Models
See much more of our all our beautiful calendar girls
in their sexy pictorials in FastDates.com Members Corner...


Some of our Calendar Girls can also be seen at Playboy's website...




MotorcycleSuperstore.com