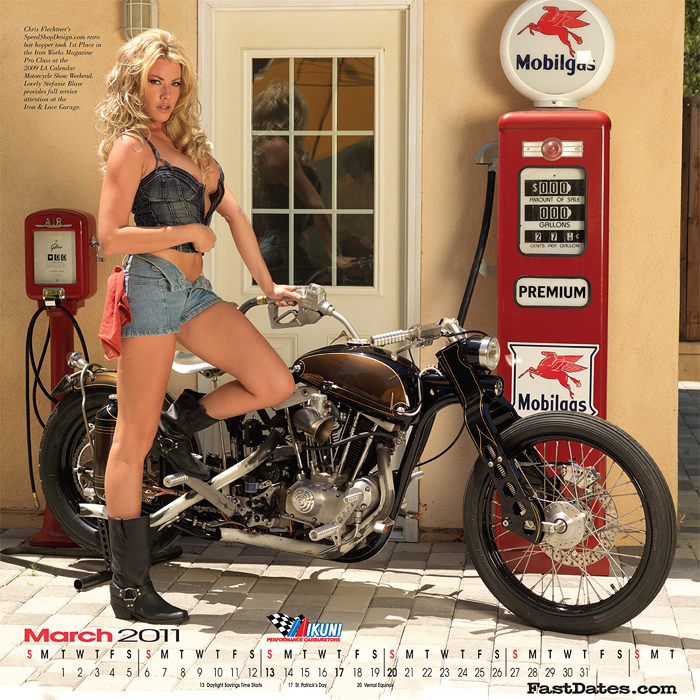 Iron & Lace Custom Bike Pinup Calendar News March - April 2010
This month in the 2011 Iron & Lace Calendar
Stefanie Blaise with LA Calendar Show winner Speed Shop Design
This month's beautiful Calendar Kitten Stefanie Blaise offers full service to Chris Fletchner's / SpeedShopDesign.com built retro custom bar hopper which took 1st Plce in the Iron Works magazine Pro Class at the 2009 LA Calednar Motorccyle Show Weekend. Photo by Jim Gianatsis.
All of our Iron & Lace Calendar bikes including the LA Calendar Show and AMD World Championship winners
are feature in large photo pictorials in the Calendar Bike Garage. • Past Editon Calendars are still available in Collector's Corner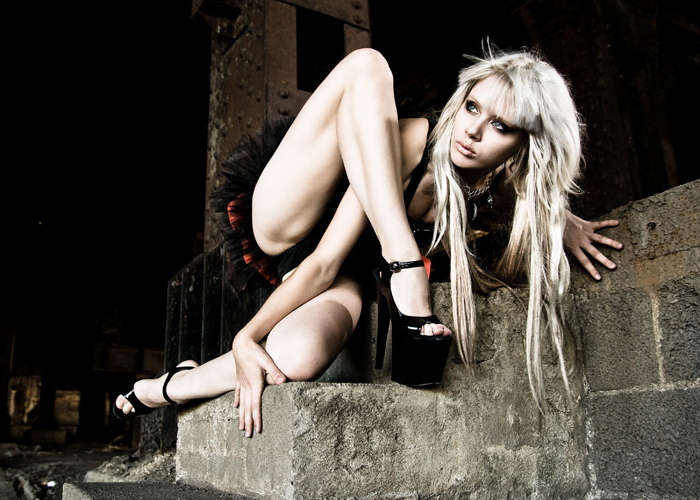 Meet The Mosh Kitten in Iron & Lace!
Mosh is a 21 year old Russian born model featured in the 2011 Iron & Lace Calendar who specializes in Alternative, Fetish, Pinup, Nudes, and Erotic Beauty. With fierce blue eyes, platinum blonde hair, she stands at 5'3″ and has measurements of 33″- 23″- 35″. Sean Cummings at Alt Magazine says she is perhaps today's hottest alternative/fetish model in the industry. What separates Mosh from her peers is her ability to contort her body "beyond belief while commanding the camera's attention better than any other Alternative model." Yes folks, Mosh is superbly limber AND hot!

Known for her professionalism and strong creative input that she brings to her photo shoots, Mosh fans are especially mesmerized by her unique posing style and her dynamic flexibility. The level of creativity she inspires in others, and her willingness to think completely outside the box, have greatly added to her popularity in the Alternative genre.

Born in the Soviet Union, Mosh is 95% Russian and 5% Korean descent. She was a gymnast for about 10 years, a cheerleader for even longer, rhythmic gymnast for about 3 years, and an acrobat for about one year! Mosh's ability to stay limber in dynamic poses and in sky high heels while in front of the camera deem her as a pseudo contortionist!

Her LOVES include: latex, corsets, heels, leather, and lace. With a passion and creativity for makeup and fetish fashion, Mosh is working on developing a lipstick line as well as designing a collection of 5 inch+ high heeled shoes! More MOSH HERE!
---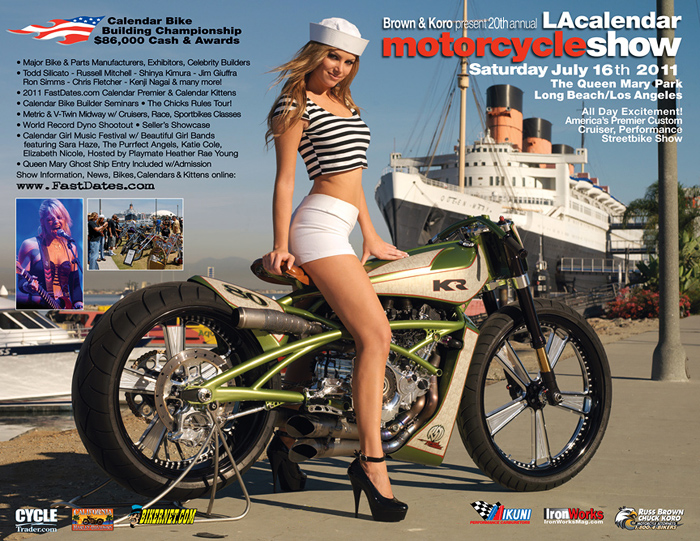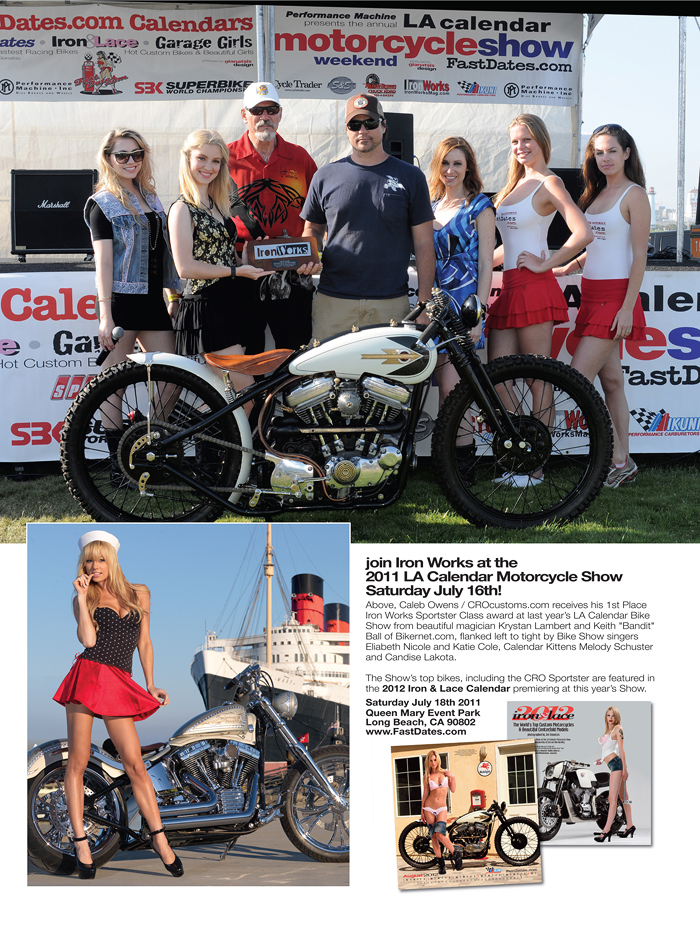 Join us at the 2011 LA Calendar Motorcycle Show July 16th!
See more of th CROcustoms.com Sportster in Calendar Bike Garage

New LA Calendar Motorcycle Show #5 T-Shirt!
Nov 1st, 2010- The exciting new LA Calendar Motorcycle Show T-Shirt #5 made for us by Feelin' Lucky for the 2010 Calendar Show is one of the best designs ever. It features a beautiful raven-hair Calendar Kitten that looks a lot like Cora Skinner on a custom chopper with her skirt flying in the breeze, next to the historic Queen Mary. We only have a limited number available, so don't delay in ordering yours! ORDER HERE

The LA Calendar Show will return in 2011 for our 20th anniversary on Saturday July 16th in a new and exciting location at the Queen Mary's Seawalk Village. Will have some old favorites like the cool custom bikes and the world premier of our next 2012 FastDates.com Calendars with the beautiful new Calendar Kittens, and some exciting new features you won't want to miss!
---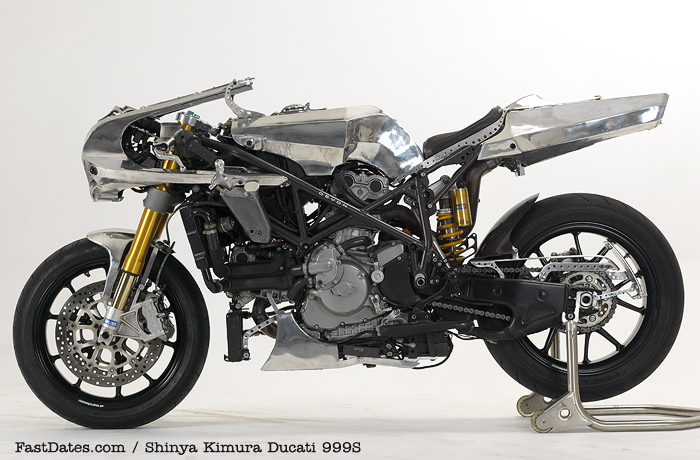 Shinya Kimura Ducati 999S "Devon"
featured in the 2012 Fast Dates Calendar and in the Calendar Bike Garage
by Jim Gianatsis / photography by Jim Gianatsis
For additional information, hi-resolution photos and screend savers go to Calendar Bike Garage
---
Calendar Kittens host "Last Night a DJ Saved by Life" benefit
Los Angeles Fashion District , CA, Feb 14th 2011 - It was an exciting evening of glitz, glamor, paint and canvas, and beautiful Calendar Kittens as the world renown charity FeedAModel.com held their annual artwork and music gala on a warm mid-winter evening in the adv-ant garde Fashion District of downtown Los Angeles. The event took place at Haute Olive on 838 S. Spring Street, a vintage fashion boutique on the cutting edge of what's now and hip. Hosted by the charity's founders, FastDates.com Calendar Kittens and multi media artists Apple Price and Melody Schuster, FeedAModel.com is dedicated to keeping beautiful young models off the streets, out of trouble, and from going hungry by giving them the opportunity to learn and express their artistic skills, and then a safe and exciting venue to showcase and sell their artwork. You won't find these dedicated, talented and smart young ladies partying with Charlie Sheen in Las Vegas or Girls Gone Wild on Spring Break!
Both models Apple and Melody have been featured in recent editions of the FastDates.com Motorcycle PinUp Calendars, and they appeared at the last two LA Calendar Motorcycle Shows to help premier their new Calendars. "Feed A Model gives nice young ladies the opportunity to be productive citizens and great role models in a town run amuck with the inebriated divas and substance abused actors you see showcased every night on the 6 O'Clock News", explains Schuster. "It's something we are passionate about, to give back to the community which has helped us to become successful models, multi media artists and world famous FastDates.com Calendar Kittens!"

The guest list at the "Last Night a DJ Saved by Life" benefit included Great Britain's Price William and his fiancee Kate Middleton, actresses Amanda Seyfried and Emma Stone, sports icons David Hamilton, David Beckham and Maria Sharapova, and former American president Bill Clinton.

At right: the paper mache collage "Very Hollywood" created by Calendar Kitten Apple which Jim Gianatsis purchased for his collection, helping to support the efforts of FeedAModel.com keeping starving models off the Sunset Strip at night. Click to enlarge.

Below: Jim Gianatsis with his two Calendar Kittens, FeedAModel.com Founders, Board Directors and Contributing Artists Apple Price (left) and Melody Schuster (right).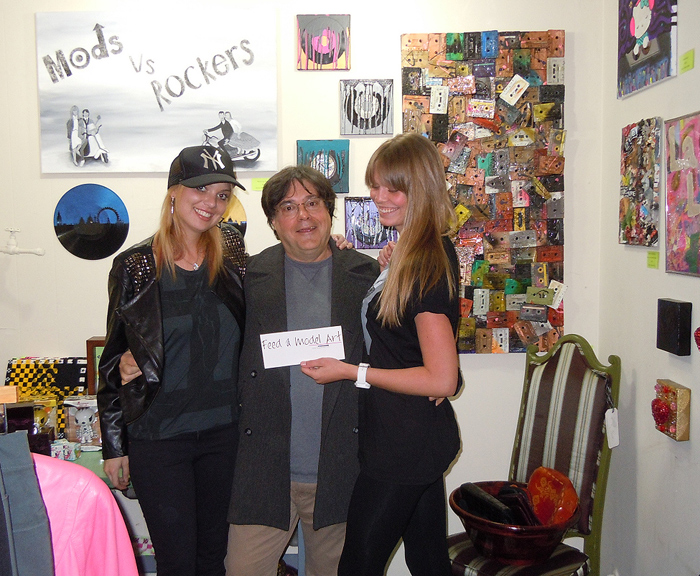 Making a not too unexpected appearance was FastDates.com Calendars and Website publishing magnate and photographer Jimmy "The Greek" Gianatsis. The Calendar Kittens first greeted Jim with hugs and kiss outside at the curb when he arrived in his limo, then brought him inside the store gallery to meet the other models and guests, and then a guided tour of the art exhibition. The artwork and guests spilled out onto the sidewalk where a live DJ was spinning tunes to add to the fun party atmosphere. After plying "The Greek" with a few glasses of champaigne, the girls soon had him pulling out his checkbook to add some of their incredible artwork to his noted collection back at the Calendar Kitten Mansion.
In all it was quite an incredible evening and everyone had a great time. You can find out more about FeedAModel, their incredible charity work, shop their artwork and find out when their next excitig event is by visiting www.FeedAModel.com

You can also hang with Apple and Melody on your walls by ordering their Fast Dates, Garage Girls, and Iron & Lace Calendars at www.FastDates.com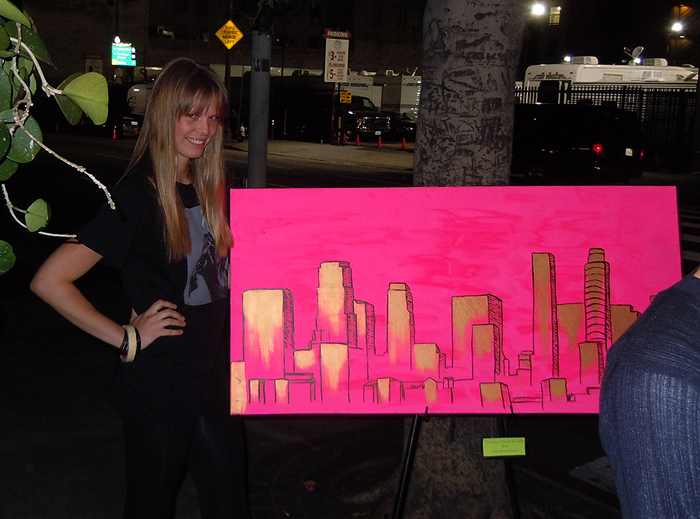 Above, Melody with her latest piece of incredible art "LA with Tree". The painted canvas alone, without the tree, can be purchased online at FeedAModel.com. Below: Apple gets gets peeled down to her swimsuit at Malibu Beach!
This month in the 2011 Iron & Lace Calendar
Calendar Kitten Apple with the Supercharged V-Rod Roehr Superbike
Our sweet litttle Apple cools off at the Malibu Beach Pier with the exotic 180hp supercharged 1250cc Harley-Davidson V-Rod powered Roehr Superbike designed and built by Walter Roehr / RoehrMotorcycles.com . Photo by Jim Gianatsis.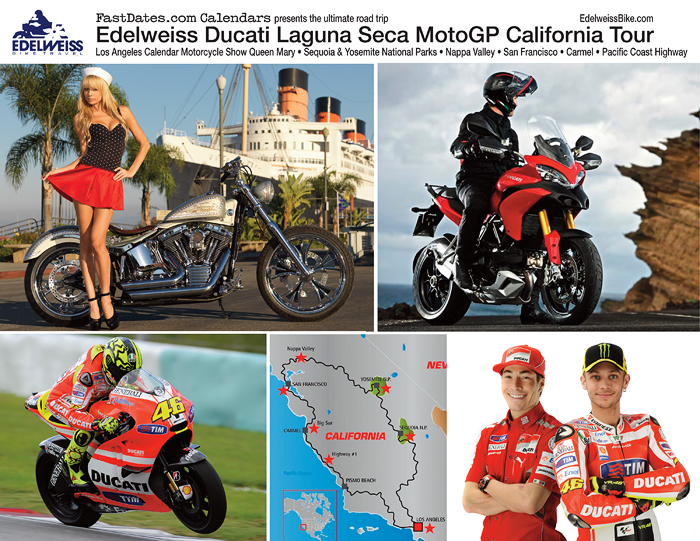 FastDates.com presents the ultimate road trip through the Golden State July 16th - 27th 2011
Edelweiss Ducati Laguna Seca MotoGP California Tour

"A motorcycle is the only way to see America." Those are Peter Fonda's words and he should know. The FastDates.com Calendars present the ultimate Edeweiss Ducati tour which will lead you through what is possibly the most beautiful state in America, California, to the ultimate motorcycle race, the U.S. MotoGP at Laguna Seca. There you'll hang with Ducati fans in the Ducati Midway and Grandstand, possibly meet World Champions Valentino Rossi and Nicky Hayden, and watch breathtaking race action in the "Corkscrew". You can choose to party with thousands of race fans on Monterey's Cannery Row on Saturday night, and unwind in Clint Eastwood's beautiful, quiet little town of Carmel on Sunday evening. The next morning we'll head south on the Pacific Coast Highway One, a twisty ribbon of asphalt between the mountains and the ocean on what is called the most beautiful, thrilling road in the world!

The Tour will start and finish in Los Angeles at the legendary Queen Mary ghost ship in the Port of Long Beach. We'll meet up on Saturday during the 20th anniversary celebration of the LA Calendar Motorcycle Show featuring the incredible custom bikes and beautiful models featured in the FastDates.com Motorcycle PinUp Calendars, including the official Ducati Corse Fast Dates World Superbike Calendar Kittens. You'll meet some of America's top custom bike builders featured in the Iron & Lace Calendar, check out the World Record Dyno Shootout, enjoy the Calendar Girl Music Festival, and the Calendar Bike Builder's party in the Ship's art deco Observation bar that night.

California has just about everything, and we will see most of it: mountains, desert, the Pacific Coast Highway, spectacular National Parks, beautiful cities like San Francisco and smaller towns like Carmel. California is a perfect country for riding the beautiful red bikes from Bologna. You'll be able to choose between the legendary Ducati Monster or the critically acclaimed Multistrada -the world's best sport touring bike, to take you through breathtaking landscapes including twisty mountain passes, spectacular ocean roads and fertile valleys. The lightweight bikes will easily bring you to all the Californian landmarks: Golden Gate Bridge, Sequoia and Yosemite National Park, Hearst Castle, Hollywood and the Queen Mary.

Los Angeles, San Francisco, Carmel and Santa Barbara have plenty of sightseeing and shopping opportunities. Sequoia and Yosemite National Park offer breathtaking scenery, waterfalls and giant trees, while the Sierra Nevada and the Pacific coastal mountains provide some of the best motorcycle roads in northern America. Just add the power, sound and feel of a Ducati motorcycles, meet beautiful California girls and World Champion racer boys – and here is your perfect vacation! Join FastDates.com and Edelweiss for a once-in-a-lifetime vacation and explore the Golden State, attend the LA Calendar Motorcycle Show and MotoGP race weekend.

Additional information: http://www.edelweissbike.com
---
There's more! Go to Iron & Lace News Previous Page
Return to Iron & Lace Calendar News Front Page

Also Visit:
Fast Dates Calendar News • Pit Lane News • Calendar Girl News • Meet the Models
See much more of our all our beautiful calendar girls
in their sexy pictorials in FastDates.com Members Corner...


Some of our Calendar Girls can also be seen at Playboy's website...




MotorcycleSuperstore.com