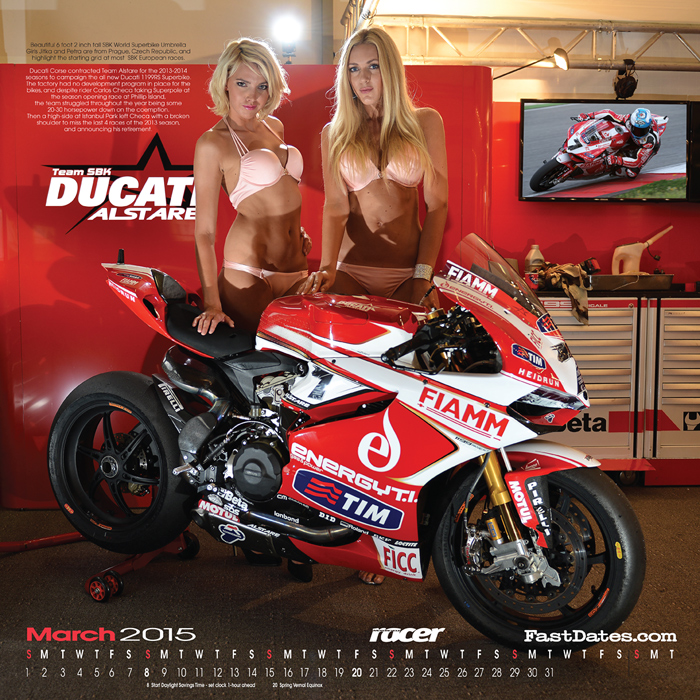 This Month in the Fast Dates Calendar ...
Our own SBK Fast Dates World Superbike Calendar Kittens Jitla and Petra look pretty in pink in Ducati Corse World Superbike garage with Carlos Checa's 1199RS13 Panigale race bike. See more of our beautiful Kittens and Calendar bikes in the
Calendar Bike Garage and in Members Corner.
Fast Dates SBK World Superbike Calendar News
March - April 2015
MORE FAST DATES NEWS HERE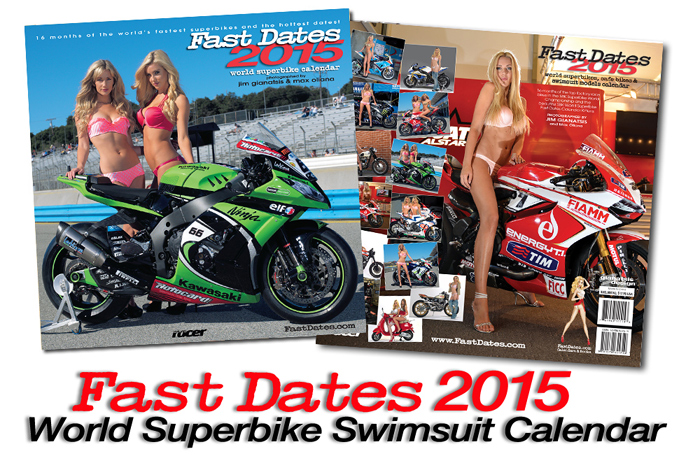 The current 2105 Calendars are sold out, but you can still see all the current and past Calendar pages in Members Corner.
Calendar Bike Photo Features, Paddock Garage Tuning, Pictorials of our Calendar Kittens in Members Corner
---
Easter Calendar Kitten Sara Horvath to be Featured at SBK World Superbike Laguna Seca July 17-19th and as LA Calendar Show Host on Saturday July 25th

Los Angeles, April 3rd, 2015 - The FastDates.com Motorcycle PinUp Calendars is excited to announce one of their most popular Calendar Kittens, professional model Sara Horvath represented by Umbrella Girls USA, will be serving as one of the offical SBK World Superbike Umbrella Girls at the upcoming Laguna Seca World and AMA Superbike race weekend July 17-19th 2015 at Mazda Raceway, Laguna Seca, CA. Sara will also be working the races with Calendar photographer and publisher Jim Gianatsis to shoot the next edition of the Fast Dates World Superbike Calendar with all the top factory race team bikes on Pit Lane during the race weekend. Shown here is a picture of the adorable Sara in an Easter Bunny theme for the Calendars.

"This year's SBK World Superbike round at Laguna Seca USA marks the 21st year that the FastDates.com Calendars have provided its beautiful Calendar Kittens to be the offical SBK Umbrella and Podium models, going back to the first ever American World Superbike race at Laguna Seca in 1995", explained Jim Gianatsis. "The Fast Dates Supebike Calendar shares a rich history with both SBK World Superbike - the most exciting production based motorcycle roadracing series ever, all the top factory race teams and their riders over those many years, with Mazda Raceway the years that SBK has been here at one of America's most renown roadracing venues, and with our partner Umbrella Girls USA. We will be confirming a second Calendar Kitten to be working alongside Sara for SBK and our Fast Dates Calendar shoot in the coming weeks"

Calendar Kitten Sara is currently featured in the latest 2015 FastDates.com Calendars - Fast Dates, Iron & Lace and Garage Girls, and in the new FAST2105 Digital Magazine found on the website. Race fans at Laguna Seca World Superbike can meet Sara in the SBK Paddock Show where she will be working as the SBK spokesmodel assisting with the awards presentations and rider interviews. Then the following weekend on Saturday July 25th Sara will be hosting the 24th annual LA Calendar Motorcycle Show at the Sagebrush Cantina, Calabasas, CA, which includes the Calendar Bike Building Championship with top celebrity builders premiering their latest custom builds, the Calendar Girl Music Show featuring beautiful actress and singer songwriter Gwedolyn Edwards and her Band, and American Idol contender Alex Nester. And Sara will be premiering the new 2016 FastDates.com Calendars where she is again featured. For additional information on these Events and to purchase tickets, and for more about the Kittens and Calendars visit: http://www.FastDatess.com and http://www.MazdaRaceway.com
The 2015 Los Angeles Calendar Motorcycle & Calendar Girl Music Show
moves to the Sagebrush Cantina, Calabasas on Saturday July 25th 2015

Los Angeles, CA, USA March 1st 2015 - The 2015 LA Calendar Motorcycle Show continues its now 24- year tradition as the premier outdoor streetbike event in America as it rocks the legendary Los Angles bike hangout and party zone, the Sagebrush Cantina in beautiful downtown Calabasas, California. Featured are top Celebrity Custom Bike Builders, the Calendar Bike Building Championship & Concourse d' Elegance, selected Vendors and Exhibitors, and Calendar Girl Music live performances. The Calendar Motorcycle Show is also a benefit for the American Cancer Society with a portion of each Admission Ticket being donated to help those people who are fighting cancer, and to help find a cure.
The Calendar Motorcycle Show features many of the world's top Pro and Amateur custom street bike builders in attendance with their newest 2-wheeled creations of rolling art to compete in the Calendar Show Bike Building Championship for cash and awards including the coveted Best of Show Trophy. The Calendar Show provides a broad focus for all motorcycle enthusiasts including the growing Collector Bike Market with Exhibitors and Bike Show classes for classic European, British and Japanese motorcycles, along with American V-Twins and Customs. Show Entries will be placed in a Concourse display on the Cantina's large outdoor event patio.
The annual Calendar Motorcycle Show always kicks off the world premier of next year's new 2016 FastDates.com Motorcycle PinUp Calendars featuring the world's top road race and custom motorcycles with the beautiful Calendar Kittens featured in the Calendars in attendance at the Show. Show Producer Jim Gianatsis will again be photographing the winning bikes to appear in the Motorcycle Magazines and the next FastDates.com Calendars.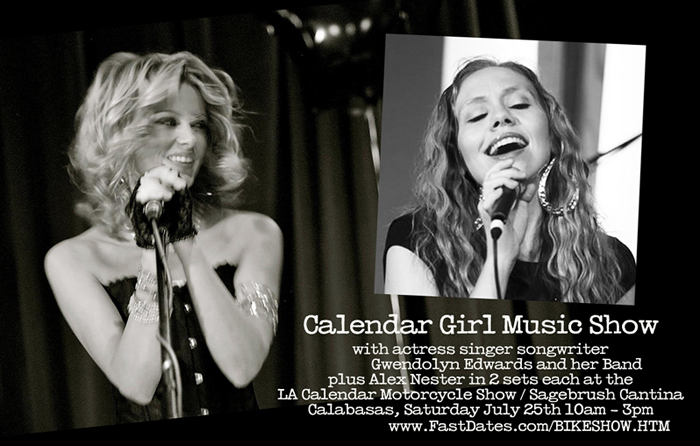 Included with admission is the Calendar Girl Music Show is an incredible day of live music featuring beautiful actress and singer songwriter Gwendolyn Edwards and her Band, and former American Idol contender Alex Nester, each performing two sets of a spicy mix of hot cover tunes and their own original songs. Like many we know impacted by cancer, Alex is a survivor and we are excited the Calendar Show will be helping others with a portion of our ticket sales going to the American Cancer Society. To find our more about their important work fighting cancer go to www.Cancer.org
Legendary Builders featured in the popular FastDates.com Iron & Lace Custom Motorcycle PinUp Calendars and expected to attend include Russell Mitchell / Exile Cycles, Richard Pollock / Mule Motorcycles, Ron Simms / Ron Simms Customs, Jim Giuffra & Spokesmodels / AFT Customs, Chris Redpath / MotoGPwerks, Shinya Kimura / Chabott Engineering, and Adrian Packet / Canyon Motorcycles.
Together with the Calendar Motorcycle's Show's display of exciting new Custom and Classic bikes, Celebrity Builders, and select Manufacturers, there will live performances by a talent female singer songwriters. And VIP Admission includes the Sagebrush Cantina's excellent Taco Plate Buffet with soft drinks, where you can custom design your Mexican lunch plate with a large selection of meats, sides, salads, chips and toppings. Full Bar service is also available. Because the Show is now in gated patio venue, spectator capacity is limited and advance online ticket purchase is recommended to assure your entry to the longest running and most exciting streetbike event on the West Coast.
The 2015 LA Calendar Motorcycle Show takes place on Saturday July 25th 10am-3pm at the Sagebrush Cantina, 23527 Calabasas Road, Calabasas, CA 91302. Motorcycle Parking is Free at the main entrance, with on site paid Car Parking also available. For additional information and to purchase tickets go to: www.FastDates.com/BIKESHOW.HTM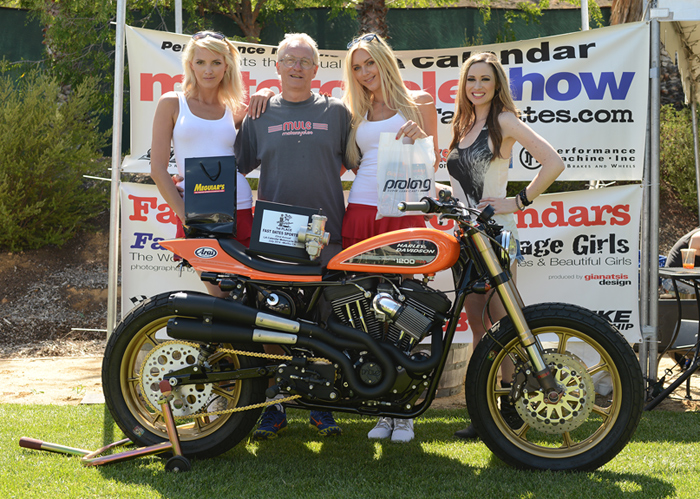 Richard Pollock / Mule Motorcycles to Be Honored at The 2015 Show!
The 2015 LA Calendar Motorcycle Show on Saturday July 25th will pay special tribute this year to Richard Pollock / MuleMotorcycles.net as one of our favorite and most successful FastDates.com Calendar Bike Builders over the last 25 years. You'll certainly want to join us as we honor Richard and he premiers his newest Streetracker build!
Below, here's the latest Psychedelic Mule Streetracker from Sgt Richard Pollock, this one named Col. Mustard! But who was the Walrus?
---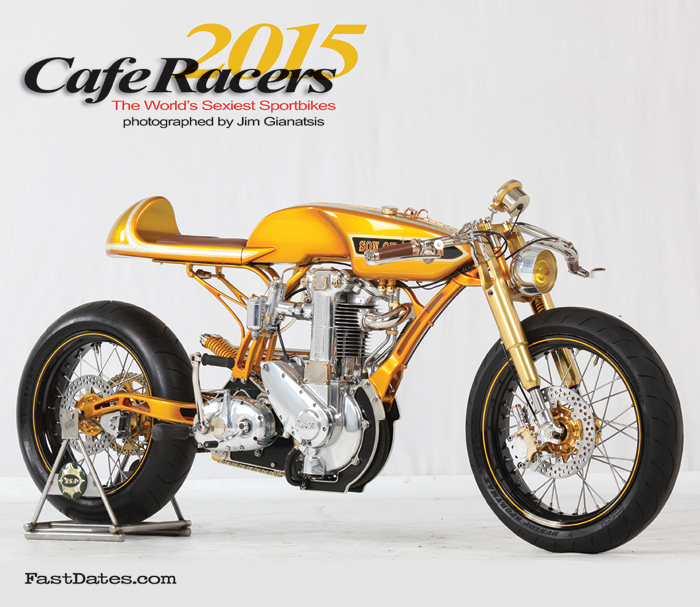 The New 2015 Cafe Racers 2015 Calendar
New this year is the Cafe racers motorcycles only Calendar featuring some of the world's best custom cafe racer bikes which have also been featured in the Fast dates and iron & Lace Calendar s with models the last few years. Now we have a Calendar for guys and girls who don't want to hang up a pinup Calenar at home or work.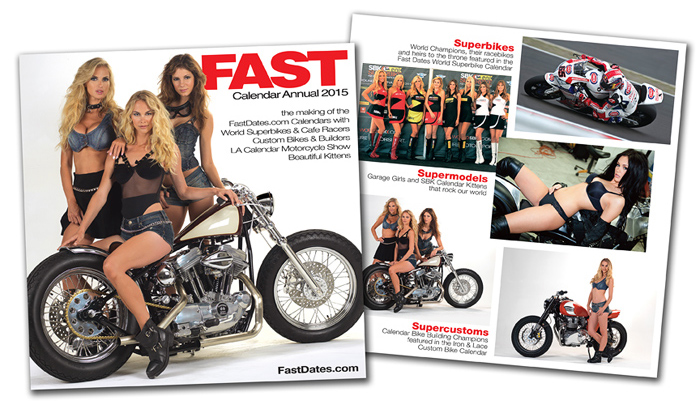 NEW! FAST 2015 and 2014 Calendar Digital Yearbooks
Go behind the scenes of the FastDates.com Calendar photo shoots at the SBK World Superbike races, the Los Angeles Calendar Motorcycle Show & Concourse d' Elegance, and inside the FastDates.com Studio of famed photographer Jim Gianatsis. Meet the official SBK World Superbike Calendar Kittens who also serve as the official SBK podium and grid girls, the top factory riders of World Superbike, and America's top custom bike builders. You'll find detailed editorial photo features on the Calendars' top Custom and Race bikes, and on the Calendar Kittens.
Did we forget anything? - Oh yes! The new FAST 2015 Calendar Yearbook Digital Edition features in high resolution every page in the new 2015 Fast Dates World Superbike, Iron & Lace Custom Bikes, Garage Girls and Cafe Racers Calendars featuring the world's top race and custom bikes and the beautiful Calendar Kittens! Now in Members Corner
---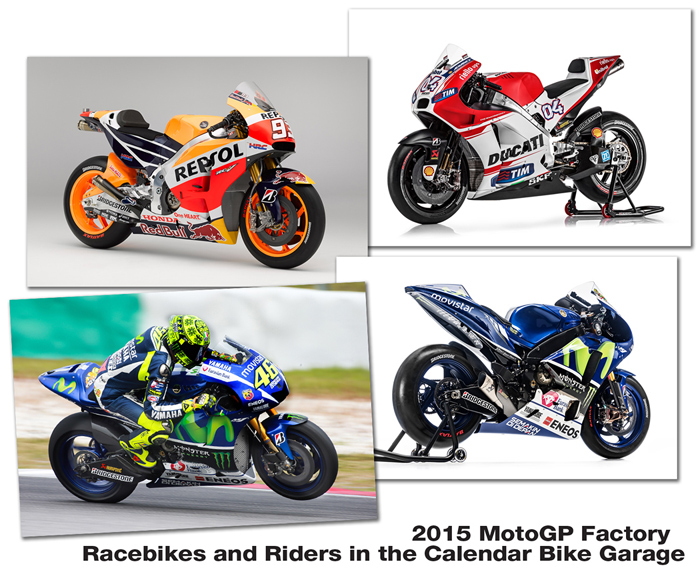 Calendar Bike Garage - Detailed MotoGP Bike Photos, Specs, Large Screen Savers
Calendar Photo Store - Calendar, MotoGP Bikes and Rider Photo Prints & Wall Displays
---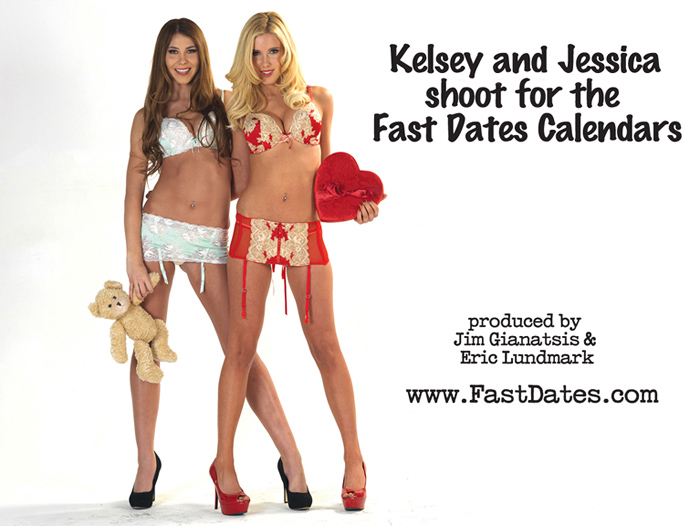 2015 Fast Dates.com Calendar Shoot with Jessica and Kelsey!
Go behind the scenes at the glamorous Gianatsis Design Studios with beautiful new Calendar Kittens Jessica and Kelsey as they shoot for the FastDates.com Motorcycle PinUp Calendars with photographer Jim Gianatsis. And look for the new 2015 Calendars available right here on July 1st. Order the Calendars!
Videographer: Eric Lundmark; Video Editing and Still photography: Jim Gianatsis; Models: Jessica Harbour, Kelsey Silwinski; Make Up: Victoria Rubell, Music: Special thanks to Neil Sedaka for our theme song Calendar Girl; Modeling Agent: Umbrella Girls USA.
---
Edelweiss Motorcycle Tour of the Pyrenees
By Jim Gianatsis / photos by Jim Gianatsis
Barcelona, Spain, June 2014 - For me, there's no more beautiful, educational and exciting place in the world to visit than Western Europe. And to visit parts of it on a world class motorcycle on perfect riding roads without traffic, unencumbered by baggage, with experienced tour guides who know all the best roads and places to stop, is nothing short of nirvana.
This is the definition of an Edelweiss Bike Travel tour. And while they have a tour catalog chock full of motorcycle tours taking place around the world from the far reaches of Africa and Asia, to Australia and America, every one of their European tours is on my bucket list. Especially when they partner their rides up with motorcycle manufacturers like BMW, Ducati and Triumph, with a Start and End point at the company's factory for a visit or at a World Superbike or MotoGP round. Complete Story Here
---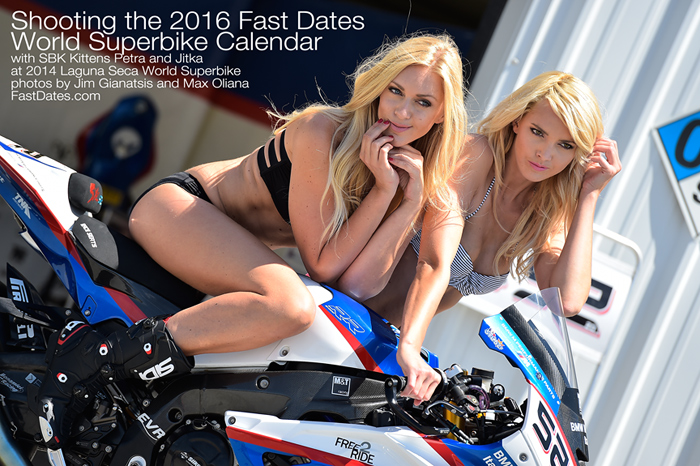 Fast Dates Calendar Celebrates 20 years by bringing
Czech SBK Calendar Kittens Jitka and Petra to 2014
Laguna Seca World Superbike and the LA Calendar Motorcycle Show
By Jim Gianatsis Photos by Jim Gianatsis, Massimo Oliana and Sabrina Mosca

California, USA, July 15-22nd 2014 -The FastDates.com Calendars and myself, producer / photographer Jim Gianatsis were excited to announce an agreement with SBK World Superbike and the international model agencies PetrasAngles.com and UmbrellaGirlsUSA.com to bring beautiful Czech Republic SBK grid girls Jitka Pralinka and Petra Ruzinka to the United States during July 2014 to work for SBK and shoot with me at the Mazda Raceway Laguna Seca United States SBK World Superbike and AMA National race weekend July 11-13th, and the LA Calendar Motorcycle Show in Malibu on July 20th.

– Complete Fast Dates Photo Shoot Story & Photos with Jitka and Petra Here –
---
Imagine Vehicles Honda CBX1100 Best of Show Winner
Now in the Calendar Bike Garage
Featuring big close-up screen saver size detail phtos of our 2014 LA Calendar Motorcycle Best of Show winner with
beautiful Fast Dates World Superbike Calendar Kitten Petra. Go to: Calendar Bike Garage
New Builder Image Vehicles International takes Best of Show
with a radical Honda CBX 6-Cylinder Cafe Racer
2014 LA Calendar Motorcycle Show Concourse & Calendar Girl Music Festival

Malibu, CA, Sunday July 20th 2014 - The 2014 edition of the LA Calendar Motorcycle Show continued its now 23rd year tradition as the premier outdoor streetbike event in America with producer photographer Jim Gianatsis moving the Show this year to the beautiful green lawns of the Malibu Golf Course among the twisty canyon roads in the Santa Monica Mountains alongside the Pacific Ocean. Highlighting this year's exciting activities was the emergence of another new and soon to be renown custom bike builder to the sport for which the Calendar Show is known for cultivating.
– Complete 2014 Calendar Bike Show Coverage Here –
---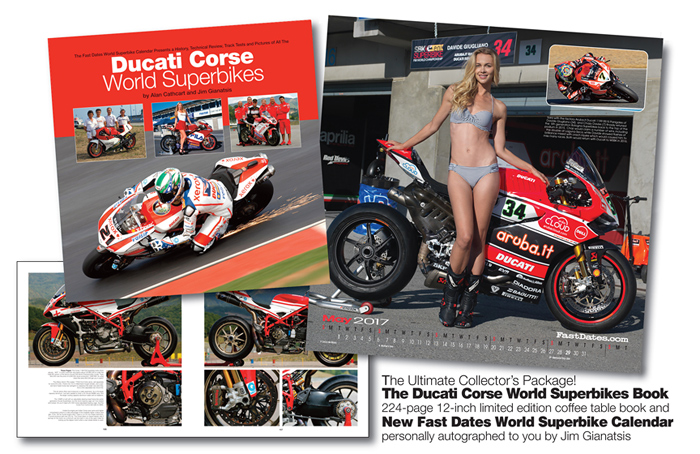 Exclusive Autographed Collector's Package!
The all new Ducati Corse World Superbikes 224-pg book and the 2013 Fast Date World Superbike Calendar
Personally autographed to you (or the name you request on the PayPal.com Order Form) by Jim Gianatsis and shipped direct from Gianatsis Design to you. ORDER COLLECTOR'S PACKAGE

To order the Ducati Corse World Superbike Book or the Fast Dates Calendar individually, unsigned, go to the
Sportbike Books and Fast Dates Calendar Order Pages.
---
This Month in the Fast Dates World Superbike Calendar ....
Beautiful SBK Fast Dates Calendar Kitten Hannay Flattery is pretty in pink next to AMA National Superbike Champion
Josh Hayes' factory Yamaha R1.
The Calendar Bike Garage features full specifications and screensaver size pictures of our favorite Calendar Bikes .

See more revealing pictorials of the Calendar Kittens and the Calendar Bikes in Members Corner
The current 2105 Calendars are sold out, but you can still see all the current and past Calendar Pages in Members Corner.
Order the Fast Dates Calendars
---
There's more! Go to Fast Dates Calendar News PREVIOUS PAGE

More Calendar Motorcycle & Calendar Kitten News
Go to: Fast Dates • Garage Girls • Iron & Lace• Meet the Models

Click to see even more of our sexy Fast Dates Calendar Kittens...




MotorcycleSuperstore.com
---
WARNING - The Banner Links Below Display Websites With Explicit Nudity
Some of our Calendar Kittens can also be seen at Playboy's websites...


Click for a Free Met Art Sample Model Gallery Updated Each Day!