Iron & Lace Custom Bike Pinup Calendar News May-June 2011
This month in the 2011 Iron & Lace Calendar
Joanna Krupa and a Custom Chopper
This month's beautiful Calendar Kitten is none other than Supermodel Joanna Krupa who has graced the covers and been featured inside of every major mens magazine in the world from Maxim, to Playboy, to Gentleman's Quarterly. You might have even caught her on television in last season's Dancing With The Stars. We excited to have discovered Joanna as a pretty local model living here in the San Fernando Valley and did a number of Calendar shoots before her career took off and her rates skyrocketed to $10,000 a day. This Calendar bike picture was actually taken back in 2004 but was never used, just to proove that a beautiful girl and cool custom bike are timeless! You'll find a lot more pictures of Joanna with even less coverage in Members Corner. Photo by Jim Gianatsis.
All of our Iron & Lace Calendar bikes including the LA Calendar Show and AMD World Championship winners
are feature in large photo pictorials in the Calendar Bike Garage. • Past Editon Calendars are still available in Collector's Corner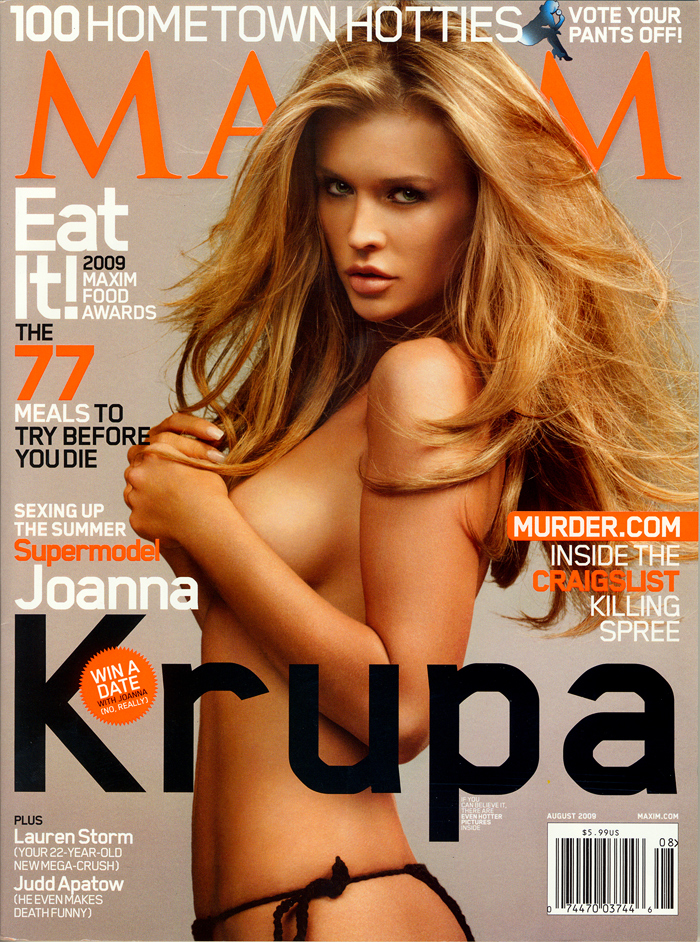 ---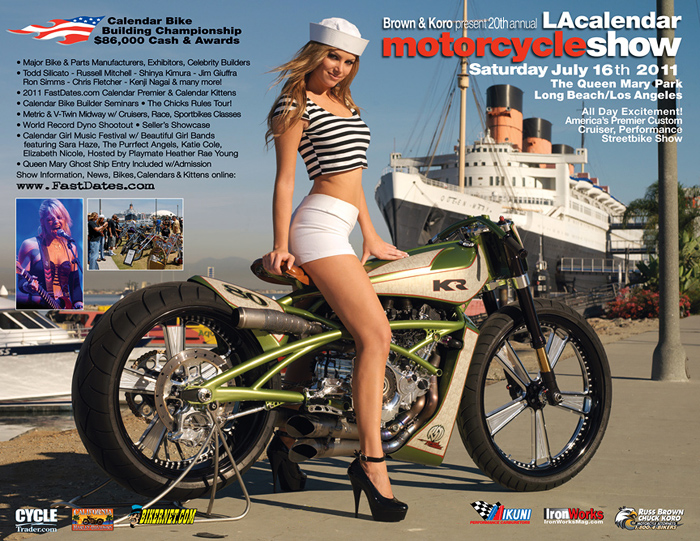 20th Anniversary Celebration! A New Location, a New Show Day,
and Lower Admission Prices as the 2011 LA Calendar Motorcycle Show & Calendar Gir Music Festival,
Saturday July 16th 2011 the Queen Mary Seawalk Village, Long Beach
Celebrity Builders AFT Customs, Jim Nasi
Bike Premiers for 2011 LA Calendar Motorcycle Show July 16th
Los Angeles, CA, April 11th, 2011 - The 20th annual Los Angeles Calendar Motorcycle Show presented by Russ Brown Motorcycle Attorneys, America's premier custom, cruiser, performance streetbike event returns to the Queen Mary in Long Beach, CA on Saturday July 16, 2011. The Show features many of the world's top Pro and Amateur custom street bike builders in attendance with their newest 2-wheeled creations of rolling art to compete in the Calendar Show Bike Building Championship for cash and awards including the coveted Best of Show Trophy. Making a return to this year's Show are two legendary custom bike builders which have been featured in the popular FastDates.com Iron & Lace Custom Motorcycle PinUp Calendars over the past 20 years.
Jim Giuffra (middle) and the AFT Model Agency girls took 1st Place Metric custom at the 2010 Calendar Show, joined from left to right by singer/songwriter/actress and hostess Elizabeth Nicole, magician Krystan Lambert, Keith "Bandit" Ball, magician Krystan Lambert, Keith "Bandit" Ball, Calendar Kittens Melody Schuster and Candise Lakota.

Builder Jim Giuffra and the AFT Customs Motorsports Models return to this year's Calendar Show on a 4-year winning streak which has already seen them take home a Best of Show and three 1st Place Metric Custom titles. All of the custom bikes emerging from AFT Customs shop in Jackson, CA, are the creation of shop owner Jim Guiffra, but are hand craft from the ground-up by the beautiful motorsports savvy trade show models represented by the AFT Modeling Agency. In fact two of the girls, Cyndi and Kristen, recently returned from Miller Electric Welding's corporate headquarters in Wisconsin where they received their TIG Welding Certifications. All of the Agency's girls are fully versed in motorcycle tuning, repair,and custom bike fabrication, making them the perfect spokes models for motorsports manufacturers at trade shows and consumer events.
AFT Customs will be premiering two new customs at this year's Calendar Show. "'Senthoh' is based on a 1975 Honda CB750 SOHC, my first streetbike in high school and the first bike I ever customized, " explains Giuffra. "The name in Japanese means 'beginning' both for me as a builder back then, and for the AFT girls today. I'm keeping the bike's specification quiet for now, but I will tell you it is a cafe racer."
"Our second bike premiering is named 'Azumati' - its a VT750 Bobber/Street tracker being built on commission for the Jackson Rancheria Indian Casino. Asumati is a Miwuk Indian word meaning grizzly bear, the monarch of the forest. In Miwuk stories the bear is a symbol of great strength and courage. This bike will be just as fierce with a Yamaha R1 front end, Race Tech Piggyback Rear Shocks, a hidden radiator, CR450 front hub and brake."
The AFT Customs bikes are sponsored by suppliers: Miller Welding, Race Tech, Works Connection, Avon Tyre, Bell /Easton, Dyna Tech, Joker Machine, Grip Ace, Beringer Brakes, JE Piston, Web Cams, Clear Water Lights, Moto Master, Shorai Batteries, Leo Vince, Joker Machine.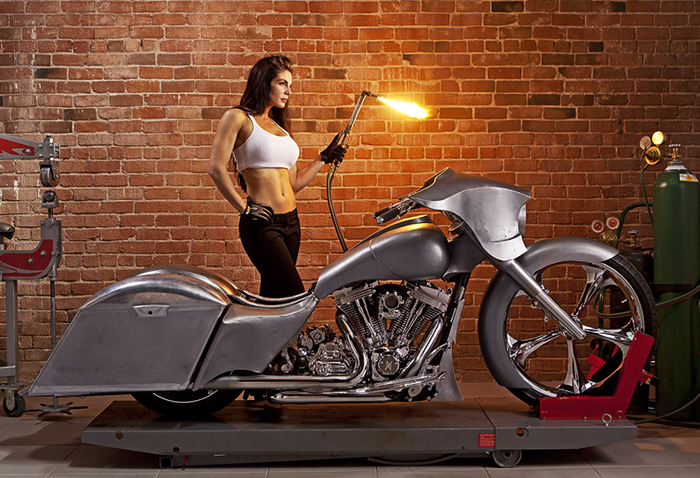 Jim Nasi Bagger "Steel"
Legendary custom bike builder Jim Nasi out of Phoenix, AZ, makes his long anticipated return to the the West Coast and the Calendar Show this year. Jim will be premiering an all-new radical Custom Bagger that is so cutting edge - like all his show bikes, it has already been scheduled for a coveted Iron & Lace Calendar shoot even before being completed.
Other Exciting Calendar Motorcycle Show activities during the weekend include the Horsepower Dyno Shoot Out, Calendar Bike Building Seminars, world premier of the new 2012 FastDates.com Motorcycle PinUp Calendars with the beautiful Calendar Kittens. And the Calendar Girl Music Festival headlining with the band Frentik and its singer Emily Jaye who will be hosting the Awards Festivities with BikerNet.com's Keith "Bandit" Ball and Calendar Show producer Jim Gianatsis.
Join the LA Calendar Motorcycle Show for a New Location, a New Show Day, and Lower $20 Admission Prices as the Show celebrates its 20th Anniversary! The event moves from the traditional Queen Mary Event Park of years past, now dockside next to the historic Queen Mary ocean liner on Saturday in the exciting Seawalk Village which replicates an old British seaside town for a step back in history. This is one of the world's premier motorcycle events featuring major motorcycle and parts manufacturers, top name builders, selected exhibitors, product and apparel vendors.

Russ Brown Motorcycle Attorneys present the Los Angeles Calendar Motorcycle Show with Associate Sponsors: Iron Works Magazine, Mikuni Carburetors, Blanco Basura Beer, Bikernet.com, Meguiar's Car Care Products, and the FastDates.com Website & Calendars.
For additional LA Calendar Motorcycle Show & Calendar Girl Music Festival details visit http://www.FastDates.com/BIKESHOW.HTM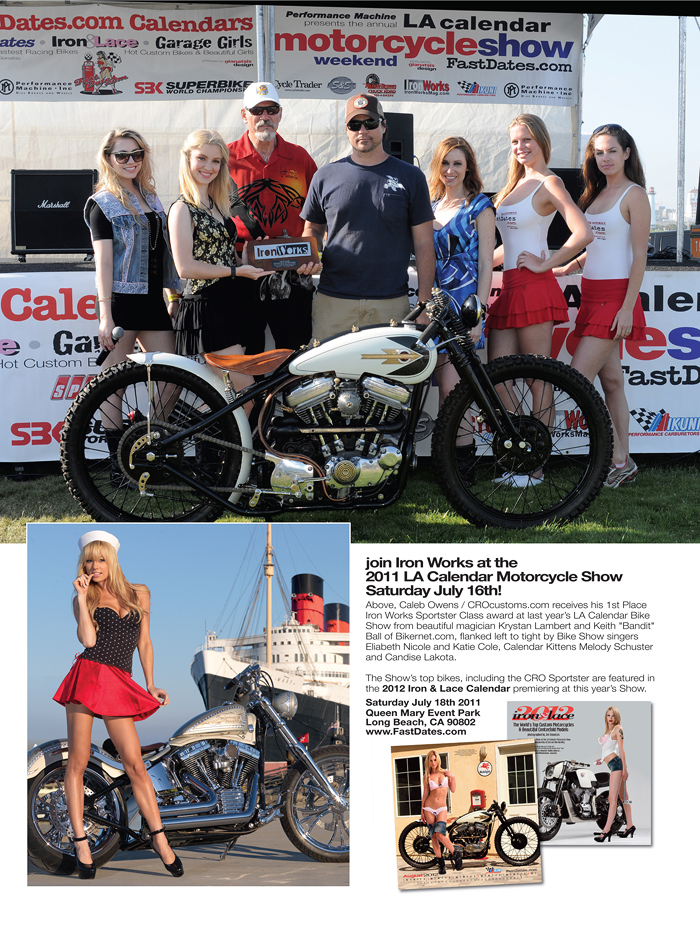 ---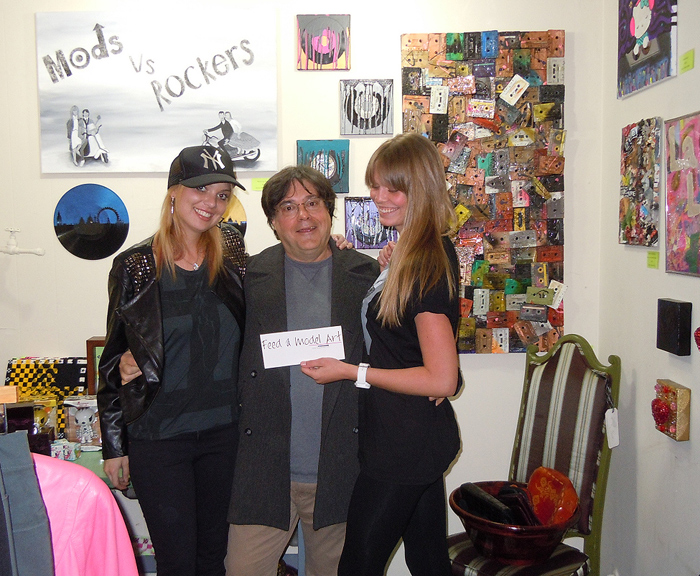 Jim Gianatsis with two beautiful Calendar Kittens, FeedAModel.com Founders, Board Directors and Contributing Artists Apple Price (left) and Melody Schuster (right), both featured in the 2011 Iron & Lace Calendar
Calendar Kittens host "Last Night a DJ Saved by Life" benefit
The Los Angeles Fashion District - It was an exciting evening of glitz, glamor, paint and canvas, and beautiful Calendar Kittens as the world renown charity FeedAModel.com held their annual artwork and music gala on a warm mid-winter evening in the adv-ant garde Fashion District of downtown Los Angeles. The event took place at Haute Olive on 838 S. Spring Street, a vintage fashion boutique on the cutting edge of what's now and hip. Hosted by the charity's founders, FastDates.com Calendar Kittens and multi media artists Apple Price and Melody Schuster, FeedAModel.com is dedicated to keeping beautiful young models off the streets, out of trouble, and from going hungry by giving them the opportunity to learn and express their artistic skills, and then a safe and exciting venue to showcase and sell their artwork. You won't find these dedicated, talented and smart young ladies partying with Charlie Sheen in Las Vegas or Girls Gone Wild on Spring Break!
Both models Apple and Melody have been featured in recent editions of the FastDates.com Motorcycle PinUp Calendars, and they appeared at the last two LA Calendar Motorcycle Shows to help premier their new Calendars. "Feed A Model gives nice young ladies the opportunity to be productive citizens and great role models in a town run amuck with the inebriated divas and substance abused actors you see showcased every night on the 6 O'Clock News", explains Schuster. "It's something we are passionate about, to give back to the community which has helped us to become successful models, multi media artists and world famous FastDates.com Calendar Kittens!"

At right: the paper mache collage "Very Hollywood" created by Calendar Kitten Apple which Jim Gianatsis purchased for his collection, helping to support the efforts of FeedAModel.com keeping starving models off the Sunset Strip at night. Click to enlarge.

Making a not too unexpected appearance was FastDates.com Calendars and Website publishing magnate and photographer Jimmy "The Greek" Gianatsis. The Calendar Kittens first greeted Jim with hugs and kiss outside at the curb when he arrived in his limo, then brought him inside the store gallery to meet the other models and guests, and then a guided tour of the art exhibition. The artwork and guests spilled out onto the sidewalk where a live DJ was spinning tunes to add to the fun party atmosphere. After plying "The Greek" with a few glasses of champaigne, the girls soon had him pulling out his checkbook to add some of their incredible artwork to his noted collection back at the Calendar Kitten Mansion.
In all it was quite an incredible evening and everyone had a great time. You can find out more about FeedAModel, their incredible charity work, shop their artwork and find out when their next excitig event is by visiting www.FeedAModel.com

You can also hang with Apple and Melody on your walls by ordering their Fast Dates, Garage Girls, and Iron & Lace Calendars at www.FastDates.com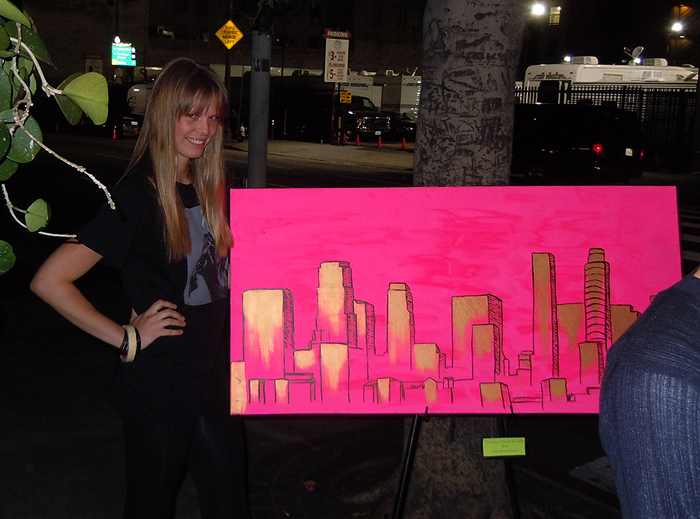 Above, Melody with her latest piece of incredible art "LA with Tree". The painted canvas alone, without the tree, can be purchased online at FeedAModel.com. Below: Apple gets gets peeled down to her swimsuit at Malibu Beach!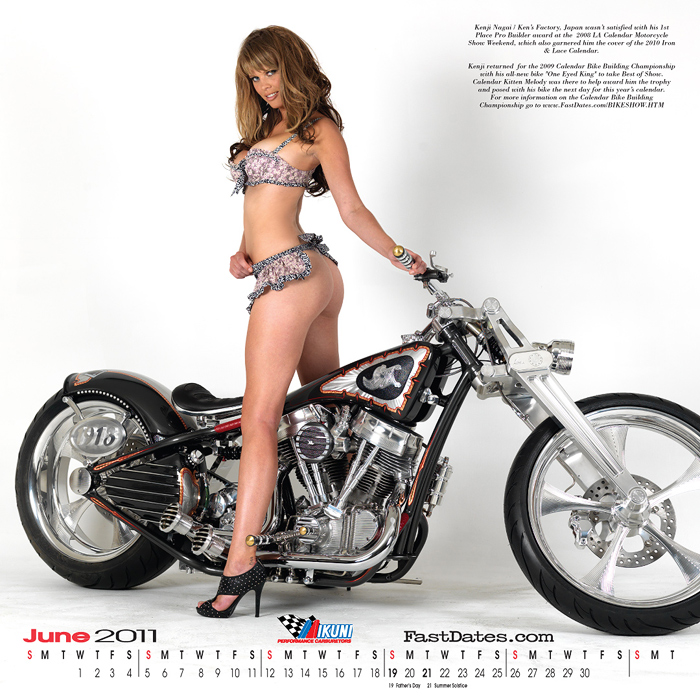 This month in the 2011 Iron & Lace Calendar
Calendar Kitten Melody with Kenji Nagai's Best of Show winner
Our Calendar Kitten and mixed media artist Melody Schuster shows us all her curves as she shoots in the studio with this incredible custom "One Eyed Jacks" from Kengi Nagai / Ken's Factory, Tokyo, Japan, which took Best of Show at the 2009 LA Calendar Motorcyle Show Weekend. Photo by Jim Gianatsis.
---
There's more! Go to Iron & Lace News Previous Page
Return to Iron & Lace Calendar News Front Page

Also Visit:
Fast Dates Calendar News • Pit Lane News • Calendar Girl News • Meet the Models
See much more of our all our beautiful calendar girls
in their sexy pictorials in FastDates.com Members Corner...


Some of our Calendar Girls can also be seen at Playboy's website...




MotorcycleSuperstore.com