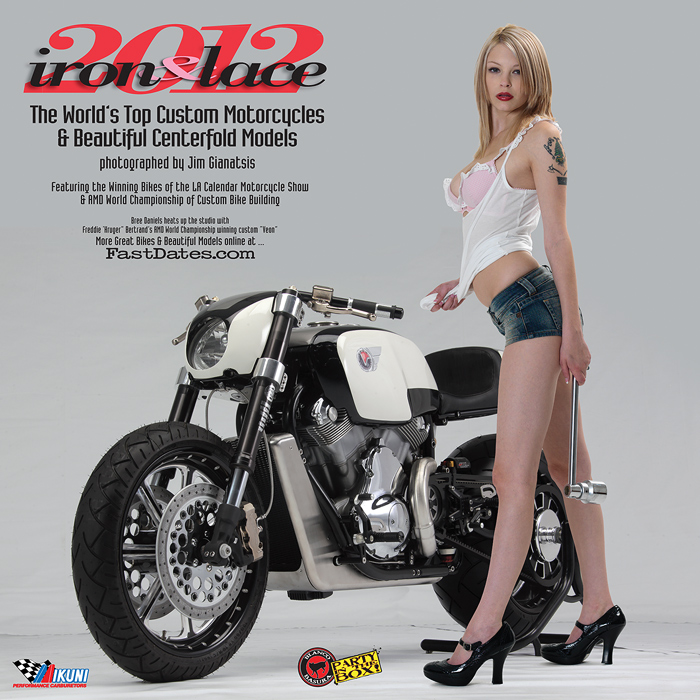 World Premier!
2012 Iron & Lace Custom Motorcycle Pinup Calendar
Iron & Lace News July - August 2001 - The new 2012 edition of Iron & Lace features, as always, a 16-month look at the world's top American V-Twin and custom bikes together with sexy centerfold models in revealing lingerie, photographed by Jim Gianatsis. Featured are the world's top bikes from the 2010 LA Calendar Motorcycle Show and the AMD World Championship of Custom Bike Building, respectively the Best of Show winning bike "Beezerker" from Chris Flechtner / Speed Shop Design, USA, and "Veon" from Freddie 'Krugger' Bertrand, Krugger Motorcycles, Germany.
Class winners include the Calendar Show's 1st Place Sportster from Caleb Owens & Conrad Leach / CROcustoms.com,
Metric V-Twin winner "Kimosabe" built by Jim Guffra and the AFTcustoms Model Agency girls, and the Classic Old Twin Shovelhead dry lake bed racer from Shinya Kimura / Chabott Engineering. Along with AMD Production Class winner from Sbay Motor Company, and Freestyle Class winner Garage 65's hub-center steered, radically styled 'KCosmoDrive'. Other hot customs include a wild Trike and a Custom H-D Softail from Russell Mitchell / Exile Cycles, some classic British and American twins from Kurt Morrow / Ventura Motorworks and an custom aluminum bodied Ducati 999 from Shinya Kimura.
The beautiful centerfold models photographed in revealing lingerie with the custom bikes include or cover model, Hustler's Barley Legal centerfold and adult film star Bree Daniels. The action doesn't slow down inside as we feature Playboy Playmate Tamara Witmer and Playboy Special Edition models Tiffany Toth and Laya Bella. Sexy Hollywood movie starlets Jennifer Englund, Sara Balint and Candise Lakota. And fashion models Cora Skinner and Gemma Gleeson.
Here's your chance to see why custom iron and beautiful girls in revealing lace go so well together in Iron & Lace!
The 2012 Calendar couldn't get any steamier without an "X" rating - You'll have to visit our Member's Corner for that!
FastDates.com Calendars are highest quality full color 15 x 15" wire spiral bound printed on heavy art stock revealing 16 months beginning with September. $16.95 each - Click on Cover or Here to Order Now
---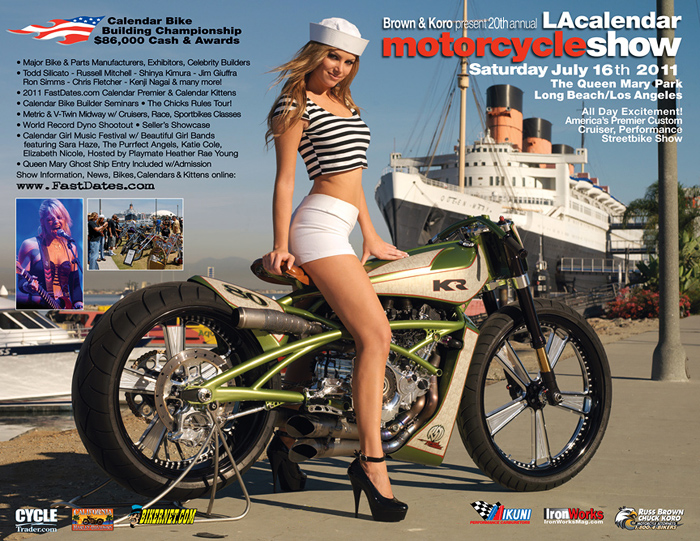 20th Anniversary Celebration! A New Location, a New Show Day,
and Lower Admission Prices as the 2011 LA Calendar Motorcycle Show & Calendar Gir Music Festival,
Saturday July 16th 2011 the Queen Mary Seawalk Village, Long Beach
LA Calendar Motorcycle Show on Saturay July 16th
West Coast Premier new American made Motus MK V-4 Naked Sport and Touring Bikes!
Los Angeles, CA, June 8th, 2011 - Motus Motorcycles will use the LA Calendar Motorcycle Show for the West Coast premier of their new MST series high performance KM V-4 1650cc Touring and R Model naked sportbikes. The Motus MST series of comfortable American sportbikes have been engineered from the ground up for performance, comfort, and range. The MST concept is a fresh take on what an American motorcycle can be, with optimum rider and passenger comfort for extended, spirited journeys, and quality components for responsive handling.
Motus Motorcyles are the brain child of Lee Conn, designed and built by well known race car engineers Pratt & Miller, fabricators of the 24-Hour of LeMans winning factory Corvettes. The lightweight aluminum V-4 pushrod fuel injected engine is based on the iconic Corvette V-8 small block motor which in normally aspirated race form can pump out up to 800 horsepower. So half an engine could easily be tuned for reliability in the 200-300hp range. Kiss your Yamaha V-Max good-bye! This will be your first chance to see, touch and order one.
MotusMotorcycles.com • LA Calendar Motorcycle Show
Celebrity Builders Jim Giuffra of AFT Customs, Jim Nasi preparing new
Bike Premiers for 2011 LA Calendar Motorcycle Show July 16th
Los Angeles, CA, April 11th, 2011 - The 20th annual Los Angeles Calendar Motorcycle Show presented by Russ Brown Motorcycle Attorneys, America's premier custom, cruiser, performance streetbike event returns to the Queen Mary in Long Beach, CA on Saturday July 16, 2011. The Show features many of the world's top Pro and Amateur custom street bike builders in attendance with their newest 2-wheeled creations of rolling art to compete in the Calendar Show Bike Building Championship for cash and awards including the coveted Best of Show Trophy. Making a return to this year's Show are two legendary custom bike builders which have been featured in the popular FastDates.com Iron & Lace Custom Motorcycle PinUp Calendars over the past 20 years.
Jim Giuffra (middle) and the AFT Model Agency girls took 1st Place Metric custom at the 2010 Calendar Show, joined from left to right by singer/songwriter/actress and hostess Elizabeth Nicole, magician Krystan Lambert, Keith "Bandit" Ball, magician Krystan Lambert, Keith "Bandit" Ball, Calendar Kittens Melody Schuster and Candise Lakota.

Builder Jim Giuffra and the AFT Customs Motorsports Models return to this year's Calendar Show on a 4-year winning streak which has already seen them take home a Best of Show and three 1st Place Metric Custom titles. All of the custom bikes emerging from AFT Customs shop in Jackson, CA, are the creation of shop owner Jim Guiffra, but are hand craft from the ground-up by the beautiful motorsports savvy trade show models represented by the AFT Modeling Agency. In fact two of the girls, Cyndi and Kristen, recently returned from Miller Electric Welding's corporate headquarters in Wisconsin where they received their TIG Welding Certifications. All of the Agency's girls are fully versed in motorcycle tuning, repair,and custom bike fabrication, making them the perfect spokes models for motorsports manufacturers at trade shows and consumer events.
AFT Customs will be premiering two new customs at this year's Calendar Show. "'Senthoh' is based on a 1975 Honda CB750 SOHC, my first streetbike in high school and the first bike I ever customized, " explains Giuffra. "The name in Japanese means 'beginning' both for me as a builder back then, and for the AFT girls today. I'm keeping the bike's specification quiet for now, but I will tell you it is a cafe racer."
"Our second bike premiering is named 'Azumati' - its a VT750 Bobber/Street tracker being built on commission for the Jackson Rancheria Indian Casino. Asumati is a Miwuk Indian word meaning grizzly bear, the monarch of the forest. In Miwuk stories the bear is a symbol of great strength and courage. This bike will be just as fierce with a Yamaha R1 front end, Race Tech Piggyback Rear Shocks, a hidden radiator, CR450 front hub and brake."
The AFT Customs bikes are sponsored by suppliers: Miller Welding, Race Tech, Works Connection, Avon Tyre, Bell /Easton, Dyna Tech, Joker Machine, Grip Ace, Beringer Brakes, JE Piston, Web Cams, Clear Water Lights, Moto Master, Shorai Batteries, Leo Vince, Joker Machine.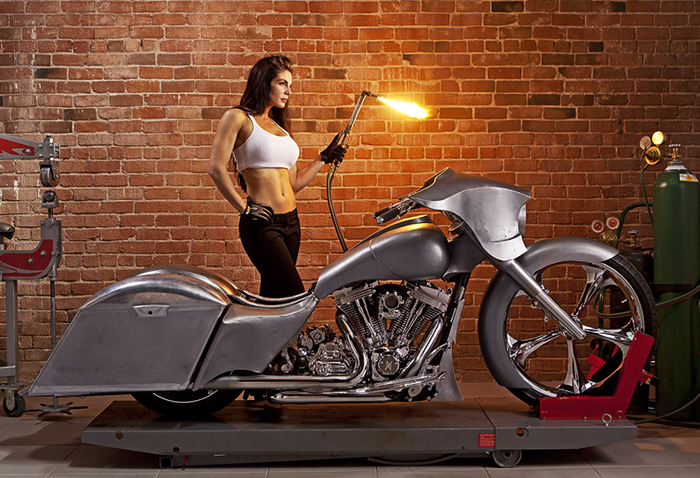 Jim Nasi Bagger "Steel"
Legendary custom bike builder Jim Nasi out of Phoenix, AZ, makes his long anticipated return to the the West Coast and the Calendar Show this year. Jim will be premiering an all-new radical Custom Bagger that is so cutting edge - like all his show bikes, it has already been scheduled for a coveted Iron & Lace Calendar shoot even before being completed.
Other Exciting Calendar Motorcycle Show activities during the weekend include the Horsepower Dyno Shoot Out, Calendar Bike Building Seminars, world premier of the new 2012 FastDates.com Motorcycle PinUp Calendars with the beautiful Calendar Kittens. And the Calendar Girl Music Festival headlining with the band Frentik and its singer Emily Jaye who will be hosting the Awards Festivities with BikerNet.com's Keith "Bandit" Ball and Calendar Show producer Jim Gianatsis.
Join the LA Calendar Motorcycle Show for a New Location, a New Show Day, and Lower $20 Admission Prices as the Show celebrates its 20th Anniversary! The event moves from the traditional Queen Mary Event Park of years past, now dockside next to the historic Queen Mary ocean liner on Saturday in the exciting Seawalk Village which replicates an old British seaside town for a step back in history. This is one of the world's premier motorcycle events featuring major motorcycle and parts manufacturers, top name builders, selected exhibitors, product and apparel vendors.

Russ Brown Motorcycle Attorneys present the Los Angeles Calendar Motorcycle Show with Associate Sponsors: Iron Works Magazine, Mikuni Carburetors, Blanco Basura Beer, Bikernet.com, Meguiar's Car Care Products, and the FastDates.com Website & Calendars.
For additional LA Calendar Motorcycle Show & Calendar Girl Music Festival details visit http://www.FastDates.com/BIKESHOW.HTM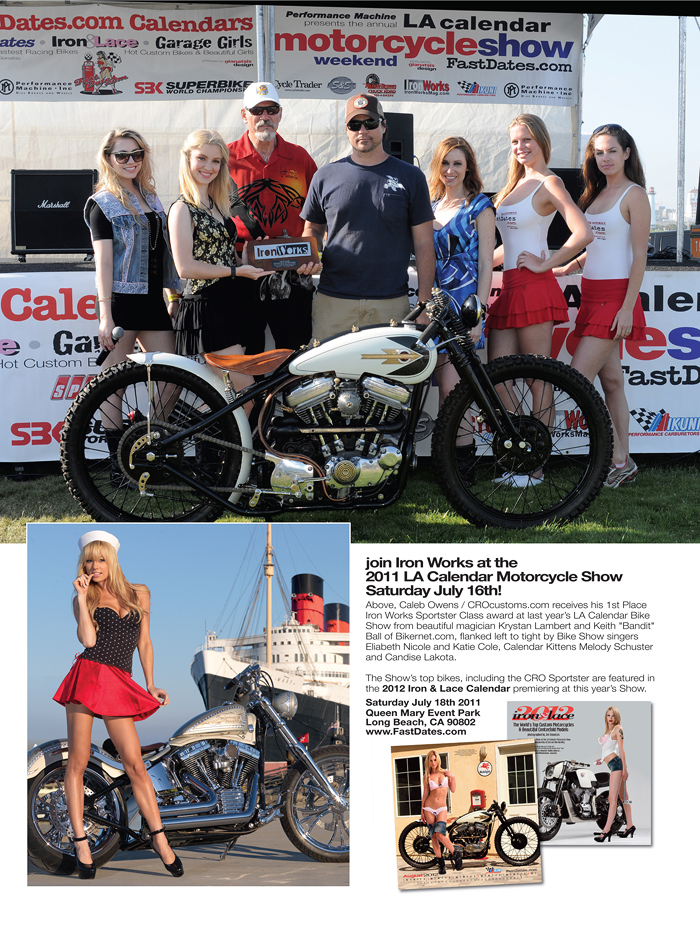 ---


New Bikes: 165hp and 465 lbs - Testing the Ducati V-Twin Diavel at its home in Italy
The Devil Made Us Do It!
Is it love? We stopped at this graffiti adorned house on a side street in Bologna. For riding comfort, handing and performance all in one package the Ducati Diavel has no equal. Check out our Complete FastDates.com Ducati Diavel Test HERE
AMA Pro Vance & Hines XR1200s Set for Brickyard at Red Bull Indianapolis GP on Aug 27-28th
June 4, 2011- AMA Pro Racing is proud to announce that its newest class, the AMA Pro Vance & Hines XR1200 division, will soon become part of Indianapolis Motor Speedway's legendary motorsports history. On August 27 and 28, 2011, the AMA Pro series will make its Brickyard debut at the fourth running of the Red Bull Indianapolis GP, the roar of big, V-twin engines joining more than 100 years of IMS motorcycling records.

As the only non-MotoGP class invited to participate in the Midwest and East Coast's sole world championship road racing event, the Vance & Hines XR1200 series will carry the flag for the intensely competitive, spec-based racing the AMA Pro championship has become known for. With a full field of nearly identical Harley-Davidson XR1200s, the class features handlebar-to-handlebar, footpeg-dragging action that highlights rider skill and strategy.

"This is an extremely important development for AMA Pro Racing," said company COO and Managing Member David Atlas, "and we're very proud to have been invited to race on the world stage as a companion to MotoGP. We're excited to be able to showcase our series on such a platform, and honored to have a relationship with partners like Indianapolis Motor Speedway and Harley-Davidson. We're looking forward to a fantastic event."

"We're thrilled to welcome AMA Pro Vance & Hines XR1200 racing to the Red Bull Indianapolis GP," said Jeff Belskus, Indianapolis Motor Speedway Corporation president and chief executive officer. "The distinctive rumble of Harley-Davidson thunder and close competition will provide even more on-track entertainment for our loyal fans and enhance what will be the motorcycle event of the year in the United States."

"The sound of Harley-Davidson motorcycles resonates with riders across the globe, and we are excited about this opportunity to bring the thunder of XR1200 racing to a worldwide audience at one of the greatest racing venues in the world," added Steve Piehl, Harley-Davidson Director of Customer Experience.
The Speedway hopes the addition of the Harley Sportster class will help draw the huge Mid-West contingent of Harley owners to the weekend's races to counter the downturn in attendace all bike racing in America is currently suffering. But Daytona Bike Week in March has already proven that just doesn't happen even with 200,000 Harley riders in town for the week, the majority of them just don't go to the races at Daytona Speedway. However, throw a classic rock concert in the infield with top name bands, beer and half naked girls like at Sturgis and its a guarantee the great unwashed will come.0
Of the top AMA Pro riders in the fiercely competitive XR1200 class, several have strong ties to the Indianapolis area, including current championship points-leader Chris Fillmore. "I just found out about it today," said the Bruce Rossmeyer's Daytona Racing pilot, "and it's super exciting. It sounds like there's a lot of interest from riders in other series and from other countries, so I think the field's going to be really, really stacked.

Though Fillmore is eager to claim victory in front of local supporters and family, former race winners Steve Rapp, Michael Barnes, Kyle Wyman, and reigning XR1200 champ Danny Eslick won't make it easy for him, and they'll be joined by a grid full of equally determined H-D racers.

The AMA Pro Vance & Hines XR1200 division adds a fourth class of racing to the Red Bull Indianapolis GP weekend, as it joins the three World Championship classes---- MotoGP, Moto2, and 125cc---- competing on the 16-turn, 2.621-mile circuit that combines part of the famed IMS oval with an infield section.

Additionally, the Red Bull Indianapolis GP will be the final stop on the exciting Hole Shot Tour Aug. 24-28 for Harley Owners Group (H.O.G.) members. The Hole Shot Tour includes VIP perks at the Harley-Davidson Museum in Milwaukee followed by a ride to Indianapolis, where participants can watch the Red Bull Indianapolis GP, ride a victory lap around the IMS track, and watch Harleys in action at the AMA Pro Harley-Davidson Insurance Flat Track Championship event at the legendary Indy Mile at the Indiana State Fairgrounds. H.O.G. members can find more information at www.hog.com.

For Red Bull Indianapolis GP ticket and event info, visit www.indianapolismotorspeedway.com. To learn more and become a part of the AMA Pro Road Racing Championship, visit www.amaproracing.com and join us on Facebook and Twitter.
---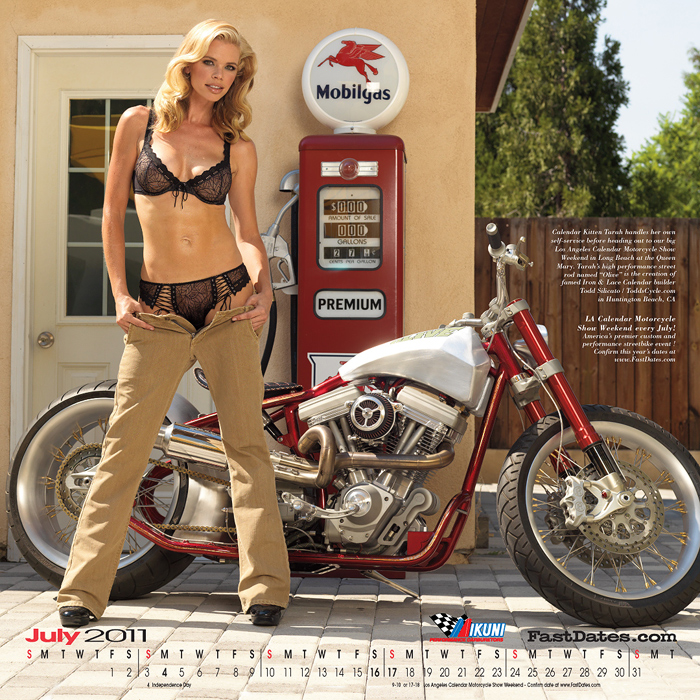 This month in the 2011 Iron & Lace Calendar
Tarah Tobiason and Todd's Cycles "Olive"
This month's beautiful Calendar Kitten Tarah Tobiason looks incredible next to Todd Silicatio / ToddsCycles.com high performsnce Rigid Barhopper named "Olive". Definetly two sweet rides! Todd is one of of featured builders each year at the LA Calendsr Motorccyle Show. You'll find a lot more pictures of all our beautiful Calendar Kittens in Members Corner. Photo by Jim Gianatsis.
All of our Iron & Lace Calendar bikes including the LA Calendar Show and AMD World Championship winners
are feature in large photo pictorials in the Calendar Bike Garage. • Past Editon Calendars are still available in Collector's Corner
---
There's more! Go to Iron & Lace News Previous Page
Return to Iron & Lace Calendar News Front Page

Also Visit:
Fast Dates Calendar News • Pit Lane News • Calendar Girl News • Meet the Models
See much more of our all our beautiful calendar girls
in their sexy pictorials in FastDates.com Members Corner...


Some of our Calendar Girls can also be seen at Playboy's website...




MotorcycleSuperstore.com